« Fly Needles Fly! | Main | Honey? HONEY! »
April 06, 2005
Attachments Spice Up ANY Home!
Or The Happy Househooker: How to Keep Your Husband Happy and OUT* of the Bedroom.
[Look people, if you've come here looking for baby news or knitting news go home! There's no baby yet and the only knitting being done around here is ripping. The short row section of the short row pullover to be exact. I couldn't stand the ends anymore. Thinking I might try a Russian Join, but I'm not sure how to get it all to match up perfectly. Fine. There's your knitting content. Happy now?]
So yesterday I was bored out of my mind, which is not a good thing for Ms. January One. Being bored out of my mind tends to drive me out of my mind very, very quickly. So to keep the demons at bay, I decided to continuing cleaning. I finished the dining room, aka mail dump location, and started on the living room on Monday. Yesterday I finished the living room - but not without a little attachment fun.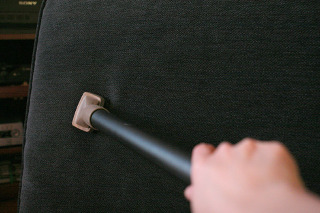 Here I am stroking a cushion with the brush head.

Let me tell you, I worked the furniture over so good it would've made the Fly Lady cream her panties.
No position was left unturned...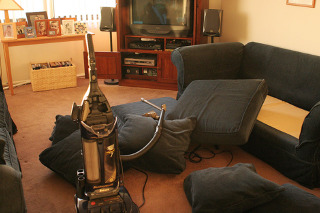 It was all quite scandalous. The stuffed animals were appropriately shocked...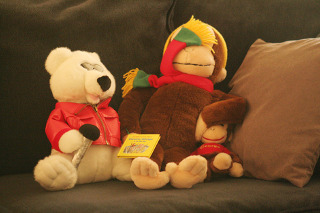 Well, not really. Here you can see Little George trying to sneak a peak: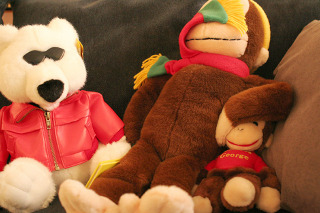 And Mr. Cool Red Faux Leather Jacket Bear? He provided the mood music.
Squeeze his hand and he belts out "Can't Get Enough of Your Love, Baaabe" by the Love Maestro himself, Barry White.
Want a close up of the action?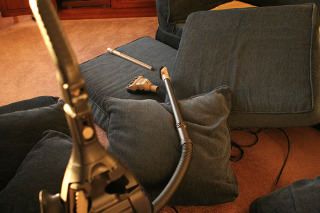 Whew! I worked up quite a sweat.
It was worth it though. G was extremely happy when he came home. So happy, *I couldn't get him off my newly cleaned couch. By the way, that's the worst part about cleaning. Two seconds later, it needs to be cleaned again.
The living room is all in order again: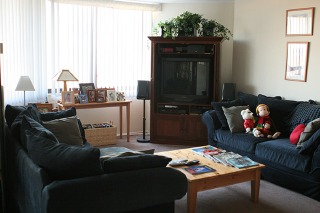 Look - can you see it? It's my first project ever! A four color (trust me on this) slip stitch afghan with a crochet edge - it's something like 5'x6' - maybe bigger. Life size BABY!
Today, I might have to bring the vacuum into the bedroom - Sorry - NO CAMERAS ALLOWED!
I'll be back....
I'm back. Heard from my sis. She's now a whopping 2.5 centimeters. We're going to be here all night!
And a disclaimer. It may look to you, from the pictures above, that I like to clean and/or do it often. If you think this, I apologize for misleading you. I can count the number of times the cushions have been off my sofas (for cleaning - doesn't count fort making - with the kids of course!) ON ONE HAND. And I don't use all my fingers on that hand either.
The cleaning you see here was a way to stem the insanity of waiting for my sister to have her baby already. That and the fact that things that were once living were beginning to get stuck in the cobwebs. I'm not lying about that, either.
So don't see my burst of Spring cleaning as anything other than that. Try to remember that Spring only comes once a year.
Hope that makes you all feel better about your own cleaning habits. I think I may knit today. Hmmm. There's a novel idea.
Posted by Cara at April 6, 2005 09:45 AM
Topics: Miscellaneous
Comments
You are putting me to shame with all of that housekeeping. Actually I did scrape and paint the bathroom ceiling on Saturday morning and then vacuumed the condo (waking my downstairs neighbors up the process; they were rather grumpy about it.)
Posted by: Colleen at April 6, 2005 10:06 AM
Hysterical. Those monkeys remind me of "see no evil... ". Your cleaning puts me to shame!
Posted by: Kathy at April 6, 2005 10:21 AM
Posted by: Wendy at April 6, 2005 10:50 AM
That afghan is great! Are you sure it was your first project?! Love the monkeys. Daniel wants a Roomba and I can't decide if it would be awesome or creepy.
Posted by: Lauren at April 6, 2005 11:35 AM
You did use protection, didn't you? ;) They don't call George "curious" for nothin'!
Posted by: Kerstin at April 6, 2005 01:23 PM
Sounds like someone was having way too much fun with the "attachment" or whatever you call it. ;)
Posted by: Annie at April 6, 2005 02:55 PM
Oooooh, house porn! You know how I am. Love to see pics of the house, the surroundings, how could I have known there would also be mad housekeeping live action? I am addicted. Truly. But no way could I have imagined there would also be MONKEY action! Your blog is *so* bookmarked now! I love it! ;)
Posted by: laurie at April 6, 2005 03:48 PM
Hahaha, you're a card, Cara. What a hoot. That little peeking George is a stinker. Hey, whatever it takes to make housecleaning FUN! (Even a little bit.)

Posted by: Vicki at April 6, 2005 04:26 PM
Our cleaning habits involve leaving crap all over the house and giving a nice lady and her friend a hundred bucks to scoop it all up into the trash once a month.
Just think, one day that baby will throw up all over those newly-cleaned cushions . . .
Posted by: Debbie at April 6, 2005 06:10 PM
Posted by: froggy at April 7, 2005 08:32 AM