« Overdone | Main | Harlot »
April 27, 2005
Surely You're Joking! *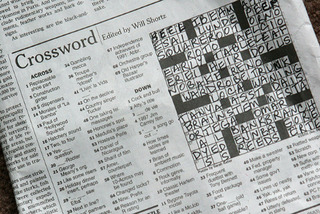 Yesterday's New York Times crossoword. Check out 40 Down.



Thanks so much for all the compliments on Short Rows! It means so much. I'll be SO proud of this project when it's finally finished. I've got a long way to go, but I'll get there. I've given myself a projected deadline of June 5th. I'm thinking if all goes well I'll wear it to The Secret Garden opening. Hopefully it won't be too hot! I'm thinking a nice denim skirt? Cross your fingers. I did the first part of the second short row sequence - I figured out that decreases were built into the pattern - but in the end I have one stitch too many. So I'll be ripping out the short rows - AGAIN. Yes. I'm a glutton for punishment (and apparently, chocolate covered raisins.) And the ends are getting really out of hand - so when I rip it, I'm going to try and weave some in. Hopefully clean things up a little so the wires don't get crossed so much, so to speak. It's all good!
Yesterday I did a little shopping, but not before having a fabu lunch with my honey! First I got my hair cut - it looks cute and cleaned up - then met Georgie at a doctor's appointment he had. While we were waiting for him to be seen, I received a mysterious text message. Georgie says to me - who's text messaging you? I said I don't know and wouldn't you know it, the message read KISS THE PERSON TO YOUR RIGHT. He's so sweet! I'm SO, so lucky!
After waiting forever, it was off to TAO for lunch. Georgie's been wanting to take me there, and I have to say, the steak I had was very, very good. The decor was neat as well, but don't you just hate restaurants that don't label the bathroom doors with GIRL/BOY, WOMAN/MAN, FEMALE/MALE? These bathrooms said YIN and YANG. There was a man that was behind me and we both just stood there and I said this is so not fair. Finally we both chose - and you guessed it - we chose UNwisely. The male attendant (who for the record, was in the women's room at first) corrected us. Why? Why is it necessary to be COOL all the time? Anyway. The food was very good.
On the way back I stopped at Borders. I needed to pick up this:
I've listened to it about a dozen times all the way through - it's looped on WINAMP - and for the most part I'm pretty happy with it. For all those people I told it was a cross between Tunnel and TGOTJ - I'm revising that. It's more like a cross between TGOTJ and Lucky Town. But better on both accounts. Nothing's going to make me cry, (there are a few like that on The Rising - My City of Ruins never ceases to amaze me) but I did get a few chills listening to Long Time Comin'. The woman's name is Rosie and it's clear they've been together for a long time. (They have two kids and another on the way.) It's also clear that mistakes have been made but he stills loves her, wants her very much. This is a theme near and dear to my heart. Georgie and I have been together for fifteen years and are very much in love, still. It's always nice to have that validated. This song did that for me. Okay. Enough Bruce. If you want to talk about it, let me know. Email me.
I also bought a couple of knitting books: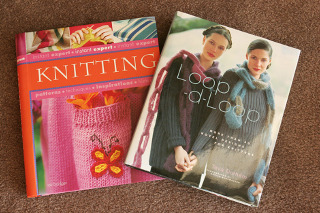 Loop-d-Loop by Teva Durham
Instant Expert: Knitting by Ros Badger
I'm really split on these two. I only bought the Ros Badger because I saw a pattern I liked on Kristine's blog (go on over and congratulate her on the new online store! www.knithappens.net!)
I thought it would be perfect for some Jo Sharp Silkroad Tweed I have stashed. Problem is, the book only gives one pattern size and that happens to be ONE SIZE FITS NONE! You know, one of those anorexic sizes - like if you eat an entire carton of chocolate covered raisins and need to purge for the next week and a half (just kidding!) So, if I want to make this sweater to be able to fit my humongous boobs I'm going to have to do some knitty math - and you all know how much I hate THE MATH! We'll see if I keep the book. It's kind of disappointing all the way around.
But Loop-d-Loop? This book is gorgeous genius. There's a million patterns I'd like to make!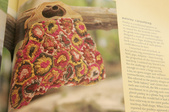 Click for bigger pictures!
Of course, my favorite is this: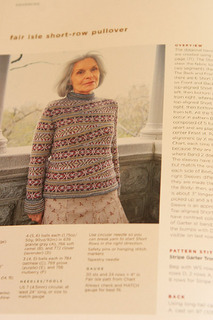 Are you seeing a trend here? Can you IMAGINE the ends? Someone stop me! Please!
I highly recommend this book - really - it's very, very well done.
And finally - a stash addition: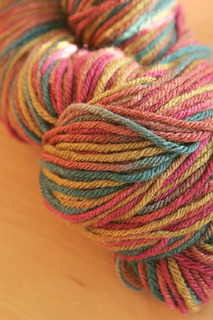 It's 50% Tussah - 50% Merino from Chasing Rainbow Dyeworks in Mary's colorway. I've got 840 yds. I'm thinking my very own Clap. It's taken a LOOONG time to get here. I bought it on my Boston visit.
Have a great day!
* Surely You're Joking is a reference to Richard Feynman - I bought his collection of letters yesterday. I'm thinking I'll read them out loud to Georgie, since he's the one who introduced me to this phenomenal personality. Check him out if you haven't already. It's worth it. Hey Lauren - I also picked up Freakonomics!
Posted by Cara at April 27, 2005 11:47 AM
Topics: Books ~ Miscellaneous ~ Short Rows ~ Stash
Comments
Thank for showing us the Ros Badger book. I saw the same sweater on Digital Yarn and fell in love, but I am so disappointed to hear that it's sized very, very small. Boo!
I've never heard of the Loop-d-loop book, but I love it.
Posted by: Colleen at April 27, 2005 12:55 PM
There were at least two knitters at this year's annual crossword puzzle tournament (W. Shortz hosts). Maybe Ms. Keller was there too, and was inspired!
Posted by: Cordelia at April 27, 2005 02:03 PM
So glad to hear that the Loop-d-Loop book is good -- there is an article about Teva Durham in the most recent Interweave Knits. Love the stash addition -- let us know how it knits up!
Posted by: Kathy at April 27, 2005 02:35 PM
I too saw that cardigan on Kristine's blog yesterday and really, really liked it. I spent a while with google trying to figure out what Ros Badger's latest book was actually called, lol. Just so I could find out more about that cardigan!
...just out of curiosity, what size is the cardigan? If you're really not serious about keeping the book, I might be interested in it, if it's near my size. ;)
Cheers!
Posted by: Sandy J at April 27, 2005 02:58 PM
Thanks for posting pictures from the Loop-d-Loop book. I've been fascinated with her patterns for a while now, but I've yet to knit any. Maybe later this year I'll pick up the book, because quite frankly I do not need another pattern in my possession to salivate over at this moment!!
Posted by: lori z at April 27, 2005 03:02 PM
I saw Loop-d-Loop as well last night; dropped by *just* before B&N closed to grab the Summer IK and Yarn Harlot's book. I will go back and look through Loop-d-Loop. I like Teva Durham's patterns; she's very much like the Vivienne Westwood of knitting, isn't she?
Posted by: MJ at April 27, 2005 03:16 PM
I LOVE Teva's designs. I'm waiting impatiently for my copy to arrive in the mail.
Posted by: cari at April 27, 2005 03:31 PM
I bought D&D yesterday, but haven't listened to it yet. I read in a review that you should watch the DVD first and then listen to the CD. After trying several different programs on my computer, I just couldn't watch it with my computer's DVD drive. Apparently I need to buy more software to go along with the hardware. It should all come together!!! So, I'll watch it on the DVD player at home - hopefully tonight.
Anyway, I'm going to see Luckytown at a benefit concert this weekend, which should be fun. And I'm seeing Mr. Springsteen himself on 5/10. My excitement about MDS&W and the sidetrips to DC and Balto are competing with my excitement about that. And distracting me from my disappointment that it's 35 degrees out.
Posted by: Renee at April 27, 2005 04:12 PM
Oooh, yummy stash enhancement. I like a lot of Teva Durham's stuff that I've seen in IK and other books, too, so I'm not surprised that her book is great - I'll have to check it out. That yellow sweater was very sweet!
Posted by: Anne at April 27, 2005 04:43 PM
I'm late at reading - I've been behind this week! Is your camera going to go with you to the Harlot reading tomorrow night?!? Short rows is beautiful, and now I think I can see why you were up so late working on it! (it makes my simple striped sweater look like a piece of cake!)
Posted by: Kristen at April 27, 2005 07:09 PM
Oh I would love to get a copy of Loop d Loop, I love the leaf sweater which was featured in a recent Interweave. I also love the pink sweater you show from the other book, it would be gorgeous in the DK tweed! You have a couple of colours right? Which were you thinking?
Posted by: Jo at April 27, 2005 07:21 PM
Thanks for the book reviews! I love that pink cardigan as well. I'm only making cardigans right now because it's all I really wear. It's about time I figured that one out. I'm a bit confused on the gauge though. Kristine said that wool/cotton would work for it, but you are saying JS Silkroad tweed. Those two don't jive, what is the gauge?
Posted by: Johanna at April 27, 2005 09:09 PM
Now I'm going to have to buy the book. Oh well - love that long weird ribbed jacket.
Posted by: Juno at April 28, 2005 10:41 AM
Thanks for the review of Teva's new book...I've been wondering about it, and now I know I have to have it. And the Springsteen CD. Ohhhh my. Bruce and me, we go way back (though he's never e-mailed me. Hmm.). And Feynman's letters! Wow, you really swept the scene, shopping-wise: I'm anxious to hear how you like the book. I can't imagine it would be anything less than hilariously brilliant.
My husband and I connected on the Feynman score, too. Glad to know we're not the only ones who think physics can be a great catalyst for romance ;-)
Posted by: Lee Ann at April 28, 2005 01:04 PM
Love Feynman - I have some of his lectures on tape.
The Freakonomics author is going to be the guest on The Daily Show tonight! Late notice, but it replays at 10am and 7pm tomorrow. Seems like it could be an interesting interview.
:) That yarn is pretty! And what a nice name for a colorway.
Posted by: Mary at April 28, 2005 10:43 PM