« To Whom It May Concern.... | Main | Laugh-In »
August 23, 2005
World Peace
I've decided that if I spent half of the time and energy I spend on my anxiety, worrying about whether or not I'll be anxious, thinking about NOT thinking - well, frankly, I'd have found the solution to world peace by now. Either that or I'd be building the Google Elevator.
Something, anything more productive than driving yourself crazy and then having to pull yourself out of the hole.
Margene, zen master, has an interesting post on Motivation today. I'm thinking in a similar, yet opposite direction. What kind of LACK of motivation allows you to slip down that slope - fully conscious of what's going to happen THROUGH YEARS OF EXPERIENCE - and yet you can't get off your ass to stop it? Do I need to feel like shit for some reason? Am I going to come out the other side with some great revelation? I KNOW how to stop it - even before it really starts, yet I let it happen. Granted, there were lots of things this summer working against me (Hello? People who control the Weather?) but still.
You know what? What's done is done. This is who I am. I just hope it doesn't take me too long to get through it. I am SO OVER me.
On to knitting.
Look! Is it a bird? A plane? A superhero? No. It's just a Short Row back - T2 style.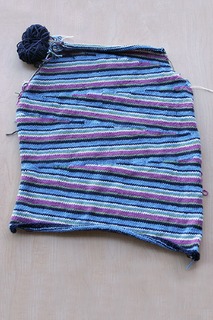 Take Two
It's seems a little bit wonkier than the first version, but I've decided that because of the short rows, this will never be a flat knit. Blocking may help, but there are so many ends and so many starts and stops with the yarn. The size looks good - I've compared it to my prototype (the pullover in my closet that fits nice) and it's right on. I've woven in half the ends and I feel good about the other half. The front is next, as soon as possible, and I'll deal with the sleeves last. I have company coming tomorrow for a couple of days, so we'll see how I do with it.
Socks are stalled. The Sunshine sock is stockinette and I need that like I need another hole in the head. Mindless knitting equates to idle hands. Which means the devils are hard at work. I've got (maybe) one more repeat on the long lost never ending Retro Rib sock and then I can turn the heel. Don't hold your breath.
Since socks aren't doing the trick, I started something new. After finishing the Flower Basket Shawl and the Acorn Socks, I wanted some more lace. But I couldn't find a yarn or pattern that I was happy with. I didn't want to do the Leaf Lace - too similar to FBS. I actually bought two Robert Powell shawl patterns - #103 (pattern) and #106 (kit). The kit came with 4 oz. of Jamieson & Smith 2-ply jumper-weight in Cream which I will probably never knit (look for a contest soon!) but I still like the patterns. Couldn't decide on a yarn.
And then I saw this. And this. And this. And I bought some of this. And here we go!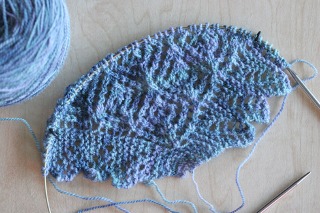 Sivia Harding's Diamond Fantasy Shawl
Twinkletoes Sock Yarn - Foggy Dew
I also bought some Twinkletoes Denim Multi - hard to photograph though.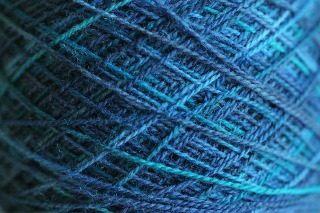 So far I'm liking the pattern - although I have yet to finish the first repeat section. But it's easy to understand and I feel like I will have the charts figured out - you know what I mean - when you GET the lace pattern - pretty soon.
The yarn. I don't know. I definitely like the colors and the weight and the texture. I don't know if I'd ever use this for socks though - it's kind of scratchy - but for the shawl I think it will be good. It seems like it will block well. One thing though - when I was winding up the Denim Multi - the yarn broke once at the beginning and once at the end of the wind. May be I was too tough with it? But it also has a few knots here and there, which annoy me. Juries still out on this - but like I said - I can't imagine I'd use it for socks. Maybe there are lots of shawls in my future. I do have like 1500 yds of the denim. Not sure what I was thinking there. Or NOT thinking. Hahahahahaha.
I started this post on a dark note and I'm going to finish it on a good one. A couple of weeks ago I received an email to my blog address asking if I was the same person who wrote a story entitled "The BBC" which appeared in Fourteen Hills, the literary journal out of San Franciso State University. I replied that indeed I was. Welp, it turns out that FH is putting out an anthology of fiction from the first ten years of the journal and they've decided to include my story. I also found out my story will appear along side some of my favorite writers! Lydia Davis! Lynne Tillman! Peter Orner! Pam Houston! Next to little ol' me! What an ego boost! As you know, my writing has suffered the last couple of years - but this has spurred me on! I actually took out a story yesterday - one I've been wanting to revise - and read it and took notes! This could be it the opening I've needed....
Open up the windows and sing out loud! It's a beautiful day today!
Posted by Cara at August 23, 2005 12:17 PM
Topics: Diamond Fantasy Shawl ~ Life ~ Short Rows ~ Stash
Comments
I love Pam Houston! And you, too;-) Must get a copy of that book when it comes out.
You did move beautifully through your emotions in this post. Perhaps writing about them is the key.
I promise the Twinkletoes will soften as you knit and when you wash it. I love my TT socks! You're such a good enabler (because of a good teacher). I'm off to buy some lace patterns!
Mwwwaaahh!
Posted by: margene at August 23, 2005 12:43 PM
Don't make me come over there and kick some motivation into you! Hey, even superheroes have bad days. ;) The short row sweater is so cool, Cara. Kudos to you for even trying it. The newest shawl I'm doing is also short-rowed, forgot to add that little detail in my post. Makes it interesting, fer sure.
Hope you feel better as summer ends and fall begins. Bring on the color!
Posted by: Kerstin at August 23, 2005 01:51 PM
I like how you bring yourself up from the depths of your malaise to some very inspired knitting. Shortrows is looking amazing! You should be proud of that.
Posted by: Colleen at August 23, 2005 02:28 PM
That sweater back is awesome! I love the way those short rows look.
As for the other stuff, I'm no expert, but I think sometimes we let ourselves repeat mistakes because it's familiar. You know how to behave a certain way, so you do it. But I'm betting that the writing about it is going to be cathartic for you and may just swing things the other way.
Congratulations on the short story reprint, too!
Posted by: Carole at August 23, 2005 02:29 PM
*GRIN* That is fab news for a fab girl. Congrats to you!!!
Posted by: Bookish Wendy at August 23, 2005 03:45 PM
Short Rows looks really great, C, and I can't wait to see more of the diamond lace--that yarn is beautiful. Look like diamonds are your best friend ;)
Posted by: Lauren at August 23, 2005 03:55 PM
My second lace project involves those diamonds as well. I recharted them so that I could make a stole though, from some white cashmere. It's so tiny that the SSKs are really hard to work though, I'm not sure I will stick with it, not so much fun to knit. Yours looks beautiful.
Posted by: Alyx at August 23, 2005 04:07 PM
Yea you! Congrats on the short story & the short rows (is there a theme there?).
You'll get through this, Cara....step by step.
Posted by: Annie at August 23, 2005 04:08 PM
Congrats, Cara! That is so awesome about your story! and the lace looks loverly.
Posted by: Carrie at August 23, 2005 04:19 PM
What a post! I'm glad your short row sweater is progressing so well. I know I've told you before, but I love that pattern and I'm happy someone is making one. I'm excited about the publication of your story, too. You'll have to give more details when you know them so that all of your admirers can pick up a copy! :)
Posted by: Karma at August 23, 2005 04:29 PM
Short rows looks *really* good. And congratulations on your short story!
Posted by: MJ at August 23, 2005 04:37 PM
Okay, now I'm cranky because Bloglines didn't update this on time & I don't know if you're going to get this comment. Congratulations to you on having the courage to question what is going on in your head out loud. I do that all the time (why am I making myself so miserable??), but never out loud. Second: yay, Short Rows! I hope it keeps going well. Third & last: yay lace! I'm still not facing my Charlotte, and I'm afraid to start anything new/harder at this point! Go, Cara!
Posted by: Cordelia at August 23, 2005 08:05 PM
Ah, enjoy the diamonds. It's a great knit and a great shawl and it already looks lovely.
I hear you on wishing you had a way from stopping yourself from doing the same, unhelpful shit, over and over. I know that feeling of being sick of your own crap. I am constantly deciding whether to blog about it AGAIN, since who needs to hear that I've bitten off more than I can chew AGAIN? Sigh.
Congrats on the anthology. That rocks.
Posted by: mamacate at August 23, 2005 09:30 PM
congratulations, that's wonderful! lace is looking good...
you are going to be OK.
Posted by: mrspilkington at August 24, 2005 05:26 AM
Short Rows is beautiful, Cara. I love the colors. And the lace - gorgeous. The anxiety, well...I feel your frustration! There is nothing like feeling yourself slip in, knowing all the while that you could have stopped it...but maybe not. The thing that keeps me going is knowing that it WILL end, it will, it will!
Congrats on your story! That is wonderful news.
Posted by: Jackie at August 24, 2005 07:28 AM
Short rows is looking good. And way to go finishing some of those ends along the way. :)
New lace is goregous. :) Take care.
Posted by: Kathleen at August 24, 2005 08:18 AM
That's wonderful news about your story! And the shawl is looking great too. Work on what makes you happy - life is too short for stockinette. ;-))
Posted by: Cassie at August 24, 2005 08:52 AM
Wow, Short Rows is a.ma.ZING! Zing, zing, zing!!
Congrats to you, Cara. Seems like you're fairly bursting through that opening. ; )

Posted by: Vicki at August 24, 2005 10:25 AM
How wonderful about your story and what a wonderful post...much thought and sharing and fabulous knitting. Take care and write on :)
Posted by: Michele at August 27, 2005 08:34 PM