« September 2005 | Main | November 2005 »
October 31, 2005
Right now, I'm on the floor in my nephew's room. To my left is one sweet sleeping niece, to my right one sweet sleeping nephew. God I love these kids and I've missed them! The baby can sit up on his own and clap his hands, all dimply and amazing. Halloween was a blast, with two parades (one replete with marching bands and everything!) and lots of trick or treating. We'd leave one house, and Charlotte would ask where are we going now, and I'd say another house and her face would just light the way throught the dark. She LOVES candy! And Max, poor Max, won't TOUCH chocolate. Thank goodness for those chocolate free houses!
I didn't finish the Deadhead sock before the end of Socktober. I'm about to start on the toe. It will be done tomorrow. Once again I'm freaking out about enough yarn - but I'll stop at the post office to check it on their scale. I'll be back sometime tomorrow, I think, with Halloween pictures. Dark Vader and the Butterfly Princess don't disappoint.
Happy Halloween!
Posted by Cara at 10:55 PM | Comments (7)
October 29, 2005
to bring you baby news!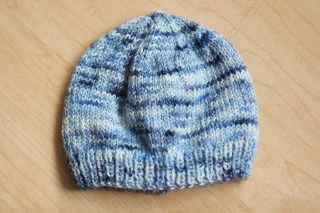 Baby's First Koigu!
At about 5AM this morning, Baby BOY G arrived! I spoke to Jen a couple of hours ago and baby and Mama and Daddy are all doing great. Baby G weighs a bit over 4lbs. and is in the NICU right now (or he may be out by the time you read this) but only because he's a wee one and it's hospital policy. I'll update more information when I get it. Jen had to hang up because they came in to move her. And yes, I didn't get a name. Sue me.
Go on over to Jen's blog and wish her congratulations!


CONGRATULATIONS JEN AND DAVE AND OSCAR!
HAPPY BIRTHDAY BABY BOY G!
ETA: I spoke to Jen again - Baby G doesn't have a name yet! Also, things aren't going as smoothly as originally thought. The baby's still in the NICU - he's having some respitory trouble and they're doing blood tests for infection. Jen says the docs say he'll be in the hospital at least a week. She'll be home Monday though. It's tough for her, but she sounds okay. I think she's barely seen the baby - hence no name. She wants a good look at him before she decides. Dave has spent more time with him and Jen says he feels much better about the whole situation. More updates as I get them. Baby G is going to be fine - it's just going to take a little bit to get him used to being outside! Hugs and Kisses Sweet Boy! To you and your Mommy and Daddy!
Posted by Cara at 11:04 AM
October 28, 2005
Oops. I did it again. I couldn't help myself. Really. I swear.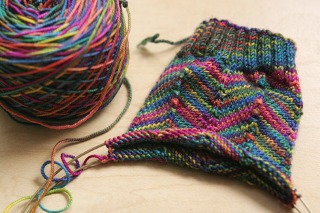 Blame it on Sandra. I was wandering blogland and came across her (attempted) Jaywalker socks in the Fire on the Mountain SOCKS THAT ROCK colorway. I thought they were looking mighty fine, but apparently Sandra's are way too big. Then I remembered! I had picked up the same colorway at Rhinebeck! ( No "which colorway DIDN'T she get comments" please.) So I cast on. I couldn't help myself. Things are going swimmingly! I swear these socks are fast. I managed 15 repeats last night - ten more before I start the heel. Finished sock by the end of the weekend, I'm guessing (hoping.)
Know why I picked the Fire on the Mountain colorway?


Cause I used to be a deadhead, that's why. Surprised? It was a high school thing. And a boyfriend thing to be honest. I've never been one to find music on my own. I always find them through other people (mostly guys with whom I'm somehow involved.) You all know Georgie gave me Bruce. My first boyfriend gave me Earth, Wind & Fire. My best friend in high school (a guy) gave me Steely Dan. The "one" gave me the Dead. ;-)
I've been to a few Dead Shows (and managed to stay sober throughout. HONEST! I did NOT inhale!) When I saw them later on they were really awful - maybe around 93? 94? But when I saw them in '86 they were amazing. AMAZING. I'll never forget it. The best part, though, was that my baby sister was four at the time and we used to listen to the Dead together in my basement turned bedroom. We'd dance and sway and she wanted to go with me to the concerts. But my parents wouldn't let her (which was really, really smart.) I did bring her home a souvenir though - a tie-dye with a huge skull on the front that she proudly wore to preschool. I think they made her take it off because she was scaring the other kids. Way to go sis!
So I think I'll knit on these socks with a little Jerry and the boys on in the background. R.I.P.
~+~+~+~
You all think you're worth so much? How about sharing the wealth!



My blog is worth $0.00.
How much is your blog worth?
How pathetic is that? HAHAHAHAHA!
Thanks for all the BLOGIVERSARY wishes! MWAH!
ETA: Letitia, honey, maybe YOU should read one of your books. It's bad manners not to leave a real email address. And just for that, you're not getting SOCKS! Thanks for stopping by though.
Posted by Cara at 04:11 PM | Comments (18)
October 27, 2005
The show yesterday was very, very good. We had awesome seats, smack dab in the middle, on an aisle, with lots of leg room. Before I left the house I used some of this shit - Georgie told me it was the bomb and damn he was right. Cleared my head RIGHT out. I could breathe! (Although a google search on Zicam has brought up numerous lawsuits about loss of smell. Great. I have a very highly honed sense of smell. But it looks like the one that does the damage has zinc in it (the preventative one) and mine doesn't have zinc in it. Whew. Now I really can breathe again.) Back to the show - I lasted pretty well through the first act - blowing my nose like the lady I am, quietly, demurely. I let my lozenges melt on my tongue without any loud or unsightly chewing.
The second act all bets were off. I had to sneeze a million times and I'm one of those loud sneezers so I was trying hard not to sneeze loud - you know - holding it in and all - and I think I threw out my back restraining myself. The shit that was the bomb wore off about half way through the second song in the second act and my nose blowing got louder and louder the closer we got to the finale. My head hurt. My neck hurt. My nose burned. My back itched (whenever I get a cold I get this weird itching on my back. Especially after I cough.) I felt like crap.
But the show was great! It was a lot of fun - the sets were magnificent. I think the sound left something to be desired, but the actors were very good. (Although I felt like the Glinda actress was channeling Kristin Chenoweth instead of making the part her own.) The story was very well done - except I don't understand why the slippers weren't RUBY? Why wouldn't they be ruby? And I was a little upset about the whole scarecrow thing. All in all a good night - I wish I hadn't felt so sick towards the end. My dreams last night - flying monkeys. 'Nuff said.
What am I forgetting? Oh yeah. Kay. Lovely Kay. And the equally lovely Ann. Ann you were totally there last night. I ran my little heart out trying to get to the Knit Lit III reading in time (traffic was a BITCH with a capital B) - and by gosh I made it. Lucky for me, Kay was last. And she finished in just enough time to take a picture of my socks and then I had to dash to the theater. Kay's right - the placement of the reading in the store was a bit strange. There were huge windows looking out to 42nd Street behind the readers - so a million and half people stopped and stared at all the weirdos in the audience knitting. It was quite entertaining actually. (I swear, Kay, I heard every word you said!)
All in all it was a lovely night out, you know, besides all the snot.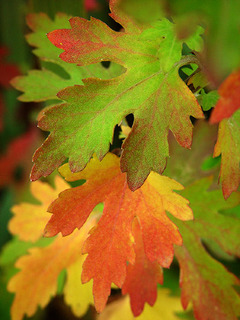 Speaking of snot, my brain was so preoccupied with
phlegm and taking over the world
, that I forgot that yesterday was
MY BLOGIVERSARY
!!!! Yes, my friends, you've been lucky enough to have me for a whole year. It all started on October 26, 2004 under the unassuming name, Purls of Wisdom. I quickly found that beyond pretentious (like I have any wisdom) and changed over to January One right quick. And here I am.
It's all Jen's fault. She and I met online in a fertility forum and quickly became REAL LIFE friends. She had a blog. I didn't even know what one was really. But soon I was blogging away. Becky was one of the first people to link to me (in her sidebar no less!) I remember how thrilled and grateful I was when she noticed my photographs and my knits. Thanks Becky! Cassie was the first blogger I met in real life. We met a few times at the place next door to Purl for tea and lemonade. Thanks Cassie for taking a chance on a blogger from New Jersey.
Blogging opened up a whole new KNITTING world for me - patterns, yarns, HELP. I'm a much better knitter now than I ever would have been had I not started blogging. MUCH BETTER.
But the best part about blogging - the people I've met. (Here comes the gross part. Be prepared.) I love my blog because I can bitch, I can be happy, I can cry - and people keep coming back! They like me! They really like me! I've never laughed so hard in my life because of the people I've met through blogging. People all over the world that actually ARE as crazy and funny and sane and nice and generous and REAL as I'd like to think I am. So thank you all for making this a great blogging year.
Now, on to the contest (because what's a blog birthday without presents!) I'm going to push myself here. Do something that seems really big and beyond what I would usually do. I'm going to knit for someone. And because this week has been all about the SOX, I'm going to knit the winner a pair of socks in whatever SOCKS THAT ROCK colorway they choose. That's right. Understand this though - there's no deadline on this knit. I'm notorious at getting prize winnings out late and these socks will be no exception. I would hope that you will get them before the next blogiversary (that's kind of a joke) but no guarantees. BUT YOU WILL GET THEM. I never go back on my word. Also, rumor has it that there's been some kind of run on Socks That Rock over at The Fold. Beats me why that would be happening, but alas, it's true. ;-)
Okay. Here's how you can win. My birthday (my real birthday) is officially 66 days away. I'm really bad at receiving gifts - I'd usually rather just go out and get it myself. But, if you've been reading along for the past year, maybe you have an idea of what would be the PERFECT gift for me. Leave a comment with said gift. Can be knitting related, but it doesn't have to be. My idea of a GREAT gift is something I wouldn't necessarily buy for myself, but that once it's in my hands I'm not sure how I ever lived without it. So dig DEEP! A winner will be chosen at random using that random generator thingy that I've used before - please only one entry per person. (They'll be some runners ups too.) I will close the comments November 1. Exactly two months until I turn 36. (WHAT?!) Have fun! And thank you for being such wonderful readers!
Posted by Cara at 11:55 AM | Comments (41)
October 26, 2005
Ah. The soundtrack of my life. I'm sick. Sick. Sick. Sick. I'm kind of a rotten sick person. I expect to be waited on hand and foot and I complain and whine a lot. I think because, secretly, I'm excited to actually HAVE something to complain about. Something tangible like snot running down your face. Like your teeth itching so bad they hurt. Like a drippy eye. You know what I'm talking about.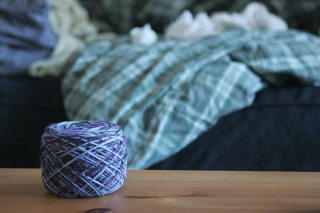 See that? That's the couch. That's where I slept last night. Believe it or not it was more comfortable than my superfantasticsuperdeluxesuperspecial bed. Now, I think, you know how really sick I am. Thankfully TCM is showing Alfred Hitchcock this week. I watched Notorious last night, and then Rebecca came on, my all time FAVORITE! And after that Suspicion. I taped Rebecca and Suspicion. Gotta look and see what's on tap for tonight.
Want to know what a selfish knitter I am? I'm already on record saying I don't knit no holiday gifts. If I decide to knit something for you, I decide what you get when you get it. That's it. End of story. BUT, I so enjoyed knitting my sockapal2za socks that I volunteered to be an angel. I received my new sock pal's name the other day and high on the ROCK STAR socks, I thought I'd hit the Socks That Rock yarn for my pal.
You see, there was a skank in there that I was pretty perplexed about. Azurite. Muted colors - lavenders, purples, grays. I honestly don't remember how it got in there. I can't see myself picking it. It's not really something I would normally go for - but there it was. Perfect, I thought! My sock pal can have some Socks That Rock as well!
And then I wound the sucker up. And created a nice big tangle in the process. Well, let me tell you, after handling this yarn and looking at it all wound up there ain't no way I'm giving it away. NO WAY no how. It' beautiful.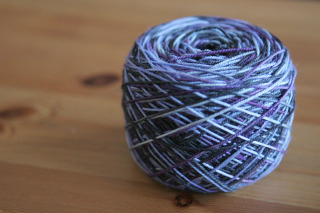 The picture doesn't do it justice. But more than the colors, the feel of this yarn is truly spectacular. You know those rumors about how Koigu and Cherry Tree Hill are really Gems Opal, just with different dye jobs? I had heard the same about STR. But I think NOT. As soft and nice as Koigu and CTH and even Gems Opal are, STR is like SILK compared to them. Silk. I shit you not.
Because I'm a selfish knitter, my sock pal will be getting some nice blue Cherry Tree Hill that I've got in the stash. I'm thinking some simple (yet elegant) garter rib socks from the Sensational Sock book. That's the plan anyhow.
Oh and I want to cast on for mittens. Mittens are calling me.
I've got a busy night tonight. First on tap, the KnitLit3 reading. I'm not going to be able to stay until the bitter end, but I'll be there. I have to dash over the the theatre, dahling, for an evening of singing and dances and witches. We're going to see Wicked. Someone cast a spell on me please and take my cold away? Please?
Oh and if you see me tonight, I'll be wearing the ROCK STAR socks and I would think very kindly of you if you would only refrain from telling me that my nose actually matches my socks.
Posted by Cara at 11:54 AM | Comments (25)
October 25, 2005
Let's play that game - which ROCK STAR do you feel like today? I'm going with Keith Richards. Ugly. Curmudgeonly. Looking like death warmed over. Yeah. I went to bed with that tickle of doom in the back of my throat and woke up with a Ring of Fire. Give me stuffed nostrils and piles of snot filled tissues anyday - there is NOTHING I hate more than a sore throat. WWND?
The night wasn't all bad though because I did have a dream about Springsteen. I was climbing up the stairs to my seat at a concert, but he was at the top of the stairs. I, of course, was moaning over and over again "I love him. I love him." and when I got to the top of the stairs I was all like Hey Bruce what's up and he gave me the jive handshake and said "Hey, how come you never sent me some of the flower cards?" And I was like, "You WANTED me to send you flower cards?" And he said, "Yeah. We're redecorating the house and Stephanie wanted to see them." I don't think much more needs to be stated here, do you? Well, except that in my dreams Bruce and I have a long-running does he really know me kind of relationship. He always seems like he remembers me from the last concert, but I'm always surprised.
Anyway, so I woke up knowing full well my public awaits the unveiling of THE SOCKS. But, my throat is BURNING and I'm feeling all this pressure from the link (Hey all you new readers! Welcome to my blog!) and the weather SUCKS and the light is bad and I'm supposed to be photographer girl and all but I so don't feel like taking pictures and then I hop on over to Grumperina where she has knit the most beautiful pair of socks for her grandma and has taken even prettier pictures. My loser-meter just exploded.
So then I thought, do I really need to take pictures? I'm sick. I have to go out in this world-ending NorEaster (notice how EASTER is in the name of the storm? Biblical proportions anyone?) to get my hair done. That's right. My hair. I've needed a dye job for like two months and the roots are down to my knees and it's long and greasy but do I really care about my hair when it's just going to get all wet after spending a million dollars? NO. But I can't disappoint. I really can't.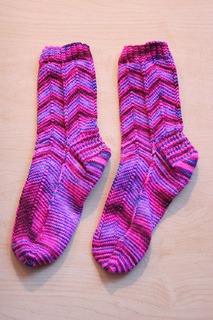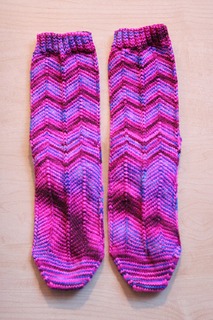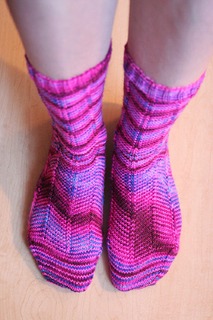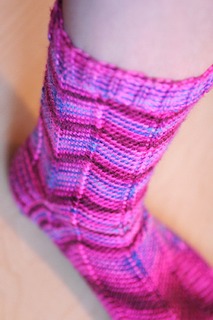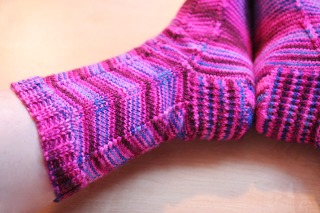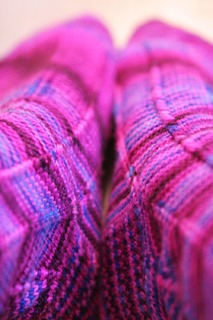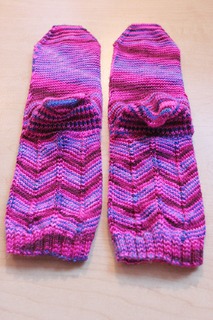 Details:
SOCKS THAT ROCK, ROCK STAR colorway
Jaywalker pattern by Grumperina
Addi US #1s, two circulars
6" cuff, 9.5" foot
The only places I went off the pattern were dividing for the heel (because of the 2 circs) and the toe decreases. I was too lazy to figure out the place of the first decreases for the toe because of the whole dpn to 2 circ thing, so I just started decreasing. I LOVE this pattern. I love the fabric it creates. I love the look of it. I'm normally a non-chevron kind of girl - I hate the whole feather and fan thing - but this works for me. It's tailored, but zippy. And it shows off the colorway so well. Thanks Kathy for a great pattern! I will for sure be using it again.
The yarn. Really, I think the socks speak for themselves. At a high-octane, punk, mosh pit kind of level.
Thanks to EVERYONE for hanging in there with me while I bit my nails to the quick about the yarn sitch. There was a point in the toe decreases that I was SURE I wasn't going to have enough, and then suddenly it became clear that I wasn't THAT close. Honestly, I was a bit disappointed it wasn't more dramatic. I actually had to cut the yarn to do the kitchener.
Like I don't have ENOUGH drama in my life.
Posted by Cara at 09:57 AM | Comments (40)
October 24, 2005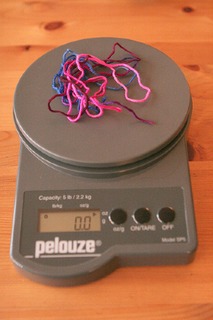 DONE!
Socks started Wednesday, October 19th, 6:45.
Pair finished Monday, October 24th, 5:10.
That's got to be some kind of land speed record, right? Somewhere? Somehow?
Full out photo shoot tomorrow. The light sucks and I'm tired. ;-)
*Thanks to Stephanie for the ROCKIN' Title and for breaking my sitemeter. Whoa...DUDE, did you see how many hits today?!
Posted by Cara at 05:28 PM | Comments (23)

Click on the picture for a better view. ;-)
Heh. Heh. Heh.
Okay, sports fans, I kicked ass yesterday on the sock front. I actually considered pulling an all nighter to finish it, but alas, I didn't. 2:30's late enough to go to bed and then I slept like shit. 87000 dreams. I don't think I ever hit deep sleep to be honest. I'm exhausted. Back to the sock. I've done 44 pattern repeats (I'm counting the double decreases down the front of the sock) and the finished sock has 57. So I have 26 rows left before I start for the toe decreases and as the scale says, I have half an ounce left.
A word about the scale. There's definitely something wrong with it and as soon as this sock is finished I'm returning it. I knew pretty much as soon as I opened the box that it was a return - the instructions were kind of wrinkly and there was a Duracell battery in it already. And the low battery indicator was on. In fact, after changing the battery to a fresh one, the low battery indicator is STILL on. I weighed another one of my STR skeins and it came out to 3.8 (or 3.9 depending where it sat on the scale) as well, so I'm not too concerned that I'm getting small skeins, I just think the scale is off. I will be buying a new one.
Regardless, I've been weighing the freaking yarn like every ten rows. Which is ridiculous because I have no idea how much the first sock weighed at any given point during the knitting. I only know what it weighed at the END of the knitting. I will probably finish the sock today (or as much as I can - you know - if I run out of yarn) because I CANNOT STAND THE SUSPENSE! It's killing me not knowing if the yarn will make it to the end. The pathetic little ball looks so tiny.
In the meantime I've become convinced these socks are magic. I'm almost afraid to finish them for fear the White Sox will lose if I'm not knitting ROCK STAR socks. Ugh.
Now go back up there and click on the picture already. Lazy ass. ;-)
Posted by Cara at 09:27 AM | Comments (17)
October 22, 2005
I finished the first ROCK STAR sock. And it is indeed very ROCK STAR, although Georgie said it was pretty and well, that's not quite what I was going for, but what does he know right?
Anyway, here's the problem. Or maybe it's not a problem and I'm getting all uptight for nothing.
I went out and bought myself a postage scale. I weighed the finished sock and got 1.9 oz. I weighed what's left of the STR yarn and I get...wait for it... 1.9 oz. Exactly the same as the first sock. Does this mean I'll have enough? This is decidedly less than the 4.25 oz. that are supposed to be there (according to the label.) That said, the wound ball of Koigu I've been comparing my STR to weighs only 1.8 oz.
Opinions please. Thank you very much. In the meantime, let's all just sit back for a minute and talk about how it took me just over three days to finish one sock. (I cast on about 6:30 Wednesday night. But all the knitting was Thursday and Friday.) I don't think the other one will go as fast unless I'm panicked the whole time about the yarn. If (and that's a big if) I run out of yarn I think I have a solution. I have some very dark wine colored Koigu in the stash which might work for the toes. So that's the plan if I run out. I'm going to cast on for the second sock. Pictures Monday.
Posted by Cara at 08:50 PM | Comments (19)
October 21, 2005
Every once in a while, the Knit Gods smile.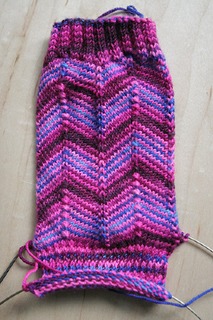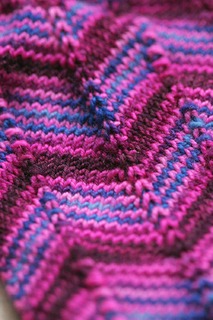 I'm not sure I can put into words how much I LOVE this sock. I love everything about it. The yarn, the electric colors, the
PATTERN
! I think I have chosen the EXACT pattern this yarn needed. EXACTLY. There is NO OTHER pattern that would work. What do you think?
There's just one problem. Beth left me a comment yesterday and upon receiving it I went and checked out her lovely blog. She had just finished her own pair of STR socks, which are gorgeous by the way, and in reading her re-cap she pointed out something that I had missed. THERE ARE ONLY 325 YDS IN THE BIG SKEIN OF SOCKS THAT ROCK. Please take note of this people! That's 25 yds LESS than two skeins of Koigu. Cherry Tree Hill gives you 370 yds. DUDE! The socks still rock, but just a teensey bit less.
I guess if I was a toe-up kind of girl this wouldn't matter too much, but alas, I'm a downer, so I'm in a little bit of a panic. Beth was gracious enough to give me the measurements for her socks and I decided that I would get to a 6" cuff and start the heel. It actually is okay so far - I'm ready to turn the heel. I do like a longer sock, but it seems that this particular sock wants to stop where it has - and I'm okay with that. I will though be in a panic for the entire knitting process until both socks are done and I know I'll have enough yarn. Blah!
The real, real problem is that I LOVE these socks so much I want to knit them forever until the are so long they will cover my whole body like a ROCK STAR BODY SOCK. They are that beautiful to me.
Posted by Cara at 10:04 AM | Comments (36)
October 20, 2005
Okay. I'm giving away my allegiance. Even though some people will be nail-less watching their Killer Bees, in our house it's SOX, SOCKS and more SOX.
When rooting locally, we're Bronx bound. Should the Phils ever come close again, I'm right there. But in our heart of hearts, we're South Side all the way. (And when I say our hearts know that I mean G's heart, but since our hearts are permanently intertwined when he loves, I love. Ann - that was your cue! Run with it!) Why are we rooting for the Sox? You see, when Georgie was a wee one he lived in Chicago, for the first four years (or five - it varies in the telling) to be exact. Then they came to New Jersey. But the love of Chicago lived on in his older brother and sisters, so The Sox it is. And since they've never really had an opportunity to root for the team - here we go.
On to SOCKS! Guess who I talked to yesterday? Toni at The Fold. I missed her. And I needed more SOCKS THAT ROCK! I'm not kidding. I heard a certain someone gifted her STR to someone else and I couldn't let her go STR-less so I took care of that right quick. And she's a ROCK STAR so that's what she's getting. I LOVE YOU MAN! (And Toni totally seconded my notion of the Lendrum - she was quite encouraging. Now to find one to try. Hmmm. Where could I try a Lendrum? Anybody know anybody who can lend me a Lendrum?)
And since Margene told me yesterday in no uncertain terms that I was to drop everything and start a ROCK STAR SOCKS THAT ROCK, that's just what I did: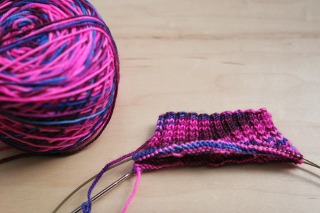 Here's the B-Side: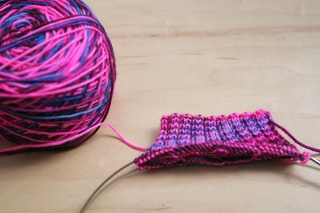 Funny how different, huh? I'm going with Kathy's Jaywalker pattern from MagKnits. I mean, c'mon! Who ever heard of a ROCK STAR that crosses at the light? Puhleese! I cast on for these socks while waiting for my class to show up last night. I've just started the pattern, so I can't see how it's going to shake out yet - and honestly - I can't really tell from the pictures either, but we're crossing our toes. GOAL: to have one sock finished by the end of the weekend.
I'm going to need to kick ass on this because there are more socks to be knit. I got my Sockapal2za angel recipient yesterday. This poor sole (hahahahaha) not only didn't get socks from her pal, but wasn't able to send out the socks she knit to her pal! Doesn't that SUCK? So she's going to get SOCKS THAT ROCK from me! YaY! And I found out that I WILL be getting a pair myself. I believe in the POWER OF THE SOCK!
Alrighty then. Enough is enough is enough. I'm going to take it easy today. Knitting. Some laundry. Straighten up a bit. Pay my NJ ST Taxes. (DO NOT FORGET TO PAY THE TAXES!!!!) You know. Stuff around the house. Tomorrow, I'm off to The Spinnery with Jen! Scary stuff I tell you. Sccaarry stuff.
*Anybody out there watch Elmo? You know how they always have "The ___ Channel" on Elmo's TV? Like The Bicycle Channel or The Arm Channel or something. That's what I've been thinking of. Little old kidless me has been thinking about Elmo. Kill me now.
Posted by Cara at 10:25 AM | Comments (18)
October 19, 2005
It seems everytime I open my bloglines, Lolly's got a new Soctoberfest update! Did you see how many participants? And the prizes? And I'm all like shit. I need some sock yarn to start some socks. HAHAHAHAHAHAHAHAHA! The really sad thing is that I JUST started the second Sunshine Sock. With Vicki. On the couch Sunday night. I've got about ten rows of ribbing done. It's a stockinette sock. And there's still poor Retro Rib - I'm about ready to turn the heel on the first one, but I can't even remember when I last picked that up. And let's not forget that I've got a baby blanket to knit for a baby that could, in all reality, come any day and I need to just CHART my dad's Aran for goodness sakes and the Powell 106 is feeling lonely. What's a girl to do?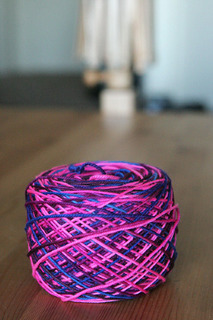 Wind up some SOCKS that ROCK, that's what! This is pretty much what I did upon waking. Colorway: ROCK STAR. Dude! I'm all about the ROCKING these days. (Aren't you all sick of me yet? Seriously. I will completely understand.) Anyway, the yarn's all wound up, now I just need to find a pattern.
What's that? Need some sock books to go with that sock yarn?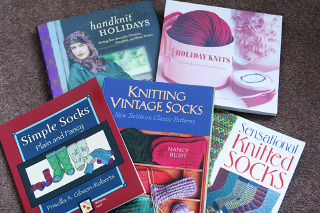 Lucky for me, some came in the mail just the other day! We've got (clockwise from the top) Handknit Holidays by Melanie Falick, Holiday Knits by Sara Lucas, Sensational Knitted Socks by Charlene Schurch, Knitting Vintage Socks by Nancy Bush and Simple Socks by Priscilla Gibson-Roberts.
I bought the two holiday knitting books solely for the ornament patterns. It's coming pretty close to the holidays and I need to send out cards. Usually I use one of my flower/plant/tree pictures, but I'm running out of archives. And unless the weather turns really nasty really fast (read: snow) I'm not going to get a new one this year. So I thought I'd knit some ornaments, take them outside, and take a picture! Voila! I get to combine two of my loves and get a nice card this year. We hope! The best laid plans and all that.
I bought the sock books - well that should be obvious. (I really got the Nancy Bush because of Margene!) I haven't really had a chance to look through any of them - they came Friday afternoon while I was frantic getting ready for the weekend. But the girls had a good look and they gave all of them a thumbs up. The Sensational Socks looks, well, sensational, from what I've seen. It's a cross between an Ann Budd template book and a Harmony stitch guide. My favorite part - it's got directions for 4 dpns, 5 dpns, and TWO CIRCULARS! Whippee! I'm sure I'll be picking a pattern out of here for my socks that rock.
Alas, not sure it will be today. I've got class tonight that I'm woefully ill-prepared for and stuff to ship out (my business is really going crazy. WHICH IS GOOD! I AM NOT COMPLAINING! Just stating facts.) But Lolly, I really want Soctoberfest socks. Really, really really!
Before I sign off, I wanted to mention two women I met at Rhinebeck that I left off the big post. And not because they weren't on my mind - they were - I guess I just didn't know where to put them. Judy of Smatterings said hello to me at the meet-up and I am so glad. This woman is a REAL artist (who almost died for her art!) while I'm just faking it with a big camera, as Laurie so eloquently suggested. Judy - it was wonderful to meet you and talk with you and you are so beautiful and elegant - I can't wait to buy some of your yarns! Thank you for saying hello!
And Terry - my kindred spirit - my worry sister! Parting was such sweet sorrow (how many times did we say goodbye?!) It was so great to meet you in person - I dare say there wouldn't be a Flower Basket without you!
Gotta run! Really! It's been over a week! L, C
Posted by Cara at 09:46 AM | Comments (15)
October 18, 2005
Thank you, Georgie, for showing me the way.
Do yourself a favor and push play.
I'm DYING. Dying I tell you. DYING. DYING. DYING.
Oh my GOD. I just pre-ordered it so I could see the documentary clip about the making of Born To Run. All I have to say is it's a good thing G's out late tonight. Ima gonna be busy. ;-)
Posted by Cara at 07:23 PM | Comments (5)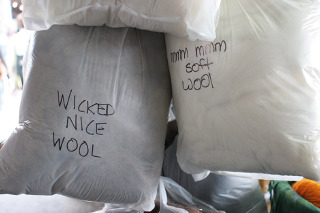 I think Alison has the same picture - great minds think wool!
I'm so not sure where to start. Do I begin with Thursday when Vicki ended up at my house, in the ridiculous rain, with me mid- job and mid-cleaning? I did shower to pick her up and thank god I had washed the sheets that morning. Do I tell you how Friday morning I ran around like a chicken with two heads (that seems worse almost than no head) trying to get the jobs finished so I could run to the post office, in the still ridiculous rain? Do I tell you how we stopped for shoes for Vicki - because she didn't anticipate the beyond ridiculous rain and only brought open shoes? (I'll let her tell you that.) Do I tell you that we got home and Ann called to say her and Peggy were down the block and I hadn't showered or packed yet? I just don't know.
How about I start with the 1.5 hours it took us to go about two miles (I'm being extremely literal here) because of flooding. Once again, I'm sorry girls. I wish I had read the directions better. I'd like to think I could've gotten us out of it. But still and all, I think that Ann is secretly glad we got stuck because somehow I got control of the I-Pod and Barry Manilow got extra airplay and now she has something ELSE with which to torture me. Blogless (but not wheel less!) Peggy was the BEST driver - a girl after my own heart - aggressive and pissed and the quintessential NY driver. Yay Peggy! She got us to Rhinebeck (and home) safe and sound under adverse conditions. Listening to Ann and I go back and forth cannot be easy. Thanks again!
We finally got to the hotel in Poughkeepsie (blogger central) about six hours later - including a stop for dinner - to find Kris and Michelle looking for Norma. We invited them in until the festivities started. The cake was delish! Thanks Norma - and congratulations Nathania! Bloggers flowed in and out of Norma's huge room all night. As Juno pointed out, I made the mistake of knitting something that I still needed the pattern for - not a big complicated chart - but a pattern, with like two YOs and some ribbing. I think I ripped 814 times. Next time, only socks for me (like pretty much everyone else) and st st ones at that.
Saturday morning we were up bright and early. I didn't know what knits to bring, since it was raining (AGAIN) and even though it was supposed to stop, it was going to get hot. I had brought DFS, AEC and my one and only pair of handknit socks. Saturday I threw DFS in the car and headed out. My one and only goal, as you may have already heard, was to get to the Socks that Rock Booth before anyone else. I succeeded.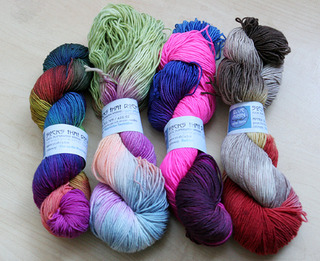 l to r: Fire on the Mountain, Watermelon Tourmaline, ROCKSTAR, Petroglyphs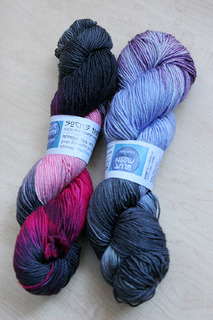 l to r: Hard ROCK, Azurite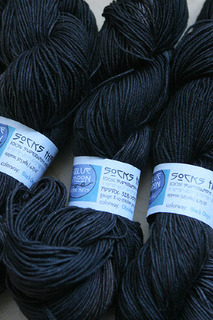 l to r: Black Onyx, Obsidian, Black Onyx
Um. DUH! Ann's going to give me such shit for this, but in my haste to buy up all the SOCKS that ROCK, I missed. I wanted three Black Onyx to make a shawl - something dramatic with fringe (and maybe beads?) so I grabbed three. It wasn't until I got home that I realized only two of them were Black Onyx and one was Obsidian. Although for the life of us, Vicki and I couldn't tell the real difference. It seems like the Obisidian has a bit more brown in it and one of the Black Onyx has a lot of white, but really all of the them look pretty different. At this point, the only reason to get another Black Onyx is because of mental problems and packaging, not because of yarn and dyes. Thought you'd like that story. Oh and if you're counting up the skeins and want to call me a liar because there are only nine, not ten, one is a gift. That's right. Only one. Don't you wish you were the lucky giftee. ;-)
After SOCKS that ROCK, I really didn't care anymore about anything festival related. Oh that's not true. Please. I went shopping for a special someone and elicited the advice of many a blogger/spinner. Julia was particularly helpful. Thanks Julia!
When we finally got out of Building A, it was time for the blogger meet-up. I had mixed feelings about facilitating this one, to be honest. I wasn't going to do it. I did it for Maryland and it was disappointing to me. I think, having the 20/20 vision of hindsight, my expectations were too high. And the area we met was less than condusive to meeting. This fact alone I think contributed to the fact that the Maryland meet-up lasted like ten minutes. So I wasn't going to do it, but then Vicki was coming and she asked for it so I did it. It was great! First off, at MDSW, I picked a bad spot. It was right in the middle of traffic and the line for the t-shirts was still a mile long and, well, it just didn't work. I wanted to meet EVERYONE at MDSW because I didn't know anyone. This time, I was a little more grounded. I came with some great girls. I knew I'd see them (a little too much if you know what I mean.) Wendy and Elisa were sleeping with us that night (more on that later.) A bunch of girls I'd seen the night before. I knew I'd be seeing a bunch at the hotel later on. So for me, there was no pressure. Everyone I met at the meet-up was like gravy, you know? A very different feeling than at MDSW where I felt like if I didn't meet them then, I'd never meet them. And the spot I picked was right on. A big open thoroughfare with benches and plenty of space to linger and talk and move around. People thanked me for setting it up and really, all I did was put some names up on my sidebar. You guys did all the work - you came, you met, you (hopefully) got to talk to some great people who you really wanted to meet. That's all I asked for - and I received ten-fold. The only regrets I have is that there were people that I didn't get to spend ENOUGH time with - they know who they are and all will be rectified. Mwah! Just because I didn't hug you enough doesn't mean I don't love you! I do! I do!
Where are the pictures you ask? Welp, even though I carried that big ass honking camera around for two days, I really didn't take any pictures. Besides what you will see here - the only other ones I took are over on Kay's blog. The conditions at these shows are less than stellar for photography and I was too busy having fun with friends (old and new) to worry about getting the perfect picture. I should've left the camera in the car, but god forbid I should miss something like this:

Ann - you found the booth, right? (Kay actually spied this sign.)
So I had to have the camera. But, alas, I didn't even get a good picture of a sheep. Sorry to disappoint.
Where was I? Oh yeah. If you aren't bored out of your mind already, read on.
Midway throught the afternoon I met up with Kay and Carrie and became their personal fair grounds tour guide, if you will. Is docent more accurate? (Here on the left you have Norm Hall's wood. Large sheep testicles to your right. And there go those NUNS again! What was with the NUNS? They were freaking me out!) I hope I did a good job for them. We wandered from barn to barn to barn, meeting up with bloggers everywhere! (I can't believe I pretty much remembered everybody's name. Except for Kellee. I'm sorry Kellee. I kept forgetting your name and your blog. I know it now and won't forget! Obsession du Jour! Already in my bloglines!)
People accused me of enabling, but they didn't do too badly themselves. I got this beautiful merino barber pole yarn while wandering around with Kay: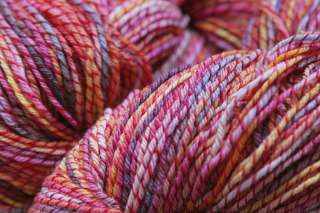 Lisa Ann Merian's Licorice Twist yarn from The Spinners Hill Shop.
She calls the yarn Licorice Twist, not the colorway. She doesn't name the colorways. Hand-dyed and hand-spun.
I liked it so much, I went back for more: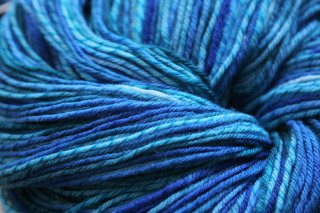 I've got about 1000 yds of the red/orange and 500 of the blue. I'm going to make mittens out of the blue - for Sandy's Mitten A-Long. Maybe for me. Maybe for the kids. Not sure yet.
All too soon they were making announcements that the fair was closing for the day! I met back up with my cohorts and we went back to the hotel - exhausted and satisfied.
After watching Vicki and Ann get drunk on Sheep Shearer wine (there may or may not have been talk of penis tape measures. I don't know for sure - I was trying to KNIT!), we headed to the lobby for pizza and knitting. Sort of a Pepperoni laced Stitch N' Bitch. The pizza guys would come and deliver pies and we'd send them back out for more. TJ's, right? Good pie. Not NYC good, but good. We knit and spun and laughed and laughed and laughed. There was A LOT of laughing. The good kind too, not where people are pointing at you and laughing. Although, to be honest, there was some of that (not mentioning any names ANN!)
Here's where I get all philosophical and goofy. After Maryland, there seemed to be a dearthplethora (thanks Debi!) of posts lamenting the high school atmosphere. People felt left out, it was too cliquey. I was one of them. It was a hard thing, Maryland (and that's not to say I didn't have a great time!) As I said before, my expectations were very high - I knew practically NO ONE and I wanted to know EVERYONE. It's not like I didn't want to know everyone at Rhinebeck, I did. But at the same time, I didn't feel the pressure. And I would be VERY surprised if posts pop up about high school after this one. That's not to say that people didn't have that feeling. I'm sure people felt left out and snubbed and excluded (and I'm SO SORRY if you feel like I contributed to that in any way - I SINCERELY DIDN'T MEAN TO!) But the whole event had such a warm, sisterly atmosphere. People were friendly. They WANTED to see what you bought, what you knit, tell you how lovely it was, rub you up and down and ooh and ahh over your knit. They wanted you to have a good time, to have a good time themselves. I was very nervous about going - because of the feelings I had after Maryland (that this group wouldn't get along with that group, etc.) and because of the anxiety I suffered over the summer and it ALL WORKED OUT. For me, at least. Thank you Vicki, Ann, Peg, Wendy my love, and Elisa, who I didn't manage to ask about her sexual history until AFTER we slept together, for making me feel so comfortable and cared for that I NEVER HAD TO TAKE A XANAX!
I'm all verkelmpt. I MISS YOU GUYS!
You know you're all sympatico when you're safely snuggled all in bed and Vicki says, "Hey, what side of the bed do you usually sleep on?" AND WE'RE ALL FOUR OF US ON OUR SIDES OF THE BED! No discussion about who will sleep where or who snores or nothing, we all just climbed in and were immediately where we needed to be. In case you're wondering, if you're facing the bed, Vicki and I sleep on the left, Wendy and Elisa on the right.
On Sunday, when we got to the festival, I went off on my own for a bit - too much togetherness and honestly the girls were a bit slow with their shopping. At that point I was in stealth mode to try and make sure I didn't miss anything. I thought I hadn't (although reading through everyone else's blog entries it might seem that I had. I don't remember half the vendors they're talking about!) I think I went through those barns like ten times each. Don't tell anyone, but by noon I was bored. Eeek!
But before I got bored, I tried one of these: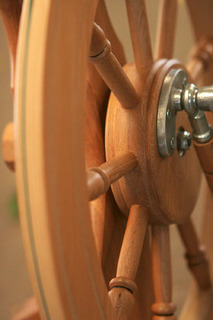 A Majacraft Rose Wheel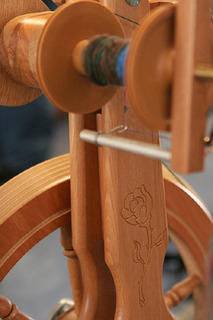 Uh oh.
No, no sillies! I didn't buy it, but Peggy did! Yay Peggy! Hope you love it! But I was very, very intrigued. So intrigued that later in the day I made my way over to Robin Spinning Wheels and had Kim give me a lesson! Kim, thank you!!! It was so great to meet you! The wheel was gorgeous and I think I warmed up the seat just enough that Laurie might still be there. Or maybe she just put her name on some list. Apparently Gilbert only has a two-year wait for his wood. ;-)
I've got to say, I think I want a wheel. I'm leaning toward a Lendrum because Toni says they're fabulous and Ann loves hers and it can do everything! AND, they're not too expensive. I can get the double treadle with the works for under $500. My birthday, you may know, is only 75 days away. We'll see. I want to try some more - Jen and I might head out to The Spinnery. She thinks she's going to buying a wheel soon, so maybe I can play with hers for a bit. Or rent one. And Ann says I can come over anytime if I can brave the dogs. We'll see. I'm not making any promises to the coven, but I think a wheel might be much better for me than a spindle.
Did I buy anything else? I did - some more sock yarn, if you can believe it! Some of this will be gifted away: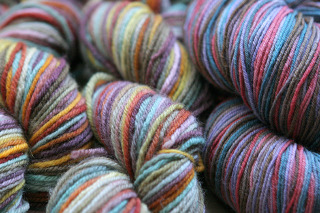 Ellen's 1/2 Pint Farm
100% wool on the left, 80% wool 20% nylon on the right. Hand-dyed.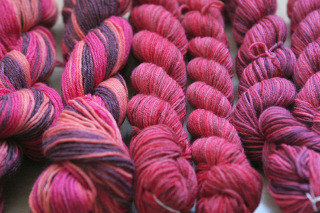 l to r: Dorchester Farms Handpainted (Wendy and Elisa's neighborhood!) and the last of the Spirit Trail sock yarn!
Next year, I'm hitting Spirit Trail first. You've been warned.
And last but not least, possibly my favorite purchase of the weekend: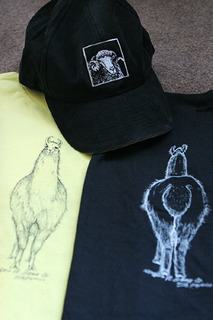 My sheepy hat (the last one!) and Llama shirts for the kids!
The ride home was uneventful thankfully. Vicki and I vegged on the couch all evening - and I finally cast on for the second Sunshine Sock. Now that it's cast on, though, I might just have to knit a ROCK STAR sock. It's calling to me in bright pink fuschia sounds.
We had lunch with Jen on Monday, then it was off to the airport for Vicki and back to reality for me. I can't say it enough though, what a fanfuckingtastic time! Thanks to all! See you next year!
Posted by Cara at 11:48 AM | Comments (29)
October 17, 2005
See, now, this is how rumors get started. Laurie doesn't remember who said it, but it sure made her laugh. Wendy's taking credit for it. Kay thinks it was Juno who sent us over there, but I remember it being Knitty Amy. I'm setting the record straight right now. Whatever got us there, I was the one that went over to Norm Hall, looked him straight in the eye and said, "They told me I needed to touch your wood."
Believe me, I swear on all that is holy in knitville I had no idea what I was saying.
I won't, however, swear on a stack of Shirret rugs that I didn't know what I was saying when I told him, "I hear there's a seven year wait for your wood."
Ah, Rhinebeck. How I miss thee.
Posted by Cara at 03:56 PM | Comments (15)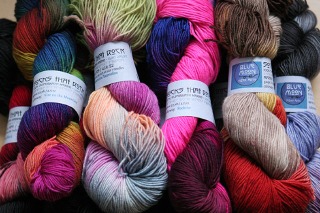 The weekend was so fabulous, so amazing, so inclusive and warm and fuzzy I want to throw up and I was there. My apologies to all of you that weren't. I'd be bitter too. If you feel the need to tell us to shut the fuck up already, I will completely understand and in no way will you be held accountable. But, the truth hurts sometimes and it ROCKED!
The purpose of this post, though, is to set the record straight. As you read on and on and on about the glories of this past weekend, and there were many, people may, in their excitement, tend to exaggerate. For instance, if you should read a post by a blogger that you usually trust to tell it like it is in their accounts, and you begin to read about how a panic may (or may not) have been started by the intrepid blogger that goes by the quirky name of January One that might have had something to do with SOCKS THAT ROCK and Toni at The Fold - RESIST! It's ALL LIES! I did not yell FIRE in a crowded fiber fest, I merely preformed a public service announcement. SOCKS THAT ROCK sock yarn simply ROCKS and since I had already purchased the TEN skeins you see above, I thought everyone else should get the opportunity. But that shit sells faster than Brooks Farm in the hot Maryland Sun and if you wanted your preferred colorways, you needed to get your ass over to Toni's. I was HELPING. And anyone that tells you differently didn't get the color they wanted. ;-)
Besides. A hug from Toni was one of the highlights of my weekend. Man, she ROCKS!
And yes, Vicki is still asleep in the room across from me. And no, I did not sneak into her room today (so far.) I took Georgie's pants out last night. Just in case.
More later. When I'm not so, so tired.
Posted by Cara at 08:25 AM | Comments (25)
October 13, 2005
- cara needs a flesh rocket
- Cara needs 34 tablets of phenobarbitone a day along with potassium bromide.
- Cara needs your help, and your cash.
- Cara needs a little wolfpack shirt!
- CARA needs help!!
- Cara Needs Some Heroes Fast!
- Cara needs a bit of notice - but she is definitely worth the wait!
- Cara needs a tough girl image, rather than a pretty girl one.
- cara needs to start taking her meds again today since she was afraid to talk to people yesterday
- cara needs a sandwich, and i'm not talking about food.
- Cara needs to take a cold shower now!
- Cara needs to adjust her attitude.
- Cara needs more rock 'n roll in her life
- Cara needs your help in order to achieve her goal of making the US National Luge Team and competing in the 2006 Olympics in Italy.
And last but not least: Cara needs to come out here and bring her camera! from MARGENE's BLOG!
This is that google "___ needs" going around. Anna's was the one that pushed me over the edge. I think my name has some weird shit attached to it, no?
This is going to be one of those random ass posts....
First off, THANK YOU ALL SO MUCH for your comments on my cardi. I'm so glad you all love it as much as I do! I'm not giving it a bath since I won't be taking it off this weekend, and well, I'll need something bright and cheery to help identify me when I'm floating down the roaring river that used to be the Fairgrounds. What a crappy weekend this is shaping up to be! Weather wise that is.
I have to admit though, I'm getting all anticipatory anxiety-ish about it. I'm excited to see everyone, but I hate leaving my home base. What if I go crazy?! What if I need to go home? What if I ruin everyone's fun time because I'm crazy and I need to go home? These are the things I think about, you know, just in case I'm not feeling crazy enough. I will have drugs with me - so don't laugh if I seem a little stoned and too happy to see you. And no, I won't have enough for everyone. ;-)
MY FEET WON! Over at Mim's. She's got a great post on feet and the body in general, so check it out! Thanks Mim!
I got a package from my BETTER PAL yesterday! YAY BP! You always know how to brighten my day. This package is ALL local. My pal is from Norway (I'm just betting she's tall and blonde and gorgeous!) and it's like getting presents from a far away fairy land!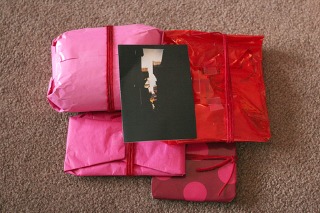 Look! She wrapped everything in shades of red! My new favorite color!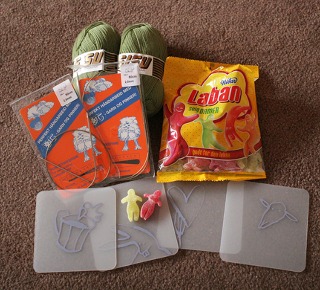 Sock yarn made in Norway! Norwegian Addi Turbos - oo la la! Super cool coasters with hearts and sheep and a bunny that totally reminds me of these guys! But best of all - GUMMY CANDY! They're called Laban Seigdamer which I'm pretty sure translates to Jelly Ladies. They're very good - not sour like I thought they might be and I ate half the bag before I realized a very, very important feature of these ladies. THEY HAVE BOOBIES!!!!!!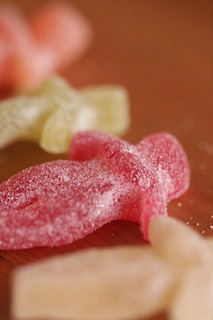 How freaking funny is that? G came home late last night and I immediately yelled to him from the bedroom - look at the candies from Norway! They have boobs! Thank you Better Pal for knowing me so well. I did not eat all the candy yesterday, but saved some for today. And the sock yarn, well, right on the money because I just signed up for Lolly's Socktoberfest and have been thinking about socks. And you know how I hate DPNs. Thank you so much! I can't wait to really meet you!
Speaking of socks and secret pals, I still haven't received socks or any communication at all from my Sockapaltwoza sock pal. I've given up and you know what - I'm okay with that. No bitterness here because I really, really enjoyed making my sock pal socks for Leslie and by all accounts she loved them and that's enough for me. I do, though, feel really bad for Alison. The amount of work that must have gone into such a huge endeavor! She says that about 20% of the people who've signed up have flaked out. Too many for her. I left a comment on her blog yesterday, but I'd like to say again - I'm right there for SockapalTHREEza. Socks or no socks, I had a good time, which in my book, is all that counts. What I don't understand is if you've signed up for this thing and realize that you can't hold up your end of the bargain for whatever reason - why not bow out gracefully? Apparently there are many people who signed up and have just disappeared. Why?
Isn't this funny? My sister was shopping yesterday and found these Jolie Raviolis. Her name is Jolie, which is pretty unusual, so whenever any of us finds something with her name on it, we sort of have to buy it. The kids loved them!
It's STILL freaking raining. I was supposed to run yesterday. Didn't. Don't think I'm going to today either. I've been on a very good run (pun absolutely intended) and I hate to stop now but I just can't do the treadmill. And it's pouring. If it was drizzling I'd like to think I'd go out, but pouring no.
Yesterday I upgraded my Movable Type software with the hopes of combatting the spam I've been getting. Since I've upgraded, I've gotten 179 spam comments. In like an hour. I'm just saying.
Have a great day!
Posted by Cara at 10:45 AM | Comments (8)
October 12, 2005
to Vicki. I promise, the sheets and towels will be clean. The rest of the house, not so much. I started the bathrooms this morning and got rid of the mold (TILEX is the BOMB!) and used some goofy powder stuff that foams up in the toilets. But the floors? NO. The counters? NO. The kitchen? NO. Vaccuuming? NO. BUT....
THE ALMOST EVERYDAY CARDIGAN

IS FINISHED!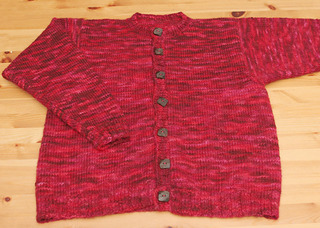 And when I say finished, I mean FINISHED!
Ends woven in and everything!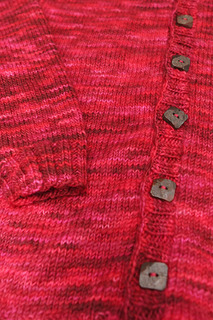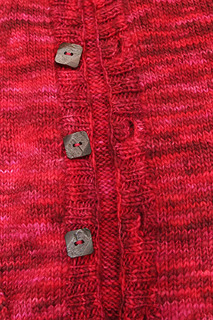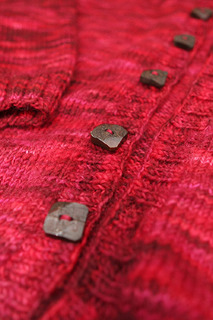 Georgie was kind enough to take pictures of me in my nice shiny new cardie (which he proclaimed was so perfect it was scary - tried to tell me he didn't think I knit it - but I was like YOU WATCHED ME KNIT IT!) but before we get to that, let's have the details.
Yarn: Manos. I think the colorway is called FLAME. It's #115. I used US #7/8 Addis (7s for the ribbing and buttonbands.) Nine skeins. I actually bought two more because I was afraid that I was going to run out, but I didn't. So now I have two skeins to return.
Pattern: I started out with the Peace Fleece Everyday Cardigan pattern but quickly learned it has a lot of things wrong with it (I LOVE knitbloggers!) So I switched to the modified drop shoulder in Ann Budd's book. Did lots of calulations on my own (I HATE math!) since my gauge was about 4.5 stitches to the inch. I fudged the size somewhere between 40" and 44". I don't know how it all worked out, but the fit is PERFECT. It's nice and baggy which I wanted, but not too big at all. It fits fine buttoned up (no pulling across my boobs.) The shoulders are dropped, but not too dropped. The length is great in both the body and the arms. If I had to recreate this I don't know if I could. And I worried the whole time it wouldn't fit.
Lots of firsts for me with this sweater:
- I used the spit join method for incorporating new skeins, which was nice, although occasionally I wished I had a mint or something before hand. And it still seemed like I had a ton of ends. Go figure.
- I knit the back and fronts in the round and then split for the arms and shoulders. I will DEFINITELY do this again - in fact, I'll be doing it with my Guilt-A-Long Dad sweater if I ever get it charted. I like seaming though, so it's not that, but still.
- I did a modified 3-needle bind off that Margene was so kind to share with me. I love my shoulder seams and will forever do it this way. I didn't get to do short-row shoulder shaping, but I intend to very soon. No more stair-steps for me!
- I did my first button holes! I used Nancie Wiseman's revised one row buttonhole and I think it looks fantastic. She has you cast on an extra three stitches instead of one extra when casting back on. When you do the next row, you do a k2tog (or p2tog) and ssk (or ssp) with the extra stitches at both ends of the buttonhole. It tightened things up very nicely - I could tell since the first three times I did the button hole band I DIDN'T do it this way. Highly recommend it!

I think that's about it for the new stuff. A very, very satisfying project. It took me less than a month to do. Maybe 2.5 weeks? I have to go back and look. I got EXACTLY what I wanted. And I used STASH! Half the yarn for this sweater was bought in NJ and the other half in Boston almost a year ago. Yeah for clearing out some stash!
Here's the photo shoot - I let G use the GOOD camera and I think we were both a bit nervous. We were both getting into it towards the end (he liked the fast shutter) and he has a new appreciation for my work, since I had the flash and bracket on the camera and that sucker is HEAVY! Enjoy the pictures!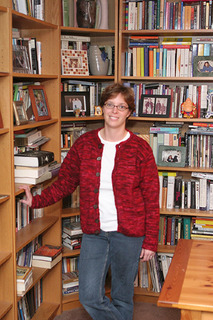 Love the perspective of this picture - my bookcases look so tall!
They do go to the ceiling, but my ceilings aren't that high.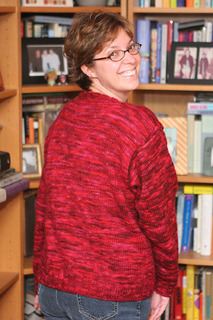 G likes this picture the best.
Probably because my ass is facing the camera.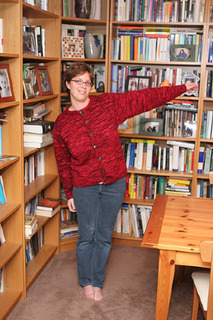 My boobs are NOT that saggy!
I mean, they're not passing any pencil tests, but still!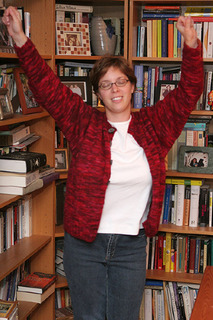 My attempt at Whack Dancing!
I look like a stoned nerd.
There you have it folks! Look for it at Rhinebeck. I don't care if it's ninety freakin' degrees. I'll have it on!
Posted by Cara at 12:17 AM | Comments (49)
October 11, 2005
for Mim!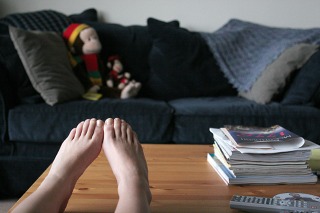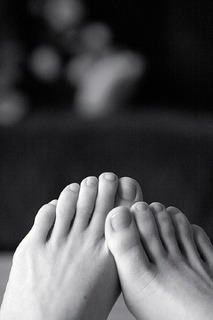 Fresh out of the shower! Happy Blogiversary Mim! Mim is asking for pictures of feet for a contest - go enter - you have until Midnight tonight. (But Katy, please refrain from showing your freaky bumpless feet yet again!)
Now yesterday, buried among the Junior Caramel accolades and AEC woes, was a contest of my own. Barbara was my 3000th comment! YAY! She will get an extra special something from Rhinebeck. My own blogiversary is this month - so expect another contest toward that day, which I think is somewhere around the last week.
I woke up yesterday morning - I don't know what time - to find that sometime in the night the power went off. My husband has a thing about time - not being early or anything - in fact he's frequently late - he just has a thing about clocks and time. All the clocks in our house (of which there are many) are set to atomic time or nuclear time or whatever kind of time is the most accurate BEST time. So when the power goes out and the clocks all over the house are blinking, G can go a little bit nutty. But of course this was discovered in the morning and things were already a bit hectic (read late for work) so he didn't fix any of the clocks. I'm a bit reluctant to fix them myself because god forbid I don't set them right, but I couldn't stand the blinking.
Last night I was in bed finishing up the buttonhole band on AEC when all of a sudden everything flashes off. I'm sitting in the dark. Georgie and I call to each other in the apartment - he's cursing up a storm because he had just spent an hour on the computer and lost everything - and he just finished FIXING ALL THE CLOCKS!!!!! It was about 11:30 I think. I finished up the button hole by flashlight and lemon verbena candlelight. It doesn't matter though - it needs to be ripped. The button holes are too big. I started with four stitches, went to six, ended up with five. They need to be four. They should be a bit tight right? Anyway, back to the clocks. We went to sleep eventually - isn't it funny how quiet things are with no electricity? - and when we woke up the power was back and the CLOCKS ARE ALL BLINKING AGAIN! So distracting.
As soon as I finish this, I'm going to put on my gas mask, spray every surface of my house with Tilex, and rip and finish my button hole band. Then sew on the sleeve. Question - what's the best thread to use to sew on buttons - regular sewing thread is too thin right? Do you need something like needlepoint thread? The yarn is too thick I think, unless I find one of those really thin pieces.
Before I forget!
HAPPY BIRTHDAY JEDDY!


Love,
Sistah C
Posted by Cara at 09:40 AM | Comments (10)
October 10, 2005
Look. I'm not a doctor. I don't even pretend to play one on this blog. And I don't know anything about tinctures or mother's with warts or garden remedies and such stuff like some people. All I know is that since Wednesday, when my wrist/hand was hurting really bad, I've eaten no less that three boxes of Junior Caramels. And today, well, today my wrist/arm feels good as new!!! I'm not saying that Junior Caramels are a miracle cure or anything. Maybe it was the box of Skittles gum I ate like candy because hello if it has the same consistency as regular Skittles how can you call it gum? It could have been the Twizzlers chews or the Entemman's Brownie things (can you say PMS?) but I'm sticking with the Junior Caramels. I believe! I believe!
So, yeah. I don't know what to think. Saturday I was all set to call the doctor and make an appointment for MRIs and stuff. A little bit of Advil. A little bit of Aspercreme. Some icing. And by yesterday afternoon I barely felt a thing. The last couple of nights I didn't sleep with the brace and today it feels no better or no worse than my right hand. Which is good. (Not great, but good.)
I did knit this weekend. Whatever. I did what I had to do. I finished the sleeve on the Almost Everyday Cardigan, as well as the neckline (twice) and the buttonband (four times.) I'm not entirely happy with it. I think it's got too much of a Nehru look to it. If I were to do it again (which I'm NOT) I would make the neckline a bit deeper. I also bought buttons, but I'm not sure about them either. After two hours at Tender Buttons on Saturday basically feeling like I'd never knit again, I left with some buttons. I started out with all these red buttons and then I asked the store clerk for advice and she told me absolutely not, stay away from red. So I went with a distressed brown black button. Opinions please. Just don't tell me the buttonband looks like it's all wrong. I started out with 74 stitches and ended up with 106. I have 143 rows to deal with - I may be one or two stitches short, but I used a calculator and I think it works now. Please, please don't tell me it doesn't.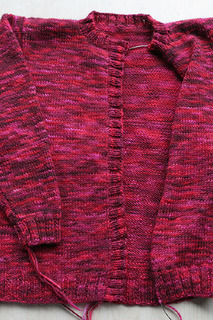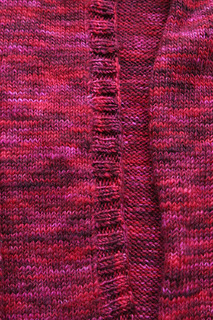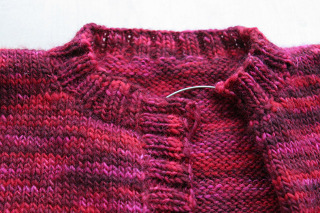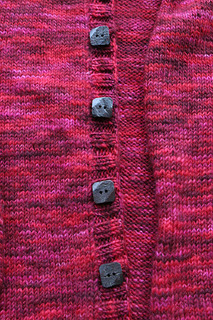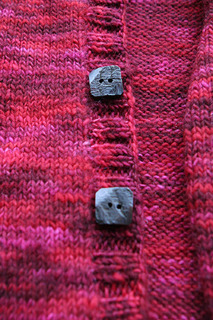 I'm thinking it's not so boxy on. Opinions welcome. Honesty appreciated. The bloom's off the rose, so to speak.
BUT, there are better projects on the horizon!
Triangles. Two. Blue.
You may remember I ordered a bunch of Oat Couture blanket patterns after seeing Grumperina's Curlicue Blanket in action. Well, they came in the mail two weeks ago and when I saw the Prairie Blanket it was epiphany time. As some of you know, my good friend Jen is having a baby, a boy, around Thanksgiving. I've been thinking on what to do/get for her. We met on a fertility site, but our friendship quickly turned to knitting. So I wanted to do something knitterly for her. Or I could take pictures of her baby. But I figured I was probably going to do that anyway. And then I saw the pattern and I knew. It would be done in Zara. Of that I was certain. And I wouldn't tell her about it. It would be a secret!
I order the yarn (color #1481 - a denim heather) and I wait. I tell a couple of people about it, but I say nothing to Jen. I'm so excited. It's going to be perfect and she's going to love it.
And then she comes over to knit. She calls me to tell me she's coming and before we get off the phone she says, "Hey. Did you ever get those blanket patterns?" I panic. I'm an AWFUL liar. I stammer out a no, sure she knows. I rush around, hiding the patterns. I can't tell her. I'll ruin the surprise.
She walks in the door and even before she's through I'm saying, I lied, I lied, I have the patterns, but you can't use it because I'm surprising you! I am SO PATHETIC. She laughed of course and was very appreciative and the best part is that I can now blog about it.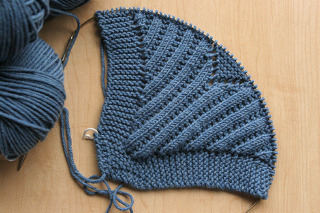 How freaking beautiful is that? Such a wonderful pattern. I just started the center section so it's just knit knit knit on from here. I made another baby blanket with Zara and I've forgotten how completely luxurious this yarn is. I NEED to make a garment with it. I want to wrap myself in it and go to sleep. I hope you love it Jen! Mwah!
What's the second blue triangle you ask? Well, I started another shawl as well. I started this a couple of weeks ago and I'm up to row 34. There are 198 rows. I'm not rushing. ;-) But I like it!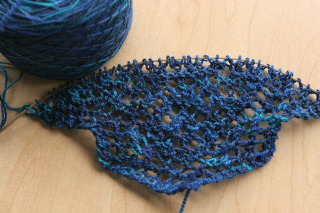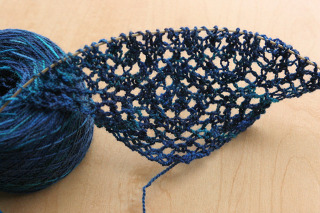 The first picture shows the color better, the second shows the pattern better. This is Robert Powell's "Knitted Triangular Lace Shawl with Undulating Edgings Design 106," available as a kit from Catherine Knits. (Fabulous pattern title, don't you think? I'm calling it Powell 106 for the intrigue factor.) I'm using some more Twinkletoes Yarn (in Denim Multi) instead of the Jamieson & Smith that came in the kit. So far so good. It's a garter stitch shawl (knit the odd rows) which I'm a little unsure about, but I like the pattern. It looks really nice all stretched out. I haven't gotten to the big diamonds yet.
LOTS and lots of cleaning. And maybe a buttonhole band on the AEC. Anyone have any favorite buttonholes? Now's your chance to pipe in. Oh and I'm not promising anything, but today could very well be the day that I hit a nice big round number in my comments. A prize, a special prize from Rhinebeck, to the person who hits that number.

Posted by Cara at 10:44 AM | Comments (32)
October 07, 2005
my arm/hand/wrist might not be so bad. Firstly, let me say thank you for all the good wishes! Secondly, Junior Caramels might just be the BEST caramel candy ever. And I love me some caramel. Think Milk Duds, but softer, not so chewy. Sort of just the right amount of chewy without hurting your teeth. I'd encourage you all to run right out and buy some.
Now before anyone goes and starts yelling at me, I did knit yesterday. BUT, I wore my brace while I knit and honestly, it doesn't hurt to knit. I was good though and I only finished one set of repeats and then STOPPED. I stopped myself from knitting. It's the first time that ever happened. Especially when I could've gone on. And afterward I iced my hand/wrist/arm. To the point where the ice actually feels hot. You know what I mean? G says it doesn't work unless it gets like that. And I slept with the brace on and it doesn't seem to be so bad today. It's definitely NOT worse. Now my back - well - that's another story.
I'm going to work on my sleeve slowly but surely. I'm not going to overdo it. I'm setting goals for myself and I will try to get through those goals - with the brace - with the icing - and we'll see how it goes.
Celebrity Sighting!
Georgie and I went out to dinner last night with our friend Jeff, who was in town from Montana. Jeff makes watches - beautiful gorgeous handcrafted timepieces. I tried on one last night that was fully engraved and had little sapphires all around. Oh my god! I told Georgie it matched my wedding band. He just laughed because I have like fifteen watches and I never wear any of them.
Anyway, we went out to dinner with Jeff to Nam. Vietnamese food in Tribeca. It was knock your socks off good. The BBQ Pork especially. So we're eating and laughing and talking and Georgie leans over to me and says hey that girl looks like Scarlett Johansson. Now, I'm pretty good at picking out the stars. My credo - if a person looks so much like a celebrity that you immediately think to yourself - wow, that person really looks like *insert Star name*, then 9 times out of 10 it IS that star. People don't look THAT much like other people. So he says, hey that looks like SJ and I turn to look and say, it IS SJ. So we're eating a couple tables away from Scarlett and both my husband and my friend are arguing over who had sex with her first (you know in that high school boy way - I did her. No I did her first.) Me, I'm just rolling my eyes until they're permanently stuck in the back of my head. (Although I'm might've done her myself. ;-) )
So we eat dinner. And every now and again I look over at SJ's table. I mean, how could I not, right? Well, at one point I look over and see a big bug crawling up the side of the wall next to Scarlett. Instead of freaking out, because really a big bug on the wall in a NYC restaurant can only mean one thing and I'm not talking ants here, I lean over and tell G, hey, there's a big bug crawling up the wall next to Scarlett. He kind of ignores me. He's not real fond of bugs.
But next thing you know, Scarlett's kind of calling really loudly, "Sir, sir, SIR! There's a big cockroach that just crawled under the table!" Georgie said she was covering her face with her hand so she didn't have to look at it. Nam is not a big restaurant. Everybody turned around and looked. The woman at the table in front of her, clearly out for a birthday dinner (as evidenced by the candle in her desert) was HORRIFIED. Anyway. The proprietors didn't really do anything but move Scarlett and the woman she was with to another table. It was pretty funny, to be honest. Although I did feel bad for Scarlett. I mean, she must have been pretty freaked out by the bug to call that much attention to herself. I told G we should call Page Six and he thought we'd totally get it in, but I decided to blog about it instead.
We stayed and ate desert. It was a fabulous meal. I'd recommend the place highly. Oh and Scarlett - she's pretty damn pretty in real life too.
Posted by Cara at 09:07 AM | Comments (10)
October 06, 2005
The dream is over: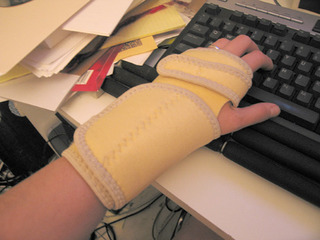 But at least I've got some good pain relief: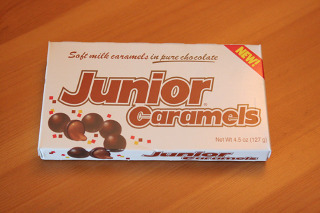 I don't know. I've decided I'm not going to push on the Almost Everyday Cardigan for Rhinebeck. As much as that devastates me. I'd rather it not be ready, than not be able to knit at all. Although morning might not be a good time to evaluate these things. My hand hurt much more when I woke up this morning than it did all day yesterday (not to mention my back.) G says it's because everything gets stiff overnight and warm during the day. So I've got this little brace on (I actually switched out the one in the picture above to a different one.) G is so good when it comes to injuries. Well, unfortunately, he's got A LOT of experience. We went to the drug store last night and I tried on a million different braces and he had me get all the ones I liked, including one that's a hot and cold wrap. So I'm going to wear the brace while I'm at the computer and when I attempt to knit and we'll see how it goes. If I'm in pain - that's it. I'm done. Thanks everyone for the advice and exercises. I'm so SAD!
I am going to Purl today to buy that extra hank (or two - yes I'm paranoid) of Manos just in case I can get the sweater done. JUST IN CASE! And I'll see if I can get buttons this week - maybe today, we'll see.
Feel bad for me. Feel very, very bad for me. ;-)
Posted by Cara at 08:47 AM | Comments (22)
October 05, 2005
Remember this post (at the bottom)? Well, not a moment to soon:
NBC said this Friday's airing of the new fertility clinic drama, "Inconceivable," was being yanked in favor of a "Law & Order: Criminal Intent" rerun. It's not officially a cancellation, but given that only 4.5 million people saw "Inconceivable" last week, its prospects are dim.
Full AP article here.
Posted by Cara at 02:43 PM | Comments (7)
I can't get the Cheap Trick song out of my head. Ever since I told G about my dream this morning - it's been going round and round. So, in my dream, I'm in a play. I'm Tevye's wife. And people are coming from everywhere to see this play. It's at camp. Maybe. But it's outside and there are lots of cars and people are walking up a hill and it seems like camp and my sister's there and G maybe and this guy from high school who always shows up in my dreams. Anyway. I'm Tevye's wife in the play except no one gave me a script. And we're about to go on. And I keep trying to tell everyone that NO ONE GAVE ME A SCRIPT. And I think that maybe my character only has like one line (where she screams Tevye! Tevye! over and over) but no, she's got lots of lines and NO ONE GAVE ME A SCRIPT. So I'm going to fudge it, and it seems that my character sits down a lot so maybe she can be sitting at the table sewing (knitting?) and read the lines like that? The guy from high school hands me a script only it's been copied and reduced like a million times and I can barely read it and I'm running around looking for a highlighter because maybe if I highlight my lines I'll be able to read them. And then I woke up.
What do you think? Maybe I'm feeling a bit unprepared for class tonight? ;-)
(Hmmm. Interesting. I think I might have the connections here - I dreamed about Fiddler because it's the holidays and I thought I was Tevye's wife because on Gilmore Girls last night they kept playing the whole Rosie O'Donnell mentally challenged getting on the bus thing. Uck. I need to shut the TV off.)
My walk yesterday was very cathartic. I cried and cried but threw my regrets in the water with the crumbs. It's been a tough year, but I'm moving past things and hopefully becoming more emotionally prepared to make some tough decisions. Cryptic, no? Can't give away all my secrets! I got some good work done too so after a mid-morning panic I was feeling a bit better.
I did something to my left hand/wrist. I don't really think it's my wrist, well, mainly because my wrist doesn't hurt. My hand hurts, in the middle, but only when I drop my hand down - like if I keep my wrist straight and my hand is at a right angle. G thinks I might have strained a tendon or something. Which is weird because I'm very right dominant. And I'm a thrower. So maybe I was holding the needles too tight? Also, I do this weird thing (well, maybe not so weird, but Jen's pointed it out to me so maybe a little weird) where I push the left needle down with my first finger on my left hand when moving the stitch off. I don't know why I do it, but that's how I knit. Not every stitch, but most stitches. So yesterday I didn't knit at all (I'm not counting the 24 stitch shoulder bind offs) and the day before I barely knit. Today I probably won't knit. I'm going to go out and buy one of those wrist wraps because I need to knit. I need to knit now because I'm very, very anxious to finish....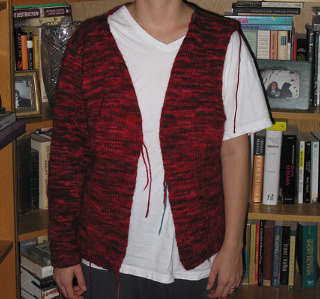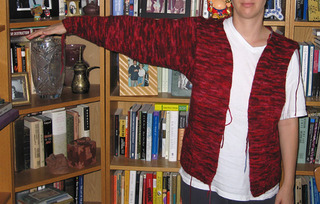 The sleeve fits! And the body fits! And it FITS! (Excuse the cut off heads and the pajamas. I was going to show myself all fresh faced just out of bed but I don't have time for that much photoshopping right now. I'm vain. Sue me.) The sweater with only one arm even got the patented "that's your best yet!" from G-Love. (I swear he's worse than the mother of a teenage girl - "You look lovely honey! No one will notice that pimple and your butt does not look fat! You're beautiful!")
Here are some more detail pictures:
The sleeve join - you can see that it's a bit wonky at the armscye, but that's what you get with weird increases and a modified drop shoulder. (Read Cassie's entry today on why it's better to finish than be perfect.)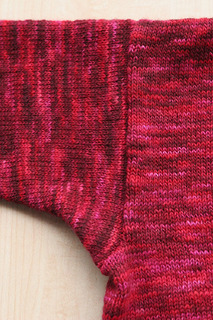 And the shoulder seams (thanks Margene! It looks good, no?)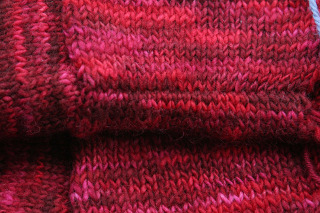 And last but not least, the sleeve seam: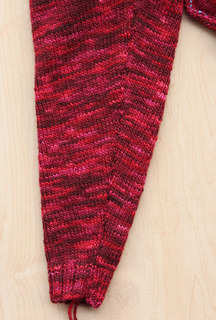 Overall, I'm VERY happy. But there's still a lot to do if I'm going to wear it next week. I told G is was going to be my Rhinebeck uniform so this way everyone would know me because they'd seen it on my blog. I think he actually thought that was cool, but again, he could be using the MOM trick. You never know with him. I think I need more yarn. And I need to finish an arm. And I need buttons. I've never done a button band before. I've also got a SHITLOAD of work to do. I have to go out of town next week. And I have to CLEAN my house (I mean clean in the sense of fumigate) for Vicki. Will I get it done?!?! I'm betting I will.
Posted by Cara at 09:18 AM | Comments (19)
October 04, 2005
L'Shana Tovah! Happy New Year!
While I am not the most religious of Jews (I married the son of a Greek Orthodox Priest for pete's sake!), I am a sucker for tradition. For me, my judaism is my family - it's my heritage - and something I cannot leave far behind. I identify as a Jew. I'm proud of it, and I make no excuses for it.
That said, I'm a twice a year Jew when it comes to synagogue. Rosh Hashanah and Yom Kippur. Why do I go? Because I think everyone needs a time of year set aside for reflection and repentence. Who among us has been the perfect individual - always kind to our family and friends and the strangers we meet? Not me. So I like to repent in my own way. I ask for forgiveness in my heart. I also really, really like the prayers. They're soulful and mournful and old worldly and they're only said once a year. On the High Holy Days, we use a different prayer book filled with prayers specific to the holidays. Kol Nidre is one of my absolute favorites, said on the evening of Yom Kippur. Done the right way (read: by a cantor I like) I can be moved to tears.
One of my favorite Rosh Hashanah traditions is Tashlich. Literally, the word means "you will cast away" and the way it works is that on the afternoon of the first day of Rosh Hashanah (unless it's on a Saturday, but that's a whole other ball of wax) you go down to the nearest body of flowing water and throw away your sins by tossing stale bread crumbs into the water. When we were little we used to go with my grandmother's synagogue. We'd all walk as a group to Pennypack, following the rabbi, and throw away the bread my grandmother had been saving for weeks. Stale. Very stale bread. Then, on the way back, congregants would open their homes and we'd go from house to house for cookies and cakes and wine.
In the most recent years, it's become a family event. We'd gather at my grandmother's house and walk to the part of Pennypack creek that runs nearby and say our own prayers and toss our breadcrumbs and sins. I love this tradition.
So today, since I'm not with my family, I will walk to the Hackensack River that runs behind my house and toss some bread. For me, and my husband, and my family. I will make peace with myself for at least an afternoon. Forgiving my self is harder than forgiving anyone else for sure. And I will say the Shehecheyanu:
Ba-ruch A-tah Ado-noy Elo-heinu Me-lech Ha-olom She-he-che-yanu Ve-kee-ya-manu Ve-hi-gee-ya-nu Liz-man Ha-zeh

Blessed are You,
our God, Creator of time and space,
who has supported us, protected us,
and brought us to this moment.

The Shehecheyanu is one of those all around wonderful prayers. Jews are encouraged to say it during times of unusual circumstances, at milestone life events (weddings, bar mitzvahs, brit milah). I'm pretty sure I said it at my wedding. And this afternoon I will say it - thanking God for getting me to this place in my life.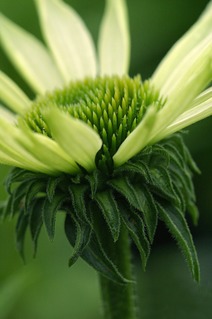 The sleeve fits on the Almost Everyday Cardigan! Jen came over yesterday and I did a hasty sew-up job and now it's blocking for the real sew-in. I cast on for the second sleeve, but my wrist is bothering me, so I think I will take the day off today. And Jen also helped me see that the size 8 needles on my new shawl are working out just fine! Pictures when I get close to something resembling anything.
Have a lovely day!
Posted by Cara at 09:01 AM | Comments (21)
October 03, 2005
Remember that scene in Bye, Bye Birdie? The one where everyone's on the phone trading gossip about Hugo and Kim? I was thinking about that song this weekend because it was a blogger phone fest! Ann, Wendy, Vicki, Jen! Great to gab with you girls! Can't wait to see you soon!
It was a good weekend overall. Saturday I made some good headway with my work and Saturday night we had a wonderful meal at Gigino's. It's a little Italian place in Tribeca - on Greenwhich Street - and we've never had a bad meal there. It's been consistently outstanding for a long time. A long time. I started with my favorite salad - sliced pears so thin you can see through them, some kind of parmaesan cheese, also sliced thin, arugula, walnuts, pomegranates all sprinkled with white balsamic. I LOVE it! Then I had a (large!) rack of lamp roasted in their brick oven with peppers and onions and string beans and roasted potatoes in a kind of au jus sauce. The potatoes were spectacularly crunchy on the outside and like mashed on the inside. Warm chocolate cake for dessert. To die for!
And then we went shopping for music - ends up Virgin Records at Union Square is open until 1 AM. I couldn't get over how busy it was outside. Okay, granted, we were in the Village near NYU on a Saturday night on a beautiful night in October - but it was packed! Craziness I tell you. We came away from Virgin with some Johnny Cash, Rosanne Cash and some Ray Charles. Excellent!
Did anyone catch the Saturday Night Live season premiere? I thought it was pretty damn funny. I watched some of it before we went to bed (it was late! I taped it.) I was laughing my ass off. LOVED, loved the Morgan Stanely mock commercial. Please tell me you saw it!
Yesterday, we beached it!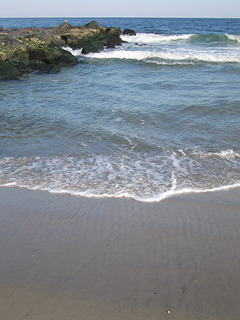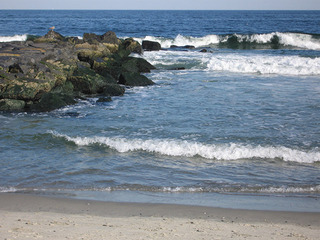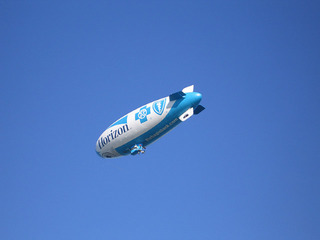 Those pictures are straight out of the camera (the point and shoot.) The sky was the most amazing blue - it was a perfect day. I don't think I broke a sweat, but I was warm and cool (you get that right?) and I just love the beach in October. I hope we get to go back a couple times before it really is too cold. That's me knitting on a new shawl. Or at least knitting the first seven rows over and over and over and over again until I finally got the very strange 3 to 2 decrease that the author has developed. You know how that goes. And now that I've done about 26 rows, I'm not sure I want to do it on size 8 needles. I'm using the same Twinkletoes yarn (different color) I used for DFS, only the shawl is a garter stitch pattern (knit the odd rows). The pattern calls for Jamieson and Smith 2 ply jumper weight, which seems like a really loose ply, but still fingering weight - so the trade off should be okay. I may try it with size 7 needles and see if I like it better. I know, I could swatch, but WHATEVER! Where's the excitement in that?
Speaking of frustrating knits, what the fuck! You'd think a simple drop shoulder sleeve would be a no brainer. Does that mean I acutally have a brain because I can't get the damn thing to work? If you recall, I decided to do a modified drop shoulder on the Almost Everyday Cardigan. I bound off 8 stitches at each arm and continued straight to the shoulder. Well, when I increased the sleeve to 94 stitches (which matched the cast on for the back) I barely got to the bind off for the arm when I sewed it in really quickly. Back to the drawing board. Originally I had done 15 increases (one every end) every 4 rows and then 11 increases every six rows. I ripped back and ended up with 15 every 4 rows, 5 every 6 rows and then another 10 every 4 rows. I think. I've got it all written down. And I was smart - I did a knit into the front and back increase so I can see them really easily. Got me to 102 stitches. Just barely worked - I still needed it to be longer to get me all the way across the bind off. So I ripped again back half of the final every 4 row increases and did every other row increases. Same number of rows, but an extra ten stitches. I didn't sew it in yet, but it looks like it worked. How crazy is that? Please don't tell me I should rip and start the whole thing over. I think I can get it to work and it's supposed to be oversized and all. Damn though. This sweater should be done already. And to add insult to injury, I'm worried I won't have enough yarn. I think I need another hank.
Do you have a madeleine? I do. Last night I sent G to the store to pick up some Acne soap (my face is breaking out so bad!) and some candy. They didn't have these new Junior Mints - but they aren't mint - they're caramel inside and they may be the best candy ever! Junior Caramels! I told him instead to get me some gummy bears. So he brought home the CVS store brand kind. As soon as I saw the bag, I knew!
When I was a young girl - I don't know prepubescant - maybe 10 or 11 - I used to ride my bike to this Polish candy store. They sold gummy bears (the first time I'd ever seen them) in plastic sandwhich bags with a twist tie on the top. I'd bring the bag home and climb into bed and eat them while I read with my clock radio playing music. To this day whenever I hear certain songs I immediately remember a particular book. Back to the gummy bears - with the proliferation over the years of gummy candy (worms, aligators dinosaurs, you name it) the gummy bear has been basterdized in a lot of ways. Rarely can I find the exact bear I used to get at the Polish candy store. They're very chewy, almost hard, and after awhile your jaw hurts. They have a very subtle flavor too. But they are THE.MOST.SATISFYING. candy ever. Georgie brought them to me last night - the EXACT kind - and I swear I almost cried. My madeleine. What's yours?
I leave you (wow I was chatty today!) with the picture that greeted me when I awoke this morning. We're completely fogged in: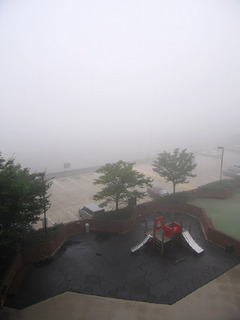 It seems like it's starting to lift and I'm going to go run a bit later. Some blocking today and maybe some seaming and I may or may not cast on for the second sleeve. My left wrist hurts a bit today so I may take a break. Or cast on for a second sock. Or find the first one (I lost the first sunshine sock. My house is such a mess.)
Have a great day!
PS - Here's what it looks like now - about two hours after the first picture: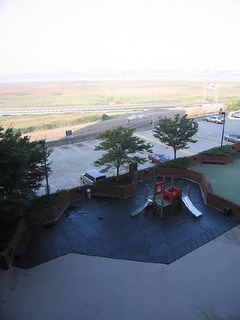 Wild huh? I love weather.
Posted by Cara at 10:02 AM | Comments (11)