« Love At First Note | Main | The Sox Channel* »
October 19, 2005
Knocking My Socks Off
It seems everytime I open my bloglines, Lolly's got a new Soctoberfest update! Did you see how many participants? And the prizes? And I'm all like shit. I need some sock yarn to start some socks. HAHAHAHAHAHAHAHAHA! The really sad thing is that I JUST started the second Sunshine Sock. With Vicki. On the couch Sunday night. I've got about ten rows of ribbing done. It's a stockinette sock. And there's still poor Retro Rib - I'm about ready to turn the heel on the first one, but I can't even remember when I last picked that up. And let's not forget that I've got a baby blanket to knit for a baby that could, in all reality, come any day and I need to just CHART my dad's Aran for goodness sakes and the Powell 106 is feeling lonely. What's a girl to do?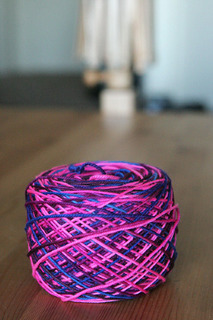 Wind up some SOCKS that ROCK, that's what! This is pretty much what I did upon waking. Colorway: ROCK STAR. Dude! I'm all about the ROCKING these days. (Aren't you all sick of me yet? Seriously. I will completely understand.) Anyway, the yarn's all wound up, now I just need to find a pattern.
What's that? Need some sock books to go with that sock yarn?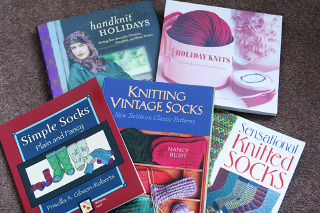 Lucky for me, some came in the mail just the other day! We've got (clockwise from the top) Handknit Holidays by Melanie Falick, Holiday Knits by Sara Lucas, Sensational Knitted Socks by Charlene Schurch, Knitting Vintage Socks by Nancy Bush and Simple Socks by Priscilla Gibson-Roberts.
I bought the two holiday knitting books solely for the ornament patterns. It's coming pretty close to the holidays and I need to send out cards. Usually I use one of my flower/plant/tree pictures, but I'm running out of archives. And unless the weather turns really nasty really fast (read: snow) I'm not going to get a new one this year. So I thought I'd knit some ornaments, take them outside, and take a picture! Voila! I get to combine two of my loves and get a nice card this year. We hope! The best laid plans and all that.
I bought the sock books - well that should be obvious. (I really got the Nancy Bush because of Margene!) I haven't really had a chance to look through any of them - they came Friday afternoon while I was frantic getting ready for the weekend. But the girls had a good look and they gave all of them a thumbs up. The Sensational Socks looks, well, sensational, from what I've seen. It's a cross between an Ann Budd template book and a Harmony stitch guide. My favorite part - it's got directions for 4 dpns, 5 dpns, and TWO CIRCULARS! Whippee! I'm sure I'll be picking a pattern out of here for my socks that rock.
Alas, not sure it will be today. I've got class tonight that I'm woefully ill-prepared for and stuff to ship out (my business is really going crazy. WHICH IS GOOD! I AM NOT COMPLAINING! Just stating facts.) But Lolly, I really want Soctoberfest socks. Really, really really!
Before I sign off, I wanted to mention two women I met at Rhinebeck that I left off the big post. And not because they weren't on my mind - they were - I guess I just didn't know where to put them. Judy of Smatterings said hello to me at the meet-up and I am so glad. This woman is a REAL artist (who almost died for her art!) while I'm just faking it with a big camera, as Laurie so eloquently suggested. Judy - it was wonderful to meet you and talk with you and you are so beautiful and elegant - I can't wait to buy some of your yarns! Thank you for saying hello!
And Terry - my kindred spirit - my worry sister! Parting was such sweet sorrow (how many times did we say goodbye?!) It was so great to meet you in person - I dare say there wouldn't be a Flower Basket without you!
Gotta run! Really! It's been over a week! L, C
Posted by Cara at October 19, 2005 09:46 AM
Topics: Rock Star Socks ~ Socks
Comments
*sigh* My socks that rock purchase is now living with the Harlot. I saw her last night at a reading for Knit Lit 3 and well, I figured if she couldn't make it to Rhinebeck then I'd bring Rhinebeck to her! No worries...I've started knitting up my Dorchester Yarns socks!
Posted by: Bookish Wendy at October 19, 2005 10:16 AM
That sock yarn does rock!! I just bought Sensational Socks a few weeks ago -- it's great.
Posted by: Kathy at October 19, 2005 10:34 AM
Is it glowing in real life, too? It looks like it's glowing. Very cool.
It's true, I gave all those books a thumbs-up. Handknit Holidays was especially good.
I'm still processing all the input from the weekend!

Posted by: Vicki at October 19, 2005 10:44 AM
Goodbye? You mean "LEAVE ALREADY!!!" Heh.
You seriously rock girl, I love ya! Thanks for letting me know about STR. My next pair is going to out of my Rhinebeck purchase!
Posted by: Teresa C at October 19, 2005 11:06 AM
We never get tired of you rocking on! I've been a rocker for 45 years! You have a ways to go. Your STR yarn is perfectly named!! You should SO start it instead of anything else.
Posted by: margene at October 19, 2005 12:53 PM
That sock yarn really does ROCK! :) Love it. So glad you joined the knitalong, C!
Posted by: Lolly at October 19, 2005 01:03 PM
You have a serious sock thing going on, Cara! So many enablers at Socktoberfest, I'm kind of afraid to click on the link...
Posted by: MJ at October 19, 2005 02:12 PM
I need some Socks That Rock yarn. Sigh. If I'da know that Wendy had some on her last night I'da stolen before she could go and give it to Steph. Sheesh.
Posted by: Carole at October 19, 2005 02:27 PM
You're making me want to binge on SOCKS that ROCK! All of this sock yarn looks so incredibly lovely and simply irresistable! I'm excited to see your ornament pictures for the holidays, your photos simply ROCK! ;)
Posted by: Liz at October 19, 2005 03:27 PM
i'm making a pattern from sensational knitted socks right now, and i really like the book. it's got a lot of great patterns and i like seeing them knit up in different yarns. i'm making the oblique openwork pattern right now (it's in the eight-stitch repeat section) and i love it! i'm certain you'll find something good in there for your rockin' rock star yarn.
Posted by: anne at October 19, 2005 03:44 PM
*sigh*.....you are making me REALLY regret leaving all that Socks that Rock yarn behind....
Posted by: Kim at October 19, 2005 06:25 PM
OMG Cara, can I just adopt you or something?? The pleasure was all mine. Rock away!!
Posted by: Judy at October 19, 2005 09:16 PM
Ooh, look at all those great books! (I can't help it. I adore all the yarn pictures, but I really get excited about books!) I really liked that Handknit Holidays book--some lovely patterns in there. And don't get me started on the socks...
Posted by: Deb at October 19, 2005 10:38 PM
love that sock yarn! and thanks for the book review. I just may have to get them, that is if I ever finish my first pair of socks.
Happy Knitting!
Posted by: eyeleen at October 19, 2005 11:25 PM
I just bought the Holiday Knits book the other night (after I told my BF I wasn't going to buy anything *ahem*) and love it :o)
Posted by: JessaLu at October 21, 2005 10:50 AM