« An Invitation to ROCK! | Main | Jaywalker Participants »
November 19, 2005
Jaywalker!
Well, last night things were pretty tight between Hard Rock and Carbon - gotta admit I was pulling just a little bit for Hard Rock - but it looks like Carbon pulled through in a squeaker!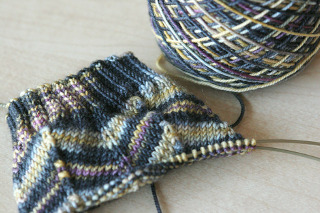 I actually asked G to break the tie (this was around 9:30PM) and he picked Carbon too. He said no one has yellow socks. You should make yellow socks.
I thought since this is my third pair of Jaywalkers and I can pretty much knit them in my sleep now (which I did last night - I cast on at 11PM and went to sleep around 2:30AM) I should tell you all my numbers. First off, in no way do you need to use Socks That Rock yarn. Use whatever yarn you want! I just happen to have an abundance of this yarn in my stash, as well as a deep undying love for its beyond soft colorful goodness, so that's what I'm using. These numbers will be especially helpful to those of you using STR, since the current skein yardage at 325 yds is a tad on the small size. (Tina is rectifying this! In the new year, STR will have 350yds!)
Here we go:
I'm using size #1 Addi Turbos - two circular method - which is 2.5mm for those of you in the real world. I cast on 76 stitches and do twelve rows of 2x2 ribbing. I do 25 pattern repeats and then start the heel. This gives me a cuff of about 6". I do 15 heel rows before turning and then continue on until I have 57 pattern repeats down the instep starting from the top. Then I start decreasing for the toe. TADA! My foot measures 8.5" around and 9.5" from heel to toe. In the picture above I've done the ribbing and 10 pattern repeats - well on my way! Yay!
I'm thinking that maybe once I've finished this sock I might switch and do one sock in Hard Rock, then go back to Carbon, etc. Might be fun to switch it up, don't you think? And they go so fast - by the end of today I should be ready to turn the heel.

Okay - we've got LOTS of interest and I'm so happy to see it! Here are the participants so far:
+name+ = finished
I've listed everybody in my sidebar as well. The more the merrier! I've also got some buttons. I made the obnoxious yellow one and Kathy provided the rest. If anyone else would like to contribute, send me the buttons and I'll post them here. Please, if you take one, save it to your own server. Thank you!


I also wanted to let you know that Natalia has started her Jaywalkers TOE-UP! I know a lot of you were thinking about this - she's got some details here. Thanks Natalia!
Remember, email me or leave a comment if you have an update - I'll be posting updates on Fridays. Thanks everyone! Now go out and KNIT!
Posted by Cara at November 19, 2005 03:47 PM
Topics: Carbon Jaywalkers ~ Jaywalker KAL
Comments
Um, I have yellow socks, but that's just 'cause they used to be white and I'm bad at laundry.
Sock yarn (non-STR, sadly) is on its way and I'll be KAL-ing soon. Thanks for organizing this!
Posted by: anne at November 19, 2005 04:40 PM
I like your obnoxious yellow button. The Carbon socks are looking GREAT!

Posted by: Vicki at November 19, 2005 05:17 PM
So.... I knit my first Jaywalker on size 1 needles, the smaller pattern size (figuring, hey, I'm a small person). They were gorgeous, beautiful, perfect in every way except for being a tiny miniature of a Jaywalker. 7" around with no stretch, there was no way that was going around my heel, and what I was able to shove onto my foot was terribly constricting. I frogged it, and now have reached that moment of knitting paralysis where there seems like there's no hope. I've tried swatching, and find myself staring at my needles in vain, unable to inflict more tiny stitches on myself without knowing that I'm not going to just have to tear the whole thing out again. I would cast on again in the larger size with #1.5 needles but don't have any, but REALLY WANT TO KNIT THEM RIGHT NOW OMFG because they were SO BEAUTIFUL and I was really grooving on the pattern. Do I add a repeat? Forge ahead with the smaller pattern on size #2 needles? Add some repeats on size #1 needles? Please help! This is what a knit-a-long is all about, right? I'm using this koigu. I think the main problem here is that Grumperina and Cara (and all you damnable women who actually can make things to gauge) are pickers, but I'm a left-handed counterclockwise-knitting thrower. I could be wrong, though.
Posted by: KathyB at November 19, 2005 05:30 PM
Oooo, I love the Carbon (made a pair of plain old vanilla socks -- I love the way they striped)! Thanks for posting your pattern adjustments; now I won't have to panic halfway through the second sock. Moss Agate STR is waiting to be cast on. Or maybe Lagoon. No, Moss Agate it is...
Posted by: Jane at November 19, 2005 06:05 PM
Please count me in!! I have some Koigu I bought last week just for the Jaywalk pattern. BTW my oldest son is named Jay but I think these are for me :)
Love your Carbon socks...I voted for the one NOT even in the running...I liked the red in it!!
emmy
Posted by: emmy at November 19, 2005 06:09 PM
Since I am working on that pair already, count me in. I'm not all that hopeful though.....
Posted by: Teresa C at November 19, 2005 08:38 PM
I'm going to cast on tonight with some STR Seal Rock (xmas knitting be dammed!). Thanks for the added instructions for finishing with the smaller amount of their yarn. I'm glad they will be going up to 350 yards this is the only thing that makes me nervous - I'm using STR for the first time. It is beautiful. So count me in on the knit along!
Posted by: Bridget at November 19, 2005 09:45 PM
Ahh... well than you simply must give Hubby this:
http://www.drinksmixer.com/drink2557.html
Mmmm...
Socks look great!
Posted by: Amie at November 19, 2005 10:56 PM
These are certainly my next pair, so please count me in. Thansk again for the inspiration, Cara. And for signing my frappr map.
Posted by: julia fc at November 19, 2005 11:52 PM
I'm in! I've got one Jaywalker sock from Lorna's Laces Rainbow done to the heel... and Koigu waiting in the wings...
Posted by: melissa at November 19, 2005 11:55 PM
I just received my first hank of STR (in fluorite) and was thinking about patterns for it when my friend pointed me to jaywalking... so count me in, and I'll try to get it started in the next couple of days. knitting peace to all!
Posted by: megan robertson at November 20, 2005 12:24 AM
What the heck, I will join you...not sure why as I already have 3 pr on the needles for Xmas and a sweater and a scarf yadda, yadda, yadda
I want some STR...any recommendations for a good retail outlet. I couldn't seem to see where I could buy it directly from The Fold.
Posted by: Susanne at November 20, 2005 01:35 AM
Can I still join? I haven't started yet and I'll be doing them in Lorna's Laces sock yarn.
Posted by: Julia at November 20, 2005 05:05 AM
I found an outrageous colorway of Koigu last night...3 skeins. There will be no squeaking by for me as my feet are rather large. I'll start Dec. 1st as a reward for knitting up hats, hats, hats!
Posted by: margene at November 20, 2005 09:23 AM
Count me in. I'll be using Tess' Super Sock yarn!
Posted by: Christy at November 21, 2005 12:36 PM
I would love to join - please sign me up. I have lots of STR (live in Oregon, so some of our lys actually carry their yarn :) I will probably use Alina, or Farmhouse, or Moss Agate, or... hmmm. Big decisions. A co-worker/fellow knitter/sock addict told me about this Knit-Along, and I can't wait! Yours are beautiful, Jan. 1, just lovely.
Posted by: shannon at November 21, 2005 12:54 PM
Hello! I'd like to join! I LOVE this pattern! I'm working on my first pair right now using hand-dyed sock yarn from Sweet Georgia's Sweet Shop! Look for knitting along with you!
Posted by: Nicole at November 21, 2005 06:43 PM
I want to jaywalk! Please put me on the list and I'll get going on it. :)
Posted by: Becky at November 21, 2005 11:43 PM
Can I join the KAL? Some sweetie gave me some STR yarn..... :)
Posted by: Nicole at November 22, 2005 07:53 AM
Cara your socks rock, that's for sure! I voted for Hard Rock and can't wait to see how they turn out. I think your posts could actually inspire me to venture beyond Regia and Fortissima sock yarn. The pattern looks great and I'm proud to say this will be my first ever KAL.
Posted by: Amy at November 22, 2005 09:37 AM
I can resist no longer. Please add me to the mix. I just got some Vesper sock yarn that will be greart in this pattern.
Posted by: anmiryam at November 22, 2005 09:50 AM
I'd like to join. I've just barely started a pair in a gorgeous ocean-y Koigu (lots of greens and blues and purples). Thanks for the inspiration!
Posted by: Kim at November 22, 2005 10:28 AM
Hi Cara! Your socks are beautiful!!! And you've inspired me to start a pair of Jaywalkers as well... add me to the list!
Posted by: Felicia from sweetgeorgia at November 22, 2005 02:42 PM
If it's not too late to join in,I'd love to Jaywalk with you !
Posted by: Emma at November 22, 2005 05:04 PM
oh oh am i too late? can i be in it too?
Posted by: anna at November 22, 2005 06:13 PM
Here is a link to my post about the my first Jaywalker sock...the second one should be coming after I finish my Christmas knitting.
http://knitspurlscurls.blogspot.com/2005/11/jaywalking.html
Posted by: Anita at November 23, 2005 07:54 AM
May I join in on this knitalong. I started mine last night, a little holiday weekend knitting!
I will be posting about them later this morning! I just wanted to know if i could still get in on the fun?
Posted by: Joelene at November 23, 2005 10:27 AM
I have updated with pictures of my jaywalking toes, and a quick bullet-point summary of various toe-up heel options and how to shoe-horn them into the pattern.
http://www.azazello.org/knit/2005/11/toes.html
Posted by: Natalia at November 23, 2005 10:44 AM
What a great idea - this will be my first knit along. I love your idea of bagging the Christmas knitting - I was never going to make it and it takes such a load off. I haven't used Socks that Rock but have plenty of great sock yarn in my stash so I'll get started this weekend.
Posted by: Laura Sagers at November 23, 2005 02:09 PM
Hi! I would like to join your Jaywalker KAL!
I have admired the pattern before, but I have not
started it yet. Your KAL will be the inspiration I needed! I'll be checking back for updates.
Nancy
Posted by: Nancy Griswold at November 23, 2005 09:49 PM
I want to join! I love Jaywalker.
I have one sock finished, though the other may have to wait until holiday knitting is over. Can I join?
I have some Socks that Rock that is destined for a Jaywalker for me....this set is for Favorite Spouse. I am V. excited about starting those.
Posted by: suzanne at November 24, 2005 08:24 AM
How did I miss this pattern until now? Everyone's socks are coming out beautiful! Sign me up for the KAL...Jaywalker here I come.
Posted by: Georgia at November 24, 2005 08:36 PM
Heya I am joining you! I got some beutiful Lorna's Lace in a vinyard purple/green mix on wednesday! I'm going to cast on today!
Posted by: pixie at November 25, 2005 02:39 PM
Is it too late to join? I've already started one foot, but will have to rip it out bc it is too small. You can see the soon-to-be frogged sock here.
Posted by: Kelly at November 28, 2005 01:47 PM
Please add me to the KAL! :D
Posted by: Manda at November 28, 2005 05:07 PM
I'd love to join you as well. I was planning on making jaywalker as my first try at knitting socks!
Posted by: Leah at November 29, 2005 12:46 PM
Started my first Jaywalker sock last night -- quick blog post w/pic. :)
Posted by: jess at November 29, 2005 03:49 PM
Hi there, thanks for adding me to the KAL, pics up on my blog today of my jaywalker in progress.
PPx
Posted by: purlpower at December 1, 2005 10:03 AM
You have added me to your list (Anne) but my blogspot address in incorrect. Can you have a look when you get some time and change it please.
http://www.rubyandme.blogspot.com
thanks
Anne

Posted by: Anne at December 1, 2005 09:02 PM
I hope it's not to late to join? I would love to play too!
Posted by: Leah at December 26, 2005 01:14 PM
Can I play too? I'm going to start 'em tonight.
Posted by: caro at December 30, 2005 08:07 PM
Hi - I just started a pair of jaywalkers - is it too late to join the KAL? I can't believe you have completed 5 pairs! That's amazing!
-Julsey
Posted by: Julsey at December 31, 2005 12:45 AM
Hey all, I'm a new knitblogger! When I saw these socks I thought, "challenging..." but I'd totally love to knit them. Could you add me to this KAL? Thanx! ♥
Katie
Posted by: Katie at January 6, 2006 09:25 PM
Is it too late to join the jaywalker knit along? My sis-in-law referred me to you site. I'm almost done with the first sock. Finally getting in the groove with the pattern.
p.s. my pup's name is cara. Italian for dier fried (my husband is italian) and Irish for friend (I'm Irish).
Posted by: Deirdre at January 6, 2006 11:17 PM
ooooooooh i'd love to join! jaywalkers look great! can you add me to the list please?
katie
Posted by: Katie at January 10, 2006 11:33 PM