« You're ALL Winners in My Book! | Main | Letting It All Hang Out »
December 07, 2005
I am not immune.
Call it hubris. Call it naivete. Call it what ever you want, but I was crazy to think it wouldn't happen to us. No relationship is perfect and the sooner I learn that the better. Sure, we work hard at what we've got. Sure, I'm all singing at the top of my lungs about fate and love and love and more love. But sometimes that's not enough. Sometimes going the extra yard or two can really make a difference. I'd like to think I'm learning my lesson. But that doesn't make it hurt any less.
At 1:39AM, with Georgie sleeping blissfully unaware beside me, I ran out of Socks That Rock yarn.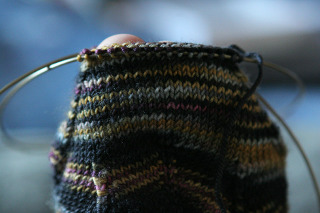 It was bound to happen. Who was I to think I could get away with such perfection?
Other
people
have had problems, why would I think I was different? Look, I know
schaudenfreude
is alive and well on the Internets (and two fold in real life) and there will be people out there sitting back in their seats smiling smugly at the fact that I RAN OUT OF YARN. Go ahead. Have your laugh. I forgive you. I'm laughing myself. It was dumb luck that I bought this great yarn and found this great pattern and cast on and never looked back. EVERY DAY I get emails asking about gauge and fit and yarn and I really don't have any answers. I never checked my gauge on this pattern. I just knit the socks and it worked. FOR ME. Everybody knits differently. Every skein of yarn is a skank unto itself. We're all like delicate knitted snowflakes. No two socks are a like.
Enough. This is how much yarn was left: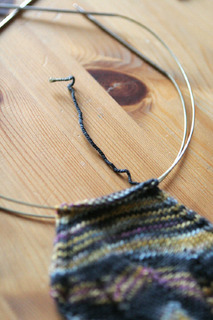 I had literally THREE ROUNDS LEFT! Two knit rounds and one decrease. At the taking of the picture there were 32 stitches total on the needles. Lucky for me, I've got a great big STR stash so I just went in and picked up some Obsidian and pulled a couple of yards and finished the sock. There's no way you can tell. NO WAY. Go ahead - see if you know which foot it is....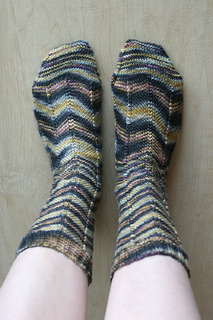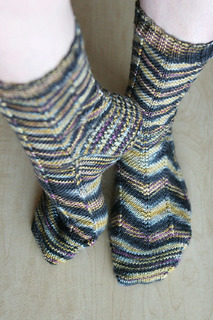 There they are. My third pair of Jaywalker socks in Socks That Rock yarn, Carbon colorway, size #1 Addi Turbos - small size of the Jaywalker pattern. (Links in the sidebar.)
ETA: Okey dokey - it totally must have been something in the cosmos last night - Rosemary ran out at ALMOST THE EXACT SAME SPOT I DID! I think I got one extra round on her. VERY WEIRD. Also I have it ON EXCELLENT AUTHORITY that starting in the New Year (or thereabouts) the NEW PUT UP of SOCKS THAT ROCK will be 360 yds! WhooHOO! Great news! Thanks Tina and Kaci!
You can bet your sweet ass I'll be casting on for another pair today. I think instead of going back to Hard Rock, I'm going with Azurite instead. Switch it up a little. (Oh let's be honest. I'm a little bit too stressed to have to worry about running out of yarn again! ;-) )
Posted by Cara at December 7, 2005 09:21 AM
Topics: Carbon Jaywalkers
Comments
That was close! I'm glad you found a few yards from another skein to let you finish.
Gallery?
Posted by: grumperina at December 7, 2005 09:38 AM
It was the left foot. No?
Just kidding!! You can't tell.
I had to look up Schadenfreude. It means "malicious glee or gloating". No, I'm not really the kind of guy that maliciously glee or gloat...... now maybe if you and I were knitting the same sock and you're a super fast knitter, I might sneak up to you behind your back and unravel your knitting.... does that count as "Schadenfreuding"?
Posted by: Kenny at December 7, 2005 09:50 AM
They look great and I would never say, I told you so. I would only say that I know I couldn't get a pair for myself out of one skank with my big ass feet. Howsomever, I'm flying along on my Jaywalkers with Trekking. I'm working on the heel gusset of sock 2 as we speak.
Posted by: Carole at December 7, 2005 10:40 AM
They look great!
Now, you're tagged and go read my blog.....
Posted by: Scout at December 7, 2005 10:40 AM
AAAARRRGHHH!!! I'm not sitting back and gleefully laughing at you! I would never ever do that! More like a GASP! of shock. Super happy it worked out for you. Like I mentioned to Margene, what would knitblogging be if everything worked out all of the time. It's the DRAMA people! The DRAMA!
Posted by: Teresa C at December 7, 2005 10:42 AM
Great pair of socks! Without your "true confession" I would never have guessed you dip into your stash yarn to finish these. Oh, the secrets we all must have.
Posted by: nona at December 7, 2005 10:45 AM
I can't tell, and they're gorgeous socks. Mmm.
Posted by: Rosemary at December 7, 2005 10:48 AM
You are one lucky girl. May I ask (I can't keep up with all your posts!) what size feet you have and what number of stitches you are casting on? Would it be too much to ask that you have 7.5 feet like me so I can know exactly how many to cast on and have it work????
Cara. I do like these socks and all. But girlfriend. Isn't it time you tried a different pattern?????? ;-)
Posted by: Norma at December 7, 2005 10:53 AM
*lol* I'm sorry to say that I'm laughing, but you kill me. Glad you could fudge it, but now I'm worried about your Obsidian pair! Oh... and in all my slacker glory, I'm finally sending your book today! YAY!
Posted by: Miriam at December 7, 2005 10:54 AM
Hilarious!! Lucky you had replacement yarn to go to... for me, I wouldn't have been near as lucky as that.
They look awesome!! (and you're right - I can't tell one bit.)
Posted by: Kathy at December 7, 2005 10:58 AM
Hey Cara - oh, that was a close one! They turned out so well despite running short.
Did you see my message the other day about book recommendations for philosophy? If you get the chance, I would love to hear some... I know you are busy... so many Jaywalkers, so little time ;)
Take care.
Posted by: Lolly at December 7, 2005 11:03 AM
that has got to be one HUGE stash you got there :)
Posted by: stinkerbell at December 7, 2005 11:04 AM
They're awesome and you totally can't tell! heh Love your writing style. :)
Posted by: Laura at December 7, 2005 11:08 AM
Not having any seen any STR in person, I do have a question for you. A couple of days ago you gifted two skiens of yarn and the label says Soft Rock. These skiens are about 225 yards each. Is this different from Socks that Rock in any way, or it just a different put up?
Posted by: Gale at December 7, 2005 11:11 AM
Well at least you are not a perfect Jaywalker. It makes me feel ever so slightly better. But you do know how to put the right effort to keep a relationship working...and it does, for you. I keep trying to no avail...well, maybe the third time is the charm. We'll see.
Posted by: margene at December 7, 2005 11:28 AM
Clearly it was the right foot - I'm so glad you had something good to substitute however tiny bit you needed. What wonderful news about the new put-up. I only have 2 of the smaller ones hanging around - I'll wait for the new year to buy more.
Posted by: Beth at December 7, 2005 11:46 AM
Great save :) I love how they turned out.
Posted by: Barb at December 7, 2005 12:05 PM
i just hope you remember that that one skein is now a bit shorter! or else you will run out of yarn 5 rows before the end on that pair, and have to steal from another skein, and when you use that one you will run out 7 rows from the end, and there you are. ooof.
Posted by: kris at December 7, 2005 01:09 PM
I wish I could claim schadenfreude. Did you know I was a german major? Literally translated it means shameful joy.
what I am experiencing upon reading this has no shame in it. I am full of joy and no remorse. After all your talk of my ginormous feet you really had this coming and I am glad to see there is a God.
so ha! on you Little Miss Dainty Footed Cara. Me and my size 10's are smiling.
and because I do consider us friends, I will say in all honesty that No, you cannot tell which sock got the bit of obsidian!
Posted by: ann at December 7, 2005 01:11 PM
Ohhh....you had me going, girl! I was frantically running scenarios of what you could do to finish the sock through my head, and you had already solved the problem....and late at night too! You go! Your socks are beautiful, btw. I'd cast-on another pair, too, if I knit socks that looked like that!
Posted by: JennyRaye at December 7, 2005 01:37 PM
Well thank god you had another skein in your stash!
Maybe Kathy should do a toe-up version. Wouldn't that be perfect?
Posted by: MJ at December 7, 2005 02:09 PM
Oh my god! I feel what you've just been through. I thought the same would happen to me with my first pair of Jaywalkers, and I did cut it pretty close, with maybe ten yards left. Not as close as you, however. Beautiful save, though, using a little bit of the Obsidian. You can't tell at all in the final photos with you wearing them. They look fantastic! Great job!
Posted by: Maritza at December 7, 2005 02:20 PM
Wow, that is the second time I've seen schaudenfreude used today, and I had never heard of it before. I read the term in "The Hot Flash Clue Strikes Again" this morning. :)
The socks look great! I'll have to go looking for some STR!
Posted by: Helen at December 7, 2005 02:41 PM
I love that picture of the top of your poor toe! It's so cute and sad!
Well done with the fix, no one will ever know except everyone here!
Posted by: melanie at December 7, 2005 03:44 PM
The cover of that James Salter book in your sidebar? Needs some Socks That Rock. Cool how your pose is similar.
No I'm not smoking anything. Just enjoying life's little surprises.
So you ran out of yarn. Move on.
After they change the put-up to 360 yards, what are you going to do with all those little extra bits?? I guess it will be a few pairs of socks from the old skanks before you cross that bridge.
xoxo Kay
Posted by: Kay at December 7, 2005 04:37 PM
you keep on sock rockin', girl. perhaps you casted on with a wee bit more yarn for a tail than before? glad you got the fix though!
Posted by: margaux at December 7, 2005 04:59 PM
All's well that ends well. Your socks are VERY cute!
Posted by: Julia at December 7, 2005 05:22 PM
Can't tell, no way. Congratulations, and I can't wait to see the new pair. Only 3 weeks and 4 days until we officially enter our mid-to-late-30s!
Posted by: Maria at December 7, 2005 11:34 PM
#1 reason toe-up two-at-a-time rocks my socks? ;-)
Posted by: Natalia at December 7, 2005 11:57 PM
Lovely socks, even if the weensiest part of one of them is *slightly* different (but not so anyone would know).
Posted by: Kathy at December 8, 2005 03:35 AM
Cute socks! No one will ever know, except you! Sometimes that's even worse, at least for me. Thanks so much for sponsoring the Crossed In Translation KnitAlong, my book is on its way. You are quite the enabler aren't you? What kind of yarn is everyone thinking about using for this beauty?
Posted by: Jann at December 8, 2005 08:15 AM
greast save, indeed. they look great and you are hilarious.
Posted by: mrspilkington at December 8, 2005 09:11 AM
They look lovely.
My Jaywalker update with pictures on my blog from earlier this week. I put the permalink in the url field of this comment.
Thanks!
Posted by: Christy at December 8, 2005 10:49 AM