« Sharing the Wealth | Main | Mememememememememe! »
December 02, 2005
Jaywalker Three!
Wow! This updating stuff is hard work. I'll start off with the promised Jaywalker FAQ. I asked Grumperina what she thought were the most important issues, and this is what she wrote me:
Please gently remind the knitters that the pattern promises, "The stitches are placed on a bias, which creates a snug, droop-less fit," and delivers! I viewed this as a big plus, but of course it's only a big plus if the person is getting the right gauge, and a sock that's the right size.

Let the knitters know they should not plan to have any negative ease ease - if the foot is 9" around, the sock should also be 9" around. If it's any smaller, yes, they'll have trouble getting it over their ankle.

Yarn choice makes a difference. Yarns with nylon, mohair, cotton are less stretchy than pure wool yarns or yarns with elastic. By that fact alone, socks made from wool/mohair will not be as pleasant to get on the footsie as identical 100% merino wool socks.

Going up a needle size and/or knitting the larger pattern size (if possible) are great first steps to get a bigger Jaywalker. However, this won't solve problems 100% of the time because sometimes going up a needle size doesn't result in a nice sock fabric, and perhaps the knitter is already knitting the bigger size.

**If the knitter is making the smaller size, leaving yarn and needles and gauge the same, BUT knitting the bigger pattern size will increase the sock diameter by about 10%. This is an easy first solution to get the right fit!**

No matter the solution, I *strongly* recommend trying on the socks-in-progress frequently. Actually, all knitting! No reason to plow ahead if you can already determine the outcome won't be any good ;) .
ETA: Kathy has graciously added UPSIZING! She's got instructions for TWO LARGER SIZES! Also, Natalia's written out instructions for doing the Jaywalkers toe-up. Thank you both!
What do I have to add? Well, the most important thing I can say is the socks WILL BE TIGHT! They are snug over the heel. They do give a little bit with wear, but my socks, which I've been wearing a lot, still have to be sort of tugged over the heel. Once on though, they fit perfectly. Also, if you think 76 stitches is a lot - because you normally cast on for a much smaller number with your other sock patterns - DO NOT WORRY! The ribbing won't be too big - it will be pulled in by the pattern and the socks will miraculously stay up on your leg. The pattern really NEEDS the extra stitches. I normally cast on for 64 stitches - I'm perfectly fine with the 76. ;-)
Also, there have been some questions about the bar increases. Here are a couple of links to help out with this:
completed bar increase - scroll down the page
bar increase video - continental knitting
bar increase video - english knitting
That should answer most of the questions we've been getting. Feel free to let us know if we've missed something.
Okay. On to the updates. If I missed you, I'm really, really sorry. I've been trying to go through all the blogs and updating as the week goes on, but sometimes I miss stuff. If I've got wrong information for you, please let me know that as well.
We've got THREE FINISHED PAIRS this week! YAY! JAYWALK ON!
~Ada's on her second start, but things are working out just peachy this time around!
~Angela's praying for stripes. C'MON STRIPES! (Oh and she's knitting with Knit Picks Sock Garden in Stargazer Lily.)
~Anita's fast walkin' in her brand new Jaywalkers! She made her pair in Lorna's Laces, Purple Iris. Beautiful!
~Anne went home for the holidays and started her wonderful Opal Handpainted Jaywalkers. People liked them so much she was taking orders! Go Anne!
~Anne's got a nice start on some hot pink Jaywalkers!
~Bethe got in a bit of trouble jaywalking - but let's hope she's back on track now. No crosswalks for you ROCK STAR!
~Bethieee has all her KAL updates in one place. So organized! But, but, where are the pictures?! I want to see pictures!
~Blueadt's back on track with her Opal Tiger Jaywalkers!
~Bridget's moving right along - she's probably got a finished sock by now!
~Cece's cursing me, but c'mon - you know you love it! She's adding yet another pair of socks to her arsenal! Yay!
~Christy's got some subtle blue zigzags going on with her jaywalker version - she's using Tess's Designer Yarn. Looking good!
~Cori hasn't been working on socks because she's been working on something a whole lot more important and a helluva lot harder. Go wish her congratulations! And I swear there's something in the water in blogland.
~Debi is making, by far, the MOST EXPENSIVE socks ever! Lucky for us they're Jaywalkers and they're gorgeous. Go tell her how gorgeous and make her feel a bit better about the generosity of knitters.
~Eunny's got a finished pair and they're GORGEOUS! She used Lana Grossa Meilenweit Fun & Stripes and striped they are - perfectly striped. When do you start your next pair? You know, Jaywalkers are like potato chips. You can't have just one! (Apparently I liked them so much I commented THREE times!)
~Holly says she's unofficial, but she's on the list - so that means she's IN! Check out her jaywalker in Tess's Designer Yarn - she's doing a short row heel for anyone that's interested in that particular modification. Welcome to the club Holly!
~Hopefully Jennifer has come out of her anitbiotic induced haze to work some more on her beautiful Opal Handpainted Jaywalkers. Hope you're feeling better Jennifer - and great IKEA building!
~Jess's sock in Lorna's Laces Bittersweet is anything but bitter and oh so sweet!
~Even though Jessica's having some gauge problems - my god that Socks That Rock color is to die for! It's one of Tina's special oops blends. if only we could bottle our mistakes - especially when they come out so freaking perfect!
~Helen needs your help. She can't decide which yarn to use for her jaywalkers and the whole thing has stalled. GO VOTE!
~Kaci's sock ROCKS! She used Azure Malachite for this one, but isn't genetically engineered to make a pair using the same colorway. She threatens the second sock will be in the rarely seen Fred Flinstone.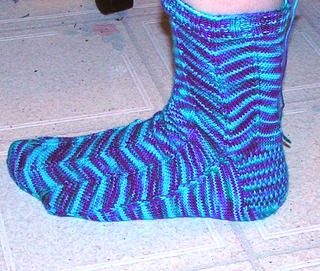 ~Karen's making great progress - she's about to finish one sock - and look what's at the top of her December goals! Jaywalker socks for the New Year!
~Kathy was busy over her Thanksgiving break. She found out she needed glasses, got a pain in the ass - literally - and jaywalked! Hope you can see to feel better!
~KathyB is running out of yarn too! But I have to say, I'm glad she's running out of Koigu. Well, I'm not glad. Not at all. I'm relieved. Relieved she isn't running out of STR. I feel so responsible when that happens! Anyway, enough about me! If anyone has some KPPM p411 lot #34 that they can spare, Kathy will be very appreciative!
~We've got a celebrity in our midst! Laura! In the Newspaper! And her jaywalkers are excellent - what yarn are you using Laura? I couldn't figure it out. And what's your mitten pattern? I want to make a pair and I'm searching for a pattern. Thanks!
~Lauren was all ready to give up. She was going to finish her jaywalker, but pass it on to her daughter. BUT I SAID NO! Just because it's a little tight over your heel - that's nothing. Finish it for yourself! And she did. And even though they are a little bit tight getting them on, they're completely comfortable to wear. She says, "You encouraged me to persevere and I did. Happily....Thanks for urging me to press on with making the socks for me (as opposed to my eight-year-old)." Now get crackin' on that second sock!
~Libbylu finished her Jaywalkers! She used Lana Grossa Meilenweit Fun & Stripes and here's the proof: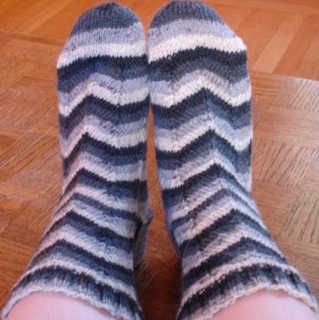 ~Liz is channeling Goldilocks: the third time is just right. Lorna's Laces in Ice House. How wintery!
~Maggi's got the STR wound up and ready to go! I say rip the socks on the circulars off and start the jaywalkers!
~Wow! When Manda says photos, she means photos. Sadly we might not see her jaywalkers for awhile - it looks like they might be a gift, but what's that I see? A Diamond Fantasy Shawl?! Another JanuaryOne favorite. Hmm...maybe we should do a KAL for that.... SOMEONE STOP ME!!!!
~Margene, zen sock knitter extraordinnaire, has started her pair in some wonderful Koigu. She says she likes to live dangerously, but she's definitely taking the safe route with her Koigu. C'mon Margene! Break out the STR! I'll pay your bail!
~Maritza's in the holiday spirit! She's got one down on her X-Mas ROCK colorway from STR! Electric Boogaloo indeed.
~May makes it in just under the wire with this report: "Just finished my jaywalker socks! They're fabulous - it will be hard to part with them, but they're promised to my sister for Xmas. Luckily I have a pair in STR watermelon tourmaline lined up for myself! First ever knitalong is a success! Yay! Thanks for the inspiration ; )" You are quite welcome May! Now where are the pictures? Send them to me and I'll post them next week!
~Melissa's making great progress with her jaywalker in Lorna's Laces Rainbow colorway. See, now, with Jaywalkers even Lorna's Laces pooling looks fab!
~Nancy's got the monkey's approval on the start of her jaywalkers - they look like comfy old jeans. But they're socks. Socks That Rock that is, so they feel even better than comfy old jeans.
~Naomi started her Jaywalkers on the train up to New York (Hey! Do you think we passed on the way? I was heading to Philly!) She's opting for different colored heels and toes - can't wait to see that. But really I'm just interested in the Junior's cheesecake. YUMMM!
~Have you been reading Natalia's blog? She's got some really great posts on doing the Jaywalkers toe-up. Check it out! Thank you Natalia!
~Pixie's socks are fading in the most delicious way. But the sock looks so lonely on that knee. Go say hi! But maybe it's not lonely, maybe it's like spy cam or something - what are those people eating over there?
~Purlpower's going purple with her pair. Check them out!
~Sarah is so sweet. She's says I've totally inspired her! I'm so glad! She's started a pair in some grey/green/blue Sockotta - she claims they're nothing fancy, but we'll be the judge of that! Show us your sock!
~I feel totally resposible for the fact that Teresa ran out of Socks That Rock. I'm SO SORRY! But it looks completely and utterly beautiful in Rhodonite. I'm sure you'll figure it out girl! I HAVE FAITH!
~Way to go Tgz! You're doing great! This is Tgz's first sock, so encourage her!
~Wannietta's been getting tons of compliments on her berry flavored Jaywalkers. Can't say I blame them - very nice!

Thanks everyone for playing! See you next week!

Posted by Cara at December 2, 2005 12:01 AM
Topics: Jaywalker KAL
Comments
I would love to include Libbylu's socks in the gallery - would you forward me her e-mail address, or ask her if this is okay with her?
Posted by: grumperina at December 2, 2005 12:35 AM
Damn, looks like I missed the deadline for the update. I am currently turning the heels on my socks, and I have posted pictures of my progress and detail shots of some of the techniques I'm using.
Posted by: Natalia at December 2, 2005 12:48 AM
Oh, I didn't send in an update and you put me in anyway! You're going to make the pregnant girl cry. :) What nice things to say.
But I swear, I am starting my socks soon! It's just that I need to find the energy to wind my hank of cherry tree hill yarn into 2 balls... that will be a good start. :) Who knew laying around forgetting things and sleeping was so exhausting!
Posted by: cori w at December 2, 2005 01:36 AM
I can't start mine until after Christmas, but I'm very excited about it all. Nice to see everyone else's updates and hear all about the pattern before I start myself!
I asked my mom to buy herself sock yarn for Christmas and told her I'd knit her a pair of socks. I'm thinking those will be my Jaywalker pair.
Posted by: Kate at December 2, 2005 07:20 AM
Hi. Thanks a lot! I'm also afraid my sock will be too tight. I have tried it on (with the DPNs in place, which was quite hard!) and it was really hard to pass the heel, but afterwards the "cuff tube" fits. Tightly, as an exercise elastic sock. But it fits. (As my calf is quite "rounded", it probably is a good idea to knit not-so-tall socks. Which is probably good, also, because I only have 320 yds of yarn, more or less). I will knit one more inch and try it again...
I'm looking forward to turning the heel. If it doesn't fit afterwards, I will have to frog and restart. It's hard to find out what size should I knit, because I measure 8.5 inches around the fattest part of my foot. Maybe I should have knit the largest size, but soon I will see...
Posted by: tgz at December 2, 2005 08:04 AM
Holy cow, woman, that's a lot of updates! Woo. Man, they all look GREAT.

Posted by: Vicki at December 2, 2005 08:33 AM
Just to let you know - the link for my update seems to lead to an older entry. Here's the right one:
http://snicklefritzknits.blogspot.com/2005/12/lets-try-this-again-and-again.html
Thanks!
Posted by: Liz at December 2, 2005 09:05 AM
this is soooo bad... I now really really want to start a pair of Jaywalkers. And I want to know about this socks that rock stuff. and I am on the ledge people ledge.
Must resist temptation!!
MUST.FINISH.MAMA.MAO.GIFTS
MUST.FINISH.HELENS.SWEATER
MUST.FINISH.PRETTY.WRAPPY.TOP
Dude where can I buy me some resolve??
Posted by: stinkerbell at December 2, 2005 09:25 AM
I love looking at all of the socks! Thanks for the massive update, Cara.
Posted by: Christy at December 2, 2005 10:47 AM
Grrl you sure put a bunch of time into the updates.
I don't like short socks. I thought about making JW's for Emilie but she is just so tiny. I need to finish this pair to know how they'll fit first. Thanks to you and Grump for all the help and knowledge.
Posted by: margene at December 2, 2005 11:19 AM
I keep missing the updates! I can't post about my Jaywalker's until after christmas, as I'm making 2 pairs as gifts, and then after xmas, hopefully I'll make a pair for myself. I'm halfway done with the first pair, in BMFA STR Ruby Slippers, the second pair isn't on the needles but it's BMFA STR Lagoon. Really awesome yarn!
Posted by: Renata at December 2, 2005 12:51 PM
I have finished Jaywalker #1, with STR Alina colorway, toe-up, on 2 circular needles. Should have just casted on two at once, because holiday presents are really getting in the way, and i don't know when i will be able to do the other one... Just for curiosity's sake, what size needles do you use with the STR? Part of our Portland contingent is using STR, and our fearless sock goddess (Gail) figured out how to do the pattern with 60 stitches, which seems to work okay. Just wondering what exactly you are using with the STR.
Posted by: shannon at December 2, 2005 01:37 PM
No kidding about the updates. It took me forever with my knitalong. So glad Socktoberfest is only once a year - but I love it! ;)
Good job, C. Let me know if you need some help.
Posted by: Lolly at December 2, 2005 01:39 PM
Holy crap, Cara! I am blown away by how much care goes into updating a KAL - you so obviously took time to read people's posts, and put it all together in a way that was fun to read and click through. (Just linking everything had to take forever!!) Anyway, I just wanted to say thanks for all that you're putting in to this KAL to make it fun for all of us.
Posted by: Kathy at December 2, 2005 02:04 PM
LOL! Look to the midwest and you'll see the glow of my blush! Aw, shucks, ma'am. Thanks for the more than kind words!
Ok, the Jaywalkers are in Moda Dea Sassy Stripes sock yarn, in colors Crush and Lucky. On one hand, I'm a heretic because they're totally acrylic. On the other, they have to be since no one in my family will wear something hand washable. They tend to put such items on a shelf to admire! That and I LOVE these colors, too. The current one in Lucky has a lot more of the heel done, and I'm hoping to post a healthy start on the foot tomorrow.
The mittens? Thanks! My child loves them, but my emotions are still mixed due to my lack of color change skill. They're part my own pattern and part from Vogue's little book of mittens, the Peruvians on page 38. I've checked out Alice Starmore's Book of Fair Isle knitting from the library, but don't want to read it until both mits are done. One mit can't be better than the other! :)
I agree with Kathy and everyone else who loves the work you're doing on this. A KAL is hard work and with the busy season anyway... Wow!
Posted by: Laura at December 2, 2005 02:59 PM
I'd like to join the KAL! I've already snagged the button for my site. I've barely swatched but I should have good progress by next Friday.
Posted by: mimsie at December 2, 2005 04:31 PM
It's quite clear that I'm going to have to knit a pair of these with some of my STR, but first! The dreaded Christmas knitting!
Posted by: Snow at December 2, 2005 04:46 PM
After checking with Grumperina, I have put up a set of instructions for knitting Jaywalkers toe-up with a short-row toe and the "you're putting me on" heel.
Right now they only describe the small size, but expect to see the large size numbers go up over the weekend!
http://www.azazello.org/knit/2005/12/toe-up-jaywalker-pattern.html
Posted by: Natalia at December 2, 2005 06:28 PM
Is it too late to join? I've just started a pair of Jaywalkers today. Thanks! :) Looking forward to seeing everyone's socks!
Posted by: Laura at December 2, 2005 09:54 PM
I have an extra skein of BMFA STR in Ruby Slippers and I was wondering if you/anyone else in the KAL would like to trade it for something. STR is a hot commodity right now, and I'd like to see the skein go to good use.
Posted by: Renata at December 4, 2005 02:03 PM
I finally got 'em on the needles!
There's a pic of the wound balls about to go up on the blog, but since I took it, I've cast on and knit about 3/4 inch. It's my treat knitting -- do x rows on the gift, do an inch or so of sock, x rows on gift, a tad on MY sock....
Posted by: Helen at December 5, 2005 08:37 AM
FYI - I finally got my size one circular needle and there's an update on my blog. Not sure how you want updates sent to you.
:)

Posted by: biglug at December 5, 2005 01:16 PM
I'm starting my second and third pairs of Jaywalkers (can I still join) and have a question? I'm using STR - the first pair in Xmas Rocks and now in Alina and Rock Star. I'm having problems with pooling - for some reason mine don't want to stripe. I have reduced the cast on to 68 stitches in order to adjust the fit - could that be my problem?
Posted by: kandy at December 5, 2005 09:38 PM
Toe up jaywalker pattern now includes all 4 sizes!
Posted by: Natalia at December 6, 2005 11:06 AM
Greetings! I'd like to join the knitalong. I have one sock done in Lorna's Lace's Neon colorway--very pretty. I'll post a pic on my blog soon!
Posted by: Jeanne at December 6, 2005 12:57 PM
I'd love to join.......I'm awaiting a new order of STR so I haven't started mine yet but will soon!
Posted by: soapy at December 7, 2005 09:01 AM
Love this KAL! I updated my blog last night with photos of my Jaywalker in progress in the terrific Lorna's Laces Ravenswood colorway. I also offer a peek into my small, but growing collection of Lorna's Laces Shepherd Sock stash in a unique, yet apropos, yarn storage container. Any other knitters involved in the dog fancy out there?(conformation or performance events)
Posted by: melissa at December 14, 2005 03:53 AM