« B is for | Main | Jaywalker Eleven! »
January 31, 2006
Knit. Eat. Sleep.
Rinse. Repeat.
It was a wonderful vacation. We slept great. We ate even better. And, well, I surpassed my knitting goals. There was lots of cuddling and togetherness. A pedicure. A spin out. A suite. All in all, it couldn't have been better - even though the weather wasn't as warm as we'd have liked and the wind was a bit too strong. I wouldn't trade it for the world though.
Here's what I knit: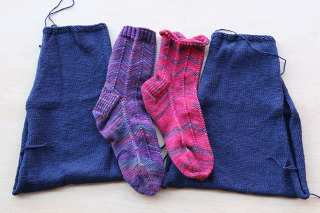 I finished the
Short Row
sleeves. YAY! All that's left is to weave in the 3,418 ends from the back and the front and seam, do the collar and seam some more. I can taste the end. Hopefully it won't take another six months to finish.
I finished my Rare Gems sock AND my first Red Hot Sizzling Sock. The RHSS is knit using Ruby Slippers STR with the picot edge modification - I started it Wednesday when I should've been packing - managed the picot edge and a couple repeats before it was time for bed. So most of the sock was knit in Florida - including the last couple of repeats and the toe while waiting on the runway for the plane to take off. The flight took about two hours longer than scheduled so I was also able to cast on and start the second Petroglyph sock. I got past the ribbing and a few repeats - but we were watching The Wedding Crashers on the plane and until I got smart and put it down, I screwed up some of the repeats. I'll rip that today and start the second RHSS as well.
The food was unbelievable. I had what can honestly be described as the best meal of my life. I was dizzy it was so good. We ate at Mark's in South Beach. For an appetizer I had Jumbo diver scallops, puree of calabaza, guava butter and plantain chip. Georgie had Tartare of yellowfin tuna, avocado, cucumber noodles, lemongrass oil. For dinner I had pistacio crusted lamb chops with brussel sprouts and cauliflower with bacon and pomegranates and potatos au gratin. G had Maine lobster tossed with saffron linguine, roma tomatoes, basil, white beans, English peas and prosciutto, served with roasted garlic crostini. Neither one of could speak the food was so good. (All of the dishes above are on the menu at the website except my lambchops.) I don't even remember dessert, but it paled compared to the meal.
The next night we ate at Azul in Miami. I started with the butternut squash soup with hazelnuts and G had fried oysters wrapped in salmon, tuna, beef and crab carpaccios. For dinner, Georgie had the halibut and I had the Salmon duo - one side of the plate had poached salmon and the other side had salmon wrapped in mushrooms in a kind of spring roll type wrapping. Yummmm! Dessert here was really a treat though - vanilla souffle with three different sauces - chocolate, rasberry and creme anglaise. So divine.
Every meal we ate was delicious - but these two meals stand out.
What else? We had our first stuck on the runway experience - you know - when they taxi out and it looks like you're going to take off then they stop the plane and tell you we'll be sitting here for the next two hours - make yourself comfortable? Yeah. Not too much panic from the anxious claustrophobic girl. The good thing was I had already taken my pre-board Xanax so I was nicely juiced when they made the announcement. I knit along happily on my RHSS and finished it - I was about to kitchener the toe when I couldn't find my cuticle scissors - I always travel with them. The round tips have been allowed by the TSA for years and years. Anyway, since the plane was a free for all I went up and asked the flight attendants if they had a scissors. Not allowed. But one of them told me she saw a woman knitting a blanket back in coach - let's go ask her. So I walked to the back of the plane with the flight attendant - but she didn't have scissors. We talked for a bit about my sock and then I made my way back to the front. Fun times on an airplane.
By the way - in case you're flying any time soon - customs has completely RELAXED the requirements for knitting needles and such. I used to have a whole system for getting my needles and such through customs - but this time they barely batted and eye and even told me I didn't have to take my scissors out (I used to put them in the cell phone bin because otherwise they'd rip apart my stuff.) I traveled with addi turbo circulars - from US 1s to US 6s exclusively and had no problems what so ever.
I'll be making the official announcement tomorrow, but I'm closing down the jaywalker knit along after the giveaway on the 14th. I decided yesterday and as hard as this decision is for me, oh my god what a weight off my shoulders. This thing has taken over my life and that's not fun. Basically I'll be shutting down sign-ups tomorrow, because, well, if you haven't had an update by then, you're not eligible to win anyway. It's been an amazing ride, but I kind of want my blog back.
I wanted to add a word cloud which I saw over at Karma's but I'm having server issues all over the place. When things get back up I'll add it.
Here it is!


Have a great day!
Posted by Cara at January 31, 2006 10:04 AM
Topics: Jaywalkers ~ Short Rows ~ Socks ~ Vacations
Comments
Cara, if you want to pass over the Jaywalker KAL, I'd be happy to host and manage it.
Posted by: trek at January 31, 2006 10:35 AM
The Alphabet Soup I brought for lunch is looking REALLY LAME. I'll bet it's going to be REALLY LAME! I think I need a memorable meal soon...
Good for you! BTW, my socks are finito.

Posted by: Vicki at January 31, 2006 10:39 AM
I'm so glad you're home. I missed you. And I LOVE the word cloud thang.
Posted by: Bookish Wendy at January 31, 2006 10:42 AM
by the way, when all else fails, nail clippers work to cut yarn! it was only recently that the TSA started allowing blunt tipped scissors on board flights but the last time i flew i just used my nail clippers that i keep with me all the time! works like a charm.
glad to hear your vacation was spectacular :) there's nothing like having a little R&R.
Posted by: gleek at January 31, 2006 10:43 AM
Actually, it's not customs it's the Transportation Safety Administration (TSA) that regulates what you can take on a US flight -- and knitting needles have been on the permitted list for quite a while! (They were only briefly prohibited after 9/11.) I think the first time I checked the list was March 2003 (and needles were OK), and the Winter 2003 Knitty had an article celebrating it too.
Posted by: shannon at January 31, 2006 10:46 AM
Glad to see you are home safe and sound and had a wonderful vacation. I don't blame you for closing the Jaywalker KAL - it was really huge, but a total sucess!
Posted by: Marie at January 31, 2006 11:01 AM
I totally understand the wish to pass on or close the Jaywalker chapter in your life girl. I thought I'd torture you however with one more link to view... my completed Jw's. I love em.! http://countrygirlzine.us/knit/index.php/2006/01/20/jaywalker-alert/
Posted by: Becky at January 31, 2006 11:03 AM
Oh, forgot, like a dummy, to add love your post about the vacation. I loved all the yummy meals too! Sounds heavenly. Must have been a great trip. Were you sad to come back home?
Posted by: Becky at January 31, 2006 11:05 AM
Glad your home, I missed reading your blog :)
I agree the Jaywalker KAL turned MASSIVE!! Glad you started it though as it pushed me to get sss out of the way and complete the pair!
Your dining out sounds amazing....... yummmmm I think I need to go get lunch!

Posted by: Kelly at January 31, 2006 11:13 AM
It will be nice to hear you talk about more than JWs;-) It has taken on a life of its own. Ever blogger and their whole family is/has knit a pair.
The food discription has made me very hungry this morning and all I have to eat is plain yogurt!
Posted by: margene at January 31, 2006 11:14 AM
I'm so glad you had a fabulous time! The food sounds divine and so does the cuddling. ;-)
As for the Jaywalker knit along, you have clearly made the right decision. People can still knit jaywalkers without the knit along and you can have your blog back!
Posted by: Carole at January 31, 2006 11:37 AM
D and I are still talking about your dinner, then it segues into talking about what we are going to have for dinner (sandwiches AGAIN!). :)
Glad you are back - your socks and sleeves look fab. Can't wait to see you modeling a finished Short Rows.
Posted by: Jen at January 31, 2006 11:40 AM
happy you're home! I'm going to South Beach with my boyfriend President's week. I must try out those restuarants. I cannot wait to get into the sun!
Posted by: margaux at January 31, 2006 11:50 AM
Your vacation sounds like heaven and what beautiful knitting you accomplished. I just want to thank you for the Jaywalker pattern AND for the knit-a-long experience as it is my very first. I can't imagine how much work it's been as it appears to have certainly been popular.
I love the fact the pattern is very simple, easy to remember AND gives such amazing results. I'm sure I will use it again and again - just different yarns - can't wait to get my first STR yarn!!
Robin
Posted by: Robin at January 31, 2006 12:05 PM
I take my knitting with me everywhere and after having the TSA swipe my cute stork scissors I went out and bought a little round gadget with blades embedded all around because that was permitted. Now they're back to allowing my little scissors. Ugh! I never liked the round gadget anyway.
I finished my first Jaywalker on Friday night and immediatety posted a picture. Now I'm well on my way with the second. I'll finish it before the end of the week.
Posted by: hillary at January 31, 2006 12:34 PM
Posted by: kris at January 31, 2006 12:35 PM
Sounds like you had a wonderful time-good for you! I'll be glad to have your blog back, too. :)
Posted by: Kimberly at January 31, 2006 12:36 PM
Your food descriptions sound so good - wow. I just had a sub-par salad for lunch. Hmph.
Glad you made it back home safely, C!
Posted by: Lolly at January 31, 2006 12:52 PM
Criminy... wait 'til Ann sees that she's #1 in the word cloud... no matter that it's in alphabetical order. ; )

Posted by: Vicki at January 31, 2006 01:02 PM
Sounds like your vacation was wonderful! Yay!
If you hadn't decided to put the Jaywalker KAL to bed, we might have needed to have an intervention. :) Too much work for one blogger to take on indefinitely!
Posted by: Laura at January 31, 2006 01:12 PM
I am so hungry.
Sounds like you had a great trip.
And I think closing the KAL is a good idea, I don't like to read about you being stressed.
Posted by: Steph at January 31, 2006 01:16 PM
Aren't Miami restaurants wonderful? I go there every October for a conference and the food is so outstanding. Other great places are China Grille and Pacific Time. Yum.
To update you on my Queen Rock Jaywalker, I am a few rows away from finishing the toe on sock #1. I'm hoping sock #2 will go faster, now that I have the general idea of things. Still getting used to using size 1 needles. 2's and 3's will feel gigantic after this! I have to finish soon so I can devote my energies to the upcoming Olympics! Plus, I can't wait to wear them!
Posted by: Michele in Maine at January 31, 2006 01:39 PM
I'm glad the word cloud finally worked for you. Your time away sounds fantastic... the food, yum! It's also good to see Short Rows progress. What a feat! :)
Posted by: Karma at January 31, 2006 01:42 PM
I think I need to take that same vacation - snuggling, knitting, and good food. That's all one needs for a vacation to be wonderful. :)
Posted by: Laura at January 31, 2006 02:24 PM
Mmmmmm...I need a vacation. And some great food, too. I'm glad you two had such a lovely time.
Posted by: Snow at January 31, 2006 02:48 PM
STOP don't shut it down!
I am casting on tonight for my first Jaywalkers.
I was one of the forst to join but I had deadline knitting and now I am free....
whip me with a wet noodle if you must but I WILL still KAL with ya'll :-)
Posted by: Jenn at January 31, 2006 03:10 PM
wow, your descriptions of the meals are making me hungry! *mental note to self: don't read Cara's blog around lunchtime!* I'm glad to hear you had a nice vacation!
Sorry to hear that the KAL has gotten burdensome for you. It's very fun for us, and it introduced me to your blog, but I can see where it would be a lot of work. All KALs must come to an end, though (at least, I hope we're not supposed to be working on those projects forever!), so thank you for providing us with a fun one!
Posted by: Katie at January 31, 2006 03:20 PM
pokey as usual (after a false start) but i should have my update/photo posted tonight or tomorrow...guild tonight and i plan on getting enough done so they're recognizable as jaywalkers lol (yeah just ducking under the wire, what else is new *sigh*)...will email if that's ok :o)
Posted by: laurie at January 31, 2006 03:21 PM
Glad you had a great vacation. The meals sound heavenly!
Posted by: Norah Willett at January 31, 2006 03:44 PM
It sounds like a truly wonderful vacation, even with the airplane snafu. The food sounds divine. Way to go on all that knittinge - a relaxing and productive vacation in one. Who knew?
Posted by: Stephanie at January 31, 2006 03:54 PM
Glad you had a great vacation, Xanax's are great!!
Posted by: Kenny at January 31, 2006 04:34 PM
It's no help now, but I always carry a cardboard emery board with me and that's pretty handy for sawing through yarn, though it's best for changing colors so you can clean up the ends later.
Posted by: ellie at January 31, 2006 04:54 PM
Can I holiday with you two ? I'll be unobtrusive in the corner. You just have to feed me ! ;-]
I signed up ages ago,but have only hust started my first pair. I hope I can still play. :0)
Posted by: Emma at January 31, 2006 06:29 PM
Love the photos you posted yesterday, it sounds and looks like you had a great vacation!
Thanks so much for hosting the Jaywalker KAL. It sounds like it's been a lot of work and I just wanted to tell you thank you. It's been my first KAL and I'm having a lot of fun with it!
Posted by: Marie at January 31, 2006 06:45 PM
Rats! I wanted to post a progress photo of my Jaywalkers, but THEY'RE GONE! I can't find the little bag I was carrying them in. I must have carried it into a restaurant and left it behind. Sigh. Guess I'd better go start making phone calls.

Posted by: Becky at January 31, 2006 06:57 PM
I am so glad that you had such a wonderful vacation. Salmon is my absolute favorite!
I better get "crack-a-laking" on my JW's. Will a pair count if they are two different yarns? You see I have some STR that I am "dyeing" to cast on just as soon as the #1's get free from the Koigu. :)
Posted by: emmy at January 31, 2006 08:19 PM
Your word cloud came out perfect. And as for lack of scissors, I've been known to bite through yarn. It's not really any grosser than a spit join, is it?
Posted by: anne at January 31, 2006 08:38 PM
You like me! You really like me!
I couldn't get word cloud to work -- argh!
Posted by: ann at January 31, 2006 09:34 PM
Love that you had a fabulous trip...the socks are wonderful and you have totally turned me onto STR and jaywalkers too! And the word cloud too boot you are amazing, I love our blog.
Posted by: michele at January 31, 2006 10:05 PM
Cara, I just wanted to give you a pat on the back for the Jaywalker KAL. I've only seen one other person work as hard at a KAL, and thats Alison at The Blue Blog.
I resisted the KAL for so long, but your enthusiasm was hard to ignore ;) so GOOD JOB!
Annnnd...your meals in FL sound delish! I am uber jealous of the pistacio encrusted lamb. I had an ex boyfriend who worked his way through grad school as a chef. He could make a mean pistacio encrusted veal medallion in raspberry sauce. I still have fond dreams of that entree!
Posted by: Carla at February 1, 2006 05:00 AM
AAAAaaaaaaaaaaaaaaahhh...
I feel refreshed! reading about your vacation and looking at your wonderful photos. Thank you so much for your generous POV, both on and off the plane...
And thanks for the JW effort - I never tire of looking and being stimulated by the infinite combinations of the Chevron...
Posted by: Bonne Marie at February 1, 2006 09:54 AM