« P.I.S.S. | Main | Exorcism! »
February 21, 2006
Come Play With Us
So Becky tagged me for the "The View from Your Front Door" meme. I told her that it would be really, really boring. I'm not so sure she believed me.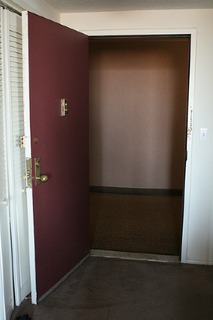 I live in a high rise apartment building, so looking out my front door gives me a wall. A very boring wall. I thought I'd take a picture of the hallway too. This is walking straight out my front door and turning left: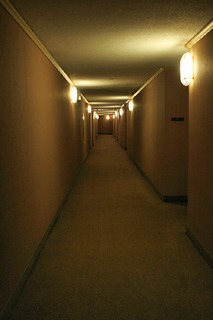 It's a crappy picture of the hallway, but it's usually pretty dark out there. They're supposed to be re-doing the hallways in the building - walls, carpeting, lighting. They're charging us a gazillion dollars but the board's fighting about it. As usual. Supposedly it was all supposed to be started and halfway completed by now and I think they painted the stairwells and maybe ripped out one floor. Fun, fun, fun! Anyway, the most interesting thing I can say about my hallway is that sometimes it scares the freaking crap out me. (Ask
Jen
. She'll tell you. I totally wigged her out the other day.) It's because sometimes, when I'm walking down from the elevator to my apartment, all I can think about is the twins in
The Shining
. You know - the ghost girls who want Danny to play and then the hallway fills with blood and I literally break into a run to my apartment. I hate scary movies and I think
The Shining
, with Jack Nicholson, is one of the scariest movies ever. But yet, whenever it's on, I have to watch it.
I much prefer the view from my balcony: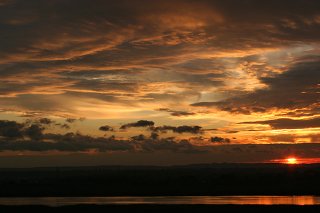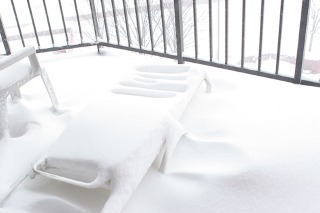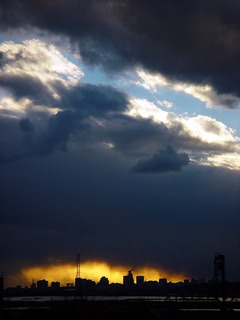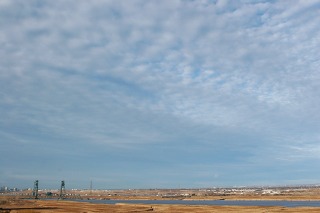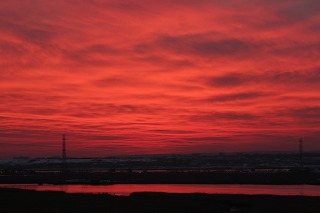 For this very nice meme I will tag: Jasmin (because I learn something new on her blog everyday), Kris (because she's my bp and she lives far from me), Stephanie (because she has a beautiful blog and lives in a beautiful place), and Kimberly (because she takes great pictures and here's a good excuse to take some more.) Do you want to do it? Well, then, I tag you too!
I may have exorcised the Ikea Demons yesterday when G and I test drove a car out of Sweden known for its safety and family appeal. Welp this car is the fastest car I've ever driven and I've driven some fast cars. The last time we had that much fun in a test drive we bought the car. We're still a couple of months away from any decisions, but I know what I want. Actually, I have to say that car shopping yesterday was one of the most pleasant experiences we've had in a while. Two dealerships, two different cars, two test drives. No one gave us a hard sell. Both salespeople loved the cars they were selling. Both extremely likable. I'd feel good buying a car from either one. And that says a lot. What was interesting too is that one salesperson had been in the business for over 20 years. The other was just barely OVER twenty years OLD. But that second test drive, with the young guy, MAN was that fun. You know you're in for a good time when the salesguy gets in the car and says, don't worry, I went to Skip Barber. Yipeee! G and I are still laughing over it!
I'm off to the dentist today. Blah. I hate the dentist. Well, I actually like my dentist and everyone in the office. I've been going there for 15 years and G something like 20. In fact we both have appointments today - one after the other. All together now: AWWWW! We get to see each other in the middle of the day, which is always a treat and may just help relieve the awful anxiety I get at the dentist. And it's going to be bad today - I haven't been in a while.
I leave you with my knitting from yesterday. Favorite STR EVAH! ;-)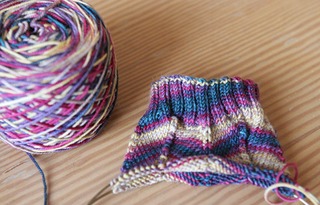 Posted by Cara at February 21, 2006 09:17 AM
Topics: Jaywalkers ~ Photographs ~ Socks ~ blogging stuff
Comments
Well I get to go to the OB today! So much more fun than the Dentist. /sarcasm.
Even though you didn't tag me I think I will do this meme. I didn't knit at all last night so I don't have anything else to share! I love those pictures and the reddish sunset one is amazing.
Posted by: Scout at February 21, 2006 09:31 AM
I can relate to your PISS. I'm having PTPD - Post-Traumatic Printer Disorder. The psychosis induced by having your printer get mad at you for letting it run out of paper and eating your computer in revenge (seriously, it totally hosed the registry). I have a new computer now. I hate moving everything to a new computer. Thank goodness for portable disk drives.
Gorgeous pics as always. Now I have a friend to order to keep the Hot Flash company!
Posted by: liz at February 21, 2006 09:46 AM
Don't you say that every time you start a sock with STR? Good luck at the dentist! I have a bad one coming up the end of March. Front doors, eh? Mine is sorta boring, too.
Posted by: margene at February 21, 2006 09:47 AM
yes darling - good luck at the dentist! I have an appointment coming up and I have a feeling it won't be good news....... looking forward to tomorrow!
Posted by: ann at February 21, 2006 09:49 AM
Oh honey, the view from my front door is very much like yours. Only orange. Ugly orange. We'll see what I can do. Good luck to you at the dentist. I'm just happy it's you and not me. ;)
Posted by: Kimberly at February 21, 2006 09:49 AM
oooh ooh I hope it was a SAAB... I am a SAAB lover :)
My front door isnt much better than yours. Neither is my window view really- but the neighborhood is what it is all about :)
Posted by: stinkerbell at February 21, 2006 09:53 AM
Becky tagged me for this one, too. I haven't done it yet but will get to it this week. Anyway, I have that moment from The Shining every time I walk down a hotel corridor. I had it this weekend at SPA. It always creeps me out but it always happens!
Posted by: Carole at February 21, 2006 09:57 AM
I feel your dental anxiety. I have major dental work coming up and I swear I am going to ask for Valium and my husband to take a day off to hold my hand. I can tolerate blood, but dental work...yeeeeeeek.
Hang in there, baby! Does your dentist let you listen to Jerry while he works? :-)
Posted by: Lee Ann at February 21, 2006 09:57 AM
I love your pictures - they capture so much more than a simple view.
Do this new fav STR colour have a name? I love it too!! I may not be able to hold out much longer!!
Posted by: Wannietta at February 21, 2006 10:00 AM
Love the balcony view pictures and the gorgeous new Jaywalker!
Posted by: Chris at February 21, 2006 10:02 AM
I love the sky pictures...........perfection.....Thanks for sharing!
Posted by: christine at February 21, 2006 10:12 AM
I love my Volvo (unless you were talking about Saab, but I don't think of that as a family car) - it's reputation is somewhat misleading, since it's actually a European sports car in an ultra-safe body. Come to think of it, with the engine it has - it'd better have a safe body. I'm going to Sweden to pick up my next one, I love it so much.
Posted by: Theresa at February 21, 2006 10:16 AM
Your pictures are always gorgeous but the sunsets... oh the sunsets! I wish I had a view like that but I have a VERY boring suburban street outside my front door. Lovely but unexciting.
Posted by: hillary at February 21, 2006 10:18 AM
Can I stalk you for your STR? Just kidding. How much yarn do you have leftover when you make a pair of Jaywalkers from a hank of STR? I want to make the Prove It All Night you sent me into Jaywalkers but I am afraid that I will not have enough (I cast on 84 sts and have an 8½ foot).
Posted by: trek at February 21, 2006 10:21 AM
ugh, the dentist. good luck. i'm going tomorrow! (hope my two weeks of intense flossing have paid off...) you know, it wouldn't be so bad if they didn't insist on sticking things into your mouth!
will try to take some front door pics over the weekend!
Posted by: kris at February 21, 2006 10:34 AM
Assuming you're talking about Volvo, I have a 2002 S-60 AWD and love it. The only thing I would change would be to give it a slightly bigger trunk, but since that's really only an issue when we go on vacation, it's not that big a deal. I love the car so much that, even though it's four years old, I'm not already thinking about trading it in (grin).
Posted by: --Deb at February 21, 2006 10:37 AM
Ooh, of all the STR Jaywalkers you've knit, that's my favorite colorway so far. That seals the deal, I need to find a store in Boston that sells this stuff.
Such gorgeous sunset shots!

Posted by: parikha at February 21, 2006 10:38 AM
I am so impressed with all that you did to get your dresser put together. It looks great and will hold a ton of yarn! I used to keep my stash in an armoire in the guest room but now that family keeps staying with us because of the baby, I had to clean it out. The yarn now lives in a plastic blanket storage bag. Classy, eh?
Posted by: Juls at February 21, 2006 11:00 AM
You poor thing, what a lot of trouble for something that should be simple! It is a truly lovely piece of furniture and eventually you will put your highly cherised yarn in those wonderful drawers and shelves and love it to death because it holds what you love!
Posted by: Susanne at February 21, 2006 11:13 AM
Okay, done. :)
I also wanted to say that I love that colorway of STR. TOnight we are all going to take a picture of our SnB finished Jaywalkers!
Posted by: Scout at February 21, 2006 11:22 AM
I love your balcony view, too. Wonderful photos. That looks like a fun sock!
Have fun tomorrow!

Posted by: Vicki at February 21, 2006 11:26 AM
Those pictures from your balcony are breathtaking. Thanks for thinking I have a nice blog and for tagging me. I probably will have to wait until the weekend to get some good pictures from my front door, and they won't look anything like your's, but I'll give it the ol' college try. Yeah for seeing G in the middle of the day!
Posted by: Stephanie at February 21, 2006 11:52 AM
That is an incredible view! I'd want to live on the balcony :)
Posted by: jillian at February 21, 2006 12:31 PM
Thanks for tagging me--uh, mine's really boring too, but I'll see what I can come up with.
Posted by: Jasmin at February 21, 2006 01:37 PM
I once dated a guy who worked at Skip Barber...looked just like Matt Damon *sigh*
Good luck at the dentist!
Posted by: JessaLu at February 21, 2006 02:11 PM
Not so bad with a view like that! I would rather show the view of my front door pretty wreath and all instead of the neighbors house, junk car sitting there. Out my back is pretty nice though, a mountain.Love the new IKEA dresser. IKEA rocks!
Posted by: KnitPastis at February 21, 2006 02:53 PM
ok so your door view is kinda boring...but the balcony view rocks! (so much so that they should name a STR yarn colour after it!)
Posted by: jacqueline at February 21, 2006 03:53 PM
Yeah, I went for my first physical in six years today. And the 19-year-old MALE hunky nursing assistant did nothing to make me feel any younger or less fat or less nervous. Geesh. It wasn't HIM, it was ME. He was a darling. But.....I felt like an old, fat lady. Oh, wait, maybe there's a reason for that....
Posted by: Norma at February 21, 2006 04:19 PM
Posted by: Jenifer at February 21, 2006 08:29 PM
OK, you know you have to have some kind of Purification Ritual for the dresser, right? It has cuss words so deeply imbedded in it that you have to sing at least 25 hymns just to get a good running start. Then a whole bunch of baruch atah adonais.....
So good to hear from you the other night on the radio. ON THE RADIO? WHAT WERE WE THINKING???? YOU ARE SO CRAZY!!! xoxo Kay
Posted by: Kay at February 21, 2006 10:53 PM
Funny about The Shining - I wonder how many residents of apt buildings have felt the same way, myself included. A friend's building nearby has the EXACT SAME carpet as in the movie, and I always get freaked.
Posted by: anne at February 22, 2006 12:26 AM
I admit, I skimmed! I thought Ann came up with that Shining reference all on her own! Oh Cara...maybe you should move to the 'burbs!
Posted by: Kathleen at February 22, 2006 10:16 AM
Gee. I googled The Shining and it looks like such a nice, family kind of film from the trailer and Peter Gabriel did the soundtrack:
http://www.liquidgeneration.com/content/a55hat.aspx?cid=1680
Thanks for the Ikea warnings. I was very very close to buying a yarn cabinet there myself. Now I think I'll just get a few more big ol' Rubbermaids to shove into the hall closet.
Posted by: Cristina at February 24, 2006 02:07 PM
Red Rum! Red Rum! (Sorry - I can't think of The Shining and those hallways without saying that!)
Posted by: Christine at February 26, 2006 04:15 PM