« I'm looking over a Four Leaf Clover.... | Main | To stripe or not to stripe.... »
March 20, 2006
Where Diamonds are STILL a Girl's Best Friend
First, let's get Short Rows news out of the way.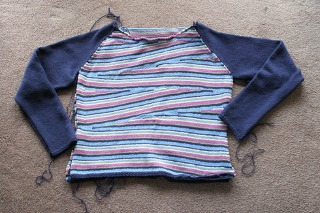 I joined three of the four raglan shoulder areas, as the pattern instructed, and now I'm at an impasse. The pattern says when knitting the collar to continue the stripe sequence for the front and back and the main color for the area over the sleeves. You know, because knitting a million short rows isn't enough. When you're so close to the end you need to add intarsia to the mix. Striped intarsia. Where the colors change every freaking row.
Margene
has told me a few times that I'm crazy and I should just knit the collar in the main color as a nice contrast but I was all like I've come this far I'm going to do the insane intarsia collar and guess what? I'm completely confused. The pattern says
continue in the stripe sequence
. Well, the stripe sequence for the back and the front is different. The back comes up higher than the front, duh, and while the teeny tiny tips at the raglan shaping on the front may match up with the back, the mini scoop doesn't. So if I follow in the stripe sequence it's all going to be off anyway. I'm thinking a solid collar is the way to go and then I don't have to really think about it. (
Ann
had a brilliant suggestion - that I photoshop a solid collar onto the picture from the magazine. I was going to post it but the picture I have on my site is somehow corrupted and I can't find another picture on the web and I can't find the magazine either. Maybe tomorrow.) And the pattern also has you knitting in stockinette then switching to garter stitch then folding down the collar for a hem and the ends of the sleeves and bottom of the body are all in seed stitch. Should I knit the end of the collar in seed stitch to match? Since I'm doing it all in one color? It's all kind of mute at this point because I don't have a circular needle to work. I have to look because I should have one - I mean I have 5 different size 7 addi circulars in like 3 different lengths, it seems kind of ridiculous that I only have one 6. Oh and I pseudo tried it on. I think it will be fine - if anything it will be a bit short, but hopefully not. I'm not thinking about it anymore so as not to torture myself. That's that - MOVING ON!
Black Diamond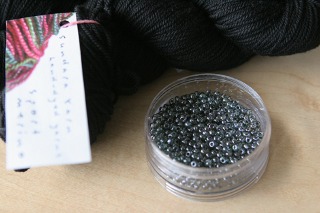 I am so freaking EXCITED about this project!!! It's going to be really, really hard to photograph, but I hope you can get a sense of it. You may remember that last summer I made the
Diamond Fantasy Shawl
from
Sivia Harding
. Possibly the most beautiful item I've ever knit, it sits on my couch, all laid out, in a place of honor. I just like to look at the perfect diamonds and crisp border points and well, I love it. I really do. Anyway, as soon as I finished it I was thinking about the NEXT one I would knit because it's such an amazing pattern NOT to knit it again would be a sin and the idea I had was for a very elegant black shawl with beads at the center of each diamond! Completely and utterly impractical but oh my god it would be gorgeous! It was in the back of my mind all the time, and finally! An excuse to make it!
G and I were invited to a wedding at the end of April - it's an old friend and one of those situations where even if I looked like Halle Berry I'd still feel a little bit ugly and self-conscious and fat. You know what I mean? So I'm thinking if I'm wrapped in handknit luxury I will feel a little bit better. And c'mon - who else there will have a fabulous handknit shawl? I'm thinking I'll wear it with a simple little black dress - or even if I decide to go with a color - it will look fabulous.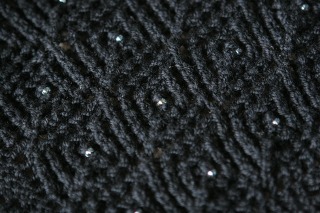 The yarn is from
Sundara
and man is she a pleasure to work with! I sent her an email telling her about my project and what I wanted it to be and she gave me suggestions on color and yarn. This is her sport weight superwash merino dyed in an ULTRA black. Like blackblackblack. For that superfantastic black feel. I give Sundara three thumbs up for service and product and expecially her enthusiasm for MY project. She's a great cheerleader.
Kay
helped me pick out my beads last week. All together they seem like a nice gunmetal color that would compliment the black, without being too bright against it. Perfect! Ends up the beads are actually transluscent and when I stopped into another bead store looking to see if I could find anything else, the guy there told me that my beads are actually glass - not seed beads like I thought. In retrospect, it may be the shape that makes them not seed beads, not the glass.) I think they are the bomb!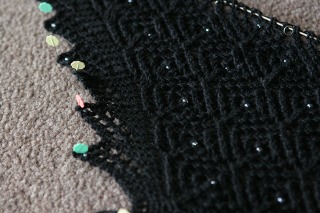 I'm putting a bead at the second stitch in from the end on the row before you bind off for the points on the border, and I'm putting one on the stitch you slip in the s1-k2tog-psso sequence that lands you square in the middle of the diamond. The beads end up being a bit off the right of center, but they're all in the same place and when it's all blocked out and gorgeous all you'll see is beauty, not wonkiness. I'm already three repeats in - I absolutely ADORE this pattern. I would encourage everyone and anyone to make it - it's not that difficult at all - and use stitch markers! They make things a lot easier!
Oh yeah and I got a package from the girls at Blue Moon. Click on the extended entry if you want a peak. ;-)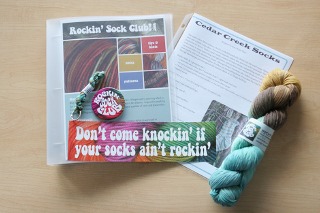 My first sock club package! Yarn in the new Rainforest Jasper colorway, my binder (with all kinds of goodies inside), my pattern (Cedar Creek Socks), my emergency sock yarn key ring, my bumper sticker, my pin - it's a SOCKS THAT ROCK EXTRAVAGANZA! I'm so proud of Tina and Kaci and the whole crew over at Blue Moon. They've been working night and day to get out the first installment of the sock club and I think they did a stellar job! ROCK ON!
This may seem obvious, but my favorite part of the sock club is definitely going to be the yarn. But not necessarily in the way you think. What I'm looking forward to is ~GASP~ having no control over what I get. It keeps me from buying the same colors over and over again and I know no matter what they send I will at the least be intrigued. Tina is a color genius and she hasn't let me down yet - even with some yarns I was kind of iffy about. I can't wait for the next installment! Thanks girls!
Posted by Cara at March 20, 2006 01:21 PM
Topics: BDFS ~ Short Rows
Comments
The shawl is gorgeous! I love the pattern, I adore the beads. So beautiful.
I'm so jealous of the STR. Maybe I should promise myself that if I reduce the stash by 1/3 I can replace it all with STR. That should only take a year or so. ::sigh::
Posted by: Heather at March 20, 2006 01:42 PM
the shawl looks fantastic - can't wait to see it in person!
Posted by: ann at March 20, 2006 01:43 PM
Cara, I have a quick question... I looked at Sivia Harding's website and it looks like her patterns are hard copies, right? I just want to make sure I'm not missing something.
Posted by: Miriam at March 20, 2006 01:56 PM
Emergency sock yarn keychain--I love it! (grin)
And the shawl looks absolutely gorgeous. Gorgeous, I tell you!
Posted by: --Deb at March 20, 2006 02:00 PM
And, oh yes, I'd do the collar of the sweater in the same solid color you used on the sleeves, but that seed stitch would probably look really nice, especially if you have it on the sleeves, too.
Posted by: --Deb at March 20, 2006 02:01 PM
Solid color collar, definitely. Why drive yourself insane?
And I love the idea of DFS in black with those beads - it will be so elegant.
I'm wondering if, when I get home from work today, there will be a STR package for me!!!
Posted by: Carole at March 20, 2006 02:05 PM
Your shawl looks cool. Knitting lace with black black yarn isn't blinding you??
On the sweater... I'd say definitely go with the solid color. I'm kinda split on the seed stitch or not; I think there's enough going on with the stripes, so maybe a plain stockinette collar would work better.
Posted by: Monica at March 20, 2006 02:06 PM
Fabulous shawl Cara. I'm so tempted! ;)
Posted by: may at March 20, 2006 02:08 PM
That shawl is going to be so beautiful! The beads are so perfect. And glass... I thought the seed beads I've bought are glass?
Posted by: Laura at March 20, 2006 02:13 PM
The shawl will be stunning!
Posted by: Helen at March 20, 2006 02:19 PM
got a bit dizzy from reading those collar instructions. intarsia? wtf? that's just not right.
anyway, the shawl is going to be g-o-r-g-e-o-u-s and now i'm so regretting not joining the sock club. i may have to go pet my sock yarn stash and see if i can get over it.
Posted by: kris at March 20, 2006 02:27 PM
OMG, Cara, that shawl is to die for. Coincidentally I'm doing my own interpretation of the diamond thing, for DD's school auction, and I was just thinking how annoyed I will be if it doesn't fetch decent money. If only I'd thought to put beads in it...
I so know what you mean about meeting up with old friends and folks you haven't seen in years. I call it reunionitis. My 30th (I don't want to hear it!) high-school reunion is in June and I don't think I'm going. The fact that the Maine Fiber Frolic (a great time btw) is the same weekend has only something to do with it.
Posted by: Lucia at March 20, 2006 02:29 PM
That shawl is going to be stunning! I can't wait to see it. Love, love, love it.
Do you think to be sure about the black staying as black, you should cut of a strand and soak it in a small amount of water to see what happens? Just curious....
Posted by: Teresa C at March 20, 2006 02:38 PM
Absolutely fabulous shawl!
I got my package today too. :) I'm kinda bummed I'm low on knitting time these days - I probably won't be able to cast on until the weekend.
Posted by: Kris at March 20, 2006 02:52 PM
I have no idea where to even start - wow. I got my package, too! So much fun! :)
I LOVE LOVE Short Rows. I go for the solid collar, you could use the hem technique from NBaT.
The shawl - oh my - there are no words!!
Posted by: Jackie at March 20, 2006 02:55 PM
those diamonds are gorgeous! god you have good taste... care to share some of it :)
Posted by: stinkerbell at March 20, 2006 02:57 PM
I love your shawl with the beads in it. I made DFS in black as my Olympic project and it drove me crazy - I think it may have been the time pressure. I just gave it to my grandmother this weekend so maybe I need to do another one for me. I'm not sure if my family will let me after what I put them through the first time.
Oh, and Short Rows - definitely a solid collar. I can't imagine having to weave in even more ends.
Posted by: hillary at March 20, 2006 02:58 PM
I think the short rows would look great with the collar the same color as the sleeves, but that's me--sure would be a heck of a lot easier, too.

STR club is too cool! I couldn't justify it to myself or dh right now, but when I want a skein of STR I can order one. Have 4 in my stash that I keep looking at and contemplating. Nothing like your STR stash, but that's okay, I'm learning to deal with that.
The shawl is gonna be gorgeous, girl! Great project!
Posted by: Jen at March 20, 2006 03:06 PM
The shawl is gorgeous! It will be stunning with the beadwork! DFS is high on my to-do list, after the STR Cedar Creek Socks I imagine!! Knit on!!
Posted by: Gail at March 20, 2006 03:15 PM
I want a black shawl, too, pout :(. Knitting with black is murder on my eyes, though, so I haven't taken the plunge.
Posted by: grumperina at March 20, 2006 03:22 PM
I would SO do the solid color collar!
I emailed a few weeks ago to join the sock club,and haven't heard anything back. I assumed they were swamped. And they've already mailed out the first set? Hmmm, I think I'll email again.
LOVE,LOVE,LOVE the shawl. Wish I had an appropriate place to wear something like that!
Posted by: Wendi at March 20, 2006 03:26 PM
Oh will my package be waiting when I get home!? I want to drool over the yarn, too. The green is pretty cool with the gold. The club will expand our color horizons.
The shawl is going to be fabulous. I'll bet you can't put it down. And just do what I said...make the color solid, the seed stitch border would be perfect.
Posted by: margene at March 20, 2006 04:00 PM
I just got my first package of yarn, too - love it! Too fun.
And I REALLY LOVE your shawl in progress. I love black, and THAT black is fantastic. I think that a simple yet incredibly elegant and chic black shawl is going to be fabulously useful. :)
Posted by: Chris at March 20, 2006 04:22 PM
When I saw that sweater I mentally pictured it with a solid collar even before I read anything. Definitely solid. That stole is going to look amazing with anything you wear. The beads add just enough sparkle, and that black is deep and dark and wonderful.
Posted by: Kathy at March 20, 2006 04:25 PM
The short row top is really pretty!!!
Posted by: trek at March 20, 2006 04:36 PM
i got my socks that rock package today too -- and i love the key ring. and i'm very intrigued by this color -- it's not a color i would pick either but i love it just the same.
Posted by: maryse at March 20, 2006 05:15 PM
Short Rows will look amazing with a solid collar. Probably even more amazing because it will provide a nice frame!
I got my STR package today as well and I heartily agree with the whole "out of my control" aspect. At first, I was a bit iffy on the Rainforest Jasper because I loathe that color of yellow and am indifferent to the green. But it's sitting on my desk growing on me. And it looks fab in the pattern!
Now I have shawl envy as well.
Posted by: liz at March 20, 2006 05:16 PM
Beautiful black diamonds shawl--what a brilliant idea to incorporate the beads into the design. You will look fabulous at the wedding!
I wish I had joined the sock club--what a cool kit!
Posted by: Diane at March 20, 2006 05:19 PM
LOOOOOOOVE your Diamond Fantasy Shawl!! I'm toying with making another one for myself. my only problem is whether or not to use the yarn I have for the shawl or for a pair of socks. *g* :) Nice pkg from Blue Moon! I want to join the club, but I don't know if I can get away w/ spending the money. FianceeMan might have a cow. ;)
Posted by: Manda at March 20, 2006 05:50 PM
Solid collar -- I like it better than the idea of continuing the stripes anyway.
The shawl, there are no words to describe how beautiful that shawl is going to be. Wearing it will be protection against any feelings of inadequacy.
I got my club package today too. I had great fun reading Tina's words about pooling, as well having a cool knitting project to look forward to.
Posted by: anmiryam at March 20, 2006 06:01 PM
Okay, short rows is amazing as well as the shawl! Maybe one day I'll do lace like that.
And isn't the package fun?!? I can't wait to finish my 101 projects so I can make some socks with that pretty yarn!
Posted by: Scout at March 20, 2006 06:23 PM
The shawl is coming out beautifully. I was going to join the sock club but I wanted to check it out first. I hope they do it again cause I'd def join.
Posted by: iraida at March 20, 2006 06:27 PM
I think a solid color collar would look great on Short Rows. Your black shawl is divine! I laughed a little (with serious understnding) about feeling fugly no matter when around some people... :) The shawl will make a big difference in how you feel that day!
Posted by: Karma at March 20, 2006 06:29 PM
I'm swooning over Short Rows. I think a solid collar would look GREAT. Love the shawl -- Diamond Fantasy will have a couch-mate (I know you'll have to keep it where you can see it) and they'll be fighting for your attention! I have to say that one thing I loved about any Secret Pal exchange is that I would get all this stuff in the mail that I wouldn't normally have even looked at for myself, but almost always the Pal, from reading the blog or whatever, has given me stuff that I end up LOVING -- especially color-wise. It's weird. But good. Love the teensy little keychain skein.

Posted by: Vicki at March 20, 2006 07:46 PM
I'll be watching that shawl with excitement. I have been wanting to knit a black shawl, so your pattern notes will be of great interest!
Love the sweater, too!
Posted by: Leah at March 20, 2006 08:22 PM
That is going to be a stunning shawl. And, yes, "seed bead" refers to the style of bead, not its composition, and they're usually made of glass.
I have to say, though...I think you meant "moot" and "peek".
Posted by: naomi at March 20, 2006 08:54 PM
that shawl is going to be the picture of elegance. I'm going to a wedding the beginning of April and I'm not even going to try to make anything for it -- I'd only be setting myself up for either failure or too much stress. TJMaxx, here I come.
Posted by: Norma at March 20, 2006 11:08 PM
What a lovely job you're doing on the shawl. Maybe I need to do one too. I looked at the yarn company you ordered from and really liked her yarns. They are lovely.
Neat goodies in the package too. I just may have to join up with them. I've been wanting some Socks That Rock and no one here in Dallas carries it. Good luck with all.
Ann
Posted by: Ann Carpenter at March 20, 2006 11:58 PM
oh wow! that shawl is going to be stunning stunning stunning. i hope halle is at the wedding because she is sure the hell going to have to get out of your way!
btw - very envious about you girls and your STR club.
Posted by: jacqueline at March 21, 2006 03:33 AM
Oh your black shawl is gorgeous!!
Posted by: Kimberly at March 21, 2006 03:59 AM
Wow, I'm not sure you'll be admitted to the wedding if you wear that. Definite upstaging of the bride going on. But I must say, being married myself, I'd love to go to weddings upstaging the bride.
I was sorely disappointed the Blue Moon Sock Club was not open to people in the UK. I shall live the club through you.
Posted by: Abi at March 21, 2006 06:18 AM
Love, love, love the new black shawl! So fabulous!
Posted by: diana at March 21, 2006 07:32 AM
The shawl is GORGEOUS! I am starting that pattern as one of my April Project Spectrum projects - with my Grafton Fibers handspun. Can't wait.
And wasn't that first socks kit great. I was so excited when I saw th ebox at my door. I love the binder and the pattern. The key ring is cool and I love the colors of the yarn.
Posted by: Lisa at March 21, 2006 09:18 AM
Lovely sweater and lovely shawl.
BTW, there's a picture of the short row sweater here:
http://iwpshopinfo.interweave.com/Knits/2003%20newsletters/Fall03projects.htm
Posted by: Urraca at March 21, 2006 10:21 AM
I got my STR package yesterday too - wasn't I some excited!! Love everything about it - yarn, pattern, bumper sticker (I might even put it on my car!), keychain, letter from Tina, etc. It's all good. I may have to drop everything and skein it right up and start knitting!
Posted by: Michele in Maine at March 21, 2006 10:43 AM
Damn, girl, that shawl rocks.
Posted by: Lee Ann at March 21, 2006 10:45 AM
Black Diamond is gorgeous, C. I love the simple lace pattern with the bead addition. I think wrapping up in handknit loveliness is just the way to go. It would be so great paired with a bright little shift (it is a spring wedding!)
Great Short Rows progress too! You are *so* close!
The STR package rocks, indeed ;)
Love,
L

Posted by: Lolly at March 21, 2006 11:03 AM
What a great idea with the shawl and the beads!!! Whatever you have so far looks magnificantly gorgeous. And i need to check this Sundara person out. All over the internet I read, nothing but good things about her and her work and the yarn she dyes. I just don't have any fabulous projects right now that calls for her yarn. I need to practice more and get my knitting better before i approach her.
Posted by: Kenny at March 21, 2006 11:31 AM
Great stuff!
A little advice about working with beads (I'm a bead artist primarily, but also a knitter.) If you are using them in a garment to be washed, it is a good idea to put a few in a bowl with some soapy water overnight. Rinse in the morning and see if the color is still the same. If you are going to dry clean the item, put them in a little bowl with nail polish remover overnight. It's just the worst to put in all that work to have your beads fade the first time you wash them.
Also, as far as the definition of a seed bead, it is the shape that determines the name. They come in many sizes, the most common being 15s, 11, 8s, and 6s. The bigger the number the smaller the bead. It looks like you are using sixes. Hope this info is helpful for future reference.
Posted by: Francie at March 21, 2006 12:27 PM
That shawl will be beautiful and you'll look beautiful in it...
Posted by: Norah at March 21, 2006 01:51 PM
I love your Diamond Fantasy Shawl. I just finished one in Baby Cashmere after seeing your first shawl and now thinking about knitting one with beads. Thanks for the inspiration.
Posted by: Tess at March 21, 2006 05:25 PM