« Pay Me My Money Down | Main | Wet T-Shirts »
June 21, 2006
Spin Out: GOT SWAG?
Forget the assholes of this world! PEOPLE ARE GOOD!


WE'RE AT $11006!!!
Once we reached $11,000, I upped the goal again. Am I being greedy? I don't think so! We've got a little more than a week to go before the registry closes - please feel free to donate up until
JUNE 30th
! This whole experience has so lifted me! I HAVE FAITH in ALL OF YOU!
And I've got swag too: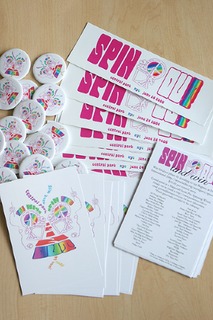 You've got buttons and magnets (they look the same) and bumperstickers and postcards I made advertising the raffle. Get there early peeps! I only have a limited number!
I promise - I haven't been checking the weather obsessively, but it looks like it's going to be in the 70s with scattered thunder storms and a 40% chance of rain. Sunday looks to be the same. So we're on as of right this second. I will update Friday night with a definite go ahead, but I think it looks good. What's the worst thing that happens? It rains a little? Bring your trash bags just in case. Also, Ruth was kind enough to check out Cherry Hill Fountain for us - everytime I've tried to get there I've had a change of plans! - and she says there are a bunch of benches around one side of the fountain - but you still might want to bring some kind of stool if you're bringing your wheel. What else? Oh yeah - some more prizes!!
Dani of Sunshine Yarns has generously donated a MEGA skein of Emerald Isle Sock Yarn - enough for TWO PAIRS! And the fabulous Adrian of Hello Yarn is sending us 8oz of her merino/silk blend! THANK YOU DANI AND ADRIAN!
And this JUST IN! LEXIE BARNES herself is donating a KNITTING BAG! How fabulous is that! Lexie YOU ROCK! I'll be sure to fill it with some of our other donated prizes for A FULL BAG!
Just so you all know, I've decided that instead of a million little prizes going out, I'm going to combine prizes into fabulous pseudo gift baskets - each filled with all kinds of different items from various vendors. So they'll be fewer winners - but whoever wins will be VERY HAPPY! TRUST ME! I've got many of the prizes sitting here tempting me and they are all GORGEOUS!
Again and again I can't THANK YOU ALL ENOUGH! WOOHOOOOOO!
Posted by Cara at June 21, 2006 05:19 PM
Topics: Spin On Spin In Spin Out
Comments
What, no tattoos???
I am SO winning that bag.
Posted by: JulieFrick at June 21, 2006 05:36 PM
The girls love my shirt. They tell me I look like a hippie. ; ) How groovy is that?? Most importantly, I love my shirt and WOW, I can't believe that it's THIS Saturday!!!

Posted by: Vicki at June 21, 2006 05:57 PM
A Lexie Barnes knitting bag! Now I'm going to need to buy a whole freakin' sheep!! :-) You are doing a wonderful job with this.
Posted by: Kathy at June 21, 2006 06:08 PM
Oooh, more goodies! How yummy.
Posted by: Stephanie at June 21, 2006 06:14 PM
Dude. That's just awesome.
Posted by: claudia at June 21, 2006 06:43 PM
Hey I'm having trouble getting to the Spin Out registry at Heifer... clicking the link just takes me to a search page. Help?
Posted by: Leslie at June 21, 2006 08:01 PM
Peeps are amazing, but if it weren't for your "amazingness" where would be all be. Praying we get evening rain and the day is perfect.
Posted by: Carol at June 21, 2006 08:08 PM
i've had the same experience at several concerts; shows; plays and general whhooohaaas in public. drunks when i went to see Melissa; the dummy at the opera who was seeing Lah Bo-heem
anyway
today i had the knitting is the new puppy experience and i'll bloggity about it on my blog
see ya there
ps/show us a pix of the other side of the log cabin squares? mine have a funny seem?
wow lookit all that money for heifer, i'm so proud to know ya
Posted by: marie in florida at June 21, 2006 09:29 PM
WOW! Over $11,000.00!!
I'm so sad that I won't be able to come to NYC for the Spin Out. How long are you going to be selling the shirts?
Posted by: Angelia at June 21, 2006 10:11 PM
You are the one that deserves a big ass prize for all your incredible work! Can't wait till Saturday. I'll be the one in the Spin-Out Tee..ya can't miss me!!!
Posted by: delia at June 22, 2006 08:50 AM
Now you can add Fundraiser Extrordinaire to your resume! You Rock Caraaaahhh!
Posted by: Carol at June 22, 2006 08:53 AM
Woohoo! I'm glad you keep raising the bar. It's amazing to watch this thing grow and grow and grow!!
Posted by: lorinda at June 22, 2006 09:35 AM
Needles crossed- bunnies purchased.....and I'll be spinning out in MICHIGAN.........;)
(thats a full set of DPNS crossed. these prizes look spectacular- you're doing a phenomenal thing here!)
Posted by: tracey in mi at June 22, 2006 01:14 PM
ps sometimes I just click agin to make the banner change.
Posted by: tracey in mi at June 22, 2006 01:14 PM