« Don't be such a heel! | Main | MT Stylesheet HELP! »
August 27, 2006
I got SKILLZ...they're MULTIPLYING!
Let's add some new items to my knitting resume, shall we? I have made a toe-up sock.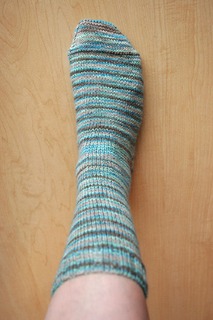 Before we get into the knitty gritty of the construction, this sock was made with Socks That Rock, Pebble Beach colorway, in the OLD put up, so half of 325 yds. See that weird ridge right at the beginning of the toe? I've had some questions about it - that's my odd purl row to delineate the start of the toe decreases. I HATE the way a stockinette sock looks when it goes straight through to the end of the toe. I call it
Gold Toe Syndrome
. So I decided to put a purl ridge in there to break things up. It's only on the top of the foot and it's just one purl row. The next row is when I usually start my decreases (or in this case, the row after I finished my increases.) Oh and
the shoes
? I'm not sure where I bought them, but they are Naot Sea. If you google it I'm sure you can find them.
Okay. The sock. When last you found me, I was getting ready to throw away all my deeply held beliefs and make a short row heel. THANKFULLY, Deb, in the comments (GET THEE A BLOG DEB!) saved me from that woeful fate. She gave me a bunch of links to a FOURTH choice in the toe-up heel. Let's reiterate. There's the short row heel in all of it's incarnations - wraps, PGR, and a million others listed here. You've got your traditional heel flap heel as seen here and here and a million others here. And we can't forget the Afterthought heel.
I don't like the way the short row heel fits and I'm not really a fan of the method and the other toe up heel flap stuff seemed really really really fiddly. (Thanks LA!) And as far as the afterthought heel goes - I'd kind of like the socks to be all in one. There's something deeply satisfying about finishing with only two ends - one at the beginning, one at the end.
In stepped Deb. Deb of the comments. Deb who desperately needs a blog if only so I can link to her and tell everyone how amazingly helpful she is!!! Deb fielded like 80 emails from me Friday and was a saint about answering all of them and even asking her teenage daughters (who also make socks this way) their opinions on my options. Thank you ALL! Deb's suggestion is best illustrated by this pattern.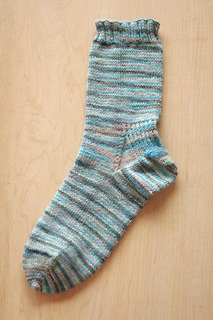 Did you look real fast? Looks almost exactly like the traditional top down heel flap doesn't it. Get this: IT IS!!! So, I knit until the foot met my leg and then I ripped a few rows, and I should probably have ripped a few more. As I usually do when working from the top down, I started my heel flap - only this time the heel was on the BOTTOM OF MY FOOT. The directions say that you can do a standard s1k1 heel flap (only it's a sole flap - way cooler) but I decided to do a stockinette flap - so I did s1 k to the end, s1 p to the end until the flap met with the edge of my heel. Then guess what I did? I TURNED THE FREAKING HEEL!!! Just like you do top down. I did my normal 32 stitch heel turn (which no matter how many times I do it I still have to check with
Charlene Schurch
to see how many stitches I need to knit before the first turn) and then I PICKED UP FOR THE GUSSET just like top down. CAN YOU BELIEVE IT!?!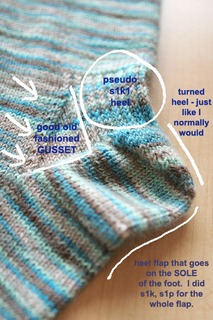 Click for a bigger view.
Once I started knitting the gusset (decreasing the same way I always do!) I knit the 32 stitches on the back of the heel in s1k1 so I could get the extra padding I love so much on my top down socks. I did that for all the of the decreases and a couple more rows until I had my normal "heel" flap. Want to see how it fits on my foot?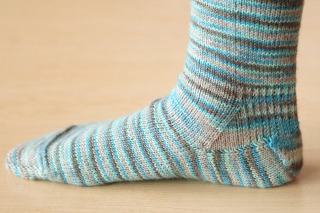 No. I don't bend that way. Picture taken by my lovely husband.
Want to see it compared with a regular top down heel flap?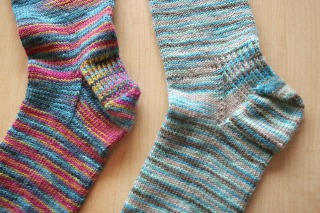 Neat, huh? Once I was done with my pseudo heel flap, I knit and knit and knit and then STILL had angst because I didn't know when I was ever going to run out of yarn and when should I start the ribbing? I know I know it's not like anything bad would happen (
like running out of yarn at the toe
) if I started it late and I could just rip until I got it right but where's the fun in that? Anyway, I guessed right and managed to get fifteen rows of ribbing in and then I did Elizabeth Zimmerman's
Sewn Cast Off
. I also used
Julia's innovation
of doing the cast off inside out to make a nicer edge on the front side. But guess what? The cast off edge is like a tourniquet! I don't know - maybe I did something wrong, but I don't think so. And I know that I'm known for my tight cast off (wait - you didn't know that? Yeah. I cast off pretty tight. I think it looks neater.) So I might rip it out and do something else, but for now I'll just leave it as it.
This is how much yarn I had left: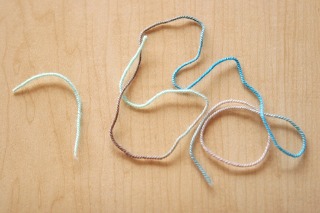 So, the toe-up method works for getting the most yarn out of your yarn. But, I'm not convinced. There's something off about this sock. I don't know if I can rightly identify it (besides the tight bind off) but it just feels different. I'm glad I did it, and I'm glad I did it the way I did it, but I still really really like the fit of my top down socks. I guess I'll do the mate to this one, and then I'll see. Now that I know how far up I can go with my 325yd skeins, I'm thinking the next pair will be top down.
Posted by Cara at August 27, 2006 12:08 PM
Topics: Toe Up
Comments
I use Wendy's (http://wendyknits.net/) bind off: Knit two stitches, move them back to the left needle, knit them together through the back loop. *Knit one stich, move both stitches back to the left needle, knit two together through back loop.* Repeat. It does leave the top edge looking a little ruffled, but it looks good once it's on.
Posted by: Beth at August 27, 2006 12:22 PM
That is really stinkin cool. Congrats, Cara!
Posted by: Rosemary - Quietish at August 27, 2006 12:27 PM
C,
You may want to consider EZ's "Casting On - Casting Off" explained in the appendix of "Knittter's Almanac." It'll cure your tight bind off problems and it replicates long-tail cast on. How cool is that?!
Posted by: spider at August 27, 2006 12:39 PM
Oops - on a re-read I realized you used EZ's "Sewn Casting-Off". They're both nice and good choices that will allow one's leg to fit in one's toe-up sock.
Posted by: spider at August 27, 2006 12:45 PM
your sock looks great (as your socks ALWAYS do!) i have yet to complete a toe up sock of my own. your observations on the tight bind off and overall weird fit are most helpful. thanks! i'll have to keep that in mind. . .
Posted by: Sandra at August 27, 2006 02:37 PM
i'm all about the top down socks too. glad i'm not the only one!
Posted by: georgia at August 27, 2006 02:54 PM
So, I was driving along the other day, thinking of my knitting as I always do. I thought, "I really like toe up socks, but I don't like short row heels, too flimsy, what I really want is a nice toe up with a heel flap." Well haven't you just answered my quandry. Thanks. :)
Posted by: Kirsten at August 27, 2006 03:17 PM
That is awesome! Wow. I'm going to have to take a closer look.
Posted by: Jennifer at August 27, 2006 04:29 PM
Que Bonita! The sock really came out great Cara! Gotta love that STR! :-) This post is going in to my "Save" file when I get to those toe-up's one day!
Posted by: margaux at August 27, 2006 04:42 PM
That's really cool, I've wondered for a while how much of a difference there is between toe-up/cuff-down. I'm onto my third pair, it's thrilling! The next pair (after the fourth, which is already planned) may have to be toe-up. I'm dying to test it out.
Posted by: emmms at August 27, 2006 04:53 PM
it's like it's got all the same parts, they just look different... like the turned heel part...it's upside down compared to the other sock. yeah, it's all upside down. how wierd. but very genius. how IS it that you can whip up socks so fast!? i'd be interested in hearing about what needles you use...addis?
Posted by: tammy at August 27, 2006 04:54 PM
I really enjoyed reading your entry! I've been getting into socks this past year and am finally comfortable enough with the regular top-down method that I think I will be trying a toe-up pair sometime soon. You are right, fearing new things is no good ;)
Posted by: Glenna at August 27, 2006 05:14 PM
That is a great way to go if you don't know how tall to make your socks. It's nice to have options. I'm a flapper and still like starting at the top. I might have a way you can cast off a little looser, too.
Posted by: margene at August 27, 2006 05:23 PM
"you're the one that I love"
OH OH OOOOOOOH!!!
:)
Posted by: pixie at August 27, 2006 05:43 PM
That is cool - I've been wanting to go toe-up for a while, but I couldn't let go of my beloved heel flap. The only difference I see is the little short-row triangle is upside down. Do you think it would be possible to knit them so they are identical?
Posted by: Zarah at August 27, 2006 05:49 PM
Lovely! The sock looks great. When I've bound off a toe up sock I do a crochet co -- is a bit more stretchy.
And uh, thanks for the song. It is stuck in my head and I'm singing... you better shape up ooh ooh ooh... All your fault.
Posted by: amanda at August 27, 2006 07:01 PM
You know what? I feel the same way about toe-ups. There's something about them that I find off. I can't tell you what it is. They look pretty good, they feel pretty good, but something...
just off.
Posted by: Stephanie at August 27, 2006 07:06 PM
I had exactly the same problem with the Sewn Cast Off when I made knitty's Knucks. I find the best way to do a bind-off for a toe-up sock cuff is ABSOLUTELY just to do an ordinary plain old vanilla bind-off in pattern, which is to say k1, p1, BO 1, k1, BO 1, p1, BO 1, etc. I usually do it with either two needles held together or just generally loosey-goosey. The first or second time you pull it on all the loose bits mix up with the tight bits and it's actually (in my opinion) EVEN MORE COMFORTABLE than a super-loose caston cuff.
Posted by: KathyB at August 27, 2006 07:18 PM
what a great job!
I don't usually do toe up 'cause I don't like the heel options - but this one is such a cool idea! woo hoo!
Posted by: Teyani at August 27, 2006 08:17 PM
If you hadn't tried it you would have always wondered about it. Now you know what it's like to knit a toe up sock successfully.
Posted by: Carole at August 27, 2006 09:23 PM
Thanks, Cara. I've been trying to figure out what to do with my toe-up knee socks. I made a short row heel and it sucks, so I'll try it the way you did. I like the idea of being able to use up as much yarn as possible - so I like toe-up. It is just backwards and so it feels backwards.
I like those blues in that yarn you're using. :)
Posted by: nat at August 27, 2006 10:48 PM
I just started my first pair of toe-up socks and feel intimidated by the heel. I did not see many viable alternatives to the short-row heel but now you have given me one. I knit socks for my son and like the durability of the heel flap.
Posted by: Punkin at August 28, 2006 12:11 AM
The socks look great! I haven't tried a toe-up heel flap yet, but now I'm going to have to give it a shot.
I'm sorry to hear that you aren't a toe-up sock fan (I still prefer top down, too) but at least you gave it a shot. It's all a learning experience.
Posted by: Rachel at August 28, 2006 12:18 AM
That is wild! Weird, but wild.
Posted by: Beth S. at August 28, 2006 11:10 AM
I feel the same way about toes: they need to be delineated from the rest of the sock. I do my toes and heels in a different color, which is usually featured in some patterning elsewhere on the sock. Fiddly, I know, and too many ends, but I like it.
I also like short-row heels. I "borrow" a few sts from the front of the sock on each side, and I work a row back and forth before I start wrapping. I get a deeper heel as a result. As for bind-off, mine is totally tubular, man.
Posted by: Lucia at August 28, 2006 12:02 PM
I just tried it the other way (try to make the gusset before turning the heel and then pick off one stitch at each edge while knitting the heel) and I hated it. It seemed to shallow for some reason. So I marked where the foot ended and ripped it all out, and started from the top. Your way sounds interesting, I may try that on my next pair.
Posted by: nod at August 28, 2006 12:19 PM
I just discovered this heel recently (I think it's called a reverse Dutch heel)by blindly following a pattern that had no picture. I figured the instructions hadn't been test knit because they placed the heel flap on the bottom of the foot and *then* you turned. But I kept going and it became a sock like I'd never seen before and I like it alot. I think it's easier to get the correct foot length this way.
To cast-off I use: P1,*slip st back to left needle and P tog with next st*, rep from * to *. You can do this on the right side or wrong side depending on the look you want.
I love taking all the different options and combining them to make *my* perfect sock. Thanks for your continuing inspiration.
Posted by: AnnP at August 28, 2006 09:45 PM
So... how far can you go? How long are these socks?
Posted by: Johanna at August 28, 2006 10:01 PM
Oooh! A toe-up sock with a gusset for my chunky ankles! I tried a popular toe-up pattern with no gusset and thought, "well THAT'S not working! NEXT!!" This may well be it.
Posted by: Sue F. at August 29, 2006 03:41 AM
Lovely socks.
My toe up socks look exactly like my cuff down ones, by using the You're Putting Me On method. The instructions sound fiddly, but they work. I bind off with a larger needles. Having said that, though, I still prefer cuff down. For me, it's easier to figure out when to decrease for the toes, than to figure out when to start the gusset increase.
Posted by: Bethany at August 29, 2006 12:32 PM
My special dirty secret for using up every last bit of yarn is: cast on the number of stitches for your ankle (and if you like use a zip-off-able cast on, I just pick my cast on row out later) knit 5 or 10 rows and then turn your heel and knit yourself an anklet length top-down sock. Then pick up your stitches at the ankle and knit up until the yarn is gone. I think I get a better fit doing the shaping this way too.
Posted by: gracielou at August 30, 2006 01:16 AM
They look great! I've done one pair toe-up, and wasn't convinced either, but might need to try it again. I like the idea of being able to use all of the yarn. If you do these again, try a sewn cast off for the top, it gives you a nice stretchy edge.
Posted by: Lorette at August 30, 2006 08:17 PM
And then I read that you DID the sewn cast off, so never mind.
And THANKS for putting that Travolta song inside my head. If it's still there at 2AM, I am SO calling you.

Posted by: Lorette at August 30, 2006 08:22 PM
Okay, maybe I could knit a toe-up sock using this method. (I could never imagine doing one before seeing this.) Who thinks up these things?!?! I mean, this is like a Frankenstein sock! (In a good way.) But who thought -- well, I'll just knit the heel on backwards and upsides down and see if it works -- go figure!
Posted by: Julie at September 1, 2006 12:30 PM
Isn't it fun to try new things? I love the report on the toe ups. I have yet to try them, but I will now. Thanks!
Posted by: Kimberly at September 3, 2006 01:39 PM