« Marathon | Main | Ask and ye shall receive »
August 10, 2006
Wake Up Call
It's been an exciting morning in the JanuaryOne household, and not in the good way. G's work cell rang at 6AM this morning and I was up for good the second I heard him say WOW. When you are head of Travel in the Americas for a Global Bank - this is not a good thing. Not good at all. He's been on the phone since 6AM - literally the phone has not stopped ringing. He's home today, but not the way I want him home.
So I've been hiding out in the bedroom knitting on my new knee high.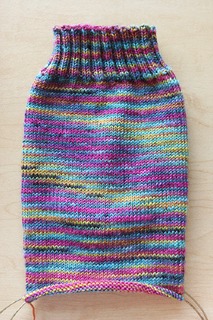 Sorry to leave you hanging on the socks yesterday - dramatic license and all. You know how it is. The yarn is Socks That Rock in the Jewel of the Nile colorway. I have to say - it's been a while since I knit with STR lightweight and OH MY how I've missed it. I just absolutely love knitting with this yarn: I love Tina's colors, I love the fabric it creates, I love how it knits - the way the yarn feels between my fingers, the way it slides off the needles - EVERYTHING!
There's a bit of pooling in the mid calf section where I've increased to the largest number of stitches, but I'm excited about it because I see it as kind of an experiment - I'm decreasing now and I can't wait to see if it pools a bit more when the numbers get increasingly smaller. I'm not one of those people who really hates pooling or anything - it is what it is. I had a moment of wishing that I had alternated skeins, but I got over it quickly. There's a pattern in the pooling - I'm not sure if you can see it in the pictures - but the blues seem to go through the reds and yellows as if they are striping. I like that.
It just so happens that I have two skeins of this colorway from the old put up - so 325 yds each. Just perfect for knee highs. I added about 8 extra rows before I started increasing for the calf and I probably could've added more but I decided to be safe rather than sorry. I can't wait to get down to my regular 64 stitches - I've never knit just plain stockinette STR socks and I want to see how my 64 on 1s works with the yarn - will it pool away? Stripe? Do something else? Something completely unexpected? Stockinette is my best friend these days and I'm sticking with it. For socks at least.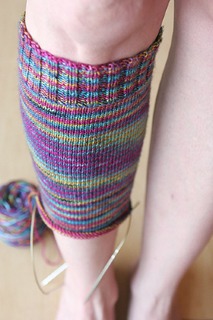 Vicki
asked me yesterday in the comments how I take pictures of my legs/feet when I photograph my socks. Very simple. I bend over.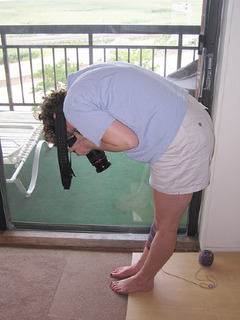 Posted by Cara at August 10, 2006 12:33 PM
Topics: Knee Highs
Comments
Thanks for the news clip--I have no radio or tv here so I never know what's going on. You'd think the internets would tell me, but no. Anyway, I like the pooling and the way it creates diagonals. It's sort of Missoni-esque.
Posted by: Martha at August 10, 2006 01:08 PM
I am loving all of these knee highs...I am totally inspired to start my own...the math was an issue but I am going to try the pippi knee highs in the stitch and bitch book.
I know that the log cabin blanket is too big for progress right now...but how about a picture anyways!
Posted by: Michelle at August 10, 2006 01:11 PM
ah, the bend-over-and-flip-move. nice one!
i used the jewel of the nile for my jaywalkers and yours looks so different! i wonder if they changed the colors at some point.
Posted by: gleek at August 10, 2006 01:16 PM
just when i was thinking i may have to give it a rest with the sock knitting for a bit, i'm thinking i may just *have* to make a simple pair of kneehighs in stockinette. yours are great! i'm inspired!!
Posted by: allison at August 10, 2006 01:22 PM
Love the knee highs! I may have to try those one day. I have only knit three pairs of socks my entire knitting career so far - but they are definitely my favorite thing to knit. It's so rewarding! There's just something about turning a perfect heel that makes you want to get up in the morning! (Even if you have to wait until work is over to get back to them!)
Sorry you're hubby's involved with this crap today - a friend of mine was supposed to go to Heathrow today - but is now thinking about calling the whole trip off.
Posted by: Jody at August 10, 2006 01:26 PM
That last picture is priceless! I must try that some day.
Posted by: Brittany at August 10, 2006 01:40 PM
Hope G's day is becoming less crazy. What a mess this world is.
I love that picture of you taking a picture of your socks!
Posted by: Jenny at August 10, 2006 01:45 PM
My BIL and pregnant SIL were scheduled to fly home from England to the US tomorrow so I have been freaking out about this.
On a lighter note-love the last picture of you, I had pictured some tripod and fancy getup, never would have guessed it was that simple!
Posted by: Emily at August 10, 2006 01:55 PM
Oh my god, do you REALLY? That's how you do it? With the big high-tech lens and everything, you're doing the low-tech bend-over? (Insert giggling, and a smile from ear-to-ear.) Oh, Cara! ; ) I absolutely love it. I love that picture! I love you!!
Thanks to G. -- I wish he could be at work today, too; I hope he's doing okay.

Posted by: Vicki at August 10, 2006 01:58 PM
my DH landed in london this morning (10 london time) and I was already not sleeping well... I fell asleep with the tv on the news and woke up hearing 'terrorist mumble mumble london mumble washington mumble' ... woke me up REAL fast (we're in DC and he flies back from heathrow next week). Joy.
the sock looks great! YOu are making me want to knit up knee-highs and really, these big calves do NOT need knee highs. :)
Posted by: jess at August 10, 2006 02:18 PM
That picture of you bending over totally cracks me UP!
Posted by: Scout at August 10, 2006 02:30 PM
Yep, that's how I do it!...and just flip the picture:o)
Hope G's day calms down. The whole day is pretty scary. I hear planes flying over the house all day long. It can be a bit scary at times.
Posted by: ariane at August 10, 2006 02:32 PM
Ok Cara. Enough with the socks. I am sorry. I just have to say it. I don't care about socks (ok I do but not right now), or your spinning or anything else that you are knitting up. UNLESS it has the words "LOG CABIN" in the title. Do up some LC socks. OR show us the blankets. I want to see the spectrum one (ya know, all the colors) and your green one and and and ... the others that you have done. I'm addicted to them. And here, you keep teasing me on bloglines with your blog lighting up for me, telling me, beckoning me to drop everything and come and read. I click. Eagerly awaiting what it is I'll see today. Hoping. Hoping so desperately that today will be the day. Eyes alight. Expectation making me quiver. The page loads, slowly ... as bloglines does sometimes ... images, words ... assaulting my mind ... then I am able to focus and suddenly my heart drops, the shivers stop and all of the joy and expectation slides forlournly from my eyes. Leaving them blank and dull ...
Please. Have Mercy. Please. Please show me a picture. Please. Help this addict get her fix.
Posted by: Morgan at August 10, 2006 03:27 PM
Poor G, that news this morning was rather unsettling, and the short term solution is going to be a major headache for an awful lot of people.
You ought to teach a class -- the yoga of photographing your sock WIP's while wearing them!
Posted by: Susan at August 10, 2006 03:51 PM
I have a frequently-traveling spouse, and news like this makes me very, very anxious. I'm hoping next week's trip will be canceled--but it probably won't.
Now I see how you get such great sock photos! :-) I've tried that pose but it never occurred to me to lean against a wall. D'oh!
Posted by: Beth S. at August 10, 2006 03:55 PM
Oh, that last line was cute! I'm still giggling. You have the gift of the gam. pun intentend.
Posted by: Julia at August 10, 2006 04:15 PM
Holy heck. You're right ... that is not good at all. Scary!!
Your sock looks great. I kinda like pooling too. I dunno ... it is just sort of neat. The yarn gets to be what it wants.
Posted by: Samantha at August 10, 2006 07:10 PM
That's the news I woke to at 5:00am. Not good for anyone. You might need to meet me at Rhinebeck with shampoo.;-)
Love the socks and the way they spiral and then pool...the way the colors work is always so fascinating. The last picture of you is just so YOU!
Posted by: margene at August 10, 2006 07:15 PM
very cute last shot there!
Posted by: ann at August 11, 2006 12:00 AM
ah... but the real question is what lens are you using :)
Posted by: stinkerbell at August 11, 2006 05:51 AM
Stockinette shows off the beauty of the yarn. They look great, C! Love the picture of you taking the picture ;)
Posted by: Lolly at August 11, 2006 08:58 AM
Oh, poor G. We got an email at work about the new travel regulations and.... VERY strict.
The knee socks are, as with your other pair, totally awesome! I love socks so much. And I love knee socks. However, I am fat and my legs are fat and I'm terrified of how many stitches it is going to take to go around my calf. *sigh* I suppose I could use this as motivation to stick to an actual diet of some sort.... Probably not. *grin* Those are AWESOME socks and I can't wait to see the other ones finally finished as well.
Posted by: Marianne at August 11, 2006 09:20 AM