« RENew Orleans | Main | Lucky Number 7 »
September 13, 2006
Random Knits
because it's Wednesday.
Thanks for indulging me the last couple of days. It feels good to get all that stuff off my chest and you can't know how much I appreciate the audience. I'm pretty sure Ann wishes I never went to New Orleans, even if she is the only one who got a souvenir gift.
Want to see what I bought while I was there?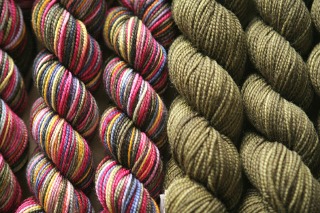 Koigu, P852 and 2340
Six skeins of Koigu from the
Garden District Needlework Shop
. This yarn is destined for knee highs - see how the EXACT same shade of the semi solid green shows up in the variegated? DUDE! There's your ribbing, heel and toe right there. It's taking everything in my power not to cast on for these RIGHT THIS SECOND. Sad really.
And, more Koigu: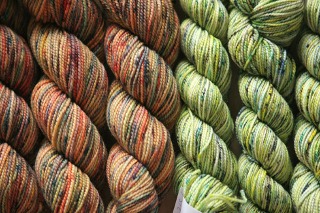 Koigu, P706 and P516
This time from
The Quarterstitch
. Destined for socks, I guess. Too pretty to pass up and look how they wrapped up my yarn!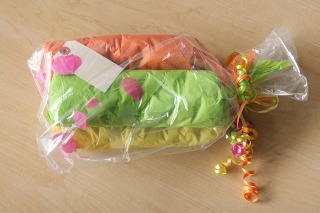 At one point while I was purchasing the yarn I ran out to catch a
Second Line
going by - and when I came back she had unwrapped all the yarn that she had already wrapped up. I said, oh did you think I wasn't coming back? And she said no - I did a crappy job so I wanted to do it over. A girl after my own heart!!
I also got a Rebuild T-shirt which I've finally taken off for the first time in three days so I could photograph it for you. And a DESIRE NOLA magnet.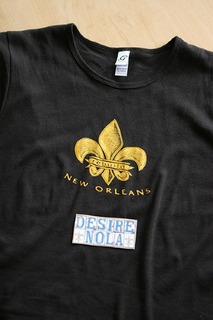 Lest you think it's all been bleeding hearts around here, I have been knitting. I finished the first Koigu Knee Sock!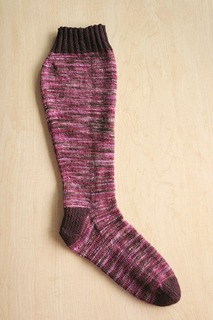 I love the way it looks, but the fit is off a bit from the STR knee highs - even though I kept adding rounds and adding rounds. The stitch gauge is about the same, but the row gauge seems to be way off. I'm going to have to recalculate for the NOLA knee highs, but for the next purple one I'll do the same thing. They fit fine - they just sink a little bit. Not fall down, just sink. Does that make sense? I want them to STAND AT ATTENTION! Anyway, Koigu is just so much different than STR and I still prefer STR over just about anything, but it's nice to mix things up a bit. Couple more shots of the sock: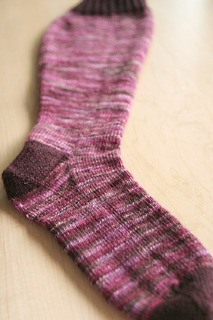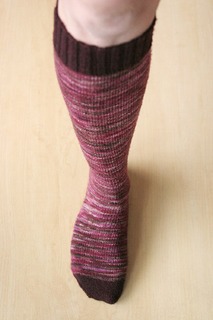 Now, I hate to disappoint all you log cabin lovers (and haters - because really - if I'm not knitting log cabins - what will you hate? ;-) ) but I'm putting my ONLY (and this just doesn't seem possible) size 5 addis to work on something else.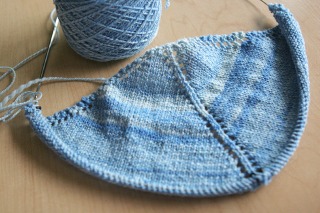 It's
SERAPHIM
. Knit in none other than
MY OWN FREAKING HANDSPUN
!!!!!! I'm almost positive I will have enough yarn for the shawl as written, but
Mim
has given instructions for increasing or decreasing if need be. It's really weird to be knitting with your own yarn. You have no one to curse out but yourself when the yarn is a pain in the ass. BUT I'm LOVING IT! Look at the nubly wonky weird stitches! Aren't they precious?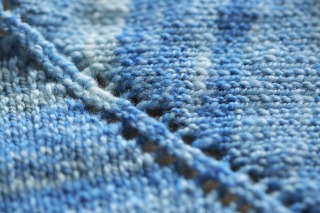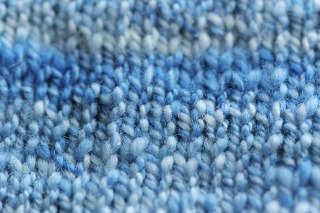 I declare on THIS DAY, September 13, 2006, that this shawl is MY RHINEBECK PROJECT. I will finish it before Rhinebeck. And I will WEAR it at Rhinebeck. I was going to do the Top Down BW sweater for Rhinebeck but it's just not calling out to me AT THIS MOMENT (you know what a fickle bitch I am.) The hardest part of getting this done in time will be NOT casting on for the NOLA knee highs. NO KNEE HIGHS. NONE. KNEE HIGHS BAD. Handspun Lace project good.
Posted by Cara at September 13, 2006 10:23 AM
Topics: Handknit Handspun ~ Knee Highs ~ Seraphim ~ Stash
Comments
You go girl! Now walk away from the computer, refrain from looking at knee highs, pick up the lace and get to work!
Speaking of Rhinebeck.. I was hoping to make it this year, but its just not going to happen unfortunately. I'm seriously bummed.
Posted by: Carla at September 13, 2006 10:50 AM
Hey, I'm knitting a Seraphim from my own handspun too! Unfortunately, even though I skipped an increase, I ran out of yarn, and the project is on hold while I spin more. :( This might be th inspiration I need to finish the spinning. Enjoy. It's a beautiful pattern, and I think the simpleness of the lace complements the handspun (and vice versa too of course).
Posted by: Anna F. at September 13, 2006 10:56 AM
Rhinebeck project!?!? OMG, I didn't even think that far ahead. I better cast on now for a pair of knee highs with matching wrist warmers!
I'm already working on a lace shawl as my Knit Out project. And I don't care what the weather is on Sunday, I'm wearing my Swallowtail Shawl!
I know it must be really weird using your own handspun for a project. I'll knit my handspun....eventually, but for now I just like to pet it and gaze at it from time to time.
Posted by: Chante at September 13, 2006 10:58 AM
Thanks for showing us the loot. I can't believe how beautifuly wrapped that yarn is!
I've been putting off declaring what my Rhinebeck project will be. I'd really like it to be my Swallowtail Shawl, but with the yarn I've chosen, I'd have to be a monogamous knitter to get it done.
Posted by: Kirsten at September 13, 2006 11:03 AM
I'm so excited about your Seraphim! What a great project for your handspun. :-)
Posted by: Beth S. at September 13, 2006 11:03 AM
Isn't knitting with your own handspun fantastic?! I made a shawl out of mine too, and of all the things I;ve ever made, it's my favorite!
Posted by: Cheryl at September 13, 2006 11:10 AM
Gorgeous Koigu. I love those colors. I am so jealous that you're knitting with your handspun. How feaking fabulous!
Posted by: Stephanie at September 13, 2006 11:43 AM
I love the colors of your handspun - look forward to seeing it at Rhinebeck (if I can get there, it's NY Cares day too) (www.newyorkcaresday.org)
Posted by: Karen at September 13, 2006 11:45 AM
That will be lovely! Your handspun is gorgeous, and the color is wonderful. (Tipping a little further into the spinning vortex...)
Posted by: Carrie at September 13, 2006 11:53 AM
Your handspun is so beautiful!! We'll both in Seraphims! Mine should be finished tonight and I love, love, love it. You will love yours all the more as you spun the yarn!
Posted by: margene at September 13, 2006 11:56 AM
Have you seen the black lace knee highs in the latest Rowan?
http://www.knitrowan.com/html/magazines_slide_show.asp?productCode=ZM40&serial=67&slideSerial=583
Those are only for sexy bitches, and I simply MUST make them!
Posted by: Skylar at September 13, 2006 11:57 AM
I have procrastinated too long, and elann is out of the yarn I wanted to use, and a Rhinebeck sweater is out of the question. But a shawl... hmm... I'd want to start those socks too, though. (I can't believe you found not only solid Koigu but a solid that matched a painted. I should be so lucky. All the stores around here, during the 15 minutes it takes them to sell out the latest Koigu shipment, look at me as if I had two heads when I ask if they got any solids this time.)
Posted by: Lucia at September 13, 2006 11:57 AM
We'll have to have photo ops with you and Margene both in Seraphim. Your handspun in shawl form will be spectacular!
Posted by: Carole at September 13, 2006 11:59 AM
I bought Koigu over the weekend, too. ; ) I can't wait to see your new shawl at Rhinebeck. You can have the socks for your Rhinebeck knitting. ; )
Posted by: Vicki at September 13, 2006 12:04 PM
beautiful!
beautiful yarn, great socks, GORGEOUS handspun, and I love the way it's knitting up - AWESOME! :D
- Meg
Posted by: Meg at September 13, 2006 12:05 PM
Mmm, lovely Koigu! Thanks for sharing.
Posted by: Emma at September 13, 2006 12:11 PM
I visited The Quarter Stitch about two months before Katrina hit. I'm glad to hear that they came through it and are still in business.
Posted by: Sharon at September 13, 2006 12:20 PM
Seraphim is going to be fabu! And you're right about the Quarterstitch -- they always wrap their packages like that and even if it is a measly skein of Cascade 220 it makes you feel like you have treasure in that there bag.
Posted by: amanda at September 13, 2006 12:29 PM
Love the shawl. I'm using my handspun for Diamond Fantasy and hoping it will be done for Rhinebeck. Isn't is great working with your handspun! I'm loving it.
Also, I really enjoyed reading your post yesterday. I was thinking I'd skim through, but ended up reading every word.
Posted by: Lisa at September 13, 2006 01:14 PM
Cara, I've really been enjoying your blog and have a quick question: is three skeins of Koigu enough for knee socks or do you need four? Thanks!
Posted by: Melissa at September 13, 2006 01:24 PM
Wow those knee socks are great! Knee socks are on the comeback. I'd love to knit a pair, but the UFO pile is still kinda' high. I'm knockin' it down, though.
Posted by: sahara at September 13, 2006 01:30 PM
It looks like there will be at least 3 of us sporting a Seraphim at Rhinebeck this year! I was chatting with Margene yesterday about the size of her shawl...and seriously, go ask her how big it's going to be! I'm thinking that I'll probably be taking out a few repeats myself because I know that I don't have as much yarn as I need. I bought my yarn at the Estes Wool Festival last summer...oops, that's what happens when you don't buy enough yarn and you can't just run to the LYS and pick some up! Yours is looking gorgeous!
Posted by: Stacey at September 13, 2006 01:32 PM
I *love* the colors on that knee-high. I think that one's my favorite so far.
Looking forward to seeing the shawl! (Hopefully the weather behaves, no?)
Posted by: Cordelia at September 13, 2006 01:33 PM
I enjoy seeing your knee highs! But following the birth of your hand spun Seraphim will be a treat as well.
Posted by: Lene at September 13, 2006 01:41 PM
Seraphim is beautiful and so is your handspun
Posted by: Dorothy B at September 13, 2006 01:43 PM
Your handspun looks beautiful--isn't it exciting, knitting with your own yarn??
I don't have any specific "Rhinebeck" projects, but I suppose it would be NICE if I could get my tote bag done, felted, and sewn together in time . . . but I'm not holding my breath!
Posted by: --Deb at September 13, 2006 02:04 PM
Cara!! that handspun looks FABULOUS!! Can't wait to see it in person, I plan on going to my first Rheinback weekend this Oct! :-) Welcome home.
Posted by: margaux at September 13, 2006 02:08 PM
I LOVE your Koigu knee highs w/ the contrast heel, toe and ribbing! LOVE IT!
Posted by: Nonnahs at September 13, 2006 02:14 PM
Posted by: tiennie at September 13, 2006 02:22 PM
The handspun shawl is awesome! I think I NEED to get a spinning wheel and learn how!
Posted by: Vickery at September 13, 2006 03:26 PM
Oh, wow! Your handspun shawl will look like the sky! Beautiful.
Posted by: DebbieB at September 13, 2006 04:43 PM
Ack. I didn't know one was supposed to have a Rhinebeck project. I better get moving on that.
I'm very impressed that you're making yours out of your own handspun! That's incredible... and such a long way off for me.
Posted by: Beccamonster at September 13, 2006 04:52 PM
oh! i love your knee-hi koigu sock !!! will a pair take only 3 hanks of the main color?
i am working on pippi kneestockings. the gauge is larger (i'm knitting on 3's), so the first sock has been a quick knit.
your handspun is very pretty ... i love the pebbley texture. i should have no problem spotting you at rhinebeck in your beautiful shawl and koigu knee-hi's :)
oh, my rhinebeck project is 'lady eleanor' ... but she's in time out right now ... (gauge issue).
Posted by: gray la gran at September 13, 2006 05:42 PM
Wow, is the garden district shop related to the quarter stitch in the quarter (where else)? They wrap the yarn the same way.
Posted by: Stephanie B. at September 13, 2006 08:31 PM
That is the coolest knee high. I love it. You're handspun is gorgeous. I can't wait to see how that shawl knits up with it.
Posted by: Madame Purl at September 13, 2006 08:37 PM
Ooooohhhh... yummy yummy shawl to be! Seraphim looks like a beautiful pattern (I'm in the home stretch of Icarus, myself). Your handspun is so lovely, and it cracks me up, because I've been reading your archives, and you've declared "no interest in spinning!" I'll look forward to seeing how your interest progresses...
Posted by: Tasha at September 13, 2006 08:57 PM
Mmmmmm, I'm in love with that first koigu.
Posted by: carole at September 13, 2006 09:16 PM
Love the extra attention that shop gave to wrapping your yarn. it makes all the difference to take that detailed care with things. wonderful.
And your handspun is fabulous... what a great shawl. I really like the seraphim. you will indeed look angelic in it. Isn't knitting with your own handspun the BEST ? !
and yes,of course, the knee socks are cool.
Posted by: Teyani at September 13, 2006 09:19 PM
dearest Fickle Bitch,
your Seraphim looks great - your wonky little handspun stitches are positively twee! You shall be the envy of all.
for myself, I shall be wearing my Merkin to Rhinebeck.
your friend,
BD
Posted by: ann at September 13, 2006 09:47 PM
Nothings better than knitting with your own handspun! It looks great so far and I love your knee highs.
Posted by: Kelly at September 14, 2006 07:03 AM
OK, so I woun't mention the K word. I remember when you first spun that yarn & was waiting til it called to you. That was one of my fav yarns & it's looking really nice...
Posted by: Carol at September 14, 2006 10:05 AM
I just started spinning about a week ago and am knitting with my own yarn now too and loving it!!!! Your's looks beautiful! Is it 2 ply?
Posted by: Jen at September 18, 2006 09:48 AM