« September 2006 | Main | November 2006 »
October 30, 2006
I'm so sorry to disappoint but I can safely say that there will be no finished socks for October. NONE! I started three, finished none. You know in my heart I am a fickle fickle bitch and while I was going to try and finish at least one knee high or maybe a Pomatomus (I've turned the heel and am into the second chart) I said fuck it!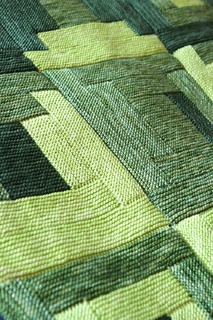 OH MY GOD! WHA? WHAT IS IT?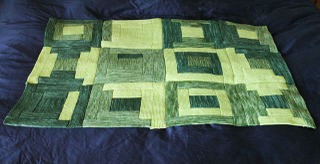 Yes, sweet ones, it's a seamed together Log Cabin. GASP!!!!
I know what you're thinking. What's gotten in to her?! First a finished Short Rows after 138 years and NOW she's seaming log cabins? Could she actually be FOLLOWING THROUGH with her projects?! Settle down. It's craziness I know. I had the squares in an exquisitely arranged pile on my dresser sitting atop some of the most beautiful quilting books known to man. They were lovely there - the ends hanging every which way and I could look at them and admire the stitches and the yarn and remember the gorgeous vacation where a lot of them were knit - maybe even catch a glimpse of some magic sand. But then I had a request to finish it. You know - one of those requests you sort of absolutely can't refuse and I decided this time was as right as any.
It was hardly as bad as I thought. I seamed this baby up in a few hours while watching a super cute movie that I now have to watch everytime it's on cable (basically I've got a crush on BOTH Reese AND Mark.) Kay, aka THE MASTER, had showed me once how to do a double crochet as a seam and I never really got the hang of it so I started to scootch around on the Internets and found that actual whipstich is a viable method of seaming afghans. Who knew? So I took out my handy dandy tapestry needle and started with two squares. After about five or six attempts - different yarn colors, different loops, fuck ups - I got my game plan on! Basically I ended up picking up the two bottom loops on the cast off (hold two squares together fronts facing - there will be two loops (?) for each bound off stitch - I picked the one at the bottom - the one you have to sort of dig for - I have no other way of explaining it.)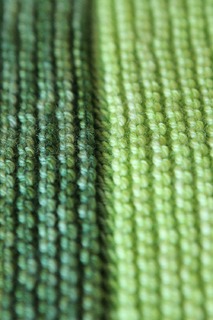 Right Side Seam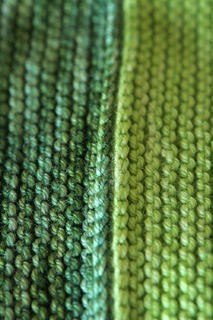 Wrong Side Seam
Once I started it was like I couldn't stop. I used
this picture
as my guide so there was absolutely no fiddling with the layout. I'm fairly certain I took some time laying out the squares when I set up for
the original photo shoot
, so I wasn't too concerned with how they would look all together. No, I never blocked the squares. There was only one instance where things got a bit wonky and for like five minutes I was sure I didn't finish a block, it seemed so much smaller, but I cajoled it and it fit and I dare you to try and figure out which square it is. (Honestly, I don't have a clue myself.)
Here's another look at the seams: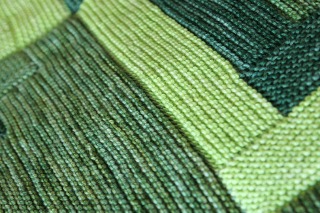 Right Side

Wrong Side
So now I have to figure out what to do with the border. I'm probably
going to take a page from MY GURU
and pick up stitches on each edge and do some kind of stripe thing - like five of the light color - one ridge of the dark color - and end with the middle color. Then do solid dark color miters in the corners. Or maybe just light, medium - dark miters. Any ideas would be grand. But before I do any kind of border - I'm tackling this: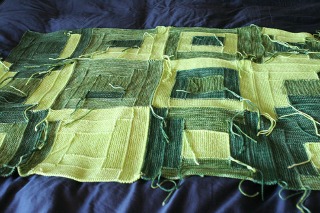 After short rows, I can weave in these babies with my eyes closed. Damn straight.
Details: Socks That Rock Heavyweight in the colors Beryl (dark), Jade (medium) and Limestone (light). US Size #5 Addi Turbos. Right now I'm on track to use 2 skeins of each color and the blanket currently measures about 32"x44". I will probably have enough for the border - depending on how deep I make it.
So no socks. Sorry to disappoint. Next month for sure. ;-)
I'm off to see the kids for Halloween. We've got a parade tonight, a school parade tomorrow and then actual candy collecting tomorrow night. Apparently my niece has a different princess costume for each event. I'm looking forward to some baby love. I'll be back on Thursday - hopefully with some cute Halloween pictures.



~+~+~+~+~
REMINDER!!!
NOW ACCEPTING SUBMISSIONS FOR YARNIVAL ISSUE 3!
THE DEADLINE IS WEDNESDAY, NOVEMBER 1!

To submit a blog post,
USE THE SUBMISSION FORM
.
DO NOT
leave your submission in the comments.
DO NOT
email me your submissions.
SUBMISSIONS WILL BE ACCEPTED BY FORM ONLY.
The deadline to submit is
November 1st
. The issue will appear on this blog
November 15th
.
Remember, ANYONE can submit, regardless of how long they've been blogging or how long they've been involved with the fiber arts. Give me your funny, your sad, your FO yearning to be seen! NOTHING is off limits. NO THING!
Don't remember what Yarnival! is?


It's this Internet thing called a Blog Carnival, which is an online compilation of very cool blog entries. Of course, Yarnival! centers around knitting and fiber pursuits and it's a new way for us to read and get to know different blogs. I, for one, seem to be stuck in my same bloglines rut. Not that I don't have excellent blogs listed on my bloglines, but there are tons of new blogs out there and I've been too lazy to seek them out. YARNIVAL will help us all! Anyone, regardless of the length of time they've been blogging or the popularity of their blog, can submit a post to Yarnival. The editor for that edition will choose which ones to include and it will be posted on a certain day of the month. You can read more about Eve's vision here.
YARNIVAL people. YARNIVAL!
PS - If you'd like to edit a future edition of Yarnival!, please contact Eve at her blog, Needle Exchange.
Posted by Cara at 09:57 AM | Comments (79)
For Ann:
Posted by Cara at 09:28 AM | Comments (7)
October 27, 2006
In case you hadn't heard, I broke out of my comfort zone and totally ROCKED the knee high on Saturday. (Evidence here and here and here.) There is at least one other pair coming out of me. That would make five total (when I get them all done) and that seems like a goodly number.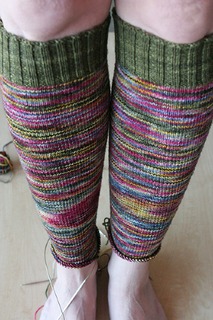 I'm just about to the heel on the second knee high and due to pattern tweaking I've got a few more rows to go to the heel on the first knee high. There's a definite possibility I COULD have a finished pair by Halloween. Could. Maybe. Finish. I just have to decide to do it. But really - two heels and two feet isn't all that much in the world of sock knitting. I've got five days. And a job just dropped out for the weekend.
Koigu. The green is 2340 and the variegated is P852. Knee High pattern here. Because someone always asks. ;-)
Thanks for all the blogiversary good wishes! It'd be nothing without you. Have a fantastic weekend!
L, C
Posted by Cara at 10:44 AM | Comments (37)
October 26, 2006
Thanks for all the well wishes. I'm feeling a bit better today, but I think the cold has just stalled out a bit. I'm sure it will come roaring back right in time for the weekend. And thanks for all the remedies - I'm kind of a complain and bear it martyr when it comes to being sick. I can't really take any over the counter medications - they leave me in a state of panic with a rapidly beating heart and swirling head. I'm in the sickness is better than the cure camp. Eh. It's just a cold.
I didn't get as much done on my Pomatomus sock last night as I would've wanted because I treated myself to some Vintage Bruce. We're talking 1978 - what some might consider the Golden Age. I turned off all the lights in my bedroom and sat with my lighter in hand with the music blaring and made pretend I WAS THERE. I don't care if you think I'm crazy because I had the time of my life. And when G finally got home from work I played him some of the highlights and then made pretend I WAS THERE WITH HIM. Even better. God bless the Internets. Seriously. God bless the Internets. I've said it once and I'll say it again - if anyone ever invents a time machine the first place I'm going, without a doubt, is a concert on the Darkness tour - preferably one where he does the whole Sad Eyes/Drive All Night thing during Backstreets and with the KICK-ASS intro to Prove It - me and G. Together. At the age we are now so we can really appreciate it but back then. It's a dream. Don't kill the dream.
Anyway, Pomatomus isn't a pattern I can knit in the dark. It also doesn't help that I had my hands clenched under my chin in a prayer-like position before the alter of my idol. Again. Don't kill the dream. Here's the sock as it stands right now: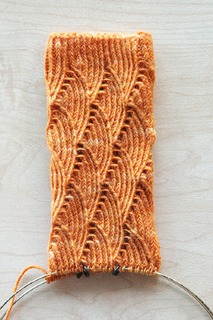 The sock is STR - Sunstone - lightweight. I love it. Really and truly love it. I'm cruising along - got the pattern memorized and the yo/purl thing going good and I hope to get to the heel tonight - lots of good tv tonight. I know
Cookie
knit the pattern in a variegated yarn, but I really think it was made for a semi solid. Thanks again to
Elli
for inspiring me with
her phenomenol P-socks
! (If you're looking for the Sunspot color and you can't find it on the Blue Moon website - you're allowed to call or email and order it - actually any color you see here can be ordered through Blue Moon - whether it's on the website or not.)
On to the Rhinebeck stash! I think I did pretty good. Rumors abound that I bought a wheel, but I really didn't. All I did was put some money down on a Robin - but that gets me on the list. There's a TWO YEAR wait. I can get off the list at any time and get my money back. So I think of it as a maybe/maybe not purchase. A lot can happen in two years, so it's like insurance. It's a gorgeous wheel though - birdseye maple. Just beautiful.
Okay - now the real purchases!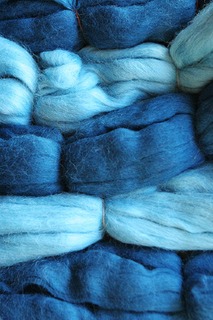 The Sheep Shed at Mountain View Farm
- 2lbs of Merino - 1lb each blue. I'm envisioning the two colors plied together for a gorgeous sweater - and maybe doing just a bit in the solids as accents. Especially the dark blue. The color isn't the best in this picture, but the dark is a very dark teal and the light is a very light teal. ;-) They are perfectly complimentary. This will be a big project, obviously.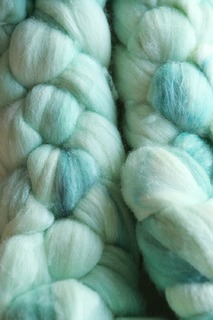 Silk Merino blend from
Cloverleaf Farms
- 8oz. Celery colorway - I love how there are some blues sneaking in among the light greens. I bought this envisioning a shawl. Every festival I've ever been to I've bought something from Cloverleaf. I guess I like their stuff.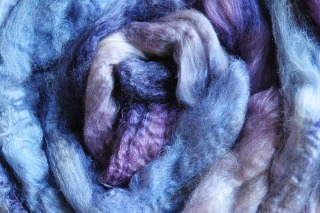 From
Foxfire Fiber
, I bought some GORGEOUS silk and cahsmere blend - 2oz. This is the
Mt. Greylock colorway
. I wish you could touch this stuff. It would make a grown man cry with its softness.
Then I came back to Foxfire on Sunday and went a little bit crazy!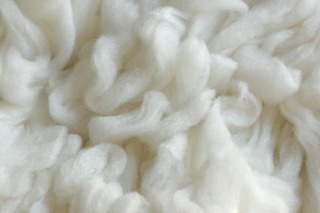 This is a POUND of cormo/silk blend and it's like air. It doesn't even need to be drafted. I honestly would love to sit down RIGHT THIS SECOND and spin this until there is no more. It is that perfect.
I loved the gals at Foxfire! They were so great - and even better - they're totally into Spin Out 2007! So look for some fine Foxfire products in the prize packages this year.
Last but not least, I stopped at The Fold to say my goodbyes to Toni. I just love me a Toni hug! She wasn't there at first so I left her a note and then looked around the stripped clean booth. LOW AND BEHOLD!! What did I find?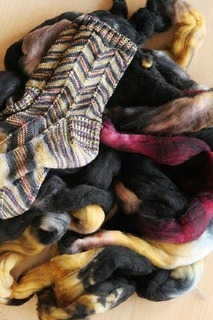 SHEEP TO SHOE! It's a new kit from Blue Moon where in you can spin up the famous colorways for your own handspun socks. This is Carbon and I took the picture with my Carbon Jaywalkers on top. I just think it will be so very neat to spin up my own yarn and compare it to the socks I already have in this colorway. Call me crazy, but I'm loving it.
So, that's what I bought. Actually there was some sock yarn at Spirit Trail and some fiber from Indigo Moon but those are gifts so I'm not showing them and since they aren't for me they don't really count anyway. Now if only my WooLee Winder would get here I could start spinning! I don't want to start any projects until it's here!!!


Yesterday I told you today was kind of sort of special and it is. Today is my two year blogiversary and I'm going to get all mushy on your asses whether you like it or not. As you all know, I spent the weekend with some of my favorite people in the ENTIRE UNIVERSE and I met them ALL through this here blog. ALL OF THEM. How ridiculous is that? Over the past two years I have been inspired, moved and entertained more than I ever imagined possible. I have been amazed and awestruck. I have laughed. I have cried. I have been annoyed and angered. I have loved. I have hated. I have been loved and been hated. I have been taught invaluable lessons. I have been saved on numerous occasions. And I thank you all.
Thank you so much for reading my blog. Cotton for everyone!
Posted by Cara at 01:13 PM | Comments (93)
October 25, 2006
All weekend long my throat was tickly and I started losing my voice. I thought it was from all the laughing and screaming and the perpetual draft I was feeling from the AC cranking. (That's what happens when you travel with three peri-menopausal women - I'm sitting in the backseat with every article of clothing I own wrapped around me shivering to death and the three of them are fanning themselves in their bras and underpants complaining about how stuffy it is in the car. You think I'm kidding?!)
Anyway. I'm sick. My throat no longer tickles, it flat out hurts. This is the worst time for me to get sick, as my weekends are booked through November with multiple photography jobs. Parents don't like it when you're sick. Hopefully I won't be a drippy mess by the weekend when I have to work again.
And I feel like I should be in full Hazmat suit around my husband. We've finally scheduled his surgery for late November and god help me if I get him sick. Can you imagine the guilt? So we're staying away from each other. Which is kind of sad because I'm really missing him.
I haven't taken any pictures of my haul yet - but I will for tomorrow. Tomorrow is sort of a kind of maybe special day and I will finally take pictures of all that I bought to celebrate. It really wasn't that much and I pretty much like it all and am happy about my purchases.
On the knitting front, I've been feeling guilty about the fact that I might not actually finish a pair of socks for Socktoberfest. I'm just about to the heel on my second green Koigu knee high and yet I'm completely infatuated with my Pomatomus sock. Even though I hate ribbing and purling in socks - I'm loving this pattern. I finally figured out the yo purl on the first stitch and I wonder how I ever had trouble with it - the pattern's memorized and I'm sailing along. I've got half a repeat left before I get to the heel flap. But I really should finish the knee highs before October is over.
And I'm LOVING knitting with STR again. You know, a lot of people said stuff to me at the festival about the lines at The Fold and when/if it was rumored they sold out. I'm not feeling the least bit guilty about it. I LOVE THIS YARN and will make no apologies about how I feel about it or how much I happen to have in my house. (By the way, the new alarm system will be installed next week so don't get any ideas.) I thought the line was GREAT!!! FANTASTIC! AMAZING! How many of you met new people and had a lovely time talking about knitting and the festival and blogging while in that line? I know I met quite a few of you just walking by - it was great! I didn't see anyone pissed off in that line. Really I think everyone should knit with this yarn. And I was totally heartened to see so many people trying it out. Do I think you should all wait to buy it at Rhinebeck or another fiber festival? Not at all. That's why I told you I buy directly from Blue Moon. I understand wanting to see it in person before you buy it - I really do. But sometimes that's just not possible in this fantastic world of yarn we live in. There are a number of yarns I'd love to try that I can't get anywhere around here. So I decide to trust my knitting friends and jump in. Or I don't. Most yarn sellers are incredibly easy going - if you buy it and hate it they will usually take it back or exchange it. And for all of you that emailed me and told me they sold out of lightweight by 10AM - that's just a rumor. Toni never had lightweight for sale. Trust me on this. She only sells mediumweight and heavyweight. Another reason I buy directly from Tina. Although I did pick up a little something from Toni on my way out the door Sunday. But that will wait for tomorrow.
Just my two cents. You can hate this yarn or that yarn - you can love this yarn or that yarn. That's ultimately the beauty of our community. Free will and an open pocketbook keeps EVERYONE happy.
Okay. I'm crotchety and sickly and I'd really just like to jump back into bed but unfortunately stuff has to get done today. So have a good one. I promise pictures and fun and HAPPY tomorrow.
Posted by Cara at 10:50 AM | Comments (62)
October 23, 2006
My Rhinebeck post will be more boring than most. I swear to you I packed a camera, but somehow it never made it out of the suitcase. I bought no yarn, but regret not buying yarn at Briar Rose to make the gorgeous Casino Shawl they had on display. I can't stop thinking about this shawl - I'll be knitting it very soon. I bought some really nice fiber. And I had the most fantastic time with friends, old and new.
I got home from Ann's tonight and am physically, emotionally, spiritually, mentally, fiberly, laughingly EXHAUSTED. I want nothing more than to snuggle in my own bed with my favorite boy and sleep for days. Then I want to wake up and see all of your fantastic Rhinebeck posts with pictures galore. Be sure to leave me your links - I'm serious. I NEVER took my camera out of my suitcase. I need to see your pictures.
I will leave you with one thing: the Soundtrack of Rhinebeck 2006. I made a two volume CD for the car ride - it's deliciously GOOFY with something for everyone. We might have laughed more about these songs than anything else all weekend. I've got a couple extra copies - leave me a comment telling me you want it - and hopefully a link to your pictures - and I'll pick a couple of winners randomly. Trust me - this group of songs had us laughing our asses off.
Volume I
1. Little House Theme Song
2. We've Only Just Begun, The Carpenters
3. Spinning Wheel, Blood Sweat & Tears
4. Love Will Keep Us Together, Captain & Tenille
5. This One's For You, Barry Manilow
6. New York State of Mind, Billy Joel
7. Bad, Bad Leroy Brown (Live), JIm Croce
8. Girls Just Want To Have Fun, Cyndi Lauper
9. Jive Talkin', Bee Gees
10. Girl, You'll Be A Woman Soon, Neil Diamond
11. Maggie May, Rod Stewart
12. Everybody Wants You, Billy Squier
13. Could It Be Magic, Barry Manilow
14. Born To Run, Bruce Springsteen
15. Roller Derby Queen (Live), Jim Croce
16. Super Freak, Rick James
17. Holiday, Bee Gees
18. I Feel The Earth Move, Carole King
19. Escape (The Pina Colada Song), Rupert Holmes
20. Sweet Caroline, Neil Diamond

Volume II
1. Me and Julio Down By The Schoolyard, Paul Simon
2. I'm A Believer, Neil Diamond
3. Celebration, Kool & The Gang
4. New York Groove, Ace Frehley
5. Brother Love's Traveling Salvation Show, Neil Diamond
6. You Ain't Seen Nothing Yet, Bachman-Turner Overdrive
7. Close To You, The Carpenters
8. Fight For Your Right, The Beastie Boys
9. America, Neil Diamond
10. Lovely Day, Bill Withers
11. You're So Vain, Carly Simon
12. Wanna Get Funky, C+C Music Factory
13. Will You Love Me Tomorrow?, Carole King
14. C'mon Get Happy, The Partridge Family
15. Tonight's The Night, Rod Stewart
16. Barrier Reef, Old 97's
17. Old Friends, Simon & Garfunkel
18. Fellin' Groovy, Simon & Garfunkel
19. Lonely Days, Bee Gees
20. Homeward Bound, Simon & Garfunkel
Hope your weekend was grand!
Thank you!
L, C
Posted by Cara at 09:35 PM | Comments (65)
October 19, 2006
So in about an hour I'm heading out to Ann's so we can go pick up Vicki at the airport. Vicki doesn't know I'm coming out today - she thinks they're picking me up tomorrow - so SHHHHHHHH. We get an extra slumber party night!! YAY!
I'm a square both Saturday and Sunday at Rhinebeck. I'll be carrying that lovely tote bag up there. The knee socks are ready. The Almost Everyday has been shaved within an inch of its life (and I'm still finding fucking pills.) The Soundtrack has been burned, in more ways than one. Don't ask.
If you need to know what I look like, you can check here or here or even here. I won't be wearing the fancy dress but you might catch me in a skirt. I may have found a way to make the knee highs work. (At least G approved.)
Regarding the meet-up - I'm sorry if I didn't get your name up on the list - that doesn't mean you can't come - PLEASE - COME! EVERYONE IS WELCOME! IT'S NOT JUST FOR BLOGGERS! (Info in the sidebar.)
See you on the FLIP!
Posted by Cara at 10:41 AM | Comments (21)
October 18, 2006
Thank god for Bonne Marie!
48 Things You Could Care Less About
1. FIRST NAME? Cara
2. WERE YOU NAMED AFTER ANYONE? Charles and Dora Zeenberg, my maternal grandfather's parents. The real naming was in hebrew. My hebrew name is Chaya Devorah, after Chaim (Charles) and Devorah (Dora.)
3. WHEN DID YOU LAST CRY? I am the ultimate cryer, but I actually can't remember a true crying experience in the last couple of weeks. I've been feeling really good lately. Must have been watching a TV show - but that kind of crying almost doesn't count because it happens so frequently. Like peeing.
4. DO YOU LIKE YOUR HANDWRITING? Why, yes, yes I do. But it's not as nice as it used to be. Georgie's handwriting is as bad as it gets, so I'm always writing stuff for him.
5. WHAT IS YOUR FAVORITE LUNCHMEAT? Um, where I'm from we call it Deli and my favorite is corned beef.
6. IF YOU WERE ANOTHER PERSON WOULD YOU BE FRIENDS WITH YOU? Absolutely. I am incredibly loyal and generous. Just ask all my friends. Hey - where ya all going?!?
7. DO YOU HAVE A JOURNAL? blogblogblog
8. DO YOU STILL HAVE YOUR TONSILS? Indeed I do.
9. WOULD YOU BUNGEE JUMP? Absolutely not.
10. WHAT IS YOUR FAVORITE CEREAL? Organic Frosted Mini-Wheats. I actually think they're sweeter than the regular Frosted Mini-Wheats. All though I rarely eat breakfast and I've given over cereal for Greek yogurt.
11. DO YOU UNTIE YOUR SHOES WHEN YOU TAKE THEM OFF? No - but then again I rarely wear shoes with ties.
12. DO YOU THINK YOU ARE STRONG? Strong in heart? Strong in spirit? Strong in brain? I wouldn't say I'm weak, but you could probably kick my ass.
13. WHAT IS YOUR FAVORITE ICE CREAM FLAVOR? ohmygod this is the hardest question ever because I love ice cream so much. Whatever it is - it's vanilla based. Cherry Garcia. Vanilla fudge. Chocolate chip. But ALWAYS plain vanilla milkshakes. ALWAYS.
14. SHOE SIZE? A friendly and common size 8.
5. RED OR PINK? Both. Last year maybe I would've leaned towards pink, this year I'm leaning towards red.
16. WHAT IS THE LEAST FAVORITE THING ABOUT YOURSELF? My anxiety and panic.
17. WHO DO YOU MISS THE MOST? I miss my friend Margo who moved away from me. We're not as close as we used to be. Sometimes I miss my mother - but I don't really want to talk about that.
18. DO YOU WANT EVERYONE TO SEND THIS BACK TO YOU? Sure. Why not. I'll be out of town for a while....
19. WHAT COLOR PANTS, SHIRT AND SHOES ARE YOU WEARING? blue sweatpants, blue sweat jacket, white t-shirt and nude shoes. Actually I'm barefoot and in my thank god I don't have to shower today clothes.
20. LAST THING YOU ATE? Some joggers from Kris. I LOVE YOU KRIS!!!!!!!!!!!!!!!!!!!!!!!!!!!!!!!!!!!!!!! (And no, I did not eat them for breakfast - I ate them before bed. But breakfast is a good idea too....)
21. WHAT ARE YOU LISTENING TO RIGHT NOW? Georgie in the shower and the typing on the keyboard.
22. IF YOU WERE A CRAYON, WHAT COLOR WOULD YOU BE? Purple
23. FAVORITE SMELL? My niece or nephews when they were babies - or my husband. DAYUM he smells good. Those pheromes at work. Whew!
24. WHO WAS THE LAST PERSON YOU TALKED TO ON THE PHONE? Probably Ann. Or Georgie. One or the other.
25. THE FIRST THING YOU NOTICE ABOUT PEOPLE YOU ARE ATTRACTED TO? Lips or hands.
26. DO YOU LIKE THE PERSON you stole THIS from? Absofuckinglutely.
27. FAVORITE DRINK? Root beer.
28. FAVORITE SPORT? I don't know - tennis? It always seems to be on in the house....
29. EYE COLOR? Brown
30. HAT SIZE? Small. I have a pretty small head.
31. DO YOU WEAR CONTACTS? Glasses. I've tried contacts a few times and no go. Astigmatism and dryness make me a four eyes.
32. FAVORITE FOOD? This week it's greek yogurt, honey and banana. Nectar of the gods.
33. SCARY MOVIES OR HAPPY ENDINGS? Happy fucking weepy endings. I don't do scary. Enough of that in my own head.
35. SUMMER OR WINTER? I hate summer with a passion so by default I chose winter. I'm not really into extreme weather though - but I'd much rather be cold than hot. You can always put more clothes on, but once you're naked and you're still freaking hot - you're shit out of luck.
36. HUGS OR KISSES? All of the above.
37. FAVORITE DESSERT? See number 13.
38. WHO IS MOST LIKELY TO RESPOND? Can't really say.
39. LEAST LIKELY TO RESPOND? Ann
40. WHAT BOOKS ARE YOU READING? I Am The Most Pathetic Human Being in The World Because I'm Currently Not Reading A Book, by M. E. Knitsalot
41. WHAT'S ON YOUR MOUSE Pad? A sheep knitting a sock. A gift from G.
42. WHAT DID YOU WATCH LAST NIGHT ON TV? Another World and Gilmore Girls. Which is ruined forever, by the way. What the fuck are they doing pairing her up with CHRISTOPHER? She looks like she's going to cry every time she looks at him and the chemistry is awful. Luke, on the other hand, is as cute as ever.
43. FAVORITE SOUNDS? Eli giggling the other day while I was singing to him on the phone. Anybody laughing really. Except if you have a really bad laugh. You know - the ones that sound like someone's actually in pain? Not those.
44. ROLLING STONE OR BEATLES? Beatles
45. THE FURTHEST YOU'VE BEEN FROM HOME? Israel
46. WHAT'S YOUR SPECIAL TALENT? Being me. No one else can do it as well. Trust me. They've tried. ;-)
47. WHERE WERE YOU BORN? Philadelphia, Pennsylvania
48. WHO SENT THIS TO YOU? Stolen from Bonne Marie, the original ChicKnit!
Okay - your turn. DO IT DO IT DO IT DO IT! You know you want to.
And one random item for Wednesday:
- There is nothing more confounding than a yo purl to start a row. It takes me eight tries to get it right EVERY SINGLE TIME.
Posted by Cara at 08:03 AM | Comments (31)
October 17, 2006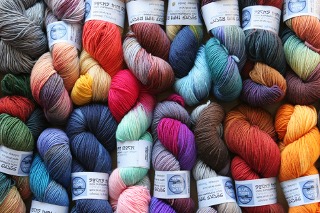 It had been a long time since I bought any STR. I was seeing some new colors out there and I was feeling left out. So I called Tina and Kaci and said this is how many skeins I want - send me your new favorites. This is what they sent me: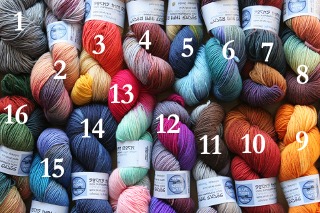 1. Gunmetal Grey
2. Henpecked
3. Chicabiddy
4. Cock-eyed
5. Dreidel
6. Love-In-Idleness
7. Jail House Rock
8. Puck's Mischief


9. Sunstone
10. Rhode Island Red
11. Downpour
12. Purple Rain
13. Heart Throb
14. In the Navy
15. Blue Brick Wall
16. Rocktober
That knitting malaise I was feeling? It's suddenly gone! Imagine that! Needless to say, I will not be buying any STR at Rhinebeck, so please don't blame me if it sells out quickly. I was smart, and shopped from home. ;-) Also, for all the newbies going to the festival this year, Blue Moon does not have a booth at Rhinebeck - Toni Neil from The Fold has exclusive Rhinebeck rights to STR. Good luck! I'm not sure I'm going to buy anything at Rhinebeck (famous last words.) I was going to buy a WooLee Winder too, but they aren't going to be at the festival, so I ordered that online too. I'm sure I'll find something.
Back to my fabulous yarn and how inspired I am. The other day Ann said to me - look at these socks! - and my heart skipped a beat! OH MY LORD! Those are some of the most beautiful socks I've ever seen. I tried the Pomatomus sock with some STR and didn't like how it worked out - to be honest - I love the texture of the pattern but I really don't think it does variegated yarns justice. But this! Semi-solid STR! PERFECTION! I quickly scanned my stash for something that would work - and I settled on Sunstone (the golden orange in the picture above - lower right corner.) I'm totally ripping off Elliphantom. I was hoping to have some sock to show you, but I literally had to cast on like six times. Don't ask. Maybe tomorrow - I can't wait to get into the pattern part. Fantastic!
Posted by Cara at 12:30 AM | Comments (62)
October 16, 2006
A yarn store I've frequented, The Knit With, located in the Chestnut Hill section of Philadelphia, sent out a notice today of a Yarn Recall. They are recalling the following yarns:
Debbie Bliss Cashmerino Aran
Debbie Bliss Baby Cashmerino
KFI Cashmereno DK
Noro Amagi
Noro Cash Iroha
Noro Lotus

The Knit With states in their letter that after expert analysis of these yarns, it was found that they do not have the stated cashmere content. It should be noted that KFI, the distributor of the above listed yarns, does not agree with their findings. The Knit With is accepting returns of the yarns listed above, regardless of when you bought the yarn or if you've used it or not. A store credit will be issued for the net price paid plus 10% of the purchase price on top of that. The letter they attached is very heartfelt - they seem deeply disturbed by their findings.
The letter and recall are available here.

I've closed and deleted all of the comments on this post. I hate to do it, but honestly, I don't really want my blog to become a debate arena. I posted the recall because it came to my inbox and I thought it was important to pass along to my readers. Clearly there are two sides to every story and it's up to all involved to do what's best for their businesses and purchases. Personally, I've knit with and don't like the yarns listed, so it doesn't matter to me whether you sell it, buy it or make it. Thank you for reading.
Posted by Cara at 08:05 PM
October 15, 2006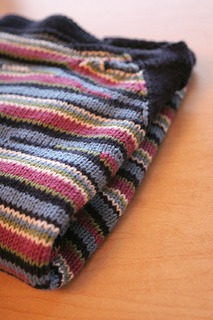 Or 1 year, 6 months, 26 days. Or 82 weeks. 13,800 hours. 828,000 minutes. 49,680,000 seconds.
That's how long
it has taken me to finish Short Rows.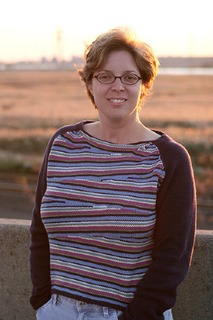 I bought the pattern for this sweater on a
visit to Boston
in February 2005. I met
Wendy
and
Colleen
for the first time - I got the knitter's tour of Beantown! Then,
I bought the yarn
. And on
March 21, 2005
, I cast on.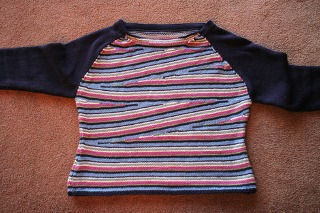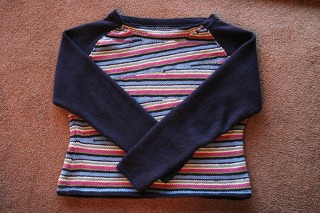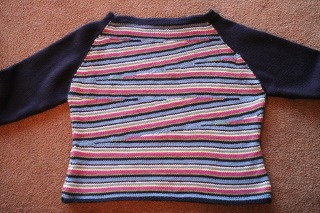 The knit was not without problems. First I had to figure out a way to deal with the ends.
Once I had that figured out
, I knit the back, knit a sleeve, started knitting the front, and found out my gauge was
WAY OFF
. So off it spawned
a friggin' t-shirt
.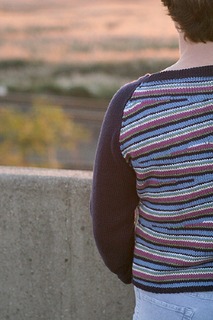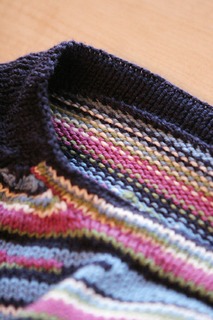 I didn't even bother ripping out the finished back. I just knit
a new one
. It only took me six months to finish both the new back and the front. Then I had
the ends
to deal with. I knit both sleeves at the same time, and miracle of miracles, almost exactly a year from when I started,
all the parts were done
!
Why then, you might ask, did it take me another seven months to finish the damn thing?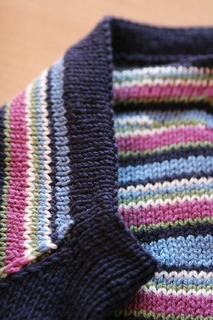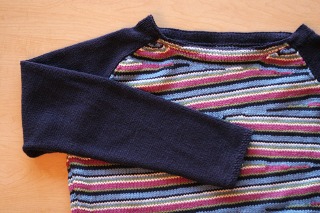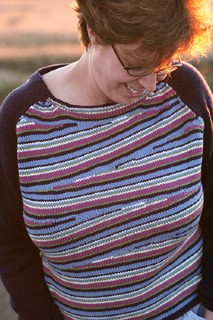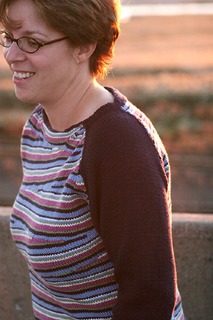 I have no idea.
Pattern: Short Row Striped Pullover by Fiona Ellis. Interweave Knits, Fall 2003
Yarn: Rowan Wool Cotton in French Navy (909), Aloof (958), BIlberry (959), Laurel (960) and Antique (900)
Needles: Addi Turbo US #6 and #7
Huh. It's finished. I think I would be much happier if I was about 15 lbs skinnier. When I started the sweater I was probably about 10 lbs skinnier. And then I wasn't and then I was and now I'm definitely not. I mean, really, zig zagging stripes across the girls? Not the best fashion statement. And it's too short. But I think if I lost a little weight in my chest it wouldn't be too short. You know what I mean? And in one of those pictures (or maybe more) it looks like my boobs are around my waist - but I promise you they aren't. I hefted up those ta-tas big time. The sleeves are PERFECT. They hit right in the middle of my hand - nice and long. And the yarn is one of my favorites of all time. Great to knit with - great to wear. It's so freaking soft against the skin. We'll see how it wears.
This is by far my most accomplished knit to date. It's not a hard knit per se - the short rows are pretty easy once you get going with them. The neck decreases on the front get a little bit weird and wonky, but they work - I guess. There's a mistake in the pattern as written, but Interweave has errata posted. I debated the collar quite a bit - after all those short rows and stripes the pattern called for intarsia on the neckline. I ended up going with a fabulous solution from my friend Flaire. Navy on the back, stripes on the front. You can see it in the pictures above. I think it worked out pretty well. The part of this sweater I'm most proud of, to be perfectly honest, is that I wove in all the ends. I didn't take a short cut - no matter how awful it was. Every single one of them was woven in - Ann says I should wear it inside out if I'm so proud of it and maybe I will.
I gotta tell you - it feels really really weird and really really fantastic to have this sweater finished. Really really.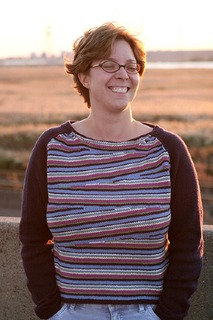 PS - Georgie took the pictures! Thanks, G-Love! And I swear to all that is holy - MY BOOBS ARE NOT THAT DROOPY!
Posted by Cara at 10:02 PM | Comments (65)
October 13, 2006
I'm bored again. No. That's not really true - I'm more like...disinterested. Yeah. That's it. Snow was talking the other day about blogging becoming a chore and while I don't feel like the blogging has become a chore, I do feel like I'm completely off my rhythm. I like to blog. I like it a lot. I like waking up in the morning and reading my emails and a few blogs and all the while churning up a post in my head. Some days are easier than others, but there's always something to say.
Breaks are nice too. Don't get me wrong. When I'm in my routine, I'm a M-F blogger and that can get tiresome (not just for me, I'm sure) so it's nice when I get a few days during the week to ignore bloglines and emails and just not worry about writing something smart and pithy. But it's been too long since I've been out of the routine. I feel like I lost my blog mojo a bit. I'm determined to get it back though.
And the knitting. Oh god don't get me started on the knitting. I am so freaking bored I don't know what to do with myself. And dissatisfied. I'm thisclose to finishing a project I started a long long time ago and it's anti-climactic to say the least. I'm fatter than I was when I started it (which is a whole other issue and one that I'm very very upset about. Do I get off my fat ass? NO.) and it doesn't fit as well as I'd like it to and well, I'm just not feeling the love. Which is sad.
Knee socks progress and I still love them, but stockinette is finally getting to me a bit. But I really don't feel like making a different kind of sock and I like these and I want them finished. And there are like fourteen more to finish as well. Blah.
What I really want to do is finally make the Am Kamin* sweater. BUT, that will require some major swatching because I don't know what yarn I'm going to use and I just want to jump in and DO IT but I have to have patience and then I have to order yarn and I just pulled a piece of skin off of my cuticle and it freaking hurts and is bleeding and when I think about all the work I have to do just get STARTED with this sweater it makes me exasperated and I go back to knitting knee highs. And then I get bored. Fucking circle of crap.
This is supposed to be my favorite time of year and I'm tired and I have a lot of work to do (the busy season has started for work) and all I want to do is crawl in to bed and watch 87 hours of Another World (which my DVR decided to stop taping for two days - that and Gilmore Girls. Is my DVR judging me? It didn't have any problem taping Grey's Anatomy or Studio 60.)
I want my routine back. I want to wake up and sit at the computer, blog a bit, go out for a nice run, come home and eat my NEW FAVORITE BREAKFAST (thank you forever Annie!) and get my work done and end the day next to my favorite boy knitting away on a fabulous project.
And to top it all off? They stopped making my favorite tampons. Tell me that doesn't fucking suck.
Happy Friday the 13th. Sorry for the rant. Better day tomorrow.

* The Crossed In Translation blog is still down. I inadvertently deleted it from the server and I have yet to get it back and running. One of these days I'll get it back up. I'm sorry. Please be patient.
Posted by Cara at 11:35 AM | Comments (63)
October 10, 2006
Please accept my apologies for announcing the Haiku Contest winners so late. But really - YOU try reading four hundred haikus. And THEN choosing winners. I blame no one but myself. And maybe Ann because I like to blame her for stuff.
RANDOM WINNERS:
boyfriend sweater, one
fantastic idea (not)
knit him socks instead

JODIE

Yarn Pirate Plunder
January One treasure
Sock wool for peg leg
(Jodie writes that she really does have a peg leg! So all you wanna be pirates beware. Jodie's the REAL DEAL! ;-) )
January One
warms the worm with hand knit socks
how fantastic dude

PEGERELLA
A worm is lucky.
Knit but one fantastic sock,
Whole body yarn fest


THE CHOSEN ONES

KATHY
Dude buys me some yarn
Hopes to get me in the sack
I knit socks and laugh
Kathy's haiku is by far my favorite. I just love that it tells a complete story - there's a conflict - motivation - an arc to it - character development - resolution. In three little lines. It's a perfect story and I'm utterly jealous that I didn't write it. WELL DONE Kathy. Extremely well done.

LISA
Pirate needs warm spot
To put his worm in winter
Maybe sock, or sheep.
DUDE! Don't tell me NOT to pick it and then give me this! Because really I'm PERVERSE at heart and I freaking love it. NOW TELL ME WHO YOU ARE?!?! LISA (IF THAT'S YOUR REAL NAME) LEAVE ME A COMMENT OR SEND ME AN EMAIL WITH YOUR ADDRESS. YOUR ANON EMAIL BOUNCED BACK.
Glad I'm not a worm.
No feet, no socks, no fingers.
Couldn't even knit.
The idea that worms can't knit was a popular one, but I like this the best because it's very sad for the worm. I mean, can you imagine if we couldn't knit?! And not knit socks?! Thank you Ellene.
[Ode to her lawn boy, who was the first boy she ever kissed]
Oh lawn boy, you worm
First kiss, drool fall(s) down my face
I sock the poor dude
LOVE THIS! Adelle uses all the correct words and yet the haiku has NOTHING to do with knitting, socks, yarn, etc! Excellent!



THE WORST HAIKU EVER
There was some stiff competition for this designation, but I'm proud to say the winner is:
MARY

January sock
One sheep on linoleum
"What the hell, Frankie!"
Surely there were haikus that were worse, you say. Well there was one about a toenail that made the worst cut, and one about the offspring of worms and sheep which...is that SHIT of some sort? And there were others that just didn't make any sense to me whatsoever, but Mary's haiku was intriguing to me in it's incomprehensibility. Is that a sheep in the kitchen? What's a January sock? And last, but not least, WHO THE HELL IS FRANKIE?
Okay. That's it. Nine winners. Thank you all for playing. I've learned a very valuable lesson here - I will never, ever, NEVER ask you to write haikus, or any poem for that matter, in order to win yarn again. But be prepared. I may ask you to write a song.
All winners will receive enough sock yarn for a pair of socks and an orange chibi.
HAPPY SOCKTOBERFEST!! I've listed some HONORABLE MENTIONS in the jump. ENJOY!!
L, C

HONORABLE MENTIONS!
i knit one wool sock
for a january worm
thought he might catch cold

MORGAN

Yarn is for babies
Only Pirates knit with worms
Fantastic worm socks

DEEPA
Wool sock on one foot
Second skein lies in basket
January blues.

AMANDA

Watch my flying foot,
with sock on, jet up your ass
if you steal my wool!

LARA
Pirate wonders: how
to knit wool socks with hook hand.
Maybe try crochet?
Rocks fall on my feet,
The feet have no socks on them.
Help me, I'm bleeding.
My feet are not bare
Walking around in wool socks
I don't get hook worm
Dude knits in a tree
Pirate sneaks up behind him
A sock slowly falls

SARAHJANET

If worms could knit socks
They would only need the one.
Lucky bastard worms.


JASMINE

I knit a worm sock
It was not better than yarn
It wriggled away


DEANNE

Pirate dude knits socks,
Rogue wave sends the ship over rocks.
Yarn falls overboard.


RACHEL
Knit socks, too narrow--
Fantastic sweater, perhaps
for some lucky worm.
The first fall freeze
Even the Junkie seems to want
warm socks for feet
MARY BETH
January one daughter
won't wear socks
More wool for me!

KIM P

Wal-Mart nylon sock
on my foot like dead worm, eeewww
oh sheep, bring me wool
Dude, my gauge is off.
Do you know if worms wear socks?
I knit a wee one.
To knit my socks takes
One hundred skeins of Koigu.
Dude, my feet are huge.
Jets fall from the sky
Changed not only ways we fly
Knit socks gets me by
A worm wears a sock
But an easy one for there
Is no heel turning!
jet stream brings cold south
socks knit in summer sun help
feet worm their way warm
my one sock attempt
a fantastic tangled fest
damn center pull skein
science fiction sheep
travel by woolly jump jets
in shiny rocket socks

BERNI
Clutching one old sock,
Tears fall. Nana's hands, still young,
Knit on, in my mind.
My son hates his socks
I knit one sock with wool, dude,
And one sock with worms!
I knit and I breath
Socks fall warm from my needles
My world is at peace

CRANKYGRRRRRL
Crankygrrrrrl's haiku kind of sucked, but I LOVED her limerick:
there once was a worm without feet
he would dream about wool and of sheep
read january one,
and said, "hey, look how fun,
to blog and to knit can't be beat!"
In January
One knit sock is still useful
For a chic streaker

JAN
Poor January One!
Sock haiku challenge rocks, but
Opens can of worms.

Jan says it all. Thanks again for playing. I'll be back on Friday. If you need me, check here.
SEE YA! WOULDN'T WANT TO BE YA!
Posted by Cara at 11:33 AM | Comments (27)
October 07, 2006
Note: Shannon was kind enough to share her day with Seraphim, my recently finished handspun handknit shawl. I've peppered the interview with pictures taken at the Getty Museum in LA where the shawl and I were generously photographed by Julia. More pictures and relevant information about this project appear after the jump. Thanks!


hellohello? Is this thing on? Hi everyone! I'd like to introduce you to Shannon Okey, esteemed author of Knitgrrl and Knitgrrl2 and the new Spin to Knit: The Knitter's Guide to Making Yarn published by Interweave Press. Shannon's book is sort of a how-to/pattern book with something for everyone interested in spinning.


She teaches you the basics of spindle spinning, wheel spinning, drafting, and plying along side introductions to fantastic spinners, dyers, and fiber artists across the country, as well as giving you great patterns for putting your new handspun yarn to use! It's all here!
Before we start the interview, I'm going to pull out a joke because I'm a little bit nervous about this and you've had some tough interviews this week and I'm not really feeling so Mike Wallace-ish . So a joke it is:

A chicken and an egg are laying in bed together. The chicken rolls over, lights a cigarette, turns to the egg and says "Well, I guess we answered that question." (I will use every opportunity to tell this joke!)


1/1: So, Shannon, which comes first, the pattern or the handspun?
SO: For me, it's the handspun. I really, really admire someone like June Oshiro who can sit down and say "I want a yarn with this, this, this and this quality." Then she sits down and tests and samples to gets just what she wants. I admit it: I have no patience for that. I could if I really wanted to, but I don't want to. I just want to knit! What happens in practice is something like the Laurabelle Swedish heart shrug in the book: Kristen Welsh spun all these gorgeous little samples from the same roving, plied and drafted differently, thinking I'd just take a look at the samples and use the main yarn instead. Oh no – when you look at that pattern (you can't tell unless you're up close) I actually used everything she sent, samples and all. I thought "hey, it's all from the same roving, it'll look great" – and it did!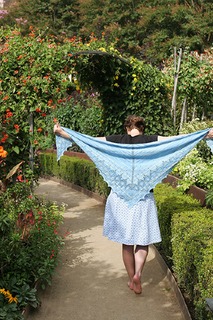 1/1: I just completed my first handspun project, the Seraphim shawl, and while I was spinning away, I knew that I would be using the yarn for a shawl. I just didn't know which shawl. When spinning yarn that you know you want to use for a large project, how much planning do you think you have to do in advance?
SO: Good for you! I lack patience. (What, you couldn't have figured that out by my last answer?) I can plan…but usually end up knitting before I really "should." Maybe it's just luck, but it always seems to work for me. I was told when I first began to spin that you should spin enough for the entire project before you start knitting, but I don't think I've ever done that! There's good reasoning behind it – if you're working with a natural fleece or a multicolor roving, you may want to switch balls occasionally to avoid huge stripes of one color next to another, and if you're not a super-technical spinner, you may want to balance out the slightly different weights of yarn that result.
For me, the advance planning would come in only if I know I only have X amount of the one roving I want to use – say I'm making a sweater and there's nowhere near enough fiber, but I'll supplement with another yarn (handspun or commercial – that's the beautiful part about many patterns in Spin to Knit – you can mix and match handspun with stuff from the store if you like). I'd spin up the limited-amount stuff first, measure how much I have and then figure out what comes next, whether it's buying 500 yards of yarn at the store to mix in, or spinning something else to make up the shortfall.
1/1: One of the things I love about Spin to Knit is that you have sort of a laissez-faire approach to the whole craft. If the yarn looks good, it's a WIN! I completely agree. I can't really be bothered with all of the technical stuff – I just want to spin pretty yarn that I can use. But what I found with my own project is that handspun doesn't act like commercial yarn. (DUH.) I actually had to switch needle sizes halfway through the project because one skein of yarn was so different from the other skein of yarn. Do you have any suggestions for working around the peculiarities of handspun? Other than having an open mind and being flexible?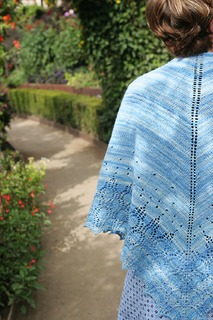 SO: This is where Denise and other interchangeable-needle-tip needles really come in handy! That's probably my favorite way to address that particular problem. In the case of something like a sweater, I actually think the slightly different gauges give it character – after all, if you wanted a 100% perfectly-knit sweater you probably wouldn't even handknit it, you'd go to the store! But with something more delicate like a lace shawl, you don't want some big slub in the middle of a pattern repeat, right? In that case, I'd probably rip out the slubby section and go to the next "good" section. You're right: open mind + flexibility = success.
1/1: Another one of my favorite parts of the book are your interviews with fiber artists from all over the place. They all have great stories to tell and I love the tips! I can't wait to try Angela Ho's spice shaker cap plying template (p. 71) where she suggests using a cap with holes to keep the various singles in order when plying. Any other fantastic tips that didn't make it into the book?
SO: More than you could imagine. I'd tell you, but then what would I put in Spin to Knit 2? (Which doesn't actually exist yet, but might if enough of you buy this one. Wait – was that a little too obvious?)
1/1: The absolute BEST part of the book for me? The pre-drafting section. Hands down. GREAT pictures of what the fiber looks like before during and after pre-drafting. Excellent. When I was first learning to spin, pre-drafting was what made everything click for me. I don't remember where I first learned about it ( it wasn't in any of the books I had at the time) but it was ESSENTIAL to learning how to spin and it wasn't talked about enough. Not really a question, I guess, but I just wanted to say thanks for that section. Nicely done.
SO: Say thanks to my mom, the photographer. She's the one who had to resist the urge to run off and play with the dog during the photoshoot. I'll send her your regards…
1/1: What is your favorite handspun project EVER? And what's your favorite handspun yarn EVER? Do you have any fiber preferences when it comes to spinning?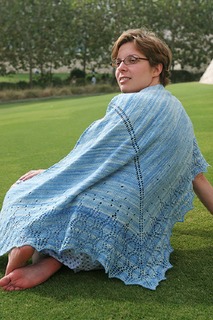 SO: Oooooooh, you're going to make me decide among my children? Come on, Solomon, that's unfair. Ok, if you had me up against a firing-squad wall, I'd say the hat on the cover, because it's made of the very first roving I ever dyed, and I just love it. Sentimental value + awesome colors. As for favorite handspun yarn ever, I am very very partial to the one that got away – lesson learned, if you see something online you like, buy it immediately because when it's gone, it's gone. It was shades of purple plied with a yellow plying thread, which made it look like irises. I wouldn't have even knitted it, I just would've wanted to stare at it all day.
Fiber-wise, I'm all about the wool… or wool with a little something extra blended in, like tencel (which dyes a slightly different shade than the surrounding fiber, and makes a cool effect when you spin it).
1/1: What attracted you to spinning? I know for me, it was all about color. I wanted to make gorgeous barber pole yarns. I didn't really care about that whole sheep to shawl thing. What about you? Ready to raise some sheep?
SO: Oh yes. Color, please, yesthankyouma'am. I do want sheep, but my ever-patient and loving boyfriend says no, you live in the city. (So I'm working on that. Anyone got land in southern Maine they want to sell? We'll move in a heartbeat).
1/1: Last Spring I sort of organized this event, which I called Spin Out. It was a lot of fun and we managed to raise a little bit of cash and turn on some new spinners. I'm thinking of doing it again next year – want to come and play with us? I promise it will be fun. SAY YES!
SO: How could I say no to an emphatic request like that? Of course!
Thank you Shannon for providing a new resource for spinners! One that's accessible on all levels, beautifully crafted and chock full of fibery goodness. Good luck with the book and the rest of your tour. I'm sure you're in GREAT hands with Lolly on Monday. Although if she starts talking about socks, I say RUN. ;-)
Keep reading for pictures and info on my handspun shawl....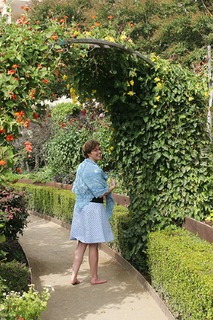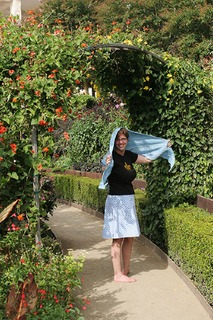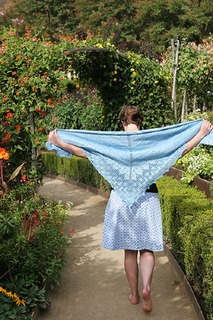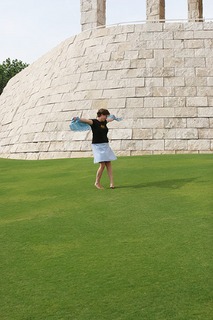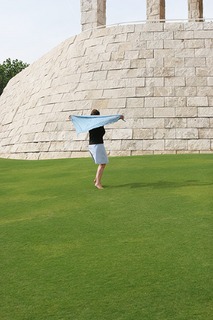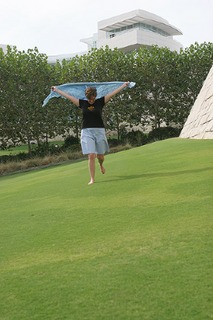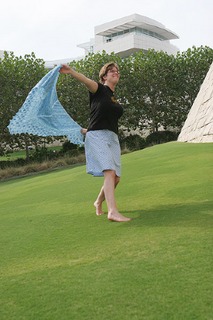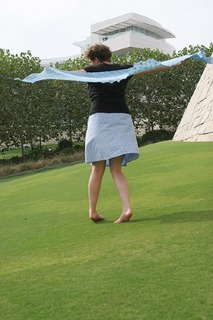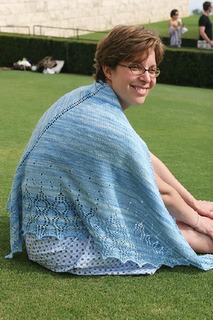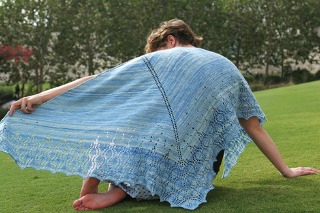 MY FIRST HANDSPUN HANDKNIT!
Pattern: Seraphim by MimKnits
Yarn: MY OWN! With a help from a fantastic dyer. The fiber came from Amy Boogie at Spunky Eclectic. It's Merino in the Almost Solid Series, Moon Flower colorway. Amy has the BEST FIBER EVER! I could spin only her fiber for the rest of my life and I would be happy. This yarn is two-ply and I estimate it to be about fingering-sport weight. I spun up 8oz which came to about 850 yds and used all but about a yard of yarn. For a minute I was afraid I was going to run out, but then I found the sample mini-skein I had made and it was all good.
Needles: I used Addi Turbos #6s for the mainly stockinette section and #7s for the lace section because of variations in the yarn.
Photography:All photographs were taken by Julia at the Getty in LA. Thank you Julia! I love the pictures!!! (For some behind the scenes photos of our day at the Getty, check out MJ's post about our day. I had a FANTASTIC afternoon with my fave LA ladies!)
Okay - so I'm THRILLED with this shawl. I LOVE LOVE LOVE LOVE LOVE IT! It's everything I hoped my first handspun project would be. Seriously. I should just stop right now because it can't get any better than this. The yarn turned out perfect for this project and honestly the yarn turned out better than I ever could've hoped. PERIOD. Amy's fiber is a JOY to spin and the yarn is soft and squishy and blocked perfectly. The Seraphim pattern is very nice - easy enough for a beginner for sure. There are a couple of things about the pattern that bugged me. At one point I was POSITIVE there was a mistake (I even emailed Mim about it) because I seemed to be one stitch over at the end of a section - even though everything had worked out perfectly between the stitch markers I used (and the designer encouraged using.) Turns out, when you're doing a double decrease that butts up against a stitch marker, you need to borrow from the next section and move the marker over one. I didn't realize this. Ends up I inadvertently added an extra stitch at the BEGINNING of the previous row, not at the end of the section where I thought. Had a note been included about moving markers, I would've known right away that there was a problem. I think Mim is going to include this in the pattern going forward. I ended up ripping out a couple of rows, fixing the problem and knitting on from there. No harm no foul. I wouldn't generally mention this, but I think this IS a GREAT pattern for beginning lace knitters and since the pattern encourages knitters to use stitch markers (it has notations for markers in the charts) I think it's an important piece of information. I racked my brain for an afternoon trying to figure out where I went wrong because the number of stitches between stitch markers was working out fine. As I said, not a big deal, just something to look out for when you're knitting lace.
If you'd like more information about the yarn I used, you can check it out here and here and here.
Thanks, as always, for reading! And thanks again to Julia and MJ!
Have a great weekend!
L, C
Posted by Cara at 12:16 AM | Comments (41)
October 05, 2006
The next edition of Yarnival, Volume 1, Issue 3 will be edited by yours truly.
Eve has done a fantastic job with both issues, ONE and TWO, and I just hope I can come close to her vision.
Don't remember what Yarnival! is?


It's this Internet thing called a Blog Carnival, which is an online compilation of very cool blog entries. Of course, Yarnival! centers around knitting and fiber pursuits and it's a new way for us to read and get to know different blogs. I, for one, seem to be stuck in my same bloglines rut. Not that I don't have excellent blogs listed on my bloglines, but there are tons of new blogs out there and I've been too lazy to seek them out. YARNIVAL will help us all! Anyone, regardless of the length of time they've been blogging or the popularity of their blog, can submit a post to Yarnival. The editor for that edition will choose which ones to include and it will be posted on a certain day of the month. You can read more about Eve's vision here.



NOW ACCEPTING SUBMISSIONS FOR YARNIVAL ISSUE 3!


To submit a blog post, USE THE SUBMISSION FORM. DO NOT leave your submission in the comments. DO NOT email me your submissions. SUBMISSIONS WILL BE ACCEPTED BY FORM ONLY. The deadline to submit is November 1st. The issue will appear on this blog November 15th.
Remember, ANYONE can submit, regardless of how long they've been blogging or how long they've been involved with the fiber arts. Send in your best blog post! It can be funny, sad, educational - I don't care - as long as it's entertaining, well written, interesting and has something to do with the fiber arts. GO FOR IT! What have you got to lose?
YARNIVAL people. YARNIVAL!
PS - If you'd like to edit a future edition of Yarnival!, please contact Eve at her blog, Needle Exchange.
Posted by Cara at 09:35 PM | Comments (9)
In honor of Lolly's fantabulous SOCKTOBERFEST, I give you my sockstory:
When did you start making socks? Did you teach yourself or were you taught by a friend or relative? or in a class?
I started knitting my first sock in January '05. It was Koigu and I used size 3 bamboo dpns and a pattern from Ann Budd's The Knitters Handy Book of Patterns. No one taught me per se, I just followed everyone's advice to do what the pattern said, and turned the heel as it was written. Let's just say I didn't get much farther than this: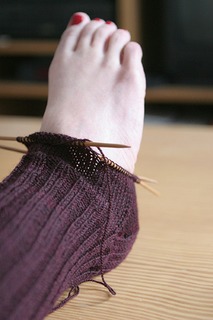 I think I lost a dpn somewhere and the sock was slouchy and I hate to rib and the color was boring. I abandoned all sock knitting until...
What was your first pair? How have they "held up" over time?
My first pair of socks were knit in June '05 after seeing Meredith's pair of purple stripey socks. I took one look at her stripes and knew I had to have another go at it. This time I used two circulars instead of dpns (the d stands for dreaded) and it only took me 11 days to finish the pair!!!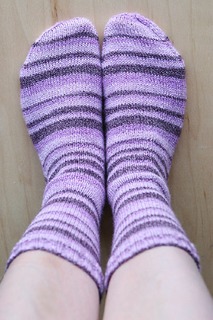 I used Regia Cotton Surf and while I loved knitting the socks, I haven't loved wearing them. Cotton just doesn't work for me for socks. They've stretched out quite a bit and haven't bounced back. BUT I loved knitting with two circulars instead of dpns. LOVED IT! And had every intention of knitting another pair. I started a few other pairs of socks after that but nothing that I really loved. Then I went to Rhinebeck and bought A LOT of
Socks That Rock
. When I got home I was itching to try it out and I stumbled upon the
Jaywalker sock pattern
by
Grumperina
which appeared in the September '05 Magknits. I thought, hey - this might work.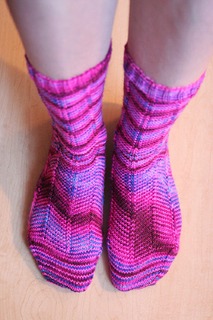 Let's just say that the pattern literally changed my life. Between October 2005 and February 2006 I completed 8 pairs of Jaywalkers in STR yarn. I currently have two single jaywalker socks and one mate on the needles.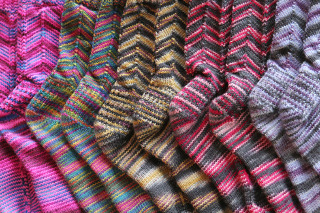 What would you have done differently?
Absolutely nothing. I feel like my sock journey has been exactly as it should be.

What yarns have you particularly enjoyed?
My love for Socks That Rock is well documented. It is by far my desert island yarn. I could live on it forever. That said, I've been enjoying Koigu as of late. I also love
Sock Hop yarn
and will be spinning up my very own Sock Hop roving for socks very soon. I've tried other yarns, but these are the ones I come back to - and when I haven't knit with STR in a bit, I always fall in love all over again. I make no apologies for my unadulterated affection for this yarn. It is, in a word, perfect.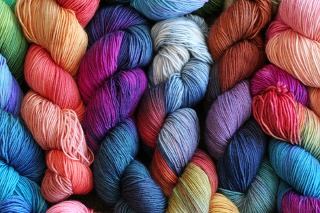 Do you like to crochet your socks? or knit them on DPNs, 2 circulars, or using the Magic Loop method?
I have knit my socks with two cicular needles exclusively. I prefer Addi #1s for my socks. I like to have one circular be longer than the other. I always do the heel on the shorter circular. I'm not sure why. Also, I move the stitches around when picking up the gusset so that half the heel and half the instep are on one needle, and the other halves are on the other. I can't see myself going any other way on this.
Which kind of heel do you prefer? (flap? or short-row?)
I prefer top down heel flap socks with kitchenered toes. I LOVE to kitchener. LOVE IT.
How many pairs have you made?
I have knit seventeen pairs of socks - two pairs were for Sockapalooza, and three pairs of those socks are actually six singles waiting for mates. I'm currently obsessed with knee highs. I've finished one pair, one pair is waiting for handspun heels and toes, one pair needs a mate, and my current sock is just about ready for a heel: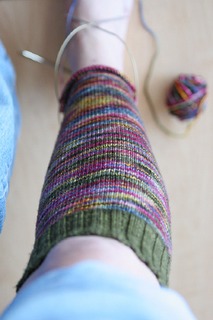 The yarn is Koigu - the semi-solid green is 2340 and the variegated is P852. I'm thinking I'm going to start the second sock and knit to the same spot - right before the heel flap. For some reason I like doing knee highs this way.
My plans for Socktoberfest 2006 are all about finishing. Finishing my new knee highs. Finishing my old knee highs. Whatever I get done I get done.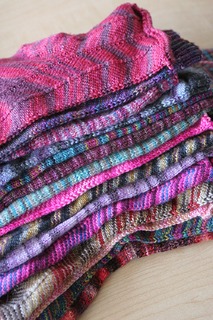 Handknit Socks. They make life better.
Posted by Cara at 03:43 PM | Comments (35)
October 04, 2006
I'm home. This time for good. Or as good as five days. We'll see.
In those five days, I hope to blog about the following:
-- An ode to the socks I have knit and will knit and are knitting in honor of Socktoberfest 2006. (Although that seems redundant already, no? What's there like 80 million people knitting socks? It's all good though.)
-- Annouce the winners of the Haiku contest. I'm so sorry I'm so behind. I'll add extra winners because of the guilt. Promise.
-- Talk about Shannon Okey's new book, Spin to Knit! This will actually happen on October 7. I'm part of a BLOG TOUR!
-- Show you FO pictures from Seraphim.
There may be some other stuff thrown in there too, but I'm feeling like I have no time for any of this and I want to do all of it and bear with me please. There is more dirty laundry in my house than I've seen in my life. (Where have all these clothes come from and who are the people wearing them?! Only two of us live here - last I checked.) There are errands to run and a house run amok (didn't I just clean this place?) and I'm still freaking tired. Who knew jetlag from the left coast could be so bad.
Oh and for the record: I do NOT feel bad about not knitting for charity. It's my time, my decision and I'm more than willing to hand over money to a cause I believe in. What I do feel slightly bad about is the handknits for the niece and nephews. I'd absolutely hate for one of them to think I loved them less because I didn't knit anything for them. That would make me sad.
Posted by Cara at 09:21 AM | Comments (33)
October 01, 2006
I'm home. But only for like five minutes. We walked in the door this morning at 7:30AM and I'm getting on a train to go to my sister's at 4:30. Whoofuckinghoo. I can say that. It's not Yom Kippur yet.
I am so tired.
I have some stuff to tell you, but I fear that by the time I actually get a chance to get back to blogging and reading blogs I won't feel like telling you anymore. You know how that goes. But I will say that I SAW STARS while I was in Hollyweird. ACTUAL KNITTING CELEBRITIES. I spent a fantastic day with Julia and MJ at the Getty Center. When I met back up with Georgie he asked about the museum. I told him I never went inside. He asked, did you knit a lot? I told him I never once picked up my needles. Did you go to the knitting stores you talked about? No. What did you do all afternoon? We talked. And talked. And took some goofy and also terrific pictures of me in my shawl and some flowers and then we talked some more. It was the best way to pass an afternoon! Thank you girls!! Thank you for braving LA traffic to spend some time with me!
The one thing I thought a lot about while I was on vacation was Grumperina's Ten Knitterly Things About Me That You Might Not Have Known Meme. I wanted to do it the whole time I was away, but I never had a chance, so I'm doing it now.
1. When I find a pair of shoes I like, I buy them in a lot of colors. Same goes with shirts, pants, underwear. I figure why mess with a good thing and who knows when they'll stop making it (because they always do, trust me - anything good goes away.) I am the SAME WAY with my knitting. If I like a pattern, say, I don't know, a sock pattern. Or maybe a sock yarn, I will buy it and knit it MANY TIMES OVER. And I see NOTHING WRONG WITH THIS. I find great comfort in familiarity. And I always stop when I get bored. I like to exhaust things.
2. I am a very selfish knitter. You will RARELY see me knit for a charity, a square blanket, a loved one. I've made G one vest and one scarf (like the ONLY scarf I've ever made) and thankfully he doesn't like knits because I don't think I'll be knitting him anything else anytime soon. I don't even knit super cute kid stuff for the super cute kids in my life. My poor baby nephew has NOTHING handknit from me. The other kids have hats and a sweater each and blankets. The baby? Nothing. I'm very guilty about this but I still don't do anything about it. That's how selfish I am.
3. I have VERY specific preferences when it comes to yarn. Preferences that seem to get worse as my knitting goes on. I hate all hairy yarns: Mohair, Angora, Alpaca - anything that gets a halo. Hate it. I like sproingy very very soft yarns and refuse to knit with anything else. This limits me I know, but you know what? I do just fine with my choices. Basically I want to be able to wear it next to my skin and not know I have it on.
4. I only knit with Addi circular needles. EXCLUSIVELY. I really don't even own any other needles and straight needles make me almost as crazy as DPNs. DPNs are the worst TO ME. Although I will admit to using Susan Bates DPNs when I move socks around on my two circulars. And they're good for picking up gussets. I will admit that.
5. Knitting for me has a lot to do with color. Moreso than texture or design - which is why I think I like socks so much. A stockinette sock is all about the yarn. Same thing with a garter stitch log cabin. Although I love cables and the way they look and some knit/purl designs and even mosaics or fair isles, the fiddliness of the knitting turns me off a bit.
6. That said, I'm dying to knit a really complicated sweater. I think I'm going to do the Am Kamin finally. I thought about it A LOT while I was away. A lot. A lot a lot. My next project will definitely be a sweater and while I may finish the Barbara Walker neck down sweater, a very complicated (or at least it will look that way) cardigan will be in the works for me. I hope so, at least.
7. I love a purl back row. LOVE IT. I have no problems purling. I actually think I'm a faster purler, sometimes, than a knitter. BUT I hate ribbing with a passion. And I will avoid purling in socks at all costs. I'm not sure why this is - probably because you're not working with a lot of stitches so there's a lot of switching back and forth and what I really like is a purl back row. Just that nice long line of get in the rhythm purl. Goodness.
8. I wish I was better at figuring things out. Like finding a pattern I really like but knowing it's not quite right for my body shape and being able to manipulate things so that it turns out to be what I really want that looks good and feels good and is perfect. I'm sure this is not beyond the scope of my abilities - I don't doubt that I could figure these things out - but it seems like for some knitters this is intuitive and for me it's not intuitive and when I think about the work involved I get really tired and want to pick up a sock.
9. I would really love to be able to design a lace shawl. This is something I've never spoken about before and I've even thought about collaborating with someone on it - but I'm afraid there's a lot of math involved to get things all perfect and again - there's that tired thing. Look at that! I just knit another sock!
10. I am a perfectionist. I will rip things back to get them right. Not saying it's for everyone, and probably no one would notice a mistake, but I would know it's there, and that's just not gonna work for me. If I can fix it, I will.
Oh my god - there's so much I owe you guys! Haiku winners! Updates to the Rhinebeck Blogger Meet Up List! Pictures of Seraphim! (Julia - the brief look I got at the pictures is GREAT!) Hopefully the meme and a couple Pretty Woman Pictures will suffice until I'm back to blogging all regular like. I miss you all!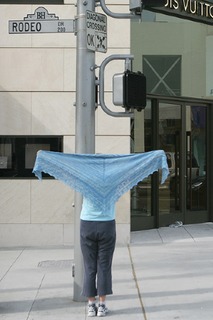 Posted by Cara at 03:01 PM | Comments (32)