« I'm a Capricorn and he's got Cancer. | Main | Livin' Large »
November 29, 2006
C'mon and Love Me
I can't tell you how happy it made my boy to know there were people out there getting our fucked up sense of humor. The title of yesterday's post was, indeed, a bastardized version of the lyrics in "C'mon and Love Me" by the hottest band in the land: KISS. Bouncing around singing KISS songs the other night surely let some air out of this pressure cooker we're living in. As good as C'mon and Love Me was - Firehouse was SO much better. Whoo Ooo YEAH!
Speaking of letting the air out, yesterday I spent THE most enjoyable couple of hours knitting of all things A SWATCH.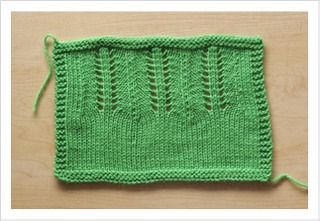 Can you believe it? First off, I swatched. Secondly, I liked it. The world surely MUST be coming to an end. This kind of hideous green yarn is just gorgeous in my book. I started off swatching for my new found love, Ariann, with the multitudes of Jo Sharp I have in the stash. It was clear to me pretty quickly that this yarn wasn't going to work. It's a very sticky yarn. Especially after you wash it. Which doesn't seem like it would work very well for a kind of drapey lacy cardigan. And I really don't think that you'd be able to see the cool pattern feature of decreases that Bonne Marie has worked out. The thing is, I was hoping to use stash for this project. My home runneth over with yarn and fiber and I'm not that into spending money these days so USE STASH! Perfect. Problem is I only have sweaters worth of Jo Sharp Silkroad Aran Tweed or Silkroad DK Tweed - all bought back in the great Elann sale of November '04. Not going to work.
So I searched and searched the internets to see what kind of yarn people were using for Ariann. Turns out any worsted weight yarn will do, but what did I really want? And how long did I want to WAIT? The wait time is way more important than the yarn this time out because I'm desperate to get involved in something - not put it down - have it consume all of my waking hours. I need that right now. So I started thinking about which yarns I could get locally and wouldn't break the bank and had lots of colors to choose from - and you know where this is going, right? I, like the rest of the knitting world, had a couple of balls of Cascade 220, the PERFECT YARN, in my stash. I took out the hideous green you see above (don't ask why this is in the stash) and starting knitting. I knew right away it WAS the perfect yarn, and I didn't stop until the swatch was done. Then I took the swatch with me to pick up G at the train station and to Home Despot and to the supermarket and finally I brought it home and gave it a good wash in the new SOAK I bought at Stitches (yummy and G-smell approved!) and blocked the sucker out.
Guess what?
I got gauge.
Well, sort of. The pattern calls for 19 stitches/24 rows per 4" and I got stitch gauge, but not row gauge. And stitch gauge is SO much harder to deal with no? I'm getting about 28 rows to the inch instead of 24 which is totally fine with me because I was going to make it a bit longer anyway. Now I can just knit and be happy and not worry. Maybe I'll start the armhole decreases a bit sooner - who knows. All I have to do now is find the right color (that they have enough of - I'm not going to be nitpicky about this) and cast on! I CAN'T WAIT!!! All you Ariann knitters out there - I've heard a rumor it's running a bit small - should I go with the 38" size or the 40.5"? I'm leaning toward the 40.5". I don't think I'll care if it's a little bit big and I'm fat these days, so that might be the way to go. Chime in with opinions please.
I can't tell you how happy I am to be excited about something. I want this sweater done for my birthday. I've got about a month. I think I can do it.
Posted by Cara at November 29, 2006 09:11 AM
Topics: Ariann
Comments
Did you wash your swatch? That might make the row gauge come into line... I don't know. I never swatch because I haven't made a real garment yet (as in, one that has to fit.)
Posted by: Jenn at November 29, 2006 10:15 AM
Blessings and fun to you and yours! I hope that all continues well, and have you in my prayers and thoughts. Love your blog, and hope that the best is ahead! Take care.
Sounds like Ariann wants you to knit her, and it should be incredible fun. Sometimes these projects just fall together like they insist on being knit NOW!
Posted by: Beth at November 29, 2006 11:11 AM
Haha, Firehouse - YEA! The hair! The cheese! Awesome!
I am glad you found your perfect yarn. As for the Jo Sharp stash, I also fell victim to the great Elann sale of Nov 04, and I used mine for the Syncopated Ribs sweater from IK (Fall 04?). I LOVE it - all in one piece save the collar, stretchy, interesting, warm. I trimmed mine with a contrast color.
https://heatherknits.wordpress.com/?page_id=33
Just in case you wanted an unsolicited suggestion.
Posted by: Heather at November 29, 2006 12:10 PM
You could make 2 of those if you REALLY wanted to. just sayin
Posted by: Carol at November 29, 2006 01:01 PM
any chance you saw the gilmore girls last night?
lots of swifts and giant balls of yarn.
(alas...still very boring)
Posted by: mel at November 29, 2006 01:25 PM
I love Cascade 220 also. So many colors and the yarn ALWAYS behaves. I hope you find enough in a color you like!
Posted by: Brenda at November 29, 2006 01:28 PM
Go with the 40.5 inch size- the " ladies" will have room to breathe :-) and there's nothing more uncomfortable than a sweater that's too small. I think you'll be happier with it in the long run.
Posted by: Manise at November 29, 2006 03:33 PM
Cara, I, too, am married to the love of my life and I am feeling with you. However, being terminally uncool, had no idea about the song reference. Oh well. No points.

Posted by: Laura at November 29, 2006 03:44 PM
Hmmm...Sitting here thinking about your row gauge and wanting to make the sweater longer...

If you're getting 28 rows per inch and the gauge calls for 24 rows...

I'm just saying, if the pattern says to "knit 48 rows," well then, in their mind, that would be 2 inches. But with your row gauge it would come out to less than that, right? In order to get 2 inches, you'd have to knit 56 rows, not 48.

Having more rows per inch in your gauge will give you a shorter sweater if you follow the directions to the letter, not longer.

Having made all of my sweaters too SHORT, I didn't want the same fate to fall on someone else. I can't wear any of them without my pants up to my "ladies", and that's not attractive AT ALL.
Posted by: Melissa at November 29, 2006 03:54 PM
Yay, you! I'm so glad you've got something to be excited about. Can't wait to see your WIP!
Posted by: earthchick at November 29, 2006 03:55 PM
That is one beautiful swatch! Hope you find a great color today and can jump right into Arianning.
Posted by: margene at November 29, 2006 04:04 PM
So glad there's someone else out there who calls it the Home Despot. Little Napoleons with power drills.
Posted by: JulieFrick at November 29, 2006 04:06 PM
What Melissa said--I think you're mentally reversing the effect of your row gauge. You've got more knitting to do per length than specified, not less.
Posted by: naomi at November 29, 2006 04:10 PM
Others have said it, (naomi, Melissa) but I'll say it again. You will have to knit more with your row gauge to get the same length sweater so this is not a good thing.
I'm glad you've found an interesting project to keep you busy. Best wishes and good thoughts to you and your husband.
Posted by: LaurieM at November 29, 2006 04:12 PM
Drat! Is it running small? There is an Ariann KAL, but I haven't really been reading it. I might have to go up a size on my then...thank god I haven't gotten very far yet.
And hey, I love that hideous green!
Posted by: Christie at November 29, 2006 04:14 PM
I am so sorry to chime in on the bad news but, Melissa is right. If you follow the pattern for the number of rows it will end up being too short. DANG IT!
Oh, on the other hand, forget the Dang it. . . YEAH! You are soooooo excited to knit this pattern that it will mean that you just get to enjoy it for a bit longer than the pattern states (I used to be a spin doctor in another life - tee hee)
Posted by: knittingnurse at November 29, 2006 04:25 PM
Hey, I agree with the others. Don't feel bad, though. My row gauge on Ariann is also tighter than Bonne Marie lists. The pattern is a two-row repeat, so adding more rows is super-duper easy.
I hadn't heard it was running small. I'm doing the 40.5 size (I'm about 38 or 39 at the bust). But you know what? I think this pattern would look great as either a fitted cardigan or a looser one, so no worries, I hope.
Posted by: Katherine at November 29, 2006 05:06 PM
OK, I know you're going for another color but I personally love that green. Maybe not for Ariann but you should definitely find a use for it!!
Posted by: Elinor at November 29, 2006 05:39 PM
I think that I would go with the 40.5. I think that I like the roomy thing more than being like the svelte thing in the pics on patterns. I hope you finish in time. BTW - after black and then purple, that GREEN is pretty great.
Posted by: Willi at November 29, 2006 05:55 PM
I have Ariann on my list, I thank you for providing me with ideas for yarn substitutes.

Posted by: Isela at November 29, 2006 06:15 PM
IMHO, that green is gorgeous and will look great on you. BTW, have you ever seen the film "Detroit Rock City?" it's very cute and funny.
Posted by: regina at November 29, 2006 06:51 PM
HA! I love that you call it Home Despot...I thought my husband and I were the only ones! and...of course you can finish the sweater by January 1
Posted by: Heidi at November 29, 2006 06:59 PM
that is a pretty green! very jcrewish... but another color would be fabulous too. row gauge, shmo gauge... glad you've ignited the knit within you again!
Posted by: margaux at November 29, 2006 07:40 PM
Having just gone through the experience of having to frog an almost completed Ariann because she was too small, I'd say knit the larger size.
It's such a beautiful pattern. Can't wait to see what color you finally choose!
Posted by: Amber at November 29, 2006 08:24 PM
Oh No!!!! I too, have cascade in my yarn stash lurking.... your swatch is giving me the KAL bug already. And I think that green swatch is just fantastic looking- the lace would look great on just about anything, I think!
Posted by: kelly at November 29, 2006 08:36 PM
First: So happy to see enthusiasm and happiness is sneaking back in! You'll need that mood.
Second: Thank goodness I scanned the comments-Melissa said it. Now I don't have to. Whew!
Let's talk soon, I've been working like a dog, but should be around late in the week. I hope.
Posted by: Teresa C at November 29, 2006 08:44 PM
Mmm, refreshing Green!
Hey - what needle size are you using? I went up one size to #8's for the Ariann I'm making now -
Also, the sizes given are finished measurements - the actual circumference dimension of the sweater. So, in general, you go up one size from your actual chest measurement, for ease.
Here's a Handy Dandy for yarns for this design: http://www.chicknits.com/catalog/ariannyarn.html

Posted by: Bonne Marie at November 29, 2006 10:04 PM
So happy to hear some happy in your voice (well not that I can hear you but you know what I mean). Ariann is so on my list of things to do! Swatching fun? Who knew :-)
Posted by: michelle at November 29, 2006 10:07 PM
Amazing how a little perfect swatch can lift your spirits, isn't it? it's going to be a great sweater, and it will make your birthday SO much better than your Thanksgiving!
Now you can just knit and be happy and not worry.
Posted by: benedetta at November 29, 2006 11:05 PM
can you believe that I don't have any Cascade 220? that I've never knit with it?
I'm a knitting virgin. ;)
Posted by: ann at November 29, 2006 11:16 PM
C ~ been thinking about you and yours and sending good vibes, FWIW. And I am longing to knit Ariann as well, also from stash, so thanks for prompting me to do so. As for the JS Silkroad, I'm knitting BMB's Twist with some aran now and liking the results (although I did have to go down a needle size or 2!)
Posted by: Maggi at November 29, 2006 11:37 PM
OK, confused... when I swatch for gauge, I'm also supposed to wash it before measuring it?
Uh-oh...
Good thing I'm only in the ribbing on my Central Park Hoodie...
PS: sending you good healing vibes for G and comforting vibes for you.
Posted by: Jeanne at November 29, 2006 11:54 PM
Good luck finding the rigth (-ish) color. I can't really comment about the yarn, since I have never used it. I live in Mexico and have a very hard time getting some yarns. It looks good, though.
Posted by: Myrth at November 30, 2006 01:20 AM
what a gorgeous sweater! i'm glad you linked to it :) that'll be just the ticket for some fun winter knitting. and i agree with the other knitters on row gauge. better buy a little more yarn than you think you'll need because you'll actually have to knit more not less.
Posted by: gleek at November 30, 2006 08:15 AM
I love Ariann, and will make it someday. Bought the pattern, but my list is LONG!!
Cascade 220 is the perfect yarn, and I think that green is quite nice! I say go for the 38 - Cascade 220 blocks well, and you can get some more room out of if you need to for the "girls" with blocking.
Best wishes for G (and you) - hope you are well~
Posted by: Lolly at November 30, 2006 09:23 AM
oh! ariann is a pretty cardigan! i haven't been to the chicknits website in awhile ... yes, i say wash the swatch and block it properly. and then as far as fit goes ... i guess how would you like to wear it? over a slinky cami or over a thick cotton t-shirt ... i would think the lace fabric has a lot of "give" and that even if we're feeling fat, that we look better in something that fits, or is fitted, vs. loose and baggy.
now, i must check my stash for an ariann contender!
i think you'll get this knitted in a flash ...
Posted by: gray la gran at November 30, 2006 10:56 AM
Don't know if you've seen this yet:
http://theanticraft.com/archive/imbolc06/fuckcancer.htm
Seems to sum things up.
You've got each other - that's so important.
Stay strong.

Posted by: patrice at November 30, 2006 11:54 AM
I'm glad you're feeling excited about something! Ariann looks like a gorgeous sweater, and I'm excited to see what you do with it. I love to see the progress fast knitters make- I'm slow, myself. I'm thinking of you, and wishing on a star for you and G, both.
Posted by: Susan (Hyperactive Hands) at November 30, 2006 01:25 PM
I don't think the green is hideous at all! It's spearmint-y. Come spring, you might like it a bit more.
Of course, you could always overdye that sucker, too. ;-)
Posted by: Beth S. at November 30, 2006 01:45 PM
I get and love your fucked up sense of humour :)
and cant wait to see how gorgeous you look in your Ariann... you have impeccable taste so its gonna be great!
Posted by: stinkerbell at November 30, 2006 04:06 PM
I can't tell you how happy it made my boy to know there were people out there getting our fucked up sense of humor
****it is absolutely necessary to have a fucked up sense of humor to deal with a fucked up life. And cancer certainly does that. Just hang on to each other and ride the roller coaster one lurch at a time.
Posted by: Judi at November 30, 2006 10:24 PM
I love that color green! I'll be so excited to see the completed Ariann! Random fact: that was the name of the first car I remember riding in. It was a light blue Dodge about the size of Queen Mary.
Posted by: Scribbles & Bits at December 5, 2006 03:57 PM