« Wednesday | Main | Bow Tie Template #1 »
November 09, 2006
Lightning
Not the weather kind, although it's really kind of fascinating that Tuesday was pretty nice and today is beautiful and in between we got LITERALLY over 4" of rain. I had to go back and forth to the store yesterday and every time I went out my town flooded more and more and streets were closed all over the place. Oh and to the fucker in the behemoth SUV literally sitting on my ass: it was one fucking lane and I had ten people in front of me. Where did you think I was going to be able to go? I hope you don't drive like that when your kids are in the car. Fucker.
Ahem.
I'm talking about the creativity kind. The stuff that hits you and knocks you off your feet and when you finally stand up everything is so crystal clear but just a little too far out of reach and you start running and running in your mind and you breathe a little faster with all the running but it feels so so good. You know what I mean?
I think Nona was right when she said in the comments yesterday that I might be missing my green blanket. I really miss my green blanket. So much so that last night instead of continuing on with my Pomatomus sock or my knee highs or making decisions about Casino, I got into bed - my new favorite place with my glorious new down comforter and duvet and gorgeous purple sheets - and pulled in Nancy Crow with me. I want to start a new blanket. The Palette one isn't doing it for me - something about the color combinations - and the Random one. Well, I love it, but frankly it's unwieldy at this point and it takes A LOT to finish a row or section and I'm not in a zen enough place to just knit and knit and knit. I want squares. Squares are extremely satisfying. You finish one and it's like LOOK! I finished something! Even if it's just a part of something, but still. It's a finish. And then you can move onto the next one that's different. Easy to not get bored that way. And, fresh off my seaming success, I'm all into the seaming of the squares.
So I'm in bed with Nancy and I'm flipping through the pages delighting in her color-eye - because really that's what it's all about isn't it? - and I come to p55 and I stop dead in my tracks. THIS. IS. IT. This is it. This IS it. This is my next blanket. It's going to be big and intricate and I'm going to have to use a lot of colors and it will be subtle and beautiful and I can see it already finished in my mind laid out on my bed when I come into the room at night or I make the bed in the morning and I linger with it. I touch it and smell it and admire it and I think I MADE THIS. THIS IS ME. And oh my god it was all I could do to get to sleep last night I was so excited. I immediately cast on for the start of a square and knit until it was time to go to sleep, ie, my fingers stopped working even though I had knit the whole blanket in my mind.
This project is so far from even being started and I think that's what gets me crazy. The creativity is flowing fast and furious but there really isn't an outlet for it. First off, the whole thing will be a collaboration because someone else will be dying the yarn for me and it will be my vision but it will be the dyers vision as well. You can completely understand why someone like Nancy dyes her own fabrics. It's all about control of the final product. And how much do I talk about it? I can talk talk talk talk and then when it doesn't work out or I get bored AGAIN or something else comes along - but whatever - these are my projects and I share them with you and ultimately I'm doing the knitting, so if I need to move along.... Ann mentioned to me yesterday, with almost a sigh (not a bad sigh just a sigh of an excellent friend who's seen this enthusiasm before and may even get swept up herself but should she really get invested because she knows that in a week it will be all over - it's like dealing with your best girlfriend in college and her mad love of the week) said that she guessed all my other projects would be taking a back seat. Well, yes, for now. That doesn't mean that I don't want to knit Am Kamin and that I won't knit Am Kamin but I'm feeling really interested in THIS right THIS SECOND. Really that's the beauty of my knitting - no deadlines - no obligations. Knits don't really have feelings do they? God I hope not.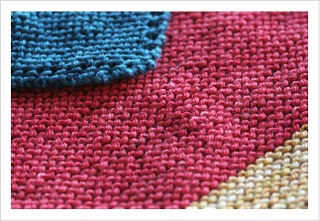 The best part of all of this? When I first mentioned the genius Nancy Crow on this knitting blog, I quoted her:

I think every artist who succeeds (in their own terms) has some ability to keep moving forward in the face of constant obstacles...emotional, mental, financial, physical...and that is what sets them apart from those who always talk about trying or starting but never get beyond the talking stage. I WANTED TO MOVE FORWARD, AND I WANTED TO FIND A WAY TO WORK MORE ABSTRACTLY.
From Nancy Crow, by Nancy Crow. (Sketchbook notes, p. 54)
Turns out, that quote? The one that affected me so much when I first went through the book? It's opposite the quilt where lightning struck last night. Sometimes knits are just meant to be.
Posted by Cara at November 9, 2006 10:16 AM
Topics: Bow Tie
Comments
That is a fantastic feeling. I love it when something happens - serendipity, kismet, something and suddenly you know something you didn;t a few minites before. And your world is a tiny bit bigger. And different.
And I love the holiday lights picture that was the banner when I clicked in - you got some photographic game, no doubt.
Posted by: Juno at November 9, 2006 10:33 AM
ah yes, i totally understand this manic creativity! it's hard to quash it and you shouldn't! you've really just gotta do it because that's what you've gotta do, you know? can't wait to see how it's coming along!
and i'm totally hearing ya on the squares vs. whole blanket. i think that they appeal to me more as well.
Posted by: gleek at November 9, 2006 11:11 AM
I love that feeling, even when (inevitably) it's tinged with the knowledge that after that first lightning strike, creativity is work, dammit.
And you have no idea how much I needed that quote -- because I do get bogged down in everyday life, in why-me-lord (the answer seems to be "why not?") and I forget how good it feels when I actually do produce something. It's all about inertia, about needing just a tiny shove now and then, or a swift kick if you prefer, to get me in motion again.
Posted by: Lucia at November 9, 2006 11:17 AM
Sounds good to me! I know this is going to be enjoyable to watch grow. Good for you Cara!
Posted by: Carol at November 9, 2006 11:27 AM
I love your passion, even if it changes 'like a school grrl', it is real and inspirational. Your mind is in constant seach of what speaks to your soul, what lifts you up, and give you the juice, the drive to create. You are the artist at work in mind and soul.
Posted by: margene at November 9, 2006 11:44 AM
You've got to trust your instincts. I think you are doing the right thing and I admire you, because I'm just not at that place yet.
I'll get there. Just give me some time...
Posted by: LaurieM at November 9, 2006 12:19 PM
I just put all the Nancy Crow books I could find in my library system on hold. I think I want to crawl into bed with her, too.
; )
Thanks for the reminder that the knitting doesn't have feelings. I think its eyes follow me around a room, though.
Personally, I love following the bouncing Cara knitting ball -- it might take me a few bounces to switch songs and catch up sometimes, but it's fun. I wish I could be more bouncy -- I'm working on it (just ask all that in-progress knitting that keeps watching at me!).
Posted by: Vicki at November 9, 2006 12:54 PM
Boy, can I relate Cara! So much potential for creating - all the great projects that I come across, all the ideas that are percolating in my own mind, it's a crazy feeling. Let's not even discuss how shortage of time can complicate matters! I feel like I'm always jumping on the next bandwagon before I ever reached my destination. I love witnessing your enthusiasm and you accomplish SO MUCH with your craft, so what if you're fickle sometimes. . . ; )
It's a form of grace, almost, the connection between the quote and the picture. . .
Posted by: Inga at November 9, 2006 01:14 PM
Go with it! Always trust your instincts and follow your heart, even if it takes you on one heck of a ride! Can't wait to see the finished product, whenever that may be! ;}
Posted by: kc at November 9, 2006 02:03 PM
First of all I just have to say this: Nancy Crow is a GODDESS. She's so freakin' wonderful that I can hardly stand it. A few years ago I quilted and joined a quilt group. Everybody was making your grandmother's quilts. I was trying to make Nancy Crow's. Never quite succeeded because I'm no goddess. But I just love love love her work --so now I'm really excited to see what you're doing, Cara. Hints? More pictures? Please spill the beans.
Posted by: SallyA at November 9, 2006 02:22 PM
so true! i went to the Gee's Bend quilt exhibit in SF and it was really cool - but then i saw one that made me go, YES! i WILL knit that! and i probably won't start until 2007 but i can't stop thinking about it. i even bought a duvet cover based a little bit on the fact that it would go perfectly with my future blanket.
Posted by: al at November 9, 2006 02:30 PM
It's the excitement and passion that makes life worth living.
(I'm missing the green blanket)
Posted by: Lisak at November 9, 2006 02:42 PM
I get so much inspiration from you, Cara! Your eye for colors is so amazing, and I love how you interpret quilting patterns into knits. Your passion and enthusiasm are contagious! I don't have the Nancy Crow book, but I did a search for a "Bow Tie" quilt - is that where you're going?! Love it! I'm so looking forward to following along...
Posted by: Amanda at November 9, 2006 02:55 PM
OOh, wow! I have goosebumps. You go on this project, you will love it.
And I've got to get me that book. ;-)
Posted by: Jenny at November 9, 2006 03:15 PM
The new Nancy Crow book is phenomenal. I waited to get it on loan from my library. When I got it, I read it cover to cover! It is so incredibly inspirational. If I could, I would tell people who get the book to make sure you actually read it! Don't just get caught up in the photos. The things Nancy talks about - inspirations, struggles, being an artist - incredibly energizing.
-Toby (a quilter for 15 years, a knitter for 1)
Posted by: Toby at November 9, 2006 07:06 PM
I love your enthusiasm!! I have never heard of Nancy Crow, but the quote you gave from her book makes me want to learn more about her.
Posted by: Kim at November 9, 2006 07:31 PM
Yes, the rain yesterday was terrible. I was stuck going in and out of prisons around Trenton, standing in the downpour waiting for gates to open (no umbrellas allowed). And tonight is the Rutgers game, so the traffic is keeping me stuck in the hotel room again. So much for exploring New Jersey.
I'm excited for the new blanket! I really liked the green one, and have been contemplating blanket patterns too.
Posted by: Jenn at November 9, 2006 08:11 PM
I've had that feeling of tip-of-the-tongue, can't-quite-articulate-it, I HAVE HAD THE BEST IDEA EVER I KNOW IT for the past few days. I just need to get it all out.
Congrats on your new enthusiasm. :)
Posted by: Heather at November 9, 2006 09:20 PM
Oh yeah, I'm a big believer in meant to be.
Posted by: Theresa at November 10, 2006 04:37 AM
Love that feeling about a project. And when it does hit I think you have to just go full force and knit/create it-and let the other projects wait in the wings. Can't wait to read more details on this one!
Posted by: brooke at November 10, 2006 08:40 AM
Cara, if that guy in the SUV behind you had been from Massachusetts, he would have been continually honking at you, because, as we all know, honking at the person in front of you will magically make all the cars in front of that person disappear.
I'd say that you and that quilt are meant to be. I don't believe that things like that are coincidences, and I bet that this quilt will happen for you in just the way that it was meant to happen.
Posted by: Susan at November 10, 2006 10:47 AM
I think it's so interesting that there is any thought of guilt over delaying Am Kamin or anything else. This moment is what it's all about and you probably WILL finish it and even if for some reason you don't, does it matter? Are you 'supposed' to slog through a bunch of other stuff before you can act on this idea? I don't think so. I think if you kept waiting you might not get to it, or might not remember what it exactly WAS. So anyhoo. SIGH. It's just LIKE this! xoxo Kay
Posted by: Kay at November 10, 2006 10:53 AM
You always, always, always have to follow the creative spark -- lightning,in your case. I liken it to a kick in the head, your inner self saying, "haven't you been listening to me! We have to pursue this!". I also firmly believe that unfinished/abandoned projects are NOT failures, but can be thought of as experiments or sketches -- a way to work out ideas for the next project. Follow your inspirations and don't worry too much about where they're going to lead you.
As for Nancy Crow, she's amazing. I was lucky enough to take two workshops from her and learned much about life, quilting, and the creative process.
Posted by: nona at November 10, 2006 11:21 AM
couldn't agree more about the rutgers stuff. having grown up in nj, i've had my share of a lack of sports teams to call my own. rutgers is all US!
Posted by: jody at November 12, 2006 05:29 PM