« A Tale of Two Swatches | Main | The Call for Calm »
January 11, 2007
Rock Your Socks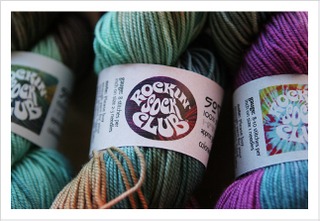 I feel like I've just seen an episode of the Twilight Zone. No doubt, many of you have received an email from Blue Moon Fiber Arts, the creators of Socks That Rock and my dear friends, outlining the recent troubles they've had. If you haven't heard, or you aren't part of the sock club, I'll lay it out for you. The first incarnation of the Rockin' Sock Club was so successful, Blue Moon decided to do another year. And this time it was PHENOMENALLY successful. So much so, that when payments began to come in for the club these last few weeks, the bank decided that it could not be a legitimate venture - there was no way that so many people would sign up for a "sock club" and that the only explanation was that it was a SCAM! The bank was so convinced about this "SCAM" they SHUT BLUE MOON DOWN. And decided that they would REFUND ALL THE MONIES COLLECTED. They did this without investigation, without listening to Blue Moon's pleas for mercy - they did it unceremoniously and with possible grave consequences for a fledgling yarn company started by one woman with a love of fiber and an obsession with color.
You don't need to worry about Blue Moon. I don't need to worry about Blue Moon. Tina and Kaci and the whole crew out there on the Left Coast are resilient and strong and have a fucking fantastic sense of humor so they will survive. The sock club is back on track - no one will lose their spot - and the website, when it's fully functional again, will be better than ever with new colors being unveiled soon. A tremendous set back, no doubt, but the yarn is too good to ever let die.
In the past week I've had many conversations with Tina, who has become a dear, dear friend of mine. I've known Tina for over a year now, and since our first conversation many moons ago, Blue Moon has grown in leaps and bounds. The company has gone from a one woman dyeing machine in a room the size of a closet to a full blown (albeit still small) production facility with multiple dyers. As with all growing companies offering a fantastic product, there have, of course, been bumps in the road. That's what comes with success - especially fast success. But Tina and company have faced these bumps head on - and not once, from what I've seen, has the product, or customer service, suffered.
My love for Socks That Rock is long documented. One year ago last October I bought some yarn at a fiber festival and knit a pair of socks. It wasn't the first pair of socks I knit, and it wasn't the first sock yarn I'd used, but something clicked for me and quickly it became THE ONLY sock yarn for me. Sure, I've knit with others, but I've never enjoyed socks as much as I've enjoyed Socks That Rock. I don't work for Blue Moon - I have no affiliation with them whatsoever besides the fact that I'm a good customer. And if for some reason Tina and I stopped being friends tomorrow, I'd still love Socks That Rock. In thinking about it, I've decided that my relationship with STR and socks is not unlike my relationship with Georgie and Bruce Springsteen. No! Seriously! Stay with me - you'll see what I'm getting at. I've often told the story of how when I was falling in love with G, I also fell (a little bit) in love with Springsteen and how I can't listen to Springsteen without thinking about G. I think the same thing kind of happened with socks and Socks That Rock. When I fell in love with knitting socks, it was really because of Socks That Rock. To me they are intertwined in a very fundamental way. Do I knit with other sock yarns? Sure, I'm not silly. But more and more when I go back to my beloved STR, I wonder why I ever left.
You may think I'm crazy. That's okay. There are so many sock yarns out there - I'm sure you'll find your one true love. I'm just so lucky to have found mine.
There's another HUGE issue to talk about here. THE POWER OF KNITTERS. Dudes! We brought a BANK TO ITS KNEES. They didn't BELIEVE that so many people would join up. They didn't BELIEVE that YARN could move so many people. They didn't BELIEVE such a large community could exist. We know better. We've seen it a million times. Raising money. Knitting hats. Knitting scarves. Gathering together in huge numbers. People joke that knitters can change the world, but WE ARE CHANGING THE WORLD! It's about time we were taken seriously - by the blog world for sure (what do our numbers look like these days - I mean a new knitting blog is born like every ten seconds!) but the greater world most importantly. WE ARE A FORCE! Unfortunately, Blue Moon has had to suffer because of our powers, but we knitters are at heart a kind bunch, and our love will buoy Blue Moon and grow it even stronger. There is nothing we can't do.
Thank you.
Cara
Posted by Cara at January 11, 2007 12:00 AM
Topics: STR
Comments
I still can't believe that bank!! Stupid or what! I sure hope they left that bank, as they don't deserve BMFA's business! Now to wait and see if mine went through! yikes!
Yay for us knitters!!! The things we can do together!! :)
Posted by: Zonda at January 11, 2007 12:09 AM
Holy %@$##! This is like reading an April Fools joke. Crazy stuff!
Posted by: Liz at January 11, 2007 12:44 AM
Wow I can't believe the bank didn't even do an investigation. How crazy is that?!
I am on the waiting list for this year. I just heard about it and signed up right away. Hopefully I will be able to join this time.
Posted by: Tonia at January 11, 2007 12:47 AM
Posted by: miss ewe at January 11, 2007 01:08 AM
Unbelievable. And truly frightening, that a business would be summarily shut down and financially kneecapped for the sin of being successful. Without investigation?! I feel a sudden burning urge to order yarn from Blue Moon, despite declaring fancy sock yarn to be not in the budget for a few months.
Posted by: Ruth at January 11, 2007 01:23 AM
What a story. It's a crazy world we live in. Long live STR!
Posted by: Barb at January 11, 2007 01:38 AM
Posted by: al at January 11, 2007 02:46 AM
Wow, unbelievable story! And now I so badly want to try out this yarn. Do they even ship to Europe? I'll go investigate.
Posted by: julia at January 11, 2007 04:05 AM
That is incredible (and frightening) that a bank can just arbitrarily close down your account because they "think" what you are doing is illegal.
Posted by: janine at January 11, 2007 04:19 AM
Wow! Wild stuff. I understand what you mean about your deep, undying love for STR- I have the fever too!
Posted by: Amy at January 11, 2007 05:22 AM
Cara,
You are 100% correct - we are powerful and the world is being changed right now! Old concepts will die soon and the ones who doesn't realize it, will soon disappear. I'm Brazilian and here we are still crawling, considering that the yarn produced here has low quality and the best of our production is sold abroad. But, as far as I can see it, everything that starts in the US, will (after a certain delay)happen here also. Thanks to the blog-world, knitting matters are not confined to one country or region. What happened to Blue Moon Fiber Art affects me here too! And what you've done allerting people about this problems is very important to us all. Thank you!
Posted by: Claudia at January 11, 2007 06:32 AM
I didn't sign up again this year so I hadn't heard about the bank thing. That's just crazy!
Posted by: Carole at January 11, 2007 06:55 AM
If I were a newcomer, I would think this to be fiction. Having been a business banker, I'm shocked their bank would be willing to risk its reputation like that. Me thinks Blue Moon just may have a case there. It's like the cheese commercials. Behold the power of yarn!
Posted by: Carol at January 11, 2007 06:59 AM
I am going to be late to work but I just have to tell you how grateful I am to you for exposing me to STR. I annot tell you how much I treasure the skeins I won from your Birthday GRAND prize last year!! I stll can't stop fondling it-can't bring myself to actually KNTI it up..LOL. also one of my most prized knitting posessions (gee that sounds a bit stupid- but I think you understand) is the card you sent me with the picture of your jaywalkers with piles of STR in the background. If I can help by writing to anyone just let me know!! I don't often reply but I read you everyday and look forward to your pictures and words. Now hurrying to shower...
Posted by: emmy at January 11, 2007 07:26 AM
Sad as it is, I was totally laughing when I read this email from Blue Moon - the bankers are crazy - at the same time it's very sad that we live in a world today where anyone and everything is of a suspicious nature
Posted by: Karen at January 11, 2007 07:27 AM
I always use Blue Moon as an example when people ask me whether blogging has any economy -- whether there's any money in it (somehow, my exceedingly Republican brother brings this up at every family gathering). We've all watched the viral nature of the internet's economy wash over companies for good or for not so good. Another example. Whew.
Posted by: Ann at January 11, 2007 07:35 AM
That is insane!! Yet so many real scams happen every day and nobody does anything. It would have been as easy as reading a few blogs. The stuff is freaking gold. Maybe if they had brought some of their best colorways to the bank, the bankers would have totally understood.
Posted by: isel at January 11, 2007 07:39 AM
One of the best senitmental rock ballads ever, worthy of Bruce. All you need is the music!
Rock on! :)
Posted by: Anne at January 11, 2007 07:40 AM
i hope they fired their bank. that's insane. so glad they're bouncing back and i may need to get more STR to help them :-)
Posted by: margaux at January 11, 2007 07:58 AM
wow, that's just crazy! silly bank. they are obviously not with the times. i hope blue moon moved their business to someplace else that would support them!
Posted by: gleek at January 11, 2007 08:06 AM
I'll bet that bank learned it's lesson. Let's hope so. What a mess for BM. It is great sock yarn. I'm trying to decide which color to knit next!
Posted by: margene at January 11, 2007 08:10 AM
DUDE. That is so freakin' crazy. We are totally a force to be reckoned with. Knitters unite! And brandish your fabulous sock yarn!
Great post, Cara.
Posted by: Carrie at January 11, 2007 08:46 AM
Posted by: Kathleen at January 11, 2007 08:46 AM
Oh my gosh, that is CRAZY!
Posted by: sarah b. at January 11, 2007 08:49 AM
When I received the notice from Blue Moon I was absolutely flabberghasted! Initially I thought it was spam. The power of knitters IS a force to be reckoned with!
Posted by: Manise at January 11, 2007 08:53 AM
Posted by: Danielle at January 11, 2007 09:03 AM
Didn't sign up for this year's club as hubby as out of work ...but I'd sure as *hell* jump up and boycott the bank that caused that ruckus! Give me a name!
Seems sexist to me...

Posted by: Lori in Michigan at January 11, 2007 09:08 AM
I was pretty shocked when I received the email about it. The problem is that banks and other businesses are now run by computers and people let the computers run them rather than realizing that 1.) Computers are only as good as the people who programmed them and are, therefore, able to make mistakes, and 2.) Computers do not replace the need for customer service.
Blue Moon is fortunate that the transaction problem did not kill their business.
Posted by: liz at January 11, 2007 09:21 AM
that's just crazy crazy. hard to believe a bank can just start refunding money because they feel like it. who are they anyway??
no doubt blue moon will be just fine. they have a great product and really personal service. as you know, i am finally enjoying my first str experience!
Posted by: michelle at January 11, 2007 09:32 AM
I'm going to try the STR club this year, and am looking forward to it.
I was wondering, though, are those skeins pictured from last year or are they this year's colors?
Posted by: Mary in Boston at January 11, 2007 09:44 AM
Crazy knitters and their scams. First it's "homeless orphans in Mongolia" (yeah right) and now it's a "sock club". Sheesh, don't they think the Muggles will figure them out?
/sarcasm
I would suggest to Blue Moon (maybe you'd pass it on) that they create a nicely-worded complaint letter for those clients who'd like to send it to the bank. I for one would be furious (I kinda am already, but I'm not a member of the club so I really don't have any stake in the issue).
I plan to indulge in some STR here soon, though, so the bank better take my money or there will be consequences!
Posted by: Carrie at January 11, 2007 09:45 AM
I love that I'm part of this community of knitters. We're huge in numbers, we're strong, we have a voice for change- in good ways, we're powerful and kind. And the fact that we freak out the muggles is fun too!
What is the colourway on the skein to the right of your top image? I am in lust over it! Sock yarn is exempt from the KFYS after all... :)
Posted by: Sarahfish at January 11, 2007 09:48 AM
so wait. are you saying that if you fell out of love with Bruce you would still love Georgie. or if you fell out of love with Georgie you would still love Bruce?
And what if you stopped loving pugs so much, would you still love me?
woof.
Posted by: ann at January 11, 2007 09:48 AM
And there ends the public service announcement. :)
I can't wait to pop my STR cherry. This post, and the prospect of having my tonsils taken out tomorrow may have tipped me over the edge. Not to mention the glorious cherry/blood coloured yarn featured far right! ;)
Posted by: Sharon at January 11, 2007 09:58 AM
Aren't we amazing? I love their yarn almost as much as you do, and I'm one of the people who "broke" the bank. I can't wait to try to order again!
Posted by: Lisa at January 11, 2007 10:15 AM
My payment to them via debit card cleared the bank January 4. I just checked my online account and the refund is "pending". What's the real tragedy here is that BMFA is denied access to their rightfully gained revenue while the bank cheerfully collects the interest on their investments with the money. There certainly should be some monetary settlement to BM AND I think the BANK ought to have to send letters to all the customers apologizing for being so IGNORANT of the power of the knitting community - maybe they ought to be better acquainted with the small businesses who keep this particular BANK in business!!
Posted by: Robin at January 11, 2007 10:29 AM
Hey there- I believe this is the first time I've seen sock club colors on your blog, no? The Rainforest Jasper and Mustang Sally were my faves. Oh, and my rare gem. You gonna knit any of the socks? Loved my Cedar Creeks.
Posted by: JulieFrick at January 11, 2007 10:39 AM
That's crazy. If they could have seen the feeding frenzy at MDS&W or Stitches, they would know the power of a knitter.
I hope they are changing banks. What bank operates in such a manner that they don't even do an investigation first?
Posted by: Saun at January 11, 2007 10:43 AM
Three million cheers to you, Cara, for stating so elonquently how we are thinking, feeling, reacting! I wish we could have a huge knit-in of all Sock Club members in the lobby of that bank! I picture it like the film It's a Wonderful Life with "old man Potter in his big chair". The Blue Moon chicks have too much heart to be jerked around like that!
Posted by: L-B at January 11, 2007 10:46 AM
When I got the e-mail yesterday, I thought "I hope Cara talks about this!" I couldn't believe it when I read that the bank refunded the money without contacting the company or even the customers to verify - wow!
Seeing the photos from last year's colors, I'm more excited than ever to get my first kit!
Posted by: SpaceCase at January 11, 2007 10:54 AM
Cara, posts like this are why I love your blog -- not to mention your awesome photos and super-fine knitting. What a surreal story, funny only because the STR business survived the ordeal. I've yet to knit with this sock yarn, but since I have a skein in my stash will start one today.
Posted by: nona at January 11, 2007 11:07 AM
I just wish that the knit blogger community was a little less scattered, and more easy to find.
Posted by: Kri at January 11, 2007 11:23 AM
what a story. stupid bank. glad they got it sorted out. and i agree about the yarn. there is no yarn that compares to one, the colorways and two, the quality. i haven't found much that compares to the shine and depth of color. love it!
Posted by: amy at January 11, 2007 11:37 AM
Haha...wow. Pretty much the same thing happened when our church started our building fund and took out a loan for the building to start. The bank couldn't believe it and did some deep inspections, only to find (*gasp*) that we were for real. :-)
I love it.
Posted by: Jacqui at January 11, 2007 11:51 AM
When I read the email from Blue Moon, I was surprised at the bank. How stupid can they be. I feel sorry that Blue Moon has to go thru this but I'm so excited to have gotten in on this years sock club.
Posted by: Wanda in AR at January 11, 2007 12:19 PM
If you're crazy, I think you're in very good company. I have never met so many caring and interesting people as the knit bloggers (actually I've never met any of them, but you know what I mean). Perhaps we need a fibre friendly bank. What would the muggles think if we showed them where it hurts?
Posted by: Angie at January 11, 2007 12:24 PM
Wow! I didn't know banks could actually run a business into the ground like this. Pisses me off. I can't even type what I'd like to do them. Doubtless they are male owned and operated (and I don't mean to be sexist but really, wouldn't women know better?). Now I know why Tina hasn't answered my email. I figured she was busy. Just didn't know she was freakin' crazy busy. Maybe we should band together and write emails to that bank. You know a virtual sit-in. Free our sock yarn! Power to the socks! Make socks not war! Flood them with email. Oh, they'd be so sorry! I love that idea.
Posted by: SallyA at January 11, 2007 12:31 PM
I am not a sock knitter to date. But I think I might be willing to learn so that I could knit one for the bank. Wouldn't it be great if all the members of the club would knit one for the bank. OK, we could "Knit One For The Bank" and provide it for a charity. But of course we would really knit a pair!
Posted by: Sharon at January 11, 2007 12:31 PM
The Harlot wrote about this, too. Unbelievable! I wish BMFA would let us know what Bank it was. I would like to send them an email to compliment them on their stupidity. I guess bankers don't knit. Their loss.
I haven't knit with STR yet, but I want to. I went to the website yesterday to order a skein and wondered why the shopping cart was down. Now I know!
Posted by: Brenda at January 11, 2007 12:41 PM
As I just commented on Stephanie's blog, 1) this just cries out for a charity KAL, using STR if you can get it 2) NAME THE FREAKIN' BANK so we can all yell at them, nicely and politely like the classy knitters we are, of course.
(OK, so neither of these was actually technically my idea, but I eagerly seconded, or more like hundredthed, both.)
Posted by: Lucia at January 11, 2007 12:53 PM
I tell people all the time about the power of knitting bloggers and they don't belieeeeve me! I'm gonna send them to you!
Posted by: Patty at January 11, 2007 12:59 PM
I would love to send a letter to the bank too. Just to prove that we are who we say we are!
Dorks
Posted by: Morgan at January 11, 2007 01:25 PM
I believe - from the email i received - that it was their CREDIT CARD COMPANY - not their BANK that made the refund - probably based on the Loss Prevention and Security department system. May not seem like much of a distinction, but it is. Banks try to keep their accounts happy, credit card companies want to make sure others are not de-frauded. Their Bank was probably thrilled to see all this money coming in!

Posted by: beth at January 11, 2007 01:39 PM
Yes, I, too have found my one true love in sock yarns and it, too would be STR! I guess many of us are pining for the same yarn!-lol! From what I heard, I think that Blue Moon *has* left the previous bank in the dust and are now using a different company (maybe one that has a knitter in charge)!
Posted by: Leslie at January 11, 2007 02:06 PM
Unfortunately, we didn't bring the bank to its knees. It's still out there doing its thing and patting itself on the back for the wonderful job it did in fraud protection.
If all us could stop doing business with it, we could bring it to its knees. Unfortunately, I suspect it's a processing company which is harder to boycott.
Posted by: Donna at January 11, 2007 02:33 PM
I got refunded too, but at least now I can change credit cards....tehehe. Don't need DH to see how much $$$$ I gladly get to spend on them. I also get to shop in REAL LIFE at the Madrona Fiber Arts Festival from BMFA. I can't wait-last year I spent $150 and hadn't even made one sock yet!
Posted by: Michele at January 11, 2007 02:38 PM
I read it here first, but skipped to the Harlot's blog and posted pretty much these thoughts there too: that I can't wait to see the colours in the "SCAM" colourway or the (wee bit changed)Bank's Name. Would they be the colour of money, do you think or kind of dark and stormy? Or really, really RED like an ANGRY red? Thanks Cara. Love the blog.
It has been a very weird New Year from a lot of perspectives, and this one of the weirdest...
Posted by: Linda in Waterloo at January 11, 2007 02:42 PM
I read the email from Blue Moon this morning first thing before I had my caffeine. Let's just say I don't respond well to having my love of sock yarn (and the chance to get my hands on STR, finally!) interfered with by narrow-minded bankers. If I knew where they were, I would write them a nasty letter. Complete with a picture of my sock yarn stash.
Message to bank: Do not mess with my sock yarn hoarding. Especially first thing in the morning.
Posted by: Julie at January 11, 2007 04:30 PM
and to further report on the graciousness of STR... I was on the waitlist and am now "in the club"!

Posted by: Michelle at January 11, 2007 06:14 PM

Very well said Cara.
I've said it before, I'll say it again. When knitters run the world, things will be different.

Posted by: Stephanie at January 11, 2007 06:41 PM
For the love of socks...I was wondering what happened. My payment was not accepted. I have to make a call tomorrow and clear it up. Thanks for the update.
Posted by: Patricia at January 11, 2007 09:04 PM
What an insane and silly thing! Sheesh . . .
Posted by: --Deb at January 11, 2007 09:23 PM
BTW... those yummy STR colors in your photo a preview of things to come?!
Posted by: Michelle at January 11, 2007 09:27 PM
For as bad as the situation is and as mad as you are, it is great that you can still bring up the power of knitters and what a positive thing that is! And a good and patient group of people too, that will help keep STR afloat in spite of the setback.
Posted by: Birdsong at January 11, 2007 09:37 PM
Hi there! I found your blog through:
http://www.metafilter.com/mefi/57684
I've done my part and wrote about it in my blog. I'm off to buy something from BMFA. =)

Posted by: Ialiuxh at January 11, 2007 11:38 PM
Having read about the fiasco caused by blind, unthinking buraucracy I have thrown my support behind the ladies at Blue Moon Fibre Arts and REGISTERED FOR THE SOCK CLUB. FIBRE RULES, and a pox on all who try to put us down. The sisterhood is alive, well and ready for battle. I'm looking forward to having my first experience of STR
Posted by: Anne in Belfast NI at January 12, 2007 06:05 AM
I was able to buy some STR yarn at two fiber fairs, and I considered myself lucky. I got to Rhinebeck 15 minutes after it opened, and went immediately to the booth, only to find that about 40 people were already on the checkout line. The yarn is indeed incredible, and I find it amazing that a bank would act that way.
I'm a new blogger, and I discovered your blog a few weeks ago. I really like it.
Posted by: Marjorie at January 12, 2007 08:04 AM
I find it all the more incredible that a legitimate company with thousands of hits one google away got effectively shut down.
I have never known a Canadian credit company to be so hyper-vigilant. Perhaps 'sock club' is some known euphemism for 'terrorist organization'?
Posted by: Heather G. at January 12, 2007 09:12 AM
Wowee - what a story!! I have one skein to my name, and this post makes me want to cast on with it right now ;)
xo,
L

Posted by: Lolly at January 12, 2007 09:22 AM
Me: Sock knitter extraoridinaire. Have knit with everything but...Now ready to take the plunge with the right yarn.
You: Sexy sock yarn that can rock my world, if you know what I mean.
Posted by: Jen K. at January 12, 2007 09:35 AM
So eloquent! So true! Knitters rock!
Posted by: Lark at January 12, 2007 10:05 AM
My Dad worked in the legal department for a bank for his entire legal career. I just told him the woeful tale of Blue Moon's bank problem. His guess is that this is a result of THE PATRIOT ACT and its predecessor the Bank Secrecy Act. Rather than do their due diligence to fact check and ensure its legit, they probably got scared and cut Blue Moon off so they weren't party to MONEY LAUNDERING, DRUG RUNNING or ALLEGED ACTS OF TERROR.
Lesson to learn? Make sure your bank knows who you are as a customer and alert them of projected changes in your business!!!
Posted by: Anne at January 12, 2007 05:05 PM
I am interested in joining the Rockin Sock Club. Could you send me an email when the bank gets its "act",( hopefully soon),together?
Sincerely,
junie
Posted by: junieann at January 13, 2007 11:57 PM
It wont let me post for the contest!!!!! :-( I want some of this str yarn! I have 6 kids ages 25 down to 1! Do you think I have any money? :-) I would love a chance to try this stuff!!!!
Posted by: Sandy at January 14, 2007 11:36 AM
Behold the power of yarn.
If someone would like to knit me a pair of socks, I'm a size 9.5-10 and I like gray and blue:)
Posted by: btotheizzo at January 20, 2007 03:58 PM