« mitermitermiter | Main | Madness »
April 04, 2007
Imitation is the sincerest form of flattery.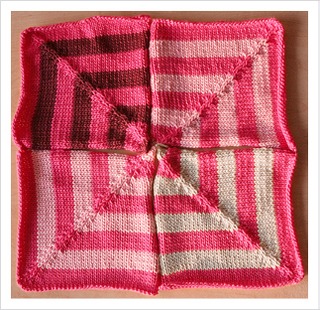 Square #10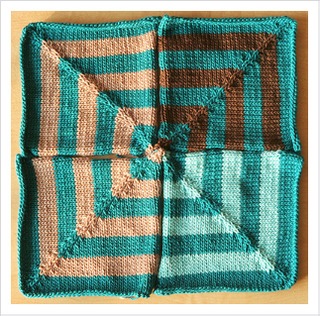 Square #11
When I was choosing colors to take to my sister's I was immediately drawn to the pinks in square #11. After I had pulled together the colors I wanted for the square, I noticed a sock on the floor right near where I was sorting through the cottons for miters.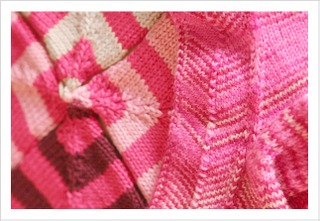 Hot Flash!
I had inadvertently chosen square colors just like my Hot Flash socks! I've always said Tina is a color genius, and her color sense translates well to my miter project. So well, in fact, I did it again....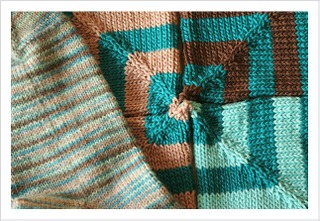 Pebble Beach!
I was putting browns and blues together and realized I had come up with another sock. I talked to Tina and she was very happy to inspire! I love that my good friend is now a part of this project. Onto the next square!
(And Career Day! I've got to leave very soon to talk to high school kids about my career choices, so a short post today. Tomorrow a long post on my miter project. Everything you ever wanted to know about this thing that has taken over my life!)
Posted by Cara at April 4, 2007 06:49 AM
Topics: Madness
Comments
I'm not much of a pink person but I absolutely love the pink mitered square. Have fun at career day.
Posted by: Carole at April 4, 2007 07:03 AM
I am LOVING your squares.
Wish I could get myself back to my huge pile o'miters and sew them together! Much less fun than knitting them.
Posted by: gale (she shoots sheep shots) at April 4, 2007 07:29 AM
Lovely squares. Best wishes for your Career Day adventure.
Posted by: Sarah at April 4, 2007 07:44 AM
Oooo, aaaaah, both squares are fabulous! If you're going to use STR as inspiration you'll be knitting squares for eternity!
Posted by: margene at April 4, 2007 07:50 AM
I love the brown and blues! I'm really partial to browns and blues. You may inspire me to make miters now. I have about 10 other things that I need to finish first, but miters may be next! Keep up the beautiful stuff. More browns and blues, please! :o)
Posted by: Leah at April 4, 2007 07:54 AM
love it! such a good idea to take from the Jaywalkers! :-) they're paying it forward. good luck with career day!
Posted by: margaux at April 4, 2007 08:19 AM
I have so much knitting to do (and crocheting that I want to do) that I shouldn't be even thinking about anything else, but these squares are starting to make me twitchy! I'm finding myself passing the Cotton Classic in the store, even when it's completely not on my path to wherever I'm going. . .
Posted by: Kathy at April 4, 2007 09:16 AM
Love the STR-inspired miters! What a brilliant insight!
Posted by: Ina at April 4, 2007 09:41 AM
That's an excellent idea for putting colors together. Take something variagated you like already and move those colors around in another way. Very fun. And I'm betting you have enough STR that you could probably come up with color themes for the better part of the blanket. I hope we'll see references to January One and G-Rocks...it seems like they should be at the center of the blanket :-)
Posted by: Theresa at April 4, 2007 10:04 AM
Mmmm - lovely! Whether you meant to our not, these squares work very nicely with the new PS color themes :)
Posted by: Lolly at April 4, 2007 10:11 AM
mmmm, colors from famous paintings, colors from photos you love, colors from the best sock yarns . . . what's next? I do love inspiration!
Posted by: anne at April 4, 2007 10:11 AM
I refuse to let you tempt me into this! I love seeing this squares but I KNOW I would put off sewing them up forever. Thanks for the morning eye candy.
Posted by: mary lou at April 4, 2007 10:26 AM
Great minds think alike! I can't wait to see the squares assembled.
Good luck (break a leg?) at Career Day!!
Posted by: Wannietta at April 4, 2007 10:28 AM
OK...now I'm beyond tempted..... I wonder what I have in my stash.....
Posted by: Tracey at April 4, 2007 10:56 AM
Wow, how amazing is that?! I absolutely love your (and Tina's) color choices. I hate making mitered squares. Or at least I think I would, I've never done it. Now you are making me reconsider...
Posted by: Jeni at April 4, 2007 11:07 AM
I like seeing the warm pink squares next to the cool blue ones. Both are absolutely beautiful, and it's great that you'll have a blanket that matches your socks!
Posted by: Megan at April 4, 2007 11:11 AM
I know this is gonna be a knockout! Have fun in school!
Posted by: Carol at April 4, 2007 11:28 AM
i love your squares! i love them so much that i went to downtown yarns this weekend in search of cotton classic, but wouldn't you know it: they were out of three of the colors i wanted. they're going to call me when they get them back in. oh well.
Posted by: regina at April 4, 2007 11:35 AM
I am so inspired by your color combinations! I've been working on a wild sweater in every shade of blue and purple and it has me thinking of trying a blanket with these lovely jewel tones of purple, blue. I haven't tried a blanket before, but this may be the start of one..
Posted by: Heather at April 4, 2007 12:30 PM
Oh! I absolutely love #10 and even #11. Those are so spring-like. Have fun with the high schoolers.
Posted by: Amy at April 4, 2007 01:31 PM
Pebble Beach is gorgeous!!! I'm having a lot of fun with mine, too.
Posted by: Angela at April 4, 2007 02:11 PM
The mitres are looking so good, I love the pebble beach. I really think you should do a Chris Blysma Crayon Box jacket based on this stuff your doing.... or a cool vest, yeah, I see ya in it.
Posted by: Terri Lynn at April 4, 2007 03:47 PM
I'm glad I'm not the only one who can get so completely sucked into this project. Also, last night, I bought two necklaces that coordinate perfectly with the two new squares. Love me some pink and brown and turquoise and brown!
Posted by: Betsy at April 4, 2007 04:11 PM
Must. Resist. Buying. Tahki. Cotton. Classic.
Your squares are inspiring, Cara. I'm going to make myself finish some other things first!
Hope Career Day was a big hit!
Posted by: Karen in Toledo at April 4, 2007 04:11 PM
How many make up a blanket? They are looking very nice!
Posted by: beth at April 4, 2007 04:44 PM
Regardless of who made them, I love the color combinations on those two squares! It makes me want to pick a random selection of yarns to play with color myself. Or perhaps pick random colors and see if I can find any yarn (STR, perhaps?) that already come in those colors. :)
Posted by: Nicole at April 4, 2007 04:54 PM
If imitation is the most sincere form of flattery, I hope you'll be flattered by inspiring me to make one of these blankets! I'm just awestruck by your ability to work with these colors...what a gift. It's fun to watch the progress!
Posted by: Laura at April 4, 2007 05:37 PM
Posted by: marlyknits at April 4, 2007 06:09 PM
The miters are really quite stunning.
Posted by: eyeleen at April 4, 2007 10:38 PM
Ahhhh! Love! And socks as inspiration... what could be better? This is so much fun!
Posted by: Frarochvia at April 5, 2007 05:51 AM
Cara,
I've been lurking here for a while, but may I say it's worth checking your blog simply for the photography at the top. Beyond that, I am LOVING the mitred squares. Each color combination is better than the last. I have the MD book, and have made versions of the Log Cabin and the Moderne blankets, but I may need to consider this one too. Thanks for the inspiration (As if I really need more inspiration and one more project on the needles!!!)
Posted by: Kathy at April 5, 2007 11:25 AM
Don't take this the wrong way - but I think I love you. Oh do I ever know about insane-knitting-jags where world be damned. You had me laughing with the dog shitting on the floor (luckily we have a yard) I will take your warning to heart and steer way clear.
Posted by: Sonya at April 5, 2007 05:58 PM
Maybe you were born (or conceived, I know, TMI) during a month that had a blue moon.
Posted by: Cristina at April 7, 2007 10:35 AM