« Hit or Miss | Main | Introducing... »
May 03, 2007
Be True
When in doubt, always, ALWAYS - and really - I can't stress this enough - ALWAYS! - go with what you know.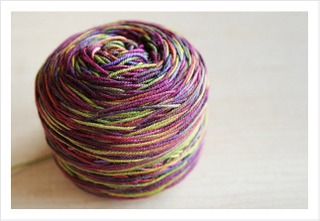 Socks That Rock, Rare Gem Colorway
KT hit it right on the head with this comment yesterday: "Aren't you the one who was just telling me that you only knit for yourself? My world is in disarray. I'm confused." YES!! YES!!!!! I ONLY KNIT FOR MYSELF!
Why did I forget that? There are many EXCELLENT reasons that I basically knit for myself. It wasn't always that way, but more and more and more it's become my reality. A reality I'm very happy with. I wanted to try linen and handtowels and maybe I'll still make a few for myself - but for now this project is deader than a door nail. I've never duplicate stitched and I don't want to rework a chart and I tried this thing and it didn't come out the perfect way it would need to come out for me to present it to my cousin in front of all the women in my family and besides, I can't give a gift that's not perfect, handmade or not. There was ALWAYS another gift - my sisters and I were ALWAYS going in on something off the registry - this was going to be my little side gift. No harm, no foul. What a relief!
Once I came to my senses, I did what any sane person would do and went trolling through my considerable STR stash. I've got stuff in there I don't even remember. Collector's Items at this point. I knew the pattern I was going to knit - I've been wanting to knit this sock for awhile - and I knew the type of yarn I wanted (something with a lot of colors and short repeats) so I went diving and came up with this: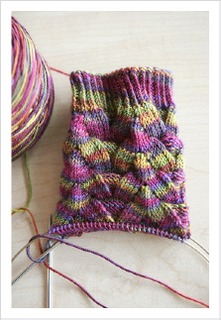 MONKEY SOCKS
! By
Cookie A
! YAY!
I cast on late afternoon yesterday. I started the socks on Addi Size 2s - I like to do my ribbing on a bigger needle - and actually continued on 2s for two repeats of the lace pattern. (A lesson I learned from this sock.) I then switched to Addi 1s and did another two repeats. The pattern calls for six repeats - only 22 rows and I split for the heel! Now that's a sock I like! I love this yarn, it goes without saying, but I really love this colorway. Mostly because it's MINE ALL MINE! Rare Gems are mistakes gone gold in the STR world - no two Rare Gems are alike so no one anywhere will ever have this colorway EVER. MWHAHAHAHAHAHA!
The pattern rocks - it's easy - not too much purling (for some reason I have an aversion to purling in sock patterns. Actually it's just that I abhor ribbing.) And I'm loving the effect. I'm thinking it will be nice with some of my other handpainted coughnotstrcough yarns. What? Did you say something? What?
Honestly, I really would've loved to have gone back to the Katharine Hepburn Cardigan - but I have to read my knitting and figure out the pattern again and where I am and what I need to do. I was just about to finish the back and I was doing some alterations to the pattern and I need to check my notes (fingers crossed I remembered to write everything down.)
In the meantime, it's just like riding a bike.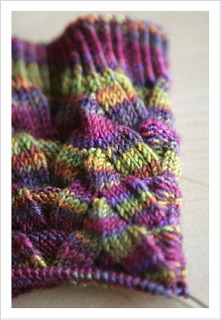 Some random stuff to talk about:
-- Mark your calendars! WE HAVE A DATE! Spin Out will be Saturday, September 29, 2007 - Central Park, Cherry Hill Fountain, 11-4. Much more information to come in the next month or so, but thought I should mention this now. I received the permit last week or so and wanted to get it out there.
-- NEW SOCK CLUB! Linda LaBelle, owner of The Yarn Tree in Brooklyn, NY, let me know about a new sock club she's started: A Sock Club For All Seasons. What makes this club stand out from some of the others is the talent she's got lined up - Cheryl Shaefer, Darlene Hays, Nancy Finn, Lori Lawson and others. These are PREMIER fiber artists and for some of them, their yarn is very difficult to get your hands on. There are lots of other goodies that come along with the yarn. Check out The Yarn Tree for more information.
-- RAVELRY! Generally I'm one of those "wouldn't want to be a member of any club that would have me as a member" but this one is to good to pass up. The brainchild of Jess and her husband, Casey, Ravelry is a place to share project information, pattern information, yarn information, stash information - basically anything that has to do with knitting, spinning, crochet - anything FIBER related. Right now it's still in it's beta testing stages so membership is by invitation only - BUT you can get on the list for an invitation. Use the sign-up on the right hand side of this page. BE PATIENT! Ravelry is for everyone and it's exploding as we speak so get on the list and get your pictures up on Flickr (even I opened an account - something I've been holding back on FOREVER) and pretty soon you'll be stuck in the time suck as well. ;-)
Have a GREAT day!
L, C
Posted by Cara at May 3, 2007 08:52 AM
Topics: Monkey Socks
Comments
It seems like it's always more successful to do something that you love; if you love knitting socks just for you, then that's just fine! The socks look wonderful, and it's very neat that the yarn is one-of-a-kind.
Posted by: Em at May 3, 2007 09:48 AM
I love how that's turning out! She always has really amazing patterns! And I just signed up for ravelry! It seems like a hugely exciting development in the knitting world. (did I just say that?)
Posted by: Scribbles & Bits at May 3, 2007 09:53 AM
Posted by: Betsy at May 3, 2007 09:55 AM
Your Monkey socks are gorgeous. I knit these for a swap before, and they were so fantastic! I think I'll have to knit them again :-)
Posted by: Amy at May 3, 2007 10:07 AM
Flickr actually rocks and is a great idea in itself, but combined with Ravelry its even better! Nice sock, you silly monkey.
Posted by: margene at May 3, 2007 10:08 AM
waaah another sock club! I'll be moving sometime this year, so I keep forgoing sock clubs until I have a permanent address. Waaaaah! Any idea what a Sock Sac is?
Ravelry seems to be getting around today - you're the third person to mention it. It promises to be cool, indeed.
Posted by: Jen at May 3, 2007 10:10 AM
Your Monkey socks look awesome! I'm just starting a pair of my own and feel I was going a little safe on the color -- they are for someone else -- I may have to cast on a different more vibrant color! I was afraid the pattern was going to get lost within the colors.
Thank you for the link of the new sock club...I'm seriously addicted to these kind of things and may be able to swing it during the next few months! LOL!
I heard about Ravelry from another blogger recently that's helping out with it... it sounds awesome! Can't wait!
Happy Monkey Sock Knitting!
Posted by: Ann K. at May 3, 2007 10:16 AM
monkey socks are awesome!
Posted by: gleek at May 3, 2007 10:18 AM
Gorgeous! Just gorgeous! What incredible colors, and it looks so great with that pattern.
Posted by: Cheryl Schumer at May 3, 2007 10:27 AM
LOVE the socks. I was just looking for a yarn to do Monkey in. Is that the lightweight or the mediumweight?
Posted by: chemgrrl at May 3, 2007 11:05 AM
Love the socks and Ravelry sounds wonderful.
Posted by: Cindra at May 3, 2007 11:09 AM
I've been threatening to rip my Pomo socks just to start this pattern! I'll live through yours.
Posted by: lola at May 3, 2007 11:12 AM
Beautiful yarn! Ravelry is fab! I got my invite to joing this morning and have already uploaded all my original designs so that poeple can access them - would you believe they had 600 requests in the last 24hrs to join! Unbelievable!
Posted by: janine at May 3, 2007 11:23 AM
The socks look amazing. I bet the STR yarn is great for that pattern.
Posted by: Daisy at May 3, 2007 11:23 AM
The STR colorway you've chosen is fantastic for Monkey Socks. They look so good!
Posted by: May at May 3, 2007 11:25 AM
The new sock is gorgeous! Good choice if you're in love with the gift, don't give it.
Posted by: Carol at May 3, 2007 11:39 AM
The new sock looks brilliant! How geeky is it that i'm already excited for the next Spin Out? Sometimes, I'm not unlike my five year old.
Posted by: regina at May 3, 2007 11:50 AM
So how do you get a Rare Gem STR?
... Or, for that matter, how do you get any STR altogether when you're on a budget? :/ I'm afraid all the colors I like will be gone someday and I don't want to buy them all NOW... someone would kill me, I'm sure.
Posted by: Stephanie at May 3, 2007 11:54 AM
Can I say, seeing your socks makes me want to make Monkey Socks. I guess I've seen them floating around, but yours really did it. Thank you! Now to get some STR.
Posted by: Amy at May 3, 2007 12:11 PM
Fan-freakin-tastic! Now, to take my own advice on the baby blanket I am making for Angus' teacher. I think that a Target gift card and maybe ONE Bib O' Love and it is all good.
Order restored. Big deep breath. Thank you, I feel SO much better. Your sock is awesome- I do love the Rare Gems!
Posted by: KT at May 3, 2007 12:16 PM
Ooo, you just inspired me. I just bought my FIRST STR! Can you really even f-n' believe it? I know, such a loser I am. It's on it's way to me and I totally bought it in a fit of retail therapy without a pattern idea. But after seeing your Monkey sock I simply must...
Posted by: Skylar at May 3, 2007 01:10 PM
I completely forgot about the Katherine Hepburn cardi - too caught up in the thrall of the miters.
Posted by: Sonya at May 3, 2007 01:29 PM
Love your Monkeys - I just finished mine in an olk KnitPicks colorway and now wish I had invested the time in something else. But WTH, I know I'll do them again!!
Posted by: Deb at May 3, 2007 02:13 PM
Socks are beautiful. Colourway is beautiful. Figuring out what makes you happy is beautiful.
Maniacal laughter just adds to my mirth.
Posted by: Steph at May 3, 2007 02:52 PM
Ooooh - I'm so glad to see how nicely these are working up, because I'm going to be knitting this pattern for my sockpal. I love that colorway, too - man, I'm going to have to score some STR someday!
Posted by: Elizabeth at May 3, 2007 03:09 PM
I had either knit or crocheted for a total 27 years and didn't have a thing to show for it. That was when I decided o start knitting for me. I do still knit for others from time to time, but only if I know they will really appreciate it.
Posted by: Stacie at May 3, 2007 03:43 PM
I am so happy to see the miters in the photo at the top of your blog. They just made me smile when I saw them (I've seen two, maybe there are more?). I've enjoyed your miter journey enormously. Thanks for taking me along.
Posted by: Sally A at May 3, 2007 03:50 PM
Welcome to Flickr - it's addictive you know...
Posted by: Nora at May 3, 2007 03:56 PM
So pretty! Can you post about whether you used lightweight or mediumweight STR? I'm assuming lightweight but I'm always wrong!
Posted by: tiennie at May 3, 2007 04:17 PM
I just knit miter #1. Are you happy with the size of yours? I have a queen-sized bed and want to use it as a coverlet.
Posted by: Michelle at May 3, 2007 04:36 PM
I instantly fell in love with my monkey socks, you won't be disappointed! And I especially love how easy the pattern is to memorize
Posted by: Jenna at May 3, 2007 06:16 PM
Monkey socks are great! Easy pattern to memorize. Your're probably finished already!
Posted by: suzeq at May 3, 2007 07:13 PM
I love the colors of your Monkey Socks. I am going to start a pair. I think I have the perfect yarn. I finally got to try Trekking XXL and have fallen in love with it. I hadn't been able to find it at a local yarn store until recently. I'm in love!!
Love your blog. The pictures are great!
Posted by: Michele at May 3, 2007 07:16 PM
Every time I hear anything about monkeys, I have been on a kick to think about this:
http://www.lifeaftercoffee.com/2005/09/16/the-straight-poop-on-kopi-luwak-coffee/
Love the sock!
Posted by: terri lynn at May 3, 2007 07:49 PM
Thanks so much for the sweet note about Ravelry, Cara! We really appreciate it and are so happy that you like it so far.
Posted by: frecklegirl jess at May 3, 2007 08:21 PM
The Monkey sock looks great. I'm working on a pair now and this could easily become for me what Jaywalkers were for you.
Posted by: Wanda at May 3, 2007 09:19 PM
I just blogged my Monkeys today - I adore this pattern, and yours are GORGEOUS. What a beautiful colorway!
I got my invite to Ravelry last night. Such fun!
Posted by: earthchick at May 3, 2007 11:10 PM
Those are some great-looking socks you got there. :) I love that the Monkey socks seem to take advantage of all the different handpainted yarns out there.
Posted by: KT at May 4, 2007 05:30 AM
Beautiful socks! I still haven't knit monkeys. I will one of these days. STR looks beautiful, but the one skein I have, I haven't made into socks yet. I played with it a bit, but I just am not a fan of superwash in heavier weights (which is what mine is).
Thanks for stopping by my blog, btw! I felt honored :)
Posted by: Anastacia at May 4, 2007 08:13 AM
Woo-hoooo! Great STR colors!
I haven't had the guts to knit monkey, yet, but maybe that's just the ticket for my upcoming 14.hour.flight. [if i'm allowed to knit...]
Anyway, the socks look stunning!
Posted by: candace at May 4, 2007 09:49 AM
Cara, you need to do notecards using this week's picture of the week!
Posted by: Kathryn Estelle at May 4, 2007 09:50 AM
The monkey sock is gorgeous!!! The colors are perfect for it.
Posted by: Tonia at May 4, 2007 11:35 AM
Holy Crap that is one awesome looking Monkey!
Posted by: Allegra at May 4, 2007 03:40 PM
I just finished those monkey socks for my daughter. I got the pattern from knitty.com I desperately want to get my blog started and put up pictures of my finished work, but where does the time go???? Another thing on my list is opening up a Flickr account. You must manage your time very well Cara? Keep up the great blogging!
Posted by: Charlene at May 4, 2007 04:47 PM
What beautiful Monkeys Cara...definitely a perfect colorway to compliment Cookie's genius. Thanks for the heads up on the Yarn Tree's sock club & Ravelry.
Posted by: Phoebe at May 5, 2007 07:21 AM
hubba hubba. i lurve that colorway. why haven't i gotten my hands on str, for chrissakes?!
Posted by: domesticat at May 7, 2007 03:17 PM