« Introducing... | Main | Time, Time, Time... »
May 07, 2007
I got rhythm!
Who could ask for anything more?!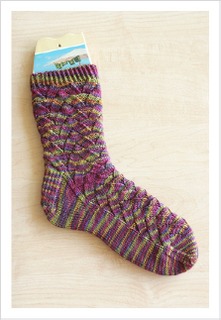 Sock modeled by my own personalized Leggy Creations Sock Blocker!
A fabulous birthday gift from Margene!
I finished my first Monkey Sock, and I've got to tell you, this could be my new Jaywalker. It's got everything I love in a knit - especially in a sock. First off, it's FAST. The repeat is only 11 rows so by the time you've knit four rows you're like oh my god I might as well finish the repeat. And there are only six repeats for the cuff so you can polish them off and be ready to split for the heel in no time at all. The pattern lulls you into the perfect rhythm that makes you knit faster and faster. Like the Jaywalker pattern. Like miters. Apparently, I like to be hypnotized by my knits.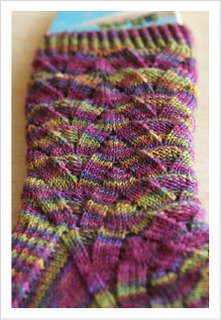 STR Lightweight, Rare Gem Colorway
While there is purling in the sock (I actually like to purl very much - but I HATE purling in a sock - I think, really, I hate ribbing in the round and on such small needles. Actually, I hate ribbing ALL the time.), for some reason it's not bothering me. I love how they fit - nice and tight. I did the twisted rib and the first two repeats on size 2s, like the pattern calls for, but then I went down to 1s for the rest of the sock. They're a little tight getting over the heel - but just like my Jaywalkers - they're nice and snug and they stay up GREAT!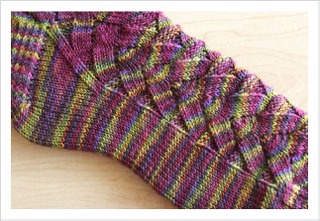 The foot is actually a smidge long - but otherwise I'd have to cut out a whole repeat and I'm not doing that - so they're a smidge long. No biggie. I'm already lining up all of my old skeins of STR (in the 325 yd put up) to make Monkeys! I think if I drop one of the repeats out of the cuff I'll be good to go. When I held them up to a pair of my Jaywalkers, the length is perfect with five repeats. I've got JUST the yarn to try too. WHOO HOO! Time for some sock knitting yessireebob!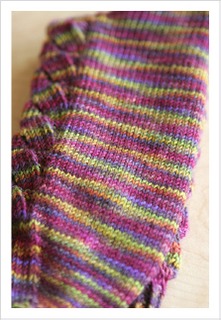 As soon as I finished the first sock, I cast on for the second. In no time at all, I have five repeats under my belt.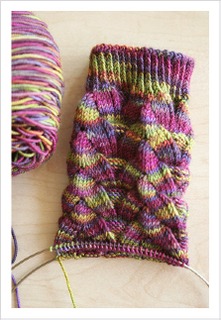 I'm gonna have a pair of socks before I know it! Just in time for Summer! ;-)
Posted by Cara at May 7, 2007 03:37 PM
Topics: Monkey Socks ~ Socks
Comments
The Monkey Socks are great, aren't they? I also am not a huge fan of purling in sock knitting, but the monkey socks look so great, it's worth it. The yarn and that pattern together are awesome! :)
Posted by: Jen at May 7, 2007 03:51 PM
They look wonderful..I need to start me a pair...
Posted by: Michelle at May 7, 2007 03:54 PM
Wow - love that sock and the sock blockers - I've been thinking about trying my hand at making my own blockers (I mean I got a WHOLE Woodshop) but who'd a thunk to put all that creativity in there. I love the Jaywalker pattern so I'm gonna' have to try me a sock monkey!
Posted by: robin at May 7, 2007 03:58 PM
V.v.v.v. pretty. I think I could use a sock tutorial from you.
Posted by: elisabeth at May 7, 2007 04:04 PM
OH - and BTW - next post can you share a pic of the sock-blocker sans sock??? I can see peeking out at the top the beach picture of the green log cabin squares - but would love to see the whole thing!!
Posted by: robin at May 7, 2007 04:09 PM
Since I am relatively new to socks, I'm just finishing my first jaywalkers. Should I just skip over the next several pairs of jaywalkers and go straight to the monkey sock obsession? I'll definitely have to try a pair!
Posted by: Barbara A.M. at May 7, 2007 04:13 PM
Have fun with your new monkey friend, but it's lonely over here in crazy miter land. xox Kay
Posted by: Kay at May 7, 2007 04:17 PM
I love the colors in your Monkey socks. I will have to try this pattern someday soon.
Posted by: Sarah at May 7, 2007 04:18 PM
I'm going to have to jump on the bandwagon at some point :) Beautiful job on the sock!
Posted by: Kristy at May 7, 2007 04:21 PM
Just think of all the Monkey socks you'll have by next fall!
Posted by: margene at May 7, 2007 04:29 PM
Gorgeous. I love the colorway. Can't wait to try that pattern myself!
Posted by: Jessie at May 7, 2007 04:33 PM
Very, very nice. I made a pair of Monkeys in STR Love in Idleness and just love the combination. And like you, I'm already thinking of my next pair of Monkeys!
I have to thank you, by the way. I was at Maryland Sheep & Wool this weekend and ended up buying a wheel (Lendrum DT) from The Fold. Toni took spectacular care of me, and I wouldn't have known anything about The Fold (and probably would have gone elsewhere) if you hadn't blogged about them back in your early Jaywalker days. So thanks!
Posted by: Julie at May 7, 2007 04:38 PM
i could use your knit speed my friend! I have one more monkey to go - you used just one skein right? I stopped because I was a bit worried that I wasn't going to make it.. ahh the yarn drama ;-)
Posted by: margaux at May 7, 2007 04:57 PM
Ooh, your Monkey sock looks lovely! I've been working on one of those for my Sockapalooza pal and I'm really loving the pattern, too. I don't love the purling involved (mostly cause it's at the beginning of every needle & I don't like starting with a purl) but I do love the results. :)
Posted by: Sarah at May 7, 2007 04:57 PM
Are we witnessing the birth of a new obsession?
Do you knit Continental or English style? I switched to Continental about 10 years ago, and since then my feelings about ribbing have done a 180. One of my favorite socks to knit is a baby cable rib, and virtually all of my socks have an overall cable/rib pattern of some kind.
(For someone who hates ribbing, you do quite a bit of it.)
Posted by: Lucia at May 7, 2007 05:03 PM
I love that pattern in that colorway! There you go again making everyone drool.
Posted by: amanda at May 7, 2007 05:10 PM
I love it when socks just *happen* like that.
Posted by: Theresa at May 7, 2007 05:13 PM
They are addictive and quick like that, aren't they? Every time I look through my sock stash, I see a zillion colorways that I think "ooohhh... that'll be my next pair of Monkeys"... very much like the Jaywalkers in that regard as I see a lot of those when I look through the stash too.
Posted by: Beth at May 7, 2007 05:23 PM
They're just gorgeous. I don't like purling in socks. Mine just looks all wonky. I must try that pattern, though. Wow.
Posted by: regina at May 7, 2007 05:25 PM
Posted by: Nikki at May 7, 2007 05:30 PM
Posted by: Karen at May 7, 2007 05:34 PM
I have got to make these. You make it look like fun!

Posted by: Stephanie at May 7, 2007 05:47 PM
Beautiful! And amazing that you cast on right away for the second (I have a hard time doing that, which is why I have to knit both socks at once).
Posted by: kimbelina at May 7, 2007 06:00 PM
Yay, Monkeys! Yours are gorgeous. I agree that it's a fabulous pattern (I just finished my first pair several days ago. Mine are a smidge long, too.)
Love the colorway you've chosen.
Posted by: earthchick at May 7, 2007 06:07 PM
WHOO HOO! They are beautiful! Add one more pattern to my list to knit! You have a wonderful way of inspiring me, Cara. And please, a shot of the naked sock blockers?
Posted by: Nancy at May 7, 2007 06:08 PM
Cara, did you see the colored miters stitch markers for sale over at Good to be Girl? OMG!
Posted by: knittingnurse at May 7, 2007 06:10 PM
Your socks look great. I made these in STR Lightweight, too. I used Fire on the Mountain. I love everything about the socks except that they are too big to wear with shoes - only work with clogs. I knit them on 1s but next time I'll go down to 0s.
Posted by: Jocelyn at May 7, 2007 06:12 PM
Ah, I was debating whether to do another pair of Monkeys, this time for my Sockapalooza pal -- you've seduced me into it! :)
Posted by: pamela wynne at May 7, 2007 06:13 PM
That's the pattern I choose for my sockpal too. I've been trying to decide on a yarn though. After seeing yours in STR, I think we have a winner. Now to pick a color...
Posted by: Liz at May 7, 2007 06:28 PM
I meant to ask you...did you use lightweight or mediumweight?
Posted by: Liz at May 7, 2007 06:30 PM
Using STR for my monkey socks has been awfuL size 0 needles made it dense and too small size 1 the coolours pooled so badly. size 2 it was gargantuous..is that a word??/
so what is your secret? i want a str monkey!
Posted by: heatherly at May 7, 2007 06:51 PM
Gorgeous, gorgeous socks! There's a lot to love about a pattern that can be used with a handpainted yarn and not lose sight of either pattern or yarn, isn't there?
Posted by: KT at May 7, 2007 06:52 PM
I'm on my second of a pair of Monkey socks as well, and you are right, they are so fast! But I got distracted in the middle of mine by Ariann and Wicked. But now both of those are done so I can get back to the Monkey. And oh, that STR colorway is just to die for! I so wish it was one a person could buy, because I love it!
Posted by: Legally Knit at May 7, 2007 06:57 PM
Posted by: Bobbi at May 7, 2007 06:58 PM
The socks look great! I have been thinking of making a pair for myself, and this may have just pushed me over the edge.
Posted by: Michelle at May 7, 2007 07:07 PM
Ooh, I really like the way those look in the multicolor STR! I'm feeling inspired to start some of my own...I always have issues with the STR pooling (not enough to not knit with it though!) but this pattern seems to be breaking that up nicely!
Posted by: Emily at May 7, 2007 07:28 PM
Those are seriously funky monkeys. I love 'em! I just got some STR from a Secret Pal and this pattern looks perfect. Thanks for sharing!

Posted by: Kit at May 7, 2007 07:43 PM
Posted by: tiennie at May 7, 2007 08:07 PM
Woo! I like! Can't wait to see if you make a stack of them like you did with the Jaywalkers. ~bonnie
Posted by: TheAmpuT at May 7, 2007 08:32 PM
Monkeys are fun, aren't they? :) But I honestly think what makes yours so spectacular is that yarn. That colorway is amazing.
Posted by: Lynn at May 7, 2007 08:38 PM
Yes, the Monkeys are addictive! I actually saw on a blog somewhere, someone making them without the purling and they looked really great. I wish I could remember who it was. I'm thinking about doing it without the purling.
Posted by: Lori at May 7, 2007 08:38 PM
They are gorgeous!!! Sounds like you are having a great time knitting them too. I haven't tried the pattern yet, but I have heard nothing but good things about the pattern.
Posted by: Tonia at May 7, 2007 09:03 PM
I know what you mean with Monkey. Yours looks great btw. I'm thinking I'm going to have to do this pattern again. I look forward to seeing more from you.
Posted by: Chrissy at May 7, 2007 09:04 PM
Yet another pattern to add to the "wanna-do" list! How about this for the toes...I did a round toe on my last pair...66 stitches, divided by 6 to set up for the toe decrease. Decrease every other row, etc. This toe is shorter that the popular wedge toe, so may take care of the wee bit too long.
Posted by: Diane at May 7, 2007 09:47 PM
okay I need to finish my plain stockinette stitch socks to move on to monkeys.
One question - do you think they can be knit two at a time?
Posted by: sharon at May 7, 2007 10:01 PM
I love your monkeys! I made mine with STR mediumweight Lover's Leap. I call them my "Monkey Love" socks;)
Posted by: Stacey at May 7, 2007 11:38 PM
Very good looking socks!
Hmmmm... and I had thought to give my sock needles a summer vacation.
Posted by: Lene at May 7, 2007 11:41 PM
Miters miters miters. Monkeys monkeys monkeys. What will be next? Mittens? Minis? Muu muus?
You are awesome, and these socks look great! Rock on, missy.
Posted by: Dr. B. at May 7, 2007 11:52 PM
Monkeys are most definitely my Jaywalker. i am on to pair number two (my first were STR too) and have plans for more - I LOVE the ease of the pattern and the finished result. Looking forward to seeing your many variations!
Posted by: Kellie at May 8, 2007 01:14 AM
Please promise me you will not knit a muumuu.
I love the socks. Hypnosis in a knit is a very good thing :-)
Posted by: Lee Ann at May 8, 2007 07:08 AM
I think I may have the pattern for my next pair of socks now...They look lovely!
Posted by: Leah at May 8, 2007 07:32 AM
love the colourway of your monkies!
Posted by: Kelly at May 8, 2007 08:12 AM
the monkeys are breeding in blogland these days! maybe i should give them a try - i lost my sock mojo and you never know, maybe a monkey has found it.
Posted by: kris at May 8, 2007 08:19 AM
Wow! That's a lovely sock--my favorite Monkey so far!
Posted by: Amy at May 8, 2007 09:47 AM
First off,
I am obsessed with your blog. It is beautiful and I'm always excited to see your entries pop up in my feed reader. So thank you. I was wondering if you crochet? I just started and would love to see some of your work.
Thanks again.
Posted by: GreenChick at May 8, 2007 09:54 AM
I'm working on Pomatomus right now (the modification for it to be a pair of fingerless gloves, but these are next on my list!
Posted by: Scribbles & Bits at May 8, 2007 10:54 AM
Yay! Love that happy sock! I hope you go on a STR-Monkey binge like you did the Jays... it's a fun thing to watch. :)
Posted by: knittingphilistine at May 8, 2007 11:20 AM
I'm becoming obsessed with the monkey sock as well ... I love the way your varigated yarn looks in the pattern!
Posted by: WendyI at May 8, 2007 11:27 AM
great sock and i've always admired that stitch pattern!
Posted by: anne at May 8, 2007 11:43 AM
You are truely in some kind of knitting zone -- it's inspiring to watch :-)
Posted by: nona at May 8, 2007 11:47 AM
Those look fantastic! I wish I were a faster sock knitter, but I'm not. It takes me forever to finish a pair, so I liv4e vicariously through you fast sock knitters!!! LOVE THEM!
Posted by: Kim at May 8, 2007 11:57 AM
That is a beautiful sock!
I admit I have not given that pattern much attention, but your post may just have persuaded me to try it. Nice colours, and very convincing argument.
Posted by: Glenna at May 8, 2007 12:01 PM
Oooh yes, you gotta love the Monkeys! Those are beautiful! I knitted a pair a while ago, and they are soo pretty. And the pattern, it's just the perfect knit.
Posted by: Heidi at May 8, 2007 12:37 PM
Yet another post that's gonna cost me ;) Of course, she's out of sock blockers. It must be a joy to start & finish a beautiful project in such a short time!
Posted by: Carol at May 8, 2007 01:59 PM
I understand the addiction, having knit 6 pairs myself in a few short weeks. Great colorway!
Posted by: the rachface at May 8, 2007 02:12 PM
Posted by: Terri Lynn at May 8, 2007 03:55 PM
Okay I officially cave. I'll make the monkey socks because your beautiful sock has made me unable to resist its lure. Beautiful.
Posted by: Karida at May 8, 2007 04:46 PM
I LOVE the Monkey Pattern too! I knit a pair back in January! Every sock I have seen from other people looks great in that pattern too!
Posted by: Diana at May 8, 2007 06:21 PM
This is funny. I have become obsessed with Monkey, too, and for all the same reasons as you, after going through the Jaywalker thing. I see you changed the heel. I think I will, too, on my next pair, as the plain stockinette heel doesn't seem special enough for the lovely stitch pattern of Monkey.
Posted by: Ellene at May 8, 2007 07:46 PM
Hi Cara!
The monkey sock looks great - can't wait for the pair to be finished! Absolutely love the yarn color, my favorite shades! So, like I am a beginner sock knitter and I have encountered difficulty in making socks, mainly laddering. I noticed you use circular needles is that using Cat Bordhi's method with 2 circular needles? Would appreciate a few hints on how to be successful in knitting socks. Thanks a bunch!
Rosalia
Posted by: Rosalia at May 10, 2007 12:31 AM
Your sock looks great! I'm going to have to give this pattern a try. It's really sharp looking.
Thank you for the mention about the blockers too. That was really sweet of you. I was happy to see the blockers in action.
Posted by: Becky - Leggy Creations at May 19, 2007 09:39 AM