« Knit Knit Knanette! | Main | So happy to be ME! »
May 10, 2007
Knanette and Her Monkeys
I stayed up late and finished my first pair of Monkey Socks - and then I stayed up later watching Inside Job. Clive Owen and Denzel Washington. Nuff said.
First though, I want to talk about Knanette! Thank you for all your encouragement. Some initial work has been done and I can pretty much guarantee that this will not (at least not right away) turn into another miter madness. There are lots of kinks to be worked out, I think, and also, it's going to take a lot more planning on my part.
I need to say right off the bat that I take no credit at all for the construction of the square I'm about to show you. I was merely the workhorse. The genius comes straight off the brain of Kay. If you'll indulge me please, I'm going to take a minute to talk about Kay. She's a great friend, a fantastic host and most of all, she has been the single most influential person in my knitting life (besides, of course, my grandmother, who actually taught me to knit.) She has opened up possibilities to me that I never ever dreamed about. She has awakened my inner artist. Thank you, Kay, for changing my life for the better. You truly are my Kaffe.
Okay. Back to Knanette. Fifteen minutes on the phone with Kayye and I'm ready to tackle my miter in the round. I don't know much about crochet, but I understand that if you know what you're doing, those baby squares in Babette can go super fast. Not so with knitting. It will take CONSIDERABLY longer to knit this blanket than it would, most likely, to learn how to crochet from scratch, fuck things up a bit, then finally be on your way cranking out squares.
That's not an option for me. I don't want to crochet this blanket. I want to knit it.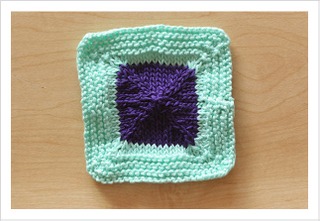 Kay and I decided (or really Kay decided) that by knitting the square from the outside in, it gives you the best way of knitting the blanket WITHOUT SEAMS. You knit a square, then pick up one side of that square and knit another one. And so on and so on. Kay also suggested the garter stitch border - which I happen to LOVE. I think it gives the square a decidedly granny FEEL while being VERY different from an actual crocheted granny square. This is how I knit the square above:
Cast on 96 stitches. Join in the round. (When you're casting on, you might want to place a marker every 24 stitches - this demarcates the four corners of the miter.)
Round 1: [Knit 10, k2tog, k2tog, knit 10] Repeat 3 times.
Round 2: PURL all stitches (For garter stitch in the round.)
Round 3: [Knit 9, k2tog, k2tog, knit 9] Repeat 3 times.
Round 4: PURL all stitches
Round 5: [Knit 8, k2tog, k2tog, knit 8] Repeat 3 times.
Round 6: PURL all stitches
Round 7: [Knit 6, ssk, k2tog, k2tog, knit 6] Repeat 3 times
Round 8: KNIT all stitches (You're now doing stockinette in the round.)
Round 9: [Knit 5, ssk, ssk, k2tog, knit 4] Repeat 3 times
Round 10: KNIT all stitches
Round 11: [Knit 3, ssk, k2tog, k2tog, knit 3] Repeat 3 times
Round 12: KNIT all stitches
Round 13: [Knit 2, ssk, ssk, k2tog, knit 1] Repeat 3 times
Round 14: KNIT all stitches
Round 15: [ssk, k2tog, k2tog] Repeat 3 times
Round 16: KNIT all stitches
Round 17: [s1, k2tog, psso] Repeat 3 times
You should have four stitches left. Cut your yarn and thread them threw the last four stitches pulling them together. Change yarns wherever you see fit. I knit my square using two circulars because that's the way I do things, but this pattern lends itself nicely to dpns seeing as it's all in fours and such.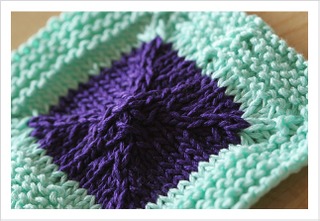 I just love the little bud in the center from the four remaining stitches. I LOVE this square. LOVE it. Some things I discovered: I think you really need to start with a stitch count, that when divided by 4, gives you an even number. I was going to try for a slightly smaller square, starting with 84 stitches, but the breakdown is 21 and when you're decreasing by 2 for the garter stitch rows, it's not so neat. Also, you need to knit three garter stitch ridges to get the stitch count back to something divisible by 3 so you can start the stockinette section and be able to get three decreases.
The worst part of this is that you have to cast on a lot of stitches. If I want to make a really big miter - I might need to cast on 400+ stitches. BUT you start decreasing at a very fast speed - 12 stitches every round. So you pay the price up front, but soon get to a manageable place. Re changing colors - I thought you might get a bad jog because you're knitting in the round - but the color change wasn't really noticeable at all. Maybe because really you're knitting flat? I don't know, but weaving in the ends seems to cover all ills.
The square above measures 4"x4" and I really wouldn't go much smaller. I mean, I guess you could cast on 72 stitches, but it would pretty much be garter stitch. This is acceptable to me as my SMALLEST size. I tried a bunch of times to cast on the next square by picking up 24 stitches on one side then casting on the next 72 and theoretically it should all work. I kept messing it up though - didn't like my initial cast on. Twisted it when I went to knit in the round. Cast on too few stitches. You know. Bonehead stuff. I think I've got the cast on I want to use (cable cast on) and if I can just keep the round straight this should work pretty good. My plan is that I'd take a section of the blanket and attach those together - then move onto another section. So when it comes time to finish the blanket - you seam sections as opposed to individual squares.
As I said - this will take a good long while. I really want to plan things out - make up some rules color wise (already working this out in my head! It becomes clearer by the moment!) and layout wise. If I were you, I'd probably just learn to crochet. But, I'm a glutton for punishment. Don't expect much on this for awhile. I definitely LOVE my little square though!



Hey Hey it's the MONKEYS!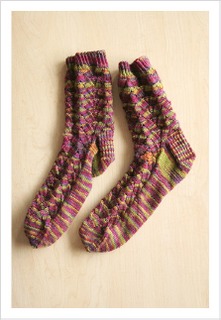 Poor sad little monkeys! Look how wrinkled and scrunchy they look! Dance MONKEYS! DANCE!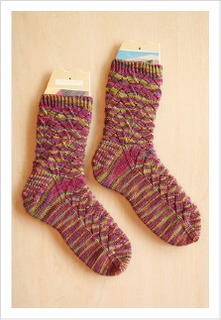 I totally agree with the assessment I've seen around the blogs that these socks look better blocked - they do. But only for their photoshoot. Don't let the scrunchiness fool you. They look JUST FINE on your feet - the best blockers of all.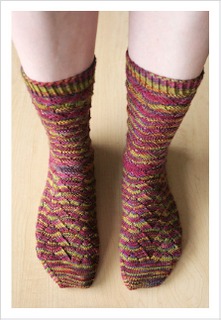 A thoroughly enjoyable knit, these monkey socks. EXTREMELY enjoyable. This pair took me a week. And I would've knit them faster no problem if I didn't have other stuff to do. I used Socks That Rock Lightweight, in the Rare Gems colorway (which means that it was a "special" skein that didn't go as originally planned and then was overdyed and sold as a rare gem - these are one offs. This skein is UNIQUE.) I used Addi Size 2s for the twisted ribbing and the first two repeats, then switched to 1s. I love the fit - nice and snug. The only modification I made to the pattern was to do my standard heel flap and toe. The rest of it is as written.
I'm fairly certain I'll be making a bunch of these.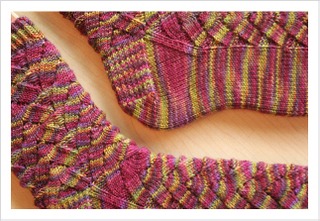 Okay, so I'm signing off for the weekend. My one friend from high school, the one I'm going to the reunion with, told me she bought a new dress. So I feel like I have to go shopping - especially since all the things I thought I might wear don't fit. On a happier note, I'm getting a pedicure! Have a great weekend - reunion details next week - and more Monkeys I'm sure!
L, C
Posted by Cara at May 10, 2007 09:28 AM
Topics: Knanette ~ Monkey Socks ~ Socks
Comments
I love the way your Monkey socks turned out. The colorway is very pretty. What a great idea to pick up stitches instead of sewing the squares together. I have always loved the log cabin blanket for that very reason.
Posted by: Stacie at May 10, 2007 09:50 AM
I LOVE those monkey socks!!!!
Have fun at your reunion!
Posted by: Kim at May 10, 2007 10:15 AM
Yep, I see monkeys in my future. Only in white and blue opal!
Posted by: Leah at May 10, 2007 10:16 AM
I LOVE LOVE LOVE the miter square and am casting on for it as soon as I log off the computer! I have bags of leftover sock yarn and am going to work on a much smaller blanket on size 1 or 2 needles. Thanks again!
Posted by: Kimber at May 10, 2007 10:19 AM
I know you've already decided on a recipe for your squares, but have you seen EZ's "Mystery Blanket"? (Knitter's Almanac, April) She begins in the middle of the square (Emily Ocker cast on), increases and knits until the square is the size she wants, and then puts all the stitches on a holder. The whole shebang of squares is put together WITH KITCHENER STITCH!
Posted by: Laurie at May 10, 2007 10:44 AM
Cara, I keep meaning to remind you to check out the cut your teeth socks from an early issue of Knitty. (http://knitty.com/ISSUEspring04/PATTcutyourteeth.html)
I think they would be fantastic in STR and they start with lots of little mitres, how cool?
Posted by: Amy at May 10, 2007 11:04 AM
I'm with you. You couldn't pay me to crochet. Well, maybe you could pay me to do it, but I wouldn't like it. I am strangely set in my ways about things too - like I can only knit socks toe-up with the magic loop. There is no other way. I see a future of making myself crazy converting patterns. You have to go with what moves you, though. Otherwise, why do it?
Posted by: Jen at May 10, 2007 11:05 AM
Your monkey socks looks great and I really love your little square! I'm always inspired when I visit your blog!
Posted by: Scribbles & Bits at May 10, 2007 11:07 AM
I get it! You're knitting from the outside in! And of course, because then you are essentially knitting 4 little miter blocks all at the same time. Yesterday I thought you were knitting from the center out, which got me all excited about increases, so I think I'm going to need to go make my own squares and flesh out the ideas in my head. You inspire me--Thank you! Happy reunioning this weekend. :)
Posted by: Valerie at May 10, 2007 11:20 AM
georgous!
i'm thrilled about your squares and cannot wait to see how they turn out! if that first is any indicator: fabulouso! very exciting, very fabulous.
and yes, monkey socks, also fabulous. you're moving on when i think i'm finally going to do a jaywalker. :) tee hee.
Posted by: lyssa at May 10, 2007 11:21 AM
That little square. Oh, my. Fanfuckingtabulous. I think you just blew my mind (what was left of it after all your miter madness).
Love your monkeys. And Happy Reunion!
Posted by: earthchick at May 10, 2007 11:39 AM
As oracles go, I'm kind of limited. Any question you ask me, I say, 'Miter. Garter stitch.' (More like a Magic 8 Ball really. "Ask again.")
I want to copy this one, fersure.
Love from Kayfe.
Posted by: Kay at May 10, 2007 11:40 AM
Clive and Densel...the only two people who could get me to watch a movie..seriously.
Love your Monkey's and I see more madness in your future.
Posted by: margene at May 10, 2007 11:40 AM
Love the monkey socks! And props to you and Kay for coming up with a non crochet granny square, that requires some brain power! A blanket without seams, genius.
Posted by: Bea at May 10, 2007 12:04 PM
gorgeous monkeys! have fun at the reunion and i hope the pedicure worked out!!
Posted by: margaux at May 10, 2007 12:11 PM
I am completely in awe of all the thoughts and figurings you put into your squares and know the blanket will be beautiful. You've got such a great eye for colour it can't not be.
Have a great time at the reunion.
Posted by: Rachel H at May 10, 2007 12:22 PM
I love your first Knanette square! Garter stitch miters are my favorite. I made an enormous one as a baby blanket last fall (cast on 320 stitches). Thank goodness I didn't think of doing it in the round, or I might still be knitting it.
Posted by: Annika at May 10, 2007 12:51 PM
Yay! a new project!! Can't wait to watch it develop =-]
Posted by: Mary at May 10, 2007 01:07 PM
I get how the technique for the miter works, but I am not sure I understand why you are using the specific decreases in that particular order. What is the benefit of not knitting them in the standard K2tog and SSK pair?
The square is beautiful and I love the color selection.
Posted by: Kris at May 10, 2007 01:22 PM
I ordered some STR Silkie in Lunasea, I'm hoping I like it. I like very few sock yarns honestly and I'm not a huge STR fan, I think they look BEURITFUL on the skien but knit um I'm not a huge variagated kinda girl. Your socks are cute tho! Wish me luck with my Silkie, I am suprised I have yet to see you knit with it!
Posted by: pixie at May 10, 2007 02:14 PM
Ach, you kept me up last night, thoughts of squares swirling in my head! If that's not bad enough, I woke up a full hour early just to lie in bed and contemplate these squares!
My plan is a combo of crochet and knit squares, I was originally thinking garter miters (to match the drape of crochet squares), but now your round/squares have caught my fancy...

Posted by: Tara at May 10, 2007 02:14 PM
Cara + Monkey Socks = Awesome! gotta make this pattern
The little square = Adorable! I don't think I want to make a whole afghan out of these but oh, I think I do have to make a few for the afghan project I'm working on. they'll make a very sweet addition and variation. thanks for the pattern info. :)
Posted by: Laura at May 10, 2007 02:20 PM
Hey, wait... did you finish all of your miters and save the seaming for later??? I can totally get behind obsessive projects but I would demand a finished afghan - you put in so much work! Please tell me you've seamed them. Or that you're going to. Soon?
Posted by: Elinor at May 10, 2007 02:25 PM
I thought you said that Kay was your GRANDMOTHER! I had to read it three times to figure it out. Boy, was I confused. Must consume more caffeine.
Posted by: Cynthia at May 10, 2007 02:36 PM
I love the monkeys! And, I know Knanette is going to be fantastic- look forward to watching its progress!
Posted by: Nonnahs at May 10, 2007 02:53 PM
Love the monkey socks! I'll continue to watch your progress on the blanket.
Posted by: Asaknitter at May 10, 2007 03:51 PM
Sorry - just posted this on the wrong entry. Could you work the square from the center out, increasing around, so you wouldn't have to cast on so many stitches? Btw, can't wait for Knanette updates!
Posted by: kma at May 10, 2007 04:05 PM
Oh, I'm really going to enjoy following your next wave of project delight! I can just tell!
Posted by: jpknits at May 10, 2007 06:13 PM
Nice work on the squares. There is something immensely satisfying about conceiving a unique idea, then figuring out how to make it happen, isn't there?
Posted by: Tracy at May 10, 2007 07:27 PM
Posted by: amanda at May 10, 2007 07:49 PM
The monkey socks look awesome. You are making me yearn for another pair for myself. Have fun at your reunion! :)
Posted by: Jen at May 10, 2007 08:13 PM
Your madness scares me. In a really good way. I am really struggling with my STR mitered blanket, so much so that I haven't brought myself to blog about it. So much so that I considered crocheting it somehow. (!) Only if I had a bit of your madness - I might figure the damn thing out.
Posted by: Amanda at May 10, 2007 08:15 PM
Love your little square! Yes, crocheting them would be infinitely faster (take it from one who's been crocheting since gradeschool), but the look would be *completely* different. Sometimes fast isn't better, it's just faster.
The monkey socks are awesome.
Posted by: Laura at May 10, 2007 08:31 PM
Check THIS out!
http://www.flickr.com/photos/sarah1rene/493027634/in/pool-purlbeebabette/
Posted by: Rachele at May 10, 2007 08:46 PM
How much yarn did you have leftover from the Monkey socks? I'd like to make a slighty longer pair, but unsure how much yarn the pattern eats up. Thanks.
Posted by: lola at May 10, 2007 09:37 PM
Hope your reunion is fun!!! Have you started seaming your other squares, yet? I really need to make an effort to work on seaming mine more often, only 7 weeks until I need to have it finished!
Posted by: sarah b. at May 10, 2007 09:54 PM
The little square is adorable!! The blanket is going to be gorgeous! I hope that things will smooth out with the planning and it will knit up easier for you.
Monkeys!!! Eeeeeee. Love them!!!
Posted by: Tonia at May 10, 2007 11:37 PM
Hey hey we're the Monkees/People say we monkey around/but we're too busy singin'/to put anybody down.
Cara, you are cruel. Your monkey socks and Knanette square are lovely, though. I'm excited to see how this blanket progresses :-)
Posted by: Jess at May 11, 2007 12:53 AM
Oh, reading this blog is dangerous. I love your Kannette plan! I've been seeing the Babette blankets as I've been watching the granny-squares craze from the sidelines with my ripple blanket in my lap. I do crochet, but I prefer knitting. I hate seaming though so the idea of doing a project like this where you can reduce that by picking up stitches to knit make it so much more tempting. (I like the EZ kitchenering idea that Laurie mentioned as well though...).
Since it's likely to take me at least until the weather starts cooling down again to get my ripple blanket done I think I'll just bookmark this for later and continue to live vicariously through 'til life calms down a bit.
Posted by: commonplaceiris at May 11, 2007 01:24 AM
Your monkey socks are gorgeous, I hope you have fun at your reunion.
Most of all I look forward to seeing the colour madness that may appear with your new squares.
Posted by: yvette at May 11, 2007 02:39 AM
love the socks, love the square
Posted by: lynne at May 11, 2007 02:43 AM
This project has be so freakin' excited. I can't wait to see how it all unfolds....thanks!
Posted by: Melissa at May 11, 2007 06:28 AM
i do love the little square with the garter stitch border.

Posted by: maryse at May 11, 2007 06:35 AM
Those look awesome! I'm going to start mine soon for my Sockpal - I love the colorway you chose.
Posted by: Elizabeth at May 11, 2007 10:24 AM
That sock yarn to to die for!
Knanette is going to be beautiful.
Posted by: E to the M at May 11, 2007 10:35 AM
I don't know if you've seen this yet, but my friend Leanne is also making a mitred=square blanket. There are pictures here: http://toknitisdivine.ca/2007/04/blind-hedgehog-and-fibery-goodness/
Its a different method, but interesting.
Posted by: tara at May 11, 2007 11:07 AM
I like the new squares! I've done a few Elizabeth Zimmermann's way (in Knitter's Almanac) starting from the inside and working out - sort of a reverse miter - and then grafting them together. Oh, what Laurie already mentioned. They're awesome. And she stops increasing the last few rows so they puff up a little - it's a nice textural effect.
Posted by: Sarah at May 11, 2007 04:53 PM
Those are beautiful Monkey Socks. I like your new pair too.
That's very close the square I used to felt my Kureyon bag. Yep, Kay's brilliant.
Posted by: moirae at May 14, 2007 05:36 PM