« Childlike | Main | Nothing says Granny Square... »
May 15, 2007
QUICK! Look out your windows!!!
Do you see the pigs flying by?!?!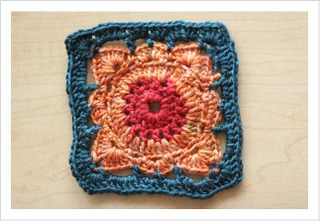 Yes, my friends. Your eyes do not deceive you. I have crocheted.
Here's what happened. First, Margene talked about crochet non freaking stop. Then Ann with the blah blah blah crochet crochet crochet. The final straw to fall was Vicki. She's making up songs about crochet! Yesterday I actually told her to shut up and knit already.
This morning, though, I woke up to a dream about crochet granny squares and that damn bag all my girls are making. The honest to god truth is that I want that bag too! So when I talked to Ann this morning, I asked her if she thought she could teach me to make the square over the phone.
Three and a half hours later - I had a square.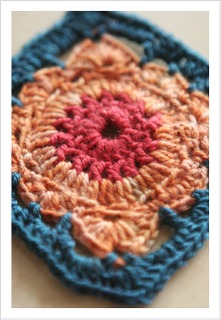 I'm not going to tell you that I enjoyed it - because I didn't. It was tough. At one point I started screaming in agony and Ann's going what? WHAT? and I yelled TOE CRAMP because my foot started to cramp up. She's all like, well then you're doing it wrong honey and duh I was so tense that my foot cramped. That hurts. Add in my elbow, my wrist, my shoulders and my back and WHOO HOO! Crochet is FUN! Seriously, I know that with practice it will all get better. I need a new hook though. I have a few lying around the house but none of them were the right size really and the one I used was way to small for the yarn (which is Heavyweight STR). The square is going to be a coaster because the gauge is so tight the damn square could stand on it's own. No drape, people. NO drape. Which might actually be good if I make this bag. We'll see. I'm going to get a bigger hook and try again. Maybe.
Ann was crochet teacher EXTRAORDINAIRE and we all got a little bit of help from Laura's crochet tutorial. Thanks Laura! All in all, I think it was a pretty good foray. Definitely room for practice.
I'm getting lots of practice on these: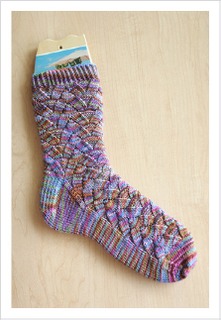 A finished MONKEY SOCK! Surprise, surprise! This one is Dutch Canyon STR Lightweight. Casting on for the mate as we speak. Still loving this pattern.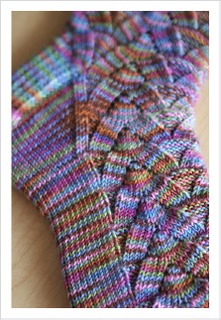 Thanks for all the nice comments yesterday about the kids and the pictures. Those kids are a HUGE HUMONGOUS part of my life and it's always fun to show them off. Alright - I have GOT to eat something. Too much crochet, not enough food.
THANKS ANNIE! FUCK THE YARN - YOU ARE MY LIFE GURU!!
Posted by Cara at May 15, 2007 02:32 PM
Topics: Crochet ~ Monkey Socks ~ Socks
Comments
thank you darling, thank you. I will accept these accolades. Now I am off to heal the lepers.
Posted by: ann at May 15, 2007 02:37 PM
Those socks are gorgeous. Your choice of yarn shows the pattern off spectacularly.
Posted by: Joan at May 15, 2007 02:58 PM
Hurray for Crochet! Welcome to the club. you are now bi-craft-al. Unless you do other yarn crafts then you multi-craft-al. whatever.
your first square looks wonderful! And lack of drape is not necessarily a bad thing. It is one of the qualities of crochet that make is suitable for some projects. but you probably figured that out all ready.
BTW, I love your sense of colour. I love colour too, I mean real colour, not pales and pastels. Give me colour!
Posted by: kellie at May 15, 2007 03:33 PM
I started crochet, and then turned to knitting. I like crochet...for some things...but I prefer knitting. Glad you finally learned!
Posted by: Jamisyn at May 15, 2007 03:35 PM
Yeah! Another convertee to the craft! Can't wait to see your color scheme for the bag! Just getting started on my own. Do my eyes deceive me or does the Monkey pattern make nearly every handpainted sock yarn look great?
Posted by: Rebecca at May 15, 2007 03:38 PM
The sock is gorgeous!
Your description is exactly why I have failed crochet 101. I get so tense that I pull everything too tight. Then it is really hard to pull the hook and the yarn through the non-existent spaces. So I try to loosen up and that just looks messy. I get frustrated and bored and go back to something I know how to do.
I don't remember such tension challenges with knitting.
Posted by: Donna at May 15, 2007 03:39 PM
Over the freakin' phone? You learned to crochet by phone? What's Ann's game over there... Dialing for Granny Squares???
Yeah, it hurts like hell but you JUST CAN'T STOP!!
Wait 'til you get to the sewing part. ; )

Posted by: Vicki at May 15, 2007 03:40 PM
Posted by: Vicki at May 15, 2007 03:40 PM
You + Ann...dangerous, talented, crazy! What a duo!
Posted by: margene at May 15, 2007 03:41 PM
I can't decide if you've gone to the dark side - the colors on your granny square make up for it being, uhm, I can't even say it - that single hook stitching thing.
Monkey sock is "heel mooi" as we say here in Holland. However, it cracks me up that anything would be called "Dutch canyon." I'm here to tell you that this is the flattest place in the world. No chance there's any such thing as a Dutch canyon in these parts.
Posted by: Jen at May 15, 2007 03:42 PM
There must've been some pretty strong crochet thoughts flying through the Garden State air today, because all I could think of on the drive to and from my mom's house was, "got to crochet some granny squares", "hmm, some STR might be good for that"! It could explain why your toe was cramping anyway. . .
Oh, and BTW, I agree with all of the other commenters - those kids are beautiful!
Posted by: Kirsten at May 15, 2007 03:43 PM
I applaud your courage and perseverance. Crochet makes my hand hurt.
Posted by: jenfromri at May 15, 2007 03:48 PM
Great square Cara - I love those COLORS! I'm glad you found the tutorial useful but... loosen up. heh Crochet shouldn't hurt. :)
I hope you do make the bag - isn't it awesome?!
Posted by: Laura at May 15, 2007 03:59 PM
My Grandma taught me to crochet when you were still in elementary school (maybe junior high). I have never ended up with a cramped toe. I personally find it much easier to crochet using my hands, but hey, if you can crochet with your toes and knit with your hands...take that show on the road! :)
I have been crocheting that long and have never done a granny square.
Posted by: PICAdrienne at May 15, 2007 04:20 PM
It feels like learning a foreign language, doesn't it? LOL That's how I felt when I learned to knit a couple years ago after knowing how crochet from age 7.
Posted by: Karen in Toledo at May 15, 2007 04:21 PM
OMG, a granny square! Crochet! What's next?? What if you abandon the mitered squares for a big giant granny square afghan made of TakhiCotton? ACK!
Posted by: chris at May 15, 2007 04:25 PM
Mwhaaaaa!!! Welcome to the dark side! Only kidding. I was a crocheter before a knitter and there are times I just have to crochet and the same goes for knitting. I always have many crochet and knitting projects going at the same time. Heaven forbid, I even combine the two crafts! GASP! Have fun with it.
Posted by: Jeanann at May 15, 2007 04:34 PM
Thanks to Vicki - I just started the granny square bag too! Good luck with yours!
Posted by: Deb at May 15, 2007 04:41 PM
You absolutely slay me, in the best way possible. You're awesome.
Posted by: regina at May 15, 2007 04:45 PM
Remember what Stephanie in all her wise wisdom said about crochet? It uses 3 times as much yarn as knitting. (I disagree with her conclusion that therefore it is wasteful and bad and we should abjure it, but let that pass.) No wonder it doesn't drape: it's as if you were doing the densest cable pattern you could find or invent. As Kellie said, you can look at this as a feature, not a bug, and realize that it makes crochet excellent for things like sturdy bags.
Nice socks.
Posted by: Lucia at May 15, 2007 04:46 PM
Wow. Your square looks awesome. I hope that crochet thing works out for you. I can't do it - I just don't get it.
Oh, and your sock? Fabulous.
Posted by: Risa at May 15, 2007 04:47 PM
I just moved into knitting from years of crocheting last year 'cause I felt left out. Now you all are going back to crochet? What's the world coming to? :)
Really - it's always good to keep learning new things! But like Laura said - relax, it shouldn't hurt!
Posted by: Tracy at May 15, 2007 04:53 PM
Love the Monkey socks - beautiful colourway in the yarn. Good on you for trying the crochet - now get back to knitting.
Posted by: Asaknitter at May 15, 2007 04:57 PM
Why is it called Dutch *Canyon*? I've been to the Netherlands, there are no such things.
Posted by: Kit at May 15, 2007 05:21 PM
I was gonna go on and on about how amazing the two of you are, working out crochet over the phone, but Vicki already beat me to the punch. So instead I'll just tell you that I have a friend who learned how to crochet from a dream she had. Seriously. She woke up, and she could crochet. Weird, right?
Almost as weird as YOU crocheting! Rock on, lady.
Posted by: Dr. B. at May 15, 2007 05:32 PM
I love looking at the squares and each time I see them, I think, "I love them, me too, me too" and then I look at the bag and say, naaa, I wouldn't ever finish that, I think I am trying to justify buying cotton yarn. Must look at that Monkey sock pattern, I might even have a skein or 2 of STR to apply it to... Great socks, great squares.
Posted by: Angie at May 15, 2007 05:45 PM
The socks are beautiful. And the square is lovely, too. I am a little frightened, though, as to what it means for the world that you have taken up crochet. What is next? I am generally disturbed by the crochet but you did a wonderful job.
Thanks for the link the other day to TheRachFace. I am debating that beautiful short row heel. http://okwhatnext.blogspot.com/2007/05/tapping-collective-wisdom.html (I am very inexperienced with the socks...)
Posted by: Kristy at May 15, 2007 05:47 PM
wow!! I think the Hudson just froze over too! And um, how fast do you knit!? Another monkey sock! It's so purdy! My sad little half finished sock is now yelling at me... ;-)
Posted by: margaux at May 15, 2007 05:52 PM
I love that you are embracing the crochet! I love crochet! What yarn are you using? 'Cause it is beauteous. As are the Monkeys (*love* the Dutch Canyon).
Posted by: carrie at May 15, 2007 06:07 PM
Those monkey socks are incredible! I love the colorway. As far as I've ever been able to get in crochet is single crochet - anything other than that and all I create is a big wad of knotted yarn (to the endless amusement of my crocheting friends)- way to go, mastering a new fiber technique!
Posted by: kimber at May 15, 2007 06:07 PM
Your granny square looks fabulous(I had pigs fly by my house too...check my blog:) and I think if I had your sock here I would just sit and pet it all day...lol..I did cast on this last weekend for a Monkey(you made me do it). I'm about 75% done on the first sock...Why are they always prettier when someone else knits them?
Posted by: Michelle at May 15, 2007 06:31 PM
Cue the Emperor's March - welcome to the Dark Side, Cara!! We knew you'd cave eventually ;-) Seriously, your first square looks great, so get yourself some bigger hooks ... that Babette will be ready to sew up before you know it!
Love the Dutch Canyon Monkey socks, the colors are fantastic - I cast on for a pair myself, now about half way through the second sock. My colors are swirling a bit more than I expected, but I'm quite pleased with how they're turning out ... and I actually got them to fit!! (proud grin from the newbie sock knitter). Thanks for the inspiration.
Posted by: Alison at May 15, 2007 06:41 PM
I don't think I've ever posted a comment (I might have, but have the memory retainment of a fly), but I want to give you *kudo's* for at least attempting to crochet. I learned when I was about 7, and didn't knit until I was 29...so I've had a LOT of practice on it. It's really not so bad. Just don't go making the little covers to go over air fresheners or anything. Those are just stupid. And after seeing your Monkey socks, I think I'm gonna give those a whirl.
Posted by: Erin at May 15, 2007 07:00 PM
the damn bag link didn't work for me . . . temporary weirdness or my damn server?
I'm heading over to Vicki's blog to see if it's there.
(Dutch Canyon? I originally read it as Dutch Crayon. Makes more sense that way . . .)
Posted by: anne at May 15, 2007 07:00 PM
oh my goodness.
i almost spit milk out my nose and mouth.
crochet. i never thought you'd....**losing the ability to speak**
:o)heehee!
the square looks awesome and as always, the socks looks amazing. can't wait to see what else you have up your sleeve!
Posted by: kelpkim at May 15, 2007 07:02 PM
I have to admit, I'm not usually a big fan of the variegated STR colorways (when they're knit up), and was kind of neutral on the Monkey socks. But boy, your sock is spectacularly gorgeous. Forget about Jaywalkers, STR and Monkeys were obviously made for each other.
Posted by: Rebekkah at May 15, 2007 07:34 PM
Good for you on your granny square - I like those colors. And the socks rock!
Posted by: Cheryl at May 15, 2007 07:42 PM
Love the square! I just wish I could watch TV & crochet. I might do more of it, but I need my eyes! Especially now that Sam knows about Jason's baby...
Posted by: lola at May 15, 2007 07:53 PM
If it wasn't for the fact we've had a series of t-storms and rain over the past couple of hours, I would seriously go outside and cartwheel around my house in joy!!! YOU FRIGGIN CROCHETED!!! And yes, I can still cartwheel. No more back flips on a balance beam like back in the day, but I swear I'll be 90 and still able to cartwheel when the inspiration strikes. Crochet will get easier, it will give you new color/design platforms. It is SO FAST - kind of like a quick hit of an illicit drug, but in a good sort of way. . . . Oh, what the heck, I'm off to get soggy and cartwheel in my yard for you. Please promise to bail me out if the neighbors freak. . . .

Posted by: kathy at May 15, 2007 07:54 PM
Something about "have to have" crochet items hit the parkway this week...
Posted by: trek at May 15, 2007 08:28 PM
Wow! That is a fast 24 hour turn around!
Posted by: Teresa C at May 15, 2007 09:20 PM
Did you know that crochet is not just a craft, but a superpower??
Perhaps I will have to learn myself....
Posted by: Amanda at May 15, 2007 10:08 PM
Funny. I can crochet, but I'd love to knit like you. In fact, one of my summer goals is to learn to knit a sock-----or two if I get really wild! Love your blog... I've added it to one of my daily reads.
Posted by: Jessica at May 15, 2007 11:46 PM
Funny. I can crochet, but I'd love to knit like you. In fact, one of my summer goals is to learn to knit a sock-----or two if I get really wild! Love your blog... I've added it to one of my daily reads.
Posted by: Jessica at May 15, 2007 11:46 PM
Always happy to see some crochet spring from a new set of hands! I've got to commend you for learning several stitches at once along with working in the round and all that over the phone! If you do decide to make the bag you can always knit the strip that makes the sides and bottom of the body... though you'd have to match up gauge somehow to make seaming easy.
Posted by: Cecily at May 16, 2007 03:41 AM
You'll get the hang of crochet. I learned to crochet before I learned to knit and I think knitting is so much easier than crochet. But when you get good at it, crochet is soooo much faster. I'm a decently fast knitter, but I'm a much faster hooker...er...yeah...I'll leave it at that! :oP
Posted by: Leah at May 16, 2007 07:20 AM
I can't get into the granny square thing (except for the Babette blanket which I am avoiding looking at for fear I might make one), but I LOVE to see other knitters taking up the hook. Crochet is so fast and easy,and it's good to have both skills.
Posted by: ellen at May 16, 2007 07:33 AM
That's great! I can't get into the crochet myself. I guess it doesn't help that I don't have anyone local to teach me. But did you see Knitty Gritty recently had Lily Chin on and she was crocheting with knitting needles? It was interesting and much more likely for me to try that way at some point.
Posted by: Carolyn at May 16, 2007 09:09 AM
Wow, your square looks great! And your treble crochets are looking totally awesome. I took me years... YEARS I tell ya... to get the hang of treble crochet so pat yourself on the back, or massage your foot or something. Next, I have one word for you... RIPPLES.
Posted by: LeighB in ATL at May 16, 2007 10:41 AM
Yeah! Welcome to the club. I am very excited. I just learned to crochet and need a little color inspiration. Please keep it up and keep posting!!
Posted by: GreenChick at May 16, 2007 11:04 AM
Yeah! Welcome to the club. I am very excited. I just learned to crochet and need a little color inspiration. Please keep it up and keep posting!!
Posted by: GreenChick at May 16, 2007 11:05 AM
Oh how funny, I just learned to crochet myself last month! It's tough at first but you really do get the hang of it and it starts getting easier. And it's addictive. Watch out! I'm warning you now. Those squares look horribly addictive. I just finished a bolero, and although I have so many other things to knit, I just couldn't put the damn thing down. Don't say I didn't warn you. :-)
I'll be watching for more.
Posted by: Kimberly at May 18, 2007 02:21 AM
I've been secretly crocheting since March when I went to Phoenix, but it's really increased since Marnie's visit to LA this month and my subsequent visit to Portland. I keep putting off blogging it, but I know it needs to happen. Totally addictive, isn't it?
BTW, You kid pictures are awesome. I wish I had thought to tell Kat to ask Potter Craft to use you for the Boho book. She ended up with a great photographer, but I bet it would have been easy to use you - I think the photo shoot was in NY. You should contact them through Ann & Kay - they must have other kid books coming out, and your work is lovely.
Posted by: Julia at May 18, 2007 06:57 PM