« Knanette and Her Monkeys | Main | Childlike »
May 11, 2007
So happy to be ME!
I know I said I was signing off for the weekend, but yesterday was so miserable I thought I'd share.
Last night I went to the mall in search of something to wear to my 20th Year High School Reunion having decided that everything I own doesn't fit and makes me look fatter and lumpier than I really am. That was a mistake. Not thinking that my clothes look bad on me, but going to the mall. At one point I was wandering aimlessly around Macy's trying to find something, ANYTHING, that would make me look not so lumpy and I caught sight of myself in one of the many fun house mirrors they've got hanging around the store: my shirt looked funny. I walked up to the mirror and took a good look at myself. After trying on the 100th unflattering outfit I could find, I had put my shirt back on BACKWARDS. I was so depressed that I stood there, in full view of men, women, and children, and turned my shirt around thereby letting everyone know that I can't DRESS MYSELF. It's a true story.
I even talked to my mother, complaining about how fat I've gotten, and NOT ONCE did she tell me how beautiful I was. Isn't that a mother's JOB?
And then, after buying a pair of jeans that tout "an instant tummy tuck" that I can't wear to the reunion, I sat in my car, in our parking garage, and listened to The River ten times, singing along at the top of my lungs while crying my eyes out. Doesn't get anymore high school than that.
The truth of the matter is that I'm very content with who am I and what my life is all about. I'd love my house to be cleaner, sure, and dropping fifteen pounds would certainly make things nicer, but overall I'm incredibly lucky AND I've worked very hard on myself and my relationships to get them where they are today. Generally I don't stress that much about my appearance (that's what happens when you spend most of your time in pajamas) but there's nothing like the thought of being around people that last saw you when you looked something like this: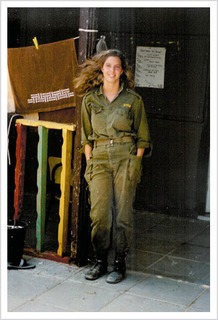 to spur you into self-pity. Granted, they never saw me in an army uniform and this picture was taken three years after I graduated from high school, but it's the sexiest picture I have of me. Things don't change that much from 17 to 20. 17 to 37? That's a whole other story!
Now I'm certainly not complaining about how I look now. I've grown into my face and my body and I know how to play my strengths. And most importantly, my husband thinks I'm beautiful and tells me so all the time. But there are (at least) fifteen extra pounds there and I am twenty years older. I can still rock it right? This picture is from a year ago: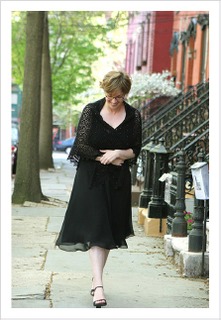 I still look like this. Maybe an extra five pounds but I wore this exact outfit to a Bar Mitzvah last month and I looked good. My sisters told me so. GOD BLESS SPANX!
Anyway. I found something to wear. (Note: not the outfit above. WAY too formal for this event. I'll try to get my sister to take a picture of me before I leave for the reunion.) Clothes I already had in my closet that I feel good in. My husband told me I look hot. And I'll have my favorite shawl around my shoulders. It never fails to make me feel elegant and beautiful. I decided on the outfit about ten minutes after getting home. Then I did what any self-respecting fat girl trying to get skinny would do: I made myself one of my favorite Lean Cuisines for dinner, curled up with Grey's Anatomy (anyone else think McDreamy is being a TOTAL DICK!), and knit on a sock.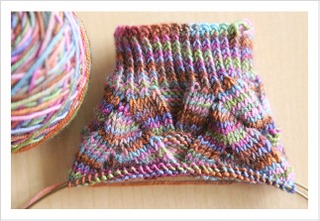 (My new pair of monkeys. Dutch Canyon STR Lightweight.)
I really am confident that tonight will be very weird, somewhat uncomfortable and ultimately fun! But just in case, I'm bringing along some knitting.
PS - Go congratulate my friend MJ! YAY! Mazel Tov!
PPS - Go help my friend Claudia!! I have. Now it's your turn! Do the right thing and win prizes to boot!
PPPS - This post is my own little pity party. No need to tell me how gorgeous I really am.
Posted by Cara at May 11, 2007 10:23 AM
Topics: Life ~ Monkey Socks
Comments
Wait until you see what time has done to everyone - it's an equal opportunity life changer. You'll be beautiful and have a great time, don't worry.
Oh, and I agree - McDreamy was being a complete dick. What is up with that show? Bleh, I hope the season finale is at least decent.
Posted by: Kathy at May 11, 2007 11:36 AM
mcdreamy is being a total jerk. i almost cried when the chief hugged meredith last night, but maybe because i've only gotten a few hours of sleep this week. you look so cute in that outfit! go for it.
Posted by: al at May 11, 2007 11:43 AM
McDreamy is being an asshat.
Posted by: misplacedpom at May 11, 2007 11:51 AM
Honestly, I think you're very pretty. And you don't look 37 to me. Almost nobody is the same weight/size they were in high school, especially 20 years down the line. That's why they call it the "flower of youth", because everyone is gorgeous without even trying, unless they are one of those unfortunate people that puberty hit with a golf club. But even those people usually end up looking more or less normal. So don't sweat it, you look great, go and have a good time!
i've never watched grey's anatomy...
Posted by: Amanda at May 11, 2007 11:52 AM
I was really confused for a minute there about the McDreamy comment and then I realized that, being abroad and depending on iTunes for my Gray's, I'm behind an episode.
In a weird way, despite the fact that I know I'm going home to people I love and who love me, I'm a bit freaked out about going home a full twenty pounds heavier, so I get that. I'm afraid to go shopping and, most of all and perhaps stupidest of all, I'm afraid of what my mother's going to say to me. After living nine months in the third world, I'm still afraid of my mother?
Posted by: KT at May 11, 2007 12:02 PM
Ah, IDF uniform. Those don't seem to have changed in the last 20 years.
Head high, ignore the momster and think of all those who are still in the same place as when they were 37.
You will do fine. And at 40 years out, you likely will not even bother with the reunion

Posted by: Holly at May 11, 2007 12:19 PM
I think I know them uniforms:)
and I can really hear the comments of the local boys to such a beautiful girl!
Posted by: Rachel at May 11, 2007 12:21 PM
It doesn't matter what others think of you as long as you are happy in who you are.
And like Amanda said - they aren't going to look the same as they did when you last saw them anyways. For KT - we are all afraid of our mothers. I hide my yarn stash from her and anything else she might not approve of.

Posted by: sharon at May 11, 2007 12:21 PM
You are incredibly beautiful and I love you. Have a great time.
xo
Posted by: Bookish Wendy at May 11, 2007 12:22 PM
Cara, relax and go have fun! It will be great!
Posted by: Karen in Toledo at May 11, 2007 12:26 PM
At least you're going! I skipped mine.
Posted by: Jenn at May 11, 2007 12:28 PM
You look great. Remember you will see many fat, bald and really grey men there. Their wives will hate you. Plus, this is a great event to laugh at. Find your best bud, get some alcohol, and just laugh at how ridiculous it is, and why in the world did you even care? I'm turning 50 this year, and my husband just thinks I am getting better looking. Either I was really ugly, or the man needs some stronger glasses. Have some fun!
Posted by: Kathy at May 11, 2007 12:29 PM
Oh Mcdreamy is just an ass! Oh boohoo me! My girlfriend just lost two mommies and long estranged father is being evil! It's all about me! Grrrrr. And I'm sorry- but what is with this Izzy being attracted to George? Like since when? And Callie is so cool! Why would she marry George- the anger control management freakoid?
Sorry- can open worms flying.
I think you will rock the reunion. Malls are places of destruction.
Posted by: Leone at May 11, 2007 12:31 PM
But, but... I WANT to tell you how gorgeous you are. I'm with you on the weight gain. I need my trainer back...bleh. Have fun tonight no.matter.what. You rock.
Posted by: margene at May 11, 2007 12:33 PM
McDreamy is being McDick, and McSteamy is being McHuman... things are a bit on their head right now! I *love* that show!
Posted by: Andrea (noricum) at May 11, 2007 12:38 PM
Heh. I went to a wedding maybe ten years out of high school and saw a lot of people I hadn't seen since high school. The really cool cheerleaders who would never give a dork like me the time of day in high school? They had NOT aged well. The guys were even worse.
I overheard my (then) husband telling his mother the next day that next to me, they all looked like "dog meat."
I lived on that for days. ;-)
Posted by: Wendy at May 11, 2007 12:38 PM
Cara, you summed it all up - and that sexy picture of you? Did you think you were sexy then? I realize when I look back at "how it was" and feel bummed about the bod, that back then I didn't even KNOW how thin I was!
Posted by: Rev. Linda at May 11, 2007 12:39 PM
Cara, I think you look gorgeous. As long as you're happy, that's really all that matters. Besides, what are the chances that anyone else attending the reunion is going to look as fabulous as they did 20 years ago? Try to relax and have a great time!
Posted by: Rachel at May 11, 2007 12:40 PM
Awe don't worry, everyone else will be 20 years older TOO and they are ALL thinking the same thing!!
I hope you have fun!! I wish I could go to a HS ruinon while I'm still in my 20's but no one ever organized a 10 year that I knew of.
Posted by: pixie at May 11, 2007 12:46 PM
What Margene said. And the people who will be there tonight - can they see beauty and capture it in yarn and pattern and photos they way you do? Do they have people who are interested in what you bring here to say Every Day in hopes of that skill rubbing off on us? I think not, my dear.
And besides. At least one of 'em wore a white tux and white patent shoes On Purpose. Nuff said.
Posted by: Rachel H at May 11, 2007 12:49 PM
Please tell me what you bought for the reunion. My 20 year is in July and I, too, have nothing to wear and feel completely overwhelmed in the mall. From your picture, I'm guessing we are roughly the same size...help a girl out!
Posted by: Lora at May 11, 2007 12:52 PM
I've skipped all of my reunions, though I did wind up at an unplanned, impromptu HS reunion of sorts a month or so ago. A high school friend of mine had a reunion gig with his band in Brooklyn, and I ran into a bunch of friends from the class of '80. Yep. 27 years since I've seen any of them, and you know what? Everyone looked great, everyone had a great time seeing one another, and it was a total blast. I hope you have a wonderful time. And i'm not saying this to make you feel better, but you really are beautiful -- on the outside as well as where it really counts.
Posted by: regina at May 11, 2007 12:56 PM
I hope you have a good time! I can't wait to hear all the dirt. ;)
Posted by: Lynn at May 11, 2007 12:58 PM
Why do we stress out about reunions?! I went to my 10th, 20th and 30th...and hope to go to my 40th! Relax - you'll have a great time...besides you are probably the most talented knitter in the whole class...love those Monkey socks!!
Posted by: Rasa at May 11, 2007 12:59 PM
Just a reminder, the NYC area can be a bit of a bummer because there are models and actresses and socialites and people whose job it is to be freaking hot. It's a difficult yard stick to compare ourselves to.
Anyhow, saw you at knitty city Sunday (I was too stunned and shy to say hi) but I can say with certainty that you look like a normal woman size. Which is pretty darn good. Have fun at your reunion.
Posted by: Cassandra at May 11, 2007 01:05 PM
Woman, you are beautiful. Seriously. You'll knock them dead.
Can I steal that photo of you at 20 and stick my own face on it. DAMN!
Posted by: Adrian at May 11, 2007 01:07 PM
That may be your favorite shawl (it IS gorgeous!), and you may look stunning in that dress. But I will ALWAYS remember you for the beautiful series of photos from last December when you positively glowed in Ariann!
Have a WONDERFUL time at your reunion! At my 30th, we all realized (finally!) how precious we all are no matter how many pounds or wrinkles...
(((hugs)))
Posted by: Knitnana at May 11, 2007 01:09 PM
I spent the morning shopping for decent looking shorts (including a stop at Macy's) and came home empty handed. I always feel frumpy when shopping! Must be those dressing room lights. Anyway, you look fantastic in your beautiful dress and shawl, so go have fun!
Posted by: Leslie at May 11, 2007 01:10 PM
Reunions are very stressful! But once you're there, you'll be glad to know that at least you have your hair! Many won't. And keeping your knitting near at hand will be a good ice-breaker. Remember, everyone there wishes he/she were thinner.
Posted by: Michele in Maine at May 11, 2007 01:21 PM
That Lean Cuisine looks great- I usually stick with the cheese ravioli, but I might have to branch out. I hope you have a blast at your reunion!
Posted by: Megan at May 11, 2007 01:25 PM
Hot then, hot now. Only now you also have a gorgeous handmade shawl to boot. You can still rock it, Cara. Now go rock the reunion! (then come tell us all about it)
Posted by: earthchick at May 11, 2007 01:32 PM
No need to- but holy cow, take a look at that pic without realizing it's you: you look amazing girl!
Enjoy that reunion. And remember that attitude is 75% of your appearance.
Posted by: Cynthia at May 11, 2007 01:41 PM
Cara: you are amazing and beautiful and you are so gonna rock that reunion. Had to say it!
And - what is UP with McDreamy? And on the previews for next week? JERK. OFF.
Posted by: Carrie at May 11, 2007 01:48 PM
good luck!
HAVE FUN!
and enjoy the compliments that should come about your glorious, fabulous, amazing shawl. :)
Posted by: lyssa at May 11, 2007 01:51 PM
Seriously, the second picture of you is at least as sexy as the first. And malls are conspiracies to make women feel lousy about themselves.
Posted by: Lee at May 11, 2007 01:54 PM
Ok, so if I'm not allowed to remind you that you are gorgeous and can still rock it, can I say that your *sock* is gorgeous and is rocking it? :)
Posted by: Laura at May 11, 2007 01:55 PM
ok, maybe i don't need to tell you how gorgeous you are (and you are!) but how about those monkey socks!! ;) now i really REALLY want to make another pair!
Posted by: gleek at May 11, 2007 02:00 PM
I know you know this, but it's been 20 years for everyone else too. Fifteen pounds is nothing. So many people there STILL won't have a clue as to who they are; you not only know yourself, you're comfortable with yourself and as you say, in a happy place. THAT is what your former classmates will notice! Have fun!
Now you've got me wanting to hear The River. And I was all set for some Journey-n-Canasta tonight!
Posted by: elizabeth at May 11, 2007 02:07 PM
Dude I so hated high school. I give you made props for even going to your reunion. But like everyone says, you look damn great. Screw them!
I grabbed Grey's off iTunes this afternoon - and Meredith is being a bit weird too. I'm not defending McDreamy per se, but she's not exactly giving him a chance to be there for her either.
Now, the real important thing is: should we set up a pool on whether or not Christina actually walks down the aisle?
Posted by: Jen at May 11, 2007 02:07 PM
You look beautiful and I'm a mother!
Posted by: Lene at May 11, 2007 02:09 PM
You look great in the Bat Mitzvah outfit, so I'm sure you will look fab at your reunion. The Monkeys are terrific in that colorway. I'm working on a pair in Claudia Hangpainted color "toast". Which cast on did you use?
Posted by: Caren at May 11, 2007 02:18 PM
The biggest difference I see in the two photos is that in the first one, you have your head and shoulders up and are looking right at the camera. In the second, you have your arms crossed over yourself and are looking down, but with the same gorgeous smile as the first photo. If you felt like channeling the first photo, you could do it by walking into the reunion with head held high and that beautiful megawatt smile shining.
Posted by: mk at May 11, 2007 02:33 PM
That picture of you when you were young looks like something right out of Top Gun :-).
After the first intital 10 awkward minutes at your reunion, you will pick up just where you left off and have a blast!
McDreamy....McAss
Have fun!!! Great sock!
Posted by: Kim at May 11, 2007 02:34 PM
Who cares what you look like when you can whip out Monkeys like that! I feel your pain, sister...my classmates were a little kinder - planning the reunion for October - more time to lose (yeah, right)the lbs and cool enough to cover them up! Have a great time...
Posted by: Happy Hands at May 11, 2007 02:44 PM
I was so going to recommend Spanx. I never go anywhere decent without some kind of a shaper. Yes, I have officially reached the girdle years.
Have a great time at the reunion, Cara.
Posted by: Liz K. at May 11, 2007 02:51 PM
Ooh! Ooh! That's my shawl!!! Thank you... you made my day!
And no matter what you decide to wear to the reunion, no one else there has a rockin' blog like you do... or looks as glamorous in knitted lace!
Posted by: sivia at May 11, 2007 02:54 PM
Have fun tonight Cara!!! Yes, I think McDreaming is being McDicky >:(
Oh, and I am in love with all your Monkeys!
Posted by: Kim at May 11, 2007 03:04 PM
I didn't read the rest of your comments, and I'm not going to tell you you're gorgeous, but, I've always thought you were adorable (Mom's sometimes don't think straight)! And, a question? Are you really 37? I would never have guessed it, really! Hope you have a helluva good time at your 20th reunion! Knock their socks off.
Sheri in GA
Love those socks too!
Posted by: Sheri at May 11, 2007 03:19 PM
After reading the first few sentences I thought I've got to tell her about spanx! Then I laughed my ass off when you put the link up. Any dress up occasion I pull mine on and I'm only 25:)lol You def don't look 37 but even if you did 37 isn't old:)
I looooooooove your monkeys..I started a pair but am having a very slight ladder problem especially when I knitted the first two repeats on 2s, it's better now that I switched to 1s:) I think I might need to hit the lys to see if I can pick up cirs.
Hope you have a great time!
Posted by: Michelle at May 11, 2007 03:38 PM
I have been admiring the monkey socks for some time and as soon as I finish some gift socks for a coworker who left, I want to try. I got some beautiful sock yarn just crying out to be socks.
Posted by: donnalee at May 11, 2007 03:40 PM
All hail the church of Spanx! Seriously.
Posted by: Nell at May 11, 2007 03:48 PM
Thanks, my dear. Rock it HARD tonight!
Posted by: claudia at May 11, 2007 03:58 PM
Your sister was telling you the truth ... you did look fantastic in that black dress and shawl! :) Nice weekend.
Posted by: Agnes at May 11, 2007 04:09 PM
i only have to say, believe in your self, and goooooooo girl.

Posted by: Cristina at May 11, 2007 04:16 PM
Just wait until you see what 20 years has done to everyone else. You'll feel fine.
Posted by: Stephanie at May 11, 2007 04:20 PM
As the blog worlds resident STR expert, can you please explain to me why your Monkeys in lightweight haven't pooled (and indeed look gorgeous) and mine pooled big time (like really ugly big time!). I is confuzzed?!
hey, 20 years have tread lightly on you chickie, wait'll you see how harshly it's treated everyone else, mwahahaha!
Posted by: Kellie at May 11, 2007 04:29 PM
First of all, you are gorgeous. I know the reunion angst though, and it is brutal and depressing. I'm never going to another reunion ever again.
Secondly, McDreamy is being an ass. In fact the whole lot of them need to get their act together. My dd and I kept saying throughout the episode that they all need some serious therapy. I've heard that the fun comes back next season. Here's hoping!
Posted by: Bethany at May 11, 2007 04:33 PM
I stopped watching Grey's after O'Malley cheated on his wife. Didn't seem like something O'Malley would do. Also, Never try on clothes at the mall. Buy a bunch of stuff, try it on at home and return what you don't like. I remember trying on swimsuits 6 months after our first son was born. I didn't buy anything and I had to pull the car over on the way home because I was crying so hard.
Have fun at your reunion! It's going to be a blast!
Posted by: 5elementknitr at May 11, 2007 04:35 PM
Yes, you looked great in that army uniform. Probably better than you looked in High School - been to one lately?
But you looked god in the all black shawl ensemble too. Cut yourself a break.
I'm impressed that you are willing to go to your reunion. I graduated back in 1979 and have never had the nerve. In the last ten years I've lost the interest in going.
Posted by: Valerie at May 11, 2007 04:45 PM
High school reunions are always so fun. I finally got something in the mail the other day about my 25th. I have lived in the same town since high school except for college. And guess what, no one found me for the others. And there are two other people I know from high school that I see on a regular basis and they weren't found either. But the funny thing is that I may go just to see how old everyone else is. No one ever believes me about my age so it should be interesting. I can't wait to see what you wear so I can get an idea of what to wear to mine.
Posted by: Mia at May 11, 2007 04:47 PM
Oh dear, reunions are a drag! My hs doesn't even have them!
Never, ever enter the mall to shop for something you will wear out like that without your most reliable shopping buddy. Take someone who is brutally honest and with as much fashions sense as you can find, that way, if nothing else you can blame them if the outfit turns out not to work ;)
Oh, and yes, McDreamy is being a total rat, I wanted to smack him!
Goodluck at your reunion, knock'em dead! I'll do a little sympathy sock knitting tonight while I watch the rerun of lastnights Grey's.
Posted by: Martheme at May 11, 2007 05:25 PM
you are gorgeous! have a great time tonight!!
Posted by: ann at May 11, 2007 05:57 PM
that yarn is pretty! i love it! have fun tonight!
Posted by: Tammy at May 11, 2007 06:06 PM
I'll be 46 this year and here's what I've noticed- at every age from which you look back, the younger you seems so much better. But that means that one day in the future you'll be looking at the today you and thinking 'damn I was hot back then'. In five years you'd be thrilled to look like you do today- why not be thrilled with it right now?
Posted by: lynne at May 11, 2007 06:37 PM
de-lurking to say:
a) you look great (both when you were 20 AND now);
b) McDreamy IS being a total ass and I'm glad someone has recognized this!
have a great time at your reunion!
Posted by: jennie at May 11, 2007 07:23 PM
Yes, McDreamy is an ass. Loved last night's show.
You will rock your reunion. Have fun. Remember, women age much better than most men, and you certainly have.
Posted by: Jo-Anne at May 11, 2007 07:29 PM
Oooh, I have a skein of Dutch Canyon sitting around and was planning on turning it into a pair of Monkeys..it'll be fun watching how yours turn out!
Best of luck at the reunion...that is one gorgeous shawl you'll be wearing!
Posted by: whitney at May 11, 2007 07:59 PM
You DO look great and every single person going to the reunion is also having the same thoughts as you, so...go and enjoy yourself. Not a single one of them has stayed the same...we all grow in some way.
McDreamy - I was some disappointed with his pause...very dick-ish behaviour.
Posted by: Julia i KW at May 11, 2007 08:02 PM
I went to my 25th college reunion not too long ago, and you know what? The rest of the class, they're all older too! The women looked pretty good. But, OMG what happened to the guys!
Posted by: Margaret at May 11, 2007 08:09 PM
Sometimes you just need to let it all out. Acknowledge it, wallow in it, cry it out and get over it. Obviously, you've done just that.
I had a pity party yesterday. And it's my party and I'll cry if I want to! :-)
Posted by: LaurieM at May 11, 2007 09:52 PM
I had a pity party yesterday when a shirt I purchased last week at Ann Taylor Loft looked all bumpy and tight. Seriously- LAST WEEK! WTF?
I'm guessing everyone will be so entranced by the shawl, they won't care what you're wearing. Also, just be glad you aren't balding- think of what those guys are worrying about right now!
Posted by: kelly at May 11, 2007 11:24 PM
hey, you look great. maybe i should go to my reunion even though i suffer from 15 lbs to much around the middle. it's this fall, i think. i so dismissed it i can't remember when it is. ha. I totally get that "wondering around the mall" feeling just looking for anything that makes me look better like they do on the talk shows. If i could just gain some weight on my breasts i would at least balance out.
Posted by: kellie at May 11, 2007 11:25 PM
I bet you get to the reunion and find that you aren't the only one to have changed a bit ;-)
And yes, that's one of the things moms are for (don't make me cry).
I hope you have a good time once you are there! XO
Posted by: TheAmpuT at May 12, 2007 12:07 AM
I am really disappointed with McDreamy. What a let down. Poor Meredith. She has had such rotten luck lately. I can't wait to see the next episode with the wedding. It's going to be a hoot.
Posted by: Michele at May 12, 2007 12:09 AM
I completely understand how you feel, and I'm glad you seem to have worked through it all. Whenever I get into those moods, I remind myself that I wouldn't trade places with my insecure-- albeit skinny--17-year old self for anything. I've gained a lot more than the weight that comes with aging over the last 21 (gulp) years. It's good to finally be happy about being me--skinny, fat, or in-between. Enjoy your reunion. How can you help but have a great time? You like who you are AND you have knitting!
Posted by: Stephanie at May 12, 2007 12:37 AM
Head straight to the bar and get a glass of wine, to cut the edge. At my 20th reunion, I found that all in the all, the women were ageing much better than the men - an extra 15 pounds and all! Lots of the men were bald and paunchy. Maybe at the 30th (eegads, I'm sounding old!) there will be a reversal of fortune ;-) Enjoy the gathering as much as you can. It's only a few short hours. Looking forward to the report post!
Posted by: Beth at May 12, 2007 09:39 AM
Girl I'm with you on the dressing thing, last time I went shopping with my Mom I came out of the dressing room with my shirt inside out & didn't notice 'til we were eating in a busy restaurant. You look great, when we look for imperfections we'll find them.
Posted by: elan at May 12, 2007 09:50 AM
I think you look fantastic! I think it's amazing and courageous to go to your HS reunion. You couldn't pay me enough to go to mine! LOL
Just keep in mind that everyone else has aged as well. It's not like you will be walking into a room full of 17yo's!
Have fun!!!
Posted by: Heather at May 12, 2007 10:07 AM
But what if we *want* to tell you how gorgeous you are? :) I hope you enjoyed that reunion, hot mama!
Posted by: Amy at May 12, 2007 10:09 AM
Yeah, babe, but *I NEED* to tell you how freaking gorgeous you are. And since I'm turning 40 in two weeks, you have to let me say it. Because we old people get cranky if we can't say what we want. :-)
I would like to say I don't remember the last time I went into a mall. But it wouldn't be true. It ain't called Maul Trauma for nuthin'...and the last time I had to go, it was to shop for a bra. Instant migraine. Wish I'd had a little Bruce in the dressing room to make me feel better. Thunder Road makes me feel positively gorgeous no matter how big or little or floppy or misshapen or holy-shit-that-ain't-a-bra-that's-a-loaded-missile-carrier I am.
Posted by: Lee Ann at May 12, 2007 11:06 AM
I know how hard the shopping can be for a special occasion, but remember 95% of us feel the same way. And 95% of us -- including Charles Barkley -- look at old pictures of ourselves and say, "Boy, I was skinny back then". I'm sure you'll look great and will be so happy to see everyone -- and they, to see you -- that in the end 15 pounds won't matter a bit. Have a great time at your reunion!
Posted by: nona at May 12, 2007 12:19 PM
I have the opposite problem to you in some ways - I am thinner and infinitely better looking than I was in high school. Which means photos of my teen years are seldom exhibited. In spite of being thinner, I still see myself as fatter, and until recently, dressed like it.
Weight loss isn't all it's cracked up to be anyway - it just means you need to go shopping for more clothes!
And btw, you look gorgeous in both photos.
Posted by: Laura at May 12, 2007 01:15 PM
You are beautiful! You are voluptuous (a good thing!) and are always glowing on your pictures because of your contentment in life. Ignore the momster and listen to your loving hubby!!
Posted by: jillian at May 12, 2007 01:30 PM
Mc Dreamy is being a jack ass!!!
I really hate clothing sizes now....they just keep getting smaller and smaller...I went to the Mall recently and the ONLY top that fit me was an XL...I am a size 10...is that really XL??!? I guess what I am saying is I hear you sista!
Posted by: Shirani at May 12, 2007 02:11 PM
Hotness has absolutely nothing to do with size or weight. Confidence, joy, and the absolute pleasure of being who you are is what hotness is all about. You are hot.
And Grey's may lose me if things don't improve with the finale.
Posted by: Ann at May 12, 2007 02:13 PM
He's being an absolute dick...but then, what would the world be without dicky McDreamy?
The 20th reunion? It could be worse...mine...well, I was 7 months pregnant with my fourth child, my college diploma was months old (finally) and my husband was 7 years younger than I.
I spent the night wishing I could drink...
Posted by: Jan at May 12, 2007 02:47 PM
But you are gorgeous! BTW love the shawl.
Posted by: crzjane at May 12, 2007 03:59 PM
It must have been the day for sad mall shopping. My daughter came home from college and she went with me to the mall to find anything to wear that looked okay and was comfortable. I came home with a bag full of stuff from old navy and a very scary picture in my head from the dressing room mirror. Funny thing is, I too love who I am and am usually pretty comfortable in my own body. I have no idea what prompted me to spend an otherwise beautiful day doing things that make me feel like a reject. Glad you snapped out of it too.
Posted by: Jennifer at May 12, 2007 05:39 PM
I wonder how many of the men are even raising this question. You raise some concerns over how we feel and are perceived by people who we may not see again for another decade or so. I managed to pack on about 50 lbs since my 30's. I just turned 49. My goal is to lose a pound per week by my 50th birthday next May. No pressure here. I have quit coloring my hair and am a subtle grey. The weight has to go continued health and well being.
Judging by the comments, people want to read what you have to say, sample the contents of the vessel. Indeed, you are lucky.
Posted by: Patricia at May 12, 2007 05:52 PM
They should just call him McDickhead.
Your shawl is fabulous. Have fun at the reunion.
Posted by: Courtney at May 12, 2007 06:53 PM
You know, I feel better now that I am in my 30's and that means more to me than anything else. Have fun at your reunion! I think you look great.
Posted by: Erin at May 12, 2007 07:11 PM
mcdreamy is SO being a dick!!!!
and, i'm going to a wedding next weekend, and will fret over what to wear, what fits, and so on. rats!
i almost feel like "decorating" myself so no one notices me as much as my "costume". hmmm ... i'll keep you posted.
ps. amanda! go watch grey's NOW!
Posted by: gray la gran at May 12, 2007 07:57 PM
My mother is notoriously un-mom like. Don't get me wrong, she loves me more than anything. Sometimes, though, I think she skipped a few chapters in the squishy, comforting mom manual.
Yes, Grey's is killing me this season! McDreamy's being a jerk. And the Addison spin-off? Meredith's dad and stepmom? Come on!
Posted by: Jenn at May 12, 2007 09:29 PM
You look fabulous - 15 pounds may be overweight but it certainly ain't fat AND take it from one who knows. When I was in my mid-to-late 30's I thought I was HUGE!! probably 15-20 pounds more than I wanted to be BUT then I was never HOT like you were - always a little on the chunky side BUT I played catcher when I played softball in high school and even when I weighed 115 (my lowest) I still had to wear size 12 jeans!! Now at 52 I really NEED to lose about 50 pounds and I would give anything to weigh what I did at 37!! That gorgous shawl of yours will make you feel wonderful in whatever you wear. And moms - hmmm - for some reason I think many are not the type to tell you you're beautiful - mine never has, I don't doubt she loves me, but I don't get that kind of uplift from her. Have a GREAT TIME!
Posted by: robin at May 12, 2007 10:35 PM
Which army were you in?
I am sure you'll great for your reunion whatever you wear!
Posted by: Robyn at May 13, 2007 12:04 AM
Thank you for your honesty. I have 150 lbs I could afford to lose and had to appear in public as the Mother of the Groom two weeks ago. After finding out that even Nordstrom's and Macy's WOMAN's departments had nothing for me I wept in the dressing room. Wracking sobs. Then DH wondered what took me so long. Finally found something I felt good in (without spanx, even though they'd have helped), and was grateful my son still loves me. Don't wait another 20 years like I did... Babies, divorce and cancer really made me fat. (Your sox are gorgeous.)
Posted by: KnittingPainterWoman at May 13, 2007 12:53 AM
Listen baby, 37 IS young and beautiful...take it from 54! It's definitely what's in your head,'tho. I could lose 50 lbs, (no kidding) but you couldn't tell me that I don't look like a fabulous!
Just takes a little more smoke 'n mirrors...
Posted by: flair at May 13, 2007 08:54 AM
Those pity parties can indeed get ugly. But sometimes you need to wallow and then stop wallowing.
But you know I think you are gorgeous, right? And the love? Do I need to remind you of the love????
:D
I see a boatload of monkey socks coming on. I love it!
xoxo
Posted by: sandy at May 13, 2007 04:43 PM
I have a "sexy me" photo, too. I try not to look at it too often, because I can descend into an "I'm fat and old" mood at the drop of a hat. You know what's funny? My husband doesn't go through this at all. He gained some weight when he quit smoking--calls it his "little friend." I love that about him. But it's different for women, isn't it? Good for you for finding sexy, comfortable clothes in your own closet! Yay Cara, for wearing your favorite (gorgeous) shawl! I'm sure you'll incite more than a little envy at the reunion...
Posted by: Hannah at May 13, 2007 07:14 PM
I read your whole post and I honestly cannot believe that you are worried abou your looks or about being fat .....I mean I think you look gorgeous. And to top it , you have that elegance about you. I wish and hope I'd look half as good as that when I'm 37 !
You look stunning in the uniform picture but I think you look truly charming and classy in the latter one. Go on and have fun .....you'll be surprised to see that looks don't really count that much when you have so much to catch up on with old friends. And I won't be surpised if you turn out to bethe best looking there!!!!

Posted by: Yasmin at May 14, 2007 03:55 AM
I like you blog very much.(As the other 101 do)
Angelika
Posted by: schoenefarben at May 14, 2007 04:29 AM
Aw sweetie! There is a shop in my town that has mirrors like that - in the changing rooms - and I never buy anything there because of it. I check out the rails, then mail-order the same items from the online catalogue to try on at home. Some stores just don't want to sell you stuff! And at the risk of sounding like a crazy stalker - I think you look gorgeous in both pictures - women are meant to be curvaceous!
Posted by: Roobeedoo at May 14, 2007 05:15 AM
1. McDreamy - ugh! do.not.like.him.right.now.
2. spanx are a girls best friend! forget diamonds.
3. Great sock.
4. Glad you had a great time at your reunion.
5. your niece and nephews are adorable.
6. Glad your zit popped - I am such a nerd about zits - I squeel with delight everytime I can just get one to pop and go away.
7. That may be too much information. sorry.
Posted by: Sarah at May 14, 2007 01:09 PM
Well, since you don't need to hear that you're quite lovely and don't look 37 and don't look like you need to lose any weight at all, then how about I just tell you how nice your sock looks!
Posted by: Scribbles & Bits at May 15, 2007 10:09 AM
Cara, the hotness quotient in the first photo is so dang high that most other people couldn't hit it at twenty! Be proud that you ever looked that way! I've seen you in person, love, and you are a far cry from fat, but I think as women we all understand how uncomfortable it is to carry a few extra pounds to an event where we want to look 17 again. (I've picked up 7 lbs. in the last two months myself - egads! - and I weigh 10 lbs. more than when you saw me.) It's just human. I have to catch up on your posts, but I have no doubt that you rocked that graduation. Thanks for the Spanx tip, too. It's a good one to have in your arsenal!
Posted by: Julia at May 18, 2007 06:48 PM