« Fit for a Queen | Main | Knitting with the Enemy »
June 05, 2007
The Princess and The Picot
If you can stand it, so can I!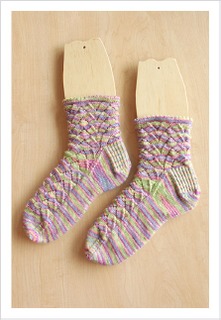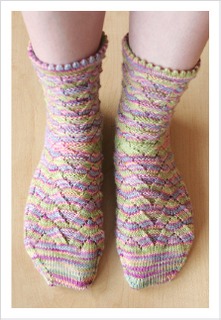 Finishing a pair of socks is like your birthday, all eight nights of Hannukah, Christmas morning, a gift from the tooth fairy, a visit from the Easter Bunny, fresh baked cookies, a good hair day, getting into your skinny jeans, making out in the car, and a Springsteen concert all wrapped up in a fantastic box with a shiny bow on top!! Okay. Maybe not as good as making out in the car or a Springsteen concert, but you get the idea. I love my new mini-monkeys!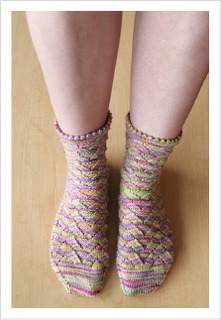 I love that they are a bit tight (like my beloved Jaywalkers) so they stay up - no slouching here! And I love the colors and the STR and the undulations of the monkey pattern. I love that my friend Tina dyed the yarn and my friend Cookie designed the pattern and my friend Margene knit the modification. There's just LOVE ALL AROUND!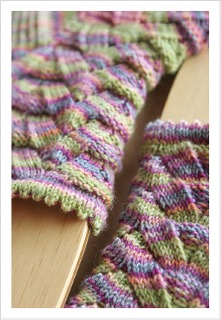 Most of all, I love that when it's finally chilly again I will have a drawer full of monkeys to choose from and you can bet your bottom dollar that my mini-monkeys with the picot edge will be the first pair I grab. There's nothing like a picot to bring out my inner princess!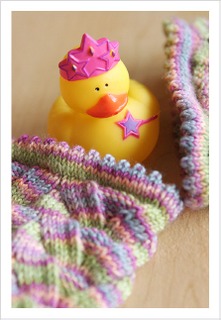 Monkey Socks
Pattern: Free on Knitty
Yarn: STR Lightweight in Watermelon Tourmaline
Modifications: I cast on with a picot edge and knit four repeats for the cuff. I did my preferred heel and toe. I used US#1 Addis for the entire sock.
Princess Rubber Ducky: My sister purchased them here. Knock yourselves out. There's like a duck for everything.

Posted by Cara at June 5, 2007 10:21 AM
Topics: Monkey Socks ~ Socks
Comments
Too Cute! The colors just scream spring and summer - I don't know how you will have the willpower to wait until it gets cold before you wear them! They really are beautiful.
Posted by: Kimber at June 5, 2007 10:45 AM
Oh, that princess duck and picot edge picture is so cute! I just finished my first Monkey sock last night (not blogged it yet-- this evening prob.) and it is such a fun knit! I'm amazed at how fast it went.
Posted by: Kristy at June 5, 2007 10:51 AM
I tried making mini-monkeys last night on my #1 lace addi's and they are too big! I really wanted to use my lace addi's on these, but I will have to try my 'regular' #1's (KA's) which are smaller. I am slowly getting better at the picot thing, tho.
Posted by: Michele in Maine at June 5, 2007 10:58 AM
Grrl, I love that Watermelon Tourmaline!!
Posted by: margene at June 5, 2007 11:18 AM
Those are cute as can be. You may have just inspired me to try knitting socks again!
Posted by: Kirsty at June 5, 2007 11:31 AM
Okay. Maybe, maybe, maybe I should be knitting Monkeys.

Posted by: Vicki at June 5, 2007 11:39 AM
I was completely inspired by your mini-monkeys and am knitting some right now! I LOVE them!
Posted by: Lori at June 5, 2007 12:17 PM
Love 'em! I've been planning some mini-ish Monkeys of my own for my skein of Colinette Jitterbug, since it's so much less on the yardage than other yarns (and I have such big feet). I might have to throw a little picot action in too!
Posted by: Sarah at June 5, 2007 12:19 PM
Dear Cara,
I have to say, you are a Monkey powerhouse. I had no plans to try that pattern until your Monkey-fest of the last few weeks. Last night, I *dreamed* I knit a pair. I actually had a dream about them. So I guess I'll be joining the party soon, too! :)
Posted by: Kim at June 5, 2007 12:33 PM
Love those Monkeys! I think the picot edge looks like a princess crown. Monkeys fit for a princess. :)
Posted by: Mindy at June 5, 2007 12:34 PM
I LOVE these mini-Monkeys! Your ducky makes me think of that new song, "Girlfriend". My girls love it, and whenever the line, "Yes, I'm the one and only princess" comes on, my dh looks at me and says, "Oh, that's so you!". :0)
Posted by: Charity at June 5, 2007 12:38 PM
what adorable socks! I love the edge on them. I am a bit sock challenged here..hee hee..but getting better. Actually what I was looking for was a pattern for the solid which is 337 yards. Obviously I dont know left from right. Maybe that is what causes me to be challenged in many areas.
Posted by: Marti at June 5, 2007 12:47 PM
They are wonderful, Cara.
Posted by: Carole at June 5, 2007 12:55 PM
Love the socks- so pretty!
Posted by: Ellen at June 5, 2007 01:56 PM
Posted by: Tonia at June 5, 2007 02:05 PM
I love them, and also those sock blockers! What kind are they?
Posted by: xtina at June 5, 2007 02:19 PM
I loved all your monkeys sooo much, I cast on for my own (on addis i might add), and then I either lost it, or someone stole it at my work!
Posted by: Samantha at June 5, 2007 02:50 PM
I've never been attracted to Watermelon Tourmaline but it looks GREAT knit up. Although, it looks nothing like it looks in the hank. Weird.
Posted by: Amy at June 5, 2007 02:50 PM
Well, those are some very snazzy socks! I am still waiting to see the sea stone version though. That colorway rocked my world.
Posted by: nova at June 5, 2007 03:08 PM
Good Lord, Woman, you do churn things out. I feel like ever more the slacker when I visit here.....
Posted by: Norma at June 5, 2007 04:21 PM
Love your Mini Monkey's! I too have the monkey bug... well I've made two pairs, but I love them too. I also made the mini monkeys. I've been wanting to try the picot edge and I used your instructions along with the video on DIY. Thanks so much! Now I just have to get my hands on some STR. I've been using Fleece Artist Sea Wool (Canadian, of course!!!)
Posted by: Lindsay at June 5, 2007 04:39 PM
Love the mini monkeys, gotta get me one of those duckies.
Posted by: Donna at June 5, 2007 05:01 PM
Mini anythings are just too cute! Your socks definitely rock! :) And the ducky is so adorable.
Posted by: Jennie at June 5, 2007 05:19 PM
Monkeys are great. I have plans for them in the future and am taking your suggestion of the picot edge - it's such a nice finish!
Posted by: Rasa at June 5, 2007 06:38 PM
The mini-monkeys are awesome! I think I'll have to try that as one of my next pairs. I've always wanted to try a picot edge to a sock, but haven't yet found anything that called to me the way mini-monkeys do. :)
Posted by: Nicole at June 5, 2007 06:40 PM
love them!! dude you are such a sock factory. :-)
Posted by: margaux at June 5, 2007 06:44 PM
Love the mini Monkeys! Off to go take another look at that pattern... :-)
Posted by: Laura at June 5, 2007 07:07 PM
And not as good as making out with Springsteen in a car...
Posted by: flair at June 5, 2007 07:53 PM
your Mini-princess ready- Monkeys are so adorable! And I have to admit, I love the duckie too. I love looking through the Oriental Trading catalog at all the duckies...
Posted by: Nikki at June 5, 2007 09:13 PM
Hooray for Monkeys! That's it, I'm done for. I finally bought yarn for these puppies and are casting on at this very instant!
Posted by: Faith at June 5, 2007 11:11 PM
Posted by: Romi at June 6, 2007 12:00 AM
Oh so absolutely adorable. Great colors and the yarn is perfect for that pattern.
Posted by: Stephanie at June 6, 2007 12:23 AM
They have some pretty good ducks at Archie McPhee, too.
http://www.mcphee.com/categories/devilduck.html
Posted by: Tan at June 6, 2007 02:19 AM
Great socks. Fantastic colors.
Posted by: jessie at June 6, 2007 06:13 AM
I love your monkeys! I can't wait to make my own! (After I knit for everyone else first...) :)
Posted by: Arianne at June 6, 2007 08:23 AM
OMG, they're breeding! You are an obsessed woman. I love it! :-)
Posted by: Cookie at June 8, 2007 12:28 PM