« June 2007 | Main | August 2007 »
July 31, 2007
Hey you! YES YOU! Are you a burgeoning fiber artist trying to get your product out there? What about an established designer that just loves charity? A large famous LYS wanting to get in touch with the online community? Maybe a brand new online store hoping for some free publicity?
Whoever you are - WE WANT YOU!


Summoning my considerable chutzpah, I'm soliciting prizes for SPIN OUT 2007. Last year we gave away 25 prize packages, including a Majacraft Spinning Wheel as our GRAND PRIZE! When I put together the prize packages, I tried to put a little bit of everything into the package - so if an individual vendor gave me a bunch of stuff, I split it up among the prizes so as to maximize exposure.
We raised just shy of $19,000 last year, and had over 300 participants in the raffle. Raffle "chances" are $10.00 per entry, and participants can enter as many times as they like.
The charity we raise money for is Heifer International, an organization dedicated to helping people help themselves.
This year's PHYSICAL event will take place on Saturday, September 29, 2007 in New York City's Central Park. The Heifer Registry (how we collect money for the raffle) will open on August 15, 2007 and stay open until October 15, 2007. Prizes will be awarded the following week.
All vendors donating will have their business name and online link posted on JANUARYONE.COM (which gets, on average, 2000 unique visitors a day) and SPIN-OUT.ORG for at least 60 days.
Prize donations will be accepted until September 30. All prizes should be sent to me so I can group them together, unless otherwise specified. If you would like to donate, or have any questions, please contact me at prizes@spin-out.org .

THANK YOU THANK YOU THANK YOU!!!!
Cara

Cross Posted at spin-out.org.
Posted by Cara at 11:05 AM | Comments (6)
Well, not really. But

FRAROCHVIA

and

EARTHCHICK
are the winners of the shawl kits!
Thanks everyone for playing!!!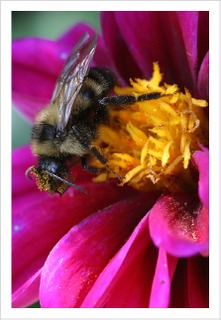 PS - Click for big on that bee picture up there. It really is fantastic, if I don't say so myself. I love all the pollen on the bee's head!

Posted by Cara at 08:44 AM | Comments (10)
July 30, 2007
This weekend I spent pretty much every minute watching General Hospital and knitting on my bee shawl. You'd think I'd have more to show for it!


I'm about halfway through the first section. One of the things I love best about Anne's patterns is that she gives you all of the written instructions as well as impeccable charts! I always start out with the words and gradually move to the charts. Now I'm all chart baby! Until the next section, of course, when I'll go back to the words and gradually move to the charts again. It's just a nice way to ease into things. Maybe that makes me a little less lace hardcore, but it's okay. This section isn't as hard as I first thought it would be, now that I've found a rhythm with the yarn and the pattern.
I thought I'd give you my own bee story, since you've shared so many of yours! (Don't forget - you've got until tonight to enter the contest!)
I've only been stung once or twice, and never had a really bad reaction - but I always remember that bee stings ITCH horribly for at least a week AFTER the bite. Maybe it's just me? No one's mentioned the itch, but I definitely remember an itch.
Anyway, my story doesn't have anything to do with being bit. But it's weird just the same. Back in the summer of 1990, my mother and I traveled to Israel. We were volunteers in the Israeli Army for about three weeks, living on an army base, wearing uniforms, doing manual labor etc. The program is designed to relieve some of the reservists of their duties. My mother and I were sent to a base in the Negev Desert, right outside of Be'er Sheva. If you've never slept in the desert, it gets really cold at night, no matter how hot during the day. We had to be up at the crack of dawn each day to have breakfast and start our work day, which ended pretty early because it got so hot! The first morning I woke up from a fitful night sleep - I figured it was because I was jet lagged and in the middle of the desert in a foreign country expected to work 8 hours a day! Thank god my mom was with me! I pulled back my light blanket, shivering in the cold morning, and was shocked to find three DEAD BEES in my bed!! I checked my body, and didn't feel anything like a sting, but still I was freaked out! It was very strange!
Even though I was never stung, more often then not there were dead bees in my bed when I woke up. Maybe they froze to death in the cold night? I have no idea.
So that's my weird bee story. Thanks again for sharing all of yours!
A couple of things:
-- Ann is CRANKING on her BABETTE! I'm so so jealous. I may have to leave The Bees and go back to the hook. She'll be finished before I get out of section five! I hate that! But OH MY! Look how INCREDIBLE it looks!
-- Tomorrow is the last day to SUBMIT for August's YARNIVAL! C'MON PEOPLE! Where are all the Summer FO's? Tutorials? Must knits? Put down the Harry Potter and get off Ravelry - c'mon! Don't disappoint me!!!!
Okay. I'm done yelling. For now.
Posted by Cara at 10:46 AM | Comments (33)
July 27, 2007
Move over Monkeys! Bah Bye Babette! THE BEES ARE IN TOWN!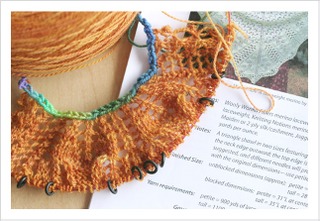 You know, there's a reason my knitting generally turns out so well - my particular talent is putting genius together! Great yarn + great patterns = FABULOUS knits! It's really quite easy. I'm QUITE proud of my latest trick! The other day I was talking to my genius friend Tina (the one responsible for my favorite sock yarn) about my genius friend Anne (knit designer extraordinaire!) We were talking about my finished Moth Shawl and I was asking Tina if she had seen the new Bee Fields Shawl and oh my god isn't it FANTASTIC?!? Then I subtly dropped some hints like "Wouldn't it be amazing if you were to dye up a colorway that was ACTUALLY honey?! Hmmm. Could you do that?" Tina, never one to shy away from a challenge, said OF COURSE she could!
I am so, so pleased to introduce Oregon Red Clover Honey!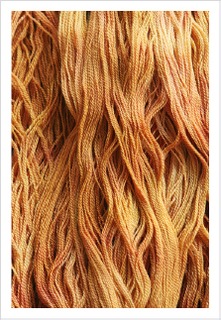 I took it out of the box yesterday and for about fifteen seconds I wondered if it was too dark, but then I went to the cabinet and took out some honey. It's UNBELIEVABLY PERFECT!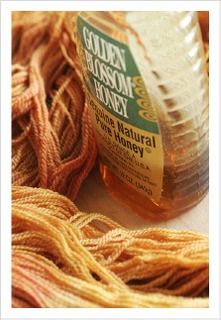 By sheer genius, Tina has managed to capture all the subtleties of honey - the bronzes, the reds, the blonds, the golds! I snapped a few pictures and immediately started winding it up! Imagine how pleased I was to find that it completely resembled a honeycomb in the yarn cake!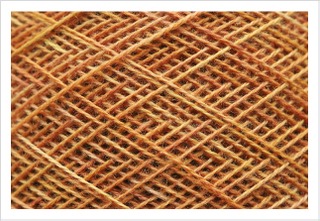 It took forever to wind! There is A LOT of yarn in this baby. It's Blue Moon's Laci yarn (100% Extra Fine 80's Merino), and it comes with a whopping 1750 yards. I've been assured that while the Oregon Red Clover Honey colorway isn't up there this second, it will be up on their website sometime today. ETA: IT's UP! (You'll be able to find it in the shaded solids section.)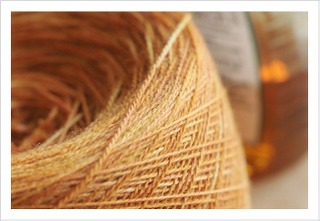 It was all I could do NOT to cast on immediately, but I had some errands to run. As soon as I was home that baby hit the needles. I'm using size 5 needles (Addi Lace Turbos) and for the provisional cast on, I used Eunny's directions found here - the second crochet cast on.
This is not a lace pattern for the faint of heart. I've never used a life line in my lace knitting before (and yes, I've had to rip plenty) but with this one - this one I'm getting out the dental floss! I'm about 16 rows into it and it's quite enjoyable - I can already see the border and pattern emerging - but it takes a lot of concentration. Actually, now that I think about it, Monkeys and Babette might be the perfect partners for The Bees.
Because I'm very impatient, I also ordered yarn from Anne over at Wooly Wonka Fibers. This is the Buckwheat Honey colorway of the yarn Anne and Anne used for The Bee Fields Kit.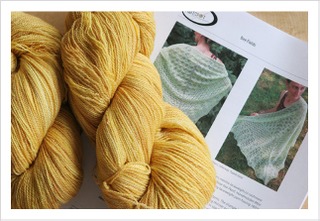 Since I jumped the gun, I'd love to share this kit with you. Leave me your favorite bee story - whether it's a bee sting, a honey recipe, anything goes, and I'll choose a winner at random on Tuesday. Please, one entry per person. You will receive the Buckwheat Honey yarn and the Bee Fields Pattern. Entries will be accepted through 11:59 PM Monday, July 30.
ETA: This just in!! Tina has generously donated a skein of Oregon Red Clover Honey, and I'll supply another copy of Anne's pattern! So we'll have TWO winners! YAY!
Have a fantastic weekend!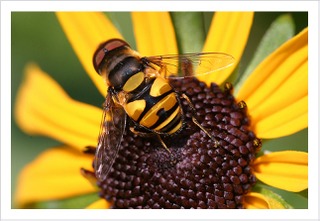 Posted by Cara at 11:27 AM | Comments (504)
July 26, 2007
Hi - this isn't the blog entry I thought I'd be writing today. I have some SPECTACULAR stuff to show you, but alas, it will wait for tomorrow.
In the meantime, I wanted to thank you all for reading the last couple of months. If it feels like I haven't been putting my all into the blog, the truth is, I haven't. Too much is going on behind the blog and as much as I would love to be shouting from the rooftops right now, the time is not right. But it's coming! I swear, it's coming so soon I can taste it.
I am trying the best I can to keep the connection going. I miss you all, my confidantes. It's not me to be quiet about anything, but I'm learning lots of important lessons about patience and necessary silences.
Anyway, I just wanted to say that I appreciate you and know that blogging is a two way street. This blog would be nothing without you.
L, C
Posted by Cara at 03:05 PM
July 25, 2007
Geez! I'm just posting later and later these days. I'm sorry. I would've posted earlier today but we had an Internet blip - you know the kind. Where you call your provider and they hang up on you because EVERYONE is calling to bitch them out. All is well though and I'm just so glad because I have a finished pair of socks to show you!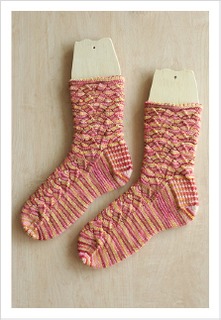 New monkeys! Yup, that's right, monkey socks. Bored yet? I'm not! I love these socks! They might just be my favorite pair of Monkeys!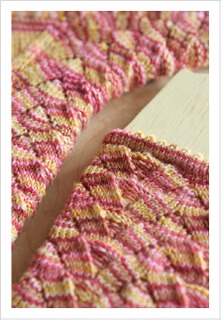 The yarn is Lightweight Socks That Rock in the Chickabiddy colorway. Tina told me that this yarn will be available in the Fall on the website - so if you like it, wait for it! I LOVE IT! It's the perfect combination of pinks and browns and yellows and oranges and reds. PERFECT! And the picot, well, the picot is ALWAYS perfect. I knit these on two 2.5mm Addi Turbo circulars (US #1s.)
I was asked the other day my secret to getting my STR socks to rock so well - meaning - no obvious pooling. The secret is the number of stitches on the needles, needle size, pattern and I suspect a bit of kismet as well.
The best way to illustrate this is with a picture of a knee high I knit last year using ONE SKEIN of lightweight STR.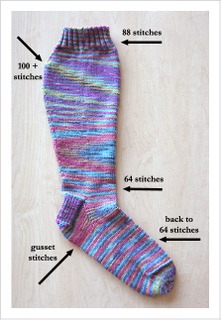 Click on it for a bigger version to open in a separate window. See that knee high - I used ONE SKEIN throughout. Never changed yarn ever - but look how it changes? And I never changed needles either - Addi Turbo US 1 - 2.5 mm - circular needles. The only thing that changed was the stitch count. I started off with (I think) 88 stitches, increased up to over 100 then decreased down all the way to 64 stitches, which is my personal sock stitch number. (You know - the pattern that you figure out after you've made a bunch of socks that you stick with - favorite toe, favorite heel, stitch count.) There's pooling around the gusset because I added stitches, but then look at the pretty stripes on the foot - that's the magic number 64.
Now that's to say it's MY magic number. I don't know what your magic number is. Maybe, honestly, you don't have one with Socks That Rock. I've never knit socks with Mediumweight STR (or Heavyweight STR for that matter) so I can ONLY speak to Lightweight STR. This is MY preferred sock yarn. It works for me. Once you add a pattern into the mix, it might change everything. Different patterns use different amounts of yarn and they may mess with your magic. If you love the pattern and the yarn doesn't work, try a new yarn. If you love the yarn and the pattern's not working, try a new pattern.
One other thing I've learned - with Monkeys at least - they look so much better with a REALLY variegated yarn. Lots of color changes. The STR I've used so far have had a least four different color changes. Anything less and they're going to look really stripey. Unless you use a solid or semi-solid - that should look great too.
There are a MILLION sock yarns out there - new ones everyday from what I can see on the net. Find your yarn - your number - your passion. It's out there. Just look for it!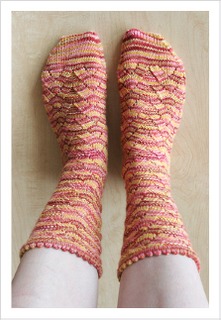 Posted by Cara at 05:05 PM | Comments (43)
July 24, 2007
Babs is doing quite well, thank you very much!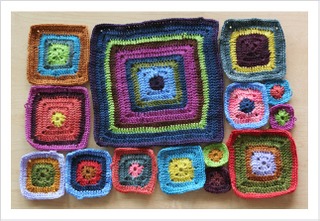 I'm following Ann's lead, doing a section at a time. The picture above shows through section 4. While Ann is seaming her sections as she goes along, I'm going to wait until I'm through with section 6 - and then I'm going to seam. At least that's what I'm telling myself.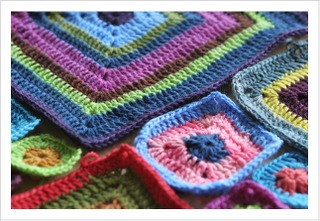 I love that we're doing this project together, and even if she is beating me (It's NOT a contest!!!), I love looking at her results to see just how good my blanket is going to look! Check hers out! She's already seamed through section 5! How fantastic does it look?!?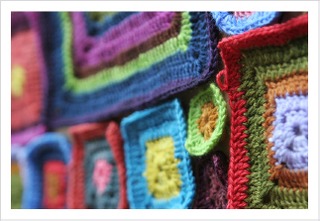 I've totally gotten the hang of the crochet, now that my Addi hook is here. My squares now are so much better and neater than my first squares that I almost (ALMOST) want to rip out the first ones and do them over. We'll see. I'm sure they look fine to anyone but me, because now I know all the little tricks to make them super neat, but that's okay. It's supposed to handmade and crochet seems a bit more wonky looking to me than knitting anyway. These ARE granny squares for goodness sake!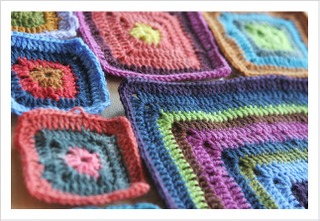 Don't worry - I'm still knitting. I've been telling myself that I have to do one repeat on my monkey sock before I can make the next square. It's working out quite well. I'll probably have a finished sock either today or tomorrow and at least a few more squares. Although when my yarn for Bee gets here - all bets are off!

Posted by Cara at 12:12 PM | Comments (26)
July 23, 2007
Are you a graphic artist that LOVES fiber? Are you a fiber artist that dabbles in graphics? Live with a graphic artist, but all you think about is fiber? I NEED YOU! Announcing a LOGO contest for SPIN OUT 2007!
I need a logo for this year's SPIN OUT. Get out your WACOS pad and draw away - I want it to be FUN! COLORFUL! SPINNING related!
The logo needs to include the following items:
- SPIN OUT
- September 29, 2007
- Central Park
- New York
The graphic should also include something related to spinning - either a spindle or spinning wheel.
Here are the logos I used last year:
So as you can see, anything goes. I need a digital file - anything that can be read by Photoshop. If you win, you give me permission to basically do whatever I want with your file - t-shirts, posters, pins, magnets, bumper stickers, etc. Your logo will appear on januaryone.com and spin-out.org for an indefinite period of time.
Enter as many logos as you like. BE CREATIVE!!!
There will be ONE winner. Said winner will receive $100 Gift Certificate courtesy of WEBS! That's a lot of fiber and yarn!
The winner will be chosen by me. All entries must be received by WEDNESDAY AUGUST 8, 2007. All entries must be sent to logo@spin-out.org as an attachment. All questions should go to the same email.
THANK YOU!!!
Cross Posted at spin-out.org.
Posted by Cara at 04:32 PM | Comments (12)
July 20, 2007
Have you seen my friend Ann's new project? Go ahead - go look. Isn't it FANTASTIC?
And do you remember this picture?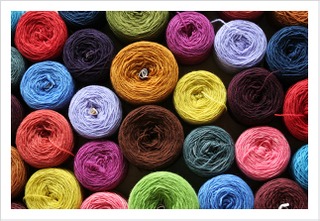 FINALLY! We're doing BABETTE! YAY! I know I said I was going to knit Babette, but Annie really wanted to crochet it and after figuring out that knitting it would take about a million years longer, I said let's do IT! We were so enamored with the Knitting Notions Online lace yarn we bought (that's the stuff I used for Moth) that when it came time to pick yarn, I said hey - Katherine's got a sportweight as well in all kinds of fabulous colors! So we bought 18 colors and split them. The pattern calls for semi-solid colors of Koigu, but this option was a bit cheaper and we're getting gauge. Here's how my breakdown is going to go: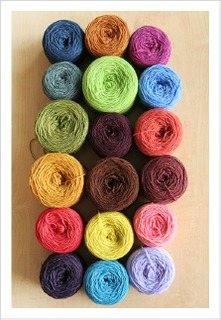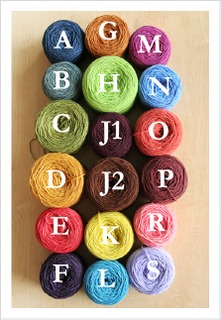 A Midnight Blue
B Ironstone
C Olive
D French Marigold
E Ruby
F Damson Plum
G Pumpkin Spice
H Green Apple
J1 Aubergine
J2 Walnut
K Forsythia
L Azure
M Red Violet
N Pacific
O Terra Cotta
P Black Cherry
R Pink Grapefruit
S Lilac
As I mentioned, the yarn is Knitting Notions Sportweight Merino. The pattern calls for 17 colors, but we went with 18 - color letter J we've decided we can switch between two colors. We WON'T be making the same exact blanket though. Our main colors (A - of which you need almost 400 yds) are different - which makes our Js different. Otherwise I think we're pretty similar.


This is the 12 round square for section 1. I'm following Ann's lead and we're crocheting them in the order they get seamed together. She's already started seaming, but I think I might wait until the end. I like this method because that means you're not always crocheting little ones or big ones but there's some method to the madness. We've also assigned one of our colorways to one of the patterns letters so that we can just follow the leader. No thinking. Just crochet. I'm up for that.
I'm not planning on going nuts with this project. I'm looking forward to it being something I can reach for and feel like I've accomplished something in a short amount of time without a lot of thought. I need that right now, to be honest, and I think this project fits the bill perfectly.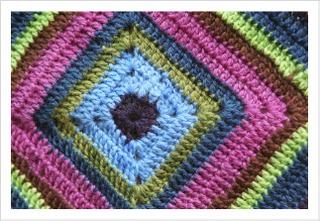 The best part though is being able to do a project with Ann. We get on the phone and crochet and laugh and it's all very GOULET.
Posted by Cara at 04:09 PM | Comments (25)
July 19, 2007
So Tuesday night we went to see Kabuki! with my sister and her boyfriend and OH MY GOD! It was THE MOST FUN EVER!!!! I was simply amazed from beginning to end!
First off, when we arrived at Lincoln Center, Midsummer Night Swing was in full swing, so to speak. Then there were all the wonderful Japanese ladies in full traditional dress: kimonos, obis - the works! They were all so beautiful!
We went in and got in line for translation headsets so we could figure out what was going on. G was concerned that they might be intrusive, but it was like having a funny little man whispering in your ear. Much appreciated. We had GREAT seats (third row orchestra center!) and as soon as we sat down I noticed that none other than James Lipton, from Inside The Actors Studio, was a few rows behind us. Or maybe it was Will Ferrell? No, I'm pretty sure it was Lipton. (If you know what's good for you, you'll watch the Will Ferrell link. It's Ferrell and Baldwin at their scrumtralecent!)
There was a walkway or runway that came out into the audience and led to a doorway off stage in the middle of the theater. Lots of times actors would come in and out of the door and down the runway, so I was always looking to my left. I immediately noticed the actor who was Paul Buchman's father on Mad About You, Louis Zorich. I pointed him out to my sister, who said it looked like Olympia Dukakis was sitting next to him. Turns out the two have been married since 1962! Olympia and I had a little tete-a-tete when we were returning our headsets. You had to give up some form of ID to get a headset and all these people were standing there describing their credit cards so they could get them back. We were shaking our heads at the chaos and talking about how easy we all just gave up our personal IDs. She has beautiful skin and gorgeous silver hair.
Anyway, back to the show - did I say it was FANTASTIC? It was unbelievably good. Better than good - great! The first two acts felt very much like a Shakespearean tragicomedy. It was VERY sexy and bawdy. Basically all these men are after the same woman, and they're also after this scroll, and the main character is actually a rogue disguised as a priest. It gets really violent in the end of the second act - almost everyone dies - and limbs were literally flying! I think an arm landed on the seat directly in front of me. GREAT!
The last act, though, was spectacular. The dead priest comes out as a spirit disguised as the woman who everyone was in love with and the man who won her can't decide which is the "real" woman (which is kind of funny because everyone on stage was male.) This part, I think, was more traditional Kabuki - there was a group of musicians on the stage and it was all very elaborate make-up and dancing and the priest's spirit becomes more and more ominous and his face is constantly changing and the music is getting louder and louder and they're throwing out streamers from the stage and cherry blossoms are dropping everywhere and I felt like it was July 4th and New Year's wrapped up into one and I swear my mouth was open the whole time and the frenzy was incredible. At one point I turned to G and told him this was the most amazing thing EVER! WHEW!
On our way out of the theater, Japanese TV snagged my sister's boyfriend and I and interviewed us like we just saw Cats or something. What did we think? Fabulous, AMAZING! First time at Kabuki? Yes! And so on. it was so much fun! The New York Times has a really nice review of the show here, and you can see some pictures as well. If you're in the area and you can get over there, please do! It was an experience I won't soon forget!
We didn't have any time for Moth pictures, but it was perfect for the cool theater. And I felt special wearing it.
Okay - sock time! I finished my STR Chicabiddy Monkey sock and it might just be my favorite one yet!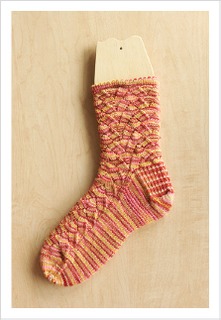 I did a picot edge and six repeats on the cuff. I probably could've done seven, but I'm happy with the six. Seven it might be a bit snug at the top. I've had some questions about the picot edge - I talk about it here. Also, one thing I do - and I forget who taught me this - is that I cast on over two needles so my cast on is nice and loose. This helps a lot when picking up the picot edge.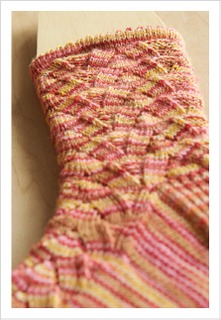 I just love the way the colors come together on this sock - the oranges and reds and pinks and yellows and browns. I'm so happy with this yarn. Like I said before, STR Chicabiddy in Lightweight. It's not on the Blue Moon website right now, but it should be available in the Fall.
You know what I like super best about this sock? It totally matches the gorgeous flowers my sister brought me to Kabuki. Even though the flowers will die eventually, the sock will remind me of Kabuki night and my sweet baby sister.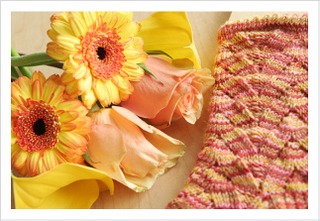 PS - I don't know where my head is at these days! THANK YOU ALL SO MUCH for your good wishes for G's continued good health. It means so much to us - now, of course, but especially when it was all going on. We won't forget all the best wishes and prayers. Ever. Thank you!
Posted by Cara at 02:06 PM | Comments (32)
July 17, 2007
One of the things that made yesterday such a great day was that G had his six month cancer check and he's ALL CLEAR! YAY!
It's just so awful being back at that hospital and my heart goes out to everyone dealing with cancer - or any other illness that has the potential to rip your family apart. It's such a scary place.
But we're all good.
I promised you a finished sock today, but alas, I fell down on the job: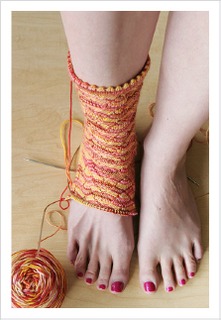 It's an almost finished monkey. I've got about two repeats and the foot to do. I probably won't be able to get it done today, though, because in just a few short hours Moth will make it's debut! We're going to Kabuki! The show is part of the Lincoln Center Festival and I'm really excited about it. My youngest sister and her boyfriend will be joining us - she just got back from Japan so it's great timing. We figure we'll celebrate our OTHER sister's birthday today. Happy Birthday Sis! We love you!
PS - I'll try to get a picture of me and the shawl together. No promises though!
Posted by Cara at 03:05 PM | Comments (51)
July 16, 2007
Friday sucked ass, but today? TODAY IS A GREAT DAY!
And tomorrow, maybe I'll have a finished sock for you!
Thanks for hanging with me.
L, C
Posted by Cara at 02:01 PM | Comments (25)
July 13, 2007
It's not even 8AM and already I'm in one of those moods where, trust me, it's better for all of us if I just sign off for the weekend. Besides, I've got nothing to show you anyway.
Thank you for all the lovely comments on my Moth shawl. I really appreciate it, and I do love the shawl. I hope that was clear.
Have a great weekend everyone!
Posted by Cara at 07:52 AM
July 12, 2007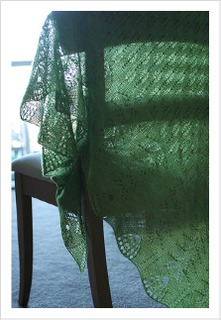 Thanks all for your comments yesterday on my blocking shots! I used blocking wires I got from Knitpicks along the top and down the center. There was a question as why I did it down the center. I'm not sure - because I saw Anne do it in one of her blocking shots? It gave some stability to the blocking? I don't know for sure, but I'll do it again.
There probably won't be true FO pictures (in the form of a photoshoot with me and the shawl) for a while yet, but I thought I'd throw you a few pictures and some of my impressions of the project while they're fresh in my mind.
The first and biggest thing to tell you is that it didn't turn out the way I had hoped. That's not necessarily a bad thing, but it's the truth. And it's not the fault of the pattern or the yarn or anyone really but me. And Wendy, I guess, because she knit what I thought was the ideal version.
When I was looking for a new shawl, I stumbled upon Wendy's Moth and fell in love! Look at those CORONAS! I'm not sure what she did to get those, but clearly I didn't do it!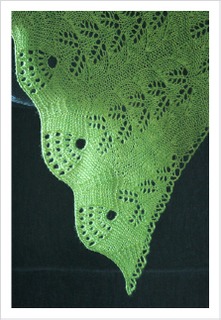 When it came time for me to bind off, I remembered that Wendy had wrote she had gone up a couple of needle sizes because the pattern said bind off very loosely and she usually binds off pretty tight. I'm the same way - I bind off VERY tight, so I went up to size 8 needles and started to bind off. (I knit the shawl with size 6s.) It was evident pretty early on that my bind off wasn't loose at all. So I went up to 9s and it seemed okay and I bound off and if you've ever bound off like 500+ stitches when I was done I wasn't going to do it again, tight or not tight.
I knew right away when I started blocking it that it wasn't going to work the way I had wanted. And I won't lie to you - I was disappointed. I had a vision and this wasn't the vision. The whole time I was knitting the shawl I could see how it was going to look. All pinned out it was a bit smaller than I had hoped as well. I got the 36" the pattern called for in the length from top to point (and I would've liked it go a bit deeper) and I lost about 10" on the span - mine only goes to about 74" and the pattern calls for 84". I also didn't get much of a point at the bottom - not sure why?
Now, of course, I COULD rip out the bind off and redo it and reblock the whole thing.
Another new thing for me with this shawl? I've never knit lace with lace weight yarn. I've always used a fingering weight - even sport weight. I'm used to a SUBSTANTIAL shawl. You feel it when it sits on your shoulders. This shawl is so delicate and light and it wasn't what I was used to. Don't get me wrong - I love the yarn! I loved working with it, I love the color of it, and I think it's perfect for the shawl. I will absolutely use this yarn again. But it's something I have to get used to.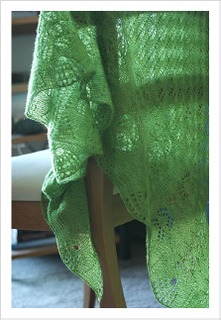 Through this project, I've discovered that knitting is more like writing than I thought. When you write, nothing ever turns out the way you envision it in your brain. The words take a different turn, the characters build lives of their own; a story, when it works, becomes what it needs to be DESPITE the writer. One of the things that attracted me to knitting was that you COULD get what you'd envisioned! You could MAKE it be what you wanted it to be. This morning, as I threw my new shawl over my shoulders and felt the delicate softness of the lace, I realized that knits have a mind of their own as well. And that it's perfectly okay with me.
Posted by Cara at 11:29 AM | Comments (63)
July 11, 2007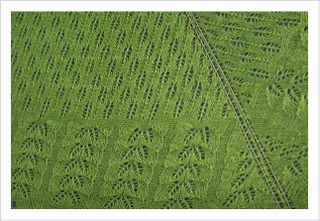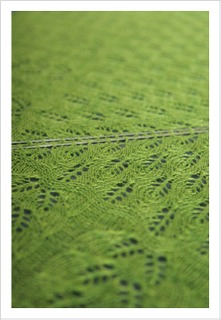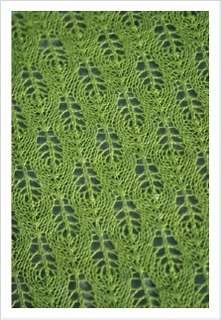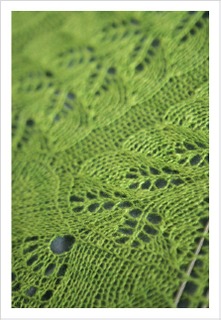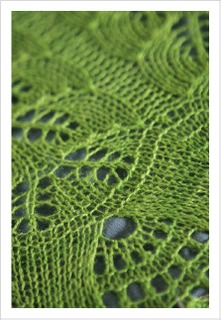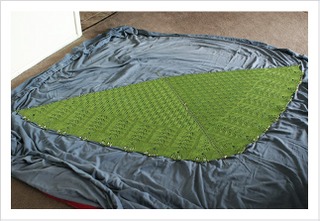 Posted by Cara at 08:52 AM | Comments (79)
July 10, 2007
Yeah. You heard me. I said NUMB ass. Somehow or other, don't even ask me how, I managed to bruise a nerve located in my ass cheek and now it's NUMB. Like go to the dentist, shoot your face with Novacain numb. Like I can't stop touching it because it feels so weird but it feels weird when I touch it so I don't want to touch it numb. And, yes, I'm very attractive walking around with my hand on my ass all day. The doc said it could be like this for awhile too.
Like I said. Don't ask. But I'm sure DUMB had something to do with the NUMB.
I promised you a new monkey and here she is: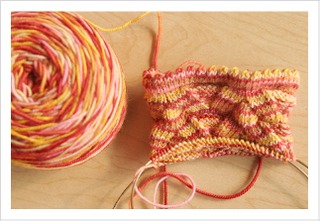 These socks are definitely SHE socks because a) they have a picot edge. I don't think I need to say much more about that. And b) the yarn is STR Chickabiddy. CHICkAbiddy. CHICA. They can only be girl socks. Girl socks for me. I'm not doing minis this time though - I'm going to do at least 6 repeats on the cuff. (By the way, the Chickabiddy colorway is not on the STR website right now, but I have it on good authority it will be back in the Fall.)
Off to block Moth. That's right. Me and my numb ass haven't blocked it yet. Whatta gonna say about that? ;-)
Posted by Cara at 06:07 PM | Comments (31)
July 09, 2007
Back in the day, when Georgie and I first moved in together, oh some sixteen years ago, PBS was reshowing the absolutely fabulous I, Claudius. We would watch it all the time. One of our favorite parts is when John Rhys-Davies comes out and says that John Hurt, as Caligula, has undergone a META-MOR-PHO-SIS. You have to hear G say it to really appreciate it.
There's a bit of metamorphosis going on in my life and I can imagine that while you're snuggled up in that cocoon waiting to become a butterfly you feel like everything is changing but nothing is changing. You want things to be different, but they really aren't. And then they are.
I want to reassure you that all the things I can't talk about are good things. Potentially very good things. No one is sick. Everyone is good. Georgie and I have never been better. My business has never been better. (In fact, I should be working not blogging.) A tremendous weight has been lifted from me, and honestly, I feel like I could fly. If only my feet were wings.
What's a girl to do when she wants to fly but can't? She knits.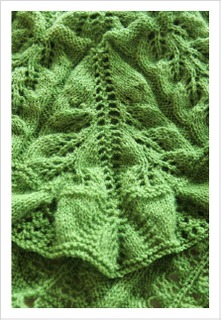 Saturday and Sunday I knit without stopping. At least it seemed like that the last four rows of Moth. It's done. Off the needles. I was going to block it today, but life interrupted once again, so it will have to wait until tomorrow.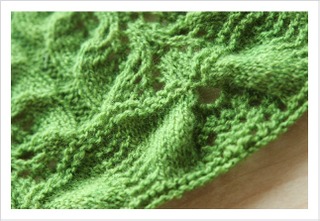 Everything about this project has been fabulous: the needles, the yarn, and especially the pattern. I'm almost sorry to block it, because that means it's over. Thank god my next shawl is only a week away!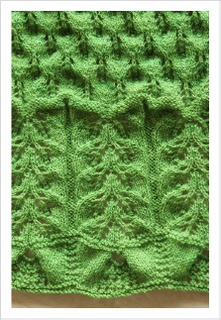 Be back tomorrow with a new pair of Monkeys. See? The more things change, the more they stay the same. ;-)
Posted by Cara at 08:24 PM | Comments (36)
July 07, 2007
to thank you for the love. So I'll just say thank you anyway. Thank you! I felt it! I really really did! And yesterday went better than I ever could've hoped. I promise I'll tell you all about it soon. Patience, my pretties.
Now it's off to knit. And knit and knit and knit. I've got a goal: a finished Moth before the weekend's up.

Posted by Cara at 10:51 AM | Comments (29)
July 06, 2007
A month or two ago I asked for some good wishes. I was pretty selfish about it because I didn't tell you WHY I wanted good wishes, just that I needed some. Today, I'm back again. Even though I've been a pretty shitty blogger as of late and an even worse knitter, I hope you're still out there and can spare me a "Hope that Cara has a good day today!" kind of thing.
I'm not pregnant, there is no book, but it turns out that today might be one of the most important days of my life. How's that for tweaking your interest and not saying anything? I know I'm being terribly selfish and I promise that one day soon I will tell you everything. It's killing me not to say, but it's best for my sanity to try to remain quiet.
Thank you so much. I really can feel the love out there, no matter how corny it sounds. I hope to do a lot of knitting this weekend so I have something to show you on Monday and regular blogging will resume as well. I miss the blogging almost as much as the knitting.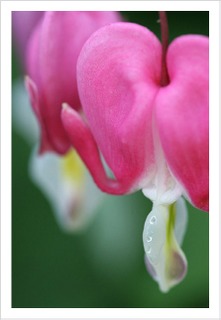 Have a fabulous weekend! And thank you! Thank you! THANK YOU!
L, C
Posted by Cara at 09:05 AM | Comments (137)
July 03, 2007
The next edition of Yarnival, Volume 1, Issue 11 will be edited by yours truly.
Don't remember what Yarnival! is?


It's this Internet thing called a Blog Carnival, which is an online compilation of very cool blog entries. Of course, Yarnival! centers around knitting and fiber pursuits and it's a new way for us to read and get to know different blogs. I, for one, seem to be stuck in my same bloglines rut. Not that I don't have excellent blogs listed on my bloglines, but there are tons of new blogs out there and I've been too lazy to seek them out. YARNIVAL will help us all! Anyone, regardless of the length of time they've been blogging or the popularity of their blog, can submit a post to Yarnival. The editor for that edition will choose which ones to include and it will be posted on a certain day of the month. You can read more about Eve's vision here.



NOW ACCEPTING SUBMISSIONS FOR YARNIVAL ISSUE 11!


To submit a blog post, USE THE SUBMISSION FORM. DO NOT leave your submission in the comments. DO NOT email me your submissions. SUBMISSIONS WILL BE ACCEPTED BY FORM ONLY. The deadline to submit is AUGUST 1st. The issue will appear on this blog AUGUST 15th.
Remember, ANYONE can submit, regardless of how long they've been blogging or how long they've been involved with the fiber arts. Send in your best blog post! It can be funny, sad, educational - I don't care - as long as it's entertaining, well written, interesting and has something to do with the fiber arts. GO FOR IT! What have you got to lose?
YARNIVAL people. YARNIVAL!
PS - If you'd like to edit a future edition of Yarnival!, please contact Eve at her blog, Needle Exchange.
Posted by Cara at 02:17 PM | Comments (10)