« Babette | Main | Dear Friends... »
July 25, 2007
ChickaMonkey
Geez! I'm just posting later and later these days. I'm sorry. I would've posted earlier today but we had an Internet blip - you know the kind. Where you call your provider and they hang up on you because EVERYONE is calling to bitch them out. All is well though and I'm just so glad because I have a finished pair of socks to show you!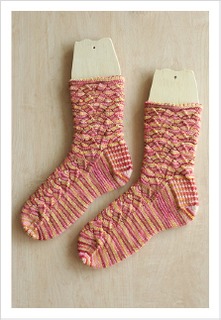 New monkeys! Yup, that's right, monkey socks. Bored yet? I'm not! I love these socks! They might just be my favorite pair of Monkeys!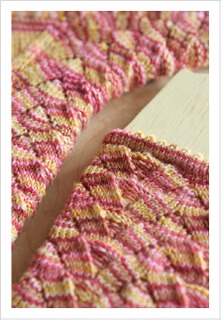 The yarn is Lightweight Socks That Rock in the Chickabiddy colorway. Tina told me that this yarn will be available in the Fall on the website - so if you like it, wait for it! I LOVE IT! It's the perfect combination of pinks and browns and yellows and oranges and reds. PERFECT! And the picot, well, the picot is ALWAYS perfect. I knit these on two 2.5mm Addi Turbo circulars (US #1s.)
I was asked the other day my secret to getting my STR socks to rock so well - meaning - no obvious pooling. The secret is the number of stitches on the needles, needle size, pattern and I suspect a bit of kismet as well.
The best way to illustrate this is with a picture of a knee high I knit last year using ONE SKEIN of lightweight STR.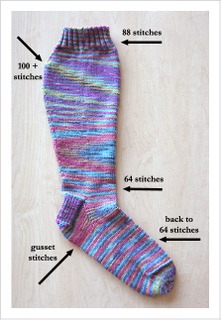 Click on it for a bigger version to open in a separate window. See that knee high - I used ONE SKEIN throughout. Never changed yarn ever - but look how it changes? And I never changed needles either - Addi Turbo US 1 - 2.5 mm - circular needles. The only thing that changed was the stitch count. I started off with (I think) 88 stitches, increased up to over 100 then decreased down all the way to 64 stitches, which is my personal sock stitch number. (You know - the pattern that you figure out after you've made a bunch of socks that you stick with - favorite toe, favorite heel, stitch count.) There's pooling around the gusset because I added stitches, but then look at the pretty stripes on the foot - that's the magic number 64.
Now that's to say it's MY magic number. I don't know what your magic number is. Maybe, honestly, you don't have one with Socks That Rock. I've never knit socks with Mediumweight STR (or Heavyweight STR for that matter) so I can ONLY speak to Lightweight STR. This is MY preferred sock yarn. It works for me. Once you add a pattern into the mix, it might change everything. Different patterns use different amounts of yarn and they may mess with your magic. If you love the pattern and the yarn doesn't work, try a new yarn. If you love the yarn and the pattern's not working, try a new pattern.
One other thing I've learned - with Monkeys at least - they look so much better with a REALLY variegated yarn. Lots of color changes. The STR I've used so far have had a least four different color changes. Anything less and they're going to look really stripey. Unless you use a solid or semi-solid - that should look great too.
There are a MILLION sock yarns out there - new ones everyday from what I can see on the net. Find your yarn - your number - your passion. It's out there. Just look for it!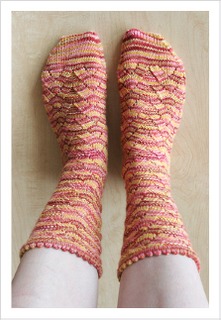 Posted by Cara at July 25, 2007 05:05 PM
Topics: Monkey Socks ~ Socks
Comments
Monkeys are my next socks for me. Sadly I have to do pairs for the husband and sons before I get to it:(
Posted by: Nancy at July 25, 2007 05:28 PM
Love, love, LOVE your socks - I finished my first Monkeys with the STR silk/wool and can't wait to start another pair, so yes, they are definitely addictive...
Posted by: Deirdre at July 25, 2007 05:29 PM
You scare me. It takes me AGES to finish one pair of socks, and you churn out perfectly gorgeous ones one after the other. You and Margene. Sheesh.

Posted by: regina at July 25, 2007 05:37 PM
I have a question, if it's not a huge pain-in-the-butt for you. I did a pair on size two needles, in Lorna's Laces-shepard sock yarn. I'm pretty sure it's about the same weight as the lightweight STR, which brings me to the actual question. Do you find them slouchy at all, like you should have used smaller needle or do you like them kinda loose-like OR were you smart enough to amend the needle size before casting on and committing yourself them...?...phew....sorry about that.
Posted by: Susan at July 25, 2007 05:55 PM
Great monkeys! I made my monkeys with STR mediumweight Lovers Leap. It is a semi-solid colorway. The stitch pattern shows up wonderful in the semi-solid! I called them my "Monkey Love" socks!
Posted by: Stacey at July 25, 2007 05:56 PM
I'm definitely waiting for Chickabiddy. I've been coveting it since you posted your oder of 16 skeins of STR back in the fall. No, I'm not a JanuaryOne/STR stalker or anything...not at all.
I'm keeping my fingers crossed that Tina makes many of the Chicken colors available this fall.
Posted by: libraryliz at July 25, 2007 05:59 PM
Yup, my secret STR lightweight number is 64 sts on 2.50 mm needles (KP's though) too. Unfortunately, my secret STR medium weight number is 72 sts on 3.00 mm needles which is too big and the reason I like the lightweight more. It's all about your gauge and the color length of Tina's yarn.
And the secret to getting Tina to dye up a color you want is to have enough people (though it's been mostly the Rockin' Sock Club members recently) ask her to dye it.
Posted by: C. at July 25, 2007 06:06 PM
Yay for magic number 64. That is actually my magic number/needle combo also. I can get the STR to work for me....but now that I'm trying to make some socks for my husband, I've had to tinker around a bit more.
Posted by: Christy / Not Hip at July 25, 2007 06:21 PM
Beautiful socks! I'm finally getting around to thanking you for the hints last week on doing a better picot edge. I'll give it another try and I think your tips will make a big difference.
Posted by: KimW at July 25, 2007 06:28 PM
LOVE the Monkeys!!! Mine in STR Little Bunny Foo Foo are looking FAB too.
Posted by: Jackie H at July 25, 2007 06:33 PM
Cara, what is your recipe for knee-high socks? I so want to make a pair but math makes my head hurt and I can't figure it out....help!
Your work is beautiful!
Posted by: tevana at July 25, 2007 06:52 PM
Pretty sock.
My number is 64 with lighter wt. sock yarns too. It also happens to divide nicely into a lot of good stitch patterns. For the record 54 usually works well for me with medium wt. STR.
Brilliant idea to illustrate pooling with your knee sock. It shows, so clearly, how it is affected by stitch count.
Posted by: Kirsten at July 25, 2007 07:03 PM
Lovely! You make me want to make another pair.
Posted by: Sarah at July 25, 2007 07:09 PM
Beautiful Monkeys, Cara! You always inspire me! I haven't gotten around to Monkeys yet, but I've got the printed-out pattern sitting right next to my computer! And when I do it, I'll surely make the picot edge you have made famous!
Posted by: Nancy at July 25, 2007 07:34 PM
Love the ChickaMonkeys! That's not a color I imagine I'd just pick up after seeing in a skein, but seeing the yarn knit up makes it a definite must have.
Posted by: Megan at July 25, 2007 07:36 PM
Okay, you and your monkey influence is working on me. I think I must knit some! Thanks for the STR hints, too- really good to know!
PS: B's PET scan came back negative! YAY! They still want to do the lymph node procedure (scheduled for next week Friday), so we'll have more (GOOD) news after that. Just wanted to let you know. :)
Posted by: Nonnahs at July 25, 2007 09:17 PM
I love these monkeys! They really are so pretty!
Posted by: tiennie at July 25, 2007 09:20 PM
Yet another great pair of Monkeys. Love them.
Posted by: Tonia at July 25, 2007 09:20 PM
72 is my magic number for Medium Weight STRwith 2.25mm needles. (Can you say "loose knitter"!?!) It truly IS all about the gauge! (Then again, isn't it always!?!)
Posted by: Bobbi at July 26, 2007 08:24 AM
I am almost done my monkeys that you inspired. I will be blogging on them sometime today. I made them short with the picot edging and they are so cute!
Posted by: kellie at July 26, 2007 08:24 AM
Great Monkeys!!! 64 is my magic number too :-)
Posted by: Kim at July 26, 2007 08:43 AM
Those monkeys are lovely! The picot edging is a perfect addition to make them truly girly socks! Any advice for a picot edging on toe-up socks? I can't seem to figure out how to graft the live stitches to the inside of the sock below the picot.
Posted by: Tonya at July 26, 2007 08:47 AM
OMG, I absolutely LOVE your socks, and that yarn is fabulous! I'm envious ;-) And Babette? Once again, your color choices are fantastic. I feel like printing these two posts out in color and hanging them on my wall for inspiration. They're positively YUMMY!
Posted by: Hannah at July 26, 2007 09:09 AM
How doggone smashing are those? I love the colorway and pattern combo. As usual, stunning m'dear. :)
Posted by: Anne at July 26, 2007 09:14 AM
Thanks for doing all that work for us on your knee high! 64 is my magic number too--but how do you manage when you make socks for your husband? I've given up on some of the varigated (LORNA"S!!) because the pooling is just so icky on more stitches.
Posted by: Monica at July 26, 2007 09:53 AM
Great socks, as usual! Thanks very much for the knee-high dissection. I don't seem to have a magic number with STR (*sniffle*), but I'm going to try a pair of Sidewinders with it, I think.
Posted by: Amy at July 26, 2007 11:03 AM
I'm knitting Monkeys right now as well. I love the colour on yours. STR are the next sock yarn on the list to try out and I think I might just wait for this colour to be available online :)
Posted by: Kristy at July 26, 2007 11:05 AM
Beautiful socks! I think those are my favorite monkeys yet! :)
Posted by: Jen at July 26, 2007 12:51 PM
I think I am the only knitter that has not yet made Monkeys. I will, when it's time. It may be this fall when STR Chickabiddy is available because those socks are sooo beautiful.
Posted by: Jennifer at July 26, 2007 12:56 PM
I wasn't a Monkey fan until I saw the picot edging on them. I've thought that the base pattern was too busy for my tastes, but somehow that picot edge makes it ever so appealing.
Posted by: Samina at July 26, 2007 01:49 PM
Most excellent Monkeys and thank you for the good advice. I wish I could retain all things I learn like I do with knitting info. Nah, knitting's enough... I do appreciate all the time you take to help those of us with less experience and the desire to learn :) So when does Cara's Finishing School for Knitters open again?
Posted by: Carol at July 26, 2007 02:04 PM
I've noticed the same thing about the Monkey socks needing the very multicolored/variegated yarns. I must have tried three or four colo of yarn and vetoed them all trying to get the right Monkey colorway combo. One day I will find the right colorway. One day...
Posted by: Jen at July 26, 2007 02:20 PM
once again you have yet another beautiful pair of socks... do you ever look back at your archives and laugh at your "pre-sock self"? I haven't finished my Monkeys and have been on a Knitting Top kick... although maybe an order of STR should help that a bit ;-)
Posted by: margaux at July 26, 2007 04:01 PM
It's so funny, cause I was just thinking how lucky you are that your monkeys' don't have any pooling. I happen to like pooling, but there are some days that I don't. Your new Monkeys are perfect! Thanks for explaining.
Posted by: beth at July 26, 2007 04:58 PM
I LOVE those Monkeys! You have inspired me so much with all your STR Monkeys that I just bought my first STR ever, and I am totally going to use them for Monkeys :D I just hope they look half as awesome as yours. What you said about the magic number thing makes a lot of sense, too. Thanks!
Posted by: Amanda at July 26, 2007 06:11 PM
I never thought I'd write this sentence, but I have sock envy. Those are prrreettttyy.
Posted by: Lizbon at July 26, 2007 08:40 PM
Very nice Monkey Socks! I saw a vanity license plate yesterday- you'll never believe it....." G Rocks" NO lie!
Posted by: Manise at July 26, 2007 08:44 PM
Those socks are DELISH! If only I can (someday) make socks like you! ;)
Posted by: Jessica Chapman at July 26, 2007 11:29 PM
I love your new Monkeys! Heck, I love all your Monkeys. And thanks so much for the pooling tutorial! I'll no longer be intimidated by STR or other variegated yarns -- I just have to find the magic number.
Posted by: SusanKnits at July 27, 2007 12:44 AM
64! 64! 64! My magic number too, and I'll juggle the needle size between #0 and #1 according the the weight of the yarn and the "pooling factor". Sometimes you just gotta pool, though. I'm never bored with Monkeys, although I am loving the Jigsaw Socks, too.
Posted by: ellen at July 27, 2007 07:57 AM
Can you email me? I was interested in several sets of notecards with sheep for my shop.
Posted by: Beth at July 27, 2007 09:45 AM
Must. Have. Chickabiddy! OMG, it's fabulous!
I'd add a corollary to your "Monkeys look best in highly variegated yarn"--I think they look equally good in a severely plain yarn. In a solid color, the texture really pops!
My very favorite Monkeys, though, are a pair I saw on Ravelry in Fire on the Mountain--just about the loudest, wildest colorway ever. Holy moley, those were incredible. The knitter either frogged them or had plans to frog them, though. Tragic!
Posted by: Beth S. at July 27, 2007 11:44 AM
hmmm. I'm thinking my magic number is NOT 64, because my mini-monkeys in STR lightweight had a lot of pooling. I still love them, but I was boggled by it. http://valleygrrl.typepad.com/knitting/2007/02/the_socks_that_.html

Posted by: Juls at August 10, 2007 03:41 PM