« Six Months | Main | New! New! New! »
July 19, 2007
KABUKI!
So Tuesday night we went to see Kabuki! with my sister and her boyfriend and OH MY GOD! It was THE MOST FUN EVER!!!! I was simply amazed from beginning to end!
First off, when we arrived at Lincoln Center, Midsummer Night Swing was in full swing, so to speak. Then there were all the wonderful Japanese ladies in full traditional dress: kimonos, obis - the works! They were all so beautiful!
We went in and got in line for translation headsets so we could figure out what was going on. G was concerned that they might be intrusive, but it was like having a funny little man whispering in your ear. Much appreciated. We had GREAT seats (third row orchestra center!) and as soon as we sat down I noticed that none other than James Lipton, from Inside The Actors Studio, was a few rows behind us. Or maybe it was Will Ferrell? No, I'm pretty sure it was Lipton. (If you know what's good for you, you'll watch the Will Ferrell link. It's Ferrell and Baldwin at their scrumtralecent!)
There was a walkway or runway that came out into the audience and led to a doorway off stage in the middle of the theater. Lots of times actors would come in and out of the door and down the runway, so I was always looking to my left. I immediately noticed the actor who was Paul Buchman's father on Mad About You, Louis Zorich. I pointed him out to my sister, who said it looked like Olympia Dukakis was sitting next to him. Turns out the two have been married since 1962! Olympia and I had a little tete-a-tete when we were returning our headsets. You had to give up some form of ID to get a headset and all these people were standing there describing their credit cards so they could get them back. We were shaking our heads at the chaos and talking about how easy we all just gave up our personal IDs. She has beautiful skin and gorgeous silver hair.
Anyway, back to the show - did I say it was FANTASTIC? It was unbelievably good. Better than good - great! The first two acts felt very much like a Shakespearean tragicomedy. It was VERY sexy and bawdy. Basically all these men are after the same woman, and they're also after this scroll, and the main character is actually a rogue disguised as a priest. It gets really violent in the end of the second act - almost everyone dies - and limbs were literally flying! I think an arm landed on the seat directly in front of me. GREAT!
The last act, though, was spectacular. The dead priest comes out as a spirit disguised as the woman who everyone was in love with and the man who won her can't decide which is the "real" woman (which is kind of funny because everyone on stage was male.) This part, I think, was more traditional Kabuki - there was a group of musicians on the stage and it was all very elaborate make-up and dancing and the priest's spirit becomes more and more ominous and his face is constantly changing and the music is getting louder and louder and they're throwing out streamers from the stage and cherry blossoms are dropping everywhere and I felt like it was July 4th and New Year's wrapped up into one and I swear my mouth was open the whole time and the frenzy was incredible. At one point I turned to G and told him this was the most amazing thing EVER! WHEW!
On our way out of the theater, Japanese TV snagged my sister's boyfriend and I and interviewed us like we just saw Cats or something. What did we think? Fabulous, AMAZING! First time at Kabuki? Yes! And so on. it was so much fun! The New York Times has a really nice review of the show here, and you can see some pictures as well. If you're in the area and you can get over there, please do! It was an experience I won't soon forget!
We didn't have any time for Moth pictures, but it was perfect for the cool theater. And I felt special wearing it.
Okay - sock time! I finished my STR Chicabiddy Monkey sock and it might just be my favorite one yet!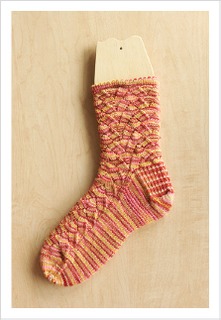 I did a picot edge and six repeats on the cuff. I probably could've done seven, but I'm happy with the six. Seven it might be a bit snug at the top. I've had some questions about the picot edge - I talk about it here. Also, one thing I do - and I forget who taught me this - is that I cast on over two needles so my cast on is nice and loose. This helps a lot when picking up the picot edge.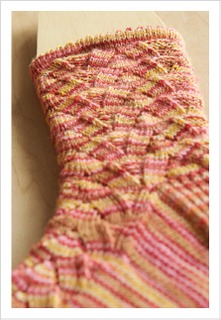 I just love the way the colors come together on this sock - the oranges and reds and pinks and yellows and browns. I'm so happy with this yarn. Like I said before, STR Chicabiddy in Lightweight. It's not on the Blue Moon website right now, but it should be available in the Fall.
You know what I like super best about this sock? It totally matches the gorgeous flowers my sister brought me to Kabuki. Even though the flowers will die eventually, the sock will remind me of Kabuki night and my sweet baby sister.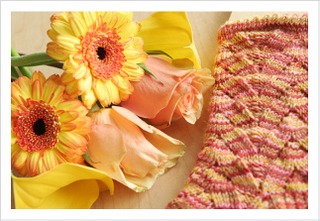 PS - I don't know where my head is at these days! THANK YOU ALL SO MUCH for your good wishes for G's continued good health. It means so much to us - now, of course, but especially when it was all going on. We won't forget all the best wishes and prayers. Ever. Thank you!
Posted by Cara at July 19, 2007 02:06 PM
Topics: Monkey Socks
Comments
Oh, how I miss going to the theatre. Kabuki sounds like exactly my cup of tea.
Posted by: Ruth at July 19, 2007 04:18 PM
Sounds like you all had a super time. Love the Monkey flower shot- totally matches indeed!
Posted by: Manise at July 19, 2007 04:22 PM
Sounds like a wonderful night. The socks are lovely and match the pretty flowers so nicely.
Posted by: Tonia at July 19, 2007 04:28 PM
Thanks for the great Kabuki review -- someday I'll have to see some. (There's no chance of my getting to NYC any time soon, sadly.)
Fabulous Monkeys, fabulously matching flowers. Do picot-edge socks stay up well? I always do ribbing because I'm afraid they won't otherwise, and also, bless me, Cara, for I have sinned, because I'm a tiny bit scared of the whole picot thing, which looks so fiddly.
Posted by: Lucia at July 19, 2007 04:30 PM
Oh it sounds marvelous! I love all things Japanese. Many of my needlepoint students love to stitch Kabuki warriors and actors...the costumes are so amazing.
Nancy Bush taught me the two needle trick. It's the best for picot starts!
Posted by: margene at July 19, 2007 04:34 PM
The Kabuki sounds wonderful Cara! Thanks for such a great description. Is it too risque for 13 and 15 year olds (who are pretty worldly and not at all sheltered)? DD#1 loves all things Japanese and I think she would be thrilled by the spectacle.
Posted by: Kirsten at July 19, 2007 04:57 PM
Sounds like you had a wonderful time at Kabuki - good seats, a nice celebration for the good news last weekend ;-) Love that last piccie with the Monkey and the flowers, you have such a knack for picking colour!!
Posted by: Alison at July 19, 2007 05:05 PM
That sounds like such a fun evening! I'll be sure to go if the opportunity arises. Love your newest Monkey socks!
Posted by: Emily at July 19, 2007 05:17 PM
That does sound fun!
Your latest monkeys and flowers are gorgeous!
Posted by: tiennie at July 19, 2007 05:24 PM
Your Monkeys always look extra special good.
Posted by: claudia at July 19, 2007 05:24 PM
The last act sounds amazing and I cracked up at the thought of seeing James Lipton in the audience. I might have walked by and just said my favorite curse word for him.
The striping on the Chicabiddy looks quite scrumptralecent with the arching Monkeys. Scrmptralecent indeed!
Posted by: Ava at July 19, 2007 05:46 PM
Ohmygod, I clicked on that YouTube link and I've been lost in YouTubeLand for the past hour -- from Will Farrell as James Lipton to Elton John and from there to Dan Marino and Bob Costas, for crying out loud! Now I've run out of time!! I'm going to have to come back...
XO
Posted by: Vicki at July 19, 2007 06:02 PM
That sock looks lovely with those flowers!
And yay for baby sisters. Mine does some incredibly sweet things now and again, too. :)
Posted by: Nicole at July 19, 2007 06:52 PM
I have a daughter who would love that performance. She is learning Japanese and is currently at an anime convention (Otakon)in Baltimore for the weekend. She walks around the house with headphones on singing which is not too strange for a teenager but she is singing in Japanese. God only knows what she is saying, I have to take her word for it that it is not obsene!
Posted by: donnalee at July 19, 2007 07:06 PM
i'm very jealous that you got to see kabuki! it sounds like an awesome time :) the socks are as darling as ever of course.
Posted by: gleek at July 19, 2007 08:21 PM
Glad you had such a lovely time. I've finally caught monkey fever I think. I'm starting a pair next.
Posted by: Jenn at July 19, 2007 10:08 PM
I read it today in the Times and was very envious.
Fun fact: I have performed on the stage in Kabuki makeup.
xo Kay
Posted by: Kay at July 19, 2007 10:16 PM
I bet you were spectacular in you Moth!!!!! I am so thankful things are going so well! You are such an inspiration! I can just imagine what you saw, and the dropped jaw, open mouth....I am so there!
Posted by: Terri Lynn at July 19, 2007 11:06 PM
The Kabuki sounds so fun! Thanks for sharing the experience. =)
For what its worth, I start my picot edges with a provisional cast on. Knit 8 (gasp =P~) rows, do the yo/k2tog thing, knit 8 more. When its time to "pick up" the stitches, I just zip out the provisional edge and knit the two live stitches together into one. Works great!
LOVE your monkey socks. The colors are just gorgeous.
Posted by: Nannette at July 20, 2007 01:45 AM
What a great tale of Kabuki. I'd never been interested in it before, but now I may have to go (until I see the price tags on those tickets, that is). Thanks for telling us about it. Oh, and I am envious of your Olympia encounter. She's swell.
Posted by: Lizbon at July 20, 2007 02:57 AM
Okay, I'm back, and I didn't click on any distracting, time-suck links. The Kabuki sounds AWESOME! Oh, I'd love to see that someday!
Love your new socks. I always, always, ALWAYS cast on socks over two needles, picot edge or not.
Have a good weekend, Cara.
Posted by: Vicki at July 20, 2007 08:33 AM
Sounds like an absolutely wonderful evening. And I'm so glad to hear about G's prognosis -- that is wonderful news!
Posted by: Jennifer at July 20, 2007 09:16 AM
I love the colors of your Monkey! What size needles did you use? Pattern calls for size 2 so I have some STR med. weight in the queue for Monkey. Was wondering if you did pattern adjustments for using the lightweight? Or possibly just personal preference . . .
I recently found your blog and it's great!
Posted by: Bridget at July 20, 2007 10:00 AM
Cara, I'm really glad to hear that you enjoyed Kabuki a lot.
There is no stage director in traditional Kabuki plays, but this time, there is, I believe. And NAKAMURA Kanzaburo XVIII is far better with one than without one. Sometimes he can't control himself during the play and just goes too far, or at least so I think. But everyone, especially his fans, loves that. In my opinion, he is one of the best actors in the world when he is under control.
And I think you've known, the spirit in the last act is not only the spirit of the priest, but also of the princess died in the previous act. Two spirits in one ghost, so the act is known as "Futa omote," doube face or double mask. Her jealousy and his vengefulness turn into one spirit.
Oh, I must knit monkey. Your monkey is really fabulous! I love it.
Posted by: Chihiro at July 20, 2007 10:45 AM
I've never been to a Kabuki play but it sounds incredible. Your monkey is totaly fab, the colors are just like your flowers.
Posted by: marycatharine at July 20, 2007 11:02 AM
Thanks for the amazing recounting of the Kabuki! How great that you got to take the glorious Moth with you.
Those socks are outrageously awesome, and made even more awesome by their new association with your night!
Hooray!
Posted by: Dr. B. at July 20, 2007 01:42 PM
I have to move farther north! Sounds like an awesome time! That's one awesome sock!
Posted by: Carol at July 20, 2007 08:02 PM
I have to move farther north! Sounds like an awesome time! That's one awesome sock! btw, We're watching Bruce live right now singing Rosalita (70's)!
Posted by: Carol at July 20, 2007 08:04 PM
Your monkey socks are nothing short of gorgeous!
Posted by: Martha H at July 21, 2007 08:20 AM
Cara, you don't seem to have the problems with STR and pooling that other people report--I've only used the medium weight STR myself, and I've been reluctant to try the lightweight. What is your secret?
Posted by: KristenJ at July 23, 2007 03:33 PM
i love that colorway! it may just be the best monkey yet ;o)
Posted by: amanda at July 23, 2007 07:46 PM
Awesome! I wish I could go see it because that sounds amazing! I would have thought they would have supertitles like an opera, but it sounds like there's so much action that one would have missed something. And lovely socks, of course!
Posted by: Scribbles & Bits at July 25, 2007 10:00 AM