« Metamorphosis | Main | Ready to Fly »
July 10, 2007
Numb Ass
Yeah. You heard me. I said NUMB ass. Somehow or other, don't even ask me how, I managed to bruise a nerve located in my ass cheek and now it's NUMB. Like go to the dentist, shoot your face with Novacain numb. Like I can't stop touching it because it feels so weird but it feels weird when I touch it so I don't want to touch it numb. And, yes, I'm very attractive walking around with my hand on my ass all day. The doc said it could be like this for awhile too.
Like I said. Don't ask. But I'm sure DUMB had something to do with the NUMB.
I promised you a new monkey and here she is: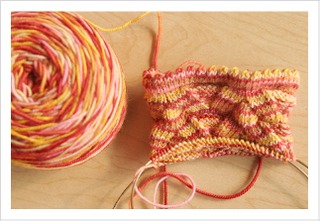 These socks are definitely SHE socks because a) they have a picot edge. I don't think I need to say much more about that. And b) the yarn is STR Chickabiddy. CHICkAbiddy. CHICA. They can only be girl socks. Girl socks for me. I'm not doing minis this time though - I'm going to do at least 6 repeats on the cuff. (By the way, the Chickabiddy colorway is not on the STR website right now, but I have it on good authority it will be back in the Fall.)
Off to block Moth. That's right. Me and my numb ass haven't blocked it yet. Whatta gonna say about that? ;-)
Posted by Cara at July 10, 2007 06:07 PM
Topics: Monkey Socks
Comments
oh your poor butt!
our monkeys could almost be twins except for the picot edge. my yarn is Madeline Tosh yarn though... it's beautiful...
can't wait to see blocked moth!
Posted by: Michelle at July 10, 2007 06:17 PM
That Chickabiddy monkey sure is pretty!! I'm just going to have to suck it up and knit a monkey already!
good luck with the whole numbbutt thing, too!
Posted by: Nikki at July 10, 2007 06:27 PM
My middle child is so slender (not MY issue EVER) that she has been known to suffer numb buns (our name for it.) When she was tinier, and strapped into a car seat, it was that much more difficult, as she really couldn't shift positions enough. I think that is part of the reason she became the Harry Houdini of carseats. (Duct tape couldn't even keep her in...)
I can't wait to see the Moth blocked, but I am anxious about the other...
Posted by: PICAdrienne at July 10, 2007 06:31 PM
Sounds like sciatica - I hear that can be a drag. Here's hoping you heal quickly!
Posted by: Mary at July 10, 2007 06:51 PM
Luckily your ass is numb only because of a bruised nerve (versus permanently numb, that'd be no fun!). Wicked nice monkeys, and lovely color!
Posted by: lisa at July 10, 2007 07:16 PM
That Monkey pattern is soooo nice - I just finished a pair myself. It shows up the colors in handpainted yarn so nicely and your yarn is so bright and cheery!
Posted by: Rasa at July 10, 2007 07:27 PM
I had that happen once, and it took literally years for it to go away. I still have a very specific spot that if it gets bumped or something, I get a bit of a "shock" down my leg.
I had to have a shot of demerol in my umm... buttock after a surgical procedure and the damn nurse sort of stabbed in the wrong place and cause some nerve damage. Its weird because it was always "numb" but if it got hit or bumped...yowza.
I hope what you had wasn't similar, because like I said, it took years for it to resolve!
Posted by: Carla at July 10, 2007 08:08 PM
Better numb than dumb, I always say. Love the chickabiddy!
Posted by: amyhinct at July 10, 2007 08:27 PM
Posted by: xtina at July 10, 2007 08:28 PM
Yikes! I hope you heal well. I am glad you have sought medical attention for the issue as this kind of stuff can be serious.
Posted by: Sarah at July 10, 2007 08:43 PM
I love that color! And best of luck with your ass (a phrase I never really saw myself typing). :)
Posted by: jenfromri at July 10, 2007 10:05 PM
You need a massage table so you can lay on your tum and see your knitting through the face hole. Then you wouldn't have to sit on your numb ass to knit.
Posted by: E to the M at July 10, 2007 10:07 PM
Man, it's always something with you and that butt of yours!
Posted by: flair at July 10, 2007 10:26 PM
Love the socks! Pretty summer colors!
Posted by: Ellen at July 10, 2007 10:30 PM
I had mono when I was in high school and ended up in the hospital for 9 days. Got a vitamin shot 2X/day in the butt. Ended up with a big ol' lump in each cheek from the shots and a numb ass. Eventually the feeling came back, but I know what you mean about how weird it is. And how you can't resist feeling it.
Posted by: kmkat at July 10, 2007 10:55 PM
I am new to knitting. I love your log cabin works. I was wondering what gauge that yarn was and what size needles do you use.
Posted by: yoshielf at July 10, 2007 11:23 PM
Is it your sciatic nerve? That is a pain. Hope you feel better soon!
Posted by: tiennie at July 10, 2007 11:43 PM
I do not know why but "ass cheek" just made me laugh right out loud -then I thought "I can't believe you went to the doctor for it-you are so brave!" What a BUMmer!! hahahaha-I need to go to bed....
Posted by: Jody at July 10, 2007 11:43 PM
Ya poor thing, hope your numbness fades quickly. As for the Monkeys ... ooohhh, pretty!! Might have to keep an eye on the Blue Moon site for that colourway ;-)
Posted by: Alison at July 11, 2007 12:52 AM
Those monkeys are dee-licious in those colors!
As for this numb-ass problem of yours, of course you keep hitting it - it's totally weird that it's numb!
(Disclaimer: I am not a medical doctor. Comments about weirdness re: numbness are in no way intended to cause pondering or worry of any kind.)
Good luck with the blocking!

Posted by: Dr. B. at July 11, 2007 02:43 AM
Numb ass! That's a new one. The further past 30 I go, the more I discover body parts to wreck. Hope you resensitize soon!
Posted by: Jen at July 11, 2007 04:03 AM
You don't realize how precious bum cheek sensitivity is until its gone... The things we take for granted! Tragic, just tragic.
By the way, you're killing me with all the suspense. First the big "surprise", now the moth shawl. I can't wait to see.
Posted by: Nicole at July 11, 2007 06:51 AM
You went from sleep and ready for a nap to fightin' ready...whoa. I hope Moth survived!
Posted by: margene at July 11, 2007 07:43 AM
I've heard of numbnuts, but numbbutts? Poor baby! But hey, if that's the worst that's going on right now, more power to ya! Love the she socks! I should be catching up on making a Monkey some time next year ;)
Posted by: Carol at July 11, 2007 11:08 AM
I once had to get a pain killer shot in my arse. The nurse managed to hit a nerve (the other pain was too great that I didn't feel that and the drugs worked VERY qucikly). Needless to say, for TWO YEARS I had this numb spot on my arse. I couldn't help but touch it sometimes since it was a weird pins and needles feeling. Hope yours doesn't last that long.
Posted by: Shannon at July 11, 2007 11:16 AM
Love the yarn colors. So bright and cheery, chica!
Posted by: Susan P at July 11, 2007 06:41 PM
Right ON, Monkeys with picot. Maybe I should motivate and work on mine?
Sorry about the numbutt. At least it's funny!!!
Posted by: Kirsten at July 11, 2007 09:40 PM
Okay, I am thinking, how in the world did she do this! Without cracking up and lol, there are just so many scenarios in my wicked mind, I keep saying be nice, be nice, and then if I say, well, stuff like that comes with age, okay, go ahead and kick me in the a--!!!! You just set me up, I can blame you can't I?
Posted by: terri lynn at July 12, 2007 01:21 AM
The numb bum sounds bizarre but I think I'd still prefer it to the pain in the proverbial I've had since I rebroke my coccyx in December :[
and while we're on the subject ... think about what is involved in getting acupuncture on that spot of your anatomy and from a male at that. Poor man has seen much more of me than even my nearest and dearest.
Posted by: catsmum at July 14, 2007 12:06 AM
I just surfed onto your blog and am happy I did. This is a hilarious post! Beautiful shawl, too...I've just started my first lace project and have ripped it out a total of four times so far. It's so good to see by your pics that people do actually complete lace projects.
Posted by: Mary at July 15, 2007 02:48 PM
I bet you look (looked? Are you still doing it?) less silly rubbing your numb butt than I do rubbing my numb boob. (Biopsy injury. Everything's benign, but now it's numb. I'm not sure this is an improvement.) Good luck! Hope you recover sooner than some of your posters did!

Posted by: Judy H. at July 17, 2007 08:25 PM