« Through Six | Main | No Knit Weekend »
August 10, 2007
Purple Rain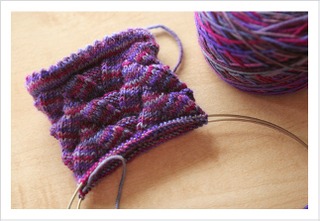 I started a new pair of monkeys yesterday. The yarn is STR Lightweight Purple Rain (it's not on the website right now - I have no idea if it will be up anytime soon.) It's got me thinking about my teenage movie memories: Class, the first R rated movie I was allowed to see IN the movies. It was such a big deal to get permission! And what an awful movie! Footloose! Oh my god - we actually DANCED in the AISLES! Crazy! Romancing The Stone - the first "date movie" I ever went on - and really - the first date. I've always loved that movie. Ghostbusters - I saw it like five times - IN the theater. There was the time I lied and told my mom there was a double feature, when actually we went to two movies back to back. It was one of the Friday the 13th movies and Against All Odds. My mom came into the theater looking for me with my baby sister (literally a toddler at the time) and possibly my other siblings. I remember realizing she was there right during the hot pyramid love scene with Jeff Bridges and Rachel Ward. Too much for this fourteen yr old to handle for sure! Man did I get in trouble! Now that I think back - 1984 was a HUGE movie year in my life. HUGE.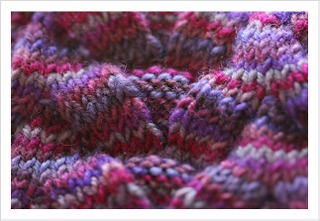 Purple Rain huge. I'll never forget seeing this movie in the theater - we saw it at least twice. At the Orleans Theater. Did we take the bus there? It was summer and my boyfriend worked at Kinney shoes at the Roosevelt Mall and I remember walking over there after the movie - was it the first or second time my girlfriends and I saw it? And I think he was pissed because I liked it so much. It was a CRAZY movie. Unlike anything I had seen before. Morris Day and the Time totally stole the show too! I'll never forget it. I'm not the biggest Prince fan in the world (although I'd LOVE to go to a concert - I've heard from Bruce fanatics that he rivals our beloved live performance wise) but Darling Nikki will always have a place in my heart.
What was your movie "year" so to speak? What movies changed your teen life forever?
See you next week! Have a good weekend!
Posted by Cara at August 10, 2007 03:21 PM
Topics: Monkey Socks
Comments
The Fifth Element. I was probably 13 or so the summer it came to HBO (I never remembered seeing anything for it in theatres). I think I watched just about every single day for almost two months. It was the only movie my mom tolerated me watching over and over again. It's still my all time favorite movie.
I also worked at a movie theatre for two years during high school. It was wonderful, because I could go see any movie for free, and I took advantage of it all the time. Those were my movie years.
Posted by: Jill at August 10, 2007 03:45 PM
Oh, Cara! You and I had the same hangouts - I spent my formative years at the Roosevelt mall and Orleans Theatre. Course, that was back in the 60s and 70s. I remember when they built the mall. Great memories!
Nessa Z.
Posted by: Nessa Z. at August 10, 2007 03:49 PM
Hahahaha, I've always been fond of Romancing the Stone, too, as tacky as it is. "Let me introduce you to my Leetle Burro"
I didn't really see a lot of movies in high school or before, and really rarely in theaters. But "One Crazy Summer" used to come on TV regularly and I loved that movie. Rabid dolphins and screaming lobsters and crazed boy scouts. And Jon Cusack, where can you go wrong with that?
Oh, Ferris Bueller. I didn't actually see it until my senior year of high school (it'd been out for years by then), but it was a revelation. I cringe saying that but I was a serious, serious student and headed the way of Cameron, uptight and neurotic.
Posted by: BigAlice at August 10, 2007 03:53 PM
Purple Rain.. one of the best,I snuck into see that and The Breakfast Club, I was 14. ahhh 1984
Posted by: Melody at August 10, 2007 04:04 PM
A movie year? Can't really say... I think I was more of a music kind of girl. I never really went to the theater a lot but I did go to a lot of concerts throughout the years. The year 1997 was special though. My first concert (Skunk Anansie), my first festival Lowlands (with the Foo Fighters, Kula Shaker, Greenday, Rammstein and many more) and many many cd's. Those days... fabulous. No regrets.
Posted by: Jenneke at August 10, 2007 04:10 PM
Ditto on Purple Rain. Grease - I'm pretty sure I could quote the entire dialogue. Sgt. Pepper's Lonely Hearts Club Band - I didn't realize it was sacrilege at the time. Superman. I Spit On Your Grave - don't know what the hell my mom was thinking - we saw it at the drive-in, too, double feature with that Jodie Foster movie where there's a killer hiding in the house with her. Okay, now I'm thoroughly freaked out!
Posted by: elizabeth at August 10, 2007 04:16 PM
I'm a little younger. I remember getting in trouble in 3rd grade for bringing the Purple Rain album to school and playing Darling Nikki during free time. I had no idea what the big deal was about. Now that I think about it, I can't believe my mom let me see that movie when I was 8 or 9! Actually I can but that's another story.
By the time I was a teen I was all angst ridden and liked things that were dark and shocking. Blue Velvet was definitely on the top of my list.

Posted by: E to the M at August 10, 2007 04:21 PM
I think it would have to be 20 years ago now, when I was in Junior High, and all that we did was go to the movies on Saturday nights. Parents would drop us off at the movie theatre and this huge gaggle of junior high kids would hang out and watch the same movies weekend after weekend. I swear I saw "Dirty Dancing" at least 10 times in the theatre!
Posted by: natalie at August 10, 2007 04:21 PM
Your socks look lovely- that colorway is beautiful. Do you have a tutorial somewhere on your blog on how to do the picot edging? It looks so dainty, and nicer than just a plain edge. :)
Posted by: Kassia at August 10, 2007 04:26 PM
1996's Romeo + Juliet. I swear I saw that movie at least 6 times in the theater. It was also the movie that made me change my mind about SK. He printed out a bunch of movie images and made me a small poster. Back then, it wasn't easy to find a lot of images online. It was so thoughtful. In Hot Fuzz, they parodied the Cardigans song from the movie. We were the only 2 people cracking up in the theater.
Posted by: Lola at August 10, 2007 04:29 PM
I'm a bit older. For me it was 1975 - Jaws, it was the first movie I ever went to see more than once at the theater. I went 3 or 4 times I think. Then 1977--Star Wars, and Close Encounters of the Third Kind. They were so awesome!
Now I own these movies. Back then, that was unheard of.
Posted by: Bead Knitter at August 10, 2007 04:33 PM
I guess it would have to be Grease, but I wasn't quite a teen yet. You brought back a lot of memories with your list of films! I remember when I used to go several times over to the theaters. Ah, I know! Empire Strikes Back and Raiders of the Lost Ark. I'll be a Harrison Ford fan for the rest of my life! Then there are those silly, awful movies on VHS you giggle over with your friends. "Up the Academy" Remember that? Sixteen Candles and Pretty in Pink. I've got those memorized (even if they did ruin the ending of Pretty in Pink).
Posted by: Jennifer at August 10, 2007 04:39 PM
There was a theatre near my high school that was playing a double feature of Ferris Bueller AND Top Gun. I swear we saw it 5 or 6 times in 2 weeks. Walking down Yonge St in Toronto singing You've Lost That Loving Feeling at the top of our lungs like only teenagers will do. I'm big on the musicals, Grease, Dirty Dancing, and Footloose, love Breakfast Club, Pretty In Pink. And, I received my first 'I love you' during Beetlejuice, so romantic for a 15 year old.
Posted by: Heather at August 10, 2007 04:50 PM
1988 was a big year: Dirty Dancing. Wasn't allowed to see it in the theater but got it on VHS--you were queen of the middle school if you were allowed to watch it at your house for a slumber party. And of course the soundtrack rocks, still, at least the "real" songs, not the cheeseball ones (but you know I love those, too). This was about the time that everyone finally had VCRs, so we could see all the cool movies at home...Back to the Future was another fave.
Posted by: Dana at August 10, 2007 04:57 PM
I have enjoyed my visit..it's been great and I'll be back. I noticed you are reading William Maxwell. I love his books and have kept them for years!
Posted by: ellen kelley at August 10, 2007 05:02 PM
Duh....The Breakfast Club...Sixteen Candles...Ferris Beuller's Day Off...Top Gun....Dirty Dancing....I remember getting dropped off and picked up by my "boyfriend's" parents (since it was a date, it was only proper to pick me up at the house ;-) ...the theater was in the mall, right next to the arcade so spare time was spent playing Galaga, Tron, Pac Man, etc...Ahhhh, those were the days!
Posted by: Happy Hands at August 10, 2007 05:05 PM
Another 80 teenage. Loved the Breakfast Club and Strange Brew which is a totally stupid movie but we laughed our butts off.
Posted by: Wanda in Ar at August 10, 2007 05:16 PM
Well, growing up in Minneapolis and seeing Purple Rain in a theatre the June after graduating from high school will always be quite a special memory. Note: Minneapolis-people are as fanatical about His Royal Badness as you Garden Staters are about Bruce, whoever told you that is dead right!
Posted by: Heather at August 10, 2007 05:19 PM
I loved Morris Day and the Time too. I even went and saw them when they did a post-movie concert tour! Not so great in person, but a great character he was.
I was in h.s. during the days of "Grease" as well as "Jaws" and "Close Encounters". I was pretty in love with Richard Dreyfuss back then. Heh heh.
Posted by: Kathode Ray Tube at August 10, 2007 05:21 PM
ha! i'm still a teen. ask me after college.
Posted by: Elizabeth at August 10, 2007 05:22 PM
1984-87 were huge for me, pop culture wise. Many have been mentioned before - all the John Hughes films, Dirty Dancing of course, and Labyrinth (inspiring my life-long love affair with David Bowie). And my first date was the first Batman movie - 1989 or so?
Posted by: Elizabeth at August 10, 2007 05:22 PM
1999. Not because of the movies that came out that year, but because that was the year when movies defined my style. SLC Punk, The Breakfast Club, Pretty in Pink, High Fidelity, Yellow Submarine, all discovered in 1999. And I'll never forget my first meeting with the incomprable Marilyn in How to Marry a Millionaire! *sigh*
Posted by: Christy at August 10, 2007 05:24 PM
Movies were my huge rebellion. [Dear God, I hope my kids find as much delicious pleasure in sneaking to movies I wouldn't approve of as I did and thus stay away from more serious rebellion. Amen.] My best friend and I would study movie reviews so we could talk about the major points of an innocent movie after our parents picked us up, and then go see movies like Trainspotting instead. That movie was like some huge turning point in my life. For one, it was the first time I saw an adult male penis [it was during Ewan McGregor's "I won't do a movie if I can't be naked" phase], but the bigger deal was realizing I actually could trick my parents and get away with it! They didn't have superpowers!
Posted by: Jenn at August 10, 2007 05:27 PM
Palm Springs Weekend. Ah. Connie Stevens, Robert Conrad, Ty Hardin. sigh. This was junior high for me and a friend and I went shopping and caught this movie.
Posted by: Judy at August 10, 2007 05:30 PM
My thing was telling my mom that I was going to the movies and then going out and drinking beers, getting in trouble. There's a whole list of movies I "saw" in the early 80's and even learned the plot line so I could tell my mom about them when I came home. Looking back, not something I'm very proud of...
Posted by: Brenda at August 10, 2007 05:38 PM
Did you hear that they're planning a remake of Footloose? Kenny Ortega (choreographer for The Tubes who went on to Dirty Dancing, Newsies, Ferris Bueller's Day Off, Xanadu, and a bunch more.
http://www.variety.com/article/VR1117968308.html?categoryid=13&cs=1
Posted by: Janice at August 10, 2007 05:42 PM
I, too, was an '80s teen, so all the John Hughes movies rank high in my formative film years. But one movie that really did it for me was _Reality Bites_. Not the best movie ever, but I felt like the filmmakers really *got* my generation with that movie. I recognized myself, my friends, my life in that film - and saw it probably ten times. What is funny now is rewatching it with a few years on me and the total reversal of how I feel about Winona Ryder's ultimate choice of men. Now I think, Wow, why didn't she go with Ben Stiller? Sweet, gainfully employed, has a car and a place to live - whereas Ethan Hawke would still be a jobless, pretentious pot smoker - and while that is acceptable in your twenties, not so much in your thirties!
Posted by: Rachel at August 10, 2007 05:47 PM
It was my first date with my first love. I was 16, it was 1969 and we saw Franco Zeffarelli's Romeo & Juliet at the Plaza Theatre on W. 58th Street. It was such a beautiful film - Olivia Hussy & Leonard Whiting were gorgeous young British actors who played the perfect start-crossed lovers. After the film we took the double R back to Astoria and lost track of time on the steps in my hallway 'till almost dawn.
Needless to say, I was grounded for a month after that, and we had to steal our moments together on the way to and from school, much like R & J.
Posted by: flair at August 10, 2007 05:56 PM
Posted by: Christine at August 10, 2007 06:15 PM
1962: The Days of Wine and Roses. I do not remember the movies as my boyfriend and I made out during the entire movie. I do not even remember who he was! It must have been disgusting.
Posted by: Sheila at August 10, 2007 06:15 PM
Oops! I posted before finishing the thought. Anyway, Kenny will be directing and Zac Efron will be Kevin Bacon this time around.
Posted by: Janice at August 10, 2007 06:21 PM
Posted by: ann at August 10, 2007 06:43 PM
Okay, so I had to pipe up to say that everything you heard about Prince live is true. I'm not what I'd call a die-hard Prince fan, but I just had to see him when he was touring for his last album. I like most of his really classic songs, like "Darling Nikki," "1999," Little Red Corvette," but I was really into him in the early 90's when he released "Gett Off" and "Diamonds and Pearls." However, I never understand why he (and so many women) thought he was so sexy. Fast forward years later to my first experience seeing him live. I can't explain it, but he is SO sexy live and in person. Granted I was pretty high up in the stands, but I could see enough of him to see his dances moves, his attitude, and his persona. Seriously, if you have the opportunity - GO!
Posted by: Tara at August 10, 2007 06:45 PM
Definitely Purple Rain . . and Desperately Seeking Susan. But before that, I remember how Roller Boogie with Linda Blair was the one that got everyone roller skating!!! And then Grease was just the year before that . . . oh boy, what nostalgia!!!
Posted by: Leslie at August 10, 2007 06:52 PM
Anything John Hughes. Sixteen Candles for sure. Pretty in Pink. And Say Anthing (not John Hughes, but who can forget John Cusack with the boom box.) Of course, I also saw Grease about twenty times.
Posted by: Kathy at August 10, 2007 06:54 PM
just had to laugh - I heard Purple Rain on the radio this morning, and decided I needed to own that soundtrack again. Ah, memories of the 80's...
Posted by: jenn at August 10, 2007 07:26 PM
My first R rated movie was Sleeping with the Enemy.
But your post totally brought back a flood of memories. Whatever happened to Kinney Shoes? I miss that store! And since I'm from Minneapolis, Purple Rain was a HUGE deal. It was so cool to see First Avenue on the big screen. The people in the audience were locals for the most part and probably to this day are legendary.
Anyway, thanks for the memories!
Posted by: Juliet at August 10, 2007 07:28 PM
Let's see - the first movie I can remember going to was Bambi.
First movie on a date - You Never Live Twice - James Bond - don't remember which I thought was better - the date or Bond, James Bond...
I also remember going to see Monterrey Pop on a school field trip - that was so great! Lots of music - and the theater was in "The Village".
First movie with DH - double feature at a drive in - M*A*S*H and Patton - talk about polar opposites!
Posted by: Gail R at August 10, 2007 07:30 PM
When I was in eight grade (age 14 I guess!) we went to Little Silver, NJ to visit our neighborhood friends that had moved away. I always loved going there, it was just a half hour train ride to NYC, right near Asbury Park, I always had so much fun. My friend, a year older than I, decided we should go see "The Graduate". . . it was a very educational weekend to say the least. That was the same weekend I saw my first rock concert at Monmouth Community College - The Byrds!!!! I remember standing on the folding charis and jumping up and down. I loved going to Jersey to visit our friends. I remember my Dad forbid me to see that movie . . .who listens to Daddy?!
Posted by: Barbara at August 10, 2007 07:56 PM
i love ghostbusters so much! i'm jealous you got to see it so many times in the movie theaters... if someone asks if you're a god... YOU SAY YES!
My fav movie (so very cheesy) is Say Anything. How can you not love Lloyd Dobler... sigh... and i do love peter gabriel... total cheese here... total.
Posted by: margaux at August 10, 2007 08:00 PM
In '84 I was 10 and yes Ghostbusters was AWESOME!! But what really hit me was watching ET...sneaking into Hear No Evil, See No Evil.
Posted by: Kris at August 10, 2007 08:12 PM
OMG! Footloose, Pretty in Pink, Sixteen Candles, Any of the Indiana Jones movies, and on and on and on. And, my high school boyfriend told me he loved me while we were watching Parenthood!! I wonder how he is?
Posted by: Stacey at August 10, 2007 08:13 PM
Heh - as soon as I saw the colourway was "Purple Rain", I thought "I *have* to have that!" Love, love, love Purple Rain. (That and Flashdance were my big "teen" movies). I have the PR soundtrack, I have the DVD. In fact, I have The Time album, and the Apollonia 6 album, too.

Posted by: Donna at August 10, 2007 08:30 PM
Flashdance! I was totally traumatized by the stripping scene, but I can't tell you how many times I wished for a big suspended bucket in the family room for my recreations of the try-out scene. What a feeling!
Posted by: JulieFrick at August 10, 2007 08:47 PM
I saw Purple Rain at the Mayfair Movie Theater. I was a freshman in high school, and I though for sure the old man who always collected the tickets wasn't going to let us in because of we weren't 17. How funny that you saw it at the Roosevelt Mall? I didn't realize you were from PHilly. I'm not sure how I first found your blog. I never made the connection. I saw Footloose at the Mayfair too. Loved it! Did you hear they are remaking it?
My first Date movie was at the Devon...Mannequin.
Posted by: knitting novice at August 10, 2007 10:17 PM
Margaux! Say Anything rocks!
Sigh.

Posted by: Priscilla at August 10, 2007 10:45 PM
OMG. I was such a fan of Purple Rain. Strangely, though, the movie that got my attention was "American Werewolf in London."
I will never tire of your Monkeys or the nostalgia
Posted by: Janet at August 10, 2007 11:01 PM
Definitely 1985 for me. The Breakfast Club I watched over and over, Better Off Dead (LOVE THIS MOVIE!!!), The Color Purple (hard movie to watch, but so moving), Real Genius (one of my other all time favorite movies), Weird Science, St. Elmo's Fire...that was a really good year. I was finally old enough to see more adult movies and really understand them, but still enough of a kid to have fun with camp, too.
Posted by: Kathy at August 10, 2007 11:10 PM
OMG Pretty in Pink, The Breakfast Club...oh and Grease....I can still watch those movies and love them, Even if I think they are corney now!
Posted by: Michelle at August 10, 2007 11:17 PM
I'm a bit older than you 80's teens....LOL. A very moving movie for me when I was a young teen was Love Story with Ryan O'Neil and Ali McGraw.........and of course Jaws :-)
I loved the 80's movies though having said that......I could watch the Breakfast Club and Moonstruck a gazillion times and never tire of them
Posted by: Kim at August 11, 2007 04:12 AM
I knitted a pair socks using this colorway - YOU MUST do the Eye of Partridge heel - it is absolutely lovely in this colorway. I just keep staring at the heel it is so beautiful.
Posted by: Barbara at August 11, 2007 05:54 AM
Circa 1975? Maybe 1974? I used to call the college "progressive rock" (i.e., Foghat, Pink Floyd) radio station to requrest them to play Bread songs (could I possibly make that up?) and a DJ liked me, so I lied to my parents about his age (he was like 22 and I told my parents he was 19) and he took me out in his orange Camaro (obviously a West Omaha boy), which had a mannequin's leg in the back seat, which he didn't explain, which freaked me out. The first movie he took me to was Tommy. I was so nervous about having this date that I had lied to my parents so much about, that I don't remember much of it.
When the boy dropped me off after the movie, my dad was standing at the screen door in his underwear. I am SURE this was on purpose. Memo to Dad: Wasn't my life hard enough?
The other movie he took me to, though, I will always remember: The Man Who Fell To Earth. First time I ever saw David Bowie. I didn't 'get' the movie, but I loved the movie.
DJ Boy was a good kisser especially when you consider that I had braces on my teeth. Chivalry was not dead. Well that's about it. xox Kay
Posted by: Kay at August 11, 2007 10:26 AM
I am a Wayne's World girl. I saw it 5 times in the movies. That was a great year. The last year before my parents divorced .
Now that I am older I love The Breakfast Club and horror movies (but I think that is my hubby's influence)
Posted by: Denise Tanksley at August 11, 2007 11:17 AM
I'm a bit older than you, but you'll still appreciate this. I once snuck(?) out of the house and went downtown (Philly) to see the Exorcist. I was 13. I didn't get caught. I slept with my lights on for 3 weeks. I used to live on Whitaker Ave when it was nice, down a ways from the Roosevelt mall!
Posted by: Carol at August 11, 2007 12:52 PM
My movie year(s) are 1977 & 1979, the years of Star Wars. Both my children were born in those years and they're both big fans of the movies.
Posted by: Rhonda at August 11, 2007 04:14 PM
Wow...what a question. Jaws (1975). Saw it being filmed and never have looked at the water quite the same way. Saturday Night Fever (1977)!! And of course, Grease (1978) IS the word. These were the beginning of my high school years.
Posted by: Carol at August 11, 2007 06:50 PM
I don't know what movie shaped me, but I remember exquisitely that I was not permitted to see "Grease". I have no idea why...but when I think about all of my friends going without me I am still sort of mad.

Posted by: Stephanie at August 11, 2007 07:12 PM
I totally remember those movies! Hmm...I don't remember a particular year, but I do remember I loved - Pretty in Pink, Breakfast Club, Some Kind of Wonderful, Sixteen Candles....
Posted by: tiennie at August 11, 2007 09:16 PM
I am a couple years older than you. The first movie I snuck into was Flashdance. Ok, talk about an educational experience! We also loved Footloose (used it as our prom theme awwww) and Breakfast Club. And has anyone mentioned Risky Business? Good Lord. I also went to the midnight movies and danced in the aisle to The Rocky Horror Picture Show--with my girlfriends--or to Pink Floyd The Wall and made out in the back--with my boyfriend.
Thanks for the memories!
Posted by: Emily at August 11, 2007 11:45 PM
Purple Rain is the first time I ever had a vodka stinger. Also, the first time I ever drove a Triumph TR6. I drove first, don't worry...and frankly, fell in love with the car. The drink, not so much. The movie...Oh. My. God.
My mother doesn't want to know what happened after that. My boyfriend was five years older than I was and we weren't supposed to be seeing each other anymore. :-)
Desperately Seeking Susan made me decide I could wear whatever the hell I wanted, damn the torpedoes. Sometimes my husband questions that logic, still. :-)
Posted by: Lee Ann at August 12, 2007 01:06 AM
i'm not sure what year it was, perhaps 1991 or 1992? i remember my mom and i had just moved into our new house, and i had my first pseudo-date; aka, i went to the movies with a group of friends, but sat next to the boy i liked. there was much excitement wondering if our knees would touch and sharing of soda.
the movie: batman returns. i actually wrote a poem about this experience in my college creative writing class. hilarious.
Posted by: mick at August 12, 2007 05:24 PM
Bueller? Bueller? Ferris Bueller's Day Off is still one of my favorites. Also, for some reason my friends and I saw The Lost Boys over and over in the theater. And we had all the lines from Sixteen Candles and the Breakfast Club memorized.
Posted by: christine (threedogknits) at August 12, 2007 07:45 PM
My first job was at the AMC Gateway in Devon in 1988. I got my driver's license and met many teenage boyfriends, including my first real true love. It was the summer of Big and Bull Durham (I can still recite both movies from memory) . We also used to "check the sound quality in the theater" during the sexy scenes in "The UnBearable Lightness of Being." We used to drink beer in the theaters after hours and ate more popcorn with more partially hydrogenated coconut oil on it than I ever did. It was probably the best summer of my life.
Posted by: Liz K. at August 12, 2007 09:03 PM
OMG, we must be about the same age...and ditto the Against All Odds experience, though my mother didn't bust in looking for me. I was on a double date where we were all friends, not actually dating. It was SO embarrassing! We used the codeword "Pyramid Power" for weeks to refer to the experience. Another lousy one was "Hot Dog." uh.... Flashdance, Bevery Hills Cop, Footloose, Ghostbusters (the only movie I've paid to see three times). Thanks for the memories from a member of the Class of 1985.
Posted by: Beth in WI at August 12, 2007 11:01 PM
He-heh! Grew up in Minneapolis - saw Prince here three times - once at First Ave along with Morris Day & the Time - NOW I live half a mile from where the old "Graffiti Bridge" used to be. Yep - I can relate. My boyfriends were all roadies and sound guys back then, but I married a banker - go figure. My favorite Prince song has always been Controversy.
Posted by: Guinifer at August 13, 2007 12:08 AM
i was a little older than you when i saw 'against all odds' so it wasn't terribly shocking. but jeff bridges was supremely hot in that movie.
the movie that defined my teen years was "animal house." and it's still one of my favorites of all time.

Posted by: maryse at August 13, 2007 08:20 AM
Against All Odds and Angel ("Honor Student by Day, Prostitute by Night!") came out the same weekend that Footloose and Tank! did. There was a double feature of Footloose and Tank!, but my brother and I snuck out of Tank! and snuck into Angel instead.
Posted by: itgirl at August 13, 2007 12:05 PM
They didn't all come out in the same year, but for me, nothing defines my teen years more than the 80's "Brat Pack" movies. Breakfast Club, Pretty in Pink, St. Elmo's Fire, 16 Candles, About Last Night, Say Anything, Ferris Bueller's Day Off, Less Than Zero, Some Kind of Wonderful, etc... I was TOTALLY in love with Andrew McCarthy (pre-"Weekend at Bernie's" of course!).
Posted by: Nicole at August 13, 2007 01:42 PM
I have Purple Rain STR & was thinking of making Monkeys out of it just the other day. It's perfect for the pattern. Yours are working out great - are they going to mini-Monkeys?

Posted by: libraryliz at August 13, 2007 02:00 PM
Definitely The Breakfast Club. Although Fast Times at Ridgemont High became a fav when I hit 17 and could actually see it.
Love the Purple Rain, lovely socks, fun movie. And yes, Prince TOTALLY rocks in a show. Even my DH who doesn't like Prince a lot loved his show.
p.s. I'm also a 1/1 birthday :)
Posted by: Jo at August 13, 2007 04:32 PM
I'm older than you, but some of the movies that defined me: When I was very young (7 or 8), BFF and I went to all the beach movies: Beach Blanket Bingo, How to Stuff a Wild Bikini, et al. Annette and Frankie were so cute in my young eyes.
High School years were Love Story, The Godfather (everyone was horrified by the horse scene) and Bruce Lee karate movies (my boyfriend's favorites).
Oh, and a bit of trivia. Footloose was filmed right here in Utah County, Utah. The "building" Bacon danced in is actually a flour mill in Lehi that still operates. I can't drive by there without a mental of image of Bacon jumping around.
Posted by: Kristy at August 14, 2007 02:46 PM