« August 2007 | Main | October 2007 »
September 27, 2007
Look what came in the mail the other day?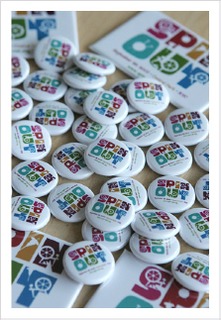 That can only mean one thing - SPIN OUT 2007 IS ON!! Apparently the weather gods intend to SHINE on me this year - although I should probably keep my mouth shut and not tempt fate. If you'd like to obsess along with me - click here!


I dragged Kay to scope out the sight yesterday and here's the lowdown:


Saturday, September 29, 2007 - 11 AM until 5 PM

Central Park, Cherry Hill Fountain
-- Cherry Hill Fountain is best reached by the WEST 72nd St. Park Entrance. Go past Strawberry Fields (Forever) and keep walking on the path - as straight as you can go. You should come to a Daniel Webster statue and an information kiosk. Ask at the kiosk, but Cherry Hill Fountain is straight passed that - you go a bit to the left and you'll see a big clearing of concrete with the fountain in the middle. HERE is a map of Central Park. Cherry Hill Fountain is located in the South End of the Park.
-- SEATING. There is a very limited number of bench seats available around the fountain. Wheels are NOT PERMITTED on any of the grassy areas around the fountain, but there's plenty of concrete available. (That's why they gave us this site.) If you absolutely MUST have a seat, I'd suggest you bring your own, as SEATING IS LIMITED.
-- PARKING. This event takes place in NEW YORK CITY. Parking is pretty much non-existent, unless you don't mind paying exorbitant parking garage fees. (Like $40 per 3 hours in this neighborhood.) If you can, I'd suggest you take public transportation whenever possible. ABSOLUTELY NO CARS IN THE PARK.
-- SUNSCREEN. The area where the event takes place has very limited shade. I'd make sure you bring sunscreen. Rumor has it's going to be a very sunny day. ;-)
-- FACILITIES. I have no idea if there are bathrooms around. There are definitely places OUTSIDE the park where you can find bathrooms, so be prepared. (And by that I don't mean bring your own port-a-potty, just know that you might have to leave the event for a bit to use a bathroom.)
-- CONCESSIONS. When I was there yesterday, there were a few drink/ice cream vendors around pretty close by. I'm assuming they'll be there on Saturday. They'll be a rip off, but if you're really really thirsty.... Again, outside the park (not a far walk) is the Upper West Side with lots of places to eat. You might want to bring some snacks though.
-- ABSOLUTELY NO BUYING OR SELLING. My permit states that I cannot sell anything. So there won't be any vendors at the event. And I won't be collecting monies for the Heifer Registry. If you'd like to donate to the raffle, please do so here.
-- GENERAL BEHAVIOR. This sort of goes without saying, but my permit states we should act like human beings. No loud music, no destroying the area. No drugs. Etc. I had to pay a $200 bond to insure clean-up of the area - which I should get back if the area is clean after the event. So please, leave your area better than when you found it.
-- IN THE UNLIKELY EVENT OF RAIN. I'm pretty much counting on this being a non-issue. If it turns out that the weather people really do hate me, and we have HORRIBLE rain like we did last year, I'm basically canceling the OUTDOOR event. (The raffle goes on as planned.) Unfortunately, I do not have the energy this year to kill myself looking for a place inside. Last year's place sort of fell into my lap at literally the LAST second. If that should happen again - great. If someone has a place in NYC they'd like to offer up in case of rain - great. But as of right now - if it really, really rains - it's off. If it's overcast and a bit drizzly? I'll be out there. Thanks for understanding. (Also note that the Parks Department DOES NOT offer rain dates. So this is it for the permit.)
-- ALL ARE WELCOME! Please! COME! It doesn't matter if you spin or not. There will be plenty of knitters there happily knitting along. And if you'd like to LEARN to spin, there will be many many people to help you learn. Always wanted to try a wheel but never got the chance? I guarantee that you will be able to try a wheel. Not sure what to do with a spindle? I can guarantee you will learn how to spindle spin. I so hope to see you there!

JUST A REMINDER: The SPIN OUT 2007 Central Park event and the SPIN OUT 2007 Raffle are actually two separate simultaneous events. There will be NO PRIZES awarded at the event on Saturday. Prize awards won't happen until AFTER the registry closes on October 15. So there's still plenty of time to donate! Here's how:
For every $10.00 you spend on The Heifer International Gift Registry, your name will be placed in the proverbial hat for prize drawings in October. For instance, if you spend $50.00, your name will be put in the hat 5 times. You can win more than one prize if your name is in there more than once - we will not be pulling out names after a win.
VERY IMPORTANT!!!
Last year I realized that while I get registry data, I don't get exact donation amounts. To get your full raffle value, YOU MUST EMAIL ME THE AMOUNT OF YOUR DONATION! Please send an email, with RAFFLE in the subject line, to donations@spin-out.org. If you don't do this, your name will be placed in the raffle ONE TIME. THANK YOU!
I think that covers pretty much everything. If you have any further questions, please leave them in the comments. I hope to see many of you there on Saturday. I'll be the one sitting next to the bucket. ;-)
THANK YOU ALL FOR YOUR SUPPORT!

Cross Posted at spin-out.org.

Posted by Cara at 11:09 AM | Comments (24)
September 25, 2007
Lots and LOTS of prizes this week - so let's get right to it! I'm very pleased to announce that our total as of this morning is $14020! THANK YOU!!! Don't forget - the registry doesn't close until OCTOBER 15, so there's still PLENTY of time to get in on all the prize action. All it takes is $10 and a dream!
Here are our new vendors just added to the sidebar! THANK YOU EVERYONE!
Artsygal
Jennie the Potter
The Knitting Nest
Schrodinger Originals
Skylark Yarns
Unravelled
Wool2Dye4
The Yarn Museum
Yarntini
Zen Yarn Garden
And away we go!
I love these prizes! First off, we've got a hand turned spindle from Wooly Wonka Fibers. Anne headed my call for spindles! YAY! THANK YOU ANNE! And Helen, well, Helen of Painted Skeins went above and beyond! She sent us three 4oz braids of Merino SPECIALLY DYED IN SPIN OUT 2007 COLORS! How FANTASTIC is that?! THANK YOU HELEN! I LOVE IT!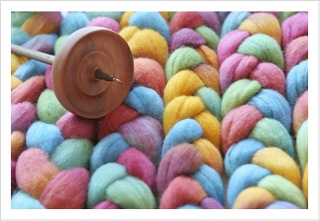 Jennifer over at Woolgirl sent us THREE sock yarn packages - all with two skeins of sock yarns and stitch markers and all kinds of good stuff - and a Mama Llama bag as well! Fantastic prizes! THANK YOU JENNIFER!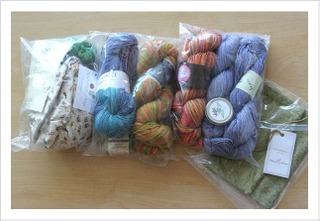 Terry from Crash Into Ewe outdid herself with three different skeins of sock yarn and two different rovings! THANK YOU TERRY!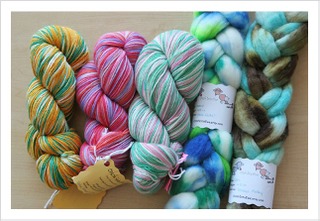 Lots of prizes here! Allison at Simply Sock Yarn sent us a gorgeous skein of Fleece Artist sock yarn in the perfect Fall colorway! THANK YOU ALLISON! From Roxanne at Zen Yarn Garden, we've got two different sock yarns - one has an accent color for heels and toes! THANK YOU ROXANNE! And finally we've got two sock yarn bags from Tipsy Knitter - so cute! THANK YOU!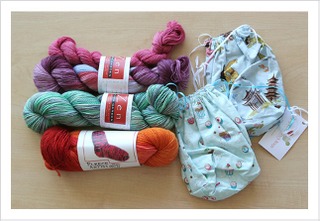 How lucky are we?! THREE skeins of the much loved YARNTINI sock yarn! WHOO HOO! THANK YOU JESSIE!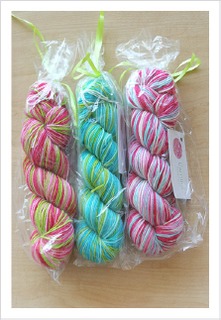 Jenny over at Woolly Boully sent us some gorgeous sock yarn and roving! THANK YOU JENNY!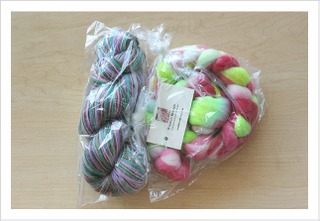 Lisa Souza's done it again! Three different sock yarns and some beautiful roving! Lisa's roving was one of the first I ever spun and it was a DREAM! THANK YOU LISA!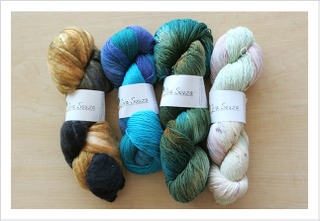 Lorajean over at Knitted Wit sent us a gorgeous roving of South African wool and a beautiful skein of sock yarn - but better than that, she's donating half her sales to HEIFER until October 14 or she runs out of stock! SO GO BUY STUFF! THANK YOU LORAJEAN!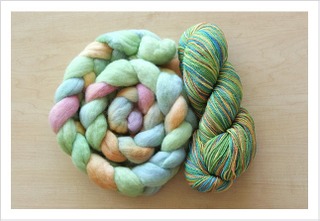 Here we've got a GORGEOUS handmade knitting bag from Actual Size Creations! It's called Lone Star and it's got a great lone star on the front, plus awesome cowboy fabric lining it - AND it comes with a matching DPN case. FABULOUS bag! THANK YOU VALERIE!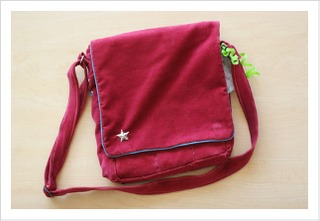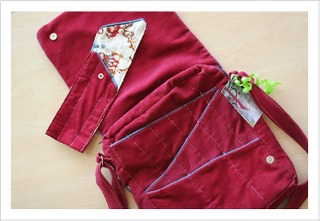 It wouldn't be SPIN OUT without The Yarn Museum representing! Linda has sent us two sets (4 boxes per set) of the fabulous notecards from Yarn Museum. Each card has a awe-inspiring image of handspun yarn. Creative inspiration doesn't get any better than this! THANK YOU LINDA!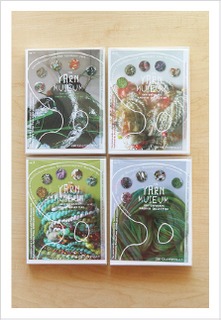 This next prize defies all expectations! Sheila and Michael Ernst have taken their expertise with glass and turned out a SPINDLE! This is the Lime & Violet spindle and it is so beautiful in person - I'm sorry my picture just doesn't do it justice. They didn't stop there, though, and included an absolutely STUNNING pair of GLASS circular needles and two of their stupendous buttons! THANK YOU SHEILA AND MICHAEL!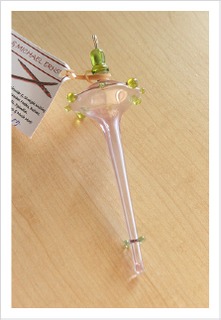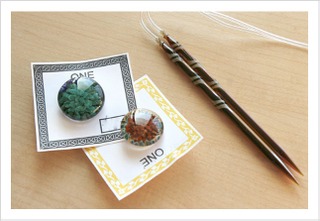 This is just a small representation of the fabulous prizes from SOAK and Azul Bath & Body! Jacqueline, from SOAK, sent us a great big box of wool wash - my favorite - including samples for the event on Saturday! THANK YOU JACQUELINE! And Kristi sent over some great sample sizes of her crafter's balm. THANK YOU KRISTI!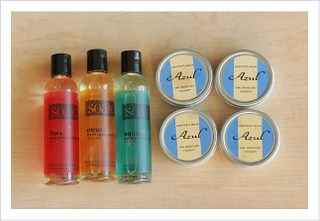 Stacy's in the middle of opening her new yarn shop, The Knitting Nest, down in Austin, TX, but she found time to send us a great prize! Four skeins of gorgeous single ply wool, some lovely lavender soap products, and a great collapsible knitting basket! THANK YOU STACY!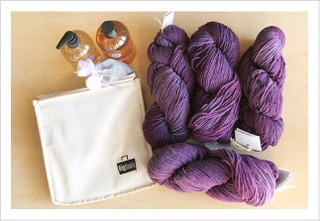 Meera, at Knitnack in Maplewood, NJ, was all kinds of generous! First up, we've got a BEAUTIFUL Offhand Designs knitting bag - it's just gorgeous! AND she sent us a Fleece Artist kit for the Imogen Jacket! Gorgeous stuff! THANK YOU MEERA!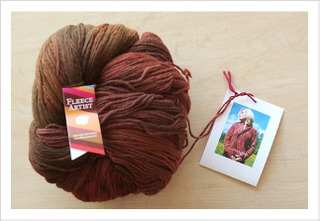 Not to be outdone, Linda LaBelle over at the Yarn Tree upped her ante - she's added a sock club membership to her 200 SOCK CLUB! This club is filled with beautiful, hard to find, indie dyed yarn. Here's the description for the 2007 Sock Club. It's not to be missed. THANK YOU LINDA!
THANK YOU ALL SO MUCH!
If you are a business and you would like to contribute a prize, please email me at prizes@spin-out.org . Also, if your name is not on this list and you feel it should be or there is a problem with your listing, please email me at the same address. THANK YOU! (HEY! YOU! Do you create or sell SPINDLES? I could use some SPINDLES for prizes. I like to make kits with all the wonderful fiber we receive. It's great for new spinners! THANK YOU!)
DONATE DONATE DONATE!
Please, if you haven't purchased a raffle ticket, do so now. Here's how it works:
For every $10.00 you spend on The Heifer International Gift Registry, your name will be placed in the proverbial hat for prize drawings in October. For instance, if you spend $50.00, your name will be put in the hat 5 times. You can win more than one prize if your name is in there more than once - we will not be pulling out names after a win.
VERY IMPORTANT!!!
Last year I realized that while I get registry data, I don't get exact donation amounts. To get your full raffle value, YOU MUST EMAIL ME THE AMOUNT OF YOUR DONATION! Please send an email, with RAFFLE in the subject line, to donations@spin-out.org. If you don't do this, your name will be placed in the raffle ONE TIME. THANK YOU!
THANK YOU THANK YOU THANK YOU!!!
Cross Posted at spin-out.org.

Posted by Cara at 10:59 AM | Comments (9)
September 24, 2007
My bloglines subscriptions are dropping like a big belly in the ninth month! I mean, sure, pregnancy's all wonderful and everything and a miracle blah blah blah, but let's face it: I wouldn't want to hear about someone puking everyday, so why should you? (Still happening by the way.)
So let's talk about something else. Let's talk about *GASP* KNITTING! YAY! Whenever I get anxious, as pregnant women are wont to do - you know, will I ever stop puking? OH MY GOD, what have we done!!!!!!!?!, the baby comes out WHERE?! - I think about what I used to do to calm myself. I used to knit. Oh how I miss it! But also, not so much. It's really really weird.
I managed to buy yarn - on clearance at WEBS - for the Mommy Snug. I even swatched for it on two different needle sizes and I fully intend to knit it for myself. I think it's going to be fantastic. But it's not going to be done for Rhinebeck, maybe not even CAST ON for Rhinebeck, but I want something new. I want to be knitting towards a goal, you know? I want something - ANYTHING - to spur me on.
Enter Sundara and her fabulous yarn!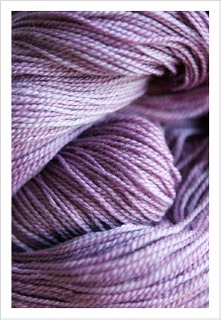 After I went through all the fabuloso yarn Sundara sent for Spin Out prizes, there were a couple of colors I just HAD to have. The Orchid colorway you see in the photo was one of them. I pass by it a million times a day and it calls out to me - it's practically screaming at this point - KNIT ME KNIT ME! So I'm thinking I'll start a pair of socks. For Rhinebeck. And Soctoberfest, which starts super soon. I think I haven't missed a sock-filled October yet, so why start now? And with a sock I can see progress pretty quickly, without having to knit that much. I can ease myself back in.
I need your help though. I can't figure out what pattern to knit. I want something plain-ish - not too busy - to show off the beautiful subtle coloring. And while I love the LOOK of a rib, I hate to rib in socks more than anything. Really. I don't mind purling - like in the monkey sock - it's the back and forth I hate. Got any ideas for me? I really appreciate it! Thanks!
Business: Tomorrow, a HUGE post of Spin Out prizes. HUGE. It's going to take me all day to photograph them! And all of you who have asked about the Spin Out location and whether or not you need to bring chairs - I'd say YES - you need to bring chairs. I'm planning Wednesday to scope out the sight and I will report back Thursday with all the particulars of the event, but until then - you're going to need somewhere to sit if you're bringing your wheel - and don't forget - you can always knit or spindle!
Have a great day! I'm sure gonna try!
L, C
Posted by Cara at 09:53 AM | Comments (74)
September 20, 2007
Yesterday wasn't the best day. I puked twice in the morning, and one time, while I made it to the bathroom, I didn't actually make the toilet. FUN TIMES! Have I mentioned too that 9 times out of 10 when I'm puking I end up peeing my pants as well? Talk about adding insult to injury! I had an appointment in the afternoon and after the morning's gymnastics and the appointment it was all I could do to come home, eat some lunch that ultimately made me nauseated and climb into bed. Poor G. He comes home from work everyday to find me prostrate in the bedroom, lights out, moaning in misery. I'm such a catch!
I'll tell you what's making me feel better though! All these GORGEOUS BABIES on the knit blogs! Just seeing these babies lifts my heart and makes the puking bearable. Also, does anyone see a proliferation of girls in the knitblog world? Does this mean I'm having a boy? You know how I like to buck the trend. [Disclaimer: If I did not link to your beautiful baby, it in no way means I don't think your baby's beautiful. All babies are heart-stoppingly gorgeous. Trust me. I photograph them for a living, so I know. I just didn't see your baby in the last 24 hrs so I didn't remember to link to you. Please forgive me.]
Last night, while I was laying in bed, moaning and miserable, I watched this show on the National Geographic Channel called IN THE WOMB. I'm sorry, but the idea that you can take two cells and create a fully functioning human being is just INSANE! It defies all rationality as far as I'm concerned. The pictures are absolutely amazing, even though some of them are computer generated - but still. And they talked about the test I just had which was very cool. I have to admit I kind of fell asleep once they moved beyond the second trimester and then opened my eyes to see the nice and graphic birth scenes. HELLO! I'm not ready to think about getting the baby OUT! I just spent a million years trying to get the baby IN!
The whole miracle of birth thing really makes me understand the religious. It's just so far out there that you almost have to give it up to a higher power in order to comprehend the enormity of it all. Me, I just try not to think about it so much because it makes me nervous. In the same way looking out at the sky and the stars sometimes makes me nervous. I mean, look out there! How could we possibly be the ONLY people in the universe? And then, when you think about how ridiculously LARGE the universe is, how can we even EXIST at all? GRAVITY? That's what's keeping us on the planet? CRAZINESS! See what I mean? It's times like those that I have to watch The Nanny or something equally inane. Balances everything out.
I have to tell you, the first time we heard the baby's heartbeat - at SIX WEEKS! - I was of course completely overwhelmed with emotion. It was the first time we saw the baby and it was all just so new and I was on tons of hormones and well, I don't think I need to explain. About an hour later I was stopped in my tracks by the fact that OH MY GOD! There's a heart being inside of me. SOMEONE ELSE'S HEART! It was a total Edgar Allen Poe moment and I have to admit for a few minutes I was like GET IT OUT! It really is so weird to think that there's this other person inside of me. I'm not sure I'll ever get truly used to it.
I found out yesterday, from watching the show, that my baby can now hear. Mostly my stomach gurglings and burps and stuff - but probably also my puking which made me kind of sad. But just in case, I sang two songs before I went to sleep last night. The show said they've found that if babies hear the same song over and over in the womb, they'll recognize it when they are born. I had this sweet fantasy of singing the songs to the baby right after s/he's born and this light of recognition coming over his or her face. There's my mama, singing that song I know so well. I'm going to try to sing it every night before I fall asleep.
Thanks to all of you for sticking around without the knitting. I actually made a swatch before I went to my sister's but then her baby got sick, and I got the cold, and the puking continued and there's been no knitting. I'm behind in everything - work, the house is a disaster!, and I have about a million prizes to tell you about for Spin Out. I have high hopes for today. Wish me luck.
And now, the most self-serving sentence I've ever posted: My wonderful friends Vicki and Ann are hosting a virtual baby shower for me. Apparently there are games and fun and treats, but I wouldn't really know because it's all being kept a big secret from me. My "friends" think the puking isn't enough so they're hoping to torture me for the whole crazy ride. If you'd like to torture me too, you can contact Vicki over at her blog. PLEASE, do not feel you need to knit for me or my baby. The honest to god truth is that when push comes to shove, I wouldn't knit for you or your baby. But maybe you'd like the opportunity to talk about me behind my back. Knock yourself out! ;-)
PS - I puked during the writing of this blog post. At least today I made it in the bowl.
Posted by Cara at 10:10 AM | Comments (82)
September 18, 2007
We had a nice visit with our boo boo this morning! Georgie really got a treat because when the tech was doing all the photographs the screen was turned away from me, so I couldn't see the baby's gymnastics, but G could. It was enough, though, to watch his face as he watched our baby on the screen. Being that he's the youngest in his family (his next sibling is 7 yrs older than him), he hasn't had much experience with babies. It's really been such a treat to see him react with all of this. Much more than I ever thought it would be. When the doctor came in to go over stuff with us, I got to see the baby. S/he did us proud by completely flipping over while we watched! Already stealing the show!
So today we had our Integrated Screen test, which is a first trimester screening for genetic anomalies like Down Syndrome and Trisomy 18. (You can read more about the testing here.) The doctor said everything looked great and the baby is measuring right on. We won't get the full results of the test for a little bit - there's a blood test involved as well - but I'm not really that worried.
This whole testing thing is kind of funny for us. I am what they term "advanced maternal age." I am 37 and, if all goes as planned, will be 38 when the baby is born. BUT (and it's a HUGE but) I was 34 when the baby was actually conceived. AH HA! How's that for magic? I will explain.
Three years ago next month, we did our first (and so far only) fresh IVF cycle. This means that I gave myself lots of fun shots to make lots of eggs grow and then they harvested those eggs and fertilized the good ones. After all was said and done we had nine growing embryos. Very nice! We went into the clinic five days after retrieval to have two of them transferred back and promptly panicked. In what I now know was the absolute RIGHT thing for us, we opted NOT to transfer any embryos and they were able to freeze five. It took me two very long TORTURED years to get over that and here I am just about three years later.
This summer, we went back to the clinic, thawed two of those five embryos, and transferred them. One stuck and now we have BOO BOO! YAY!
* ETA: What we did is called a Frozen Embryo Transfer and it's actually a TON easier than a fresh IVF cycle. I only had to take estrogen (orally) for the first couple of weeks - no shots - and then only had to go in for blood checks twice before the transfer. Then I had to do progesterone in oil shots for 11 weeks, but that's a whole other story. This is in comparison to the fresh IVF, where you do lots and lots of shots and go into the clinic almost everyday for blood work and monitoring. There is a risk, though, that the embryos might not survive the thaw. And, usually, the best embryos are transferred on a fresh cycle, so the ones that are frozen might not be the best quality. But my doctor told me that they are making so many advances in thawing embryos that he will only put back two frozen - instead of maybe three or four in the "old" days (read - a couple of years ago). They started getting incredible results with FET cycles where ALL stuck and the goal of a fertility clinic is NOT multiple births. It's one healthy baby and mother.
Back to how old I am. All of the warnings and alarms start to go off in the fertility world when you turn 35. Amnio, CVS, genetic testing - it doesn't have to do with my body's physical age, it has to do with the age of my eggs. And I have YOUNG eggs! So even though I'm an old bag already (not true, not true - I've actually never felt younger. It's amazing what having a baby can do for you!) my baby up there is from young stock. Does this mean I have to do all those scary tests? We're taking a wait and see attitude. If this first trimester screening comes back within all the "normal" ranges and our next blood test at 16 weeks also comes back normal, I think we may just skip that amnio. And honestly, I'd only want to have the test to be prepared for what's to come. Sure, I don't care to find out the sex or worry about decorating a nursery (basically because I'm going to hire Julie Fricknits to do it!) or all that planning, but when it comes to the health and welfare of my child and my family I think you can't have TOO much information.
Anyway, it just tickles me so that I've been able to travel back in time a bit. The best part too is that if we try for another one, we've still got three totsicles. I may be pushing (gasp!) 40 - but my eggs will STILL be 34! HOORAY FOR SCIENCE!!!!
* ETA again: I wanted to add that I see NOTHING wrong with having babies after 35. QUITE the contrary. My sister was born when my mom was 38. I'm pretty sure my mother in law was over 35 when she had my husband. We didn't plan to wait three years after our IVF and we didn't plan to use frozen embryos. Not at all. It's just the way it worked out for us, and I think that it's kind of incredible that the technology exists for things like this. Also, the truth is that while millions and millions of women go on to have healthy babies after the age of 35, the genetic risks do increase. Trust me - I know just how fortunate I am to be carrying a baby at all, regardless of my age.
PS - I'm still puking everyday, but my doctor and I agreed that it's not enough to hurt me or the baby. So we're waiting it out. The cold can't be helping either. I've gained at least a pound, which my OB says is plenty and the baby is doing great. Sure, I'm still a bit miserable, but I'm tough. I can handle it. Besides, I've kind of got it down to a science. I wake up. Have my breakfast. Throw it up and get on with my day. That's not TOO bad, right? Apparently I've still got about five more days of the dreaded first trimester, so hopefully this will all be over by SPIN OUT! Cross your fingers for me!
Posted by Cara at 03:59 PM | Comments (78)
September 17, 2007
Today's a special SPIN OUT 2007 PRIZE UPDATE! First of all, we've passed a major milestone in our quest for $30K! Our total is now $10395! and climbing! THANK YOU!!!!
And, here we have another milestone! TWO GRAND PRIZES!
A LENDRUM COMPLETE FROM THE FOLD! Toni has gone above and beyond and is sending one lucky winner a Lendrum Double Treadle (my wheel - which I love!) That's not all - she's sending out the whole kit and kaboodle including the plying head and the fast flyer. YOU GET IT ALL BABY! THANK YOU TONI!!!!!
A LOUET VICTORIA FROM YARN EXPRESSIONS! Meg has generously donated a brand new BEECH Louet Victoria, maybe the most portable spinning wheel EVER. This wheel is great for anyone - a beginner or expert. THANK YOU MEG!!!!!
I can't thank everyone enough for helping me with Spin Out this year. It's certainly been a labor of love for me. I was honestly a bit disappointed in myself - I feel like I haven't been yelling at you enough to donate or getting the countless prizes up on the blog fast enough. But in the end it doesn't matter - the community is what matters and you always come through in the end. SO THANK YOU ALL!
The actual SPIN OUT event takes place on September 29, but the REGISTRY is OPEN until OCTOBER 15! There's still plenty of time to get in on the action!
Here's how to donate:
For every $10.00 you spend on The Heifer International Gift Registry, your name will be placed in the proverbial hat for prize drawings in October. For instance, if you spend $50.00, your name will be put in the hat 5 times. You can win more than one prize if your name is in there more than once - we will not be pulling out names after a win.
VERY IMPORTANT!!!
Last year I realized that while I get registry data, I don't get exact donation amounts. To get your full raffle value, YOU MUST EMAIL ME THE AMOUNT OF YOUR DONATION! Please send an email, with RAFFLE in the subject line, to donations@spin-out.org. If you don't do this, your name will be placed in the raffle ONE TIME. THANK YOU!
THANK YOU THANK YOU THANK YOU!!!
Cross Posted at spin-out.org.
Posted by Cara at 04:44 PM | Comments (5)
September 16, 2007
I'm still puking on a regular basis - tomorrow I officially leave my first trimester and enter the second. I'm really not that hopeful that tomorrow morning I'll wake up and suddenly be puke free. But I'm dealing with it.
The week at my sister's didn't exactly go as planned. I got down there Monday and the baby (my sister's 2.5 yr old), who had had a cold and cough the week before, seemed to be getting worse not better. We took him to the dr the next day and she sent my sister - pretty immediately - to the ER. Poor baby had pneumonia and he and my sister ended up in the hospital for three nights. It was just awful - but he's home now and doing much better bossing everyone around and constantly poking my belly going baby baby baby!
Needless to say, it was a stressful week and I came home with a cold. It's not a particularly bad cold, but on top of the puking and nausea I'm pretty miserable to say the least. I worked this morning and came home and sat on the couch. I think a few hours went by - I don't even know.
I can't believe that Spin Out is less than two weeks away!!! I received the permit in the mail the other day - now all we have to do is pray that the gorgeous weather we've been having holds out (or goes and comes back!) and that I can get through that Saturday without puking. Wouldn't that be grand! We've gotten a lot of donations this week - THANK YOU! - and I'll try to get them tallied up for tomorrow. I have an OB appt first thing in the morning, but then I'm coming here straight away to tell that we're giving away not ONE but TWO SPINNING WHEELS!!!! I know - I can't believe it myself! The generosity of this community is astounding!
I'm glad to be home.
L, C
Posted by Cara at 05:30 PM | Comments (28)
September 10, 2007
Still puking. A lot. I thought I had turned a corner but apparently if you have one semi-decent day the rules say it should be followed by a week of AWFUL days so now I'm just hoping for mediocre days. Nothing semi-decent, okay? I was getting used to stuff and then it turns for the worse. I have an OB appt next week and if I still feel this lousy and I'm still puking all the time, I'll be asking for the big drugs. Next week I start my 2nd trimester and I really haven't gained any weight at all. I haven't lost anything significant, but no gains. I think I should start to see some gains.
And I didn't get Bruce tickets today. Fucking Ticketbastards. There has got to be a better way and honestly I blame Bruce because there are plenty of bands out there that make sure fans can get tickets in an orderly, non ticketbastard way. But G promises we'll be going and I believe him. We haven't missed a tour yet.
There has actually been some knitting, but I don't have time to take a picture. I'm hoping for a Mommy Shrug! In the yarn the pattern specifies which just so happened to be on Closeout at WEBS! YAY! It's here - I've been swatching, but haven't started the actual sweater yet. Hopefully that will be this week.
I'm also leaving for the week. It's holiday this week and I'm going down to my sister's. I haven't seen the kids since July 4th and we all miss each other terribly. Hopefully they'll be a distraction and I won't feel so awful. Although I'm kind of nervous to be so far away from home. I've got the whole puke set up down pat and I'm as comfortable as I'm going to be with the situation, you know? My sister will take good care of me though - it's not like she doesn't know from pregnancy sickness.
There have been LOTS of donations to Spin Out! THANK YOU! I haven't had a chance to put you all in the spreadsheet so no total update, but KEEP IT COMING! When I come back I have a TON of FABULOUS prizes to tell you about! THANK YOU EVERYONE!
Posted by Cara at 10:46 AM | Comments (63)
September 07, 2007
It's that time again! Right now we're at $6465! Keep the donations coming! I'm getting prizes in the mail every day and new vendors are coming forward all the time. Here's a list of new vendors that have been added to the sidebar:
Michael & Sheila Ernst Finely Crafted Glass
Grafton Fibers
KnitKnack
StarBug Knits
Woodland Woolworks
Wooly Wonka Fibers
THANK YOU ALL! I encourage you to explore their sites and see what goodies they have to offer. There is so much talent out there it's STAGGERING! THANK YOU!
It's all yarn (especially sock yarn!) all the time this week!!!:
First up, we've got two great skeins of Etoile Sock yarn from StarBug Knits! THANK YOU EMILY!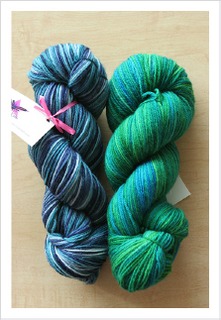 And from another Emily, we've got two more skeins of sock yarn from Sophie's Toes. Emily is a quilter, dyer, knitter EXTRAORDINAIRE and the gorgeous colors of her yarn reflect that. THANK YOU EMILY!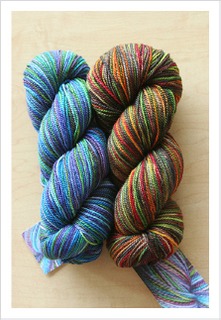 Adrian, fresh from her phenomenal Bohus success, sent us two skeins of FAT SOCK from Hello Yarn! THANK YOU ADRIAN!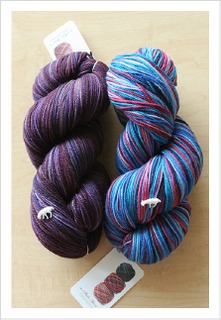 Mama Blue Knitting sent us three gorgeous skeins of sock yarn. I'm new to this yarn and it's really really nice! THANK YOU MAMA BLUE!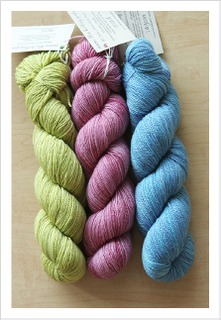 Dani, still high from her honeymoon, sent us one skein of laceweight silk (on the left) and two skeins of sock yarn from her shop Sunshine Yarns. THANK YOU DANI!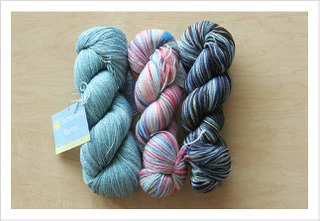 Sundara, from the famed Sundara Yarns, has completely outdone herself! If I wasn't so unbelievably touched by her generosity, I might say she's crazy!! Sundara sent us TWO HUGE boxes of yarn! First up we've got FIFTEEN (yes, 15!) skeins of her Silk Lace!


And then, as if that wasn't enough, she sent us TWENTY (yes, 20!) skeins of her famous SOCK YARN! THANK YOU SUNDARA! I'm SPEECHLESS!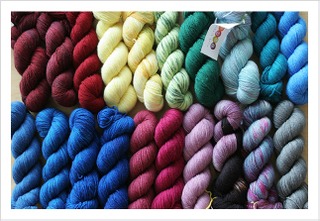 And last, but certainly in no way least, we've got a KILLER prize for one lucky person!


SOME LUCKY WINNER will WIN A MEMBERSHIP IN THE 2008 ROCKIN' SOCK CLUB courtesy of all those fabulous folks over at BLUE MOON FIBER ARTS! Now THAT'S a ROCKIN' PRIZE! THANK YOU TINA, KACI & EVERYONE AT BLUE MOON!
THANK YOU ALL SO MUCH!
If you are a business and you would like to contribute a prize, please email me at prizes@spin-out.org . Also, if your name is not on this list and you feel it should be or there is a problem with your listing, please email me at the same address. THANK YOU! (HEY! YOU! Do you create or sell SPINDLES? I could use some SPINDLES for prizes. I like to make kits with all the wonderful fiber we receive. It's great for new spinners! THANK YOU!)
DONATE DONATE DONATE!
Please, if you haven't purchased a raffle ticket, do so now. Here's how it works:
For every $10.00 you spend on The Heifer International Gift Registry, your name will be placed in the proverbial hat for prize drawings in October. For instance, if you spend $50.00, your name will be put in the hat 5 times. You can win more than one prize if your name is in there more than once - we will not be pulling out names after a win.
VERY IMPORTANT!!!
Last year I realized that while I get registry data, I don't get exact donation amounts. To get your full raffle value, YOU MUST EMAIL ME THE AMOUNT OF YOUR DONATION! Please send an email, with RAFFLE in the subject line, to donations@spin-out.org. If you don't do this, your name will be placed in the raffle ONE TIME. THANK YOU!
THANK YOU THANK YOU THANK YOU!!!
Cross Posted at spin-out.org.

Posted by Cara at 02:59 PM | Comments (12)
September 05, 2007
Anyone think she had her head in the toilet this morning? Great! I get to be pregnancy buddies with the most beautiful woman in the world. One thing I'm grateful for? My skin looks great! I was so afraid I'd break out a lot when I got pregnant and the opposite has happened. And I can't even wash my face anymore because the smell of Dove unscented soap (yes UNscented!) makes me sick.
I ALMOST got my knitting mojo back yesterday. I was tooling around and saw this fabulous picture of Friender! Look how cute she looks all pregnant in her Wallaby! And I thought - oh my god! I should have a pregnant Rhinebeck sweater after all! So I searched around to see what else I could find and there was Kate Gilbert looking all fabulous in her Mommy Snug! I thought oh my god the MOMMY SNUG! To fit me the whole way through! And I can make it in Cotton Ease and it will be cheap and washable and I should do it! I searched some more and came across KnitLet's Mommy Snug! OH MY GOD! Look at her BIG BELLY! This sweater looks fantastic from a bump's beginning to end!
And yet. I hesitate. Why you might ask? Because I'd hate to start it and not have it done for Rhinebeck. Which is six weeks away. That seems so close (yet so far) and I'd hate to not get it done. But with the energy levels I have now I'd look at the freaking yarn, puke, then take a nap. Also - and this is a HUGE one - I hate to do ribbing. Hate it. And this whole sweater is freaking ribbed.
BUT IT'S PERFECT! I might go out and get some Cotton Ease, if I can stop the puking and the napping long enough to drive to the freaking store, and try to do a swatch. If I can't handle the swatch, well then, a sweater's out of the question.
So like I said, almost got my knitting mojo back. At least I thought about knitting for like an hour. That's a start, right?
Oh and to all those worried that my baby will not have a place to sleep or I'll be scouring the aisles of Babies R Us one week postpartum, I plan on registering for everything I will need. I'll most likely be doing what my sister did - she registered for everything she needed and half the stuff came to my house and half the stuff went to her mother -in-law. And when she went into labor, we all sprung into action so that when she came home from the hospital there were clothes and gadgets and all the necessary baby accoutrements ready to go in her home. While I may be new at this, my family is very well versed. After three kids in 4.5 yrs, I trust my sister implicitly.
Thank you again for all the good wishes! I can't thank you all enough!!!
L, C
Posted by Cara at 11:04 AM | Comments (80)
September 04, 2007
I'm not sure what I expected, but thank you all so much for your good wishes! Yesterday morning you had me so verklempt - well - I threw up. So STOP IT! I don't want to puke anymore!!
I have to admit, for weeks I had been planning to announce our pregnancy on Labor Day and I was so excited I could hardly contain myself. Well, as excited as you can be when you feel sick all day long. But the closer I got to announcing, the more nervous and anxious I got about it. Not that I thought the news would be received badly, but I think telling all of you makes it even more real and that's scary. Also, I'm usually so open about my life and my thoughts and feelings and suddenly it's not just about me anymore. I'm responsible for someone else! OH MY GOD! And the world can be very scary - especially the imaginary internet world and I guess I'm feeling all Mama Bear-ish about the baby and that's kind of strange for me. You know? All kinds of new, terrifying, wonderful, nerve-wracking, crazy feelings going on at once. It certainly is a rollercoaster ride!
Obviously, this blog is going to go through some changes. I don't plan on blogging about my pregnancy every single day - I don't know if I'm going to go back to blogging every day - it all depends on how I feel. This is still my fiber blog! If only I had a fiber life these days! I haven't knit in about two weeks and I have almost no desire. It's really, really sad. But people assure me that desire will come back and it will come back strong! I hope so! I miss it.
I can tell you though, that once I do start knitting again, I will NOT be knitting baby knits. I know - crazy isn't it? But I think I have a very good reason for it. My family is VERY SUPERSTITIOUS when it comes to babies - especially first babies - and it's our "rule," so to speak, to not bring ANYTHING into the house that has to do with the baby until AFTER the baby is born. I know - how do you get the whole nursery together? What's the baby going to wear? Etc. It's my experience that newborns don't need much. Diapers. A boob. A blanket. So I'm not worried. But I can't knit for the baby before s/he arrives. I just can't do it. No matter how tempting these freaking booties are! I might knit for other babies though - there are a few out there about to arrive and maybe I'll flex my knit muscles on them, but not my own. It may seem like a silly rule. I mean, not knitting isn't going to keep my family from - God forbid - a tragedy. But we all have our quirks and this one is mine.
Also, right now, we have no intention of finding out the sex of our baby before s/he is born. Maybe we'll change our minds - maybe not. It's just our preference.
For the record, I never lied about the pregnancy. ;-) I may have been deliberately misleading yes, but I kind of freaked out when everyone started guessing I was pregnant (we had only just gone back to the fertility clinic) and I knew people were reading the blog that didn't know anything about what was going on and could be potentially hurt to read it on the blog before they were told in person. So I said I wasn't pregnant - and I wasn't! I was never pregnant when I said I wasn't. Even on July 6.
The baby will not be named Bruce. I can guarantee you that. And we won't have a little Georgie either. Another family tradition is only naming after the dead. Bruce and Georgie are very much alive, thank you very much. I have to say, though, that when I found out there was a new E Street album and tour - WHILE I WAS PREGNANT! - I felt like my baby's life was fated. Crazy, again, I know, but the idea of going to a Bruce concert while pregnant has been a sustaining fantasy this miserable (but WONDERFUL!) summer! It's just too perfect, you know?
I can honestly say I haven't eaten ONE saltine my entire first trimester. The idea makes me want to puke harder. Pretzel sticks. Almonds. I was eating eggs every day until I puked those. I've tried ginger tea. Fruit works. I try to get protein in. While I do feel awful most of the time, thankfully I don't have Hyperemesis Gravidarum. I'm working my way through this nastiness as best I can and while I appreciate all the advice, I'm sure you all know that one person's comfort food is another person's puke fest. Translation: please don't mention foods! THANK YOU!
Over the next months I hope to share more of our journey to this pregnancy. It's fairly well known that we battled infertility and I hope to share some of our experiences with you. I feel like it's such a misunderstood battle (Relax! Have a drink! You'll get pregnant!) that it deserves our attention. So many people suffer and yet there is a shame associated with it that is just not necessary or helpful.
Alright. That's enough for now. I have to go eat again. The most amazing thing about this pregnancy thing is the realization that you can feel completely and utterly nauseated while at the same time BEING STARVING! I eat constantly all day long - but I'm never satisfied. And I'm always nauseated. It's incredible.
Thank you again for all your wonderful good wishes. I have read every comment and email, and while I wish I could respond to all of you, I have to preserve what litter LITTLE energy I have. (Pregnancy brain! HA! I get to say that now!) I don't know how you 9-5ers do it! We so appreciate the love that's out there and I look forward to sharing it with you all.
L, C
Posted by Cara at 01:36 PM | Comments (97)
September 03, 2007
should be on or about March 23, 2008.
We're ecstatic, our families are ecstatic and baby is doing great. I, on the other hand, have puked more in the last two months than I have in 37 years. WHOO HOO!
Have a great Labor Day or Monday, wherever you are!
Thank you!
Love,
C, G & B
Posted by Cara at 12:00 AM | Comments (557)