« December 2007 | Main | February 2008 »
January 30, 2008
The past weekend and the beginning of the week were SO GOOD! I finished Oblique!!! And I really like it - a lot! It's big, and will fit me perfectly for the rest of the pregnancy but I think it will look even better when I don't have a huge belly - when it can really drape over me and be a big blanket sweater. I still need to block it (really just the button bands and collar) and it doesn't have buttons yet, but I wore it Sunday to my nephew's birthday party and everyone loved it. G, of course, thinks it's the greatest thing I've ever knit, but he says that about all my finished knits. Hopefully if blocking and the weather cooperates I'll have FO pictures for you this weekend.
Then I had a stash sale and (almost) everything sold! YAY! Thank you all so much. If you paid me, your fiber is in the mail. Also, if you said you wanted a lot (I'm specifically thinking of Lots 3 and 4), I've sent you a bunch of emails and you haven't responded. Please do so ASAP. There are other people that are interested in the fiber and honestly, I want it out of my house. Now. Thank you!
And no, I didn't get rid of all my fiber and I have no intention of getting rid of my wheel. I truly miss spinning. Really really. I just don't have the energy or the time right now.
Speaking of which - the two projects I alluded to this past week are on hold for the time being. But I want to be knitting DESPERATELY. And I'd love to make another sweater for myself. Which is just completely impractical. But then I get scared that the baby will come and I won't be able to knit for myself anymore. Or at least anything BIG.
What else? Oh yeah. We had an OB appt on Monday and everything looks fantastic. Baby's head down and they don't think they'll be any flipping going on. In fact, I had to tell the doc where he'd find the heartbeat. I bought G a $20 fetoscope for Xmas and I can find the heartbeat pretty easily most times I check (which isn't that often.) It's fun and the baby's heartbeat is ALWAYS lower left under my belly button. The doc was looking upper right and I was like DUDE this is where it is and he checked his spot and nothing, then he checked my spot and VOILA! He said - I should always listen to the moms. Damn straight! We also had our "chat" with the doctor (I had a list and everything and didn't get nervous at all!) and Georgie and I are satisfied that they'll be on board with what we want.
I set up an interview appointment with a pediatrician (am I the only one that got weirded out when they asked me the baby's last name? You mean this thing inside me is REAL?!) and I called the local police department to find out about car seat installation (did you know that MOST car seats are installed incorrectly? Scary stuff!). Oh and I bought the baby's coming home outfit. All red. Just like I wanted. (Don't worry - it's being sent to my sister's house - there will NOT be baby stuff in my house until there's a baby.)
So I was feeling good! Great! Then yesterday I felt sick all day and we had our childbirth class last night and got to watch "the film" and then take the hospital tour. The film rattled me a bit and the tour was a little disappointing and suddenly I'm all freaked out about giving birth again. Just when I was feeling positive about the whole thing. I think it has more to do with the fact that I'm getting increasingly uncomfortable. My ribs hurt. I need new bras AGAIN. (Although I'm worried it's a bit early for nursing bras.) The indigestion is out of control. I'm tired - I do something physical for fifteen minutes and I have to rest for half an hour. I wake up every morning and my hands are so stiff it hurts to bend my fingers. I'm hungry, but I don't want to eat anything. Even dry toast comes back to haunt me.
My house is STILL a disaster. Time is ticking on.
I'm really okay - just overwhelmed a bit. Which I've decided I'm totally allowed to be. There are 53 days until my due date.
Posted by Cara at 08:55 AM | Comments (43)
January 26, 2008
While I may have my knitting mojo back, unfortunately my spinning mojo has not returned. Although I miss is dearly and would LOVE to be spinning, there just aren't enough hours in the day and there is too much to be done before the babe gets here. So I'm destashing! LOTS of great fiber for sale.
Here's how it works: Send an email to cara@januaryone.com
if you'd like to purchase something. PLEASE SPECIFY WHICH LOT YOU ARE INTERESTED IN. I will then send you a Paypal invoice. There will be a $5.00 Shipping charge on all orders! Your fiber will be sent by USPS Priority Mail. FIRST COME FIRST SERVE!
All fiber has been stored in a loving, clean, SMOKE FREE environment. ENJOY!
LOT 1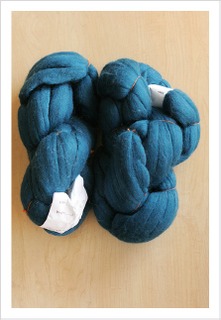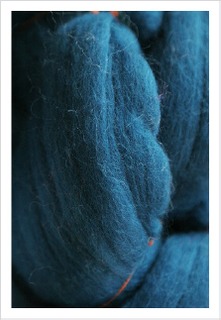 SOLD ONE POUND MERINO
Two 8oz Skeins
The Sheep Shed at Mountain View Farm
$20.00


- - - - - - - - - - - - - - - - - - - - - - - - - - - - - - - - - - - - - - - - - - - - - - - - - - - - - - - - - - - - - - - -
LOT 2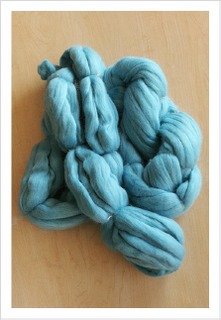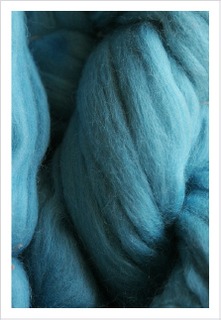 SOLD
ONE POUND MERINO
Two 8oz Skeins
The Sheep Shed at Mountain View Farm
$20.00
- - - - - - - - - - - - - - - - - - - - - - - - - - - - - - - - - - - - - - - - - - - - - - - - - - - - - - - - - - - - - - - -
LOT 3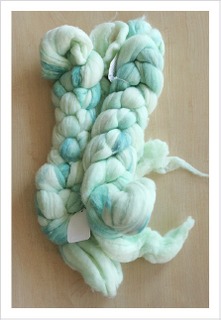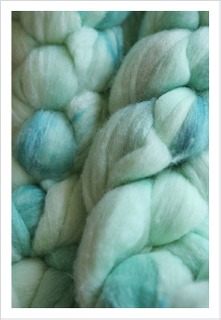 SOLD 8 OZ Wool/Silk (80/20)
Two 4oz Skeins - Celery Colorway
Cloverleaf Farms
$24.00


- - - - - - - - - - - - - - - - - - - - - - - - - - - - - - - - - - - - - - - - - - - - - - - - - - - - - - - - - - - - - - - -
LOT 4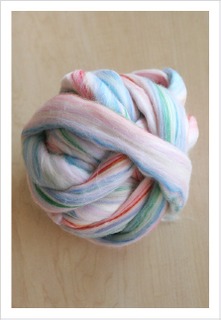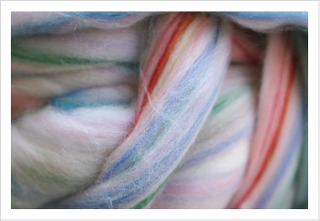 SOLD 7 7/8 OZ Fine Wool Top
Snapdragon Colorway
Shadeyside Farm
$15.00


- - - - - - - - - - - - - - - - - - - - - - - - - - - - - - - - - - - - - - - - - - - - - - - - - - - - - - - - - - - - - - - -
LOT 5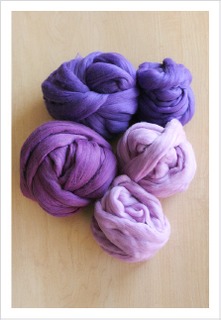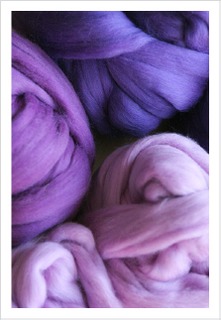 SOLD MERINO
Three colors - @ 4oz each color
I'm not sure of the fiber brand - but they might be Ashland Fibers.
$6.00 per color; $15.00 for all three


- - - - - - - - - - - - - - - - - - - - - - - - - - - - - - - - - - - - - - - - - - - - - - - - - - - - - - - - - - - - - - - -
LOT 6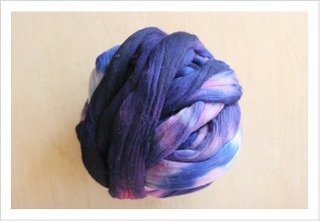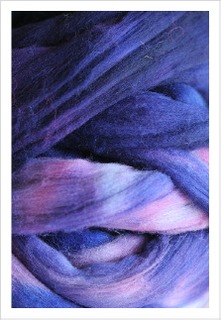 SOLD
10.5 OZ WOOL
I'm fairly certain this is Merino - handdyed.
Spinners Hill Fiber
$18.00
- - - - - - - - - - - - - - - - - - - - - - - - - - - - - - - - - - - - - - - - - - - - - - - - - - - - - - - - - - - - - - - -
LOT 7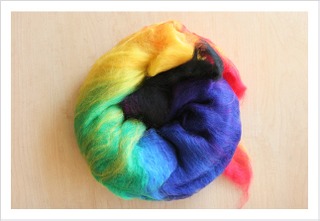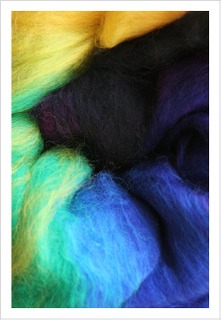 LOT 8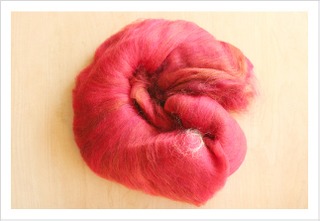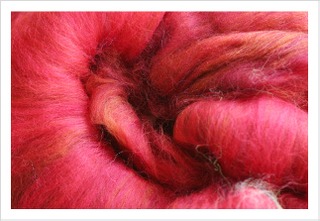 LOT 9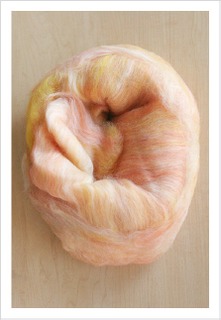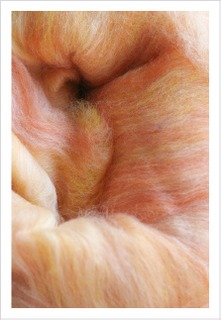 SOLD GRAFTON FIBER BATTS
Grafton Fibers
$10.00 Each or All Three for $25.00


- - - - - - - - - - - - - - - - - - - - - - - - - - - - - - - - - - - - - - - - - - - - - - - - - - - - - - - - - - - - - - - -

LOT 10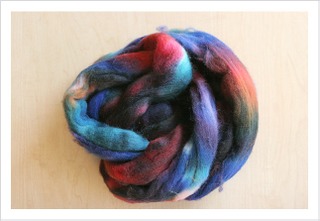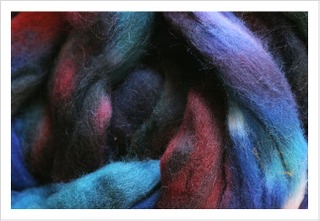 SOLD
4 OZ BFL
Joseph's Coat Colorway
Liza Souza Knitwear and Dyeworks
$8.00
- - - - - - - - - - - - - - - - - - - - - - - - - - - - - - - - - - - - - - - - - - - - - - - - - - - - - - - - - - - - - - - -

LOT 11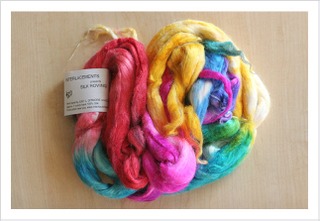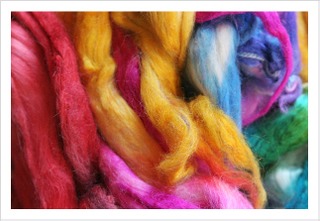 SOLD 4 OZ 100% SILK
Color 206, Lot 24401
Interlacements
$17.00



- - - - - - - - - - - - - - - - - - - - - - - - - - - - - - - - - - - - - - - - - - - - - - - - - - - - - - - - - - - - - - - -
LOT 12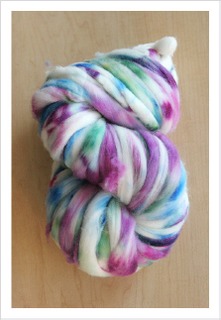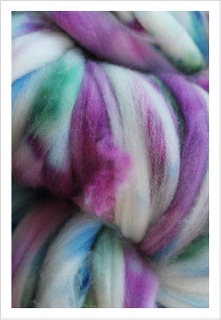 SOLD 8 OZ SUPERWASH MERINO
The Beat Goes On Colorway
Crown Mountain Farms
$15.00



- - - - - - - - - - - - - - - - - - - - - - - - - - - - - - - - - - - - - - - - - - - - - - - - - - - - - - - - - - - - - - - -
LOT 13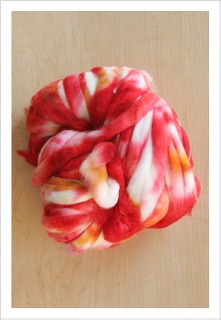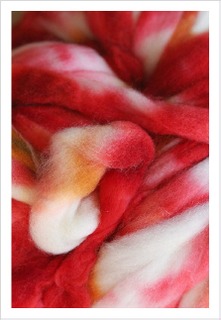 SOLD 8 OZ SUPERWASH MERINO
Mustang Sally Colorway
Crown Mountain Farms
$15.00


- - - - - - - - - - - - - - - - - - - - - - - - - - - - - - - - - - - - - - - - - - - - - - - - - - - - - - - - - - - - - - - -
LOT 14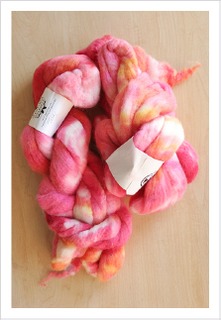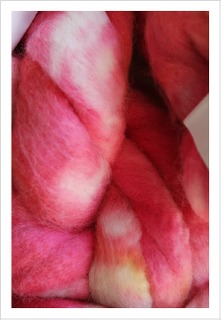 SOLD
8 OZ BFL
Tahiti Colorway - Two 4oz skeins
Spunky Eclectic
$18.00
- - - - - - - - - - - - - - - - - - - - - - - - - - - - - - - - - - - - - - - - - - - - - - - - - - - - - - - - - - - - - - - -
LOT 15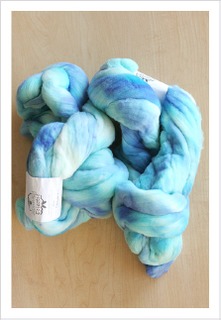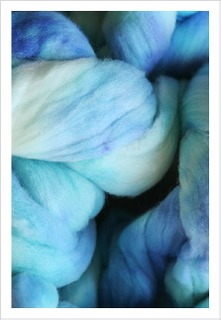 SOLD 8 OZ MERINO
Delphinium Colorway - Two 4oz skeins
Spunky Eclectic
$18.00


- - - - - - - - - - - - - - - - - - - - - - - - - - - - - - - - - - - - - - - - - - - - - - - - - - - - - - - - - - - - - - - -

LOT 16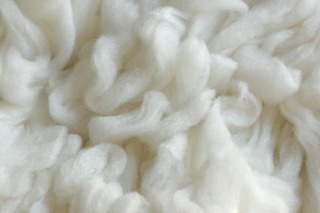 SOLD ONE POUND CORMO/SILK (80/20)
Foxfire Fiber & Design
$50.00



- - - - - - - - - - - - - - - - - - - - - - - - - - - - - - - - - - - - - - - - - - - - - - - - - - - - - - - - - - - - - - - -

THANK YOU!!!
Posted by Cara at 06:43 PM | Comments (15)
January 25, 2008
Hey! Check it out! It's a SOCK!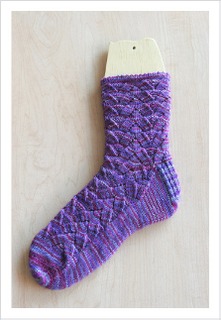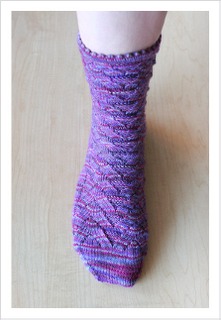 I finished my first purple monkey last night (STR Lightweight Purple Rain.) I honestly forgot how much I absolutely adore those tiny little sock stitches. They look so perfect. I'm so glad I've remembered!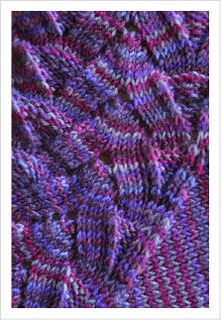 So here's the deal on why I haven't worn any monkeys until recently (although now I haven't taken them off.) I started knitting monkeys in May. The last pair I finished was in August and I started the first purple sock in August. I don't think I need to tell you that May through August equals NO WOOL SOCKS. I'm a barefoot girl in general, but I do like to wear my handknit socks. I usually wear them all winter. But I also wear these shoes most of the winter. They have a very warm fleece lining which is perfect for bare feet. (I actually really like going out in the cold with bare feet and these shoes. It's a little bit decadent and wrong.)
Also, this winter hadn't been so cold until recently and I'M PREGNANT. Which means I'm 80 million degrees most of the time. And nothing makes you hotter faster than wool on your feet. Trust me.
There's also a little secret weird thing I do with my socks. I don't weave in the ends until I'm ready to wear them. I finish the sock, I photograph it for the blog, and then I stick it in my sock drawer. When I'm ready to wear them I take them out and weave in the ends. So strange. The real truth is that anytime I reached for a sock this winter I remembered I hadn't woven in the ends and went for a Jaywalker instead. Sad but true. Now you know the whole story.
I can't wait to cast on for the second sock and I'm already planning what I'm going to knit next! Jaywalkers and Monkeys are PERFECT for my beloved STR Variegated yarn - anyone have any other pattern they've had particular success with in terms of variegated yarns? I'd love to hear about it!
I've also finished the collar on Oblique.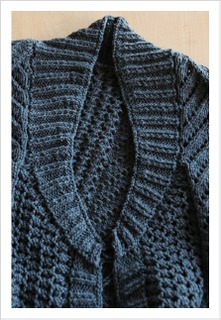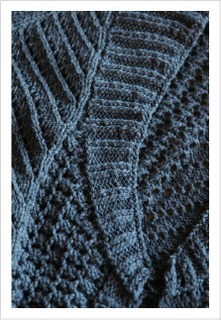 Which means all I have left is some quicky ribbing on the sleeves and seams. I hope to have it finished by the weekend. This thing is HUGE. But I still love it.
I've got some yarn coming to me for a very special project that I'm chomping at the bit to start. Hopefully I'll have it for next week! And I've got another project that I hope to get on the needles this weekend. At least cast on. If only I didn't have all this cleaning to do. Or taxes. Or other work stuff I'd be KNITTING KNITTING KNITTING!
I'm also planning on a major fiber sale. Time to make room for baby. Stay tuned!
Have a great weekend!
L, C
Posted by Cara at 10:44 AM | Comments (36)
January 22, 2008
Last night I had an awful dream - I was injecting myself with something and I knew that injecting myself with this "stuff" was going to kill me, but I did it anyway.
Yeah. Not so much fun to wake up to a suicide dream. Although, I realize, that it has nothing to do with suicide and everything to do with being pregnant. I'm thinking that the injections symbolized the fertility drugs I had to take to get pregnant and the dying wasn't so much a physical death but a METAphysical death. You know - like the death of my current identity being morphed into my NEW identity as a mother? Just my armchair psychology for the day, but it was spooky nonetheless. Took me awhile to fall back to sleep again.
I've pretty much escaped the crazy dreams of pregnancy. I have one every now and then but most of the time I'm pregnant in my "regular" dreams and I'm always telling people I can't do this or that because DUH I'm pregnant. Tellingly I wasn't pregnant in last night's dream. Georgie, my poor sweet, has been shouldering the bulk of the nightmares this pregnancy. I think because I manage to work out my anxieties while I'm awake rather than asleep.
The identity dream fits well with all the work we've been doing around the house. Sunday we needed two cars to schlep the FIFTEEN bags we had filled to the Salvation Army. FIFTEEN and yet our house is still filled with crap and looks a mess. Georgie started moving things out of the room that will eventually be the baby's which means I have to now SHARE the spaces I've called my own for the last ten years. Not too much resentment here. I walk into my closet and there's all of his STUFF.
It's okay. I'll get used to it. And it's not like we're all freaked out that the room won't be ready for the baby, per se. I mean, the furniture and stuff won't be delivered until AFTER the baby's born - it's that we have 16 years of accumulated CRAP that needs to be weeded through and thrown out and the baby is just an excuse. I keep telling myself that this is a great exercise because hopefully sometime in the next year we will be moving and there won't be as much to throw out when we do!
It is a daunting task though. Yesterday I actually got down on my hands and knees and vacuumed the base boards next to my bed and underneath my night stand. DISGUSTING. I told my sister and she said WOW - you really are nesting. Guess it's true.
I also did some knitting!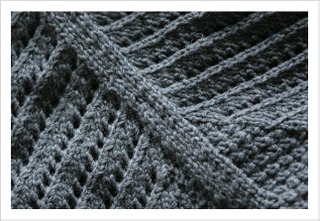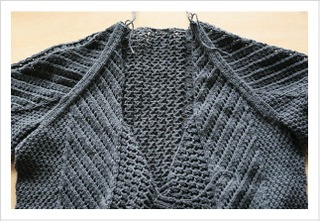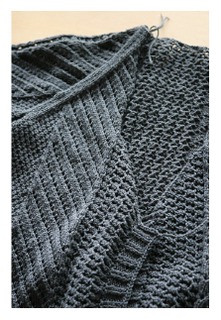 Friday - when we had no heat or hot water - it turns out a transformer blew in our building. So in order to fix it they had to turn off all of our electricity. They did this at 2PM. I thought GREAT! I'll get out my Creative (like an IPOD only BETTER) and listen to some podcasts and finish Oblique's sleeves! Only the Creative was dead. So I knit to the tune of jackhammers (they had electricity, of course) until the sun went down. Then G came home and rescued me from the cold and the dark. Sometime while we were out, the lights went back on - as well as the heat and hot water.
I did manage to finish the sleeves. And I did the button bands on the body AND I seamed the raglans. All I need to do now is the collar, finish seaming and decide what to do with the bottom of the sleeves. I sort of draped it on my shoulders and this thing is HUGE! I think, it will get a bit smaller once it's all seamed up, but still - it's like a blanket coat! Which isn't necessarily a bad thing at all. I hope to have it finished by the end of the week. There's a chance I'm going to run out of yarn, but I have an angel helping me out. Margene has the yarn in her stash and she's going to send me a skein. Although, I think, now, I might be okay. Fingers crossed!
I knit something else yesterday too!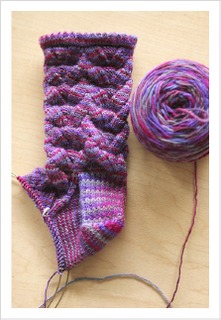 Believe it or not, I wore my first pair of monkeys Sunday night! We had a party to go to and I wanted some fancy socks in case I took my shoes off and I pulled a pair of monkeys out of my sock drawer. I have never worn ANY of the monkey socks I knit! NONE! I mentioned that I've been thinking about socks a lot lately and wearing them was so fantastic that I took out the Purple Rain STR Monkey that I started a million years ago - actually it was back in August. Last I knit these I was on the heel flap. Yesterday I managed to finish the flap, turn the heel and knit the gusset! All night long I kept telling Georgie how good it felt to be knitting SOCKS! This was all punctuated by the fact that I went through my "pedestrian" sock drawer over the weekend and got rid of EVERYTHING. I told G - once you've gone handknit - you never go back.
Thank you all for all your encouragement and support about my last post. I'm much calmer now (although we do have childbirth class tonight) and I'm handling my fears pretty well. I've been reading some stuff - stuff that pisses me off and makes me feel VERY judged and stuff that assuages my fears and lets me know that whatever I want is truly fine. It seems to me that the baby will be coming out of my body - in some way shape or form and that's NATURAL. Nothing about this pregnancy started out conventional - so who's to say the end will be that way as well? I'm open. Truly open. And I think that can only be a good thing for my body as well as my mind. I have some very solid ideas about how I want things to go - and that really has more to do with how I want to be treated (with respect and honesty and intelligence) than the actual EVENTS that take place. I trust my husband implicitly that he will help me to have the best birth I can have. So thank you for your confidence in me. It means a lot.
Off to get rid of more stuff! It's so FREEING!
L, C
Posted by Cara at 11:20 AM | Comments (42)
January 18, 2008
Today we have no heat and no hot water. Also, they've started the dreaded drilling I talked about way back when. They're refacing the outside of our building - including taking off the balconies and redoing them. They haven't gotten to my unit yet, but they're getting closer and closer. All you hear are jackhammers off and on all day. In the cold with no hot water. And I'm pretty sure my neighbors are running a restaurant next door.
Fun times.
We started our childbirth class a couple of weeks ago and while I always knew, you know, intellectually, that the baby will come out somehow - I hadn't really given much thought to HOW it will come out. The details and all. I've never been one of those people who thinks that a baby should be born in a field or underwater or god forbid my living room (not that it wouldn't be nice to be able to crawl into my own bed after the kid arrives, but can you imagine the CLEANING I would have to do to get my house ready for something like that?! Makes my head spin.) But at the same time I'm not the kind of person that wants to walk into the hospital with my c-section scheduled around my favorite television shows.
DISCLAIMER: GIVING BIRTH IS ABOUT AS PERSONAL AS IT GETS. EVERYONE IS ENTITLED TO THEIR OWN BIRTH EXPERIENCE, HOWEVER THEY CHOOSE. NO JUDGMENTS HERE.
I've never given birth before. I have no idea what it will be for me. At the class the other night the instructor went around the room and asked all the women how they thought they handled pain - then they asked the partners to corroborate. It was strange for us because my husband has been in fairly constant pain since he was about 14 years old and while I've had great experience with MENTAL pain and anguish, I've never really had to endure physical pain. So who knows? That first contraction might hit and I might be begging for the epidural.
But I'd like to go into this thinking I'm going to get as far as I can WITHOUT drugs and see where it takes me. I want options.
The instructor alluded to a few things about the hospital where I'm giving birth that didn't sit so comfortably with me and I started to get upset. Prematurely. I haven't discussed any of this with my doctors and I'm honestly only starting to feel my way about the whole thing.
Which brings me to the topic I really want to talk about - ANXIETY. I've dealt with anxiety and panic my entire life, but this is different. This is REAL. Most of my anxiety has been irrational - some kind of circuitry issue in my brain that starts to flip out when I'm feeling out of control or my hearts beats a little fast - there's a trigger and suddenly I'm sweating and breathing heavy and my gut starts to twitch and if I indulge the feelings I'm in full blown panic. I KNOW what this is. I've lived with it for close to thirty years and I've made GREAT strides to manage it.
This panic? This new panic? This anxiety about bringing a new life into this crazy fucked up world? This life that I'm - ME - responsible for? Holy shit. Now that's FEAR.
I'm trying to take it all in stride. I mean, it's not often in my life that I get to be scared with GOOD REASON. I should embrace that right? My problem is that I spend a lot of time trying to decide whether or not my reactions are NORMAL. Am I too anxious? (Before anyone starts to tell me about PPD and all that, you should know that I see a mental health practitioner way more than I see my OBGYN. I'm well taken care of because of my history.) Yesterday I read something about Halle Berry - who's also due in March - and she said that she's started thinking about giving birth and she's completely freaked out. Even more so than she was at the Oscars! Just the reality check I needed!
I'm lucky to be surrounded by rational, knowledgeable women who've given birth lots of times and can assuage my fears. Or at least validate them. That's important.
By posting this, I'm not looking for everyone to unload their magical, tragic, run of the mill birth stories on me. And I know that everything will be all right. My husband is bucking for COACH OF THE YEAR and I'm not sure you could get a more supportive partner. My corner is STACKED baby! And I haven't lost sight of the ultimate goal - a healthy happy baby - and more importantly - a HEALTHY HAPPY ME! However, whatever we need to do to get there.
I'm posting this because I've been pretty honest about my feelings this pregnancy. I haven't sugar coated anything. And now that I'm getting down to the end I feel like it's just as important to talk about how I feel - my fears and such - as it is to talk about my acid reflux that makes me sit up in bed at night gasping for air because I was choking on my own bile. Did I forget to mention that? I'm taking steps. It's getting better. Last night I slept so well I didn't even get up to pee. YAY KEGELS!
Every day I get a comment from another reader who's also pregnant - who knew there were so many of us? And maybe my writing about how scary it all is will help someone else who's also terrified. And just so you know - it's not all scary. The other day I was rubbing my belly and thinking about the doctor pulling that sweet babe out of me and saying "IT'S A ____!" and putting the baby on my chest and then saying hi to the baby and then looking into Georgie's eyes and watching him fall in love with our baby and man I lost it. I'm losing it now. Fear isn't everything you know.
Posted by Cara at 10:00 AM | Comments (126)
January 15, 2008
Are you one of these people? Do you know one of these people?
Judy J.
Sally S.
Karen S. L.
Michele H.
Gail B.
Cathy G.
Daisy L.
Paula O.
Aimee A.
Illanna W.
These people are all Spin Out 2007 Winners, but they have not contacted me about claiming their prize. I've sent two emails - PLEASE CHECK YOUR SPAM FOLDERS!!!!
If you think you might be one of these people, or think you might know one of these people, please leave a comment or contact me by my email: cara at spin-out dot net OR cara at januaryone dot com.
THANK YOU!
Posted by Cara at 10:06 AM | Comments (17)
January 14, 2008
Although probably PANIC is the better term.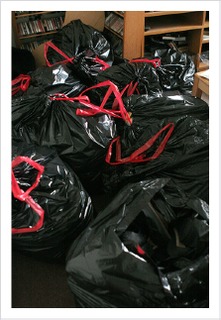 Right there is an artful shot of 8 trash bags filled with clothes (all mine thank you very much) and 1 bag with 19 pairs of shoes. The really sad part is that I don't really buy a lot of clothes. I guess I just never get rid of any of them. Salvation Army - here we come!
The deal is this - in order to have a room for the baby, we have to move G's stuff out of one room. That means I have to give up space in the walk-in closet. So this is just a first step and the house looks MUCH worse than it did when I started but I'm making great progress.
I'm also now 30 weeks pregnant.
That means I've got ten weeks to go. Could be more, could be less, but let's just stick with ten weeks. TEN WEEKS PEOPLE! That's nothing! And did you know that January's PRACTICALLY OVER?! Wasn't it JUST New Year's Day?
So yeah. Panic. Not really nesting. Nesting sounds nice and quaint and all quilty and painty and decoratey and this has NOTHING to do with that. This is all about OH MY GOD THE BABY'S COMING AND WE'VE DONE NOTHING!!!!!!!
I'm okay. Really I am.
Thanks for all the advice on indigestion and sleeping and related pregnancy ills. The sleep issue seems to have been a one time thing. The next day I took a 3+ hour nap and then went to bed a few hours later and I've been sleeping pretty good. Besides the HOTNESS at night. Isn't January supposed to be cold? Where's the cold? I can't remember the last time we turned on the heat. The indigestion is still pretty bad, but I'm coping and the nausea seems to be under control too. It's all there - but liveable.
Here's a weird pregnancy symptom for you - the skin under my arms - my armpit actually - has darkened. Much like my belly button and the linea negra and all that. It's not stubble - it's actual skin darkening. Anyone had that? I googled it and didn't come up with much. A sign of diabetes (great - I thought I passed that test!) and, of course, that I'm having a boy. Have I mentioned that everyone in the entire universe thinks we're having a boy? Not that we wouldn't be thrilled with a boy - but still? No one feels girl? ;-)
Okay. Back to the nest.
Posted by Cara at 12:03 PM | Comments (67)
January 10, 2008
While there's been lots to complain about this pregnancy (YES. I'm puking again. Not everyday, but enough to be miserable.), there's also been some stuff I HAVEN'T gotten.
My skin looks the best it's looked in years. Not one pimple the entire pregnancy. Ditto my hair. It's gotten a lot drier (same for my face) and that's GOOD for me. My hair looks fantastic.
I haven't had any "issues" in the area you could have issues in - very common in pregnancy - think low. Not that low. Up a little. YES. There. No issues. Everything's moving right on schedule thank you very much.
No swelling. No blood pressure issues. No infections. My weight gain has been pretty on target. (I think I can thank the puking for that.)
And up until last night - I was sleeping pretty good.
Usually I fall asleep with the lights and the TV on a bit early and then G comes in and I wake up and pee and take my vitamin, etc. Last night was no different, except when I woke up, all of a sudden I was hit by TERRIBLE heartburn. I took a Pepcid (which I should probably just be taking every day no matter what) and that didn't really help. I couldn't lay down. I even went and had an ice pop because it burned so bad. I brought the husband pillow in from the den and tried that but I was so freaking uncomfortable. And hot. This weather is killing me. I'm HAPPY to be pregnant in the winter because it's COLD out and I'm WARM all the time but NO. I get freaking Spring.
I didn't fall asleep until 3AM. Caught up on a lot of General Hospital though. My freaking neighbors woke me up at 8 with their new blender. Fucking fantastic.
I'm so cranky today. I'd really LOVE to go to sleep but my bedroom stinks from all the cooking my neighbors do. Now that they have the blender, they can really chop up all those horribly offensive ingredients they use. (You may think I'm exaggerating, but there's nothing worse than walking into your house - especially your bedroom - and being bombarded with SMELLS. Smells that aren't yours or your loved ones or anything else you might want to smell. It's truly awful and nothing we've tried works. Dude! Why can't they bake cookies or something?!?) ETA: We can't open the windows anymore (not that it helps much) because we sealed them for the winter (something we do routinely - the drafts are HORRIBLE) and for the expected construction.
Also, did I mention we have no water today? Hot or cold? Yup. No water. And the fire alarm blared off and on for two hours last night while I was trying to rest.
I've been really busy this week so I never finished my Oblique sleeves and I'm behind on other stuff and time is ticking away.
Sorry for the complaining. I'm just tired. Welcome to the THIRD trimester!?
PS - I've picked the Color Contest winners! I'll announce them as soon as I hear back from the winners. CHECK YOUR SPAM FOLDERS!

Posted by Cara at 11:55 AM | Comments (59)
January 07, 2008
That, my friends, is the sound of my own horn! Many of you have been so kind and sent me congratulations about this: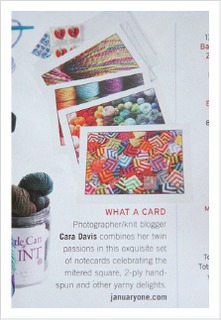 Yup. That's right. Those are my notecards! In the exalted pages of Vogue Knitting! (Page 8 to be exact, the Winter 2007/08 Issue!)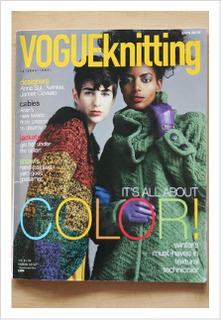 It tickles me to no end that my Color Collection appears in the magazine where the issue is all about COLOR!
THANK YOU VOGUE!! What a great way to start the year!

In order to celebrate, I'm going to have a very COLORful contest! I'm giving away SIX BOXES OF CARDS! The only thing you have to do is leave me a comment telling me what your favorite color is and WHY. Or maybe the color you hate more than anything and WHY. Or how about a color you've always wanted to wear or knit or love but have been afraid to for whatever reason. Tell me the color and the REASON. Not too hard, right?
There will also be two GRAND prizes. TWO $25 gift certificates to The Loopy Ewe! One grand prize winner will be picked at random, the other will be picked because I like your entry the most. So, four lucky random winners get cards, two get cards + the grand prize. Please, one entry per person. Comments will be open until Wednesday, January 9, 11:59 PM EST. Winners will be announced sometime on Thursday.
Thank you and have a wonderfully COLORful day!
PS - If you'd like to skip ahead and just buy a box of cards, ordering information can be found in the sidebar or here. THANK YOU!

Posted by Cara at 10:56 AM | Comments (619)
January 04, 2008
Yesterday I pretty much ignored all the things earmarked for the day and instead just knit. It was bliss.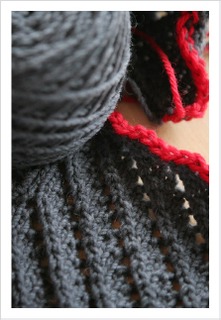 I started the sleeves for Oblique and went on my merry way. As I mentioned the other day, I'm not doing the ribbing on the sleeves the way the pattern states - it calls for really big cuffs that roll up. If anything, I'd rather have some simple ribbing and because I've gone up a size for the body, I don't want the sleeves to be too long. So I took a page from ThatLaurie and I jumped right into the lace patterns after casting on with a provisional cast on. I haven't done that many provisional cast ons in my life, so I headed to google and found this one right at the top. Worked great! In fact, I can even vouch for how easy it was to pull out the scrap yarn because I screwed up and cast on one stitch short, so I had to start over.


I can almost TASTE the end of the sweater! I've got the lace patterns all memorized (it only took me until 3/4s of the way through the fronts!) and I just sail along. The yarn is really one of my favorites ever. Just to recap, I'm using Beaverslide in the Catbird colorway. The color photographs differently every time I take a picture, but I think the two at the top are a really good representation. My goal is to have the sleeves finished before Monday. That's the goal. I think I can do it!
Speaking of goals, I've been reading a lot about knitting resolutions and intentions and goals for the new year and I actually have a few myself. First off, finish Oblique. Next I want to start a new shawl I fell in LOVE with at Rhinebeck and would love to wrap myself in for some end of pregnancy photographs. More details on that soon. I'm also hearing the siren song of socks. Socks. I miss socks. Can you believe I haven't worn ANY of my monkeys this winter?!? NOT ONE PAIR. How pathetic is that. I've worn lots of Jaywalkers, but no monkeys. I want to finish the monkeys I have on the needles and possibly branch out into a different pattern. We'll see how that goes, but I think socks will be very nice once the baby's here. Easy to transport and not a lot of thought.
The biggest goal I would like to accomplish before the baby arrives is to seam the Miter Square Blanket. I've given myself permission to ignore all the ends until AFTER it's been seamed. So all I need to do is block the squares well and seam them up. I think about it every single day. It will get done.
So those are my short term (read before baby) knitting goals. I think they're kind of doable. I hope they are at least.
Have a great weekend!
PS - Our birthday dinner out was really quite lovely. We had a great time together and it definitely more than made up for the earlier ickyness. And while I still feel pretty nauseated a lot of the time, the puking has stopped, for now.
Posted by Cara at 02:42 PM | Comments (21)
January 02, 2008
First off, let me just say THANK YOU for all the wonderful birthday wishes and belly compliments! I so appreciate you all! THANK YOU AND HAPPY NEW YEAR!
Now, can we do it over?
Hindsight is always 20/20 and as much as I LOVE being with the rugrats and watching the kids with G and just loving on them and having them love my baby so much, before s/he is even here - it wasn't the best idea to watch them on New Year's Eve. It was completely MY idea, so I have no one to blame for myself. It just didn't feel like my birthday. My sister and her husband spent the night out, so we had the kids for the whole night. And it was long.
The next morning I woke up and promptly threw up.
There is no good reason for puking on your birthday UNLESS you've done something so fun, so excessive, it warrants that kind of behavior. I did nothing but have the audacity to get pregnant. Silly me.
The 1st was long and while it was lovely to be with my family and I got to eat good food (read bagels and cream cheese and baked salmon) and I had my prerequisite birthday cake (Carvel Ice Cream Cake - there is no substitute) I was exhausted and felt kind of ill all day. There were tears on my birthday. There was no knitting.
Today hasn't been much better, honestly. I puked. Again. That's two days in a row. I haven't puked two days in a row in about six weeks. I am NOT happy. Honestly, I thought I was done with it. Yeah, sure, occasionally, but I feel like I'm going back to the beginning and somehow I feel like I lost all my coping skills. Or rather they shifted so I can cope with all the other stuff. Ann told me I shouldn't feel sorry for myself because there's nothing I can do about it and BUCK UP LIL' CAMPER. (I told her at least I didn't call her when I was crying - I called my sister - who was very sympathetic. She said you don't call me for sympathy and she's right.) ETA: Apparently Ann has taken great umbrage at the fact that I took poetic license in writing that she said, "BUCK UP LIL' CAMPER." She didn't say those words out loud, even though that might be what I heard.
Anyway. That's where I'm at. I'd like to do it over please. Tonight G and I are going out to dinner. I hope I can get through it. Isn't that pathetic?
There has been some good stuff too! I completely freaked out last weekend over the whole baby thing and promptly leapt into action. We've ordered furniture for the baby's room and I may have even registered! How crazy is that? It did make me feel a lot better about things though. Now the great clean-up must begin.
And there's been knitting! Lots of knitting! (I should note that I feel kind of like a fraud posting these pictures after Jen and La so generously awarded me The Picture Perfect Award. Seriously - I can do much better!)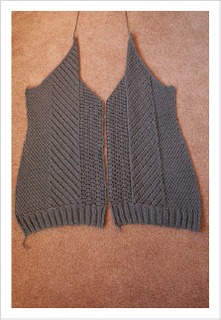 Oblique now has two fronts! I finished them Sunday night and I'm very happy with how they turned out. It ends up, if you take good notes when you're knitting the back and making changes, the fronts go very well. Here's a picture of the fronts laid out over the back.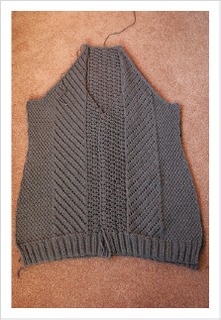 And here's a pattern close-up, just for the hell of it.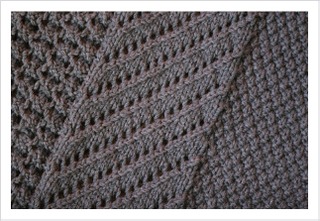 Still loving the yarn, the pattern, everything. I want it done NOW! I'm going to cast on for the sleeves today hopefully and I'm going to try a mod I read about on Ravelry. ThatLaurie, who knit a GORGEOUS Oblique in her own handspun, cast on the sleeves with a provisional cast on and started right away with the pattern instead of the big cuffs called for. I'm going to do the same. Basically, I'm knitting a larger size and while I like my sleeves long, I don't think they'll need to be THAT long. So I'll knit them and add some ribbing later as warranted. Now to find my favorite provisional cast on. I can never remember which one I like best.
I didn't really make any resolutions this year - other than enduring the end of my pregnancy with as much grace as I can, birthing a beautiful baby, and beginning the journey of raising a wonderful human being - but I do intend to blog on a more regular basis, whether I have knitting to show or not. Now that I'm not working like a maniac the blog is an excellent outlet for me and I miss the day to day of it. So hopefully you won't get sick of me too fast.
Thanks for reading. And thanks again for thinking of me yesterday.
L, C
Posted by Cara at 04:36 PM | Comments (35)
January 01, 2008
This is how I looked on the day before my 38th birthday: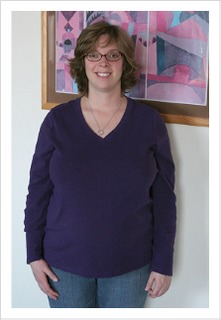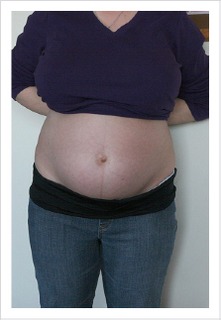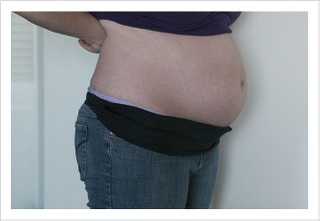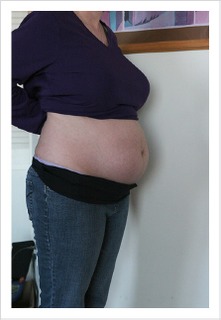 28 weeks, 1 day
We're down in Philly for New Year's Eve babysitting - believe it or not! Yes. I decided that our last New Year's Eve as the two of us should be spent with our favorite three-pack. And I get to be in Philly, with my family, for my birthday. Bliss!



HAPPY NEW YEAR!!!
Posted by Cara at 03:52 AM | Comments (177)