« Miss Meli Mack | Main | Ready, Set, GO! »
April 25, 2008
SUCCESS!
I decided to be adaptable and smart about things in terms of my walk - and it worked!!
Meli likes to take a nice long nap in the mornings. We wake up, nurse, then she's up for a bit and then she sleeps for awhile. So why not take our walk then, I thought? I KNOW she'll be sleeping. Even though I usually use this time for doing other stuff (like laundry, computer work, etc.), the walk is more important to me - the rest of it can wait.
She was a bit fussy went we first went out but because it wasn't later in the day, I was in a better more relaxed mood AND I knew that she was definitely on her way out, so I dealt with it and kept on walking. Soon she was sound asleep. I was also smart to cover the stroller with a light receiving blanket so no errant sunbeams were able to disturb the princess (that happened yesterday - turned a corner and didn't adjust the shade canopy fast enough - instant crying.)
We were rewarded with cooler temperatures, a snake sighting, muskrat sighting, lots of birds and tons of tulips in bloom - not to mention all the trees! It was a GREAT walk and Meli woke up right at the end. YAY MOMMY AND MELI!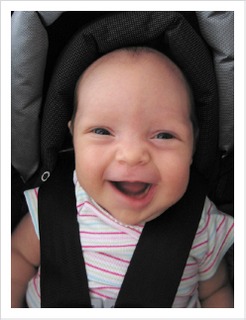 We're in such a good mood, tonight we're going to attempt a dinner date with Daddy!
Have a great weekend everyone!
L, C & M
Posted by Cara at April 25, 2008 02:02 PM
Topics: Baby? OH BABY!
Comments
Glad today has been better for you. As you are noticing, everything is trial and error with children and what works today may not work tomorrow. I am currently going thru this with my youngest who is two. But you're learning! Ain't it great?
Posted by: Shea at April 25, 2008 02:23 PM
Posted by: Amy at April 25, 2008 02:30 PM
Whew! Good thing Meli has a smart mommy.
Posted by: margene at April 25, 2008 02:38 PM
She is very very cute and looks adorable..
Yesterday's pictures were great...

Posted by: SamLaTricoteuse at April 25, 2008 02:54 PM
Way to go! I gotta tell ya... I have a crummy cold and feel like crap, but those smiles on that girl of yours crack me up and give me some much needed joy. Thanks!
Posted by: lisa at April 25, 2008 03:02 PM
Good for you! She's such a smiley baby...you're very lucky, I think.
Posted by: Minneapolismama at April 25, 2008 03:30 PM
Oh my gracious - she's growing SO FAST! Have a talk with her right now about that growing thing or she'll be leaving for college Next Week!
Posted by: Laura at April 25, 2008 03:33 PM
Man, I love your baby. She has the best expressions!
Posted by: Bertha at April 25, 2008 03:39 PM
I'm so glad it worked out :)
The t-shirt Meli's wearing looks an awful lot like a stripey short-row sweater I seem to remember you knitting ages back. It is probably just the way the shirt is folded by the seat straps...but it is still really cute. (And so is she, what a gorgeous smile :)
Posted by: Today Wendy at April 25, 2008 03:43 PM
You've discovered the secret to good parenting, always be ready to rethink your plan!!! Now, you realize you have to rethink this every two weeks, right?!
With my eldest, he would sleep fine in the morning but for a whole year of his life it was a walk in the afternoon or else he wouldn't sleep. I miss those days. It guaranteed me a run every afternoon. I can totally relate to needing that time.
Posted by: tracy at April 25, 2008 03:48 PM
She's a heart-breaker. (Same thought about Short Rows as above!) Have a fun date!!

Posted by: Vicki at April 25, 2008 03:48 PM
Good for you! Flexibility and creativity will get you through!
Posted by: Stephanie at April 25, 2008 03:51 PM
Okay, that is just about the smiliest baby I have ever seen! She's adorable!
Posted by: Melissa at April 25, 2008 04:37 PM
now that... THAT is happy.
i need to remember how to make that face ASAP :) that or see more of miss adorable meli's as a reminder!
Posted by: stinkerbell at April 25, 2008 04:40 PM
'adaptable and smart'
I love it!
Posted by: meg mcg at April 25, 2008 04:43 PM
Aww, that smile, she's gorgeous!
Posted by: Nynke at April 25, 2008 04:51 PM
That picture makes my uterus do somersaults. She is absolutely precious!
Posted by: mick at April 25, 2008 05:04 PM
She is freakin' ADORABLE. oh my goodness. she's making my ovaries twitch.
Posted by: Carrie at April 25, 2008 05:06 PM
what a joyous little face!
happy weekend to the three of you.
Posted by: lynne at April 25, 2008 07:21 PM
Woo hoo for changes that work!
Posted by: Sarah at April 25, 2008 07:39 PM
Wow, Meli is possibly the seventh cutest baby ever! [My babies, nieces and nephews automatically are number 1 through 6. ;)] I think she's looking a lot like you! Your attempts to get your walk in reminds me so much of what it was like when my two kids were little. I'd just start to get used to their schedule, and then they'd go and change it on me and I'd feel so frustrated. It turns out, the little lessons they gave me in flexibility when they were little have come in very handy for parenting generally. It's especially true now that they're young teenagers! The only thing about them that doesn't change is the fact that they change.
Posted by: TJ at April 25, 2008 08:11 PM
She's so beautiful! You take fantastic pictures of her. I'm so happy that you're enjoying being a family so much!
Posted by: tiennie at April 25, 2008 08:24 PM
I'm so glad she has you for these photographs -- just breathtaking!
Posted by: mrspilkington at April 26, 2008 12:17 AM
Cara, Congratulations on your beautiful baby! My little girl is six months old now and it's amazing how much babies change in such a short time. OK, I'm reluctant to give advice because I know you're showered with it, but I did want to let you know that I've found it possible to knit up a storm while breastfeeding. Not at the beginning, when the latch-on is still a little tricky and the baby's too small. But once you're in a good place (maybe now?), I found that with a good nursing pillow (I don't like the boppies -- I have some huge thing called a Bosom Baby, but whatever works for you), the right chair and maybe some extra pillows under the nursing pillow to make sure she's snugly near my chest, I'm golden! I prefer circular needles as there's less to poke, but I admit to using DPNs and horribly long size 3s, with no injury to her or me. My daughter likes to do what I call "nurse nap" usually at least once a day, and I've learned to let it also be a little time for me to read, do a crossword or knit. (With my son, I initially felt like I needed to cherish every breastfeeding moment -- but, geez, he was constantly nursing and I needed to multitask a little for myself!). Anyway, take this for what it's worth -- congratulations again and take care of yourself!
Posted by: Charlotte at April 26, 2008 09:16 AM
She's definitely got your eyes. What a sweet faced girl!
Posted by: Mary at April 26, 2008 10:55 AM
She's definitely got your eyes. What a sweet faced girl!
Posted by: Mary at April 26, 2008 10:55 AM
Congrats!
I remember the wisest piece of practical advice I read when my now 20-year-old was a babe: Don't do anything when s/he's asleep that you can do when s/he's awake. Gave me license to think about using my limited time in ways that benefitted me as well as the family.
Sounds like you're really adapting nicely. I'm so happy for you all.
Posted by: Susan at April 26, 2008 11:56 AM
That's the best smile EVER! I'm going to bookmark this page so I can visit that smile whenever the need arises. Lucky you!!!
Posted by: Cristina at April 26, 2008 08:13 PM
She is so photogenic! I was away from the computer for a few weeks--it is amazing how much babies change in that amount of time. Meli is just beautiful!
Posted by: deb at April 27, 2008 01:03 AM
There's a reason they call it baby steps. Way to go. And thanks for sharing your joy.
Posted by: Angie at April 28, 2008 12:43 AM
that's Great! well done adjusting mom!
good job. :)
Posted by: Lyssa at April 28, 2008 09:25 AM
What a great smile! And congrats on finding the walk that works for you both. :)
Posted by: Amy at April 28, 2008 11:59 AM
What a happy baby. So sweet. I can't help but smile myself when I see her ear to ear grin!
Posted by: BRSMaryland at April 28, 2008 12:29 PM
Ah, those Ninja like reflexes will continue to serve you very well! And Meli really is TOO MUCH! (in the best possible way of course!)
Posted by: KT at April 28, 2008 07:19 PM
I've been lurking around here for a few months, and finally, wanted to thank you for sharing these moments you have with your brand new little one as well as your journey (knitting and otherwise) that you took to get yourself here. You've brought back many memories for me... like how difficult it can be to find new compromises between the new and old demands of your current life, and how the constant breastfeeding, although meaningful and memorable, could be a little draining. I hope you feel you're managing well; it seems like you're doing just fine!!
Posted by: cheryl at April 29, 2008 11:37 AM
Posted by: Michele at April 29, 2008 04:24 PM
She so super adorable. Daddy watch out, the boy's are will be flocking to your door soon enough.
Posted by: Wanda in AR at April 29, 2008 04:27 PM
Yay! Patience, flexibility, and ingenuity are all things I plan to have with the baby, but I know all those intentions go to pot when the kid arrives. Good for you for putting it all into practice.
Posted by: Julia at April 29, 2008 05:01 PM
I remember the day I realized if I kept walking through the 5 minutes of crying I'd be rewarded with 20 minutes of nap time to keep walking! She is the cutest! Congrats.
Posted by: biglug at April 29, 2008 10:14 PM
Now I'm absolutely not one to tell another what they should do with their blog. I adore januaryone.com, its one of my most favorite blogs ever. One eensy, teensy thing, I think the time has come to update the 100+ things about me list. I haven't been reading this site too long, maybe just over a year, (I came on board during the miter madness) but I can say that it seems to me that the person who wrote that list has changed to the person who writes this blog. I know I don't KNOW you, but I feel like I know some of you and your pregnancy and subsequent motherhood has surely put a new spin on things. Thank you for sharing all that you do.
And what little knits are in the works for Miss Meli?
Posted by: Meg McG at April 30, 2008 09:37 PM
CARA, she is BEAUTIFUL!!! and looks just like her mom! Enjoy this age before she learns to talk!!! MUCH LOVE ALWAYS, Beth
Posted by: beth at May 1, 2008 11:05 AM
Yay! Glad that worked out. You definitely need a little "me" space, or you go stir crazy! I hope you get a chance to do some knitting, too. I was able to do a fair amount of knitting while nursing before my son hit the crawling stage, as long as I nursed him on the Boppy pillow...it doesn't work for everyone, but hopefully you'll find something that works for you!
Posted by: Sarah at May 1, 2008 07:11 PM
Look at that face! So adorable!!
Posted by: Anita at May 1, 2008 11:35 PM
I just now noticed that her little t-shirt looks like a Short-Rows sweater!
Posted by: ann at May 1, 2008 11:49 PM
Something about that sweet little grin made me tear up. She's just perfect! I miss little toothless smiles.
Posted by: Kristen at May 2, 2008 05:37 PM