September 25, 2010
The 21st Century
This marks the 999th entry on this blog.
And to celebrate that and the upcoming demise of Bloglines, I've decided to join the 21st Century.
I have started a Facebook page and a Twitter account for January One. They will be fairly redundant, so if you hate Facebook and love Twitter, or vice versa, you will be covered.
I'm not taking down the blog, but my time here will be severely limited. If you're still reading you already know that. Both Facebook and Twitter are platforms I can easily access with my phone, so the easier the better. I'm eager to regain a connection to a community I can call my own. I hope you'll join me on this next adventure.
Oh and dear God I pray there's knitting.
Thank you!
Posted by Cara at 05:08 PM | Comments (12)
April 03, 2009
VOTE! NOW!
Fellow blogger, knitter and photographer extraordinaire Gale Zucker has a dream:


In her words:
I'm proposing going to Heifer Project sites around the world, to photograph and tell the stories of how the work they do changes lives directly by giving people the ability to support themselves. You know my commitment to animals, farms, youth and trying to do some good in this world. Being funded for this Dream Assignment project would enable me to multiply my efforts beyond any way I could imagine or have been able to do until now.
You know how I love Heifer - anything that can bring attention to their great works is a good thing and Gale is a wonderful photographer - have you seen her book, Shear Spirit? It's magnificent! Please follow this link and go help Gale. (You will need to register to vote, but it takes two seconds and means so much!)
Voting ends tonight! Please help!!! VOTE!
Posted by Cara at 04:07 PM | Comments (3)
July 02, 2008
Follow Up
I should so be sleeping - firstly I'm a new mom and I should always be sleeping when my baby is sleeping. Secondly, we spent the day at the beach and we're all exhausted. But I feel like I need to get this post out and late at night might be my only time to do it.
To start, I want to thank everyone that left such thought provoking and generous comments. I promise I wasn't trying to be provocative, I was just elaborating on an off hand comment I wrote the other day. I've read all your comments and have taken them to heart. Here's what I'm thinking:
EVOLUTION: I think you're absolutely right - blogs evolve. They have never and probably will never be any kind of static platform. Just as we evolve as humans (we hope), how we communicate will most likely evolve. I used words like suffer and death and I think they are appropriate in all kinds of evolution. Things change - something gives, something dies. I'm beginning to think that my lamentations on knitblogs, per se, has a lot more to do with me and my life than the actual state of knitblogging. My life has changed so much over the past year - immeasurably so - that it's only natural that I'd want some things to stay the same. My blog changed, and it seems everyone else's changed too and I miss how things were. I guess I'm still grieving for the blogger I once was; I was always very proud to be carry the label knitblogger, then someone called me a mommy blog the other day and honestly I cringed. I'm not ready to change my moniker. I've got almost 300 feeds on my bloglines list and maybe 50 are something other than knitting blogs. I suffered from infertility, yet I have maybe one or two infertility blogs on my list - and that's because they were both knitters. I have a couple mommy-ish blogs - but really they're about products - not people. When I found knitting blogs I found my home. Now I sort of feel adrift at sea. Melodramatic, perhaps, but it's how I feel. And I fully believe you should feel what you feel.
RAVELRY, et al: I'm (one of) the biggest Ravelry hypocrites out there. I have no problem browsing for patterns or checking out what yarns people have used for a particular pattern for WAY too long, but I haven't updated my projects on there after the my first initial posts. So I'm using the database, but not contributing too it. Honestly, the minute I heard about Ravelry I took the position of Chicken Little. And when I heard there would be forums? Ugh. I've spent my share of Internet time on forums and honestly I've seen nothing good come of it. In fact, I've seen a lot of ugliness. But there's no denying that change is good and welcome and inevitable. I've benefited from Ravelry just like the next knitter or crocheter or spinner. I just can't be a contributer - it's not for me. Same goes with Flickr. I never had a Flickr account until I started my Ravelry account and that's not for me either. Photography is a HUGE part of my life, but it's also a job for me and something just doesn't feel right about my pictures on Flickr. I'm sure this is an ignorant bias on my part that someone will surely point out, but again. It's not for me. Same thing with a lot of these other internet tools. The fact is I'm a blogger. It suits me very well. I love to write and I love to take the pictures I need to take and I like having the control to do what I want with my words and photographs. The fact that I have an audience makes it all that much better, but I've realized these last few months that I'd be here regardless.
The bottom line is I've allowed myself tremendous growth in so many areas of my life, that now I'm going to feel free to let my blog grow. From now on I'm going to disavow any and all labels - I'm no longer a knit blogger or a mommy blogger or a photo blog or an infertility blog. This blog is me. All the parts of me. For better or worse.
Thank you all, again, as always, for coming along for the ride.
Posted by Cara at 01:09 AM | Comments (43)
June 29, 2008
Knitblogs
Okay - so maybe I exaggerate. And maybe the discussion of knitblogs being dead only occurs between Ann and I on a semi regular basis. And sure, things do slow down in the summer.
BUT, and this is MY OPINION (although one that is probably shared by many others) things have DEFINITELY changed in the knitblog community. The other day I received an email that the knitblog web ring was changing its ring software and you have to re-sign to be a part of the ring. When I first signed up there were very specific rules for joining the ring - for example, you had to post on a fairly regular basis and the posts had to mostly be about knitting. According to the knitblog web ring website, there were about 1300 blogs on the old ring and so far 44 people have signed up for the new ring. AND the rules have been relaxed. You only have to post once a month now. I'd be willing to bet that a significant majority of the blogs on the old ring wouldn't even be allowed to join now.
To me, that signals a dramatic shift in the knitblogging community.
Why? Of course, blogging is a fluid enterprise. People come and go all the time. Priorities shift, life events get in the way, but this seems to much larger than just the usual comings and goings in the community. For better or worse, IN MY OPINION Ravelry has had A LOT to do with it. There are many many blogs on my bloglines list that post very sporadically and when they do, they blatantly say they've been on Ravelry. It's MY OPINION that the interesting discussions about knitting and projects that used to be on the blogs have moved over there - instead of many in-depth posts about a project we generally get one wrap up post that says the details are over on Ravelry. No doubt, Ravelry is an extraordinary tool in this community, but the social aspects of it have had a huge impact on what I loved about knitblogs.
I'm not innocent by any stretch of the imagination. The knit part of my blog has suffered greatly since I got pregnant and the blog part of my blog has suffered as well. I still knit, for sure - I've started 87 projects in the last month - none of which are very satisfying. And most of my posts are about my baby. Yes. It's true. I'd like to think I was prescient in that I named my blog the very narcissistic January One - no knitting in that title. It's all about ME.
Maybe I'm just bored and knitblogs are still as vibrant as they ever were. Maybe it's true that the blogs I'm subscribed to have changed, but there are still knitbloggers out there ready to inspire. Leave me some blogs in the comments if you've got some you really love. My computer time is limited, but I'd love to laugh and be inspired. Who wouldn't?
Again - MY BLOG HAS SUFFERED. I am not holding myself out as some kind of paradigm perfect blogger. I'm as guilty as the next person. But I do think there's been a cosmic shift in the community - and maybe it's my own fault - but I can't help but feel out of the loop. The community I knew and loved has changed. (Although you could say it's been coming for awhile. I've felt a similar shift at the last few fiber events I attended as well.)
Go ahead. I'm ready for the shit storm. Remember, though, my computer time is limited. As evidenced by how my own blog has changed, the baby is my #1 priority.
Posted by Cara at 11:31 AM | Comments (108)
February 02, 2008
Third Annual Bloggers (Silent) Poetry Reading
The first year I posted a poem about infertility. This year things are different.


First Birth

I had thought so little, really, of her,
inside me, all the time, not breathing--
intelligent, maybe curious,
her eyes closed. When the vagina opened,
slowly, from within, from the top, my eyes
rounded in shock and awe, it was like being
entered for the first time, but entered
from the inside, the child coming in
from the other world. Enormous, stately,
she was pressed through the channel, she turned, and rose,
they held her up by a very small ankle,
she dangled indigo and scarlet, and spread
her arms out in this world. Each thing
I did, then, I did for the first
time, touched the flesh of our flesh,
brought the tiny mouth to my breast,
she drew the avalanche of milk
down off the mountain, I felt as if
I was nothing, no one, I was everything to her, I was hers.

Sharon Olds. The Wellspring, 1996


For more information about the Bloggers (Silent) Poetry Reading, celebrated each year on February 2, go here.
Posted by Cara at 09:21 AM | Comments (14)
June 22, 2007
The Rainbow Connection
On my way home from Lawn Guyland yesterday, exasperated by perceived slights, real slights, sleights of hand I said to myself, Chica (I call myself Chica - just trying to keep it real) this blog thing is very very important in your life, but is it worth all this stress? Honesty. It's such a lonely word. It is worth the agita?
I said, yeah, I think it is. But how to know for sure?
Chica, I said, let's take the decision out of our hands. Let's let GOD decide. If we should see a rainbow today, that ultimate sign of peace and harmony and unicorns, then we'll keep blogging! Chica wholeheartedly agreed.
It was a kind of tense train trip. What was the likelihood of a rainbow? Sure it was kind of overcast and looked like it could rain at any minute. The conditions COULD be right for a rainbow. Maybe. Did we, Chica and me, even really BELIEVE in signs?
As I walked to the shuttle after taking two regional train lines, lugging my big bag and my wheel bag, permanent indentations carving their way into my shoulders, I tried to avoid a puddle and almost falling on my ass, I caught a glimpse of something sparkly in the sky.
Chica! I gasped. God has answered our prayers. Look, out yonder, it's a RAINBOW!
The blog stays.
Thank you all so much for your emails and comments and notes of support. I'm hoping to get back to each of you that wrote, but it might take me a bit. I appreciate it for me, but really I appreciate it that you all care so much about truth in advertising. I am what I am and I'd hate to feel like I have to change that or censor it or anything. One note though - it's been mentioned a few times that maybe my yarn store review was what prompted the Yarn Harlot's impassioned post of the other day. I can pretty much tell you unequivocally that the two situations have absolutely NOTHING to do with each other. Unfortunately, I'm guessing that Stephanie's talking about something that happened TO her, not passing judgment on what I wrote.
I've got to apologize again. When I wrote about the reveal, I meant my new project. Not my new PROJECT. That project, with a capital P, is gonna be a little while longer.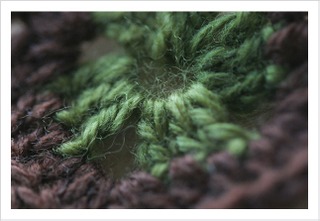 Clue #3
Click for big. (Do IT!)
Thank you again for your readership. I'm fully aware that a lot of these problems wouldn't exist if no one was reading my blog, so it's kind of a good with the bad situation. I do appreciate your being here - ridiculous opinions and everything. ;-) (I KID, It's a JOKE!)
Hopefully, Monday, we can get back to the knitting. No promises though. Life is kind of crazy at the moment. Duh.
Have a great weekend!
L, C
PS - It's true - I did thinking about closing up shop, but rainbow or no rainbow, I'm not giving up anytime soon. I actually like my blog. A lot. And I would really really miss it (and by extension all of you) if it was gone. It does take a lot of energy and time though and I often think about stopping. For now, though, the good certainly outweighs the bad.
Posted by Cara at 08:17 AM | Comments (143)
June 21, 2007
Trouble. Right here in River City.
So. I go on vacation 3000 miles away and in some spare moments away from my beloved, I visit some yarn stores. I buy lots of yarn and I generally have a good time. I come home and share my impressions with you all. I was honest - I think fair and honest - but apparently I screwed up. It was intimated in the comments that I intended harm against one of the yarn stores I visited by giving it a less than stellar review. Nothing and I mean NOTHING could be further from the truth. I'm honestly astounded that anyone could think that. I wrote that I visited a yarn store - I've been in LOTS of yarn stores all across the United States - and then I wrote MY experience of this yarn store. It wasn't the best yarn store I've ever been in, and it wasn't the worst. In fact, I spent a decent amount of money in that yarn store. I stated that it could've been me that day that caused the bad vibe - but for whatever reason - I wasn't as comfortable in that particular store as I've been in others.
That's not really the part that troubles me. What troubles me is that I talked about my impressions and feelings in what I felt was a humorous, yet respectful fashion. To be accused of ill intent and downright meanness in tone worries me to no end. Does this mean I can't be honest on my blog? Does this mean that unless I love something to distraction I'm not allowed to talk about it? Because I really feel that that's not honest. Believe it or not, I don't love EVERYTHING. In fact, most things I DON'T like. You might not know it from reading here - but I'm incredibly picky about stuff.
I guess I have more influence than I ever imagined if a sort of ho hum review from little old me can be construed as taking business away from someone. That's NOT a power I want to have. Not for the first time, I questioned whether or not to blog at all.
I don't think somehow I've transcended above opinion and critique. I stand by what I wrote about this store and I would not be afraid to say it to the owner's face. I thought they had a beautiful store with an abundance of yarn, but after repeated attempts on my part, I just didn't feel very welcome. Where's the mean spirited criticism in that?
I'm not opening the comments on this post because I think a rehash is counterproductive in the end. If you'd like to engage me on this topic, I welcome you to email me: cara at januaryone dot com.
Thank you for reading my blog.
Posted by Cara at 09:47 AM
April 09, 2007
Saturation
So I've got a problem. In the scheme of stuff, it's pretty minor but it's on my mind nonetheless. And this isn't one of those please tell me I'm right kind of posts - I've made up my mind about what I'm going to do and nothing you say is going to change it, but I feel like I'd like to talk about it.
I was checking my stats (because a little narcissism never hurt anybody) and I came across a discussion about my blog happening on a popular knitting chat board. The thread was started by someone who had stumbled across my blog and liked what they saw and wanted to share it. (Thank you so much by the way!) A few people posted that they read the blog pretty frequently, but lately it had gotten kind of boring because all I talk about are these dang mitered squares. There was even some discussion as to whether I'd ever sew the blasted things together. The discussion was very civilized and everyone's entitled to their own opinion and that's not my problem.
My problem is that I might kind of agree. My blog is boring now.
I've been thinking about it a lot actually - every time I blog a new square. Then I got this comment from Elizabeth: "Cara, for weeks you've only knit one thing. You have only blogged about one thing. We've only seen pictures of ONE THING." I was so upset. I KNOW I'm like a broken record. Here's another square. Here's another square. Here's another square. This weekend - guess what I did? I knit four more squares and started a fifth. Thankfully, Elizabeth saved my life because she followed up with: "And yet, you have made these mitered squares interesting for every single entry. "
Honestly, I'm driving myself insane. All I can do is knit these miters. I'm making myself sick with the miters. The only person who is still excited about the miters is G and that's because he sees the blanket that will be on his bed. (That's not completely true. I love the miters. Sometimes I hate them, but truly I love them.)
What's the solution? I've thought about it. I could blog about the squares once a week. I could have this super photo filled post and list all the squares. But you know what? If I do that? I won't be blogging but once a week. This is where my head is at. I'm not going to knit anything else until I feel like I've exhausted this project. It's taken hold of me and it won't freaking let go.
It's been well documented (here and in the comments and even on other blogs) that I tend to go overboard with stuff. I'm not sure that's a fair assessment. I do what I do. If I was knitting a sweater and I kept showing you pictures of the sweater in progress (which I think would be WAY more boring than my squares - but I'd do it anyway) and I knit nothing but that sweater until it was finished - would people say I was over the top? Or would they say I was knitting a sweater? What's the difference?
I have felt a lot of guilt over this project. G will come home at the end of the day and in between knitting miters and trying to remember to eat I've attempted to move the dirty dishes from one side of the sink to the other. I feel like a wasteoid - but I can't stop. I definitely have OCD tendencies - and this project has tapped right into it. I started out with 20 squares. Then I thought I'd make 25. Now I find myself dreaming about 30. I have yarn everywhere - color EVERYWHERE. It's giving me a headache. My shoulders hurt and my calluses have calluses and still I can't stop. You may say to yourself: who is this spoiled rotten girl who spends her whole day knitting these stupid squares when I have laundry and vacuuming and kids and responsibilities? Listen - I'm thinking the same fucking thing. And still I can't stop.
One other thing. So I knit 100 miters, right, and I decide to NEVER sew them up. I just leave them in a beautiful pile in my bedroom or sometimes I spread them out in my living room to saturate our life with color or maybe I even hide them away in a box somewhere at the back of my closet. SO WHAT. It's my project. I have learned - am learning - many many many things about myself and about color and about what I like and don't like and about the way I work and it's priceless what I've learned knitting these ridiculous little squares. I wouldn't trade it for the world - the guilt and boredom and the wonder of it all.
(For the record, I have every intention of putting this blanket together. I can count the number of projects I have started and NOT finished on one hand and at least three of them are socks. I'm a crazy obsessed perfectionist - I finish what I start unless I have a fantastic reason to do otherwise.)
When I started this blog, the main purpose was to keep a record of my knitting. That's still the main purpose. So I'm going to blog my squares. On the days that I blog the squares I'm going to talk about other stuff or not. Maybe I'll talk about the project and maybe not but these days this mitered blanket IS my creativity. It's the catalyst for everything I have to say here. It produces energy. It transforms me. It's my spark.
Posted by Cara at 01:06 AM | Comments (218)
February 02, 2007
This Blogger's (Silent) Poetry Reading
in keeping with a theme....

Kissing
They are kissing, on a park bench,
on the edge of an old bed, in a doorway
or on the floor of a church. Kissing
as the streets fill with balloons
or soldiers, locusts or confetti, water
or fire or dust. Kissing down through
the centuries under sun or stars, a dead tree,
an umbrella, amid derelicts. Kissing
as Christ carries his cross, as Gandhi
sings his speeches, as a bullet
careens through the air toward a child's
good heart. They are kissing,
long, deep, spacious kisses, exploring
the silence of the tongue, the mute
rungs of the upper palate, hungry
for the living flesh. They are still
kissing when the cars crash and the bombs
drop, when the babies are born crying
into the white air, when Mozart bends
to his bowl of soup and Stalin
bends to his garden. They are kissing
to begin the world again. Nothing
can stop them. They kiss until their lips
swell, their thick tongues quickening
to the budded touch, licking up
the sweet juices. I want to believe
they are kissing to save the world,
but they're not. All they know
is this press and need, these two-legged
beasts, their faces like roses crushed
together and opening, they are covering
their teeth, they are doing what they have to do
to survive the worst, they are sealing
the hard words in, they are dying
for our sins. In a broken world they are
practicing this simple and singular act
to perfection. They are holding
onto each other. They are kissing.

Dorianne Laux
from What We Carry


For more information about the Blogger (Silent) Poetry Reading, please click here. Please feel free to post a poem today that touches you in some way - be it your own, or someone else's. Have a great weekend!
Posted by Cara at 07:39 AM | Comments (31)
January 19, 2007
You Wouldn't Understand
Hey all! Happy Friday! I finished my big project so hopefully things will get back on schedule next week. I'm sure you don't want to see another picture of my CPH - at least not until I get to the point where I split for the fronts and the back, so I thought I'd put up some random links for you all!
First off - did you see this trailer? Watch it. Now. I'm not a fan of horror movies, but I am a fan of sheep and this looks too good to be true! Fingers crossed it goes international! Via JenLa - Thanks Jen!
The Bookish Girl herself sent me this link: A sequel to The Westing Game?!?! As reported in Publisher's Weekly, Ellen Raskin's estate has made a deal to release five of her books - and one of them is The Westing Quest, a sequel to The Westing Game. I have to admit, this makes me very nervous. It could be fantastic, but why mess with perfection?
Did you see what Colleen did? She invented the perfecT mitten - for riding the T in Boston - the Charlie Card Mitten. And now? She's FAMOUS! She's also raising money for a great cause, Rosie's Place, a sanctuary for poor and homeless women in Boston. You can donate through the paypal button in her blog sidebar, and you can win a pair of your own Charlie Card Mittens. Dude. She takes the subway knitting seriously! Go Colleen!
Jan blogged yesterday about the Lovely Hearts show being presented by the Artstream Gallery. From the Artstream website:

This exhibit is open to all artists within all media from anywhere in the world.

The theme is lovely hearts - love in all its forms
The charity we will donate artstream's proceeds to is near and dear to our hearts: The Breast Cancer Research Foundation.
The theme may be interpreted any way around the theme of love.
We are looking for diversity, both student and professional work in traditional media such as

painting, printing, paper arts, and sculpture (we have some space for a few pieces for our pedestals)
as well as work in less traditional fine art media such as:

textiles of any sort, quilting, needlework, etc.
felting, knitting, crochet
mixed media
jewelry
recycled art
photographic work
digital media
book arts
The pieces are small - no bigger than 8"x10"x4" and you can enter up to three pieces per artist. The pieces will be sold at the gallery and at least 50% of the profits from each piece will go to fight Breast Cancer. I've already submitted a piece and it's been accepted! 100% of the profits from the sale of my photograph will be given to charity. The piece I'll be sending in is called Bleeding Heart: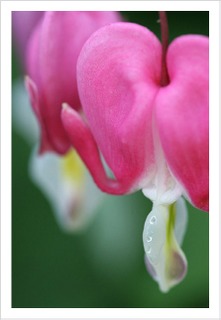 The deadline for submissions has been extended to January 31st, so get creative and have a heart!
Have a great weekend!
L, C
Posted by Cara at 03:32 PM | Comments (22)
August 27, 2006
MT Stylesheet HELP!
Can anyone tell me why my stylesheet has gone wonky in IE? Today when I was on the laptop, I noticed that my font is too large and the borders around my pictures have dropped off. Everything else seems okay. The site looks perfectly fine in Firefox and Netscape. I usually view it in Firefox, so I have no idea when things stopped working - although Ann asked me the other day if I changed the font size. So maybe for a couple of days?
Any and all thoughts are appreciated! THANK YOU!
Posted by Cara at 05:21 PM | Comments (9)
June 06, 2006
Nothing Says Hell Like High School
Via Ann and Vicki. Hey Ann? Where's YOUR picture?
Fill in the blanks about your senior year. The longer ago it was the better.
1. Who was your best friend? Beth and Steve, that is until Steve got a girlfriend and she wouldn't let him hang out with me. From what I understand, Steve eventually married her and they had at least one kid who was born on 01/01/01. I always found that CRAZY amusing.
2. What sports did you play? HAHAHAHAHAHAHAHAHAHAHAHAHAHA!
3. What kind of car did you drive? I was at the mercy of my parents on this one. Usually I drove my dad's car which was a Pontiac Sunbird. White. I didn't mind that car. My sister and brother and I drove that thing into the ground. I learned to drive on a Chevy Impala Station Wagon, but they got rid of that sometime my senior year and my mom drove a Buick something or other which was totaled by the neighbor across the street right after I left home. Did NOT like the Buick, but because of the Chevy, I can parallel park anything.
4. It's Friday night, where were you at? Somebody's basement, but most likely Dave Goodman's. We would listen to the Grateful Dead or Led Zeppelin or some other classic rock (I don't remember any Bruce, to be honest – not with this crowd) and we would drink and get high.
5. Were you a party animal? Not really. I had a midnight curfew, which I was usually very good about unless I arranged to sleep out. I never really liked getting drunk or high and when I drove there were RULES about my car – no alcohol, no drugs. I kicked somebody out of my car for drinking. I guess I was more scared of my father than peer pressure.
6. Were you considered a flirt? Yeah. Probably. I liked to fuck with the boys. I was smart and had a fairly voluptuous body, but I was way too honest for my own good. ETA: I should clarify this - when I say I liked to fuck with the boys I meant tease them or mess with their minds or whatever. Not necessarily get down and dirty. Also, when I say I was too honest for my own good - I mean very free with my opinions, of which I had many, which maybe didn't go over so well. I think I was a little bit scary.

7. Ever skip school? All the time. There was a two month period when I missed 7th period English almost every day.
8. Ever smoke? Yes.
9. Were you a nerd? Yes and no. I was known, at times, to eat lunch in the M.G. room (the place where the mentally gifted mentors and students hung out – about as nerdy as nerdy can get.)
10. Did you get suspended/expelled? No.
11. Can you sing the Alma Mater? Maybe, but somehow it mixes with the UMich fight song. So no.
12. Who was your favorite teacher? In high school? No one really comes to mind.
13. Favorite class? None. I really couldn't stand high school. I was bored and restless and probably thought I was better and smarter than everyone. I couldn't WAIT to get out of there.
14. What was your school's full name? George Washington High School
15. School mascot? Eagle
16. Did you go to Prom? Yes I went to the prom – both my Junior and Senior and they both sucked for various reasons. Although I did wear great dresses for both.
17. If you could go back and do it over, would you? Not if you paid me millions of dollars and threatened the lives of small animals.
18. What do you remember most about graduation? After it was over, I remember finding a friend – an old friend – we hadn't talked in a LONG time after a particularly nasty blow up in tenth grade where she called me a bitch and I told her she taught me everything I knew. When we "broke up" I lost my base, if you will, and never really solidly belonged to any one group again. I was kind of friends with everyone and friends with no one, you know. Anyway, at graduation we some how met up on the football field and had a huggy/weepy moment. Otherwise it's all a blur.
19. Favorite memory of your senior year? We had a class trip to NYC. I already knew I wanted to live here and I remember leaving the class and hopping in a cab over to the Hard Rock Café where I bought a t-shirt. A very risky thing for me to do. I also remember English Class with Mr. Lynch – we were reading The Portrait of An Artist as A Young Man and I said I didn't believe in God. Mr. Lynch, I'm assuming he was a Catholic, put me on "trial" at the front of the class and the two of us argued theology for the rest of the class.
20. Were you ever posted up on the senior wall? I don't know what this means.
21. Did you have a job your senior year? Absolutely. I worked, if you count babysitting, from when I was 12. My senior year I worked at Casual Male at Welsh & the Boulevard. I was an Assistant Manager.
22. Who did you date? I had a steady boyfriend for a couple of years from 9-11th grade and in 11th grade I dated a guy that was bad news and totally fucked me up and in 12th grade I didn't really have a boyfriend. I did sleep around a bit. Just a bit though.
23. Where did you go most often for lunch? Probably Aldo's Pizzeria if I left school – otherwise we just hung out on the back steps and smoked.
24. Have you gained weight since then? Yep.
25. What did you do after graduation? The summer after graduation I was a counselor at an overnight camp. I had signed up for it because I didn't know if I could leave home to go to college, so this was a test run. Needless to say, that September I started at NYU and I never lived in Philadelphia again.
26. When did you graduate? 1987.
PS - The picture. I didn't have some kind of weird skin disease back then, it's the scan and oh my god I wish you could see the tan lines and FROSTED hair! I was a looker, that's for sure! ;-)
Posted by Cara at 11:38 AM | Comments (23)
May 10, 2006
THIS JUST IN!
You can do your part to help the police! How well do you know the alleged perpetrator? Take this quiz* to find out!! CATCH THAT THIEF!

*The quiz is a NEW MEME found over at Marnie's. Tag you're it! And the newspaper thing - well if you haven't seen that one yet then get out from under your rock.
THANKS FOR READING!
Posted by Cara at 12:32 PM | Comments (29)
April 02, 2006
Meme-Day 2: Art for Art's Sake
Scout tagged me for this new meme: Post your favorite paintings. I'm going with two, although there are a million others I really, really love. Starry Night by Van Gogh at MOMA is always a treat. I've recently fallen in LOVE with Whistler's watercolors and his non-figure paintings - many of which can be seen at the Frick, my favorite museum. Goya's "Black Paintings" that we saw at the Prado in Spain are wonderfully evocative. El Greco's View of Toledo is one of my all time favorites, and when we went to Toledo I got to see the actual landscape and it was like it had jumped out of the picture.
The first painting I'm going with is Ruben's Prometheus Bound.


It's part of the Permanent Collection at the Philadelphia Museum of Art, the museum I grew up in. When we would go as a family when I was young I HAD to see this painting. I remember you walk through the old church room (I guess pre-Renaissance works) and then you come into the European Master's Room and there was my painting. I loved this painting so much I had a poster of it that I hung in my room. My sister didn't like that too much, but tough. I'm the oldest. It's kind of gruesome, but what are you going to do? It's what I liked at the time.
The second painting I'm going with is Hieronymus Bosch's The Garden of Earthly Delights that resides in the Prado in Madrid.


That's the center panel of the tryptich. There's a good story behind my love of this painting. Maybe I've told parts of this before, but you'll hear it again and you'll love it! Anyway, I was a senior in college and I still had to take my Art or Music requirement to graduate. I had been waiting four years to take Modern Art, which was only offered once a year in the Spring and it filled up ridiculously early and you basically had to be a senior to get in (seniors had first priority when registering.) So I've been waiting four years to take this class and it ends up being at the same time as a seminar on Philosophy of Religion (I was a double major Religious Studies and Philosophy) taught by one of my favorite professors and there ain't no way I'm missing that. So I still have to take an Arts requirement. I look over the schedule and figure I can't take music - too hard - so I take Renaissance Art instead. BEST.CLASS.EVER! Seriously. Without a doubt one of the best classes I've ever taken in any discipline. The professor was funny as shit - he was weirdly obsessed with the sex lives of these artists and the art was even better. Having been a Modern Art person (Post-Impressionists more than Post-Modern) I didn't know anything about Renaissance Art besides you know, Leonardo and Michaelangelo and stuff. I FELL IN LOVE! The Van Dycks! The Breugels! The El Grecos! The Titians! The Frans Hals! The Boschs! I was in HEAVEN. I started hanging out at the Frick on a daily basis. I skipped over the Modern room at the Met. I shunned MOMA and the Guggenheim. Instead I dragged G around Italy on a long weekend - getting lost in Venice - searching desperately for a Tintoretto! Then G had a big dinner to plan in Madrid. He was flying back and forth and they were using a Velazquez painting and he had all these private tours of the Prado. He comes home telling me about El Bosco! And this amazing painting he saw! The Garden of Earthly Delights! Did I know it? DID I KNOW IT!!!! It's the most amazing painting EVER! I mean the weirdness that comes out of the mind of El Bosco puts my twisted imagination to shame. This man was really, really sick. In the best possible way.
One weekend G whisked me off to Madrid. He wanted to take me to the Prado to see my favorite El Bosco in person. We walked into the hallowed halls of that beautiful old museum, the ugly Americans. We passed the Velazquezs. We passed the Goyas. The El Grecos. And finally we asked a guard, "Where's the El Bosco? The Garden painting?" After much pantomime and speaking loud slow English, he got it and led us to another room. With a wonderfully large empty space on the wall. The Garden of Earthly Delights. The Genius Painting of Hieronymous Bosch. The WHOLE reason for a wonderful weekend in Madrid. The fucking painting was out being cleaned. Can you believe it?!?! We laughed so hard we cried. All was not a loss though. I did buy a couple of posters.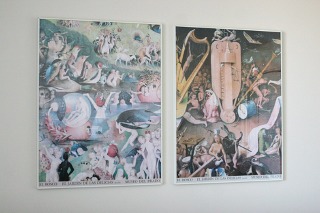 This painting is filled with the most physical, psychic and spiritual depravity ever imagined! I LOVE IT! You could stare at it for hours. In the last year we had some problems with the heat/AC unit in the room where these posters hang and the repair guy would bring his apprentice - maybe this kid was nineteen at the oldest. He would stand there and stare at the pictures - like he was in a trance or something. Then he'd look at me funny and I'd just stand in the doorway, my hands folded over my chest, with a cheshire cat smile on my face. So much fun.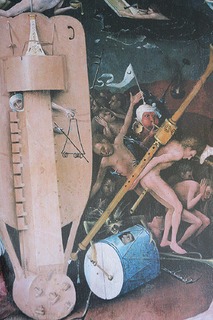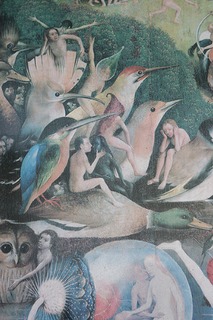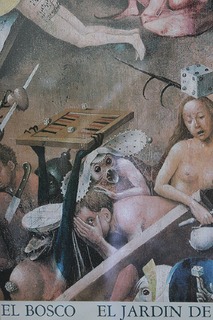 Thanks Scout, for tagging me for a great meme. I hope you enjoy the paintings as much as I do. And you are now IT!
Posted by Cara at 11:30 AM | Comments (14)
Meme-Day 1: Books for Books Sake
I'm tired and I've got a lot of work to get done today. Perfect time for a couple of MEMES! The ultimate in procrastination!
From Carole:
Meme instructions: Look at the list of books below. Bold the ones you've read, italicize the ones you might read, cross out the ones you won't, underline the ones on your book shelf, and place parentheses around the ones you've never even heard of.
The Da Vinci Code - Dan Brown (It's a principle thing with me now. Greedy bastards with the hardcovers if you ask me. And yes. I know about libraries. I don't think I have privleges anymore though.)
The Catcher in the Rye - J.D. Salinger (At least two copies on my shelf - one G's, one mine.)
The Hitchhiker's Guide To The Galaxy - Douglas Adams
The Great Gatsby - F.Scott Fitzgerald
To Kill a Mockingbird - Harper Lee (I'm shocked, but I can't find this in the house.)
The Time Traveler's Wife - Audrey Niffenegger
His Dark Materials - Philip Pullman
Harry Potter and the Half-Blood Prince - J. K. Rowling
Life of Pi - Yann Martel
Animal Farm: A Fairy Story - George Orwell
Catch-22 - Joseph Heller (I've read half of it. Hence the bold and the italics.)
The Hobbit - J. R. R. Tolkien
The Curious Incident of the Dog in the Night-time - Mark Haddon
Lord of the Flies - William Golding
Pride and Prejudice - Jane Austen
1984 - George Orwell
Harry Potter and the Prisoner of Azkaban - J. K. Rowling
One Hundred Years of Solitude - Gabriel Garcia Marquez
Memoirs of a Geisha - Arthur Golden
The Kite Runner - Khaled Hosseini
The Lovely Bones - Alice Sebold
Slaughterhouse 5 - Kurt Vonnegut
The Secret History - Donna Tartt
Wuthering Heights - Emily Bronte
The Lion, the Witch and the Wardrobe - C. S. Lewis
Middlesex - Jeffrey Eugenides
Cloud Atlas - David Mitchell
Jane Eyre - Charlotte Bronte
Atonement - Ian McEwan
(The Shadow Of The Wind - Carlos Ruiz Zafon)
The Old Man and the Sea - Ernest Hemingway
The Handmaid's Tale - Margaret Atwood
The Bell Jar - Sylvia Plath
Dune - Frank Herbert
You want to do this? CONSIDER YOURSELF TAGGED.

Posted by Cara at 10:19 AM | Comments (7)
March 22, 2006
Aunti Meme!
Those Knotty Girls are at it again! They've sent us all on a Wild Goose Chase. Have you done it? Here are the rules:
-Your finds must come from knit blogs.
-You may not use a blog for more than one item-all items must come from different sources.
-Finds can come from current entries or archives.
-You must post your answers with the title of the blogs they were found on and a link to the blog/item (permalinks where appropriate) on your blog. If no permalink is available, give us the post date.
-Do not steal anyone's bandwidth-which means you should not hotlink pictures.
-You need to comment [on their site] and let us know when you have completed this meme.
And here are my finds:

1. A blog which you think people have not discovered.
Kimberly's blog The Giving Flower - I think she's very creative.
2. A blog whose author lives close to you physically. Just get as close as you can, it's all relative.
Jen from Two Purls. A better friend you could not find and she's like fifteen minutes away. With no traffic. On the other side of the river I'm going with Mason Dixon Kay because I could technically be at her house in like 20 minutes. You know. With no traffic. And Kay is superfantastic cool.
3. An unusual or weird animal picture.
Any picture of my favorite Internet Dog, Petey. He's always trying on stuff for his hot mama, and sometimes he's trying to kill her. Or escape. One or the other but either way he's the best dog on the Internets.
4. An entry that made you laugh and got you strange looks from family or co-workers.
Well, I'm generally reading blogs by myself at home so no one looks at me funny. At least I hope there's no one looking at me funny. But here are two entries that kicked my funny bone's ass: A shout out to Jenifleur - STASH WARS was the funniest fucking thing ever. And to my favorite PB Ann for giving us the knitting term Skank. The funniest part of this post for me was that in my mind I could hear Ann tell it - and that made it like a 1000x funnier.
5. An idea you wish you'd thought of.
The ABC-A-Long. One of my favorite things in a long time. It's been a great challenge for me. Still need to find a kick-ass F.
6. Something you'd like to knit. (Links are to the knits and knitters that have inspired me.)
Am Kamin for sure. The Peacock Shawl. Seraphim. Ingeborg. Pomwhatever Socks.
7. A picture of something you consider beautiful
I think Amanda takes really beautiful photographs, like here and here and here.
8. A blog whose author you'd like to one day meet in person
That's easy. Margene.

9. A blog of someone you have already met in person.
I've been very lucky to have met many, many knitbloggers in person. So hard to choose, but I'm going with Vicki as she's been on my mind a lot lately. And Bookish Wendy because I love her so and now that she's famous I hope she remembers me.
JenLa tagged the world. DO NOT DISAPPOINT THEM PEOPLE! Meme on.
Posted by Cara at 12:29 AM | Comments (15)
March 05, 2006
Backyard Greetings
For Becky - the view from my balcony: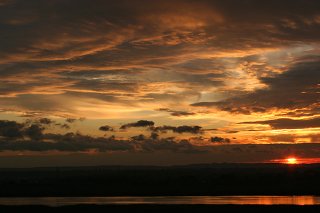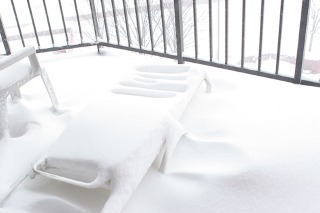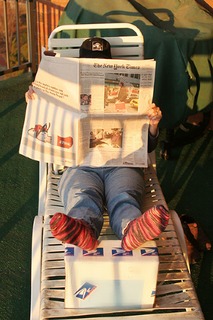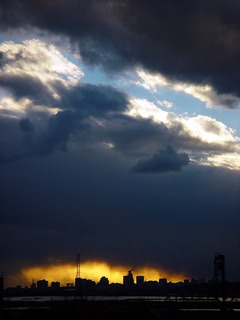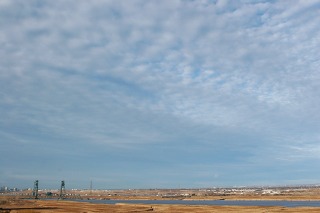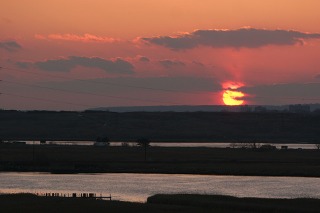 Posted by Cara at 12:03 AM | Comments (16)
February 21, 2006
Come Play With Us
So Becky tagged me for the "The View from Your Front Door" meme. I told her that it would be really, really boring. I'm not so sure she believed me.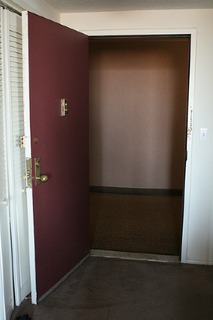 I live in a high rise apartment building, so looking out my front door gives me a wall. A very boring wall. I thought I'd take a picture of the hallway too. This is walking straight out my front door and turning left: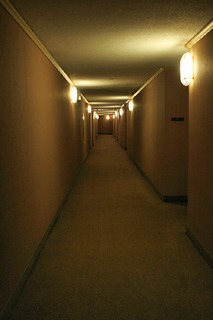 It's a crappy picture of the hallway, but it's usually pretty dark out there. They're supposed to be re-doing the hallways in the building - walls, carpeting, lighting. They're charging us a gazillion dollars but the board's fighting about it. As usual. Supposedly it was all supposed to be started and halfway completed by now and I think they painted the stairwells and maybe ripped out one floor. Fun, fun, fun! Anyway, the most interesting thing I can say about my hallway is that sometimes it scares the freaking crap out me. (Ask
Jen
. She'll tell you. I totally wigged her out the other day.) It's because sometimes, when I'm walking down from the elevator to my apartment, all I can think about is the twins in
The Shining
. You know - the ghost girls who want Danny to play and then the hallway fills with blood and I literally break into a run to my apartment. I hate scary movies and I think
The Shining
, with Jack Nicholson, is one of the scariest movies ever. But yet, whenever it's on, I have to watch it.
I much prefer the view from my balcony: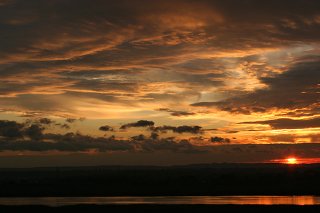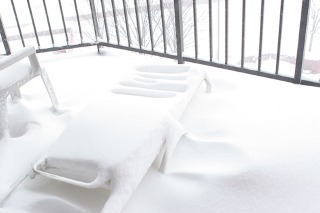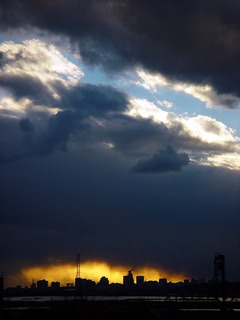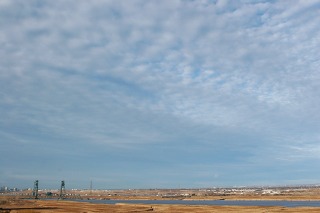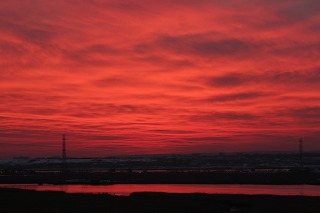 For this very nice meme I will tag: Jasmin (because I learn something new on her blog everyday), Kris (because she's my bp and she lives far from me), Stephanie (because she has a beautiful blog and lives in a beautiful place), and Kimberly (because she takes great pictures and here's a good excuse to take some more.) Do you want to do it? Well, then, I tag you too!
I may have exorcised the Ikea Demons yesterday when G and I test drove a car out of Sweden known for its safety and family appeal. Welp this car is the fastest car I've ever driven and I've driven some fast cars. The last time we had that much fun in a test drive we bought the car. We're still a couple of months away from any decisions, but I know what I want. Actually, I have to say that car shopping yesterday was one of the most pleasant experiences we've had in a while. Two dealerships, two different cars, two test drives. No one gave us a hard sell. Both salespeople loved the cars they were selling. Both extremely likable. I'd feel good buying a car from either one. And that says a lot. What was interesting too is that one salesperson had been in the business for over 20 years. The other was just barely OVER twenty years OLD. But that second test drive, with the young guy, MAN was that fun. You know you're in for a good time when the salesguy gets in the car and says, don't worry, I went to Skip Barber. Yipeee! G and I are still laughing over it!
I'm off to the dentist today. Blah. I hate the dentist. Well, I actually like my dentist and everyone in the office. I've been going there for 15 years and G something like 20. In fact we both have appointments today - one after the other. All together now: AWWWW! We get to see each other in the middle of the day, which is always a treat and may just help relieve the awful anxiety I get at the dentist. And it's going to be bad today - I haven't been in a while.
I leave you with my knitting from yesterday. Favorite STR EVAH! ;-)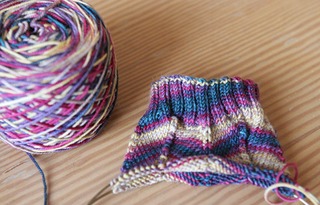 Posted by Cara at 09:17 AM | Comments (34)
February 17, 2006
New! And IMPROVED!
HOLY CRAP! You guys really know how to make a girl feel good! I'm glad you like the new stuff. I like it too - although I'm still tweaking. I think things are good for a bit. I wanted to add too that I found my inspiration for my header at Sydney's. I took out a couple of the lines, but I still like the way they break things up a bit. I think it adds to the abstract nature of many of the photographs.
Thanks again! I'm really touched by all the comments!!!!
Instead of knitting, I played with the blog a bit. Refresh the page a couple of times. ;-) Let me know what you think! Thanks!
Posted by Cara at 07:58 PM | Comments (106)
February 01, 2006
musicmememusicmememusicmeme
Yesterday was the last day of E Street Radio on Sirius. For months I've been sitting at my computer listening to Bruce - and only Bruce - all day. The best part of the station was that somehow the Springsteen Powers That Be decided it was okay for Sirius to play "fan-based recordings" which means bootlegs. This is remarkable in that the SPTB have always been very, very ANTI-bootleg. Guess they were more against the money being made from the bootlegs as opposed to the creative control aspect of bootlegs. Anyway, it was great listening for the last three months and I thank Bruce, Sirius and my dad for letting me tap into his account. It's small consolation, but I found this today. Rock on!
Cordelia tagged me for a music meme, even though she says I don't do memes. Not true exactly - I'm never tagged! Maybe like two or three times, which isn't a lot considering the amount of these things floating around. And given that I'm sad about E-Street Radio going off the air, I thought I'd answer it:

List seven songs you are into right now. No matter what the genre, whether they have words, or even if they're any good, but they must be songs you're really enjoying now. Post these instructions in your blog along with your seven songs. Then tag seven other people to see what they're listening to.
While we were away I got to listen to G's mp3 player (he's very anti-IPOD - don't ask). I think his is from Creative. Anyway, I've been listening to what he's got going on and I thought I'd share a few of the songs we both enjoy. I'll leave out the Bruce - even though it's on there. Well, maybe one Bruce, but he only sings back up.
1. Lovely Day. Bill Withers. I'm reprinting the lyrics because this song has saved my life many a time.

When I wake up in the morning, love
And the sunlight hurts my eyes
And something without warning, love
Bears heavy on my mind

Then I look at you
And the world's alright with me
Just one look at you
And I know it's gonna be
A lovely day
... lovely day, lovely day, lovely day ...

When the day that lies ahead of me
Seems impossible to face
When someone else instead of me
Always seems to know the way

Then I look at you
And the world's alright with me
Just one look at you
And I know it's gonna be
A lovely day.....

When the day that lies ahead of me
Seems impossible to face
When someone else instead of me
Always seems to know the way

Then I look at you
And the world's alright with me
Just one look at you
And I know it's gonna be
A lovely day...
2. Cry Love. John Hiatt. I love this song. I like to play it really loud with head phones on so it fills my head and my heart.
3. Ride Wit Me. Nelly. When Max was a baby we used to dance with him all the time to this song. He loved it. This and Pacific Coast Party. We used to laugh that a time would come when he would be too old (and therefore too young) for these lyrics. Sadly, that time is now.
3. Valentine. Nils Lofgren. (with Bruce Springsteen) I love the mix of Nils's and Bruce's voices on this. It's a very nice song.
[TWO THREES? Can't count for shit.]
4. Me and Julio Down By the Schoolyard. Paul Simon. This song has me jumping and dancing and whistling and when I saw S&G in concert a couple of winter's ago I screamed Julio throughout the whole show. They didn't play it.

5. Come and Get Your Love. Redbone. G's also got the Real McCoy's version - I like the original better.

6. New York Groove. Ace Frehley. C L A S S I C. 'Nuff said.

7. This Woman's Work. Kate Bush. This song always makes me cry. And think of Kevin Bacon. But that's not necessarily why it makes me cry.
Fuck it. I'm going for TEN.
8. A Girl Like You. Edwyn Collins. G and I first heard this in Milan in Nov. '96. Always makes me think of that trip. We thought it was David Bowie.
9. The Secret Garden. Quincy Jones. Featuring Al B. Sure, Barry White,
El DeBarge and James Ingram, this was one of our dating songs. You know, the ones I'd listen to late into the night on the days when we DIDN'T have a date. Do I need to spell it out for you?
10. Got to Give It Up. Thin Lizzy. Live Version. R.I.P. Phil Lynott.

Hey you. YES. YOU. Over there. Consider yourself tagged.
Posted by Cara at 12:25 PM | Comments (16)
December 08, 2005
Letting It All Hang Out
Scout tagged me (and I think everyone else) for her new meme - show your knitting space. Not so easy at Chez Une d'Janvier. I know that some people will have cleaned/straightened up their house, but well, frankly, I don't have time for that these days. And really - why not let it all hang out! (And yes. G knows I'm posting pictures of our squalor on the Internet.)
We'll start with the living room - where I do a lot of my knitting.


Numbers are counterclockwise from the far left:
1. This is where I usually sit when I knit. I put my feet up on the ottoman (currently covered with work contracts and invoices.) Note the lone size #1 DPN - I find it very helpful in moving stitches around on my two circulars and picking up stitches and stuff. I think there's a sweat jacket there too. I get cold sometimes.
2. This is where G sits. His legs are on the ottoman too. He constantly yells at me to stop "sewing" and come snuggle. I usually tell him just let me finish the row.
3. This bag contains the yarn I just bought from Purl on Saturday with the girls.
4. Here we have the infamous scale. The broken swift. The ball winder. Some wound up yarn. If you look on the floor right below the table you can see the yarn scraps used to tie up skeins.
6. Assorted yarns. The Koigu is here, but you can't really see it. Some package wrappings from the mail. All the Rhinebeck yarn is here and on the floor in front of couch. Most of it's in bags. Oh and the Curious Georges all live here.
7. My Flower Basket Shawl and behind that is my first project - a 5'x6' four color slip stitch afghan. Yeah. I'm ambitious.
8. All of my Rhinebeck receipts.
9. Socks That Rock. 'Nuff said.
10. Here we find a bunch of notions: tapestry needle, Obsidian to fix the Carbon sock, Nancie Wiseman's The Knitter's Book of Finishing Techniques. A million different cuticle scissors that I can never find when I need them.
11. This is the great leather basket I have that holds all the abandoned projects. Right on top - Short Rows. I've been thinking about it a lot lately.
My house is a mess, obviously. But I do clean! Or I used to sort of. The last time I cleaned was when Vicki was here and that was half assed at best. Once I'm done with my work, I'm going to get the house in order enough so I can hire someone to clean. We used to have someone, but we had to fire her like two years ago. It's been a mess ever since.
Okay. Here's another picture. This is the yarn/knitting photography staging area. It's in the dining room on the other side of the living room (it's an open floor plan.)


I get good light by the silding glass door out to the balcony and I usually use that big (heavy too) slab of wood to take the pictures on. When it's nice I take the slab out onto the deck and shoot. See the big green thing - that's our beloved
Patio Bistro
. This thing rocks - and it's electric! We can't have gas on our balconies. Also, the wind here is very bad - our chairs literally blow around. That's why the grill is in the house - G wants to protect it. Once, a bird built
a nest
under the grill. The cover was longer and it gave her shelter I guess. Her name was
Fotula
. She laid
two
eggs
and in a tragic accident, the whole freaking nest blew around the balcony and the little eggs were left abandoned. The whole thing was very, very sad for us.
Last knitting space: the bedroom: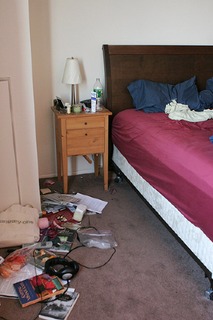 This is my side of the bed. Notice my blanket on my pillow? On the floor we have a ton of knitting books, yarn, needles, patterns, the last K1R2 book I was reading, head phones for watching TV late at night while G's asleep, the abandoned
Sunshine Sock
. There's my
January One bag
I made for Maryland. Sometimes I get really paranoid about all the crap on the side of my bed because it's right in front of the heating/cooling unit (see the door?) which at any given time has a couple tons of water running through it. These things break apparently. You're always seeing/hearing about floods around the building because people don't check their hoses. We do. These units are old, but sometimes I have daydreams about the pipes bursting and ruining everything I have on the floor next to the bed. Guess it doesn't scare me enough to do anything about it though.
So there you have it! That's where I knit! Kind of scary, I know, but somehow we manage to live here. It's all getting on my nerves a lot lately, but I'm stuck in the office all day and barely come up for air. But I'm starting to not be able to find things and that's such a time waster running around the house cursing and screaming because I can't find what I need at that particular moment.
Consider yourself tagged.
Posted by Cara at 08:16 AM | Comments (25)
November 13, 2005
Map Schmap! Frappr Crappr!
I've been nothing if not a broken record...I'VE GOT WORK COMING OUT MY ASS! So, why do you people insist on putting these things out there? Things that by all account are a time suck. Things that if you DON'T put them on your blog, it seems like maybe you don't really care who reads you. Maybe you're not all that interested in the people that take all that precious time out of their day to read the meandering blatherings that we so narcissistically post on the Internets. I mean, these gentle readers take the time to lovingly comment, show support, cheer you on...I SHOULD CARE. And I do care, I really do.
But I need a little bit back from you. If you love me, YOU WON'T PUT YOUR INFORMATION UP! Don't show me how much you love me - or show me, but do it by leaving your name out. I don't have the time to check my map obsessively. I'm already obsessed with this blogging stuff enough. Thank you for helping me.
Oh who am I kidding! Fire away! ;-)
PS - See Kay for all your Frappr Guru needs.
Posted by Cara at 10:06 AM | Comments (5)
June 14, 2005
Which came first?
In the chicken or the egg fashion, I ask: Which came first the desire to write, or the need for readers?
In other words, if a blogger blogs but bloglines doesn't update the feed, does a blogger really blog?
Yesterday I spent a lot of time on my post - it was great fun for me, don't get me wrong. I linked a lot, I relieved past lives, I longed for long hair. But since bloglines didn't update me until around 10:30 last night, I was pretty lonely all day. Which got me thinking (yet again) about the whole blogging thing.
I used to be a writer. Used to be, because I haven't written a story in quite a while - a fact that breaks my heart every day. But since I started the blog, I've been writing again. No, not what's ultimately most important to me (telling stories - fiction) but about myself. And it really doesn't matter because it's still writing. I think about my posts almost the way I would write my stories in my head. I craft them, if you will. I'm getting my groove back. It's coming.
I'd still rather pick up the needles than the pen - but honestly - there is nothing harder in the world, mentally at least, than staring at a blank screen and hoping to fill it with your blood and guts and genius. I'm in a rut.
Do you know what writer's block really is? I teach this to my students all the time, so why not here? A writer has two distinct personalities living in their head (see - we are crazy!). A Generator and an Editor. The generator's the personality that sits there and cranks out the words - the zone head - filling up pages and pages and pages of pure unadulterated Nobel winning genius.
The Editor's the personality that takes one look at all that superiority and says CRAP! CRAPTASTIC CRAP! And starts rolling around on the floor laughing hysterically at the hubris of the generator.

Don't get me wrong. The Editor is an essential partner in the writing process (remember - it's all about the process) but really needs to be kept in a sound-proof box until about the second or third draft. Second draft. Really. Get two under your belt before you want to rip the thing to shreds. There will be that much more to save.
The Generator needs peace and quiet and unconditional love to work the magic. People - I'm all about the love.
So what happens with writer's block is that these two warring factions are together a bit too early - like right out of the starting gate.
Here's an illustration of what happens:
Generator: Okay, so they're at the mall and they see a fortune teller and the fortune teller gets all freaky when the first girl walks by...
Editor: Snort. In a mall? Puleese. You're setting it in a mall? Sweet Valley High, here we come!
Generator: Fine. They're at a fair. Lots of noise in the background. Lots of lights. It's hot. Sweating lemonades. All the sights and sounds and there's a fortune teller...
Editor: Don't forget the freaks! Got to have freaks. C'mon - what's a modern short story without a two headed midget? The New Yorker's going to want first rights!
Generator: Gotcha. I'm worthless. Let's go knit and watch bad TV.
See how fast the Generator folds? Not very strong of character I'm afraid.
Life sucks and then you write.
Anyway, back to my problem. Yesterday I was frustrated. The nice thing about blogging is that I can convince myself that it's JUST LIKE REAL WRITING (which it is - I've just got issues with myself)and I have an instant audience. Well at least I thought I did. It's like my editor self and bloglines are conspiring against any and all writing progress I'm making.
The generator is a muscle that needs to be exercised. We're about one step up from atrophy at this point, but getting better all the time!
Just so you know, I generally update my blog every day Monday thru Friday. I blog in the morning usually so my posts should appear mid-morning. Just so you know. In case you're missing me or something.
I'm not quite sure that this post makes sense in any way. I'm PMS and pissed and tired. My neighbors think it's fun to sit on their balcony and talk really loud at 6AM in a foreign language that I can't understand right off my bedroom window and wake me from sweet dreams. That is when they're not stinking me out of my own bedroom with their homemade delicacies. Seriously. Bloglines better watch out.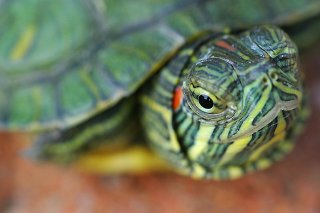 Obligatory knitting content: I will finish the short row sleeve tonight and immediately cast on for the front. I don't care about the ends on the back anymore. I'll deal with it later. AND in big, BIG, news - we may be attending this (yes, honey, dinner at Hearst Castle) and if we do it's black tie and I need a new dress and I want to wear FBS. So I have about three weeks to finish it. Think I can do it? Oh Zephyr! God Speed!
I will find out for sure today or tomorrow. You know what that means though - I'm heading out to La La Land. Who's going to entertain me with knitting delights?
Posted by Cara at 08:58 AM | Comments (27)
June 13, 2005
So who needs help more?
Michael Jackson, who has had enough plastic surgery to be defined as a personality disorder, not to mention thinks it's okay to have young boys spend the night in his bed, or shroud his children in public while dangling them over balconies?*
Or the fanatic woman who was releasing one dove for every not guilty verdict?
Or me, who spent all morning writing up this amazing post about an important experience in my life that (almost) no one will read because BLOGLINES DECIDED TO STOP UPDATING MY FEEDS AGAIN!!!!! (Although I'm totally blaming Colleen for this one....;-) )
It's truly a toss-up. Lots of frustration at January One.
*What's the matter with his family? Are they so dependent they can't tell him that what he's doing is dangerous - to himself if nothing else? Or is there something inherently wrong with all of them? A prosecuter who was interviewed by some all day all night news channel said that predators purposefully pick weak victims. To wit, the boy who accused Jackson in this trial was damaged way before Jackson got his hands on him. And he's a perfect victim - his family was so screwed up they'd never be believed in court.
I also believe that this country has literally gone star crazy. Imagine your son in the bed of a grown man - someone not related to you - specifically not the child's father or father figure. Could you find ANY circumstance where that would be appropriate? Something's wrong here. But since O.J. we've known celebrities won't be punished in this country.
I told Georgie this. His first question - what about Martha?
I told him, she's a woman. And it was all about money.
Posted by Cara at 05:52 PM | Comments (8)
June 08, 2005
Bloglines Schmucklines!
UPDATE: I emailed Bloglines and suprisingly enough they emailed me back very quickly. They say they've reset the feed and it should update soon. They also apologized for any inconvenience. So we'll see. I'm giving the benefit of the doubt for the minute.
Thank you all for reading me! Such validation! ;-)

Bloglines is still not updating my atom feed. Which of course is the one that everyone (well, not everyone - hi index feed readers!) is subscribed to.
This makes me sad.
So maybe you want to switch? (Of course, that would mean you'd have to read this - which you won't if you're subscribed to my atom feed. The internet is vicious.) Anyway, if you want to subscribe to the feed that seems to update right away - you can do it here:


Tomorrow I've got something I'm extra proud of to show you and I don't want anyone to miss it! Who knows though - maybe tomorrow the atom one will be updating right away and the index won't update at all. Just putting it out there.
Oh and JenLa - I'm not cancelling my subscription! I'm actually kind of enjoying the hit or miss of your updates. I check it every time, just in case! ;-)
Posted by Cara at 05:15 PM | Comments (5)
June 07, 2005
Wassup?
I know I'm not the only one, so I'm not feeling persecuted or anything, but bloglines isn't updating ALL of my feeds. Only like one. Or two. And not the one everyone reads. What's up with that?
And then you have poor JenLa - who update every time one of them blinks. ;-)
Craziness I tell you. Crazy, crazy.
Posted by Cara at 12:04 PM | Comments (7)
May 17, 2005
Substitute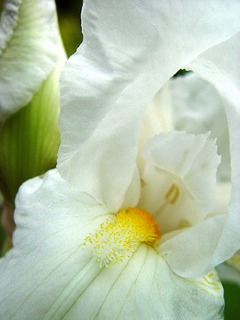 Substitute me for him
Substitute my coke for gin
Substitute you for my mum
At least I'll get my washing done
I'm substituting tonight for a Fiction II workshop, so I've got work to do today. But I thought this was the perfect time to do the book meme that Lorette tagged me for a million years ago. (Sorry Lorette! I didn't forget, I just got stuck in my life!)


Q: You're stuck inside Fahrenheit 451, which book do you want to be?

Fahrenheit 451. A book about the dangers of the sublimation of independent thinking sounds good to me.



Q: Have you ever had a crush on a fictional character?
Oh sure. Robert Jordan. Rabbit Angstrom. The two guys are probably my biggest crushes. I don't think Rhett Butler counts, as I read GWTW when I was eleven and I didn't know then what to properly do with imaginary crushes. You can throw Howard Roark in the RB category as well.
Now if you want to talk about author crushes, well, they are legion.



Q: The last book you bought is:
I went on a mini-spree a couple of weeks ago. Borders was having a buy two get one free sale or some such thing so I bought: Pete Dexter's Train, Sam Lipsyte's Home Land and The Best American Short Stories: 2004, edited by Lorrie Moore. Then, as I was leaving the store, I found James Salter's short story collection, Last Night. I LOVE James Salter. Really and truly love him.


Q: The last book you read:
Easter Parade by Richard Yates


Q: What are you currently reading?
The Time Traveler's Wife by Audrey Niffenegger, for K1R2. (Don't forget to vote!)


Q: Five books you would take to a desert island.
Don Quixote by Cervantes

So Long, See You Tomorrow by William Maxwell

Diary of a Seducer by Kierkegaard

Rabbit, Run by John Updike

The Brothers Karamazov by Dostoevsky
These are the five books that came to mind. Not sure why. Not sure I'd actually take them, but this is what came to me first.



Q: Who are you going to pass this stick to (3 persons) and why?
Whoever wants it, consider yourself tagged!
Posted by Cara at 07:26 AM | Comments (10)
May 11, 2005
Fast Times at Maryland High
or What Do You Care What Other People Think?*
There's been lots of talk in this wonderful world of knitblogs about inclusion, exclusion, friendships, tensions - it's palpable. I'd be lying if I didn't say I was thinking about it the whole time I was in Maryland.
Who did I want to meet? Who wanted to meet me? What if those lists didn't match? What if I wanted to meet someone that my companion didn't want to meet - was I obligated to stay with her? Would she ditch me for someone better? (Thank god for Jen - she's a confident as she is generous - she could've cared less that we split up here and there - now that's someone I want to spend time with! ;-) )
In the past four months I've been fortunate to have met a significant number of knitbloggers - in person - between my trip to Boston, The Yarn Harlot's visit to New York, Maryland - and every time it was exciting, and I believe I forged, or cemented, real, lasting TRUE LIFE, friendships. What more could I ask for in this blog world?
On the other hand, in every instance I had a nagging feeling of what am I doing here? That wallflower feeling so prevalent in high school - maybe you don't know it? Where everyone is talking to someone else and your stuck in the middle of a large room, club soda in hand, trying to look like you're thinking some great earth-shattering thought when really I'm just standing there alone feeling left out? How about those nagging thoughts like I KNOW everyone's going out afterwards - where's my invitation? They don't want me to come - they don't like me - blah, blah, blah.
Don't get me wrong. I'm not looking for people to stop in and leave me comments - we love you, we wanted you, you're the greatest girl in the world. I don't need it. Really. I don't want it this way either. I'm actually very confident and know exactly what my life is about. It's about loving and caring for my husband, my family. It's about being a generous and sympathetic friend. I'm a perfectionist in the worst way. I panic. I have anxiety. I am extremely goofy. I've lived for a long time thinking that if I've been hugged, laughed, and told that someone loves me, it's a good day - no matter how horrible it was otherwise. I love knitting and writing and taking pictures - sometimes in that order, and sometimes not. All in all, I'm a human being and human beings, no matter how much we endure, are emotionally frail. There's a reason we stop believing our mothers when they've told us eight million times how beautiful and wonderful we are.
I've also recently found out that I love my blog. It's given me something, frankly, I never really thought about. A community.
I'm a solitary person by nature. I'm a writer, and a loner and there's nothing I like better than sitting in my house and knitting. With Georgie in the next room - and if it wasn't for my niece and nephews - I'd never have to leave the house. When I started knitting it was in a void. My grandmother taught me one rainy afternoon - she gave me shiny metal needles and some day-glo orange Red Heart yarn. Three weeks later I had a baby blanket. Occasionally I'd go to a knitting shop to ask for advice, or I'd look on the Internet, but really, I was going it alone. I met Jen online in a completely non-knitting capacity - and because of our proximity, we became real-life friends - we've never had an online relationship really - but she was the one who introduced me to the blogs. I'd been wanting to document my projects for awhile - and that was really the main reason for starting my blog. The blog has single handedly gotten me writing again. Not necessarily what I'm meant to write, but writing nonetheless. And that can't be BAD.
Along with my perfectionism comes obsession (and really - find me a knitter who isn't obsessed) and it wasn't long before I was reading every knitting blog that I could find. Slowly I became a regular reader of many, and they started reading back and then I made friends. Real friends. Some I've met in real life, some I may never meet, but they are a comfort to me, they bring humor and fun into my life, and they support my knitting. This last one is really important because there is no one in my "real" life that knits. When I first met Jen, it was crazy. I'd call my sister and tell her - "She knits. And she doesn't mind going to every yarn store within a 25 mile radius. All in one day! I'm in love!" My sister is VERY grateful for you Jen.
Knitting and knit-bloggers by extension have opened up my life for me. I'm not one who likes to travel - as I said - I'd rather stay home. But lately, whenever Georgie brings up a place he'd like us to visit, my first thought is that there will be yarn stores there, and no doubt - knit bloggers. And that thought makes me feel like I could be comfortable anywhere.
Back to the whole tension thing: I've now met a good number of "famous" bloggers - and let me tell you they've seemed as uncomfortable with their "fame" as the people approaching them. Blogging is a dichotomy - in many instances it's an intensely private journal that just so happens to have a very public face. At least it is for me. I shouldn't presume to talk for others. But I can say this, for the bloggers I've met in person it's been true for me that if I like your blog, I can pretty much say that I like you as well.
What was especially nice about Maryland was that I met bloggers whose blogs I'd never really read before. It was because I got to spend time with them that I will now follow their blogs - they are friends. There were also hundreds and hundreds and hundreds of people at the festival. It was impossible to meet everyone you wanted to meet - it was overwhelming in so many ways. I'm honestly worried about Rhinebeck. There are too many people I'd like to spend time with - and not all of these people will overlap, I'm afraid. You've all had this experience, I'm sure. Friends from different walks of life, different ages, different backgrounds, different sensibilities. The dinner party where you bring everyone together and after five minutes you want to crawl in a corner. Chemistry is like lightning - you can't control where it strikes. I'm afraid that the only thing that really connects these groups is me. And knitting. Narcissistic and tenuous at the same time. How's that for being bold? I'm feeling pressure already to please all of the people all of the time. What to do? I don't know. I'll figure it out later. Inevitably, someone will be hurt (I'm talking generally here.) And to that I say tough. That's life. I try to keep in mind always - there's always going to be someone better off than me, and someone worse off than me. Perspective is necessary.
This is a long rambling post and it's late and I'm tired running around with the kids all day. But I wanted to get this stuff off my chest because I've been thinking a lot about it. And after all - it's my blog. I can do what I want with it. You don't have to read it. Heck, I don't have to read it.
I will end with this: I am the same no matter where I am, or who I'm with. I'm one of those people incapable of lying, so I can't put on a persona to save my life. If I'm enthusiastic, it's true. If I'm sad, it's true. If I don't like you, well, I'll become very polite and end the conversation as soon as possible. If I'm your friend, I'm like the loyalest of dogs. You will not get rid of me unless you beat me over the nose with a wet newspaper too many times to count. I mate for life. I'm a swan. This is me. This blog is me, and if you've met me in person I can tell you that what you see is what you get. Take it or leave it.





Self-Portrait, November 2002
* Richard Feynman never cared a stitch what other people thought of him. He's a personal hero.
Posted by Cara at 12:26 AM | Comments (25)
May 05, 2005
STOP!
I don't care what you're doing, just stop. Redirect your browser to this. Jenifleur has single-handedly restored my faith in humanity. And for that, I thank her.
See you on the dark side....
Posted by Cara at 09:23 AM | Comments (0)
May 02, 2005
When the Dog Bites, When the Bee Stings....
I've been in a wicked funk the last week (no biggie - it happens - it's on the way out) so I've been concentrating on Vicki's tag.
Ten of My Favorite Things
1. Georgie's hands on my back before we fall asleep at night. It helps him, and it helps me.
2. Max, Charlotte and Elijah Lew.
3. Any song or book or movie or tv show that elicits a STRONG reaction - whether it be tears or laughter or tugs at my heart. I'm all for emotion. Even when it hurts. Means your alive.
4. Georgie and I in the car, singing at the top of our lungs, stereo blasting, laughing our heads off.
5. It's rare to find a beach I couldn't be happy on. The surf has an incredibly calming effect.
6. My home. Especially when Georgie's home with me. Just knowing he's in the house.
7. Being completely engaged so that time stops and speeds up together. Whether I'm taking pictures or knitting or writing. Especially writing. There's not much better than coming out of being in the zone and finding you've got five pages in front of you that you don't remember writing. I get it when I'm shooting kids and flowers too - but not always. And you certainly don't always get it when you're writing. But the rare times you do - WOW!
8. The friendship I have with my sister. I can tell her anything - no judgments. And she knows my whole history (well, there were 18 months when she wasn't around ;-) ).
9. Kisses and hugs. Lots and lots of kisses and hugs.
10. Knowing that the love of my life thinks I'm the love of his life.
Georgie and I had a good weekend together. I had a good cry and he listened and helped me and I'm feeling a lot better. Can you tell? ;-)
Oh and number 11! Knit One Read Too. We now have over 150 members - can you believe it? And our third discussion starts today - so head on over and be a part of it.
Who am I going to tag? Let's see. How about Annie, Lolly and Wendy (where've you been girl?)!
Harlots Everywhere!
I'm happy to annouce that Cari from Iowa has won a signed copy of the Harlot's Book! Cari, email me your address and I'll get it out into the mail. Thanks for playing everybody!
More Maryland Meet-ups
Joy and I have been talking after
our serendipitious meeting
Thursday night. It seems she and Kaitlyn are putting together a Friday night bash at the Wharf Rat in Baltimore! Click on the Jack Daniel's bottle on
Kaitlyn's blog
for the evite and all the details. Thanks for planning this girls!
Opinions Please!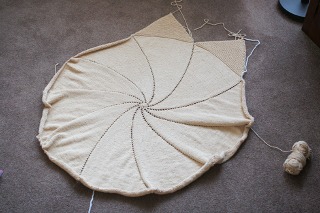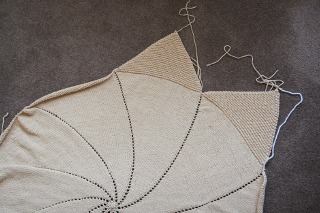 This is the border I have going so far. (Doesn't it look like a sad kitty cat? Not liking that by the way!) One thing I've learned in the experiment called BORDER THAT'S SLOWLY KILLING ME! is that binding off and picking up the stitches gives a MUCH nicer border than attaching it by doing a k2tog at the edge. Now, this is the border (sort of) I had in mind. Georgie likes it - thinks it looks like the sun. Me, I'm torn. I think a simpler border might be better - this might pull away too much from the loveliness that is the pinwheel. I've looked through Nicky Epstein's Knitting on the Edge about 452 times and can't find what I want. (In looking for a link, I see she's got another edge book coming out. Maybe I should wait for that. The kid won't know any different. NO! I want this FINISHED!) Any and all suggestions (and opinions on what I've got here) would be greatly appreciated!
Have a great Monday!
Posted by Cara at 09:38 AM | Comments (14)
April 29, 2005
The Harlot Takes Manhattan!
[I want to say that I have purposely NOT read any of the other accounts out there (of which I'm sure I'll spend the whole day reading) so as to give my own gospel. But make sure you read all the others! And they will have pictures. I didn't drag out the camera - sorry!]
I'll start with this: There was wine. There were traveling hors d'oeuovres. There was a GIFT BAG people!
It was, by all accounts, I'm sure, totally nuts.
Jen and I met in Hoboken to travel into the big city. Midtown was crazy - haven't been there at 5PM in ages (and I'm not going back anytime soon.) Although I have to admit that it was a sight seeing that group of Hasidic Jews outside the Empire State Building mingling with a befeathered and berobed group of indeterminate origin getting out of a van. Only in New York.
We got to Lord & Taylor - and you know - I never read the invite on Stephanie's blog - just sent in my plea to be included - so I had no idea where we were supposed to go. But we were early so we hit the bra floor (no such luck for either of us!) and then we headed up to the 11th Floor. Which isn't listed anywhere. It's like the magic floor.
When we got there - there was already a line and who do you think was at the head? Lovely Cassie, of course! I went over and said my hellos and chit chat as the line grew and grew and grew. Juno soon arrived as well and The Harlot sailed past the line with her handlers. "She's here, she's here," traveled down the pack in hushed whispers.
Soon after, a woman came out and told us they were going to let us in now. We should make ourselves comfortable and be sure to check our bags and stuff - it's pretty tight in there. I looked at her, a wry smile on my face, and said, "No one is checking their bags. That's where the knitting is." The poor non-knitter looked at me askance. "No one," I said, "is going in without their knitting." Poor girl. Just trying to do her job.
So we started to move in and they crossed our names off the list one by one and no one checked anything from what I could tell and there were two seats left at a table WAY UP FRONT with Cassie and Juno and Tree (hope I'm spelling that right) and another woman who I'm so sorry I don't remember your name. It was a wonderful group. Immediately Cassie pulled out her shawl and her new cable wonder (which let me tell you - everyone should consider knitting a yarn on a much lower needle size than recommended - what she's doing with Peruvian Highland Chunky is just amazing - completely different yarn - so much better!) Juno had her cable masterpiece as well in Rowan Highland and I pulled out my measly Short-Rows sleeve which I cast on for just the occasion.
The room started filling up and there was much jumping up from seats and hugs and look at that's and what yarn is that and touching and just amazingness. I've never been to anything like it. The commaraderie was palpable in a room where most of us were strangers.
The wine was served and the hors d'oeuvres and then it was All Harlot! She was EXACTLY like you'd think she would be - funny and shy and self-deprecating and spot-on truthful and nervous and smart and it was like reading her blog in the flesh - if you know what I mean. We had a knitting demonstration by her (WOW - who knew you could knit with a needle stuck under your armpit! And how fast!) There was lots of picture taking. Questions about Hank and the Guernsey and shopping. I think she said arse twice, but Cassie's got the official number on that.
All the while Stephanie was doing her thing, pretty much everyone was knitting. I told Georgie this, and ever sensitive to rudeness, he was horrified. "While she was speaking?" he said. "Of course." "That's horrible." "Everyone was doing it. Even she was knitting." He didn't get it. It was fantastic! (Of course I ended up knitting then frogging six rows, but what the hell. I was there. I had knitting!)
If you told me six months ago that I would be sitting in a room atop Lord & Taylor surrounded by knitters, knitting, listening to knit blogger extraordinaire read from her book, I'd've laughed my ass off. I'm not laughing anymore. (Well I am, but for totally different reasons!)
One thing I was shocked at was the LACK of bloggers. Someone asked Stephanie a question about blogging and if there were lots of other bloggers and she told everyone with a blog to raise their hands. Now my back was to the room, but it only seemed like a quarter of us had blogs - maybe even less. I thought we'd all be bloggers. Go figure. (There are people out there that knit and DON'T have blogs? ;-) ) [ETA: Maybe I'm wrong on this. As I mentioned, Cassie snagged a table right up front so my back was to the room. Other accounts say half the room was filled with bloggers - they're probably more reliable.]
At the end they gave out gift bags from Lion Brand - yes, people - there was swag! Now before you start thinking that there was fun fur and stuff like that it was actually a GENIUS idea. There was, of course, a signed copy of the book - WAY COOL - and even better a big skein of Wool Chunky with patterns and a pamphlet for the Dulaan Project. Couldn't have been done better in my opinion. Just wonderful.
Highlights of the evening include - introducing myself to Stephanie and asking her to sign my book and SHE SEEMED TO KNOW WHO I WAS!!! Really. I mean, it may have been in that polite sure I read your blog kind of thing, but I don't think so. She really seemed to know me which made me feel like I had ARRIVED in blogland. I mean, if the celebrities know you - c'mon! That's something!
Every other highlight involves people: I finally met Enchanting Juno - whose blog name could NOT be more perfect - a stunning woman. Truly - it was great to meet you! And I finally met up with Cassie again. And I met Kay together with Phyllis - we talked family dynamics and religion - what could be more fun! I met Cari, who was so kind about my photographs, along with Valentina, who asked about the show thanks to Colleen talking me up and Mindy and so many others who I can't remember! Please forgive me. I can see all of your faces! Really I can. I hope we meet again! And it was so great to be out and about with Jen - my first real knitty friend! Hey Jen - I was knitting, even if you weren't! That counts right?
Thank you Lord & Taylor, thank you Lion Brand, thank you Craft Yarn Council - and of course! Thank you Stephanie for giving us an excuse to celebrate knitting and well, just celebrate.
If I screwed up your name or link - please let me know in the comments! I apologize!
Paying it forward.
I want to pay forward the generosity I received last night. I had already purchased a copy of Stephanie's book - way before I knew she was coming. She signed my copy last night. Which means I have the free, signed copy they gave out in the gift bag. I'd like to give that away to a reader who won't have the chance to see Stephanie in person. Please leave me a comment and tell me where you are and why you won't be able to see her. I'll randomly pick a name - you've got the weekend to try for it. People outside the US are indeed welcome.
Baby's Got Back!
I was so excited when I got home last night I finished this: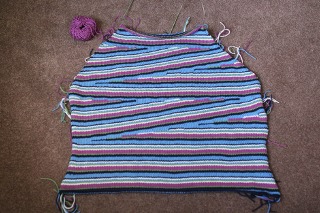 There is some subtle shaping at the waist - so it's not as wonky as it looks. I am VERY happy with it. The front should be a breeze. I've calculated that I knit this sweater three times over already - since I've redone the short rows sections about three time each (I'm really not kidding here.) So assuming I can get through the front with a minimal of re-knits - should be cake.
Of course, I'm trying not to think too hard about this: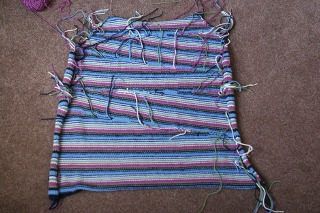 Cause that might make me cry. (I just flip it over and I'm happy again!) The duplicate stitch is working fabulously: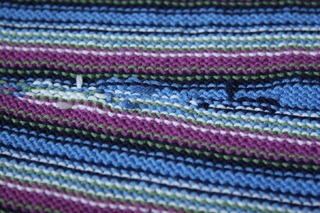 WRONG SIDE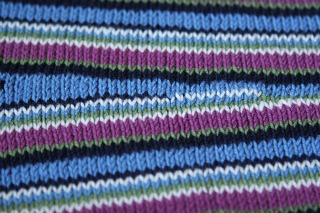 RIGHT SIDE
As I said, I cast on for a sleeve last night. Should go pretty quick - well, not that quick so I can weave in the ends on the back before I start the front. I'm going to be diligent - weave in a few every day - I swear.
Have a great day!

Posted by Cara at 08:58 AM | Comments (30)
March 31, 2005
Big Hugs...
right back atcha! Thank you so much for all your comments and emails - it really lifted my spirits. While I'm so sad I'm not alone in my plight - I wouldn't wish infertility on my worst enemy - I'm glad to know my feelings, however uncomfortable they may be - are not misunderstood. I'm forever grateful.
I want you all to know too that my sister is very conscious and solicitous of my feelings. She's not without her own guilt about the situation, I'm sure. Know too, that when I'm around those kids, there are NO BAD FEELINGS. Only joy. It's when I'm alone, puttering about, that the sadness wells up.
I'd been wanting to blog about it for awhile, but wasn't sure if I should take so personal a leap. I'm glad I did. I hope someone out there read yesterday's post and subsequent comments and was comforted a little to know they, too, are not alone.
Jen helped pick me up; she took me over to Handknits. It was a successful trip! I picked up some new Addis and this: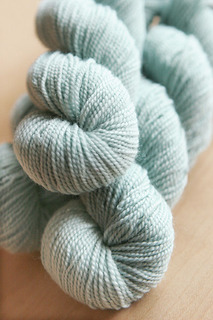 If you guessed Koigu, then you're right! It's much more of an aqua color - the perfect retro color for the Retro Rib socks. How do I know the color's retro? Because we went to a totally retro diner in Englewood - Baumgart's Cafe (it's a combo Jewish Deli/Chinese Restaurant - don't ask) - and my Koigu matched the retro blue booth. (Please, if you're my friend ;-), don't remind me how much sock yarn I now have and the fact that I have never knit a sock! Thank you very much!)
Beth, the proprietress at Handknits, had a great idea for a border on my Pinwheel blanket too! I'm very excited about it - but I think I'll keep it a secret for now. Suffice it to say, I will not be using a different yarn - I'm going to do the border in the same ASC (which is good because I have way too much of it!) Onto the fifth skein as of last night.
Vicki asked me some more interview questions - so read further for THE KNITORIOUS INTERVIEW!
1. Is there a crafty or artistic endeavor that makes you say, "I'd like to try that someday!"?
It's funny. I don't think of myself as a crafty person at all. To me, crafty is like all scrapbooky Martha and stuff – which is so not me. (I know, I know, there's nothing wrong with scrapbooking!) That said, I used to throw pottery and sometimes I really, really miss it – I would like to get back to that maybe. And quilts. Quilts are fascinating to me. Not sure if I want to try it, but I greatly admire the work that goes into them. I'm pretty happy with knitting, though. It's enough for me.


2. Many of your photographs feature botanicals. Do you have a green thumb?
Absolutely not. Besides the fact that I live in an apartment and really don't have the space for gardening – there isn't a living thing in my home. Unless, of course, you count mold. For some reason I'm really good at keeping that alive.


3. What is your favorite food a) at a restaurant, b) to make from scratch, c) for a snack?
At a restaurant: Hmm. That's tough. Lamb chops, maybe? Georgie's always finding me new places to have lamb chops. Ocassionally I get super cravings for the roast beef mozzarella hero from the Italian deli around the corner – best freaking muzz you've ever tasted and I love they're roast beef.

Made from scratch: I don't know how made from scratch it is, but my stuffed shells are the best. Never fails to please a crowd. Maybe I'll make that for dinner tonight. Georgie would be so, so happy!
For a snack: I'm actually not a big snacker. One thing I really like is Alouette cheese and crackers. That's fun to eat. And Georgie hates it, so it's a little me snack. Yesterday I had some almonds and dried cranberries, cherries and blueberries mixed together. It was one of the best tastes ever!


4. "Summer vacation" and "summer home" used to have a more literal meaning – some people would actually spend their whole summer at their summer home! Where would yours be located? (Anywhere in the world and money no object, of course.)
Well, I would only go to my summer home in the winter if it were in La Quinta, California – about 30 minutes east of Palm Springs. Georgie and I go out there at least every other year. It's really a home away from home for us. If it were a true summer house, I'd have to say somewhere near the beach – Hawaii's always nice. Maybe Cape Cod – but I'd want to go off season. Maybe we could divide our time between Laguna Beach and La Quinta? They're only about a two hour drive away. (hey – you said money was no object!)


5. What's at the tippy-top of your "I'd Like to Make That" knitting project wish list? (Again, money and time no object, nor even "skill level" if you believe in that sort of thing.)
Believe it or not, I'm dying to make a pair of socks. I started one a little while ago, turned the heel, got like an inch done on the foot and stopped. Since then I've bought a ton of (expensive!) sock yarn and have yet to make a sock. Yesterday I bought more Koigu. I have like five sock books. I want to make the Retro Rib socks really badly. I'm trying to figure out how to do two socks on two circulars since I think it's my aversion to dpns that's holding me back.
Thanks Vicki! If anyone else wants to be interviewed, let me know!
Posted by Cara at 12:23 PM | Comments (5)
March 29, 2005
I've been knitting....

You are Andie Walsh (from Pretty In Pink)!
Misunderstood and full of angst, you are
intelligent, talented and will probably go on
to do great things...once you're out of the
hell of high school.


Which John Hughes Character Are You?
brought to you by Quizilla
I found this quiz over at Kate's. I'm posting this because it just so happens that I was watching Sixteen Candles last night. And as much as I hate to admit it, I think this one might be pretty accurate. High school was almost the death of me. Definitely blossomed as soon as I got out. [Huh - when I got the link for Sixteen Candles on IMDB, I looked up the actor who played Jake - very, very cute - but did he do anything else? Turns out he was the really cute guy in Mermaids too! Michael Schoeffling.]


Here's that oft rumored knitting content: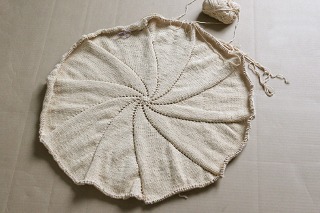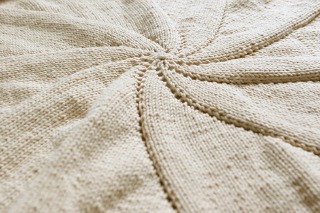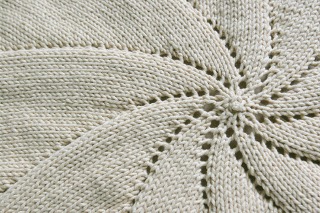 Remember the Pinwheel Baby Blanket? I can't believe how badly this yarn photographs - the color could not be more off - it's a much deeper yellow - almost brownish in color. But anyway, I'm into the fourth skein. The diameter is 22". I have a long way to go. The skeins are going nowhere at this point. Another thing about this project - there's no way to tell how big it is without taking it off the needles - which is kind of a pain. I'll get through six skeins before I take it off again. I do like the pattern though - the blanket is looking very nice.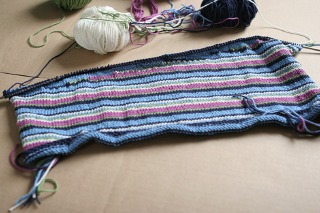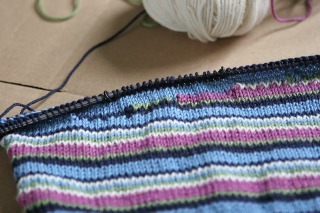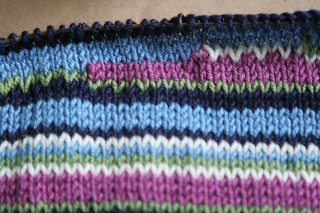 I can't help but have a nagging feeling that this is all going to have to be ripped out and started over. Or I'll get through the back and finally figure out how to make it look nice and then I'll do the front and want to re-do the back.
As you can see, I've started the short-rows. They're not hard at all and actually kind of interesting. The ridiculous part is you have to change yarn colors every five seconds and you can't carry the yarn up really. So I've been trying Johanna's method of knitting in the ends, but I think it's making my stitches all wonky and uneven. Can you see it in the second and third picture? I'm not sure if it's because of the short rows, or the ends, but I'm not entirely happy with it. I'm going to keep knitting - even if it does feel very much like an experiment - to see how the rows even out once I do the next short row section. Right now I'm in straight rows. But the next section will even out the left hand side. I still absolutely love the yarn - and I'm really liking the colors too. Georgie's the best, because he sees it and instantly proclaims it's the best work I've ever done! I say, you say that about everything I do. He does prefer just the stripes though - not the zig zags. I keep trying to tell him that's the best part, but he's not buying it. Anyway, I will persevere.
Jen (belated) birthday gifted me with some wonderfully soft Rowan Classic CashSoft DK! She brought it all the way from London! It's in color #509 which is called lime, but is really a soft pastely mint in my opinion. Another one that doesn't photograph well:

This will make a beautiful baby something - and it's in green - so it doesn't matter whether my sister has a boy or a girl! Speaking of which - did you enter the my guess-the-baby contest? Don't miss out! She could go into labor any second!
I just noticed that all yarns mentioned in this post are from Rowan. Definitely some of the nicest yarns I've ever worked with. They can't seem to go wrong. When that tax check comes in, I'm definitely going to have to join the club.
Kate asked me some really good rebound questions! You can read my answers in the extended entry. Have a great day!
1. In your blog, you've said your birthday characterizes you. What is it about being a New Year's Baby that makes you you?
Well, first off, it's definitely NOT a normal birthday – no matter how you look at it. And I'm definitely NOT a normal girl. Is it because of my birthday? I don't know. I think I'm introspective and forward thinking – both attributes that can characterize the day. My shrink likes to think that I have issues with being number one – born on 1/1, I'm the first born in my family – I do have to be the best (No. 1) at everything. Again, birthday or just a coincidence? In the end it's hard to say what it is about my birthday that makes me, me – I've never known anything different. I know I think it sets me a (little) bit apart. Maybe that's narcisistic thinking? I don't know. You have to be a little bit narcisistic when you're born on the FIRST – don't' you think? ;-)
2. When did your Bruce fascination start?
Georgie is completely to blame for my Bruce obsession – fascination doesn't really cut it honey. When Georgie and I started dating, I had been living in New York City for three years. I left home when I was seventeen – so I had only been driving about a year and a half. I didn't have a car in the city (I'm not that crazy) and G had a car. He used to take me on drives – down to AC, to the mall, etc. and he always had Bruce on the tape player – specifically - at least this is how I remember it – Tunnel of Love. He would sing me all the songs, which he knew backwards and forwards and honest to god I fell in love with them both. Georgie and Bruce are forever intertwined in my heart. I am the more obsessed of the two of us, for sure, but he indulges me – and he loves Bruce too. I think he feels the same way - ultimately it's all about how Georgie feels about me that somehow translates into Bruce love.
3. In your 100+ things, you mention you still have a baby blanket. My sister and I both do as well. Ours are named "blankie," and my sister still carries hers around (I know, I'm a traitor because I don't -- but I still have it). First, do you have a name for your blanket, and second, any tips for keeping it in good shape?
My blankie is called blankie. There may have been a very brief period in the 70s when I called it Elizabeth Banana because it was/is yellow – but that did not last long at all. I still sleep with my blankie every single night. It travels with me whereever I go and when I fly it goes in my carry on – god forbid it should get lost. I don't carry it around per se – sometimes I wear it around my neck in the house – when I'm on the computer, or reading. I like to smell it. (I know. Gross.) Otherwise it waits patiently under my pillow until I need it. How to keep it from falling apart? Don't give it to your kid. My sister's blanket was co-opted by her daughter and it is literally in shreds now. My niece WILL NOT give it up and that scares me. If I ever have a kid – I swear – they ain't getting their hands on my blankie. Georgie takes very good care of my blankie – he washes it lovingly – doesn't dry it too hard. I, of course, put it in hot water and dry it to within an inch of its life. But the best part of blankie living is when it comes out of the dryer.
4. What's the name of the first short story you ever published? What was it about?
The name of my first short story ever published is "Dancing With Jesus in Grove City, Pennsylvania." It was published in the High Plains Literary Review, Fall/Winter 2001. It's about Byron and Purdy Somers, a couple at the end of their lives. Byron is coming to terms with the fact that Purdy needs to go into a home as he can't really take care of her anymore – and in the process he remembers a miraculous time in their marriage.
It's a pretty fucked up story – very strange, very weird. I'm so glad it was the first one to get published. I love this story – it's dedicated to George.
Also, the editors saw fit to nominate it for a Pushcart Prize. It didn't win – not even close – but they liked it that much.
5. What is your favorite thing about your husband Georgie? Anything from mundane to smooshy sappy will do :).
Impossible. Absolutely impossible to answer. I love him so much it hurts sometimes. To pick one thing, even a million, would be to forget something that makes me so insanely happy and crazy and in love it would be criminal.
Okay. I'll try.
- He has the most beautiful puppy dog eyes I've ever seen. I could stare into them for hours and never be bored.
- I love that he loves the children in our lives in the purest way. He may have trouble showing it sometimes, but he does.
- He's curious like a three yr old. Sometimes it drives me crazy, but most of the time it's astonishing.
- Hands down, one of the most generous souls I've ever met.
- He works exceedingly hard for our family - something for which I am eternally grateful.
I'm going to stop - this doesn't even scratch the surface of the surface. It's hard to put emotion this strong into words. That's why I write fiction. ;-)
Thanks for the questions, Kate. Hope my answers don't disappoint.
Posted by Cara at 12:13 PM | Comments (9)
March 27, 2005
Wry Questions for a Punster?
Elspeth asked to be interviewed. As I spent a lovely morning with the Wry Punster's blog, here you go....
1. So, are you a comedy, history or tragedy kind of girl? What's your dream role, Shakespeare or otherwise? Do you puke before you go onstage? If not, do you have any weird pre-stage habits?
2. Sour, dill, kosher, bread & butter? Whole, spears, slices, gherkins? What's your preference?
3. Were you hazed? Can you talk about it? What's the secret handshake? Ever been part of a panty raid?
4. What's the best class you've taken that you had to take that completely surprised you? For instance, I had to take an art history class to graduate. I waited until my last semester to take Modern Art (what I thought was my favorite) because it was only offered once a year and always filled up. As a senior I had priority. It just so happened that this class conflicted with a Philosophy of Religion seminar I wanted to take (my majors were religious studies and philosophy), so I had to take Renaissance Art instead. It was literally my favorite class in college. I dragged my husband all over Venice to find that one damn Tintoretto. So, what was your surprise?
5. What will you be doing in Cairo this summer?
And the bonus question:
Money's no option, skill level's no option - what's your dream knitting project?
It was a lot of fun visiting with Elspeth. She's a year younger than my baby sister and having fun in school. (Yesterday was my sister's 23rd birthday - Happy Birthday Samara! - I left her a million messages, but it seems our nephew Max was the only one who actually got to talk to her - he sang her happy birthday as a wake up call. Then she turned the phone off!) I loved college, absolutely loved it and I miss my sister - so I got to visit both, just a little bit, through Elspeth! Thank you!
Did you see what La posted yesterday? . (Make sure your speakers are on!) Have a great holiday if you're celebrating, or just a fantastic Sunday if you're not!
And don't forget to enter the latest January One contest. Yarn and PhotoArtCards. You know you want it.
Posted by Cara at 11:35 AM | Comments (1)
March 25, 2005
The LollyKnitting Interview
How did you and Georgie meet?
Back in '87, I came to New York to go to NYU – I was seventeen. (This was pre-Ghouliani when the city was still scary and hip and cool). Before school even started I got a job at the Village Tennis Courts. Since I was young and nubile, I guess, the two (guy) tennis pros working there befriended me. And since I was living in an apartment dorm room with three Juniors instead of in a Freshman dorm, I really didn't have any friends. So I hung out with the tennis pros – who were about 8-10 years older than me. Georgie was their friend and since I started hanging with his friends I guess you could say we were friends. Not really. But we hung out together. A couple of years later we REALLY became friends and about a year after that we started dating. The rest is history. We've been together since I was 20 years old (living together since I was 21). I just had my 35th birthday. You do the math. ;-)


Of all of your photographs, which one is your favorite? why?
Impossible. That would be like asking me which of my stories is my favorite. I can show SOME of my favorites. For today, that is. It changes all the time!


And pretty much all of the pictures on my kids website.


What is the knitted item that you are most proud of?
Probably Shedir. It was the most challenging knit. And I knit it for a woman, a friend of a friend, who has cancer and was going through chemo. Or possibly the first real project I finished (and the second thing I ever knit). It's a 5'x6' afghan that I knit for Georgie – it's a four color slip stitch pattern with a crochet border. We use it all the time on the sofa. No peasley scarves for this new knitter! No – I had to make something LIFESIZE.


Who is your favorite photographer? favorite photograph?
I'm not such a good person to answer this. While I've had "formal" training in writing and have been systematically exposed to genius writers, the photography I've done all on my own. So I don't know a lot of photographers. One I do know, and greatly love, is Wright Morris. Not only was he a photographer, but a National Book Award winner and American Book Award winner (the later for Plains Song.) He successfully put his photography and fiction together – and was known as a photographer's photographer and a writer's writer. Two designations I greatly aspire to. Here is an excellent article on him, and a link to some of his photographs. I've heard that Morris's barn photos were the inspiration for So Long, See You Tomorrow, by William Maxwell (one of my favorite authors and favorite books.)
My favorite photo? Changes like the wind, but I really like this one today:



Imogen Cunningham
Magnolia Blossom
1925


Do you have any interest in working in a library again?

I don't know. When I graduated with my MLS I had an overwhelming sense of self-preservation (for lack of a better word.) I had a PROFESSIONAL DEGREE. To me, this meant I was eminently employable. So if I was a single mom with three kids, I'd be able to support my family. This is an incredibly empowering feeling. I'm very far away from the library world these days - but once a librarian, always a librarian. I would never count out that work - it may be a means to survival one day, and it was something I enjoyed very much. (That's of course assuming W. doesn't close them all by the time he's out of office.)
Thanks Lauren! Lots and lots of fun!
The January One Interviews
Kate:
1. In perusing your blogger profile keywords I find: rugby and revolution. How are you going to start the next rugby revolution?
2. You were blogging before they were called blogs. What's your take on the current state of blogs – knit or otherwise.
3. Explain Re-Evaluation Counseling. Or not. Whatever you feel most comfortable with. ;-)
4. Your field is Biological Anthropology right? Can you explain that? Do you know the subject of your doctoral thesis? Can we know?
5. Okay Miss Union Organizer – where's Jimmy Hoffa buried? Or is he really dead?


Abby:
1. What does it say about you, psychologically speaking, that you have listed twice (20 and 59) that you have a psychology degree?
2. Which famous person would you most like to stalk (assuming you haven't already) ?
3. How many skeins of Koigu do you have in your stash? Favorite colorway?
4. What's your favorite blog button? Could be one you made yourself or one someone else made. (By the way, want to make me one?)
5. Now that your hubby is knitting, do you forsee any great competitions or dare I say it, fights over stash?


Renee:
1. So, thanks to Rock Chick, we know Bruce is a knitter. What's Bono doing in his spare time, craft-wise, while he's not rocking out with Koffi or waiting for that call from Stockholm?
2. Who do you prefer: Ebert or Roeper?
3. You've seen A LOT of movies - favorites? What should I see that I probably haven't? Do you ever watch movies more than once?
4. How many Vikings have had their numbers retired? Can you name them?
5. When it's super cold in the winter, is it true that you can walk underground in Minneapolis and never have to come up to ground level?


BONUS QUESTION FOR ALL:
Money's no option, skill level's no option - what's your dream knitting project?
If anyone else wants to be interviewed, leave me a comment saying so!
Thanks!
Posted by Cara at 12:36 AM | Comments (7)
March 24, 2005
Can't we all just get along?
Okay, I'm being facetious, but really with all the Pink Chibi wars going on I'm about to get all positive on your ass about how much I'm LOVING blogland. Don't say I didn't warn you.
I started this blogging thing at the end of October, and I'm telling you, I can't believe the friends I've made. For instance, just yesterday I was emailing my pal Lauren, who I "met" when she won my contest, and we were going back and forth about Walker Percy and Kierkegaard and then she found me this kick-ass article I was wanting. Let me tell you people, while I have the most wonderful, most generous, most loving husband in the world, the greatest family in the world, the best friends in the world - there is no one in my life I can talk about Kierkegaard AND Percy AND Knitting ALL AT THE SAME TIME! Well, that's not true because now there's Lauren in my life. Thank you Lauren!
Jazalicious Jen was my first REAL knitting friend. Know where I met her? Online. It ended up that she lived right near me and we've been on many a yarn crawl together. In the short time I've known her we've been through some heavy stuff - I know she's a life long friend. She's also the one who got me blogging.
That Cassie. Yeah, she's a keeper. Listening to me babble on and on during the cold winter. She was there when I bought my first sock yarn. Still haven't finished the socks, but whatever. I know Cassie will be happy for me when I do. Where'd I meet her? Duh. Blogging.
Annie sent me my first Random Act of Kindness EVER! Right around my birthday. I was so touched I called up everyone I knew to tell them. This blogging thing is AMAZING! Who knew there were people like this in the world? AND they like to KNIT!
And when I popped up in Boston, Wendy and Colleen were more than willing to come out in the bitter cold to meet and entertain a PERFECT STRANGER! WOW!
I've gotten the most encouraging emails and comments from people all over the world, some funny, some serious - all kind (okay, well there was that one comment that wasn't too nice, but I totally blame Kerstin for that. Spillover, people. ;-) New friends have opened up their lives to me and I just know, in my heart, if I needed support, I could count on them. I see it happening before my very eyes.
Do you need another example? Back at the start of the year I had a little idea. Annie helped me expand it and now Knit One Read Too has over 130 members! This fact completely astounds me.
It's no suprise that at times the knitblogging community can be insidious and insular, because after all, human beings are behind these blogs and everyone has bad days. But in the end, I think it's really quite expansive and genuine.
Now, everyone turn to the blogger to the left. Give a great big hug. Now turn to the blogger to the right. Great big hug.
Now everyone go throw up. ;-)
All righty. When you've all come out of the diabetic coma I just induced, we can move on to my Short Row Pullover. I've finished the the straight rows and am about to move on to the short row sections. I first have to read countless articles on how to wrap said short rows. I'm still trying to figure out what to do with the ends. Johanna had a great suggestion to knit them in as I went along - I tried it - still not so comfortable with it. Right now I'm going with the Montse Stanley method that was reinforced by something I found on the Morehouse Merino site. Carry the yarn up the sides and because I have many odd rows (lots of one row colors) I can take advantage of the circular needles I ALWAYS use and just switch sides when it's time to change colors if the color isn't on the right side. This means that if I need the navy and it's on the left when the green I just finished is on the right, I just move to the other side of the needles. This also means that if you just finished a purl row, the next row - starting from the other side - will ALSO be a purl row if you're doing stockinette. Basically if the right side is facing you, knit, if the WS faces you, purl. Clear as mud, right?
I don't know what I'm going to do when I start the short rows though because I'm thinking it will be even harder to carry the yarn. Maybe not, because you always have to start where the last row ended? I'm trying really hard to resist the urge to rip the whole thing out and start over. I already ripped out one repeat. We'll see how it goes after I start the short rows. I can't think about it now.
Have a GREAT day everyone!

Posted by Cara at 07:46 AM | Comments (14)