February 19, 2013
Healthy Obsessions
This blog has always been about my passions - knitting for sure, but also writing, photography, my family, Bruce. So it feels a little disingenuous to not have shared my latest passion with you all. That's about to change. Bear with me.
A little back story: I love my kids. They are fun and funny, smart and stubborn, passionate, crazy, beautiful, gorgeous kids and I love them. But (and there's always a but right!) they do not sleep. Or, at least, they do not sleep well. I won't get into the whole thing about sleep training and how we didn't do it and that it worked so great for you and blah blah blah - my life is what it is and I wouldn't change any of it. I've made my bed, so to speak, and both my kids sleep in it every single night. HAHAHAHAHAHA! See what I did there? Yeah. My kids sleep in our bed and we're not happy about it. I've tried a million things to get them out and sometimes it works and sometimes it doesn't and I'm seriously not telling you this for advice, it's just a fact. And because my kids have a hard time staying asleep unless they are on top of me or touching me in some way that is incredibly uncomfortable for me and yet oddly comfortable for them, I don't get a lot of sleep. Like ever. Or at least not in the last five freaking years.
I am often extremely exhausted. Extremely. Exhausted. And this aggravates my anxiety and panic like no one's business.
Let's back track to about a year ago. I was in a not very good place - exhausted and anxious and just plain yucky. I was a hell of a lot better than a year ago before that when I was in the throws of postpartum depression from second baby exhaustion and its overwhelming-ness. Besides regular therapy and some happy pills, I had started running again. I'm not the best exerciser in the world but I know what I need when I need it and as I was coming out of the awful winter of my PPD discontent, running seemed like the best option. It was good and all and I was working my way through a Couch to 5K type plan. It was nice to be outside and I liked the mental aspects of it but I never really loved running. At least not the way some people do. I got hurt. I healed. I had to go back a few weeks and start over. Then it got colder and school started again and oh well. Not running so much.
My neighbor had started going to a new studio that had opened near us. It was a barre based exercise class and I had read up on it before it opened but they kept delaying the opening and it wasn't cheap and I started running.
But I wasn't running anymore and she told me how great it was and winter was closing in and the exhaustion was overwhelming me as usual and well, OCD was taking over in the bad way. So I went with her.
You know where this is headed right? I went to my first Bar Method class a year ago today, February 19, 2012. Since then I've gone to over 200 classes. I went to my first class, then my second and then I signed up for an unlimited month and started going 3-4 days a week which I quickly ratcheted up to five classes a week.
I love the Bar Method. There. I told you all. I LOVE THE BAR METHOD!
There are a bunch of barre type workouts out there and you may go to one which is not the Bar Method and it might be the greatest thing in the world for you. If so, that's great! I can't speak to other barre type classes because I've never taken one. I can only talk about Bar Method. From their website:
The Bar Method™workout creates a uniquely lean, firm, sculpted body by combining the muscle-shaping principles of isometrics, the body-elongating practice of dance conditioning, the science of physical therapy and the intense pace of interval training into a powerful exercise format that quickly and safely reshapes and elongates muscles.
Yes, barre type classes are the rage and every celebrity out there has a favorite. Yes, I have always wanted to be a ballerina and just standing at the barre on my toes makes me feel like I'm in Swan Lake. Yes, at 43 I am in the best shape of my life and can do a split for the first time ever. Don't believe me? Photographic proof (courtesy of Mason Dixon Kay!)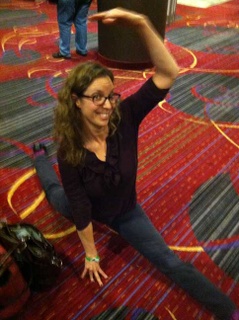 Crazy, no? So, to reiterate, best shape of my life, doing splits, husband says my ass looks younger and is scared by the definition in my arms, flat abs, etc etc etc. But really, the physical changes in my body are icing on the cake.
For me, Bar is about the fact that on more mornings than I care to admit I wake up with my body hurting and my brain set to monkey mind because I haven't slept well - hell I haven't slept at ALL - the night before and I know that if I can drag myself to a morning class and just get through the warm-up plank and maybe just maybe, finish the class, I will feel infinitely better. Remarkably better. Able to face the day better! Think of it this way: I haven't had caffeine in over 25 years - it makes me feel like I'm having a panic attack and I have enough of those thank you very much - but my morning Bar class feels like a nice healthy shot of caffeine! I have ENERGY! My mind is CLEAR! I feel able to LEAP TALL BUILDINGS IN A SINGLE BOUND! (Okay. Maybe not the last part. It's a cup of coffee not a double espresso for god's sake!) And the good feeling lasts throughout the day! Mostly. At least until school is over.
The class reminds me of all the things I love about knitting too. I love patterns - not knit knit knit (or run run run) until you're done. I like things structured - but with lots of variety within the structure (like the rules I set up for my Miter Madness banket.) All of the Bar Method classes follow the same structure, but within that structure are a million different variations. And the more you do it the harder it gets. And man - are these classes HARD! (Think of some kind of fair isle lace sweater with multiple charts and multiple colors and some crazy construction. WIth steeks of course.)There is always room to challenge yourself - whether it's perfecting your form, or going for the harder options. Just like knitting. It's the process baby!
It's not just the exercise either - it's the people too. The instructors are incredibly encouraging and from the very first class they know your name. The other (mostly women) students are friendly and it just feels really comfortable to be there. I've made some nice friends - some of whom even knit! I can walk into the studio an anxious mess and even before class starts someone has made me laugh and I feel better already. I'm so happy to have found my place and I hope next year to write a similar post telling you how much I still love the Bar Method!
Thanks for letting me ramble. I feel better letting you in on my new obsession. And I hope you all get the chance to find yours too!
I hope to be back soon to talk about lots and lots (and LOTS!) of knitting!
Be well!
L, C
Posted by Cara at 01:56 PM | Comments (13)
Topics: Bar Method
January 01, 2013
Happy Birthday to ME!
Today I'm 43. And I feel pretty good.
It's been a long time since I posted to the blog, but I've never missed January One in nine years. Nine freaking years.
I've got some goals for 2013 - one of them is to get back to writing. My youngest starts school next week so I have some afternoons free and I really really really want to write again. So if you're reading this, check back in a week or so. I've got a million knits to talk about. And some other stuff too.
I wish everyone a very happy new year. May 2013 be a peaceful, contented year for all of you.
L, C
Posted by Cara at 04:09 PM
Topics: Life
February 20, 2012
Fat Tuesday*
Thank you all so much for your very kind comments on Acer and previously on Aidez! I really appreciate them. I have to say I'm quite proud of all this sweater knitting. I actually have one more finished sweater to show off and talk about, but I wanted to say a little something about my new sweater project given the date.
Being flush with my sweater successes, I decided that it was finally time to try something I've been wanting to do for a long, long time but was too timid a knitter: a fair isle cardigan. With a steek and everything! I find it kind of ironic that I've been too timid to knit this because I'm usually the one preaching if you can knit and you can purl you can do anything!! But for some reason color work kept scaring me and I decided now was the time to conquer it!
I'd had Elinor Brown's Plum Frost Cardigan in my favorites for a long time and I finally pulled it out. I decided I wanted to knit the sweater in some Quince & Co. yarn because they had some great colors and I really really enjoyed knitting with it when I knit Aidez. So for my birthday I treated myself to a bunch of colors in Chickadee, their sport weight 100% wool yarn: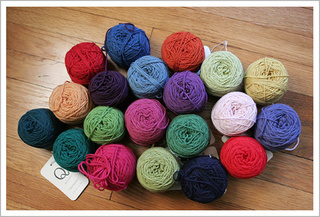 And then I started swatching: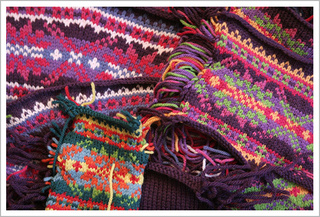 Before I even STARTED the sweater I knit no less than ten swatches, eight of which were fair isle swatches. CRAZINESS! But I learned so so much along the way. First I knit just to see if I knew what the hell I was doing. Turns out I'm not so bad at fair isle - I hold both yarns in my right hand and throw them. My left hand is basically useless. I knit pretty tight in fair isle, but the pattern even tells you to go up two needle sizes so that kind of solved that problem.
Look how pretty my floats are!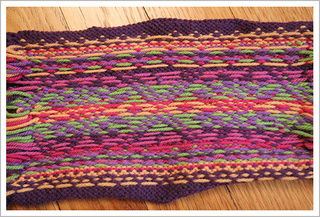 It didn't take me long to settle on a main body color and the remaining five fair isle pattern colors and I knit a swatch, then switched a couple colors around and knit another swatch, then figured out that my gauge was NO WHERE close to what was called for - I might as well have been knitting with a laceweight! - so I switched up to Lark which is Quince & Co.'s worsted. BINGO! I got a pretty close approximation to gauge - enough that I could knit the smallest size and have it come out to a 36 - which is what I need. And as a bonus I put my gauge numbers into the Elizabeth Zimmermann Percentage System and came out with exactly the right numbers. I was ready to start!
But something was nagging at me about my color choices. Something wasn't quite right. I ignored myself and ordered all the yarn for the sweater. I went so far as to cast on the sleeves (my first time using a tubular cast on! SWEET!) And then I called a couple of friends and asked them to look at the swatch. Margene tried to be nice about telling me she didn't like it - that it wasn't working and Ann was much more straight forward - this swatch DOES NOT WORK.
As much as I knew they were absolutely right, I was heartbroken. I'm exhausted. My children, it turns out, are terrible sleepers and with one hitting a stubborn four in a couple of weeks and the other already squarely in the terrible twos, knitting is the only respite I get. AND I bought the yarn. What was I going to do?
It turns out some learning.
I went to my knitting library and found Deb Menz's Color Works. Color. The all important COLOR. There are three aspects to color: Hue, Saturation and Value. Hue is easy - is it orange, green, etc? And Saturation is easy - how deep/light a green? But Value - oh all important VALUE. Value had kicked my color ass.
The way I understand it, Value is the way the eye sees color immediately, before it registers Hue or Saturation. Value is the BLACK & WHITE of color. So to find out the value of a color, you need to see it in grayscale.Check out these pictures: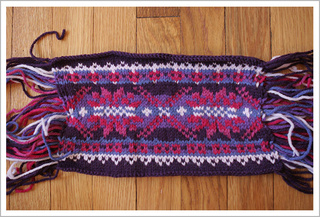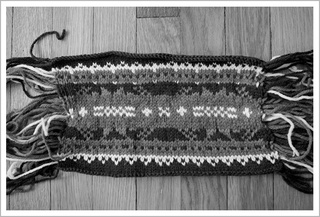 Check out that muddled muddy mess! Here are the skeins still wound: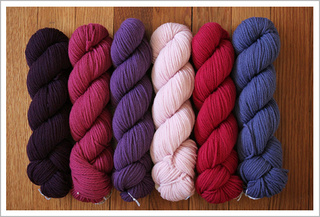 Not so bad, right? They look like a fine bunch of colors! Here they with their values exposed!!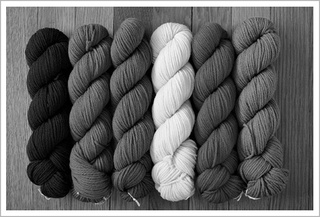 So I've got a very high and a very low what with the dark purple and the light pink but oh my god! The other four colors might as well be exactly the same. Three of them really ARE the same value and one is only slightly off.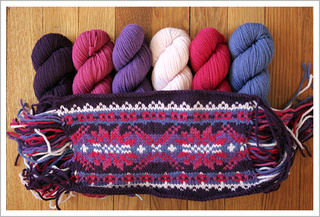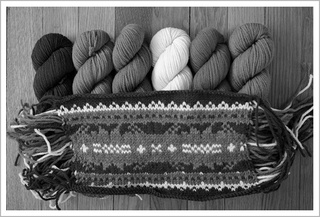 Frankly, I was kind of embarrassed I had come up with this combination in the first place. I mean, true or not, I fancy myself something of a color connoisseur and it's not like I didn't know about value. I've talked about it before and everything! Really, I was very disappointed. BUT, not to be deterred! I took my book and all of the skeins I started with and into the car we went! (I say the car because that's where I do most of my knitting these days. The baby, WHO WILL BE TWO IN JUNE!!!, has pretty much stopped napping at home and will only nap in the car. So when I drop off Meli at school we drive home, Cali falls asleep and I sit in the car with her and knit for a glorious couple of hours. It's BLISS!)
I flipped through Menz's book and checked out all the color combinations and rearranged them a million times in my lap all the while taking black and white pictures with my phone. Good times! My neighbors must think I'm crazier than they originally suspected! Anyway, so I'm snapping away but I'm also trying to use the least amount of new colors I can. Remenber - I'VE ALREADY BOUGHT ALL THE YARN! I want to keep the original dark purple as the main color and as many as the pattern colors as I can. I switched around and switched around and then - hey - this looks kind of nice together. Let's see the values. Okay, okay - this looks kind of perfect!! I immediately started more swatching!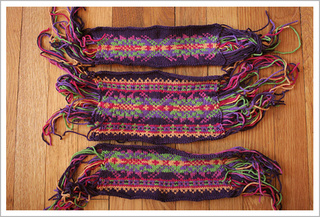 By switching out TWO colors only, I got these gorgeous values: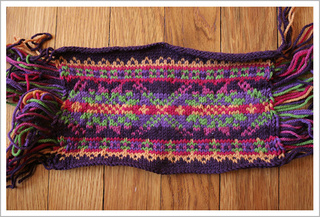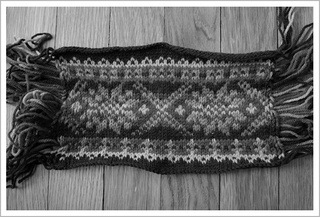 Look how well defined the pattern has become! No more muddy mess! BEAUTIFUL!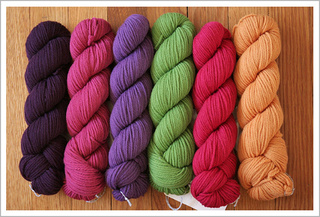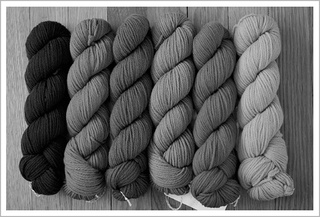 Now there is a definite high and low, but the low isn't SO low and the middle has RANGE! Look at that glorious range! TWO colors. I changed out two colors only. Let's look again!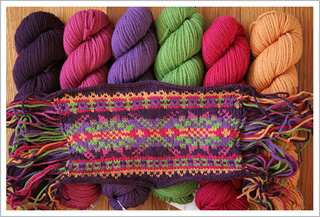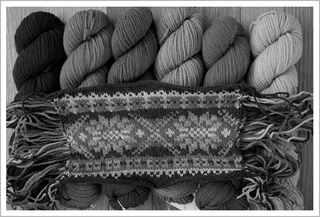 Now, just for shits and giggles, let's see the values of the original swatch compared with the values of the new swatch: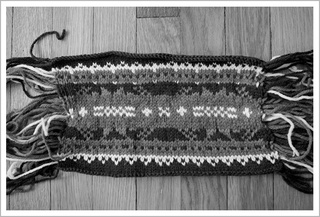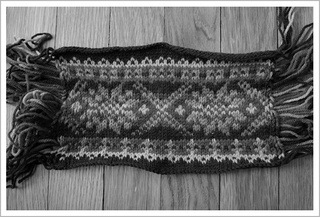 Isn't color AMAZING?!? Blew my mind. And now I've got a Mardi Gras Cardigan brewing - purples and greens and gold (and yes pinks!) Completely changes the look of the sweater I'm knitting and I couldn't be more excited. I've been plugging away on the sleeves and I only have two more increases. Shouldn't be long before I start the body and then FAIR ISLE BABY!
I still have at least one swatch left. Ahem. I've never cut a steek before so you can bet your ass I'll be practicing!
Happy FAT TUESDAY everyone! YAY FOR KNITTING!!!
*A day early, but who's counting, right?

Posted by Cara at 04:21 PM | Comments (29)
Topics: Mardi Gras Cardigan
February 05, 2012
Acer
There is so much knitting to talk about I'm feeling kind of overwhelmed as to where to start. So I'll start here: I LOVE THIS SWEATER!


I love everything about it! It's the best fitting sweater I've ever knit. The yarn is fantastic. The pattern was a dream. And I so successfully challenged myself in the knitting of this sweater that I'm feeling just a wee bit invincible when it comes to future projects. (More on that in a future blog post!)
As I mentioned in my last post, Ravelry has become indispensable to me. It's my go to late night browsing and somehow I came across this sweater, Acer by Amy Christoffers. (If it was your version that first came to my attention I apologize that I can't remember!) Once I had settled on the pattern and the yarn, I started scouring the helpful notes that kind ravelers write and planned my attack. Basically, I decided to knit the sweater as written EXCEPT I wanted to try my hand at top down set-in sleeves. A few people had done it successfully and since the sleeves are stockinette it seemed like a good sweater to try it out on.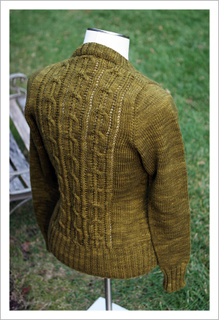 First I swatched. I've become a regular Clara Parkes! I knit three different swatches in this fabulous yarn on three different needle sizes. Kind of nice because I feel like I never have to swatch it again! Didn't I mention the yarn? Oh my god - Madelinetosh Vintage. Best.Sweater.Yarn.Ever! (In fact, I've already knit another sweater in this yarn and it was just as fabulous. I have a still have a sweater's worth in the stash and may have to go for another really soon!)
After all the swatching, I decided on size 6s, which gave me a gauge of 21 sts / 32 rows to the 4". The pattern calls for 20 sts / 28 rows so after doing some calculations, I settled on the size 38 to give me a 36.5", which gave me just the right amount of positive ease the pattern called for! YAY! Time to knit!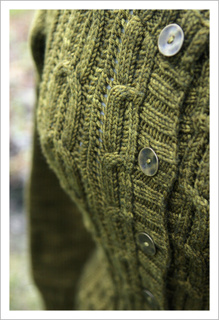 Super enjoyable knit. The fronts and the back are all knit in one piece to the armholes and it went extremely quickly. The cable/lace pattern is easy to memorize and just the right amount of complex that you don't get bored, but aren't mucking things up all the time. Things got really interesting after I split for the armholes. I opted to put the underarm stitches on holders instead of binding off and I made sure to pay really close attention to the number of rows I knit so I could duplicate it on both fronts and back. Usually I knit the sleeves at the same time and the fronts at the same time, so I was a bit paranoid about keeping things the same. It was a good thing I did because I had exact numbers at the ready when it came time to start doing the top down math for the sleeves.


Ah, the sleeves. The beautiful, gorgeous, magnificent sleeves! They almost killed me and my kids. I swear I did the first sleeve three times before I finally got it gloriously right! The idea of top down set in sleeves, loosely put, is that you pick up around the armhole and divide the stitches into three sections. The top third is the sleeve cap and you knit across that back and forth while implementing short rows on each stitch, one by one, after that section until you've knit short rows all the way around the armhole. Then you start knitting in the round and continue on until the sleeve is done. If you search top down set-in sleeves you will get a million hits on how to do this. I also HIGHLY recommend Barbara Walker's Knitting From The Top. So my first noticeable problem was my short row technique. I must have searched on a thousand different ways to short row and watched countless youtube videos and still they looked awful - especially on the purl side. Blech. And then I hit upon Socktopus' INGENIOUS short row technique: THE SHADOW WRAP! This is by far the best short row technique I've ever found. Really. You have to see it to believe it. And it's so damn easy too. Run. Go. I'll wait.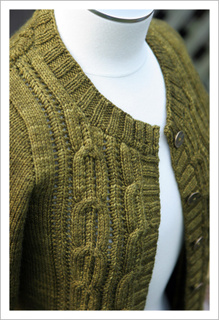 Fantastic right? Unbelievable! Okay - now that I had the short rows conquered and they looked beautiful I set about knitting the sleeve cap. The only thing was that I kind of winged the how many stitches do you pick up part. Without really paying much attention I thought okay - I usually pick up 3 out of 4 rows when doing a buttonband that should work no? NO. WRONG. DUH. I knit the whole damn cap picking up three times as many stitches as I needed (that's A LOT of short rows people!) and the cap came out a puffy puckery mess. (See this crappy cell phone picture here.) I hit the books.
After a gazillion more web sites and a dozen youtube videos I went back to the source - Barbara Walker. To quote:
Count the rows on the side armhole edge up the back or front, from underarm to shoulder.... Half of the remaining sleeve stitches (after subtraction of the underarm) must be picked up evenly from this number of rows, on each side, front and back. It may come out to 2 stitches picked up from every 3 rows, or 1 stitch every other row, or 4 stitches from every 5 rows, or some other proportion. Get this calculation right, and comfort yourself with the thought that it is the only calculation you will have to make.
Guess what? She is so smart! I counted my rows and came up with 32 stitches on each side that needed to be picked up. That ended up to be every other stitch - not the 3 out 4 I originally started with. BIG difference. I knit with confidence because Barbara said I should and voila! I knit the most beautiful sleeve cap EVER!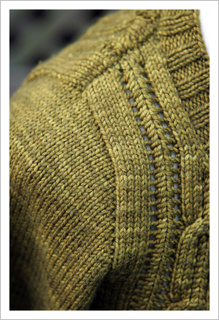 Gorgeous, no?!? Once I did the first the second was a snap and before I knew it I was laying out the sweater to dry after a nice soak. I'll be honest and tell you that I was nervous - nervous it was going to be too small, but I crossed my fingers and hoped that my swatch didn't lie and I was rewarded nicely!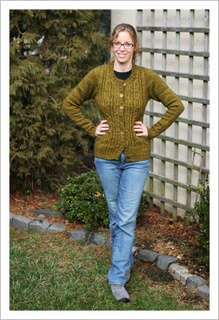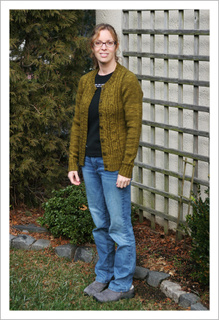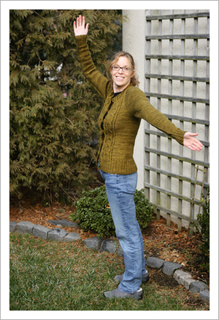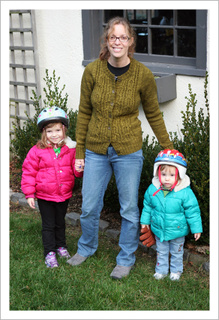 Slightly saggy boobs aside (I swear I'm wearing the good bra!), trust me when I say this sweater fits like a dream! The swatch didn't lie and with the help of some knit geniuses, I have one of my most successful knits to date! THANK YOU Amy, Barbara, Soctopus, Madelinetosh and all those intrepid ravelers who took the time to share their notes. THANK YOU THANK YOU!
And thank YOU for reading! I really appreciate it!
L, C
PS - Next up: another finished sweater (I'm on a roll!), more crazy swatching and a (fingers-crossed) finished double-knit cowl! WHOA!
PPS - GO GIANTS!!!!!

Posted by Cara at 04:29 PM | Comments (22)
Topics: Acer
January 07, 2012
Aidez
Okay. G has the girls outside on this beautiful day. Let's do this!
The other day Ann was about to blog and she told me she was tongue tied and I said just blog the knits. I'm taking my own advice. It's not that I don't have a lot to say, it's the opposite - I'm not sure I could reign it all in or be in anyway coherent if I don't have a straight forward agenda. The perils of living with an almost 4 and 18 month old - I don't talk to many adults.
Which is a good segue to my first topic: Ravelry. I have been pretty outspoken in the past about Ravelry - I do think it had a large impact on knitblogging - and not in the best way. And I find the whole forum thing pretty scary and not at all necessary. (I was on a few infertility forums a long time ago and I don't care who you are and what you have to say those things get nasty fast.) But I have completely embraced Ravelry when it comes to pattern support. I only have to knit the sleeves on my third sweater in the past four months and they have all been relatively wonderful knits in no small part to all the notes and comments made about the sweaters on Ravelry. That searching by helpful notes? FANTASTIC. It's like having your own old fashioned knit-a-long right there at your fingertips for just about any project you can imagine. I'm sure most of you already know this, but I felt like I had to go on the record since in the past I've been kind of negative about the site. Consider me slapped on the head.
For instance, there's no way I would've knit Aidez without the help of Ravelry. And I certainly wouldn't have knit it in Quince & Company Osprey, that's for certain! Oh my god I LOVE this yarn!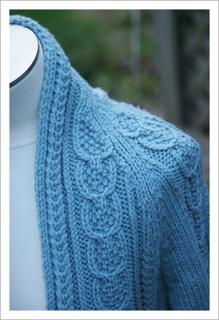 It's light and soft and bulky but not too bulky and so comfortable to wear. Great colors - in fact I just ordered a ton of their Chickadee (sport weight) for a fair isle sweater I'm planning. I would make a million sweaters with this yarn if I could. While I had heard of the yarn, it was the Aidez's I saw on Ravelry that used it that convinced me to try. I'm so glad I did.
Got the yarn and swatched! I've become such a swatcher - who knew? It's easy and you get to play with the yarn and figure out how your fabric is going to feel and then you can have confidence in your numbers! WIN WIN! Again, I know, you already know this but I feel like I have to share. My gauge was pretty off but I crunched all the numbers and ended up with the 40" size which was supposed to give me the ease I wanted given what other knitters had said. I'd say I'm just shy of a 36" bust these days.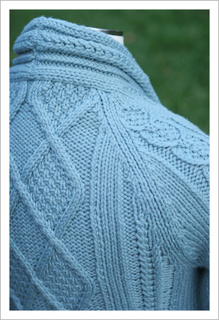 I knit the sleeves first and they went super fast. Knit the fronts, again super quick then cast on for the back. I decided immediately to change up the cables as they were written. I swapped out the Right and Left Cross-Cables, which I found to be really loosey goosey, for the Ear of Corn cable. Also, I felt like this substitution gave the back a symmetry with the fronts since as written there are no matching cables on the fronts and the back.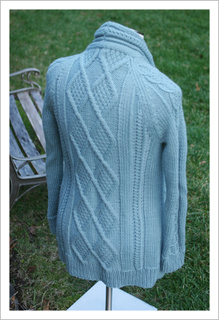 The sweater all came together really really fast. God Bless 10.5s! (Although I don't think I could knit with them all the time. The bigger the needle the more my hands hurt after knitting awhile.) I actually got to wear the sweater to Rhinebeck! A Rhinebeck sweater! Can't remember the last time that happened.
As much as I loved knitting this sweater, loved the yarn and have honestly become a little bit obsessed with it (ask Ann!), I feel like the pattern is inherently flawed. One of the things that disappoints me about this sweater is that the sizing is WAY off. If you look through Ravelry and if happened to see the many Aidezs I saw at Rhinebeck - and I talked to a few knitters about this - is that the sweater hangs way too far open for my tastes. Even though I added maybe 4" of ease to the sweater, it doesn't hang close over my boobs. I want the sweater to hang close over my boobs. I've come to believe that the cables pull in so much that there's no way the sweater has a chance - unless you do what many others have done and knit different size fronts than backs. For instance, if I were to knit this sweater again, I'd definitely knit at least the 44" fronts and the 40" back. That's kind of ridiculous isn't it?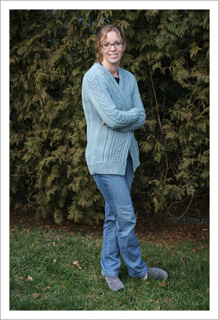 I would love to knit this again, in the Osprey. I absolutely LOVE the idea of the construction of this sweater. The fact that you knit the buttonbands as you go and then extend them beyond the fronts to create the collar is fantastic! I love the look of the sweater - if it closed a bit more. And I really like the combination of sweater and yarn. When and if I knit it again I will be swatching extensively to be sure that I have enough stitches/cables to make the thing hang closer.


Raved here.
All in all a satisfying project because knitting it gave me the confidence to go on to my next sweater. A sweater that is possibly the best thing I've ever knit. I'll tell you about it next time! Thanks for reading!
PS - don't you just love my model?! She was a gift to me from Ann and she's just about my measurements. A very happy coincidence and I love her.
Posted by Cara at 02:47 PM | Comments (18)
Topics: Aidez
January 01, 2012
For Auld Lang Syne
Happy New Year!
Since I last checked in here, I've done a ton of knitting! I knit ten squares of my Spectrum Crosses blanket, then school let out for summer vacation and I lost my knitting mojo. But then it turned to Fall and I actually managed to knit a whole sweater in time for Rhinebeck! Granted it was in a bulky yarn on size 10s, but still, A WHOLE SWEATER! Complete. With sleeves and everything! And when I was done that I knit ANOTHER whole sweater. This one on size 6 needles with all kinds of new to me tricks. This sweater, honestly, elevated my knitting to higher heights. It gave me so much confidence that I started yet ANOTHER sweater which I'm currently about 1/3 of the way through. LOVING THE KNITTING!
Which brings me to the blog because honestly I don't have many people to talk to about my knitting. And the people I do have are sick to death of me. So I'm giving you a sneak peak of my sweaters and a super cute picture of my girls and then I'm coming back to talk about all the knitting. I hope one or two of you are still out there!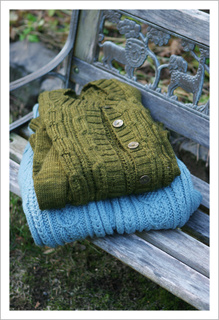 I know it's been awhile, but I hope you're all doing great and looking forward to the new year. I feel like it's gonna be a good one!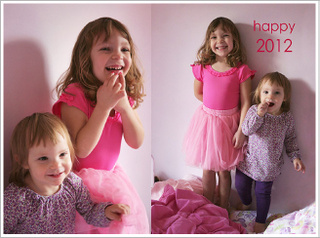 Posted by Cara at 12:27 AM | Comments (64)
Topics: Life
May 05, 2011
Spectrum Crosses
May marks the start of a new Project Spectrum, a create-a-long near and dear to my heart. It also happens to be the absolutely perfect time to talk about my new blanket project which I finally started after planning it forever!
I've renamed my Mitered Crosses Blanket project SPECTRUM CROSSES, in honor of Project Spectrum. I have been busy gathering yarns and mixing and matching colors for weeks and it's all together. I started my first square the other day and I'm off to a wonderful start.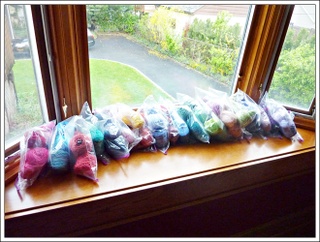 My plan uses almost all of the Tahki Cotton Classic leftovers from Miter Madness, plus a few new colors that I had in the stash and didn't use the first time and some new colors I bought to round out my color choices. Each square will have a different color for each miter/arm of the cross and all the colors in a square will be similar to each other.


There will be 25 squares in all and 23 of those squares will be the colors of the rainbow starting with all pinks and ending with some vibrant red violets. The two remaining squares will each be ROY G BIV. The blanket will "start" at the lower left corner with a square featuring a bright red, orange, yellow and green. The blanket will then move in the colors of the rainbow row to row until the final square, located at the top right corner, which will be made up of a bright blue, indigo, violet and red violet.


In order to mix things up a bit, I've put each grouping of four in a baggie and I've thrown all of the baggies in a green trash bag. I'm having Meli reach in and pick out a new one for each square. She loves helping with the knitting, and this way I'm surprised by each new color choice.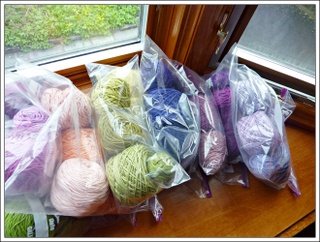 So far I've finished one square and am almost finished the second. And Meli has already chosen the colors for the third square. I'm absolutely loving how they're coming out.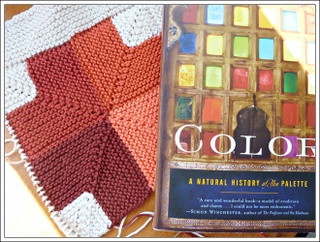 This is the beginning of the first square, along with a book that Lolly recommended on the Project Spectrum Facebook page. The book is called Color: A Natural History of the Palette and I thought it would be a fantastic companion to the blanket.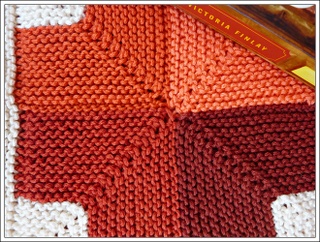 In the put on the back burner but in no way forgotten category, I finished all of the knitting and seaming on the Miter Madness project!


There are still a bunch of ends that need to be woven in and it needs a good steam block, not to mention a fantastic photoshoot worthy of such a project. I'm not sure when that's happening. I needed a rest after all that hard work. It will happen and it won't take another three years. Trust me when I say it's fabulous. The black border came out better than I ever could have hoped and is the perfect frame for the squares.
Of course, I had hoped to be blogging more regularly, but life around here has been kind of crazy - literally - thanks to a nice round of postpartum anxiety/ocd. Things are finally getting back on track and I have high hopes for blogging lots of squares and lots of color in the near future.
Thank you, as always, for reading. I'm so happy this community is still so strong.
Happy Project Spectrum!!!
L, C
Posted by Cara at 12:30 PM | Comments (19)
Topics: Project Spectrum ~ Spectrum Crosses