February 15, 2005
100!
For my 100th post, I'm going with pictures galore!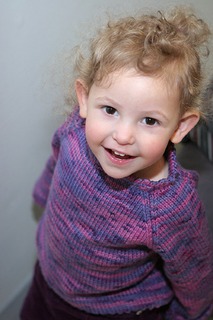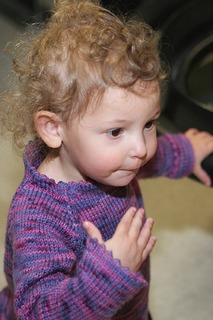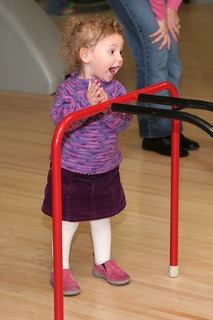 I think this is where she bowled that strike. I kid you not - the child bowled a strike and two spares!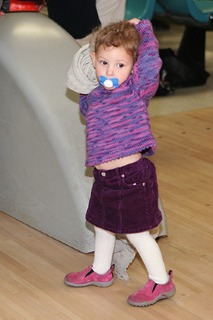 The blankie and pac are never far behind!


New Stash: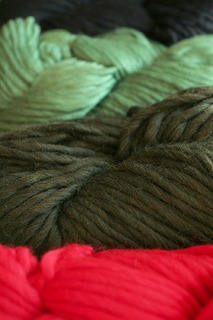 For the VK Flower Basket Bag: Cascade Magnum in colors (from the top) Black, Highland Green, Lichen, and Regal Red.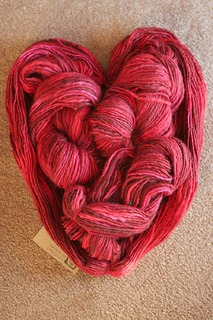 For Valentine's Day, I bought myself some Manos, Color # 115 - Flame. I only bought four skeins (that's all they had), but I want more. I want to make a very simple cardigan. For me.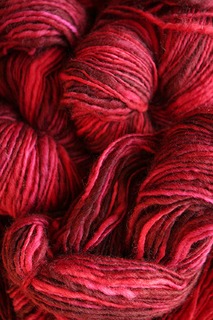 Thanks for all the feel good wishes. I'm definitely feeling better - not 100% - but much better. (Read: not feeling like yakking anymore!) Tomorrow I hope to be completely better.
Almost forgot - a special thanks to Wendy. Her homemade Valentine was just what I needed yesterday. Thanks again Wendy!
Love, Cara
Posted by Cara at 06:16 PM | Comments (21)
February 10, 2005
Picot-Boo is Picot-Done!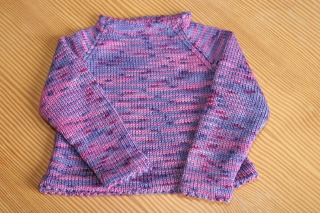 Definitely not my best work, but I'm sure Charlotte won't mind. It will look so cute with her little purple skirt and tights! (I'll come back with pictures I swear - she just loves clothes. You say to her, "Charlotte, who's so pretty?" and she answers "ME!")
The collar is still messed up - but the weird thing happening on the right side (in the picture) may be from ironing it - at least that's what I'm telling myself.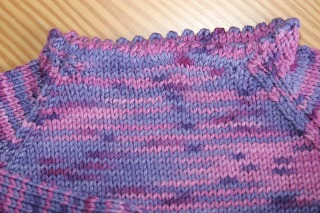 I'm not sure I'm liking the whole raglan thing - it's the seams that messed up the collar for sure. I'm not real postitive what I could've done better. But the arms and bottom are cute: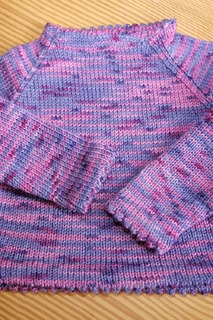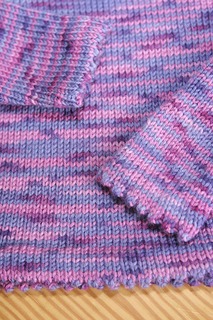 I'm feeling better. No snow (at all - thanks for getting my hopes up Weather people!) but I'm pretty much prepared for class.
Thanks for putting up with my craziness!
Posted by Cara at 04:17 PM | Comments (14)
Picot-Boo has a Boo-Boo
Man, I'm still dreaming about that collar.
Yesterday was pretty productive, until the end. I ran. I read through all of the stories for tonight's class (still have to read and critique them again - although I'm really hoping class will be snowed out.) I finished the pictures for the job I did the other day - thank god! In the end I was quite pleased with them, camera dying and all. So then I settled in to pick up the collar on Picot-Boo. NO biggy. It's a mere 60 odd stitches and half of them are on stitch holders anyway - piece of cake!
No. No. No. How is it that the thing looks like crap now? The problem is that on the front you had to bind off the middle 18 stitches and then continue to decrease so that you wind up with two stitches on each side of the bind off. Then you keep them on holders. Well all the decreases got so screwed up when trying to transfer them to the circulars and the whole thing was so awful and ended up ripping out the seaming, then ripping down past the cast-off edge then knitting it back up. It seems to be working now. So frustrating. I don't have a lot of time! I'm supposed to be leaving for my sister's some time tomorrow and I have SO MUCH to do before now and then. Including finishing this sweater. I know I don't have to finish it - but there's so little left to do - and I wanted Charlotte to wear it to the birthday party on Sunday (Max's fourth birthday party - bowling with four year olds! Whipee!) Plus I have to get the pictures out in the mail. I have a package I want to send my SP4 for Valentine's Day. My house is ridiculous. And I have to prepare for class tonight. The sweater was supposed to be EASY! I did a couple rounds before bed last night, but there are gaping holes that need to be seamed again (I'm praying that's what it is - I KNOW that's what it is....)
And we went to bed late again last night. It's like the fifth post 1:30 AM night in a row. I am beat. Poor Georgie is too. He's been fighting a cold and working so hard. We're both overwhelmed and don't know what to do with each other. Tonight will be late again - my class doesn't end until 10 PM and by the time I get home and eat something it's after 11.
Okay. Rant over. I need to get going.
But before I go, you MUST check out Ms. Cocoa Pebbles' styling tee-shirt! AB/CD. I LOVE it!
Posted by Cara at 08:03 AM | Comments (3)
February 09, 2005
All You Need Is A Collar and A Dream
Georgie worked real late last night, poor baby, so I stayed up, like Penelope, seaming my little heart out.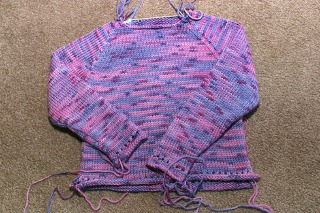 Now all I need to do is pick up the collar and knit a few rows - nothing to it - and press the hell out of the edges so I can whipstich the picot hems. Have no clue as to how to whipstitch. This yarn is so soft, it's ridiculous. I hope it fits her.
Plumbers BEWARE!
or
What Do YOU Care What Other People Wear?
As per
Norma
, the Virginia State Legislature's at it again. First
this
, now
you can't show off your Calvins
- introduced by a
Democrat
, no less. Hey bozos - what if I wear my underwear on my freakin HEAD you fucks! (Besides the fact that this is an unbelievable waste of tax payer money and Virginia has no other issues to legislate, right? - this really boils down to nothing but racism in my opinion.) No,
they're
not laughing at us
too
much. Thank fucking GOD I live in New Jersey.
I think I feel another Knitblogger Protest coming on. COMMANDO DAY! (from Cassie's great idea to go without!).
Where's Bill Maher when we need him most? (Oh, thank god, he's coming back.)
Posted by Cara at 09:43 AM | Comments (6)
February 08, 2005
Intarsia
So last night was my first color class with Shirley Paden. As I mentioned earlier - she is DIVAlicious. I'm sure those that have met her would agree - she certainly is a commanding prescence. Add to that a healthy dose of self-confidence and you certainly near diva-status. But that's okay because this woman knows her shit! When I took the finishing class last year, it was a bit overwhelming. It was a three-hour class and we covered EVERYTHING - seaming, weaving, button-holes - you name it. Given how intense that first class was, I was a little bit anxious about last night.
But it was great! It's a two week class and last night we covered Intarsia only (next week is fair isle). We started off making butterflies - Shirley said she prefers butterflies (hand tied bobbins) to plastic bobbins because when you've got a lot of bobbins hanging down the plastic ones can get really heavy. So we made the bobbins we would need for our argyle piece. I forgot to mention - Shirley had brought some of her sweaters she had designed and knit - they were unbelievable. Very intimidating to say the least.
Okay, so once we had our bobbins, we did weaving. Basically, using two colors, we knit one with the main color, then carried the second color behind on the next stitch all the way through the row. We did about ten rows just carrying and weaving in the second color until we got the hang of it.
Then it was time to knit our argyle swatch! I'm not sure why, but somehow I just got it - you carry the yarn when you expand the pattern, twist when the bobbin is right there. It all seemed very intuitive once I was actually doing it. I did almost half while we were there. When I got home I finished: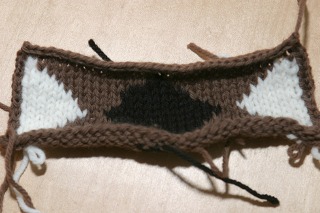 The picture is awful - ugh - still not getting the flash working. But I'm pretty happy with the results! (I messed up a couple of stitches, all you eagle eyes out there, but only because I should've done a MC when I did color B or A or vice versa.)
We have homework too. She gave us a chart for a flower we're supposed to do (using four colors) and the big assignment is to knit a ball of yarn in our opposite style - Continental if you knit English, English if you knit Continental, etc. I'm guessing when we do fair isle she'll be teaching it two handed. I feel I have mittens on trying to knit with my left hand - it doesn't work, but I'm willing to give it a go.
In the end, I was very pleased with the class. We laughed, we worked, we ate chocolate. Very, very good!
Picot-Boo
Picot-Boo is blocking. Someone please tell me it's okay that the arms look bigger than the body. Or, if that's wrong, don't tell me. Just let me fuck up in peace.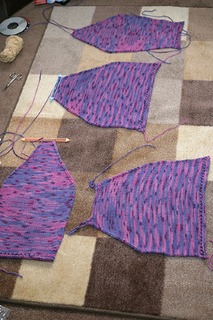 I may start seaming tonight - depends on how much "real" work I get done. It's not looking too good right now.
Bloglines isn't updating for me again. I blogged this morning before I went to get my hair done - at around 10:30. It still hasn't updated for me and it's now 4:30. I don't know how this shit works, but it's annoying me. We'll see how long it takes to update now.
ETA: I almost forgot! I picked up the NEW Interweave Knits last night at the LYS. It's nice. I find that I have to really sit on these magazines sometimes. You never know when new skills will all of a sudden make you look differently at a pattern. For now, the one I keep coming back to is the bear claw blanket. Maybe if I stock up on the yarn slowly, I might get this done in a decade or so. I'm thinking Aurora 8 might be nice for this. What do you think? I think I might change out the colors though. Or does that mess up the whole Amish quilt thing? Quilters - opinions?
Posted by Cara at 04:13 PM | Comments (9)
February 06, 2005
Night-Blogging
I'm blogging tonight, before I go to bed, so I can concentrate on working tomorrow. Also, I don't have much to say, so it should be kind of quick (famous last words, I know.)
Progress has been made on The Pinwheel Blanket. Thanks again for all the support thrown out there - it was definitely worth the frustration. It's so cute right now - I'm thinking the pattern would make a great hat. get it to the width I want then start ribbing for the edge. It would be very, very cute. Maybe I'll do that since I'll probably have a TON of left over yarn. I think I found the yarn for the edging too - instead of going with a silky/satiny type edging, I think I'm going to go with a soft/chenille type. I was searching around to day and I found Wendy Velvet Touch. I'm thinking the Jewels color might be perfect. Anyone ever knit with it? Is it luxuriously soft? Would it go well with the All Season's Cotton?
I stayed up last night until around 2 finishing up the second sleeve on Picot-Boo. Then I couldn't fall asleep until 3:30. I was the walking dead all day. The sweater is blocking and I hope to start seaming maybe Wednesday. I've never knit a raglan sweater before so it should be interesting. Then I have to hem the sleeves, bottom, neckline etc. Never done a whipstitch either. Love learning new things.
Speaking of learning - tomorrow night's my Color class with Shirley Paden. I'm a little bit nervous. She can be tough - not like she'll yell at you or anything it's just that she is very exacting and straightforward and she jams like five weeks of lessons into a three hour class. This class actually meets two nights - this week and next week. But I'm excited to learn color knitting FINALLY. I've never even tried it on my own, so we'll see how it goes. I've heard she teaches two handed fair isle - I can't do anything with my left hand. I'll report back Tuesday.


Commenter Contest


Be my 500th Commenter, and win three skeins of Artyarns Supermerino! Winner will get to choose the colors. I'll try to update the count as often as I can. And yes, I'm not above buying love!

Current Count: 357
Oh and congratulations to the New England Patriots and their fans. At least we didn't get our asses kicked. I'm still not over '81. That shit can scar an eleven-year-old for life.
Posted by Cara at 10:53 PM | Comments (10)
January 31, 2005
Blahs
I'm depressed. And while this may have A LOT to do with it (Kerstin, have you seen this?), it's not the only thing.
I think I caught the January blahs going around. Before I left on vacation I was doing good. Now I'm feeling overwhelmed. My house is falling down around me, literally. As I write this there are men on a platform HANGING outside my windows (yes, three windows, covering three rooms - it's a big fucking platform) drilling into the side of my BRICK highrise. If my head doesn't explode first, I'm going to kill someone. Preferably beginning with the guy who waved to me as he hung by my bedroom window.
I have taxes to prepare. I bought TurboTax thinking any accountant I lay out big bucks for is just going to plug in numbers to TT anyway. So I bought it. The taxes are now my responsibility. I spent all day yesterday getting my business in order. My sister is going to help me set up Quickbooks, but until then, it's sort of a pencil and paper operation. I think I got it all - but I still get nervous I'm missing something. Credit cards are actually a good thing sometimes. I try really hard to charge everything for the business - so I can just do a data dump from the credit card company for all of the charges.
My poor camera is still dead, and dying more and more as the seconds go by. I'm actually pretty sad about it. This was the camera that started it all. I'm taking it in to the Canon hospital today - but I'm not expecting any miracles. (Maybe secretly I just want yet ANOTHER new camera? SHHHHHHH! Don't even think it!)
On the knitting front, (that's why we're here, I guess) I started the first Picot-Boo sleeve and I actually did some work on my Ribby Cardi. I'd like to get that done pretty quickly - it should be an easy knit. I enjoyed what I knit of it this weekend, so we shall see. In my mind I'm also designing my father's sweater, a cardigan for myself and the new baby's blanket. I was toying with the idea of placing hearts around the blanket in squares - maybe hearts and stars, but I may have given up on that. Too much thinking and I just want to knit the blanket. I may think about forgoing any kind of pattern and doing stockinette (it's so soft!) and a ribbon/satiny border, you know something soft for baby. We'll see. Too many projects in my head. I can't concentrate.
More good news: yesterday the 100th person signed onto K1R2! I find that absolutely incredible. Today starts the discussion of The Plot Against America. I posted at around midnight last night, so excited, and as of yet no one's commented. I know, I know. I shouldn't expect people to be losing sleep over this, but it's like, you know, my baby. I want it to be great.
Back to feeling sorry for myself and getting some work done. I have to pick up my best friend at the airport today. She's in for about 24 hours. She'll hold me up; she always does.
Posted by Cara at 12:45 PM | Comments (6)
January 26, 2005
Waaaahhh! I wanna go baaack!
Or What I Knit On My Fantastic, Brief, Beautiful, Star-struck, Brief, WARM, Romantic, Wonderful, did I say brief? Vacation! Thank you Georgie Mou!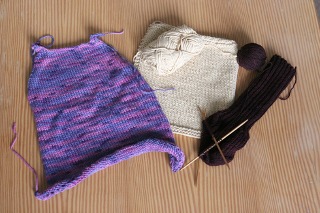 From left to right:
Front of Picot-Boo
It wasn't started on the vacation, but it was finished there, so it counts!
Swatch for baby's blanket
I tried out the All Season's Cotton for my new niece or nephew's blanket, and of course, I love it. Wouldn't you know, the color, Tapestry (#172), a nice, pale, gender neutral yellow, is discontinued. I'm going to try to find enough of it in Internetyarnland. Not sure what I'm going to do with it - the pattern in stockinette is so soft and I think if I wash it will get even softer. A nice knit/purl stitch would be nice, but I don't know. I think I might like a nice satiny border on it as well.
Key Biscayne Socks
Annie was right. I was being ambitious to think I'd come home with a pair, but I did almost finish ONE! I'm using Koigu on size 3 needles - the color is like a nice cabernet (very difficult to photograph though). The pattern I'm using is from Ann Budd's The Knitter's Handy Book of Patterns, fast becoming my bible. I have something like a hole, let's call it a gap, where I picked up stitches at the heel, but otherwise I'm pretty pleased with it! It's too loose around the calf and will probably slouch, but whatever. I have to finish the foot and the toe, but the hard part's done.


Hey! Get a load of my super-fine manicure! I had fun hanging with the salon girls and getting all the gossip. Nice tan, huh? I'm trying to keep my lower calves, not to mention my toes, wrinkle free, dontcha know! Oh yeah, and are socks supposed to look like ribbed casts?

Back to the vacation...can I go back to the vacation?
It was really wonderful. The hotel was very, very, very nice.
And we saw Conan again, on our last day. In one of the most surreal experiences in my life, I read this Op-Ed article about Johnny Carson while sitting lunching by the pool. When I got to this line:

There is another thing that never came back: late-night television for grown-ups. I know, there's Jay and Dave and Conan, and guys on cable, too. We were supposed to get excited a while ago that Conan O'Brien was being groomed for the big one. But no one cares now.
I looked up across the pool - and there was Conan. It was definitely very weird. Never did talk to him. He was busy with his family and I didn't want to interrupt. I'll catch him next time! ;)
If you want to see some pictures from the trip, keep reading...
Georgie played a lot of tennis while we were there - and I played with my new camera, which completely kicks ass.
[Disclaimer about the photos - I didn't have my serious photographer hat on, but my "let's see how this baby works" hat.]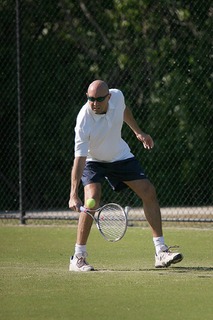 Check out my Wimbledon champion!
That's real freaking grass for those who know!
I tried out all my lenses to make sure they worked with my new gear. Here's my macro lens at work on some old palm type leaves: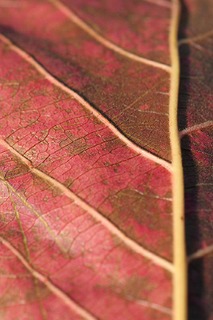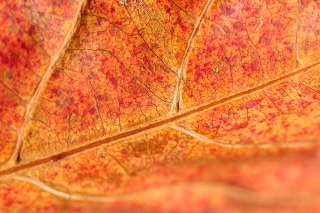 Our room was beautiful - the view especially. Here's the view from the bed ;)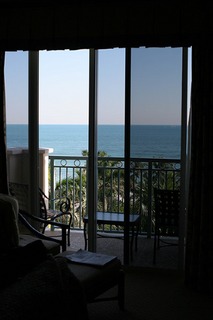 And the sunset from the balcony: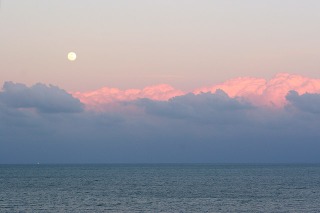 The moon was unbelievable the whole time we were there. On our first night there we went on the beach after dinner. Some kids were having a bon fire that looked like a real good time, but it also made me feel old. So we pulled up some beach chairs and listened to the music from the party. And then the clouds cleared and the moon was spectacularly bright. We actually saw our shadows. Moon shadows. So cool!

Here's a picture from the property: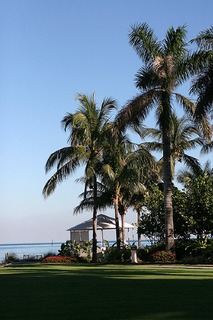 And the beach: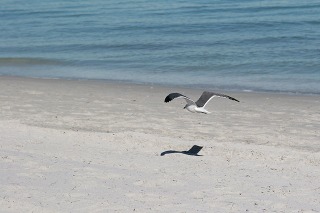 Georgie has done really well on our last couple vacations. He heads up the travel department of an NYC investment bank so he's got the connections, but he also knows all the good poop on where to go and stay. I just sit back and let him do all the planning. Thanks again my love!
And thanks to all of you for playing along!

Posted by Cara at 12:57 PM | Comments (8)
January 22, 2005
Late Night Stalking
OMG! We're sitting on the beach watching a seagull drinking an icy, chocolaty alcoholic beverage (no lie - it was hysterical - well maybe not to the woman whose drink it was.... Do animals have addictions?) when Georgie says hey, that guy over there, that's Conan O'Brien! Sure enough! He was covered head to toe and at first we thought he was going incognito but the guy is that palest person in history. He's with his wife and baby girl and they're staying on the floor above us. How do I know this? Well we just happened to run into them in the lobby and the gift shop and the elevator bank and the.... Coincidence, okay? I mean, we were in the gift shop FIRST.
I kept telling Georgie we needed to go talk to him, not because we like him so much, but because we could all become friends and he could introduce us to Max and then we've got our BRUCE connection. But no. I'm still hoping Triumph poops up somewhere....
Okay - got to shave my legs real quick before my pedicure while Georgie's playing tennis.
(Obligatory knitting content - I'm five decreases in on the front of Picot-Boo. It's going fast.)
Oh and too all you readers caught in the Blizzard, it's fucking gorgeous here! Forgive me!
Posted by Cara at 04:14 PM | Comments (5)
January 18, 2005
Taking Back Our Home
This weekend was all about taking back our home. It's kind of falling apart (on the inside and out - we live in a high-rise and the Board has informed us the building needs about $15 million worth of work - who's going to pay for that you ask?) but we're trying to get it back in baby steps.
Last week we had the plumber in - $600 later we have a non-leaking kitchen sink and all three toilets flush, leak free! Yeah for working plumbing! (You may question why we need three toilets if there are only two of in the house. Options, dahling, options.)
So, now that that's out of the way, we can clean things up. The place is a sty. I bought a Swiffer WetJet and I love it, except Georgie (who likes to give goofy names to everything) keeps calling it the Swift Boat thinga-ma-jig. I need to be reminded of that every five minutes for sure! The good thing is my floors might actually be semi-clean now. I love the little scrubby thing on the side too.
Georgie sealed up the windows in the bedrooms so our house is nice and toasty now that it's freezing! And I finally organized my stash! I gave up on the cedar chest - too much money, not enough space - and went with some plastic bins that fit in the closet perfectly. And my stash pretty much fit in one of the bins so I have an emtpy one to fill. I also bought a lovely leather basket type thing at Crate & Barrel the other day - it was marked down a lot - for storing my current projects. I figure I can tote it around if need be, but it will probably sit next to me by the couch. Here's a picture of it filled with Jo Sharp stash!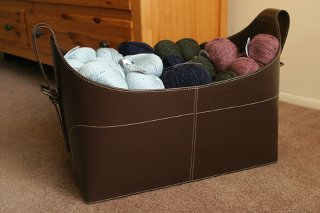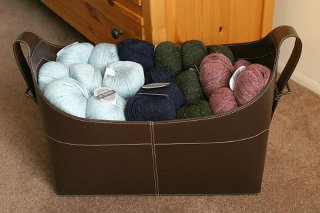 It's actually not completely filled with Jo Sharp -
my project bags take up most of the basket and the Jo Sharp
accents the top. For a more pleasing picture.
Georgie made a lovely pasta bolognese the other night and for dessert - my own molten chocolate cake! He bought the mix and the ramekins from Williams & Sonoma and made it himself. It was fantastic. We may never go out to eat again.
ETA: Annie asked for a recipe. There is none! It's a kit. They send you the chocolate drops and the cake mix and you melt the chocolate and add water and butter to the mix (two sticks of butter!) then add the chocolate to the mix. Once it's all together, put it into the little ramekins and bake for 12-15 minutes. That's it! So easy and unbelievably good. It makes about 8-12 cakes. We made four and put the rest of the batter in the frig. The next day I scooped out the cold mix into the ramekins, baked it, and it was just as good as fresh. The mix came from Williams & Sonoma.

While School Daze was blocking, I managed to finish the back and start the front of Picot-Boo. I'm still completely in love with this yarn.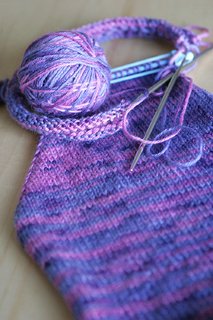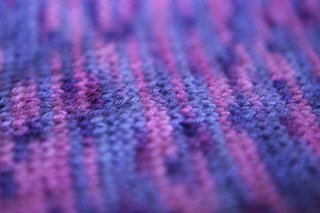 This picture was taken with my new 50mm f1.4 lens,
which has an extremely narrow depth of field (that's why so much of it is blurry.)
I thought the picture was interesting.
What I learned in school...
Never do a stair-step bind off on the shoulders (or anywhere for the matter!) What a pain in the ass. I started to seam the shoulders for School Daze last night - it blocked beautifully - and met with all kinds of problems. After consulting my books (they all said don't do it - thanks!) and finding
this very, very helpful web page
, I think my seams look just fine thank you!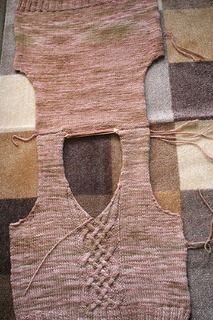 Like the rug underneath the knit? It's Bonne Marie's idea.
I figure if her blocking method works so well, might as well have the rug too!
As an extra bonus, it matches our decor too!


What else? Class went well on Thursday. Cassie sums up the teaching experience pretty well in her post today. It's performance art all the way! I have fourteen people in the class and already I can tell the difference between Fiction I and Fiction II - in F1 they're feeling their way - I want to write, but maybe I don't have what it takes. In F2, they are there for the long haul. So it's all good.
My new camera came as well. But I haven't really played with it yet - I'm waiting for our trip this weekend to beautiful sunny Miami (fingers crossed for the weather.)
Have a great day!

Posted by Cara at 10:54 AM | Comments (8)
January 05, 2005
Don't Don't Don't Don't ...Don't You...Forget About Me
I say...La. La la la la. La la la la.
Enough already!
So will you miss me? I'm heading out to my sister's this afternoon until next Sunday. I will be scarce, as it's hard to get computer time when my delicious nephew and niece are running about screaming Cara, Cara, Cara!
I will probably have no time to knit either.
Met up with Cassie yesterday at Purl. I exchanged some yarn and brought home a Knitting Pure & Simple Sock Pattern (#216) and Nancy Bush's Folk Socks per Cassie's recommendations. We had a lovely time, as usual, although I think Cassie may have said I was boring. (see comments on this post.) Say it isn't so, Cassie, my sweet!?! ;)
Slow progress has been made on both School Daze and Picot-Boo, but I'm still not sure about the gauge on PB. I will have to measure it against my niece tomorrow to see if I need to rip YET AGAIN. Thankfully it's a really (super)fast knit.
I leave you all with this:
Overheard while I was on the phone with my sister the other day -

"Only ONE pair of underwear. ONE pair. Did you hear me? I said ONE PAIR OF UNDERWEAR!"
Ah's the joys of parenthood.
PS - Even though I will be away, I will be still be giving out memberships to K1R2. Just leave a comment here.
Posted by Cara at 11:27 AM | Comments (8)
December 31, 2004
Picot-Boo
Look what came yesterday!

Isn't it beautiful? And it's so, so soft. AND you can throw it in the washing machine! (My sister will love that!) This amazing yarn is Art Yarns Supermerino in color #108. It will be this cutie little sweater with the picot trim:

Hence, the name Picot-Boo! The pattern comes from the Family Circle Easy Knitting Holiday 2004 Issue. It will be perfect for little Charlotte, who can now say "I love you, Cara!" Yeah!
I almost forgot to show you the secret Xmas gift for Georgie. It was a scarf. You can imagine my horror when I realized it was in America's Team's colors. And me being a Philly girl and all. [You must watch the video on the Philly link! Go Mummers! Go Eagles!]

My dad didn't make it up yesterday - he's under the weather - but he's on his way now. He's bringing me my birthday book! Ever since the day I was born, my father has been giving my siblings and I a book on our birthday. He always writes these sappy inscriptions in the front (You're a woman now! You're a teenager! Always an I'm so proud of you!) None of us ever, EVER open the book before our birthdays. And we always call each other to find out what we got and read the inscription to each other. He keeps it a deep, dark secret. I think my mom always resented that he never told her what the books were, let alone let her in on the gift-giving. Tomorrow will be my 35th book - I have all of them. Some of the stand-outs:
Rain Makes Applesauce for my third birthday.
Sam, Bangs and Moonshine for my fourth.
The Hobbit for my eighth.
Gone with the Wind for my eleventh.
The Fountainhead for my thirteenth.
1984 for my fourteenth birthday, January 1, 1984. (I was too freaked out to read it!)
A Canticle for Leibowitz for my 21st.
Then there were the college years - he gave me biographies of Lillian Hellman and Sylvia Plath back to back. I said, Dad, spare me. No more depressing women! And I don't even like biographies! Since then he's stuck to fiction. We have a little game though, because of all of his children (there are four of us) I read by far the most - and have the most books. Books are my life. It's his special challenge each year to find me something I don't have. Haven't read. Maybe even haven't heard of. He takes pride in the fact that he hasn't given me a duplicate yet. So tune in tomorrow for my birthday book.

Posted by Cara at 11:46 AM | Comments (5)