August 29, 2005
Fixin' A Hole
Since I haven't been able to fix the hole in my sanity, I decided, as a diversion, I'd fix the hole in the pinwheel blanket.
Remember this?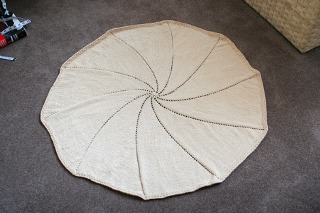 It's the baby blanket I made for my nephew, who's now, oh I don't know, FOUR MONTHS OLD! Have his gentle fingers ever touched the blanket? NO. Has he ever been wrapped in the love I infused it with when I made it? NO. It has sat in my den, lonely and unloved, because of this: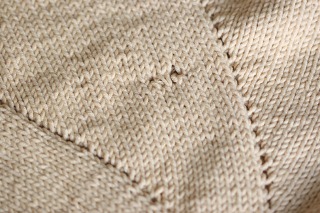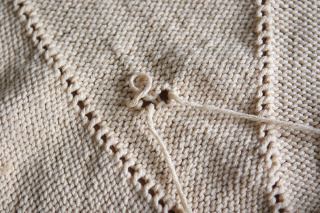 Time to fix this bad boy. First, I ripped back the bound off edge just past the holes.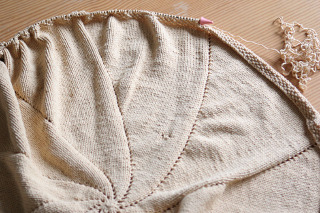 Then, with the live stitches now secured on the needle, I started dropping stitches.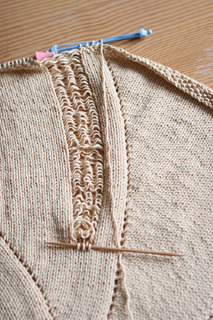 And then I picked them up, one by one.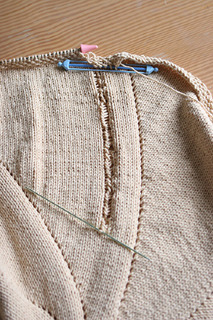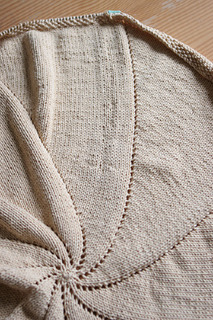 Here are a couple close-ups of it finished: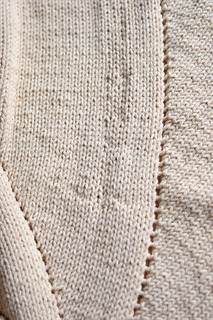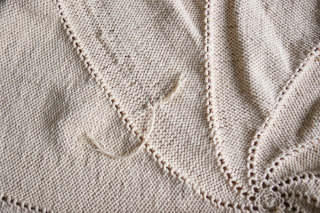 It's not the greatest fix in the world, and honestly, I don't think Eli will care. I actually don't really like the blanket. I mean, I like it - I like the pattern and I like the yarn - but not necessarily together. You know what I mean? If you're looking for truly inspiring pinwheels, Larissa's got a great gallery going on. I think, eventually, Eli will get another blanket. One I'm happy with.
Okay, well that didn't take nearly enough time, LOL. Trying to get through the days here folks! I did cast on the front of Short Rows, I've got about eight more rows before the first set of short rows starts. And I've been enjoying The Diamond Fantasy Shawl. I'd highly recommend it to people starting out with lace. It calls for a sportweight yarn so you don't have to fuss with lace weight and the charts are really nice to follow. I've only had one mistake (knock wood) so far and it was because I threw in an extra yarn over.
Don't Believe the HYPE!
That concludes the knitting portion of today's post, so you can leave now if you don't feel like hearing about my misery. That's right - I'm STILL MISERABLE! I've gotten some nice emails from you good folks thanking me for sharing this part of my life, so I feel like why not?
Here's a little bit of the problem - imagine you're standing on a high ledge (doesn't even have to be that high) and you're looking over the side. What's the first thought that comes to your mind? What if I fall over? Or what if I were to jump off? I'm sure everyone has thoughts like this - it's the situation - the thought comes in and goes out and bang you move on to the outfit the woman to the right is wearing (what is she CRAZY?!) What I do is think those same normal thoughts - but somewhere inside a twist happens and the next thing I know I'm wondering if I WANT to jump off. Or WHAT IF I lost control and jumped off? Then I'm thinking what the hell is wrong with me and then I CAN'T STOP thinking and the next thing I know I'm in a panic attack. And then I can't get out of my head. The thoughts just go over and over themselves and no amount of rationalizing (They're just THOUGHTS! They don't MEAN anything!) can help. Eventually I can get out of my head - but that's where the anticipatory anxiety rears it's ugly head. Those niggling little thoughts like - you don't have the thoughts now, but WHAT IF they come back? Ooooh. They would be BAD. So you worry so much that the thoughts will come that, DUH, they DO come back.
This weekend I played 5,301 hands of solitaire. Trying to get out of my FUCKING head. Thoughts on high balconies are nothing - try adding in some about your precious home life that brings you peace and security and that'll really knock the wind out of you. DON'T BELIEVE THE HYPE!
I'm getting angry about the whole thing. I haven't seen my shrink in over three weeks and I finally have an appointment tomorrow. I'm also not eating so well, which only perpetuates the whole cycle for me. I can't eat when I'm anxious - I get really nauseous. Weight Watchers Schmeight Watchers. Try some crazy when you want to drop that last ten pounds.
I'd spin, but my body is so tense I don't know what I'd do to the yarn. The kink could probably launch a space shuttle.
Please don't leave me comments like feel better soon. I WILL get over this. I always do. I'm fighting to get my life back. It's only a temporary situation. I KNOW this - it's only when you're in it that you think you'll never get out. In reality, I do all the things I need to do during the day - I'm working, I'm living - if you saw me walking down the street you'd thing - wow - who's that hot girl? (You know, because I've lost all this weight! ;-) ) I only blog about this to possibly help someone else. I'm past the pity stage, so don't throw any this way.
Posted by Cara at 12:21 PM | Comments (32)
May 16, 2005
HodgePodge
First off, for Chelsea, who wants me to post a flower a day for a week. (Okay, not just me, everybody! So join in the fun!) And for Lara.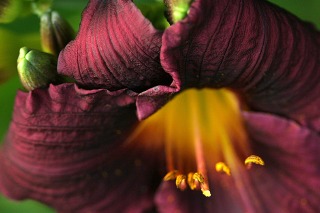 Next up, we've got one you'll all know. I feel like it should be on Army Warning Posters by now - beware of pretty girls with the Clap!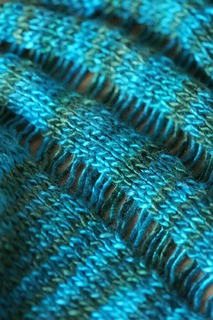 Alchemy Yarns of Transformation Silk Purse, Sea of Cortez colorway. The color is much darker than I thought it would be, but I still like it. The silk is interesting to work with - very slippery and fuzzier than I thought - also, don't know if this is something that should be happening or not, but sometimes I find a spot in the yarn where the dye has not penetrated - you can see the white poking through. Normal? I don't really care, just asking. I've dropped three stitches so far and am almost through my second hank of yarn. I started with seven. Used one and change for the increases - I threw an extra repeat in there - and will probably end up going through the rest of the yarn. By the way, thanks Emma for the tip link - very helpful!



New favorite Children's Book:
Have you seen it yet?
Don't Let the Pigeon Drive the Bus!
by Mo Willems. Seriously, after reading this 479 times in three days, I actually miss it. It's a hoot, and the kids get to say their favorite word, over and over and over. NO! (This takes it's place of honor in my kids' books bookcase along with
Bark, George
,
Rotten Island
, and
Duck Is Dirty
. Classics all.)

I don't know about you, but whenever I look at this, I see the Grand Canyon times two: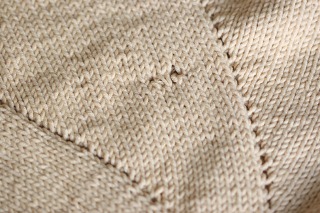 Pinwheel avec holes.


I've been too heartbroken to pick it back up. I promise it will be fixed before I head back to my sister's - for my niece's second birthday. (She's having a
Dora
party don't you know. She so freaking cute. She LOVES Dora. She calls Dora Dodo. But if you say to her, is that Dodo? She freaks out. No, Dodo. Dodo? you say. NO, DODO. Poor girl. We're so mean!)

What's this?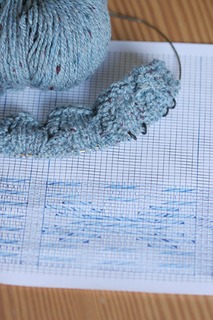 Maybe something, maybe not, but you've got to try, right? We shall see.
Have a great Monday!
Posted by Cara at 08:43 AM | Comments (11)
May 13, 2005
Stuck!
At least when they decided to suspend train service between New Jersey and New York, I was on the train, which was sitting in the station in Philly. God help me if I had been out there somewhere in the middle of NJ with no idea when I'd get off the fricking train, and where I'd end up if I did. Even if I did have 4,629,871 yards of yarn with me. Literally. Remember, I don't lie.
My nephew, who cried when I left, was overjoyed that I came back. He'd still be hugging me if his mother didn't make him go to bed. I can't wait to see my niece in the morning - although she doesn't quite get it - when they all came home from taking me to the train station, Charlotte asked, "Where's Cara?" She's too cute for words.
Still, I miss my husband. I was supposed to go home Wednesday. And here it is Friday. I've been gone a week. AGAIN. I cried on the train when we made the decision that it was better for me to get off the train and go back to my sister's. This is not a reflection on my sister or her family. But you know. I miss my life. I miss my home. I miss my love.
And to make matters worse, when I was weaving in ends on the baby's Pinwheel Blanket, I truly and royally fucked up. I started out using my new favorite duplicate stitch method - but didn't like it in the end. So I pulled the ends out again (it was a new yarn join) and rewove them diagonally (it looked great), but when I got to one of the ends, I pulled out a little too much, or the wrong string, or who the hell knows what and after fucking withfixing it I managed to make two humongous holes. Right in the middle of the freaking blanket.
I have no idea how to fix it besides pulling out the cast off and dropping down the stitches to the holes, fixing it, then pulling the stitches back up the ladder. Tedious? Yes. Will it get me the result I want? Probably. So that's what I'll be doing. There was a chance that I would get some help tomorrow, but I won't be home in time.
I'm just about at the end of the increases on Clap-O-TEE. Yippee yi yo. Tomorrow, while I wait for some way to get home, I'll be starting the straight rows. Thanks for the advice on it, by the way. I got the answers I needed. I did manage to wind the next hank into a ball while waiting for Amtrak to decide that yes indeedy they were going to ruin my night.
I'll have pictures of the colossal fuck-up, the Clap-O-TEE, the tremedous weekend (and week - eek!) yarn haul and the absolute most adorable face-painted Spiderman and Miss Piggy you ever did see - that is if I get to go home sometime in the next million years.
Posted by Cara at 12:10 AM | Comments (9)
May 04, 2005
All that drama...
for three rows of seed stitch!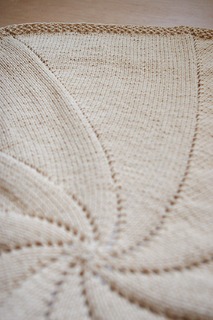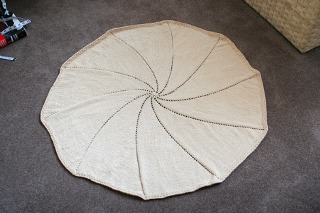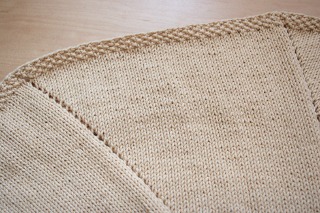 DUH!!!!
It's elegant. It's organic to the knit. It's perfect.
I must have tried (literally) four or five different edging options. In the end three rows of seed stitch (with pattern appropriate yos) and binding off in seed stitch did the trick! Thank you all so much for your suggestions. I'm so glad it's finished. I think it's perfect for a little boy - it has that perfect Linus quality - it's soft - and I can only imagine it will get softer and softer with love - and I can just see Baby Eli dragging it behind him in a year or two, needing it to sleep at night, comforting him when he's sad. Eli, honey-pie, Aunt Cara loves you so, so, so MUCH!
I'll be delivering it to him this weekend (and pictures will come.) First, though, I need to weave in the few ends and give it a good wash (don't forget the crazy lady on the train who stole it out of my hands. EWWW!) Any washing suggestions for All Season's Cotton? It needs to be blocked a little too - the seed stitch is a nice flat border but still - doesn't everything need to be blocked? I have some of that Eucalan stuff, but I'd really like to try washing it in the washing machine. I told my sister it was machine washable and she almost cried so I'd hate to have lied to her.
All Season's Cotton!
Now that I'm finished, I still have 13 skeins of ASC in the discontinued color Tapestry. Ten of those skeins are still in the bag. Smoke free, in plastic, perfect skeins. Anybody want to trade? Or buy them off me?
Secret Pal IV
I want to thank
Alyx
(I was her pal) and
Kirsten
(she was my pal) for making my first Secret Pal experience so much fun. Alyx introduced herself to me with a gift certificate to
Elann
! Now that's my kind of meet and greet. It was great to be spoiled and to the spoiling. Thank you both so much!
Sofa Knitting
Isn't this an olympic sport? Summer, winter - it'll fit anywhere!
Jen
and I were training yesterday - on her brand new couch. We've been friends for almost a year and I think we've actually knit together TWICE. (Jen - don't forget knitting at the DMV!)
Let me tell you. I need the training. I tried rather unsuccessfully to start a swatch for the Seed Stitch Cable Cardigan. (Look how beautifully Toni's is coming along!). I was trying to swatch for it in Wool Cotton but had A LOT of trouble reading the freaking chart. First it was backwards - the stitches started on the LEFT of the chart (this isn't normal is it? - you knit from the right, don't you?) It started with a WS row and basically I just fucked it up. Not once, not twice, but three times. Then I gave up. Maybe I want to do this in the CashCotton instead? Not sure - I want it to be a really fabulous cardigan. Anyway, I gave up and went back to weaving in ends on Short Rows. I'm determined to get the ends in on the back BEFORE I start on the front - I'm really missing this knit too! I might cast on for Clapotis now too. I need to get going on that - since my friend's birthday is May 20. It will be late. No doubt about it.
By the way, Jen was knitting up some of this worsted merino. (WEBS sells it under the Malabrigo name - for more than twice the price.) It's similar to Manos - but OH.MY.GOD. this shit is the softest stuff I have ever felt in my life. Jen's making a soaker and let me tell you - make me an adult one! I'd love my bare ass next to that stuff. Seriously. Crazy soft.
We watched a movie - Raising Helen. The movie was eh but there was knitting content. Joan Cusack plays the Martha Stewart wanna be mom and in one scene she's sitting on the couch with her husband, knitting, and they're watching tv. She says to him, "See, all the celebrities are knitting now." Kind of funny, but later, a Jaguar pulls into their driveway and the Cusack character says to her husband "Who do we know that drives a Jaguar?" and the husband says, "Maybe it's a celebrity coming to knit with you." Pretty funny. Funniest part of the movie - so really, don't bother.
Thanks Jen! For a very, very nice afternoon. (Next time - my house, Sense & Sensibility. Be there or be square! Oh and I promise to get the good cookies!)
Posted by Cara at 10:30 AM | Comments (19)
May 02, 2005
When the Dog Bites, When the Bee Stings....
I've been in a wicked funk the last week (no biggie - it happens - it's on the way out) so I've been concentrating on Vicki's tag.
Ten of My Favorite Things
1. Georgie's hands on my back before we fall asleep at night. It helps him, and it helps me.
2. Max, Charlotte and Elijah Lew.
3. Any song or book or movie or tv show that elicits a STRONG reaction - whether it be tears or laughter or tugs at my heart. I'm all for emotion. Even when it hurts. Means your alive.
4. Georgie and I in the car, singing at the top of our lungs, stereo blasting, laughing our heads off.
5. It's rare to find a beach I couldn't be happy on. The surf has an incredibly calming effect.
6. My home. Especially when Georgie's home with me. Just knowing he's in the house.
7. Being completely engaged so that time stops and speeds up together. Whether I'm taking pictures or knitting or writing. Especially writing. There's not much better than coming out of being in the zone and finding you've got five pages in front of you that you don't remember writing. I get it when I'm shooting kids and flowers too - but not always. And you certainly don't always get it when you're writing. But the rare times you do - WOW!
8. The friendship I have with my sister. I can tell her anything - no judgments. And she knows my whole history (well, there were 18 months when she wasn't around ;-) ).
9. Kisses and hugs. Lots and lots of kisses and hugs.
10. Knowing that the love of my life thinks I'm the love of his life.
Georgie and I had a good weekend together. I had a good cry and he listened and helped me and I'm feeling a lot better. Can you tell? ;-)
Oh and number 11! Knit One Read Too. We now have over 150 members - can you believe it? And our third discussion starts today - so head on over and be a part of it.
Who am I going to tag? Let's see. How about Annie, Lolly and Wendy (where've you been girl?)!
Harlots Everywhere!
I'm happy to annouce that Cari from Iowa has won a signed copy of the Harlot's Book! Cari, email me your address and I'll get it out into the mail. Thanks for playing everybody!
More Maryland Meet-ups
Joy and I have been talking after
our serendipitious meeting
Thursday night. It seems she and Kaitlyn are putting together a Friday night bash at the Wharf Rat in Baltimore! Click on the Jack Daniel's bottle on
Kaitlyn's blog
for the evite and all the details. Thanks for planning this girls!
Opinions Please!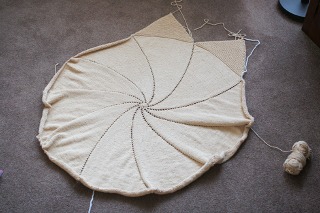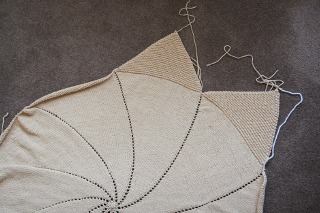 This is the border I have going so far. (Doesn't it look like a sad kitty cat? Not liking that by the way!) One thing I've learned in the experiment called BORDER THAT'S SLOWLY KILLING ME! is that binding off and picking up the stitches gives a MUCH nicer border than attaching it by doing a k2tog at the edge. Now, this is the border (sort of) I had in mind. Georgie likes it - thinks it looks like the sun. Me, I'm torn. I think a simpler border might be better - this might pull away too much from the loveliness that is the pinwheel. I've looked through Nicky Epstein's Knitting on the Edge about 452 times and can't find what I want. (In looking for a link, I see she's got another edge book coming out. Maybe I should wait for that. The kid won't know any different. NO! I want this FINISHED!) Any and all suggestions (and opinions on what I've got here) would be greatly appreciated!
Have a great Monday!
Posted by Cara at 09:38 AM | Comments (14)
April 20, 2005
How Will You Know Its Me?
So it looks like I'm definitely going to Maryland (as if it needs a link!) Jen and I have plans to come down Friday night and hit the festival on Saturday. Then head to Philly Saturday night/afternoon for Mom's Day in the city of brotherly love.
My question to all you knitbloggers going: How will you know it's me? Do I need to wear a special T-shirt or something? Does everyone wear name tags? Is it obvious who everyone is? I've never been to one of these sheep & wool thingamajigs so I don't know the rules. Someone, please, fill me in!
[You know. It would've been great to have made Alison's t-shirt with my blog across the front. I'll never be able to make it in time. Crap.]
I actually spent some time knitting yesterday. I won't say it was quality time at all - in fact more like frustrating, throw the piece on the floor never want to knit again time. I'm trying to figure out a border for the Pinwheel blanket.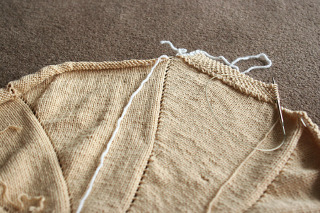 I may have finally taken an accurate picture of the color of the blanket. Whaddya know?
The above picture is an attempt at a seed stitch border. I did a provisional cast on of seven stitches and when I got to the border did a K2TOG at each live stitch. A) I'm not sure I like it and B) I don't think it's going to lay flat the farther it gets around the circle.
My original plan was to do points, like a sunburst. I made sure there were 50 stitches in each section (ten sections in all - you do the math) and I divided them into 35 and 15. I figured I'd do a large point (m1 up to 18, k2tog to the end) and a smaller point for each section. Tried it a bunch of times (damn freaking knitty math!) and didn't like it. I love Johanna's idea of an applied i-cord, but I looked up a couple of how-tos on the Internet and I don't know what they're talking about. I've done I-cords before - but no one seems to have directions for what to do with a circle. It could be the mucus taking over my brain slowly but surely, or I could just be an idiot. I don't feel like working hard on this.
Here's a picture of what I did with Eli's Kippah.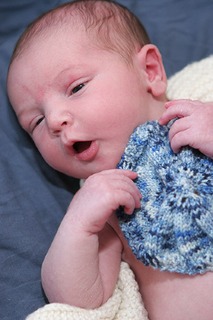 Okay - so you can't see the kippah so good. But what a sweet boy!
This is the pinwheel blanket pattern, and I cast on three stitches at the edge and did garter stitch around the circle. It doesn't lay super flat, but this pretty baby doesn't have a flat head. So it didn't really matter. A blanket I want to lie flat. Larissa's border is very nice, and completely fitting for her particular blanket, but I'm not sure it would look good on mine. For one thing, I think my blanket is a lot bigger than hers. I think it needs a border commensurate with the size.
Any and all advice is completely and totally appreciated.
I'm bored with my knits. Yet again. The ribby cardi is still on the blocking rug. Pathetic I know. Short rows has no short rows (this makes me really sad.) I think I might just do it and worry about the ends later. A duplicate stitch might be just the trick. And it doesn't look that fussy either. I'm thinking I might need more yarn. Bastards. The pinwheel. Well, you know how I'm feeling about that. I want to finish something that I LOVE! I should start on the Clap. (Yeah. That's right. People are still thinking about it.) It needs to be done for my friend's birthday in May. I would love short rows to be done - I see that as a year round sweater. But I want to do cables. I haven't done cables in forever.
Maybe it's my cold. I'm going back to my sister's tomorrow and bringing my HazMat suit. I'm sick of germs.
Thanks everyone for your congratulations about my photographs. I've got to say, I'm pretty pleased with myself.
Baby contest winners JOHANNA and KATHY! I haven't forgotten about you! PhotoArtCards for sure and for the yarn? I've got two ideas. Either something fantastic and hand-dyed from Sheep & Wool or some of that new fabulous stuff floating around - Debbie Bliss Cathay or Rowan CashCotton. Let me know your preferences!
Okay - can I vent for a minute? Gilmore Girls. I was absolutely LOVIN' this show. I watch the freaking repeats everyday. Wait patiently for a new episode. Can I tell you how disappointed I am? First of all, I'm a spoiler kind of girl. I read them religiously for General Hospital, West Wing, so I hit them up for GG. (Never, EVER for 24 - so don't SAY ANYTHING!) And then I'm grocery shopping for my sister and while I'm picking up the latest Soap Opera Digest I pick up the new TV Guide with Lorelai and Luke on the cover. I just love Luke - and I think his awkward overwhelming love for Lorelai is completely romantic. And then I read the article.
WARNING!!!! IF YOU DON'T WANT THE SHOW RUINED FOR YOU DON'T READ ON!!!!
The article gave away some of the spoilers I already knew - something big's going to happen. Luke's going to buy a house and not tell Lorelai. No, she's not going to get pregnant. Whatever. But what really killed me was that a big deal was made that Lauren Graham and Scott Patterson basically can't stand each other! I can't tell you how this fucked everything up for me. And last night, watching the episode, IT'S SO FUCKING CLEAR TO ME. Did you see that really awkward hug between the two of them when Lorelai came into the diner and Luke was all excited about her magazine article? These two are supposed to be MADLY in love and do we ever see them touch? I think I thought the chemistry was there - but now I'm sure it was my own imagination. I'm sorry to say, I think the show may be irrevocably ruined for me.
Rant over. It's friggin' TV for pete's sake.
Posted by Cara at 09:07 AM | Comments (11)
April 19, 2005
Home, Diabetic Coma Inducing Sweet, Home
Nothing like sleeping in your own bed, crapping in your own toilet. Oh wait. None of that. Now we're having the OPPOSITE issue. I can't crap to save my life. I'm also hacking up a lung, but at least I'm home.
And don't think I didn't think about the fact that my own poops went all awry after I realized I was sleeping in poop. I said to my sister, do you think I have e-coli? She said, don't you have to EAT poop to get that? Sure. Lot of sympathy there.
The best part of coming home was seeing Georgie. When he picked me up at the train and I saw his face - I thought WOW. I forgot how CUTE he is! Love that feeling. I remember once a long time ago I was coming home on a commuter train. It was late, I was tired. There was this really cute guy checking me out and I was checking him right back. I was getting all into flirting with him when I realized it was George. You ask how I couldn't recognize my own mate - well, as I said, I was tired. And it was totally out of the ordinary for him to be on that train. It was, though, a competely satisfying feeling to know the hottie I was daydreaming about was GOING HOME with me!
Anyway, I'm not sure if I talked about this or not, but while I was in Philly, Georgie was exploring far off lands. He spent the week in Shanghai sidestepping violent protests. Everyday he'd call me to tell me China and Japan will be at war in about a minute. Then he spent the weekend in his beloved Tokyo.
He used to go to Asia a lot - Tokyo, Hong Kong. And everytime he went I practically begged for Kimono. Now Georgie is one of the most generous people I've EVER met - but he's not a gift giver. This trip completely made up for that. He took a tour of a silk factory and brought me home THE.MOST.BEAUTIFUL. silk robe! I haven't taken it off!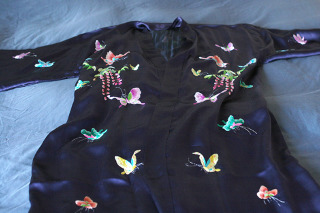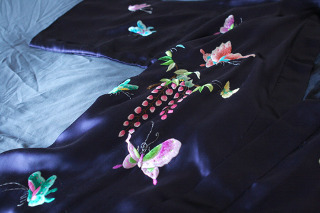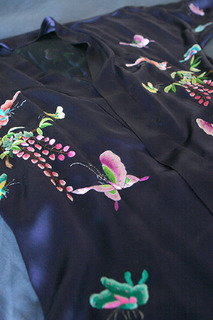 I tried to get a picture of me in it - but it didn't work so well. Maybe when Georgie gets home tonight.
He also added to the collection: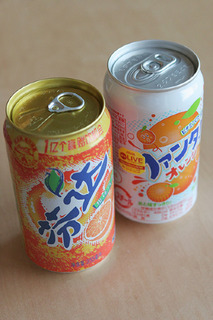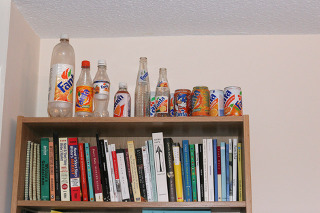 Yup - that's right. Fanta from around the world! That's China on the left, Japan on the right. (Oh and Crazy Aunt Purl - that's a Billy rearing it's ugly head!)
What else? Oh yeah. There were some beautiful chopsticks - good enough to knit with. And a super uglycute Buddha bank. Only problem is - there doesn't seem to be any way to get the money out!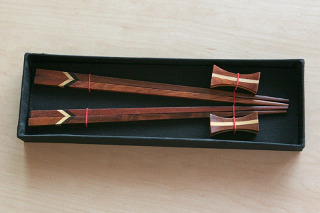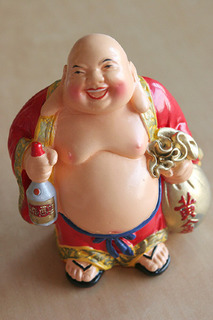 Besides my dear husband, there was some other good stuff to welcome me home! Some lovely odds and ends from Kerstin!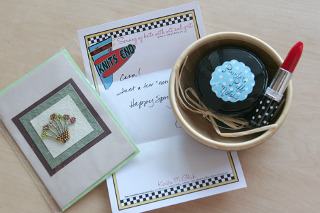 That's a compact note pad, a lipstick pen, a beautiful wood bowl (perfect for knitting knick-knacks) and a gorgeous hand-made card. There was some chocolate too, but yeah, that survived for the picture. My favorite part though - her personalized stationery. Now that's cool! Thank you Kerstin!
The best thing though, is that I've had two photographs accepted for The Secret Garden - an exhibit at the Brooklyn Botanic Garden this summer. Opening day is June 5. Be there or be square!
These are the pictures chosen: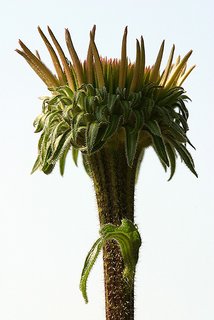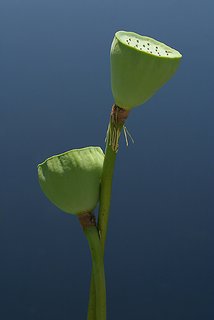 I was so excited, I was inspired to go out yesterday and take these!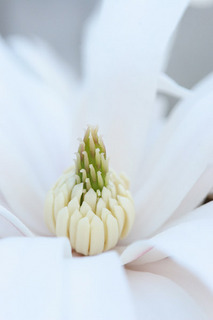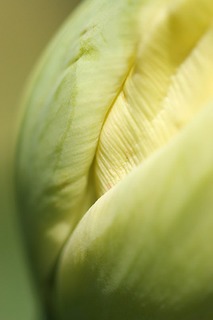 Next up: I need help with my Pinwheel! Get your thinking caps on - what would you do with the border?
Posted by Cara at 09:58 AM | Comments (11)
March 31, 2005
Big Hugs...
right back atcha! Thank you so much for all your comments and emails - it really lifted my spirits. While I'm so sad I'm not alone in my plight - I wouldn't wish infertility on my worst enemy - I'm glad to know my feelings, however uncomfortable they may be - are not misunderstood. I'm forever grateful.
I want you all to know too that my sister is very conscious and solicitous of my feelings. She's not without her own guilt about the situation, I'm sure. Know too, that when I'm around those kids, there are NO BAD FEELINGS. Only joy. It's when I'm alone, puttering about, that the sadness wells up.
I'd been wanting to blog about it for awhile, but wasn't sure if I should take so personal a leap. I'm glad I did. I hope someone out there read yesterday's post and subsequent comments and was comforted a little to know they, too, are not alone.
Jen helped pick me up; she took me over to Handknits. It was a successful trip! I picked up some new Addis and this: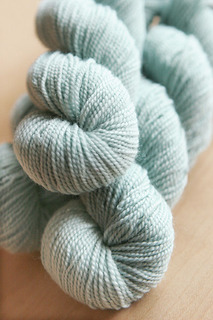 If you guessed Koigu, then you're right! It's much more of an aqua color - the perfect retro color for the Retro Rib socks. How do I know the color's retro? Because we went to a totally retro diner in Englewood - Baumgart's Cafe (it's a combo Jewish Deli/Chinese Restaurant - don't ask) - and my Koigu matched the retro blue booth. (Please, if you're my friend ;-), don't remind me how much sock yarn I now have and the fact that I have never knit a sock! Thank you very much!)
Beth, the proprietress at Handknits, had a great idea for a border on my Pinwheel blanket too! I'm very excited about it - but I think I'll keep it a secret for now. Suffice it to say, I will not be using a different yarn - I'm going to do the border in the same ASC (which is good because I have way too much of it!) Onto the fifth skein as of last night.
Vicki asked me some more interview questions - so read further for THE KNITORIOUS INTERVIEW!
1. Is there a crafty or artistic endeavor that makes you say, "I'd like to try that someday!"?
It's funny. I don't think of myself as a crafty person at all. To me, crafty is like all scrapbooky Martha and stuff – which is so not me. (I know, I know, there's nothing wrong with scrapbooking!) That said, I used to throw pottery and sometimes I really, really miss it – I would like to get back to that maybe. And quilts. Quilts are fascinating to me. Not sure if I want to try it, but I greatly admire the work that goes into them. I'm pretty happy with knitting, though. It's enough for me.


2. Many of your photographs feature botanicals. Do you have a green thumb?
Absolutely not. Besides the fact that I live in an apartment and really don't have the space for gardening – there isn't a living thing in my home. Unless, of course, you count mold. For some reason I'm really good at keeping that alive.


3. What is your favorite food a) at a restaurant, b) to make from scratch, c) for a snack?
At a restaurant: Hmm. That's tough. Lamb chops, maybe? Georgie's always finding me new places to have lamb chops. Ocassionally I get super cravings for the roast beef mozzarella hero from the Italian deli around the corner – best freaking muzz you've ever tasted and I love they're roast beef.

Made from scratch: I don't know how made from scratch it is, but my stuffed shells are the best. Never fails to please a crowd. Maybe I'll make that for dinner tonight. Georgie would be so, so happy!
For a snack: I'm actually not a big snacker. One thing I really like is Alouette cheese and crackers. That's fun to eat. And Georgie hates it, so it's a little me snack. Yesterday I had some almonds and dried cranberries, cherries and blueberries mixed together. It was one of the best tastes ever!


4. "Summer vacation" and "summer home" used to have a more literal meaning – some people would actually spend their whole summer at their summer home! Where would yours be located? (Anywhere in the world and money no object, of course.)
Well, I would only go to my summer home in the winter if it were in La Quinta, California – about 30 minutes east of Palm Springs. Georgie and I go out there at least every other year. It's really a home away from home for us. If it were a true summer house, I'd have to say somewhere near the beach – Hawaii's always nice. Maybe Cape Cod – but I'd want to go off season. Maybe we could divide our time between Laguna Beach and La Quinta? They're only about a two hour drive away. (hey – you said money was no object!)


5. What's at the tippy-top of your "I'd Like to Make That" knitting project wish list? (Again, money and time no object, nor even "skill level" if you believe in that sort of thing.)
Believe it or not, I'm dying to make a pair of socks. I started one a little while ago, turned the heel, got like an inch done on the foot and stopped. Since then I've bought a ton of (expensive!) sock yarn and have yet to make a sock. Yesterday I bought more Koigu. I have like five sock books. I want to make the Retro Rib socks really badly. I'm trying to figure out how to do two socks on two circulars since I think it's my aversion to dpns that's holding me back.
Thanks Vicki! If anyone else wants to be interviewed, let me know!
Posted by Cara at 12:23 PM | Comments (5)
March 29, 2005
I've been knitting....

You are Andie Walsh (from Pretty In Pink)!
Misunderstood and full of angst, you are
intelligent, talented and will probably go on
to do great things...once you're out of the
hell of high school.


Which John Hughes Character Are You?
brought to you by Quizilla
I found this quiz over at Kate's. I'm posting this because it just so happens that I was watching Sixteen Candles last night. And as much as I hate to admit it, I think this one might be pretty accurate. High school was almost the death of me. Definitely blossomed as soon as I got out. [Huh - when I got the link for Sixteen Candles on IMDB, I looked up the actor who played Jake - very, very cute - but did he do anything else? Turns out he was the really cute guy in Mermaids too! Michael Schoeffling.]


Here's that oft rumored knitting content: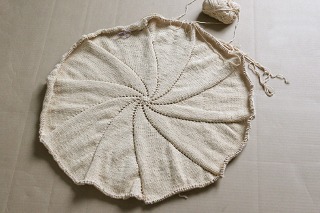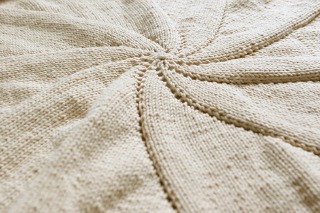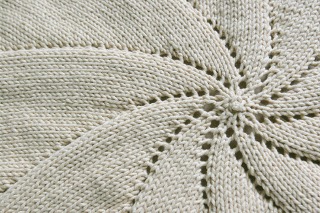 Remember the Pinwheel Baby Blanket? I can't believe how badly this yarn photographs - the color could not be more off - it's a much deeper yellow - almost brownish in color. But anyway, I'm into the fourth skein. The diameter is 22". I have a long way to go. The skeins are going nowhere at this point. Another thing about this project - there's no way to tell how big it is without taking it off the needles - which is kind of a pain. I'll get through six skeins before I take it off again. I do like the pattern though - the blanket is looking very nice.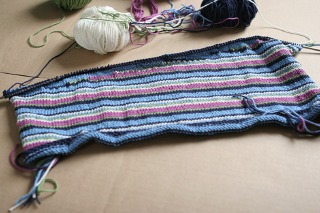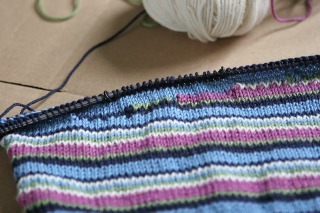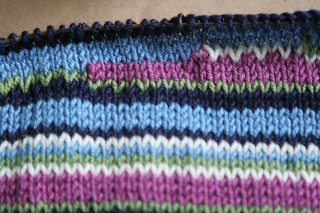 I can't help but have a nagging feeling that this is all going to have to be ripped out and started over. Or I'll get through the back and finally figure out how to make it look nice and then I'll do the front and want to re-do the back.
As you can see, I've started the short-rows. They're not hard at all and actually kind of interesting. The ridiculous part is you have to change yarn colors every five seconds and you can't carry the yarn up really. So I've been trying Johanna's method of knitting in the ends, but I think it's making my stitches all wonky and uneven. Can you see it in the second and third picture? I'm not sure if it's because of the short rows, or the ends, but I'm not entirely happy with it. I'm going to keep knitting - even if it does feel very much like an experiment - to see how the rows even out once I do the next short row section. Right now I'm in straight rows. But the next section will even out the left hand side. I still absolutely love the yarn - and I'm really liking the colors too. Georgie's the best, because he sees it and instantly proclaims it's the best work I've ever done! I say, you say that about everything I do. He does prefer just the stripes though - not the zig zags. I keep trying to tell him that's the best part, but he's not buying it. Anyway, I will persevere.
Jen (belated) birthday gifted me with some wonderfully soft Rowan Classic CashSoft DK! She brought it all the way from London! It's in color #509 which is called lime, but is really a soft pastely mint in my opinion. Another one that doesn't photograph well:

This will make a beautiful baby something - and it's in green - so it doesn't matter whether my sister has a boy or a girl! Speaking of which - did you enter the my guess-the-baby contest? Don't miss out! She could go into labor any second!
I just noticed that all yarns mentioned in this post are from Rowan. Definitely some of the nicest yarns I've ever worked with. They can't seem to go wrong. When that tax check comes in, I'm definitely going to have to join the club.
Kate asked me some really good rebound questions! You can read my answers in the extended entry. Have a great day!
1. In your blog, you've said your birthday characterizes you. What is it about being a New Year's Baby that makes you you?
Well, first off, it's definitely NOT a normal birthday – no matter how you look at it. And I'm definitely NOT a normal girl. Is it because of my birthday? I don't know. I think I'm introspective and forward thinking – both attributes that can characterize the day. My shrink likes to think that I have issues with being number one – born on 1/1, I'm the first born in my family – I do have to be the best (No. 1) at everything. Again, birthday or just a coincidence? In the end it's hard to say what it is about my birthday that makes me, me – I've never known anything different. I know I think it sets me a (little) bit apart. Maybe that's narcisistic thinking? I don't know. You have to be a little bit narcisistic when you're born on the FIRST – don't' you think? ;-)
2. When did your Bruce fascination start?
Georgie is completely to blame for my Bruce obsession – fascination doesn't really cut it honey. When Georgie and I started dating, I had been living in New York City for three years. I left home when I was seventeen – so I had only been driving about a year and a half. I didn't have a car in the city (I'm not that crazy) and G had a car. He used to take me on drives – down to AC, to the mall, etc. and he always had Bruce on the tape player – specifically - at least this is how I remember it – Tunnel of Love. He would sing me all the songs, which he knew backwards and forwards and honest to god I fell in love with them both. Georgie and Bruce are forever intertwined in my heart. I am the more obsessed of the two of us, for sure, but he indulges me – and he loves Bruce too. I think he feels the same way - ultimately it's all about how Georgie feels about me that somehow translates into Bruce love.
3. In your 100+ things, you mention you still have a baby blanket. My sister and I both do as well. Ours are named "blankie," and my sister still carries hers around (I know, I'm a traitor because I don't -- but I still have it). First, do you have a name for your blanket, and second, any tips for keeping it in good shape?
My blankie is called blankie. There may have been a very brief period in the 70s when I called it Elizabeth Banana because it was/is yellow – but that did not last long at all. I still sleep with my blankie every single night. It travels with me whereever I go and when I fly it goes in my carry on – god forbid it should get lost. I don't carry it around per se – sometimes I wear it around my neck in the house – when I'm on the computer, or reading. I like to smell it. (I know. Gross.) Otherwise it waits patiently under my pillow until I need it. How to keep it from falling apart? Don't give it to your kid. My sister's blanket was co-opted by her daughter and it is literally in shreds now. My niece WILL NOT give it up and that scares me. If I ever have a kid – I swear – they ain't getting their hands on my blankie. Georgie takes very good care of my blankie – he washes it lovingly – doesn't dry it too hard. I, of course, put it in hot water and dry it to within an inch of its life. But the best part of blankie living is when it comes out of the dryer.
4. What's the name of the first short story you ever published? What was it about?
The name of my first short story ever published is "Dancing With Jesus in Grove City, Pennsylvania." It was published in the High Plains Literary Review, Fall/Winter 2001. It's about Byron and Purdy Somers, a couple at the end of their lives. Byron is coming to terms with the fact that Purdy needs to go into a home as he can't really take care of her anymore – and in the process he remembers a miraculous time in their marriage.
It's a pretty fucked up story – very strange, very weird. I'm so glad it was the first one to get published. I love this story – it's dedicated to George.
Also, the editors saw fit to nominate it for a Pushcart Prize. It didn't win – not even close – but they liked it that much.
5. What is your favorite thing about your husband Georgie? Anything from mundane to smooshy sappy will do :).
Impossible. Absolutely impossible to answer. I love him so much it hurts sometimes. To pick one thing, even a million, would be to forget something that makes me so insanely happy and crazy and in love it would be criminal.
Okay. I'll try.
- He has the most beautiful puppy dog eyes I've ever seen. I could stare into them for hours and never be bored.
- I love that he loves the children in our lives in the purest way. He may have trouble showing it sometimes, but he does.
- He's curious like a three yr old. Sometimes it drives me crazy, but most of the time it's astonishing.
- Hands down, one of the most generous souls I've ever met.
- He works exceedingly hard for our family - something for which I am eternally grateful.
I'm going to stop - this doesn't even scratch the surface of the surface. It's hard to put emotion this strong into words. That's why I write fiction. ;-)
Thanks for the questions, Kate. Hope my answers don't disappoint.
Posted by Cara at 12:13 PM | Comments (9)
February 06, 2005
Night-Blogging
I'm blogging tonight, before I go to bed, so I can concentrate on working tomorrow. Also, I don't have much to say, so it should be kind of quick (famous last words, I know.)
Progress has been made on The Pinwheel Blanket. Thanks again for all the support thrown out there - it was definitely worth the frustration. It's so cute right now - I'm thinking the pattern would make a great hat. get it to the width I want then start ribbing for the edge. It would be very, very cute. Maybe I'll do that since I'll probably have a TON of left over yarn. I think I found the yarn for the edging too - instead of going with a silky/satiny type edging, I think I'm going to go with a soft/chenille type. I was searching around to day and I found Wendy Velvet Touch. I'm thinking the Jewels color might be perfect. Anyone ever knit with it? Is it luxuriously soft? Would it go well with the All Season's Cotton?
I stayed up last night until around 2 finishing up the second sleeve on Picot-Boo. Then I couldn't fall asleep until 3:30. I was the walking dead all day. The sweater is blocking and I hope to start seaming maybe Wednesday. I've never knit a raglan sweater before so it should be interesting. Then I have to hem the sleeves, bottom, neckline etc. Never done a whipstitch either. Love learning new things.
Speaking of learning - tomorrow night's my Color class with Shirley Paden. I'm a little bit nervous. She can be tough - not like she'll yell at you or anything it's just that she is very exacting and straightforward and she jams like five weeks of lessons into a three hour class. This class actually meets two nights - this week and next week. But I'm excited to learn color knitting FINALLY. I've never even tried it on my own, so we'll see how it goes. I've heard she teaches two handed fair isle - I can't do anything with my left hand. I'll report back Tuesday.


Commenter Contest


Be my 500th Commenter, and win three skeins of Artyarns Supermerino! Winner will get to choose the colors. I'll try to update the count as often as I can. And yes, I'm not above buying love!

Current Count: 357
Oh and congratulations to the New England Patriots and their fans. At least we didn't get our asses kicked. I'm still not over '81. That shit can scar an eleven-year-old for life.
Posted by Cara at 10:53 PM | Comments (10)
February 05, 2005
The Pinwheel Baby Blanket
Have I mentioned lately how much I LOVE to knit?!?


All Season's Cotton - Color Tapestry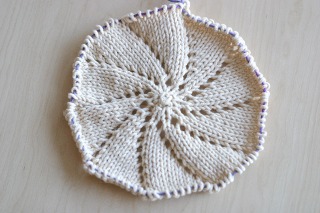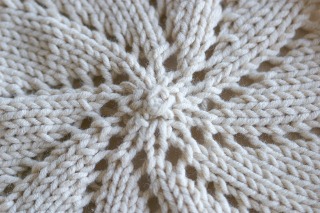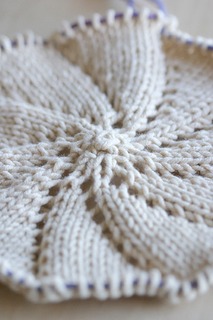 This isn't the best color representation - it's much more yellow, almost like a butterscotch. But the pictures are taken with my new OLD camera, which seems to be working fine (although all my settings were wiped out!)
I'm on the 16" (which I could've switched to MUCH earlier - damned DPNs!) and I can probably move up to the 24" - if I didn't have three freaking projects currently on #7 24"s. Lucky 7s I guess.
Posted by Cara at 12:17 PM | Comments (10)
Thank You!
You all made me feel SO much better! I was feeling completely incompetent, like any decent knitter could cast on five stitches in the round, increase to ten the next round and start doing YOs two rounds later. Thank you, thank you for making me see that this task was completely ridiculous!
But guess what? At about 1:45 AM I fucking did it.
[Okay, I promise that's the last fuck for awhile. I'm sure I'm scaring away readers (while at the same time gaining some? ;-)) The combination of fucking and big humongous boobs can't be good for the googlers out there!]
Was it the cake? Was it the chocolate IN the cake? Was it the wine? After literally cutting away half a skein (thankfully I've got a lot) to get to some good yarn and throwing the sticks across the room (and then immediately scrambling to find them - I mean c'mon, I just lost two of those buggers, I wasn't about to lose five more. They're expensive - even if they are killing me), I left the house to pick up Georgie at work. We went to dinner. I had some wine. Some delicious meatloaf and mashed potatoes (read: comfort food) and some triple mousse chocolate cake for dessert. I was frankly a bloated cow and more than a bit tired on the way home. But at the last light before our house, I had a realization.
When I was casting on, I was actually casting on six stitches because I like to do a K2TOG at the join of the round - so I was casting on six and splitting them up as two, two, two - and then I'd move the last stitch to the first needle for the join. That lonely last stitch kept getting dropped as I tried to knit the round. Every single fuck sorry time. So while we were sitting at the light and I was half a sleep feeling a tad nauseous, I thought, why not leave the one stitch on the MIDDLE needle, not the end. Maybe it would somehow be tighter or something so it would stay on. Honestly, I think that's what did it. I came home, immediately sat down with the yarn and while it didn't work right away, I could tell pretty quickly it was going to work. It still took another ten tries and I'm going to have to change out the yarn sooner than I thought, but I did it. And it looks pretty good if I don't say so myself. I did about twenty rounds before I went to bed last night - and I don't know if the center is actually right or not, but it looks really nice - it's all closed up and has a neat little circle around it before the pattern starts. I'm going to work hard to get it on the 16" Addis today. I really don't like DPNs (did I mention that?) although, as promised, they're getting easier to work with as the rounds progress, but I also really hate wood needles. I'm using Crystal Palace bamboo and between the wood and the cotton, everything keeps getting stuck. Very NOT nice. I want my Addis and I want them now.
I promise to have a picture soon. Very soon. As soon as I get them on my circulars. But, again, I thank you for making me understand that this was not an easy task. I am very, very proud right now.
Have a wonderful, fantastic, spectacular weekend. And I leave you all with this:



GO EAGLES!!!


PS - Don't forget, Sunday is International Pajama Day! Are you ready?
Posted by Cara at 08:57 AM | Comments (3)
February 04, 2005
Fucking DPNS!
I've tried to fucking cast on five fucking stitches about fifteen fucking times and I can't get it to fucking work. I can do one round, and then when I have to start increasing, I fucking lose it. Even sweet Jen tried to help me, and I did fix one thing I was fucking up, but this is crazy. I am so fucking frustrated.
I might be back. Or I might not. Depends on how many people I take out with these fucking DPNs.
Posted by Cara at 09:48 PM | Comments (7)