January One -- Diamond Fantasy Shawl
September 17, 2005
Diamonds Are A Girl's Best Friend
OH.MY.GOD.
This is THE MOST GORGEOUS THING I HAVE EVER KNITTED.
Warning: There are A LOT of pictures. But you know what? I'm a photographer so pictures are my life. And I LOVE this freaking shawl so I'm going to brag. ETA: The pictures of me were taken by my superfantastic little sis, Samara. She's the REAL artist in the family.
Carole wanted to see it in full, all blocked out. Here you go!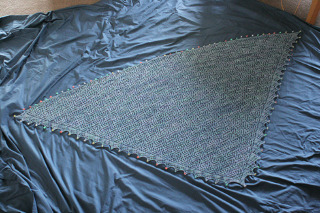 And away we go! (Click on the pic to see it bigger.)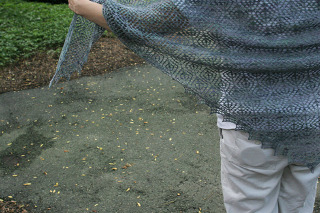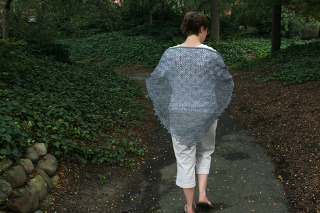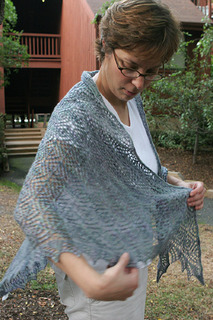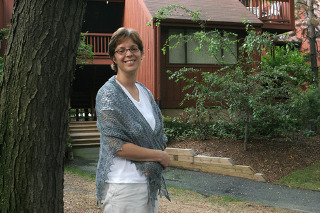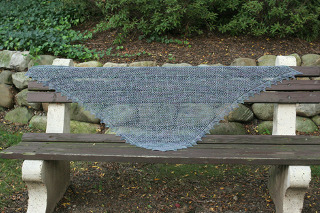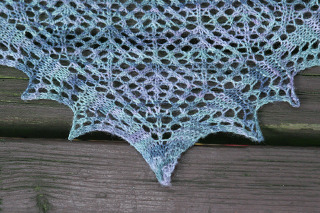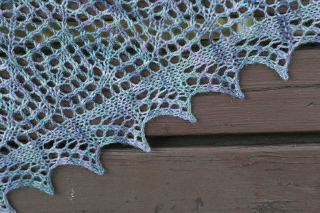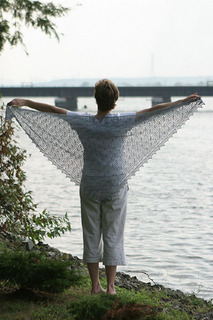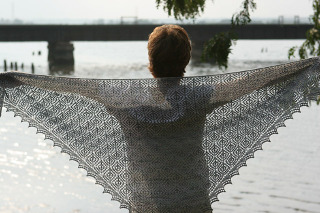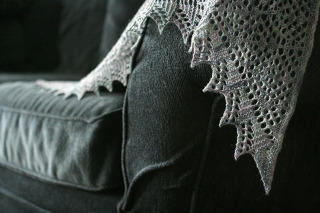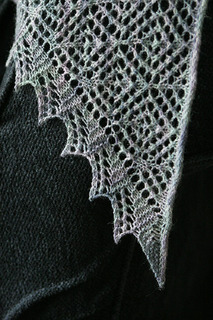 Look at that lovely I-Cord edging!

Project Specs:
Diamond Fantasy Shawl by Sivia Harding
Twinkletoes Sock Yarn (Foggy Dew colorway) by Over the Rainbow Yarns
Addi Turbo's size US 5s
10 Pattern Repeats (Shawl Size)
I learned how to do an applied I-cord for the edging and I loved it. Will definitely use this again. Did my first spit join. The yarn is still a bit scratchy for me (Margene - I don't know who you use this for socks) but the fact that it is a stiffer, rougher yarn probably helped how well it blocked. I took out my FBS yesterday and it needs to be blocked again - the cotton didn't hold the points on the border. I love the color though - the muted variegation is perfect for the diamonds. The DFS pattern is a dream to knit. Easy to follow charts. I used stitch markers between the 12 stitch repeats and barely tinked at all. I would wholeheartedly recommend this pattern!!!! Thank you SIVIA!

Posted by Cara at 06:58 PM | Comments (46)
September 14, 2005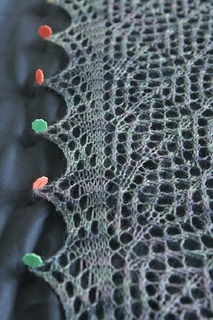 Posted by Cara at 12:51 PM | Comments (21)
September 13, 2005
According to Ann...
I've got myself an FO!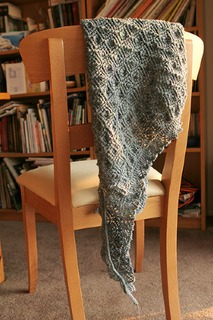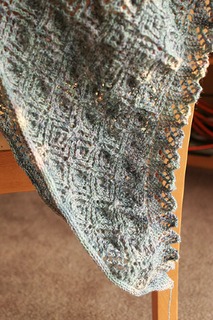 I knit this thing ALL DAY yesterday and today. The I-cord bind off alone took OVER two hours. But look how pretty. Blocking tomorrow. I have just enough time to shower - got to be clean so I can get dirty with Mick.
Posted by Cara at 06:24 PM | Comments (15)
September 12, 2005
Fantasy World
It's fantasy all the time these days. I've got about six rows and two repeats left if I'm going to stick with the 10 repeats for the shawl. I haven't even broken into the second hank of Twinkletoes yarn, so we'll see. Depends on if and when and how much I have to use of that second hank. The pattern is really a dream to knit. I almost think it's easier than the Flower Basket Shawl - if only because I'm using stitch markers at every 12 stitch repeat. Of course, yesterday evening, (my goal was to finish the 8th repeat before the night was through) I messed up the border stitches before the first bind off in the repeat (every 10 rows you bind off five stitches for two rows to create the points on the border) and it was KILLING me. So I ended up ripping back a few rows to reknit it. In the end, I think the stitches might have been just loose, but I couldn't have it. I feel much better now even though my goal wasn't met. I'm hoping to at least get through 9 today - I want this finished before the week's out. I'm in that end of project frenzy mode where I can taste the FO and I want to be there YESTERDAY! You all know what I mean. I should just sit here all day and finish it, but there's work to be done. I need to run today before it gets too hot and I need to do laundry and some work and then I can knit for the rest of the day.
It was a pretty full weekend. I had a birthday party to shoot on Saturday about an hour away - my wonderful husband came with me for the ride (I hate to drive on highways alone) and lucky for me there was a beach close by. So he played tennis in the morning and sat on the beach in the afternoon. Perfect day for him - and perfect for me, because I didn't have to feel too much like a loser wanting a companion for the drive. And he drove back, so I could knit a bit in the car.
I'm always amazed after a job at how PHYSICAL a shoot is. My whole body hurt after the party. First, the camera's heavy - really heavy (at least 13 pounds with the big lens on - add the flash and bracket and we may be up to 15) - and I'm carrying it for two hours straight. Then we've got the fact that I hold it like a spaz - actually backwards when shooting vertically (so that the shutter button is under the camera not on top) - so that my left elbow sticks out - and finally, when you're photographing children, you NEED TO BE ON THEIR LEVEL. Parents out there - if you hire a professional photographer and they don't get on the ground with your kid, well, I'm not saying you won't like the pictures, but.... I come home from a job and I've got grass stains on my knees, my ass, dirt in my hair. So it's up and down and up and down and I'm not a kid anymore.
Saturday night I was asleep by 10:30. That's about two hours early for me.
Also, I was asked this weekend to do a really, really, really important shoot for some really, really, really special girls! I'm super excited about it - but for now I can't talk about it. I promise though, as soon as it's all kosher, you'll hear me shouting about it! It's just SO SUPER COOL! (What a geek I am!) I'm completely thrilled I can help out the cause.
This weekend, while knitting away, I thought about my upcoming projects and listed them out in my head. I thought I might list them here, too, so I can look back and see all the things I didn't accomplish. ;-)
Dad's Aran Sweater
Manos Everyday Cardigan
Cardigans for the WH girls
Bohemia Aran Cardigan
SOCKS (especially socks for Jolie)
Knits for the kids (cardigan for Charlotte with yarn from MDSW - and especially ELI! He's never had a handknit from me.)
Elizabeth Bag in Donegal Tweed
Manos My So Called Scarf
Orange Spice Mittens
My own shawl design
Ambitious no? Ugh. So many knits. So little time.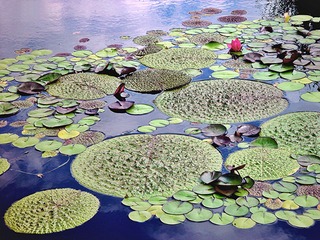 Posted by Cara at 09:48 AM | Comments (6)
September 06, 2005
Ends
I set myself some big-ass goals this weekend and guess what? I MET THEM! Yahoo! First up on the list: DON'T BE CRAZY! And I wasn't too crazy. Really. There were a few moments here and there of bad thoughts but successful thought-stopping ensued which may or may not have included jumping on a trampoline screaming "I LOVE YOU!" at the top of my lungs. Actually, just thinking about doing it made me smile which stopped a bad thought. Did you know it's scientifically impossible to have bad thoughts while jumping on a trampoline? It's true. Don't believe me? Try it yourself.
Second goal: EXERCISE! Which I did! I actually got off my ass and went out this weekend to run, not once but TWICE! Granted, I started my beginner running program from the freaking beginning AGAIN, but it felt so good to be out there and the weather was glorious. I was a little sad though because my running route is basically the same as my flower route - the path along the development behind my building is the source of most of my flower pictures. I basically missed the whole season. Literally. And what's out there dying is pretty much TOO dead for my tastes. I do like to take pictures of flowers on their last stem, but these babies are already gone. A trip to the botanical gardens may be in order very, very soon. My little sister will be coming to stay with me next week for a little bit while G is away (AGAIN!) and hopefully we'll make a trip up to the Bronx.
Third goal: EAT! Yeah. Too much of that. I'm already putting back on the gloriously lost crazy pounds. You knew it was going to happen. But for two days I looked thin again. Hopefully the running will keep things in check. I was back in pants I couldn't wear since LAST summer. I've said it before and I'll say it again - I always look my best and mentally I feel my worst. It's a sad truth.
Fourth goal: KNIT!
DIAMOND FANTASY SHAWL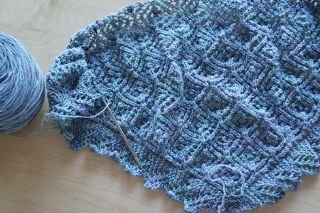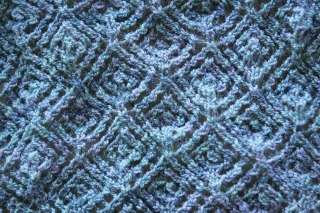 I'm really enjoying this lace project. I've put markers at all of the 12 stitch repeats and it's been fast going that way. I've barely had to tink back - I think maybe once so far. I've got one purl row to go on the fourth repeat. I'm planning on doing all ten - for the shawl.
Those
girls
that can do the scarf and call it a shawl are much more petite than I. I may actually go even farther - depends on the yarn situation. I'm liking the yarn too - at least the color. The variegation seems to be working really well with the pattern. Each diamond has some blue, some green, some darker blue. It's looking lovely. As I knit it I'm thinking it will be beautiful to wear to synagogue this year, should I go for the
High Holy Days
. With a nice navy skirt and a crisp white blouse. I always loved High Holy Days clothes. Almost as much as I love the prayers said this time of year. They're mournful and melodic and I often catch myself singing them year round. Anyway, I've been enjoying the DFS and I highly recommend it!
WALKING ON SUNSHINE SOCKS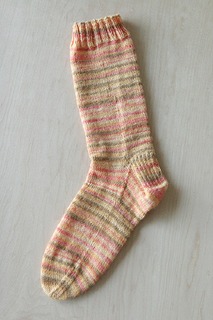 Yes, I completed a sock. I very much like it - it's bright and cheery and it fits well. The heel isn't perfect - I need to tighten up some almost holes, but in the end I think I like the gusset/flap heel best. I tried two different kinds of short rows and didn't like either. I still have to try an afterthought heel - next pair of socks - but for now this works well for me. Nice to know that, you know? I haven't cast on for the second - but I will today. And I want
these clogs
. Especially for Rhinebeck.
And last but not least....



SHORT ROWS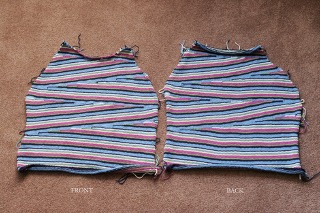 Yes, my friends, it's a FINISHED back AND FRONT of the now infamous
Short Row Sweater
. This was the MAJOR goal of the weekend - I want this sucker done! Of course, in succeeding at said goal, I kind of made pretend that there weren't 3,681,207 ends.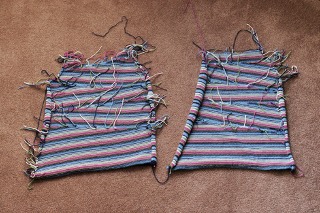 Just for kicks, you know, to see if this thing will actually, one day, miracle of miracles, BE a sweater, I pinned the back and front together.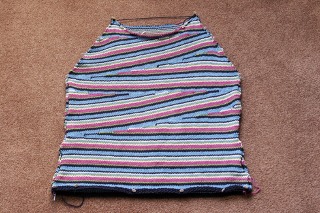 WHAHOOO! This might actually WORK! I'm very happy with it so far. Here are some close-ups on the zigzags: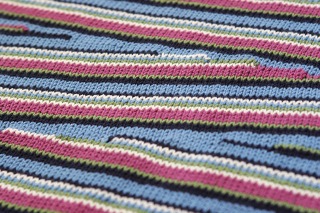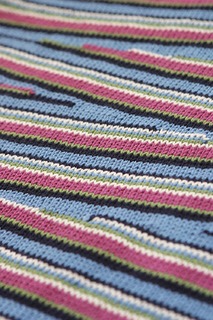 So all I've got left are the sleeves - which should be a breeze since they're all one color. I'm planning on doing both at the same time - and I still haven't decided yet if I'm going to even cast on for them BEFORE I attend to those ENDS. Ugh. I see myself wearing this sweater for the High Holy Days too. With the same navy skirt. It's nice to have goals. ;-)
~+~+~+~
Lest you think it was all fun and games and knits here this weekend, there were still tears and sadness. Some of it personal, some of it global. The more I read and see of the tragedy on the Gulf Coast the more disillusioned I am with the human race as a whole. People are just SO MEAN. I'm sick to death of the finger pointing and name calling and who did or did not do what. I've never had any love (or even like) for the current administration, but now I'm even disgusted with the people I supposedly AGREE with. Now is the time TO SHUT THE FUCK UP and ACT! It's not the time for who's right and who's wrong. It seems to me that the political atmosphere in this country is directly to blame - which means BOTH SIDES. BOTH SIDES. NO POLITICIAN OR PUNDIT IS INNOCENT.
[ETA: If I hear one more "person" say how everything would've been handled so wonderfully if Ghouliani had been mayor - I'm going to start screaming and not stop. There is NO WAY that the disaster in NOLA can be compared to 9/11. After the towers fell, the event was pretty much over, except for the clean-up. The whole tragedy affected (physically) a very small part of the city. There was no recovery. By the end of the day, things were back to "normal" in terms of people getting food, shelter, communicating with each other. Sure, some people were homeless - but those people had the means (by virtue of where they lived) to find other shelter. Ghouliani didn't have to hold the physical well-being of the city together. This may seem harsh - but it's the truth as I see it.]
I watched the Sunday news programs this weekend - it's something G usually does and occasionally I tune in. When I saw Jefferson Parish President Aaron Broussard on Meet the Press, I was beyond horrified. Then I read about shoe shopping and slack jaws and I wonder, where is our collective conscience? And even if you don't really care about what's happened here, where is your INTELLIGENCE to keep your mouth shut? We can't even make it LOOK like we care. (And isn't it so much worse that these WOMEN can't seem to gather up any real sympathy?)
All weekend long I'd pop on over to Margene and Susan's site and gain a little bit of hope back.
Knit on through all crises. And that's exactly what I'm doing.
Posted by Cara at 11:42 AM | Comments (17)
August 23, 2005
World Peace
I've decided that if I spent half of the time and energy I spend on my anxiety, worrying about whether or not I'll be anxious, thinking about NOT thinking - well, frankly, I'd have found the solution to world peace by now. Either that or I'd be building the Google Elevator.
Something, anything more productive than driving yourself crazy and then having to pull yourself out of the hole.
Margene, zen master, has an interesting post on Motivation today. I'm thinking in a similar, yet opposite direction. What kind of LACK of motivation allows you to slip down that slope - fully conscious of what's going to happen THROUGH YEARS OF EXPERIENCE - and yet you can't get off your ass to stop it? Do I need to feel like shit for some reason? Am I going to come out the other side with some great revelation? I KNOW how to stop it - even before it really starts, yet I let it happen. Granted, there were lots of things this summer working against me (Hello? People who control the Weather?) but still.
You know what? What's done is done. This is who I am. I just hope it doesn't take me too long to get through it. I am SO OVER me.
On to knitting.
Look! Is it a bird? A plane? A superhero? No. It's just a Short Row back - T2 style.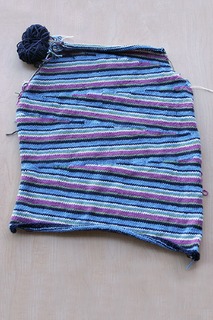 Take Two
It's seems a little bit wonkier than the first version, but I've decided that because of the short rows, this will never be a flat knit. Blocking may help, but there are so many ends and so many starts and stops with the yarn. The size looks good - I've compared it to my prototype (the pullover in my closet that fits nice) and it's right on. I've woven in half the ends and I feel good about the other half. The front is next, as soon as possible, and I'll deal with the sleeves last. I have company coming tomorrow for a couple of days, so we'll see how I do with it.
Socks are stalled. The Sunshine sock is stockinette and I need that like I need another hole in the head. Mindless knitting equates to idle hands. Which means the devils are hard at work. I've got (maybe) one more repeat on the long lost never ending Retro Rib sock and then I can turn the heel. Don't hold your breath.
Since socks aren't doing the trick, I started something new. After finishing the Flower Basket Shawl and the Acorn Socks, I wanted some more lace. But I couldn't find a yarn or pattern that I was happy with. I didn't want to do the Leaf Lace - too similar to FBS. I actually bought two Robert Powell shawl patterns - #103 (pattern) and #106 (kit). The kit came with 4 oz. of Jamieson & Smith 2-ply jumper-weight in Cream which I will probably never knit (look for a contest soon!) but I still like the patterns. Couldn't decide on a yarn.
And then I saw this. And this. And this. And I bought some of this. And here we go!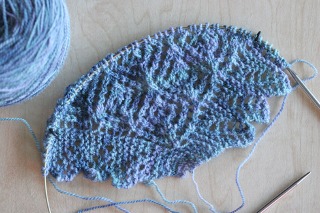 Sivia Harding's Diamond Fantasy Shawl
Twinkletoes Sock Yarn - Foggy Dew
I also bought some Twinkletoes Denim Multi - hard to photograph though.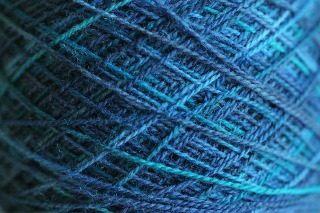 So far I'm liking the pattern - although I have yet to finish the first repeat section. But it's easy to understand and I feel like I will have the charts figured out - you know what I mean - when you GET the lace pattern - pretty soon.
The yarn. I don't know. I definitely like the colors and the weight and the texture. I don't know if I'd ever use this for socks though - it's kind of scratchy - but for the shawl I think it will be good. It seems like it will block well. One thing though - when I was winding up the Denim Multi - the yarn broke once at the beginning and once at the end of the wind. May be I was too tough with it? But it also has a few knots here and there, which annoy me. Juries still out on this - but like I said - I can't imagine I'd use it for socks. Maybe there are lots of shawls in my future. I do have like 1500 yds of the denim. Not sure what I was thinking there. Or NOT thinking. Hahahahahaha.
I started this post on a dark note and I'm going to finish it on a good one. A couple of weeks ago I received an email to my blog address asking if I was the same person who wrote a story entitled "The BBC" which appeared in Fourteen Hills, the literary journal out of San Franciso State University. I replied that indeed I was. Welp, it turns out that FH is putting out an anthology of fiction from the first ten years of the journal and they've decided to include my story. I also found out my story will appear along side some of my favorite writers! Lydia Davis! Lynne Tillman! Peter Orner! Pam Houston! Next to little ol' me! What an ego boost! As you know, my writing has suffered the last couple of years - but this has spurred me on! I actually took out a story yesterday - one I've been wanting to revise - and read it and took notes! This could be it the opening I've needed....
Open up the windows and sing out loud! It's a beautiful day today!
Posted by Cara at 12:17 PM | Comments (19)