July 30, 2007
buzzzzzzzzzz!
This weekend I spent pretty much every minute watching General Hospital and knitting on my bee shawl. You'd think I'd have more to show for it!


I'm about halfway through the first section. One of the things I love best about Anne's patterns is that she gives you all of the written instructions as well as impeccable charts! I always start out with the words and gradually move to the charts. Now I'm all chart baby! Until the next section, of course, when I'll go back to the words and gradually move to the charts again. It's just a nice way to ease into things. Maybe that makes me a little less lace hardcore, but it's okay. This section isn't as hard as I first thought it would be, now that I've found a rhythm with the yarn and the pattern.
I thought I'd give you my own bee story, since you've shared so many of yours! (Don't forget - you've got until tonight to enter the contest!)
I've only been stung once or twice, and never had a really bad reaction - but I always remember that bee stings ITCH horribly for at least a week AFTER the bite. Maybe it's just me? No one's mentioned the itch, but I definitely remember an itch.
Anyway, my story doesn't have anything to do with being bit. But it's weird just the same. Back in the summer of 1990, my mother and I traveled to Israel. We were volunteers in the Israeli Army for about three weeks, living on an army base, wearing uniforms, doing manual labor etc. The program is designed to relieve some of the reservists of their duties. My mother and I were sent to a base in the Negev Desert, right outside of Be'er Sheva. If you've never slept in the desert, it gets really cold at night, no matter how hot during the day. We had to be up at the crack of dawn each day to have breakfast and start our work day, which ended pretty early because it got so hot! The first morning I woke up from a fitful night sleep - I figured it was because I was jet lagged and in the middle of the desert in a foreign country expected to work 8 hours a day! Thank god my mom was with me! I pulled back my light blanket, shivering in the cold morning, and was shocked to find three DEAD BEES in my bed!! I checked my body, and didn't feel anything like a sting, but still I was freaked out! It was very strange!
Even though I was never stung, more often then not there were dead bees in my bed when I woke up. Maybe they froze to death in the cold night? I have no idea.
So that's my weird bee story. Thanks again for sharing all of yours!
A couple of things:
-- Ann is CRANKING on her BABETTE! I'm so so jealous. I may have to leave The Bees and go back to the hook. She'll be finished before I get out of section five! I hate that! But OH MY! Look how INCREDIBLE it looks!
-- Tomorrow is the last day to SUBMIT for August's YARNIVAL! C'MON PEOPLE! Where are all the Summer FO's? Tutorials? Must knits? Put down the Harry Potter and get off Ravelry - c'mon! Don't disappoint me!!!!
Okay. I'm done yelling. For now.
Posted by Cara at 10:46 AM | Comments (33)
July 27, 2007
Ah Honey Honey!
Move over Monkeys! Bah Bye Babette! THE BEES ARE IN TOWN!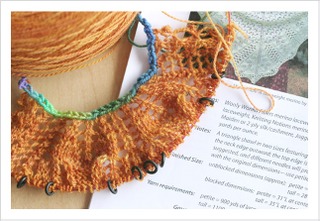 You know, there's a reason my knitting generally turns out so well - my particular talent is putting genius together! Great yarn + great patterns = FABULOUS knits! It's really quite easy. I'm QUITE proud of my latest trick! The other day I was talking to my genius friend Tina (the one responsible for my favorite sock yarn) about my genius friend Anne (knit designer extraordinaire!) We were talking about my finished Moth Shawl and I was asking Tina if she had seen the new Bee Fields Shawl and oh my god isn't it FANTASTIC?!? Then I subtly dropped some hints like "Wouldn't it be amazing if you were to dye up a colorway that was ACTUALLY honey?! Hmmm. Could you do that?" Tina, never one to shy away from a challenge, said OF COURSE she could!
I am so, so pleased to introduce Oregon Red Clover Honey!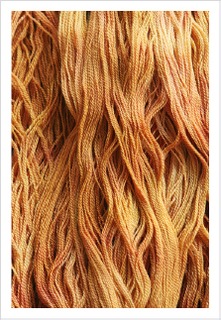 I took it out of the box yesterday and for about fifteen seconds I wondered if it was too dark, but then I went to the cabinet and took out some honey. It's UNBELIEVABLY PERFECT!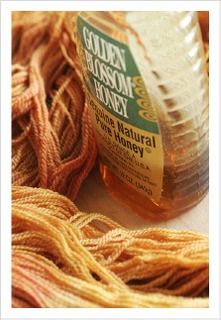 By sheer genius, Tina has managed to capture all the subtleties of honey - the bronzes, the reds, the blonds, the golds! I snapped a few pictures and immediately started winding it up! Imagine how pleased I was to find that it completely resembled a honeycomb in the yarn cake!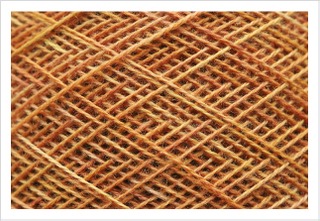 It took forever to wind! There is A LOT of yarn in this baby. It's Blue Moon's Laci yarn (100% Extra Fine 80's Merino), and it comes with a whopping 1750 yards. I've been assured that while the Oregon Red Clover Honey colorway isn't up there this second, it will be up on their website sometime today. ETA: IT's UP! (You'll be able to find it in the shaded solids section.)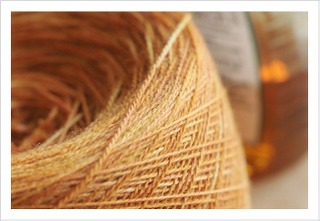 It was all I could do NOT to cast on immediately, but I had some errands to run. As soon as I was home that baby hit the needles. I'm using size 5 needles (Addi Lace Turbos) and for the provisional cast on, I used Eunny's directions found here - the second crochet cast on.
This is not a lace pattern for the faint of heart. I've never used a life line in my lace knitting before (and yes, I've had to rip plenty) but with this one - this one I'm getting out the dental floss! I'm about 16 rows into it and it's quite enjoyable - I can already see the border and pattern emerging - but it takes a lot of concentration. Actually, now that I think about it, Monkeys and Babette might be the perfect partners for The Bees.
Because I'm very impatient, I also ordered yarn from Anne over at Wooly Wonka Fibers. This is the Buckwheat Honey colorway of the yarn Anne and Anne used for The Bee Fields Kit.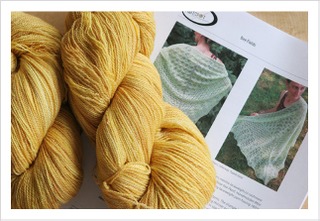 Since I jumped the gun, I'd love to share this kit with you. Leave me your favorite bee story - whether it's a bee sting, a honey recipe, anything goes, and I'll choose a winner at random on Tuesday. Please, one entry per person. You will receive the Buckwheat Honey yarn and the Bee Fields Pattern. Entries will be accepted through 11:59 PM Monday, July 30.
ETA: This just in!! Tina has generously donated a skein of Oregon Red Clover Honey, and I'll supply another copy of Anne's pattern! So we'll have TWO winners! YAY!
Have a fantastic weekend!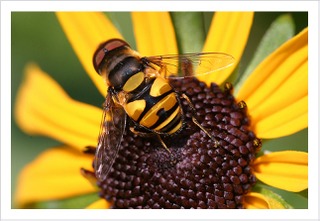 Posted by Cara at 11:27 AM | Comments (504)