July 12, 2007
Lace Weight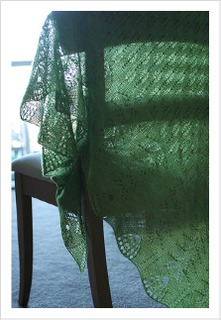 Thanks all for your comments yesterday on my blocking shots! I used blocking wires I got from Knitpicks along the top and down the center. There was a question as why I did it down the center. I'm not sure - because I saw Anne do it in one of her blocking shots? It gave some stability to the blocking? I don't know for sure, but I'll do it again.
There probably won't be true FO pictures (in the form of a photoshoot with me and the shawl) for a while yet, but I thought I'd throw you a few pictures and some of my impressions of the project while they're fresh in my mind.
The first and biggest thing to tell you is that it didn't turn out the way I had hoped. That's not necessarily a bad thing, but it's the truth. And it's not the fault of the pattern or the yarn or anyone really but me. And Wendy, I guess, because she knit what I thought was the ideal version.
When I was looking for a new shawl, I stumbled upon Wendy's Moth and fell in love! Look at those CORONAS! I'm not sure what she did to get those, but clearly I didn't do it!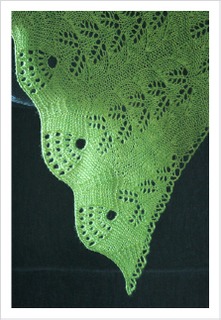 When it came time for me to bind off, I remembered that Wendy had wrote she had gone up a couple of needle sizes because the pattern said bind off very loosely and she usually binds off pretty tight. I'm the same way - I bind off VERY tight, so I went up to size 8 needles and started to bind off. (I knit the shawl with size 6s.) It was evident pretty early on that my bind off wasn't loose at all. So I went up to 9s and it seemed okay and I bound off and if you've ever bound off like 500+ stitches when I was done I wasn't going to do it again, tight or not tight.
I knew right away when I started blocking it that it wasn't going to work the way I had wanted. And I won't lie to you - I was disappointed. I had a vision and this wasn't the vision. The whole time I was knitting the shawl I could see how it was going to look. All pinned out it was a bit smaller than I had hoped as well. I got the 36" the pattern called for in the length from top to point (and I would've liked it go a bit deeper) and I lost about 10" on the span - mine only goes to about 74" and the pattern calls for 84". I also didn't get much of a point at the bottom - not sure why?
Now, of course, I COULD rip out the bind off and redo it and reblock the whole thing.
Another new thing for me with this shawl? I've never knit lace with lace weight yarn. I've always used a fingering weight - even sport weight. I'm used to a SUBSTANTIAL shawl. You feel it when it sits on your shoulders. This shawl is so delicate and light and it wasn't what I was used to. Don't get me wrong - I love the yarn! I loved working with it, I love the color of it, and I think it's perfect for the shawl. I will absolutely use this yarn again. But it's something I have to get used to.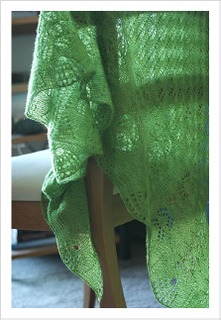 Through this project, I've discovered that knitting is more like writing than I thought. When you write, nothing ever turns out the way you envision it in your brain. The words take a different turn, the characters build lives of their own; a story, when it works, becomes what it needs to be DESPITE the writer. One of the things that attracted me to knitting was that you COULD get what you'd envisioned! You could MAKE it be what you wanted it to be. This morning, as I threw my new shawl over my shoulders and felt the delicate softness of the lace, I realized that knits have a mind of their own as well. And that it's perfectly okay with me.
Posted by Cara at 11:29 AM | Comments (63)
July 11, 2007
Ready to Fly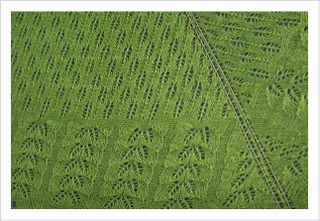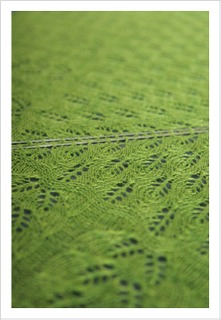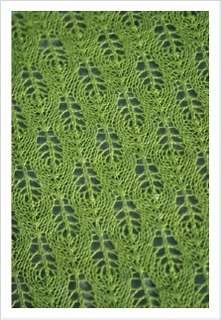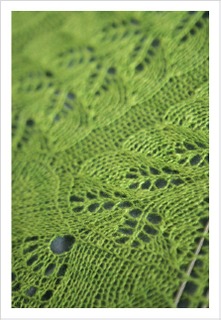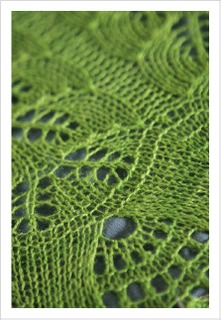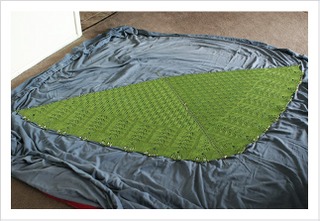 Posted by Cara at 08:52 AM | Comments (79)
July 09, 2007
Metamorphosis
Back in the day, when Georgie and I first moved in together, oh some sixteen years ago, PBS was reshowing the absolutely fabulous I, Claudius. We would watch it all the time. One of our favorite parts is when John Rhys-Davies comes out and says that John Hurt, as Caligula, has undergone a META-MOR-PHO-SIS. You have to hear G say it to really appreciate it.
There's a bit of metamorphosis going on in my life and I can imagine that while you're snuggled up in that cocoon waiting to become a butterfly you feel like everything is changing but nothing is changing. You want things to be different, but they really aren't. And then they are.
I want to reassure you that all the things I can't talk about are good things. Potentially very good things. No one is sick. Everyone is good. Georgie and I have never been better. My business has never been better. (In fact, I should be working not blogging.) A tremendous weight has been lifted from me, and honestly, I feel like I could fly. If only my feet were wings.
What's a girl to do when she wants to fly but can't? She knits.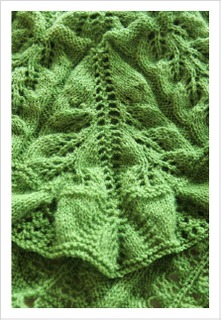 Saturday and Sunday I knit without stopping. At least it seemed like that the last four rows of Moth. It's done. Off the needles. I was going to block it today, but life interrupted once again, so it will have to wait until tomorrow.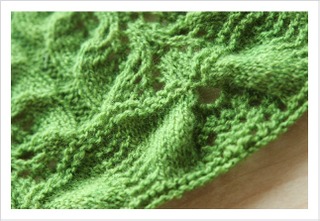 Everything about this project has been fabulous: the needles, the yarn, and especially the pattern. I'm almost sorry to block it, because that means it's over. Thank god my next shawl is only a week away!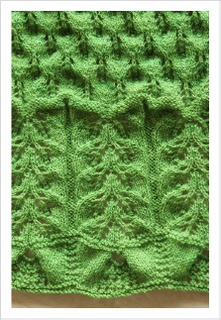 Be back tomorrow with a new pair of Monkeys. See? The more things change, the more they stay the same. ;-)
Posted by Cara at 08:24 PM | Comments (36)
June 25, 2007
So Little Time....
Thank you again for all the supportive comments and emails! I'm a bit hormonal these days so they all just about sent me over the top. Stop already! You're embarrassing me! Have no fear, nothing's changing on this here blog. It's very hard for me to be anything other than I am. I think I can safely say that I have one of those blogs that is pretty much like the real life person (although in person I swear WAY THE FUCK MORE.) Ask anyone who's met me. No different. Fortunately or unfortunately, what you see is what you get. And that last post, about the rainbows - kind of a joke. I really did see a rainbow that day. And I really did have that exasperated oh my god is it really worth the aggravation moment about the blog. But I didn't ask for a sign - not that I don't believe in them, mind you. I did relax a lot when I saw the rainbow and I pointed it out to another woman and got just the reaction I hoped for (Wow! Thanks for pointing it out!) So maybe it was a sign. I do call myself Chica though.
Let's get back to the knitting, shall we? That's what it's really all about.
I'm in one of those moods again. Which mood is that? Well, take your pick. Moods are flying all over the place like gnats at a bbq. The mood I want to talk about today is the one where you have 80 million projects you want to work on RIGHT NOW and you only have two hands and arms and wouldn't it be great if you really COULD knit with your feet? Here's what's obsessing me at the moment:
-- Babette. You readers are SO SMAHT! (You must be first borns, no? I keep meaning to send this link to my younger sisters and brothers. MWAHAHAHAHAHA!) Anyway, Babette. Yes, I bought all that beautiful yarn for Babette. Actually, Ann and I did. It was her idea. And then I was over and there was some crochet going on and it actually felt good (I know - what can I say?) and the idea was born. We bought a ton of yarn and split it. Details to come as soon as I actually start the thing. At this point I might just wait for Ann to finish those miles and miles of moss stitch. Don't expect anything anytime soon. There's still a bit of color organization I want to do.
-- Larger Than Life Bag. Out of sight does NOT mean out of mind. This will be finished. I have a deadline of Rhinebeck, for anyone who cares. That means lined and everything. Cross your fingers on this one.
Now that we got the crochet out of the way, let's talk knitting.
-- Socks. I've got one pair of monkey socks still to finish (for some reason I keep screwing up the last couple rows before I split for the heel. It's SO annoying) and I could probably knit a few more pairs for sure. But I also got a chance to see the Charade sock up close and personal the other day and I'm very very tantalized. Would be extremely nice for some of the solids in my sock collection. Sometimes when I'm on a jag (monkey socks) and the jag wavers (other stuff) I miss the jag. It's sometimes very nice to be so single minded.
-- Miters. Miters. Miters. If you think I don't think about this project every single day you're wrong. I do. Every single day. I want the blanket. And by that I mean I want it seamed and bordered and all that. But the time is not right. Soon. I'm anticipating some craziness coming up and I'm waiting because when I start seaming I'm hoping I won't be able to stop until it's finished. I'm gonna use that to my advantage. Trade one crazy life obsession with one crazy knit obsession. Let's hope it works.
-- Lace! I want to knit lace all over the place! Sometimes I wish I had the skills and ambition to be a knitwear designer, but, alas, I don't. And when I'm really indulging that fantasy, man how I wish I was a lace designer. Really and truly. It's like my fantasy to be a ballerina. Sadly, I don't think I have the patience at all. So I make due with the genius of others. Anne Hanson of Knitspot is fast becoming my new Evelyn Clark. I trust her explicitly. Wing O' The Moth is fantastic - more on that in a minute - and now she's completely bowled me over with the bee shawl. Have you seen this amazingness? (Scroll down to the bottom of the entry!) Dear god, she's killing me! It's not available quite yet and I think it's only going to be available as a kit but when it is available you will see it RIGHT HERE because there's no way I'm NOT knitting this. I joked with Anne it's going to be my summer of flying bug lace. Speaking of which: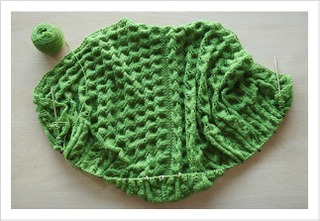 I've only got eyes for MOTH! I'm on row 26 of the second chart which means I've only got 14 rows left to go before I start the edging chart. I am so LOVING this pattern and LOVING the yarn and if I wasn't completely overwhelmed with work you can bet I'd be knitting this until my fingers bleed. At the same time, though, I'm grateful that I do have a shitload of work because just like a fabulous novel, I don't want this knit to end. Thank you Anne! You've just about made my knitting summer.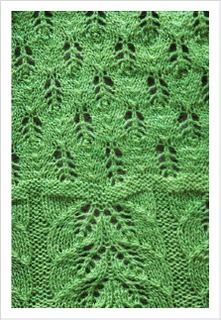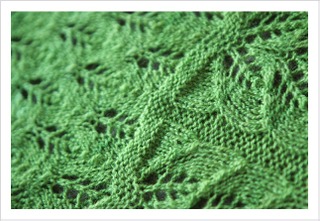 To be continued. Because there's always more stuff I'm on the verge of becoming obsessed over. That's enough for now.
Posted by Cara at 10:05 AM | Comments (33)
June 18, 2007
Yarn Crawl
I ended up visiting five yarn stores on my vacation and, like a good knitter, I bought something at every one! Here you go:
My first visit, like two hours after I got off the plane, was to Artfibers, the fabled San Francisco mecca. If I had to compare this store to another, I'd have to say Habu in NYC. Not because they're anything alike - really they're not - but because they're similar in that they're SO DISSIMILAR to any other yarn store you've ever been to. Crazy different.
Artfibers is on the second floor of a building, so there's no storefront. When you walk in, there's a desk straight ahead in front of a wall of needles and notions and then it's just wire shelving everywhere. Little notes identify the yarns and there are lots of swatches and everything's pretty much on cones, so it's not like you can really handle the yarn. (Oh but you can! More on that in a minute!) There didn't seem to be any specific organization to the place, so I wandered around for a bit looking at stuff and made my way to the front of the store where there were a bunch of chairs and a couple of jars of straight needles. I was in the tasting area.
In case you're not familiar with Artfibers, probably the most unique thing about the place - besides the fabulously different and varied yarns - is the tasting bar. It is allowed and ENCOURAGED for you to make swatches of yarns you're interested in. I can think of no better way to sell yarn than to have customers actually KNIT with it! There are bins in the back with smallish lots of all of the yarns in the store - many in various colorways - and you just pick your yarn, take a seat and start knitting! It's FANTASTIC! I made two swatches: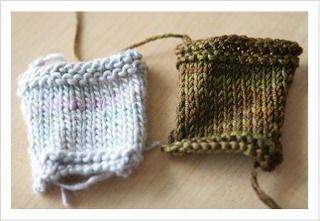 That's Ming on the left and Kurosawa on the right. Both yarns are 50% silk, 50% extrafine merino - but oh my god they couldn't be more different. The Ming is an incredibly soft single ply that knit up shows you that it will probably start to pill the minute it's off the needles. As much as I loved it, I wanted sweater yarn, not something so delicate. So I went to the Kurosawa which is a FOUR ply. It's like knitting with a fantastically soft cotton. It was a bit splitty in the knitting but the stockinette is just gorgeous.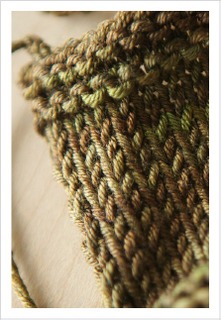 Lovely, no? I'm seeing a long sleeve v-neck pullover. Simple - to show off the beauty of the yarn. This stuff will knit up nice and tough. I'd be surprised if it pills badly. Incidentally, I bought two cones of color #5.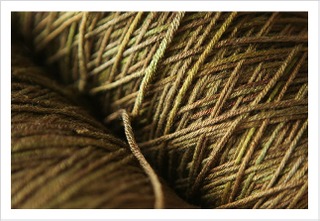 While I was waiting to pay, I completely fell in love with Fauve.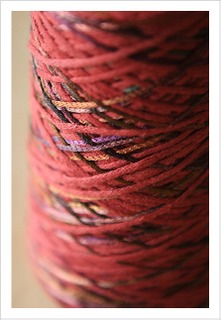 It's a cotton, hemp, nylon mix that's just unlike anything I've ever seen knit up. I didn't have time to make my own swatch, but the one online shows the yarn pretty well. There's the muted hemp/cotton, and then this sparkly crazy nylon. I bought a little more than 300 yds - I might even make a scarf, I love this stuff so much. It took me forever to pick a color! I drove everyone crazy asking which one they liked best. I ended up with #4.
If you're ever in San Francisco, you MUST go to Artfibers and knit up a swatch. It really is so different! I loved it!
The other yarn store in SF I wanted to try was ImagiKnit. This is more of a typical yarn store, but they have a TON of yarn. It seemed special enough to make the trip so on our last morning in SF, I hopped in a cab and went WAY across town. It was...okay. The store itself is very nice with a very shabby chic look and two huge rooms filled with yarn. There really is a TON of yarn - most of it's your typical LYS fare - big names and some little names. I bought my requisite souvenir Koigu: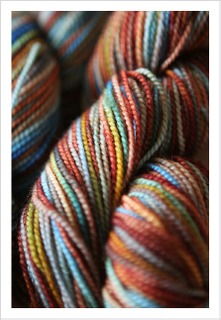 P900. I bought the last two skeins and even though they're the same dyelot, they're pretty different. I also bought some Claudia's Silk Lace in the superfun Lipstick colorway.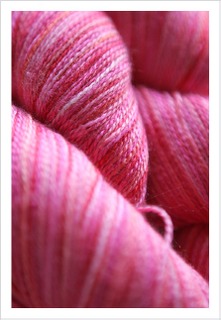 I just love the color. Imagiknit, though, was a bit of a disappointment. Sure, there was yarn galore. Sure the store setting was comfortable and fun and there was LOTS of room. But I got that vibe. You know which vibe I mean. The vibe that says you're not part of our little clique, which is the only reason we've got this huge store in the first place, so we can knit with our friends, and you're not a friend, so we'll gladly take your money, but we're not going to be encouraging about it. It could've been me. I'm sure there are people out there reading this thinking this is completely wrong because it's the best yarn store in the world, but I tried to engage them and they just didn't care. I even did the embarrassing old lady trick where you try to make conversation with everyone and I felt like I was rebuffed. Anyway, the yarn is pretty and really that's all that matters. I won't make the effort next time though.
My next stop was Article Pract, across the Bay Bridge in Oakland. Now there's a yarn store! The place is PACKED full and it was funky and seems like a lot of fun and I bought the best bag in the universe and it was ON SALE!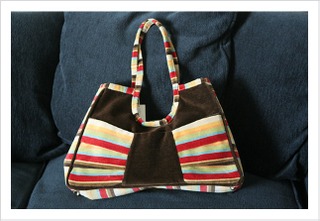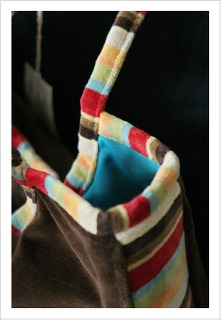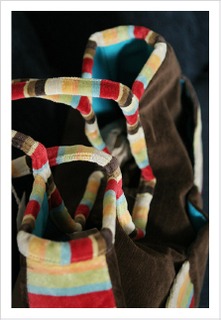 OMG! It's all velvet and soft and the blue faille lining is fantastic and matches perfectly and it fits great on my shoulder and the cutout is perfect for my arm and I love it so much I'm afraid to use it! It's Offhand Designs, Ursula style and I was so happy I skipped to the car to show G. It's the Sahara Stripe colorway. I was sorry I didn't buy any yarn at Article Pract, and while they had lots of yarn, there wasn't anything super special for me like the bag. I mean, really, I don't need any yarn. But the woman behind the counter was very nice and really I was just so happy with the bag she could have called me fat and I would've thanked her. Yes - it's THAT good! I would definitely go back to Article Pract. Very nice store.
On our first full day at the Lake, we drove the 72-mile loop that takes you all the way around and on the way we stopped at The Wool Tree in South Lake Tahoe. Unfortunately, they don't have a website. It was a small, but nice store, with your typical LYS fare. The woman working there was very nice and chatty with me. I ended up with an older Interweave Crochet. Didn't want to walk out empty handed.
My last yarn store of the trip was Jimmy Beans Wool. I was really hoping to get here and the last night we stayed in Reno, so it wasn't very far from our hotel. When I walked in they were getting ready for an event later that evening with Ann Norling. Unfortunately I couldn't stay, but I was certainly invited to. VERY nice group of ladies at the store. VERY nice. Solicitous without being OVERLY solicitous. Fun and funny and it's a great little store. They have a SUPERIOR collection of Lorna's Laces and when I asked for the Tahoe colorway, which I didn't see on the shelf, they checked their inventory and came out with all I needed. I bought the two prizes while I was there and some other contest yarn and I was happy to spend my money with them. I've shopped online with them before, and will be happy to do it again.
So that's the yarn crawl story. I love visiting yarn shops when I travel - most of them are pretty similar, but sometimes you get a nice surprise.
Here's what I knit on most of my trip: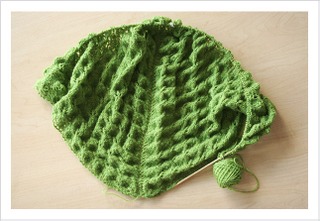 I'm loving knitting this! It's my Wing O' The Moth shawl (details here.) I love the yarn - the color, the feel - and I love the texture of the unblocked lace.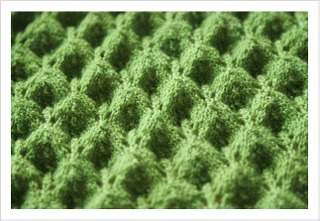 And here it is pulled out a little bit.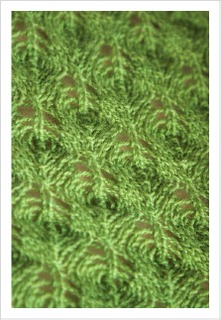 I can't wait to finish and block this baby! I'm just about to the end of the first chart. I think there's like 40 rows and the edging after that. Not long now.
And this picture is for Ann: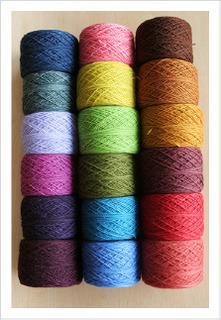 I can't wait! More on this as soon as Annie gets her share. ;-)
Posted by Cara at 03:01 PM | Comments (79)
June 06, 2007
Knitting with the Enemy
WARNING: This post has LOTS and LOTS of LOVE in it. May cause diabetic comas. Consider yourself warned.
Yesterday? Well yesterday was a SPECTACULAR day. Seriously up there with one of the best. Why you ask? Well, I finished a pair of socks, which I expounded upon in yesterday's post and then I went out and looked for pants. Let me explain. I'm fat - well - fatter than I've ever been and I have two pairs of jeans that fit and one is so worn it's got holes up and down the seams on the legs. None of my cute summer crop pants or shorts from last year fit me and I've been DESPERATE to find something to wear. ANYTHING. I've tried on a billion pants and short - literally - and all of them, so far, have had a zipper that's like an inch long. You know what I'm talking about. They hit so low it's a miracle they're covering my pubic bone. I can't wear pants like that. I'm long waisted and it just doesn't work for me. So I've been really depressed. About my body but also about the fact that I'm still wearing below average sizes for this country and I can't find anything to wear. I even resorted to trying on MEN'S shorts the other day. I would've bought them too but there were a bit too big and I couldn't stand to try on a smaller size.
So yesterday I thought I better try again because I'm leaving for vacation in five days and I pretty much have nothing to wear. I ended up at the Liz Claiborne outlet nearby my house and get this: EVERY SINGLE PAIR OF PANTS I TRIED ON LOOKED FANTASTIC!!! It was like some weird time space warp and everything I brought into the dressing room looked great. Pants. Shorts. Skirts. I actually had to decide what I was going to buy! IT WAS A DRESSING ROOM MIRACLE!

I LOVE LIZ CLAIBORNE!
And then - when I got in the car - high from my retail extravaganza - one of my all time favorite songs was on the radio. Best of My Love by The Emotions. I immediately rolled down the windows and SANG at the top of my lungs baby! WHOA WHOA! You've got the BEST of MY LOVE! WHOA WHOA!
I LOVE THE EMOTIONS!
Then, after trying on all my clothes and settling on one of the shorts I got dressed and went BACK OUT because I was so happy to have a pair of shorts that fit me. I went BACK OUT people. I never go back out. Ever.

I LOVE GOING BACK OUT!
When I got home, feeling so good about my day, I started a new project! Wing O' The Moth! I LOVE IT!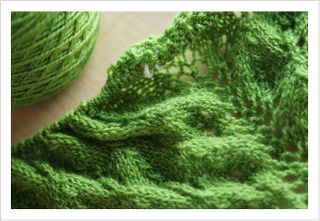 It took me about five tries to knit the first five rows - just getting used to the new needles and the new (really thin - for me) yarn and the pattern and all that and then I was sailing along! I've got three repeats of the first chart done - only 11 more to go! (Hey Anne - if I add repeats in the first chart will I set myself up for a bigger shawl? I haven't read that far ahead. Thanks!) Can I just show you a few of my fir cones?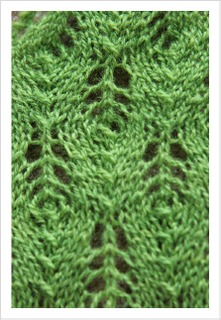 OHMYGOD! Can I tell you? I am LOVING everything about this! The yarn - FANTASTIC! I love the color. I love the way it's so light but yet I'm getting a fairly dense fabric. It's freaking soft as all get out. It's EXACTLY what I wanted. I might need to order like fourteen more colors. What is it? Classic Merino Lace Weight from Catherine at Knitting Notions! Go there now. It's gorgeous gorgeous stuff. I'm knitting with the Green Apple colorway. And seriously, while the yarn is fabulous - Catherine is even more so. She gets the stuff out ASAP and was very helpful when I emailed her about needle size.

I LOVE CATHERINE AND HER KETTLE DYED MERINO!
Which brings me to my next love fest. I asked Anne and I asked Catherine - what needle to use? They both said 6s and I got myself a set of Lace Addis in 6s and started up. The yarn seemed so thin and my stitches seemed so big and I doubted. Truly I did. But then I persevered telling myself that since it's a top down shawl I don't need to really knit much to find out whether it's going to work or not and they were RIGHT! The 6s are spectacular. And the needles? Well, I'd like to publicly thank Grumperina for her campaign to get Addi to make pointier needles. These are truly divine. I never knew what a difference the pointiness would make when knitting lace, but OH MY GOD! It's AMAZING! And they're not too pointy! I'm almost positive I will NOT be putting a hole in my finger. (Really though, I think it's because I will never be speeding along with this project the way I do with socks and miters. I only poke the needle on the knit stitch and I have to pay attention on the knit rows with lace and the purl rows I don't poke.)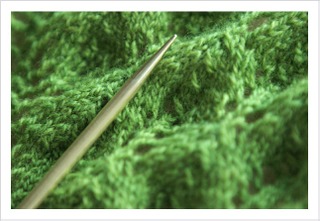 I LOVE GRUMPERINA!
I LOVE ADDI LACE NEEDLES!

I'm saving the best for last - Anne and her pattern. Even though I'm only three repeats in, I've already got the fir cone part memorized. It's looking lovely and I can't wait to finish this shawl. Especially those Coronas! Anne has graciously answered every question I've had - before I even cast on for the thing - and her pattern is clear and the charts are readable and it's all good. I want to knit on this all the time - which, as we all know, is the best sign of a great project. Thank you Anne! I can't wait to see it finished! Therefore:

I LOVE ANNE!
I have to say, though, that G has a little bit of a bone to pick with you. I showed him my new project last night and told him it was called Wing O' The Moth and he was very taken aback! "What?" he said. "Aren't moths the ENEMY?" Don't be alarmed if I start calling it Wing O' The Butterfly, okay?
Posted by Cara at 09:16 AM | Comments (86)