January 14, 2007
Feels Like the First Time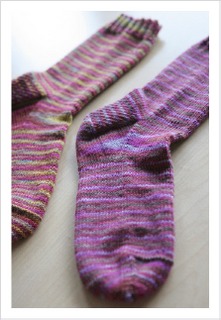 As Tracey said, every time you knit with Socks That Rock feels like the first time! This morning I finished my "pair" of socks - the G-Rocks and January One socks which I knit at the same time on two circulars. Of course, I love them! They are soft and stripey and perfect for my feet and G wants his own pair. I told him I'm gonna have to get some heavyweight for his socks - he wears size 13 shoes. Lucky 13 for me! (Um... That didn't come out right. Insert sarcastic face here.)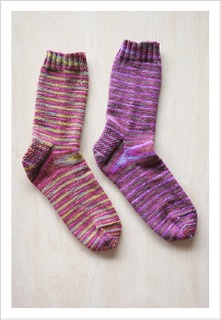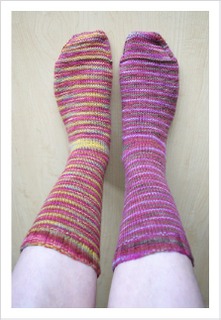 I immediately cast on for the mates - two at a time - once again. Even though I really didn't like the whole two at a time thing. I guess, technically, it probably takes just as long to knit two at a time as it takes to knit one at a time, but it FEELS like it takes forfreakingever and sometimes perception is enough. I was going to just knit one of the socks and then I was going to start with a completely different yarn, but in the end I decided that knitting these socks is like marriage. I was super excited when I started knitting them - TOGETHER - and I'm thrilled to be wearing them, but starting the next "pair" was a little bit hard and I'm sure it will be even harder to knit them but when I'm done I'll have TWO new pairs of socks and I will love them all the more for the effort that went into knitting them. Sometimes we need to do things we don't really want to do - but in the end it's all worth it. Just like marriage. ;-)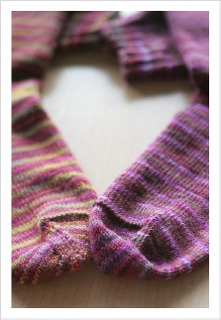 January One loves G-Rocks!
I know you don't really care about my socks, you want to know about YOUR socks, or more specifically, did you WIN! Well, I've already sent out an email to all of the winners - did you get one? Check the list to see:


Fidget

Denise

Jan

KathyH

Mary

Linda

Marlana

Brenda

Stephanie

Sandy

Karen

Carol

Vitpil

Michelle

Rob's Wife

Amy

Chelle

Stéphanie

Carina

Gayle

Frog Princess

Lazuli

Subha

Annette

Irene

Sanne

Barbara A.M.

Stacy Wittmann

Lies

Zita

CONGRATULATIONS! I hope you love your yarn as much as I do! As I mentioned, I sent an email to all the winners - so if you see your name up there and think it's you but didn't get an email, please check your spam filter before you email me.
All I have to say about this contest is thank god I didn't ask for Haikus and damn people! Go out and get yourselves some! What are you waiting for?
Thanks for playing!!

Posted by Cara at 09:00 PM | Comments (38)
January 12, 2007
Calling All Virgins!
I've been astonished to learn that there are actually people out there in the world that have never tried Socks That Rock! It has occured to me that the best way I can help Blue Moon, and the greater world at large, is to do my best to rectify this situation.

CALLING ALL STR VIRGINS!!! LEAVE A COMMENT AND TELL ME WHY YOU NEED THIS YARN! ON SUNDAY JANUARY 14, I WILL CHOOSE, AT RANDOM, TEN LUCKY WINNERS AND THEY WILL RECEIVE A SKEIN OF SOCKS THAT ROCK. ONE ENTRY PER PERSON. AND I'M GOING ON FAITH HERE THAT YOU'VE NEVER KNIT WITH STR!! But I have ways of finding out...mwahahahaha!
Go at it. Remember, you only pop that cherry once. Make it a good one!
ATTENTION VIRGINS!!!! BREAKING NEWS!!!! I JUST HEARD FROM BLUE MOON AND YOU HAVE MADE THEM LAUGH SO HARD THAT THEY ARE MATCHING MY GIVEAWAY - WHICH MEANS TEN SKEINS FROM ME AND TEN SKEINS FROM BLUE MOON!!!! THAT'S TWENTY LUCKY VIRGINS! KEEP IT COMING!
MORE BREAKING NEWS!!!! BLUE MOON AND I HAVE DISCUSSED THE FACT THAT YOU'RE ALL ABSOLUTELY INSANE AND WE'VE UPPED THE PRIZES TO THIRTY SKEINS - 15 FROM ME, 15 FROM BLUE MOON. I'LL BE CLOSING THE COMMENTS AT AROUND 11AM EST - TODAY. AND LATER ON I'LL BE BACK TO ANNOUCE THE WINNERS! SERIOUSLY. YOU ALL NEED TO GET OUT MORE.
Posted by Cara at 07:50 AM | Comments (801)
The Call for Calm
In reading through blogland, I'm thrilled to see so much support for the wonderful folks at Blue Moon Fiber Arts. I want to reiterate that we shouldn't worry about Blue Moon - they are strong, independent, FIERCE women who are perfectly able to defend themselves. There are lots of excellent, important reasons NOT to release the name of the bank. Trust them on this. They are not taking this lying down. Does this mean they don't need your support? Of course they do. We can support them best by having faith in them, in their yarn, and most of all in our knitting and ourselves.

Posted by Cara at 07:19 AM | Comments (14)
January 11, 2007
Rock Your Socks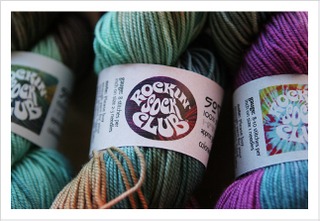 I feel like I've just seen an episode of the Twilight Zone. No doubt, many of you have received an email from Blue Moon Fiber Arts, the creators of Socks That Rock and my dear friends, outlining the recent troubles they've had. If you haven't heard, or you aren't part of the sock club, I'll lay it out for you. The first incarnation of the Rockin' Sock Club was so successful, Blue Moon decided to do another year. And this time it was PHENOMENALLY successful. So much so, that when payments began to come in for the club these last few weeks, the bank decided that it could not be a legitimate venture - there was no way that so many people would sign up for a "sock club" and that the only explanation was that it was a SCAM! The bank was so convinced about this "SCAM" they SHUT BLUE MOON DOWN. And decided that they would REFUND ALL THE MONIES COLLECTED. They did this without investigation, without listening to Blue Moon's pleas for mercy - they did it unceremoniously and with possible grave consequences for a fledgling yarn company started by one woman with a love of fiber and an obsession with color.
You don't need to worry about Blue Moon. I don't need to worry about Blue Moon. Tina and Kaci and the whole crew out there on the Left Coast are resilient and strong and have a fucking fantastic sense of humor so they will survive. The sock club is back on track - no one will lose their spot - and the website, when it's fully functional again, will be better than ever with new colors being unveiled soon. A tremendous set back, no doubt, but the yarn is too good to ever let die.
In the past week I've had many conversations with Tina, who has become a dear, dear friend of mine. I've known Tina for over a year now, and since our first conversation many moons ago, Blue Moon has grown in leaps and bounds. The company has gone from a one woman dyeing machine in a room the size of a closet to a full blown (albeit still small) production facility with multiple dyers. As with all growing companies offering a fantastic product, there have, of course, been bumps in the road. That's what comes with success - especially fast success. But Tina and company have faced these bumps head on - and not once, from what I've seen, has the product, or customer service, suffered.
My love for Socks That Rock is long documented. One year ago last October I bought some yarn at a fiber festival and knit a pair of socks. It wasn't the first pair of socks I knit, and it wasn't the first sock yarn I'd used, but something clicked for me and quickly it became THE ONLY sock yarn for me. Sure, I've knit with others, but I've never enjoyed socks as much as I've enjoyed Socks That Rock. I don't work for Blue Moon - I have no affiliation with them whatsoever besides the fact that I'm a good customer. And if for some reason Tina and I stopped being friends tomorrow, I'd still love Socks That Rock. In thinking about it, I've decided that my relationship with STR and socks is not unlike my relationship with Georgie and Bruce Springsteen. No! Seriously! Stay with me - you'll see what I'm getting at. I've often told the story of how when I was falling in love with G, I also fell (a little bit) in love with Springsteen and how I can't listen to Springsteen without thinking about G. I think the same thing kind of happened with socks and Socks That Rock. When I fell in love with knitting socks, it was really because of Socks That Rock. To me they are intertwined in a very fundamental way. Do I knit with other sock yarns? Sure, I'm not silly. But more and more when I go back to my beloved STR, I wonder why I ever left.
You may think I'm crazy. That's okay. There are so many sock yarns out there - I'm sure you'll find your one true love. I'm just so lucky to have found mine.
There's another HUGE issue to talk about here. THE POWER OF KNITTERS. Dudes! We brought a BANK TO ITS KNEES. They didn't BELIEVE that so many people would join up. They didn't BELIEVE that YARN could move so many people. They didn't BELIEVE such a large community could exist. We know better. We've seen it a million times. Raising money. Knitting hats. Knitting scarves. Gathering together in huge numbers. People joke that knitters can change the world, but WE ARE CHANGING THE WORLD! It's about time we were taken seriously - by the blog world for sure (what do our numbers look like these days - I mean a new knitting blog is born like every ten seconds!) but the greater world most importantly. WE ARE A FORCE! Unfortunately, Blue Moon has had to suffer because of our powers, but we knitters are at heart a kind bunch, and our love will buoy Blue Moon and grow it even stronger. There is nothing we can't do.
Thank you.
Cara
Posted by Cara at 12:00 AM | Comments (75)