March 21, 2005
No Bleeding Necessary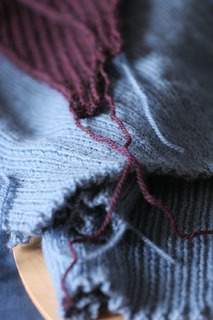 What you see here is a pile of good ol' ribby cardi pieces. That's right. I finished the sleeves last night. I'm going to block over night tonight. I haven't even ordered a zipper yet (looks like zipperstop.com is the place to go...) and I still have to decide what kind of neck I want, but I'm almost there. The bulk of the knitting is finished. I can't wait to put it together.
I also managed to put together our taxes this weekend. It wasn't as bad as I thought and resulted in only one screaming match. ;-) We're getting a nice refund. From now on I will be referring to money as yarn. Like "How much yarn are you getting back from Uncle Sam?" "Skeins and Skeins!" There may be a laptop in there too.
It wasn't as exciting as some weekend plans, but I feel like I got a lot accomplished. Which is important because my sister is about a centimeter dilated as we speak - which for those in the know means should could go another three weeks or in the next hour. My brother-in-law and I are both getting jumpy - whenever the phone rings and it's Jolie I'm like WHAT'S UP? Keep your fingers crossed for another couple weeks. Her due date is April 2nd and even though she's done with being pregnant, we'd both like a little more time - I for one have a lot to do.
Here's a picture of the wonderful surprise waiting for me when I got home: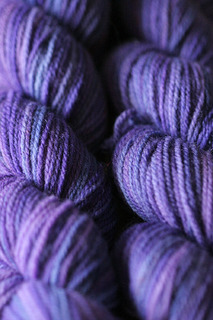 It's Spirit Trail Fiberworks 100% Superwash Merino Sock Yarn in colorway 38-05-02-03 from the fantabulous Annie! Thank you, again! It was a great surprise!
Also waiting for me was a thin package from WEBS with some eagerly awaited patterns: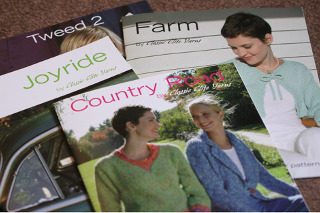 I want to make the Seeded Cable Cardigan from Farm with my Jo Sharp Stash - either the Desert Garden or the Silkroad Aran DK Tweed (or maybe both if I like the pattern.) I think I'll be swatching (starting a sleeve) very soon. I'm pretty sure I'll be making the Lettuce Edged Pullover from Country Road too. I'll be using Artyarns Supermerino for that for sure!
In the airport, leaving Las Vegas, right after I pulled the handle for the last time, I bought these: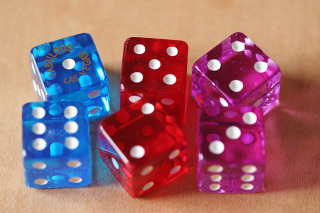 I bought the earrings for the sole purpose of making stitch markers! Aren't they cute? Hopefully they'll bring me good luck. And the dice - well - a girl can't ever have enough dice!
I updated my Arizona blog entry with pictures. Check it out if you'd like. I wasn't completely thrilled with the pictures, but some of them I like. It was a good vacation, but alas feels so far away already.
One last thing. I find it amazing that the Republican party, the party that was all about keeping the government small and out of our lives when I was growing up, now feels that it can step in between a husband and wife AND THE COURTS. The Terry Schiavo case has me running scared. If anything good has come out of it, it's that George and I have had some serious talks about what we'd want in a situation like this. I hope we'll be visiting a lawyer soon. The hypocrisy of Congress has reached hyberbolic levels. They won't allow gays to marry - god forbid we corrupt the sanctity of marriage - but they have no qualms stepping in to reverse a decision that a husband, her legal next of kin, has made for his wife. The age of Big Brother is upon us. I find the political maneuvering despicable and the whole situation so overwhelmingly sad for everyone involved.
Posted by Cara at 03:43 PM | Comments (5)
March 02, 2005
Kick-ass
headache I've got going today. Came out of nowhere too. Probably ate lunch too late - or allergies because it's all in my face - but what can you do. I'll get into bed and read for class. A nap might come soon after.
Because I seem to be made of money these days, I ordered the yarn for my short-row pullover:
This is what I decided on:

Rowan Wool Cotton

| | | | | |
| --- | --- | --- | --- | --- |
| | | | | |
| French Navy-909 | Aloof-958 | Bilberry-959 | Laurel-960 | Antique-900 |
The French Navy will be for the sleeves and the Aloof and Bilberry for the major accents, the Laurel and Antique for the minor accents. I'm excited about it to be sure! I so hope I can make it fit. I'll be so sad if it doesn't fit these big, humongous boobs. (There you go google pervs!) I'm so not happy with my weight these days, I'd hate to make myself something that won't fit because I'm too fat. Alright. I won't go there. My head hurts too bad already. The best news was that I used my gift certificate and barely paid anything - include in that a ball-winder and the Rowan Junior book.
The people at Yarnmarket.com were very helpful, I have to say. I wasn't sure about the colors matching well, so Pat pulled some of each to put together for me - and then she came here to check out the picture. She also asked everyone in the office if they thought it looked good. There was a positive consensus - it should look great! I really do like this pattern.
Yesterday I managed to be productive and sent in slides for a juried show. It's for members of the Professional Women Photographers Association. The theme is The Secret Garden, and those photographs selected will be on Exhibit at the Brooklyn Botanic Gardens this summer. So cross your fingers for me. You can see the photographs I entered here.
I also did some work on the Ribby Cardi sleeves. Man those suckers are going slow! I would LOVE to have this project done. F-U-C-KL-O-V-E it!
Make sure you check out Wendy's handy dandy tips on meeting knitbloggers. And don't forget your sharpie! ;-)
ETA:
Almost forgot! Lolly tagged me for the latest Meme going around -
1. What was the last book you read or are reading?
I just finished The Easter Parade by Richard Yates, which I enjoyed. Not as much as his other ones (Revolutionary Road is a masterpiece, as are his short stories.) I'm about to start Jonathan Strange & Mr. Norell by Susanna Clarke for Knit One Read Too.
2. Where did it come from (library, bookstore, gift, etc.)?
Book store for sure. I'm really bad at borrowing. Although I used a gift card for the Clarke book.
3. How many books do you read per year?
I try to average at least one a month - hopefully two. That's pretty pathetic. I must try to do better. Part of the reason I started K1R2 was to make myself read more.
4. What is your favorite genre?
Literary fiction to the point of snobbery. I'm actually quite elitist when it comes to my reading. But at least I can admit my prejudices right?
5. Who will you tag now?
Mrs. Pilkington - mainly because I'm thinking she has quite a diversified reading list - especially when compared to mine. (It seems I can't stay away from dead (or alive) white men. What's wrong with me?)
Posted by Cara at 01:51 PM | Comments (10)
February 22, 2005
Ribby Cardi Redux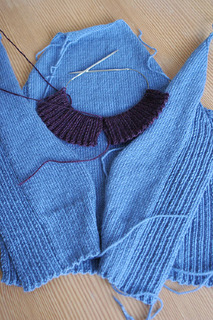 I did nothing this weekend, and I really mean nothing, but knit this cardigan. Did I enjoy it? Not really. I'm not loving the yarn at all - a little too scratchy for me and one of my skeins had some annoying knots in it that were somehow fused together - and I'm so sick of stockinette I want to scream! BUT, that said, I finished the back, did both fronts (together) and am now working on the sleeves. Thank god I've changed color. Speaking of color, it's really off in the picture, but here's a reminder of what I'm working with:
| | |
| --- | --- |
| | |
| grape heather | antique blue |
I'm not sure what I'm going to do with the collar yet - mainly what color it's going to be.
Now, don't get me wrong. While I'm not particulary enjoying the actual knitting of this project, I can appreciate how well written the pattern is and I can easily see how nice the finished product will be - it's just the stockinette lolls me to sleep. I'm yearning for something meaty, challenging, deliciously cabley. Like Vicki's St. Brigid. It's absolutely gorgoeous. I even found myself reading St. Alice last night. And then the library called today to tell me that Fisherman's Sweaters is in. It's fate telling me something, right?
There are lots of ideas brewing in my head these days. I'm feeling a little crazy with all of them. It's all this alone time - and knitting stockinette. Nothing to really concentrate on, so the mind wanders and wanders - sometimes into dark places, sometimes into the light - but it's exhausting! My dear, sweet husband has been working his ass off - all through the weekend - and today he's in Chi-town all day. Left at 5 this morning and won't be back until around midnight. I love my alone time, don't get me wrong, but enough is enough. I was supposed to work yesterday - they rescheduled. Today I was supposed to be all over with a friend I haven't seen in a while - it looks like I've been stood up.
Friday I'm off to Beantown, and hopefully meeting up with some friendly neighborhood knitbloggers for a yarn crawl and a couple of meals. I hope so - I need some play time! All stockinette and no fun makes Cara a crazy girl! (You must, I repeat, MUST click on the link.)
Back to the freakin' sleeves....
Posted by Cara at 12:07 PM | Comments (12)
January 31, 2005
Blahs
I'm depressed. And while this may have A LOT to do with it (Kerstin, have you seen this?), it's not the only thing.
I think I caught the January blahs going around. Before I left on vacation I was doing good. Now I'm feeling overwhelmed. My house is falling down around me, literally. As I write this there are men on a platform HANGING outside my windows (yes, three windows, covering three rooms - it's a big fucking platform) drilling into the side of my BRICK highrise. If my head doesn't explode first, I'm going to kill someone. Preferably beginning with the guy who waved to me as he hung by my bedroom window.
I have taxes to prepare. I bought TurboTax thinking any accountant I lay out big bucks for is just going to plug in numbers to TT anyway. So I bought it. The taxes are now my responsibility. I spent all day yesterday getting my business in order. My sister is going to help me set up Quickbooks, but until then, it's sort of a pencil and paper operation. I think I got it all - but I still get nervous I'm missing something. Credit cards are actually a good thing sometimes. I try really hard to charge everything for the business - so I can just do a data dump from the credit card company for all of the charges.
My poor camera is still dead, and dying more and more as the seconds go by. I'm actually pretty sad about it. This was the camera that started it all. I'm taking it in to the Canon hospital today - but I'm not expecting any miracles. (Maybe secretly I just want yet ANOTHER new camera? SHHHHHHH! Don't even think it!)
On the knitting front, (that's why we're here, I guess) I started the first Picot-Boo sleeve and I actually did some work on my Ribby Cardi. I'd like to get that done pretty quickly - it should be an easy knit. I enjoyed what I knit of it this weekend, so we shall see. In my mind I'm also designing my father's sweater, a cardigan for myself and the new baby's blanket. I was toying with the idea of placing hearts around the blanket in squares - maybe hearts and stars, but I may have given up on that. Too much thinking and I just want to knit the blanket. I may think about forgoing any kind of pattern and doing stockinette (it's so soft!) and a ribbon/satiny border, you know something soft for baby. We'll see. Too many projects in my head. I can't concentrate.
More good news: yesterday the 100th person signed onto K1R2! I find that absolutely incredible. Today starts the discussion of The Plot Against America. I posted at around midnight last night, so excited, and as of yet no one's commented. I know, I know. I shouldn't expect people to be losing sleep over this, but it's like, you know, my baby. I want it to be great.
Back to feeling sorry for myself and getting some work done. I have to pick up my best friend at the airport today. She's in for about 24 hours. She'll hold me up; she always does.
Posted by Cara at 12:45 PM | Comments (6)
December 30, 2004
Wow!
Thanks everybody for your response to Knit One Read Too! I'm really excited about it. I'm in the process of making logos and setting up templates. If you left a comment on the entry linked above, you will receive an email soon with login instructions. If you haven't left a comment, and want in, please do!
Let the celebrating begin!
I received my first birthday gift yesterday! From Annie (thank you, thank you!) She gifted me with books from Amazon and I couldn't be more thrilled.
And last night was lamb chop night! Mmmmmm.... Every year, a couple of days before my birthday, Georgie takes me out for lamb chops. It's my favorite, naturally, and Georgie aims to please. Dinner last night was at Dylan Prime, in Tribeca. This is not your father's steak house! The decor was very nice, atmosphere as well. We got a good table - not too close to our neighbors, but close enough that we could check out what they were eating (a must!). For starters we had ceasar salads, probably the low point of the meal, but not bad at all. Georgie had the scallop appetizers, but they smelled too fishy for me - so I passed. I had the Colorado rack of lamb - G had a New York Strip. Devine! For our "Accessories" (their way of saying side dishes) we had the Yukon Gold Mashed potatoes which were heavenly. Lots of butter, lots of whipping. We should've ordered one for each of us. (Do you think it's bad behavior to lick the bowl? What about dragging your finger through it for that last little morsel?) And I ordered the baby brussel sprouts in balsamic! Yummy! I love brussel sprouts. They were very good, and G even tried some.
The pièce de résistance was the dessert. I had the Molten Valrhona Chocolate Cake and my god. I.thought.I.would.die. This was by far the best chocolate cake/souffle type dish I've ever had in my life (and trust me, I try them all! Nothing better than runny chocolate cake.) It was sweet, but not too sweet. The secret of it, I think, was how light the dish actually was. Talking about licking the plate. I'd go back just for this dish! And I don't even like chocolate that much. Georgie had the Dylan Chocolate Turnover with Bananas and Marshmallow, which he said was just as amazing. What a wonderful meal! Thank you my love!
My dad may come up to visit today, and if he does, we're probably going out to dinner - to Cara Mia in the city. Another great meal is in the works!
Knitting news!
I started swatching for my Manos vest, which from now on be called School Daze. I'm so happy with it! I've got the front cable just about figured out - I'm going to split the swatch to see how it will work out with the v-neck and then I'm going to do my calculations to cast on! This designing thing is pretty cool.
And I cast on again for my Ribby Cardi. Thanks for the comments about it yesterday. I don't mind ripping it out - to get it right. If it's a little big - no problem, but too small, no way. I'll let you know how it goes.
A public apology!
Apparently I owe you all an apology. When I post my links, I generally send them to a new window: target="_blank". I've since found out that this is bad, very bad. I'm not quite sure I agree with Nielsen's argument, but I'll try it out for the time being. In the meantime, if you want to open up the link in a new window, hold down the shift key when you click it. I'm so, so sorry.
Posted by Cara at 10:48 AM | Comments (6)
December 29, 2004
Size DOES Matter
I finished the back of my ribby cardi (what a fast knit!) yesterday and promptly started on the left front. While I'm knitting this said front, I'm thinking to myself, this looks really, really small.
I wear about a size 8 in real life. Sometimes a 10, depending on the brand. But I'm nicely endowed on top. Not Anna Nicole Smith or anything, but you know, not small by any means. So I tend to wear baggy clothes on top. I go for the large usually. I'm not trying to hide anything, I just want to be comfortable.
When I measured for the ribby cardi I took out a sweater I already have (not one I made) and measured against that. The sweater's a little on the baggy side, but going by the gague I decided on the 38/39 version of the sweater. (Bonne Marie has been very generous in her pattern by giving us about a million sizes to choose from!)
Of course, I was using the exact yarn the pattern called for and I'm a "normal" knitter (not too tight, not too loose - or at least I thought) so I didn't bother to check for gague. WRONG! When will I learn?!? I just measured the back. The pattern says the gague should be 19 stitches for 4 inches in stockinette. I just measured my sweater. I'm getting 21 stitches for 4 inches. I think I'm going to rip it out and go two sizes bigger. That way I know it won't be too tight. Kind of a bummer, but it really did knit up amazingly quickly. I'll rip it all out today.
Because I was bummed about ribby cardi, I started on a swatch for my Manos vest. I'm thinking I want to get it finished by January 13th - the first day of class. I'm teaching this term and want to look snazzy for my first day. This will be my first "design." I'm doing a simple v-neck vest with a cable down the middle.
Thanks everyone for your interest in the knitblogging reading group! I'm thrilled to get it off the ground. I've purchased the url www.knitonereadtoo.com and hopefully by the end of the week you'll be receiving invitations in your email. Thanks - I think it's going to be great. I've already read about fifty pages of the book and it's really good. Very interesting! (I was kind of bummed yesterday - you know, end of year, winter's here, birthday kind of blahs - so it's nice to have a new project!)
PS - If you want in on the reading group, please leave a comment on ">the knitblogging entry. That way I can keep it all together! Thanks!
Posted by Cara at 09:00 AM | Comments (2)
December 27, 2004
Karma Karma Karma Karma
Karma Chameleon....
Guess what showed up today? You betcha. The packages from Amazon. It just so happens that when I yelled and cried and berated the customer service representative on Friday, she issued me a credit for the items.
So. They're here. And they're free.
What to do? I'll preface this with a little story.
Once, a while back, some friends and I went to a great reading at Barnes & Noble. I picked up the book before the reading so I could read along with the author (the amazing John Dufresne - if you haven't read Lousiana Power & Light, run out right now and pick it up. Freaking hysterical!). You know how they always have a big display right there, next to the lecturn and stuff? Anyway, the reading was great and I had the book signed. Then we gathered all our stuff and headed out for burgers.
There I was, standing in line at the Port Authority waiting for the 129 bus when I realized I NEVER PAID FOR THE BOOK!!!!
Did bells go off when I left the store? NO.
Did any of my friends say anything? NO.
I just cruised on out through the metal detectors and all without a peep.
I was mildly horrified. The store was closed when I got home. I almost let it go - if they didn't notice, why should I? C'mon. It's Barnes & Noble. They shit books for breakfast.
I awoke in the morning with a clear answer. Karma baby.
I'm a writer. I knew something awful would happen to me in the publishing vortex if I didn't pay for the book. So I called the store and had them charge me. The manager was dumbfounded to say the least. She told me I was a good person. I told her I didn't know about that, but I wasn't about to piss off the publishing gods. Besides, I thought it would be a good story to tell at MY first reading at B&N. (Hasn't happened yet.)
What was I talking about? Oh yeah. Amazon. So I called them and told them what happened. We agreed they should charge me for the items, but not for the shipping. Karma. I've still got it!
In knitting news, Grace at Rosie's Yarn Cellar was nice enough to convince me that I have plenty of Manos to take care of a vest with a nice cable down the front. She could've sold me plenty more, but she didn't. Karma. She's got it!
And I found a cute pattern for a pullover for my niece in the Holiday 2004 Family Circle Knitting. I'm going to use the fabu Art Yarns Supermerino that was recently reviewed by Clara. I bought some color #108. This is also the yarn that Froggy used for her claoptis. I can't wait for it to get here!
I had to rip out the Ribby Cardi decreases I did yesterday. Somehow I was off two stitches on one side. Have no idea how I did it. So back to square one. Oh well. No biggy. I've got my good Karma to keep me warm.
Posted by Cara at 03:41 PM | Comments (1)
December 26, 2004
Disaster
I can't even begin to imagine the devastation. It truly is like a bad hollywood movie. Just incredible. I'm not one who walks around talking/thinking about an all-powerful god - but Mother Nature sure comes close.
Disaster also fits my holiday weekend. Sure, I have my health, a roof over my head, I'm dry and fed, but it still sucked.
First of all, in a previous post I mentioned how much I was thrilled with Amazon and their stellar customer service this holiday season. Not so thrilled anymore. Granted, I did order the few gifts I needed on Dec. 20 and 21, but I'm not sure that's an excuse.
The couple of gifts I ordered from Amazon were for my great-nieces who I would be seeing on Saturday - we haven't seen them in a while so I was excited. They are 4 and 1. I placed the order on Tuesday and was guaranteed by Amazon they would arrive by Friday. On Wednesday I received emails that the items would be sent out separately but both had been upgraded to overnight delivery and would arrive on Thursday. By Friday 2PM nothing had arrived. The tracking numbers weren't appearing in the database. Okay, they were there, but no information was available about the whereabouts of the packages. One was sent UPS, one was sent FedEx. I called FedEx and they said they never had possession of the package. I searched the Internet and found an actual phone number for Amazon (ended up being in India, of course) and was informed the package never went out. I said you sent me emails saying it was on the way. Well it wasn't. No gifts for the girls.
I didn't give up. I went out to Toys R Us at 4:30 Xmas eve. It was a horrifying experience and I gave up quickly. I made cursory appearances at a few other stores and came home empty handed.
Then I found out the package I had sent overnight (FedEx) to my best friend never made it out of New Jersey. It was supposed to be in Las Vegas by 10AM Friday morning.
I shouldn't have been surprised, but I admit I cried when I attempted to give Georgie his Xmas slippers on Saturday morning and they were the wrong size. The email receipt I have says XL, they sent L. Suffice it to say, I didn't have a merry weekend.
I think the kinks are all worked out in the host transfer. Even though, in the end, they screwed things up more than they helped, my new host was very attentive to my needs - including emailing me on Xmas eve.
There was a bright note to this weekend. Georgie's parents were very generous to us. My cedar chest and new camera are pretty much absolutes now! Thank you, thank you!
I did manage to knit this weekend. There was no way I was finishing Georgie's secret gift - a scarf if anyone still cares - I'll post some pictures tomorrow - for Xmas, but I finished it today. I just need to weave in ends. And I started decreasing on the back of the Ribby Cardi.
I hope everyone else had a great holiday weekend! I'll be looking forward to hearing all about it!
Posted by Cara at 07:44 PM | Comments (4)
December 20, 2004
Brrrrrrrrrr....
It's freaking freezing here!
I was possibly going to knit with Jen, but I'm not leaving my house. It's just too cold. Besides, why break our streak of trying to get together a million times to knit and NEVER KNITTING!
I couched it again last night. I'm feeling much better, but Georgie's got it now and he was snoring. It didn't seem like it was going to end anytime soon and I just can't fall asleep when he snores. If I fall asleep first, and then he snores, I'm okay. So off to the couch I went, which was actually okay. I didn't sleep too badly.
Yesterday I knit to about 11" on the back of my Ribby Cardi . It's looking good. And I ripped out the Brie gloves about a half a dozen times. Thanks for the tips on decreasing and the rib - especially Toni. I'm going to try again today. Maybe.
I also think I've figured out some stuff about the Jo Sharp Cedar project. I think, instead of a cardigan, I'm going to do a v-neck sweater. But not just any v-neck. I was reading through my Ann Budd Sweater book last night and I'm going to do a v-neck with saddle shoulders so I can do a large cable on the sleeve and work it all the way up to the neckline. I think I might also do an all-over rib - maybe with baby cables I found in one of my Barbara Walker stitch books. I'm thinking this will be really elegant for the yarn. I decided against a cardigan because after finishing Georgie's Vest and seeing how soft the yarn is, I want to wear it next to my skin. So now I go to the drawing board. I never actually designed anything on my own and I'm not really sure this can be called designing - I'm taking a pattern for a v-neck from Ann Budd, adding a stitch pattern from Barbara Walker and throwing in a cable pattern I pull from my Harmony Knitting Books. I'm pulling together, instead of designing. But I'm excited.
The main task of the day is to do my holiday cards. They must go out tomorrow! I think I can do it. I hope I can do it.
PS - Do you like my holiday lights? It's my one nod to Xmas in our house (I'm Jewish - Georgie's Greek Orthodox). I always put up holiday lights. They're not quite up in my house (yet) - I'm thinking Wednesday will be the day for that - but at least they're up in my blog!
Posted by Cara at 12:05 PM | Comments (5)
December 12, 2004
Productivity
[Warning: lots of pictures in this post!]
Well, the fifth times the charm. I literally visited five LYS between Monday and Saturday and finally, on the last visit, I BOUGHT YARN. Fell in love is more like it, but I'll get to that.
I went to visit Handknits in Englewood, New Jersey. I've been wanting to go (Jen, we'll go back - I promise!) and I'm glad I did. This is what a yarn store should be! There was a ton of yarn - rooms and rooms of it! And somewhat organized to boot. There was a back room that had the sale yarns and books. The room next to it had a big table (sort of like a conference room) with all the baby yarns and fingering weight yarns. The front entrance where the checkout was had all of the novelty yarns and the big, big room in the middle had everything else. Lots of Rowan, Karabella, Takhi/Filatura di Crosa/Art Yarns, etc. Clearly the owner takes issue with KFI because there wasn't a Noro or Debbie Bliss to be found. There's a lot to compensate though.
The staff was extrememly helpful without being solicitous. In fact, no one really said anything until I seemed ready for help. And then they were very helpful. I was there much longer than I anticipated.
I was looking for some felting yarn for Sophie - I really wanted Cascade 220. They didn't have any Cascade but the owner was nice enough to go through the store with me and point out all of the yarns that felt well. One of the ones she showed me was the Manos del Uruguay. I've never knit with Manos before, but I've certainly heard of it. I in LOVE now. I'll tell you! I was looking for something to make a Sophie for my sister - and for me. Well I ended up finding the most gorgeous colors!


Aren't they beautiful? The first one is a tan/camel with pink running through it and the second is a pearly pink with gray running through it.
I love this yarn! (Did I say that already?) I absolutely love the color and the texture - I don't even want to knit with it - I just want to look at it and touch it. I think the saleswoman thought I was crazy when I said I was going to felt it - but why not? Just because it's expensive? I know that I carry my other felted bag all the time - much more than I would wear something, I think. So is that bad? I bought all they had in those colors - my idea was that I'd combine them for a larger Sophie for my sister. I thought the tan/pink would look really good with her tan leather jacket and the KSH gloves I'm going to make for her, eventually. But I'm thinking I might buy more of the tan/pink for myself. I've got some Chanukah gelt waiting for me at my sister's - it's got Manos written all over it! If anyone reading has felted this stuff - can you make me feel better? Or tell me I'm crazy? OOOh, I LOVE it!
While I was at Handknits, I also picked up a few more balls of Filatura di Crosa Primo - the yarn I used to knit Max's blue striped hat. I wanted a hat for Charlotte, my niece, and I didn't want it to be blue as well. Charlotte looks good in primary colors - pastels wash her out - so I went with a bright purple/red combination. I think it came out cute!


I know Charlotte will love it - she's really into hats these days and the weather is supposed to turn really cold this week - so the kids will be nice and toasty!
Also, I finally finished the two booga bags I had sitting around. They're for my best friend's daughters (2.5 and 6). I originally made the pink one, but tried to felt in my front loader washer and it didn't really work. When I say it didn't work, I mean I ran it through like five times and it still wasn't really felting well. So I washed it again at my sister's with the blue one. The pink one is a little smaller because of it. They're both made with Noro Kuryeon. I don't remember what colors.


I started my Ribby Cardi!



The color seems really off in this photograph.

I'm not sure about the yarn as far as softness is concerned - it seems a little scratchy in my hands, but it certainly knits up easy. I think this project will go pretty quickly. I'm excited about it!
I even knit some on the geometric scarf last night while watching Spiderman 2. It's looking good and is oh so soft, but it's boring (and a little tedious since the yarn splits) to knit. I'll get there.
Tomorrow I leave for my sister's until Thursday. My brother-in-law is going away so I'm going down to lend a hand. She's pregnant and the kids are crazy! My nephew is excited though. He doesn't really understand time exactly, but he knows I'm coming for the seventh and eighth nights of Chanukah. My sister says every morning he wakes up and asks her, "Which night of Chanukah is it tonight, Mom?" So cute.
And last but not least, Bonne Marie's blocking tip worked perfectly! The Silkroad Aran Tweed exapanded exactly how I'd hoped and the size looks great. It also softened up considerably (not that it wasn't already soft.) I might not start to put it together until I get back from my sister's. There's still lots to do what with the armbands and neckband.
Okay. I'm done! Thanks.

Posted by Cara at 04:11 PM | Comments (4)
November 12, 2004
Progress
The Shedir is coming along nicely. I'm just about finished the second pattern repeat - it's going pretty quickly now. I had some trouble on round #25 - I must have purled where I needed to knit or something - but it was easily remedied by taking out the equivalent to one round. All fixed now. Here are some pictures: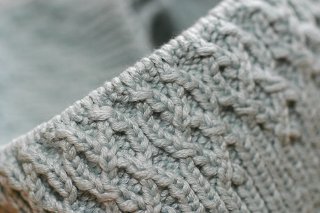 I've decided to give the hat to Jen's friend who starts chemo next week. I figure if I like it I can always make another one, but I'd rather this one is used in the spirit with which the pattern was written.
I was in the mood for pictures this morning, so here are a few more. This is what I've been doing with my Noro Silk Garden #84:
I found the stitch pattern on the web, but soon realized I had it at home in one of my Harmony Stitch Books. It's about 21" wide pre-blocked - I'm thinking it will stretch out a little bit more after blocking. I also have visions of lots of fringe. I'm hoping it will be quite elegant when it's finished. I have about two skeins left to go.
I decided to throw caution to the wind and go with the Peruvian Collection Highland Wool for the Ribby Cardi. Here's the color palette I chose:


| | |
| --- | --- |
| | |
| grape heather | antique blue |
I'm excited about it. I read a rumor that there will be a Ribby Cardi knitalong in the New Year, so there's an ETA for the sweater.
It's rainy and cold today. Perfect for knitting.

Posted by Cara at 03:05 PM
November 11, 2004
Something for everyone!
Try XM Radio for free for a few days! It's really nice - especially since my external harddrive with all of my thousands of Napster downloads crashed the other day. I miss my music! There are a gazillion stations - definitely something for everyone. I haven't quite figured out which station is my favorite - but I've been listening to a lot of the 80's, the Loft, Top Tracks - I did hear Bruce three times this morning, which is ALWAYS a good thing.
I'm toying with the idea of one of those 100 lists. I haven't figured out how to put a sidebar on the left of my blog. There MUST be a way. Still tinkering. Once I do, I'll probably do that 100 thing. We'll see.
A day out with Jen is always fun...and expensive! We hit the new Majestic Yarns store in Ridgewood, New Jersey on Tuesday. It's owned by Berta Karapetyan - I'm pretty sure she was there, knitting away - who founded the Karabella Company. If you want Karabella Yarns, this is the place to go.
Before we left I had received my box from Patternworks with Koigu - not what I wanted (it's already on it's way back). The yarn certainly felt nice, but it was darker and not solid enough for the scarf I'd like to make. But Berta had what I wanted: Magritte in color #11, ice blue. It's really soft, a little more expensive than necessary, but it will certainly do the trick.
I also bought a ball of Aurora 8, which I need to swatch as a test for the Oscar de la Renta sweater. I'm determined to make that thing, even if I never wear it!
Jen bought some nice Soft Tweed in color #1100 (RED!) for a post-Xmas poncho. It was really soft - I wish I had seen it before the Jo Sharp Tweed, but alas.
Then we moved onto the Container Store where I exchanged the storage boxes I had bought the LAST time we went out and bought some new under the bed containers. These should work well. Melanie's coming next week, so that gives me extra incentive to put things away, not to mention clean my toilets.
Oh and I found something to do with the Valeria di Roma angora (after I purchased three more balls)! I'm going to attempt the Heartstrings Flared Lace Smoke Ring. I found it blogsurfing - Too Much Wool has some great tips too!
I also bought the ChickKnits Ribby Cardi pattern that seems to be the rage right now. I really like the blank front panel and ribbed sides, but is it blasphemous to try to put a hood on it? I showed it to Georgie and he said what's your obsession with hoods, I like it without, but I really do like hoods. And if it has a hood on it I can call it a hoodie! (I think I just like the word honestly - it makes me think of a bunny.) I'm not sure about the Peruvian Collection Highland Wool at elann though. I need this thing to be SOFT! It sure would be cheap though.
Last, but not least, I started the Shedir. I've done 15 rows. It's not bad so far, but my god those needles are small. How do people knit on those 0s and 1s? The needles barely fit in my fingers. It's making the vest go better though - I think I'm about ready to start shaping the armholes. I've got about 17" right now.
Whew!
Posted by Cara at 11:35 AM