July 23, 2006
K is for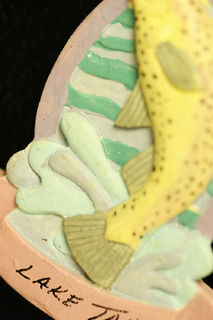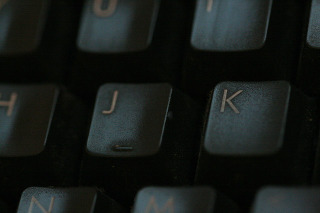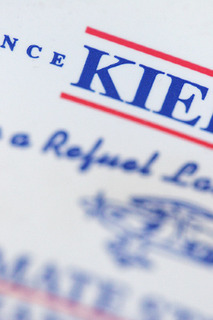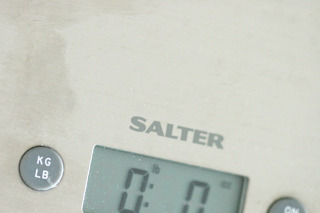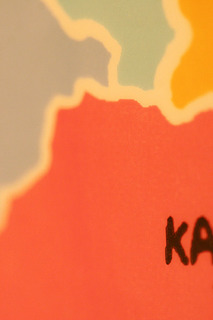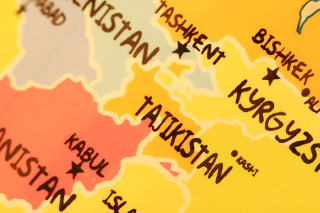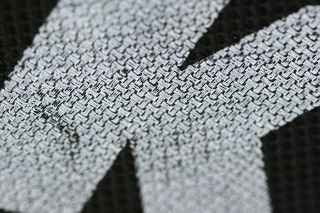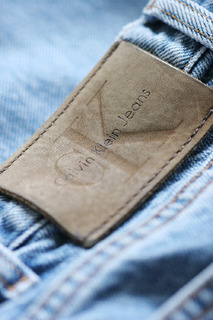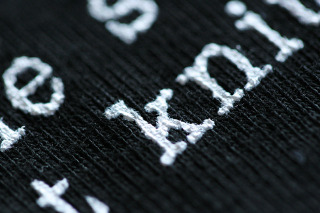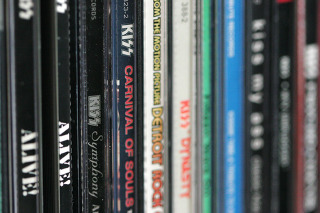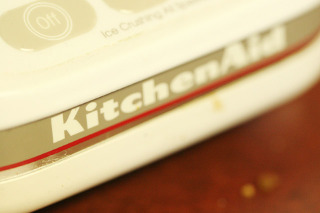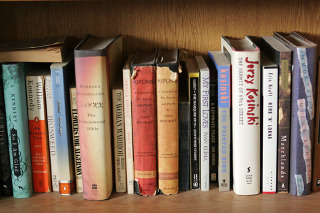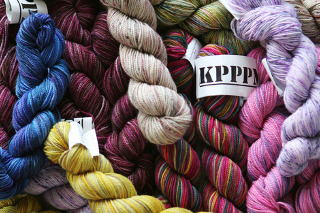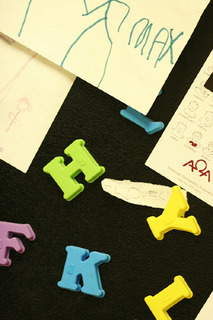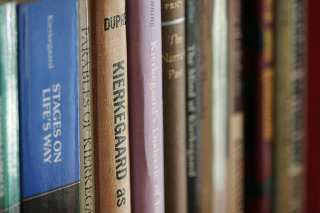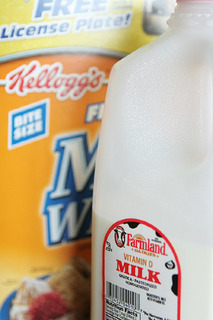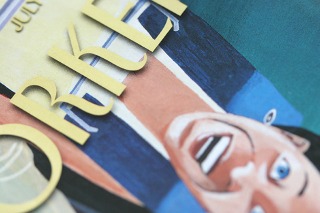 The Letter K
The letter K had me stymied for sure. I've had a hate/hate relationship with the letter K ever since I can remember, or, more likely, since the first time someone spelled my name with a K. It's Cara. C-A-R-A. And no, I don't count knitting as a K word because I'm going with the whole what you don't hear can't hurt you routine.
But, if I want to do this ABC thing right (I know I'm late, but I'm determined to get through all 26 letters. Screw the time-table) I have to do K. So today I decided to get over this whole aversion thing and take pictures of the Letter K around the house:
1. A souvenir magnet from Lake Tahoe
2. The Letter K on my computer keyboard
3. Kiehl's Hand Lotion
4. The scale I use to weigh my yarn and fiber
5 and 6. The world map shower curtain in G's bathroom
7. Exercise trampoline
8. G's jeans
9. My new favorite t-shirt.
10. KISS CDs
11. KitchenAid Blender
12. Part of the K shelf in the Fiction Section of my personal library
13. Koigu
14. Alphabet kitchen magnet on my fridge
15. Part of the Kierkegaard shelf in the Philosophy Section of my personal library
16. My current favorite cereal, Frosted Mini-Wheats, from Kellogg's
17. This week's New Yorker
Hopefully L is just around the corner. Thank you!

Posted by Cara at 06:04 PM | Comments (3)
May 31, 2006
J is for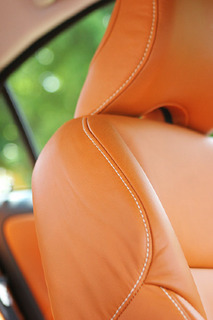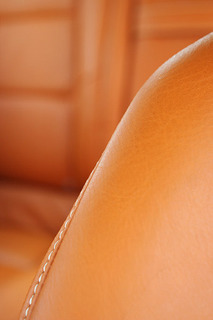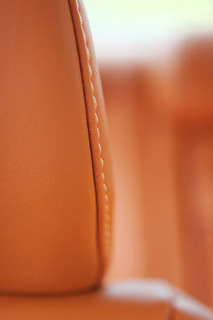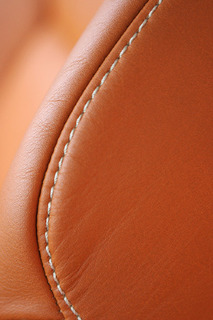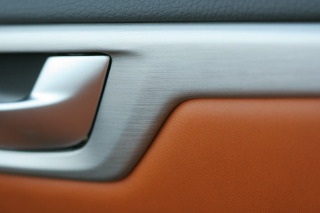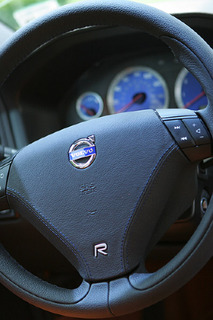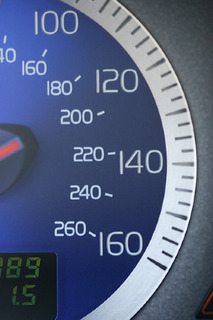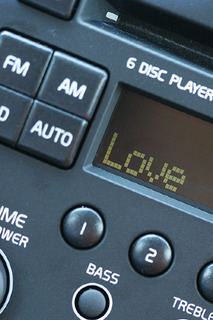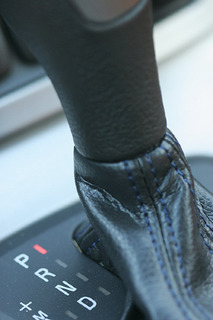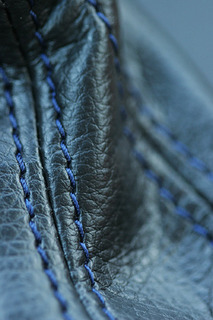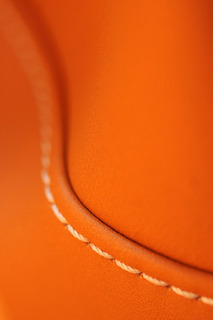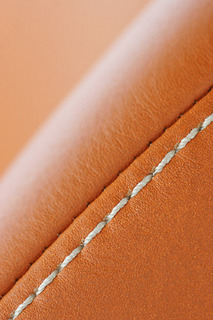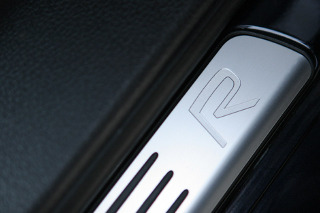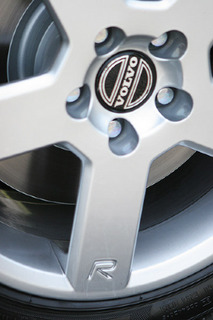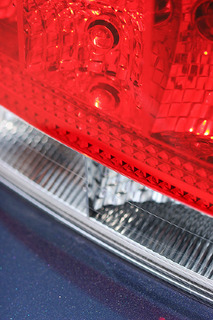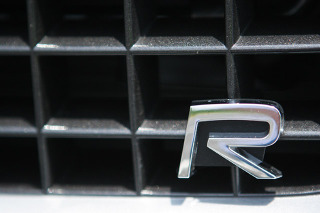 Joyriding
Please allow me to introduce the newest member of our family: The Volvo S60R. As usual, I've gone overboard with the pictures, but it's only befitting my new love. With its 5-cylinder turbocharged engine and 300 hp, this baby does 0-60 in like 6 seconds. It's fast, but it's smooth as silk to drive. It hugs curves like a little girl hugs her dolly - it never lets you go. We got the Magic Blue exterior and Atacama leather interior, which looks and feels like a worn in baseball glove.
On the outside, this car is your staid Volvo sedan. Safe. Practical. Yuppie to the core. A family car. But what people (and hopefully the cops) don't know is that the R is a driving machine. We've been talking about taking it out to a race track. There are enthusiast clubs that we can join that do just that. Production is very limited per vehicle year, and most of them are sold in Europe. Owning an R is like belonging to an exclusive club; we've only seen two on the road - one before we took ownership, and the other one yesterday. We pulled up and exchanged the secret handshake. That's what you do when you own an R. (Okay. You can throw up now.)
Seriously though - I LOVE this car. We've got satellite radio which rocks. It's beautiful on the inside and out - the seats are the most comfortable I've ever sat in. I get my own memory setting for the seat and side mirror positions. The key looks like a switch blade (G and I have already done our "when you're a Jet you're a Jet till the end" impressions.) And it drives like a dream. Almost too well. I've already gotten the "we can always get a new car but we can't get a new Cara" lecture from G and I'm trying to be good. But it's so so much fun to be bad. I told him I'd either get bored or get a ticket. Which do you think will slow me down?
Posted by Cara at 10:26 AM | Comments (49)
May 18, 2006
I is for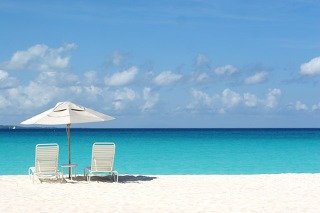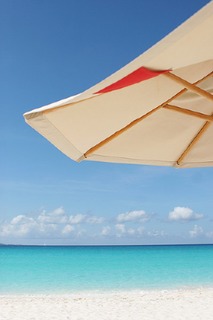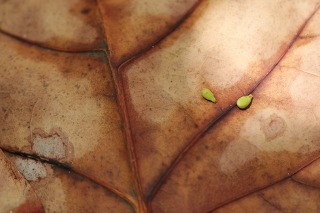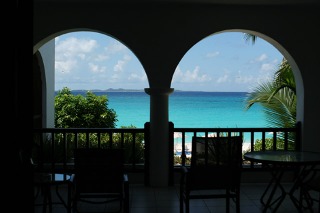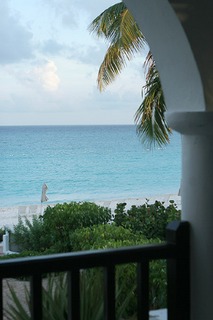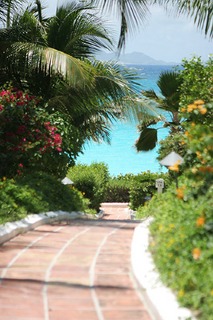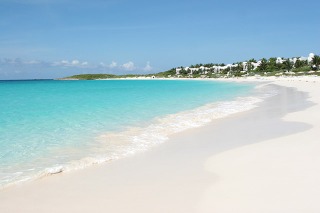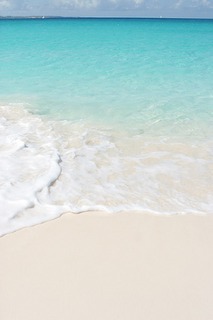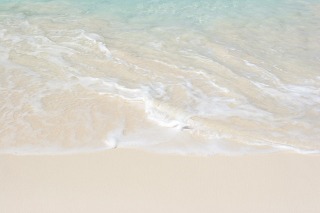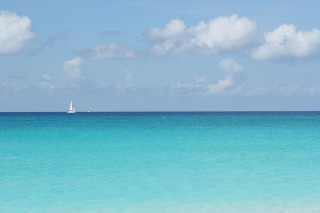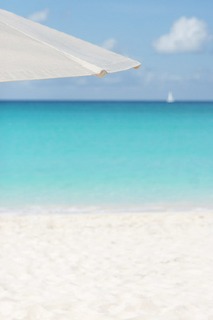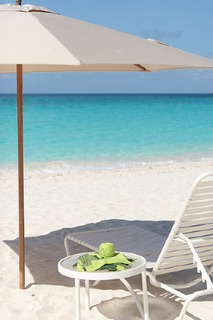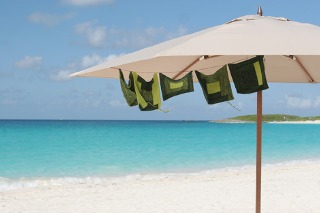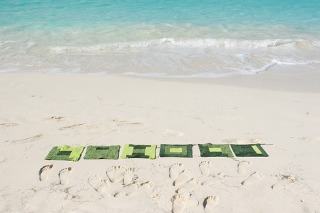 Island
Anguilla, to be specific. Georgie and I got home last night (late last night) from our wonderful Island vacation. I've never been to the Caribbean and let's just say I'm converted. The weather was wonderful - hot and humid for sure, but the nice steady breeze kept us cool. Our hotel room was beautiful, with wood shuttered doors that opened up the living room onto the balcony, which looked straight out into the water. There's nothing like lying in bed looking out at the ocean. The bathroom was all glass and mirrors - literally. The back wall, where the bathtub and shower were located, was glass and the shower had two doors - one into the bathroom and one out to the balcony off the shower. Here's a picture. The people of Anguilla were incredibly friendly. Always with a handshake, everyone you met asked how your day was going and if there was anything they could do for you. And pretty much everyone I spoke to was born there. If I lived in such a paradise, I probably wouldn't leave either.
The one thing, though, that really got me was the water. I love water and I love to swim - but I'm very particular about it. I generally don't like the ocean - I hate salt water and I hate stepping on things and I don't want other stuff swimming out there with me. And while I love to swim in pools - I hate hate hate cold water. We have a pool at our apartment and I'd swim in it every day if I could but it's not heated. The water in Anguilla was not only the perfect temperature, the sand underneath your feet was like baby powder. Clean and clear, the water was so incredibly soft on your skin. I just felt so good to be in it, it was everything G could do to pull me out. I hope you enjoy my photographs. I wish I was there right now.
A proper post tomorrow about how all I did was knit squares from the minute we left for the airport to go to Anguilla until the minute I feel asleep on the cab ride home from the airport. That is, of course, when I wasn't in the water. Thanks for stopping by.
Posted by Cara at 08:51 PM | Comments (65)
April 21, 2006
H is for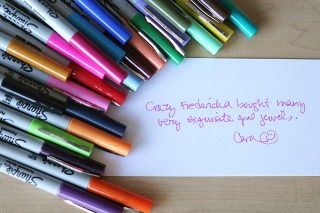 Handwriting
I started out this morning with this meme - first seen over at Craftapalooza Nicole's and most recently seen at Mim's. Original idea can be found here. Basically, write out a pangram, snap a picture and blog it. Instant - very cool - very different - meme! Yesterday I was at Staples getting some supplies and I saw this 24 pack of Sharpies. I thought PERFECT! I have so many meme choices.
And then, when I was in the middle of taking pictures and uploading them and processing them I thought - I've got my H!!!! The pictures in this one aren't half as creative as I usually try to make them but this is by far the most personal series of photographs. I'm giving commentary too so it's a bit different than my usual ABC A-Long set up.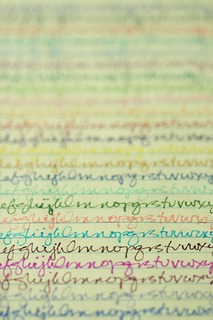 When I thought about the different things I could include in this series, I immediately thought about one of my favorite doodles - I used to do it a lot when I was in school, but I don't do it much now. Not a lot of note taking going on. It's the alphabet written as one long word. I LOVE to do this. I thought it would be perfect to use every Sharpie in the pack too.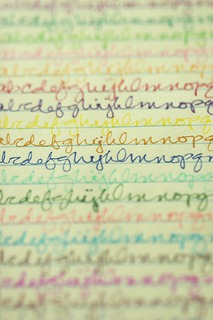 In this day and age of computers, it's rare that I'm writing stuff down. Mostly I just scribble stuff.
This is a collection of post-it notes. There are an awful lot of numbers on these pages - some phone numbers - but mostly math because I suck at math and I often try to figure it out myself before opening the calculator on the computer.
In thinking about handwriting I tried to find the places in my life it's affected me most. Handwriting is incredibly intimate, don't you think? It says so much about you and it takes time (I mean I search for a least fifteen minutes to find a pen) to write a letter.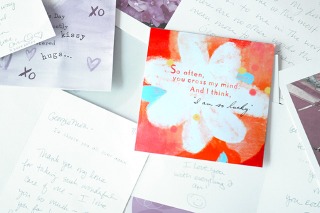 A million years ago, I started leaving G cards in his suitcase when he went away. Flying specifically - but it's become something of an obsession for me. He MUST have a card in his bag if he's flying. I often hide them in his suitcase and he used to be surprised most of the time, but now he expects it and seeks them out. They're usually cheezy sappy cards and I always write how much I love him and that I'll miss him and we've saved them over the years. I don't know where all of them are but they're here.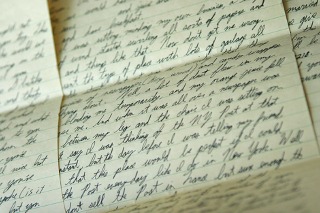 Speaking of G, when I told him my idea for H he asked if I was going to put some of his chicken scratch in there. I said sure - he's got the WORST handwriting I've ever seen and he's made an art of using handwriting fonts. He can't write at all - and I can't read it. This is a letter he wrote to an old high school girlfriend - it's pretty funny - some convoluted story about seeing her picture in the paper and reading it while sitting at breakfast in the south of France on vacation. He had to be a year out of college? Maybe 23? His handwriting has deteriorated completely - this is gorgeous, but I can see traces of what it's become.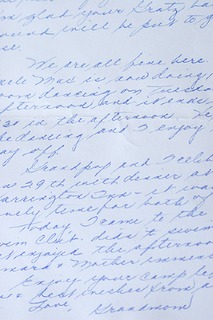 In contrast, this is an example of some of my favorite handwriting in the world! When I came up with this idea, I took a trip down memory lane and found myself in our storage room looking through old letters. This one was written by my grandmother, my mother's mother, who will turn 85 in a month or two. Her handwriting looks exactly the same now as it did in 1987, when this letter was written. I love her handwriting. It's so beautiful to me. The shape and flow of the letters - I would be able to identify this handwriting anywhere. She's got great capital letters.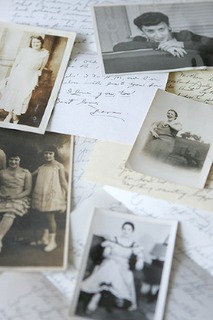 While I was looking through all the old letters, I found some from my other grandmother, my father's mother - my Nana. Also letters from one of her sisters, my Aunt Annette. Once I had their letters, I went looking for some old pictures I had of them which I took from my Aunt's house when she died. I was very close with my Aunt Annette - she lived the longest of the three, but it's their oldest sister, my Aunt Syl, I've been thinking most about. I've been asking her to come to me in my dreams (an outshoot of the medium stuff) because she has before and so far no go. I think about my aunts and my grandmother often and miss them a lot.
Last but not least are my birthday books. I've talked about these before - my father gives me (and all of my siblings) a book for our birthday - something special just from him - and I have my books going back to my birth. My father also writes a note in the book. Often my siblings and I will call each other to read the note - my dad's always telling us how proud he is of us and all that other good stuff. Never fails to get a tear.
Thanks for stopping by. Have a great weekend!
PS - As always, you can click on any picture to open a bigger version.

Posted by Cara at 01:34 PM | Comments (40)
April 18, 2006
G is for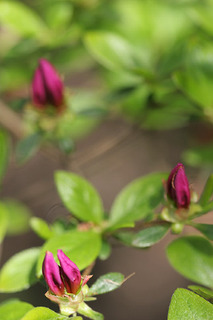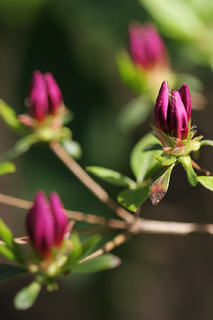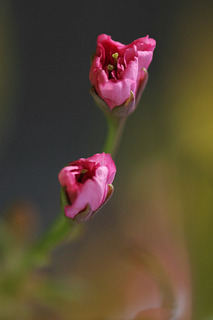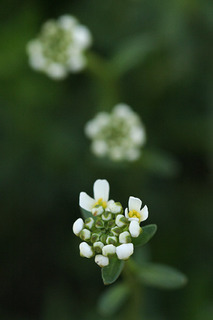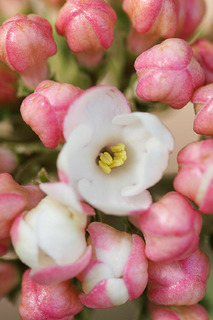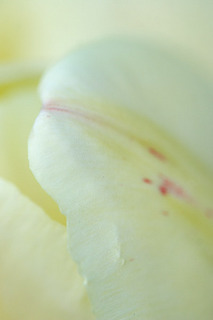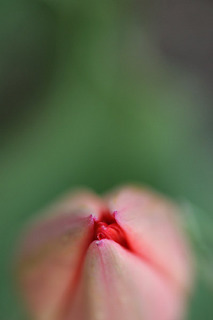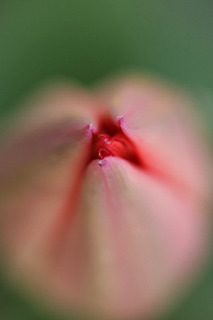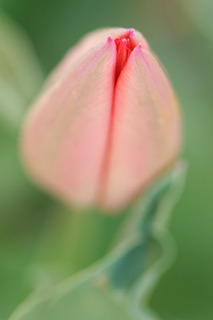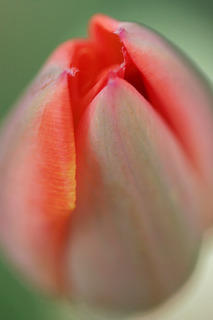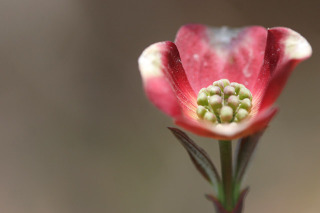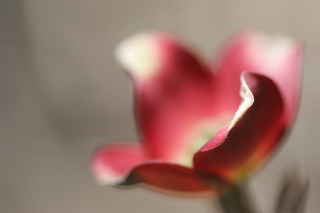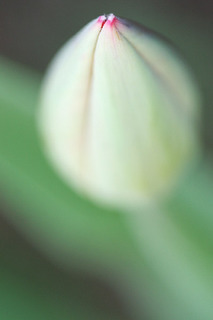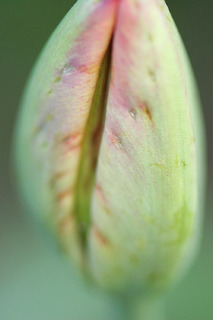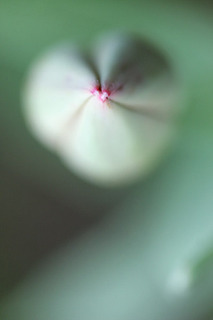 Growth
Whew! This was a really hard one for me. I had lots of ideas for G (yes, including Georgie) that either I rejected or didn't pan out or I took 8 million pictures and hated them all. Yesterday I went out in search of growth and I found it a myriad of ways! New buds, emerging petals bursting forth in a blaze of spring - along with emotional leaps, creative bounds, psychic jumps. All that good stuff.
These photographs are a real departure for me. It's difficult to get clean, crisp macro shots. I'll often stand, waiting, with a flower for a long time to get things just right. I literally took about 850 pictures when I went out yesterday - these are the best I got. I love the light in a lot of them. I'm not sure I really like the composition in all of them, but I think they tell a story about growth and nature and they are incredibly sexual to me in a lot of ways. Do you see it? They aren't as sharp as I usually like; the wind kicked up stronger and stronger while I was out. Wind is the enemy of a macro photographer. But I like the blur in these pictures and I think it adds to the narrative. Things are blurry when you're growing up - and often times they never become clear, no matter how hard you try to see. Life is fuzzy like that.
Posted by Cara at 12:04 PM | Comments (35)
March 23, 2006
F is for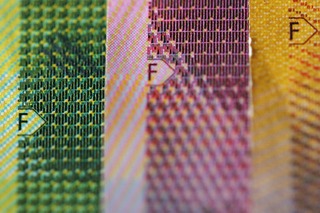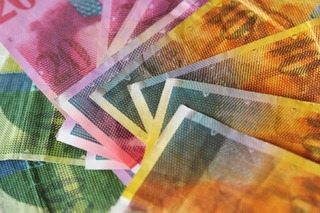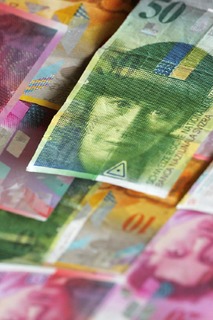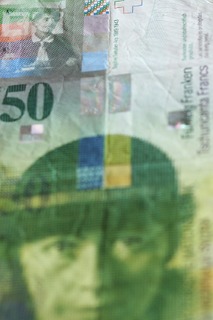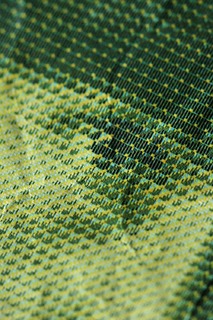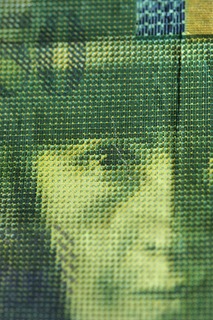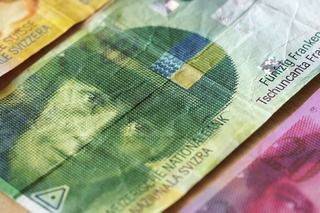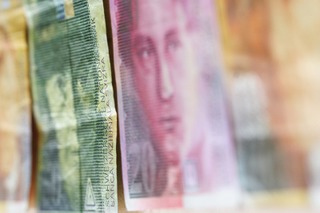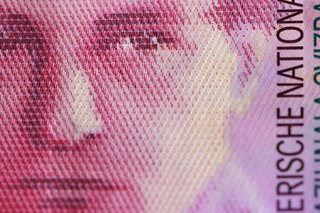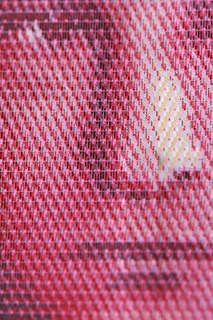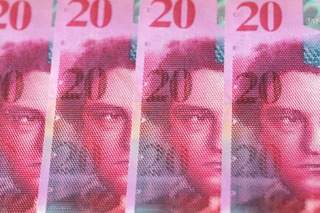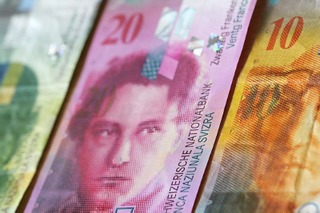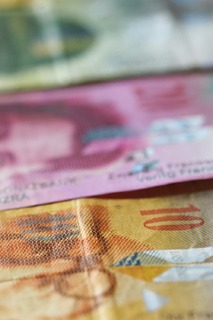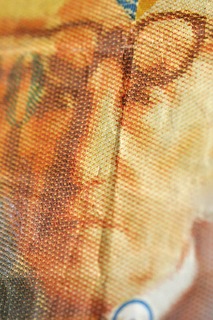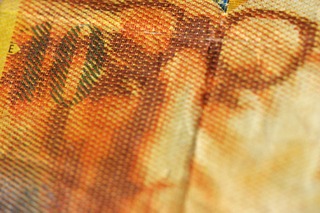 [Swiss]
Francs
G left yesterday for Switzerland and before he left he tossed some currency on the bed to show me. I was IMMEDIATELY inspired and said to him, "Do you know if there are any words that mean money and start with F?" He laughed and said, "Uh, Francs?" I was overjoyed! I had my F! (Have I mentioned how much I LOVE this ABC-a-long?) I had about an hour before he left for the airport so I set to work.
This is the 8th Series of Swiss Franc banknotes and they have no less than 9 safety features to guard against counterfeiting. They were designed around the theme of the arts: The 10 Franc Note is Le Corbusier; the 20 Franc Note is Arthur Honegger; and the 50 Franc Note is Sophie Taeuber-Arp. I'm embarrassed to say that I was so taken with the faces on the bills, so overwhelmed by the beauty of the colors, I never turned the banknotes over to see the backs. Isn't that ridiculous? I only realized my faux-pas when I clicked on the banknotes here - the site flips them over for you. I encourage you to click on the photographs above - they will take you to a larger than usual version of the picture. I tried to get very close - they reminded me so much of Chuck Close's work.
I hope you enjoy the photographs. Thanks for stopping.
Posted by Cara at 11:19 AM | Comments (21)
March 10, 2006
E is for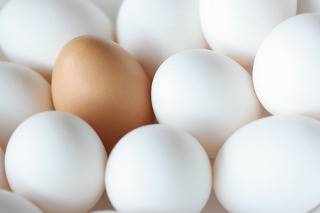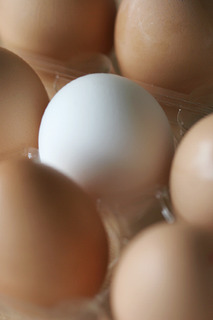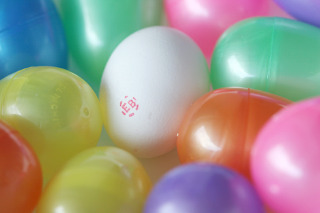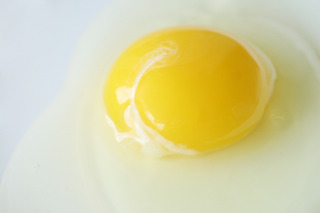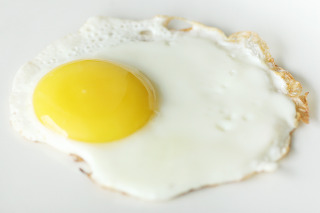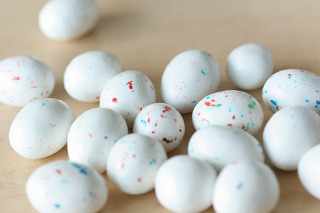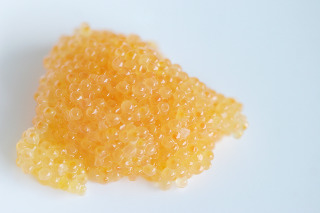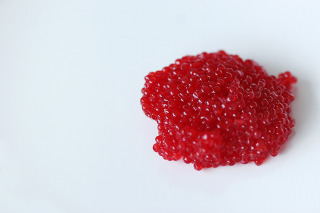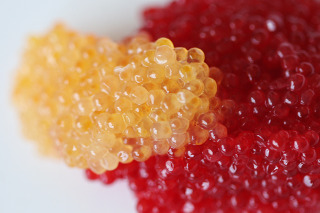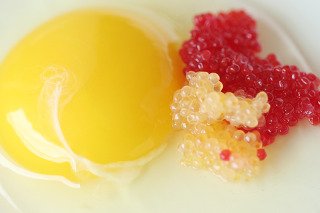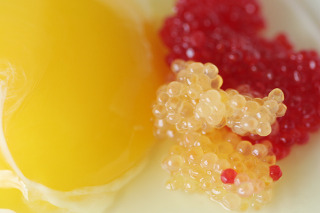 Eggs
G was such a sport for this photoshoot - I sent him out find me some roe. The yellow is whitefish roe in its natural state and the red is whitefish roe colored with beets and saffron. YAY G! Otherwise, I'm just playing around with the incredible edible egg.
Thanks for all the well wishes. I'm still not eating much but I slept good last night and I haven't puked in a while. My stomach is not completely back to normal and the cold I originally thought I was getting is still working its way through me. Tomorrow I'm back at my sister's until Tuesday. This month I feel like I will barely be home - G's traveling a lot which means I'm traveling a lot. I hate to sleep alone. I'm by myself all day long, mostly, and I just can't stand to extend that to the nights. I need company. So I go to my sister's. But in a couple of weeks G goes away again and my sister will be on vacation so I have to find somewhere else to stay. Luckily I've got great friends who are more than willing to take me in.
Have a great weekend!
L, C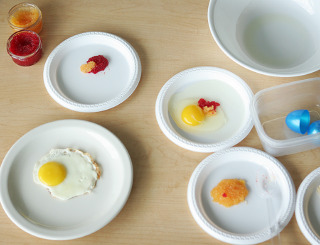 The staging area.
Posted by Cara at 04:13 PM | Comments (32)
February 28, 2006
D is for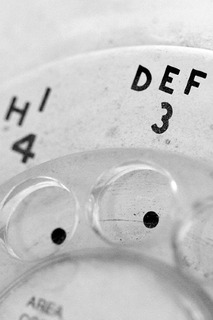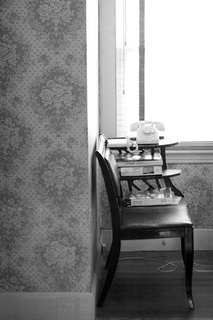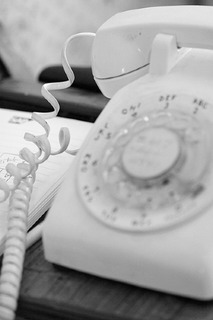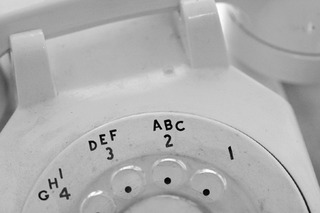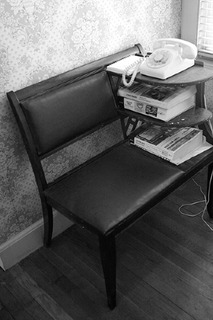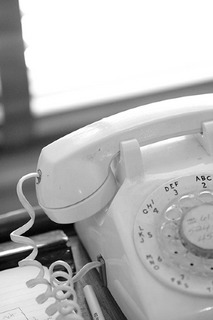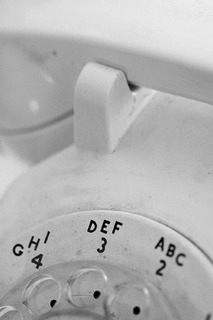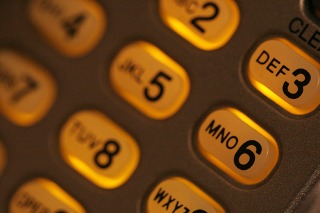 Dial
I had a really hard time deciding what I was going to photograph for D. (This being the last day and all. Okay. So Margene pointed out to me that I've screwed this up - it's not twice a month, it's every other week. Look for an E coming soon so I can get back on track.) This weekend G and I went up to Boston and stayed at the house his mother grew up in. As soon as I went up the stairs I knew what D would be! In an alcove at the top of the stairs was the phone, with it's own bench and pad and pen and shelves for phone books. Completely and totally intact - with a rotary phone that still works! I was OVERJOYED! Mainly because this totally reminded me of my own grandmother's house (this house being G's grandmother's old house) and her phone station with a black rotary. It's just so classic. That's the only phone on the second floor of the house, which is in stark contrast to the cordless phones I have in every room of my apartment. Often I can't find one and that's because there are three in one room - always the room I'm NOT in. The phone rang only a couple times this weekend, but each time I was thrilled to lift that heavy receiver and listen to the lovely, lovely ring. I include the key pad to our newest cordless for comparison.
I have to say how much I'm enjoying this ABC challenge. This was my favorite shoot by far. Sorry for the ton of pictures but I love them all! Thank you!
(There's another D in the extended entry. Check it out if you like - it's not my official D, but it was a fun photo shoot.)
My in-laws' house is full of artifacts. Some are typical, like antique lamps and vases and valences. And some are just odd. I'm not sure what this says about my husband's family, but on one of the shelves there was a topless Barbie doll with a tutu skirt, standing in a glass bowl. A couple shelves down was a headless bird in another glass bowl. I broke the lid to the bird bowl trying to get a better look.
D is for...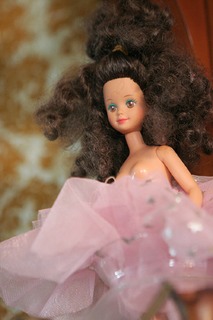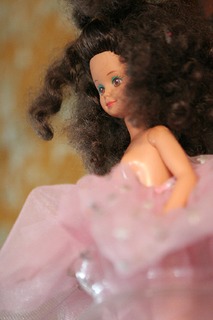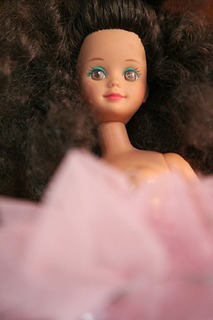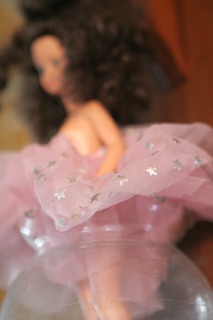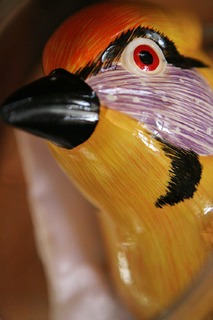 Doll

I hope I haven't given anyone nightmares. L, C
Posted by Cara at 12:21 AM | Comments (29)
February 13, 2006
C is for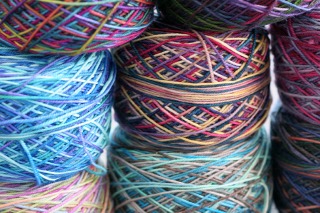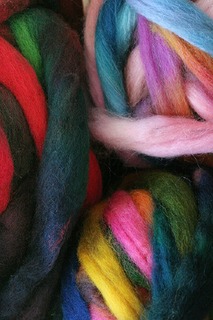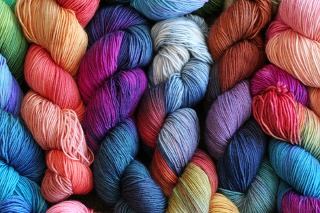 Color
One of my favorite aspects of knitting is the color! I love color in my life - whether it be knitting, spinning, and especially my photography. One of the subjects I love to photograph is botanicals - macro botanicals specifically - and I rarely take a black & white picture. For me, it's the colors of nature that are most appealing. Look here for some of my favorite flower pictures.
And in the great minds think alike category - check out Kimberly's Color Entry as well!



Posted by Cara at 01:57 PM | Comments (30)
January 30, 2006
B is for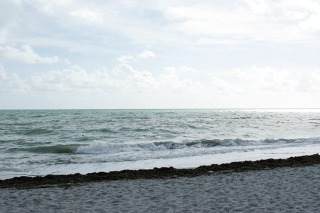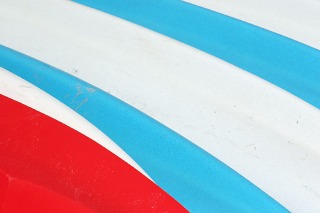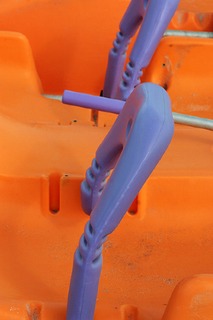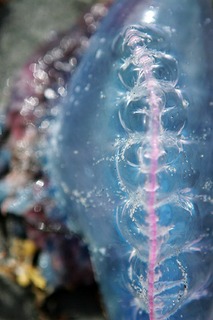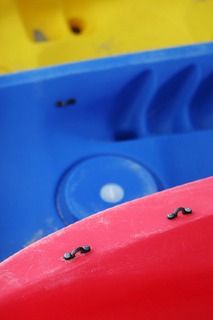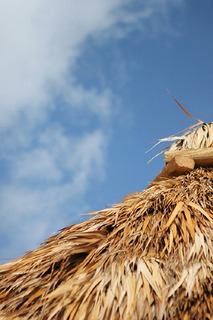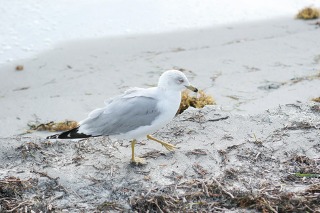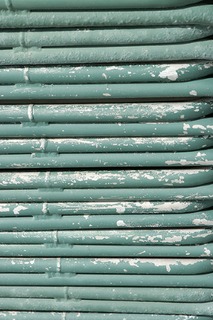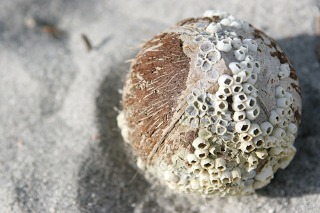 Beach
I didn't spend much time at the beach as a child, even though I lived about an hour from The Shore. In my years with G I've grown to love it - maybe even need it in my life. Some of my darkest days have been rescued by the restorative rhythms of the waves and I hope one day we can have a home on the shore. It's a dream we both share.
These pictures aren't my best work - but that's okay. (Although I really love the last one.) This ABC-a-long is about the challenge for me. I went out Sunday morning, our last day of vacation, with G and brought the camera - just one lens - which is rare for me. I like to have options. The weather wasn't the best and the beach looked kind of crappy because the strong winds had brought in all kinds of riffraff from the ocean. I was also taken with the colors to be found on the beach - jelly fish, boats, catamarans, old chaises. Hope you enjoy.
Posted by Cara at 11:08 AM | Comments (34)
January 11, 2006
A is for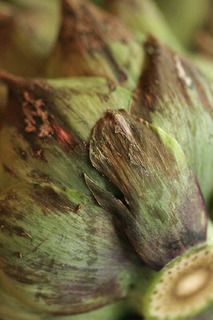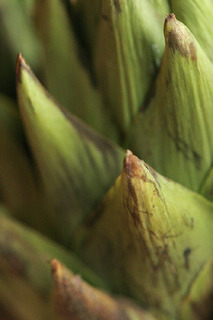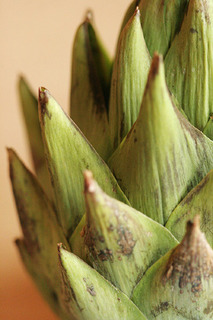 Artichoke
This is my first entry in the ABC-A-Long. As pretty much all of you know, I'm a photographer. Over the past year, I'd say 90% of my work was client related and while I love taking pictures of kids, I miss the pictures I take for myself. So when I saw this ABC thing come up I thought it would be the perfect opportunity to get back to my own photography. Hope you enjoy it. I have to say, taking these pictures today really brightened my mood.
You know how there's all different kinds of hangovers? Alcohol, of course, too much food, too little sleep, etc - well today I've got an emotional hangover. Lots of working out those pesky feelings that don't WON'T stay down no matter how much you push them. I'm very lucky though to have the amazing support of my can'tfindthewordthatreallydefineshowmuchIlovehimandhowwonderfulhereallyis husband and great family and friends but in the end you have to deal with your own shit on your own time and it sucks. But you get through it.

Posted by Cara at 12:24 PM | Comments (34)