November 03, 2006
Verde! Verde! Verde!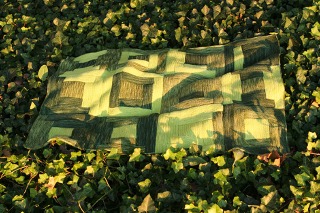 Thank you all so much for your generous comments about my log cabin blanket. It's OFFICIALLY an FO. I've woven in all the ends and finished the border. After consulting with
the expert on all things log cabin
, I decided to use the patent-pending
Cro-Kay
method for the border.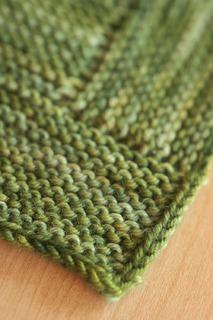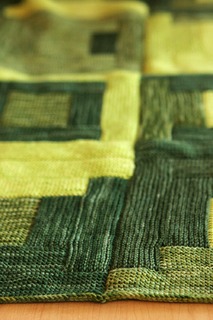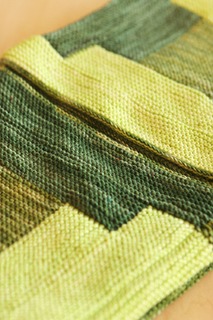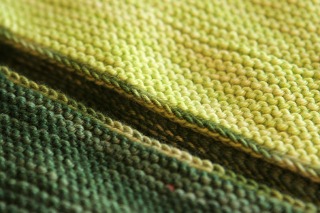 Basically, you cast on a stitch then another stitch then bind off the first stitch and continue around the entire blanket. Nice and neat and doesn't distract from the beauty of the squares. ;-)
Take a look at the seam here - can you find the seam?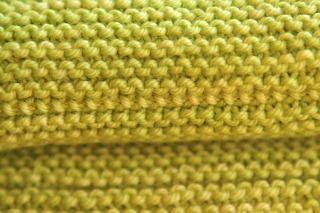 That's whipstitch baby. All the way. But somehow I managed to get it nice and deep and have it look like a bind off - just like the squares themselves.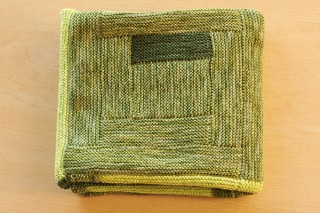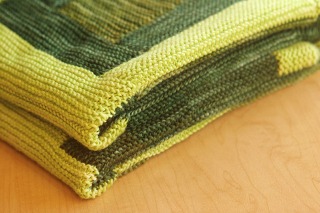 I'm particularly pleased with the wrong side: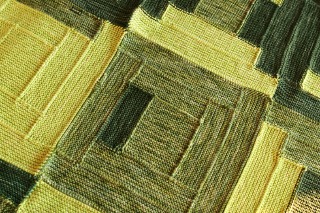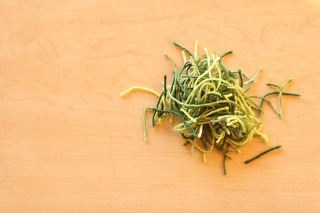 Log Cabin Blanket
Pattern: My own design - inspired greatly by Mason Dixon Knitting. Basically I knit twelve squares using three colors - there are four different square patterns. I alternated light, medium and dark greens within each square pattern.


Yarn
: Socks That Rock Heavyweight Yarn from
Blue Moon Fiber Arts
. Two skeins each color: Beryl (dark green), Jade (medium green) and Limestone (light green.)
Needles
: Addi Turbo US Size #5s
I absolutely LOVE this project - conception, process, finish. I'm delivering the blanket to the Blue Moon booth at Stitches East later on today. If you happen to be there this weekend - check it out. If you happen to be there today, well, then, see if you can find me and tell me how much you love it in person. ;-)
(And don't laugh at me because I'm wearing the same outfit I wore at Rhinebeck. Gotta get as much mileage out of the knee socks as I can!)
I'm leaving you with some artsy outside pictures of the blanket. I miss it already.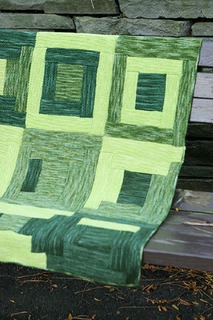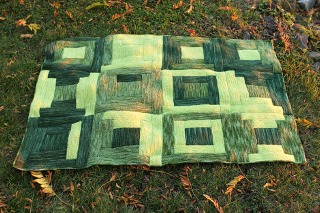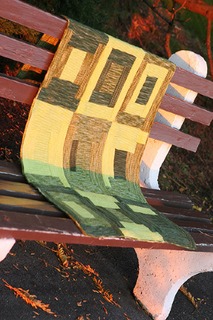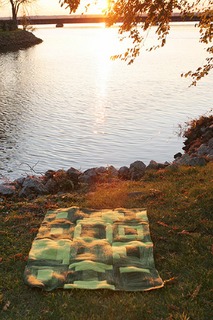 Posted by Cara at 12:04 AM | Comments (90)
October 30, 2006
No Socks for YOU!
I'm so sorry to disappoint but I can safely say that there will be no finished socks for October. NONE! I started three, finished none. You know in my heart I am a fickle fickle bitch and while I was going to try and finish at least one knee high or maybe a Pomatomus (I've turned the heel and am into the second chart) I said fuck it!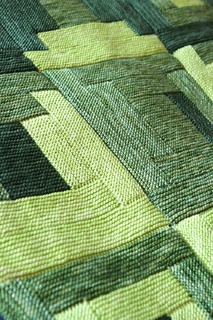 OH MY GOD! WHA? WHAT IS IT?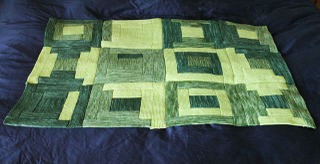 Yes, sweet ones, it's a seamed together Log Cabin. GASP!!!!
I know what you're thinking. What's gotten in to her?! First a finished Short Rows after 138 years and NOW she's seaming log cabins? Could she actually be FOLLOWING THROUGH with her projects?! Settle down. It's craziness I know. I had the squares in an exquisitely arranged pile on my dresser sitting atop some of the most beautiful quilting books known to man. They were lovely there - the ends hanging every which way and I could look at them and admire the stitches and the yarn and remember the gorgeous vacation where a lot of them were knit - maybe even catch a glimpse of some magic sand. But then I had a request to finish it. You know - one of those requests you sort of absolutely can't refuse and I decided this time was as right as any.
It was hardly as bad as I thought. I seamed this baby up in a few hours while watching a super cute movie that I now have to watch everytime it's on cable (basically I've got a crush on BOTH Reese AND Mark.) Kay, aka THE MASTER, had showed me once how to do a double crochet as a seam and I never really got the hang of it so I started to scootch around on the Internets and found that actual whipstich is a viable method of seaming afghans. Who knew? So I took out my handy dandy tapestry needle and started with two squares. After about five or six attempts - different yarn colors, different loops, fuck ups - I got my game plan on! Basically I ended up picking up the two bottom loops on the cast off (hold two squares together fronts facing - there will be two loops (?) for each bound off stitch - I picked the one at the bottom - the one you have to sort of dig for - I have no other way of explaining it.)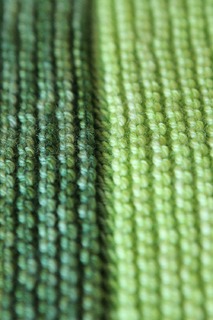 Right Side Seam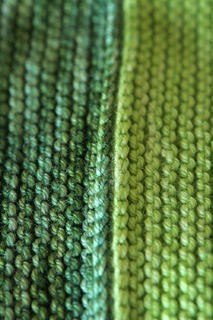 Wrong Side Seam
Once I started it was like I couldn't stop. I used
this picture
as my guide so there was absolutely no fiddling with the layout. I'm fairly certain I took some time laying out the squares when I set up for
the original photo shoot
, so I wasn't too concerned with how they would look all together. No, I never blocked the squares. There was only one instance where things got a bit wonky and for like five minutes I was sure I didn't finish a block, it seemed so much smaller, but I cajoled it and it fit and I dare you to try and figure out which square it is. (Honestly, I don't have a clue myself.)
Here's another look at the seams: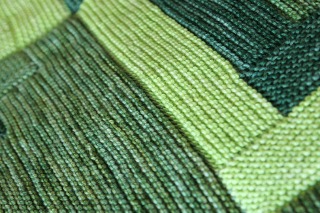 Right Side

Wrong Side
So now I have to figure out what to do with the border. I'm probably
going to take a page from MY GURU
and pick up stitches on each edge and do some kind of stripe thing - like five of the light color - one ridge of the dark color - and end with the middle color. Then do solid dark color miters in the corners. Or maybe just light, medium - dark miters. Any ideas would be grand. But before I do any kind of border - I'm tackling this: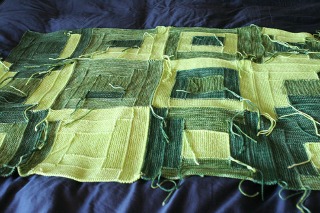 After short rows, I can weave in these babies with my eyes closed. Damn straight.
Details: Socks That Rock Heavyweight in the colors Beryl (dark), Jade (medium) and Limestone (light). US Size #5 Addi Turbos. Right now I'm on track to use 2 skeins of each color and the blanket currently measures about 32"x44". I will probably have enough for the border - depending on how deep I make it.
So no socks. Sorry to disappoint. Next month for sure. ;-)
I'm off to see the kids for Halloween. We've got a parade tonight, a school parade tomorrow and then actual candy collecting tomorrow night. Apparently my niece has a different princess costume for each event. I'm looking forward to some baby love. I'll be back on Thursday - hopefully with some cute Halloween pictures.



~+~+~+~+~
REMINDER!!!
NOW ACCEPTING SUBMISSIONS FOR YARNIVAL ISSUE 3!
THE DEADLINE IS WEDNESDAY, NOVEMBER 1!

To submit a blog post,
USE THE SUBMISSION FORM
.
DO NOT
leave your submission in the comments.
DO NOT
email me your submissions.
SUBMISSIONS WILL BE ACCEPTED BY FORM ONLY.
The deadline to submit is
November 1st
. The issue will appear on this blog
November 15th
.
Remember, ANYONE can submit, regardless of how long they've been blogging or how long they've been involved with the fiber arts. Give me your funny, your sad, your FO yearning to be seen! NOTHING is off limits. NO THING!
Don't remember what Yarnival! is?


It's this Internet thing called a Blog Carnival, which is an online compilation of very cool blog entries. Of course, Yarnival! centers around knitting and fiber pursuits and it's a new way for us to read and get to know different blogs. I, for one, seem to be stuck in my same bloglines rut. Not that I don't have excellent blogs listed on my bloglines, but there are tons of new blogs out there and I've been too lazy to seek them out. YARNIVAL will help us all! Anyone, regardless of the length of time they've been blogging or the popularity of their blog, can submit a post to Yarnival. The editor for that edition will choose which ones to include and it will be posted on a certain day of the month. You can read more about Eve's vision here.
YARNIVAL people. YARNIVAL!
PS - If you'd like to edit a future edition of Yarnival!, please contact Eve at her blog, Needle Exchange.
Posted by Cara at 09:57 AM | Comments (79)
July 21, 2006
WARNING
It's come to my attention that some of you out there in the Internets find Log Cabin Knitting insanely boring. I'm just setting out this warning that today's post will be about log cabin knitting. Please! I beg of you! Do not read this while driving or operating heavy machinery! I would hate to be the cause of an accident or something if you had a narcoleptic attack while reading.
Oh and I completely understand why you might hold the opinion that you do, that log cabin knitting is boring and mindless and just plain awful. There are lots of things I feel that way about as well. Log cabin knitting isn't really one of them, but I see how it might be the case. There certainly is a lot of picking up of stitches and a lot of knitting - just plain knitting (although it seems that people complain a lot about purling too) and it is a blanket project of sorts so it does go on for quite a while, and well, if I was using crappy yarn in awful colors, I might feel exactly the same way.
As it turns out, I'm incredibly fortunate to be using phenomenol yarn that I could stare at all day and my needles fit perfectly in my hands and it ends up that I'm so good at this knitting thing I don't even have to look at my hands while I knit (freeing up my eyes to stare at the gorgeous colors I chose for this project). It IS getting big and less portable and I have, in all honestly, spent some time knitting on a sock. (A stockinette sock so, yeah, I'm still knitting.) But I'm still so ENAMORED with this whole random thing and how it just LOOKS LIKE I PLANNED THE WHOLE FREAKING BLANKET but really I'm not that smart or creative so I keep on keeping on.
I'm sorry. Are you asleep? Want me to wake you when I'm done?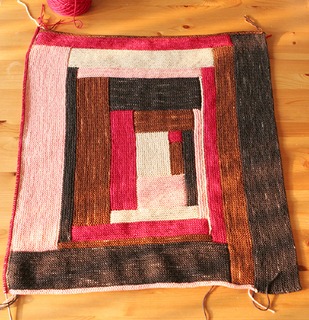 I did some good knitting while I was in Chicago and not so much knitting since I've been home. Planes are good for that, you know. Work is not. I will have some good time to knit this afternoon so this will go with me. Or maybe the sock. Or both probably.
I've begun to feel like I should take up roulette. Or bingo, but definitely roulette. Black keeps hitting BIG time.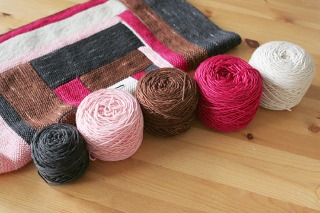 Black 20. Black 19. Black 18. Black 17. (Not necessarily in that order.) It's ridiculous. I think I
might
break my rule and break into another skein of black. Might. I'll decide at the moment I have to, but it's there as a possibility.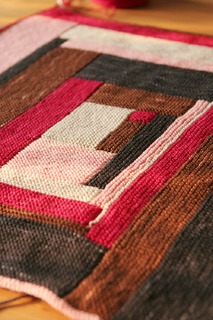 Right now I'm in a largish red section - 12 ridges - which at this point is a lot of yarn. But it's all good. I still love it. The size is about 21.5x24. I think I'd like to get it about 36x36, but I'll have to see how much yarn I blow through. It is big enough now that I can fold it up and it looks like a blanket.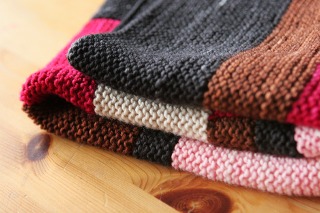 For those you still awake and loving the log cabin, you MUST go and see Tilkkupeitto's blankets! Go here to see all 107 blankets. There are three different albums and they are all beyond amazing!
In other news, I'm feeling the Summer Blues again. Happens all the time. Because of that, I'm taking down the Log Cabin Knits button and I don't know when I'll be starting that up. I hope I still will, because I think the idea I had is a good one, but I'm trying to take care of myself and the energy I need to expend in convincing myself that there isn't something fundamentally fucked up about me is too much to start another blog right now. What I'd really like to do is clean this one up a bit. Do some better categories, institute a search bar - just organize and straighten things up. You know, as a way of procrastinating on organizing and cleaning up the ACTUAL home I live in. Also, I will pretty much be gone all of next week. My sister is moving and I'm going down to pack, babysit, and be a general shoulder to cry on/cheerleader. (YOU CAN PACK THE 1,402th BOX! YOU CAN!) I'm not sure we'll be able to find the computer let alone log on to any Internets, but I'm with you all in spirit. Hopefully MORE boring pictures of Log Cabin Knits when I return! YAY!
Hey! Hey you! YEAH you. The one with your head on the keyboard and a nice puddle of drool around the arrow keys. WAKE UP! I'm done.
Have a great weekend.
L, C
Posted by Cara at 11:54 AM | Comments (71)
July 20, 2006
My Kind of Town
Onto the Fiber Portion of my Chicago Trip!
Friday night, after I was sufficiently dried off and G was on his way to his obligations, I headed out to Loopy Yarns. As soon as I walked into the store, I spied Karen, who was talking with Michelle. We all chatted for a bit - my plans in the city, etc. and then they went on to shop the fabulous sales at Loopy. I just haven't been feeling the yarn store love lately - I certainly don't need any yarn - not for a long long time - and I'm more interested in knitting what I have and making my own, so I wandered around a bit and ran into Tere. Tere was in town from Santa Barbara picking up her daughter and Tere is blogless but she needs to go out right now and get a blog. We talked for a while and then sat down to knit with a group of women at the store - including Vicki, Loopy's welcoming proprietress. It was great to sit around and knit with everyone and of course I bought something before I left - I'm not completely crazy! Loopy's is known for their Lorna's Laces collection - a Chicago establishment - so I bought some of the last LL fiber they had in the store!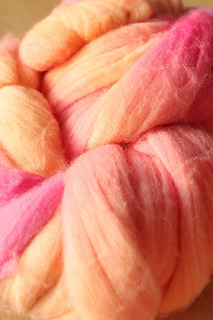 Lorna's Laces Wool Top
in Sherbet
Thanks girls for your hospitality!!
The next morning I was on my own for breakfast (which I had in bed, thank you very much) and then G and I headed out to MARENGO!!! To visit TONI! At THE FOLD! Toni, you'll remember, was one of the very generous souls (along with Tina at Blue Moon) to donate the wheel to Spin Out! I've known Toni since I first bought a spindle last summer. Since then she's outfitted me with STR and a wheel! NOTHING was going to keep me from The Fold. Not even the horrendous traffic on I-90!
On our way out, we made a pit stop at Superdawg!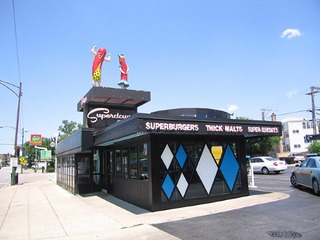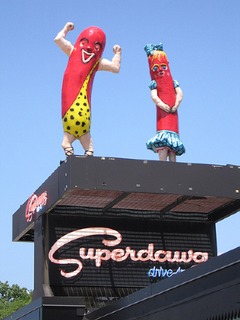 Mr. and Mrs. Superdawg
G and I consider ourselves junk food afficienados and will travel far and wide for some good junk. Superdawg fit the bill! YAY!
Fortified, we headed back out onto I-90 towards NothingvilleWisconsin. We drove through farmlands and saw cows and horses and which is always a treat for us city folk and finally we arrived at Toni's place. Listen - I don't have ANY pictures. I SUCK! When we got there the sheep were outside and it was HOT and we were later than we wanted to be so I was anxious to get inside and when we left, the sheep had gone into the barn. So no pictures. I was having too much fun to stop and take any.
Okay. So I get there and Toni gives me a huge hug and I'm happy and G changes into his bathingsuit and finds himself a nice spot on the deck with a direct line to the UV Rays and I go off to spin. When I bought my Lendrum I had really never tried any wheels - just bought it site unseen on the expert advice of many people. I'm happy to say that I tried a bunch of different wheels at Toni's and I'm still VERY HAPPY with my Lendrum. It was the absolute BEST choice for me.
The first wheel I wanted to test was the Schacht Matchless. I was afraid I'd love it because it's expensive and pretty and thank god I didn't. So not as smooth as my Lendrum. Then I tried the Ashford Traditional because I saw Delia spinning with it at Spin Out and thought it was pretty and eh. Nothing special. Toni had me sit at the wheel we gave away - a Majacraft Suzie Pro - which I have to say was pretty nice. Not bad. As close to the Lendrum as any. And then she killed me. KILLED ME! She had me spin on the GORGEOUS Black Walnut Lendrum Saxony she's got there, right in the shop for everyone to see, and OH MY GOD! I FELL IN LOVE!!! The worst part is that when I was talking about it nonstop on the drive back to Chicago G was confused and thought I had actually bought it. DAMN! And it was the right way and everything - turns out that I spin left-handed. Who knew? I just do what's comfortable. Guess my left hand isn't useless afterall. Anyway. I love that wheel. Apparently so do some other people! (DUDE! I will so fight you for it!)
Ahhh.
What's that? Oh yeah. Of course, I didn't leave empty handed. How could I leave empty handed? I bought some new fiber!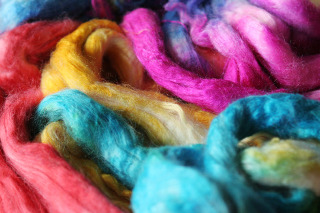 Interlacements Silk Roving
Color 206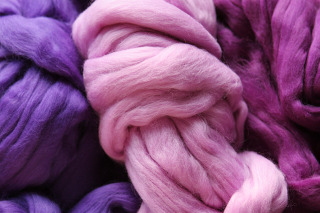 100% Merino
I'm planning on maybe plying the Silk with some white Cormo I have from Maryland - I think that would look pretty cool - and the purple merino is destined for an experiment in 3-Ply. Don't you think that will be neat? I'm excited. Not enough time to spin. Maybe if I had two wheels? NONONONO! I can't get another wheel!!!
Ahhh.
Alright. I'm okay. Whew. I also bought some fun tools. I have one niddy noddy which I hate. It's unfinished and cheapy looking and I have to stick paper towel into one end or the stick comes out. Blech. I was SO HAPPY to see that Toni had the Niddy Noddy I had been coveting!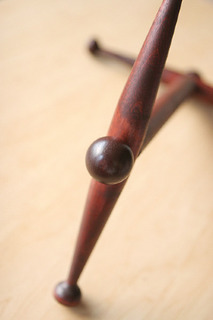 It's a
Nancy's Knit Knacks Niddy Noddy
(say that ten times fast.) The little balls screw into the top and bottom to hold it all together so no need for paper towels! And I like the plain look of it. Very happy. Can't wait to use it!
I also got some fun tools: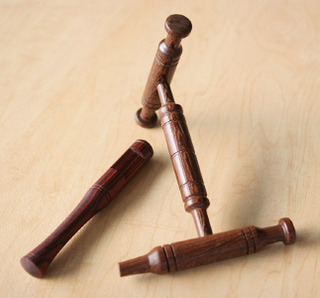 A baby niddy noddy for sample skeins and a WPI tool - I think they may be made by the same person, or maybe not. I know that the niddy noddy is from Charis Yarn.
I also bought a book and the lastest issue of Spin Off and I think that's it. I had SUCH a great time and Toni's shop is FANTASTIC! Forget the spinning stuff - which she has in abundance - she's got a KICKASS selection of yarn and books. I urge anyone in the area to get out there! It's SO WORTH it! If not for the yarn, then for Toni's stellar hospitality.
We lucked out on the way back and managed to avoid the horrific traffic we witnessed driving out there and G got home in time for his dinner and I was able to clean myself up in time to meet with Bonne Marie and Theresa! We headed out for drinks (Cosmos for them, Shirley Temples for me - I'm a freak!) and to wait for blogless Helen who was coming out to play! After drinks we all piled on the Love Bus (Bonne Marie's beloved #66) and headed out to Navy Pier. We arrived JUST IN TIME FOR FIREWORKS!!! I love me some fireworks! After ice cream and some obligatory knitting, it was time to say good night. Helen escorted me back to my hotel - I think I was half asleep - sorry Helen - and my second night in Chi-town was over. It was SO FANTASTIC meeting you girls!!! I was so happy to have the opportunity to hang out. Thank you! (Tere - I'm so so sorry I didn't call you. For the life of me I could not find your information! Hopefully we'll meet again!)
The rest of my time in Chicago was fairly uneventful. Well, uneventful in a knitterly way. We went to the Southside on Sunday to find the house G spent his first four years in and hung out at the beach right by our hotel for a bit - the beach? In the middle of the city? SUPER COOL! Went to dinner Sunday night (Cafe Spiaggia - eh. Only so so.) Monday was too hot to do anything so I hung around and knit while G worked and then we left for home! All in all a very nice trip and I loved Chicago! Hopefully we'll be back soon. When it's a bit cooler.
Thanks again all you Chicagoans for your hospitality! Anytime you're in my hood, I hope to return the favor!
L, C
Posted by Cara at 09:43 AM | Comments (32)
July 12, 2006
ardomn
Since it's Wednesday and my life is all about the random, LET'S GO!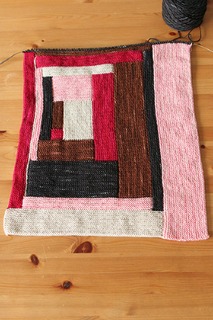 Member how I said something about bad numbers and my trepidation about keeping up with this random thing? Yeah. THERE ARE NO BAD NUMBERS! This thing is totally random - I swear on my STR Stash that I haven't cheated AT ALL and it looks like it was completely meant to be this way and is totally perfect and oh my god I can't wait to make my next one! I swear I could NOT come up with anything better than this if I tried for all eternity. RANDOM IS GOD!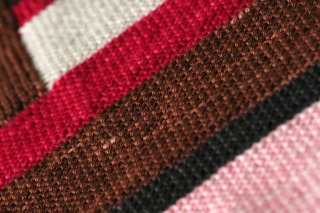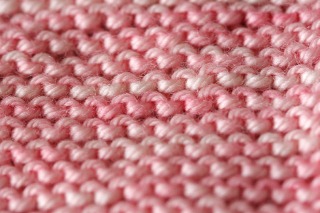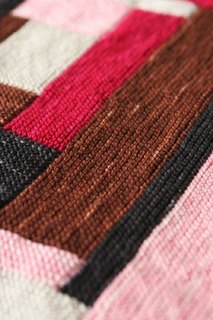 The perfect garter stitches are like pearls, plucked from a juicy oyster in the South Sea. FANTASTIC! Right now the piece measures about 16x20 - and I'm no where close to running out of yarn. I'm going all the fucking way!!! My plan right now is to knit until I run out of a color, since they won't be used evenly, and no matter what the number for that section, I will end the row and then I will continue with the remaining colors until they run out, etc. I'm feeling like there will be great balance in this project. Great and perfect, carefree balance.
And in the "you're never the first with your brilliant ideas so get over yourself already" department, I saw this link to Pixelated Knitting over at Kellee's. She's taken this whole random thing about a gazillion steps further and is doing Sudoku Knitting. And she came up with it way back in April. Very, very cool.
What else? Well, you saw the fun we had packing boxes over at Kay's but that's not all the fun I've been having. Firstly, let me say thanks for all your suggestions and concerns about mailing out many packages. I think to get USPS pickup you need to weigh the boxes first and pay for shipping and I don't have the means to weigh the boxes, so I will use the cart my apt building supplies and pile it high then go to the PO around the corner. No biggie. Besides, I love the girls at the Post Office - they are very nice.
Now, on to the fun! I'm not sure if I've ever mentioned this or not, but my sister and her husband own a bunch of Ben & Jerry's ice cream shops (no - they never have freaking ice cream in the house. It's pathetic!) around and about Philly and South Jersey. Saturday night was a HUGE partay down at The Borgata in AC to celebrate the big opening of their store in the food court there. We stayed overnight, had a FABULOUS dinner, lost $$$ way too quickly (the losing doesn't necessarily bother me - I gamble for entertainment - the part that bothers me is that I lost quicker than I usually do and I could literally be at the craps table ALL NIGHT. So the fun was over there way too fast.) and DANCED the night away! We had a great VIP Suite at the HOT HOT CLUB (which is very nice for us geeky nerdy completely UNCOOL types who can't get into clubs at all.) I DANCED AND DANCED with my husband, which I love - he can rock out with the best of them - and my sisters and I had FUN!


This is me with my sister right after I came off the dance floor. I'm sweaty and gross and HAPPY! One of my favorite parts of the evening was my outfit, believe it or not. When my sister was here we shopped and shopped with three kids, the oldest being 5.5, looking for a HOT outfit to wear to the club. Nothing. We are not hot. We are old with kids and fat and ick. But somehow, on Saturday MORNING, right before we had to leave to go to the shore, I found a great pair of jeans, a tight black sleeveless top that allowed me to wear a bra and didn't show my back (I don't like my back) and wasn't obscene, and a FANTASTIC pair of shoes.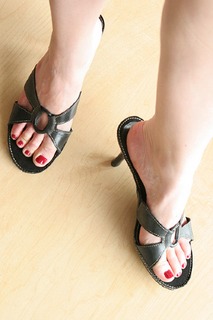 I LOVE the shoes! Nine West outlet, $30, comfortable! I wore them all night and at 3:30 AM I was a little bit crippled walking back to my room, but I had worn them since 6:30 and boogied my little heart out so I say BRAVO!
Another thing I received Saturday and which looks dirty and wrinkled in the following picture is my fabulous shirt(s) from Urban Yarns!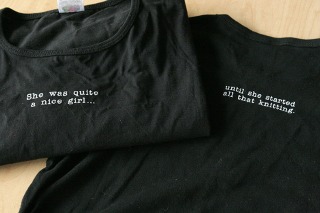 I saw them first over at
Lauren
's and immediately went and ordered a long sleeve and a short sleeve! I have barely taken the short sleeve off. I ordered both in the XL and the short sleeve could use a bit of shrinking in the length (and a little in the body) and the long sleeve could probably be a smidge bigger across the bust. Just so you know. I love them!
CHICAGO! Chicago is fast approaching. We're leaving Friday morning and practically go straight to WRrigley Field (FUCK! You think they'll let me in now? I've been up since 6AM! I'm sorry!!!) when we get there for an afternoon game - against The Mets for pete's sake. I hate The Mets. GO CUBBIES! I'm free the following times - Friday night, Saturday night, Sunday morning/day, Monday day. WHO WANTS TO ENTERTAIN ME? I'm more than willing to "host" a little get together at my hotel either Friday or Saturday night. We're staying at a swanky joint so the lobby/bar area should be really really nice. Don't let me be lonely in a city of such fantastic knitters! ;-)
Have a randomly great day!
Posted by Cara at 11:36 AM | Comments (35)
July 08, 2006
Saturday, with a Chance of Wonderful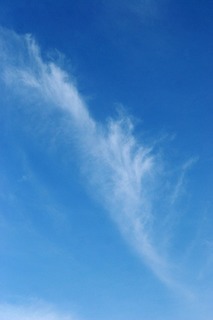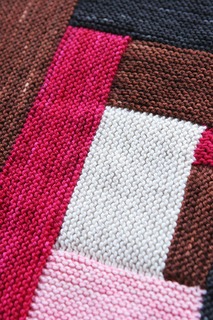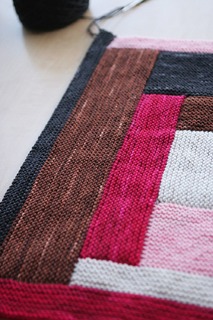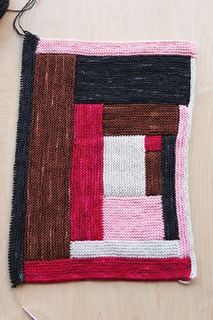 Posted by Cara at 09:21 AM | Comments (25)
July 07, 2006
Let the Good Times Roll
Are you ready for my fabulous fantastic idea? Guaranteed to bring you hours and hours of crazy goodness?
Allow me to introduce...
The Chance Log Cabin. Version #1.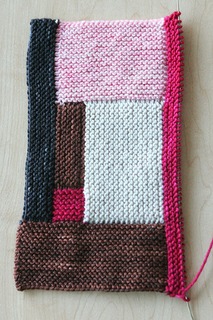 I was going to wait until I was a bit farther along, but I tossed and turned all night last night thinking about it so I have to get it out. I've been sitting on it for a couple of weeks now and it's just turning my brain to mush. Thank god for a little project called Spin Out because otherwise I would've gone absolutely batty waiting for my new yarn.
The Inspiration!
The inspiration for this project comes from two very distinct sources. First of all, the colors are directly inspired by this fanfabgeous (I'm forced to make up my own superlatives these days!) quilt from Gee's Bend. I just love the colors in it - red, pink, white, black and brown. I had orginally planned on trying to copy the quilt but when the other idea sprang to mind - well, I knew these were the colors I would use.
Okay. Deep breath. So the other day I wrote this post about how to build a log cabin. I was kind of being tongue-in-cheek with the whole X=the limits of your imagination and I was also being completely serious. I don't want people to be constrained with patterns in this great log cabin experiment. I want people to think outside the square, so to speak. And then I was thinking, hell, why don't we just take away all of the freedom in it and let some random number generator pick X. And then I thought FUCK! WHY DON'T WE LET SOME RANDOM NUMBER GENERATOR PICK X?!?!?! FREAKING GENIUS!
So that's just what I'm doing. And the best part? You can do it too. AND EVERY SINGLE PROJECT WILL BE DIFFERENT.

The Technique!
Here's how I'm doing mine. I chose five colors of yarn. I then chose the ORDER of the yarn, ie, which color I would use first, second, third, fourth, fifth - I'm sticking with this sequence. Then I went to the RANDOM NUMBER GENERATOR. The link takes you to the one I like to use but there are probably a million others out there. Choose which one you like best. (You could also use dice to get a random number. It's pretty much the same thing.) I asked the RNG to pick ONE number between ONE AND TWENTY. Let's say it picked 10. This is the NUMBER OF STITCHES I cast on for my first log cabin "strip." (I put strip in quotes because who knows what shape it will actually come out to be.)
I cast on ten stitches with the yarn I decide is A in the order. Then I go to the RNG and ask it to choose another number between 1 and 20. Let's say it picks 13. I then proceed to knit 13 GARTER STITCH RIDGES - which is actually 26 rows. I bind off all stitches except for the last, turn the work CLOCKWISE, change yarns to color B and pick up the stitches along the edge of strip 1. Then back to the RNG I go and have it choose another number between 1 and 20. Let's say it picks 5. I then proceed to knit 5 garter stitch ridges. Then I bind off all but the last stitch, turn the work clockwise, change yarns to color C and pick up the stitches along the next ridge. Go back to the RNG and have it pick a number between 1 and 20. Say it picks 5 again (because that can totally happen when things are random) and proceed to knit 5 garter stitch ridges. Keep going, having the RNG pick the number for the next log cabin strip and changing yarns until you've used all five yarns you've selected (or how ever many yarns/colors you've chosen.) Then start the color/yarn sequence all over again. Knit the blanket, picking up for new strips and getting random numbers until you decide it's big enough.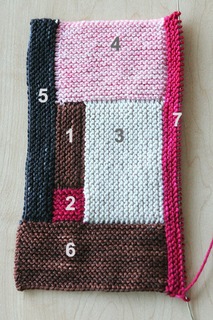 Before I sat down to knit, I chose numbers for two rounds of color - so 10 numbers. I figured that would keep me busy until I needed to pick the next ten numbers. The whole blanket is COMPLETELY RANDOM! I have NO CONTROL over what happens next. When I was telling
my dear friend Ann
about it she said "You're totally going to hate the numbers that come up." And I said, TRUE, but the whole idea is that the PROJECT IS OUT OF MY HANDS. If I'm going to do this I have to surrender my fate to the number machine and DO WHAT IT TELLS ME! Talk about an exercise in letting go! I have to say, I haven't liked a bunch of the numbers that have come up already, but that isn't stopping me from following the course of THIS PARTICULAR BLANKET. Besides, the next one will be totally DIFFERENT.
My plan is to knit until I run out of yarn. I have one skein of each color - so five skeins, but that's 1750 yds total. Of course, the colors will not be used evenly, but I'm hoping for a decent sized piece. I see these log cabins as pieces of art - not necessarily as functional pieces, so however it comes out - well - that's what the fates decree!
The inevitable question. The yarn. I'm using Socks That Rock in Heavyweight - The pink is Cotton Candy, the red is Lover's Leap, the black is Black Onyx, the white is Rock Salt and the brown is Earth. Call or email Blue Moon Fiber Arts for availability.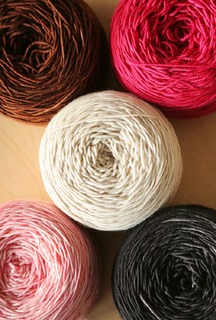 Are you as excited as I am about this?! Oh my god it's killing me it's so good! ;-)
In case you're wondering, I haven't given up on the Palette Blanket - I'm actually making good progress on the FIRST square: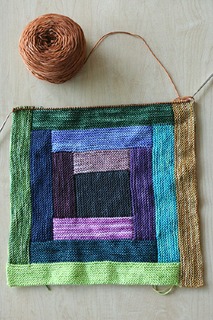 I've got the one organgish color started, then another redder orange, then red, then pink to go and the central square is finished. This is a really ambitious piece - and this is only the first element. This one has taken and will take a lot of careful planning, so it's really nice to have the Chance Log Cabin to go along with it - no thought there!
Thanks for indulging my crazy crazy passions! I hope you enjoy them!
L, C
Posted by Cara at 10:15 AM | Comments (54)
June 29, 2006
How To Build A Log Cabin.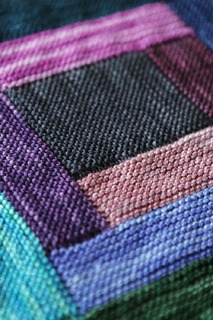 Using the Long Tail Cast-On, cast on
X
number of stitches. Knit
X
number of rows then bind off all stitches except for the last one. Turn work
counter-
clockwise and continuing with the same yarn or starting with another, pick up
X
number of stitches across the entire edge. Knit
X
number of rows then bind off all stitches except for the last one. Turn work
counter-
clockwise and continuing with the same yarn or starting with another, pick up
X
number of stitches across the entire edge. Knit
X
number of rows then bind off all stitches except for the last one. Turn work
counter-
clockwise and continuing with the same yarn or starting with another, pick up
X
number of stitches across the entire edge. Rinse and repeat.
Edited because I'm an idiot! Thanks Larissa!
X = whatever number your imagination can withstand.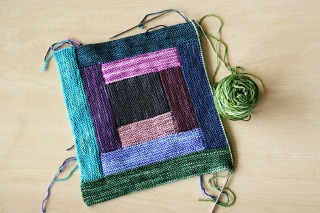 The beginning of the log cabin above and the green squares I was working on before use this formula:
Cast on 20 stitches. Knit 24 garter stitch ridges (48 rows). Bind off all stitches except the last. Turn work and pick up along edge. Knit 9 garter stitch ridges (18 rows) and bind off all stitches except the last. Turn work and pick up along entire edge. Knit 9 garter stitch ridges (18 rows) and bind off all stitches except the last. Etc. Etc. Etc.
Note - the amount of stitches you pick up completely depends on you. I like to pick up the stitch between the garter stitch ridges and one stitch for every bound off stitch. But whatever method you prefer will be just fine. After a while you get what you like and that's what you do.
Note 2 - you can keep going as long as you'd like or you can stop when your square is smaller and make a few more and sew them together. Or you can make big ones and small ones and sew them together. Or make them medium size put a back on it and make a pillow. The sky's the limit.
Note 3 - To learn more about Log Cabin Knitting, I HIGHLY recommend Mason Dixon Knitting. It's what started my obsession. There are a few patterns in the book if you feel like you aren't ready to branch out on your own and Ann & Kay explain everything in a way that makes you understand AND laugh. What's better than that?
I encourage you to use your imagination and change up these numbers as you see fit. Thank you.
Posted by Cara at 08:32 AM | Comments (27)
June 28, 2006
The Palette Log Cabin
I think every artist who succeeds (in their own terms) has some ability to keep moving forward in the face of constant obstacles...emotional, mental, financial, physcial...and that is what sets them apart from those who always talk about trying or starting but never get beyond the talking stage. I WANTED TO MOVE FORWARD, AND I WANTED TO FIND A WAY TO WORK MORE ABSTRACTLY.
From Nancy Crow, by Nancy Crow. (Sketchbook notes, p. 54)
I've started on my next Log Cabin piece. I'm calling it Palette. I've been thinking and thinking and thinking about this new project. To the point where my brain is going to explode. I was going to wait for some new yarn but the need to get started was too strong so I decided against it and I'm going to use all of the yarns in this picture plus one extra (it's kind of orangey):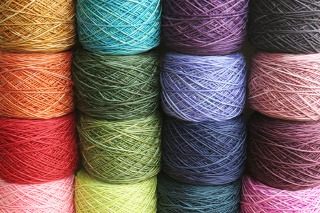 I just bought two new books: Debbie New's
Unexpected Knitting
and Nancy Crow's
Nancy Crow
. I've only really briefly looked through the New but I think it will be a great resource once I can get past the chemistry textbook feel. It's a nice resource for knitting different shapes.
And then there's the Crow. I was sitting in my car the other day waiting for my guru Kay when she ran out and threw Nancy Crow's book at me and told me it would "blow my fucking mind" then she left. When Kay returned to the car, my brains were indeed splattered all over my brand new car. I was caught between tears of joy and tears of Damn that Kay!!! Nancy Crow is my new hero. And not just because she takes color and shape and line and does miraculous things with FABRIC - the way a different kind of artist works with paints or ink or whatever medium. It's because she GETS IT! The book is filled with her sketchbook notes and thought and ideas and OBSESSIONS! "As I moved on with the new series I became consumed by it. Ideas flooded my brain, overwhelming me with possibilities, pushing me to make quilt after quilt." (Nancy Crow, p. 87) THAT'S EXACTLY HOW I FEEL! A couple of weekends ago I myself was absolutely consumed by this new piece. I was sitting at the computer making squares in Photoshop, filling them in with color. Then I was sketching things out on scraps of paper. Then I was telling anyone who would listen about what I wanted to do. I couldn't get it out of my brain fast enough! The creativity was PHYSICAL. I used to get this way with my writing, but I haven't felt it in a long long time and here it is! Still being creative, but in a new way. It's fabulous and frustrating and wonderful and scary all at the same time.
No fears. I'm not abandoning my knitting for fabric. Although I'll never say never because it always comes back to bite you on the ass. You see, the thing I love best about studying the art in Nancy Crow's book or The Gee's Bend Quilts is that I CAN SEE THEM KNITTED! I think garter stitch and log cabin construction are the perfect compliment to quilts. The binding off and picking up of stitches - which makes seams - mimics the stitching in quilts. And I'm lucky enough to have an amazing color artist in Tina Newton, from Blue Moon Fiber Arts, as inspiration for my "fabrics." So I've got my canvas and I've got my paints and I am raring to go.
I so feel my limitations - I'm not a very adventurous knitter skill wise. I don't feel like I have the chops to just throw a short row in here or bind off there and pick up here or decrease or increase. Right now the most important thing for me is color and execution. Hopefully I will be able to branch out in my forms. I need to take more chances with my work. What's the worst thing that can happen? It doesn't work out? So I rip it. The real problem is that I'm so so impatient. I want it done NOW. I don't sit and tinker ever. I need a goal to work toward. I need to start tinkering.
I will be starting the Log Cabin Knits blog sometime soon - it'll probably be after July 1st though because I'm trying to learn to be kinder to myself and not expect myself to be able to do everything at once and I'm also learning to say no. So I'll have the site up when it's ready, whenever that will be. Soon though. I envision something akin to Whip Up, which I really like. A beautiful place to share ideas and inspirations and techniques - a working collective of sorts. I would encourage all who would like to join to start up their log cabins. Don't wait on me. There will be no rules or patterns or anything - just creativity! I'm envisioning Show and Tell Fridays where we all show our squares or blankets or progress or inspirations, but that's the only special thing I've come up with so far. This isn't a typical knit along at all. I aspire it to be something that grows and expands with our knowledge and skills and really the only limits I see are our ideas. There will be no deadlines. No real goals except what we ourselves can accomplish.
I'm very, very excited about all of it. Thank you.
The yarn I'm using for my project is Socks That Rock in Heavyweight from Blue Moon Fiber Arts. Please see the extended entry for yarn colors and purchase information.
I'm constantly being asked about the yarn for my Log Cabin squares. I'm using Socks That Rock in Heavyweight from Blue Moon Fiber Arts. The colorways I'm using in the new blanket are identified in the picture below: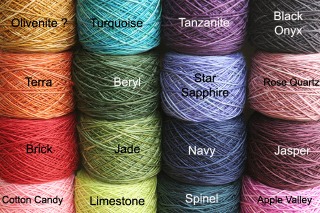 Most of the colors are NOT listed on Blue Moon's website. BUT THEY ARE AVAILABLE. To order, please call or email Blue Moon. Tell them you saw it here. ;-)
Thanks.
Posted by Cara at 12:12 AM | Comments (47)
June 19, 2006
Knitting: It's the new puppy.
I finished my squares, but first, a story.
So I've been knitting these squares, right, and one of the nice things about them is that they are super duper portable. More portable than socks and the best part: I can knit them without paying any attention. I know there are people out there can knit while juggling three eggs, and while I'm fast - I usually need to have my eyes watching what my hands are doing. Not so with the squares. It's the combination of the yarn (no splitting), the needle size (Addi #5s fit perfectly in my hands) and garter stitch. I can walk, chew gum AND knit all at the same time. AMAZING! Anyway, because of this new found skill and my total obsession with squares I've been knitting EVERYWHERE. ALL THE TIME.
G asked me to meet him in the city Friday night and I took the train into New York. I was in the elevator going up to the station with another person. A guy - kind of cute. Baseball cap. I was knitting away.
"Isn't that dangerous? Like running with scissors?" he said.
"Not when you know what you're doing." I said.
He then proceeded to tell me that his grandmother taught him to knit. Or maybe crochet. I asked him if it was two sticks or one. Turns out his grandma was a hooker. Fun times. Was he trying to pick me up? I don't know but I thought it was a good line if he was.
I knit all through a graduation party Saturday night but no one commented on my knitting at all.
Fast forward to Sunday afternoon at the mall. My sister escaped from the black tops of Do The Right Thing Crooklyn to the glory that is the air-conditioned New Jersey mall. Remember how I felt the last time I went shopping with my sister? Yeah. Not the best self-confidence builder. Well, this time I remembered my knitting and I didn't stop the ENTIRE time we were out. (Except, of course, when I was driving my hot new car.) I knit through an hour of trying on clothes at Bloomingdale's and not buying anything. I knit through a half hour of trying on clothes at French Connection and (thank GOD!) the exchange on one pair of pants for two new pairs. While we were in French Connection one of the sales guys asked me what I was doing. I told him I was knitting and he seemed amazed that I could knit and watch my sister shop at the same time. When I was sitting in one of the open dressing rooms across from my sister's dressing room he totally laughed everytime he walked by and gave a hand wave as if to say I was completely ridiculous but fabulous for knitting without end. I know he wasn't flirting with me because I wasn't his type at all, if you know what I mean.
Then we went to Nordstrom's. Shoe department. (Do they actually sell anything else at Nordstrom's?) I was walking around display shopping and knitting. A cute sales guy asks me what I'm knitting. I tell him. He tells me he would love to learn to knit - if it was socially acceptable and all. I said IT TOTALLY IS! And then he told me that maybe he'd get a book out of the library. Then we go back to looking around and when he comes by us again he tells me I should knit him a hat. I laugh and say - how big's your head? (See - this is why I don't think he was flirting with me even though my sister thinks he was because if that's not an opening I don't know what is!) This seemed to confuse him a bit but then he disappeared into the back to get my sister's shoes. At this point my sister was completely flabergasted that my knitting was getting all the attention here. (HAHAHAHA!) When he came back he dropped the shoes off by my sister and totally came over to talk to me. He started telling me his life story. How he gave up his engineering career and how he just got a house and this is his second job. His real job is in finance. He was very sweet and I have no idea what he wanted from me - maybe just to know about knitting? Maybe I reminded him of his dear sweet grandmother that used to knit and he's lonely and the knitting made me seem kind and open? I thought it was interesting that not one woman said anything to me about my knitting. Only men - and young men at that. I don't know what this all means but single girls out there - know this: Knitting. It's the new puppy. Use it wisely.
Without further ado, my green squares. All finished but for the sewing.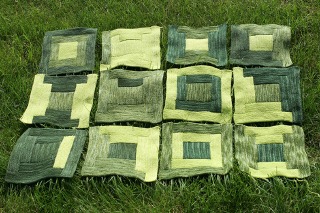 Remember how you all thought I went a little overboard with the sock thing? That I might not ever knit anything again? You ain't seen nothing. The socks? Kid's play. This log cabin thing may ruin me forever. There are other things I want to knit - remember that whole Japanese sweater? Yeah. I'd still love to knit that. But these log cabins have taken over my brain like some kind of mad knit disease and I can't stop thinking about them.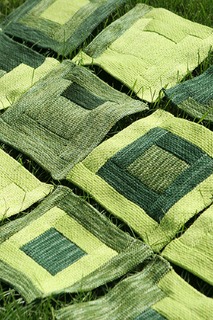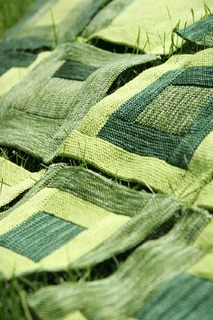 Now that I've finished the green squares (Kay? Whenever you're ready I'm ready babe!) I'm already planning my next blanket. I'm seeing them more like canvases rather than functional pieces. Have you ever had this feeling - it's like your brain is so full of the idea that it feels like it might burst if you don't get it out? That's how I've been feeling all weekend. I've been doodling, playing with Photoshop - dreaming about the damn squares. It's a sickness. But if loving squares is wrong - I don't ever want to be right again. Stay tuned.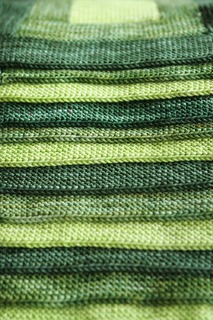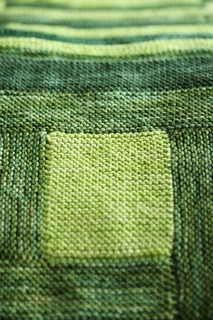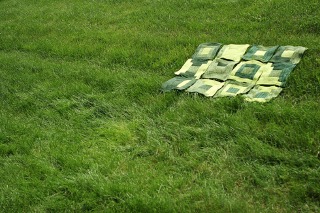 Back to the green squares - I anticipated the photo shoot of all 12 squares the whole weekend and I wasn't sure what I was going to do. I wanted something different. I finished the 12th square this morning and then I went out for a run. I'm so fat but at least I'm trying. Anyway - I kept running past all these nice lush patches of lawn and I thought that's perfect! So you have the pictures above. And then, when I was heading home to my nice air-conditioned apartment, I saw this patch of greens.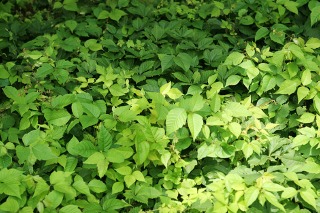 It's my log cabin in nature. Cool huh?
I never talked about my day with those goofy pug lovers. It was more fun that I thought I should share. I didn't want to incite any ugly envy or anything. I will say this: when Jen, Xavi and I were on the train home we saw this amazing rainbow. And as Ann suggested, cherry pies started falling from the sky. It was that good. And thanks for all the kind words you left for me! It's nice to know you think such nice things about me. I thought for sure I'd get a least one bitch. Or maybe even a mothafucka. Nothing. I really am losing my touch.
Spin Out UPDATE!
Get your prizes here! Right here! I've got quite a few prizes to announce: Emily of
Sophie's Toes Sock Yarn
has graciously donated two skeins of her hand-dyed sock yarn in the colors "Handsome Park Ranger" and "Summer in the City" - you know - in honor of our little event! (And be sure to check out
her quilts
. They are breathtaking!)
Stacey
at
Made By Ewe
offered up one of her
hand painted spindles
and some of
her yarn
. Beautiful stuff!
Potter Craft
, publishers of the ever famous
Mason Dixon Knitting
and
Big Girl Knits
, is sending over a collection of goodies. Kelly at
The Gabby Knitter
is donating some of her fabulous hand dyed sock yarn. Jennifer over at
Spirit Trail Fiberworks
is sending us some of her hand-dyed gorgeousness!
Sivia Harding
has donated two
BRAND
NEW
beaded sock patterns. You know how I feel about my Sivia (of the Diamond Fantasy Shawl fame!) And last but not least,
Kathy Elkins
of
WEBS
has generously donated a fantastic knitty prize! More details to come! THANK YOU THANK YOU THANK YOU ALL! I'm overwhelmed by all of your generosity!
We're T Minus 5 Days until the big event, but the Registry will be open until June 30th. So there's plenty of time to give. Now who's going to push me over the edge? So far today we've got a total of $9996! THANK YOU!
Posted by Cara at 03:59 PM | Comments (54)
June 12, 2006
Love Square No. 9
Whew! What a weekend! I photographed a birthday party Friday afternoon then hopped a train to Philly. When I got there, since G was working all day Friday and Friday night, I joined my sister and the kids at an elementary school carnival. No rides, just lots of games and about a zillion kids hopped up on cotton candy. CRAZY!
Saturday morning I lounged around and then G and I had babysitting duty. We watched the baby while the rest of the family went to see The Lion King. We ended up in Rittenhouse Park, with my brother, and I was looking for all those crazy Philly KIPers, but I couldn't find any. We got there around 3 - I guess everyone had left by then. We had a fun time pointing at planes and dogs and squirrels and birds and eating applesauce and then the rest of the family met up with us.
G and I had adult time at dinner that night - at Pod. Eh. The service sucked - well - not sucked really, but we had 9:30 reservations and they didn't seat us until after 10. Okay. Fine. I understand that you can't control how fast people eat and all and everyone else with reservations was waiting as well - BUT this couple came in, a couple that can only be described as acid washed - nuff said - and they were all kissy and huggy with pretty much everyone from the hostesses to the bus boys and guess who didn't have to wait long for a table? And then got a PRIME table? And then guess who got seated at a dirty table so that the guy could clean it off right into my lap and I had the smell of moldy cleaning fluid in my nose the whole time? I actually yelled at the hostess. I said you sat us a half hour after our reservation but you couldn't wait the five minutes to set up the table? They attempted to take care of us with a free appetizer and free dessert - which was GOOD. They did the right thing, but it was almost too much and they fucked up other parts of the order and in the end I wouldn't waste my time again. The food was decent, but I'm sure there's better out there. So much for the amazing Stephen Starr.
Besides the kids and hanging with my man, the best part of the weekend was right outside my hotel window: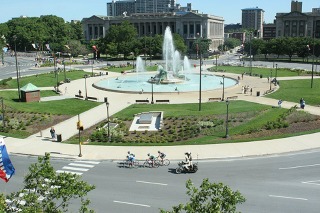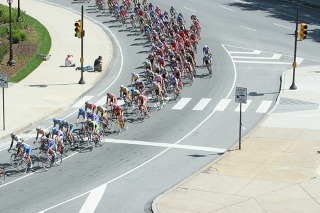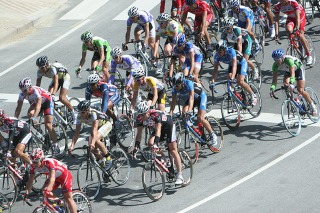 Sunday was the
Philadelphia International Championship
, which went right by our hotel at Logan Circle. Very cool! Check out that
Peleton
! The whole time I was snapping away I was thinking of our
Claudia
- who's
riding for MS.
Have you donated over there yet? I know I've been asking you for money nonstop, but Claudia's raising for an extremely good cause, so if you can't give here - give there. Or give to both. That's what I've done. I matched my Heifer donation with a donation to fight MS. Thank you!
There was KNITTING TOO! Look what I did!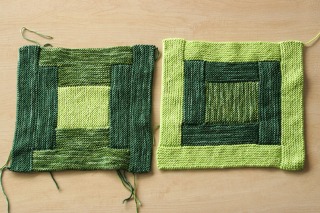 Two more squares!!
Nona
asked for a real life progress shot so here you go: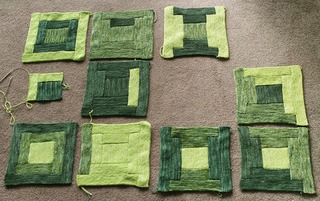 I've finished NINE completely and I'm already well into No. 10. I LOVE THIS PROJECT! I'm not sure how I'm going to put all the squares together - I'm going to wait for input from
The Master
. Oh and for all those asking about the yarn - it's
Socks That Rock
, heavyweight version, in Limestone (light), Jade (medium) and Beryl (dark.) I'm getting lots of questions and comments about this blanket and seems like you all love it as much as I do so I thought, you guessed it, time for a KNIT-A-LONG. (You know, because I didn't learn my lesson from the last one.)
I'm still working out the details on how I'm going to do this and I'm pretty preoccupied right now with Spin Out stuff, so let's say it'll have a July 1st opening. Details to come! Watch out for it!
And finally, I was over at Six and A Half Stitches where there was some talk of piles. That's one of my favorite things about my log cabin squares - feeling the heft of the piles - the way they line up or don't line up - the alternate colors peeking through. Here is my pile: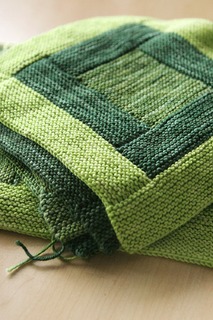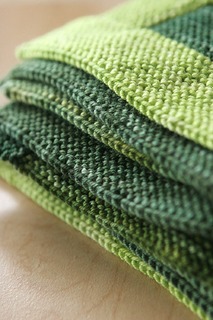 Thanks for reading! Have a great day!
Posted by Cara at 02:04 PM | Comments (30)
June 09, 2006
Square Dancing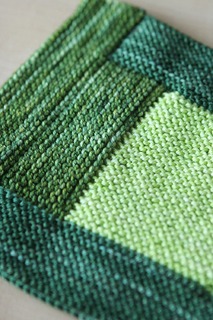 I'm back with my squares again and that makes me very happy. Although this batch of yarn is a wee bit different than the first batch. I'm trying very very hard to suppress the urge to reknit the first 7 squares. I think, in the end, the differences will be okay because it will make the blanket look even more vintagy. The new yarn is a bit brighter and the color more uneven than the first batch, so it'll look like the blanket aged, you know, under a sundrenched window by the ocean, folded up so that some parts faded and some parts didn't. At least that's what I'm telling myself. I'll finish what's left and then decide if the color differences are too jarring. Here's where I am in my progress: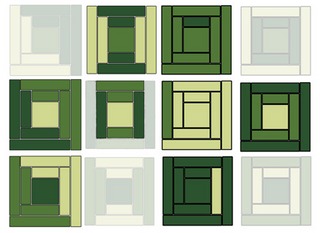 I'm hoping the last squares will go kind of quick. I'm excited to move onto the next phase of putting this all together.
G and I are off again this weekend. To Philadelphia - but with a twist. G has to go down today for work and I'm following tonight - I have a birthday party to shoot this morning - and we'll be staying at a posh hotel for the weekend. I will see the kids too, but it'll be more of an adult themed weekend.
Have a great one everybody!
L, C
Posted by Cara at 08:24 AM | Comments (15)
May 19, 2006
0.592592592592592592592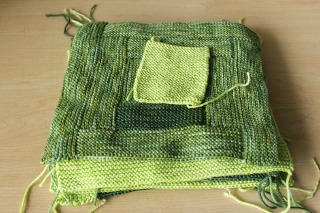 Yes. I really did put the squares in the sand. G was a bit freaked out about this and wanted to know which was the most important when he had to grab them up lest they drift into the sea to be lost forever. I said don't worry. If they get wet they get wet. The yarn will dry. And the likelihood of them being lost in that crystal clear water was pretty slim and you know what? It's yarn. That I knit. It's not so precious. They're squares for a blanket that should be used and loved and abused and it will last and if it doesn't I'll knit another one. At the heart of it, isn't knitting a functional USEful craft? You need to use the stuff, not put it under glass. (Okay - maybe when it's 100 years old and I'm dead and famous my family can leave it to a museum and put it under glass with the picture on the beach beside it, but not now.)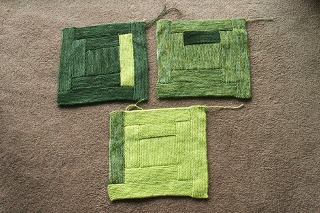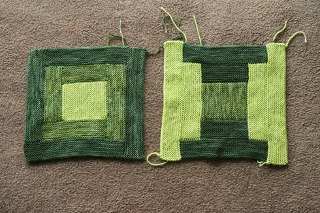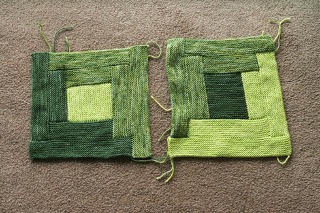 Before I left I couldn't stop knitting squares, as you know, and I continued to knit pretty much through the entire vacation. After the first day on the beach I came up with a goal: six squares finished. Half the blanket. So I knit and I knit and I ran out of the dark green and moved onto the solid color squares and then I ran out of almost all the medium green so I knit my last square and had just enough left over for the middle of the 8th square. Hence the number in the title. That's how much I've finished.
Borrowing from
Lauren
, I have the light sections to do. I've used all the green yarn I have and Tina's going to make me some more and I love this project. The light green (limestone) seems to be knitting at a bigger gauge than the rest of it, so the squares where the light green is on the outside are a bit wonkier, but overall I think it's FABULOUS. I originally thought it would be a test and then a gift and now I don't know if I can part with it. Especially since I might find bits of sand in some of the squares every now and then and it will remind me of Anguilla. That would be really nice all cuddled up on a snowy winter night. Wouldn't it? Could you give it away with memories like that knit into it? We'll see.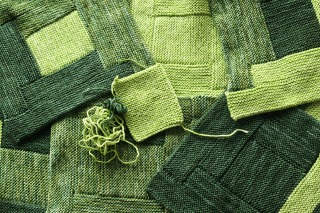 While I wait for my new yarn to come, I've started a new sock. I'm taking a page from the genius that is
Eunny
and I'm not sure if I'm going to continue the socks I have on my needles right now so I started a new one. Shut up. I am SO allowed. Anyway, they're going to be plain old sockinette socks because it seems all I can do these days is knit. But when I say plain old I'm totally lying.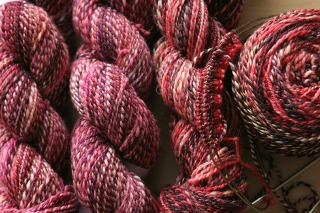 What you're seeing there in the crappy dark picture above (Sorry! No Anguilla light today. Only gray rain.) is HAND DYED, HANDSPUN SOCK YARN! Can you BELIEVE it! It's all freaking BARBERPOLE! My heart can barely take it. Where did I find such gorgeous yarn? Well, the other day I was reading over at
Amanda's
and she posted a picture of this new sock yarn she bought and my heart actually DID stop so I rushed over to
Teyani's
to see if she had any left and thank god she did. The yarn is from
Crown Mountain Farms
and Teyani calls it Sock Hop yarn. All of the colorways are named after 50s Tunes. I bought Heard it Through the Grapevine (on the left in the picture above) and Heat Wave. I've started a sock in that. Can I tell you? THIS is what I want my spinning to be. I want to spin my own barberpole sock yarn. I fear I'm a long way off from this endeavor, but in the meantime, I'll take one in each Sock Hop color! Thank you Teyani!
Thanks for all the entries in the MDK Peaches & Creme contest! It's closed now and the entries are all really great (read them - seriously - they are so funny!) I'm going to have a hard time narrowing it down to ten. I'll announce a winner when I get back. Yes. I'm off again tomorrow. I know. Just when I'm back I'm off - but absence makes the heart grow fonder, right? My grandmother's 85th birthday party is on Sunday and it's been planned for a while now so I'm going down to help my sister and visit with the family. I'll be back sometime on Wednesday and I'll try to check in before then. It gets kind of crazy down there so no promises. Orignally our vacation was planned for the first week of May so I didn't think I'd be gone back to back, but there it is. See you on the flip side! Have a great weekend!
Posted by Cara at 11:50 AM | Comments (20)
May 13, 2006
Squared
It's like a disease really. I can't stop thinking about squares. Which is kind of funny because Ann and I are always having the discussion about how we're not really square people. (Knitting wise - not personality wise. If it's a personality thing well I'm so square I'm a freaking circle.) Whenever there's a call out for blanket squares or what not - we'd rather send money. It's a selfish thing admittedly and if that makes you shake your head and run the other way that's okay, but that's who I am. Even if it wasn't on the quiz. Anyway - here I am OBSESSED with squares. I finished another one last night: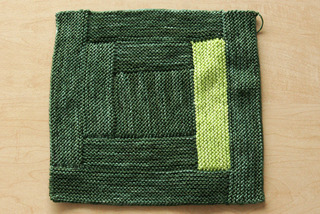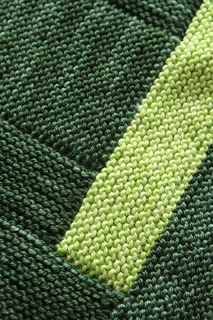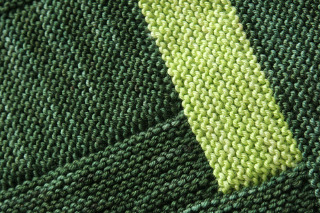 And here are my two squares together: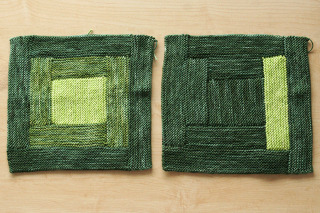 Oh my GOD I can't stand how excited I am about this!!! I've already added another series of squares because I can't believe I forgot the TRADITIONAL log cabin layout. I was going through
The Bible
again last night and realized it was absolutely NECESSARY to the blanket.
Do you think it's bad if the blanket itself is not square-ish but rectangular? Ann wanted to know how I live with myself with these obsessions rolling around in my head and I told her it's not easy being
green
me. (Sorry, couldn't help myself!) But seriously, what do you think? Part of me thinks there NEEDS to be three of each square and that I can't leave out any of the pattern combinations - but another part of me is like it should be SQUARE! Blankets can be rectangular right? And a square IS a rectangle right?
I ordered more yarn from Tina but I have to say I'm EXTREMELY pleased with how the yarn is knitting up and how far it's going.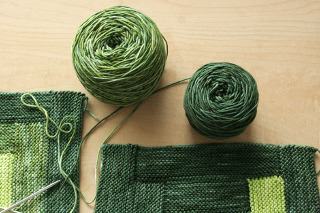 There you see the Beryl ball (dark green) compared to the Jade ball. Having completed the square that is pretty much all Beryl I still have a decent amount left. The heavyweight skeins are 350 yds. and I'm definitely satisfied. I think I can get at least a couple more squares out of the Beryl - especially if I do the ones that don't have as much Beryl in them. Maybe even four then. I'm taking these squares with me on vacation tomorrow (and a sock or two) and I can't wait to see what I come back with! Two down - ten more to go!!! WHO KNEW garter stitch could be so much fun!?
On to more serious stuff: CONGRATULATIONS!


CECE and STEPH
They won the
Mnemonic contest
. Cece was the random winner. Her entry was:
X
ylophonists
a
ways
c
arry
v
arious
m
allets. Which is actually quite true. And Steph's entry was:
C
an
V
ictor
X
erox
m
y
a
ss? I don't know why but this just totally cracks me up! There were other a bunch of other xerox my ass jokes, but for some reason this was it for me. Georgie laughed too, so that's a two thumbs up! Thanks everyone for playing! You were great!
And in case you didn't win that one - here's ANOTHER CONTEST for you!
When I was over at Kay's the other day and I was telling her about the contest I had for the book and how the winners were so happy she said HEY! GIVE AWAY ANOTHER ONE! So I am.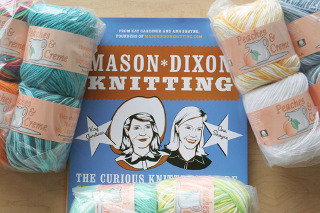 Check this out! It's the
MDK PEACHES & CREME 12 PACK
!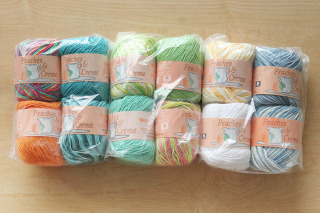 Fiesta Ombre/Peacock
Sunburst/Teal Ombre
Lemon-Lime/ Apple Green
Light Green /Pink Lemonade
Daisy Ombre/ Faded Denim
White/Shaded Denim
Apparently, Peaches & Creme comes in 4 Packs - but they're all the same - they don't mix up colors in the packs. So
Ann and Kay
suggested to them that they might want to put together a package of various colors that appear in the book - and there you have the MDK 12 Pack. (To get your own t12 pack, assuming you don't win here, you can
call the good people at Peaches & Creme
and ASK FOR IT! YAY!)
Okay. How do you win the MDK book and 12 Pack? (By the way - the book is NOT SIGNED!) It's easy! Here is a link to the Peaches & Creme colorways. Now I want you to make up your own! THE NAME HAS TO HAVE OMBRE in it because I think that is just so silly. What's an ombre? So come up with your own colorway - end it in ombre and DESCRIBE THE COLORS! Leave the answers in the comments and I'll pick my favorite ten - then I'll consult with Ann and Kay, Peaches & Creme connoisseurs, to pick a winner. I'm off on vacation until Wednesday, so I'll keep the comments open until 11:59 PM EST on 5/17/06. BE CREATIVE AND HAVE FUN! (One entry per person please.)
I'm not sure how much I'll be blogging while I'm away, but I'm hoping to come back with an I and a J! AND I will have SUPER HUGE NEWS ABOUT THE SPIN OUT! Have a great weekend!
Posted by Cara at 12:12 PM | Comments (106)
May 12, 2006
Call me Abe
Cause I'm living in a log cabin. DAYUM! When you guys like something you really like something. I'd hate to see what you're like if you DIDN'T like something! ;-) I'm here today to disappoint (almost) all of you! YAY! No really. That square I showed you was a swatch, so to speak. I have some really grand ideas involving log cabins, but I wasn't certain (still not totally) that it would work out. So yesterday I went to sit at the feet of the master and I wanted to make sure I had done my homework. I wanted to prove that I could log cabin. It's going to come in really handy later on. What I didn't count on was that I would fall down a deep deep deep dark hole and never want to come out. Seriously. This shit's CRAZZZEEE!
So I'm sitting on the PATH train yesterday knitting along and my mind is going nuts. Well, more nuts than usual. And no, not about the fact that the guy next to me on the death trap they call a subway smells or the fact that at the other end of the car someone is singing so loudly my ears are ringing or that the driver can't take a corner and I'm being knocked into the pole every five seconds while I'm trying to knit. NO!! NONE OF THAT! I was going nuts planning out my newest obsession project!
Let's backtrack a minute. One of my favorite, favorite parts of MDK is the part where Kay talks about being confronted with SO MANY POSSIBILITIES - possibilities of color, of shape, of texture that your brain kind of freezes on the spot because so much choice can be paralyzing. So she makes rules for herself and then lets herself go nuts WITHIN the parameters set by those rules. This being my first log cabin and all and my being extraordinarily fortunate to have lots and lots of amazing choices, I've decided to stick with the first three colors I chose.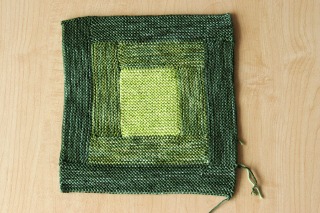 I'm not really a green person, but this is
May
. (Remember that - it might be on another quiz. You guys are pathetic!) And I really like the way these three colors play together and I think it will be a good test for logcabinning (which, by the way
Ann
, is so too a word!) Here's the plan so far:
I've got three different types of squares - log cabin, near solid and a courthouse step. My plan is to alternate where the darks and lights go for a total of three square in three series for nine squares. My first square measures about 10"x10.5" unblocked, so I'm thinking like a crib blanket type size. I have no idea how I'm going to put the squares together but I can guarantee that Kay will be involved.
ETA
: This picture does not show the actual layout of the squares. That will take some hard thought and a kind of Sudoku like puzzle mentality - each row will have to have one of each series and no square will have the same color border touching. Can I do it?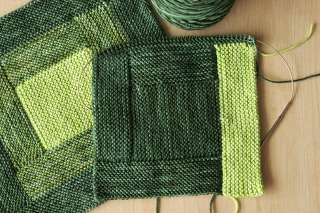 I've started on one of the semi-solid squares.
Kim
(of the FANTASTIC sockapaloooza socks) asked what my gauge was with size 5s and Heavyweight STR and I'd tell you Kim if I could find one of the fourteen tape measures I have in the house, but I can't so I won't. (Fucking house. Fucking ME! GET ORGANIZED!!!) But
Kathy in Juneau
(Feel good MAX!) asked what the back of the square looks like and with that I'm happy to oblige (I CAN find the camera!)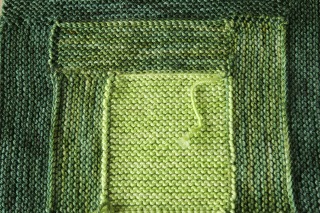 Not so bad. I'm just loving the variations in color. The pictures DO NOT do the yarn justice.
Thanks so much for all your support of my projects. Sometimes I get carried away (no really?) and it's nice to know I'm not alone. All though I fear this might be the end of socks. Squares are very portable.
Posted by Cara at 12:00 PM | Comments (24)
May 11, 2006
Palette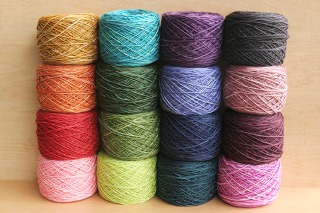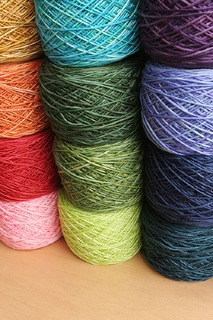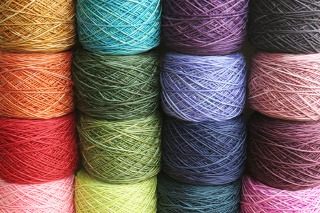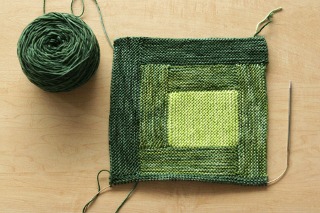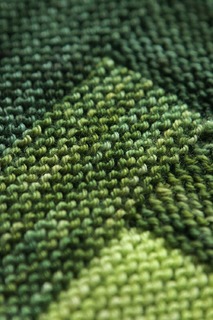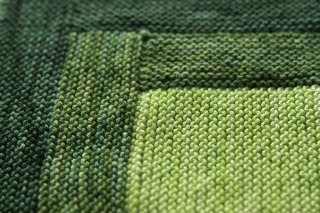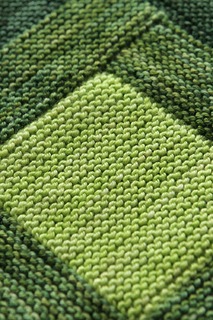 Click on the extended entry for yarn information.
All yarns are STR Heavyweight. Log cabin is being done on Addi Size 5s.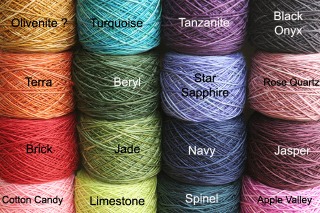 Click on the picture for a bigger version. As I've said in the past, all STR yarns are available directly from
Blue Moon Fiber Arts
. All you have to do is call or email and ASK!
Thank you!
Posted by Cara at 08:45 AM | Comments (73)