December 27, 2006
When in doubt...
KNIT SOCKS!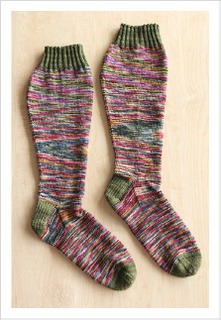 As you all know, I was crazy trying to find something to knit after Ariann. It was killing me - ask G. I was in a surly mood, flitting from needle to needle, book to book, trying to get my monkey mind onto something, ANYTHING to calm me down. I seem to be having a bout of AFTER anxiety. Know what I mean? You get through the awful thing and you're in survival mode and then, when everything calms down, you're like WTF?! Now it's safe to get all anxious and crap and I needed something to knit.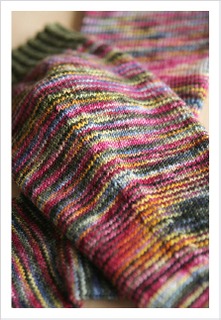 calf shaping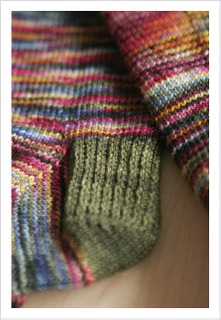 heel detail
If I told you how many times I went through every knit magazine/book I own - every stitch dictionary, every leaflet - how I scoured the internet for patterns - it would make your eyes bleed and honestly you'd never want to knit again. There was even an early morning Saturday (two days before CHRISTMAS) run into the city for yarn. An impulse buy like I haven't done in ages. More to come on that because I still need to block the humongous swatch I knit for a sweater I will probably never make out of yarn I'm not sure I even like. THAT'S how desperate I had become.
It wasn't until I spent a couple of hours trying to figure out Am Kamin (I couldn't even figure out how to start the freaking SWATCH) that I had an epiphany! There, sitting on the couch next to me, patient, non-judgemental, dare I say it...EASY, were the legs of my NOLA Knee Highs. Quietly, without whining, without begging, without hurt feelings for having left them shamelessly to knit other things, they whispered knit me. Knit me. Knit me. So I did.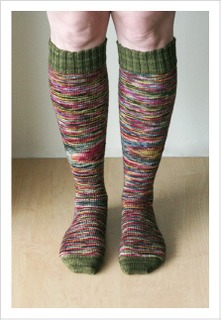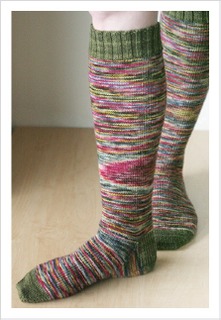 Stockinette knee highs, knit using this pattern. Koigu, P852 (variegated) and 2340 (semi-solid). I used two separate skeins for each leg, then split a skein for the feet. There's a bit left over of each skein. One skein of the semi-solid and there's probably a little less than half a skein left over from that. So over all I dipped into four skeins of Koigu. Knit on Addi Turbos US#1s. Two circulars, as I knit all my socks. I bought this yarn in New Orleans, so they're my NOLA knee highs and I love them.
I hope everyone had a good Christmas. It was pretty low key around here which is what we like best. Not too much gift giving (that's reserved for birthdays) but Georgie scored BIG TIME!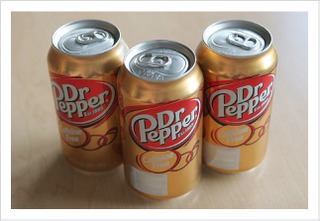 Dr Pepper? FOR CHRISTMAS!? Don't feel bad for good ol' Georgie because this isn't your ordinary run of the mill supermarket Dr Pepper. This Dr Pepper is SPECIAL!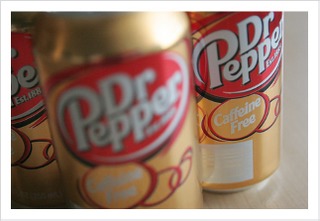 This Dr Pepper is CAFFEINE FREE!!! WHOO HOO!!!! As someone (me, well, and Georgie too) who can't, won't, absolutely doesn't drink caffeine, but LOVES Dr Pepper this is a Christmas BONANZA! The mythical Caffeine Free Dr Pepper DOES EXIST! I haven't had caffeine deliberately (okay - a sip here and there of G's Dr Pepper because I love me some spicy cherry) for almost 20 years. I found out the hard way that it makes me feel like I'm having an anxiety attack and when you sort of ARE having an anxiety attack why add to it? Caffeine makes me sick. Nuff said. (For those interested, I purchased my caffeine free Dr Pepper from the source, The Dublin Dr Pepper Bottling Company. I also got a case of the original made with pure cane sugar. G likes the caffeine every now and again and I figured we had to taste if it's different.)
I'm a Pepper! He's a Pepper! Wouldn't you like to be a Pepper too?

PS - Tune in tomorrow for an extra special EXCLUSIVE birthday giveaway only available at JanuaryOne!
Posted by Cara at 10:34 AM | Comments (36)
October 27, 2006
Sock Candy Friday
In case you hadn't heard, I broke out of my comfort zone and totally ROCKED the knee high on Saturday. (Evidence here and here and here.) There is at least one other pair coming out of me. That would make five total (when I get them all done) and that seems like a goodly number.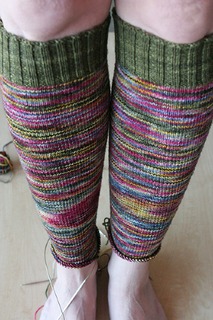 I'm just about to the heel on the second knee high and due to pattern tweaking I've got a few more rows to go to the heel on the first knee high. There's a definite possibility I COULD have a finished pair by Halloween. Could. Maybe. Finish. I just have to decide to do it. But really - two heels and two feet isn't all that much in the world of sock knitting. I've got five days. And a job just dropped out for the weekend.
Koigu. The green is 2340 and the variegated is P852. Knee High pattern here. Because someone always asks. ;-)
Thanks for all the blogiversary good wishes! It'd be nothing without you. Have a fantastic weekend!
L, C
Posted by Cara at 10:44 AM | Comments (37)
October 05, 2006
SOCKS!
In honor of Lolly's fantabulous SOCKTOBERFEST, I give you my sockstory:
When did you start making socks? Did you teach yourself or were you taught by a friend or relative? or in a class?
I started knitting my first sock in January '05. It was Koigu and I used size 3 bamboo dpns and a pattern from Ann Budd's The Knitters Handy Book of Patterns. No one taught me per se, I just followed everyone's advice to do what the pattern said, and turned the heel as it was written. Let's just say I didn't get much farther than this: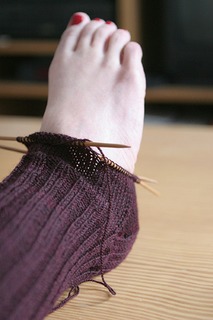 I think I lost a dpn somewhere and the sock was slouchy and I hate to rib and the color was boring. I abandoned all sock knitting until...
What was your first pair? How have they "held up" over time?
My first pair of socks were knit in June '05 after seeing Meredith's pair of purple stripey socks. I took one look at her stripes and knew I had to have another go at it. This time I used two circulars instead of dpns (the d stands for dreaded) and it only took me 11 days to finish the pair!!!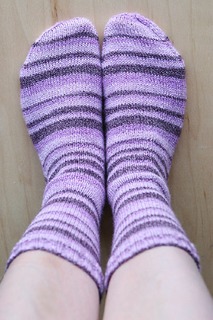 I used Regia Cotton Surf and while I loved knitting the socks, I haven't loved wearing them. Cotton just doesn't work for me for socks. They've stretched out quite a bit and haven't bounced back. BUT I loved knitting with two circulars instead of dpns. LOVED IT! And had every intention of knitting another pair. I started a few other pairs of socks after that but nothing that I really loved. Then I went to Rhinebeck and bought A LOT of
Socks That Rock
. When I got home I was itching to try it out and I stumbled upon the
Jaywalker sock pattern
by
Grumperina
which appeared in the September '05 Magknits. I thought, hey - this might work.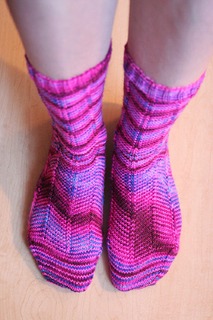 Let's just say that the pattern literally changed my life. Between October 2005 and February 2006 I completed 8 pairs of Jaywalkers in STR yarn. I currently have two single jaywalker socks and one mate on the needles.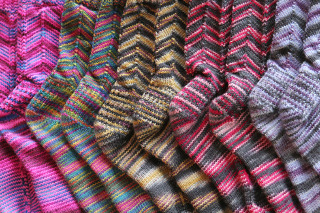 What would you have done differently?
Absolutely nothing. I feel like my sock journey has been exactly as it should be.

What yarns have you particularly enjoyed?
My love for Socks That Rock is well documented. It is by far my desert island yarn. I could live on it forever. That said, I've been enjoying Koigu as of late. I also love
Sock Hop yarn
and will be spinning up my very own Sock Hop roving for socks very soon. I've tried other yarns, but these are the ones I come back to - and when I haven't knit with STR in a bit, I always fall in love all over again. I make no apologies for my unadulterated affection for this yarn. It is, in a word, perfect.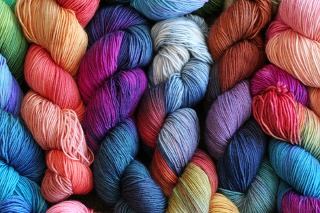 Do you like to crochet your socks? or knit them on DPNs, 2 circulars, or using the Magic Loop method?
I have knit my socks with two cicular needles exclusively. I prefer Addi #1s for my socks. I like to have one circular be longer than the other. I always do the heel on the shorter circular. I'm not sure why. Also, I move the stitches around when picking up the gusset so that half the heel and half the instep are on one needle, and the other halves are on the other. I can't see myself going any other way on this.
Which kind of heel do you prefer? (flap? or short-row?)
I prefer top down heel flap socks with kitchenered toes. I LOVE to kitchener. LOVE IT.
How many pairs have you made?
I have knit seventeen pairs of socks - two pairs were for Sockapalooza, and three pairs of those socks are actually six singles waiting for mates. I'm currently obsessed with knee highs. I've finished one pair, one pair is waiting for handspun heels and toes, one pair needs a mate, and my current sock is just about ready for a heel: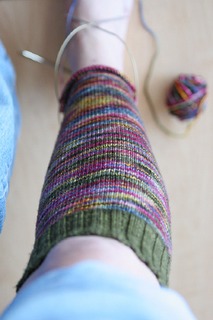 The yarn is Koigu - the semi-solid green is 2340 and the variegated is P852. I'm thinking I'm going to start the second sock and knit to the same spot - right before the heel flap. For some reason I like doing knee highs this way.
My plans for Socktoberfest 2006 are all about finishing. Finishing my new knee highs. Finishing my old knee highs. Whatever I get done I get done.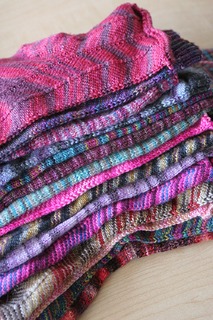 Handknit Socks. They make life better.
Posted by Cara at 03:43 PM | Comments (35)
September 27, 2006
HARK! The Herald Angel Sings!
This is how much yarn I had left after weaving in all the ends: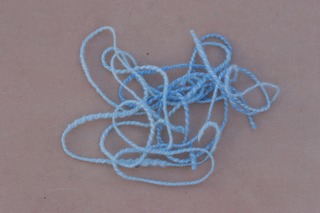 This is a taste of what the shawl looks like blocked: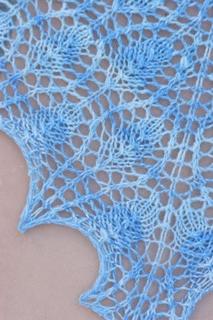 This is what you get to start when the TSA workers leave your knitting alone (even though the woman should've paid me after the body search. Does she think I give that shit away?):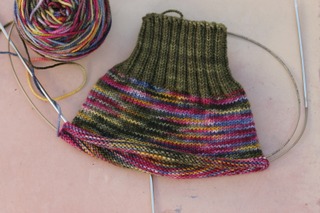 And this is what mother nature does when she is gloriously happy with the way my knitting is progressing: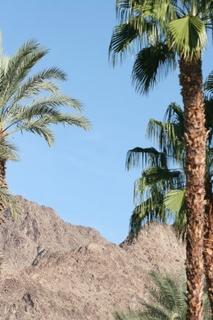 It's HOT. But in that dry, no humidity, are they fucking kidding me with that shit burn your skin off kind of heat. Yesterday we found a salt water pool which is like swimming in a silk cocoon filled with the salt of a million tears and despite the heat I am very happy. It will take a while for a full Seraphim photo spread and there are no pre-blocked pictures, BUT I'm planning on two very special blog photographers dueling it out at a photoshoot on Friday. Guaranteed to knock your just started Koigu knee highs off your feet.
If anyone of you are half as good as I am then you are FUCKING FANTASTIC! My first handspun handknit is better than I ever could've hoped. Sniff. Sniff. I'm so happy....
PS - The pictures in this post are untouched. I say that because it kind of gives me the heebie jeebies to post untouched photographs. I believe that every single photograph I take SHOULD be touched in some way - Photoshop is my darkroom. You develop film, right? You also develop digital film. This is my belief. So forgive the photographs. I'm not working with all my tools right now.
PPS - And my site STILL looks like crap in IE and Safari. Fuckers.

Posted by Cara at 12:41 PM | Comments (55)
September 13, 2006
Random Knits
because it's Wednesday.
Thanks for indulging me the last couple of days. It feels good to get all that stuff off my chest and you can't know how much I appreciate the audience. I'm pretty sure Ann wishes I never went to New Orleans, even if she is the only one who got a souvenir gift.
Want to see what I bought while I was there?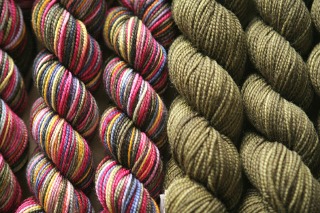 Koigu, P852 and 2340
Six skeins of Koigu from the
Garden District Needlework Shop
. This yarn is destined for knee highs - see how the EXACT same shade of the semi solid green shows up in the variegated? DUDE! There's your ribbing, heel and toe right there. It's taking everything in my power not to cast on for these RIGHT THIS SECOND. Sad really.
And, more Koigu: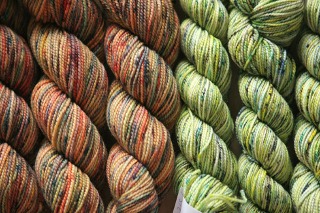 Koigu, P706 and P516
This time from
The Quarterstitch
. Destined for socks, I guess. Too pretty to pass up and look how they wrapped up my yarn!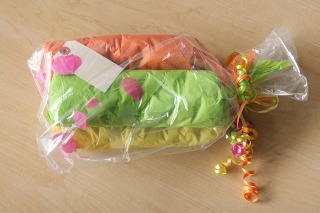 At one point while I was purchasing the yarn I ran out to catch a
Second Line
going by - and when I came back she had unwrapped all the yarn that she had already wrapped up. I said, oh did you think I wasn't coming back? And she said no - I did a crappy job so I wanted to do it over. A girl after my own heart!!
I also got a Rebuild T-shirt which I've finally taken off for the first time in three days so I could photograph it for you. And a DESIRE NOLA magnet.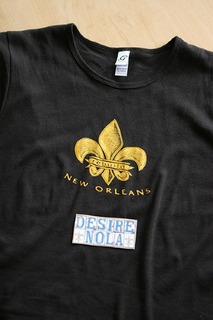 Lest you think it's all been bleeding hearts around here, I have been knitting. I finished the first Koigu Knee Sock!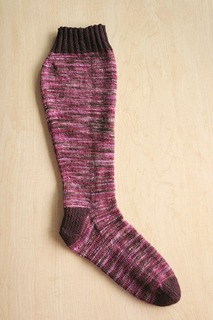 I love the way it looks, but the fit is off a bit from the STR knee highs - even though I kept adding rounds and adding rounds. The stitch gauge is about the same, but the row gauge seems to be way off. I'm going to have to recalculate for the NOLA knee highs, but for the next purple one I'll do the same thing. They fit fine - they just sink a little bit. Not fall down, just sink. Does that make sense? I want them to STAND AT ATTENTION! Anyway, Koigu is just so much different than STR and I still prefer STR over just about anything, but it's nice to mix things up a bit. Couple more shots of the sock: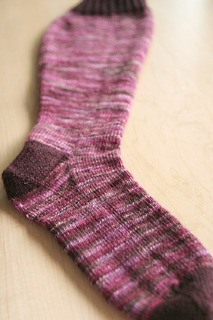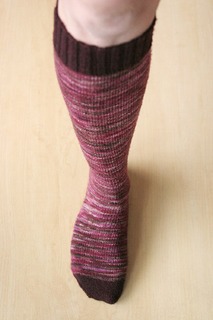 Now, I hate to disappoint all you log cabin lovers (and haters - because really - if I'm not knitting log cabins - what will you hate? ;-) ) but I'm putting my ONLY (and this just doesn't seem possible) size 5 addis to work on something else.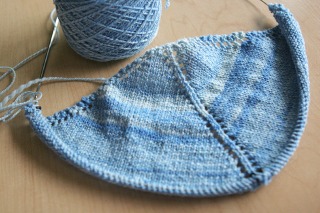 It's
SERAPHIM
. Knit in none other than
MY OWN FREAKING HANDSPUN
!!!!!! I'm almost positive I will have enough yarn for the shawl as written, but
Mim
has given instructions for increasing or decreasing if need be. It's really weird to be knitting with your own yarn. You have no one to curse out but yourself when the yarn is a pain in the ass. BUT I'm LOVING IT! Look at the nubly wonky weird stitches! Aren't they precious?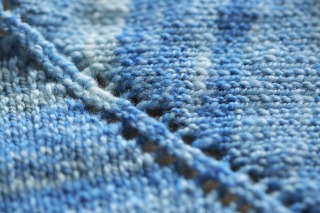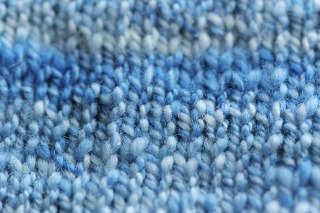 I declare on THIS DAY, September 13, 2006, that this shawl is MY RHINEBECK PROJECT. I will finish it before Rhinebeck. And I will WEAR it at Rhinebeck. I was going to do the Top Down BW sweater for Rhinebeck but it's just not calling out to me AT THIS MOMENT (you know what a fickle bitch I am.) The hardest part of getting this done in time will be NOT casting on for the NOLA knee highs. NO KNEE HIGHS. NONE. KNEE HIGHS BAD. Handspun Lace project good.
Posted by Cara at 10:23 AM | Comments (42)
September 04, 2006
What A Racquet!
School's in session. And while some people have clearly got a thing for wood shop (what?! Is the teacher a cute Alan Alda type or something?), I've joined the tennis team.
I've said it a million times on this here blog that my darling boy is an ATHLETE. He was on the tennis team and basketball team in high school and college and once was recruited to play bball in Greece. Sadly, he's given up basketball these last few years and concentrates mainly on tennis - bad hips and all. His hips are back to being really really bad lately so he can't play the tennis he's used to. Want to know how hurt he is? He's begun playing with ME.
Back in the day, a long long long time ago, when G and I were dating, I used to travel out to Jersey (I was living in NYC at the time - still in school) on the weekends to the park where G played tennis. I would lay out in my little bikini while he played (oh my god I was so very young) and then we'd hang out after he was finished. One day, he asked if I wanted to hit a tennis ball with a bat. I said okay because I was madly in love and would've said yes to anything (well, almost anything - nah - really anything.) He got out the bat and the ball (because he has a sporting goods store in the trunk of the car) and started throwing the ball to me. It literally took me 20 MINUTES to make any kind of contact at all. AT ALL. The slightest of foul tips. I think on the next bat I got lucky and hit a nice line drive but by that time the damage was pretty much done. I could see the disappointment on his face growing deeper and deeper. He confessed to me later that he honestly considered whether or not to continue the relationship given my lack of hand eye coordination.
Lucky for him, I'm MUCH better at tennis.
So we've been playing a bunch and every time we go out I get better and better. I'm hitting harder and deeper and yet I'm still in control of the ball. Especially when I keep my eyes on it. Seriously. Who knew that when they tell you to watch the ball it actually works!!?! I think he's been enjoying himself - watching me get better and put his lessons into action. But last night, well last night I've never seen my husband prouder. I was in the zone - working my low to high swing, watching the ball, grunting through the swing (he's been trying to get me to grunt more), hustling to catch that ball no matter where he put it on the court. I chased down a hard forehand, and ripped it cross court landing it way in the back corner pinning G to the baseline. IN! And then I promptly turned my ankle and fell hard on my ass. G was so excited I think he would've jumped the net if it wouldn't have landed him in the hospital afterward. He's cheering at me that was my best shot yet! Way to hustle! The torsion knocked me on my ass! AWESOME!!!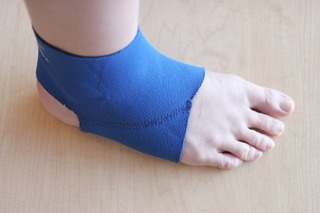 Dude! I so need a pedicure!
Today, as much as I'd like to play, I think I'll stick to more knitterly pursuits.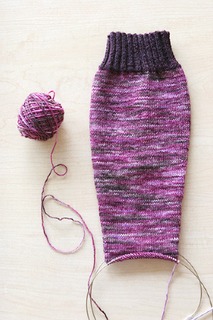 The Koigu knee high. From the stash! The solid color at the ribbing (which will also be used for the heel and toe) is color 1160 and the first sock yarn I ever bought. I was out with
Cassie
one day last year and she insisted that I could knit socks, so I bought this rather dark and tame Koigu. I got about
this far
and gave up. It was the dpns.
The handpainted Koigu in the delicious purple is colorway P214. I don't remember when I bought it but I really like the purply goodness. It's been in the stash for a bit and every now and again I take it out and play with it and wonder what it will become. When I decided I needed another pair of knee highs I remembered the original yarn. I thought, huh. These two might look really good together.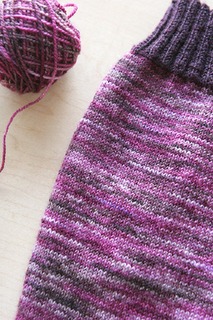 HEJ
was here when I started them (actually the second pair I started while she was here - the first pair did NOT work out) and she agreed that the colors worked well, so off I went. I LOVE THEM. LOVE THEM. I added an extra five rows of ribbing because I was a tad concerned as to how much yarn I had with the purple (I have three skeins for two socks - and a bunch of the dark color) but I really shouldn't have been worried. I've got plenty of the first purple skein left and I'm done the decreases. I've got about fifteen rounds to go and then I start the heel. No problem. I'll probably have to just break into the third skein for a bit on the foot. Beautious!!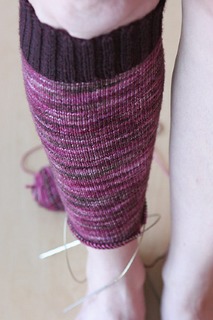 STASH SALE TOMORROW! 8AM EDT! 1PM EDT!!!!
BE THERE OR BE SQUARE!!!

Posted by Cara at 12:51 PM | Comments (38)
August 23, 2006
My Lips are Sealed
You know. What happens in Lawn Guyland, stays in Lawn Guyland. Not really, but I only took out the camera when there was work to be done (yes, it was a semi-working holiday) and everything's more entertaining with pictures, don't you think? I will say this: there was lots of discussion about tomatoes in season, Vicki's pin-up choices, Jim Croce and The Lady in the Water. Fun times, as always.
Oh yeah. And right before I was leaving for the long trek home, I finished these: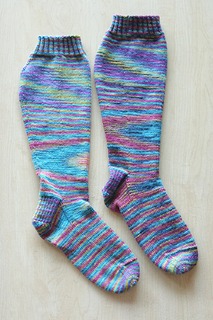 Want to see the other side?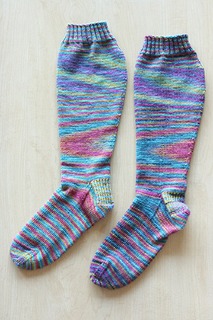 I love them.
DETAILS: Knit on Size #1 Addi Turbo circulars, I used this knee high pattern to figure out the increasing and decreasing. Eventually I made it down to my standard 64 stitch sock. The yarn is Socks That Rock, Jewel of the Nile colorway, two 325 yd skeins. I had 5/8ths of an oz remaining for each sock. Straight stockinette socks. I'm not sure what else there is to tell but ask in the comments if you think of something. [ETA: The shoes are Naot Sea. Very comfortable.]
This is how I would have envisioned wearing my fabulously fantastic new knee highs, if I was, say, ten years younger.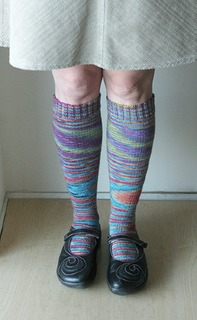 Alas, this is how I will probably be seen wearing the knee highs. (Well, only really seen by my husband and any unlucky neighbors that happen to catch me on the balcony checking the weather. Or peeping through the windows. Ew. Gross. Stop that!)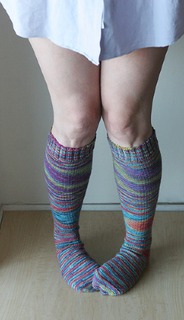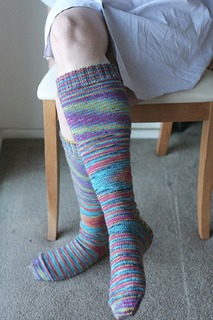 And, of course, no sock post is complete without the patent pending
Sock Shot
®. Everyone's
doing
it
.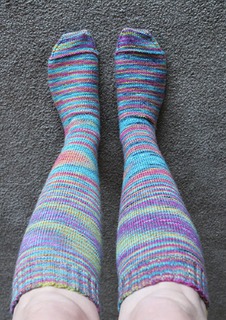 (Just so you know, I flipped the picture. Liked it better this way.)
Alrighty. I'm off to finish the little bit of plying I have left and then I don't know - I might try to do a toe-up cast on again because I'm really itching to try this toe up heel flap sock. I want to start knitting through my STR stash and I have a lot of 325 yd skeins so I don't want to waste a single stitch. Or I could clean up my house. Decisions, decisions.

Posted by Cara at 12:37 PM | Comments (43)
August 18, 2006
Life's a Beach
Yesterday, while at the beach, happily knitting away on my knee high sock while listening to Leonard Lopate on my Creative (I think I found my podcast of choice, by the way), I WAS ATTACKED!
Well, really, I was walking back from the water where I had gotten my feet wet. We were looking for our stuff and had just located it when I shifted my eyes to the right a little bit. I was attracted to a bright pink standing out against the sand. Something in a seagull's beak.... MY KNITTING!!!!! THE FREAKING BIRD STOLE MY KNITTING!!!!!
I grabbed my boobs and ran as fast as I could in the hot sand screaming like a banshee (are we allowed to say banshee? Or is that not politically correct?) The bird sort of waddled away from me nonplussed and I scooped up my ziploc bag with the very edge of my fingernails. GROSS!!!!!
The people closest to us were laughing at me. They asked if there was food in the bag and I said no YARN! They mumbled something about the bird grabbing the bag a few times and I wanted to say to them WHY DIDN'T YOU GET OFF YOUR FAT ASS AND SCARE IT AWAY INSTEAD OF LAUGHING? There's a hearty dose of respect for you.
Lest you think I left the bag out in the open, I didn't. It was closed up tight IN MY BEACH BAG. And lest you think I had food in my bag, I didn't. THERE WAS NO FOOD IN MY BAG. Not even food for thought, unless you count two issues of the New Yorker, Barbara Walker's Knitting from the Top and three Soap Opera magazines.
Oh my god I was so pissed. The seagull that perpetrated this horrible attack was as big as a house. G said it was no wonder - that bird would eat anything.
Forget bears, I should've added birds to my list.
All's well now and I've gotten over it sort of - I still hate birds - but the socks survived without any apparent trauma.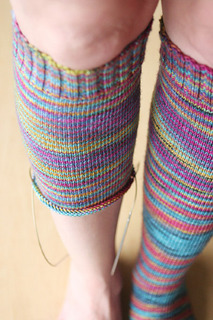 The pooling is pretty similar on both socks, but the new sock is a bit lighter than the first sock - the first sock had some really dark color running through it and the new sock doesn't have any of that. I think they look good. I hope to have the second sock finished this weekend. I've done about nine decreases - so only eight more to go before I get to the regular sock part.
I'm off to spend the day with my newbie knitter. She's an old old friend I used to work with and we recently reconnected over our knitting. She's moving away from scarves and onto felted bags. I prefer felted bags as a newbie project because they can get the time in on the knitting and they don't have to really worry about the stitches. It's all going to disappear anyway. AND they have a beautiful functional piece. I'm not really a scarf person either. We're going to knit a bag together - or we're going to each knit a bag at the same time. So I'll have some new stuff to report come Monday. I think I'm going to make the Elizabeth Bag from Black Sheep. In red Donegal Tweed. Nice.
Have a great weekend all!
Posted by Cara at 08:54 AM | Comments (61)
August 14, 2006
My Aching Back
G and I were sitting on the couch, both of us in pain, and he said how much it sucked to get old. Now he just had a birthday putting him in the EIGHT YEARS OLDER than me category and I said, "DUDE I am not old." And he replied, "That's what makes you all the more pathetic."
Fucker. I hate it when he's right.
I know I've talked about this before - god, it's over ten years now - once upon a time G went away on a business trip and I slept funny in the bed and it got a little too cold that night and the muscles between my shoulder blades basically froze and I was in extraordinary pain for a couple of days. I remember going to work that morning and almost throwing up on the subway and when I took a car service home the jostling in the car almost made me pass out. I was able to function after a couple of days and it went away completely about a week later but it left me with a weak spot. Know what I mean? Whenever I sleep a little too deep or the temperature drops a bit or the sun transverses the moon at a 180° trajectory or some other such nonesense I get a nice crick in the muscles between my shoulders. See what happens when you wish for Fall and Summer's not finished with you yet?
I woke up Saturday and true to rules of the universe, my funk seemed to have passed, but my back was killing me. I've never ever had it as bad as the first time, but it's annoying nonetheless and I want to weep for my husband who is in physical pain on a pretty much constant basis. I probably would be better right now but I'm not because, you see, my husband was in more pain than usual this weekend and nothing tortures my sweet boy more than the weather being a shade better than perfect and him not being able to run around on the tennis court. A good indication as to how much pain he's in: he asked ME to play tennis with him.
I was going to the tennis court anyway to sit and knit and enjoy the outdoors while he played but he said he might not be able to find anyone to play with so could I bring my stuff. Just in case. I said sure full well knowing he'd find someone. I mean it's been AGES since I played with him. No such luck. You know what? I'm not bad. He even said I could be really good if I took lessons. You know why? Agression. I've got it in spades. I'm not kidding. One time we took a golf lesson out in Palm Springs and I could barely connect with the golf ball but the pro was really impressed. He told G that I had a lot of agression in my swing and "you can't teach that." The same applies to tennis. One guy that was there told G that I hit really hard. I do. And I love it when G hits hard back. (Go to it google freaks.)
About thirty seconds into playing I knew I was going to pay for it the rest of the weekend. It didn't really hurt my back to play, but I knew that as soon as I cooled off I was going to be fucked.

Fucker. I hate it when I'm right.
My back has been awful ever since. And not just my back but pretty much every other muscle in my torso, and a couple in my legs and arms too. Although I have been able to wrangle quite a few BENGAY massages this weekend. Soooo sexxxy!
I did have fun though. I'm looking forward to playing again - sooner rather than later. I also did a lot of knitting and a lot of spinning, neither of which helped my body recover at all. BUT I finished spinning up the rest of the Blue Heaven singles. I think I'm going to wait a few days to ply it all because I want my back to be better not worse. And, of course, I finished the first of the STR Knee Highs. G, in particular, loves the sock. He's already requested the outfit I'm to wear with it but honestly, these babies will be staying under cover. Like wearing sexy underwear - only you know it's there but oh does it make you feel good. I've cast on for the next one and I'm about halfway through the ribbing. I can't get a really comfy position to knit with though so I don't know what I'm going to do. Request for stats on the sock: US #1 Addis. I started with 325 yds of STR (in the old put up) and I have a little more than 1/2 oz left. Not sure what the yardage on that would be. You probably need AT LEAST 500 yds depending on how high you want to go and how big your leg is. I start out with 88 stitches, increase up to 98, then head all the way back down to 64. Whee!
Before I called it a day fiber wise, I decided to turn my attention to the roving Teyani sent me to finish off my Sock Hop Knee Highs. Now that the Blue Heaven only has plying left, I can think ahead to spinning up the heel/toe yarn: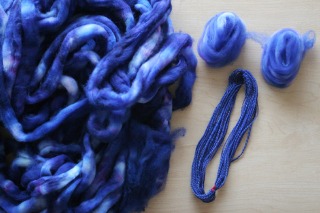 I quickly (read: sloppily - I was in pain and frankly tired of spinning) spun up about a tenth of an ounce of roving to see how it would look and to test run if I can get it thin enough. I think I did okay considering I was high off BENGAY fumes.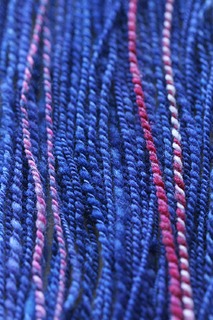 The colored yarn is a couple strands from each of the skeins I'm using for the sock bodies. My plan now is to spin it up (I've got enough for like five pairs of socks here - at least it seems that way) and do the heels and knit with the old stuff until I run out or I need to start decreasing for the toes. Then, I MIGHT, might - depending on how it looks, clip the cast on stitches and unravel the American Pie yarn down to the stockinette and then knit it back in stockinette and only then start the ribbing with the new blue stuff. Does that make sense? Would it work? I've only got like 20 rows of ribbing - then I can make them extra long. We'll see. But I have a feeling it will work just fine.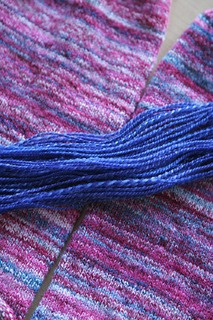 Posted by Cara at 11:03 AM | Comments (34)
August 13, 2006
I love to knit!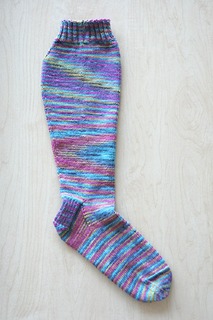 Posted by Cara at 11:35 AM | Comments (25)
August 11, 2006
Ask and ye shall receive
You guys are worse than a thousand [insert ethnic group of choice here] mothers! Sheesh! Morgan's comment yesterday sent me over the edge though. The guilt was just too much and I pulled this baby off the couch: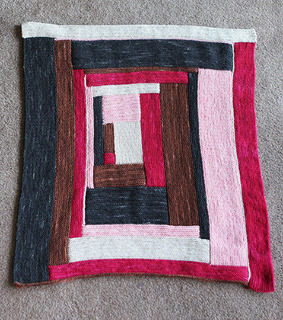 I know it's not the palette one or the green one but it IS a log cabin. That counts right? I finished binding off the latest red section then did the newest white section and then I'd had enough. I did actually do a few rows on the main piece of the palette blanket - I've only got like 2.5 strips to go on that one and the big piece is finished - but I couldn't do it. It was late and I was sort of on fiber overload.
Here's a picture of the back of the Chance Log Cabin: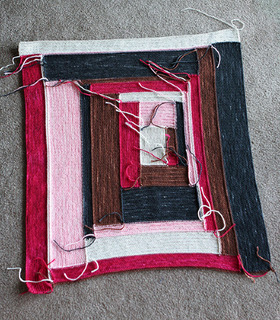 People always ask to see the back. I don't think it's so bad really, but then I've
successfully woven in the ends
of Short Rows, so, this is a piece of cake.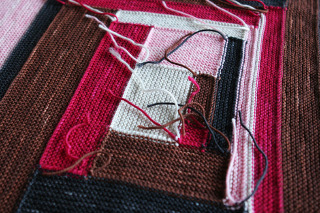 Here are some stats to date in case you're interested:
Yarn: Socks that Rock Heavyweight in the colorways Lover's Leap (red), Earth (brown), Rock Salt (white), Cotton Candy (pink) and Black Onyx (black.)
Needles: US Size 5 Addi Turbos
Pattern: It's RANDOM.
Currently, the piece is measuring 23.5" x 27" and according to the handy dandy spreadsheet I'm keeping of all the numbers, I'm through 28 sections. I plan on continuing until I run out of yarn. I've got a ways to go I'm afraid. I know I've said all this before, but people keep asking. And currently I don't have a good way of searching the archives or a complete listing of categories, but I'm working on that. It's in the queue.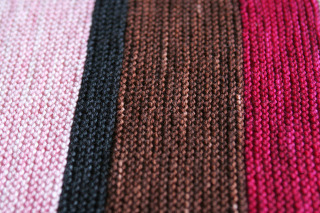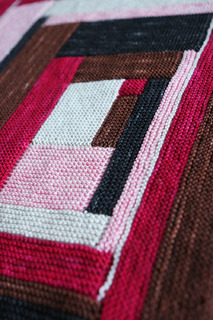 This thing's getting harder and harder to photograph in a pleasing kind of way, but I try. I have to say, the pictures don't do it justice. It's SO MUCH BETTER in real life.
Yesterday was a long day. G never made it in to the office, but it certainly didn't feel like he was home. CNN was on the TV all day and I loathe cable news so I stayed in the bedroom doing what I do best. That is, not cleaning and doing fiber stuff. I spun some more and I decided that slow and steady wins the race. As much as I'd like to spin it all up in one day and get it over with, I'm better off taking my time and stopping when I get really bored. So that's what I did and I much more pleased with the spinning results. I hope I didn't fuck things up too bad the other day. Yesterday's session went much easier as I spent the time daydreaming about what I'm going to knit with my fabulous yarn. A shawl of some sort. It really depends on how much I end up with.
And I continued on with my knee high.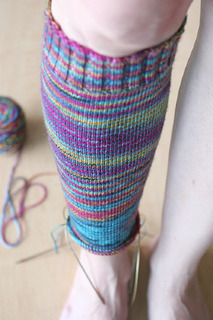 The pooling took a rather drastic turn around 76-70 stitches! Check this out!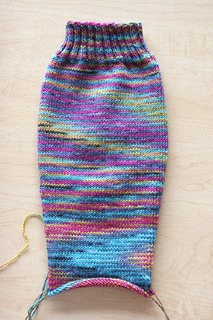 It's starting to even out again now that I'm one decrease away from my beloved 64 stitches. I think it's going to be pretty good and maybe I can start churning out plain stockinette STR socks. Wouldn't that be cool? I'm a dork, yes I am! I find the whole hand dyed hand painted yarn and how it's manipulated by the number of stitches very very fascinating. Anyway, the sock fits perfectly. Natch.
I LOVE THIS PATTERN!!!
Today is a NEW DAY people!! This morning I opened the window as I often do, to smell the weather. Fortunately or unfortunately, depending of course, I have a very highly honed sense of smell. Forget doppler radar and all that shit - I can tell what the weather will be like by my nose. And today? Well today when I stuck my schnoz out there I squealed like a $2 whore!
"What?" said my husband. "What is it? I'm coming!" He ran to the balcony door.
"Shit, it's cold out."
"I know." I sighed. "Isn't it great?"

Posted by Cara at 09:43 AM | Comments (29)
August 10, 2006
Wake Up Call
It's been an exciting morning in the JanuaryOne household, and not in the good way. G's work cell rang at 6AM this morning and I was up for good the second I heard him say WOW. When you are head of Travel in the Americas for a Global Bank - this is not a good thing. Not good at all. He's been on the phone since 6AM - literally the phone has not stopped ringing. He's home today, but not the way I want him home.
So I've been hiding out in the bedroom knitting on my new knee high.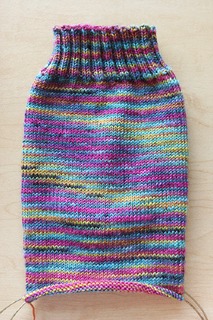 Sorry to leave you hanging on the socks yesterday - dramatic license and all. You know how it is. The yarn is Socks That Rock in the Jewel of the Nile colorway. I have to say - it's been a while since I knit with STR lightweight and OH MY how I've missed it. I just absolutely love knitting with this yarn: I love Tina's colors, I love the fabric it creates, I love how it knits - the way the yarn feels between my fingers, the way it slides off the needles - EVERYTHING!
There's a bit of pooling in the mid calf section where I've increased to the largest number of stitches, but I'm excited about it because I see it as kind of an experiment - I'm decreasing now and I can't wait to see if it pools a bit more when the numbers get increasingly smaller. I'm not one of those people who really hates pooling or anything - it is what it is. I had a moment of wishing that I had alternated skeins, but I got over it quickly. There's a pattern in the pooling - I'm not sure if you can see it in the pictures - but the blues seem to go through the reds and yellows as if they are striping. I like that.
It just so happens that I have two skeins of this colorway from the old put up - so 325 yds each. Just perfect for knee highs. I added about 8 extra rows before I started increasing for the calf and I probably could've added more but I decided to be safe rather than sorry. I can't wait to get down to my regular 64 stitches - I've never knit just plain stockinette STR socks and I want to see how my 64 on 1s works with the yarn - will it pool away? Stripe? Do something else? Something completely unexpected? Stockinette is my best friend these days and I'm sticking with it. For socks at least.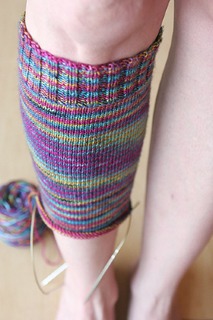 Vicki
asked me yesterday in the comments how I take pictures of my legs/feet when I photograph my socks. Very simple. I bend over.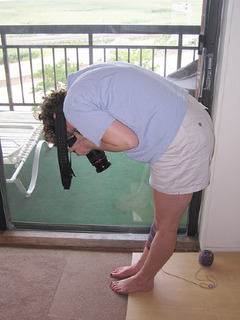 Posted by Cara at 12:33 PM | Comments (22)
August 09, 2006
Marathon
DUDES! Enough with the L words. If you're not careful, you're going to turn this blog into a more scary than sexy soft porn cable drama about women who say they love women but only end up hurting each other in the end. Not that there's anything wrong with that. I'm on L word overload - too many to process - but I'm all about turning lemons into lemonade so hopefully I'll have a new ABC entry this weekend. Get your M words ready. Just in case.
And thanks for the book ideas. I used to read more than I now knit so I'm always gratified to ask for book titles and find that I've read a hell of lot. It's one of the only bad things about knitting - I read so much less it's pathetic. I'm off to the book store today, so I'll let you know what I pick up.
Yesterday was an experiment of sorts. I started out the day with only a couple of goals: Fold the laundry. Check. Spin up the rest of the blue merino. Not so check. Guess what I learned about spinning? The first 4oz? Exciting! Fun! You don't know what you're going to get so you spin spin spin and then you ply ply ply so you can smother yourself in handspun goodness! I MADE THIS! It's beautiful! Look! I turned THIS into THIS. YIPEEEEEE!
The second 4oz? Not so much. OH MY GOD I'M SO BORED I CAN'T STAND IT ANYMORE!
So I take the wheel out onto the deck because it's still early enough that the sun hasn't come around to my side of the building and I download a couple of episodes of Cast On because Ann and Julia have been singing Brenda's praises and I have my water and phone and fiber and I'm ready to go. There's a nice breeze and it's fairly quiet (read no kids in the pool) and I start spinning. It's okay. I'm not loving it - but it's nice to be outside and not sweat and stuff. The podcast is fairly interesting but I keep getting the headphones caught in the fiber and then my water goes flying with a big gust of wind and I'm sure the fiber's wet now and after I curse for like ten minutes and the headphones come flying out of the CD player (no IPOD here thank you very much) I pack everything up and head inside.
Lesson learned: I'm not an aural kind of girl.
Even the Bruce music I love so much I love because of the words - not so much the music. G is all about the music. He's always telling me what a great song such and such is and I'm always horrified because the words are like "I'll be so happy when you die" or something like that. But he doesn't even hear the words. Don't get me wrong, I like music - even love music - but it's the words that get me. Anyway. I'm not an aural kind of girl. I'm visual. I'm about touch. I'm not so into a voice inside my head (unless, of course, it's my own voice driving me insane - then again, I'm not really so into that either.)
Lesson learned: You know what I like to do when I spin? Watch TV. So much for the lofty pursuit of zen while spinning. I only want to watch episodes of Another World. That's it. And since I was all about accomplishing something yesterday, that's what I did. I moved the wheel back into my bedroom (where the Tivo lives) and started watching. But I was still so bored!!! It was then I realized that I have never gone back to a fiber before - I usually buy a decent amount of something I like but when I spin up and ply that first bunch - I don't go back. I move onto something new. But I want to knit something significant with this blue stuff so I've made a concerted effort to go back.
It was about two episodes in, when I couldn't even stand the latest Cass and Frankie shenanigans anymore and I was tired of waiting for the new Vicky to show up so her and Ryan can get it on, that I finally understood the TRUE zen like quality of spinning. I'm going to go out on a limb and say it's like hitting the wall when running a marathon. I've never run a marathon and can pretty much guarantee I never will, but I can understand that point where you just can't do it anymore. You are dead for all intents and purposes and somewhere deep in you, you need to find the strength to soldier on. I think I hit that wall in spinning yesterday. I couldn't do it. The yarn was killing me. I was blurry from the wheel spinning and spinning and on my god the spinning and my fingers were burning a little bit from running the fiber through my hand and I had a weird tingling sensation radiating down from my left shoulder and it got so bad I couldn't tell the difference anymore between Vicky and Marley and OH MY GOD! I DON'T CARE IF I NEVER SPIN ENOUGH FIBER TO EVER KNIT ANYTHING BIGGER THAN A BABY HAT! MAKE IT STOP PLEASE!!
And then, as quickly as it came on, it was over. I kept on spinning and I broke through that wall and achieved some kind of fiber like zen that I can't quite communicate to you. It was a centering, a balance between my hands and my heart and the fiber and I did the only thing a person can do when they are in that sacred place: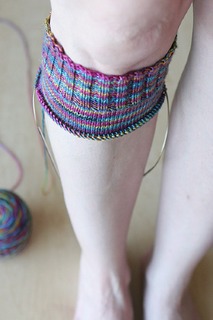 I cast on for another pair of knee highs.
Posted by Cara at 12:16 PM | Comments (26)