April 01, 2006
PS: Yellow and Orange and April
Just a little something to start the month off!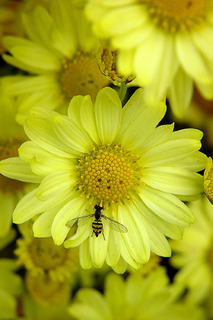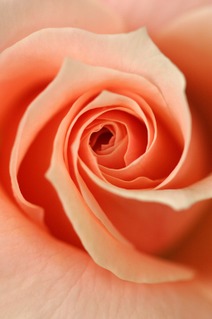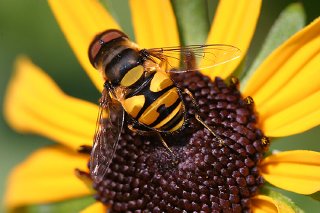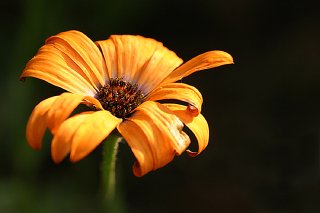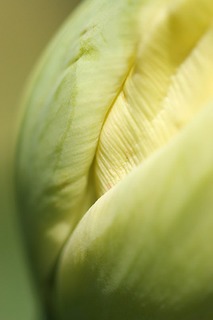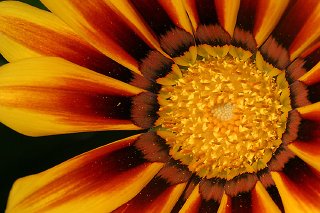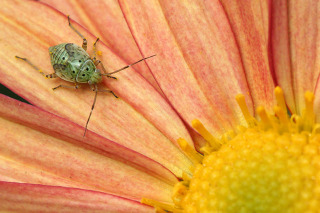 Have a beautiful April!
PS - if you came here looking for my stash and instead got flowers and are now sorely disappointed, please see the entry below. Thank you!
Posted by Cara at 09:24 AM | Comments (19)
March 10, 2006
E is for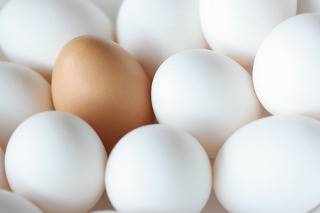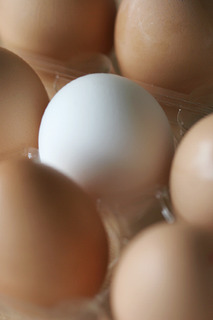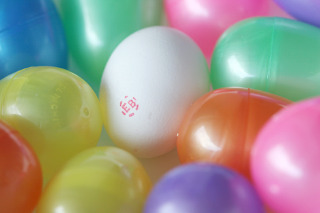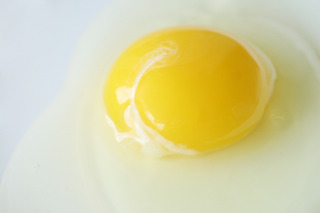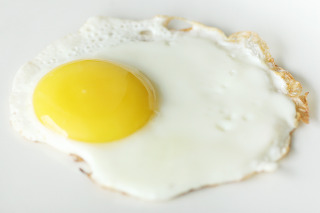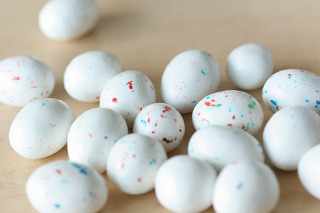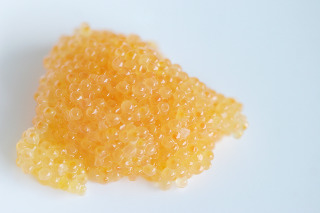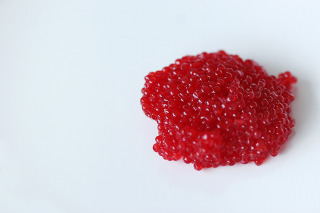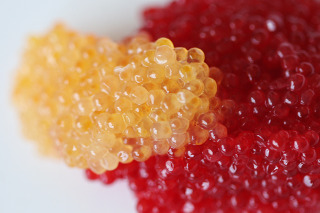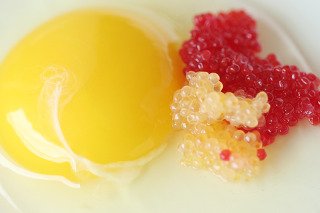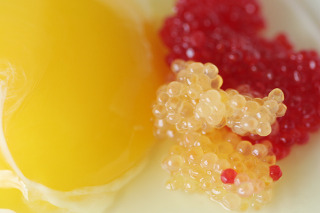 Eggs
G was such a sport for this photoshoot - I sent him out find me some roe. The yellow is whitefish roe in its natural state and the red is whitefish roe colored with beets and saffron. YAY G! Otherwise, I'm just playing around with the incredible edible egg.
Thanks for all the well wishes. I'm still not eating much but I slept good last night and I haven't puked in a while. My stomach is not completely back to normal and the cold I originally thought I was getting is still working its way through me. Tomorrow I'm back at my sister's until Tuesday. This month I feel like I will barely be home - G's traveling a lot which means I'm traveling a lot. I hate to sleep alone. I'm by myself all day long, mostly, and I just can't stand to extend that to the nights. I need company. So I go to my sister's. But in a couple of weeks G goes away again and my sister will be on vacation so I have to find somewhere else to stay. Luckily I've got great friends who are more than willing to take me in.
Have a great weekend!
L, C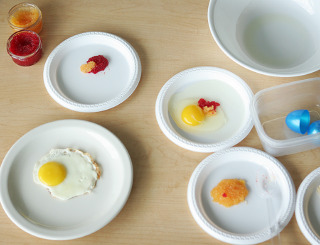 The staging area.
Posted by Cara at 04:13 PM | Comments (32)
March 05, 2006
Backyard Greetings
For Becky - the view from my balcony: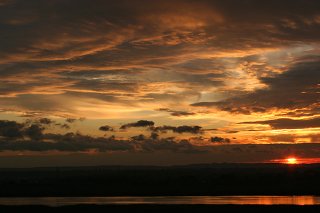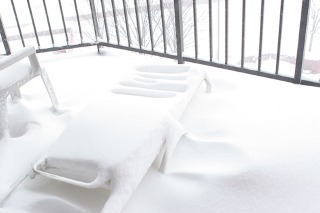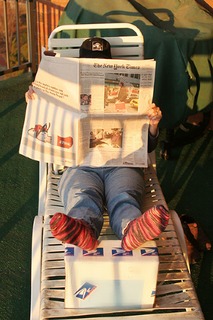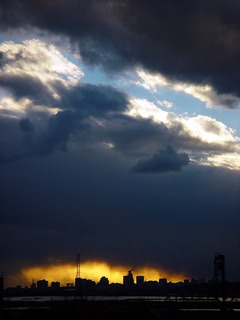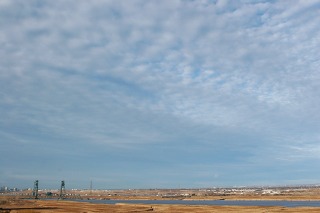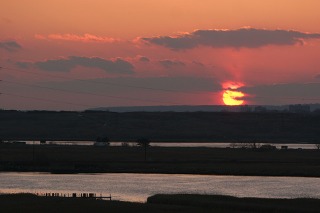 Posted by Cara at 12:03 AM | Comments (16)
March 01, 2006
Project Spin
I know I said I was going to work on Short Rows, but really, that's about weaving in ends so any distraction is welcome. Luckily, procrastination projects are close at hand as this is the first day of


the brain child of superfantastic librarian/historian extraordinaire,
Lolly
. As soon as I heard about Lolly's idea to concentrate on certain colors during each month, I KNEW it would be about spinning for me. One of the main reasons I got into spinning was because of all the color possibilities - mixing colors in fibers, making my own barberpole yarns, dyeing even, maybe?
Last night I got out the old wheel. (Yeah, yeah. I know it's brand spanking new. Don't think that its lily whiteness doesn't remind of my newbie status at every turn. I'm a dink-ass nub.) I've missed the ol' girl. I took her up to Boston, but she got barely a workout.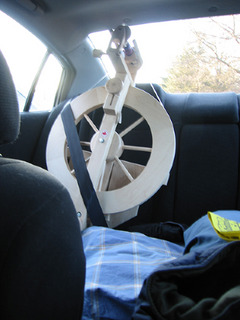 Enough, though, that
Claudia
was able to give me some excellent advice which I incorporated into my spinning routine right away. She noticed that I was spinning, but I wasn't actually making yarn. Which, in retrospect, I knew all along. She suggested that I move the drive band lower on the Mother of All so that I could treadle at the same speed, but have the wheel make more revolutions. Yes?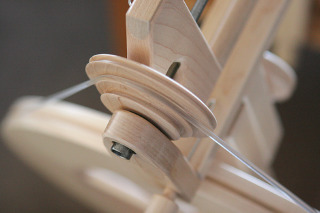 Things were a bit funky at first, but the beauty of spinning is that the more yarn you make, the faster it covers up the icky stuff with lovely, evenly spun yarn.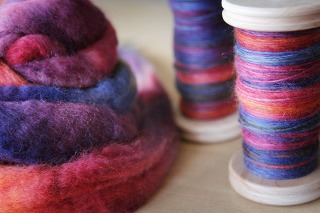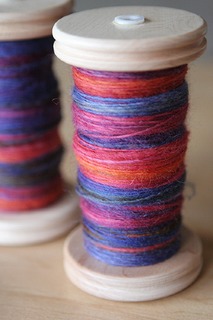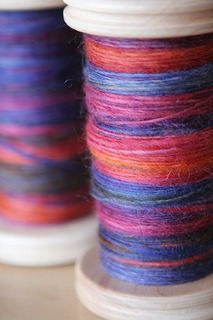 I know it's not pink or red, but I love the yarn. And as I mentioned yesterday,
Jan
sent me more of this great
Lisa Souza Biffle
(Mardi Gras colorway) which I plan on diving into later today. Have I told you lately that I LOVE spinning? It's been a while since I sat down at the wheel for some extended spinning and last night I spun up around 4 oz. and it was heavenly. The best part - G loves when I spin too. He loves to watch my feet treadle and he loves the whir the wheel makes as it goes round and round. He's been pretty crazy at work, so it's a nice break for him and me. Perfect!
Back to Project Spectrum. As I said, my goal is to spin yarn in the colors assigned to the month. I was behind in figuring things out fiber wise - I want to try some Grafton Fiber batts because I hear so much about their goodness, but they won't get here in time so that will have to be for next month. In the meantime, my friend Tina is special dyeing some Biffle for me! Yay! I can hardly wait for the pink and red goodness.
So that I can start the month off right, here are a couple of pink and red pictures. (I know - the sky picture's been getting a workout lately, but I just love it so much!) Enjoy!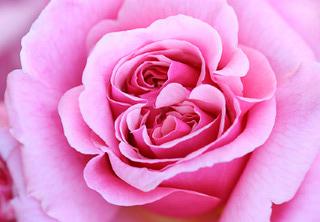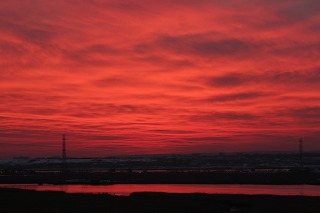 Posted by Cara at 01:41 PM | Comments (24)
February 21, 2006
Come Play With Us
So Becky tagged me for the "The View from Your Front Door" meme. I told her that it would be really, really boring. I'm not so sure she believed me.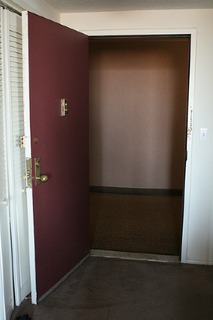 I live in a high rise apartment building, so looking out my front door gives me a wall. A very boring wall. I thought I'd take a picture of the hallway too. This is walking straight out my front door and turning left: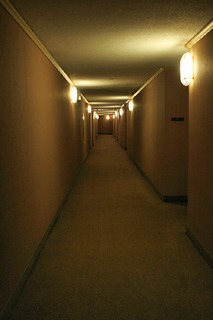 It's a crappy picture of the hallway, but it's usually pretty dark out there. They're supposed to be re-doing the hallways in the building - walls, carpeting, lighting. They're charging us a gazillion dollars but the board's fighting about it. As usual. Supposedly it was all supposed to be started and halfway completed by now and I think they painted the stairwells and maybe ripped out one floor. Fun, fun, fun! Anyway, the most interesting thing I can say about my hallway is that sometimes it scares the freaking crap out me. (Ask
Jen
. She'll tell you. I totally wigged her out the other day.) It's because sometimes, when I'm walking down from the elevator to my apartment, all I can think about is the twins in
The Shining
. You know - the ghost girls who want Danny to play and then the hallway fills with blood and I literally break into a run to my apartment. I hate scary movies and I think
The Shining
, with Jack Nicholson, is one of the scariest movies ever. But yet, whenever it's on, I have to watch it.
I much prefer the view from my balcony: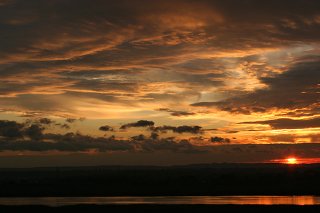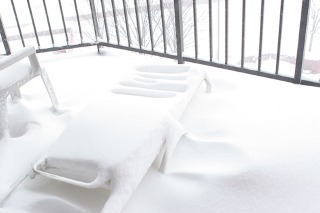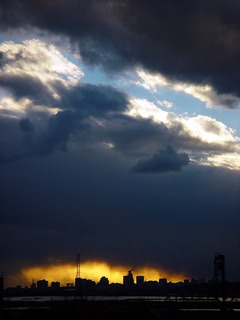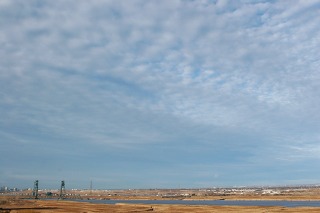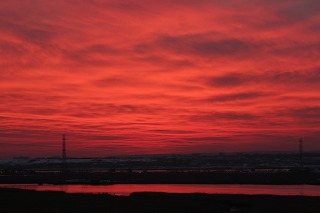 For this very nice meme I will tag: Jasmin (because I learn something new on her blog everyday), Kris (because she's my bp and she lives far from me), Stephanie (because she has a beautiful blog and lives in a beautiful place), and Kimberly (because she takes great pictures and here's a good excuse to take some more.) Do you want to do it? Well, then, I tag you too!
I may have exorcised the Ikea Demons yesterday when G and I test drove a car out of Sweden known for its safety and family appeal. Welp this car is the fastest car I've ever driven and I've driven some fast cars. The last time we had that much fun in a test drive we bought the car. We're still a couple of months away from any decisions, but I know what I want. Actually, I have to say that car shopping yesterday was one of the most pleasant experiences we've had in a while. Two dealerships, two different cars, two test drives. No one gave us a hard sell. Both salespeople loved the cars they were selling. Both extremely likable. I'd feel good buying a car from either one. And that says a lot. What was interesting too is that one salesperson had been in the business for over 20 years. The other was just barely OVER twenty years OLD. But that second test drive, with the young guy, MAN was that fun. You know you're in for a good time when the salesguy gets in the car and says, don't worry, I went to Skip Barber. Yipeee! G and I are still laughing over it!
I'm off to the dentist today. Blah. I hate the dentist. Well, I actually like my dentist and everyone in the office. I've been going there for 15 years and G something like 20. In fact we both have appointments today - one after the other. All together now: AWWWW! We get to see each other in the middle of the day, which is always a treat and may just help relieve the awful anxiety I get at the dentist. And it's going to be bad today - I haven't been in a while.
I leave you with my knitting from yesterday. Favorite STR EVAH! ;-)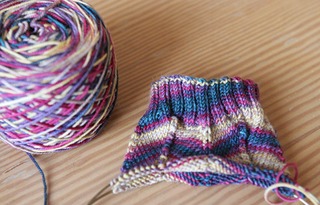 Posted by Cara at 09:17 AM | Comments (34)
February 15, 2006
Valentine Sky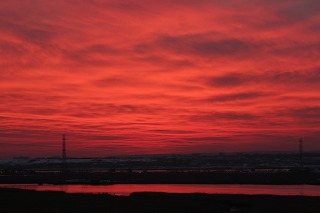 Sunset, February 14th.

Posted by Cara at 12:00 AM | Comments (16)
January 11, 2006
A is for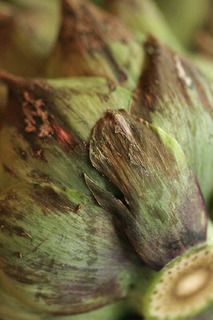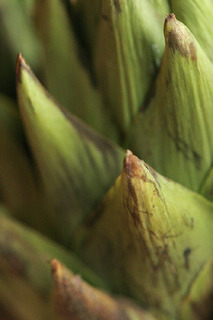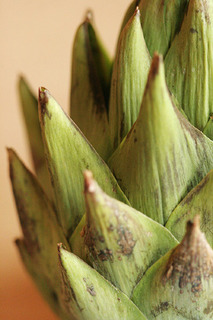 Artichoke
This is my first entry in the ABC-A-Long. As pretty much all of you know, I'm a photographer. Over the past year, I'd say 90% of my work was client related and while I love taking pictures of kids, I miss the pictures I take for myself. So when I saw this ABC thing come up I thought it would be the perfect opportunity to get back to my own photography. Hope you enjoy it. I have to say, taking these pictures today really brightened my mood.
You know how there's all different kinds of hangovers? Alcohol, of course, too much food, too little sleep, etc - well today I've got an emotional hangover. Lots of working out those pesky feelings that don't WON'T stay down no matter how much you push them. I'm very lucky though to have the amazing support of my can'tfindthewordthatreallydefineshowmuchIlovehimandhowwonderfulhereallyis husband and great family and friends but in the end you have to deal with your own shit on your own time and it sucks. But you get through it.

Posted by Cara at 12:24 PM | Comments (34)
December 09, 2005
Right Now
outside my window: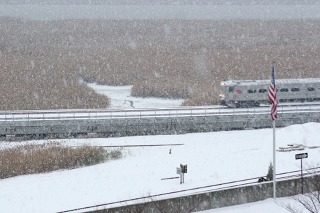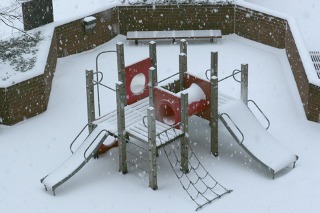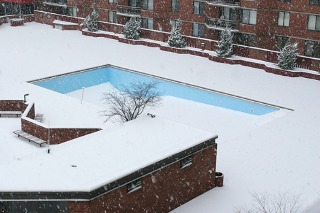 I just love seeing the pool filled with snow. It's so ironic. When I woke up this morning the first thing I did was put on my glasses and bound over to the window to check out how much snow we got! And are still getting! Of course then I was deeply disappointed by the fact that I'm no longer ten. And I won't be having a snow day. The grind calls and, alas, I must answer. I may bundle up and go for a walk though. I'll take the camera with me, if I dare. Time to get out the plastic wrap! ;-)
Have a great day! I hope there's something fun, like snow, where you are!
L, C
Posted by Cara at 09:16 AM | Comments (14)
December 05, 2005
Warm Hand, Warm Heart
This is going to be one of those long, rambling, picture heavy posts. Consider yourself warned.
Huh. Who'd a thunk? Telling people they might have a chance at free yarn on the Internets is the same as yelling fire in a crowded movie theater. They don't walk, they RUN! I'm sorry if anyone got trampled. Oh and don't say I didn't give you anything. Trust me. The answers won't be so easy next time. For one thing, I'm going to make you email me the answer. NO CHEATING. You know who you are. That's all I'm saying. ;-)
So far I'm having a really great weekend. It's not over yet (it's Sunday night around 9:43.) Georgie's making tacos and I just diced the tomatoes which was UBER FUN with G's better-than-an-ipod type thing. It's great to hear the music he's got going - not all of them are my favorites, but they're all SO G. Work wise, I'm fucked this weekend. I did manage to do a first read of stories for class this week and I folded a buttload of clothes, but I didn't do ANY picture work which is really, really bad.
Why? I'll tell you.
Saturday I met up with those amazing girls from Boston - Wendy, Elisa and Kellee! YAY! I met them at Macy's and we immediately headed up to M&J Trimmings. Great buttons. Maybe better than Tenderbuttons. I WILL be going there next time I need some. I called Kay while we were there to tell her where we were so she could meet up and the first thing she asked was did you see the tape dispensers. It was the first thing I noticed. All of the tape dispensers were covered with ribbon and buttons and sequins and were the best darn tape dispensers I've ever seen. So pretty. Of course I don't have a picture for you because the I didn't bring my camera. Wendy was the only one taking pictures and I don't know if she did or not. You'll have to ask her.
It's not about 9AM, in case you're keeping score.
From there we made our way in the direction of Rockefeller Center. Because that's exactly where I want to be on December 3rd - three days after they lit the damn tree - but SOMEONE insisted. And dudes, ask her how close she got to that freaking tree! RIGHT UNDERNEATH IT BABY! But I digress. On our walk we came upon Bryant Park - right behind the main NY Public Library (the one in Ghostbusters ;-) ). They had their annual holiday bazzar thing going on and I bought a few fun things for blog gifts. Look for them in future Showcases! Then we went Chipotle, apparently a delicacy unavailable in Boston, for a very nice lunch. While we were eating, we mapped our plan of attack. Literally. Did anyone get a picture of the map? Wait! I might have it!


I know it's small, but can you make out Purl and Dinner?
Okay, so the plan was to head up to Rock Center - to see the tree blahblahblah - and head to Kinokuniya Bookstore. While they didn't have the book (they were heavy on crochet), I did manage to pick up some more cute stuff for Showcase gifts.
We met up with a couple of friends of Wendy's there and headed out to Habu. Where I had one of my first blogger in public moments. I wasn't really interested in buying anything at Habu (my third time there - the first time I spent my fortune) and I was sitting on the floor knitting my Jaywalker when someone said, "Cara?" I looked up and immediately felt awful - because I had no idea who the woman was. I feel like if someone knows me - I should know them, right? Anyway - all was good when Lauren introduced herself. Lauren doesn't have a blog, but she reads this one and I sent her some yarn she needed a few weeks ago and she's in the Jaywalker KAL too! What a coincidence. Can I just say, Lauren was wearing THE MOST GORGEOUS wrap - from Scarf Style I think - the entrelec one? Gorgeous. We compared Jaywalkers and Lauren had to go - I think she was a little more freaked than I was running into us. Thanks for stopping Lauren! Hopefully we'll run into each other again.
Sadly Lauren pointed out my one and only real fuck up of the day as tour guide - I didn't know that School Products closed early on Saturday, so we missed it. Next time girls.
After they oohed and ahhed and bought, we headed down to Purl. On the subway. YAY! Purl was packed. I grabbed a seat and worked on my sock while the girls shopped as best they could. I ended up with some purchases, but they're mainly gifts so no pictures. I was pretty good this shopping trip. I only bought one skein of yarn for myself - and that was to supliment what I already had - more on that later.
With Purl out of the way, we headed down to Seaport - I planned that stop last because it was pretty close to where we were going to eat dinner. I was PARTICULARLY proud of myself here - we got on the subway - and I managed to get us to the stop that was AROUND THE CORNER from the store. Lucky us because I always get lost down there and we were running short on time. Seaport's where I spent the most money - but only because I bought enough Addi Turbos to have a Jaywalker on the needles for every day of the week. I'm only half kidding. The girls had fun - Elisa at one point buried herself in a pile of Cherry Tree Hill. There's picture evidence of this so check around.
Then it was off to dinner! I've blogged about this restaurant before - Gigino's. For anyone in the NYC area - it's a must hit. Kay was there before us and we had a great table in the back corner - perfect for five hungry giggly girls. Kay had a bottle of wine waiting as well - what was it Kay? I couldn't remember and wanted to tell G. We ate and talked and laughed and we were warm and cozy and it was the perfect ending to the perfect day.
Or it would've been if we hadn't tried to leave without paying. I'll let someone else tell that story. ;-) Suffice it say, everything's good and I assured G that we can still show our faces there.
Girls - I hope you got home okay?! You did't let me know like you promised! It was so, so good to see you all and hang out and I wasn't anxious at all and I love you. Come back soon! And Kay - lunch when I'm calmer. Two weeks maybe? Love you too!
Because I don't want this to get out of hand - I'm going to an extended entry. It's picture heavy, so click if you want. Thanks for visiting - I totally understand - if you don't. Have a great day!
In the I would've liked a tiara but now it looks like I need something else for my birthday category - check this out: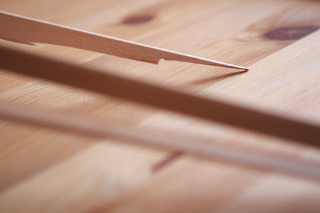 Can you tell what this is? Maybe another picture will help: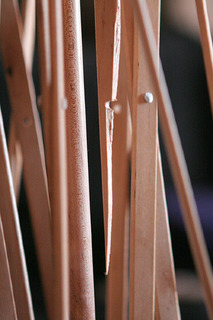 Yes. I broke my swift. Super human strength you ask, or super human stupidity? I'm winding, winding, winding and my winder is making this awful sound and the swift is slowing down and I can't figure out what's wrong with it, so instead of stopping, I keep winding. Sure. Why not? The other side of the skein had wound it's way around the base like 4,279 times and I wasn't paying attention and the damn swift snapped in half like a twig. I cut myself too. Bastards. So yeah. I need a new one. Fucking A.
But I did manage to wind the yarn for this before I broke it!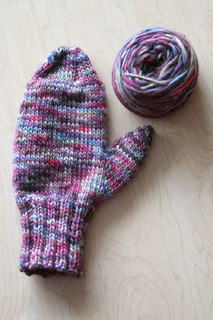 For the Warm Hands KAL. I'm using Manos, number 114. I bought an extra skein at Purl - incidentally the three others I have in my stash were from
my yarn crawl with Wendy last February
, so really these should be called Warm Wendys because all the yarn was purchased with her! I used Ann Budd's pattern - cast on 40 stitches on size 7 Addis. Two circulars method. I was going to use size 8s, but I realized that while it looks like I only have one size 8 circular, I have literally SEVEN size 7s. How that happened I have no idea. I fudged some parts of the pattern - like I did kitchener to close off the top - but otherwise it's all good. I like it! I'll cast on for the mate in a couple of days - it shouldn't take me long now that I know how to do an M1R. That was a bitch. Don't ask.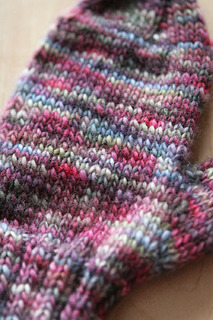 Now for the best part! IT SNOWED! I woke up Sunday morning to a blanket of snow - I never got to see totals for my area, but we had to have had about three inches. It was a good heavy wet snow, so it probably looked like more than it really was, but I was outside before 9AM. I love snow - especially walking around before it's really been lived in - everything's so quiet and I love the cold when you're warm in your coat and it was just lovely. It really rejuvanated me - especially since I haven't takent pictures for myself in a long while. I've been kind of panicked lately because I don't have a holiday card lined up yet. I always send out a photo card to friends and clients and I've used the archive already. I was going to knit some ornaments and take a picture (in my nonexistant spare time) but now I don't have to! I got a GORGEOUS picture. Simply wonderful and G likes it because it's not really Xmasy but very dramatic and very different and I'm not going to show you until the cards are sent out, but then I'll post it. So, instead, I'll leave you with these: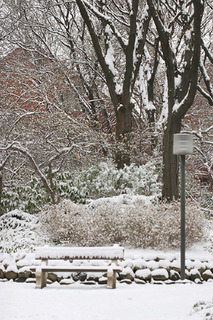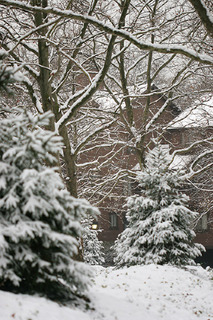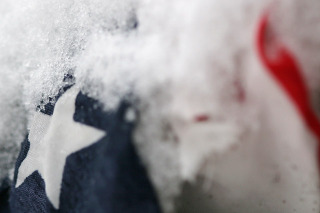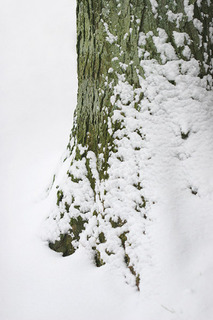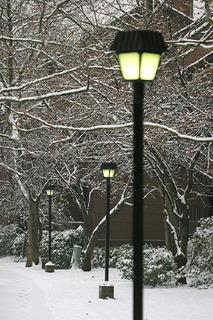 I'm off to the OBGYN today. I've been putting this off for awhile because I'm embarrassed to tell her that we backed out of the IVF last year. I think I can do it - but I'll probably cry. That might help with the sympathy factor. To top it off I had all kinds of weird breastfeeding dreams last night. As in I had a baby that I was trying to breast feed. Good shrink fodder, don't you think? Have a great day - send some good vibes my way. Showcase winner tomorrow!
Posted by Cara at 09:59 AM | Comments (28)
November 11, 2005
TGIF...sort of
I didn't knit at all yesterday, although I've got a train ride today. I'm working this weekend, but near my sister's so that means kids, kids, kids! And maybe some new bunk beds with Darth Vader and Dora sheets. My brother's in town too, so it'll be cool to see him. In the meantime, I'm super busy. Seems to be a theme around here these days. I know, I'm bored with it too.
I think the leaves are supposed to peak this weekend. Although it's been so blustery around here, there aren't any left. Here's one from the archives given I haven't taken a picture for myself since, oh, I don't know, April?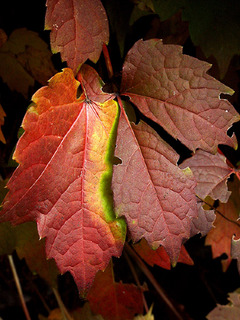 Have a good one!
L, C

Posted by Cara at 10:34 AM | Comments (6)
October 04, 2005
Tashlich
L'Shana Tovah! Happy New Year!
While I am not the most religious of Jews (I married the son of a Greek Orthodox Priest for pete's sake!), I am a sucker for tradition. For me, my judaism is my family - it's my heritage - and something I cannot leave far behind. I identify as a Jew. I'm proud of it, and I make no excuses for it.
That said, I'm a twice a year Jew when it comes to synagogue. Rosh Hashanah and Yom Kippur. Why do I go? Because I think everyone needs a time of year set aside for reflection and repentence. Who among us has been the perfect individual - always kind to our family and friends and the strangers we meet? Not me. So I like to repent in my own way. I ask for forgiveness in my heart. I also really, really like the prayers. They're soulful and mournful and old worldly and they're only said once a year. On the High Holy Days, we use a different prayer book filled with prayers specific to the holidays. Kol Nidre is one of my absolute favorites, said on the evening of Yom Kippur. Done the right way (read: by a cantor I like) I can be moved to tears.
One of my favorite Rosh Hashanah traditions is Tashlich. Literally, the word means "you will cast away" and the way it works is that on the afternoon of the first day of Rosh Hashanah (unless it's on a Saturday, but that's a whole other ball of wax) you go down to the nearest body of flowing water and throw away your sins by tossing stale bread crumbs into the water. When we were little we used to go with my grandmother's synagogue. We'd all walk as a group to Pennypack, following the rabbi, and throw away the bread my grandmother had been saving for weeks. Stale. Very stale bread. Then, on the way back, congregants would open their homes and we'd go from house to house for cookies and cakes and wine.
In the most recent years, it's become a family event. We'd gather at my grandmother's house and walk to the part of Pennypack creek that runs nearby and say our own prayers and toss our breadcrumbs and sins. I love this tradition.
So today, since I'm not with my family, I will walk to the Hackensack River that runs behind my house and toss some bread. For me, and my husband, and my family. I will make peace with myself for at least an afternoon. Forgiving my self is harder than forgiving anyone else for sure. And I will say the Shehecheyanu:
Ba-ruch A-tah Ado-noy Elo-heinu Me-lech Ha-olom She-he-che-yanu Ve-kee-ya-manu Ve-hi-gee-ya-nu Liz-man Ha-zeh

Blessed are You,
our God, Creator of time and space,
who has supported us, protected us,
and brought us to this moment.

The Shehecheyanu is one of those all around wonderful prayers. Jews are encouraged to say it during times of unusual circumstances, at milestone life events (weddings, bar mitzvahs, brit milah). I'm pretty sure I said it at my wedding. And this afternoon I will say it - thanking God for getting me to this place in my life.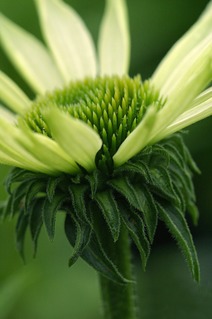 The sleeve fits on the Almost Everyday Cardigan! Jen came over yesterday and I did a hasty sew-up job and now it's blocking for the real sew-in. I cast on for the second sleeve, but my wrist is bothering me, so I think I will take the day off today. And Jen also helped me see that the size 8 needles on my new shawl are working out just fine! Pictures when I get close to something resembling anything.
Have a lovely day!
Posted by Cara at 09:01 AM | Comments (21)
October 03, 2005
What's the Story, Morning Glory?
Remember that scene in Bye, Bye Birdie? The one where everyone's on the phone trading gossip about Hugo and Kim? I was thinking about that song this weekend because it was a blogger phone fest! Ann, Wendy, Vicki, Jen! Great to gab with you girls! Can't wait to see you soon!
It was a good weekend overall. Saturday I made some good headway with my work and Saturday night we had a wonderful meal at Gigino's. It's a little Italian place in Tribeca - on Greenwhich Street - and we've never had a bad meal there. It's been consistently outstanding for a long time. A long time. I started with my favorite salad - sliced pears so thin you can see through them, some kind of parmaesan cheese, also sliced thin, arugula, walnuts, pomegranates all sprinkled with white balsamic. I LOVE it! Then I had a (large!) rack of lamp roasted in their brick oven with peppers and onions and string beans and roasted potatoes in a kind of au jus sauce. The potatoes were spectacularly crunchy on the outside and like mashed on the inside. Warm chocolate cake for dessert. To die for!
And then we went shopping for music - ends up Virgin Records at Union Square is open until 1 AM. I couldn't get over how busy it was outside. Okay, granted, we were in the Village near NYU on a Saturday night on a beautiful night in October - but it was packed! Craziness I tell you. We came away from Virgin with some Johnny Cash, Rosanne Cash and some Ray Charles. Excellent!
Did anyone catch the Saturday Night Live season premiere? I thought it was pretty damn funny. I watched some of it before we went to bed (it was late! I taped it.) I was laughing my ass off. LOVED, loved the Morgan Stanely mock commercial. Please tell me you saw it!
Yesterday, we beached it!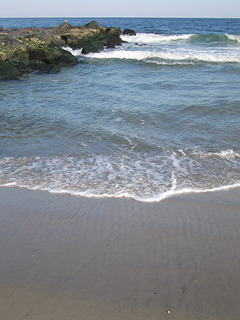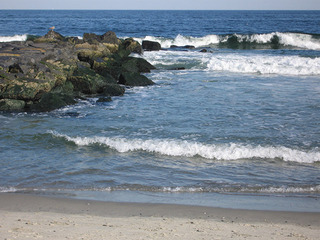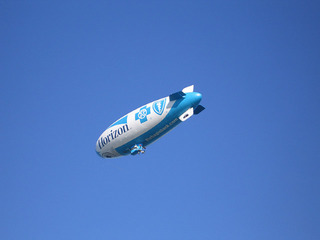 Those pictures are straight out of the camera (the point and shoot.) The sky was the most amazing blue - it was a perfect day. I don't think I broke a sweat, but I was warm and cool (you get that right?) and I just love the beach in October. I hope we get to go back a couple times before it really is too cold. That's me knitting on a new shawl. Or at least knitting the first seven rows over and over and over and over again until I finally got the very strange 3 to 2 decrease that the author has developed. You know how that goes. And now that I've done about 26 rows, I'm not sure I want to do it on size 8 needles. I'm using the same Twinkletoes yarn (different color) I used for DFS, only the shawl is a garter stitch pattern (knit the odd rows). The pattern calls for Jamieson and Smith 2 ply jumper weight, which seems like a really loose ply, but still fingering weight - so the trade off should be okay. I may try it with size 7 needles and see if I like it better. I know, I could swatch, but WHATEVER! Where's the excitement in that?
Speaking of frustrating knits, what the fuck! You'd think a simple drop shoulder sleeve would be a no brainer. Does that mean I acutally have a brain because I can't get the damn thing to work? If you recall, I decided to do a modified drop shoulder on the Almost Everyday Cardigan. I bound off 8 stitches at each arm and continued straight to the shoulder. Well, when I increased the sleeve to 94 stitches (which matched the cast on for the back) I barely got to the bind off for the arm when I sewed it in really quickly. Back to the drawing board. Originally I had done 15 increases (one every end) every 4 rows and then 11 increases every six rows. I ripped back and ended up with 15 every 4 rows, 5 every 6 rows and then another 10 every 4 rows. I think. I've got it all written down. And I was smart - I did a knit into the front and back increase so I can see them really easily. Got me to 102 stitches. Just barely worked - I still needed it to be longer to get me all the way across the bind off. So I ripped again back half of the final every 4 row increases and did every other row increases. Same number of rows, but an extra ten stitches. I didn't sew it in yet, but it looks like it worked. How crazy is that? Please don't tell me I should rip and start the whole thing over. I think I can get it to work and it's supposed to be oversized and all. Damn though. This sweater should be done already. And to add insult to injury, I'm worried I won't have enough yarn. I think I need another hank.
Do you have a madeleine? I do. Last night I sent G to the store to pick up some Acne soap (my face is breaking out so bad!) and some candy. They didn't have these new Junior Mints - but they aren't mint - they're caramel inside and they may be the best candy ever! Junior Caramels! I told him instead to get me some gummy bears. So he brought home the CVS store brand kind. As soon as I saw the bag, I knew!
When I was a young girl - I don't know prepubescant - maybe 10 or 11 - I used to ride my bike to this Polish candy store. They sold gummy bears (the first time I'd ever seen them) in plastic sandwhich bags with a twist tie on the top. I'd bring the bag home and climb into bed and eat them while I read with my clock radio playing music. To this day whenever I hear certain songs I immediately remember a particular book. Back to the gummy bears - with the proliferation over the years of gummy candy (worms, aligators dinosaurs, you name it) the gummy bear has been basterdized in a lot of ways. Rarely can I find the exact bear I used to get at the Polish candy store. They're very chewy, almost hard, and after awhile your jaw hurts. They have a very subtle flavor too. But they are THE.MOST.SATISFYING. candy ever. Georgie brought them to me last night - the EXACT kind - and I swear I almost cried. My madeleine. What's yours?
I leave you (wow I was chatty today!) with the picture that greeted me when I awoke this morning. We're completely fogged in: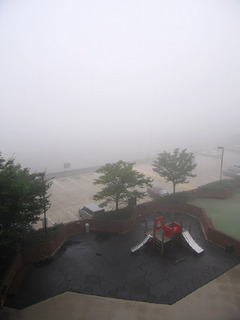 It seems like it's starting to lift and I'm going to go run a bit later. Some blocking today and maybe some seaming and I may or may not cast on for the second sleeve. My left wrist hurts a bit today so I may take a break. Or cast on for a second sock. Or find the first one (I lost the first sunshine sock. My house is such a mess.)
Have a great day!
PS - Here's what it looks like now - about two hours after the first picture: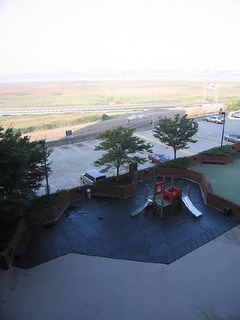 Wild huh? I love weather.
Posted by Cara at 10:02 AM | Comments (11)
September 30, 2005
Foliage
For La and anyone else starved for fall colors....


All pulled from the archives - the leaves haven't really changed much here yet. But it's cold today, so soon....
Have a great weekend! Can you believe it's October already? YAY!
ETA: Found over at Norma's:
1) Being gay is not natural. Real Americans always reject unnatural things like eyeglasses, polyester, liposuction and air conditioning.
2) Gay marriage will encourage people to be gay, in the same way that hanging around tall people will make you tall.
3) Legalizing gay marriage will open the door to all kinds of crazy behavior. People may even wish to marry their pets because a dog has legal standing and can sign a marriage contract.
4) Straight marriage has been around a long time and hasn't changed at all; women are still property, blacks still can't marry whites, and divorce is still illegal.
5) Straight marriage will be less meaningful if gay marriage were allowed; the sanctity of Britney Spears' 55-hour just-for-fun marriage would be destroyed.
6) Straight marriages are valid because they produce children. Gay couples, infertile couples, and old people shouldn't be allowed to marry because our orphanages aren't full yet, and the world needs more children.
7) Obviously gay parents will raise gay children, since straight parents only raise straight children.
8) Gay marriage is not supported by religion. In a theocracy like ours, the values of one religion are imposed on the entire country. That's why we have only one religion in America.
9) Children can never succeed without a male and a female role model at home. That's why we as a society expressly forbid single parents to raise children.
10) Gay marriage will change the foundation of society; we could never adapt to new social norms. Just like we haven't adapted to cars, the service-sector economy, or longer life spans...
---
Re-post this if you believe in legalizing gay marriage
----------
Last night I watched a PBS show on the Sixties and I was thinking about what issues would get me out on the street marching. No doubt about it, gay marriage is one of them. To me, it has nothing to do with love - it has to do with civil rights, property, legal status as Americans. Marriage, as defined by the laws in this country, have nothing to do with love. Any man and woman can marry regardless of their personal feelings for each other - it's about MONEY, people. That's it. And everybody should just share the fucking wealth.
Posted by Cara at 09:53 AM | Comments (24)
September 23, 2005
kissing in the car a real one*
For Sandy of the Skies:


2005-09-22T18:24:04-0:500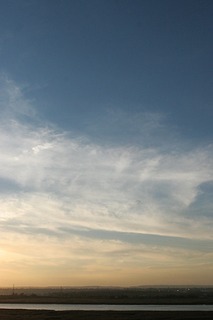 2005-09-22T18:42:26-0:500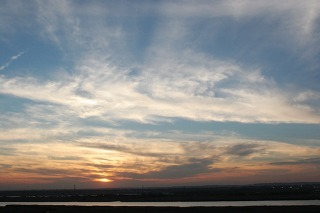 2005-09-22T19:13:27-0:500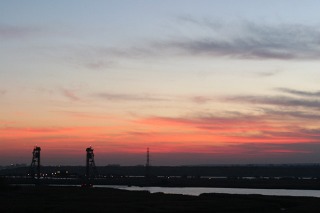 All photos were taken from my balcony, looking west, out to the Hackensack River. I used the exif data to confirm picture times, but I think the clock in my camera is off. I'd like to think it's fast by about 30 seconds. ;-)
And since we're showing off sky pictures, I thought I'd pull out some of my favorites over the years. As I mentioned, my apartment faces due west and we get some of THE MOST SPECTACULAR sunsets you've ever seen. I think it's because of all the chemicals in the air. You know, New Joisey.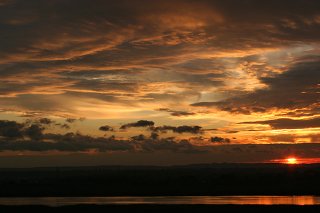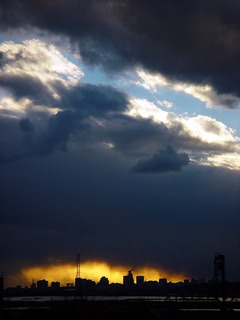 That last one is one of my absolute favorites. The city in the distance is Newark and the way the clouds and sun were it literally looked like the city was on fire. Amazing.
Okay. Now onto business. So I made a swatch. And guess what?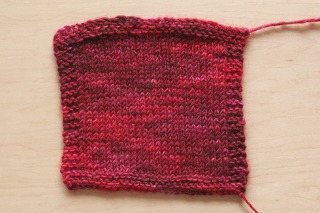 NOTHING HAPPENED! I ended up with the same exact stitch count I had before I blocked. 4.5 stitches to the inch or 18 stitches per 4 inches. Did I do something wrong? I wet the swatch pretty thoroughly and laid it in a towel, stomped around on it and laid it out to dry. Was I supposed to do something else? Anyway, whatever, I'm sick of this - the damn cardigan could've been finished by now and I want it for Rhinebeck, so today I'm ripping out what I have and starting over. I'm probably going to add about 10 stitches to everything. The directions for 4 st/in say cast on like 80+ stitches and 5 st/in 100+ stitches so 90+ it is! I still like the yarn though - it got much softer. A little fuzzy, but nice and soft.


*The title of this post is brought to you by a google search where I came up fifth on the first page. I thought it sounded poetic and oh so Bruce. I love kissing in cars too. G and I did a lot of that early on. Not so much anymore, but sometimes.


Posted by Cara at 09:52 AM | Comments (14)
September 22, 2005
6:23 PM
That's the time Autumn arrives. My plan is to step outside on my balcony and take a picture of the sky at precisely 6:23 PM. I've been waiting a long time for this, I don't want to miss it. But, Sandy, if I win the Gold Hill, I'd like you to send it to Norma. She definitely needs it more than me.
Thanks, all, for stating the obvious. I started the AEC swatch yesterday. Bastards. The whole point of screwing up the first sleeve was so I wouldn't have to make a swatch! Luckily, the kids (all five of them - the joy of families traveling together!) and their exhausted parents stopped by yesterday on their way home from vacation and I didn't have time to put the ball winder or swift away before they got there. So we frogged the errant sleeve together. Everyone got to turn the handle for the count of five. Max was pretty funny. Every time they started to play with a new toy he would annouce that he got to go first because I was HIS Aunt Cara.
When they left I cast on for the swatch. Ugh. Luckily I had class to occupy my mind last night because otherwise I'd be really bored and kind of pissed. So far I'm getting about 4.5 stitches to the inch. Which is pretty much what I've been getting on the AEC body. Vicki asked me yesterday what my gut said and my gut says rip it out and start over with an extra ten stitches. But my gut likes to knit larger than I am, you know, body issues and all, so I'm trying to resist. I'm thinking, maybe, it will be okay after all. We'll see when I'm done with the swatch.
Class was good! They laughed! Which is a great improvement over the last class. They seem enthusiastic and asked questions - it's so disconcerting when they sit there and stare at you. I feel like such a freak. I was mildly panicked at the start, but that quickly went away. Self-depricating humor is always a life saver.
I've got these guys here working on the tile wall in one of the showers and already I'm pissed. First they're an hour late. Second, well, second, I don't like people in my house. Especially when I'm going to have to leave them here by themselves.
Oh - I almost forgot! My sock pal, Leslie, got her socks yesterday! She sent me the sweetest email about them. She's a reader so she watched me knit her socks! How much fun! And today is her birthday, so happy birthday Leslie! I'm so glad you love them. It was a real pleasure to knit for you. (Leslie doesn't have a blog, but I've invited her to send in a picture with her new socks. C'mon Leslie! I want to see you IN the socks!)
Still no socks for me. Maybe today?
Happy Fall!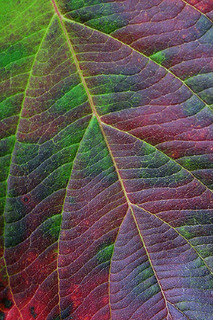 Posted by Cara at 09:39 AM | Comments (18)
September 13, 2005
Start Me Up
That's what I need this morning - someone to start me up. I woke up around 6AM feeling completely nauseated. I knew right away it wasn't anxiety nausea, but stomach nausea. See, now, I'm an expert on nausea. I've often compared myself to Sartre's sad sack character in his extremely nauseating book, Nausea. There was a time in my life when I did not leave my house without a bag of some sort to throw up in. (I'm not kidding. It was years. I woke up every morning feeling sick.) This was anxiety nausea. That's long since gone and I've seen moved on to bigger and better ways of torturing myself (bad thoughts and all that good stuff.) So I know the difference between psychosomatic nausea and the real honest to god grab the bucket kind. (I should note that in all that time I felt nauseated, I rarely, if ever threw up. It's all about ANTICIPATORY ANXIETY, people. That's the silent killer, really.)
They say that the mind and the stomach are very closely releated. In fact, the stomach has it's own nervous system - the Enteric System. This is why you get butterflies in your stomach - also where the term "gut instinct" comes from and why when you're scared you immediately have to take a crap. Let's just say I have a highly honed enteric system.
Anyway. I'm feeling sick today. It's slowly passing and may have everything to do with major PMS. You know the kind, where your boobs start hurting the minute you ovulate and you have to make sure they're secured to your body before you get out of bed in the morning lest gravity causes intense pain. You don't know that kind? Lucky you. I'm sure I'll feel better as the day progresses. I have to. We've got VIP tickets to see The Stones tonight at the Garden. Yes, that's right. Honestly, I don't even really like The Stones that much (Blasphemy I know, but whatever. I don't really like U2 either. So shoot me.) but the tickets were free and the seats are supposed to be good and there may be a Xanax in my future so wish my stomach some good thoughts.
I was bad yesterday (no working) and knit, knit, knit on DFS. Funny thing about those shawls, especially the ones that start off small and grow, grow, grow. It takes a LOT longer to get through a row. I'm a couple rows into the LAST section. I'm not going over the ten. For the longest time I was thinking it wasn't going to be that big, but it's suddenly pretty darn big and I still have a ways to go. Then there's the points and the I-cord edging and it won't be done for a couple days yet. And I so want it done.
In the meantime I can't stop thinking about my red, red Manos and the Everyday Cardi and I want it NOW. So I may just wind up a hank and swatch a little bit today. Or at least take the yarn out and fondle it and read through the pattern. It should be a really fast knit. At this point #8 needles will feel like tree trunks and it's all stockinette so whippee! Let's go!
And this is for Kay. Wave Hill. Be there or be square.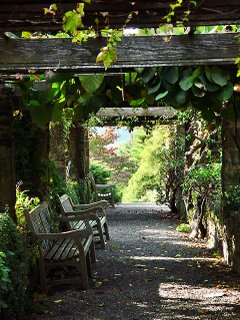 Posted by Cara at 09:04 AM | Comments (14)
September 12, 2005
Fantasy World
It's fantasy all the time these days. I've got about six rows and two repeats left if I'm going to stick with the 10 repeats for the shawl. I haven't even broken into the second hank of Twinkletoes yarn, so we'll see. Depends on if and when and how much I have to use of that second hank. The pattern is really a dream to knit. I almost think it's easier than the Flower Basket Shawl - if only because I'm using stitch markers at every 12 stitch repeat. Of course, yesterday evening, (my goal was to finish the 8th repeat before the night was through) I messed up the border stitches before the first bind off in the repeat (every 10 rows you bind off five stitches for two rows to create the points on the border) and it was KILLING me. So I ended up ripping back a few rows to reknit it. In the end, I think the stitches might have been just loose, but I couldn't have it. I feel much better now even though my goal wasn't met. I'm hoping to at least get through 9 today - I want this finished before the week's out. I'm in that end of project frenzy mode where I can taste the FO and I want to be there YESTERDAY! You all know what I mean. I should just sit here all day and finish it, but there's work to be done. I need to run today before it gets too hot and I need to do laundry and some work and then I can knit for the rest of the day.
It was a pretty full weekend. I had a birthday party to shoot on Saturday about an hour away - my wonderful husband came with me for the ride (I hate to drive on highways alone) and lucky for me there was a beach close by. So he played tennis in the morning and sat on the beach in the afternoon. Perfect day for him - and perfect for me, because I didn't have to feel too much like a loser wanting a companion for the drive. And he drove back, so I could knit a bit in the car.
I'm always amazed after a job at how PHYSICAL a shoot is. My whole body hurt after the party. First, the camera's heavy - really heavy (at least 13 pounds with the big lens on - add the flash and bracket and we may be up to 15) - and I'm carrying it for two hours straight. Then we've got the fact that I hold it like a spaz - actually backwards when shooting vertically (so that the shutter button is under the camera not on top) - so that my left elbow sticks out - and finally, when you're photographing children, you NEED TO BE ON THEIR LEVEL. Parents out there - if you hire a professional photographer and they don't get on the ground with your kid, well, I'm not saying you won't like the pictures, but.... I come home from a job and I've got grass stains on my knees, my ass, dirt in my hair. So it's up and down and up and down and I'm not a kid anymore.
Saturday night I was asleep by 10:30. That's about two hours early for me.
Also, I was asked this weekend to do a really, really, really important shoot for some really, really, really special girls! I'm super excited about it - but for now I can't talk about it. I promise though, as soon as it's all kosher, you'll hear me shouting about it! It's just SO SUPER COOL! (What a geek I am!) I'm completely thrilled I can help out the cause.
This weekend, while knitting away, I thought about my upcoming projects and listed them out in my head. I thought I might list them here, too, so I can look back and see all the things I didn't accomplish. ;-)
Dad's Aran Sweater
Manos Everyday Cardigan
Cardigans for the WH girls
Bohemia Aran Cardigan
SOCKS (especially socks for Jolie)
Knits for the kids (cardigan for Charlotte with yarn from MDSW - and especially ELI! He's never had a handknit from me.)
Elizabeth Bag in Donegal Tweed
Manos My So Called Scarf
Orange Spice Mittens
My own shawl design
Ambitious no? Ugh. So many knits. So little time.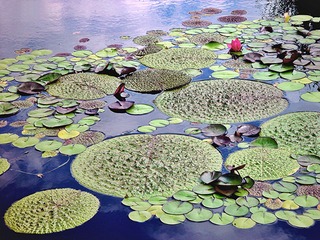 Posted by Cara at 09:48 AM | Comments (6)
September 02, 2005
Seasoned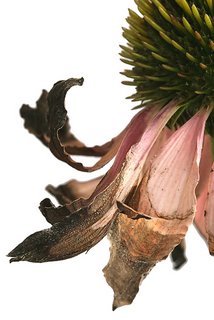 Have a safe, productive, peaceful weekend. Hopefully nice knits to show on Tuesday.
Love,
Cara
Posted by Cara at 08:45 AM | Comments (5)
September 01, 2005
September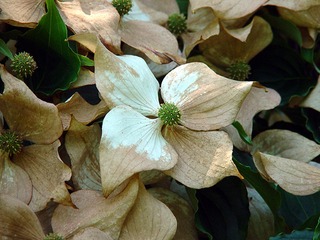 Oh how I've longed for thee!
September is so bittersweet. That first glorious end of summer day - warm, dry, blue, blue sky and I'm immediately back to that morning four years ago. I was psyching myself up for a run, doing some work. I hadn't turned on the TV yet. My father called. At that time, my father never called unless it was bad. And it was.
Watching the utter devastation on the television last night, I was reminded of a rainy gray day in the aftermath. The reporter was saying that sometimes the best thing to do is fill your car up with bottled water and clothes and supplies and drive them to the nearest place in need and just give it away. That's exactly what I did four years ago. I got in my car, drove to my warehouse store and filled my car with water and gatorade and batteries and t-shirts and whatever else was on the "list." I drove my treasures to a drop off point, the whole time the smoke from ground zero visible in my windshield.
There's something inherently fascinating about devastation so extreme. It's numbing almost, seeing image upon image and not being able to FEEL what they feel. But last night I connected - I was overwhelmed at the memory of driving in my car to help, but not being able to escape, for even a second, the horror of what had happened.
I've never been to New Orleans, or the Gulf Coast, but I know its importance in American History and Culture. I pray these events are only a tremendous setback, and not an inevitable loss.
Visit Margene for details on giving.
Posted by Cara at 09:01 AM | Comments (4)
August 11, 2005
The Agony of Defeat
Short Rows are killing me again. NO, not that Short Rows. Sock heel short rows. Yesterday I attempted both Wendy's version and Alison's PG-R version and while I enjoyed the short rows - I didn't enjoy the holes that formed when joining in the round again - no matter how many stitches I knit together or how many stitches I picked up. Also, when I tried it on, holes and all, I don't think I liked how it fit. Damn Short Rows! They've become my white whale for sure. So I started doing a regular gusset heel - I mean, I like it so far in the socks I've made and it works for the master, so who am I to argue, right? I would like to try an afterthought heel though. That might work.
Anyway, the sock's going a road trip today. We're heading to the beach for a little sun and work, believe it or not. I've got a beach shoot. Yipee!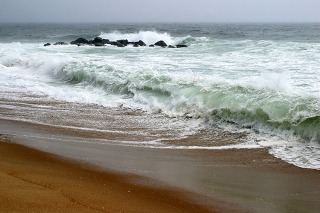 Posted by Cara at 09:19 AM | Comments (14)
July 19, 2005
Dear Prudence....
As I mentioned yesterday, MJ and I met at her LYS, Wildfiber. (Be sure to check out her post about it - her pictures are better than mine. Well, all except the one Georgie took of the two of us with her camera. But, in his defence, he did a better job with ours.) The store was/is an explosion of color - warm and inviting, lots of wonderful light. Places to sit and my god, the yarns! Everything you could ever want in an LYS. I'm still jealous!
As we were walking around the store, I came across this AMAZING item - I'm not sure what you would call the shape - but it's FREEFORM at it's best!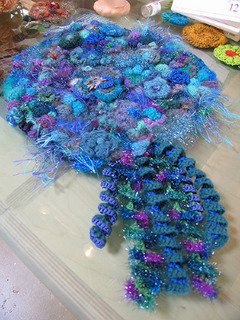 I'm not sure pictures can do the work justice. It's crochet and knitting combined - and each piece is built upon the next creating a canvas of texture and color. As we walked further around the store, we came to the back classroom area and discovered more of this amazing artist's work: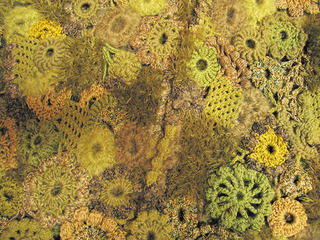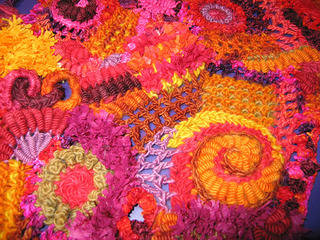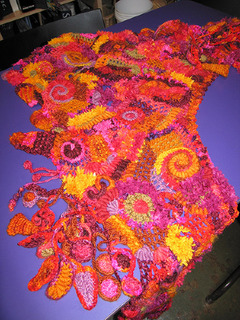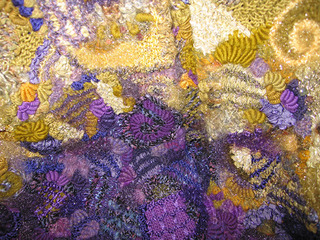 Some of the pieces are garments - well - they might all be garments. I tried on the long purple/yellow coat and to be honest, it's about as far from practical as you can get - extremely heavy and itchy, but my god - WHAT GLORIOUS COLOR! This artist's work is a Gustav Klimt painting come to life!
I don't even remember the question I asked, but I asked a woman standing behind the table about the artist, and the woman ended up to be the artist herself! Prudence Mapstone. This Australian artist told us she got started with freeform when her carpal tunnel got so bad she couldn't knit big pieces anymore - too heavy. So she started playing around with little pieces that she sewed together to make bigger pieces. And so on and so on. Prudence uses any kind of yarn she can find - natural fibers, synthetic fibers, novelty yarns - generally sticking to a specific color palette for her projects. I was so inspired I bought both her books and some notecards with close-ups of her work!
What's really wonderful about the work is that it will go wherever your imagination can take you! Every stitch pattern - knit or crochet - is open as a possibility. I love the idea of this - truly I do and am going to try my hardest to figure out the lovely bullion stitch. What a great way to play with all the odd balls of yarn we have around!
Anyway, I encourage you all to visit the galleries on Prudence's website. Her work MUST NOT be missed.
~+~+~+~+~


Okay. I'm not blaming any one person in particular - I'm blaming you all equally - but I had some crazy ass head-spinning dreams last night about this and this and maybe some of this.

STOP IT! LEAVE ME ALONE!

I told G I might have a problem and showed him some of this stuff and told him if I got one of these and some of this I could make my own yarn like this. (Is that not EXQUISITE!!!) He looked at me with his drop-dead gorgeous puppy dog eyes and said, "Is that something you'd be interested in?" like totally all supporting me and stuff and I yelled, at the top of my lungs (in my head of course) HOW, I repeat HOW ON THIS EARTH DID I GET SO LUCKY? [ETA: Yes, well, Ann might be correct, but I'd prefer to think my sparkling personality has at least a LITTLE to do with it....]

But, really, leave me alone! All of you!

[ETA: Just say, and I'm just saying here, I saw something on ebay I might want to buy - what's the etiquette for auctions? There's a seller and one person has the only bid on a bunch of stuff. I feel kind of bad bidding over her - am I allowed to do that? What's the knitting/web protocol here? You know what? Don't even tell me. I need this like I need ANOTHER hole in my head. Oy gavolt!]

For Claudia: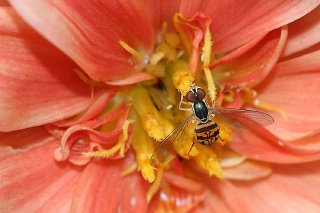 The Bee and The Dahlia

Last but not least, Annie is putting together an Afghan project in memory of Kerstin's brother-in-law. I'm sure you've heard by now, but he died, along with two of his friends, in one of the most horrific traffic accidents I've ever heard about. It's stunningly sad. A square is the absolute least we can do. Thank you.
Posted by Cara at 12:17 PM | Comments (15)
July 05, 2005
I'll LOVE You With All the Madness In My Soul!*
OH MY GOD! You guys are incredible. I'm LOVING all the LOVE SONGS! What fun I had this weekend. Seriously - some I haven't thought of in a while - some I just adore - some I need to try out. So great. But without further ado, the winner of The Summer of HATE LOVE LACE contest is:



KRISTIN



She chose Let's Stay Together by Al Green as her favorite love song. Great pick Kristin! (I'm also quite partial to You Ought To Be With Me - a great one by Al Green if you've never heard it!) Congratulations Kristin! Send me your address and the Zephyr (plus some sheepy and flower cards) is in the mail!

I'd love to send a couple of other PhotoArtCard packages out too - first to Louise, who was the 1776th comment on my blog (she chose Blue Velvet as her lovesong)! It seems fitting that she should get a prize this Fourth of July weekend. Sheepy cards for you! And also for Anne, who chose Silhouettes On the Shade. (Click on the link to HEAR this great song!) Unbeknownst to Anne, that is one of my all time favorite songs. My daddy sang that to us when we were little - all the time! When I told my sister someone had put it on the blog, she said, well you have to send them something! My dad came to visit this weekend too and he got a good laugh out of it as well. Thanks Anne! Sheepy cards for you! (PS - Do you know your domain isn't working? Hope you get it fixed soon!)

Thanks everyone for playing. I'm going to open the comments back up - so feel free to keep adding your love songs. I thought of a couple more I love: As by Stevie Wonder and Lovely Day by Bill Withers and Dancing in the Moonlight by Thin Lizzy. UGH! I could go on and on and on and on! I LOVE me a GOOD LOVE SONG!

The weekend was crazy - as expected. There was some of this:




The Carousel at Van Saun Park

And some of this:




Blankie/Pacie, Uncle Georgie's shades and my Dora bikini!
Ah! This is the life!

And A LOT of this:



Chunkilicious Laughing it UP!
Today we had this:



And let me tell you, them leaving me is a HELL of a lot harder than my leaving them! I was so sad I may have shed a tear or two. Sure my house has been turned upside down! Sure I've got a ton of laundry to do! Sure I didn't touch the knitting AT ALL since Thursday (I think I've been knitting in my sleep though!) But what's better than little Charlotte walking around saying "Cara's house! We're at Cara's house!" Or Max and Georgie swimming together and just hanging out. Or Baby Eli, so, so deliciously fat laughing and laughing and laughing! Nothing. There's nothing better. My house is suddenly very, very quiet. I will be happy when G comes home tonight - I have missed him. Not much quiet time with three kids wreaking delightful havoc!
I've got to get a job out - so I have to dash. And I still need to get through two repeats and the border on the FBS. I'm dying to start my SockaPal2Za socks as well. Thank you again for all your comments and especially all the compliments on FBS. Can't wait to show you a finished project!
Have a great back to real life day. I'm not sure I'm ready for it!
L, C

* Possibly my favorite Bruce lyric EVER. From Born to Run. Definitely a LOVE SONG!
Posted by Cara at 01:10 AM | Comments (11)
June 30, 2005
Fourteen
Flower Basket repeats done,
Fourteen Flower Basket repeats.
If a yarn over should happen to fall,
Thirteen Flower Basket repeats done!
That should sum it all up for you. Time spent: two hours (give or take a little) knitting ten rows. Two hours frogging two. Lace is a bitch - especially when you're a bonehead like me. I managed to work my way back and have started the fifteenth repeat (which I think is actually the fourteenth repeat to be honest. When I'm done this repeat section I'll have fifteen baskets.) I went to bed late. But I've already done a purl row this morning. I like to leave it by doing the first row of the next repeat so I can pick it up on a purl row. It's like doing exercises at the piano - get my fingers all limber.
But the shawl is really taking shape. I was noticing all kinds of interesting things about it's construction last night. Now that I'm almost finished, I'm finally SEEING the pattern. Have I mentioned that I love Evelyn Clark? I can't wait to start my sock pal socks. This weekend for sure. Or next week. Depending on the kids.
Speaking of kids, I got all my work done yesterday. The photos are off to the printer and all I have to do today is clean! My bathroom's in desperate need and the kids will need baths, so I've got to do that. Also, I have some errands to run before they get here tomorrow. And I'm on call in case my sister decides she wants company for the ride. Usually I take the train down and ride back up here with her, but she thinks she's okay. So we'll see. Better for me because I've got tons to do before they arrive.
I hope I wasn't being too pedantic yesterday with my photography blatherings. I am a firm believer in "if I can do it, you can do it!" I thought as proof I'd show you some progress I've made over the years. My family gave me a digital camera for my 30th birthday - five and a half years ago. I had been interested in photography as a teenager - my parents gave me darkroom equipment for my bat mitzvah gift. It was never, ever used (and I really wanted the initial ring everybody else was getting.) The camera was a Kodak with 2.5 megapixels and I basically documented the first year of my nephew's life with it. On his first birthday, I upgraded to my Sony DSC-F707 and I was off.
Almost every year we go to La Quinta. One year (I think 2001) while Georgie was playing tennis, I thought, why not take some pictures of the gorgeous flowers they have all over the property. BINGO! I was hooked. Every year we'd go back and I'd spend more and more time taking flower pictures. And every year they'd get better: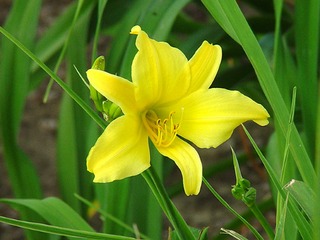 April, 2002 - Sony DSC-F707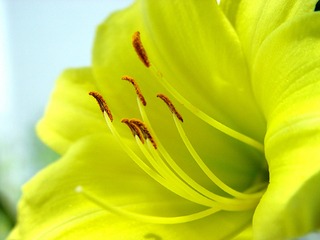 May, 2003 - Sony DSC-F707



July, 2003 - Canon 10D


Over the years, I've taken (literally) thousands and thousands of pictures. Tens of thousands. With all of my cameras. (In fact, the shutter died on the Canon 10D after two years. They fixed it though.) I believe in practice makes perfect. ;-)
I also thought I'd show you a before and after "developing" job. I like to underexpose my pictures a little so I can lighten them myself. Especially when I'm using a flash - it takes away the harsh flash light quite nicely. Anyway, here's the same lily from above - before and after.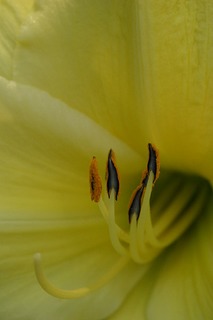 Before




After


The before picture is completely untouched except for resizing for the web.
I like to think I trained my eye to see things in a more pleasing composition. Don't ever be afraid to get close! Macro lenses (and settings) are essential for this, but I think it gives a much better picture. Remember to look at the background - empty space can be your friend, but not when it's cluttered and distracting. Most of all, experiment. There are many, many days when I go out to take pictures and get nothing. There are also days and when I go out, come back in and look, go back, look, go back until I get what I want.
Photographing kids is a whole other animal. Just shoot until you and the kid fall down from exhaustion. Cross your fingers and hope for a good picture. ;-)
Thanks for stopping by!
Have a great day.
Posted by Cara at 10:11 AM | Comments (19)
June 29, 2005
Nothing. Nada. Nil.
I purled a right side row on FBS yesterday and didn't realize it until I was half way through the lace pattern on the next wrong side row. Sometimes I even amaze myself. So I ripped that and managed to get half way through another repeat. This is taking WAY too long. I actually think I might be getting ~GASP~ bored a little. And for some reason I can't imagine how this is going to block out bigger. 80% Cotton, 20% Wool - is that it? What I see is what I get? C'mon Carrie! Show me your blocked FBS! Inquiring minds want to know!
I'm still cranking out pictures. For a job. People don't realize, but with the digital SLRs out on the market, the pictures DO NOT come out of the camera finished. (As opposed to a P&S where the pictures tend to be overprocessed, so you don't have to!) The cameras are made so that the pictures come out of the box, if you will, needing work. That's why they call it a DIGITAL DARKROOM. Did you know that the "look" Ansel Adams is so famous for came from the darkroom, not the camera? It's all about dodging and burning and tweaking exposures - darkroom, darkroom, darkroom. So I "develop" every picture I take. Most of them not much - just a little brightening here and there - a little sharpening. But with the kids, I go through every picture. I'm a GENIUS at getting out snot, food, little scrapes - if a kid can get it on them - I can get it out. Hell, I'm even working on a father whose kid got chocolate all over his shirt. It's tedious work sometimes, but I like it. It's time consuming though - and I don't have a lot of time. The kids are coming and once they get here, I won't be able to do anything. Nothing. Nada. Nil. (Unless you count giggling and cuddling and playing and crying and not a lot of sleeping...you get the picture!) So the pictures HAVE to be done today. This is all just procrastination.
I'm asked all the time about what kind of camera I use. Currently, I'm using a Canon 20D. Before that a Canon 10D. And before that a Sony DSC-F707 (long since discontinued.) I'd like to think (and I may be deluding myself here) that I could take the pictures I take with a pinhole camera. You know, like it's the eye not the equipment. That's not to say that a good camera can't HELP me get the better picture. For the kid picture taking, my equipment is ESSENTIAL. The fast shutter helps me IMMENSELY. The shutter is like lightening and I can take a lot of pictures at the same time to get EXACTLY the one I want. Also, the camera body doesn't mean as much as the lens on the camera. It's the lens that gets you the picture - the camera body just processes it onto the film (or card, in the case of digital). Well, it's not as simple as that - but I've paid a lot of money for a lens, and A LOT of money for a lens, and the difference is noticeable in every area - picture quality, focus quality, everything. You pay the big bucks for GOOD glass, and it's worth it.
Lesson over for the day. I haven't been out to shoot flowers in a while and I'm missing it. As much as I like the process, being stuck at the computer all day can get a little old, fast. So I leave you with what I'd rather be doing: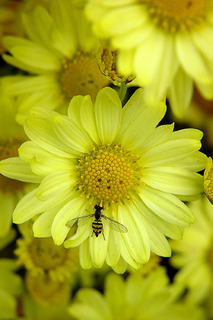 Taken with my old Sony DSC-F707, with an added Macro lens.
Posted by Cara at 08:51 AM | Comments (16)
June 23, 2005
It's Not Nice to Fool Mother Nature!
Remember those butter commercials, they were goofy to be sure, but good ol' MN really showed her stuff yesterday.
I watched the most spectacular storm come across the swamp. I'm sure I've mentioned it, but it's worth repeating. I live smack dab in the middle of a swamp. The Meadowlands to be precise. My apartment is situated in my building so that I look right out into swamp land - due west. We get THE most spectacular sunsets you can imagine. I think it has to do with all the chemicals in the air, but whatever it is, every night has the possibility for a technicolor cornicopia. I'm not kidding. G and I often yell to each other from room to room - did you see it? Look out the window? Amazing.
We talk about moving all the time, and if we ever do (which I hope we do eventually) one of the things I will miss the most is watching the weather from my balcony - be it sun or rain or snow. I have the perfect view.
Besides the sunsets, there is nothing I like better than watching a storm roll across the swamp. The dark clouds barrel down and the sky is often a mix of blue and black. Yesterday afternoon was no exception. I absolutely love the clarity in the air that comes with dark clouds. It's hard to describe and I know my camera could never capture it, but there's a glow in the air. The green of the tree leaves is crisper. The billowy grass in the swamp is tinged with gold on the tips, despite the lack of sun.
Yesterday I could see huge bolts of lightning hitting beyond the turnpike. Thick strikes that seemed to last forever. Kids by the pool (by the pool, not in the pool) would yell out, "did you see that? did you see it?" and not two seconds later another bolt would appear a little to the left. A little to the right.
The rains came and the winds picked up and the lighting became fierce! The strikes landed in front of my window, almost literally, in the swamp across the way. The winds were viscious, blowing around pool chairs and deck chairs and I closed the window because I was actually frightened.
The rain descended in torrents and marched across the swamp like ghostly soldiers. The thunder echoed their battle cry. The flag billowing tattered in the parking lot was a stark witness to the war.
I've never been truly scared by a storm since I've lived here. I've seen A LOT of storms blow across the swamp in fourteen years. Yesterday, I hung up on my sister and hid in the bathroom for a few minutes. We have windows facing west in every room of the house. The bathroom is the safest place with no windows.
It passed fairly quickly and I went back to work on my computer. Later on I passed by the windows again and witnessed the redest orb I've ever seen. The sky around the sun glowed like it was, literally, on fire. Here's hoping that sun was a harbinger of a beautiful day with beautiful bloggers and beautiful yarn!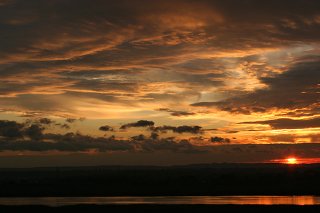 Not from yesterday, but from my balcony nonetheless.


Posted by Cara at 07:54 AM | Comments (16)
June 22, 2005
Hump Day
You know when you wake up with a headache, the day just might suck. Too soon to tell - I have a lot of work today, so hopefully that will keep the demons at bay. Thanks for making me feel like I'm not alone in my craziness.
I've lived with anxiety and panic since I was thirteen for sure, but probably earlier. It's like an addiction - always there - even on the good days. I've learned A LOT about it over the years - it all has to do with control. The last few weeks I've been making some emotional breakthroughs (baby/infertility stuff mostly) and when I get very emotional I have a very nasty habit of hiding it with rationalizations. I'm not sure about you, but feelings CANNOT be rationalized. And when I can't rationalize, I panic. It's as simple or as complex as that. So I've let myself go a little. It's okay - I'm figuring things out. Incredibly hard things, for sure, but stuff that needs to get worked out. I need to be patient with myself and kind to myself and let myself be sad, so I'm working on that too. In the meantime, I've got good friends/family who will listen, a shrink who's kid I've put through college already and the greatest husband/best friend a girl could have. And blog buddies who don't think it's (TOO) crazy to buy 87 different kinds of self-striping sock yarn. Thanks for that, by the way! (My favorite, so far, is the Trekking Crazy Stripes. I LOVE the colors and the feel of the yarn. It's all I can do to not cast on RIGHT THIS MINUTE!)
For all of you who asked about where I got the sock yarn from - I googled Cotton Surf or Trekking Crazy Stripes. The three places I bought from were The Knitter (they were super friendly over the phone), The Knitting Zone and Carodan Farms. Hope that helps! Have fun. (Oh and don't say I didn't warn you!)
Some progress was made yesterday on the FBS. I finished another repeat. My goal is at least one repeat a day. We'll see. I'm at nine repeats now and I want to go to 16 or 17 for the large shawl. Or maybe 15 or 16. I'm surprised at how fast the lace row goes (right side). The purl rows seem to take forever. I'm usually a little faster on the purl side. And I hate strongly dislike the first couple rows of the repeat. I don't like the k2togs or the ssks, so I'm trying to get that first row done on the next repeat. Couldn't do it last night, but that's my goal. It's good to have goals.
Yesterday I was organizing around here a little bit and accidentally deleted two posts. One was the picture of me in the Israeli Army. Don't worry, they're back. Apparently when you delete a post it's deleted from your database, but not from your server. So I was able to cut and past them no problem. The thing I don't have is all your wonderful comments. They're there, on my server, but I'd have to cut and paste them all back in. I might. Not today. But I might. Anyway, be careful out there. When's the last time you backed up all your stuff?
Another one for Norma - go see how her garden grows!


Posted by Cara at 11:44 AM | Comments (12)
June 15, 2005
It was DEM dat fucked up!
Happy families are all alike; every
unhappy family is unhappy in its own way.
Tolstoy, Anna Karenina
For the most part, my family is excellent (I'm talking the family I grew up with, not George - although G-Love is excellent too.) My siblings and I get along better than siblings should be allowed, especially siblings who fought with bats when they were young; I would rather spend time with my sisters and brother than most people. They make me laugh uncontrollably and THEY UNDERSTAND EVERYTHING. It's been a tumultuous year for my family. I'm not going to go into it here, but it's been very, very hard. A lot of anger, frustration, tears. But my siblings and I have stuck together through it all and for that I am so grateful. Thank you for taking care of me last night. I don't know what I'd do without you.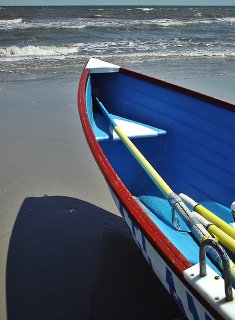 Suffice it to say, I've got some puffy ass eyes this morning.
And because I had such a shitty night - I'm giving stuff away!
Yes, it's CONTEST TIME! CONTEST CLOSED! Thanks for playing!
You'll get sheepy cards and flower cards and some yarn to be determined later. And some beautiful handpainted knitting needles from Peace Fleece.
Here's what you have to do - in the comments identify the FILM that the following lines are spoken in - they're all from the same movie. I will pick a random winner from all the correct entries.
"My mommy hurt my head."

"It's going to be so good."

"What a colossal blunder."

"It was dem dat fucked up."

Some clues: The movie is fifteen years old. At least one of the leading actors is dead. Two of the actors in the film appear together on TV. The movie was based on a book.
I will close the contest at midnight tonight. Good luck!
I did manage to finish the sleeve to short-rows last night (I will spare you the photo - it's navy blue and curled up - you can wait for the real deal.) And I cast on for the front, did a couple rows, then ripped it. I'll cast on again today. Basically I was on the third row when I realized I messed up the moss stitch (by the way, what's the difference between moss and seed stitch - can anyone tell me? I think they're the same, but don't know if I'm right or not.) No biggie - I wasn't in the mood for knitting last night anyway. Yes, it's true. It was more like a fetal position, baby blanket under my nose kind of night. You've all had those, right? ;-)
I'm hoping to go shopping today. THE LA/SLO TRIP IS ON!!!! We're leaving for Los Angeles on July 11 - eventually we'll make our way up to San Simeon for the BLACK TIE DINNER AT HEARST CASTLE on Thursday. We may take our time and spend a night or two in Santa Barbara. At least one night. But I will be in LA for a day or two - so where should I go? I'm counting on you Hollyweird knitters to give me the scoop. I'm not sure where we'll be staying yet. Probably either Beverly Hills or Santa Monica. Details to come.
Anyway - so I need a dress. Preferably black, so I can wear my Iris Flower Basket that I'm going to crank out all weekend. It seems halter is the style this season - but I don't like to show my back, so we'll see what I find. Did you know the secret to successful dress shopping is to wear sweat socks and a baseball cap? There's some kind of inverse rule that the sloppier and shittier you look the more luck you have finding a dress. I swear by this. SWEAR. Bought every prom dress, my bat mitzvah dress, my wedding dress in this fashion. Watch out Jen - you've been warned!
Oh and I've been taken to task by some blogging pioneers that came before me. Apparently, when they weren't walking 20 miles in 10 feet of snow on their way to school, they were checking blogs on their own with out the aid of feeds. GASP! And, I'm told, sometimes people didn't read your posts for days. I'm not sure I believe them, but I'm not going to worry about bloglines anymore. ;-) Thanks for the reality check.
Don't forget the CONTEST!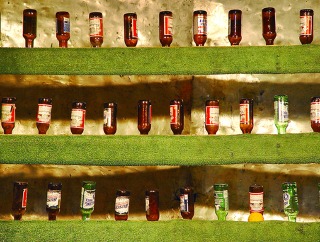 Posted by Cara at 08:47 AM | Comments (33)
June 14, 2005
Which came first?
In the chicken or the egg fashion, I ask: Which came first the desire to write, or the need for readers?
In other words, if a blogger blogs but bloglines doesn't update the feed, does a blogger really blog?
Yesterday I spent a lot of time on my post - it was great fun for me, don't get me wrong. I linked a lot, I relieved past lives, I longed for long hair. But since bloglines didn't update me until around 10:30 last night, I was pretty lonely all day. Which got me thinking (yet again) about the whole blogging thing.
I used to be a writer. Used to be, because I haven't written a story in quite a while - a fact that breaks my heart every day. But since I started the blog, I've been writing again. No, not what's ultimately most important to me (telling stories - fiction) but about myself. And it really doesn't matter because it's still writing. I think about my posts almost the way I would write my stories in my head. I craft them, if you will. I'm getting my groove back. It's coming.
I'd still rather pick up the needles than the pen - but honestly - there is nothing harder in the world, mentally at least, than staring at a blank screen and hoping to fill it with your blood and guts and genius. I'm in a rut.
Do you know what writer's block really is? I teach this to my students all the time, so why not here? A writer has two distinct personalities living in their head (see - we are crazy!). A Generator and an Editor. The generator's the personality that sits there and cranks out the words - the zone head - filling up pages and pages and pages of pure unadulterated Nobel winning genius.
The Editor's the personality that takes one look at all that superiority and says CRAP! CRAPTASTIC CRAP! And starts rolling around on the floor laughing hysterically at the hubris of the generator.

Don't get me wrong. The Editor is an essential partner in the writing process (remember - it's all about the process) but really needs to be kept in a sound-proof box until about the second or third draft. Second draft. Really. Get two under your belt before you want to rip the thing to shreds. There will be that much more to save.
The Generator needs peace and quiet and unconditional love to work the magic. People - I'm all about the love.
So what happens with writer's block is that these two warring factions are together a bit too early - like right out of the starting gate.
Here's an illustration of what happens:
Generator: Okay, so they're at the mall and they see a fortune teller and the fortune teller gets all freaky when the first girl walks by...
Editor: Snort. In a mall? Puleese. You're setting it in a mall? Sweet Valley High, here we come!
Generator: Fine. They're at a fair. Lots of noise in the background. Lots of lights. It's hot. Sweating lemonades. All the sights and sounds and there's a fortune teller...
Editor: Don't forget the freaks! Got to have freaks. C'mon - what's a modern short story without a two headed midget? The New Yorker's going to want first rights!
Generator: Gotcha. I'm worthless. Let's go knit and watch bad TV.
See how fast the Generator folds? Not very strong of character I'm afraid.
Life sucks and then you write.
Anyway, back to my problem. Yesterday I was frustrated. The nice thing about blogging is that I can convince myself that it's JUST LIKE REAL WRITING (which it is - I've just got issues with myself)and I have an instant audience. Well at least I thought I did. It's like my editor self and bloglines are conspiring against any and all writing progress I'm making.
The generator is a muscle that needs to be exercised. We're about one step up from atrophy at this point, but getting better all the time!
Just so you know, I generally update my blog every day Monday thru Friday. I blog in the morning usually so my posts should appear mid-morning. Just so you know. In case you're missing me or something.
I'm not quite sure that this post makes sense in any way. I'm PMS and pissed and tired. My neighbors think it's fun to sit on their balcony and talk really loud at 6AM in a foreign language that I can't understand right off my bedroom window and wake me from sweet dreams. That is when they're not stinking me out of my own bedroom with their homemade delicacies. Seriously. Bloglines better watch out.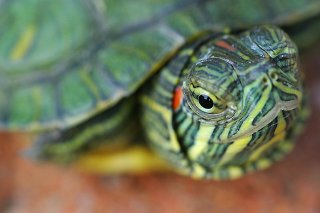 Obligatory knitting content: I will finish the short row sleeve tonight and immediately cast on for the front. I don't care about the ends on the back anymore. I'll deal with it later. AND in big, BIG, news - we may be attending this (yes, honey, dinner at Hearst Castle) and if we do it's black tie and I need a new dress and I want to wear FBS. So I have about three weeks to finish it. Think I can do it? Oh Zephyr! God Speed!
I will find out for sure today or tomorrow. You know what that means though - I'm heading out to La La Land. Who's going to entertain me with knitting delights?
Posted by Cara at 08:58 AM | Comments (27)
June 13, 2005
Lemmings and Lace
Well, my experience in the city yesterday was decidedly UN-Seinfeldian. (By the way, the Puerto Rican Day parade episode has never been shown on TV after the first airing - it's not even part of the syndication package. Guess it ruffled a few feathers.) Seriously - the whole day couldn't have gone better: super cute kids, great party entertainment (the kids were laughing the whole time), nice employers. The traffic was fine - if I had a job in the city on a Tuesday morning I would've hit more traffic. Thanks for the good lucks. I think they worked.
Without further ado, I offer you boring progress pictures, just like I promised on Friday: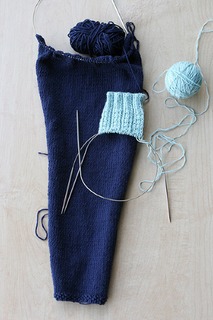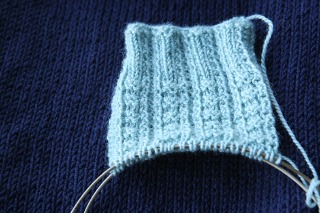 The short row sleeve is coming along nicely. I finished the increases and am about to start the decreases. I love how they say do the increases and knit until you reach 191/2 inches. Guess what? On my last row of increases I'm going to be about 201/2 inches. I realized my row gauge is about two rows over. No biggie, I'm thinking. I like my sleeves a little long anyway. So onto the decreases. Have I woven in any ends? NO! Damn they're killing me!
Not much progress on the sock - although I did rip it a few more times before I was satisfied. I'm still a little hesitant about the purls at the joins - I moved some stitches around on the needles because the ktbls were looking REALLY bad at the joins - but I've tried it on and I can live with it. I'm not sure how to fix it though since I'm pulling the yarn as hard as I can. I swear my hands are completely cramped after only a few pattern repeats. I'm doing the Retro Rib from IK Winter 2004 in Koigu Color #2151. The yarn is definitely more green - think retro aqua Cuban colors. I'm not loving this like I was loving the Purple Socks, but I'm persevering.
Because I have no mind of my own and you can't turn from one blog to another without seeing LACE, I conveniently became obsessed with The Flower Basket Shawl pattern from IK Fall 04. I've never knit lace before, so I immediately turned to the Great Enabler and lace knitter extraordinaire. She, in turn, sent me over here, and she, then, pawned me off over here! (That's Cassie, Margene and Teresa - in case you were wondering! Damn you girls are good at the enabling!) Anyway, once I saw Teresa's Flower Basket Shawl (make sure you look at ALL the pictures!) I was a goner.
Suffice it to say, by Sunday I had ordered two balls of Zephyr Wool Cotton SILK (tussah silk to be specific!) from The Knitter in Iris (and about five different kinds of sock yarn. I went a little crazy with the sock yarn this weekend. I'm a little nuts over the whole striping thing.)
Teresa was so kind - emailing me different yarn amounts and advice. I can only hope my finished project looks half as wonderful as hers.
Oh and I can't discount the help I've received from two other sites! There's an FBS Redux knitalong going on, and through them I found Becky's gorgeous FBSes. She's got three so far, I think. They're amazing. And she took the time to write up this tutorial for lace-impaired people like me! With all that support, how could I not succeed!?! Thank you ladies! I'm eagerly awaiting my yarn. (I even joined this! Craziness, I know!)
I saw two movies this weekend - both made me cry hysterically (think it's time to up the meds?) - but were about as different as different can be. First, on Saturday, I watched Hotel Rwanda. I'm finding it really difficult to say I enjoyed this movie, but I really did. It was incredibly well done. One of the best movies I've seen in a while. The story was extremely well played out and Don Cheadle was amazing. Absolutely HEARTBREAKING. But it made me want to learn more about the region and what happened there. It utterly amazes me - the destruction human beings can carry out.
Then, on Sunday, I watched 50 First Dates. I know, I know, it's like feast or famine (culturally) around here, but I had seen bits and pieces of the movie at my sister's and couldn't understand the end, given Lucy's situation. So it was on cable, I caught it about five minutes in and knit. Man did I cry! How sad is this movie? I guess hopeful too, but I don't know it seemed so sad to me. In the end it's a complete rip off of the existential classic Groundhog Day, but I guess you could say I enjoyed it. Maybe I just needed to cry some more. (Hey Jen - have you seen Groundhog Day? Add it to the list!)
I'm going to leave you with two pictures - one of which is explained in the extended entry.
First, a rose: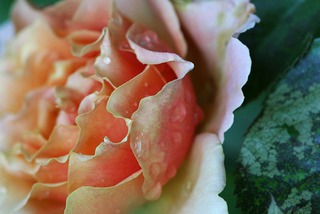 If you haven't already, check out the roses Laurie posted today. Gorgeous!
Last, but not least, I was inspired by Lauren's post the other day about her amazing adventures in Israel. It's been five years since she was there. It got me thinking back to my OWN amazing adventures in Israel - and MY GOD! it's been fifteen years since I was there! How come it feels like just yesterday? I scanned a picture of me from the trip - one of my favorite pictures of me ever. I never looked as good as I did then -

Yes, that's me in an army uniform with my long flowing hair - if you'd like to learn more about it, read on....
Wow - you're still here? ;-)
Okay - let's harken back to the summer of 1990. A couple of months before I had broken up with my boyfriend and went home for the weekend. I cried a lot. My dad, unable to deal with my crying, asked if I wanted to take a trip - maybe I wanted to go to Israel with my mother this summer? I said ok through the tears and promptly went home to be with the love of my life. (Yes. Georgie and I have been together for fifteen years. I broke up with the other guy so I could be with him. I was a hussy back then....)
The summer before, my mother had gone to Israel (actually, it was either the first or second year, I can't remember) and volunteered in the Israeli Army as something of a replacement reservist. The organization that sponsors these trips is called Sar-El. Basically you get really cheap airfare in return for three weeks of service - and you can stay on after that as long as you want. When my mother had gone before, she worked in an army hospital near Tel Aviv - in sort of a candy stripper job. All in all, I think she made around five trips with Sar-El.
When we went, we boarded a bus in the dark and drove for a few hours to our new home - smack dab in the middle of the Negev Desert. We were stationed, if you will, on an ammunitions base right outside of Be'er Sheva. We lived on the top of a hill on the base, which was the home of soldiers who were in some kind of disciplinary trouble (read banished) and outside workers. My job consisted of waking up at 7am and heading down the hill to sort old landmines. I had to take them apart (they were all dead) and separate the parts for recycling. Sometimes I sorted through old bullets - again for recycling. My mother worked in the shop painting and occasionally welding. I think she liked the welding better.
We were all issued standard uniforms which we wore every day. We would work in the morning - like 7-12 and then have lunch in the mess hall. Then, sometimes we'd go back to work, but most days we'd go back up to the hill and put our bathing suits on and lay out. I had the best tan ever when I got home. Seriously. The desert winds were wonderful. We'd wash our clothes - even our thick towels - then hang them up and they would be dry in like five seconds. During the day the temperature would get up into the 100s - maybe 114 at the highest? At night, though, it was freezing. We'd wake up to frost. And always I had at least three dead bees in my bed. I never understood that. I never got stung - but they were always there.
The soldiers on the base were pretty funny. The boys were ridiculously gorgeous - I'm a sucker for dark skin and dark eyes - and most of the people on the base were Sephardim. One asked to sleep with me (he was sort of joking) and I told him he'd have to ask my mother. Of course, he was very upset to learn that my mother was standing with me the whole time. Our group leader laughed until he cried. The soldier never looked at me again. I became pretty friendly with the second in command on the base and we were pen pals for a long while. He lost a leg in a motorcycle accident many years later. I don't think I'll ever be able to get on a motorcycle now. We lost touch a a while back.
Sometimes we'd go into town at night - Be'er Sheva had a modern mall and some of the best ice cream I'd ever tasted. I can see the stand when I close my eyes. I wish I could taste the ice cream. One night we went to the movies at the mall - we saw Pretty Woman. Stadium Seating. With Hebrew subtitles. Pretty Funny! One thing that was difficult to get used to - the soldiers always carried their guns. Even when they weren't in uniform. So you'd see UZI toting semi-teenagers walking through the mall. It was surprisingly peaceful though.
On the weekends we were off and allowed to travel around. We usually went up to Tel Aviv or Jerusalem - those are some of my favorite memories. At the time I was in school - a Religious Studies major - and I dragged my nice Jewish mother around to every Church site possible! I was all about the historical Jesus. We even walked the Via Dolorosa. It was the time of the end of the first Intifada, so many of the markets in Arab section of East Jerusalem were closed. We had a soldier with us when we toured with the group.
I remember crying after visiting Yad Vashem. Yes, because of the tragedy, but also because of the guilt I felt loving a non-Jew the way I did. I pined for George the whole time I was there. (Of course, I broke up with him for a weekend when I got back, but that's another epic post - we broke up on Friday and got back together on Monday and have been together ever since. In fact our anniversary is that Monday - August 6.) I've made peace with it - my note in the Wall was about him and I think our union has been blessed - by many gods, for sure.
I remember swimming in Lake Tiberius - the only fresh water in the entire country. I remember the water actually tasted sweet. Floating in the Dead Sea was remarkable and a sure-fire way to stop mosquitoe bites from itching. Basically burned the sting right out! (WARNING: Don't shave your legs before you go into the Dead Sea - and don't let the water get in your eyes! Whatever you do - NOT your EYES!)
My mother and I basically tourned the whole country. We went from Safed to Eilat and everywhere in between. But it was in Be'er Sheva where my true love of the desert was born. We left on July 31, 2000. The next day Sadaam Hussein invaded Kuwait.
I was talking to my sister this morning, and she and I both don't believe my trip was fifteen years ago (which means it was seventeen years since she was in Israel!) I remember it very well - thanks for indulging me.
Have a great day!
Cara
Posted by Cara at 12:44 PM | Comments (0)
June 12, 2005
Just a Quickie....
Have you seen this? What an accomplishment! The details are seriously amazing. Go congratulate Anna!
I'm going to be braving this today - I have a birthday party to shoot right off the parade route. I'm leaving two hours early to get there - that should give you an idea of the mayhem. Add to that it's 95FUCKINGdegrees and I'm probably going to have to walk a while amidst throngs. At least the party will be airconditioned!
STAY COOL! (Or warm or whatever you need to be comfortable. I'd do anything for comfortable....)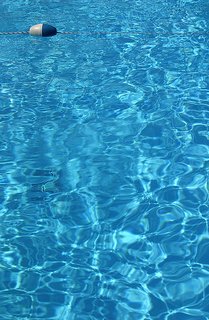 Posted by Cara at 08:32 AM | Comments (13)
June 10, 2005
I Love Ewe!
DAMN that Margene's good! Sitemeter says I average around 200 visits a day to the blog. Yesterday, I had a whopping 473 visits! About 80% of them from Margene! Thanks grrl! And she works magic too. My feeds should be good to go now. I emailed Bloglines and they reset the feeds. Apparently that's all I needed to do. We'll see how fast this post comes up.
And thanks to all of your comments on the socks. I SO appreciate it! I've got the AC cranking so I can keep them on all day. Crazy, no? Who cares. I made SOCKS!
In other boring knitting news, I FINALLY cast on the sleeve for short rows. I know I've said this a million times, but god I love Rowan Wool Cotton. It's so soft and the stitches are so beautiful. Seriously, if I could only knit with this yarn I would be okay. Better than okay. This is my plan: everyday before I knit on the sleeve I will weave in ends on the short row back. So far I'm good all the way up one side. That leaves the other side and the short rows in the middle. This way, when I cast on for the front, the only ends I'll have are on that said front and I can weave them in while I'm knitting the second sleeve. I have some plans I might implement on the front, too, that should hopefully cut down on ends considerably.
I also cast on for a second pair of socks. Retro Ribs in Koigu. But I don't like how the pattern's looking at the joins so I might rip it (AGAIN) and move a few stitches around after a couple rows. We'll see.
Here's a super dooper boring picture: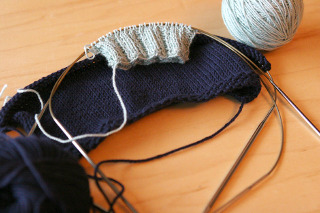 I promise to spare you knitting pictures like that one. At least until Monday. ;-)
But, I do have something cute to show you! I'm sure you've all had moments like this. You know, you walk around your house every day and manage NOT to notice things that have been there forever, under your nose, calling out to you "Whohoo! You! Yes, you, over here! See me? I'm a really cute thing to blog about!"
When Jen was here the other day I suddenly turned to a spot in my office THAT I LOOK AT EVERY DAMN DAY and noticed this little guy:


You see, I never realized but my husband is prescient. He bought me this a million years ago - no, really, it has to be over ten, possibly even twelve years old. We were living in the old apartment and he bought it for me for Valentine's Day. It's actually a pin (why I have it pinned to a lamp shade is beyond me, but that's where it's been since the day I got it.) It came attached to a card that said I LOVE EWE! Did he know that one day I would become wool obsessed? When I reminded him of it yesterday, he was thrilled. More super hero powers for him to go along with his superfantastic dish washing. I'm so lucky!
Anyway, it's a monsoon outside. Dark, thunder, torrential rains and yet it's still unbearably hot. Imagine that. So I thought I'd leave you all with some beauty for the weekend - whatever your weather!


Have a good one!
Posted by Cara at 09:05 AM | Comments (0)
June 09, 2005
This little piggy
went to the market,
This little piggy stayed home,
This little piggy had roast beef,
This little piggy had none.
And this little piggy went...
"Wee wee wee" all the way home...
TO JUMP IN HER NEW SOCKS!!!!!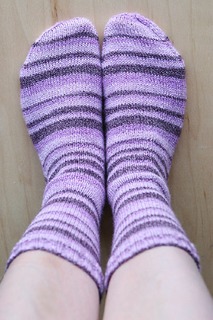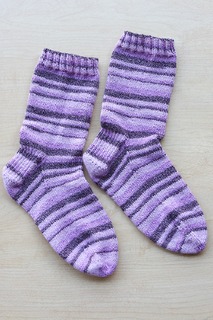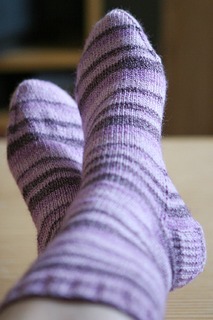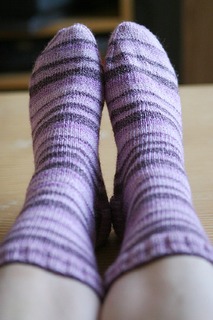 Yarn: Regia Cotton Surf - color no. 5410
Needles: Addi #1s, 16" and 24"
Start to finish 11 days. A pair of socks. I'm so, so proud. I'd like to thank Meredith, because without seeing her superfantastic socks I wouldn't have gotten off my ass to figure out how to use two circulars. Seriously. I took one look at her purple pair and ordered the yarn straight up. I'd also like to thank the kind person who put together these pages: Socks on Two Circulars and Sock Tips. Oh and this video for figuring out kitchener stitch. And, of course, all you people out in blogland who kept talking about socks, socks, socks and I was all like yeah whatever. OH MY GOD! I love them!!!! (And G thinks I'm a genius once again!)
The two circular thing really saved me. Honestly. I tried to do socks on dpns - I got as far as turning the heel and starting the foot then promptly lost a dpn. I will now knit every sock on two circulars. I can't wait to start my next pair! I'm going to do the retro rib from IK in a super cool retro Koigu color. I started to cast on last night but got too tired. Today for sure.
And because I'm feeling so, so happy, I offer you a rose....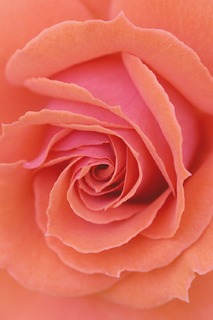 When I saw this yesterday, I immediately thought of Claudia.


I'm not sure if the majority of people will read this - Schmucklines hasn't updated my most popular feed since around noon on Tuesday and I've posted about 491 times since then. But I don't care - I MADE A PAIR OF SOCKS!
Posted by Cara at 09:30 AM | Comments (50)
June 06, 2005
I shaved my legs for THAT?!?
Warning - this one's long!
In the end, the afternoon was redeemed by not one but TWO knitbloggers, but seriously, there were some moments when I was like what the fuck?
Yesterday was the opening of the BBG show - I have two photographs in it. A little background - the organization is the Professional Women Photographers group in NYC - I only just joined. I have never been to a meeting. I know only one person who belongs (I joined on her recommendation). So I'm a nobody where this group is concerned. This show is really my one and only association with them.
That said, everyone else's photographs hung together and my two were hung on completely opposite sides of the room. I mean besides the fact that they were the ONLY TWO matted in black, there's no way you'd know they were by the same artist. Why? I'm guessing because they needed to fill a couple of spaces and had no idea who I was so they chose to split them up. Everyone else's work appeared together.
Okay. They didn't say anything about white mattes or colors. I've always matted my photographs in black. Apparently I didn't get the memo. (I guess they do stand out.) One picture was hung right by the exit. You know. The loser outpost. Fine. No biggie. Someone expressed great interest in it though - so we'll see how that pans out. It would be the best revenge honestly.
I was feeling really awful for a little bit. After killing myself to get there in time (I thought it started at 3 - it started at 1), leaving super early from Philly, rushing to get G from the airport, I was more than a little disappointed when I got there.
So I sent G out to get something to eat and some sun and I sat down and pulled out some knitting. A woman sitting nearby came over to talk to me. She pulled out her own knitting, a scarf on size 19 needles, and asked if I was making a sweater. I said no, a sock and pulled out it's finished mate (more on that later.) She asked if I usually made sweaters. I said yes, I've made a few. She said she hadn't tried one. I told her I liked to challenge myself with my knitting, but that sweaters weren't that hard. She asked me if I had ever knit with fun fur, because it was certainly a challenge.
Confession time. (Remember, I'm sitting there feeling pretty dejected about my skills as a photographer and whether I'm really an artist and feeling disrespected by the committee and such.) I have to tell you, I felt the most overwhelming sense of superiority. FUN FUR?! Challenging? Yeah. Keeping it from bursting into flames IS quite the challenge. It made me feel so GOOD! Isn't that so awful? I'm a terrible person. The woman meant well and I really should've thanked her for helping me out of my funk.
I'm pretty sure I politely said, "No. I've never knit with Fun Fur." I don't think I laughed, but she never said anything else to me.
The day was soon further rescued out of the depths of self-pity by Cassie and her family! Cassie was so sweet to walk the gallery with me and encouragingly nod her head every time I lambasted another photograph (you know that old trick, knock em down as a pick me up.) And her husband generously commented that he liked my black mattes! And her daughter was equally horrified by some out of focus "arty" photos. Thank you Too Much Wool Family!

Then Mrs. Pilkington appeared! I've been wanting to meet Mrs. P forever and she wasn't alone. Mr. P was there along with Cocoa Pebbles - who is in the running for cutest girl alive (she's got some stiff competition from my niece though.) Mrs. P did some much needed reconnaissance on some potential clients and admired my knitting and confirmed my feelings that I was in fact being dissed by the committee. We will definitely be getting together again!
Thank you both for coming. Georgie did offer to rough up the committee chair - but he was dead tired and wasn't in the mood for a fight - no matter what he said. You girls did the trick! Thank you!
Enough already. Are you still here? God you guys are the best.
[ETA: I should be honest - the show is really nice. There are many, many beautiful photographs and if you're in the neighborhood, totally stop by!]
The birthday party was great. My niece had THE MOST FUN EVER! She was smiley and happy and laughing and loved the food, loved her cake, loved her presents. She made it all worth it.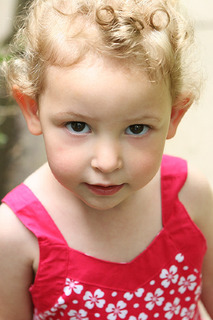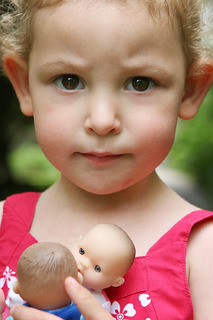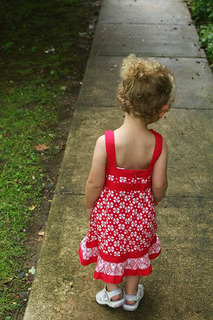 This is all I got, picture-wise. I was too busy helping with the party. I never even took pictures of the baby - who my brother dubbed Chubsicle - he's so fat - but in a good breast-fed chubby cheek healthy kind of way! And he loves to smile. Really he just grins away with his cute dimples and he even sort of laughs. Such a sweetie pie! And nephew #1 was sweet and crazy as ever. Did I tell you that the other day one of his teachers was wearing a sweater (my sister said it was kind of an open, webby type thing) and he asked her if she had knit it? She told him no and he asked, well who knit it for you? Gotta love that boy!
A huge thank you to all the comments on the birthday girl's post - my sister had a good time reading all the comments.
Even with all the party craziness, I managed to finish this: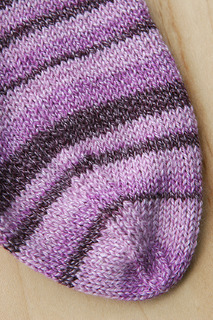 Check out that TOE!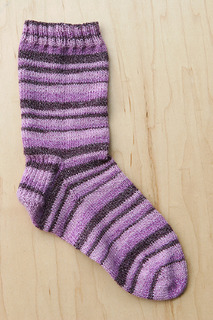 I immediately (we're talking 1AM) cast on for the second sock. And then ripped it the next day. Cast on, knit, rip, cast on, knit, rip. It's finally coming along.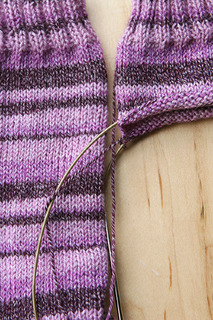 Right now it looks like the stripes are matching up - we'll see how that goes.

Of course, I'm loving this sock thing. How come you never told me they were so much fun?! ;-) Cassie's got her own fabulous pair up today. Thank god I bought all that sock yarn!

Have a good one. I need to eat ate. A salad. And I totally agree with Carolyn. It's all about the dressing.

Posted by Cara at 01:59 PM | Comments (24)
June 05, 2005
BBG Time Change
I know there were a few of you that might be coming to the Brooklyn Botanic Garden to "meet the artists" at tomorrow's photography show. I originally thought it was going to be at 3PM tomorrow (3-5). I've since found out it's actually 1-3PM. I'm hoping to get there by 2PM. I'm taking a train home from Philly in the morning, jumping in the shower then racing to the airport to pick up G. We're going straight to Brooklyn. Hope to see you there!
Thanks. Sorry for the mix-up.
Posted by Cara at 12:26 AM | Comments (4)
June 01, 2005
Birthday Girl!
My favorite girl turns two on Sunday. Saturday's the superfantastic Dora party, so I'm heading down to Philly tomorrow to help with the festivities. My bro's in from Sunny Santa Monica - he's never met Eli, so that will be cool. Oh and don't forget, if you're in Brooklyn on Sunday, I'll be at the Brooklyn Botanic Gardens at around 3PM for the show. Have a great one!
Here's the sweetest baby girl - growin' up!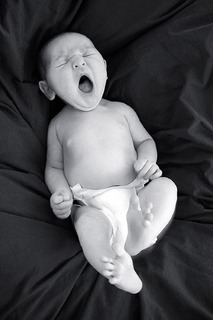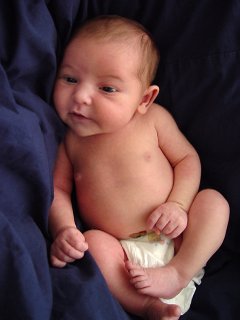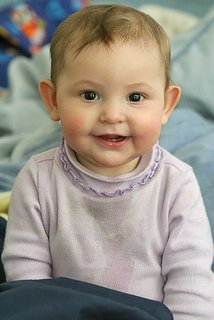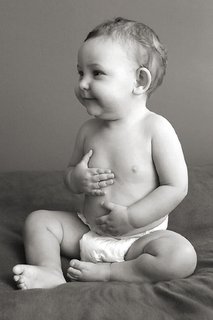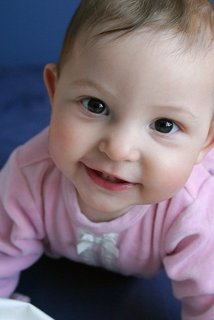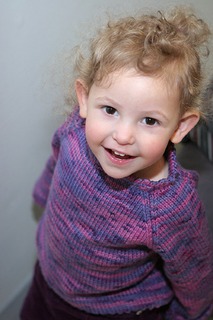 Thanks for indulging me - I just love her so much!
Posted by Cara at 11:59 AM | Comments (36)
May 27, 2005
My Eyes! My Eyes!
When I opened the black-out drapes this morning, I gasped. My arms immediately flew up to cover my eyes as I stumbled back from the window. For what did I see but miles and miles of blue sky! Nary a cloud in sight! Behold!THE SUN!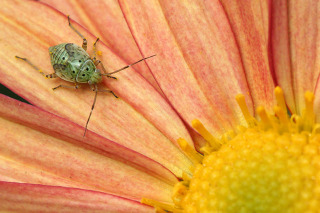 Click for fabulous bug details!

May your pool open with fanfare and warmth!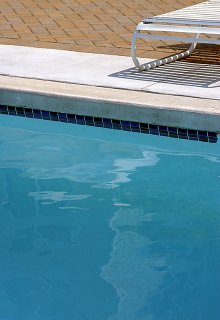 Have a great weekend!
Posted by Cara at 07:55 AM | Comments (18)
May 26, 2005
OUCH!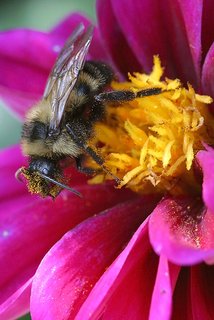 Click on picture for super pollen detail!




Man, I hate when I'm a stupid ass.

Yesterday, I was so upset about that damn TV show, I posted something on the Internets (a board I used to frequent, but don't anymore, precisely because it upsets me) and I didn't get the reaction I was looking for. Well, DUH! That's why I left in the first place. And then I just proceeded to get more and more upset. There's nothing I hate more than stupidity - especially when practiced by moi. Nothing. Drives me batty.

Luckily, Jen saved me (as she does more and more these days.) She called and asked to run some errands (I hope D liked the chair!) which included buying some of these (which I proceeded to just about finish when you left - vomit much?) and watching this. At first I was putting together some cards, but quickly moved to knitting. I managed to drop three more stitches on Clap-o-TEE (my goofy spelling for the person who asked. Nothing wrong with a little goof, I always say.) I'm about done my fourth hank of silk, and I'm STILL not sure how long it is. But I think I'll finish this and maybe drop one more stitch for good measure on the next hank and then start the decreases. I'd like to finish it up this weekend. I'm done with it. Don't get me wrong - it's beautiful and I love the pattern, but I'm bored. I want SHORT ROWS!

While she was here, Jen finished seaming a cutie pie raglan in Calmer - so super cute! And it was her first finished sweater! I was honored to be there for such a momentous event. I see lots more in her future.

So Jen left and I ate myself into sickness. What's wrong with me? Basically, I just can't have the stuff in the house. If it's here, it's like I have to eat it all until it's gone. If it's not here - I don't think about it. Insanity. My middle name.

Anyway, it's still cold and it's still raining and it's still crap. I need to watch a good movie and put cards together - my life for the moment. I don't think I have much to complain about, so why am I still here? Have a great day - whatever you're eating, whatever the weather.


Posted by Cara at 10:40 AM | Comments (11)
May 25, 2005
Not from a Jedi....
May 24, 2005. Mark the date. A momentus day in the history of Georgie and Cara. Yes, folks. The rumors are true. We actually went to the movies.
And, honestly, it wasn't that bad. For those keeping count, the last time we went to the movies was to see Bend It Like Beckham. The movie before that was My Big Fat Greek Wedding. (Which, surprisingly enough, were both out in 2002.)
Anyway. My point being, we NEVER go to the movies. NEVER. EVER. We HATE going to the movies. But, you know, it's Star Wars and all. At first, Georgie wanted to go to the theater where he saw the original but thankfully the times were bad. I'm pretty sure they haven't renovated it or anything. We're talking a lot of wear and tear on the seats people. So he came home from work a little early and we hit the 5:40 showing. The first nice surprise? That's a matinee! It only cost us $9.00, for both of us, instead of for one ticket. Next nice surprise - when we took our seats there were only three other people in the theater. Three. Sorry George Lucas. (When the movie finally started, we agreed there were fifteen people total in the theater - including us.)
The seats weren't bad. We were smack dab in the middle, a little closer to the front than the back. The theater was on an angle so people's heads didn't bother us. And you know, the movie ROCKED! Georgie's favorite part was when Anakin asks where he can learn these super duper new powers and Palatine turns to him and says, "Not from a Jedi...." mwahahahahahahahaha! Yoda kicks ASS! SPOILER ALERT!!!!! Apparently Samuel L. Jackson told Lucas that he was fine with dying as long as he went out cool. And it was DAMN COOL! I didn't think they used the Darth music to its full potential. I mean, c'mon, that's why I was there! Padme was just a vessel to get us Luke and Leia. (almost wrote Laura! Hahahaha!)
My favorite parts were anything having to do with Anakin turing into Darth - although I thought he was a bit naive, especially considering he's supposed to be the chosen one and all that. Anything with Yoda. And I love Ewan McGregor as Obi-Won - there's a picture in the little playbill book they gave out in the theater that shows how McGregor's face has the exact same symmetry as Alec Guiness.
What did I learn during the movie? That I don't like going to the movies. I had to pee the whole time. My seat gave me hemmorhoids. I was dying - DYING - to rewind - it was driving me crazy! But all in all it was a wonderful date - we had a very nice dinner after - and I'm happy we went to see it. In the theater.
The best part though was coming home and popping in Revenge of the Jedi and watching Darth Vader die in baby Luke's arms. Very, very cool. So in the end, I'm thanking George Lucas for endless hours of entertainment. We had fun!
Okay. Now I'm about to get really, really upset. Really upset. So be forewarned.
Speaking of people who provide entertainment, WHAT THE FUCK ARE THEY THINKING!!!!!!!! NBC is bringing out a new show called Inconceivable. Here's the description they provide for this bit of entertainment (and when you say that, say it like you're saying FUCK YOU! WE DON'T CARE ABOUT PEOPLE - ONLY MONEY!)
This delightful ensemble drama concerns one of the most complicated questions: to conceive or not to conceive. The doctors of the Family Options Fertility Clinic are on a noble quest to help desperate couples give birth. Except these doctors are often distracted by their personal quests involving sex, deception and secrets. Navigating through ultrasounds and super-egos, missing frozen embryos and impending malpractice suits, it's positively clear that life inside this clinic is anything but sterile. [Bold emphasis mine.]
(Please, make sure you watch the preview for the ultimate in fuck yous.) It's about, get this, the fun to be had in a FERTILITY CLINIC! Clearly, and I mean this sincerely, no one, not the crew, not the maintenance people, not the writing staff, not the producers, not the actors, NO ONE INVOLVED WITH THIS SHOW, has EVER dealt with infertility. Since when do pain, misery, hurt, shame, guilt, frustration, heartache, anger (should I go on?) make for enjoyable television? Oh, yeah, when you can make jokes about implanting the wrong embryos, having sex and I'm sure getting pregnant when your patients can't, and completely mis-educating the public about infertility. I'm laughing, this is so stupid. If you'd like to email NBC - do it here: nbcshows@nbcuni.com. I'll be sending an email, but I think I need to let the anger steep a little before it's good and ready to write what I need to write. I'm dumbfounded.
And if that doesn't get you upset, check out their new show, Thick and Thin. NBC. Must Offend TV.

Thanks for the link from Karen, via mamacate.
On to happier subjects, here's a mean ugly spider I hope bites Jeff Zucker in the ass: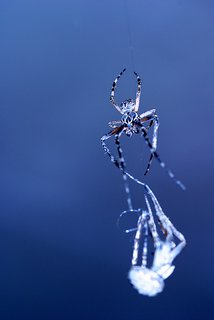 Enlarge for super cool details.


Actually, this is for my rebel friend Kathleen who declared this week bug week. Who am I to argue? Look for a cuter, more friendly bug tomorrow! (Don't worry about Ann, Kathleen, I got your back!)
Posted by Cara at 09:00 AM | Comments (14)
May 24, 2005
Hello my friend. I've missed you.
Yesterday I did something I haven't done in (literally) years.
I read. All day. For hours. In fact, I read so much I finished my book. The Time Traveler's Wife was completed at 5:36 PM after reading off and on since about 10:30. I read about 400 pages. And I didn't fall asleep once (in fact, I was strangely energized.)
I'm not going to say much about the book, because I'll save that for the discussion over at K1R2 next Monday, but I cried my eyes out. The book, overall, was disturbing, and I don't think it was terribly well-written, but it certainly was captivating, and it certainly evoked a powerful reaction - which is pretty much what you're hoping for when you write. So I'd say it was a success.
For many, many years reading was my only obsession. I was the kid with the flashlight. I was never without a book (used to bring them on dates - kind of the way I do with my knitting now). Not being in the middle of a book resulted in crankiness and irritability. Even BUYING books was cause for celebration.
Things change, and in the last few years, especially since I've gotten so involved with my knitting, you could take the above paragraph and change books to yarn and you've got my life. So I'm very grateful to Audrey Niffenegger for giving me a taste of my past. I've missed it.
I did manage to knit a couple of rows on Clap-O-TEE AND, get ready, hold onto your handknitted socks, weave in a few ends on Short Rows. It was getting awfully crowded on the side and there was just NO MORE ROOM to weave in another end, so I tied a knot. Is that terribly, horribly awful? Just ONE TINY knot. It won't take away the complete and utter integrity of the piece will it?
I also did a bad bad thing. After I saw Meredith's spanking new fabulous purple socks, I had to have the yarn. So I bought two skeins - one in the to die for purple, and one in light/dark blue stripes. The yarn is Regia Cotton Surf and it is SO soft. I'm loving the idea of cotton sock yarn too. The problem? I've been wanting to try two socks on two circulars and they've given me ONE skein for two socks. And Meredith's stripes match up so nicely - I'm afraid to split the skein in half to have two balls, so I can do two socks at one time. Crazy, right? I should just do one freaking sock already! And Jen? Where were you? You're supposed to STOP me from buying sock yarn!!!
What I'd really like to do today is knit Clap-o-TEE until my hands fall off - I want this done so I can go back to Short Rows. I'm really missing it.
Hey! Has everyone seen Margene's Nothin' But A T-Shirt? A more perfect garment (especially for the owner) has NOT been knit. Go on over and show her the love! ;-)
Oh and speaking of showing the love, I want to thank everyone for their comments and emails about my photographs. Your appreciation of my work is beyond appreciated. It's hard to put yourself out there in the world - really hard. And the feedback is so encouraging. So, thank you!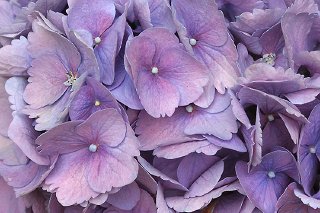 Posted by Cara at 08:14 AM | Comments (22)
May 22, 2005
Camouflage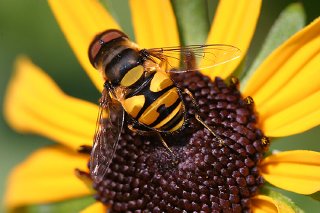 Thanks Chelsea for a great idea and a great week! And thanks everyone else who participated. Flower Picture Week was oh so pretty and loads of fun!
Posted by Cara at 09:42 AM | Comments (6)
May 21, 2005
Saturday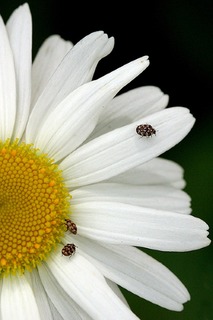 Posted by Cara at 09:01 AM | Comments (4)
May 20, 2005
Roses are red...
Violets are blue,
Cables could suck
Without help from YOU!
Thanks for all the awesome chart help! Have a fantabulous weekend!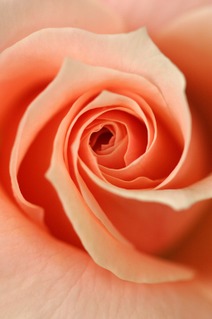 Posted by Cara at 09:28 AM | Comments (5)
May 19, 2005
Bohemia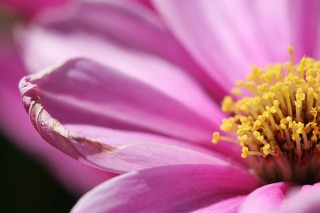 I don't know if you've ever had this experience, but it's quite wonderful: Your mind is overflowing with ideas, they're rushing at you, unrelenting, confused, yet they all make sense, and you can see the end goal so clearly, as if it already exists in the world instead of your mind. I used to have this experience with my writing - I could see the words printed on the page before they ever left my head. I haven't had that in a long time. Apparently now I'm getting it with knitting. (Not sure I've ever had it with photography - wait - that's not true. It happens in the moment when I'm outside among the flowers. I see what I want. Sometimes I come back home and I didn't get it - and I will go back outside to reshoot. But it's never the same urgency as with the writing. Never the same, if I don't get this down RIGHT.THIS.SECOND. I will regret it for the rest of my life. How's that for pressure?)
Enter Bohemia - a name so lacking in originality it might just be original: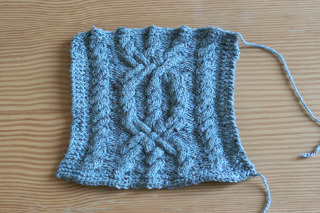 What's that you say? It looks like a swatch? Yes, just a swatch, but within this swatch holds the DNA if you will, the cosmic design, of an entire cardigan sweater. With saddle sleeves. And gorgeous wood buttons from Tender Buttons in NYC that haven't been purchased yet and will probably cost more than the yarn but are stunning. Stunning I tell you. And exotic. Made from something like coconuts or the backs of beetles. (Okay, yeah, I know. Neither coconuts or beetles are wood - but coconuts grow on trees and beetles eat trees - don't they eat trees? Indulge me people. I'm excited here!)
It may seem like a simple cable design (again, I'm stuck on this - can I call it design when really I'm just combining cables from the Harmony Guide to Aran Knitting?) but really it's everything I've been looking for. I've been wanting to do cables, because, you know, short rows haven't been challenging enough. No really, I've been wanting to do cables what with all the Alice Starmore floating around in the ether. But I don't want to do an AS design (BLASPHEMER!! tut, tut, tut!) because I know I'd never wear it. I bought some JS DK Silkroad Tweed in the Boheme color (because the two colors I have sitting at home just weren't right for this project) and immediately was inspired when it arrived. I thought maybe I'd use it for the Seed Stitch Cable Cardigan, but I started swatching it and didn't like it. So I started looking through my cable books. This one's too much. This one's not enough. And then I found it.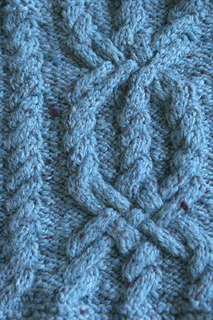 See it? The crisscross in the middle grows out of three C6Bs. So what better way to surround it but with C6Bs? So nice, right?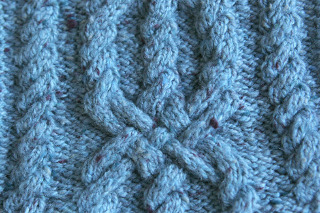 I really want saddle sleeves on this sweater. I just love the way the cable can travel over the shoulder - ever since I bought Ann Budd's book, I've known I was going to do a saddle sleeve cable sweater. So last night, while my swatch was nice and damp and sitting waiting to dry and be measured, I'm looking through the book and the measurements for the sleeve. My beautiful, lovely C6B into a twist is too big for the sleeve. Now, before you all come out of the wood work and tell me that I can change the pattern?!? please, let me live within my boundaries. I'm not changing the template pattern. It's hard enough I'm trying to make my idea into an actual THING. But it's all okay because I also realized that I'm probably going to need something else in the pattern anyway. Some kind of 10-12 stitch cable that will be perfect up the middle back and on either side of the front button holes. I won't have enough room to do two large cables (surrounded by two C6Bs), but I'll need to fill the space. Enter the new cable. I don't know what it is. But rest assured, I'll be pouring over the books today. Maybe I'll throw an AS cable in there anyway. It's possible. And for sure this new, yet to be discovered, beyond fantastic cable, will be traveling up my saddle sleeve!
Can anyone tell me - how do you chart on the computer? Is there software with all the little do hickies to make cables and twists, or do you make them up yourself?
God I hope this works out. I will be really, really disappointed if it doesn't.
In other knitting news, I'm completely bored by the Clap (hence the foray into Bohemia) and I am beyond missing short rows. My self-imposed exile (I WILL NOT START THE FRONT UNTIL THE ENDS ARE IN ON THE BACK!) is killing me - but I will not cave. I promise to weave in some ends today. And maybe start on the sleeve again. Oh yeah. I've got to do that Clap too. It's a gift. Birthday's Friday. It'll be late, but do I want it to be THAT late?
Speaking of late, I owe people. People, I know! Please forgive me! The gifts/contest winnings will be coming. They will! I swear. I'm trying to give you the bestest gift I can so I'm waiting a little while longer. Just know I haven't forgotten.
Wherever you are, whomever you're with, have a beautiful day!
Posted by Cara at 09:32 AM | Comments (10)
May 18, 2005
Git Yer Sheepy, Sheep, Sheep, Sheep
Due to popular demand PhotoArtCards is now offering the super duper deluxe Sheep & Wool PhotoArtCard Box!


Each box contains 8 PhotoArtCards: two of each photograph.
$2.00 of the sale of each box will go to
Heifer International towards a Knitting Basket.

$20.00 Per Box
Price does not include tax or shipping & handling charges.
So run on over and git yer sheepy, sheep, sheep, sheep! But first, a little business. I use a third-party in order to accept credit cards. 2checkout.com acts as the store, so to speak, and I act as the supplier. So they process your credit card information, WHICH I NEVER SEE. They also take care of any disputes that may arrive, for the seller and the purchaser. I've found them to be a much better alternative to paypal. (I don't know of any 2checkout.com sucks web sites - let me know if they're out there though!)
I will keep a running tally of how much money has been collected for Heifer and the knitting baskets in my sidebar.
As each card is assembled by hand, please allow three weeks for delivery. Please let me know if you have any questions. Thanks!
PS - Thanks Ann for being my first customer! : )
Posted by Cara at 03:03 PM | Comments (4)
My Bleeding Heart
For Ann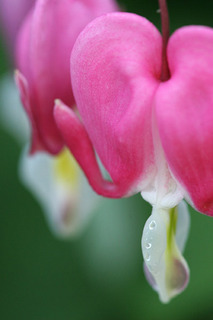 Not much on the agenda today - some knitting, some photo stuff, some cleaning. Class went well last night. A good group makes all the difference. And I only had to do it for one night. No strings attached. I'm getting really excited about a couple of projects, one knitting, one knitting related. Hope to have more info in a couple of days.
While you're enjoying this Wednesday, please remember the important things in life. Like our freedoms. If you don't know what I'm talking about, ask Bill Moyers. (Thanks Mary and Kerstin for the link.)
Posted by Cara at 12:28 AM | Comments (8)
May 16, 2005
HodgePodge
First off, for Chelsea, who wants me to post a flower a day for a week. (Okay, not just me, everybody! So join in the fun!) And for Lara.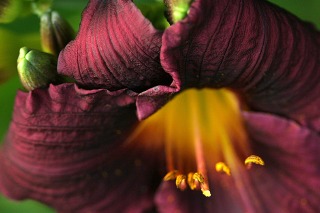 Next up, we've got one you'll all know. I feel like it should be on Army Warning Posters by now - beware of pretty girls with the Clap!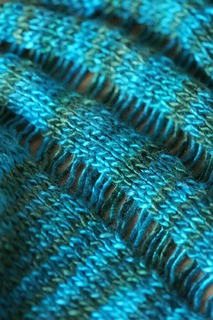 Alchemy Yarns of Transformation Silk Purse, Sea of Cortez colorway. The color is much darker than I thought it would be, but I still like it. The silk is interesting to work with - very slippery and fuzzier than I thought - also, don't know if this is something that should be happening or not, but sometimes I find a spot in the yarn where the dye has not penetrated - you can see the white poking through. Normal? I don't really care, just asking. I've dropped three stitches so far and am almost through my second hank of yarn. I started with seven. Used one and change for the increases - I threw an extra repeat in there - and will probably end up going through the rest of the yarn. By the way, thanks Emma for the tip link - very helpful!



New favorite Children's Book:


Have you seen it yet? Don't Let the Pigeon Drive the Bus! by Mo Willems. Seriously, after reading this 479 times in three days, I actually miss it. It's a hoot, and the kids get to say their favorite word, over and over and over. NO! (This takes it's place of honor in my kids' books bookcase along with Bark, George, Rotten Island, and Duck Is Dirty. Classics all.)





I don't know about you, but whenever I look at this, I see the Grand Canyon times two: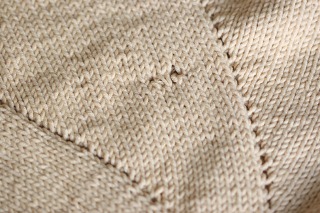 Pinwheel avec holes.




I've been too heartbroken to pick it back up. I promise it will be fixed before I head back to my sister's - for my niece's second birthday. (She's having a Dora party don't you know. She so freaking cute. She LOVES Dora. She calls Dora Dodo. But if you say to her, is that Dodo? She freaks out. No, Dodo. Dodo? you say. NO, DODO. Poor girl. We're so mean!)




What's this?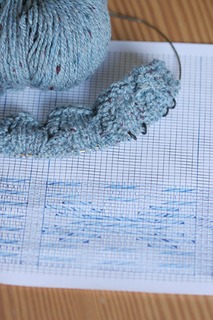 Maybe something, maybe not, but you've got to try, right? We shall see.

Have a great Monday!

Posted by Cara at 08:43 AM | Comments (11)
May 05, 2005
Wild Geese that Fly with the Moon on Their Wings...
Posted by Cara at 09:58 AM | Comments (13)