March 21, 2006
To stripe or not to stripe....
It's not the best, but I think it gives a good idea. What do you think?
Thanks to Urraca for the link to the picture!
Posted by Cara at 12:42 PM | Comments (51)
March 20, 2006
Where Diamonds are STILL a Girl's Best Friend
First, let's get Short Rows news out of the way.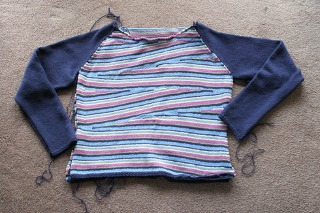 I joined three of the four raglan shoulder areas, as the pattern instructed, and now I'm at an impasse. The pattern says when knitting the collar to continue the stripe sequence for the front and back and the main color for the area over the sleeves. You know, because knitting a million short rows isn't enough. When you're so close to the end you need to add intarsia to the mix. Striped intarsia. Where the colors change every freaking row.
Margene
has told me a few times that I'm crazy and I should just knit the collar in the main color as a nice contrast but I was all like I've come this far I'm going to do the insane intarsia collar and guess what? I'm completely confused. The pattern says
continue in the stripe sequence
. Well, the stripe sequence for the back and the front is different. The back comes up higher than the front, duh, and while the teeny tiny tips at the raglan shaping on the front may match up with the back, the mini scoop doesn't. So if I follow in the stripe sequence it's all going to be off anyway. I'm thinking a solid collar is the way to go and then I don't have to really think about it. (
Ann
had a brilliant suggestion - that I photoshop a solid collar onto the picture from the magazine. I was going to post it but the picture I have on my site is somehow corrupted and I can't find another picture on the web and I can't find the magazine either. Maybe tomorrow.) And the pattern also has you knitting in stockinette then switching to garter stitch then folding down the collar for a hem and the ends of the sleeves and bottom of the body are all in seed stitch. Should I knit the end of the collar in seed stitch to match? Since I'm doing it all in one color? It's all kind of mute at this point because I don't have a circular needle to work. I have to look because I should have one - I mean I have 5 different size 7 addi circulars in like 3 different lengths, it seems kind of ridiculous that I only have one 6. Oh and I pseudo tried it on. I think it will be fine - if anything it will be a bit short, but hopefully not. I'm not thinking about it anymore so as not to torture myself. That's that - MOVING ON!
Black Diamond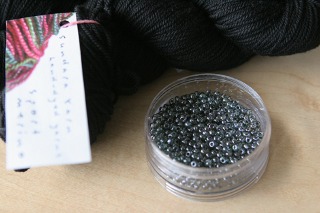 I am so freaking EXCITED about this project!!! It's going to be really, really hard to photograph, but I hope you can get a sense of it. You may remember that last summer I made the
Diamond Fantasy Shawl
from
Sivia Harding
. Possibly the most beautiful item I've ever knit, it sits on my couch, all laid out, in a place of honor. I just like to look at the perfect diamonds and crisp border points and well, I love it. I really do. Anyway, as soon as I finished it I was thinking about the NEXT one I would knit because it's such an amazing pattern NOT to knit it again would be a sin and the idea I had was for a very elegant black shawl with beads at the center of each diamond! Completely and utterly impractical but oh my god it would be gorgeous! It was in the back of my mind all the time, and finally! An excuse to make it!
G and I were invited to a wedding at the end of April - it's an old friend and one of those situations where even if I looked like Halle Berry I'd still feel a little bit ugly and self-conscious and fat. You know what I mean? So I'm thinking if I'm wrapped in handknit luxury I will feel a little bit better. And c'mon - who else there will have a fabulous handknit shawl? I'm thinking I'll wear it with a simple little black dress - or even if I decide to go with a color - it will look fabulous.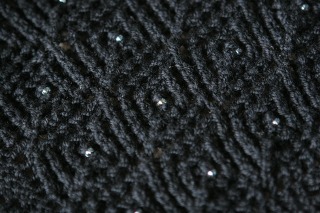 The yarn is from
Sundara
and man is she a pleasure to work with! I sent her an email telling her about my project and what I wanted it to be and she gave me suggestions on color and yarn. This is her sport weight superwash merino dyed in an ULTRA black. Like blackblackblack. For that superfantastic black feel. I give Sundara three thumbs up for service and product and expecially her enthusiasm for MY project. She's a great cheerleader.
Kay
helped me pick out my beads last week. All together they seem like a nice gunmetal color that would compliment the black, without being too bright against it. Perfect! Ends up the beads are actually transluscent and when I stopped into another bead store looking to see if I could find anything else, the guy there told me that my beads are actually glass - not seed beads like I thought. In retrospect, it may be the shape that makes them not seed beads, not the glass.) I think they are the bomb!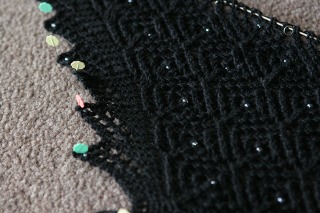 I'm putting a bead at the second stitch in from the end on the row before you bind off for the points on the border, and I'm putting one on the stitch you slip in the s1-k2tog-psso sequence that lands you square in the middle of the diamond. The beads end up being a bit off the right of center, but they're all in the same place and when it's all blocked out and gorgeous all you'll see is beauty, not wonkiness. I'm already three repeats in - I absolutely ADORE this pattern. I would encourage everyone and anyone to make it - it's not that difficult at all - and use stitch markers! They make things a lot easier!
Oh yeah and I got a package from the girls at Blue Moon. Click on the extended entry if you want a peak. ;-)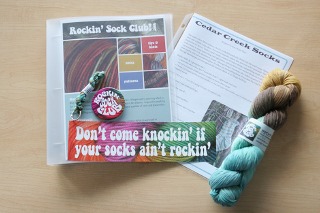 My first sock club package! Yarn in the new Rainforest Jasper colorway, my binder (with all kinds of goodies inside), my pattern (Cedar Creek Socks), my emergency sock yarn key ring, my bumper sticker, my pin - it's a SOCKS THAT ROCK EXTRAVAGANZA! I'm so proud of Tina and Kaci and the whole crew over at Blue Moon. They've been working night and day to get out the first installment of the sock club and I think they did a stellar job! ROCK ON!
This may seem obvious, but my favorite part of the sock club is definitely going to be the yarn. But not necessarily in the way you think. What I'm looking forward to is ~GASP~ having no control over what I get. It keeps me from buying the same colors over and over again and I know no matter what they send I will at the least be intrigued. Tina is a color genius and she hasn't let me down yet - even with some yarns I was kind of iffy about. I can't wait for the next installment! Thanks girls!
Posted by Cara at 01:21 PM | Comments (51)
March 17, 2006
I'm looking over a Four Leaf Clover....
Can I just tell you? I'm so NOT a fan of St. Patrick's Day. There isn't an ounce of irish blood in me or my husband, I'm not a drinker, and I'm not so into green. Add to that I used to live on the same block as
McSorley's
, where people would literally line up around the block to get in on St. Pat's Day. The street would be lined with Porta-Potties and still there was a river of puke and piss. I also worked a few blocks from Fifth Avenue in the 50s (around the corner from St. Patrick's Cathedral) for many years and basically you couldn't leave the office on March 17th. BUT today. Well today I am as Irish as they come. All for my friend
Vicki
! She sent out
the bat signal
yesterday and I'm here to respond. It's been a tough month over at Vick's and I want you all to go on over and wish her brother Michael a happy birthday and send a big ol' pot of gold at the end of the rainbow for him. He's got some surgery going on today and all my wishes and hopes and prayers are with the Knitorious family! I LOVE YOU VICKI! (And don't forget - tell Vicki and
Ann
congrats on their YEAR QUIT DATE!!!! I'm so PROUD of both of them! YAY!)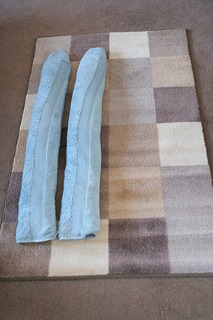 What's that you ask? Why I'd be happy to tell you!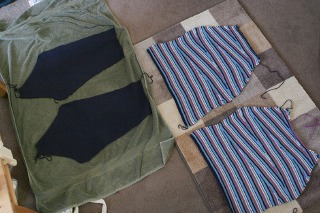 You know, I thought I was the proudest ever when I completed
the first back
of
Short Rows
. Then I thought I was the
TOTAL SHIT
when I finished REKNITTING the back because of
gauge issues
and FINISHED the front. When
I finished the sleeves
, well, let me tell you baby it was going to be all ends all the time at Chez January One. Yeah. Right.
NOTHING. None of my other knitting accomplishments, with this project, or any other project, prepared me for the elation I felt when I did this: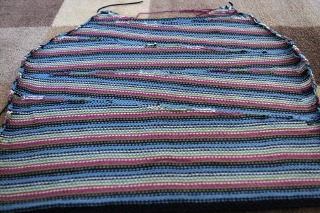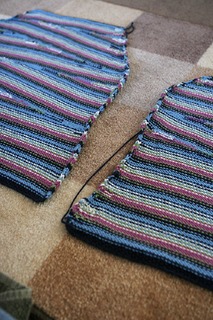 I DID IT!!!! I WOVE IN EVERY SINGLE FREAKING END! Now, in case you're not suitably impressed, we're talking 1,472,039 ends. Literally. That is no exaggeration. Want a reminder?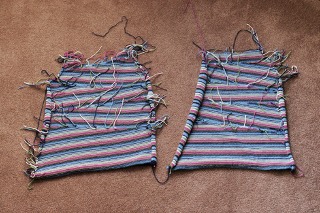 Click to see it bigger so you can actually count the ends.
Yeah. I thought so. I'm SO HAPPY I didn't take any shortcuts! I'm so freaking happy. Who cares if I never sew it up and give it a collar and ever wear it. I WOVE IN THE ENDS! Sigh. It's the little things in life, right?
Don't worry all you short row freaks out there. I will sew it up and I will knit the collar and I will wear it. Although I have to say I'm really really really nervous about it. I mean, what if I put it on and it doesn't fit? Or I put it on and someone splashes spaghetti sauce on me? Or I just eat normally and get crap all over it? What if I sweat in it (I'm a bad perspirer) and I get all kinds of deodorant stains on it and then it's ruined forever? What if it doesn't ohmygod fit? So see, if I procrastinate a little bit it's only because I'm afraid that if I actually finish it I might have to wear it and then I might ruin it and it's been a year since I started this and it will be my greatest knitting accomplishment and is that pathetic because maybe this project isn't as great I thought it once was and it's like a pullover with some stripes easy peasy and who will care? And what if it doesn't FUCKING FIT?
Posted by Cara at 11:39 AM | Comments (33)
March 16, 2006
Closer...closer....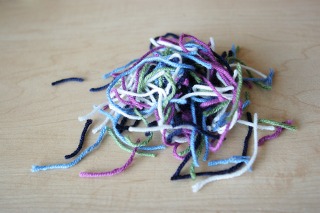 If all goes as planned,
the blocking rug
will be out tonight. And that's all I'm going to say about that. Jinx buy me a beer.
Want to see what we had for dinner last night?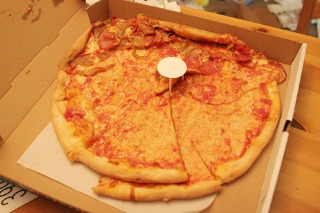 Yeah. Delicious! We order from this place once a week and without fail, if the owner guy answers, the order gets screwed up somehow. WITHOUT FAIL. It's very strange. Anyone else and the order is delivered fast, hot and yummy. This guy? Not so much. So we were prepared for the slop that greeted us at the door. No worries - they delivered a new one ASAP and wanted the old one back. Good thing I snapped a picture before hand.
Pizza is my transition home meal. When I told G I wanted pizza for dinner he was like of course you do - in a very nice way. Apparently I always have pizza my first dinner home from being away. Maybe because it's easy and I usually have leftovers for lunch the next day? Maybe because pizza outside of the NYC metro area sucks ass? Hmmm. Not sure, but he's right. You can never go wrong with pizza. Ever never.
So I'm back home but my home is driving me crazy. It's actually kind of depressing. We've been living in squalor (as we like to say affectionately) and it has to end. Last night G came home to find me crawling around on the floor picking up all the trash. Do you do this? Whenever I'm switching bags or the crap in my current bag gets to be too much I dump it on the carpet and start over. I'm usually running out of the house at the time and can't sit and go through everything so on the floor it goes. And I can't just dump it over the trash because there are receipts I need to keep in there. Or at least that's what I tell myself. So I was crawling around trolling for trash making neat little piles everywhere of things that don't get thrown out. And finding stitchmarkers. And yarn. Everywhere. I was also procrastinating because I have work to do. I'm out of the work loop so I don't feel like doing it and yet it needs to be done because another job is coming this weekend. I'm grateful for work - don't get me wrong - but there are so many things to help me procrastinate! I'm trying to look at it in a glass half full kind of way. At least I picked up the trash on the floor, right?
Today I'm going to get shrunk and then meet the FAMOUS AUTHOR Kay to buy some stuff I need for a new project. I'm SO excited about this project! So excited! But you'll have to wait. Hopefully not too long as I'm waiting with you, but soon my pretties. Very, very soon.
Have a great day!
Posted by Cara at 10:39 AM | Comments (19)
January 31, 2006
Knit. Eat. Sleep.
Rinse. Repeat.
It was a wonderful vacation. We slept great. We ate even better. And, well, I surpassed my knitting goals. There was lots of cuddling and togetherness. A pedicure. A spin out. A suite. All in all, it couldn't have been better - even though the weather wasn't as warm as we'd have liked and the wind was a bit too strong. I wouldn't trade it for the world though.
Here's what I knit: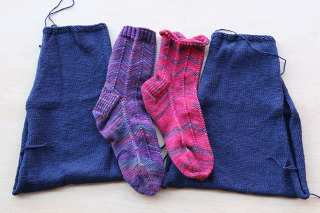 I finished the
Short Row
sleeves. YAY! All that's left is to weave in the 3,418 ends from the back and the front and seam, do the collar and seam some more. I can taste the end. Hopefully it won't take another six months to finish.
I finished my Rare Gems sock AND my first Red Hot Sizzling Sock. The RHSS is knit using Ruby Slippers STR with the picot edge modification - I started it Wednesday when I should've been packing - managed the picot edge and a couple repeats before it was time for bed. So most of the sock was knit in Florida - including the last couple of repeats and the toe while waiting on the runway for the plane to take off. The flight took about two hours longer than scheduled so I was also able to cast on and start the second Petroglyph sock. I got past the ribbing and a few repeats - but we were watching The Wedding Crashers on the plane and until I got smart and put it down, I screwed up some of the repeats. I'll rip that today and start the second RHSS as well.
The food was unbelievable. I had what can honestly be described as the best meal of my life. I was dizzy it was so good. We ate at Mark's in South Beach. For an appetizer I had Jumbo diver scallops, puree of calabaza, guava butter and plantain chip. Georgie had Tartare of yellowfin tuna, avocado, cucumber noodles, lemongrass oil. For dinner I had pistacio crusted lamb chops with brussel sprouts and cauliflower with bacon and pomegranates and potatos au gratin. G had Maine lobster tossed with saffron linguine, roma tomatoes, basil, white beans, English peas and prosciutto, served with roasted garlic crostini. Neither one of could speak the food was so good. (All of the dishes above are on the menu at the website except my lambchops.) I don't even remember dessert, but it paled compared to the meal.
The next night we ate at Azul in Miami. I started with the butternut squash soup with hazelnuts and G had fried oysters wrapped in salmon, tuna, beef and crab carpaccios. For dinner, Georgie had the halibut and I had the Salmon duo - one side of the plate had poached salmon and the other side had salmon wrapped in mushrooms in a kind of spring roll type wrapping. Yummmm! Dessert here was really a treat though - vanilla souffle with three different sauces - chocolate, rasberry and creme anglaise. So divine.
Every meal we ate was delicious - but these two meals stand out.
What else? We had our first stuck on the runway experience - you know - when they taxi out and it looks like you're going to take off then they stop the plane and tell you we'll be sitting here for the next two hours - make yourself comfortable? Yeah. Not too much panic from the anxious claustrophobic girl. The good thing was I had already taken my pre-board Xanax so I was nicely juiced when they made the announcement. I knit along happily on my RHSS and finished it - I was about to kitchener the toe when I couldn't find my cuticle scissors - I always travel with them. The round tips have been allowed by the TSA for years and years. Anyway, since the plane was a free for all I went up and asked the flight attendants if they had a scissors. Not allowed. But one of them told me she saw a woman knitting a blanket back in coach - let's go ask her. So I walked to the back of the plane with the flight attendant - but she didn't have scissors. We talked for a bit about my sock and then I made my way back to the front. Fun times on an airplane.
By the way - in case you're flying any time soon - customs has completely RELAXED the requirements for knitting needles and such. I used to have a whole system for getting my needles and such through customs - but this time they barely batted and eye and even told me I didn't have to take my scissors out (I used to put them in the cell phone bin because otherwise they'd rip apart my stuff.) I traveled with addi turbo circulars - from US 1s to US 6s exclusively and had no problems what so ever.
I'll be making the official announcement tomorrow, but I'm closing down the jaywalker knit along after the giveaway on the 14th. I decided yesterday and as hard as this decision is for me, oh my god what a weight off my shoulders. This thing has taken over my life and that's not fun. Basically I'll be shutting down sign-ups tomorrow, because, well, if you haven't had an update by then, you're not eligible to win anyway. It's been an amazing ride, but I kind of want my blog back.
I wanted to add a word cloud which I saw over at Karma's but I'm having server issues all over the place. When things get back up I'll add it.
Here it is!


Have a great day!
Posted by Cara at 10:04 AM | Comments (41)
September 06, 2005
Ends
I set myself some big-ass goals this weekend and guess what? I MET THEM! Yahoo! First up on the list: DON'T BE CRAZY! And I wasn't too crazy. Really. There were a few moments here and there of bad thoughts but successful thought-stopping ensued which may or may not have included jumping on a trampoline screaming "I LOVE YOU!" at the top of my lungs. Actually, just thinking about doing it made me smile which stopped a bad thought. Did you know it's scientifically impossible to have bad thoughts while jumping on a trampoline? It's true. Don't believe me? Try it yourself.
Second goal: EXERCISE! Which I did! I actually got off my ass and went out this weekend to run, not once but TWICE! Granted, I started my beginner running program from the freaking beginning AGAIN, but it felt so good to be out there and the weather was glorious. I was a little sad though because my running route is basically the same as my flower route - the path along the development behind my building is the source of most of my flower pictures. I basically missed the whole season. Literally. And what's out there dying is pretty much TOO dead for my tastes. I do like to take pictures of flowers on their last stem, but these babies are already gone. A trip to the botanical gardens may be in order very, very soon. My little sister will be coming to stay with me next week for a little bit while G is away (AGAIN!) and hopefully we'll make a trip up to the Bronx.
Third goal: EAT! Yeah. Too much of that. I'm already putting back on the gloriously lost crazy pounds. You knew it was going to happen. But for two days I looked thin again. Hopefully the running will keep things in check. I was back in pants I couldn't wear since LAST summer. I've said it before and I'll say it again - I always look my best and mentally I feel my worst. It's a sad truth.
Fourth goal: KNIT!
DIAMOND FANTASY SHAWL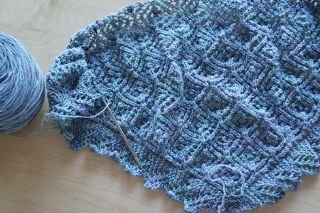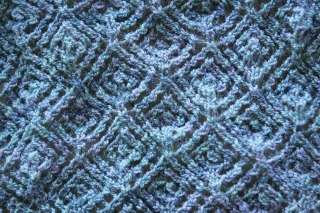 I'm really enjoying this lace project. I've put markers at all of the 12 stitch repeats and it's been fast going that way. I've barely had to tink back - I think maybe once so far. I've got one purl row to go on the fourth repeat. I'm planning on doing all ten - for the shawl.
Those
girls
that can do the scarf and call it a shawl are much more petite than I. I may actually go even farther - depends on the yarn situation. I'm liking the yarn too - at least the color. The variegation seems to be working really well with the pattern. Each diamond has some blue, some green, some darker blue. It's looking lovely. As I knit it I'm thinking it will be beautiful to wear to synagogue this year, should I go for the
High Holy Days
. With a nice navy skirt and a crisp white blouse. I always loved High Holy Days clothes. Almost as much as I love the prayers said this time of year. They're mournful and melodic and I often catch myself singing them year round. Anyway, I've been enjoying the DFS and I highly recommend it!
WALKING ON SUNSHINE SOCKS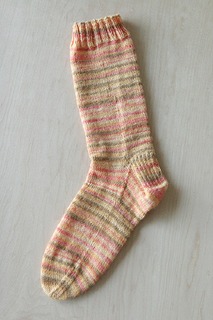 Yes, I completed a sock. I very much like it - it's bright and cheery and it fits well. The heel isn't perfect - I need to tighten up some almost holes, but in the end I think I like the gusset/flap heel best. I tried two different kinds of short rows and didn't like either. I still have to try an afterthought heel - next pair of socks - but for now this works well for me. Nice to know that, you know? I haven't cast on for the second - but I will today. And I want
these clogs
. Especially for Rhinebeck.
And last but not least....



SHORT ROWS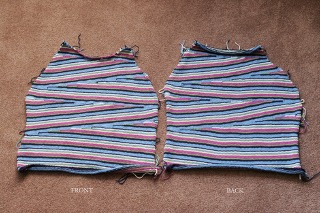 Yes, my friends, it's a FINISHED back AND FRONT of the now infamous
Short Row Sweater
. This was the MAJOR goal of the weekend - I want this sucker done! Of course, in succeeding at said goal, I kind of made pretend that there weren't 3,681,207 ends.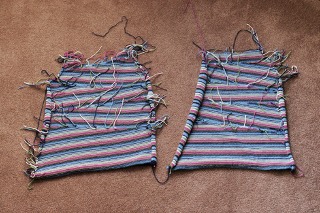 Just for kicks, you know, to see if this thing will actually, one day, miracle of miracles, BE a sweater, I pinned the back and front together.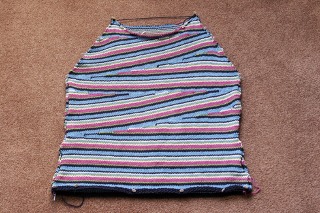 WHAHOOO! This might actually WORK! I'm very happy with it so far. Here are some close-ups on the zigzags: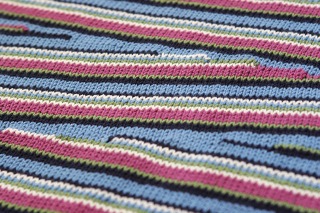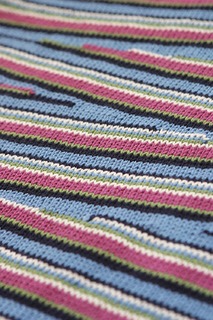 So all I've got left are the sleeves - which should be a breeze since they're all one color. I'm planning on doing both at the same time - and I still haven't decided yet if I'm going to even cast on for them BEFORE I attend to those ENDS. Ugh. I see myself wearing this sweater for the High Holy Days too. With the same navy skirt. It's nice to have goals. ;-)
~+~+~+~
Lest you think it was all fun and games and knits here this weekend, there were still tears and sadness. Some of it personal, some of it global. The more I read and see of the tragedy on the Gulf Coast the more disillusioned I am with the human race as a whole. People are just SO MEAN. I'm sick to death of the finger pointing and name calling and who did or did not do what. I've never had any love (or even like) for the current administration, but now I'm even disgusted with the people I supposedly AGREE with. Now is the time TO SHUT THE FUCK UP and ACT! It's not the time for who's right and who's wrong. It seems to me that the political atmosphere in this country is directly to blame - which means BOTH SIDES. BOTH SIDES. NO POLITICIAN OR PUNDIT IS INNOCENT.
[ETA: If I hear one more "person" say how everything would've been handled so wonderfully if Ghouliani had been mayor - I'm going to start screaming and not stop. There is NO WAY that the disaster in NOLA can be compared to 9/11. After the towers fell, the event was pretty much over, except for the clean-up. The whole tragedy affected (physically) a very small part of the city. There was no recovery. By the end of the day, things were back to "normal" in terms of people getting food, shelter, communicating with each other. Sure, some people were homeless - but those people had the means (by virtue of where they lived) to find other shelter. Ghouliani didn't have to hold the physical well-being of the city together. This may seem harsh - but it's the truth as I see it.]
I watched the Sunday news programs this weekend - it's something G usually does and occasionally I tune in. When I saw Jefferson Parish President Aaron Broussard on Meet the Press, I was beyond horrified. Then I read about shoe shopping and slack jaws and I wonder, where is our collective conscience? And even if you don't really care about what's happened here, where is your INTELLIGENCE to keep your mouth shut? We can't even make it LOOK like we care. (And isn't it so much worse that these WOMEN can't seem to gather up any real sympathy?)
All weekend long I'd pop on over to Margene and Susan's site and gain a little bit of hope back.
Knit on through all crises. And that's exactly what I'm doing.
Posted by Cara at 11:42 AM | Comments (17)
August 23, 2005
World Peace
I've decided that if I spent half of the time and energy I spend on my anxiety, worrying about whether or not I'll be anxious, thinking about NOT thinking - well, frankly, I'd have found the solution to world peace by now. Either that or I'd be building the Google Elevator.
Something, anything more productive than driving yourself crazy and then having to pull yourself out of the hole.
Margene, zen master, has an interesting post on Motivation today. I'm thinking in a similar, yet opposite direction. What kind of LACK of motivation allows you to slip down that slope - fully conscious of what's going to happen THROUGH YEARS OF EXPERIENCE - and yet you can't get off your ass to stop it? Do I need to feel like shit for some reason? Am I going to come out the other side with some great revelation? I KNOW how to stop it - even before it really starts, yet I let it happen. Granted, there were lots of things this summer working against me (Hello? People who control the Weather?) but still.
You know what? What's done is done. This is who I am. I just hope it doesn't take me too long to get through it. I am SO OVER me.
On to knitting.
Look! Is it a bird? A plane? A superhero? No. It's just a Short Row back - T2 style.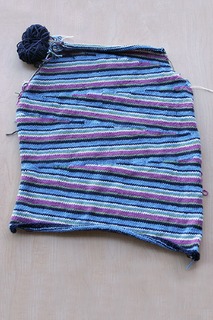 Take Two
It's seems a little bit wonkier than the first version, but I've decided that because of the short rows, this will never be a flat knit. Blocking may help, but there are so many ends and so many starts and stops with the yarn. The size looks good - I've compared it to my prototype (the pullover in my closet that fits nice) and it's right on. I've woven in half the ends and I feel good about the other half. The front is next, as soon as possible, and I'll deal with the sleeves last. I have company coming tomorrow for a couple of days, so we'll see how I do with it.
Socks are stalled. The Sunshine sock is stockinette and I need that like I need another hole in the head. Mindless knitting equates to idle hands. Which means the devils are hard at work. I've got (maybe) one more repeat on the long lost never ending Retro Rib sock and then I can turn the heel. Don't hold your breath.
Since socks aren't doing the trick, I started something new. After finishing the Flower Basket Shawl and the Acorn Socks, I wanted some more lace. But I couldn't find a yarn or pattern that I was happy with. I didn't want to do the Leaf Lace - too similar to FBS. I actually bought two Robert Powell shawl patterns - #103 (pattern) and #106 (kit). The kit came with 4 oz. of Jamieson & Smith 2-ply jumper-weight in Cream which I will probably never knit (look for a contest soon!) but I still like the patterns. Couldn't decide on a yarn.
And then I saw this. And this. And this. And I bought some of this. And here we go!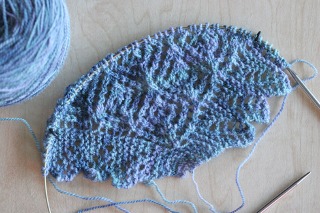 Sivia Harding's Diamond Fantasy Shawl
Twinkletoes Sock Yarn - Foggy Dew
I also bought some Twinkletoes Denim Multi - hard to photograph though.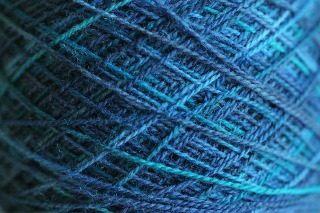 So far I'm liking the pattern - although I have yet to finish the first repeat section. But it's easy to understand and I feel like I will have the charts figured out - you know what I mean - when you GET the lace pattern - pretty soon.
The yarn. I don't know. I definitely like the colors and the weight and the texture. I don't know if I'd ever use this for socks though - it's kind of scratchy - but for the shawl I think it will be good. It seems like it will block well. One thing though - when I was winding up the Denim Multi - the yarn broke once at the beginning and once at the end of the wind. May be I was too tough with it? But it also has a few knots here and there, which annoy me. Juries still out on this - but like I said - I can't imagine I'd use it for socks. Maybe there are lots of shawls in my future. I do have like 1500 yds of the denim. Not sure what I was thinking there. Or NOT thinking. Hahahahahaha.
I started this post on a dark note and I'm going to finish it on a good one. A couple of weeks ago I received an email to my blog address asking if I was the same person who wrote a story entitled "The BBC" which appeared in Fourteen Hills, the literary journal out of San Franciso State University. I replied that indeed I was. Welp, it turns out that FH is putting out an anthology of fiction from the first ten years of the journal and they've decided to include my story. I also found out my story will appear along side some of my favorite writers! Lydia Davis! Lynne Tillman! Peter Orner! Pam Houston! Next to little ol' me! What an ego boost! As you know, my writing has suffered the last couple of years - but this has spurred me on! I actually took out a story yesterday - one I've been wanting to revise - and read it and took notes! This could be it the opening I've needed....
Open up the windows and sing out loud! It's a beautiful day today!
Posted by Cara at 12:17 PM | Comments (19)
August 09, 2005
Shoulda, Coulda, Woulda
Cockiness will get you every time.
This post was supposed to lead off with a stunning portrait of a completed Short-Rows back. With all the ends lovingly woven in. And I was supposed to brag about how I didn't rip once on this version of the back, it just flew off the needles without a thought, totally Zen like, and that I was all excited about the project, having already cast on for the front in my mind - sewn up the side seams - knit both sleeves together and voila! It was FINITO in all it's glory.
Instead this post will tell you that I was thisclose to having it done, chugging along, having WOVEN IN ALL THE ENDS AS I FINISHED EACH SHORT ROW SECTION!!!! Yesterday, when I started knitting, I was about to start the second short row section, which also coincides with the raglan decreasing, so you know, it would go super fast. And, again, I repeat (yelling at the top of my lungs) when I started to knit yesterday ALL THE PREVIOUS ENDS WERE WOVEN IN! But I got to the end of the first part of the second short row section and something wasn't right. I don't know - it just didn't look right. But I shouldered on, then ripped. Then shouldered on making the same damn mistake, then ripped. Finally, I said fuck it and compared my old back to the new back and found the mistake. You were supposed to leave off the last two rows of the repeat, not the last row and first row like you were earlier. DUH!
So I need to rip out the short rows I did. The back will not be done for a few more days, and so there are no fabulous pictures of stellar progress.
Today I will be taking a break from short rows and going back to the sock - any sock - I don't care. I'll be knitting with Jen today and then tonight G and I and his bro are going to the Yankee game. I'll be knitting on the sock there tonight too. Thank god it's not a red sock, though, because I think that might be too much for the Bronx.
Posted by Cara at 09:30 AM | Comments (10)
August 05, 2005
Where I Learn From My Mistakes
I would take pictures, but really, it's so not necessary.
I started up Short Rows again last night and can I tell you? I really am learning from my mistakes. I'm almost excited about it! So far I've got like three or four ends and they're already woven in (I'm trying to weave in as I go on the straight rows. It won't work on the short rows, but still, that's 529 LESS ends to weave, right?) Some of those might have to be tweaked a little bit, but I'm also carrying the yarn up the sides even though the pattern continually says CUT THE YARN. By way of NOT CUTTING THE YARN I can also incorporate that other really neat stripe trick of knitting from which ever side the yarn might be on. Note: you can only do this if you're using circs, which of course I am. For instance, say you knit a row with the blue but the next row you have to change to green. And the green is on the opposite side. So what! Just knit another row with the green! Of course, it may also happen that you have to purl a few rows and maybe you hate to purl. But can I make a confession here? Sometimes I like to purl more than I like to knit. Really. And I'm a thrower. But somehow sometimes it feels like I get more in a rhythm with the purl rows and I can go faster. Yeah, I'm weird like that.
So anyway, I completed one pattern repeat. In this case, I'm calling a pattern repeat the fourteen rows that make up the stripe sequence. My goal is to do repeat a day - two or more on the weekends. And when the short rows come into play - well - all bets are off. Those suckers can go really fast. And I'm going to try and make sure that the ends are in after each repeat. Stop laughing. I said I'm going to TRY. That's all I can do, right?
I'm SO OVER Summer. How about you? Yesterday I had one of those killer headaches - you know the ones? Where the clouds are bursting - but nothing's happening? It's like the weather's freaking constipated or something. Just RAIN already. They said it rained for like five seconds or something but I didn't feel it. And this morning I woke up with a headache - just a little one - and it seems to have dissipated, but ugh. Enough. E-NOUGH! (That's a nod to my sister, if she's reading...hey Jol!)
I know I can't really complain because I'm in my ice-box of a house with plenty of air conditioning and comforts but yet the heat is still sapping my energy. I just KNOW that if I go outside I will DIE and it's making me sad. I miss the flowers. Add to that the fact that the next few weeks are going to be super busy and in between I'm back at my sister's for a week. G's going to California (without me - work stuff) and I'm alone so much as it is I can't stand to be alone at nights so I'm going to Philly. But as much as I love the kiddies and my sis and hanging out, I'm ready to be home for a while. Without heat. In some kind of a schedule. You know?
All right already! E-NOUGH bitching! Bring on the FALL!
Posted by Cara at 10:10 AM | Comments (9)
August 01, 2005
Got Gauge?
I want a t-shirt that says this. Who's going to help me design it? We can sell it and give the proceeds to charity. I'm not kidding. I need a t-shirt that says "got gauge?" and maybe one that says "swatch-n-bitch". What do you think?
This weekend was all about the knit, baby. And even though there was some phenomenally BAD news of the knitting variety, I enjoyed the weekend and thinking about my knits.
I'm leading off with the bad, because, well, it's so bad that I want EVERYONE to read it - none of this skimming through and missing it at the end.
Okay. Here goes.
Friday night, I FINALLY cast on the front of Short Rows. And guess what? I GOT GAUGE!!!! This may seem like a good thing, but trust me, it's very, very, very bad. Why you ask? Because when I knit the back, I didn't get gauge. Or at least I thought I didn't - I seem to remember measuring it a bunch of times. I even remember starting it a couple of times and ripping it because I DIDN'T get gauge. I deliberately, painstakingly decided to move up a size in the pattern - which would leave me with a sweater conveniently between the medium and large size. Nice and comfortable for me. But while I was casting on and knitting the front, something kept nagging at me about the back. It just seemed, so, I don't know, HUGE. And I kept pushing those bad feelings down, down into the locked closet of my brain that sucks all the bad thoughts in like a hoover - as I've been training myself to do. (It's working. A little bit. Everyday.)
But. I just couldn't let it alone.
Sunday, I got out a sweater I have that fits pretty good and put the two backs together. Then I took out not one, but three tape measures. Sure enough I GOT FUCKING GAUGE! The sweater matches perfectly to the dimensions the pattern lists for a large. It is WAY too big.
I think you all know where this is going. Do I really have to say it? At least I didn't get too far on the front (honestly, I was getting bored pretty quickly. What happened to all the love?) I'm going to cast on again for a back. In the size I should've done the whole time. I'm going to knit said back, and compare the two. Then I'm going to rip the sleeve I'VE ALREADY KNIT, because I can salvage the yarn easily. I think I might just leave the first back and buy more yarn. The thought of ripping it, after I've cut and WOVEN IN all those ends is enough to - I don't know - NEVER KNIT AGAIN?! What's a few extra dollars for a project I really loved (once) and want to get right? Don't you agree? Eventually I can rip out the bad back and make something with the yarn. But right now, I think that would just be way too depressing.
That's it. That's my awful knitty news. Feel sorry for me. Seriously - I WANT the pity.
~+~+~+~+~

On to the GOOD!
I found a new knitting store this weekend. I was looking through the new VK and came across some interesting notions. When I went on the website to see where they were sold, I found Stix-n-Stitches in Montclair, NJ. They literally opened about a week ago. The store was very nice - nice wood - roomy - lots of cool notions and stuff. Tons of Classic Elite yarns. I asked the proprietress, Sheila, what kinds of new yarns she was going to get in. No Noro or Debbie Bliss, because another yarn store in town is going to carry it. What about Rowan, I asked. Another new store opening up is going to carry that, so no. I found this really, really interesting. What do you think? Is she limiting her business by not carrying yarns that other stores in the area are carrying? I'm not sure what I think about this.
One thing she does have is a full line of ArtYarns - which happens to be one of my all time favorites - so that's good!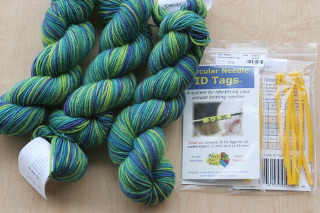 That's Ultramerino 4 - a new fingering weight yarn. They've come out with Ultramerino 6 as well to go along with the 8. Good stuff. Oh and I bought some circular needle size markers as well. They clip onto the wire and clip right off. Never seen them before - maybe they'll help.
All in all - a nice store that I definitely plan on going back to - Jen - whenever you're ready!

I spent a lot of time looking through stitch pattern books this weekend. I was pulling together cable patterns for my dad's sweater and also looking for stitch patterns for squares for the John Glick Afghan Project. Some fits and starts, but I've managed to identify all of the cables and I've finished one square and started another.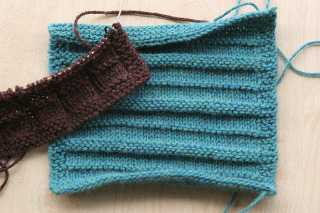 Both squares are from Cascade 220 I had in the stash. I love the blue-green heather color and I have more, so I might make another one with this. The stitch on that one is the Quaker Ridge from Barbara Walker - I figured it was fitting for John since by all accounts he was a peace loving man, traits the Quakers embody. The brown square stitch is called Jacob's Ladder or Ladder of Life - both of which I thought were appropriate. I've tried to infuse the squares with love. I hope they bring comfort to the recipient.

And last but not least, when your knitting gets you down, KNIT SOCKS!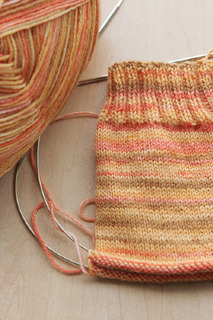 I'm calling these my Walking on Sunshine socks! I'm hoping to remember the bright, warm, NOT HUMID, sunny day I started them on when I'm wearing them on a particularly cold and gray winter day. Also, they match my bright orange flip flops (which I won't be posting a picture of - they've turned black under my toes and well, ew.)
I'm using Trekking XXL Crazy Stripes in Color 38 - I'm loving me some stripes and stockinette and hey, you can never have too many socks, right Margene? (Check it out - she's got FOUR FEET!)
Posted by Cara at 10:58 AM | Comments (22)
June 13, 2005
Lemmings and Lace
Well, my experience in the city yesterday was decidedly UN-Seinfeldian. (By the way, the Puerto Rican Day parade episode has never been shown on TV after the first airing - it's not even part of the syndication package. Guess it ruffled a few feathers.) Seriously - the whole day couldn't have gone better: super cute kids, great party entertainment (the kids were laughing the whole time), nice employers. The traffic was fine - if I had a job in the city on a Tuesday morning I would've hit more traffic. Thanks for the good lucks. I think they worked.
Without further ado, I offer you boring progress pictures, just like I promised on Friday: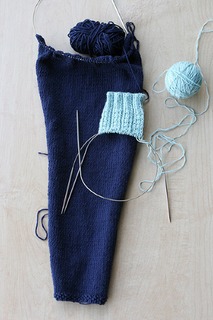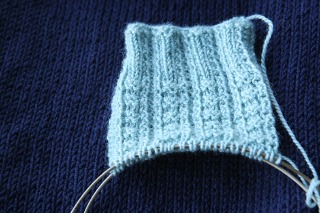 The short row sleeve is coming along nicely. I finished the increases and am about to start the decreases. I love how they say do the increases and knit until you reach 191/2 inches. Guess what? On my last row of increases I'm going to be about 201/2 inches. I realized my row gauge is about two rows over. No biggie, I'm thinking. I like my sleeves a little long anyway. So onto the decreases. Have I woven in any ends? NO! Damn they're killing me!
Not much progress on the sock - although I did rip it a few more times before I was satisfied. I'm still a little hesitant about the purls at the joins - I moved some stitches around on the needles because the ktbls were looking REALLY bad at the joins - but I've tried it on and I can live with it. I'm not sure how to fix it though since I'm pulling the yarn as hard as I can. I swear my hands are completely cramped after only a few pattern repeats. I'm doing the Retro Rib from IK Winter 2004 in Koigu Color #2151. The yarn is definitely more green - think retro aqua Cuban colors. I'm not loving this like I was loving the Purple Socks, but I'm persevering.
Because I have no mind of my own and you can't turn from one blog to another without seeing LACE, I conveniently became obsessed with The Flower Basket Shawl pattern from IK Fall 04. I've never knit lace before, so I immediately turned to the Great Enabler and lace knitter extraordinaire. She, in turn, sent me over here, and she, then, pawned me off over here! (That's Cassie, Margene and Teresa - in case you were wondering! Damn you girls are good at the enabling!) Anyway, once I saw Teresa's Flower Basket Shawl (make sure you look at ALL the pictures!) I was a goner.
Suffice it to say, by Sunday I had ordered two balls of Zephyr Wool Cotton SILK (tussah silk to be specific!) from The Knitter in Iris (and about five different kinds of sock yarn. I went a little crazy with the sock yarn this weekend. I'm a little nuts over the whole striping thing.)
Teresa was so kind - emailing me different yarn amounts and advice. I can only hope my finished project looks half as wonderful as hers.
Oh and I can't discount the help I've received from two other sites! There's an FBS Redux knitalong going on, and through them I found Becky's gorgeous FBSes. She's got three so far, I think. They're amazing. And she took the time to write up this tutorial for lace-impaired people like me! With all that support, how could I not succeed!?! Thank you ladies! I'm eagerly awaiting my yarn. (I even joined this! Craziness, I know!)
I saw two movies this weekend - both made me cry hysterically (think it's time to up the meds?) - but were about as different as different can be. First, on Saturday, I watched Hotel Rwanda. I'm finding it really difficult to say I enjoyed this movie, but I really did. It was incredibly well done. One of the best movies I've seen in a while. The story was extremely well played out and Don Cheadle was amazing. Absolutely HEARTBREAKING. But it made me want to learn more about the region and what happened there. It utterly amazes me - the destruction human beings can carry out.
Then, on Sunday, I watched 50 First Dates. I know, I know, it's like feast or famine (culturally) around here, but I had seen bits and pieces of the movie at my sister's and couldn't understand the end, given Lucy's situation. So it was on cable, I caught it about five minutes in and knit. Man did I cry! How sad is this movie? I guess hopeful too, but I don't know it seemed so sad to me. In the end it's a complete rip off of the existential classic Groundhog Day, but I guess you could say I enjoyed it. Maybe I just needed to cry some more. (Hey Jen - have you seen Groundhog Day? Add it to the list!)
I'm going to leave you with two pictures - one of which is explained in the extended entry.
First, a rose: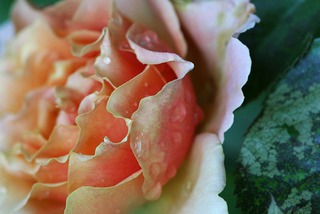 If you haven't already, check out the roses Laurie posted today. Gorgeous!
Last, but not least, I was inspired by Lauren's post the other day about her amazing adventures in Israel. It's been five years since she was there. It got me thinking back to my OWN amazing adventures in Israel - and MY GOD! it's been fifteen years since I was there! How come it feels like just yesterday? I scanned a picture of me from the trip - one of my favorite pictures of me ever. I never looked as good as I did then -

Yes, that's me in an army uniform with my long flowing hair - if you'd like to learn more about it, read on....
Wow - you're still here? ;-)
Okay - let's harken back to the summer of 1990. A couple of months before I had broken up with my boyfriend and went home for the weekend. I cried a lot. My dad, unable to deal with my crying, asked if I wanted to take a trip - maybe I wanted to go to Israel with my mother this summer? I said ok through the tears and promptly went home to be with the love of my life. (Yes. Georgie and I have been together for fifteen years. I broke up with the other guy so I could be with him. I was a hussy back then....)
The summer before, my mother had gone to Israel (actually, it was either the first or second year, I can't remember) and volunteered in the Israeli Army as something of a replacement reservist. The organization that sponsors these trips is called Sar-El. Basically you get really cheap airfare in return for three weeks of service - and you can stay on after that as long as you want. When my mother had gone before, she worked in an army hospital near Tel Aviv - in sort of a candy stripper job. All in all, I think she made around five trips with Sar-El.
When we went, we boarded a bus in the dark and drove for a few hours to our new home - smack dab in the middle of the Negev Desert. We were stationed, if you will, on an ammunitions base right outside of Be'er Sheva. We lived on the top of a hill on the base, which was the home of soldiers who were in some kind of disciplinary trouble (read banished) and outside workers. My job consisted of waking up at 7am and heading down the hill to sort old landmines. I had to take them apart (they were all dead) and separate the parts for recycling. Sometimes I sorted through old bullets - again for recycling. My mother worked in the shop painting and occasionally welding. I think she liked the welding better.
We were all issued standard uniforms which we wore every day. We would work in the morning - like 7-12 and then have lunch in the mess hall. Then, sometimes we'd go back to work, but most days we'd go back up to the hill and put our bathing suits on and lay out. I had the best tan ever when I got home. Seriously. The desert winds were wonderful. We'd wash our clothes - even our thick towels - then hang them up and they would be dry in like five seconds. During the day the temperature would get up into the 100s - maybe 114 at the highest? At night, though, it was freezing. We'd wake up to frost. And always I had at least three dead bees in my bed. I never understood that. I never got stung - but they were always there.
The soldiers on the base were pretty funny. The boys were ridiculously gorgeous - I'm a sucker for dark skin and dark eyes - and most of the people on the base were Sephardim. One asked to sleep with me (he was sort of joking) and I told him he'd have to ask my mother. Of course, he was very upset to learn that my mother was standing with me the whole time. Our group leader laughed until he cried. The soldier never looked at me again. I became pretty friendly with the second in command on the base and we were pen pals for a long while. He lost a leg in a motorcycle accident many years later. I don't think I'll ever be able to get on a motorcycle now. We lost touch a a while back.
Sometimes we'd go into town at night - Be'er Sheva had a modern mall and some of the best ice cream I'd ever tasted. I can see the stand when I close my eyes. I wish I could taste the ice cream. One night we went to the movies at the mall - we saw Pretty Woman. Stadium Seating. With Hebrew subtitles. Pretty Funny! One thing that was difficult to get used to - the soldiers always carried their guns. Even when they weren't in uniform. So you'd see UZI toting semi-teenagers walking through the mall. It was surprisingly peaceful though.
On the weekends we were off and allowed to travel around. We usually went up to Tel Aviv or Jerusalem - those are some of my favorite memories. At the time I was in school - a Religious Studies major - and I dragged my nice Jewish mother around to every Church site possible! I was all about the historical Jesus. We even walked the Via Dolorosa. It was the time of the end of the first Intifada, so many of the markets in Arab section of East Jerusalem were closed. We had a soldier with us when we toured with the group.
I remember crying after visiting Yad Vashem. Yes, because of the tragedy, but also because of the guilt I felt loving a non-Jew the way I did. I pined for George the whole time I was there. (Of course, I broke up with him for a weekend when I got back, but that's another epic post - we broke up on Friday and got back together on Monday and have been together ever since. In fact our anniversary is that Monday - August 6.) I've made peace with it - my note in the Wall was about him and I think our union has been blessed - by many gods, for sure.
I remember swimming in Lake Tiberius - the only fresh water in the entire country. I remember the water actually tasted sweet. Floating in the Dead Sea was remarkable and a sure-fire way to stop mosquitoe bites from itching. Basically burned the sting right out! (WARNING: Don't shave your legs before you go into the Dead Sea - and don't let the water get in your eyes! Whatever you do - NOT your EYES!)
My mother and I basically tourned the whole country. We went from Safed to Eilat and everywhere in between. But it was in Be'er Sheva where my true love of the desert was born. We left on July 31, 2000. The next day Sadaam Hussein invaded Kuwait.
I was talking to my sister this morning, and she and I both don't believe my trip was fifteen years ago (which means it was seventeen years since she was in Israel!) I remember it very well - thanks for indulging me.
Have a great day!
Cara
Posted by Cara at 12:44 PM | Comments (0)
June 10, 2005
I Love Ewe!
DAMN that Margene's good! Sitemeter says I average around 200 visits a day to the blog. Yesterday, I had a whopping 473 visits! About 80% of them from Margene! Thanks grrl! And she works magic too. My feeds should be good to go now. I emailed Bloglines and they reset the feeds. Apparently that's all I needed to do. We'll see how fast this post comes up.
And thanks to all of your comments on the socks. I SO appreciate it! I've got the AC cranking so I can keep them on all day. Crazy, no? Who cares. I made SOCKS!
In other boring knitting news, I FINALLY cast on the sleeve for short rows. I know I've said this a million times, but god I love Rowan Wool Cotton. It's so soft and the stitches are so beautiful. Seriously, if I could only knit with this yarn I would be okay. Better than okay. This is my plan: everyday before I knit on the sleeve I will weave in ends on the short row back. So far I'm good all the way up one side. That leaves the other side and the short rows in the middle. This way, when I cast on for the front, the only ends I'll have are on that said front and I can weave them in while I'm knitting the second sleeve. I have some plans I might implement on the front, too, that should hopefully cut down on ends considerably.
I also cast on for a second pair of socks. Retro Ribs in Koigu. But I don't like how the pattern's looking at the joins so I might rip it (AGAIN) and move a few stitches around after a couple rows. We'll see.
Here's a super dooper boring picture: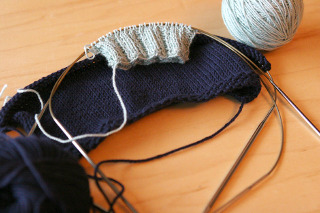 I promise to spare you knitting pictures like that one. At least until Monday. ;-)
But, I do have something cute to show you! I'm sure you've all had moments like this. You know, you walk around your house every day and manage NOT to notice things that have been there forever, under your nose, calling out to you "Whohoo! You! Yes, you, over here! See me? I'm a really cute thing to blog about!"
When Jen was here the other day I suddenly turned to a spot in my office THAT I LOOK AT EVERY DAMN DAY and noticed this little guy:


You see, I never realized but my husband is prescient. He bought me this a million years ago - no, really, it has to be over ten, possibly even twelve years old. We were living in the old apartment and he bought it for me for Valentine's Day. It's actually a pin (why I have it pinned to a lamp shade is beyond me, but that's where it's been since the day I got it.) It came attached to a card that said I LOVE EWE! Did he know that one day I would become wool obsessed? When I reminded him of it yesterday, he was thrilled. More super hero powers for him to go along with his superfantastic dish washing. I'm so lucky!
Anyway, it's a monsoon outside. Dark, thunder, torrential rains and yet it's still unbearably hot. Imagine that. So I thought I'd leave you all with some beauty for the weekend - whatever your weather!


Have a good one!
Posted by Cara at 09:05 AM | Comments (0)
April 29, 2005
The Harlot Takes Manhattan!
[I want to say that I have purposely NOT read any of the other accounts out there (of which I'm sure I'll spend the whole day reading) so as to give my own gospel. But make sure you read all the others! And they will have pictures. I didn't drag out the camera - sorry!]
I'll start with this: There was wine. There were traveling hors d'oeuovres. There was a GIFT BAG people!
It was, by all accounts, I'm sure, totally nuts.
Jen and I met in Hoboken to travel into the big city. Midtown was crazy - haven't been there at 5PM in ages (and I'm not going back anytime soon.) Although I have to admit that it was a sight seeing that group of Hasidic Jews outside the Empire State Building mingling with a befeathered and berobed group of indeterminate origin getting out of a van. Only in New York.
We got to Lord & Taylor - and you know - I never read the invite on Stephanie's blog - just sent in my plea to be included - so I had no idea where we were supposed to go. But we were early so we hit the bra floor (no such luck for either of us!) and then we headed up to the 11th Floor. Which isn't listed anywhere. It's like the magic floor.
When we got there - there was already a line and who do you think was at the head? Lovely Cassie, of course! I went over and said my hellos and chit chat as the line grew and grew and grew. Juno soon arrived as well and The Harlot sailed past the line with her handlers. "She's here, she's here," traveled down the pack in hushed whispers.
Soon after, a woman came out and told us they were going to let us in now. We should make ourselves comfortable and be sure to check our bags and stuff - it's pretty tight in there. I looked at her, a wry smile on my face, and said, "No one is checking their bags. That's where the knitting is." The poor non-knitter looked at me askance. "No one," I said, "is going in without their knitting." Poor girl. Just trying to do her job.
So we started to move in and they crossed our names off the list one by one and no one checked anything from what I could tell and there were two seats left at a table WAY UP FRONT with Cassie and Juno and Tree (hope I'm spelling that right) and another woman who I'm so sorry I don't remember your name. It was a wonderful group. Immediately Cassie pulled out her shawl and her new cable wonder (which let me tell you - everyone should consider knitting a yarn on a much lower needle size than recommended - what she's doing with Peruvian Highland Chunky is just amazing - completely different yarn - so much better!) Juno had her cable masterpiece as well in Rowan Highland and I pulled out my measly Short-Rows sleeve which I cast on for just the occasion.
The room started filling up and there was much jumping up from seats and hugs and look at that's and what yarn is that and touching and just amazingness. I've never been to anything like it. The commaraderie was palpable in a room where most of us were strangers.
The wine was served and the hors d'oeuvres and then it was All Harlot! She was EXACTLY like you'd think she would be - funny and shy and self-deprecating and spot-on truthful and nervous and smart and it was like reading her blog in the flesh - if you know what I mean. We had a knitting demonstration by her (WOW - who knew you could knit with a needle stuck under your armpit! And how fast!) There was lots of picture taking. Questions about Hank and the Guernsey and shopping. I think she said arse twice, but Cassie's got the official number on that.
All the while Stephanie was doing her thing, pretty much everyone was knitting. I told Georgie this, and ever sensitive to rudeness, he was horrified. "While she was speaking?" he said. "Of course." "That's horrible." "Everyone was doing it. Even she was knitting." He didn't get it. It was fantastic! (Of course I ended up knitting then frogging six rows, but what the hell. I was there. I had knitting!)
If you told me six months ago that I would be sitting in a room atop Lord & Taylor surrounded by knitters, knitting, listening to knit blogger extraordinaire read from her book, I'd've laughed my ass off. I'm not laughing anymore. (Well I am, but for totally different reasons!)
One thing I was shocked at was the LACK of bloggers. Someone asked Stephanie a question about blogging and if there were lots of other bloggers and she told everyone with a blog to raise their hands. Now my back was to the room, but it only seemed like a quarter of us had blogs - maybe even less. I thought we'd all be bloggers. Go figure. (There are people out there that knit and DON'T have blogs? ;-) ) [ETA: Maybe I'm wrong on this. As I mentioned, Cassie snagged a table right up front so my back was to the room. Other accounts say half the room was filled with bloggers - they're probably more reliable.]
At the end they gave out gift bags from Lion Brand - yes, people - there was swag! Now before you start thinking that there was fun fur and stuff like that it was actually a GENIUS idea. There was, of course, a signed copy of the book - WAY COOL - and even better a big skein of Wool Chunky with patterns and a pamphlet for the Dulaan Project. Couldn't have been done better in my opinion. Just wonderful.
Highlights of the evening include - introducing myself to Stephanie and asking her to sign my book and SHE SEEMED TO KNOW WHO I WAS!!! Really. I mean, it may have been in that polite sure I read your blog kind of thing, but I don't think so. She really seemed to know me which made me feel like I had ARRIVED in blogland. I mean, if the celebrities know you - c'mon! That's something!
Every other highlight involves people: I finally met Enchanting Juno - whose blog name could NOT be more perfect - a stunning woman. Truly - it was great to meet you! And I finally met up with Cassie again. And I met Kay together with Phyllis - we talked family dynamics and religion - what could be more fun! I met Cari, who was so kind about my photographs, along with Valentina, who asked about the show thanks to Colleen talking me up and Mindy and so many others who I can't remember! Please forgive me. I can see all of your faces! Really I can. I hope we meet again! And it was so great to be out and about with Jen - my first real knitty friend! Hey Jen - I was knitting, even if you weren't! That counts right?
Thank you Lord & Taylor, thank you Lion Brand, thank you Craft Yarn Council - and of course! Thank you Stephanie for giving us an excuse to celebrate knitting and well, just celebrate.
If I screwed up your name or link - please let me know in the comments! I apologize!
Paying it forward.
I want to pay forward the generosity I received last night. I had already purchased a copy of Stephanie's book - way before I knew she was coming. She signed my copy last night. Which means I have the free, signed copy they gave out in the gift bag. I'd like to give that away to a reader who won't have the chance to see Stephanie in person. Please leave me a comment and tell me where you are and why you won't be able to see her. I'll randomly pick a name - you've got the weekend to try for it. People outside the US are indeed welcome.
Baby's Got Back!
I was so excited when I got home last night I finished this: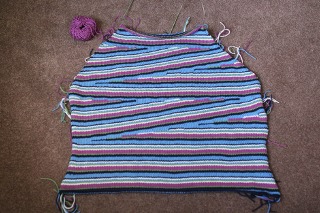 There is some subtle shaping at the waist - so it's not as wonky as it looks. I am VERY happy with it. The front should be a breeze. I've calculated that I knit this sweater three times over already - since I've redone the short rows sections about three time each (I'm really not kidding here.) So assuming I can get through the front with a minimal of re-knits - should be cake.
Of course, I'm trying not to think too hard about this: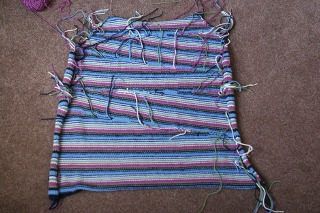 Cause that might make me cry. (I just flip it over and I'm happy again!) The duplicate stitch is working fabulously: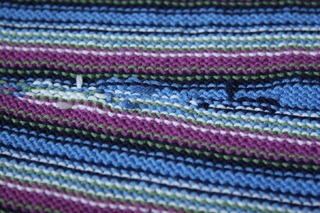 WRONG SIDE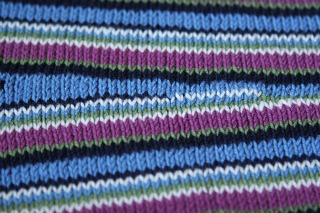 RIGHT SIDE
As I said, I cast on for a sleeve last night. Should go pretty quick - well, not that quick so I can weave in the ends on the back before I start the front. I'm going to be diligent - weave in a few every day - I swear.
Have a great day!

Posted by Cara at 08:58 AM | Comments (30)
April 28, 2005
Harlot
"Two hundred dollars straight in,
Two-fifty up the ass."
Okay. So you tell me. Is it wrong that I've been walking around saying this to my husband all day and all night long? What's up Bruce? Is your imagination lost on you? I'm all for a some porn now and again, but this song is even beyond your sexy sensibilities. I'm not saying I don't like it (because, hey, you've been the star of MANY a fantasy of mine) but it's just really, really sad. What did Patti say about it? Inquiring minds want to know.
And for the record, Georgie grins wickedly every time I say it.
Harlot tonight. Cassie will have her red knitting bag, I'll be carrying this:


In the comments yesterday, Kristen asked if I'd be bringing my camera to the festivities. I haven't decided yet. You see, bringing my camera means carrying an extra 15-20 pounds of equipment. I can't just throw the camera in my knitting bag. My camera is huge. And I'd have to bring my flash gear because, well, the lighting is guaranteed to suck and I have a serious problem with perfectionism so if the picture isn't going to come out to my standards (that's right Wendy - I'm a NO SNAPSHOT zone!) then why bother taking it. I'm thinking everyone else will have a camera and there will be lots and lots of pictures floating around blogworld. Now, if the Harlot wants her own personal photo shoot - well, now, that's a different story!
And I might be a tad dirty tonight. The signs throughout the building said they were going to turn off the water at 9:30 AM. Poor Georgie got caught mid-shower shave when they shut it down at 8:59. I thought I had a whole half hour, the bastards, but I didn't. I can't even brush my teeth. Well, I could use water from the water cooler I have in my kitchen, but that's not dramatic enough now is it? My wonderful, fantastic, supercalifragilistic husband offered to get us a hotel room in the city (he's going out tonight too) so that I could go in early to shower and we could meet up later. Isn't he the sweetest? But then they made an announcement that the water would be back up four hours from now, which should give me plenty of time to get ready. Drat. We may still do the hotel thing though. I may have to lie. (Either that or drop my prices! ;-) )
I was up late again last night. Short Rows. Yep. Before I finally got it right, I ripped out the first part of the second short row sequence three times. Three freaking times. I kept dropping wraps when I was going back across. So all three times I actually finished the short rows only to lose them in the end. Yet I STILL love this project. I'm past it now and will finish the back as soon as I get off the computer. Then I will cast on for the sleeve so I have something to knit tonight. Can you imagine if I walked in without knitting - they'd probably throw me out at the door. Oh and I SOLVED THE ENDS PROBLEM! No. I'm not going to tie knots and be done with it! I found this wonderful Knitty article and the duplicate stitch works great. I'm loving it. I will take pictures when the back is done - have no fear. The ends are still a daunting task, but I feel it's manageable. Yay!
Have a great day everyone!
Posted by Cara at 09:33 AM | Comments (7)
April 27, 2005
Surely You're Joking! *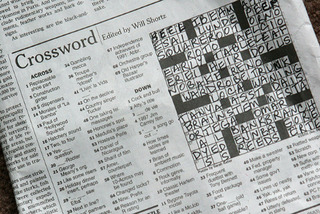 Yesterday's New York Times crossoword. Check out 40 Down.



Thanks so much for all the compliments on Short Rows! It means so much. I'll be SO proud of this project when it's finally finished. I've got a long way to go, but I'll get there. I've given myself a projected deadline of June 5th. I'm thinking if all goes well I'll wear it to The Secret Garden opening. Hopefully it won't be too hot! I'm thinking a nice denim skirt? Cross your fingers. I did the first part of the second short row sequence - I figured out that decreases were built into the pattern - but in the end I have one stitch too many. So I'll be ripping out the short rows - AGAIN. Yes. I'm a glutton for punishment (and apparently, chocolate covered raisins.) And the ends are getting really out of hand - so when I rip it, I'm going to try and weave some in. Hopefully clean things up a little so the wires don't get crossed so much, so to speak. It's all good!
Yesterday I did a little shopping, but not before having a fabu lunch with my honey! First I got my hair cut - it looks cute and cleaned up - then met Georgie at a doctor's appointment he had. While we were waiting for him to be seen, I received a mysterious text message. Georgie says to me - who's text messaging you? I said I don't know and wouldn't you know it, the message read KISS THE PERSON TO YOUR RIGHT. He's so sweet! I'm SO, so lucky!
After waiting forever, it was off to TAO for lunch. Georgie's been wanting to take me there, and I have to say, the steak I had was very, very good. The decor was neat as well, but don't you just hate restaurants that don't label the bathroom doors with GIRL/BOY, WOMAN/MAN, FEMALE/MALE? These bathrooms said YIN and YANG. There was a man that was behind me and we both just stood there and I said this is so not fair. Finally we both chose - and you guessed it - we chose UNwisely. The male attendant (who for the record, was in the women's room at first) corrected us. Why? Why is it necessary to be COOL all the time? Anyway. The food was very good.
On the way back I stopped at Borders. I needed to pick up this:
I've listened to it about a dozen times all the way through - it's looped on WINAMP - and for the most part I'm pretty happy with it. For all those people I told it was a cross between Tunnel and TGOTJ - I'm revising that. It's more like a cross between TGOTJ and Lucky Town. But better on both accounts. Nothing's going to make me cry, (there are a few like that on The Rising - My City of Ruins never ceases to amaze me) but I did get a few chills listening to Long Time Comin'. The woman's name is Rosie and it's clear they've been together for a long time. (They have two kids and another on the way.) It's also clear that mistakes have been made but he stills loves her, wants her very much. This is a theme near and dear to my heart. Georgie and I have been together for fifteen years and are very much in love, still. It's always nice to have that validated. This song did that for me. Okay. Enough Bruce. If you want to talk about it, let me know. Email me.
I also bought a couple of knitting books: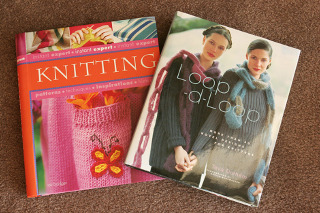 Loop-d-Loop by Teva Durham
Instant Expert: Knitting by Ros Badger
I'm really split on these two. I only bought the Ros Badger because I saw a pattern I liked on Kristine's blog (go on over and congratulate her on the new online store! www.knithappens.net!)
I thought it would be perfect for some Jo Sharp Silkroad Tweed I have stashed. Problem is, the book only gives one pattern size and that happens to be ONE SIZE FITS NONE! You know, one of those anorexic sizes - like if you eat an entire carton of chocolate covered raisins and need to purge for the next week and a half (just kidding!) So, if I want to make this sweater to be able to fit my humongous boobs I'm going to have to do some knitty math - and you all know how much I hate THE MATH! We'll see if I keep the book. It's kind of disappointing all the way around.
But Loop-d-Loop? This book is gorgeous genius. There's a million patterns I'd like to make!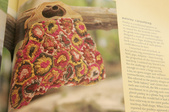 Click for bigger pictures!
Of course, my favorite is this: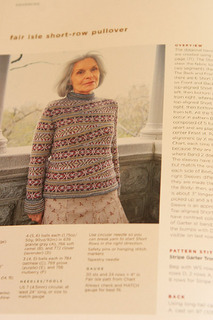 Are you seeing a trend here? Can you IMAGINE the ends? Someone stop me! Please!
I highly recommend this book - really - it's very, very well done.
And finally - a stash addition: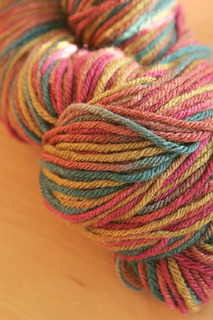 It's 50% Tussah - 50% Merino from Chasing Rainbow Dyeworks in Mary's colorway. I've got 840 yds. I'm thinking my very own Clap. It's taken a LOOONG time to get here. I bought it on my Boston visit.
Have a great day!
* Surely You're Joking is a reference to Richard Feynman - I bought his collection of letters yesterday. I'm thinking I'll read them out loud to Georgie, since he's the one who introduced me to this phenomenal personality. Check him out if you haven't already. It's worth it. Hey Lauren - I also picked up Freakonomics!
Posted by Cara at 11:47 AM | Comments (15)
April 26, 2005
Overdone
Yesterday, I ate an entire container of Milk Chocolate Raisins from Trader Joe's.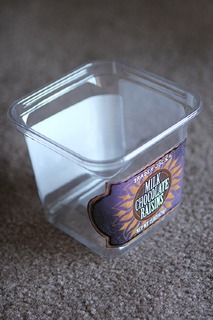 It was an interesting evening to say the least. I think I'm still on the high. The container says there are 33 pieces to a serving. And approximately 11 servings. 363 chocolate covered raisins is about 263 too many. Especially when I ate barely anything else all day.
24 has restored my faith in TV - especially after the Gilmore Girls let me down so, so hard. (We'll see if they can redeem themselves tonight.) I think this season of 24 is the best of the bunch - of course, if you haven't seen the other three, this one is nothing - but it is so worth it if you have! Do you agree?
Short Rows!
Here they are!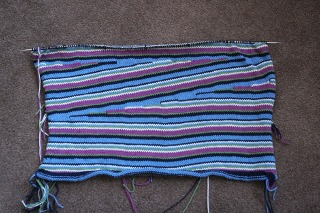 Look at those zigzags! They ZIG, they ZAG!
Let's compare: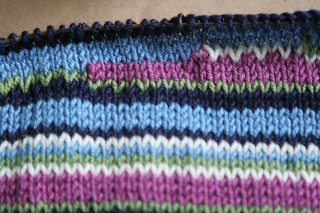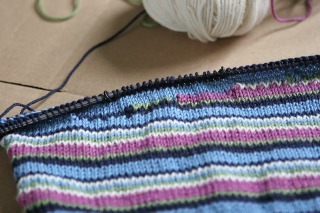 BEFORE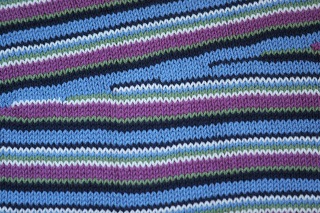 AFTER!


Don't they look great now? Of course, here's what I'll have to contend with very, very soon: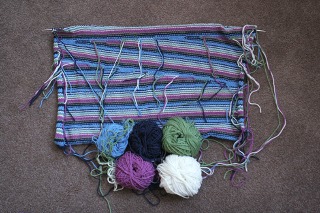 But I think it's very worth it! I'm loving this project. I'm not sure how to proceed - I need to really ponder the pattern. You have to decrease on each arm every other row, but the pattern also calls for decreases in the short rows - I'm not sure if they're the same decreases, or if they're different - time for some knitty math.
Okay. I'm off to get ready for a salon appointment and a lunch date with my husband!
One last question - do you Harlot? Who's going to Lord & Taylor Thursday evening? I'll be the one with white gloves and pearls. ;-)
Posted by Cara at 09:30 AM | Comments (27)
April 25, 2005
My Baby Takes the Morning Train
Whew! What a morning!
Georgie needed to be at an important meeting at 7:30 this morning. He's not a very good morning person. He went to bed around 1AM (I didn't go to sleep until after 3 - but more on that in a minute) and was out of bed at about 6. Normally, this would get Georgie to work at about 9. You do the math.
I was up worrying that he wouldn't make it on time. From the coziness of my bed I could hear his morning routine, praying that it was the speeded up version. I calculated the best possible way for him to get to work. I envisioned traffic, accidents, disasters. If he could just get out of the shower by 6:30 (a feat in and of itself!) he might have a shot.
I hear the shower turn off. I get out of bed and stick my head out of the door, the sun shining in from the hallway. "Honey? Do you need me to take you to the train?"
"Yes. Please."
I throw on my sweats, tuck in my t-shirt, toss on my sweat-shirt and baseball cap, slip on my shearling clogs. I'm good.
Now, my town is about 8 miles from where G needed to be in the city. Google Map says it should take about 12 minutes. HA! It can take me 12 minutes just to get to my freaking car. Apartment living has its disadvantages - like my car is in a garage under the building. I can't just walk out my door.
So I go to the car, but not without checking my face in the bathroom mirror right by the front door - it's a silly habit, since I've still got zit cream all over my face and lines from the pillow and sleep in my eyes. Yeah. I'm looking my best. I realize as I'm about to open the front door that I'm missing something. Can you guess? Amazingly enough - I'm missing my fucking eye glasses. I'm blind as a bat people! (Are bats really blind?) How have I managed to get myself together enough to drive my darling husband to the train and not realize I CAN'T SEE?
I get my glasses and the car and pull it around to our designated meeting place. Georgie comes out at about the same time. It's now 6:43. The train leaves at 6:51.
"You'll have to make the illegal u-turn," he says.
"I'm way ahead of you," I say.
The train station is about 2.5 miles from our house. This trip can take a good twenty minutes depending on traffic. We live in the middle of swamp land peppered with industrial warehouses. There are semis every where. Especially in the morning. There are also conviently placed freight trains that like to crawl through town during rush. There's no rhyme or reason to them. Okay. There's a reason - to make us late!
The illegal u-turn takes care of all that. It's risky though - especially in our 2000 Altima that has the WORST turning radius known to man. I handle it with aplomb.
On to the next obstacle. As I race through the YELLOWRED, making a successful left turn only to get stuck behind a car service Lincoln crawling over the potholes, I realize that the gas light is on and the distance-to-go tracker is flashing DANGER! Lack of gas be damned, I hit the left lane - I'm driving into oncoming traffic! The Lincoln is toast. A late 80s Pontiac decides it's the perfect time to meander onto the road. I fly back into the left lane! A truck's coming right at us! I dodge a pothole while settling the car back onto all four wheels. Georgie's either murmuring I love you over and over again or I'm going to die. Either way, after leaning on my horn to move the ridiculously unnecessary BMW SUV out of my way, I get him to the train station at 6:49.
6:53. My cell phone rings. Heavy breathing. "I made it! They were closing the doors and I jumped on the train! Thanks my love!"
7:12. I'm back home, car has gas in the tank, waiting for the computer to warm up. Phone rings. "I'm here. I'm one of the first ones. They have breakfast. Thanks again!"
SuperWIFE saves the day. And it isn't even 8AM.
Do you think he'll expect dinner tonight? Because, you know, like, I'm spent.
Why was I up until 3AM you ask? Why, Short Rows of course! I've been needing some knitty inspiration, and when I went down to my sister's for Passover Seder, I pulled some knitting to take with me - knowing full well I'd never get the opportunity to actually knit. I brought Short Rows with me and it was just what I needed. I showed it to my sister and instantly fell in love with the colors and the yarn and the pattern all over again. Georgie came to Seder and took me home Saturday night - so we got to spend a much needed day together yesterday. I spent the better part of the afternoon and evening on the couch, Georgie close by, knitting. I know I've said it before, but I LOVE Rowan Wool Cotton. I think I'm going to make a cardigan with it - that lovely
Seeded Cable Classic Elite cardigan
. I think it might be my next project because I've really been jonesing for some cables.
Anyway, back to short rows. I decided that I was just going to slip knot the ends and use duplicate stitch to weave them in later. I had done research on all kinds of joins, Russian, Spit, etc, but none of them really seemed the right option for what I needed to do - too many color changes too quickly. Before I knew it I was finished the first batch of short rows and onto the straight rows and it looked fantastic! At about midnight I announced to G that I was going to have to knit for a while more - I was too into it and could see the end of the first short row sequence. At about 2:15, Georgie snoring peacefully beside me, I finished said sequence. And then I lost it. Somehow I dropped a stitch or I don't know what but I lost a wrap on a short row and I couldn't get it back, so I had to rip it out. Then I lost a bunch of wraps when I ripped back and because the color changes with every turn practically - I don't know what yarn to use on which wrap. Trust me, it's easier just to rip it back. I really don't mind. This thing is looking gorgeous! I'm so excited about it! Today I'm going to re-do the short rows and go on to the straights and then I'll take a picture. With the next short row sequence I already have to start decreasing for the arms - so it should go very, very fast. I'm really hope this thing fits. I mean really. (It should - yes, I swatched. I'm a little bit smaller than gague - so I upped it a size - should give me exactly what I need. Somewhere between the medium and the large.)
Anyway. I've got my mojo back - look for a picture tomorrow!
And, I think I may have yet another border for the Pinwheel blanket! If this doesn't work, I don't know what I'm going to do. I think it will though.
By the way, Happy Passover to my fellow tribe members! The Happy Booker had some excellent links to share. By all means, hit JibJab's Matzah, Shabot6000's Seda' Club, and Shlepping Through the Alps's Passover Greeting. It's like Chicken Soup for the HipHop Jew! Guaranteed to make you choke on your matzah - assuming your stomach hasn't already exploded from the bloat! Chag Sameach!
Can you help me? Anyone out there a K1R2 member who's read Jonathan Strange & Mr. Norell and would like to help lead the discussion next week? I'm desperately behind - there's no way I'll finish it. Life. You know how it is. So I'm looking for a wonderful volunteer! Email me at caraATjanuaryoneDOTcom if you would like to save my ass. Thanks!
Posted by Cara at 07:55 AM | Comments (7)
March 29, 2005
I've been knitting....

You are Andie Walsh (from Pretty In Pink)!
Misunderstood and full of angst, you are
intelligent, talented and will probably go on
to do great things...once you're out of the
hell of high school.


Which John Hughes Character Are You?
brought to you by Quizilla
I found this quiz over at Kate's. I'm posting this because it just so happens that I was watching Sixteen Candles last night. And as much as I hate to admit it, I think this one might be pretty accurate. High school was almost the death of me. Definitely blossomed as soon as I got out. [Huh - when I got the link for Sixteen Candles on IMDB, I looked up the actor who played Jake - very, very cute - but did he do anything else? Turns out he was the really cute guy in Mermaids too! Michael Schoeffling.]


Here's that oft rumored knitting content: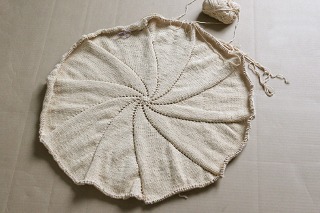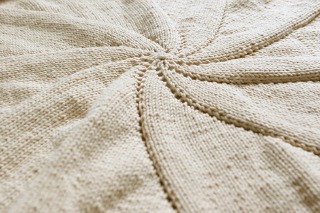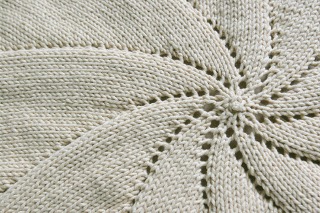 Remember the Pinwheel Baby Blanket? I can't believe how badly this yarn photographs - the color could not be more off - it's a much deeper yellow - almost brownish in color. But anyway, I'm into the fourth skein. The diameter is 22". I have a long way to go. The skeins are going nowhere at this point. Another thing about this project - there's no way to tell how big it is without taking it off the needles - which is kind of a pain. I'll get through six skeins before I take it off again. I do like the pattern though - the blanket is looking very nice.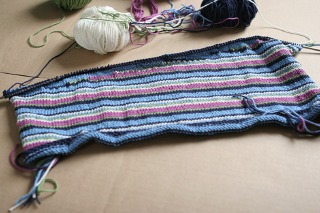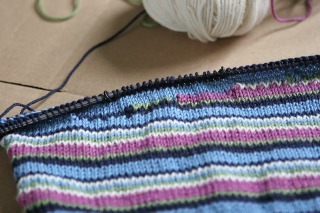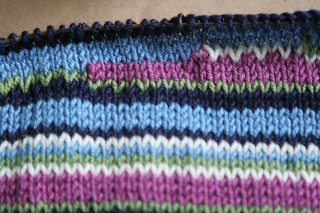 I can't help but have a nagging feeling that this is all going to have to be ripped out and started over. Or I'll get through the back and finally figure out how to make it look nice and then I'll do the front and want to re-do the back.
As you can see, I've started the short-rows. They're not hard at all and actually kind of interesting. The ridiculous part is you have to change yarn colors every five seconds and you can't carry the yarn up really. So I've been trying Johanna's method of knitting in the ends, but I think it's making my stitches all wonky and uneven. Can you see it in the second and third picture? I'm not sure if it's because of the short rows, or the ends, but I'm not entirely happy with it. I'm going to keep knitting - even if it does feel very much like an experiment - to see how the rows even out once I do the next short row section. Right now I'm in straight rows. But the next section will even out the left hand side. I still absolutely love the yarn - and I'm really liking the colors too. Georgie's the best, because he sees it and instantly proclaims it's the best work I've ever done! I say, you say that about everything I do. He does prefer just the stripes though - not the zig zags. I keep trying to tell him that's the best part, but he's not buying it. Anyway, I will persevere.
Jen (belated) birthday gifted me with some wonderfully soft Rowan Classic CashSoft DK! She brought it all the way from London! It's in color #509 which is called lime, but is really a soft pastely mint in my opinion. Another one that doesn't photograph well:

This will make a beautiful baby something - and it's in green - so it doesn't matter whether my sister has a boy or a girl! Speaking of which - did you enter the my guess-the-baby contest? Don't miss out! She could go into labor any second!
I just noticed that all yarns mentioned in this post are from Rowan. Definitely some of the nicest yarns I've ever worked with. They can't seem to go wrong. When that tax check comes in, I'm definitely going to have to join the club.
Kate asked me some really good rebound questions! You can read my answers in the extended entry. Have a great day!
1. In your blog, you've said your birthday characterizes you. What is it about being a New Year's Baby that makes you you?
Well, first off, it's definitely NOT a normal birthday – no matter how you look at it. And I'm definitely NOT a normal girl. Is it because of my birthday? I don't know. I think I'm introspective and forward thinking – both attributes that can characterize the day. My shrink likes to think that I have issues with being number one – born on 1/1, I'm the first born in my family – I do have to be the best (No. 1) at everything. Again, birthday or just a coincidence? In the end it's hard to say what it is about my birthday that makes me, me – I've never known anything different. I know I think it sets me a (little) bit apart. Maybe that's narcisistic thinking? I don't know. You have to be a little bit narcisistic when you're born on the FIRST – don't' you think? ;-)
2. When did your Bruce fascination start?
Georgie is completely to blame for my Bruce obsession – fascination doesn't really cut it honey. When Georgie and I started dating, I had been living in New York City for three years. I left home when I was seventeen – so I had only been driving about a year and a half. I didn't have a car in the city (I'm not that crazy) and G had a car. He used to take me on drives – down to AC, to the mall, etc. and he always had Bruce on the tape player – specifically - at least this is how I remember it – Tunnel of Love. He would sing me all the songs, which he knew backwards and forwards and honest to god I fell in love with them both. Georgie and Bruce are forever intertwined in my heart. I am the more obsessed of the two of us, for sure, but he indulges me – and he loves Bruce too. I think he feels the same way - ultimately it's all about how Georgie feels about me that somehow translates into Bruce love.
3. In your 100+ things, you mention you still have a baby blanket. My sister and I both do as well. Ours are named "blankie," and my sister still carries hers around (I know, I'm a traitor because I don't -- but I still have it). First, do you have a name for your blanket, and second, any tips for keeping it in good shape?
My blankie is called blankie. There may have been a very brief period in the 70s when I called it Elizabeth Banana because it was/is yellow – but that did not last long at all. I still sleep with my blankie every single night. It travels with me whereever I go and when I fly it goes in my carry on – god forbid it should get lost. I don't carry it around per se – sometimes I wear it around my neck in the house – when I'm on the computer, or reading. I like to smell it. (I know. Gross.) Otherwise it waits patiently under my pillow until I need it. How to keep it from falling apart? Don't give it to your kid. My sister's blanket was co-opted by her daughter and it is literally in shreds now. My niece WILL NOT give it up and that scares me. If I ever have a kid – I swear – they ain't getting their hands on my blankie. Georgie takes very good care of my blankie – he washes it lovingly – doesn't dry it too hard. I, of course, put it in hot water and dry it to within an inch of its life. But the best part of blankie living is when it comes out of the dryer.
4. What's the name of the first short story you ever published? What was it about?
The name of my first short story ever published is "Dancing With Jesus in Grove City, Pennsylvania." It was published in the High Plains Literary Review, Fall/Winter 2001. It's about Byron and Purdy Somers, a couple at the end of their lives. Byron is coming to terms with the fact that Purdy needs to go into a home as he can't really take care of her anymore – and in the process he remembers a miraculous time in their marriage.
It's a pretty fucked up story – very strange, very weird. I'm so glad it was the first one to get published. I love this story – it's dedicated to George.
Also, the editors saw fit to nominate it for a Pushcart Prize. It didn't win – not even close – but they liked it that much.
5. What is your favorite thing about your husband Georgie? Anything from mundane to smooshy sappy will do :).
Impossible. Absolutely impossible to answer. I love him so much it hurts sometimes. To pick one thing, even a million, would be to forget something that makes me so insanely happy and crazy and in love it would be criminal.
Okay. I'll try.
- He has the most beautiful puppy dog eyes I've ever seen. I could stare into them for hours and never be bored.
- I love that he loves the children in our lives in the purest way. He may have trouble showing it sometimes, but he does.
- He's curious like a three yr old. Sometimes it drives me crazy, but most of the time it's astonishing.
- Hands down, one of the most generous souls I've ever met.
- He works exceedingly hard for our family - something for which I am eternally grateful.
I'm going to stop - this doesn't even scratch the surface of the surface. It's hard to put emotion this strong into words. That's why I write fiction. ;-)
Thanks for the questions, Kate. Hope my answers don't disappoint.
Posted by Cara at 12:13 PM | Comments (9)
March 24, 2005
Can't we all just get along?
Okay, I'm being facetious, but really with all the Pink Chibi wars going on I'm about to get all positive on your ass about how much I'm LOVING blogland. Don't say I didn't warn you.
I started this blogging thing at the end of October, and I'm telling you, I can't believe the friends I've made. For instance, just yesterday I was emailing my pal Lauren, who I "met" when she won my contest, and we were going back and forth about Walker Percy and Kierkegaard and then she found me this kick-ass article I was wanting. Let me tell you people, while I have the most wonderful, most generous, most loving husband in the world, the greatest family in the world, the best friends in the world - there is no one in my life I can talk about Kierkegaard AND Percy AND Knitting ALL AT THE SAME TIME! Well, that's not true because now there's Lauren in my life. Thank you Lauren!
Jazalicious Jen was my first REAL knitting friend. Know where I met her? Online. It ended up that she lived right near me and we've been on many a yarn crawl together. In the short time I've known her we've been through some heavy stuff - I know she's a life long friend. She's also the one who got me blogging.
That Cassie. Yeah, she's a keeper. Listening to me babble on and on during the cold winter. She was there when I bought my first sock yarn. Still haven't finished the socks, but whatever. I know Cassie will be happy for me when I do. Where'd I meet her? Duh. Blogging.
Annie sent me my first Random Act of Kindness EVER! Right around my birthday. I was so touched I called up everyone I knew to tell them. This blogging thing is AMAZING! Who knew there were people like this in the world? AND they like to KNIT!
And when I popped up in Boston, Wendy and Colleen were more than willing to come out in the bitter cold to meet and entertain a PERFECT STRANGER! WOW!
I've gotten the most encouraging emails and comments from people all over the world, some funny, some serious - all kind (okay, well there was that one comment that wasn't too nice, but I totally blame Kerstin for that. Spillover, people. ;-) New friends have opened up their lives to me and I just know, in my heart, if I needed support, I could count on them. I see it happening before my very eyes.
Do you need another example? Back at the start of the year I had a little idea. Annie helped me expand it and now Knit One Read Too has over 130 members! This fact completely astounds me.
It's no suprise that at times the knitblogging community can be insidious and insular, because after all, human beings are behind these blogs and everyone has bad days. But in the end, I think it's really quite expansive and genuine.
Now, everyone turn to the blogger to the left. Give a great big hug. Now turn to the blogger to the right. Great big hug.
Now everyone go throw up. ;-)
All righty. When you've all come out of the diabetic coma I just induced, we can move on to my Short Row Pullover. I've finished the the straight rows and am about to move on to the short row sections. I first have to read countless articles on how to wrap said short rows. I'm still trying to figure out what to do with the ends. Johanna had a great suggestion to knit them in as I went along - I tried it - still not so comfortable with it. Right now I'm going with the Montse Stanley method that was reinforced by something I found on the Morehouse Merino site. Carry the yarn up the sides and because I have many odd rows (lots of one row colors) I can take advantage of the circular needles I ALWAYS use and just switch sides when it's time to change colors if the color isn't on the right side. This means that if I need the navy and it's on the left when the green I just finished is on the right, I just move to the other side of the needles. This also means that if you just finished a purl row, the next row - starting from the other side - will ALSO be a purl row if you're doing stockinette. Basically if the right side is facing you, knit, if the WS faces you, purl. Clear as mud, right?
I don't know what I'm going to do when I start the short rows though because I'm thinking it will be even harder to carry the yarn. Maybe not, because you always have to start where the last row ended? I'm trying really hard to resist the urge to rip the whole thing out and start over. I already ripped out one repeat. We'll see how it goes after I start the short rows. I can't think about it now.
Have a GREAT day everyone!

Posted by Cara at 07:46 AM | Comments (14)
March 22, 2005
S is for....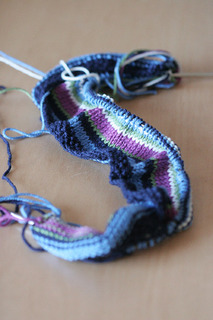 SHORT ROW
That's right. Last night I cast on for the Short Row Pullover. Not only did I cast on, but I used my new super fantastic cast on method - the Long Tail or Half-Hitch? Never heard of this new found super crazy cast-on? Don't laugh. I've never used it before. In fact I had to go find a video to relearn it. BUT, I figured it out AND I cast on in alternating knit and purl stitches to coincide with the seed stitch border on the sweater. Pretty cool, huh?
First I cast on a sleeve - it wasn't long (try three seconds) before I remembered how much I love this yarn. To remind you, it's Rowan Wool Cotton and it's soft and light and perfect for this time of year. In fact, I'd dare to say you can wear it year-round. It's THAT GOOD! I'm putting it up there for desert island status. Maybe. I don't want to commit just yet, but I'm not voting it off anytime soon. Back to the sleeve - I figured this would be my swatch. (Don't yell! I was up late last night!) I got a couple decreases in when I decided to measure it. I was off. Not on row gauge, which Wendy has been talking about of late (the only reason why I actually measured it), but on stitch gauge - the pattern calls for 22 stitches for every four inches and I was getting six to the inch, or 24 per 4. In the end I decided to stick with the needle size I was using (size 6) and bump up to the next size on the pattern. This will give me somewhere between a medium and a large which is where I want to be anyway. So I ripped out the sleeve, and cast on for the back: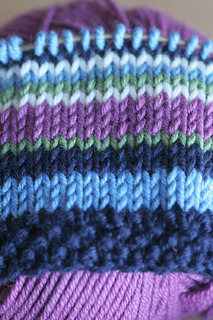 I was up until 2:30AM finishing the first stripe repeat. It goes like this:
Rows 1-3 A (Aloof - light blue)
Rows 4-5 MC (French Navy)
Row 6 B (Laurel - green)
Row 7-9 C (Bilberry - purple)
Row 10 D (Antique - white)
Row 11 B
Row 12 A
Row 13 D
Row 14 MC
Got the bugger memorized already! I think it works great! It was a little nuts at about 1:30 when I was lining up the colors over and over to come up with the best sequence. I knew I wanted the light blue and purple to be the bigger colors - the tough part was deciding which order the green and white went in - I think I made the right choice and I think it's going to be really cool when the short rows start. The ONLY drawback - I've already got like 4,361 ends to weave in. I'm going to have to MAKE SURE I do it all along - like before I start knitting on it I have to weave in five ends or something. It's the only way. Unless I don't weave them in at all and leave them hanging on the inside - do you think that will fuck up the drape?
While I'm excited about this project, I'm also worried that I spent too much time last night knitting instead of, no, not sleeping, reading Jonathan Strange. I'm only like 50 pages in on this 800 page book and I need to have it finished by April 2. Do you think it will happen? Stay tuned. Oh and if you haven't been on K1R2 for awhile, go check out the great post Laurie and her son William put up about The Curious Incident of the Dog in the Night-time. It's inspiring and informative!
KNITTING CONTENT ENDS - POLITICAL RANT BEGINS
You can leave now, if you'd like.
As some of you know, Georgie and I got married about 3.5 years ago after being together for 11 years - 10 of which we lived together, owned our house together, etc. We were as committed as anyone - living together, loving together, all that gooshy stuff. When we finally did get married, it wasn't because we needed to show anyone the extent of our commitment - we knew it was there - as did everyone who loved us - the rest of the world be damned. We got married for political reasons - namely there were certain rights that we didn't have that we wanted. One of these rights, one of the most important ones to me - was that we would become each other's NEXT OF KIN and be able to make the MOST IMPORTANT DECISIONS EVER for EACH OTHER. I've always regretted, just a little bit, a tiny iota, getting married because I think it's criminally unfair that all of us cannot partake of these rights. Now I'm even more regretful, because it turns out that even if you're married, THOSE RIGHTS DON'T MATTER.
Let's not even bring up the horrifying hypocrisy George turned me on to yesterday. He was listening to some "talk radio" aka propaganda for the sheeples, and someone was going nuts on Democrats and stem-cells saying that Democrats should want to keep Mrs. Schiavo alive because in two years there could be a cure for her using stem-cells. WHAT? These are the same people that are so against stem-cell research cause god forbid a tiny cell that might have one day in someone's imagination become a baby (don't get me started there - I've thought a lot about this having gone through the IVF process) are now USING STEM CELLS TO PROP UP THEIR ARGUMENT FOR TERRY SCHIAVO? Georgie pointed out to me that they may have been saying this in a tongue in ass kind of way - but MY GOD! THE HYPOCRISY IS OVERWHELMING! They have proven that they will say anything, do anything, make up anything to further their agenda. [ETA: I was going to link to Laura Ingraham - the radio show George was listening to - but I took a look at her site and I can't in good conscience link to that vitriol. Ingraham makes Coulter look like a puppy. Very, very, scary.]

This whole Schiavo mess terrifies me. Please, get to your lawyers and write those living wills. Make sure that your extended family, not just your partner, knows your wishes. Give them copies of your living will. Because God knows they may need them to fight for what you want - especially if the government decides that you and they don't know best.
ETA: Colleen sent me this link: hypocrisy abounds!
Rant over.
Thanks.
Posted by Cara at 11:53 AM | Comments (14)
March 02, 2005
Kick-ass
headache I've got going today. Came out of nowhere too. Probably ate lunch too late - or allergies because it's all in my face - but what can you do. I'll get into bed and read for class. A nap might come soon after.
Because I seem to be made of money these days, I ordered the yarn for my short-row pullover:
This is what I decided on:

Rowan Wool Cotton

| | | | | |
| --- | --- | --- | --- | --- |
| | | | | |
| French Navy-909 | Aloof-958 | Bilberry-959 | Laurel-960 | Antique-900 |
The French Navy will be for the sleeves and the Aloof and Bilberry for the major accents, the Laurel and Antique for the minor accents. I'm excited about it to be sure! I so hope I can make it fit. I'll be so sad if it doesn't fit these big, humongous boobs. (There you go google pervs!) I'm so not happy with my weight these days, I'd hate to make myself something that won't fit because I'm too fat. Alright. I won't go there. My head hurts too bad already. The best news was that I used my gift certificate and barely paid anything - include in that a ball-winder and the Rowan Junior book.
The people at Yarnmarket.com were very helpful, I have to say. I wasn't sure about the colors matching well, so Pat pulled some of each to put together for me - and then she came here to check out the picture. She also asked everyone in the office if they thought it looked good. There was a positive consensus - it should look great! I really do like this pattern.
Yesterday I managed to be productive and sent in slides for a juried show. It's for members of the Professional Women Photographers Association. The theme is The Secret Garden, and those photographs selected will be on Exhibit at the Brooklyn Botanic Gardens this summer. So cross your fingers for me. You can see the photographs I entered here.
I also did some work on the Ribby Cardi sleeves. Man those suckers are going slow! I would LOVE to have this project done. F-U-C-KL-O-V-E it!
Make sure you check out Wendy's handy dandy tips on meeting knitbloggers. And don't forget your sharpie! ;-)
ETA:
Almost forgot! Lolly tagged me for the latest Meme going around -
1. What was the last book you read or are reading?
I just finished The Easter Parade by Richard Yates, which I enjoyed. Not as much as his other ones (Revolutionary Road is a masterpiece, as are his short stories.) I'm about to start Jonathan Strange & Mr. Norell by Susanna Clarke for Knit One Read Too.
2. Where did it come from (library, bookstore, gift, etc.)?
Book store for sure. I'm really bad at borrowing. Although I used a gift card for the Clarke book.
3. How many books do you read per year?
I try to average at least one a month - hopefully two. That's pretty pathetic. I must try to do better. Part of the reason I started K1R2 was to make myself read more.
4. What is your favorite genre?
Literary fiction to the point of snobbery. I'm actually quite elitist when it comes to my reading. But at least I can admit my prejudices right?
5. Who will you tag now?
Mrs. Pilkington - mainly because I'm thinking she has quite a diversified reading list - especially when compared to mine. (It seems I can't stay away from dead (or alive) white men. What's wrong with me?)
Posted by Cara at 01:51 PM | Comments (10)