February 19, 2009
Things I'm Loving Right Now
Here's some stuff I'm absolutely loving right now:
1. WALKS. I love walks. We went for a walk today and I feel SO GOOD. Meli slept pretty much the whole walk, which kind of sucks because she woke up as soon as we got home so I didn't get to work or anything, but still the walking and being outside felt so good! I had a nice chat with Margene (because I also LOVE my bluetooth headpiece) and got to walk pretty fast and even though it was a tad cold and a bit windy it was GREAT. SPRING IS COMING!
2. Music Choice Party Favorites. I love this music channel. I've taken to putting on the music channel on the tv while Meli and I play (or Meli plays and I get five minutes here and there to, say, blog.) It's always songs I know and they're usually upbeat (it's the PARTY channel) and there's a great diversification. For instance, in the past half hour we've heard The Brothers Johnson, KISS, Right Said Fred, Blondie, The Beach Boys and Gloria Gaynor. Nice mix, no? And when a really good song comes on I scoop up DJ MeliMel and we dance dance dance! The best though is when she's playing by herself and all of a sudden a new song comes on and she starts bopping her head and shaking her little tush and she's just so cute!
3. Pyrex Glass Storage Containers. One day I was in the supermarket and passed these storage containers. On a whim I bought a bunch of them in all different sizes. I'm so tired of using plastic storage containers and having them get gross after you put one leftover spaghetti dinner in them and with all the news these days about how bad plastics are I thought this might be a really nice alternative. I love them for heating up stuff for the baby. They're glass. I don't have to worry! And they get clean. Really clean. No matter what you put in them.
4. Corolle Dolls. For the holidays, Meli received two dolls. Both Corolle. One Babipouce, and one Sorbet Melodie. While the Babipouce is very nice and we've been playing with it a lot more lately (she has a plastic face and Meli likes to point to her nose and mouth and smells like vanilla), I just adore the Sorbet Melodie doll. It's so soft and so well made and it comes in this great box and it's colorful and bright and really I can't say enough good things about this doll. In fact, I love it so much I bought the other Melodie doll - Pink Melodie. I resisted it at first because I thought Sorbet Melodie was less girlie and it assuaged my feminist guilt at buying my daughter a doll (and not, say, a dump truck) but I saw Pink Melodie in the store and thought it was so beautiful that I gave in. (Sorbet on the left, Pink on the right.)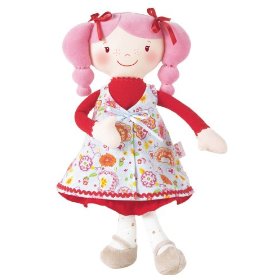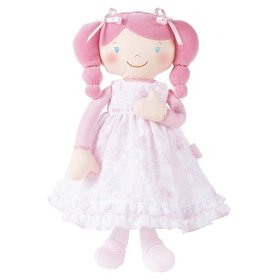 The pictures do NOT do these dolls justice. They are perfectly floppy with limbs Meli can grab and go. Unfortunately, as much as I'd love it to be the case, my daughter is not a lovey type. So far anyway. I, on the other hand, still sleep with my blankie. Every night. I even found the same blanket I have and bought her a bunch but I haven't been diligent about making her love them and honestly all she wants is the boob. But maybe one day she'll love one of these dolls, and if not, I can love them. Which brings me to
5. Nursing. I've been loving nursing lately more than ever. Maybe because she's getting so old so fast but when we nurse she's still my baby. It's so freaking easy now too, she practically nurses herself. Yes, it's annoying sometimes to still wake up a bunch of times at night but I don't care. I know that at some point it will all end and even if we both agree that it's the right time, I will still be very very sad.
7. Sesame Street. Cliche, I know, but there's this one episode I taped off of On Demand and it's something like Sesame Street Sing-a-long episode and every skit is a song. Meli LOVES it. Loves it! If I put it on when I need to chill for a minute she'll dance along and squeal and we sing all the songs together. If she's being particularly ornery or cranky and nothing I do will calm her down I can put it on and she's quiet in seconds. Maybe not the best parenting, but whatever. It's a miracle. Oh and add to this Thomas the Tank Engine. Specifically the episodes narrated by the late great George Carlin. Seriously. It's like the most perfectly perfect thing ever. (Although, I just read that Ringo Starr narrated them at one point. I would love to hear those! We just watched A Hard Day's Night the other day and Ringo might be my favorite Beatle. At least today.)
6. Knitting. Knitting. Knitting. And Monkey Socks. And Socks That Rock sock yarn. There will be much more coming on this but for now I think that says it all.
What are you loving these days? Share, please!
Posted by Cara at 03:17 PM | Comments (33)
February 12, 2009
Random Ramblings
-- Before I get started, I want to point you all in the direction of Jacqueline's blog. Jacqueline lives in Victoria, which you no doubt have heard has been ravaged by deadly brush fires. Jacqueline has many lovely, lovely prizes to give away as incentive for giving to the Australian Red Cross, but honestly, we should all just give. Ten Dollars Australia gets you into the dance as far as prizes are concerned - and there are many prizes to win. I know that times are tough for many of us, but even if we can spare a couple of dollars I'm sure it can help those left homeless and grieving by this disaster. Thank you.
-- Reading Margene this morning, I came across this fun link: The Knitting Blog Class of 2005. I started this blog in 2004, so I made the cut. It's an interesting look at how knitting blogs have grown and contracted over the years. Congratulations, I guess, to all of us on the list! I can't believe how long we've kept this thing going.
-- Yesterday's walk was AWESOME! We were outside for almost two hours and Meli went on the swings again. She's always so quiet at first - especially when she's doing something new. It's not that she doesn't like it, it's just that she has to feel it out and make up her mind. There were lots of kids at the playground and that's one thing she doesn't need time with - she LOVES kids! She will initiate with kids too - she waves to them first. It's the cutest thing ever.
-- Also the cutest thing ever was this morning when I was waking her up (I'm trying to get her up earlier in the hopes that she'll go to bed earlier). I was whispering her name and kissing her and she wasn't having any of it - tossing over solidly asleep. So I kept saying her name and started rubbing her belly and suddenly she got the biggest smile on her face - but her eyes were still closed! She was either playing possum or she was smiling in her sleep - either way it was the cutest thing ever.
-- One more really cute thing. And this might be a bit TMI (Ann look away.) Meli loves to lift my shirt these days looking for some boob. When she finds it she laughs and gets all excited and dive bombs onto me. It's super cute - especially when I'm laying down on the sofa and she's standing next to me. For some reason I think it's ridiculously adorable when she nurses standing up. And no, she can't ask for it by name yet.
-- Okay. I lied. Last cute thing. When I tell her I love her - especially when we're quiet and nursing - she'll stop and say something back to me. It's not really a word or anything, but she's totally mimicking my tone of voice and all.
-- The last word - to all of you who read and especially those of you who left comments on Tuesday's post: Thank you so much. I can't tell you how much it helped to know that you feel similar things and that it doesn't mean that you love your kids any less or enjoy your time at home with them any less. It encouraged me to keep blogging our life. From the start of this blog I've let it all hang out - warts and all - and I try not to shy away from the issues that are important to me. That I've been able to put into words what many of you are feeling comforts me and lets me know that we're all okay. Naysayers be damned!
I'm going to finish with some pictures of my daughter. Because it's my blog and I can.
Look Ma! No Hands!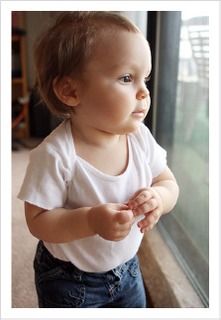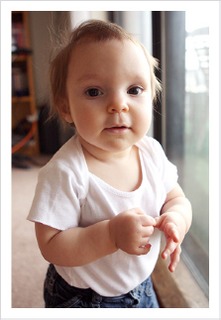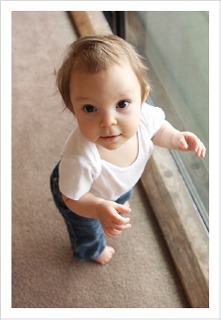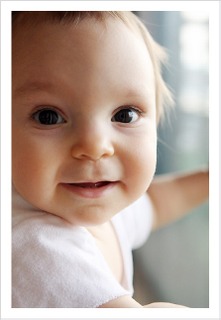 She loves to stand by the window and watch the trains go by. There's also a big flag out there she loves to watch. Oh and of course her own reflection.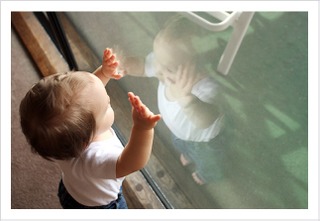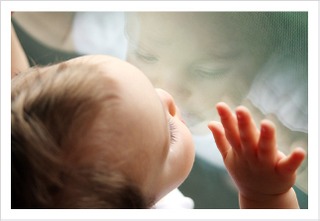 I love that she looks like a dirty little boy in these pictures in her white t-shirt and jeans. Usually she's dressed in a some crazy shade of pink.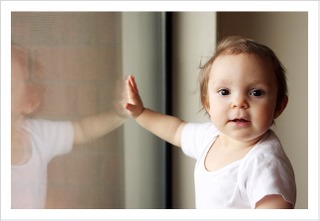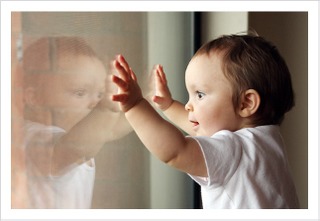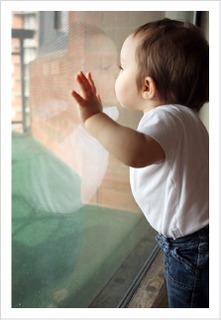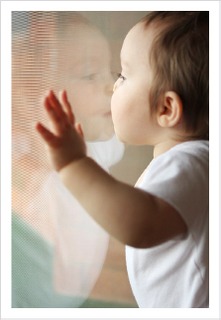 Please, please! Don't forget to head over to Jacqueline's and find out about giving to the Australian Red Cross and winning prizes. PLEASE!
Sneak peek for tomorrow!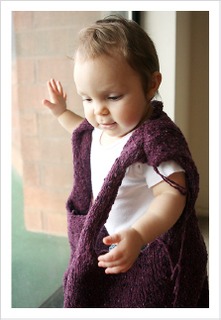 Posted by Cara at 02:57 PM | Comments (23)
December 30, 2008
Happy Happy!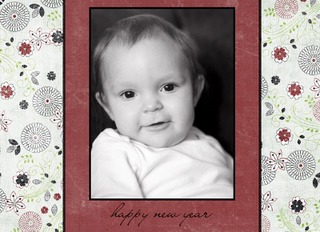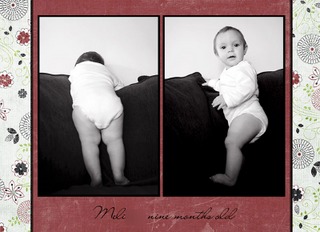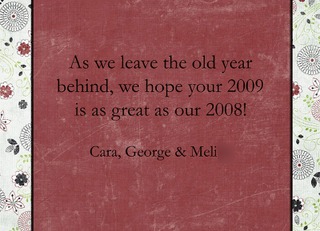 Posted by Cara at 10:39 PM | Comments (34)
February 09, 2008
Tiger Beat
Some people think they have the Tiger Beat set covered. I beg to differ!
This song came up on our cable music. Baby and I were rocking out! Who else remembers taking the plastic cover off the Tickle deodorant bottles and using it as a microphone? Not to mention my brother on the (flash) lights while my sister and I choreographed our dances. Ahh the 70s!

Posted by Cara at 01:06 PM | Comments (32)
February 03, 2008
GO BIG BLUE!
Incidentally, I started a new project. ;-)
Have a SUPER Sunday!
Posted by Cara at 12:21 PM | Comments (11)
December 25, 2007
Ho! Ho! Ho!
Posted by Cara at 12:00 AM | Comments (17)
June 28, 2007
Cleanliness is next to...
Well, dirtiness, if we're going to be honest. The bathrooms are clean, as of 10:30 PM last night. I took lots and lots of breaks. No knitting though, unless you count casting on a new monkey sock. I knit 2.5 rounds too.
These are the products I currently LOVE:
-- Mr. Clean Magic Erasers
-- Anything and everything called KABOOM
-- Tilex (ROCKS!)
-- Anything and everything called SWIFFER (especially the dusters - those things are AWESOME!)
-- Windex
-- The attachments on my kick ass vacuum (Which I bought INSTEAD of a Dyson. Real life reviews turned me off, even if it looks nicer. I've never looked back.)
I cranked the radios all over the house and set to work. It sucked. Please don't tell me about environmentally safe cleaners - I know they're out there and this is the stuff I like. Besides, there's nothing environmentally safe about the disgustingness that is my house.
Do I feel good about what I did? I guess. Except now I don't want anyone to ever use the bathrooms again. They look so nice and clean. I think I would be happier if the rest of the house wasn't awful and I didn't have so much work to do. But, such is life. Georgie asked me if I wanted something special for dinner because I worked so hard and I said YES! PIZZA! So while I completed the task I set out for myself today, I totally blew the diet. And I felt sick after the pizza (even though it tasted great while I was eating it.) Should've gone with a Lean Cuisine instead.
A couple things I wanted to point out -
I feel incredibly guilty that I received so many supportive emails in the last week or so and I haven't responded to ANY of them (at least you can't say I'm playing favorites.) Please know - I got your email and I appreciate it so much I can't tell you. I could send out a cut and paste email, but that's not what I really want to say, and I'm afraid if I really start answering them I'll never get up from my computer. Thank you thank you thank you! I'm not sure I can say it any better than that anyway. I can't tell you how much I appreciate your taking the time to reach out. (Doesn't really assuage the guilt, but it helps a little. Trying to be grown up here people.)
Last night I bought the most expensive pattern I'll ever buy. Right here. Annie Modesitt, a popular fiber artist, is offering her Red Carpet Convertible pattern as a way of accepting donations to help offset the costs of caring for her family and her husband, who's been diagnosed with Multiple Myeloma. I do not know Annie. I've never knit one of her patterns. But I know all too well that cancer sucks harder and longer and not in the good way than anything else out there. Consider downloading the pattern. The minimum donation is $4.50. That's not asking much from us, and it's a small price to pay to help give peace of mind to this family while they try to heal. (Thanks to Deb for the heads up.)
And then there's Liz. RIP. Thanks for making a great pair of pants and for giving me my dressing room miracle.
Back to work. One day I'll knit again, maybe even for reals and not just in my mind.
Posted by Cara at 08:15 AM | Comments (41)
April 07, 2007
Snakes on a Pyramid
or...Part This Muthafucka!





Happy holidays everyone!



Posted by Cara at 07:32 PM | Comments (38)
March 06, 2007
Crop Circles
The other day Margene had a contest asking everyone to reveal a little secret about themselves. (I think the contest is still going on, by the way.) I revealed this:

My secret is that I've been probed by aliens and I have the anal fissures to prove it. Ann says she has a cream to help me, but honestly, how can we believe her, er, I mean him?
Dudes. My ass has been mighty twitchy lately and I think I've discovered why!!! The aliens are sending messages in the form of CROP CIRCLES! [Click for bigger photographs.]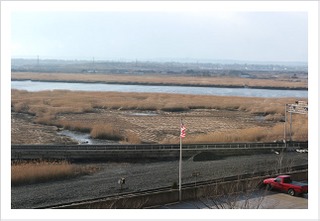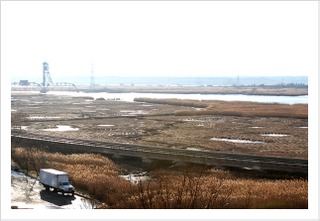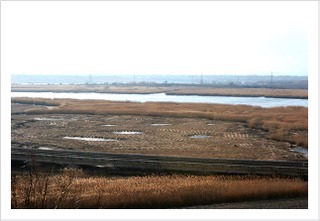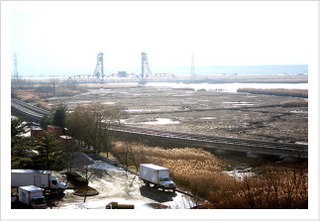 I am FREAKED! As some of you may know, I live in the swamps. My apartment looks over a beautiful field of reeds leading into the Hackensack River. We get gorgeous sunsets. One of my favorite things in the world is watching a storm roll across the swamps. All of the many windows in my apartment face over these swamps and I can get lost staring out the window. If I didn't have these swamps, I can guarantee I would've looked for a new place to live a long time ago. My view is one of the few things I'll miss when we do eventually leave.
You can understand, then, why I was horrified to see that the reeds had somehow been mowed over or destroyed or cut in such a way as to write out SURRENDER CARA! I tried to find some comparison pictures of what it looked like BEFORE the aliens came and ruined it: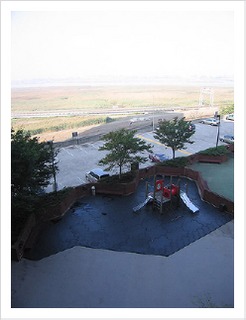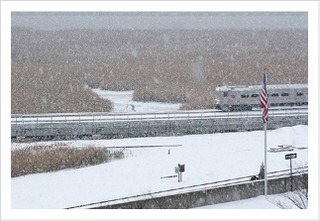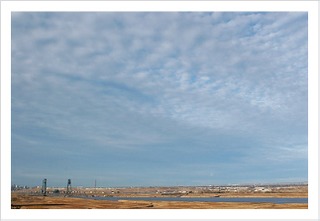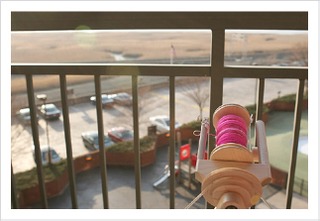 I'm not sure if you can tell from those pictures what a lush wonderful landscape I've been enjoying over the past 15 years. Now I've got this catastrophe: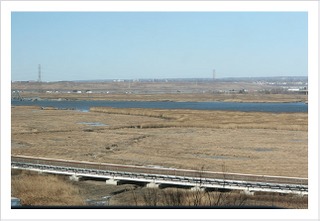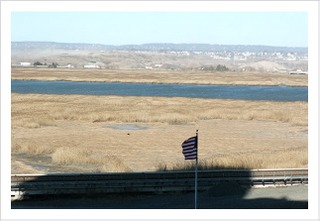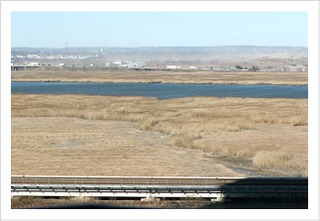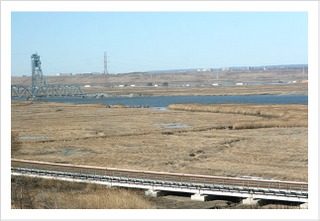 I spent the day calling many high ranking officials in my local government and the NJ Meadowlands Commission and no one knows what the hell I'm talking about. One guy at the Meadowlands Commission actually said the words: Crop Circles. I laughed and said that IF I was crazy, which I mostly certainly am not, that is EXACTLY how I would describe it. I senthim the pictures and hope he'll get back to me soon. My worst fear is that someone is going to build something - which I find really hard to believe - I think it's all protected land - and that my glorious view will be gone and I'll have to move ASAP. I refuse to live here without my view.
Thanks for all the suggestions on the Katharine Hepburn Cardigan. I understand what a lot of you are saying about how knits stretch and ease and all that stuff. I don't want a fitted sweater. I don't like fitted sweaters. While I have been blessed with a lovely girly figure, I don't like to call attention to it and I can guarantee that if I make the sweater at 40.5" I will be uncomfortable. It might look fabulous to you, but I won't feel good. The fact that the designers/editors thought it was okay to have 5.5" jump between sizes is preposterous to me. The last two sweaters I've made have been the 43" size and the 44" size - and I'm quite happy with both of those sweaters. Last night I cast on my modified pattern - probably around 44" - and my plan is to knit the 40.5" shoulders and sleeves. I'm not done tweaking yet, so we'll see. Oh and I decided to do the thing in pieces instead of the body in one piece. I was all set to do it in one piece and I had a lengthy discussion with Ann about structure and whether it would work without a real seam (we decided it would because we'd have two cables and two purl stitches where the seam would be) and I cut and pasted and photocopied the pattern and calculated the number of stitches needed: 309. It was then I decided pieces would be best. There was no way I was casting on 309 stitches. It would take me FOREVER to knit and I would get bored and it would get tedious. So pieces it is. And this way I can figure out the sizing if it needs to change much more easily.
Okay. Off to wait for the Mother Ship.
PS - Heather is running a drive to provide books to kids in South Africa. You can donate money and/or books and there is YARN to be had! Heather has INCREDIBLY offered up yarn to everyone who donates at least $20. The girl is NUTS! Please go visit to learn more about this very worthy cause. Literacy is EVERYTHING.
Posted by Cara at 11:38 AM | Comments (29)
March 01, 2007
Oh to be stuck in the middle with you....
Today Lene wrote about how happy she is to be in the middle of her projects. To say I'm jealous doesn't even begin to describe how I feel. I'm not in the middle of ANYTHING. Not work, not a book, not my knitting (well, technically that's not really true, but...), not my spinning. Blah. Which has left me in an icky mood and I'm not sure what I want to write about so I'll tell you some of the options:
-- I could write about the socks I have on the needles that are just not doing it for me right now. I could talk about how I think about starting fifty bazillion NEW projects, like the Anemoi mittens, about a thousands times a second and then I get too tired thinking about it to even LOOK at the yarn, let alone wind it up.
-- I could write about how I did too much work the other day and now I'm in between processing shoots and how my computer is making me nuts (just when eveything was finally working great) and it's taking forever to get things going on the next job. I could write about how I was feeling like I had so much work going on and now I don't have any on the horizon and how in about a half an hour I'm going to start panicking that no one will ever hire me again. I could also write about how I'm about to embark on a whole new work project that will hopefully do great things for my business and how I'm working with other people on this so I have to wait for them and spend lots of money and how I dream about how good it's going to be but then I get scared that it won't work and I'll have wasted money and this business stuff is really scary. I'm finally getting to a place where I sort of kind of know how good I am and the potential there is for my business but I don't know all the things I should do to grow it and then I think I'm a fake after all and it's quite overwhelming and exciting sometimes!
-- I could write about how I'm trying very hard to knit Am Kamin. I'm trying hard to love it and everytime I try to knit the freaking swatch I feel like a complete idiot because I'm trying to read the charts which aren't even in Japanese, they're in KNIT, which is a language I'd like to think I can speak but so far I can't even tell which are the right side rows and which are the wrong side rows. Positives: I love the yarn I might end up using. I know how to do a tubular cast on now. I can make great photocopies of charts. Whoo HOO!
-- I could write about how the Am Kamin thing is really depressing me because I NEED to knit another sweater and all signs point to this one but it's just not working out and I think I should move on to something else but what else is there and then I could write about how there are 87,419,532 sweater patterns out there but I don't like ANY of them.
-- I could write about how my 20th High School reunion is this May and how there's a website that I check a few times a day (which, by the way, I don't think makes me obsessed. I know that each and every one of you - if there was a website where people you went to high school with were posting pictures of themselves now and telling you how many kids they had and whether or not they're married and what they do for a living that you would be looking at it a few times a day too!) Yesterday I put myself on there (I used a picture from the CPH photoshoot) and how I have incredibly mixed feelings about the whole thing. I don't speak to anyone I went to high school with and save for one friend, I never talked to ANY BODY after I left home the summer of graduation. So I'm pretty sure I'm not going to the reunion. I'd love to be a fly on the wall but unless they knit, after the obligatory what have you been doing for the last 20 years? I really don't have anything to say to any of them. But the whole I'm 20 yrs out of high school - how did that happen because I still feel the same inside - albeit wiser and happier - as I did then thing is kind of freaky. Time flies, huh!
-- I could write about the fact that I'm so not in the middle of anything that yesterday I washed the sheets on my bed, folded laundry, and vacuumed the disgusting carpet in my dining room. Yes. I did housework. Ann wanted me to check for alien probe entry points.
I hope you're in the middle and it feels oh so good!
PS - Tell Margene happy blogiversary! Three years and counting!
Posted by Cara at 09:47 AM | Comments (43)
February 27, 2007
Looking for Love
Thanks everybody for your nice comments about the yarn I made. I'm very happy with it. As to what I'll knit with it? I don't know. I haven't really spun up that much yarn, and only once did I have a project in mind while I spun. When I was spinning up the yarn that became my Seraphim Shawl, I absolutely KNEW the yarn would be a shawl. It made the spinning much different for me, honestly. But the yarn I just made? It almost feels like it's finished - I don't need to knit it up. In fact, when I was done smelling it and loving it, I threw it on the top of this basket: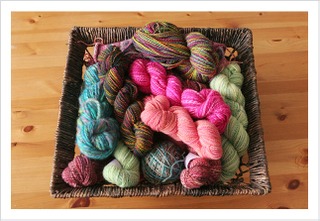 This lovely basket sits utop my yarn bureau and it's got mostly handspun in it - not just my handspun, but all of my Sock Hop yarn as well. And maybe a half a skein of STR. It's a beautiful burst of color in my otherwise neutral bedroom. Eye candy in every sense of the word. I like the idea of yarn as the finished product - yarn as art. Maybe I'll submit it to The Yarn Museum.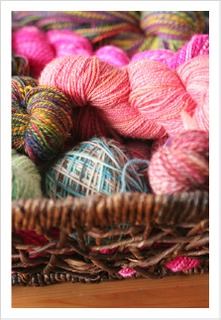 Anyway, I have no plans to knit with it just yet. I will, of course, show it to you if I do. In the meantime, I'm looking for yet ANOTHER sweater project. I think I had a dream last night that I was wearing Short Rows and someone complimented me on it. I've had incredible luck of late in picking sweater projects - Ariann, CPH - but I don't feel like I'm done yet. I've been knitting away on the mates to the J-One/G-Rocks socks but I'm not feeling the sock love. I need something to SINK my teeth into. It's funny - I've read like five books since I started Ariann and knit two sweaters - and now I'm on the look out for another book AND another sweater.
I actually started a swatch for Am Kamin. But I haven't gotten farther than the twisted ribbing. Although I did make beautiful copies of the charts and such. I just need to start knitting the actual cables. Most likely this won't be my last swatch for this project so I better get going. I just want to be IN THE MIDDLE you know? All this prep work can be so tiring. It's why I don't like to cook. I'm too impatient for the prep.
I wouldn't be surprised if another sweater bites me in the ass before this swatch is off the ground. Just sayin'.
Posted by Cara at 09:10 AM | Comments (32)
February 01, 2007
Easy Does It
Enough with the knitting drama already, no? I started the CPH sleeves but you don't really want to see them, do you? I'll wait until I'm a bit past the ribbing. It's just ribbing. Thank you all so much for your support of my tutelage. It's nice to know that I can spread the knitty love. Win one for the blogs - I never would've fixed that miss crossed cable the way I did if I wasn't writing and reading knitting blogs. I hope none of you will ever need the fix - but if you do - it's there.
Some random tidbits this afternoon:
Blogless Rachel H. has let me know that some librarians with ties to the knitblog world have weighed in on the whole Bridge to Terabithia movie thing. You can go here to find out what they have to say. Apparently the screenplay was written by Katherine Patterson's son. While that may save the movie, I doubt I'll ever see it because that book has a very special spot in my brain and I'm not fucking it up. Anyway - thought I should pass that along.
By the way, I just finished reading The Westing Game and I am astounded at how well it's written - as an adult and a writer. READ IT. And then go read The Goats by Brock Cole. Another fantastic YA book. This one's really killer. I'm not sure it's actually appropriate for children to be honest.
Two commercials that make me hot in a cheesy soft porn kind of way:
DUDE. I am a SUCKER for a good kiss. Seriously - ever since I was a young pre-pubescent I have LOVED the kissing scenes. The easiest way to my heart is to make out with me. Craziness. (The pictures on the Rembrandt website are even better than the commercial.) Gotta get me some of that! Toothpaste, I mean.
The second one is for the new personal lubricant - World of Intrigue. (Oh my god - the website is TOTALLY cheesy!) I couldn't find a YouTube link to this one which surprises me because it's absolutely porn. Maybe this is saying too much about me? Who cares....
The last thing I want to say today is that tomorrow is the Blogger (Silent) Poetry Reading. I did it last year, and I'm going to do it again tomorrow. Thanks to Julie for reminding me about it. Get out your poetry books and pick a good one!
L, C
Posted by Cara at 03:39 PM | Comments (19)
November 06, 2006
Money Talks
But it don't sing and dance and it don't walk.
Guess what though? Kay talks and sings and dances and walks. While I've long loved Kay for her many talents, she is definitely my new favorite traveling partner. Here are the reasons why:
- On the ride down to Stitches East, Kay indulged me in my spastic adolescent squealing about my love of Bootleg Bruce. She even sang along at times and participated in an almost intellectual discussion about Bruce's musical merits. This alone makes her one of my favorite people in the entire universe. Some people would have made retching noises the second I put the CD on. Kay may have actually gotten a few spine chills herself. Are YOU ready to Prove It All Night? Kay is.
- Kay thinks it's perfectly normal when you pull over at a rest stop on the highway to demonstrate knitting techniques.
- When you actually get to Stitches East, Kay thinks it's okay that you think peeing is a priority over meeting THE Fiona Ellis in the ladies room. Swear to god. We walk into the bathroom and I hear Kay going Cara, Cara come here and I was already peeing. Dude. When nature calls. Fiona Ellis was super charming and when I gushed she didn't seem flustered at all. I'm still on that Short Rows high.
- When you go to drop off your superfabulous blanket at the Blue Moon Booth, Kay doesn't make fun of you when you bury your face in the blanket to smell it just one more time. Or when you end up buying more Socks That Rock, because, you know, you might not have enough.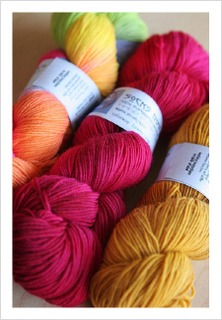 STR Lightweight: Sherbert, Lover's Leap and 24 Karat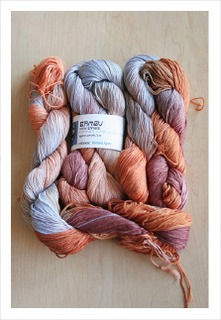 STR Bambu in Banded Agate
- When you buy a couple of shawl closures at the
Moving Mud
booth because you can't decide which one is more beautiful than the other, Kay voices an opinion but doesn't judge. She also doesn't judge when you walk away just a little bit smitten with the beautiful Sarina, glass maker extraordinaire. Man that is one gorgeous woman.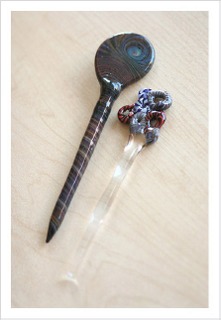 Shawl pins that end up being too big for my shawls. But oh so pretty!
- Kay is the kind of friend that buys you french fries to share. And when you come back for said fries after checking one more booth, she tells you that she had to throw them away because they were really really awful. ;-)
- When you go to buy a really cool Lexie Barnes knitting bag only to find out it's really a diaper bag, Kay calms you when you get all superstitious about buying baby stuff before there's actually a baby and offers to take the diaper pad for you, so, you know, you're not tempting any fates.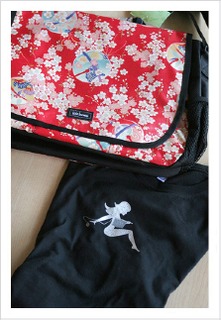 Lexie Barnes Superstar bag in the Makiko print
T-shirt from Modern Yarn
- Kay thinks you're kind of cute and not annoying in any way when she listens to your
spiel
about
Spin Out
for the 100th time.
And finally, when you consider going for the Nesquik Milk Shake from the vending machine at the rest stop on 95, Kay stops you and says when it comes to chocolate milk, you gotta go with the original. Oh how right she was!
Thanks Kay! Next time I end up driving 6 hours to spend 3, You're THE One!

PS - If you haven't already - make sure you go over and wish my favorite Cheesehead a Happy Birthday! GO! NOW!
Posted by Cara at 02:46 PM | Comments (31)
October 25, 2006
You Can Have Too Much Fun
All weekend long my throat was tickly and I started losing my voice. I thought it was from all the laughing and screaming and the perpetual draft I was feeling from the AC cranking. (That's what happens when you travel with three peri-menopausal women - I'm sitting in the backseat with every article of clothing I own wrapped around me shivering to death and the three of them are fanning themselves in their bras and underpants complaining about how stuffy it is in the car. You think I'm kidding?!)
Anyway. I'm sick. My throat no longer tickles, it flat out hurts. This is the worst time for me to get sick, as my weekends are booked through November with multiple photography jobs. Parents don't like it when you're sick. Hopefully I won't be a drippy mess by the weekend when I have to work again.
And I feel like I should be in full Hazmat suit around my husband. We've finally scheduled his surgery for late November and god help me if I get him sick. Can you imagine the guilt? So we're staying away from each other. Which is kind of sad because I'm really missing him.
I haven't taken any pictures of my haul yet - but I will for tomorrow. Tomorrow is sort of a kind of maybe special day and I will finally take pictures of all that I bought to celebrate. It really wasn't that much and I pretty much like it all and am happy about my purchases.
On the knitting front, I've been feeling guilty about the fact that I might not actually finish a pair of socks for Socktoberfest. I'm just about to the heel on my second green Koigu knee high and yet I'm completely infatuated with my Pomatomus sock. Even though I hate ribbing and purling in socks - I'm loving this pattern. I finally figured out the yo purl on the first stitch and I wonder how I ever had trouble with it - the pattern's memorized and I'm sailing along. I've got half a repeat left before I get to the heel flap. But I really should finish the knee highs before October is over.
And I'm LOVING knitting with STR again. You know, a lot of people said stuff to me at the festival about the lines at The Fold and when/if it was rumored they sold out. I'm not feeling the least bit guilty about it. I LOVE THIS YARN and will make no apologies about how I feel about it or how much I happen to have in my house. (By the way, the new alarm system will be installed next week so don't get any ideas.) I thought the line was GREAT!!! FANTASTIC! AMAZING! How many of you met new people and had a lovely time talking about knitting and the festival and blogging while in that line? I know I met quite a few of you just walking by - it was great! I didn't see anyone pissed off in that line. Really I think everyone should knit with this yarn. And I was totally heartened to see so many people trying it out. Do I think you should all wait to buy it at Rhinebeck or another fiber festival? Not at all. That's why I told you I buy directly from Blue Moon. I understand wanting to see it in person before you buy it - I really do. But sometimes that's just not possible in this fantastic world of yarn we live in. There are a number of yarns I'd love to try that I can't get anywhere around here. So I decide to trust my knitting friends and jump in. Or I don't. Most yarn sellers are incredibly easy going - if you buy it and hate it they will usually take it back or exchange it. And for all of you that emailed me and told me they sold out of lightweight by 10AM - that's just a rumor. Toni never had lightweight for sale. Trust me on this. She only sells mediumweight and heavyweight. Another reason I buy directly from Tina. Although I did pick up a little something from Toni on my way out the door Sunday. But that will wait for tomorrow.
Just my two cents. You can hate this yarn or that yarn - you can love this yarn or that yarn. That's ultimately the beauty of our community. Free will and an open pocketbook keeps EVERYONE happy.
Okay. I'm crotchety and sickly and I'd really just like to jump back into bed but unfortunately stuff has to get done today. So have a good one. I promise pictures and fun and HAPPY tomorrow.
Posted by Cara at 10:50 AM | Comments (62)
October 16, 2006
FYI - YARN RECALL
A yarn store I've frequented, The Knit With, located in the Chestnut Hill section of Philadelphia, sent out a notice today of a Yarn Recall. They are recalling the following yarns:
Debbie Bliss Cashmerino Aran
Debbie Bliss Baby Cashmerino
KFI Cashmereno DK
Noro Amagi
Noro Cash Iroha
Noro Lotus

The Knit With states in their letter that after expert analysis of these yarns, it was found that they do not have the stated cashmere content. It should be noted that KFI, the distributor of the above listed yarns, does not agree with their findings. The Knit With is accepting returns of the yarns listed above, regardless of when you bought the yarn or if you've used it or not. A store credit will be issued for the net price paid plus 10% of the purchase price on top of that. The letter they attached is very heartfelt - they seem deeply disturbed by their findings.
The letter and recall are available here.

I've closed and deleted all of the comments on this post. I hate to do it, but honestly, I don't really want my blog to become a debate arena. I posted the recall because it came to my inbox and I thought it was important to pass along to my readers. Clearly there are two sides to every story and it's up to all involved to do what's best for their businesses and purchases. Personally, I've knit with and don't like the yarns listed, so it doesn't matter to me whether you sell it, buy it or make it. Thank you for reading.
Posted by Cara at 08:05 PM
October 13, 2006
Oh Crap.
I'm bored again. No. That's not really true - I'm more like...disinterested. Yeah. That's it. Snow was talking the other day about blogging becoming a chore and while I don't feel like the blogging has become a chore, I do feel like I'm completely off my rhythm. I like to blog. I like it a lot. I like waking up in the morning and reading my emails and a few blogs and all the while churning up a post in my head. Some days are easier than others, but there's always something to say.
Breaks are nice too. Don't get me wrong. When I'm in my routine, I'm a M-F blogger and that can get tiresome (not just for me, I'm sure) so it's nice when I get a few days during the week to ignore bloglines and emails and just not worry about writing something smart and pithy. But it's been too long since I've been out of the routine. I feel like I lost my blog mojo a bit. I'm determined to get it back though.
And the knitting. Oh god don't get me started on the knitting. I am so freaking bored I don't know what to do with myself. And dissatisfied. I'm thisclose to finishing a project I started a long long time ago and it's anti-climactic to say the least. I'm fatter than I was when I started it (which is a whole other issue and one that I'm very very upset about. Do I get off my fat ass? NO.) and it doesn't fit as well as I'd like it to and well, I'm just not feeling the love. Which is sad.
Knee socks progress and I still love them, but stockinette is finally getting to me a bit. But I really don't feel like making a different kind of sock and I like these and I want them finished. And there are like fourteen more to finish as well. Blah.
What I really want to do is finally make the Am Kamin* sweater. BUT, that will require some major swatching because I don't know what yarn I'm going to use and I just want to jump in and DO IT but I have to have patience and then I have to order yarn and I just pulled a piece of skin off of my cuticle and it freaking hurts and is bleeding and when I think about all the work I have to do just get STARTED with this sweater it makes me exasperated and I go back to knitting knee highs. And then I get bored. Fucking circle of crap.
This is supposed to be my favorite time of year and I'm tired and I have a lot of work to do (the busy season has started for work) and all I want to do is crawl in to bed and watch 87 hours of Another World (which my DVR decided to stop taping for two days - that and Gilmore Girls. Is my DVR judging me? It didn't have any problem taping Grey's Anatomy or Studio 60.)
I want my routine back. I want to wake up and sit at the computer, blog a bit, go out for a nice run, come home and eat my NEW FAVORITE BREAKFAST (thank you forever Annie!) and get my work done and end the day next to my favorite boy knitting away on a fabulous project.
And to top it all off? They stopped making my favorite tampons. Tell me that doesn't fucking suck.
Happy Friday the 13th. Sorry for the rant. Better day tomorrow.

* The Crossed In Translation blog is still down. I inadvertently deleted it from the server and I have yet to get it back and running. One of these days I'll get it back up. I'm sorry. Please be patient.
Posted by Cara at 11:35 AM | Comments (63)
October 04, 2006
Pencil me in.
I'm home. This time for good. Or as good as five days. We'll see.
In those five days, I hope to blog about the following:
-- An ode to the socks I have knit and will knit and are knitting in honor of Socktoberfest 2006. (Although that seems redundant already, no? What's there like 80 million people knitting socks? It's all good though.)
-- Annouce the winners of the Haiku contest. I'm so sorry I'm so behind. I'll add extra winners because of the guilt. Promise.
-- Talk about Shannon Okey's new book, Spin to Knit! This will actually happen on October 7. I'm part of a BLOG TOUR!
-- Show you FO pictures from Seraphim.
There may be some other stuff thrown in there too, but I'm feeling like I have no time for any of this and I want to do all of it and bear with me please. There is more dirty laundry in my house than I've seen in my life. (Where have all these clothes come from and who are the people wearing them?! Only two of us live here - last I checked.) There are errands to run and a house run amok (didn't I just clean this place?) and I'm still freaking tired. Who knew jetlag from the left coast could be so bad.
Oh and for the record: I do NOT feel bad about not knitting for charity. It's my time, my decision and I'm more than willing to hand over money to a cause I believe in. What I do feel slightly bad about is the handknits for the niece and nephews. I'd absolutely hate for one of them to think I loved them less because I didn't knit anything for them. That would make me sad.
Posted by Cara at 09:21 AM | Comments (33)
September 19, 2006
Teaser
I've got some good news and some bad news. Which do you want first?
Okay - the bad news is that starting tomorrow I'm going to be scarce for the next week and a half. I go to Philly tomorrow for Rosh Hashanah at the end of the week and then G and I are taking a little vacation and then I'm back to Philly for Yom Kippur. So I have no idea when and if I'll be posting during that time. I know. You are so so sad. ;-)
BUT!! Here's the good news!! To kick off the New Year, the New Season and the New Socktoberfest, I'm going to hold a nice big CONTEST! SOCK YARN FOR EVERYONE!!! (Well, not everyone, maybe like three or four of you? Gotta check the stash.)
Look for the contest - and it will be a good one - I'm trying to think of ways to make you work for this - sometime between today and tomorrow. Mwahahahahahaha!
Posted by Cara at 09:27 AM | Comments (26)
September 06, 2006
WTF?! It's Wednesday!
Time to get random....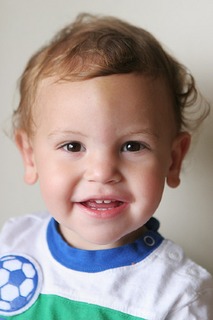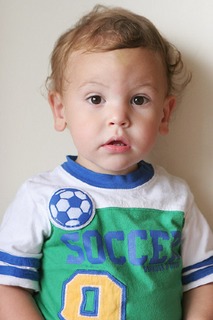 See this boy? Is he not the cutest boy in the universe? Today this sweet boy had
tubes put in his ears
. He's on his way home now, everything went fine, but think good thoughts for one of my favorite kids in the whole wide world. THANK YOU!
The inaugural
YARNIVAL
is here!!!
Eve did a FANTASTIC job with the first issue - I encourage you all to head over and read it. Really nicely done. AND she's
accepting submissions for issue 2
. So see what you've got and SUBMIT!
Crazy Stitchy not only has a new crazy book, but she's come up with BLOGGER BINGO!!!


Are you going to
Rhinebeck
? Then you NEED to know about this. And what better way to fill up your squares then at the BLOGGER MEET-UP! That's right. I'll be organizing my now infamous (move to the other side of the grass damnit!) blogger meet up. Same time, same place as last year. Details to come, but keep it in mind. Saturday. 1ish. Side of the main barn.
I played tennis again with G and kicked his ass. Okay, really only on like two or three points but they were legitimate winners. REAL WINNERS. Not him half-assed running to the ball and saying "good shot babe." He ran to the ball and tried to get it back and couldn't. There was cursing. DUDES. I was FORCING ERRORS. I also twisted the same goddamn ankle again, but it's okay and we won't be playing at all this weekend. Although there will still be tennis: we're going to the Open tonight. Oh and boo hoo hoo Gagassi. Never ever liked him. I'm a Pistol Pete girl. (C'mon! It's well known I've got a thing for Greeks!) I've seen Agassi play a million times. Been thisclose to him when he was practicing at the hotel I was staying at out in Palm Springs. Eh. I don't know who we're seeing tonight, but I know I'll be wishing I was playing instead of watching. Kind of new for me.
Remember those movies when the rats or bunnies or hamsters would mutate and become giants and take over the world? I SAW ONE OF THESE MUTANT RATS IN PERSON!


This picture doesn't do it justice. We were at a small local zoo with the kids last week and we turned a corner and THERE WAS THIS GIANT FREAKING RAT! Scared the hell out of me. My nephew said look at the cute giant hamster, but this baby had RAT written all over it. It was one of those things that fascinates and terrifies all at the same time - you know? It's technically called a
Capybara
and it's the largest rodent in the world. They can get up to 175 pounds!!!!! Giving me nightmares.
Speaking of nightmares, last night G and I watched the first two acts of Spike Lee's When The Levees Broke. You should all see it if you can. It's heartbreaking and shameful. And so far I don't feel an agenda being played out. Only once has Spike made his presence known and it was actually kind of funny. I'm not a big Spike Lee fan, but this is very well done - honest, stark, brutal. G and I are going to New Orleans tomorrow night for a three day weekend. I feel like I want to DO SOMETHING while I'm there, but I'm afraid being a tourist may be all I can do. Very scary stuff.
Thanks to everyone who purchased yarn yesterday in my stash sale!! I'm going to leave the few items left up for the day - if they don't sell by tomorrow I'm taking them down and I'll rethink the kit. If anyone is interested in any part of what's left - send me an email (address at bottom of this page) and I'll figure something out with you. THANK YOU!
Have a GREAT day!
PS - My site STILL looks like crap in IE. Anyone know a whole lot about CSS and IE compatibility? I tried changing the font codes to px instead of small, x-small, which I have now and it helped with the font size, but IE is still not recognizing the padding on my img borders and it messes up the fonts regardless when it appears after the image. Any and all help is appreciated. I generally use Firefox to view my site, but it bothers me to no end to know that it's out there not looking how I wanted it to look. THANKS!
Posted by Cara at 10:24 AM | Comments (42)
August 17, 2006
Sweet Dreams Are Made of This
NOT!
I woke up this morning from a bad, bad dream. I was writing bad checks all over the place. Fun times. Add that to the list of things I hate. I immediately went and paid all my bills.
Oh yeah and I found something even more boring than spinning the second 4oz of singles. PLYING the second 4oz of singles. But I know now that spinning really IS zen if you can get past the monkey brain. Have you ever tried meditation? I've only done it a few times, but I could never get past the spot where all the thoughts good bad and uglier than ugly just run around in your "empty" mind willy nilly causing trouble. I think I did it twice and realized NOT.FOR.ME! I need to be active in some way or else I'll go crazy. My mind can never be empty - or emptiness leads to OCD which leads to insanity. Spinning is like meditation - not quite as bad because at least you are doing something physical, but once I hit that groove - right tension, right treadle speed, etc. I got the monkey mind. I think if I was able to get PAST that it might actually be zen like but for the time being it was a bit too much and I stopped.
And then I started to knit. I managed to knit the short row shoulders on the back of my BW Top Down Sweater and looking on in the directions I can visualize what I will have to do for the front as well. I'm quite excited about it. It only took me three tries to get the short rows right which is nothing short of embarrassing since not that long ago I was Short Row QUEEN. But alas, it is true: USE IT OR LOSE IT.
Today there will be LOTS of knitting. Mostly on the knee high which I hope to have finished by the weekend. Pictures tomorrow. I'm excited to see how the pooling does or does not match up.
Boring I know. Thanks for all the comments yesterday. I found it funny that a lot the comments were about the people who let their dogs off leash AND that those comments were mostly from dog owners. They say all you need is love but I'm not so sure about that. I think all you need is RESPECT. We're sorely lacking that in today's world. So go on out and respect someone today. Go ahead. I dare you!
Posted by Cara at 08:47 AM | Comments (19)
August 16, 2006
Hate is just another four letter word.
Like L-O-V-E.
I've been accused of loving everything - actually becoming obsessed over everything - and it didn't feel very loving when it was said - but I'm here to tell you that it's just not true. I can hate blindly and deeply along with the rest of you.
To prove it, I'm giving you my very own Stephen Colbert ON NOTICE list that I originally saw over at Julia's. I don't think my post will match the brilliance of hers (and by the way, she stole all the things I hate) but I'm going to give it a go.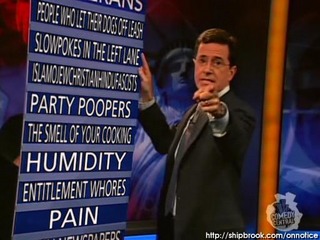 People who let their dogs off leash
See here. There are places where you are allowed to have your dog off a leash. Go there. I could give two shits that your dog is so well trained you taught him to shit on cue, keep him on a leash. Oh and my god there's a special place in hell for those of you who HAVE the leash, in hand, but don't put it on the dog. Poor little doggies. It must be just awful to live with you.
Slowpokes in the left lane
(Not to be confused with Snakes on a Plane. Those are okay.) PASS on the left. PASS. Not PASS OUT. Move the fuck over.
Islamojewchristianhindufascists
Orginally I had islamojewchristianhindubuddhistfascists but G said that was taking it a bit far. I mean, who ever heard of a buddhist fascist? (Richard Gere doesn't count.) Also it didn't fit. Here at January One, we're all about equal opportunity hatred. I don't care who you are and what god you might happen to subscribe to - if you kill, maim, disparage, torture, discriminate against, or do anything other than love and respect those that do not believe what you believe IN THE NAME OF YOUR GOD, then you don't deserve a place on this fine planet. Nuff said.
Party Poopers
You know who these people are. They have something to say about everything and more likely than not it's negative. You know what? My life isn't so great all the time, but I CAN CHOOSE not to dwell on the negative. Or at least try not too. It's going to rain (when the sun's up in the sky.) You're doing it wrong (my way or the highway.) She's happy all the time (walk a minute in my shoes.) GET OVER YOURSELF. If you don't have anything nice to say, then find another Party Pooper and go to it. There is so much negativity in this world why perpetrate it? And THERE IS SO MUCH DIVERSITY it's paralyzing sometimes. SO IF YOU DON'T LIKE WHAT I/WE/THEM ARE DOING - GO FIND SOMETHING ELSE!!!
The smell of your cooking
Dude. It might be your favorite dish in the whole freaking world and your grandmother's secret recipe from the old country and I'm happy for you that the recipe survived three wars, two marriages and a boat ride across the Atlantic BUT I DON'T WANT TO SMELL IT IN MY BEDROOM. Please turn the fan on in your kitchen. That's why you have it.
Humidity
I'm rendered speechless by the hate.

Entitlement whores
Ah. One of my favorites. I should be able to drive any car/truck I want regardless of its damaging effects on the enviroment and the safety of others because THIS IS AMERICA GODDAMIT! My kid should be able to push your kid around in the sandbox without repercussions because kids will be kids and THIS IS A FREE COUNTRY GODDAMIT! My problems are the most important problems in the world and must be attended to this instant because THAT'S WHAT DEMOCRACY STANDS FOR! I want it NOW. I don't want to wait. I don't want to work for it. I WANT IT THE WAY I WANT IT BECAUSE THAT IS MY RIGHT UNDER THE GOOD OL RED WHITE AND BLUE. What happened to this fine country? I'm all for individual freedoms and rights and the pursuit of happiness but we all still have to live together. Whether we like it or not, sometimes that means doing things for the greater good. We're not all perfect, but we can try a helluva lot harder to RESPECT. R-E-S-P-E-C-T. Find out what it means to me.
Pain
Emotional pain. Mental pain. Physical pain. Psychic pain. Pains in the ass. I'm against it all. But especially the pain that my love suffers through every single day. That pain I hate more than anything.
Whew! That felt good! I encourage you all to try it. Thanks person who was so judgemental towards me! I appreciate it!
Yesterday I spent all day fixing up things around here. If you'll take a moment to notice - I cleaned up the sidebar. There is now a drop down hierarchical topic list for better navigation, as well as a search bar. I hope it makes your reading easier and more efficient. Also, I moved all of the Spin Out information over to its new home: SPIN-OUT.ORG! Getting things ready a bit early for Spin Out 2007. I had a bit of trouble though and accidentally erased the blog for Crossed In Translation. Eventually I will get it all back up - it's been very very slow for awhile anyway, so I'm not going to kill myself, but BE CAREFUL. Back up your blogs and my god check like eighty times before you hit that delete button.
My back is feeling better - thanks for all the suggestions. I had a really weird episode with a chiro once (had nothing to do with back cracking and everything to do with being half naked in an exam room and being seriously creeped out) so I won't be going back anytime soon. I'm sure you understand. Anyway, I rested it good yesterday (read: no knitting or spinning) and that seemed to work for me. The other night I did cast on for my BW top down sweater - which meant CROCHET. My god that provisional cast on is fiddly. But I did it and then started the short rows for the shoulders but didn't like the way I was doing it on the purl side so I ripped and I have yet to go back. I did do some work on my STR Knee High number 2 - I'm past the ribbing so it's SMOOTH sailing from here on out. Maybe some plying on tap for today. We'll see.
Have a FANTASTIC DAY!
L, C
Posted by Cara at 09:57 AM | Comments (44)
August 08, 2006
blah blah blah blah blah blah blah blah
Blah.
That's about it. I got nothing exciting. Nothing exciting at all. There is SO MUCH to do around my house that I'm paralyzed. There is SO MUCH going on in my brain - not much of it good - that I might actually attempt some of the stuff around the house as a way of trying not to think. It's still hot.
We had a nice dinner last night - G was very happy. I was happy because he was happy. But still. Blah.
I think I'm going to attempt some stuff this morning and spin away my afternoon. I got the wonderful heel/toe roving from Teyani yesterday and I want to finish up some stuff before I spin it. I may start another knee high. Or my Barbara Walker sweater - although I read through the instructions AGAIN and I still can't make any sense of what she's talking about. Makes me feel stupid.
And I want to get back to log cabinning. That makes me happy. But it's big and tedious now. Blah.
I would love to take some pictures. LOVE IT. But it's still too hot to go outside and I'm feeling paralyzed by the ABC-A-Long in that I can't think of an L that I like. Sure there's love and laughter and all those sappy sentimental L words. Give me something good. That will stretch my creativity.
Seriously. Give me an L. I need an L. Any L. It can be a thing or a concept or anything. But just don't give me Light. I've already had that one floating around in my head.
And while you're giving me an L - give me a book to read. I need something good - something I can sink my teeth in that's not too depressing - not too mainstream (re: Grisham, et.al.)
Go to it. Help a girl out.
Posted by Cara at 09:50 AM | Comments (121)
July 18, 2006
Tuesday means
Saturday SKY!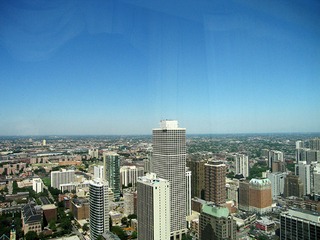 Sandy
- I was thinking of you! Here's the view from our room on Saturday. We weren't alone in the sky though: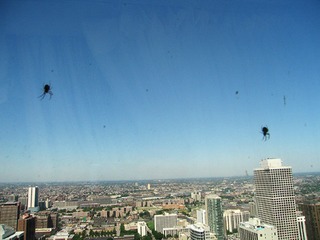 Apparently big ass ugly spiders LOVE the sky scrapers. Who knew?! They didn't bother us though - but at one point there were like six of them on the windows. They must be really sticky! Go Spidey GO!
We had a great time (Well I did. G worked a lot.) We went North: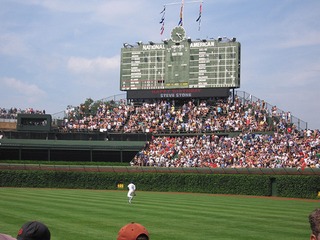 We went South: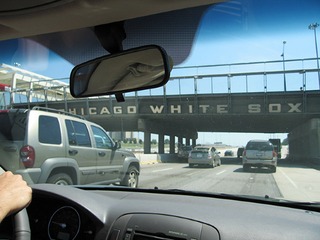 And in between met some great people and did a bit of fiber shopping. I'm beat though - we got in last night - and I'm HOT. It was pretty funny - everyone in Chicago kept warning me how hot it was - it was like they thought I lived in Alaska or something. This is what I came home to:
STAY COOL! More about Chi-town tomorrow! Now go say happy birthday to my favorite NORMA!
Posted by Cara at 12:52 PM | Comments (16)
July 12, 2006
Chicagoans - what do you think?
Does this look good? Should we meet up there? Lemme know. THANKS!
Posted by Cara at 07:40 PM | Comments (5)
ardomn
Since it's Wednesday and my life is all about the random, LET'S GO!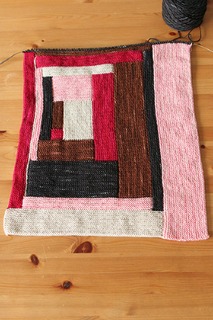 Member how I said something about bad numbers and my trepidation about keeping up with this random thing? Yeah. THERE ARE NO BAD NUMBERS! This thing is totally random - I swear on my STR Stash that I haven't cheated AT ALL and it looks like it was completely meant to be this way and is totally perfect and oh my god I can't wait to make my next one! I swear I could NOT come up with anything better than this if I tried for all eternity. RANDOM IS GOD!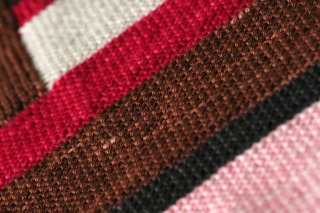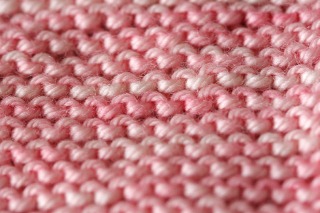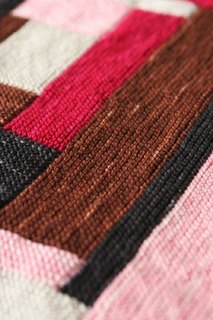 The perfect garter stitches are like pearls, plucked from a juicy oyster in the South Sea. FANTASTIC! Right now the piece measures about 16x20 - and I'm no where close to running out of yarn. I'm going all the fucking way!!! My plan right now is to knit until I run out of a color, since they won't be used evenly, and no matter what the number for that section, I will end the row and then I will continue with the remaining colors until they run out, etc. I'm feeling like there will be great balance in this project. Great and perfect, carefree balance.
And in the "you're never the first with your brilliant ideas so get over yourself already" department, I saw this link to Pixelated Knitting over at Kellee's. She's taken this whole random thing about a gazillion steps further and is doing Sudoku Knitting. And she came up with it way back in April. Very, very cool.
What else? Well, you saw the fun we had packing boxes over at Kay's but that's not all the fun I've been having. Firstly, let me say thanks for all your suggestions and concerns about mailing out many packages. I think to get USPS pickup you need to weigh the boxes first and pay for shipping and I don't have the means to weigh the boxes, so I will use the cart my apt building supplies and pile it high then go to the PO around the corner. No biggie. Besides, I love the girls at the Post Office - they are very nice.
Now, on to the fun! I'm not sure if I've ever mentioned this or not, but my sister and her husband own a bunch of Ben & Jerry's ice cream shops (no - they never have freaking ice cream in the house. It's pathetic!) around and about Philly and South Jersey. Saturday night was a HUGE partay down at The Borgata in AC to celebrate the big opening of their store in the food court there. We stayed overnight, had a FABULOUS dinner, lost $$$ way too quickly (the losing doesn't necessarily bother me - I gamble for entertainment - the part that bothers me is that I lost quicker than I usually do and I could literally be at the craps table ALL NIGHT. So the fun was over there way too fast.) and DANCED the night away! We had a great VIP Suite at the HOT HOT CLUB (which is very nice for us geeky nerdy completely UNCOOL types who can't get into clubs at all.) I DANCED AND DANCED with my husband, which I love - he can rock out with the best of them - and my sisters and I had FUN!


This is me with my sister right after I came off the dance floor. I'm sweaty and gross and HAPPY! One of my favorite parts of the evening was my outfit, believe it or not. When my sister was here we shopped and shopped with three kids, the oldest being 5.5, looking for a HOT outfit to wear to the club. Nothing. We are not hot. We are old with kids and fat and ick. But somehow, on Saturday MORNING, right before we had to leave to go to the shore, I found a great pair of jeans, a tight black sleeveless top that allowed me to wear a bra and didn't show my back (I don't like my back) and wasn't obscene, and a FANTASTIC pair of shoes.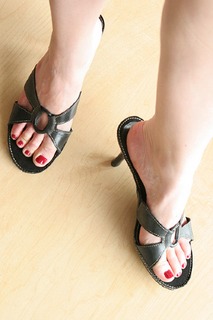 I LOVE the shoes! Nine West outlet, $30, comfortable! I wore them all night and at 3:30 AM I was a little bit crippled walking back to my room, but I had worn them since 6:30 and boogied my little heart out so I say BRAVO!
Another thing I received Saturday and which looks dirty and wrinkled in the following picture is my fabulous shirt(s) from Urban Yarns!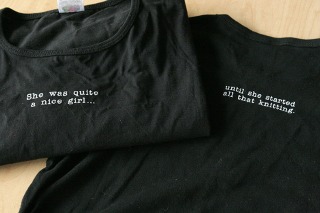 I saw them first over at
Lauren
's and immediately went and ordered a long sleeve and a short sleeve! I have barely taken the short sleeve off. I ordered both in the XL and the short sleeve could use a bit of shrinking in the length (and a little in the body) and the long sleeve could probably be a smidge bigger across the bust. Just so you know. I love them!
CHICAGO! Chicago is fast approaching. We're leaving Friday morning and practically go straight to WRrigley Field (FUCK! You think they'll let me in now? I've been up since 6AM! I'm sorry!!!) when we get there for an afternoon game - against The Mets for pete's sake. I hate The Mets. GO CUBBIES! I'm free the following times - Friday night, Saturday night, Sunday morning/day, Monday day. WHO WANTS TO ENTERTAIN ME? I'm more than willing to "host" a little get together at my hotel either Friday or Saturday night. We're staying at a swanky joint so the lobby/bar area should be really really nice. Don't let me be lonely in a city of such fantastic knitters! ;-)
Have a randomly great day!
Posted by Cara at 11:36 AM | Comments (35)
June 22, 2006
Wet T-Shirts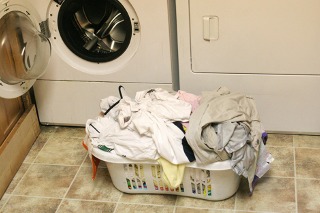 See, now, this is why I shouldn't do housework. Wet. Soaking wet. Although they've been sitting there since last night so now they're probably moldy and wet. Normally G does the laundry. He's kind of particular about it and apparently I'm just not up to snuff so he does it. Of course, I'm perfectly capable of folding all of the said laundry which is totally a cop out. I mean how hard is it to throw clothes in the washer then move them to the dryer? The folding is where all the skill lies. But I digress. We generally do laundry on Sundays - which is a holdover from apartment living when you had to lug all your clothes down to the basement and save up all your quarters and try not to get grossed out by the other things living down there. We have our own washer and dryer now - in the kitchen under the counter - so why limit laundry to Sundays? Anyway, yesterday was NOT Sunday but somehow we had missed laundry on like the last two Sundays so I was desperate for clothes and thought I'd do a nice thing. I got through the dark load and the white load okay fine. But the delicates (I don't know - ask G. It's his system!) didn't fare so well. I really stuffed the washer, but they made it through that fine - it's the dryer where everything fell apart. I cleaned out the lint compartment and then went to set the cycle timer and that's where I think things went bad. The freaking machine won't turn on. Can I just tell you? ALL MY CLOTHES ARE FREAKING DELICATE! I literally have nothing to wear. Sure, sure, what about all the clothes in the closet? Very funny. You see I'm fat and it's summer so I have like one pair of pants and two shirts that fit and I feel comfortable in. You know what I'm talking about. And now they're wet.
I completely blame G for this. When the stove blew up, he kept saying things like "I wonder if everything's going to start to go bad now. You know it's been nine years." JINX JINX JINX! I told him to SHUT UP! Like NINE is the magic number when all your appliances stop working? Is that true? I thought these things are supposed to last forever. When we moved in here all the appliances were from the Stone Age. I swear there was a little fairy or something rubbing two sticks together in the back of the oven. We got everything new then anyway because it was all supremely gross and the cootie factor was enormous. But c'mon? Is everything really supposed to stop working now?
I'm never doing laundry again.
Posted by Cara at 09:03 AM | Comments (32)
June 21, 2006
Pay Me My Money Down
First off - the quiz was broken but now it's fixed. Basically I had to start a new one - if you've already taken it, please don't take it again. Thank you! (Over a hundred of you took the quiz - is it the chance at free yarn, or bless my heart, do you all really want to learn about my religion, BruceSpringsteenOlogy - where it's okay to take any drug you want?)
I don't know where to start, really. I'm exhausted. We got home about 1AM and had something to eat then went to bed. But I was up at like 5:30 still thinking about the concert.
I expect a lot from a Springsteen concert. I expect to be transported to another place - a place where everyone pumps their fists in harmony. No, really, I expect to be lifted by the words and music. I expect the bass to pound in my throat and to be thrown into a frenzy and get extremely emotional. And I am RARELY disappointed. Last night was no exception. For the most part.
This time around Bruce is touring with a HUGE band - like 3 or 4 guitarists, bango,back up vocalists, piano, drums, a horn section, two violins, stand up bass, an archordian - there are A LOT of people on stage. And while the sounds of his new album verges on country (which I really don't like) or hootinan, the horns save it! The horns are everything. (I may be in love with La Bamba!) (OH MY GOD! La Bamba and I went to THE SAME HIGH SCHOOL! HOW COOL IS THAT!!!) The whole concert feels like you're at a New Orleans funeral. And the songs aren't his - they are mostly songs that have become part of the fabric of America - old Negro Spirituals, protest songs, ballads. In the liner notes most of them aren't attributed to any one person - they just are. But the presentation is pure Springsteen - it's rousing and fun and playful and serious and heartfelt and AMAZING.
The first four songs were a blast. I wore a smile so big my face hurt. I was bouncing around like a kid presented with a puppy - complete with squeals and clapping hands. I was sweating and dancing and singing at the top of my lungs! I WAS IN MY GLORY! I had Bruce and my man by my side and nothing could go wrong.
The next part of the story I'm a bit ashamed about. But I'll tell it anyway.
I'm not much for public sharing - i.e. movies, concerts, theater, sporting events. I'm acutely aware that there are many people out there just waiting to ruin public experiences for me. No, I'm not paranoid (much) to think that they are DELIBERATELY out there waiting to ruin things for me, but they are there. Waiting. It never fucking fails. I go to the movies and even when it's empty someone sits next to me and talks the whole freaking time. I go to the theater and someone talks the whole freaking time. So I avoid these situations. I rarely, if ever, see movies in the theater. I'd rather watch at home where the only person who can ruin the experience for me is myself.
Inevitably this happens at concerts as well. Especially Bruce concerts. Bruce's fan base is such that there are many people stuck in 1984 (the year Born in the USA was released and Bruce became MEGA.) These fans feel it is their god given right to see Bruce in New Jersey whenever he performs, get shit roaring drunk and scream out THUNDER ROAD every opportunity they get. Doesn't matter if Bruce is alone on stage playing acoustic. Doesn't matter if it's the E Street Band. They come and they drink and they scream. It's really quite a shame because in the end (if they remember anything) they don't like the show because they don't get Thunder Road and they don't get arena rock and still they come. One of my favorite concert moments ever was seeing Bruce at the Beacon Theater in NYC - a very small venue. He was on the Tom Joad tour, which was a solo acoustic tour, and he started the show telling people that he needed quiet to sing these songs and please help him out and still there was one asshole - no doubt from Jersey - who wouldn't stop yelling out Thunder Road. Bruce stopped, in the middle of the show, and told him in no uncertain terms to SHUT THE FUCK UP. If you don't believe me - I've got it on tape. ;-)
Last night, the first four songs were SPECTACULAR! I heard my favorite of the new album - Oh Mary Don't You Weep, which was followed up by a nothing short of astonishing version of Atlantic City. Really - blew my freaking socks off. I was dancing I was singing I was deliriously happy. It was GLORIOUS. And then this asshole and his girlfriend bogarted their way into the seats next to us. Now, I know when you buy tickets to a concert it's a crapshoot who your neighbors will be. That's the price you pay (along with your first born to Ticketbastard.) BUT when assholes show up next to you WHO DON'T EVEN BELONG IN THE SEATS then you have every right to be livid. Don't you? So these cocksuckers show up and they're plenty drunk and the girl is holding one of those extra large beaker bottles filled with beer and she kept her bag on her shoulder the whole time so the beer bong thing is swinging around and her bag is swinging around and they're dancing like drunken fools they are and they have friends two rows up who they keep high fiving with over this poor older woman's head who wisely stayed in her seat the whole time because really she probably would've gotten sucker punched if she stood up. In between songs, when Bruce is talking about the homeless and the death penatly and war, this fucker next to us is shouting "Who loves you Bruce? Philly loves you Bruce! New Jersey loves you Bruce! THUNDER ROAD!!!"
Now I understand full well that this is a concert. People are allowed to dance and SHOULD dance and people are allowed to scream and SHOULD scream (hey I can BROOOOOOOCE along with the best of them - and I do) but the drunken disorderly-ness is UNACCEPTABLE. I will never understand why people pay A LOT of money to come to a concert to get shitfaced. Wouldn't it be a lot cheaper to stay home and drink that six pack in front of the tape player? You can yell all you want there. It's just so obnoxious and ignorant and base. And yes I think I'm better than this guy. I really do. Because at the end of the night he's going to get in his car and drive home drunk and I can only hope he was arrested.
The worst part of all of this? I let the guy ruin my night. I HATE THAT. HATE IT HATE IT HATE IT! I tried so hard to be all zen and say that it was okay and I was there and the music was good but I was so freaking aware of his spastic moves and that his drunk ass girlfriend was thisclose to hitting G in the head and that they yelled through the quiet songs and screamed during Bruce's talks and that there was nothing I could do about it because anything action on my part of G's part would've ended in a fight and I HATE IT! I LET THE FUCKING DRUNK ASSHOLE WIN!
Really, though, in the end I don't blame the asshole. He's an asshole. He has no choice in his life but TO BE AN ASSHOLE. He's not smart enough to know better. (Or maybe he was - on the drive home I said to G what could that girl have possibly seen in him and we both commented on how we observed that when the girl left (to go buy more beer) the guy became completely normal. He stood there quietly - even sat down. As soon as the girl got back MR. ASSHOLE returned. It was really quite hysterical.) Anyway, I don't blame the drunk guy. Put beer in front of him, he's going to drink it. He has no self control. And I really don't blame the venue either (which was quite nice - Tweeter Center in Camden) - they're trying to make a buck. I blame Bruce. On the Devils & Dust tour, he made it tour policy that as soon as the lights went down and the concert started, all concessions stands closed. And yes, people were drunk because they spent all day drinking in the parking lot, BUT THEY DIDN'T GET DRUNKER. They got more SOBER as the night went on. It was one of the most enjoyable experiences ever. And while I don't expect this at every concert - maybe half way through you cut people off? An hour in? SOMETHING? I can't believe you enjoyed the THUNDER ROADING any more than I did. In fact, I know you didn't. So Bruce, my love. Do something!!!! I'm with you all the way, but please. No more.
Whew! That felt good. You may ask why I still go to Bruce concerts when inevitably there will be assholes nearby. Because my friends, those first four songs - when the asshole wasn't near us - were some of the best moments of my life. And that's worth all the assholes in the world.
Back later with some good stuff. And if you're interested, AOL is showing 18 Nights of Bruce - a live clip from each of the US concerts. Last night's My City of Ruins is already up. ENJOY! (I promise - no assholes.)
PS - Oh and so far no poison ivy. But I'm still itchy - although it's kind of an all over body itch so I think it's all in my head.
Posted by Cara at 12:54 PM | Comments (26)
June 15, 2006
Swimmin' with the Pugs
If you need me today, I'll be over here. In the meantime, I'm totally co-opting this cool meme thing I saw over at Kimberly's:
Please leave a one-word comment that you think best describes me — it can only be one word long. Then copy and paste this into your blog so that I may leave a word about you.
Go to it chickies!
Posted by Cara at 12:01 AM | Comments (111)
June 14, 2006
My Tongue Hurths.
Thomething happened to my tongue yetherday and it really really hurths. I think I burned it. But not on the uthual tip - on the thide. Tho everytime it toucheth my teeth it hurths. FUCK!
Thanks for coming out yesterday to cheer on this grand experiment! What I love best of all is that the marjority of the comments were from people I don't know - which is FANTASTIC! Out with the old in with the NEW! I've been trying to respond back to everyone in one way or another, so bear with me. If you get an email from me like six weeks from now you'll hopefully understand. I'm slow sometimes. And no, Lucia, I don't think that knitblogging is over. Not by a long shot - I do think that the lull these days is caused by a seasonal thing - the kids ARE out of school. The weather IS hot. We're all feeling a bit gin and tonics on the porch-ish. (Although make mine a lemonade please.) Add to that the normal ebb and flow of knitblogs and there you have it. God help me if the knitblogs go away - how else will I fill the time avoiding deciding whether or not to try to get pregnant? (Did I just say that out loud? Shit. I kid. Kidding. (hahahaha - kid - when talking about trying to get pregnant?!) I PROMISE I am taking my medication. It's Summer. I always go crazy in the Summer.) Change is good, or so I try to tell myself as I grasp onto the last bit of normalcy with my fingernails turning white and my hair blowing around as the winds of change try to knock my "normal" into oblivion. Change is good.
Did you know that there are no original ideas? I was all psyched about my Log Cabin Knits idea that I went out and bought the URL and everything. Then I come to find that there's a KAL here and there was one here which I guess got folded up into this one. So, of course, I thought, does the world really need another log cabin knitalong? And suprisingly, the answer I received from the universe was a resounding YES! That's the beauty of this thing - there's room for EVERYONE! (Also I paid for the freaking name and by god I'm going to use it.) I'm working out some technical stuff, but I envision something with lots of white (sort of like this blog) with Show & Tell Fridays and a very, very loose format where you can post if you want or don't want and share inspiriations and books and websites and people who inspire you and where it's all about the LOG CABIN in every form you can think of. Just want to knit endless squares and never put them together into anything? This is the place for you. And while my log cabin was of course inspired by Mason Dixon Knitting, the log cabin's of my future (I've got like 87 planned out in my head. It's very full in there these days.) are inspired by many many many different things. Therefore this KAL will NOT be associated with MDK (which the others seem to be) except in that it bows at the feet of Ann & Kay with reverence.
What do you think? Am I being an ass trying to reinvent the wheel? Or should I just go with my vision? I would just hate to step on any toes. Opinions welcome. Thank you!
There's MORE STUFF TO GIVE AWAY over at SPIN OUT Central. Teyani of Crown Mountain Farms has upped her prize contribution from two skeins of SOCK HOP Yarn in the never before seen colorway Love Me Tender to include one skein of superwash merino fiber (in Sock Hop Colors), one set of GORGEOUS handmade Asciano rosewood knitting needles and a handmade Jenkins turkish drop spindle. Thank you Teyani and Klaus! Morgaine from Carolina Homespun is sending us a generous prize package including learn to spin kits and fiber! Thank you Morgaine! And last but not least, Patty and Maureen from Green Mountain Spinnery in Vermont are sending in a Painted Hat kit which includes the pattern and two colors of Mountain Mohair and a carry bag. The best news though - THEY'RE COMING DOWN FROM VERMONT FOR THE EVENT! Can't wait to meet you! THANK YOU THANK YOU!
I also heard from Heifer International yesterday - we're like the poster child for amazing things you can do with a registry. They are very very grateful for all you are doing. Thank you from them and thank you from me.
That's still really nice, isn't it? Damn. Where the hell'd my MOFO go?
Posted by Cara at 10:35 AM | Comments (23)
June 07, 2006
Crapshoot
aka Random Wednesday.
- Please go watch this video. It has given me immense pleasure this morning. I've watched it no less than ten times. Seriously. I just watched it again and it's fantastic!
- Yesterday I waited for my new stove to be delivered. They were supposed to come between 1 and 5 PM. My building has strict rules - deliveries HAVE to happen before 5. At 4PM I called dispatch and said, um, remember how I told you the delivery had to be before 5, well, um, where's my stuff? They said they'd be there. At 4:57 they called and said they'd be late. Can we try to deliver anyway? I said sure but the building will turn you away. At 5:32 I got a call from the delivery guys saying they were turned away. Can they come today? Anyone want odds that I'll be cooking tonight? ETA: THEY'RE HERE!
- Actually, I can tell you I won't be cooking tonight because G and I are taking my sister out to Brooklyn to finally move her stuff into her new place. She's been staying here and for the last three nights we've gone "shopping." I put the word shopping in quotation marks because even though we've spent hours in a handful of stores trying on hundreds of garments I think she bought like one pair of pants. Or maybe more than that but she's returning everything but one pair of pants. My baby sister, bless her heart, can't shop retail. She can only shop thrift stores and New Jersey, Valley of the Damned Mall, doesn't have many thrift stores. Or at least none that I know of but I'm strictly a retail girl. I've learned a lot these last few days shopping with my sister. Mainly that I'm old and fat. It's been really really disconcerting watching her try on clothes. She did point out that when I was 24 my body didn't look like it does now (Thanks. Thanks a lot.) but I know my body doesn't look like it did when I was 24. What bothers me is that for every size 4 she tried on it seemed like someone had a bycicle pump attached to my belly and was pumping pumping pumping me up. And this is the week AFTER my period, when I'm supposed to feel all deflated and everything. I'm not going to even get into the fashion. It's like I've been living under a rock. I look at her clothes and think my god she's got a strange sense of style - I mean she wore a cowl neck thingy to work today that I swear to god I had in seventh grade - and then I go to the stores AND THAT'S WHAT THEY'RE SELLING! I was shocked! And the brands! I haven't even heard of half these brands. All I want is a nice pair of jeans that fits me and doesn't cut in my crotch doesn't show my ass crack and doesn't flare out like a freaking parachute at the bottom. Is that too much to ask? Throw in a bit of stretch and you've got yourself a deal.
I have never really felt old. In my mind I'm a much more mature, oh, let's say, 20. 20 was a good year. But these last few days I've felt like my sister's mother, waiting for her outside the dressing room, all dumpy and gross in my baseball cap. So not fair. Before you tell me to stop wallowing and get off my fat ass, I have been. Last week I got on the scale and I had tipped my threshold weight. You know - the spot on the dial that you swear YOU WILL NEVER GO OVER? Yeah. I went over. But instead of waddling into to the kitchen to open the new bag of chips, I strapped on my sneakers and got out and ran. I've been running for a week, I guess. Today was supposed to be a run day but it's pouring outside and I have to wait for the freaking oven guys anyway. Hopefully tomorrow. I hate the way I feel right now.
- Knittng has been nonexistant and I really, really miss it. I haven't been bringing it with me while I've been out shopping with my sister which is just so stupid really. I mean, I could've been relaxing with my shit while she's been trying on clothes and I just know it wouldn't have been so awful for me. Don't ask me why I haven't brought it with me - I don't know. Maybe I want to feel sorry for myself? My squares yarn came and it's great and I found my size 5s I thought I lost and I should just sit on the couch all day today and knit but I started cleaning yesterday and it felt kind of good to see the floor again so I'll probably keep going with that. And I have some work to do too. Bleh.
- Have I mentioned I hate Summer? It doesn't matter if it's rainy and cold outside, if the calendar says Summer my brain goes into hyperdrive. I'm already sick of myself and it's only June 7th. Maybe you should reconsider sticking around. Don't say I didn't warn you.
- There is some GOOD news around here! First up, WE HAVE AN OMBRE WINNER! The MDK girls picked

A Very Brady Ombre (or "Groovy Ombre") by PBnJ: Avocado Green, Burnt Orange, Harvest Gold, and "Paneling Brown." Apprently, 1971 was Harvest Gold year for both of them! Congratulations PBnJ!
Also, we're at $4846 in the Heifer Registry! YAY! And some new fantastic prizes came in yesterday: Paula and Kate at Woolarina are pitching in some yarn and stuff. (Go tell Paula CONGRATULATIONS on her wedding this weekend! YAY PAULA!) Allison from the Simply Sock Yarn Company has some fabulous Toasty Toes to send us. Lori Lawson, fiber artist extraordinaire, from the Capistrano Fiber Arts Studio in San Juan Capistrano, CA, is putting together a generous package of hand painted fiber and yarn for us. And last but not least, Cecil Miskin from Buffalo Gold has donated a huge gift of buffalo goodies: fiber and yarn and fiber for felting! I can't wait to feel the buffalo! (Oh and be sure to check out the contest Buffalo Gold is sponsoring over at Wild Fibers Magazine - you can win $1000 shopping spree at Buffalo Gold!) THANK YOU ALL!
Posted by Cara at 10:11 AM | Comments (27)
May 01, 2006
Thank you thank you thank you!
Not one person said anything to me about my shawl at the wedding, but WHO CARES!!! YOU GUYS ROCK! Way to inflate an ego. The next time my husband tells me I'm pretty I'm going to tell him he better repeat that like ninety times or else I'm coming here! Although, honestly, I hope I don't disappoint anyone at Maryland when I show up in my stained jeans (the only pair that fits) and a t-shirt and Merrells. I'll try to put gel in my hair, but I'm not promising anything. ;-) Seriously, thank you all so much for your comments on the shawl and on me. Truly appreciated - I was feeling all warm and fuzzy everytime I checked my email.
So, my hair looked GREAT. Really great. Thanks Jen for telling me not to cut it. And my dress looked good. The two pieces of cherry pie I had for breakfast really helped it cling. The shawl was gorgeous, natch. And the shoes crippled me. Hopefully not permanently. Who knew you had to stand so long at a Greek wedding? By the time the ceremony was done I was a mess. Hobbled. Limping is being generous. I calculated the exact amount of time I'd have to be standing - maybe 15 minutes at the Church - half an hour at the cocktail part and then I get my seat at the table and I never have to get up until it's time to leave. Nope. I stood for an hour at the wedding alone and that was it. I keep getting shooting pains up my leg and occassionally my pinkie on my right foot spasms. But I looked GOOD! That's all that matters, right?
It was a nice wedding, as far as these things go. G was feeling bad for me because no one said anything about my shawl. He's so sweet. When I got out of the shower and was getting dressed I told him that I'd had this fantasy that I left the shawl at the table while I was dancing and someone STOLE IT! Georgie - you don't think anyone will steal my shawl do you? Thank god he loves me because the look I got had divorce lawyer written all over it. At one point during the wedding he was talking with a friend and I got up to go to the bathroom and I gave him my purse and threw the shawl over his shoulder. When I got back and wrapped it around myself he told his friend that I had made the shawl and his friend was appropriate in his response, even if it did look like he was on round 42 of 100 Bottles of Beer On The Wall when he said it. My Georgie! He tries.
On the drive home I was just sad that I have no where fancy to wear the shawl again and G said it would look great with a pair of jeans. So maybe next time we go out to dinner. Thanks again for all your beautiful comments!
On Sunday I did a lot of stuff. Knitting wise. I finally re-tackled the collar on Short Rows and I've got it where I want it. Now all I have to do is sew the seams. And fix a couple of holes that appeared at the seams of the sleeves when I was ripping and re-ripping out the collar. I have no idea what happened - a couple of stitches on the edges became INCREDIBLY huge and loose. As far as I can tell the stitches aren't dropped or anything just gaping. So I'm going to twist the back and tack them down. Luckily it's the navy blue part so no one will be the wiser - and it's on the seam. To say I'm sick of this sweater is being kind. I hope to have it finished by the end of the week, but it's taking all the energy I have to sew a sleeve up, so I'm not making any promises.
I've been incredibly inspired by all of you! Here's a pair of socks I've started - I think I like it the best of the four socks I have currently on the needles: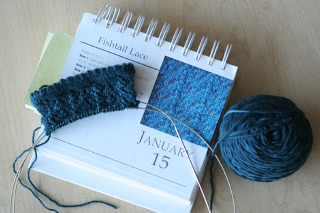 I first saw this sock over at
Susan's
(April 6th entry) - I'm calling it the January Sock because it's taken from the January 15th stitch pattern in the 365 Stitch Pattern Calendar. The yarn is STR Spinel in lightweight. I started these socks on Addi 1s (2.5mm) but switched to 0s (2.0mm) and I like them so much better. On the 1s the stitch pattern was getting lost - not enough stretch, but 0s should work great. I've decided that 1s are my favorite sock knitting needle size. They feel just right in my hands. My 2s feel clumsy and dull on the edges and the 0s I feel like I'm going to break and they keep bending. Oh well.
Another project I'm really excited about was completely inspired by MJ and Lauren! I bought a bunch of chocolate brown Rowan Calmer ages ago with the express intention of making a long-sleeve v-neck sweater - something casual and comfortable in stockinette. I also have some purple Calmer for trim and maybe some strategically placed stripes.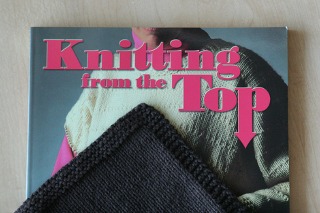 Both MJ and Lauren used Barbara Walker's directions for top down set in sleeves. I've had this book on my shelf forever and I've tried to read it a number of times and even though she says in the intro that she's going to use plain English and there's not a lot of math, I still get really jumbled up when reading it. But I'm giving it a go and both MJ and Lauren have both offered their assistance. I swatched the Calmer on size 8s and I like how it came out, so I'm going to take measurements today. We'll see what happens, but I think this whole top down sweater thing could be a revelation in my sweater making.
Thank you again for being so sweet! Happy MAY Day!!
Posted by Cara at 09:39 AM | Comments (40)
March 15, 2006
Dosh...or...Jonna...anything but RONNA!
Have I mentioned how much I love my DVR? I mean really really really really really love it? I've have just wound and rewound and re-freaking-round the KISS!!!! OH MY GOD FINALLY MY FANTASIES HAVE BEEN FULFILLED!
And while I'm on the subject of TV, can I just say that THIS is the way a series is supposed to end? Everyone wants Josh and Donna together, so now that the series is ending, we can put them together. And they can ride off into the sunset. UNLIKE Gilmore Girls - that show should've ended with Luke and Lorelei kissing and Kirk running out of the inn naked. C'mon. You SO know what I'm talking about. And you know I'm right.
Posted by Cara at 06:01 PM | Comments (14)
March 06, 2006
I'd like to thank the Academy....
I'm blaming it on PMS, otherwise I'm a big ass cornball, but I totally lost it during Reese Witherspoon's acceptance speech. She was so poised and beautiful and yet still retained her spunk. I feel like Ryan Phillipe isn't good enough for her - you know? And despite myself I like George Clooney. He's so Cary Grant, except not as effete.
Hi everybody! That's from Max, my nephew. He's sitting with me while I'm writing on my website. He wants to know when he can get his own website. We told him when he's ten.
y y h,ugyhhm M,MNJMM. (That's from Baby Eli! (Who's actually a big boy these days crawling up the stairs and standing by himself!))
I ripped the Embossed Leaves socks and started them over. This time I did a regular long tail cast on and simple 1x1 rib and they're so much better. The ribbing is nice and stretchy (on size 2 Addis) and I did the pattern on 1s, but it's all good. Most people say the Koigu stretches a lot so I thought sticking with 1s on the cuff was the best move. I've gone through 2 repeats and it's all good. I'm happy with them. It was the cast on and twisted knit ribbing that I didn't like - way too tight.
Thanks for all the good wishes about this weekend. I go by the "imagine the absolute WORST possible thing to happen then be pleasantly surprised" way of life. A lot of the time it works great and this weekend was no exception. It's still not an ideal situation - but it could be much, much worse. I'm down here until Thursday. I may be on everyday, but I may not. Thanks for reading. Pictures when I get back.
vbncFFCXXZSxggt6wxqsdbddadssvmbbcchggkhfmnvnjhfbmjk,kvhjuujkguil;lkjhgcfhgcfhgfcgfd
xcvb bvcxzb nbvghnjk.l,mnmmnbvczz fvjlkm.,mk ,m,.;l,kmjhngbfvdffghjkil oikujhgbhjuijuhnbvbgg

BY MAX
Posted by Cara at 12:46 PM | Comments (22)
February 28, 2006
The Aftermath
We're going RANDOM today - hold on for the ride....
So the Olympics are over. Huh. What now you ask? Short Rows. I am determined to finish Short Rows. DETERMINED. D-E-T-E-R-M-I-N-E-D. Don't ask about it though, okay? I don't need the pressure. I want that monkey off my back. Although I gained back all the weight I lost this Summer and now I'm scared it won't fit. But we'll deal with that when it's finished. AND IT WILL BE FINISHED.
I'm also going to start swatching for Crossed In Translation. Teresa came up for the party on Sunday and we had some quality time together. After making like 200 swatches for this thing, she can knit the sweater in her sleep. Which works out extremely well for me because I got a nice little tutorial on all the different stitches and now I am very confident. Although I'm also bummed because I would really like some Rowan Magpie. Theresa's swatch in that was really great. Anyone know where I can get a sweater's worth of Magpie in a pretty purply pink color? I will pay. Anyway, I will start swatching asap. Don't ask about it though, okay? I don't need the pressure. Speaking of PRESSURE, did you see that (the other) Theresa knit her Am Kamin sweater in SIXTEEN FREAKING DAYS!!!! It was her Olympic Project and my god she deserves like a PLATINUM medal. With diamonds and sapphires encrusted in it. And a tiara. Definitely a sparkly tiara. The sweater is absolutely GORGEOUS and Theresa is GORGEOUS and oh my god she's my inspiration. Please, PLEASE run don't walk to go tell her how magnificent it is - the accomplishment as well as the sweater. It's so good I'm linking to it twice.
More Olympic goodness: Have you met Maisie and her mom Rowan? They are too freaking cute for words. And I say cute in the best most grown-up sophisticated practically a teenager who probably hates to be called cute way. Maisie is I don't know, ten? Eleven? Speak up Maisie! I forgot how old you are! And she's an amazing knitter. I watched her knit WITHOUT LOOKING on her super tiny DPNs and I was in awe. She rocks. And she taught her mom to knit too. And Maisie made a sweater for her older sister for the Olympics which you can check out on the blog she and her mom write together and lots and lots of socks and she knit Phil an AWESOME sweater (because, really, she says curse SHMURSE!) And in one of my favorite closing ceremony party moments, Maisie and her mom had to leave earlier than expected due to the death of her older sister's guinea pig (and no, neither the dead animal nor Maisie and Rowan leaving were my favorite part) and Maisie exclaimed that ALL her sister's pets died and the drama in her voice was all MARSHA MARSHA MARSHA and I felt so bad for Maisie having to leave and wanted to tell her that she rocked even if her sister's pet died and Rowan showed that she's an awesome Mom and girls I'd hang with you BOTH anytime. Any time. Thanks so much for coming to the party!
These are the only pictures I have from the party: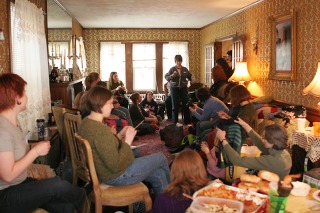 Where are all the pictures? I know people took pictures? Where are they? Please leave me a comment or email pointing me to pictures. I want to see them!
Guess what was waiting for me when I got home?!?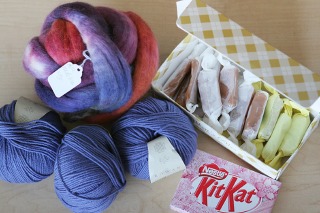 My latest Better Pal gift! Yay!
Jan from Be*mused
was my Better Pal. In this package I got the BEST stuff! Some Rowan Wool Cotton - one of my favorite yarns. Some (more) of Lisa Souza's GORGEOUS Biffle, which happens to be what I have on my wheel at the moment. EXCELLENT coincidence, Jan. Just great. I'm so glad to have more of this fiber. I love it! Of course, some more caramels. (It's a good thing I got a clean bill at the dentist!) And a super special KIT KAT from Japan. It's CHERRY BLOSSOM flavor and it's a Special Edition. Do you believe that? Special Edition Kit Kat. Awesome. Thanks so much JAN! It was a great Better Pal exchange.
My pal was Dalai Mama Liz. She's a hoot and a half and I tried to knock her socks off with my gifts. I think I succeeded, although at the beginning I thought I gave myself away. Apparently that wasn't the case because she bought a crapload of STR a couple of weeks ago. Silly girl! I had to call Tina and change all the colors I ordered for Liz at the last minute because she bought them herself! Thanks Liz for being such a great giftee!
I don't think I ever showed you the GREAT contest win from Danielle.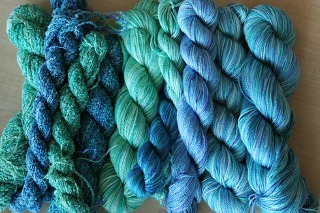 It's all silk and silk blends and it's soft and GORGEOUS and G was really taken with it. No plans for it yet. I love looking at it though and I think it will have a special place in the yarn cabinet. Beautiful stuff. Danielle dyed it all herself too. She gives great contest, so check her out!
Ready for another KAL? Check out Kris, Miyon, and Scout's new endeavor. A Rockin' Sock Club KAL! Did you join the BMFA sock club? Now you can knit the patterns with other members. Check it out!
Speaking of socks, I'm almost through another Jaywalker and Jenn asked the other day about the Embossed Leaves Koigu socks I started. I hate to admit it, but I'm barely through the ribbing. They'll be getting a boost soon!
That should be random enough! Have a great day!
Posted by Cara at 02:56 PM | Comments (25)
February 22, 2006
Exorcism!
NO CAVITIES! YAY! None for me, none for Georgie! Safe for another six months. Whew!
I'm writing this Tuesday night because tomorrow I'm going to meet Ann and Daughter#2 (hey Ann - will I have to call her Daughter #2? Or does she have a more conventional name?) to give them the oh my god its been 15 years since I graduated from college tour of NYU. I hope I don't forget all the good score corners at Washington Square. There will be lunch and there will be yarn shops in the mix. Even though I didn't knit when I was in college. Ann canceled on me because she's hacking up a lung and was generous enough to keep her Avian Flu away from me. And she more than made up for it with this photograph. Please, PLEASE go read her post. I laughed so hard I couldn't breathe. Oh my god I LOVE YOU ANN!
This post, though, is about exorcism. (That should be good for the google hits!) You all know about the sideboard brouhaha, and in order to put it all past us and load up that baby with yarn, I felt like I needed to exorcise the evil karma that came along with my mistake. I've been thinking about what I could do and this morning I said to G I should burn the directions and he said that was perfect. So I did it. (G wasn't home when I actually did do it and I think if he saw the amount of FIRE produced he would've changed his mind in a hurry!)
First, I followed Ann's advice and found myself a metal bowl and put it in my sink. Then I collected the materials I wanted to burn. (You should know, that this was really about burning stuff. I never burn stuff but somehow I really wanted to burn stuff. You know?) I thought about it and I decided that besides the directions, I would put some scraps of yarn from my past jaywalkers and a bit of fiber. So STR and Corriedale went into the pot.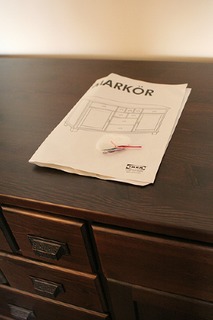 I put it all in the bowl and lit the stuff on FIRE.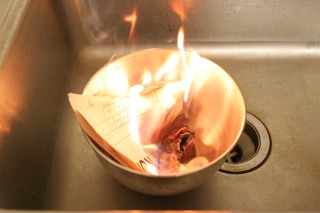 KIDS! Do NOT try this at home!
I gotta tell you FIRE is scary. I let the sucker burn for a couple of seconds and then there were flames like everywhere and THEN I remembered to grab the camera. Duh. Anyway, so I snapped a few pictures and then turned on the faucet. Tina at
BMFA
told me the yarn and fiber would smell like shit when it burned and it didn't really, but honestly, I don't know if the yarn/fiber ever really caught on fire. But it was bad anyway and I put the fan on in the kitchen. Then the phone rang and I was freaked that it was the building calling me to complain about the smoke (there really wasn't any at all) but it was just Ann.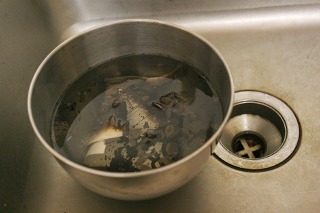 So I burned the stuff, but that didn't seem like enough. So I went back into my bedroom and built myself a little shrine of STR and then lit my favorite candle ever and really the only candles I ever burn -
Lemon Verbena from L'Occitane
.
I lit the candle and said the
Shehecheyanu
. When I was done, I turned and looked out the window and found this: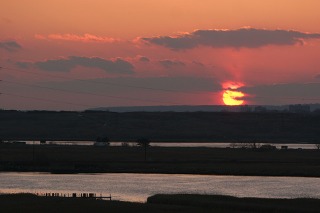 I'm loading up this baby tonight! Pictures
to come
are in the extended entry.
Okay. I'm back! I had a lot of fun loading up this sideboard and I can't believe how much it will hold! I bought this big ass basket to hold fiber in the living room near the wheel, but it all fits into the cabinet. Oh well. Now listen, before I show you the pictures of my yarn in the cabinet looking all cosy and warm and loved, you have to promise that you won't get mad when you see all the Socks That Rock yarn. PROMISE! You see Tina and I have become really good friends and we talk all the time and in the course of our conversations about the work I'm doing for them and all the other good collaborative projects we have planned and what's the weather like where YOU are because here it's shitty I might just order lots of yarn. Like if I see or hear about a color I don't have, I tell her to send it. And being the good businesswoman that she is - she does. G has never made a comment about the yarn all over the house - asked how much I've spent, etc, but when he saw the STR drawer, well, he stepped back a bit. He didn't say anything verbally - but man the body language said it all! LOL!
Without further ado - the sort of filled up yarn cabinet! (The closed drawers have nothing in them - top little drawers will be for needles and notions. The other drawers for yarn to be determined later.)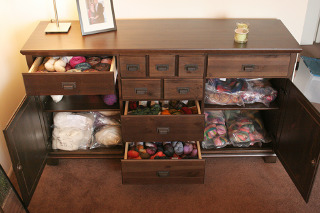 Before I put anything in the drawers and spaces, I sliced up some pieces of amazing smelling soap that
Janet
had sent me.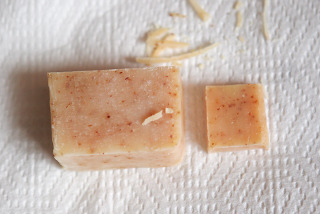 I figured this was a great way to get rid of the icky Ikea particleboard smell. I'm not sure what flavor this is - but it's kind of got a citrusy smell - I love me some citrus smell. (Maybe Lemongrass? Janet is that right?) I wrapped each piece of soap in tissue paper. I also added some cedar balls to each space.
In each of the side spaces, we have my fiber collection. Undyed fibers and miscellaneous fibers and handspun yarns on the left: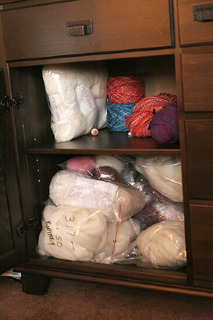 And on the right side we have all of my dyed Biffle and other assorted dyed fibers.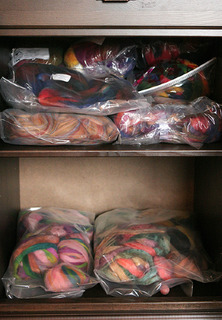 Then, in the middle, we have the special sock yarn drawer - i.e. - yarn that isn't STR, but isn't Regia either. You've got your Koigu, your Lorna's Laces, your Cherry Tree Hill, some Twinkletoes, some Artyarns Ultramerino 4, some Vesper and some other assorted stuff.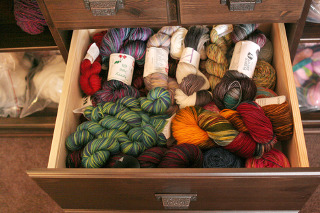 Okay. Now here it is. Remember you PROMISED not to get mad.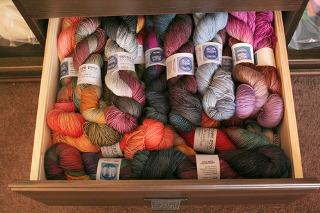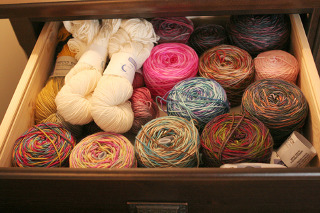 In the top picture is all the STR I have still in skanks (that's a double, sometimes triple layer of yarn.) The bottom picture is what I have already wound up. I counted that I have about 37 skanks unknit. There are two in the process of being knit, and 8 pairs finished. I've also given away A LOT of this yarn. At least fifteen skanks. And in the interest of full disclosure, I'm expecting a package today or tomorrow. But not all of that's for me. Some of it will be given away.

ETA: My stash, in its entirety, is MUCH larger. What's in the sideboard is pretty much everything that had been residing on the floor in my living room - although there was some shifting around of stuff. The rest of the stash is safely tucked away in bins in my closet. I've got a lot - more than some, but not as much as others, I'm sure.
So there you have it! My beautiful yarn cabinet that I look on with only love. The exorcism worked!
Hope you have a demon free day!
L, C
Posted by Cara at 10:47 AM | Comments (54)
February 20, 2006
P.I.S.S.
As the indomitable Snow put it, I'm suffering from Post Ikea Stress Syndrome. P.I.S.S. How great is that?
When last you found our intrepid Heroine, I was going to take the fucker apart and show it who's BOSS! On Saturday G and I ventured out to a Lowe's to get some supplies for rip down and rebuild. I think we were successful. Things were looking up!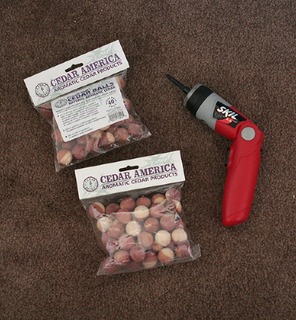 Cedar balls, for the finished product, and an electric screwdriver. I was OPTIMISTIC!!!
We started to take the thing apart. The first thing we had to do was get those little grabby half circle things out of the holes - you know the ones that hold the metal thingamajigs? You don't? Consider yourself lucky because once you get those things in there they don't freaking come out! So we're trying our hardest to get these fuckers out and it's amazing we're still married and we can't get them out. Then I think hey! Maybe all I have to do is unscrew these screws over here and I can get it out! No go. Those little wooden Ikea pegs things that I want to stick in some Swedish designer's eye are everywhere in this piece so even if you take the screws out you can't get the thing apart. So we're back to trying to get the top off so we can begin to TRY to take the thing apart but we can't do it. I'm crying. I want to throw the thing out. And G's totally with me. I call Ikea and ask them if I can drop the thing off and pick up a new one, since I can't take it apart. The woman tells me I can return it fine, but it has to be unassembled. In the calmest, most exacerbated voice I have I tell her that if I could get it apart, I wouldn't have to bring it back. She puts me on hold. I want to set fire to everything around me made of particle board. She comes back and tells me that they'll take it, but I'll have to pay an additional percentage, depending on its condition, over and above the 30% restocking fee. I say thank you and hang up. We consider this. Really, really consider this.
One problem. The freaking thing won't fit in our car.
So we, two intelligent creative people, think of what to do. We'll rent one of those trucks from Home Depot! Yeah! That's it! And we'll take it back to Ikea and get 50% or less than what we paid for it then buy a new one! Then return the truck! So we'll be out an extra $500 but it will be PERFECT!
I actually made a few phone calls to some people to see if I was crazy to do this (G was right there with me, god love him!) but no one was home. Which turned out to be a very, very good thing.
This is CRAZY! I thought. GO BACK AND RETHINK! I was right when I started. Go back and drill the freaking holes in the wood. Turns out that middle piece, remember? It's not particle board. It's solid wood. Maybe that's why it's the piece that holds the whole sideboard together? Anyway, we get to measuring and turning it this way and on its head and every which way and in the end WE DO IT! WE DRILL HOLES AND THE DRAWERS WORK! And it's all fixed and we can dance and sing and rejoice.
Almost.
As I'm finishing the rest of the drawers, I realize that one of the reasons you needed to put that freaking piece of wood in the right way, besides the holes, is that the stain is on the front side out. You know. To match up with the rest of it. So I've got all the drawers in and everything's together and this thing ain't never coming apart, but I've got a nice solid piece of PINE sticking out of my DARK WALNUT dresser. FUCK!
Off to Home Depot we go.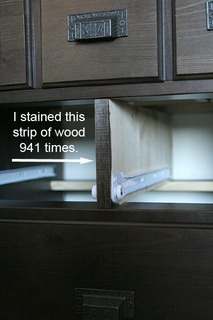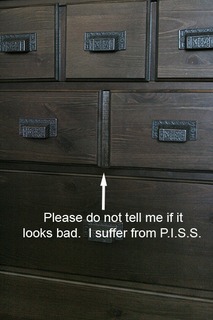 It looks good enough for me, so please don't tell me if it looks bad. Seriously. I don't want to know. This thing about killed me. I have poly for it too but I'm letting it go for now. I can always poly it later. Jacobean MinWax if anyone's interested.
You think that's the end of the story, don't you? It's NOT! So I hated the drawer pulls that came with the dresser and I walked into Restoration Hardware and found the perfect pulls IMMEDIATELY. Bought them, brought them home, tried them out. BINGO! They don't fit. Well, they fit, but the screws were too short and they didn't come with backs. What the? So on our venture to Home Depot we got some longer screws and some nuts and washers and problem number 3,719: the screws are silver and the pulls are a dark bronzy color. So the guy at Home Depot suggests we paint the screws. We buy paint and long discussions ensue on what's the best way to paint these little teeny tiny screws that will attach the draw pulls that I adore for the dresser that I now loathe.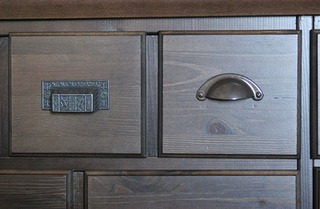 The ones I love on the left, the Ikea icky ones on the right.
Not to fear, my lovelies. At around midnight Saturday night in a stain induced haze I figured out the problem. So genius am I.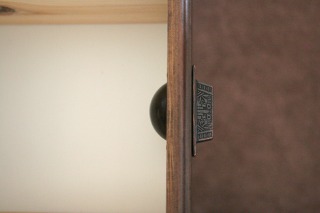 See (well you can't really see, but take my word for it) the Ikea pull has like a tube that extends through the hole in the drawer front and you screw in the screw into the back. So what I figured out is that I could attach the Ikea drawer pull onto the INSIDE of the drawer and screw in the screws on the beautiful drawer pulls into the tubes from the front. Make sense? Look at the picture again. It makes perfect sense and better yet it WORKS!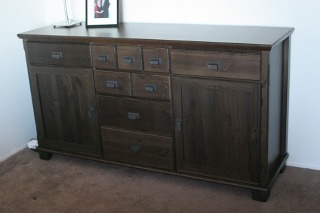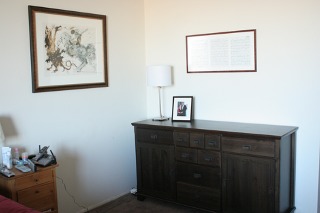 For all intensive purposes
fuck it
This thing is FINISHED. I do like it. I like it a lot. But I'm still mad so I'm not filling it with yarn just yet. I want that to be a kind of spiritual event. So I need a day or two. Soon though. I'm getting there. Recovery is hard.
Knit Olympics:Day Ten: PROGRESS!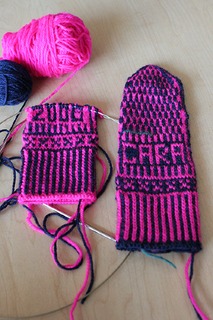 I started the second mitten. As I mentioned before, I'm doing the reverse on the second one. Pink as the Main Color, Navy as the contrast. I like it! I'm confident these mittens WILL be finished by next Sunday.
I also started a couple of socks: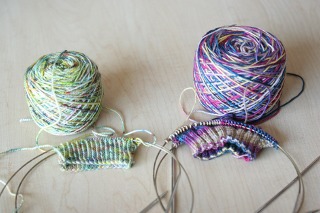 On the left is the ribbing for the Embossed Leaves Socks from the Winter 2006 IK (do I really need to link to it?) in Koigu #P704 and on the right is a new Jaywalker in STR Panzanite (no it's not on their website and Toni at The Fold doesn't have it - if you like it, call and ask for it!)
We're off to look at cars today. G has a spreadsheet with him. Oh fun!
L, C
Posted by Cara at 12:00 PM | Comments (45)
February 16, 2006
The Agony of Defeat
Knit Olympics? What's that? We're talking Team Ikea here. And trust me when I say this is KILLING me. There was cursing. There were tears. And yes, there was even a bit of blood. But I was cruising on this damn sideboard and I could see the home stretch. I had the room all Martha Stewarted out in my mind when it all came down on me in a crushing, soul-sucking moment of misplaced wood.
I'd like to say I'm an expert Ikea builder. At this moment, I have no less than 32 pieces of furniture in my apartment from Ikea - all built almost exclusively by me. Fourteen of those are Billy bookcases, which I can build with my eyes closed. I'm not taking into account the gazillions of pieces of furniture we've since thrown out, other pieces I've built at my sister's house, pieces I've built for friends. If you want something built from Ikea, you call me.
So yesterday, as I set out to build my gorgeous new yarn cabinet, I did what I always do. First, I spread out all the pieces.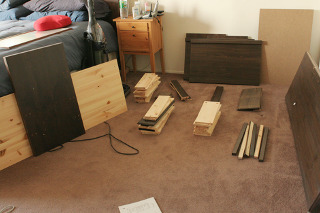 4:07 PM EST
Then, I put together all the nuts and bolts and weird Ikea thingamajiggys that don't look like they'd hold anything together but somehow they do.

4:31 PM EST
Then I go through the directions at least once to see if there's anything I haven't already seen before, and get to work. The worst part of Ikea directions is figuring out which side things go on - there are always so many freaking holes in everything and you really have to pay attention. PAY ATTENTION. Get it? Anyway, I started building around 4:45 and I was cruising along - things were going pretty well. There was a moment or two and some chipped particle board when I tried to get the top of the thing onto the rest of the structure. I think I can safely say the top weighs almost as much as I do and it's almost as tall as me so trying to get all those wood freaking pegs into the holes while matching up the silver doohickeys almost killed me. I say almost because goddamnit, I did it. All by myself.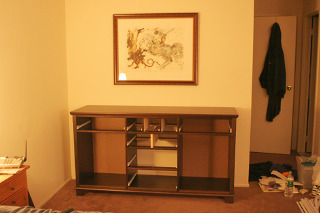 7:58 PM EST - Ignorance is bliss!
Once the base structure was up, I took a little break and put the new lamp on top and stood back to admire my work. It was going to be great! And I still might have time to build the nine freaking drawers before G got home. No way was I going to have time to fill it, but that's okay. He'd get the idea.
I started with a little drawer and the first part went well. I finished the first three and then went to attach the runner track that lets the drawer move in and out smoothly. This is a fairly new Ikea innovation. In the old days you just had these clip things - the drawers stuck a lot. The new way is better, but jeezus it was hard to get those little screws screwed in. I had all my tools around me and alas, I don't think I had the perfect freaking philips head - even though I had about seven philips head screwdrivers in front of me. At this point, my hands are a mess. My palms are killing me - both of them - from screwing in four thousand screws and my back is aching from sitting hunched over on the floor. At least I stopped sweating from when I was trying to get the two-ton top on the structure. Anyway, I was tired and hungry and I slipped with the screwdriver and managed to screw my thumb instead of the screw. Fucker bled a lot too. In the end, it's a pretty superficial wound, and I managed to stop the bleeding and get on with my work. Once you start an Ikea piece of furniture, you don't stop for anything. Well, almost anything.
So I'm getting the drawers down good now. I'm doing all the tops first, then attaching the drawer part and in between I'm attaching the runners, because that's the hard part with the little screw and the wrong size screwdriver and the bum thumb. Every time I finish a drawer I put it in to see how nice it's goes in and out. This is when I find out that I've attached some of the tracks on the base structure incorrectly. Upside down or the left one on the right and so forth but it's easily fixed. So I fix it.
Here's where the agony part comes in. I finish one of the two drawers in the middle and go to put it in. But it's not going in at all. I figure, okay, time to switch out the track on the body. Check it out. DISASTER. I realize that I've made a blunder of such colassal proportions I want to kill myself ON THE SPOT. I want to take one of those ill-fitting philips heads and hammer it through my heart. I want to lay on the floor and PULL OVER the four thousand pound gorilla ON TOP of my body and martyr myself to the Ikea gods.
The tracks weren't on wrong. THE FUCKING PIECE OF WOOD IS ON WRONG. This is the middle piece of wood holding the whole damn thing together. Possibly the first piece I attached. In order for me to fix this, I would have to TAKE APART THE ENTIRE PIECE OF FURNITURE. Everything connects to this piece of wood. And it's not freaking particleboard either, or maybe it is, but I tried to make a new hole so I could attach the track in the right direction and I couldn't get through the piece of wood. At this point I'm so desperately sad I make myself something to eat. And I'm not a tension eater. It's about 10:30.
Around this time, G calls. He's on his way home and he can hear that I'm upset but this whole thing was a surprise for him and I'm not going to ruin the last remaining joy in the project just so I can bitch. They'll be time enough for that when he gets home. I fuck with it a bit more, then he does get home and I proceed to burst into tears immediately. He absolutely LOVES the piece and he's so upset for me because he knows how these Ikea things are being that he can't read the directions for shit and usually willingly succumbs to my "so-called" expertise. He gets out the drill (which, admittedly, I don't know how to work) and we try to drill the hole I've made deeper. It sort of works, but it's all wonky and when you put the drawer in it's very lopsided. Doesn't work for me. I cry harder. I've now spent a solid seven hours on this thing - and I'm fucked. In order to fix it RIGHT, I will have to take apart the entire thing and start over. It's doable. It really is. BUT oh my god. G thinks that we can use glue to attach the track. Some super duper gorilla glue that works on wood and metal and it won't be that big of a deal - because it's not like we'll be opening the drawers all the time. We can be delicate. What do you think. Will that work?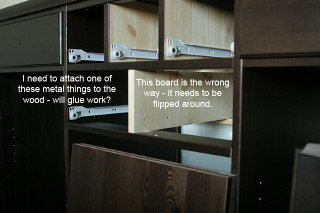 Colassal Blunder!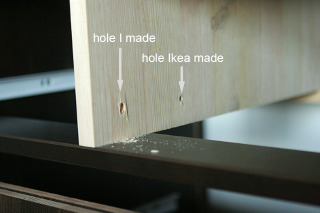 Please tell me it will work. The thought of taking this thing apart and putting it back together makes me very, very sad.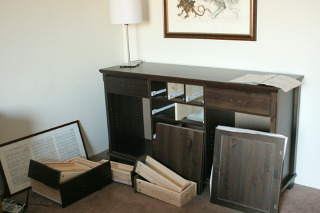 The morning after.
And to make matters worse, I moved all the crap from one side of the bedroom to other so I could build this thing and in the process my Olympic knitting - yes - it's still here - I knit three rounds the other day - somehow got tangled up and I spent the next 45 minutes untangling a ball of navy blue yarn at 12:30 AM. And this morning my hands are swollen and killing me and my wrists hurt and my arms hurt. I'm here to tell you - there's LOTS of crying in the Olympics.
ETA: Now my picture host is off line. So you can't even see my pain and misery. Fuck it. I'm going back to bed.
Posted by Cara at 09:18 AM | Comments (66)
February 15, 2006
Taking Back My House: Part 3,851
Guess where I was all morning?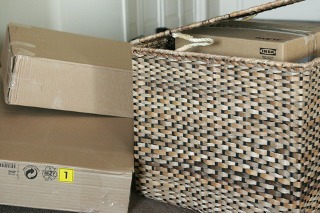 I dropped G off at the train - I didn't even have knitting or water with me - and decided I needed to go to Ikea. And since I was already out of the house, I might as well go now. I called Jen and she was up for it, so Jen, Xavi and I all headed out to Sweden for the day. My intention was baskets. The house is still a mess and it's driving me crazy, but it's really hard to clean up when you don't have anywhere to put anything. My closet has about as many bins as it can hold and I figured some pretty baskets in the living room would be good for holding fiber near the spinning wheel. But I ended up with this:
It's MY VERY OWN YARN CABINET!!! It will be perfect in the bedroom, right under the Dali print and I can put yarn in it and notions and fiber and I can finally get the crap off the floor. Georgie doesn't know, so shhhh! He's out tonight for work, so I'm hoping I can get it all built and filled with crap before he gets home. He'll be so happy I'm finally cleaning up! I also got a nice basket, and a new lamp for the cabinet. Okey dokey! I better get building!
Posted by Cara at 03:07 PM | Comments (30)
February 14, 2006
Happy Tuesday!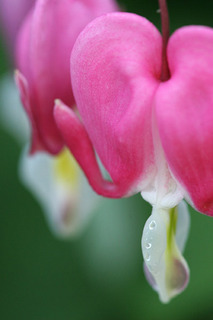 A simple I love you means more than money.
--- Frank Sinatra
I had a beautiful post all written out and I freaking closed the browser. Yes. Without saving. An hour of my life I can't get back. Nothing I hate more.
So, sigh. Valentine's Day. Ol Blue Eyes had a way with words, no? G wants me to remind you all that everyday is Valentine's Day in our house. It really is true. We rarely celebrate circumscribed holidays. We're never together on Thanksgiving. Christmas is more an obligation than anything. Chanukah was fun this year for a change - and we were together. Birthdays are a REALLY big deal though - because why not celebrate a day that's special to US instead of the rest of the free world (my birthday is still MY birthday.)
Happy Valentine's Day if you celebrate. Or happy Tuesday if you don't.
Last night I called Ann to tell her that her beloved Pug won the Toy Group at Westminster and she yelled at me. Why wasn't I watching the Olympics?! Why wasn't I knitting on my mittens?! Didn't I know I was going to LOSE if I didn't knit on them every second of every day?! I promptly told her that FINISHING was winning and that I wasn't in competition with anyone but myself. It's all about pacing too. Even though I didn't knit at all yesterday on my Olympic Mittens, I fear I chose a too easy project. I'm pacing myself. I want at least SOME suspense and tension. Right? I am learning a lot though - enough that I now want to make this. Especially after seeing Sydney's GORGEOUS sweater. My god GORGEOUS! But shhhh! I need more projects like I need another rib. It's awfully crowded in there.
Also, I've been trying to cast on for the Embossed Leaves socks from IK using this lovely Koigu. I've cast on twice, with no luck. Today I will succeed. I'm going to do just a regular cast on with the twisted rib on size 2s and go down to 1s on the body. I'll also be casting on for the next jaywalker. And of course, mitten knitting.
Check back tonight for the WINNERS!
Posted by Cara at 11:04 AM | Comments (25)
February 03, 2006
Transference
Oh to be crazy like Bette and have a doctor like Claude!
Oh my goodness! I never noticed it before, but Bette Davis knits in the movie! And from what I can tell, she's really knitting!
Posted by Cara at 12:45 PM | Comments (11)
Cleaning House
Metaphorically speaking ONLY. I will clean the house, nay I'll organize the SHIT out of the house and it will be a heavenly palace (cleanliness being next to godliness and all) but not yet. Baby steps. Itty bitty baby steps.
By the way, to clear up a few things from yesterday: I am fully aware of the goodness a cleaning person can offer me. I grew up with a cleaning lady. She came every other week and her name was Althea and she used to smoke. IN OUR HOUSE. Which when I think about it now is extraordinary. For years the smell of clean to me was cigarette smoke mixed with Lysol. Things were very different back then. My mother would pick her up at the train in the morning and she would eat breakfast and lunch at our house. Breakfast was toast and coffee, I think, I could be making it all up, but probably not and lunch was always a TV Dinner. God I wanted those TV Dinners. It seemed like such a treat. SNORT! Little did I know I'd be subsisting on frozen meals for most of my adult life. HA!
Anyway, I come from a long line of terrible housekeepers - and we fully admit and embrace our defect - and hired my own cleaning lady. When we moved into our new apartment (god EIGHT years ago!), which had 3 bedrooms, 2.5 baths and an office, along with the requisite kitchen, living room, dining room I told G we needed a cleaning person. Let's just say that when we moved out of our old one bedroom/one bath the word squalor was used by our landlord. In my defence he was being prickly, but it was pretty bad. So we had a cleaning woman for five long years and then by mutual decision our time together ended. Turns out cleaning people are in short supply around here unless you want to pay through the nose or hire a "team" of people. I just want someone to come every other week and clean my house better than I would clean it myself. I'm willing to pay. Anyway - the house got so bad that we couldn't hire a cleaning person any more without totally rehauling the house. I actually have a name, but I've got the get the house in order. So there's that.
One other thing. The Oprah debacle. In my post yesterday I did not mean to imply that I was defending Frey in any way. The guy lied - and not only did he lie - he lied about stuff that was easily verifiable. In my mind he WANTED to get caught. I mean there's a big freaking difference between three MONTHS in jail and three HOURS. And dude - you know - they keep RECORDS about that stuff. Now I'm sure his three hours FELT like three months, but still. A good writer could've conceivably evoked that feeling without the actual lie. No, my defense was more for Nan Talese and MEMOIR as a form. Given the dressing down poor Ms. Talese received from Oprah - don't you check EVERY FACT in the book? Well, again, I renew my argument that MEMOIR is about memory - which is never wholly accurate. I think Oprah's call for fact-checkers in every corner (and I think fact-checkers are very important - one of my favorite jobs EVER) is unnecessary and needlessly alarmist.
Okay. Back to what I really want to talk about today. Cleaning House. My knitting house. I said yesterday I was bored and I'm still bored. I didn't spin yesterday. I didn't knit really either. But I did read some of Barbara Walker's Knitting from the Top Down. What a GREAT idea! How come no one told me what a GREAT IDEA knitting from the top down was? I want to make another Almost Everyday Cardigan. My Manos one pilled beyond belief so I never wear it - that and the fact that it's like a guaranteed sauna and the weather is just not cold enough. I want another sweater I can ACTUALLY wear every day and never take off and will be like the sweatshirt that I wear constantly that is now so gross I've taken to wearing G's because his is softer and nicer and rarely gets worn. Anyway, I went through the stash and took out some of my Jo Sharp Silkroad DK Tweed that I have. Remember when this stuff was practically being given away on Elann? Yeah. I bought a shitload. So I started to swatch.


I know. About fifteen rows in I got bored. BUT I love the fabric this yarn makes. Have you ever knit with it before? It's sticky, for lack of a better word, but soft and in the end the fabric - especially a stockinette fabric - feels like a great sweatshirt. I'm so making this! Top Down Raglan Cardigan. Because I can't do pullovers. I want to cast on THIS MINUTE.
And then I remembered all the other crap I'm supposed to be making. Here's where we get to cleaning house. I should've done this back in January but better late than never. I'm going to list my projects - the ones I'm giving up on - the ones I'm in the middle of and don't want to turn back - and the ones I have every intention of making. Then I'm going to look at it and cry.

Stuff That's GOT to GO!!
(Or at least come off the sidebar.)

Nona's Gloves. Welp, the KAL is over and I hate the glove I've got so far. So rip, rip, rip.
Noro Silk Garden Wrap. I see a Lady Eleanor in my future. Not 100% sure of this though.
Ribby Cardi. All the pieces are neatly in the bag and I can honestly say I will never seam them up. This is the deal: I don't like ribbing and more importantly, I will never knit with a yarn I HATE again. Peruvian Highland Wool doomed this project for me. KILLED it. Oh I don't know. Never say never, but I'm saying maybe never.
Cuba Libre Socks. I found out that I despise purling in socks. Funny because I really love to purl otherwise, but I hate purling in the round, maybe? The Retro Rib pattern, while easy on the eyes, was INCREDIBLY tedious. The sock that's on the needles will be ripped, as soon as I can find it. (Oh and Kay - if you click on the link for this entry and scroll down you'll see the Army picture.)
Sunshine Socks. This is another case of I hate the yarn. One sock is done and one is on the needles and while I won't be ripping these, I will be putting them away somewhere so they're not sitting on the floor next to my bed taunting me. I started knitting these B.STR. (Before Socks That Rock) and you know - the yarn feels like crap compared. CRAP.
Pinwheel Baby Blanket. This will be done before Eli's Bar Mitzvah. But I don't like it. And I feel bad about it because it's a great pattern and a great yarn and I don't know why it doesn't work for me but I'm sick of seeing it in the sidebar every time I come to my blog. So it's going. But not being ripped.

Stuff I've Started and I'm DEFINITELY Going to Finish

Powell 106. Lace shawl - I've been thinking about this a lot lately - thinking it might be just the thing to get me out of my boredom. I will for sure finish this at some point.
Prairie Blanket. Hopefully this will be finished for Xavier's first birthday - but I'm not promising anything honey pie.

Wendy's Warm Hands Mittens. This is just stupid because one's done and one is half done and in a couple of hours I'd have a pair. I'm an ass.

Jaywalker Socks. I've currently got three socks finished for three different pairs. One mate is to the heel, one mate is in the cuff. I plan to have a pair of these in STR on the needles at all times. Of course I will.
Okay - now here's where things get hairy....

Stuff I TOTALLY Want to Make and Goddamnit I WILL!
Crossed In Translation Cardigan. I'm almost ready to start swatching. G's going to be gone a lot this weekend so I thought I might take the alone time to work out the charts in Excel so I can start to swatch and get a handle on the project. Also, I'm hoping SOMEONE will swatch some of the VY yarn I bought so I can know if it's worth swatching. I so totally want this yarn to be IT.
Pirate Mittens. I'm making these for the Knit Olympics. Yarn has been ordered (Neon Pink and Navy Blue Dale of Norway Falk) and should be here this weekend. Defeat is not an option.
Jo Sharp Top Down Raglan Cardigan. See above.
Dad's Sweater. I've got the yarn. Have to put the pattern together, but I will knit this for my father. Someday.
Diamond Fantasy Shawl 2.0. In black STR with beads in the center of the Diamonds. I think about this all the time!
Sockapalooza Socks. Looking for patterns as we speak.
My So Called Scarf. To match the Warm Hands Mittens. This is iffy. I'm not good at scarfs. I get bored super quick. But I want this set badly, so we'll see.
Elizabeth Bag. I've got some gorgeous RED Donegal Tweed in the stash for this. It will happen. Sometime in my life.
Okay. Not as bad as I thought. These are the projects I think about all the time. There are others I promised and am trying to ignore. As well as others I keep in the back of my mind. And of course all those unknown patterns out there dying to be knit by me, I just don't know it yet. ;-) Ahh. The life of a knitter.
Time to go procrastinate some more. Have a FANTASTIC weekend.
L, C
Posted by Cara at 10:11 AM | Comments (35)
January 18, 2006
Birthday Redux
[Warning - this turned into a really long post. It was cathartic - but don't feel like you need to read the whole thing.]
I get so emotional baby, every time I think of you-u-u! It's emotional hangover time here at the blog, yet again. Slap me if I sound like a broken record. Emotions, emotions, emotions! The psycohological equivalent of Jan Brady, if you will. Feelings, whoa-o-oh feelings! Will someone PLEASE turn it off?! Please?
It's a monsoon outside today, but inside it's nice and quiet and warm because the love of my life sealed up all the windows this weekend. We live in something of a wind tunnel and the windows seem to have these huge gaps in them. They also line the entire west side of the apartment. That's a decent amount of windows. There's one room, when you walk by, your hair starts blowing around and you feel this arctic blast. We keep the door of that room closed until we do the seal; it always reminds me of the kids' room in Poltergeist - you know, when JoBeth Williams opens the door and all the toys are flying around? That's our den, possessed, but not anymore! Georgie! My hero!
Speaking of Georgie, he's partly the reason for so much emotion these days. I've now known G for almost 19 years! And in all of the time I've known him he's been living with some kind of pain. Since he was around fourteen he's been having tons of trouble with his knees - but being the man he is - he played through it by being on the basketball and tennis teams in high school and college and spending his adulthood playing one or the other sport at least a few times a week. Poor Georgie has the body of a scholar and the mind of an athlete. You know how we love to knit and spin and craft? How about if someone told us we'd never be able to knit again? It would cause us to shrivel up into a little ball in the back of the closet and never want to see the light of day. That's how my darling husband feels about his tennis. Basketball's been out of the question for quite some time.
Things were looking up for awhile there. After his fifth knee surgery in seven years it looked like things were taken care of - his knees actually felt good! And then the hip pain started. At first he thought it was a groin pull but gradually it got worse and worse and finally he had the hip scoped down in Nashville. That was in '03 and the doctor came out to talk to me while G was in recovery. His exact words were "he's got the hips of an 80-year-old man." My gorgeous husband is 43. It's some kind of a degenerative tissue thing that's basically left him without cartiledge. Back in '03 we were told that eventually hip replacement would be the only option, but that we should try to hold out as long as possible because, well, he's only 43 and hip replacements, as wonderful as they are now, don't last that long. In 20 yrs it's VERY conceivable he will need another new hip. Well, my friends, it looks like the eventuality has come. My sweetheart can barely walk. He is in so much pain and I can't even begin to tell you the sadness I feel about this. I can't do anything to help him. And trust me, if there was a way I could give him my hips I would. He's in the process now of going to the doctors and getting diagnoses and I guess we're looking to try and schedule this for early spring. Please, if you feel compelled to share stories of people you know having had hip replacements - DO NOT TELL ME ABOUT ANYONE THAT'S DIED. We see enough of it on the news about young(ish) people dying and I don't want to hear it. G has had A LOT of surgery in his life - five knees, his hip, a hernia - and he's come through with flying colors every time but I'm scared to death.
Add to that all the grief I've been letting myself feel lately about the infertility crap and you've got a sure fire prescription for MISERY! HAHAHAHAHAHA! That's all I can do - try to laugh in the face of it! I'm reminded of that line Dolly Parton says in Steel Magnolias - laughter through tears is my favorite emotion? (I think they're at Julia Robert's funeral and Olympia Dukakis and Shirley Maclaine have just gotten into the bitch slap thing - Steel Magnolia's is one of those movies I can't NOT watch - not matter how icky it makes me feel.) Or some such nonesense as that? I'm not sure if that's true, but if I can't laugh, I've got nothing.
My peeps out in blogland have been doing their damndest to cheer me up and I finally got around to some pictures!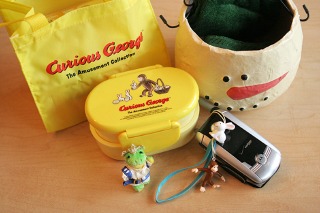 So you all know how
Ann
skims right? Seriously - she's the ULTIMATE skimmer. I'll be chatting with her on the phone (Ann gives great phone, btw - you know how some people are just not that good on the phone? Not Ann. She rocks. And
Margene
too. I get on the phone with them and guaranteed it's like an hour before I get off. In a good way.) and I'll say something to her and she'll be like what? And I'll just stop. Silence. "Ann. Did you read the blog? It's all on the freaking BLOG!" And she'll just start laughing because people SHE DOESN'T READ THE BLOGS! She just looks at the pictures or maybe not even that. Ever notice how her comments don't really seem to have anything to do with what you wrote about that day? No. Well look. She's a skimmer. Anyway, I'm READING her blog the other day, because I read your blogs, and
leave a comment
about the availability of Curious George cell phone charms. I had to have one. For obvious reasons.
Welp not ten minutes later the phone rings. It's Ann. In a panic. She didn't READ WHAT SHE POSTED! She only skimmed (so really how offended can we be when she skims HER OWN BLOG) and was all upset that I had run off and purchased a Curious George phone charm, because, she confessed, she had already bought me one.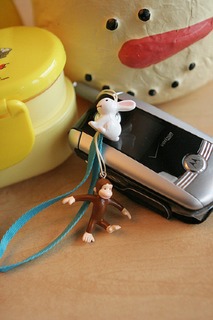 George and my phone have been inseparable ever since. Not sure what the bunny means, but he came along with George and they seem to get along just fine at the bottom of my bag. I love them. If you refer back to the picture above, Ann also sent me a cutie pie frog prince - a talisman - she explained - against frogging our knitting projects. So far so good. There's a CG bento box and frankly, a kind of scary snowman basket. THANK YOU ANN! Everytime I use the phone I think of you. You make me laugh out loud every time I talk to you and I so love you for that.
A few days after that my very favorite Bookish Girl checked in for the birthday.


Wendy told me that pretty much everything she sent had been purchased at
The Bazaar Bizarre
- one of those craft extravaganza flea market type thingies - we've got beautiful stitch markers, lovely handspun hand-dyed yarn from
Woolarina
, super cool patches, a denim zip purse, an orange chibi and a SUNFLOWER! To brighten my day. Thank you Wendy! I don't think I've mentioned lately how much I love Wendy. She was one of my first blog friends that I had met in real life - she took me around Boston - a perfect stranger - and we had an instant connection. She's as real as they come and she makes me laugh and I know if I called her up crying my eyes out she would listen, not judge, and help me. Thank you Wendy. I love you girl!
This is turning into a pretty long post, but it's making me feel better, so I'm going to keep going.
I'm also pretty good at making myself feel better. I've been feeling guilty about all the talk about stashalongs and such and it's time to admit, that on my birthday, I did what every self-respecting knitter does on their 36th birthday. I ordered a shit load of Alice Starmore's Virtual Yarn.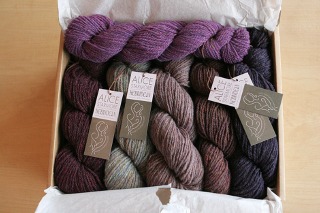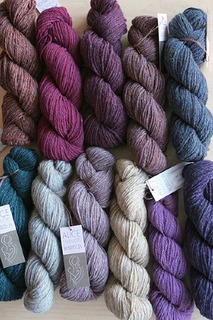 Eleven skanks of 3ply Hebridean. For
Crossed In Translation
swatches. Right now the front runner is
Clover
, top row, second from the left. I think it will be perfect for this sweater. Perfect. But I can't start swatching until I finish this: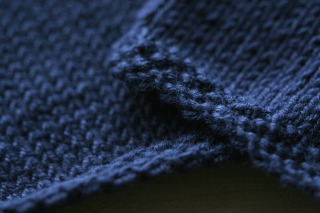 TREK
WINS
! She guessed it - these are the sleeves for
Short Rows
. Back in the day, before it looked like I'd never knit anything other than Jaywalkers, I'd dare say Short Rows was my signature knit. I finished the back (twice!) and the front and left it. All that was needed was the boring navy blue stockinette sleeves and the seaming and a collar. But the sleeves. I couldn't do it. But I promised myself I would finish this sweater. I've worked too hard on it not to finish and I really love it and I hope to see if it fits someday. So I'm not starting the CIT sweater until this is done. I've done about ten increases - I'm doing both at the same time, so it's kind of slow going. My goal is at least one increase a night. There are 16 before you start to decrease for the raglan. Wish me luck.
Thanks everyone for your comments on my yarn yesterday! I'm very excited about my spinning and I'm so glad to share my enthusiasm.
All right. Enough's enough. I've got work to do and I've wasted enough of your day. ;-) Thanks for stopping by.
L, C
PS - Please go and see what made me the happiest of happy today! Margene finished her jaywalkers! I swear it was killing me that she wasn't enjoying these socks - but that doesn't appear to be the case anymore. POP ROCKS!
Posted by Cara at 11:12 AM | Comments (82)
January 16, 2006
Sonnylicious
Okay - who out there watches General Hospital? I mean, I LOVE Sonny. He's so freaking hot and I love when he's getting it on with the ladies because generally he's smiling then and my god the dimples, but EMILY? EWWWWW! I'm so torn here. She's so annoying and he's so hot and he's getting it on so he's happy and dimply but EMILY? Crap.
Oh and did anyone catch Jack Bauer on Charlie Rose? G's home from work today and we caught the afternoon repeat and Charlie Rose actually asked Keifer how many episodes they shoot in a season. Best Charlie Rose moment EVER!
Guess I'm in a posting mood today. I can't guarantee I won't be back.
Posted by Cara at 03:23 PM | Comments (12)
Classically Classic
Found via Bookslut via Bookninja:
"My best neologism is still "douché" -- what you say when conceding defeat to an asshole."
I cannot stop laughing. The most perfect word ever.
Posted by Cara at 12:42 PM | Comments (4)
WHOA NELLY!
Did you see 24 last night?!?! HOLY CRAP! G and I are still talking about LAST season, which we thought was right up there with the first season. And maybe the second. The third was a little weak, but OHMYFUCK! This one is shaping up just fine, and we're only two hours in! As long as I still got my soul patch, I'm good. G, of course, has the man crush on Jack, but I'm all over Tony A. I'm thinking of getting G one of these t-shirts. What do you think?


As goofy as it all is, it's kind of nice for both of us to be so excited about something, you know, together. I've decided the reason
24
is so satisfying is because it has just enough soap opera for me, and just enough inane unnecessary violence for G. And there's just enough oh my god that would so never happen in a million years but isn't it fun to fantasize to keep everyone happy. Thanks Jack! We really need you right now.
In other news, are you a sky watcher? I am!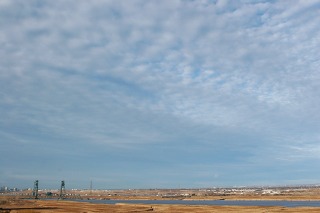 Facing West, taken around 8:30 this morning off my balcony. Sandy, my love, my hair was extra wild today and the jammies were on and it was FREEZING!
Thanks for all the offers of help with the Jaywalker KAL. I didn't mean to sound as if I was complaining about the updates, I'm really not, I was just saying that with the amount of people involved, it's not really feasible to do the funny epic updates I was doing. I really like going through all the blogs - I've made some new friends that way, really, and it's great seeing what everyone is up to. I honestly thought about doing a separate blog for jaywalkers - I've already got one set up for CIT, and I've been involved in KALs like that before, but I wanted to keep track of this one myself for the giveaway. There are rules I've asked participants to comply to in order to be entered in the drawing and I want to be able to keep on top of that. Maybe after Feb 14th I'll set up another blog, but for now, I'm good. Thanks again though for all the suggestions.
I've had a pretty productive weekend, including a nice outing with Jen yesterday, replete with KILLER BIRDS, but that's for tomorrow's post. (Jen, thank god you were there - I don't think ANYONE would believe me if you hadn't been there. It really happened right?) In the meantime, I can't stop giving stuff away.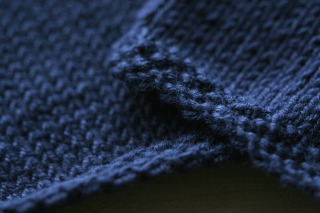 Be the FIRST
to identify,
in the comments
, what I've been knitting this weekend (pictured above)
EXACTLY
, and I will send you a skank of
Prove It All Night Socks That Rock
and an orange chibi. Leave your guesses in the comments. And if I TOLD (or emailed you) about it, you are NOT ELIGIBLE. Oh yeah and here's a clue. It's NOT a jaywalker.
Posted by Cara at 09:43 AM | Comments (56)
January 07, 2006
HELP WANTED: WEB DESIGNER/DEVELOPER
G and I went out to dinner last night and I was talking about all the things I need to do with my business. I was telling him that I could probably do it myself, but it would take forever and I'd have to learn all new things and my time is better spent elsewhere - and he said why don't you hire someone to help you!
So. I thought I'd come to you all first.
This is what I need: I need someone to help me with the hard coding - we can work together on the design - I need some shopping cart functionality - some flash, maybe, but not a necessity, I need it to be relatively easy for me to upkeep myself. I can code HTML, but that's about it.
These are the websites I'd like to upgrade:
CDC Photography
PhotoArtCards
They were both built entirely by me. Pretty good, but I need better. Ideally I'd love to give this job to a knitblogger! I know you guys are out there - working away on your blogs while you're not knitting. Or may you're a web designer/developer by day and a knitter by night? I don't have a lot of money to pay you - but I have A LOT of yarn (money + yarn = good, no?)
If you're interested in maybe working together, email me at s2 AT januaryone DOT com. In the email, please give me an link to some of your work, as well as your blog. If you don't have a blog, well, tell me what you knit last. ;-)
Thank you so much.

ETA: I'm an ASS and accidentally erased the emails I've received so far. If you're still interested, would you be kind of enough to resend your information? Pretty please? Thank you so much!
Posted by Cara at 09:32 AM
December 28, 2005
One of these boxes is not like the other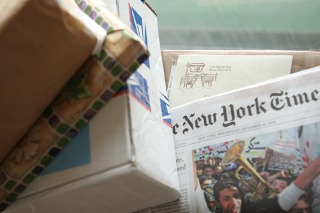 Because one of these boxes will be opened today! (Or is it already?) Happy Birthday To ME!!!!!!
Posted by Cara at 12:20 PM | Comments (8)
December 20, 2005
Tis Better To Give Than Receive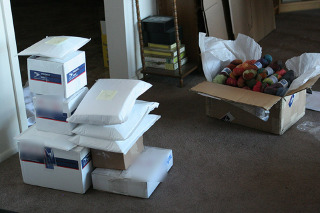 That big box of STR stash in the background - sorry - that's MINE!
Do I owe you something? Chances are it's going out today. And a few other goodies to some of you out there that you might not know about. I don't send gifts to anyone in my family, but to KNITTERS? Gifts galore. This is THE FASTEST I will be getting out contest winnings! YAY! In fact today's winner might just get a package before [insert whatever freaking winter holiday you want right here thank you very much] starts. Unless, of course, we're celebrating Solstice, and well, then, I'm late. But Happy or Merry or [insert whatever jolly freaking word you want right here thank you very much] Solstice! And the winner is....


MANISE!
Sadly, Manise is blogless (maybe that should be in the package too?), but she wins nonetheless! Here are the possible winning answers, in case you're curious:
"Dancing with Jesus in Grove City, Pennsylvania," High Plains Literary Review, Fall/Winter 2001
"The BBC," Fourteen Hills, Spring/Summer 2002 (also published in New Standards: The First Decade of Fiction at Fourteen Hills)
"The Summer My Mother Grew Up," Other Voices, Fall/Winter 2002
"What You Wish For," Green Hills Literary Lantern, 2003
There you have it. Oh and I published an interview with Charles Baxter about William Maxwell in Washington Square. You can read it here, if you'd like. That didn't count though, because even though it's about fiction, it's not fiction.
A little bit harder, wasn't it? I guess so because I got half the entries I received for the other two. Next week will be hard(er) as well, but I might make it easy again for the grand finale package on Dec 31. Let me tell you - as good as the others have been (and next week is really fine!), the last one is SPECTACULAR! And very special to me. Gotta admit though, this question was kind of depressing. Three years practically since my last story came out? Fuck. Not a good feeling. Resolution anyone?
T Minus 12 Days and Counting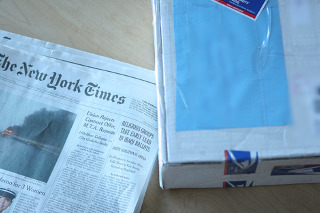 I'll have you know, that you can't open this package from the bottom because it will destroy the box. It's one of those open from the top tuck the sides in kind of boxes. I know this because it's actually a box I sent to Margene! She turned it around right back to me. Good thinking M! But here's proof anyway: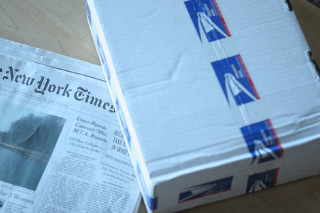 See the headline? The MTA is on strike in NYC. I'm very torn on this issue. All of my dealings with unions have been very bad. I worked in a union shop in college and the union rep for my department was borderline abusive to those of us who really didn't want to get involved. I was eighteen and in college and honestly, because of that union, I was overpaid by A LOT. Which I guess was good, but I would've rather been paid a smaller wage and not been harassed. I really feel for all the workers out there - MTA workers and anyone else trying to get to work today. I cancelled a haircut appointment, but that's inconsequential to the fact that my husband had to walk a good distance to work from the NJ train (which, yes, he's lucky he could take) but it's very cold and his hip is bad. He doesn't need the aggravation. And I have to believe this isn't what the MTA workers want. They're losing money and they're losing the good will of the people. I'm suprised the strike happened, but after seeing the mayor this morning on TV, I don't think this will end quickly. Pissed doesn't even begin to describe the anger I read on his face.
So if you're in NYC, I hope you had an easy time of it today. The idea that the subways and buses are quiet is just too weird to comprehend.
I'm off to finish the packages. And there's still more work stuff too. Have a great day!
Posted by Cara at 11:09 AM | Comments (20)
November 28, 2005
Thundercrack!
baby's back.
This time she'll tell me how she really feels.
This post will have something for everyone! Consider it Random Wednesday. Only it's Monday.
As I mentioned on Friday, Thanksgiving went really well. The food was great, company better and it all went off without incident. Except for the fact that my sister got a cold Wednesday night and felt miserable all day Thursday, it couldn't have gone better. My contribution (besides watching the kids off and on all day to keep them out of their mom's hair and vaccuuming) was a salad. I modeled it after my favorite salad of all time from Gigino's in NYC. It's the Peperina salad and I made it with mixed baby lettuces, shaved pear, shaved parmesan, pecans (I thought they used pecans, but I guess they use walnuts) and pomegranate seeds sprinkled with white balsamic vinegar. I was really pleased with how it came out and everyone seemed to enjoy it.
I've got no pictures of the kids because I didn't take my camera with me. I know. Blasphemy. But I'm sick of taking pictures and I'd just download them to the computer and they would sit there. Besides this was a break from photography work and it worked because yesterday I got A LOT of work done and I'm feeling like I'm back on track. At least a little bit. But I got a lot of cuddle time with the kids and they got their new bunk beds which was a trip in and of itself. My nephew ended up sleeping on the bottom bunk and my niece slept with me on the floor. The baby is big as can be - if I could only show you his monster thighs - but he's so much fun! He giggles nonstop and just smiles so sweet and he's such a cuddler. This is definitely one of my favorite ages. They're still babies, but they can engage you in that wide eyed wonderful way. All you have to do is smile and his whole face lights up. I miss them.
She moves up, she moves back
Out on the floor there just is no one cleaner
She does this thing she calls the "Jump back Jack"
I hit the mail jackpot on Friday. Georgie was particularly impressed. I always call him to find out about the mail when I'm away and his standard reply is junk junk and more junk. This time HE called ME. There were lots of lovely thank you cards from all those boxes I sent out the other day - so sweet! An email is plenty, but a card? In the mail? For me? I was really touched. Thank YOU! Vicki's card was my favorite - check out this knitted thank you: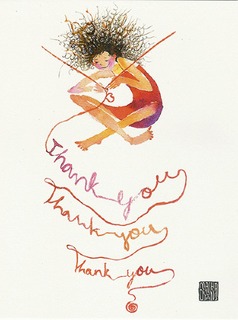 I tried to find the card on
the artist's website
, but it wasn't there. Hey Vicki! Where'd you get the card? It's SO LaPierre!
But what really impressed Georgie was the package from Hong Kong. I got my Crossed In Translation book! Yay! The book is really beautiful - think Rowan meets the House of the Rising Sun. And the freaking pattern is TWO pages. Lucky for us, knitalongers, there's barely any words to go along with the pattern. It's all charts and schematics. We should be able to figure this out no problem, right? G-Love thinks I've completely lost it. He may be right.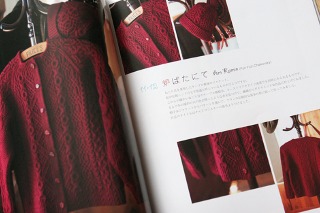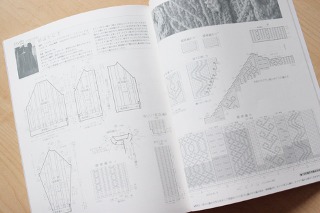 Oh and rest assured, seeing the sweater in it's native language has only made me love it more.
She slips, she slides, she slops, she bops, she bumps, she grinds
Now if only I could stop making socks: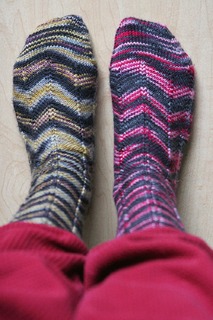 Kaci - this pictures for you! Mwah!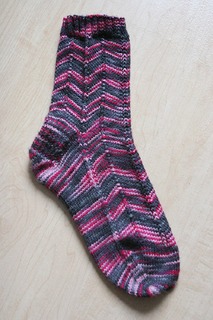 I finished one...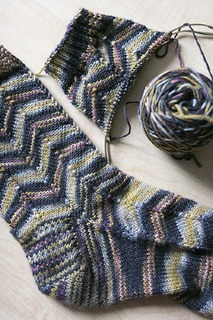 and started another!
For all you
Jaywalkers
out there, I'm planning on doing an FAQ for this Friday's update. So if you have questions - let me know in the comments, or in an email. And don't forget you can always email me or
Kathy
(who, by the way, is an inspiration to me! First Jaywalker, and now
Grumpecue
! Kathy, you're killing me!) Basically everyone seems to have similar issues, so we'll address them this week. Namely gauge and the bar increases (yes - the holes are supposed to be there! It's a design thing! ;-) ) But if you've got other questions, let me know.
My heart's wood, she's a carpenter
She's an angel in the night, what she does is alright
As much as I love my socks, I'm sort of getting frustrated with myself. It's like I can't knit ANYTHING else. I think about all these projects I want to knit - mittens, finish my gloves, work on the Prairie Blanket. I just can't seem to concentrate. I'm trying to go with the flow like Margene says, but I'm antsy. And this doesn't just relate to my knitting either - when's the last time I read a book? Can someone tell me please? How pathetic is that?
We're not going to even discuss the fact that I just got off the phone with the embryo people - I was late on my payment to keep those totsicles frozen. When's that shrink appointment again?
Dance with me, partner, dance with me, partner
Dance with me, partner, all night
If you've got the DVD, make sure you watch the supplemental material on documentary disc. I can't stop watching Thundercrack. Over and over and over again. It's simply stunning. DO IT! WATCH IT NOW! You can thank me later.
Posted by Cara at 10:16 AM | Comments (18)
November 15, 2005
Crap Crap Crap
Don't you just love it that as early as 10:30 AM you can already have a crappy day? That's right. I spent 45 minutes this morning dodging traffic jams. I'd get out of one and come up on another. All within about five miles from my house. And it wasn't the usual commuter traffic either - there were like 47 accidents - something weird is going on out there. Be careful.
And now I just found out I have to go out again. G left something at home - an important something - for a meeting - and I need to bring it to him. Generally I wouldn't mind. He's working his ass off too and he was working late last night and forgot it - I'm glad I remembered to ask about it (since I ran my desk chair over it this morning) but I had my day planned out down to the minute for maximum efficiency and it was GONE TO CRAP by about 8:15 this morning. It's beginning to feel like every minute that goes by I lose another hour. Know what I mean?
Two-fold evidence: A) I worked hard yesterday; and B) I can take a crappy crappy picture.


That's eleven packages - I think it's eleven - all ready to ship. If I owe you something, it's in the mail. (Well all except Janet and Wendy - it's coming. Don't worry.) There were actually a couple of more packages, but this is all the knitting related stuff. AND I managed to finish up two jobs that were sent off to the printer last night. Aah. Productivity. AND I joined the fingers onto my
Nona's Serial Gloves
. I'm still a little bit iffy about the joins - there are holes, but Margene says that's okay, so it's okay. I'll darn them, darnit. I also cast on a new sock. For me. Because I don't have enough shit to do ( the Cotton Candy STR was calling out to me) but then I ripped it because something weird happened. I think I dropped a stitch or something, but I need to investigate more what I want to do with this yarn. It's a sock for sure - a nice long one - but I need some calf shaping strategies.
And I don't understand why the Harry Potter freaks get all the special treatment. I preordered my 30th Anniversary Special SUPER FUCKING FANTASTIC OH MY GOD I'M DYING HERE Commerative Edition of Born To Run a MONTH ago and it came out today and Amazon's all like it'll arrive some time next week. WHAT? Aren't mailpeople running around knocking on doors at midnight so all the little Harry Potter fanatics can get the book the second it's allowed? And I HAVE TO WAIT FOR MY BRUCE?!?!? No matter. I was at Best Buy this morning at 9:15 (I would've been there at 9AM, but I was stuck in traffic) to pick up a copy. There ain't no way no how I'm waiting for that shit. And of course, Amazon won't let me cancel the order either. Fuckers.
I would love to talk about Bruce - it was my intention today to talk about the love and the love and the music and the love, but I'm in a crappy mood. So maybe later. Hope YOUR day is a good one.
PS - In my defence about the crappy shitty picture, I didn't use the real camera. I thought - eh - I'll use the stupid crappy point and shoot - these are the pictures it's meant for - little did I know it takes CRAP PICTURES! Note to self: take the extra five minutes and pull out the real camera if you don't want to be pissed off.
PPS - And while this may sound like I'm backtracking - the camera doesn't MAKE A PICTURE. It's the PHOTOGRAPHER that makes a picture with the control you have with the camera. If I had read the fucking manual on the P&S like I'm always preaching about, I would've had more control as to how the picture came out. But I didn't. So it was on Auto, which gave me a crappy picture. I'm a manual kind of girl - complete control at all times. That way you have no one to blame but yourself. ;-)
Posted by Cara at 10:41 AM | Comments (13)
November 14, 2005
Season's End
No matter what the thermometer says, I fear Fall is over. And what a glorious Fall it's been! I was trying to explain to my nephew how lucky we were to be sitting outside in our sweat jackets playing in the mud on November 13th on a 60 degree plus day. I told him it should be nice and cold by now, like Winter. But, he pointed out, it's not Winter yet. He's right. It's not. But it's coming. This was definitely the last weekend for the leaves. They're dry and crackling and the color is gone to a mulchy brown. But we had fun anyway.
Can I vent for a minute? We went to a park near my sister's - it's more of an arboretum type place with an open field and a creek and a path - no playground or anything. But there are lots of trees - and therefore leaves - and the kids could run around and throw the frisbee and whatever. People walk around. There are some benches. And of course they bring their dogs.
My niece is afraid of dogs. When she sees one coming she gets that look of abject terror on her face and literally leaps into the arms of the closest adult known to her. Before all you dog owners get all over me about this, we tell her the dog won't hurt her, that Mommy/Aunt Cara/whatever adult she's with won't let anything happen to her. Her grandmother has a dog that she plays with and likes. The neighbors have a big (way bigger than her) dog that she will approach. Sometimes. But generally she's afraid of dogs.
Well, here we are at this open park. It's a small area as far as parks go and it's right on a busy street as well. We're all getting out of the car going to run in the park and here comes this dog. It look like some kind of retriever mix and it's coming right at us. OFF ITS LEASH. I have a SERIOUS SERIOUS problem with dog owners who allow their dogs off the leash in places that aren't specific to that purpose. First of all, from what I know, it's AGAINST THE LAW. Second of all, I'm sure you love your dog. But guess what? I DON'T. And I don't want your dog running up to me, or my kids and basically scaring the crap out of them.
I was this close to hitting this woman at the park yesterday. In fact, as I'm writing this I'm getting more and more pissed off. She had absolutely NO CONTROL over her dog. She could not get a handle on him. Every time she went near him he ran off. Right toward the kids. My niece was already back in the van and I'm trying to take care of my nephew who's now terrified too and the baby's just sitting in the stroller with the dog sniffing all over him. I told that woman under no uncertain terms that she better get her dog under control - that the dog shouldn't be off the leash in the first place - and that I was ready and willing to call the police if she didn't get her dog away from my kids in about five seconds flat. This was after I had already told her "nicely" that she should control her dog. The woman was like don't you think I'd like to control him. And I said, if you can't control him, why'd you take him off the leash. I swear to you - no exaggeration - it was a good fifteen minutes that the kids sat in the van while this woman tried to corral her dog. She actually had the nerve to say to me that instead of yelling at her I should HELP her get her dog (which I actually tried to do as I sent my nephew screaming to the car.)
In fact, she never got control of her dog. She just finally realized that she better leave the park. So she did, and I watched her dog run through all of the backyards belonging to the homes adjacent to the park. For the record, every other dog we saw was on a leash.
This isn't the first time this has happened. I was running once near my house, where I run all the time, and I was bascially attacked by these two small lap dogs. They were nipping at my ankles and I could have seriously tripped and hurt myself. I was yelling at the woman to get her dogs and she was standing about 25 feet away calling to them come, come. Of course the dogs didn't come. So that woman was slapped with a $200 fine by the association office - it wasn't the first time she had her dogs off the leash. Next time I saw her, leashed they were.
PLEASE. PET OWNERS. BE RESPONSIBLE WITH YOUR PETS. DON'T MAKE ME DISLIKE PET OWNERS ANY MORE THAN I ALREADY DO. ;-)
Okay. Rant over. Thank you for letting me vent. This is an issue that really bothers me.
I did knit this weekend. On the train back and forth. Basically, on the way to Philly, I knit and ripped, knit and ripped, knit and ripped. I don't know what my major malfunction is with the Prairie Blanket, but I've been having a lot of trouble with it. I think I've finally got it all figured out though. It really is a wonderful pattern and I hope to be moving along on it. Hopefully before Xavier is a year old!
Nona has the THIRD INSTALLMENT up! Yippee! I'm going to try to get the fingers joined together again tonight. I'm still in work overload, but I'm doing okay and I'm looking forward to a really productive day today (she says optimistically....) Running. Post office. Pictures. Yup! I'm felling bright eyed and brushy tailed.
Norma has brought to our attention a particularly worthy cause - get your charity knitting needles out! This guy needs some purls for his penis. You just know he was DUMPED by a knitter. Help him out!
You've got ONE MORE DAY to come up with a name for the new KAL I'm sponsoring. I've already got the winner in my mind - so knock my socks off people! C'mon. There's a prize at stake.
Oh and don't forget to sign the map. ;-)
Posted by Cara at 09:14 AM | Comments (32)
November 11, 2005
You Know It Baby!
Ann, honey, the proof is in the pudding!



Your Birthdate: January 1


You are a natural born leader, even if those leadership talents haven't been developed yet.

You have the power and self confidence to succeed in life, and your power grows daily.

Besides power, you also have a great deal of creativity that enables you to innovate instead of fail.

You are a visionary, seeing the big picture instead of all of the trivial little details.



Your strength: Your supreme genius

Your weakness: Your inappropriate sensitivity

Your power color: Gold

Your power symbol: Star

Your power month: January

As seen on fellow January girl
Emma's blog
. Go and wish her a happy THREE year blog anniversary. YAY Emma!
Posted by Cara at 11:43 PM | Comments (5)
November 02, 2005
Crazy Busy
Consider this your random post for the day!
~+~ I'm a loser. Let's just get that out of the way right now. Tiffany sent me an email yesterday apologizing for her new mailperson's abilities since she's sure the package I sent her must have been returned. We can certainly go that route, if you'd like, but the truth is I'm a LOSER because I haven't sent the package. That's right L.O.S.E.R. I owe a bunch of people a bunch of mail. I'm sure you know who you are. (I hope I do!) I've made a pledge to myself that I will try to get together one package a night - you know baby steps - until everything is out. Rest assured - I never welch. NEVER. So you will get what's coming to you. I'm just a bit slow at times. My sincerest apologies for making you wait!
~+~ The winner of my blogiversary contest will be named tomorrow. Which will coincidentally be my 300th post.
~+~ Crazy busy you say? Sure. Sure. No REALLY! My little home grown photography business has suddenly exploded. It's like all the stars came into alignment, and by gosh - people like me. They really like me. (Or at least they like the pictures I take of their kids.) Which means when I'm not shooting I SHOULD be processing. I'm trying to keep the wait to three weeks for the final prints and that's tough sometimes. And being sick has really thrown a wrench in the plans. It's hard to see when your eyes are dripping and there's tissue basically wallpapering your nose.
~+~ Speaking of sick - I'm on the mend. My sister was SO glad I was sick when I got to her house because their house is a veritable germ factory. They keep bouncing it back between each other and we were a delight to behold. It was a cacophony of sniffles sneezes coughs and nose-blowing. Ahhh. The horn section was particularly good. Nothing like a little snot with your Halloween candy. I'm most pissed that I haven't run in a week. I only ran two days from being off the week for rain/Rhinebeck and then I've been off again on account of not being able to breath. And today is nuts with my getting ready for class tonight and I don't think I'll be running today. Or probably tomorrow. So Friday at the earliest and with my luck it will rain.
~+~ Tomorrow night, 7PM, Fales Auditorium, NYU Bobst Library there will be what promises to be an EXCELLENT reading. Jayne Ann Phillips and Deborah Eisenberg will be reading from their work. Be there or well, be stupid. Both of these writers are top notch, in my opinion - and I think it's really rare for them to be reading.
That's all for today! I really missed the blog (read: all of you!) while I was away. Sometimes I welcome the break - this time - not so much. See you tomorrow!
L, C
Posted by Cara at 09:45 AM | Comments (14)
October 18, 2005
Love At First Note
Thank you, Georgie, for showing me the way.
Do yourself a favor and push play.
I'm DYING. Dying I tell you. DYING. DYING. DYING.
Oh my GOD. I just pre-ordered it so I could see the documentary clip about the making of Born To Run. All I have to say is it's a good thing G's out late tonight. Ima gonna be busy. ;-)
Posted by Cara at 07:23 PM | Comments (5)
October 13, 2005
Princess Cara needs lots of luggage for a 3 day trip.
- cara needs a flesh rocket
- Cara needs 34 tablets of phenobarbitone a day along with potassium bromide.
- Cara needs your help, and your cash.
- Cara needs a little wolfpack shirt!
- CARA needs help!!
- Cara Needs Some Heroes Fast!
- Cara needs a bit of notice - but she is definitely worth the wait!
- Cara needs a tough girl image, rather than a pretty girl one.
- cara needs to start taking her meds again today since she was afraid to talk to people yesterday
- cara needs a sandwich, and i'm not talking about food.
- Cara needs to take a cold shower now!
- Cara needs to adjust her attitude.
- Cara needs more rock 'n roll in her life
- Cara needs your help in order to achieve her goal of making the US National Luge Team and competing in the 2006 Olympics in Italy.
And last but not least: Cara needs to come out here and bring her camera! from MARGENE's BLOG!
This is that google "___ needs" going around. Anna's was the one that pushed me over the edge. I think my name has some weird shit attached to it, no?
This is going to be one of those random ass posts....
First off, THANK YOU ALL SO MUCH for your comments on my cardi. I'm so glad you all love it as much as I do! I'm not giving it a bath since I won't be taking it off this weekend, and well, I'll need something bright and cheery to help identify me when I'm floating down the roaring river that used to be the Fairgrounds. What a crappy weekend this is shaping up to be! Weather wise that is.
I have to admit though, I'm getting all anticipatory anxiety-ish about it. I'm excited to see everyone, but I hate leaving my home base. What if I go crazy?! What if I need to go home? What if I ruin everyone's fun time because I'm crazy and I need to go home? These are the things I think about, you know, just in case I'm not feeling crazy enough. I will have drugs with me - so don't laugh if I seem a little stoned and too happy to see you. And no, I won't have enough for everyone. ;-)
MY FEET WON! Over at Mim's. She's got a great post on feet and the body in general, so check it out! Thanks Mim!
I got a package from my BETTER PAL yesterday! YAY BP! You always know how to brighten my day. This package is ALL local. My pal is from Norway (I'm just betting she's tall and blonde and gorgeous!) and it's like getting presents from a far away fairy land!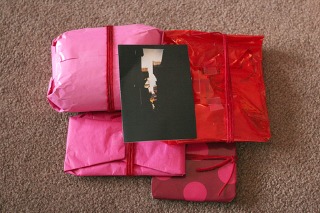 Look! She wrapped everything in shades of red! My new favorite color!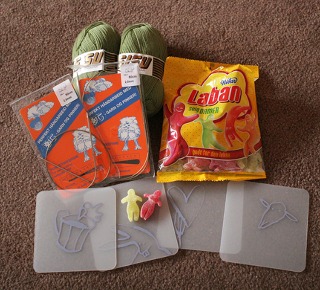 Sock yarn made in Norway! Norwegian Addi Turbos - oo la la! Super cool coasters with hearts and sheep and a bunny that totally reminds me of these guys! But best of all - GUMMY CANDY! They're called Laban Seigdamer which I'm pretty sure translates to Jelly Ladies. They're very good - not sour like I thought they might be and I ate half the bag before I realized a very, very important feature of these ladies. THEY HAVE BOOBIES!!!!!!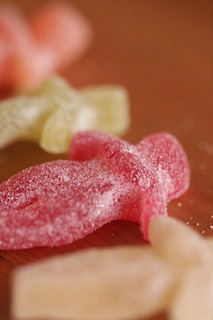 How freaking funny is that? G came home late last night and I immediately yelled to him from the bedroom - look at the candies from Norway! They have boobs! Thank you Better Pal for knowing me so well. I did not eat all the candy yesterday, but saved some for today. And the sock yarn, well, right on the money because I just signed up for Lolly's Socktoberfest and have been thinking about socks. And you know how I hate DPNs. Thank you so much! I can't wait to really meet you!
Speaking of socks and secret pals, I still haven't received socks or any communication at all from my Sockapaltwoza sock pal. I've given up and you know what - I'm okay with that. No bitterness here because I really, really enjoyed making my sock pal socks for Leslie and by all accounts she loved them and that's enough for me. I do, though, feel really bad for Alison. The amount of work that must have gone into such a huge endeavor! She says that about 20% of the people who've signed up have flaked out. Too many for her. I left a comment on her blog yesterday, but I'd like to say again - I'm right there for SockapalTHREEza. Socks or no socks, I had a good time, which in my book, is all that counts. What I don't understand is if you've signed up for this thing and realize that you can't hold up your end of the bargain for whatever reason - why not bow out gracefully? Apparently there are many people who signed up and have just disappeared. Why?
Isn't this funny? My sister was shopping yesterday and found these Jolie Raviolis. Her name is Jolie, which is pretty unusual, so whenever any of us finds something with her name on it, we sort of have to buy it. The kids loved them!
It's STILL freaking raining. I was supposed to run yesterday. Didn't. Don't think I'm going to today either. I've been on a very good run (pun absolutely intended) and I hate to stop now but I just can't do the treadmill. And it's pouring. If it was drizzling I'd like to think I'd go out, but pouring no.
Yesterday I upgraded my Movable Type software with the hopes of combatting the spam I've been getting. Since I've upgraded, I've gotten 179 spam comments. In like an hour. I'm just saying.
Have a great day!
Posted by Cara at 10:45 AM | Comments (8)
October 11, 2005
Clean Feet
for Mim!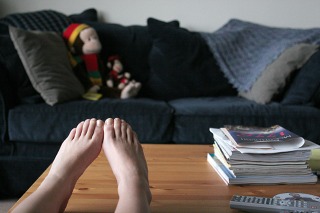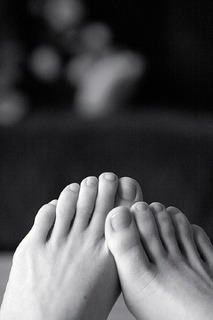 Fresh out of the shower! Happy Blogiversary Mim! Mim is asking for pictures of feet for a contest - go enter - you have until Midnight tonight. (But Katy, please refrain from showing your freaky bumpless feet yet again!)
Now yesterday, buried among the Junior Caramel accolades and AEC woes, was a contest of my own. Barbara was my 3000th comment! YAY! She will get an extra special something from Rhinebeck. My own blogiversary is this month - so expect another contest toward that day, which I think is somewhere around the last week.
I woke up yesterday morning - I don't know what time - to find that sometime in the night the power went off. My husband has a thing about time - not being early or anything - in fact he's frequently late - he just has a thing about clocks and time. All the clocks in our house (of which there are many) are set to atomic time or nuclear time or whatever kind of time is the most accurate BEST time. So when the power goes out and the clocks all over the house are blinking, G can go a little bit nutty. But of course this was discovered in the morning and things were already a bit hectic (read late for work) so he didn't fix any of the clocks. I'm a bit reluctant to fix them myself because god forbid I don't set them right, but I couldn't stand the blinking.
Last night I was in bed finishing up the buttonhole band on AEC when all of a sudden everything flashes off. I'm sitting in the dark. Georgie and I call to each other in the apartment - he's cursing up a storm because he had just spent an hour on the computer and lost everything - and he just finished FIXING ALL THE CLOCKS!!!!! It was about 11:30 I think. I finished up the button hole by flashlight and lemon verbena candlelight. It doesn't matter though - it needs to be ripped. The button holes are too big. I started with four stitches, went to six, ended up with five. They need to be four. They should be a bit tight right? Anyway, back to the clocks. We went to sleep eventually - isn't it funny how quiet things are with no electricity? - and when we woke up the power was back and the CLOCKS ARE ALL BLINKING AGAIN! So distracting.
As soon as I finish this, I'm going to put on my gas mask, spray every surface of my house with Tilex, and rip and finish my button hole band. Then sew on the sleeve. Question - what's the best thread to use to sew on buttons - regular sewing thread is too thin right? Do you need something like needlepoint thread? The yarn is too thick I think, unless I find one of those really thin pieces.
Before I forget!
HAPPY BIRTHDAY JEDDY!


Love,
Sistah C
Posted by Cara at 09:40 AM | Comments (10)
October 07, 2005
Frankly my dear...
my arm/hand/wrist might not be so bad. Firstly, let me say thank you for all the good wishes! Secondly, Junior Caramels might just be the BEST caramel candy ever. And I love me some caramel. Think Milk Duds, but softer, not so chewy. Sort of just the right amount of chewy without hurting your teeth. I'd encourage you all to run right out and buy some.
Now before anyone goes and starts yelling at me, I did knit yesterday. BUT, I wore my brace while I knit and honestly, it doesn't hurt to knit. I was good though and I only finished one set of repeats and then STOPPED. I stopped myself from knitting. It's the first time that ever happened. Especially when I could've gone on. And afterward I iced my hand/wrist/arm. To the point where the ice actually feels hot. You know what I mean? G says it doesn't work unless it gets like that. And I slept with the brace on and it doesn't seem to be so bad today. It's definitely NOT worse. Now my back - well - that's another story.
I'm going to work on my sleeve slowly but surely. I'm not going to overdo it. I'm setting goals for myself and I will try to get through those goals - with the brace - with the icing - and we'll see how it goes.
Celebrity Sighting!
Georgie and I went out to dinner last night with our friend Jeff, who was in town from Montana. Jeff makes watches - beautiful gorgeous handcrafted timepieces. I tried on one last night that was fully engraved and had little sapphires all around. Oh my god! I told Georgie it matched my wedding band. He just laughed because I have like fifteen watches and I never wear any of them.
Anyway, we went out to dinner with Jeff to Nam. Vietnamese food in Tribeca. It was knock your socks off good. The BBQ Pork especially. So we're eating and laughing and talking and Georgie leans over to me and says hey that girl looks like Scarlett Johansson. Now, I'm pretty good at picking out the stars. My credo - if a person looks so much like a celebrity that you immediately think to yourself - wow, that person really looks like *insert Star name*, then 9 times out of 10 it IS that star. People don't look THAT much like other people. So he says, hey that looks like SJ and I turn to look and say, it IS SJ. So we're eating a couple tables away from Scarlett and both my husband and my friend are arguing over who had sex with her first (you know in that high school boy way - I did her. No I did her first.) Me, I'm just rolling my eyes until they're permanently stuck in the back of my head. (Although I'm might've done her myself. ;-) )
So we eat dinner. And every now and again I look over at SJ's table. I mean, how could I not, right? Well, at one point I look over and see a big bug crawling up the side of the wall next to Scarlett. Instead of freaking out, because really a big bug on the wall in a NYC restaurant can only mean one thing and I'm not talking ants here, I lean over and tell G, hey, there's a big bug crawling up the wall next to Scarlett. He kind of ignores me. He's not real fond of bugs.
But next thing you know, Scarlett's kind of calling really loudly, "Sir, sir, SIR! There's a big cockroach that just crawled under the table!" Georgie said she was covering her face with her hand so she didn't have to look at it. Nam is not a big restaurant. Everybody turned around and looked. The woman at the table in front of her, clearly out for a birthday dinner (as evidenced by the candle in her desert) was HORRIFIED. Anyway. The proprietors didn't really do anything but move Scarlett and the woman she was with to another table. It was pretty funny, to be honest. Although I did feel bad for Scarlett. I mean, she must have been pretty freaked out by the bug to call that much attention to herself. I told G we should call Page Six and he thought we'd totally get it in, but I decided to blog about it instead.
We stayed and ate desert. It was a fabulous meal. I'd recommend the place highly. Oh and Scarlett - she's pretty damn pretty in real life too.
Posted by Cara at 09:07 AM | Comments (10)
October 03, 2005
What's the Story, Morning Glory?
Remember that scene in Bye, Bye Birdie? The one where everyone's on the phone trading gossip about Hugo and Kim? I was thinking about that song this weekend because it was a blogger phone fest! Ann, Wendy, Vicki, Jen! Great to gab with you girls! Can't wait to see you soon!
It was a good weekend overall. Saturday I made some good headway with my work and Saturday night we had a wonderful meal at Gigino's. It's a little Italian place in Tribeca - on Greenwhich Street - and we've never had a bad meal there. It's been consistently outstanding for a long time. A long time. I started with my favorite salad - sliced pears so thin you can see through them, some kind of parmaesan cheese, also sliced thin, arugula, walnuts, pomegranates all sprinkled with white balsamic. I LOVE it! Then I had a (large!) rack of lamp roasted in their brick oven with peppers and onions and string beans and roasted potatoes in a kind of au jus sauce. The potatoes were spectacularly crunchy on the outside and like mashed on the inside. Warm chocolate cake for dessert. To die for!
And then we went shopping for music - ends up Virgin Records at Union Square is open until 1 AM. I couldn't get over how busy it was outside. Okay, granted, we were in the Village near NYU on a Saturday night on a beautiful night in October - but it was packed! Craziness I tell you. We came away from Virgin with some Johnny Cash, Rosanne Cash and some Ray Charles. Excellent!
Did anyone catch the Saturday Night Live season premiere? I thought it was pretty damn funny. I watched some of it before we went to bed (it was late! I taped it.) I was laughing my ass off. LOVED, loved the Morgan Stanely mock commercial. Please tell me you saw it!
Yesterday, we beached it!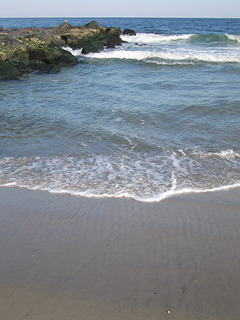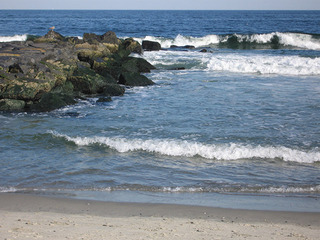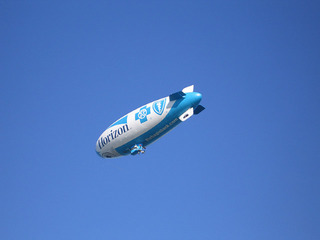 Those pictures are straight out of the camera (the point and shoot.) The sky was the most amazing blue - it was a perfect day. I don't think I broke a sweat, but I was warm and cool (you get that right?) and I just love the beach in October. I hope we get to go back a couple times before it really is too cold. That's me knitting on a new shawl. Or at least knitting the first seven rows over and over and over and over again until I finally got the very strange 3 to 2 decrease that the author has developed. You know how that goes. And now that I've done about 26 rows, I'm not sure I want to do it on size 8 needles. I'm using the same Twinkletoes yarn (different color) I used for DFS, only the shawl is a garter stitch pattern (knit the odd rows). The pattern calls for Jamieson and Smith 2 ply jumper weight, which seems like a really loose ply, but still fingering weight - so the trade off should be okay. I may try it with size 7 needles and see if I like it better. I know, I could swatch, but WHATEVER! Where's the excitement in that?
Speaking of frustrating knits, what the fuck! You'd think a simple drop shoulder sleeve would be a no brainer. Does that mean I acutally have a brain because I can't get the damn thing to work? If you recall, I decided to do a modified drop shoulder on the Almost Everyday Cardigan. I bound off 8 stitches at each arm and continued straight to the shoulder. Well, when I increased the sleeve to 94 stitches (which matched the cast on for the back) I barely got to the bind off for the arm when I sewed it in really quickly. Back to the drawing board. Originally I had done 15 increases (one every end) every 4 rows and then 11 increases every six rows. I ripped back and ended up with 15 every 4 rows, 5 every 6 rows and then another 10 every 4 rows. I think. I've got it all written down. And I was smart - I did a knit into the front and back increase so I can see them really easily. Got me to 102 stitches. Just barely worked - I still needed it to be longer to get me all the way across the bind off. So I ripped again back half of the final every 4 row increases and did every other row increases. Same number of rows, but an extra ten stitches. I didn't sew it in yet, but it looks like it worked. How crazy is that? Please don't tell me I should rip and start the whole thing over. I think I can get it to work and it's supposed to be oversized and all. Damn though. This sweater should be done already. And to add insult to injury, I'm worried I won't have enough yarn. I think I need another hank.
Do you have a madeleine? I do. Last night I sent G to the store to pick up some Acne soap (my face is breaking out so bad!) and some candy. They didn't have these new Junior Mints - but they aren't mint - they're caramel inside and they may be the best candy ever! Junior Caramels! I told him instead to get me some gummy bears. So he brought home the CVS store brand kind. As soon as I saw the bag, I knew!
When I was a young girl - I don't know prepubescant - maybe 10 or 11 - I used to ride my bike to this Polish candy store. They sold gummy bears (the first time I'd ever seen them) in plastic sandwhich bags with a twist tie on the top. I'd bring the bag home and climb into bed and eat them while I read with my clock radio playing music. To this day whenever I hear certain songs I immediately remember a particular book. Back to the gummy bears - with the proliferation over the years of gummy candy (worms, aligators dinosaurs, you name it) the gummy bear has been basterdized in a lot of ways. Rarely can I find the exact bear I used to get at the Polish candy store. They're very chewy, almost hard, and after awhile your jaw hurts. They have a very subtle flavor too. But they are THE.MOST.SATISFYING. candy ever. Georgie brought them to me last night - the EXACT kind - and I swear I almost cried. My madeleine. What's yours?
I leave you (wow I was chatty today!) with the picture that greeted me when I awoke this morning. We're completely fogged in: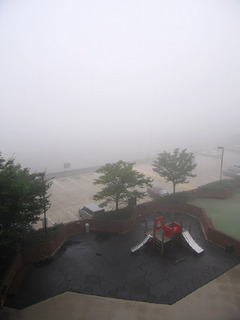 It seems like it's starting to lift and I'm going to go run a bit later. Some blocking today and maybe some seaming and I may or may not cast on for the second sleeve. My left wrist hurts a bit today so I may take a break. Or cast on for a second sock. Or find the first one (I lost the first sunshine sock. My house is such a mess.)
Have a great day!
PS - Here's what it looks like now - about two hours after the first picture: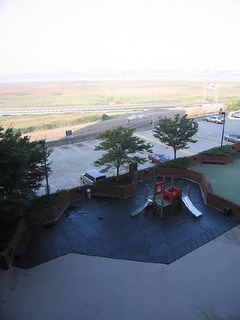 Wild huh? I love weather.
Posted by Cara at 10:02 AM | Comments (11)
September 29, 2005
The Wind Has Kicked Up
so I'm not going to run today. I hurt my lower back the other day anyway so it's nice to give it an extra day of rest. I'm doing well with it though - halfway through week 4 and enjoying it still. The colder it gets the better I like it! I love to run in the cold! We're supposed to be getting some pretty dramatic storms today - so I'm not feeling as guilty as I might.
Speaking of guilt (seems to be the topic of the day, no?) I'm feeling pretty badly about the fact that I don't think I'm going to Philly for Rosh Hashanah. My mom will probably be upset, but last night my class gave me 75+ pages to read for next Wednesday and I have two photography jobs to process from last weekend and I'm feeling a bit overwhelmed. Going to Philly means I don't get anything done for 48 hours. I don't feel like I can lose that time. You gotta do what you gotta do.
Thanks for all the sleeve advice yesterday. I cast on the 42 stitches and I think I'm going to increase up to 94 stitches. The distance between where I bound off for the modified sleeve and shoulder is about 10.5 inches, so that should work out just fine. I've got to learn me some more info about this designing stuff. I want to be Colleen when I grow up, and the process is a bit slow for me. It was funny - I had the dreaded Ann Budd book open on the bed and G came in - he took one look at and started to laugh - "Look at all that math!" he said. It's really pathetic when I'm constantly calling out to him - what's 27 minus 9? Or what's 24 and 42? You know, really pathetic math.
[This is turning into one of those random posts. Hey Cate - can I have random Thursdays?]
Still no socks from my sock pal. I don't want to seem like I'm complaining, because really I'm not, but dear sweet sock pal, can you send me an email or something to tell me that the socks are coming - or an ETA maybe? Or if they're NOT coming, tell me that too! I just want to know. Thank you. When I was at Kay's the other night we were talking about the whole swap/secret pal thing. I sort of look at it like lending money - you have to be able to give full well knowing you're probably not going to get anything back. My SP4 experience was sort of like that. (I got fine, just no real connection - on any end.) The Better Pal thing is getting along really well. I'm very much enjoying sending gifts to my BP. We're pretty different and I'm loving thinking out of my box to spoil her. And MY BP, well, even though I don't know who she is (YET- I'm STILL not looking!) I feel like we've really connected! Which is all I really wanted anyway.
Rhinebeck, Rhinebeck, Rhinebeck! It's all you knitters talk about these days! ;-) I AM excited - there are lots of people I want to meet and see. And THE BIG CHEESE IS COMING! (See Ann, I have cute names for Vicki too!) Should we do another meet-up? Was the last one successful? Or should we just put a list of everyone coming? Did the non-attendees think it was mean to do that? Let me know. I'm game if you're game. I gotta say though, I'm nervous about Rhinebeck too. Mainly because I've still got the anxiety thing going and anything out of my comfort zone is making me crazy these days. But I will be there. Xanax in hand. ;-) (You knitters are crazy - you know that, right?) And one more confession - I don't feel like buying any yarn. There. I said it. I may just stand in that t-shirt line for four hours because I'm not even going to the Brooks Farm tent. I've got all this yarn from Maryland that I haven't even touched. There are a few vendors I'll be seeking out, but otherwise, I'm there for my peeps. And the lamb of course.
I leave you with this hysterical flash cartoon my brother emailed me yesterday. I guarantee the Tribe will be rolling in the aisles over this one - and even a few of the honorary members.
Posted by Cara at 08:40 AM | Comments (11)
September 22, 2005
6:23 PM
That's the time Autumn arrives. My plan is to step outside on my balcony and take a picture of the sky at precisely 6:23 PM. I've been waiting a long time for this, I don't want to miss it. But, Sandy, if I win the Gold Hill, I'd like you to send it to Norma. She definitely needs it more than me.
Thanks, all, for stating the obvious. I started the AEC swatch yesterday. Bastards. The whole point of screwing up the first sleeve was so I wouldn't have to make a swatch! Luckily, the kids (all five of them - the joy of families traveling together!) and their exhausted parents stopped by yesterday on their way home from vacation and I didn't have time to put the ball winder or swift away before they got there. So we frogged the errant sleeve together. Everyone got to turn the handle for the count of five. Max was pretty funny. Every time they started to play with a new toy he would annouce that he got to go first because I was HIS Aunt Cara.
When they left I cast on for the swatch. Ugh. Luckily I had class to occupy my mind last night because otherwise I'd be really bored and kind of pissed. So far I'm getting about 4.5 stitches to the inch. Which is pretty much what I've been getting on the AEC body. Vicki asked me yesterday what my gut said and my gut says rip it out and start over with an extra ten stitches. But my gut likes to knit larger than I am, you know, body issues and all, so I'm trying to resist. I'm thinking, maybe, it will be okay after all. We'll see when I'm done with the swatch.
Class was good! They laughed! Which is a great improvement over the last class. They seem enthusiastic and asked questions - it's so disconcerting when they sit there and stare at you. I feel like such a freak. I was mildly panicked at the start, but that quickly went away. Self-depricating humor is always a life saver.
I've got these guys here working on the tile wall in one of the showers and already I'm pissed. First they're an hour late. Second, well, second, I don't like people in my house. Especially when I'm going to have to leave them here by themselves.
Oh - I almost forgot! My sock pal, Leslie, got her socks yesterday! She sent me the sweetest email about them. She's a reader so she watched me knit her socks! How much fun! And today is her birthday, so happy birthday Leslie! I'm so glad you love them. It was a real pleasure to knit for you. (Leslie doesn't have a blog, but I've invited her to send in a picture with her new socks. C'mon Leslie! I want to see you IN the socks!)
Still no socks for me. Maybe today?
Happy Fall!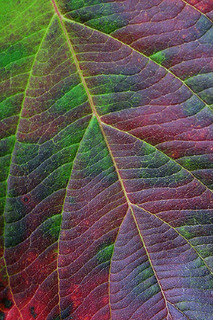 Posted by Cara at 09:39 AM | Comments (18)
September 20, 2005
Tempting Fate
I know I'm going to be pissing off some kind of knitting god out there, but can I just say how much I'm enjoying my knitting? Really - I can't stop! How nice is that?!
My Almost Everyday Cardigan is moving along nicely and the yarn is just GORGEOUS. Every now and again I just stop to love it. I did have a moment of panic last night that the first skein I used has much more pink in it than the second skein and even though I wasn't going to do it, I ended up joining another skein so I could switch off every other row. The Manos is hard - there are no dyelots on the yarn - but I didn't buy it all in the same place at the same time. I tried to match it best I could, so hopefully this will help things out. The variegation is so, so pretty. I just want to knit on it ALL DAY LONG. There's nothing wrong with that right?
I'm thinking about lace again. Who a thunk I'd like it so much? Well, some people, maybe, but I didn't think it! Same with socks. I'm just silly sometimes. I know I mentioned that I have this pattern I found in a BW treasury that I really, really love and I'm thinking of making into a shawl. I bought the Martha Waterman book, Traditional Knitted Lace Shawls, which is supposed to help you design your own, but I don't know. Allowing for all those increases and decreases and edgings, I was feeling a little sick and discouraged. This might take me YEARS to figure out. Probably what I should do is swatch the damn lace and see if I even like it knitted up. In the meantime, my eyes are out there for another lace pattern. I might go with one of those Robert Powell patterns I bought and use the other Twinkletoes yarn I have in stash. The bottom line is I'm really liking the lace. And all my other knitting.
Today I'm going to do some picture work - maybe clean up a little bit - and work on AEC. Also, I need to cast on for the second sunshine sock. I start teaching again tomorrow and I'm always REALLY anxious before class. I need some easy knitting to get me through and help me relax. A sock is perfect.
New GOAL!
Here's my new goal - the Almost Everyday Cardigan will be DONE for Rhinebeck. I initially thought maybe Short Rows, but I'm not feeling it there - this project will have taken so long that I don't need to rush it. It's more important that it gets done and gets done right. (Yeah. It's called procrastination.) Back to Rhinebeck. I'm planning on doing the same trip I did with Maryland. Go up Friday and stay through Saturday. Maybe dinner Saturday night since it's not THAT far away from me? So thems the details for all who have been asking. Rhinebeck will (sort of) coincide with my blogiversary. October 26th will be a year. So I'm thinking a super cool Rhinebeck inspired contest will be in order when I get back. I know you'll all stick around for that. ;-)
Last but not least, our prom picture from Hearst Castle. Isn't G so handsome?!



Posted by Cara at 09:19 AM | Comments (9)
September 14, 2005
Stoned
Thanks for all the comments on my DFS (sounds like a government agency - and not the friendly kind.) Blocking may have to wait a bit. G leaves for South America tonight - and my little sister is coming to keep me company while he's away through the weekend. Normally I'd go down to my other sister's, the one with all those cutie kids, but the family's taking a vacation up North, so.... My nephew informs me they will be taking the "Maximo," the hugest Minivan to ever exist on Earth. There are four adults and five kids traveling together. My sister has no idea where he got the name Maximo - but it does include his name in it and it's the HUGEST Minivan, so it's not hard to make the connection.
Anyway, blocking will have to wait until tonight. Since I spent the last couple days constantly knitting, I've neglected everything else. I've got to get a couple packages together and I have to help G get packed and things are a bit crazy. But it'll be worth the wait - I promise. And with my sister here, you might actually get me in a picture or two! Wouldn't that be special?
On to the concert review.
I'd heard lots of things over my life about The Stones and how great they are in concert. Don't believe the hype. It was definitely fun, don't get me wrong, but in a goofy way - as in "My GOD, they're ugly!" And, "Do you think Keith Richards is stoned, or that's just how he is now?" And "If I have to see Mick's stomach one more time I might puke." The music was good - we wore earplugs (as we're apt to do - I went to a concert a few years ago and my ears rang for three days - ever since - earplugs) and it actually sounded much better and clearer with the plugs in. The stage came out into the middle of the floor, right in front of our seats (about 10 rows away) and it was very cool. They played some good songs - songs I enjoyed hearing seeing that I'm not much of a fan. They ruined 19th Nervous Breakdown for G by playing a "new arrangement." I guess artists get bored? And they disappointed me by switching out Shattered with Satisfaction and then putting You Can't Always Get What You Want in the then vacant Satisfaction slot. (When they came out in the middle there were these clear plastic screens around Charlie Watts that contained the set list. As far as I can tell this was the only time they went off the list.) I would've much rathered have heard Shattered. Highlights of the evening: they did an AMAZING cover of Get Up, Stand Up. And Miss You. Miss You was really, really good.
Overall though, the concert left me cold. G and I discussed this on the way home. Now, I'm going to try not to compare the experience with a Springsteen concert. As you may already no, a Springsteen concert is the closet I've ever come to an ACTUAL religous experience. It's so emotional for me I have to take a Xanax during the show. Really. I'm not bragging, I'm just stating facts. (There was no Xanax taken last night.) At a Bruce concert, which generally ranges 3+ hours, I know every word of every song, as do 99% of the people there. And pretty much 7 out of 10 people are ALSO having a religious experience. (I don't include those people who are drunk about ten minutes into the show and are constantly BRUUUUUCING (sounds like BOOOING) and calling out for Candy's Room every ten seconds. I HATE Candy's Room.) There is an AMAZING connection between the artist and the crowd and the band. When Bruce sings, you see and feel every emotion contained in the song - on his face, in his body language, in the crowd reaction. It's all there.
It wasn't there last night. Again, I'm not going to compare the concert to a Bruce show, because, admittedly, I'm biased. But I will compare it to a WHO show. And maybe even a KISS show. I've seen both bands more than once. The Who shows come about as close to a Bruce show as I can probably get - and I'm not a HUGE Who fan. I mean, I like them and all, but I don't play their records - more of a radio listen if you will. But the CONCERTS were AMAZING. I was totally into it, pumping my fist, connecting with the band and the crowd. I lost myself for a bit, which is what you want in a live environment, I think. KISS is totally different, but comparable. They're putting on a show, as is Mick Jagger, and KISS just does it better. It's a more cohesive show - it's like Vegas in that way - everything's choreographed and has a circus atmosphere to it and you get what you've paid for.
Last night I felt like there was no connection and not enough show. G felt the connection part was because the crowd was made up of mostly industry types who didn't pay the $464.50 a ticket (seriously - that's what it says on our stub - we didn't pay either) or if they did pay, it was because they needed to see or be seen. Maybe if we had sat up in then nosebleeds the atmosphere would've been different, but I don't think so. The band never connected with the crowd. Half the time while Mick was jumping around like he had ants in his pants or was channeling Michael Jackson, Keith Richards and Ron Wood were standing around chatting. And Mick sucked with the crowd banter. He pointed out that he saw a bunch of kids in the audience. And then he actually said something like, sorry kids, but there goes your education (meaning that the parents blew the college wad on tickets.) Tasteless at best.
I was bummed I didn't get one of those flashing tongues that people were wearing.
Lest you think differently, it WAS a good time and I'm really glad we went. I don't often go to concerts and when I do it's usually Bruce and therefore an EXPERIENCE. It's something I think about for days before and days after and find the bootleg so I can remember every minute of it forever. This was a concert - pure and simple. Not something I'm used to.
Blocking/wearing pictures to come. Patience, sweet ones.
Posted by Cara at 08:49 AM | Comments (6)
September 13, 2005
Start Me Up
That's what I need this morning - someone to start me up. I woke up around 6AM feeling completely nauseated. I knew right away it wasn't anxiety nausea, but stomach nausea. See, now, I'm an expert on nausea. I've often compared myself to Sartre's sad sack character in his extremely nauseating book, Nausea. There was a time in my life when I did not leave my house without a bag of some sort to throw up in. (I'm not kidding. It was years. I woke up every morning feeling sick.) This was anxiety nausea. That's long since gone and I've seen moved on to bigger and better ways of torturing myself (bad thoughts and all that good stuff.) So I know the difference between psychosomatic nausea and the real honest to god grab the bucket kind. (I should note that in all that time I felt nauseated, I rarely, if ever threw up. It's all about ANTICIPATORY ANXIETY, people. That's the silent killer, really.)
They say that the mind and the stomach are very closely releated. In fact, the stomach has it's own nervous system - the Enteric System. This is why you get butterflies in your stomach - also where the term "gut instinct" comes from and why when you're scared you immediately have to take a crap. Let's just say I have a highly honed enteric system.
Anyway. I'm feeling sick today. It's slowly passing and may have everything to do with major PMS. You know the kind, where your boobs start hurting the minute you ovulate and you have to make sure they're secured to your body before you get out of bed in the morning lest gravity causes intense pain. You don't know that kind? Lucky you. I'm sure I'll feel better as the day progresses. I have to. We've got VIP tickets to see The Stones tonight at the Garden. Yes, that's right. Honestly, I don't even really like The Stones that much (Blasphemy I know, but whatever. I don't really like U2 either. So shoot me.) but the tickets were free and the seats are supposed to be good and there may be a Xanax in my future so wish my stomach some good thoughts.
I was bad yesterday (no working) and knit, knit, knit on DFS. Funny thing about those shawls, especially the ones that start off small and grow, grow, grow. It takes a LOT longer to get through a row. I'm a couple rows into the LAST section. I'm not going over the ten. For the longest time I was thinking it wasn't going to be that big, but it's suddenly pretty darn big and I still have a ways to go. Then there's the points and the I-cord edging and it won't be done for a couple days yet. And I so want it done.
In the meantime I can't stop thinking about my red, red Manos and the Everyday Cardi and I want it NOW. So I may just wind up a hank and swatch a little bit today. Or at least take the yarn out and fondle it and read through the pattern. It should be a really fast knit. At this point #8 needles will feel like tree trunks and it's all stockinette so whippee! Let's go!
And this is for Kay. Wave Hill. Be there or be square.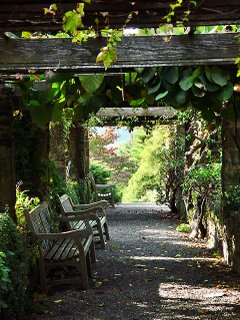 Posted by Cara at 09:04 AM | Comments (14)
September 08, 2005
My Little Pony*
I didn't knit a stitch yesterday so here's some other crap. Oh yeah, and the bed arrived, no problems, and it's fabulous!
Do you get catalogues? We do. A lot. Although not as many as we used to. I'm not sure why, but we still get all the usual suspects. Pottery Barn. Eddie Bauer. J. Crew. The one about feet. Grill Lovers. Hammecher Schlemmer. We also get a bunch of kids ones - clothes, toys - you know, I've bought some gifts over the years for the babies so I'm on the list. Well, yesterday, we got the FAO Schwartz catalogue. I usually love this one with it's over the top presents and BIG atmosphere. I mean, c'mon! Who doesn't need a life size teddy bear to scare the crap out of you while you're sleeping?!
So, I'm flipping through and on the first page I see this:


And I'm thinking, WOW! They're really doing lifelike stuff with those stuffed animals these days and THEN I READ THE INFORMATON AND IT'S A REAL FUCKING PONY!?!?!?!?!?

Exclusive

Miniature Pony
$15,000.00

Imagine your very own precious pony. FAO Schwarz brings that dream within reach. This miniature purebred makes a perfect companion for young horse lovers. This full-grown pony has a buckskin coat and a soft thick mane and arrives ready to be ridden with a monogrammed FAO Schwarz halter and lead, and a Western saddle. Your pony is escorted home by a specialist who is there to offer complete information on caring for a new horse.

Please call the Division of Local Government for your county to check out any specific regulations. Owing to the size and nature of these ponies (under 36 inches and used solely as pets), they should be considered domestic animals rather than farm animals. The pony comes complete with current health papers stating which vaccinations were given. The pony will need a small outdoor area with protection from the elements and enough room for daily exercise.

Call 1-800-426-8697 to discuss the details of this special purchase with a Personal Shopper.
My favorite part? Well, that would have to be the part where (in the catalog - it's not online) it says "Ages 3-6. Maximum weight limit of rider is 50 lbs." So what happens when your daughter (or son - why should ponies be limited to girls?) turns 7, you take the thing out back and shoot it? I mean it's not like a puppy, or is it?
* NOT to be confused with the Pukey Pony. Or should it?
So after I got over my initial shock, I kept flipping through the catalog. Here are a couple of other goodies I found:
Junior Off-Roader Ride-on Car (Gas Powered)
$30,000

Driving the gasoline-powered Junior Off-Roader is a perfect way to acquire early experience at the wheel. The Off-Roader features an all-weather fiberglass body with a protective frame, rack-and-pinion steering, dual hydraulic disk brakes, a manual emergency brake, rubber tires, and full front and rear suspension. The vehicle comes equipped with a a three-speed transmission, and tops out at 30 mph. It also has a removable, fully functional radio and tape deck, and speakers on the side doors. Your young driver will be comfortable cruising around in the adjustable upholstered leather seats. 90" x 53" x 60". This item is a Special Order item. Please refer to expected delivery shown below. This product is recommended for ages 7 to 15 years.
15 Years. That way they've got LOTS of practice before you buy them that real jeep!
How about this? Your little girl isn't satisfied with sleeping bags and popcorn and scary movies for her birthday sleepover? How about a night at FAO Schwartz, replete with weirdo ice cream guy?
For One Special Night, The Store Is All Yours
The FAO Schwarz Sleepover
Imagine having the entire FAO Schwarz store all to yourself, all night long. Your child and 15 friends will indulge in an all-night party that includes a spectacular birthday celebration in the FAO Schweetz Ice Cream Parlor, lessons on the Dance-On Piano, rides on the 3-D motion simulator, and hours of games and activities throughout the store. The guests sleep in sleeping bags in the Rec Room so they are never far away from the fun. This special event ends in the morning with a continental breakfast and goody bags. Ages 6 and up. Starting at $25,000.

Ooh. A continental breakfast! What happened to Cheerios?
After the pony though, this one's my favorite:


Grand Victorian Mansion
$18,900.00
This enchanting play home is straight out of a fairy tale. The outside is picture perfect, including a wraparound porch, a stained glass window, window boxes, a skylight, and doorbell and brass doorknocker. The interior is decorated with a bay window with window seat, sponge-painted walls, simulated hardwood floors, fireplace mantel and an upstairs loft accessed by a ladder. This Victorian is truly grand indeed. Assembly required.

I don't know what's scarier - the idea of an $18K playhouse, or the photograph which looks like it could've been staged by wackos Pitt and Jolie. I mean, do those kids look like fun is in their vocabulary?
I'd like to think that even if the tv wasn't on in the background with people devastated by Hurricane Katrina I would still be appalled by the excess of this catalog. I feel like it should've come in brown paper packaging - it's that obscene. The saddest part - there are (a few, I hope) kids in this world that think they DESERVE "toys" like this. Not just want, but deserve. Entitlement starts young these days. ETA: I don't blame the kids. I don't. Because the honest to goodness truth is that a kid is happy with the damn box the toy came in. Entitlement is a LEARNED behavior. Someone had to teach them.
As a stark contrast to the decadence above, I leave you the lyrics to one of my favorite Springsteen songs. I had forgotten about it until last night, when the track popped up on our CD player. Honestly, I can't believe it hasn't been THE soundtrack to the horrors of Katrina. Generally I'm in tears hearing it, but last night I was positively distraught. The song really needs to be heard - it's melody is hauntingly beautiful and positively infused pain. But oh so hopeful too.
There is a blood red circle
On the cold dark ground
And the rain is falling down
The church door's thrown open
I can hear the organ's song
But the congregation's gone
My city of ruins
My city of ruins
Now the sweet bells of mercy
Drift through the evening trees
Young men on the corner
Like scattered leaves,
The boarded up windows,
The empty streets
While my brother's down on his knees
My city of ruins
My city of ruins
Come on, rise up! Come on, rise up!
Come on, rise up! Come on, rise up!
Come on, rise up! Come on, rise up!
Now's there's tears on the pillow
Darlin' where we slept
And you took my heart when you left
Without your sweet kiss
My soul is lost, my friend
Tell me how do I begin again?
My city's in ruins
My city's in ruins
Now with these hands,
With these hands,
With these hands,
I pray Lord
With these hands,
With these hands,
I pray for the strength, Lord
With these hands,
With these hands,
I pray for the faith, Lord
We pray for your love, Lord
We pray for the lost, Lord
We pray for this world, Lord
We pray for the strength, Lord
We pray for the strength, Lord
Come on
Come on
Come on, rise up
Come on, rise up
Come on, rise up
Come on, rise up
Come on, rise up
Come on, rise up
Come on, rise up
Come on, rise up
Come on, rise up

Copyright © Bruce Springsteen (ASCAP)
Posted by Cara at 09:37 AM | Comments (20)
September 07, 2005
Another Day's General Passions
Taking a page from Mamacate, it's Wednesday, so let it rip!
~ I'm sitting here waiting for the new bed to be delivered. Remember what happend with the last one? Welp, I'm waiting again. Hopefully this one will have the right dimensions. The last one seemed to be a combination of a California King (72x84) and an Eastern King (76x80). This bed is 72x80. Uh, what? So they made us a new one. Actually this is the third delivery date. My building only allows deliveries between 9-5 and the first time they came I was sure to tell them about this - well they said they'd be there in the morning and didn't show until 4:30. So when they scheduled it again they told me they'd be there between 9-5 and remembering the first delivery I was like fine. And then the phone rang at 7:55 AM asking for directions because they were around the corner. No go. G was pissed! Then we had another date, which I had to cancel. And here we are again. Luckily I called this morning and they said they'd be there after 11. So I went out to run at about 9:30. Yay!
~ Speaking of running, I finished week one! Yahoo! When I'm doing the early weeks of the program, I tend to do three days. Once the running times start getting longer and longer I'll move to four or five days before moving up. It's important to pace yourself - not move up in distance too fast - so you don't get injured. It was nice today - I could totally tell I was running faster (even though I'm not running much) because I take the same route and I ended farther along today than I did the other two days I ran. It's like riding a bike too, how fast the breathing and stride hits a rhythm. Your body doesn't forget. Oh and to answer Karma's question, I wear a watch with a stopwatch and look at it while I'm running. Not the best method, but it works.
~ I just had some lunch - bbq chicken breast left over from dinner last night. I'm trying to eat more often during the day. It's not unusual for me to go until about 1 or 2 or sometimes 3PM without eating anything. I do drink water all day long, a big Nalgene bottle by my side which G gifted me a couple of weeks ago. Back to eating - it's not good for me to skip meals. The anxiety starts up at around 1PM. I know what it is and I still don't eat. Yesterday, though, I was hungry for a snack and the cupboards are pretty bare so I had some potato chips dipped in red wine vinagrette salad dressing. About an hour later I was feeling kind of funky - nauseous a little and just out of sorts. By the time I went to bed I had one of the worst cases of indigestion ever. It was like fire in my esophagus. I ended up sleeping sitting up. Ugh. Not fun.
~ Do you watch soap operas? I've been watching since I was a little girl, a habit picked up from my mom. Days of Our Lives and Another World are the originals. I jumped on the General Hospital bandwagon during the whole Luke and Laura fiasco and it stuck. And when my sister was home with Max, she got into Passions, which she's since gotten me into - I love that in the info on my TV it says the zaniest soap since Dark Shadows - it definitely is nuts. My faves though have always been General Hospital (I'm a HUGE Sonnylicious fan - that is TOTALLY my type - dark and dark and sexy) and Another World. When they took AW off the air is was awful! And then, SoapNet brought it BACK! Lately I've been really getting into it - I tivo it and watch it in the evenings. It's great to know what's happening, but at the same time there are still surprises - characters I don't remember, plot lines I forgot. But it's still my old fave AW. It's been a lot of fun - for a lot of reasons - to have this soap back in my life. I can't wait until they get to Vicky and Ryan!!!!
~ G set it up so that I get cable TV on my computer. So I watch my soaps while I'm working - generally I'm working on pictures. It works out well. If I miss them one day, I don't care. I don't TIVO them. I only TIVO Another World because it's on at the same time as Days.
~ I've also been tivoing Family Guy. I swear there's at least one or two or three jokes each episode that have me howling. And last night I finally saw the last two minutes of the season finale of Gilmore Girls. I missed it when it originally aired. Next week is the season opener and I've already read spoilers going into the sixth show. How do you feel about spoilers? Somehow they don't ruin it for me - I guess it depends on the show though. I would NEVER seek out a spoiler on 24, but GG is okay. I read spoilers for General Hospital too.
~ I didn't knit anything yesterday. Tired from the weekend I guess. I thought I might start swatching for my dad's aran sweater that I'm planning on making, but then I saw this lace pattern in a Barbara Walker book that I had seen before and once again I was completely and utterly tantalized. I want to use it to make my own lace shawl, but I don't know where to start. I posted a message on the Summer of Lace board, so we'll see if anyone has any suggestions. I want it to be a triangular shawl with a border you knit as you go. I hope I can figure it out. I think it will be beautiful - it already is in my mind. I guess in the end I could make a rectangular shawl - that would completely work.
~ This fall/winter is going to be the season of the cardigan. I've got a few kids knits to do and I want to make myself the Everyday Cardigan using this gorgeous Manos. I think about it everyday. Short Rows has to be finished first. Too many projects.
~ My business is really growing. I'm booked pretty much every weekend into October. I don't think I had one job last September. I'm getting repeat customers too. It's so wonderful to see the kids growing up in my pictures. I start teaching again on Sept 21. The last class I taught was a disaster, but I'm hopeful about a new one.
~ I need to be writing.
~ I hope Roger Federer wins the US Open. I don't really care who wins between Agassi and Blake - I'm not really a fan of American Male Tennis Players. That's not true. I like Vinnie Spadea (I'm not Afraid-a-Ya) because he is an utter goofball. And I used to LOVE Sampras. I don't like to watch women's tennis at all. Actually, to be honest, the only reason I watch ANY tennis is because of G.
~ We're coming up on the anniversary of our first IVF attempt. I think this is why I've been so anxious lately. I tend to turn all extreme emotion into anxiety as a super fucked up way of (not) dealing with things. And they keep showing the promo for that NBC show I don't want to think about. Between that and the NJ PSAs on Post-Partum depression, which absolutely kill me, I may never get pregnant.
~ I think, in the end, this post will be really boring to most people. I'm sorry for that. Please come back.

Bed's still not here. An hour after I started this. I'm hungry again too. Crap.
Posted by Cara at 01:59 PM | Comments (13)
August 30, 2005
Game. Set. Match.
That's about how long it took. Literally.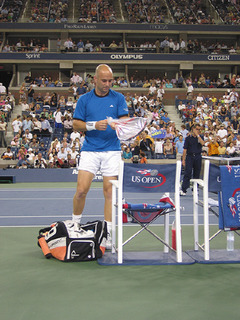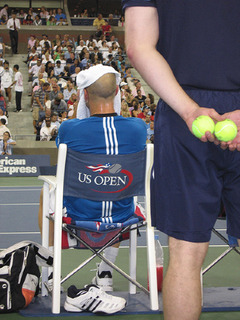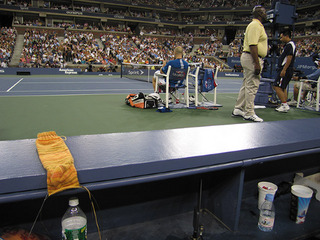 In case you don't recognize it, that's the Sunshine Sock. It goes everywhere, but never gets finished. This is kind of a cheat. We were in a Very Important Person's seats (don't worry, we were allowed) and G thought it might not be good form to knit while in those seats (ala Elaine and her Baltimore Orioles Cap.) So I took out the sock for the obligatory picture, and I did knit one row (note - not even a WHOLE round) for posterity's sake.
The best part of the evening? Well, I had a few hours where I was peaceful. Dare I say it? I had some fun. Of course, today I'm back to doubting it will ever come again, but it was there. And a Big Mac never tasted so good.
I think I may have scared some of you yesterday. Rest assured, my family and friends (which includes my dentist, my dry cleaner, the woman on the #7 train yesterday) all know my situation and are on top of it. I'm OKAY. Really I am. I may feel like utter crap, but I'm OKAY. And one day, hopefully really really soon, this will be a distant memory. I still remember the Summer of 2000. It wasn't pretty, but here I am five years later and this summer wasn't half as bad as that one. So, it's all okay. Thanks for caring.
Posted by Cara at 01:18 AM | Comments (7)
August 12, 2005
Wonder of Wonders
The trek out to STRONGIsland (as Georgie kept referring to it) was very nice, punctuated by the miracle of NO TRAFFIC coming AND going on the parking lot known as the LIE. And no, I'm not lying. In fact, the only traffic we hit the entire day was on RT 27 going to East Hampton. G thought the beach was supposed to be the best there, but it turns out the ones in Southampton rock even harder. Lovely, lovely beaches you've got out there. The water was ultra clean and the beach was ultra soft and it really was some of the best I've ever been on.
The job was great - great kids, great parents, great light. Shooting on the beach - getting wet while photographing kids in the surf is just as much fun for me as it is for them!
Not much knitting to report as I drove the three hours out there and the three hours home - seems like G can't take a day off anymore without some crisis exploding at work, but that's okay. I was happy for the company.
My friend's coming over today from out of town. She's kind of OCD about keeping things clean and a pig wouldn't even live in my house these days. I'm almost tempted to leave it and see what kind of palpitations it gives her - is that mean? Or seriously ask her to clean it for me - that's what G thinks I should do - I told her I'd pay her. I'm so tired though I think it will take all my energy to clean myself let alone my shithole house, so that might be all she gets.
Tomorrow I leave for my sister's for the week, so blogging may be sporadic. I'm only bringing socks with me, I think. Hopefully I'll manage to finish a couple of singles and possibly start on a couple of seconds. Did you all go congratulate Vicki on her first pair? They are FABULOUS and I dare say I may take a teeny bit of credit for getting her to start on them. Just a little.
Anyway, have a great weekend and a rock star week. I'll be in when I can.
L, C
(Oh and to all who asked, the beach in yesterday's photo is Manasquan in New Jersey. Never knew the Jersey shore could look so good, huh?!)
Posted by Cara at 08:22 AM | Comments (10)
August 02, 2005
Pitiless
Remind me, next time I throw a pity party, I better put out some snacks. I'm not sure you've got the magnitude of my pain. I have to RIP out HALF a sweater I'VE ALREADY KNIT because it's TOO BIG!!!! A sweater where I've already woven in 4,361 ENDS!!!
Okay. I'm done feeling sorry for myself. My new goal is to have the sweater done by Rhinebeck. Think I can do it? I'm going to order some new yarn today - I think I can do it. I've got 10 weeks and like four days or something. Definitely doable. Even with some other stuff thrown in there. COME ON!!!!! YOU CAN DO THIS!!!!! (Got to psych myself up.)
I'm feeling much more even these days and therefore thinking about things that aren't so bad - like writing and photography. I haven't taken flower pictures in a while - due to the extreme weather. Even though it's broken and isn't quite so hot, it's been breezy here and breeze is BAD when it comes to macro stuff. It's hard enough to get little bugs and the insides of flowers in focus, but have the stuff blowing around and it's just a headache. A hot headache.
I've been working on a kid's job I shot right before we went away and I'm VERY happy with it, to say the least. That's been fun. Some of my best work, I think. I hope the parents are as happy.
What else, what else.... Oh. Did you see Melissa's Fishie Blanket? It's absolutely fabulous. Go tell her how much you like it - because, really, you can't NOT like this blanket. I want to make a blanket like this.
I also want to knit more lace. I have like five balls of this, and I want a great big wonderful lace shawl that I can wrap around myself in the winter that's soft and warm and I can't find a pattern. I'm thinking the Leaf Lace Shawl because it's not as open as the Flower Basket Shawl, but I also saw all these wonderful lace patterns in my Barbara Walker books and I wanted to design my own shawl but that will never happen because I haven't the first clue. Any suggestions other than LLS or FBS are welcome.
I do like these patterns by Robert Powell - especially #103 and #106 (on the Kits page). I should buy it to look at it and see how hard it is. Anybody knit any of his shawls? I think I've googled it before and not found much. I like that the shawl seems really modern, but still old. Know what I mean - is it retro? Is that it?
Sorry I'm boring lately. Sometimes boring is good. Trust me on this.
Posted by Cara at 10:50 AM | Comments (15)
August 01, 2005
Got Gauge?
I want a t-shirt that says this. Who's going to help me design it? We can sell it and give the proceeds to charity. I'm not kidding. I need a t-shirt that says "got gauge?" and maybe one that says "swatch-n-bitch". What do you think?
This weekend was all about the knit, baby. And even though there was some phenomenally BAD news of the knitting variety, I enjoyed the weekend and thinking about my knits.
I'm leading off with the bad, because, well, it's so bad that I want EVERYONE to read it - none of this skimming through and missing it at the end.
Okay. Here goes.
Friday night, I FINALLY cast on the front of Short Rows. And guess what? I GOT GAUGE!!!! This may seem like a good thing, but trust me, it's very, very, very bad. Why you ask? Because when I knit the back, I didn't get gauge. Or at least I thought I didn't - I seem to remember measuring it a bunch of times. I even remember starting it a couple of times and ripping it because I DIDN'T get gauge. I deliberately, painstakingly decided to move up a size in the pattern - which would leave me with a sweater conveniently between the medium and large size. Nice and comfortable for me. But while I was casting on and knitting the front, something kept nagging at me about the back. It just seemed, so, I don't know, HUGE. And I kept pushing those bad feelings down, down into the locked closet of my brain that sucks all the bad thoughts in like a hoover - as I've been training myself to do. (It's working. A little bit. Everyday.)
But. I just couldn't let it alone.
Sunday, I got out a sweater I have that fits pretty good and put the two backs together. Then I took out not one, but three tape measures. Sure enough I GOT FUCKING GAUGE! The sweater matches perfectly to the dimensions the pattern lists for a large. It is WAY too big.
I think you all know where this is going. Do I really have to say it? At least I didn't get too far on the front (honestly, I was getting bored pretty quickly. What happened to all the love?) I'm going to cast on again for a back. In the size I should've done the whole time. I'm going to knit said back, and compare the two. Then I'm going to rip the sleeve I'VE ALREADY KNIT, because I can salvage the yarn easily. I think I might just leave the first back and buy more yarn. The thought of ripping it, after I've cut and WOVEN IN all those ends is enough to - I don't know - NEVER KNIT AGAIN?! What's a few extra dollars for a project I really loved (once) and want to get right? Don't you agree? Eventually I can rip out the bad back and make something with the yarn. But right now, I think that would just be way too depressing.
That's it. That's my awful knitty news. Feel sorry for me. Seriously - I WANT the pity.
~+~+~+~+~

On to the GOOD!
I found a new knitting store this weekend. I was looking through the new VK and came across some interesting notions. When I went on the website to see where they were sold, I found Stix-n-Stitches in Montclair, NJ. They literally opened about a week ago. The store was very nice - nice wood - roomy - lots of cool notions and stuff. Tons of Classic Elite yarns. I asked the proprietress, Sheila, what kinds of new yarns she was going to get in. No Noro or Debbie Bliss, because another yarn store in town is going to carry it. What about Rowan, I asked. Another new store opening up is going to carry that, so no. I found this really, really interesting. What do you think? Is she limiting her business by not carrying yarns that other stores in the area are carrying? I'm not sure what I think about this.
One thing she does have is a full line of ArtYarns - which happens to be one of my all time favorites - so that's good!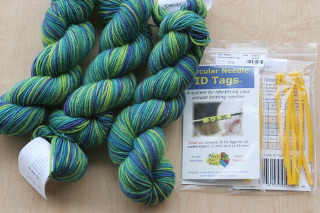 That's Ultramerino 4 - a new fingering weight yarn. They've come out with Ultramerino 6 as well to go along with the 8. Good stuff. Oh and I bought some circular needle size markers as well. They clip onto the wire and clip right off. Never seen them before - maybe they'll help.
All in all - a nice store that I definitely plan on going back to - Jen - whenever you're ready!

I spent a lot of time looking through stitch pattern books this weekend. I was pulling together cable patterns for my dad's sweater and also looking for stitch patterns for squares for the John Glick Afghan Project. Some fits and starts, but I've managed to identify all of the cables and I've finished one square and started another.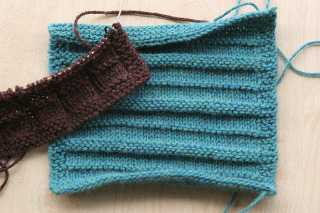 Both squares are from Cascade 220 I had in the stash. I love the blue-green heather color and I have more, so I might make another one with this. The stitch on that one is the Quaker Ridge from Barbara Walker - I figured it was fitting for John since by all accounts he was a peace loving man, traits the Quakers embody. The brown square stitch is called Jacob's Ladder or Ladder of Life - both of which I thought were appropriate. I've tried to infuse the squares with love. I hope they bring comfort to the recipient.

And last but not least, when your knitting gets you down, KNIT SOCKS!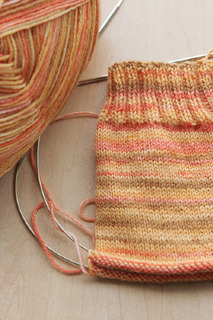 I'm calling these my Walking on Sunshine socks! I'm hoping to remember the bright, warm, NOT HUMID, sunny day I started them on when I'm wearing them on a particularly cold and gray winter day. Also, they match my bright orange flip flops (which I won't be posting a picture of - they've turned black under my toes and well, ew.)
I'm using Trekking XXL Crazy Stripes in Color 38 - I'm loving me some stripes and stockinette and hey, you can never have too many socks, right Margene? (Check it out - she's got FOUR FEET!)
Posted by Cara at 10:58 AM | Comments (22)
July 28, 2005
Goldilocks and the Not Quite Right Bed
I waited around for the delivery guys yesterday (I hate waiting around) and finally it came: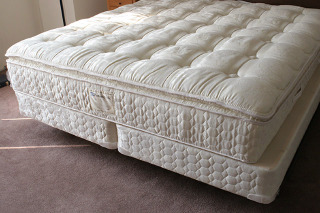 Something's not quite right here.
The funniest part was trying to explain to the delivery guys' boss and to George what exactly the problem was. No one was getting it. I think the boss guy thought I was crazy, because I heard the delivery guy saying, no, it really is messed up. I'm thinking we got somebody's special order bed because it's supposed to be an Eastern King, which has the regular dimensions of 76x80. As opposed to a California King, which has regular dimensions of 72x84. Georgie called our bed a Midwestern King, since our mattress measures about 74x80. Of course our box springs are standard Eastern King measurements at 76x80. See what I mean?
The other day Rachael had a post about her and LaLa's anniversary and she talked about luck. I told her that G always used to complain about bad luck and I told him that we used up all the good luck we had when we found each other. Now our bad luck isn't the devastating kind, it's the kick your ass only could happen to us kind. You see, this is something of a special bed we got through a friend for a very good deal (Oprah may or may not sleep on this bed - no not this EXACT bed, but one just like it) so it's not like we can call Sleepy's and say give us a new one. But it'll all work out in the end. And if not, I've got a nice little ledge to rest my feet on while I put on my shoes. [ETA: Despite the size issues, the bed was a dream to sleep on! Well, at least I think it was, I don't remember anything from last night. More importantly, G didn't wake up with a backache. YAY!]
In knitting news, I've got one more repeat before I start on the toe of my Socka-Pal-2-Za socks. Speaking of Sock Pal Socks, have you seen Karen's socks? She's in the beginner category too, so there's a chance these socks are MINE! I would LOVE that because I LOVE these socks. She even had me persuring my Barbara Walker Treasury books for mosaic patterns for socks. What a great idea! Fingers (or, er, toes) crossed these socks are for me!
I spun some more yesterday too and while I won't be showing you photographic evidence, I did better yesterday than I did the day before. I'm slowly beginning to see the benefits of a wheel and would definitely like to try one. Parking more and drafting more (thanks again Claudia!) are definitely helping. I'm getting more control over my spin as well. It's coming along.
I owe quite a few contest prizes out there and I'm sorry they've been so late in coming. I have to put together every card myself, but I hope to have them ready to go this weekend. Thanks for being so patient! I haven't forgotten!
Posted by Cara at 09:13 AM | Comments (6)
July 26, 2005
Come Back Later
I adjusted my meds last night and let's just say, I'm not feeling so good today. Side effects suck - and anything that makes me feel like Tom Cruise might have a point - well, I'm not a happy camper today. NO worries though - all will be right. I'll either go back to the old dose or shoulder through. But, I have to say, sometimes I'd rather have debilitating anxiety than feel like I drank 101 Red Bulls. And I never drink caffeine. Makes me crazy.
My weekend was nice and hectic and kid-filled, but it seems there was lots more fun to be had out there in blog land. Glad everyone had such a great weekend.
I barely knit on the second sock. Basically, train down Friday, train up yesterday. I'm hoping it's finished by the next update. Got to have goals.
Oh, and my purchases arrived right before I left on Friday. Honestly, I took it all out of the box and immediately became completely overwhelmed. I tried to spin a little on the spindle - just to see what I was getting myself into - and maybe not such a good idea. I could only find directions for a bottom spindle and I have a top spindle and can you say FRUSTRATION. I think I need a lesson.
I realized something really important last night - this anxiety has been kicking my ass lately - making me question who's boss. I know, though, that I'm doing the bare minimum to take care of it - and myself - and that's got to change. I can't stand it when people complain about their life and DO NOTHING about it. I'm an action kind of girl and I'm about to kick some ASS. Wish me luck.
Posted by Cara at 08:21 AM | Comments (30)
July 22, 2005
Family Obligations
The plan was to hang with these fabulous chicas, but family stepped in and obligation took over. I'll still be hanging with some of my faves (the kiddies and the sis), but I'm tired, and to be honest, I'd be just as happy at home. But G's got his own kind of (j-o-b) obligations this weekend, so he'll be scarce and I'm lonely, so off I go.
When I come back, a finished pair of socka-pal-2-za socks. At least that's what I'm hoping. I'm on the foot, so the homestretch is in view.
Have a wonderful weekend everybody! See you on Tuesday!

Posted by Cara at 09:35 AM | Comments (7)
July 21, 2005
Bor-ING!
Go see Claudia's post on Repetition. I turned the heel on the second Sock Pal Sock last night. Just the foot to go. BOR-ing.

Holey Moley those wheels are expensive! Geez. What have you guys gotten me into?

Cate has a wonderful post on perfection. Remember the google search string that landed someone here: debilitating perfectionism? Yup. That's me. Made me think of my favorite IMperfection story. When we got married, I got two rings - one's a plain platinum band that I was married in, the other's a gorgeous, beyond beautiful platinum band in a flower design punctuated with diamonds and small blue sapphires. I found the model for it while helping my brother-in-law look for rings for my sister, and knew it was the one for me. It looks JUST like my grandmothers platinum and diamond band that I've always loved. So I had we had it made and I wore it for a little bit before we were actually married, so I think of it as my pseudo engagement ring. Anyway, it didn't take me long after I bought it to realize that there was an imperfection in it. One of the stems on a leaf is a bit bent and out of shape. This about KILLED me for a bit and I almost took it back, but then I realized that it was a fantastic symbol for my marriage. That no matter how wonderful and beautiful and precious our relationship is - it's not and will never be PERFECT.
I left the imperfection in the ring and now, of course, it's one of the things I love about it. Whenever I've misplaced it and fear I've lost it (more frequently than I'd like to admit) Georgie always says not to worry - we can get a new one - and my first thought is that it won't be the same. The new one WON'T have the imperfection that I've come to love.

Okay. Off to a fabulous lunch today - hopefully I'll have more to report tomorrow! Have a great day!

PS - Hope things in London are settled down and it was all nothing serious. I (reluctantly) watched some of Farenheit 911 last night and if even a 1/4 of its true - the US is seriously fucked and I pray that our friends around the world don't bear the brunt of the repercussions. That's not to say I don't pray that WE don't bear the brunt of it either, but you all know what I mean. The world is a very scary place.
Posted by Cara at 09:12 AM | Comments (7)
July 06, 2005
Inspiration
Where do you find yours?
I got a healthy dose yesterday from MamaCate's Zen entry. I, too, have monkey brain - or gorilla brain - whichever one never gives you a moment's peace - EVER. I've tried the whole stare at the flickering candle meditation route and my brain thinks it's a license to go absolutely berserk. I need something PHYSICAL. It used to be pottery - throwing pots on a wheel. You MUST concentrate or else it won't work. Then running. Trying not to die is a sure way to turn off the thoughts in your brain. (I NEED TO DO THIS MORE.) And, of course, my zen of choice these days, knitting. This one is the most successful of my endeavors to be sure. I can get a mindless knit for when I'm feeling okay. I can tackle something more difficult for when I need to concentrate - and always - it's a physical endeavor that keeps me busy. Idle hands are the devil's tools. I am THE poster child for this idiom.
I'm one of those white coat anxiety people - you know the ones who get nervous before they go to the doctor because they're sure it's bad news (honestly though - when am I NOT anxious?). Not too long ago I was sitting in the GYNs waiting room (never a fun time) and I was knitting. Forty-five minutes later I'm naked in the examining room, still knitting (got to keep warm somehow). When the nurse took my blood pressure, it was the lowest it's ever been. That good healthy low. She was impressed, and I told her - it's the knitting. Calms me down. Only Xanax does a better job. ;-)
Most important about Cate's post is that I've FINALLY gotten FBS! I have one more freaking repeat to go, but last night was the most enjoyable repeat yet. I finally SEE the pattern. (I know, I'm a little late to the game.) I understand the purpose of each stitch, each YO. I wish I had paid more attention earlier, because it would've saved me a lot of time. I barely made a mistake in all ten rows, and when I did, it only took me a couple of stitches to realize it. NO FROGGING ENTIRE ROWS! I'm looking forward to finishing the final repeat today - and hopefully the entire shawl tomorrow. It's got to be blocked and packed by Sunday night.
Anyway, Cate was much more elegant about it than I was (she doesn't mention anyone getting naked) so head over there and check out her post.
While there wasn't any knitting going on this weekend, there were a few moments of inspiration.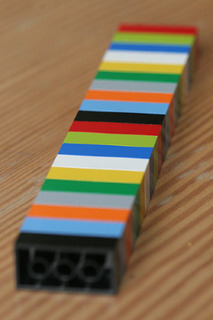 We bought my nephew a big box of 1000 LEGO
Bricks
(apparently you're not allowed to say LEGOS.) They were so tiny they barely filled the
giant lego box
they came in. What impressed me about the toys were the colors - they were muted and pleasing and my nephew and I spent a great deal of time getting the colors in just the right order. He insisted the red HAD to be at the top. He used to be all about blue, but lately it's been red. He built the same, but completely different, red robot about ten times this weekend. LEGO bricks are a good thing. I'm thinking of a cardigan - solid sleeves, solid back, striped LEGO fronts for him. What do you think?
I was also flipping through the Anthropologie catalog. Gotta say - been to the store, get the catalog and I'd be hard pressed to ever actually WEAR anything they sell. I'm a khaki/jeans/t-shirt kind of girl myself. BUT, I do love to look at their sweaters - they have a lot of sweaters that don't seem like they would be that hard to make. And looky here what I found on p. 19 in the "fall in love again and again" catalog: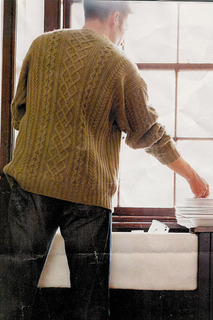 Of course, they're not selling this sweater - they're selling the frilly ridiculous pink thing (straight out of Rowan by the way) on the mannequin/model standing to his right. I cropped her out. But, let's look at the sweater on this guy. Is this not PERFECT for the sweater I've been wanting to make for my dad? Picture it in a grayish brown tweedy Jo Sharp with a V-Neck. Now my dad's not so tall and he does have a decent gut - but I think it will work! I especially like the ribbing around the sides. I may have to incorporate that into my Bohemia cardigan. These cables are super easy to find in my cable books for sure - they all look familiar - and I think the middle panel will split into a v-neck quite easily. Inspiration! Yay!
Someone in the apartment upstairs is drilling away like freaking Marathon Man (don't worry Jen - we WON'T be watching that one) and now my teeth are killing me.
Go! Away with you! Find some inspiration!
Posted by Cara at 09:25 AM | Comments (13)
June 28, 2005
A Tisket A Tasket...
A candy apple basket...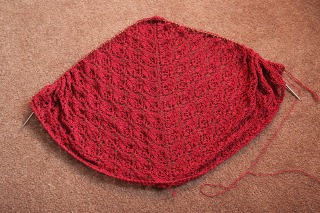 I have three more rows to go on the 11th repeat, which will give me twelve baskets on either side of the divide. My goal is sixteen or seventeen. The pattern is very easy, so easy I keep fucking it up - especially on the first two right side rows of the repeat. Something about the k2togs and ssks is freaking out my brain because once I get past those, I'm fine. And now of course it's taking a MUCH longer time to get through a row. Those purl rows are killers. I realized why too. You have like twice as many stitches to knit. On the right side you're always knitting some together and creating yos - on the back you have to purl EVERY SINGLE STITCH. But I'm plugging away. I can see the end and it seems so close.
I've also been slowly knitting on my retro rib socks: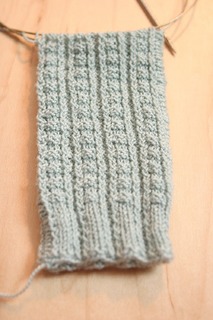 I have to admit, these socks aren't half as fun as my stripey ones. I'm beginning to think I'm a stockinette sock girl - as long as there are funny stripes. But I have been getting loads of compliments on them when I knit in public. People keep thinking it's a sleeve for a kid's knit. When I tell them it's a sock, for me, they look at me like I'm crazy.
Speaking of which, time for more forward progress on my brain. I'm finally admitting to myself I have a touch of OCD - but, of course, without the compulsions that get you a clean, organized house. Just the crazy, wacked out obsessional thoughts! Who knew I could be so lucky!?! Shrink day today, so maybe a meds adjustment is in the works. Although I don't do too well with medications - of any kind. I'm very sensitive. ;-) Oh and Tom Cruise - FUCK YOU.
I got a new toy this weekend. A new phone! I've had my old one for a LONG time. Longer than these things are supposed to last - especially when three babies have chewed through them. But a new toy I have and I've discovered the wonders of RINGTONES!
When Georgie calls from his cell phone: DETROIT ROCK CITY!
When he calls from work: UNDER PRESSURE!
When he calls from home: OUR HOUSE!
When my sister calls: BLISTER IN THE SUN! (or maybe the theme from Days of Our Lives. Hers may change.)
When my bro calls: CALIFORNIA LOVE!
When Joe Random calls: 1 THING!
Georgie wants me to work in Tubular Bells. You know - the theme from The Exorcist? I can't even hear that shit without getting creeped out. Let him put it on his own phone!
I'm having a fantastic time - Georgie and I spent hours (literally - we were at his office) going through ringtones. I'd try to stump him with a polyphonic greatest hits of our lives. No good Bruce tones though. Bummer. Tell me what your favorites are!
Off to do stuff. Thanks for hanging out with me!
Posted by Cara at 10:01 AM | Comments (16)
June 23, 2005
It's Not Nice to Fool Mother Nature!
Remember those butter commercials, they were goofy to be sure, but good ol' MN really showed her stuff yesterday.
I watched the most spectacular storm come across the swamp. I'm sure I've mentioned it, but it's worth repeating. I live smack dab in the middle of a swamp. The Meadowlands to be precise. My apartment is situated in my building so that I look right out into swamp land - due west. We get THE most spectacular sunsets you can imagine. I think it has to do with all the chemicals in the air, but whatever it is, every night has the possibility for a technicolor cornicopia. I'm not kidding. G and I often yell to each other from room to room - did you see it? Look out the window? Amazing.
We talk about moving all the time, and if we ever do (which I hope we do eventually) one of the things I will miss the most is watching the weather from my balcony - be it sun or rain or snow. I have the perfect view.
Besides the sunsets, there is nothing I like better than watching a storm roll across the swamp. The dark clouds barrel down and the sky is often a mix of blue and black. Yesterday afternoon was no exception. I absolutely love the clarity in the air that comes with dark clouds. It's hard to describe and I know my camera could never capture it, but there's a glow in the air. The green of the tree leaves is crisper. The billowy grass in the swamp is tinged with gold on the tips, despite the lack of sun.
Yesterday I could see huge bolts of lightning hitting beyond the turnpike. Thick strikes that seemed to last forever. Kids by the pool (by the pool, not in the pool) would yell out, "did you see that? did you see it?" and not two seconds later another bolt would appear a little to the left. A little to the right.
The rains came and the winds picked up and the lighting became fierce! The strikes landed in front of my window, almost literally, in the swamp across the way. The winds were viscious, blowing around pool chairs and deck chairs and I closed the window because I was actually frightened.
The rain descended in torrents and marched across the swamp like ghostly soldiers. The thunder echoed their battle cry. The flag billowing tattered in the parking lot was a stark witness to the war.
I've never been truly scared by a storm since I've lived here. I've seen A LOT of storms blow across the swamp in fourteen years. Yesterday, I hung up on my sister and hid in the bathroom for a few minutes. We have windows facing west in every room of the house. The bathroom is the safest place with no windows.
It passed fairly quickly and I went back to work on my computer. Later on I passed by the windows again and witnessed the redest orb I've ever seen. The sky around the sun glowed like it was, literally, on fire. Here's hoping that sun was a harbinger of a beautiful day with beautiful bloggers and beautiful yarn!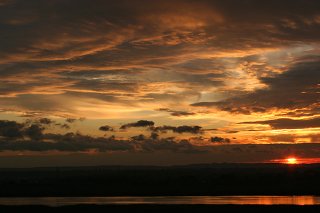 Not from yesterday, but from my balcony nonetheless.


Posted by Cara at 07:54 AM | Comments (16)
June 17, 2005
Makin' It!
I'm makin' it
I've got the chance
I'm takin' it
No more, no more
Fakin' it
This time in life
I'm makin' it (oh-oh-oh)
Makin' it
Remember this song?! I heard it this morning, and I remembered ALL the words. No lie. (Well, maybe there were a couple...whatever...ALMOST all the words.) I was dancing around while G was getting ready for work. So much fun. Better yet - who remembers the TV show? No? Maybe because it jumped the shark after the opening theme song? It was about a guy in Joisey who works at an ice cream parlor during the day and dances out all night ala Tony Manero and Saturday Night Fever! The series even had it's own Travolta!
ETA: Makin' It starred David Naughton as Patricia said - who also starred in her favorite movie: An American Werewolf in London. Am I right? ;-)
I TOTALLY remember this show. It was perfect for me because I was nine in 1979 (the whole freaking year - funny how that works out. ;-) ) and seven in 1977 when Saturday Night Fever came out. I wasn't allowed to see SNF (R rating and all) and it just about KILLED me! I was DISCO QUEEN with my baby brother shining the flash light all around my room and lip synching with the Tickle Deodorant bottle as a microphone (tell me you did that too!?!). We used to slip the deodorant bottle out of the plastic case and voila! Instant microphone. My sister and I had THE BEST choreographed dance to Hot Stuff. Ah. Those were the 70s.
Speaking of The Fantasticks - it was, um, slightly LESS than fantastic. I'm thinking it was a really weird interpretation of the show. They set up bleachers on the stage - so we were basically on stage with the actors. There was no orchestra (this we REALLY missed - I mean what's musical theater without an orchestra!?!) only a piano, a harp and something else. The performances were uneven at best (but they did look like they were having fun and trying) and half the time I didn't get what was going on in the show. What's with the old actor and the indian? Completely lost on me. Georgie thought they were a version of Rosencrantz and Guildenstern - which I agreed with, but not so much. You know you're in bad shape when reading the playbill you find that NOT ONE of the cast members had appeared on Law & Order (in any incarnation.) I mean, c'mon! How can you call yourself an actor if you haven't been on L&O?
And of course the show ended about ten minutes too late for the train we wanted to catch so we had to wait another forty minutes for the next one. We didn't leave Stamford until after 11. And here we were bitching about the show and practically the entire cast was in the next car - about ten rows from us. I felt bad. But really, the whole thing had the feel of high school.
The best part though was that G bought a tub of Swedish Fish while he was waiting with me in the hotel lobby near the theater. When we got to the reception, it was clear he needed to ditch the candy - it really didn't fit in his briefcase and I didn't have room in my bag (those socks don't need a lot of space do they? I took the small bag.) Anyway, he tossed the candy.
Or did he? I found out later that he had dumped half the tub into his suit jacket pocket so we could snack on them during the performance! How SMART is my guy? So all night long I was slipping my hand in his pocket for fishies. YUM!
Another real problem was that I have a lot of trouble sitting so close to G in the dark and keeping my hands to myself. But I had to be on my best behavior last night since it was a work thing. It was tough, but I managed to behave (okay - I was a little bad....)
THANK YOU all so much for your yarn suggestions for FBS. I've made up my mind again and am eagerly awaiting the yarn delivery. I had them fedex it because I'm desperate to start and have to go to Philly this weekend for family obligations (there's that F word again!) I won't be back until Tuesday and I'm not waiting that long to start this thing. I've got a least two train rides that can be put to good use. I'll be back later on with an update - if all works out as planned.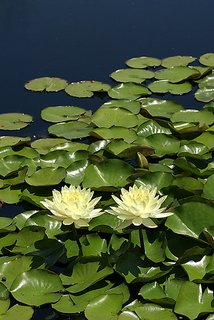 Posted by Cara at 11:38 AM | Comments (7)
June 12, 2005
Just a Quickie....
Have you seen this? What an accomplishment! The details are seriously amazing. Go congratulate Anna!
I'm going to be braving this today - I have a birthday party to shoot right off the parade route. I'm leaving two hours early to get there - that should give you an idea of the mayhem. Add to that it's 95FUCKINGdegrees and I'm probably going to have to walk a while amidst throngs. At least the party will be airconditioned!
STAY COOL! (Or warm or whatever you need to be comfortable. I'd do anything for comfortable....)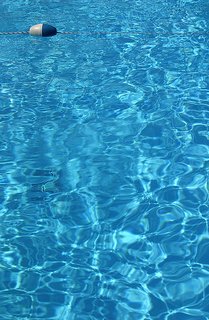 Posted by Cara at 08:32 AM | Comments (13)
June 07, 2005
That's What Friends Are For!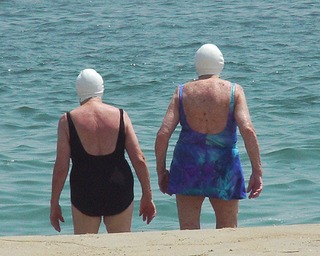 It's HOT today, so I invited Jen over for some knitting. She's got no AC and I've got plenty to go around. Couldn't leave her sitting at home sweating on her wool. I've got my new favorite treat to share too!
Nothing else new to report. I did more on the second sock and it's progressing nicely - I'm about to start the heel and the stripes are still matching up to sock no. 1. Today I SWEAR I am casting on the first sleeve of short rows if it KILLS me! I want to get back to this sweater!
Wendy has declared this the Summer of Lace, but I think this is the summer of the knitblogger! I've already heard from a few fun gals that may be popping in for a visit! YAY! I'm particularly happy about the knitorious one, since she lives so far out of my way. (CA may be farther, but I generally get there once a year. Wisconsin? Not so much!) Fun times in the BIG CITY! And my little sis is doing an internship in Baltimore so look for me (and the other sis AND all of the kids) sometime maybe in July!
Katy had a lovely spa day yesterday which reminded me of a conversation I had with my sister this last visit. In the past year or so I've put on about 15-20 pounds. I don't look awful, but I don't feel great, and if I lost even ten pounds I'd be a whole lot happier. We, my sister and I, have decided that the reason I haven't put on 30 or 40 or 50 pounds is because I visit Spa Chez Crazie at least once a month. What? You've never heard of Spa Chez Crazie? Their diet plan is WONDERFUL! You run around like a maniac holding a sixteen pound sleeping baby while two toddlers jump on you like you're a trampoline. They feed you pretty much nothing - but only because they're so busy they forget! You get like no sleep because you stay up too late at night reading about knitting while the chillens are asleep and then they scare the bejeezus out of you by throwing open your bedroom door at 3AM - because they couldn't find you when they opened their eyes! You were there when they fell asleep! Or they come in at 7AM and wake you saying downstairs, downstairs, downstairs until your ears bleed. Throw in an inevitable bout of the runs - and you've got Spa Chez Crazie!
I always get the deluxe package. I come home bruised, battered, exhausted, an ounce or two lighter and LOVED!
Posted by Cara at 10:06 AM | Comments (5)
June 06, 2005
I shaved my legs for THAT?!?
Warning - this one's long!
In the end, the afternoon was redeemed by not one but TWO knitbloggers, but seriously, there were some moments when I was like what the fuck?
Yesterday was the opening of the BBG show - I have two photographs in it. A little background - the organization is the Professional Women Photographers group in NYC - I only just joined. I have never been to a meeting. I know only one person who belongs (I joined on her recommendation). So I'm a nobody where this group is concerned. This show is really my one and only association with them.
That said, everyone else's photographs hung together and my two were hung on completely opposite sides of the room. I mean besides the fact that they were the ONLY TWO matted in black, there's no way you'd know they were by the same artist. Why? I'm guessing because they needed to fill a couple of spaces and had no idea who I was so they chose to split them up. Everyone else's work appeared together.
Okay. They didn't say anything about white mattes or colors. I've always matted my photographs in black. Apparently I didn't get the memo. (I guess they do stand out.) One picture was hung right by the exit. You know. The loser outpost. Fine. No biggie. Someone expressed great interest in it though - so we'll see how that pans out. It would be the best revenge honestly.
I was feeling really awful for a little bit. After killing myself to get there in time (I thought it started at 3 - it started at 1), leaving super early from Philly, rushing to get G from the airport, I was more than a little disappointed when I got there.
So I sent G out to get something to eat and some sun and I sat down and pulled out some knitting. A woman sitting nearby came over to talk to me. She pulled out her own knitting, a scarf on size 19 needles, and asked if I was making a sweater. I said no, a sock and pulled out it's finished mate (more on that later.) She asked if I usually made sweaters. I said yes, I've made a few. She said she hadn't tried one. I told her I liked to challenge myself with my knitting, but that sweaters weren't that hard. She asked me if I had ever knit with fun fur, because it was certainly a challenge.
Confession time. (Remember, I'm sitting there feeling pretty dejected about my skills as a photographer and whether I'm really an artist and feeling disrespected by the committee and such.) I have to tell you, I felt the most overwhelming sense of superiority. FUN FUR?! Challenging? Yeah. Keeping it from bursting into flames IS quite the challenge. It made me feel so GOOD! Isn't that so awful? I'm a terrible person. The woman meant well and I really should've thanked her for helping me out of my funk.
I'm pretty sure I politely said, "No. I've never knit with Fun Fur." I don't think I laughed, but she never said anything else to me.
The day was soon further rescued out of the depths of self-pity by Cassie and her family! Cassie was so sweet to walk the gallery with me and encouragingly nod her head every time I lambasted another photograph (you know that old trick, knock em down as a pick me up.) And her husband generously commented that he liked my black mattes! And her daughter was equally horrified by some out of focus "arty" photos. Thank you Too Much Wool Family!

Then Mrs. Pilkington appeared! I've been wanting to meet Mrs. P forever and she wasn't alone. Mr. P was there along with Cocoa Pebbles - who is in the running for cutest girl alive (she's got some stiff competition from my niece though.) Mrs. P did some much needed reconnaissance on some potential clients and admired my knitting and confirmed my feelings that I was in fact being dissed by the committee. We will definitely be getting together again!
Thank you both for coming. Georgie did offer to rough up the committee chair - but he was dead tired and wasn't in the mood for a fight - no matter what he said. You girls did the trick! Thank you!
Enough already. Are you still here? God you guys are the best.
[ETA: I should be honest - the show is really nice. There are many, many beautiful photographs and if you're in the neighborhood, totally stop by!]
The birthday party was great. My niece had THE MOST FUN EVER! She was smiley and happy and laughing and loved the food, loved her cake, loved her presents. She made it all worth it.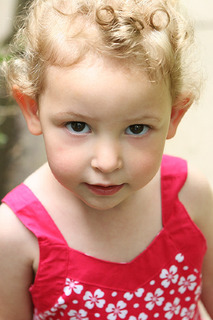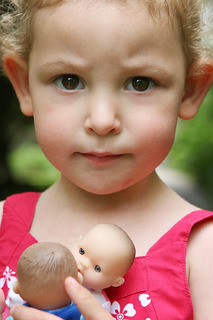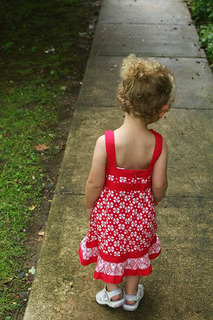 This is all I got, picture-wise. I was too busy helping with the party. I never even took pictures of the baby - who my brother dubbed Chubsicle - he's so fat - but in a good breast-fed chubby cheek healthy kind of way! And he loves to smile. Really he just grins away with his cute dimples and he even sort of laughs. Such a sweetie pie! And nephew #1 was sweet and crazy as ever. Did I tell you that the other day one of his teachers was wearing a sweater (my sister said it was kind of an open, webby type thing) and he asked her if she had knit it? She told him no and he asked, well who knit it for you? Gotta love that boy!
A huge thank you to all the comments on the birthday girl's post - my sister had a good time reading all the comments.
Even with all the party craziness, I managed to finish this: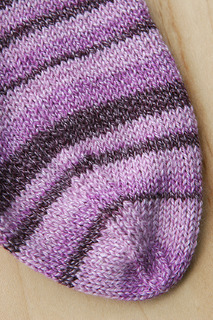 Check out that TOE!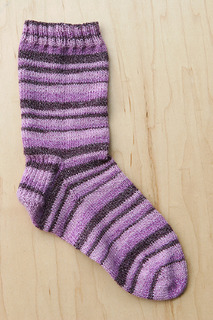 I immediately (we're talking 1AM) cast on for the second sock. And then ripped it the next day. Cast on, knit, rip, cast on, knit, rip. It's finally coming along.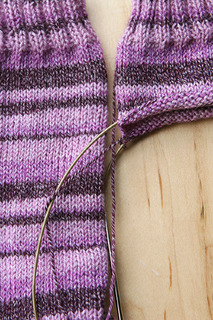 Right now it looks like the stripes are matching up - we'll see how that goes.

Of course, I'm loving this sock thing. How come you never told me they were so much fun?! ;-) Cassie's got her own fabulous pair up today. Thank god I bought all that sock yarn!

Have a good one. I need to eat ate. A salad. And I totally agree with Carolyn. It's all about the dressing.

Posted by Cara at 01:59 PM | Comments (24)
May 26, 2005
OUCH!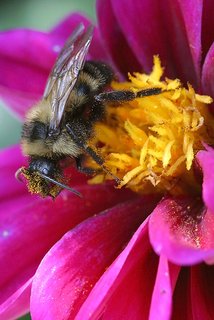 Click on picture for super pollen detail!




Man, I hate when I'm a stupid ass.

Yesterday, I was so upset about that damn TV show, I posted something on the Internets (a board I used to frequent, but don't anymore, precisely because it upsets me) and I didn't get the reaction I was looking for. Well, DUH! That's why I left in the first place. And then I just proceeded to get more and more upset. There's nothing I hate more than stupidity - especially when practiced by moi. Nothing. Drives me batty.

Luckily, Jen saved me (as she does more and more these days.) She called and asked to run some errands (I hope D liked the chair!) which included buying some of these (which I proceeded to just about finish when you left - vomit much?) and watching this. At first I was putting together some cards, but quickly moved to knitting. I managed to drop three more stitches on Clap-o-TEE (my goofy spelling for the person who asked. Nothing wrong with a little goof, I always say.) I'm about done my fourth hank of silk, and I'm STILL not sure how long it is. But I think I'll finish this and maybe drop one more stitch for good measure on the next hank and then start the decreases. I'd like to finish it up this weekend. I'm done with it. Don't get me wrong - it's beautiful and I love the pattern, but I'm bored. I want SHORT ROWS!

While she was here, Jen finished seaming a cutie pie raglan in Calmer - so super cute! And it was her first finished sweater! I was honored to be there for such a momentous event. I see lots more in her future.

So Jen left and I ate myself into sickness. What's wrong with me? Basically, I just can't have the stuff in the house. If it's here, it's like I have to eat it all until it's gone. If it's not here - I don't think about it. Insanity. My middle name.

Anyway, it's still cold and it's still raining and it's still crap. I need to watch a good movie and put cards together - my life for the moment. I don't think I have much to complain about, so why am I still here? Have a great day - whatever you're eating, whatever the weather.


Posted by Cara at 10:40 AM | Comments (11)
May 25, 2005
Not from a Jedi....
May 24, 2005. Mark the date. A momentus day in the history of Georgie and Cara. Yes, folks. The rumors are true. We actually went to the movies.
And, honestly, it wasn't that bad. For those keeping count, the last time we went to the movies was to see Bend It Like Beckham. The movie before that was My Big Fat Greek Wedding. (Which, surprisingly enough, were both out in 2002.)
Anyway. My point being, we NEVER go to the movies. NEVER. EVER. We HATE going to the movies. But, you know, it's Star Wars and all. At first, Georgie wanted to go to the theater where he saw the original but thankfully the times were bad. I'm pretty sure they haven't renovated it or anything. We're talking a lot of wear and tear on the seats people. So he came home from work a little early and we hit the 5:40 showing. The first nice surprise? That's a matinee! It only cost us $9.00, for both of us, instead of for one ticket. Next nice surprise - when we took our seats there were only three other people in the theater. Three. Sorry George Lucas. (When the movie finally started, we agreed there were fifteen people total in the theater - including us.)
The seats weren't bad. We were smack dab in the middle, a little closer to the front than the back. The theater was on an angle so people's heads didn't bother us. And you know, the movie ROCKED! Georgie's favorite part was when Anakin asks where he can learn these super duper new powers and Palatine turns to him and says, "Not from a Jedi...." mwahahahahahahahaha! Yoda kicks ASS! SPOILER ALERT!!!!! Apparently Samuel L. Jackson told Lucas that he was fine with dying as long as he went out cool. And it was DAMN COOL! I didn't think they used the Darth music to its full potential. I mean, c'mon, that's why I was there! Padme was just a vessel to get us Luke and Leia. (almost wrote Laura! Hahahaha!)
My favorite parts were anything having to do with Anakin turing into Darth - although I thought he was a bit naive, especially considering he's supposed to be the chosen one and all that. Anything with Yoda. And I love Ewan McGregor as Obi-Won - there's a picture in the little playbill book they gave out in the theater that shows how McGregor's face has the exact same symmetry as Alec Guiness.
What did I learn during the movie? That I don't like going to the movies. I had to pee the whole time. My seat gave me hemmorhoids. I was dying - DYING - to rewind - it was driving me crazy! But all in all it was a wonderful date - we had a very nice dinner after - and I'm happy we went to see it. In the theater.
The best part though was coming home and popping in Revenge of the Jedi and watching Darth Vader die in baby Luke's arms. Very, very cool. So in the end, I'm thanking George Lucas for endless hours of entertainment. We had fun!
Okay. Now I'm about to get really, really upset. Really upset. So be forewarned.
Speaking of people who provide entertainment, WHAT THE FUCK ARE THEY THINKING!!!!!!!! NBC is bringing out a new show called Inconceivable. Here's the description they provide for this bit of entertainment (and when you say that, say it like you're saying FUCK YOU! WE DON'T CARE ABOUT PEOPLE - ONLY MONEY!)
This delightful ensemble drama concerns one of the most complicated questions: to conceive or not to conceive. The doctors of the Family Options Fertility Clinic are on a noble quest to help desperate couples give birth. Except these doctors are often distracted by their personal quests involving sex, deception and secrets. Navigating through ultrasounds and super-egos, missing frozen embryos and impending malpractice suits, it's positively clear that life inside this clinic is anything but sterile. [Bold emphasis mine.]
(Please, make sure you watch the preview for the ultimate in fuck yous.) It's about, get this, the fun to be had in a FERTILITY CLINIC! Clearly, and I mean this sincerely, no one, not the crew, not the maintenance people, not the writing staff, not the producers, not the actors, NO ONE INVOLVED WITH THIS SHOW, has EVER dealt with infertility. Since when do pain, misery, hurt, shame, guilt, frustration, heartache, anger (should I go on?) make for enjoyable television? Oh, yeah, when you can make jokes about implanting the wrong embryos, having sex and I'm sure getting pregnant when your patients can't, and completely mis-educating the public about infertility. I'm laughing, this is so stupid. If you'd like to email NBC - do it here: nbcshows@nbcuni.com. I'll be sending an email, but I think I need to let the anger steep a little before it's good and ready to write what I need to write. I'm dumbfounded.
And if that doesn't get you upset, check out their new show, Thick and Thin. NBC. Must Offend TV.

Thanks for the link from Karen, via mamacate.
On to happier subjects, here's a mean ugly spider I hope bites Jeff Zucker in the ass: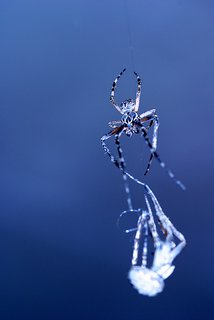 Enlarge for super cool details.


Actually, this is for my rebel friend Kathleen who declared this week bug week. Who am I to argue? Look for a cuter, more friendly bug tomorrow! (Don't worry about Ann, Kathleen, I got your back!)
Posted by Cara at 09:00 AM | Comments (14)
April 27, 2005
Surely You're Joking! *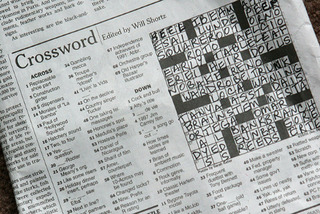 Yesterday's New York Times crossoword. Check out 40 Down.



Thanks so much for all the compliments on Short Rows! It means so much. I'll be SO proud of this project when it's finally finished. I've got a long way to go, but I'll get there. I've given myself a projected deadline of June 5th. I'm thinking if all goes well I'll wear it to The Secret Garden opening. Hopefully it won't be too hot! I'm thinking a nice denim skirt? Cross your fingers. I did the first part of the second short row sequence - I figured out that decreases were built into the pattern - but in the end I have one stitch too many. So I'll be ripping out the short rows - AGAIN. Yes. I'm a glutton for punishment (and apparently, chocolate covered raisins.) And the ends are getting really out of hand - so when I rip it, I'm going to try and weave some in. Hopefully clean things up a little so the wires don't get crossed so much, so to speak. It's all good!
Yesterday I did a little shopping, but not before having a fabu lunch with my honey! First I got my hair cut - it looks cute and cleaned up - then met Georgie at a doctor's appointment he had. While we were waiting for him to be seen, I received a mysterious text message. Georgie says to me - who's text messaging you? I said I don't know and wouldn't you know it, the message read KISS THE PERSON TO YOUR RIGHT. He's so sweet! I'm SO, so lucky!
After waiting forever, it was off to TAO for lunch. Georgie's been wanting to take me there, and I have to say, the steak I had was very, very good. The decor was neat as well, but don't you just hate restaurants that don't label the bathroom doors with GIRL/BOY, WOMAN/MAN, FEMALE/MALE? These bathrooms said YIN and YANG. There was a man that was behind me and we both just stood there and I said this is so not fair. Finally we both chose - and you guessed it - we chose UNwisely. The male attendant (who for the record, was in the women's room at first) corrected us. Why? Why is it necessary to be COOL all the time? Anyway. The food was very good.
On the way back I stopped at Borders. I needed to pick up this:
I've listened to it about a dozen times all the way through - it's looped on WINAMP - and for the most part I'm pretty happy with it. For all those people I told it was a cross between Tunnel and TGOTJ - I'm revising that. It's more like a cross between TGOTJ and Lucky Town. But better on both accounts. Nothing's going to make me cry, (there are a few like that on The Rising - My City of Ruins never ceases to amaze me) but I did get a few chills listening to Long Time Comin'. The woman's name is Rosie and it's clear they've been together for a long time. (They have two kids and another on the way.) It's also clear that mistakes have been made but he stills loves her, wants her very much. This is a theme near and dear to my heart. Georgie and I have been together for fifteen years and are very much in love, still. It's always nice to have that validated. This song did that for me. Okay. Enough Bruce. If you want to talk about it, let me know. Email me.
I also bought a couple of knitting books: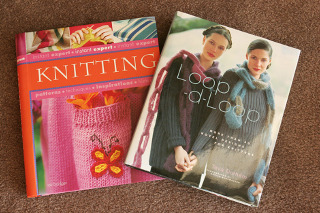 Loop-d-Loop by Teva Durham
Instant Expert: Knitting by Ros Badger
I'm really split on these two. I only bought the Ros Badger because I saw a pattern I liked on Kristine's blog (go on over and congratulate her on the new online store! www.knithappens.net!)
I thought it would be perfect for some Jo Sharp Silkroad Tweed I have stashed. Problem is, the book only gives one pattern size and that happens to be ONE SIZE FITS NONE! You know, one of those anorexic sizes - like if you eat an entire carton of chocolate covered raisins and need to purge for the next week and a half (just kidding!) So, if I want to make this sweater to be able to fit my humongous boobs I'm going to have to do some knitty math - and you all know how much I hate THE MATH! We'll see if I keep the book. It's kind of disappointing all the way around.
But Loop-d-Loop? This book is gorgeous genius. There's a million patterns I'd like to make!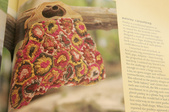 Click for bigger pictures!
Of course, my favorite is this: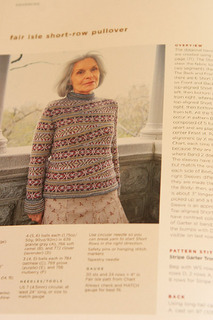 Are you seeing a trend here? Can you IMAGINE the ends? Someone stop me! Please!

I highly recommend this book - really - it's very, very well done.

And finally - a stash addition: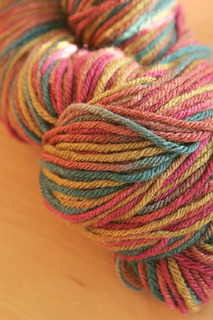 It's 50% Tussah - 50% Merino from Chasing Rainbow Dyeworks in Mary's colorway. I've got 840 yds. I'm thinking my very own Clap. It's taken a LOOONG time to get here. I bought it on my Boston visit.
Have a great day!
* Surely You're Joking is a reference to Richard Feynman - I bought his collection of letters yesterday. I'm thinking I'll read them out loud to Georgie, since he's the one who introduced me to this phenomenal personality. Check him out if you haven't already. It's worth it. Hey Lauren - I also picked up Freakonomics!
Posted by Cara at 11:47 AM | Comments (15)
April 19, 2005
Home, Diabetic Coma Inducing Sweet, Home
Nothing like sleeping in your own bed, crapping in your own toilet. Oh wait. None of that. Now we're having the OPPOSITE issue. I can't crap to save my life. I'm also hacking up a lung, but at least I'm home.
And don't think I didn't think about the fact that my own poops went all awry after I realized I was sleeping in poop. I said to my sister, do you think I have e-coli? She said, don't you have to EAT poop to get that? Sure. Lot of sympathy there.
The best part of coming home was seeing Georgie. When he picked me up at the train and I saw his face - I thought WOW. I forgot how CUTE he is! Love that feeling. I remember once a long time ago I was coming home on a commuter train. It was late, I was tired. There was this really cute guy checking me out and I was checking him right back. I was getting all into flirting with him when I realized it was George. You ask how I couldn't recognize my own mate - well, as I said, I was tired. And it was totally out of the ordinary for him to be on that train. It was, though, a competely satisfying feeling to know the hottie I was daydreaming about was GOING HOME with me!
Anyway, I'm not sure if I talked about this or not, but while I was in Philly, Georgie was exploring far off lands. He spent the week in Shanghai sidestepping violent protests. Everyday he'd call me to tell me China and Japan will be at war in about a minute. Then he spent the weekend in his beloved Tokyo.
He used to go to Asia a lot - Tokyo, Hong Kong. And everytime he went I practically begged for Kimono. Now Georgie is one of the most generous people I've EVER met - but he's not a gift giver. This trip completely made up for that. He took a tour of a silk factory and brought me home THE.MOST.BEAUTIFUL. silk robe! I haven't taken it off!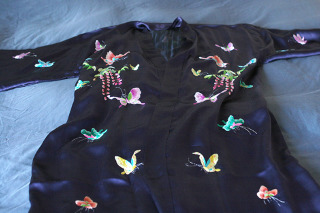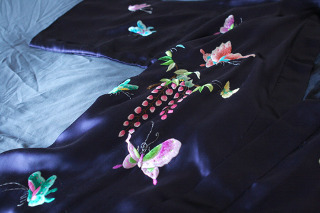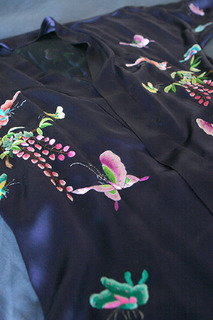 I tried to get a picture of me in it - but it didn't work so well. Maybe when Georgie gets home tonight.
He also added to the collection: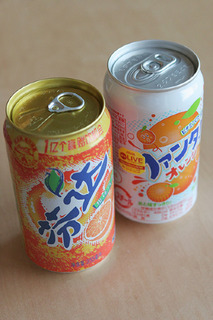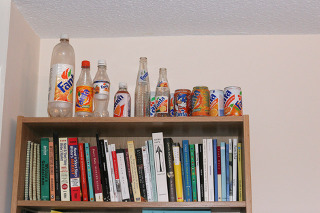 Yup - that's right. Fanta from around the world! That's China on the left, Japan on the right. (Oh and Crazy Aunt Purl - that's a Billy rearing it's ugly head!)
What else? Oh yeah. There were some beautiful chopsticks - good enough to knit with. And a super uglycute Buddha bank. Only problem is - there doesn't seem to be any way to get the money out!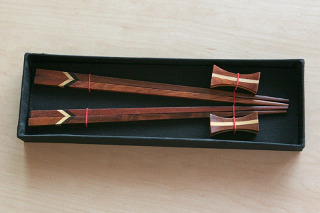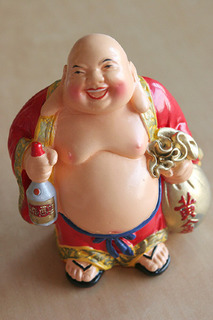 Besides my dear husband, there was some other good stuff to welcome me home! Some lovely odds and ends from Kerstin!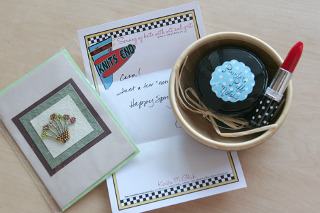 That's a compact note pad, a lipstick pen, a beautiful wood bowl (perfect for knitting knick-knacks) and a gorgeous hand-made card. There was some chocolate too, but yeah, that survived for the picture. My favorite part though - her personalized stationery. Now that's cool! Thank you Kerstin!
The best thing though, is that I've had two photographs accepted for The Secret Garden - an exhibit at the Brooklyn Botanic Garden this summer. Opening day is June 5. Be there or be square!
These are the pictures chosen: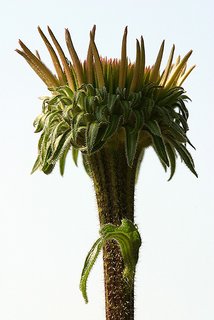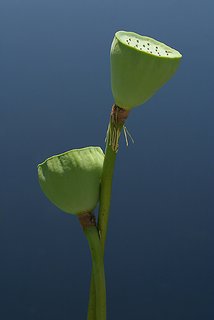 I was so excited, I was inspired to go out yesterday and take these!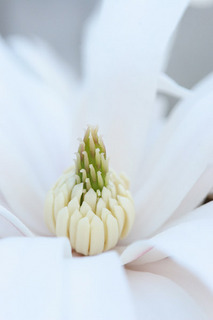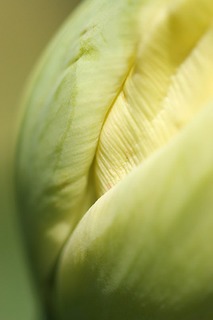 Next up: I need help with my Pinwheel! Get your thinking caps on - what would you do with the border?
Posted by Cara at 09:58 AM | Comments (11)
April 17, 2005
philadelphia



My sister told me that when Max first saw his new brother, he eyes got all glassy and he exclaimed, "He's just what I wanted!"

Posted by Cara at 10:30 PM | Comments (15)
April 15, 2005
Chaos
You got it. I'm a mess. I'm exhausted. I think that my nephew Max's strep somehow morphed into a stomach thing because I honestly don't know whether I'm pissing or shitting when I hit the crapper. It's actually quite fascinating. I don't necessarily feel bad, and I'm hungry, it's just that occasionally I get a rumbling in my tummy and I piss out my ass. And I gained a pound even though everything's passing go without collecting. Go figure.
Speaking of poop, I'm up to my eyeballs in it. The other day my niece had a poopy diaper and somehow it fell off of her - poop explosion. It was on her leg and her dress. And wouldn't you know, when I woke up the next morning and I was fixing up the air mattress I had been sleeping on with Max, there was poop on my pillow. The same pillow I freaking slept with all night. Beyond gross. To infinity and beyond gross. Man did I yell at my sister - here I am helping her out and I'm sleeping in shit! When she managed to stop laughing, I think she said she was sorry. I can't be too sure though.
It's been an exhausting but exciting week. Today was Baby Eli's Bris. (Please refrain from negative comments. I won't publish them, so don't bother.) We had about thirty-five friends and family over to celebrate - which is crazy given my sister is only eight days post-partum. The last few days have been spent getting everything ready for today. We picked up my sister's new mini-van on Wednesday! A definite need since you can't fit three car seats in a car (or an SUV for that matter.) It's the top of the top of the line and is a big change for my sis. She's used to driving a Toyota Corrolla with manual EVERYTHING. It was pretty funny - we're parked outside of the house playing with all the bells & whistles and I ran in the house to get something for her. When I came out she went to lean over to roll down the window or unlock the door and I was laughing signalling to her - just push the button! It's going to be a big adjustment - but Max is loving it. There's a DVD. Doesn't get any cooler than that. So I'm driving the van (my sister wasn't comfortable driving yet) to BJ's to fill up on stuff for the celebration today.
Somewhere in all that I managed to hit a yarn store with Max to pick up some Koigu for Kippahs! I knit Baby Eli a kippah for the Bris using the famous pinwheel pattern and a garter stitch border. I didn't have time to finish a matching one for Max, and I bought some complimentary yarn for Charlotte - so I think I'm going to finish them for Passover next weekend. I promise I'll take some pictures.
Honestly, we've all be so crazy, I think I've taken one picture of the new boy. Tomorrow is photo shoot day if it kills me.
I should be going home on Sunday - Georgie's been in Shanghai and Tokyo while I've been at my sister's - he comes home on Sunday too. Of course I'm coming back to Philly on Thursday for the Seder on Saturday night which will be at my sister's. She's just hosting, not cooking, so don't think she's too crazy. This way she can have both sides of the family at her house and can end the evening at home. And by seeing both sides at once - she doesn't have to go anywhere second night. Pretty smart.
I'm way behind on blogs. I miss mine and everyone else's. I pretty sure Jen and I are planning to go down to MD S&W. I'm excited. I've never been to a Sheep & Wool - plus, rumor has it everyone's who's anyone will be there. ;-)
Thanks for all the wonderful comments over the week. Checking my email at night was a really nice part of the day.
Posted by Cara at 11:20 PM | Comments (6)
April 11, 2005
Afternoon Theater
I forgot how much fun it is to take turns holding a newborn while we watch our soaps. The big kids are at school. (Thankfully! We need the break!) There's a lot to get done - laundry, cleaning, baby loving - but a quick break for lunch and some Days of Our Lives never hurt anyone.
My older nephew (love saying that!) had strep over the weekend. Ugh. Guess who's been sharing the air mattress with him? You guessed it - me! We're all hoping not to get it - but it seems if anyone is going to it'll be me. So far so good - my stomach hurts a little - but that's probably because I've been eating all the crap everyone keeps bringing over - and my nose is a tad stuffy due to allergies - but so far no sore throat and no fever. Cross your fingers for all of us.
Knitting? What's that? I give you Moms a lot of credit - how do you get anything done with all those kids running around?
Thanks again for all the good wishes! Baby Eli is definitely a keeper!
Love,
Cara
Posted by Cara at 12:57 PM | Comments (7)
April 08, 2005
I'm in love....
Sorry Georgie! There's a new man in town.
Before everyone gets all crazy - I don't have pictures yet. Now remember, I'm a photographer - specifically I take pictures of kids. There will be pictures and hopefully they will be fabulous. I think Eli's first photo shoot will be Monday - when the kids are in school and it's just my sister, me and the baby at home. What they say about going from two kids to three is true - and has much as I love it - I'm the surrogate while my sister's at the hospital.
You know, babies should come with a warning. I'm always amazed at how fast (and furious) I fall in love with these beautiful babes. Eli is no different - I'm missing holding him and kissing his soft cheeks. My favorite - kissing little tiny baby lips. Oh my god! My poor sister is still stuffy from her miserable cold and the thing she's so upset about is that she can't smell his baby goodness. And oh my does he smell divine. He's got the same monkey feet his sister and brother have - the same ears - but he's his own little guy. I could just cuddle and kiss and love him all day long.
Thank you all so much for all your good wishes for my family! It means a lot. I can't wait to tell my sister how much you all liked the name - it's the hardest thing for her to choose, so I think she'll be happy to hear the comments.
I'm afraid no knitting will be done anytime soon. I did a few rounds on the Pinwheel Blanket at the hospital today, but duty called quite quickly, so it went back in the bag.
I have a very peculiar (read I wanted to freaking kill her) KIP story to tell. I was on the train Thursday morning heading down to my sister's house - it was about 7AM. I had the seats to myself until Princeton when a Chinese woman took the seat next to me. I was knitting on the Blanket. She started asking me about my knitting - or really, telling me about her knitting life. How she knit as a child - they made all their own sweaters, hats, etc. She told me she knit a different way than I did then (and here's where it gets scary) SHE TOOK MY KNITTING OUT OF MY HANDS AND STARTED KNITTING MY BLANKET! I don't know about you, but unless I specifically ASK someone to take a hand in my knitting - KEEP YOUR FUCKING MITTS OFF IT! I was too shocked to grab it back. Then she was getting upset because she wanted me to knit the way she did. She kept saying - see how much faster I am than you? I can't believe it, I haven't knit in 20 yrs. All I see is this utter stranger, with a nasty cold sore on her lip and flaky skin fingers TOUCHING MY PRECIOUS NEPHEW'S BLANKET. I wanted to puke. Somehow I got it back and thankfully a few minutes later my sister called and I stayed on the phone with her until the woman fell asleep. Am I being too sensitive, or was that overstepping personal space? Ugh. I still get upset when I think about it.
I will be down at my sister's until at least a week from Sunday. I will try to keep blogging and keeping up with my reading and commenting as best I can. Bear with me if I don't get to email you back as fast as I usually do - and Kathy and Johanna - give me a few to get the contest prizes together.
Alright. I'm beat. Big day tomorrow. Baby Eli comes home. Thanks again for all the well wishes. Love you guys!
Posted by Cara at 11:30 PM | Comments (21)
April 07, 2005
Honey? HONEY!
It's time....
I'm on my way down to Philly. Details when it's over. Wish us luck!
Posted by Cara at 06:04 AM | Comments (12)
April 06, 2005
Attachments Spice Up ANY Home!
Or The Happy Househooker: How to Keep Your Husband Happy and OUT* of the Bedroom.
[Look people, if you've come here looking for baby news or knitting news go home! There's no baby yet and the only knitting being done around here is ripping. The short row section of the short row pullover to be exact. I couldn't stand the ends anymore. Thinking I might try a Russian Join, but I'm not sure how to get it all to match up perfectly. Fine. There's your knitting content. Happy now?]
So yesterday I was bored out of my mind, which is not a good thing for Ms. January One. Being bored out of my mind tends to drive me out of my mind very, very quickly. So to keep the demons at bay, I decided to continuing cleaning. I finished the dining room, aka mail dump location, and started on the living room on Monday. Yesterday I finished the living room - but not without a little attachment fun.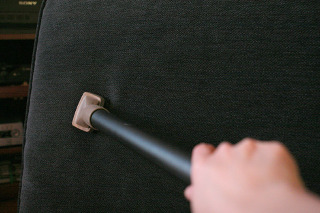 Here I am stroking a cushion with the brush head.

Let me tell you, I worked the furniture over so good it would've made the Fly Lady cream her panties.
No position was left unturned...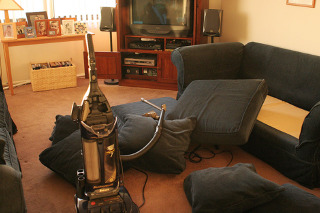 It was all quite scandalous. The stuffed animals were appropriately shocked...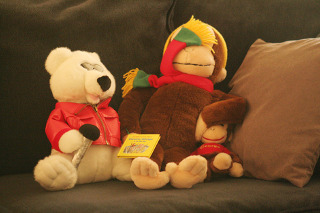 Well, not really. Here you can see Little George trying to sneak a peak: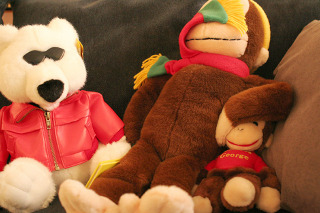 And Mr. Cool Red Faux Leather Jacket Bear? He provided the mood music.
Squeeze his hand and he belts out "Can't Get Enough of Your Love, Baaabe" by the Love Maestro himself, Barry White.
Want a close up of the action?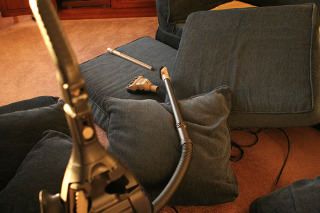 Whew! I worked up quite a sweat.
It was worth it though. G was extremely happy when he came home. So happy, *I couldn't get him off my newly cleaned couch. By the way, that's the worst part about cleaning. Two seconds later, it needs to be cleaned again.
The living room is all in order again: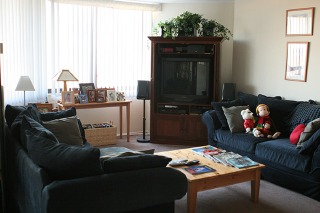 Look - can you see it? It's my first project ever! A four color (trust me on this) slip stitch afghan with a crochet edge - it's something like 5'x6' - maybe bigger. Life size BABY!
Today, I might have to bring the vacuum into the bedroom - Sorry - NO CAMERAS ALLOWED!
I'll be back....
I'm back. Heard from my sis. She's now a whopping 2.5 centimeters. We're going to be here all night!
And a disclaimer. It may look to you, from the pictures above, that I like to clean and/or do it often. If you think this, I apologize for misleading you. I can count the number of times the cushions have been off my sofas (for cleaning - doesn't count fort making - with the kids of course!) ON ONE HAND. And I don't use all my fingers on that hand either.
The cleaning you see here was a way to stem the insanity of waiting for my sister to have her baby already. That and the fact that things that were once living were beginning to get stuck in the cobwebs. I'm not lying about that, either.
So don't see my burst of Spring cleaning as anything other than that. Try to remember that Spring only comes once a year.
Hope that makes you all feel better about your own cleaning habits. I think I may knit today. Hmmm. There's a novel idea.
Posted by Cara at 09:45 AM | Comments (10)
April 05, 2005
Fly Needles Fly!
Georgie, travel maven extraordinaire, just called with some breaking news:
You can now travel with knitting needles when flying across the pond on British Airways. Oh yeah. And you can use metal forks again too.
Just in case anyone wants to knit a nice gift while on the way to toast Charles & Camilla.
Man am I freaking bored today.
Posted by Cara at 04:57 PM | Comments (2)
Wonkiness
[Warning. There is absolutely NO KNITTING content to this post at all. Read at your own risk.]
Something's wrong with my Internet. I can't read any typepad blogs for one, so if you're a typepader, please forgive my lack of comments. (I am getting blogline updates, which is oh so frustrating!) I hate that. And my pictures aren't showing up on my blog. Which is really frustrating because I changed the place where I hosted my pictures because the OLD place I hosted my pictures completely flaked out on its customers for a little bit. Now the old place is working, and the new place is wonky.
It's like half the sites are working for me and half the sites aren't. I was on the phone with Comcast for a little while (can I tell you how much I like their customer service - it's based in Canada - the people are ALWAYS so nice. Even when you're yelling at them.) My connection kept going in and out yesterday. I'm registering an IP address, but surfing is hit or miss. So frustrating, because that means instead of spending the whole day on the computer wasting time (not that blog reading is wasting time) I'll have to continue cleaning my house. I have to keep reminding myself about the attachments. I'm excited about the attachments. Attachments.
Thank you all so much for your kind words about my back. It, like the internet, hears you when it feels like it. But I am on the mend. I may attempt to run today. I think it will be warm enough so I don't have to worry about stiffening up on the cool down.
No baby yet. This waiting is killing me. I almost went down there today. But I'm holding out for the call.
Typepad people - remember - I still love you!
ETA: Well, I decided to experiment. I connected to the Internet through that dreaded tool of the populace - AOL. Through a dial-up modem. We're talking ancient history here people. And guess what? I can get into all the wonky sites. Typepad. The picture site. (No - not that picture site.) So I called Comcast again and guess what the lovely tech told me? There's a problem with New Jersey. Yeah. Like I needed a cable tech to tell me that. Yo. They're working on it.
Posted by Cara at 09:14 AM | Comments (6)
April 04, 2005
Nothing. Nothing at all.
To write about, that is.
My sister's still pregnant. My back still hurts. At least it's not STILL raining. Did that all weekend.
I did finish up a huge job on Saturday. I was editing, touching up and preparing for print over 600 photos for a friend. She took them, I fixed them up. It's one of the saddest things about the move to digital most families are making. They don't get prints! I shoot digital on my jobs, but the parents would never know it from the end job. They get a beautiful leather-bound brag book filled to the brim with prints. My friend doesn't have any pictures of her youngest child - they're all on the computer.
Cara to the rescue. She'll be getting a box of 574 prints by the end of the week. Suffice it to say, the situation's been remedied.
But, in sitting at the computer all day Wednesday thru Saturday doing this job - my shoulder felt like it was going to fall off - I think completely unrelated to the back pain - but still exasperating all of it. So when I finished the job on Saturday, I curled up on the sofa and took a nap. No knitting. And yesterday I didn't knit either - my shoulder hurt too bad. Instead I watched an absolutely torturous afternoon Lifetime movie. (Bad, BAD choice for me! On SO many levels.)
When I finally stopped crying, I cleaned up the dining room in my house. I vaccuumed and everything! I even used the attachments on the vaccuum! (Nothing like spicing up housework with attachments. I highly recommend it.) I'm moving on to the living room today. My shoulder feels a little better - I think I'll knit as well.
KNITTING QUESTION!
For those who've made the Ribby Cardi - what was your strategy for picking up the stitches for the front bands? Every third one? Every other one? I started out once on this and was looking at 400 stitches instead of 99. I'm too lazy to figure this out these days. Thanks for any heads up.
Now that I'm done my projects - I told my sister she can go any time. I'm getting anxious waiting! I may go down tomorrow to help out whether the baby comes or not - the kids are home from school - and my sis is about at the end of her tether.
Have a great Monday!
Love, Cara
Posted by Cara at 07:35 AM | Comments (12)
April 02, 2005
Bursting Forth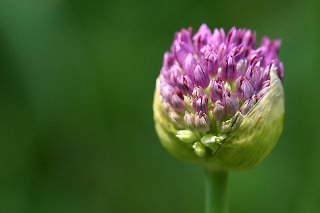 Just thought I'd join in on the fun. (Thanks girls, for the inspiration!)
Thank YOU for all your suggestions on what to do with my back. I checked out that Rolfing, Juno, and it looked interesting - not necessarily for me, but for Georgie. My back is on the mend. I slept much better last night - which is the most important thing. I need my rest if I'm going to be tackling them younguns pretty soon. (By the way, I closed the contest. Check back for the winner!)
John Paul II. I've been thinking about him - as is everyone - and I have to say, being Jewish, I really haven't thought much about him in my life. He became Pope when I was eight. My one big memory of the Pope is when he came to Philadelphia, where I grew up. For some reason I was in the house of a neighbor girl, Mary Ellen, not someone I was ever close with, and I remember her father on his knees in front of the TV watching the Pope. Praying, with tears in his eyes. The girl's father was very intimidating and strict and I'll never forget his humility. It's stuck with me all these years.
My other anecdote, I guess, is that I have one degree of separation from the Pope. My father-in-law is a Greek Orthodox priest (they can marry if they do so before they're ordained) and he went to Rome and met the Pope. There is a picture of the two of them in my in-laws living room. Knowing my father-in-law, I would've LOVED to have been present for that conversation!
Anyway, just some thoughts for a rainy, dreary Saturday. I have a little bit of work to finish up and then I'm home free. And Georgie will be home all weekend - his meetings were canceled - which makes me so happy! We've been missing each other. I'll get a little TLC this weekend. ;-) And I'm still waiting by the phone on my sister. The call should come real soon.
Speaking of babies, if you get a chance, go on over to Larissa's. She's currently relegated to the couch awaiting her babe and while she's there, she churning out a rather unique pinwheel of her own! Go cheer her on!
Have a great Saturday everyone!
Posted by Cara at 08:13 AM | Comments (7)
April 01, 2005
Since the Cock Freakin' Crowed
Yeah. That's how early I was up this morning. Not because of any god damn good reason - because I'm in pain! About ten years ago Georgie was on a business trip and I slept in our big bed all by my lonesome. I slept in a weird position in the middle and it got a little too cold in the bedroom - so I froze like that. Literally. The next day I couldn't move. My neck and my back between my shoulders was unmovable - and if I tried to move - excruciating.
So now it's my weak spot. Every now and then I get a little cold and stay in one position too long and WHAMO! I'm in pain all over again. I'm up early today because it hurts to sleep. Every time I want to roll over or change positions, I have to wake up and move my whole body at one time. Then you're up and the wacky, crazy, not enough medication in the world thoughts start and whatever. You might as well get out of bed. Why lay there if you're just going to suffer.
Before you all start telling me how wonderful chiropractors are, I went to one once. I went a few times actually. I think the guy had a crush on me or something because he seriously started wigging me out. Then I went once and I never went back again. No, nothing I would testify to in a court of law, but I did not feel comfortable. Sort of gave me a bad taste in my mouth as far as back-crackers are concerned. Besides, it's a total muscle spasm type of thing. If I dig my fingers deep into the muscles below my shoulder blades, I can move my head/neck with no problems, no pain.
I can still knit, so don't feel too bad for me. I always feel guilty about my pain. My husband's been in some sort of pain since he was fourteen years old. Literally. He's had four knee surgeries, hernia surgery and hip surgery within an eight year period. He has the hips of a man twice his age. That's what the doctors told me. He has the hips of an eighty-yr-old man. My pain will go away. Therefore, it's not so bad.
One good thing happened to me that I forgot to mention. Mrs. Pilkington gifted me with the most outrageous project book.
The book, Knit An Enchanted Castle, by Jan Messent, has instructions to knit not just a castle, but talking trees, a unicorn, a wizard, knight on horseback, princess in the towers, DRAGON - it's crazy! I'm afraid to show it to my nephew because he will insist I knit every last item in this book immediately! And the kid never forgets, so I'll be reminded of it every five seconds. Better I just knit the dragon - and maybe the castle - and surprise him. Thanks Mrs. Pilkington! You made my day!
I've been a downer this week huh? Sorry about that. Tomorrow is my sister's due date. She goes to the doctor this morning. Today is your last chance to enter the contest. Don't delay! There's a baby on the way!
Posted by Cara at 06:49 AM | Comments (10)
March 31, 2005
Big Hugs...
right back atcha! Thank you so much for all your comments and emails - it really lifted my spirits. While I'm so sad I'm not alone in my plight - I wouldn't wish infertility on my worst enemy - I'm glad to know my feelings, however uncomfortable they may be - are not misunderstood. I'm forever grateful.
I want you all to know too that my sister is very conscious and solicitous of my feelings. She's not without her own guilt about the situation, I'm sure. Know too, that when I'm around those kids, there are NO BAD FEELINGS. Only joy. It's when I'm alone, puttering about, that the sadness wells up.
I'd been wanting to blog about it for awhile, but wasn't sure if I should take so personal a leap. I'm glad I did. I hope someone out there read yesterday's post and subsequent comments and was comforted a little to know they, too, are not alone.
Jen helped pick me up; she took me over to Handknits. It was a successful trip! I picked up some new Addis and this: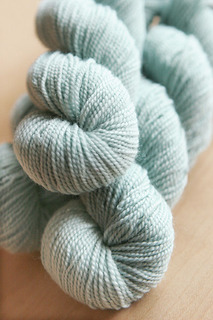 If you guessed Koigu, then you're right! It's much more of an aqua color - the perfect retro color for the Retro Rib socks. How do I know the color's retro? Because we went to a totally retro diner in Englewood - Baumgart's Cafe (it's a combo Jewish Deli/Chinese Restaurant - don't ask) - and my Koigu matched the retro blue booth. (Please, if you're my friend ;-), don't remind me how much sock yarn I now have and the fact that I have never knit a sock! Thank you very much!)
Beth, the proprietress at Handknits, had a great idea for a border on my Pinwheel blanket too! I'm very excited about it - but I think I'll keep it a secret for now. Suffice it to say, I will not be using a different yarn - I'm going to do the border in the same ASC (which is good because I have way too much of it!) Onto the fifth skein as of last night.
Vicki asked me some more interview questions - so read further for THE KNITORIOUS INTERVIEW!
1. Is there a crafty or artistic endeavor that makes you say, "I'd like to try that someday!"?
It's funny. I don't think of myself as a crafty person at all. To me, crafty is like all scrapbooky Martha and stuff – which is so not me. (I know, I know, there's nothing wrong with scrapbooking!) That said, I used to throw pottery and sometimes I really, really miss it – I would like to get back to that maybe. And quilts. Quilts are fascinating to me. Not sure if I want to try it, but I greatly admire the work that goes into them. I'm pretty happy with knitting, though. It's enough for me.


2. Many of your photographs feature botanicals. Do you have a green thumb?
Absolutely not. Besides the fact that I live in an apartment and really don't have the space for gardening – there isn't a living thing in my home. Unless, of course, you count mold. For some reason I'm really good at keeping that alive.


3. What is your favorite food a) at a restaurant, b) to make from scratch, c) for a snack?
At a restaurant: Hmm. That's tough. Lamb chops, maybe? Georgie's always finding me new places to have lamb chops. Ocassionally I get super cravings for the roast beef mozzarella hero from the Italian deli around the corner – best freaking muzz you've ever tasted and I love they're roast beef.

Made from scratch: I don't know how made from scratch it is, but my stuffed shells are the best. Never fails to please a crowd. Maybe I'll make that for dinner tonight. Georgie would be so, so happy!
For a snack: I'm actually not a big snacker. One thing I really like is Alouette cheese and crackers. That's fun to eat. And Georgie hates it, so it's a little me snack. Yesterday I had some almonds and dried cranberries, cherries and blueberries mixed together. It was one of the best tastes ever!


4. "Summer vacation" and "summer home" used to have a more literal meaning – some people would actually spend their whole summer at their summer home! Where would yours be located? (Anywhere in the world and money no object, of course.)
Well, I would only go to my summer home in the winter if it were in La Quinta, California – about 30 minutes east of Palm Springs. Georgie and I go out there at least every other year. It's really a home away from home for us. If it were a true summer house, I'd have to say somewhere near the beach – Hawaii's always nice. Maybe Cape Cod – but I'd want to go off season. Maybe we could divide our time between Laguna Beach and La Quinta? They're only about a two hour drive away. (hey – you said money was no object!)


5. What's at the tippy-top of your "I'd Like to Make That" knitting project wish list? (Again, money and time no object, nor even "skill level" if you believe in that sort of thing.)
Believe it or not, I'm dying to make a pair of socks. I started one a little while ago, turned the heel, got like an inch done on the foot and stopped. Since then I've bought a ton of (expensive!) sock yarn and have yet to make a sock. Yesterday I bought more Koigu. I have like five sock books. I want to make the Retro Rib socks really badly. I'm trying to figure out how to do two socks on two circulars since I think it's my aversion to dpns that's holding me back.
Thanks Vicki! If anyone else wants to be interviewed, let me know!
Posted by Cara at 12:23 PM | Comments (5)
March 30, 2005
Bitter-Sweet
Thanks everyone for your comments on my short-row pullover. (Hey! Has anyone out there in blogland actually finished this sweater? It's not, like, impossible, is it?) I think what I'm going to do for now is pull out all the ends I knit in during the short-row section - and see how the stitches look then. If it comes down to the fact that I have to weave in the ends, then fine. Jen has graciously offered to pour the drinks while I'm doing it - you know so I don't waste away while it takes me 8 yrs to do.... (PS - head over to her blog and see the great afghan she recieved from some kind hearted knitters!)
During Gilmore Girls repeats, I spent some time with the Pinwheel Blanket - I've got a round an half left on the 4th skein. The blanket is basically knit stitch - stockinette in the round - and there was something really comforting about that last night. Margene knows what I'm talking about - she wrote about it today. And I got a nice comment from Genia - who wrote the pinwheel blanket pattern. What a nice lift this morning, especially since I've been feeling very bitter-sweet lately, which is tough to take since I'm very much a milk chocolate kind of girl.
My sister's having a baby. Like any second now. You mean, you didn't hear? ;-) One of the greatest times in the history of our family. I'm sure you know by now how close I am with my nephew and niece - I love them beyond words. And now another baby to love beyond words. The kids are excited, the adults are a little bit crazed, and as much as I hate it, I'm a bit sad about the whole thing. I haven't talked about it much here, but Georgie and I have been trying to have our own baby for going on three years. We've been through a lot, more than I ever thought, and nothing's resolved. Some of it, most of it, stems from my own issues, since thankfully reproductive science can help us immeasurably.
There's a part of me that prays holding that precious new baby will throw me over the edge of my doubts and fears. And there's a part of me that is just so sad that this isn't my baby, no matter how much I love her/him. My sister is beyond generous with her children's time and love - and I am forever grateful for that. Another sad thing, Georgie and I will inevitably be a part for a while. While I'm so happy to be down with my sister's family helping out, I miss him more than he ever knows. Part of the time he'll be away in China, so I would be at my sister's anyway, but that doesn't mean I don't miss him any less.
Spring has finally sprung around here - I say with my tongue planted firmly in my cheek - don't want to piss off any weather gods - and while everything is being reborn around me, I'm dying a little inside.
How's that for awful? ;-)
Thanks for listening. Get outside today. It'll do you some good!
Love,
Cara
PS - Thanks Secret Pal for the song this morning - just what I needed!!!!
Posted by Cara at 09:23 AM | Comments (13)
March 23, 2005
The Rock Chick Interview
1. If Bruce knit, would he use Red Heart in keeping with his blue
collar roots or would he have gone all Beverly Hills and be into some
wonky Colinette sh*t?
Well, I think I can say definitively that Bruce would NOT knit Red Heart. And he definitely wouldn't knit any of that frou frou Collinette shit. Bruce would knit something that seemed like it was Red Heart – scratchy and tough – working class dontcha know – but was actually none too cheap. Maybe some Cascade 220? Maybe some nice Rowan Harris Tweed? Although I bet Patti wants to keep him in the good stuff – maybe some Cashmere that looks cheap? Yeah right. The thing is, I see Bruce as a designer in the Starmore category. You just know he's got these unbelievably rugged, romantic fishermen sweater designs locked away in a vault somewhere. (The bootleg patterns can be found online.) What's the sense of knitting them Bruce, if you're not going to share them with the world? Another of my no doubts – he's knitting Dulaan hats and Red Scarves in Peace Fleece all over the place. I bet you he's even got some Sugar & Cream on the needles as we speak, for a cute little dishcloth. He's a knitter who cares.


2. Okay, so the People mag gig blew. It need not be a stain on your
psyche - let's make it a party game. Blind item some dirt you came
across that the mag would never print.
Blew like you wouldn't believe. I cried every day I went to work there. So much so I took a job at the company I LEFT to go there the first opportunity I got. Seriously, I was on Xanax half the time. That said, there was no good gossip. No, really, I swear. Unless you count a gay Friend. Which, please, that's been beat to death. I had The Donald's social security number in my hand one day. And a copy of Kurt Cobain's death certificate. But I was there during school shootings galore and the ridiculously awful untimely death of Phil Hartman. Plus I was sitting in a back corner on the computer all day. No one talked to me.
The best gossip came after I left when I found out that someone I worked with was having VERY LONG lunches at the gym with people other than the spouse. Very different people. Than the spouse.
I will say this. Those articles you read in The National Inquirer, Star and World Wide Alien? They're a lot more accurate than people would like you to believe. When they say someone's on death's door – trust me – it's time to get that little black dress out of the closet.


3. Being a January first baby, did you ever suspect that one of your
birthday gifts was a "re-gift" from the prior month's holidays?
Absolutely not. Or at least none that have made turn my head. We're Jewish, so we did the Chanukah thing. Chanukah was NOT a big deal in our house – we're talking socks on night two, pencils night three, underwear night four. I never got underwear for my birthday. If you're talking friends and the like, I haven't really gotten many gifts (I know – feel sorry for me) – and the ones I have received have definitely not been re-gifts. On second thought, there were a couple of jewelry gifts from my in-laws that I might have questioned, but it was jewelry so who cares where it comes from right?
Now if you ask me if I got re-gifted stuff when I got married? You betcha.
Thanks Rock Chick! Long live Vedder and The Boss!
You know the drill - if you want questions from me, let me know in the comments. Thanks!
Posted by Cara at 12:00 AM | Comments (8)
March 17, 2005
Yaaaawn!
Excuse me. I'm beat. We got in this morning at about 6AM. I tried to work on the plane but fell asleep. We got home, climbed into bed and watched the next to last episode of 24. (By the way, I called she was coming back as soon as he made an appearance. I have to say, this may be the BEST.SEASON.EVER!) Then we fell asleep. I had to set the alarm to wake up because I still have three stories to critique before MY LAST CLASS TONIGHT!! Let's shout that again because it makes me so happy. MY LAST CLASS TONIGHT!
What was waiting for me? Spirit Trail sock yarn from Annie! Which so lifted my spirits because despite dragging my poor husband all over Scottsdale AND Vegas, I bought NO YARN on my trip. Annie sent me JUST what I was looking for. Thank you, thank you, thank you, you sweet sweet woman! Pictures to come of course.
I gotta eat lunch. And then I gotta go to work. I had coming home. (But I do love my bed. It's like test driving cars. So sastifying when you come and realize your choice is the best!)
Posted by Cara at 02:06 PM | Comments (3)
March 10, 2005
85 and Sunny
Yup. That's right! That's the forecast.
By noon tomorrow I'll be at the pool, virgin colada in hand. First, we will have made the obligatory homage to the hamburger at THE BEST HAMBURGER JOINT IN THE WORLD. You guessed. Georgie and I don't vacation unless there's an In-N-Out within driving distance. I could tell you stories.

Have no fear, I'll be blogging from Arizona. You won't have to miss me too much.



Ah, the desert. My home away from home.

Have a great weekend everyone!
Love,
Cara

PS: I feel really bad - yesterday I listed all my favorite TV lovers and I missed one of the best ones: Sonnylicious, Port Charles' very own gangsta lova! Mmmm. Delicioso!

Posted by Cara at 02:41 PM | Comments (7)
March 08, 2005
Cast On, Cast Off
Sort of like life, right?
I'm nervous today - I'm finally on my way to a job that's been rescheduled twice already. Mainly because of the weather. Guess what's going on outside today? But I'm going. Anyway, I always get nervous before a job. Sort of like stage fright, but add in the driving factor (sometimes I get anxious driving) and I feel like I'm going to puke. I always make it through, but you know. Somethings you just have to go through to come out of. Cast On. Cast Off.
Speaking of casting on, my class last night was interesting. I finally learned a tubular cast on and it's very pretty. As is the cable cast on. I had A LOT of trouble with your basic long tail (Shirley Paden calls it the half-hitch). I generally do a knit on cast on, which apparently isn't appropriate unless you're knitting lace, but that's what I know. The finger cast ons were hard for me. I kept trying to do the movement in my head, but I don't know if I got it right. She did some double twist loop de loop thingy at the end, some kind of Japanese cast on, that had my head spinning. Yeah. I gave up on that one. All in all, it was interesting (did I already say that?) Good info for the arsenal.
The weekend had its moments. Poor sweet girl was sick - nasty cold and snot dripping everywhere. My sister and brother-in-law were sick too. I figure the snot will start pouring out of my body as soon as the wheels lift on the plane on Friday. You know, when I'm heading off for vacation. I've been sick on a lot of vacations, so I won't be horribly disappointed. (Remind me to tell you about that cold I had at the Four Seasons Maui. Man was that torture!) Still though. It'd be nice NOT to be sick.
Lauren asked how my nephew enjoyed the casting party. Well, when my nephew and I were talking about the weather yesterday and how we could smell Spring, he said wouldn't it be great if it was Spring all the time and I said, yeah, but then we'd have to live in L.A. or Florida and that ain't happening. No, really, I told him that the seasons were important because if everything were the same all the time, it would get really boring. And he said, like when we were doing the belly cast right? Apparently, he didn't have a good time.
That's not true - he loved slathering his Mommy's belly with Vaseline, getting all gooky and ooky and stuff. He just got a little impatient with applying the plaster. I guess that can get kind of boring. My sister and I both agree it's the best one of the three we've done. I told her when she has her fourth, the cast will probably make itself. This weekend I really felt the baby moving for the first time. When my nephew was in utero I'd just sit there with my hands on my sister's belly. It's kind of hard now when I've got one kid on my lap and the other one hanging on my back. My sister's kids are definitely lovers - which is great with me. I miss them already. The next time I go down will probably be baby day! I can't believe it!
There's stash to talk about. I received some of my order of Alchemy Yarns Silk Purse and it's beautiful - although the color is a little off from what I imagined. It's much more saturated, which I think, in the end, will be better for my friend. I can't wait to start knitting it.
Also, I received the yarn for Short Rows! I'm so, so excited. It looks even better in person and the colors are beautiful. I want to cast on immediately! Alas, I think it will have to get in line. I'm sort of overwhelming myself with projects and I feel the need to finish something. Even if that something is Ribby Cardi. The sleeves have gone no where fast. And the train did nothing for me - four rows at the most. I've still got forty rows of increases. Have I mentioned how much this is killing me?
Stash pictures later. I need to get ready for work.
Posted by Cara at 08:46 AM | Comments (7)
March 07, 2005
Behold! The Belly....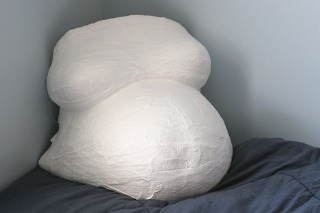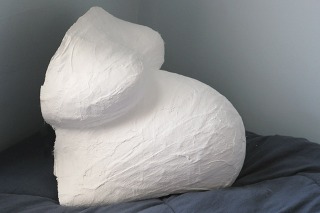 Off to my Cast On Fourteen Different Ways class! All about the weekend later....
Love,
Cara
Posted by Cara at 04:56 PM | Comments (7)
March 04, 2005
Belly Cast, Baby!
That's correct. You read it right. It's going to be a Belly Cast Weekend!
As many of you know, my sister is due with her third child around the first week of April. When she was pregnant with my nephew, her first, I talked her into letting me do a belly cast. Now, this was 2001 - so I was WAY ahead of the trend. No Regis & Kelly, no The View. None of that crap. Just some strange thing I found on the Internet. My mother was dead set against it and I have to admit, as I was about to put the first strip of plaster on my sister's well-Vaselined belly, I thought to myself - what if this shit doesn't come off? But it did and my other sister and I had a great time making it. It came out beautifully. We took lots of pictures which my sister won't let me show on National TV (i.e., The Internet). We were, though, interviewed for a Wall Street Journal story on the new hot happening trend among pregnant mommies. Yes, that's right, The Wall Street Journal. (It was around May, 2001. Can't find a link though.)
Where is said baby cast now? Who the hell knows. On top of the closet?
Fast forward to 2003. My darling sister's preggers again. We MUST do another cast. How could we deprive the new baby this honor? I mean, what if they grow up, find this weird thing flung into the attic and my sister has to inform my niece: WE DIDN'T LOVE YOU ENOUGH TO MAKE ONE FOR YOU?!? So another cast was made.
And here we are. It's 2005 and my sister's shitting out another one. (Don't get me wrong. I love these kids like I love my right arm. Or my left ventricle.) So I'm off to belly cast again. This time around, my nephew's going to help. Which should be good for a few hundred laughs.
One thing the trip down to Philly guarantees is some knitting time - at least two hours. So I'm bringing the sleeves. Because there's no way in hell I'm bringing them on vacation next week.
The next couple of months are going to be crazy. We leave for vacation next Friday. Back on Thursday. Teach my last class that night. And then at least I'm home for a couple of weeks - that is unless the baby decides to come early. My sister's gone about a week late with the other two, so we're sort of planning on that for this one. Which would put me at the second week of April. And then I'll be down there off and on for the next month or so - more on than off probably as she's going to need the help. (Don't worry Annie! ;-) I will be blogging!) I'm sure those in the know can chime in, but they say going from two to three might as well be like going from two to ten. I get panicked just thinking about it and hey, I don't have to live there.
The taxes MUST be done before the baby's born. And while I know there are some others out there that claim to be bad at housework, trust me. I got you beat. I come from a long line of notoriously BAD house cleaners - going back generations. It's a gene thing. Not my fault. We fired our cleaning person OVER A YEAR AGO! So you can imagine. It's disgusting. I would maybe like the house to be a little neater. Mind you, I'm not saying clean, only neater, before the baby's born. I'm just saying. That's all.
Oh and I ~may~ have spent some time at the post office yesterday. ;-)
Have a great weekend all...
Love,
Cara
Posted by Cara at 09:02 AM | Comments (6)
March 02, 2005
Kick-ass
headache I've got going today. Came out of nowhere too. Probably ate lunch too late - or allergies because it's all in my face - but what can you do. I'll get into bed and read for class. A nap might come soon after.
Because I seem to be made of money these days, I ordered the yarn for my short-row pullover:
This is what I decided on:

Rowan Wool Cotton

| | | | | |
| --- | --- | --- | --- | --- |
| | | | | |
| French Navy-909 | Aloof-958 | Bilberry-959 | Laurel-960 | Antique-900 |
The French Navy will be for the sleeves and the Aloof and Bilberry for the major accents, the Laurel and Antique for the minor accents. I'm excited about it to be sure! I so hope I can make it fit. I'll be so sad if it doesn't fit these big, humongous boobs. (There you go google pervs!) I'm so not happy with my weight these days, I'd hate to make myself something that won't fit because I'm too fat. Alright. I won't go there. My head hurts too bad already. The best news was that I used my gift certificate and barely paid anything - include in that a ball-winder and the Rowan Junior book.
The people at Yarnmarket.com were very helpful, I have to say. I wasn't sure about the colors matching well, so Pat pulled some of each to put together for me - and then she came here to check out the picture. She also asked everyone in the office if they thought it looked good. There was a positive consensus - it should look great! I really do like this pattern.
Yesterday I managed to be productive and sent in slides for a juried show. It's for members of the Professional Women Photographers Association. The theme is The Secret Garden, and those photographs selected will be on Exhibit at the Brooklyn Botanic Gardens this summer. So cross your fingers for me. You can see the photographs I entered here.
I also did some work on the Ribby Cardi sleeves. Man those suckers are going slow! I would LOVE to have this project done. F-U-C-KL-O-V-E it!
Make sure you check out Wendy's handy dandy tips on meeting knitbloggers. And don't forget your sharpie! ;-)
ETA:
Almost forgot! Lolly tagged me for the latest Meme going around -
1. What was the last book you read or are reading?
I just finished The Easter Parade by Richard Yates, which I enjoyed. Not as much as his other ones (Revolutionary Road is a masterpiece, as are his short stories.) I'm about to start Jonathan Strange & Mr. Norell by Susanna Clarke for Knit One Read Too.
2. Where did it come from (library, bookstore, gift, etc.)?
Book store for sure. I'm really bad at borrowing. Although I used a gift card for the Clarke book.
3. How many books do you read per year?
I try to average at least one a month - hopefully two. That's pretty pathetic. I must try to do better. Part of the reason I started K1R2 was to make myself read more.
4. What is your favorite genre?
Literary fiction to the point of snobbery. I'm actually quite elitist when it comes to my reading. But at least I can admit my prejudices right?
5. Who will you tag now?
Mrs. Pilkington - mainly because I'm thinking she has quite a diversified reading list - especially when compared to mine. (It seems I can't stay away from dead (or alive) white men. What's wrong with me?)
Posted by Cara at 01:51 PM | Comments (10)
March 01, 2005
March
comes in like a lion and out like a lamb....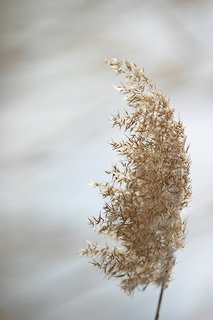 Spring's just around the corner!
Happy day and happy knitting.
Love,
Cara
Posted by Cara at 09:14 AM | Comments (13)
February 25, 2005
Hopefully...
if it's around 1:15PM, I'm in Boston RIGHT NOW, having lunch with Colleen.
Meeting Wendy at 3:15.
Oh and did I mention this is where I'm staying?
Yessiree bob. Fuckin' A to be me!
Have a great weekend everybody!
(Couldn't get the CRON JOB to work, so probably you're reading this much earlier. Bloody MT! Just imagine it's like 1:15PM - or better yet, look at your clock around that time and think: Damn, I wish I was that Cara girl!)
Posted by Cara at 01:15 PM | Comments (10)
February 24, 2005
I got nothing.
No knitting. No nothing.
I guess I pooped myself out on the Ribby Cardi the other day, because I haven't picked it up since Monday. Oh well. They'll be plenty of knitting tomorrow. And especially on the train back from Boston on Sunday.
Pray a little for me will ya? I feel like a third grader, but I'm really hoping for some snow! Today is Thursday, in case no one noticed, that means I have class tonight. I need a break. I figure if it starts snowing early enough (say between 1-2) and continues on they might, just might, cancel class tonight. Every other term I've taught we've had breaks galore - Monday Holidays - School closings (we use classrooms in an elementary school) - NEVER ten weeks straight through. Tonight is Week #7. It's exhausting - well the class yes - I have to be ON for three hours straight. But moreso the critiquing. It's hard to be honest and gentle and helpful. I take critique very seriously. I've seen (actually been the recipient of) VERY BAD criticism and I wouldn't want that to happen to my students. It takes a lot of work to be a good reader. So I'm tired. And I didn't get some of the stories until very late this week (um yesterday) and they all have to be read at least twice. I just want to crawl into bed and read - something else.
Thanks for the vent. Pray for snow.
Rejected York Peppermint Pattie Commercial Blurbs.
The Plot Against America has made it all the way to the semi-finals! Don't forget, the next K1R2 book discussion starts on Monday!
Posted by Cara at 09:25 AM | Comments (5)
February 17, 2005
101
Ever have one of those days where everything you touch turns to POOP! Yesterday was that day for me - what do they call it? Murphy's Law? Yep. That was yesterday. It was awful. Mostly work stuff - but it was enough to send me over the edge.
I feel like I haven't been knitting either. You know, those long stretches where you don't get up for hours and the only reason you stop is because your hands hurt too much? I haven't had a day like that in a while. Hopefully this weekend. I picked up the Ribby Cardi again after what seems like years (okay months) and managed to get a few rows off. I want to finish the back ASAP so I can start on the fronts. I think I'm going to try to employ the method of doing both at the same time. I've popping into the Ribby Cardi KAL (of which I am a LAX member) and it seems a few people have been doing it that way. So why not try something new?
There was a bright spot yesterday! While I was tearing up my house looking for (literally a freaking HOUR) a check I thought I lost, I came across another skein of the Manos Flame! So I have five, not four. I thought I bought five, but since it wasn't where the rest of them were, I assumed I was wrong. I figure another 3-4 should do it for a cardigan. I'm planning on some yarn shopping* in the next week or so, and that's on my list.

I need some help. I want to make Clapotis for my best friend - but she told me she doesn't do wool - of ANY kind - she has very sensitive skin. So I thought I'd do it in a nice handpainted silk. I was looking around last night and the best I seemed to come up with was Alchemy Yarns Silk Purse. Anyone knit with this? What do you think? I found only good things on the blogs, but I'd love a first hand opinion. Think it would work for Clapotis? At around $23 a skien, it seems reasonable for silk. Who's got a good supplier? I very much want the Sea of Cortez colorway. Oh and what's the deal with knitting silk? Is it very different than wool - more like cotton? Thanks for the info!


As a way of trying to cheer myself up, I trekked out to the Jersey City Main Library, in the pouring rain, for this:


I know I'm being completely heretical here, but I'm kind of disappointed in the book. [Holds arms in front of head to protect from stones about to be thrown....] I guess I thought there'd be more patterns. The St. Brigid does look amazing - the only problem is I don't think I'd ever wear it. I will spend more time going through the history sections and the individual cables - so maybe my first impressions won't hold. But really - this is selling for more than $300! Not sure I get it.

Thanks everyone for all your comments on my sweetie honey niece and Picot-Boo! The highlight of my day yesterday. In case anyone noticed, I put the comment moderator function on - so your comments have to be approved until the system knows you. You guessed it! Along with all the other shit flying yesterday, I was spammed.

Speaking of shit, in case you need a trememdous laugh, check this out. It's the infamous Triumph the Insult Comic Dog doing what he does best - all in the name of bipartisanship!

Have a fabulous day everyone! I'm going to go feel sorry for myself - my stomach thing seems to be turning into a cold.

* All you Beantown girls! I'm coming to your hood! Where should I go for the good stuff?

Posted by Cara at 09:00 AM | Comments (14)
February 15, 2005
Sick Day
Woke up this morning around five o'clock just begging to throw up - unfortunately I'm sure you all know the feeling. Didn't go away all day - my sister has it too.
The worst part is that I had to miss the second part of my intarsia/fair isle class. I was so disappointed. But the LYS is going to do the right thing, and somehow I'll get the instruction that I missed.
The weekend was a success - my nephew got a mountain of cool toys (Remind me to tell you about the super heavy weight bout between the remote control T-Rex and the remote control Robosapien. Both were very, very cool and more for thirty year olds than four year olds.)
Picot-Boo was a great success, except it was really hard to watch her eat yogurt while wearing it and she kept eating the sleeves. Worst problem was the neck was a little tight because of the hem - she didn't like taking it on and off, but once it was on she was styling. Thanks for all your comments about it! I'm sorry if I didn't get back to you, but I feel like crap.
Not too much to worry about the flu ruining my V-day, since every day is V-day in our house. ;-)
Hope you all stay well. I hate being sick. (Although I did get to watch Sense & Sensibility today!)
Posted by Cara at 12:01 AM | Comments (8)
February 14, 2005
Prove It All Night
[Sunday, February 13, 2005, 8:47 PM, New Jersey Turnpike, singing our hearts out]
I've been working real hard, trying to get my hands clean,
Tonight we'll drive that dusty road from Monroe to Angeline,
To buy you a gold ring and pretty dress of blue,
Baby just one kiss will get these things for you,
A kiss to seal our fate tonight,
A kiss to prove it all night.
Prove it all night,
Girl there's nothing else that we can do,
So prove it all night, prove it all night,
And girl I'll prove it all night for you.
Everybody's got a hunger, a hunger they can't resist,
There's so much that you want, you deserve much more than this,
But if dreams came true, oh, wouldn't that be nice,
But this ain't no dream we're living through tonight,
Girl, you want it, you take it, you pay the price.
Prove it all night,
Girl there's nothing else that we can do,
So prove it all night, prove it all night,
And girl I'll prove it all night for you.
Prove it all night, prove it all night girl and call the bluff,
prove it all night, prove it all night and girl,
I prove it all night for your love.
Baby, tie your hair back in a long white bow,
Meet me in the fields out behind the dynamo,
You hear the voices telling you not to go,
They made their choices and they'll never know,
What it means to steal, to cheat, to lie,
What it's like to live and die.
Prove it all night,
Girl there's nothing else that we can do,
So prove it all night, prove it all night,
And girl I'll prove it all night for you.
To prove it all night...
Copyright © Bruce Springsteen (ASCAP)

Happy every day my love....


l o v e
Posted by Cara at 12:00 AM | Comments (4)
February 11, 2005
Happy (Belated) Birthday Max!
I'm off to see the children today - bowling party on Sunday for Max's Fourth! (If you've never bowled with small children - you don't know what you're missing!) His birthday's in January, but since he was lounging on the beach in Nevis at the time, the party is this weekend.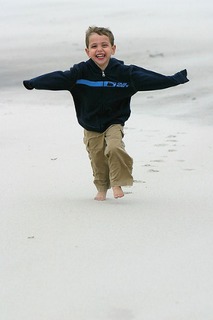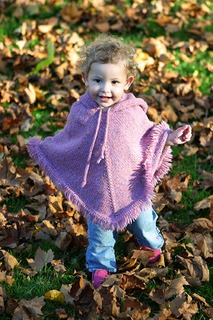 See how their arms are open wide?
They're both running to give Aunt Cara BIG, big hugs!

Have a great weekend everybody!
L, C
Posted by Cara at 11:00 AM | Comments (5)
February 04, 2005
Big, Humongous, Gigantuan BOOBS!
Georgie and I are laughing our asses off! Everyday, without fail, someone hits my site looking for big boobs. big heavy boobs. All because of this post.
It's pretty fucking funny. Those poor lurkers - so disappointing for them I'm sure.
Beforewarned, this post will have little to no new knitting news. That's right folks. I've got nothing. No progress, just inertia. The best I've got is that I've decided on a pattern for the baby blanket I'm knitting for my new niece or nephew. Actually, despite my best Stephen Wright impression, I'm exceedingly happy about the choice. I look at the picture everyday and think this will be perfect! Oh, yeah, here's the pattern.
I'm going to use the All Season's Cotton mentioned here and I'm going to try to find some kind of variegated silky acrylic type stuff for the border. I can just imagine my future favorite baby all wrapped up in it. I'm excited. I really am.
So what's the problem you ask - since I've got 24 skeins of the aforementioned ASC. No needles. I don't have DPNs to start it. I don't have needles for anything these days. I lost two of the DPNs I was using to knit the sock, so the KBS hasn't gotten any air play - no needles, no knitting. (Besides, now I really want to make these socks in the same colorway. I'm really loving both the retro rib and the Koigu color.) I'm awaiting my Flower Basket Bag yarn shipment - but it won't matter because, you guessed it, no needles. [they just called from the lobby, I have a package - bet you it's the yarn!]
But Jen is saving me. Today we're heading up to Handknits and I will hopefully have a nice long shopping list. Needles, for sure (Jen - DON'T LET ME WALK OUT WITHOUT THEM!) and yarn. I want to buy some yarn. Because it's not like I haven't spent a shitload of money on yarn lately. But I want some red yarn for valentine's day. For this and for this. And maybe some blue Koigu, if they have it, for those retro rib socks.
In other news, my class is kicking my ass. They are a very smart bunch - with lots of good criticism. They write long though, and I try to be very precise with my critiques. We're halfway through, so that's good, but I always feel very hungover the next morning. (This morning.) Takes me a day to get going. I don't feel like thinking at all. So I watched TV this morning. I know I've mentioned this before, but I really, really like The Gilmore Girls. It's corny I know, but I look forward to seeing it everyday. (They show the re-runs on the ABC Family channel - right after the 700 Club. Blech.) They've got some kick-ass knits on this show - anybody every notice? Someone on there is a knitter because these are not your run of the mill knits. Anyway, saw a good episode this morning. Made me cry. Happy tears. I'm such a sucker for love.
I'm done now. Thanks for hanging. And as a reward for my legions of faithful readers, (you two know who you are! ;-) ), I'm starting a contest. As of the writing of this entry, I have received 332 comments. I will give a fabulous prize to the 500th commenter! (Prize details to come as soon as I figure out what it will be.)

So get going.
Posted by Cara at 11:06 AM | Comments (7)
February 02, 2005
Test. This is ONLY a test. I passed the test.
My feeds aren't updating, so I'm posting this as a test. If you have had a bloglines update today, and want to drop me a note, thanks!
Back to regularly scheduled programming.
Apparently the crisis was averted. My feeds are updated, thanks in no small part to Cassie (she will claim that she had nothing to do with it, but I know it was her magic email that turned the bloglines updating machine back on!)
Thanks everyone for letting me know they were working for you!
Posted by Cara at 04:55 PM | Comments (7)
Cinema Verite
At Kerstin's insistence...
1. The last movie you went to see in a theater:

Bend it Like Beckham. Which is pretty funny because it was Georgie's idea to see it – he thought it would be all about Soccer and it ended up being something of a chick movie. We liked the music though.
I should mention that we rarely, if ever, go to the movies. We used to go – when we could agree on something to see - but in the last five or six years I can count the number of movies I've seen in an actual theater on one hand. I used to go all the time – especially by myself, in New York City, to all kinds of artsy fartsy movies (read subtitles). Somewhere along the way I began to hate the noise and the people and the fact that even when there's only three people in the goddam theater the whacko weirdo guy STILL has to sit two seats away from you so that you can't concentrate at all on the movie – all you can think about is the psychokiller next to you. So I stay home and watch on my big TV and knit and pee whenever I feel like it and eat whenever I feel like it. Thank god for Georgie – he's always so sweet about picking up the candy wrappers on the floor.
2. The last movie you watched at home:

Ooh. Tough one. With the advent of cable, it's incredibly easy to watch 864 movies in a day and never see a whole one. The last movie we actually sat down to watch, together, as an "event" if you will, was Spiderman 2. I dropped like a million stitches trying to knit in the dark.
3. How many movies do you own?

A decent amount. Not sure of the number though – maybe fifty? We always buy a couple of flicks before we go on vacation for DVD watching on the plane. Who can forget the cross-country flight watching Dr. Strangelove? Classic. Or the time we luckily turned off Mulholland Drive right before the Sapphic scene – I bet the Mom with the kid behind us watching the movie would've been pissed! Also, since it's so freaking expensive to go to the movies we tend to have the "it's cheaper to buy the DVD and watch it in the comfort of our home" attitude – so we buy them. I also have the complete collection of Scholastic DVDs – they are the greatest videos ever. Puts the Disney crap to shame. And I have two Rugrats movies. So sue me.
4. Got Netflix (or a similar service)?

Yeah, it's called digital cable with a gazillion stations and lovely On-Demand. We don't even have a decent video store nearby – so no, no Netflix or a similar service.
5. List five movies you adore (or mean a lot to you.)

[Warning: Carolyn accused me of being very sentimental in my music meme choices – so if you disapprove of sentimentality – turn your head here. ;-) ]


In the they-always-did-it-better-in-the-old-days department:

Gone With the Wind. I could've easily chosen Casablanca or Rebecca or Laura or Dark Victory or Now, Voyager or Mr. Skeffington or Rear Window or ….but I'll stick with GWTW. Why? Because for my eleventh birthday my father gave me the book and I loved it like only a very imaginative romantically blossoming eleven year old can. When I first saw the movie, I loved it almost as much. Rhett and Melanie in the nursery after little Bonnie dies and Scarlett and Rhett after he rapes her and she's so happy (my god – what was I thinking). The movie is perfectly cast and when the fiftieth anniversary came around and they showed it on the big screen at Radio City Music Hall and I was living in New York, I bought myself a ticket. Went by myself. I'll never forget it.


In the quirky-only-I-love-it department:

Baby It's You by John Sayles. Set in mid-60s Trenton, I love this movie for its teenage romance, that Rosanna Arquette falls for the big, bad Sheik (I did the same thing once), that the one and only sex scene is awkward and awful and still endearing, that I have a huge crush on Vincent Spano. I didn't say anything about the Springsteen soundtrack because I may have loved this movie before I loved Bruce – but clearly it must be mentioned that when Spano walks into the cafeteria and Hard To Be A Saint in the City is cranking in the background we have the Best. Movie. Scene. Ever.


In the comedy must-have-every-line-memorized department:

Beetlejuice. School of Rock may replace this someday, only because it's gotten much more air play as of late, Flirting With Disaster is on the list and Midnight Run holds a very close second – but in the end I have to go with Michael Keaton as the ignoble, irrepressible, grotesque Betelgeuse. Love the Harry Belafonte. Catherine O'Hara is fabulous as Prince Valium's bride. Who can forget Otho? Dick Cavett makes an appearance and Winona is brilliant as the depressed, suicidal teenager who'd rather be dead than live with her step-monster. Never trust the living.


In the banished-from-the-US-for-sex-crimes department:

Frantic. Roman Polanski's masterpiece (okay, maybe I'm the only one who thinks this). The best movie ever where Harrison Ford gets to say "With an S, for shithead" and "You're talking about my wife, but you must be thinking of yours." I've discussed this movie before, so I won't go into it here. Let's just say I can't turn away. Ever.


In the Merchant-and-Ivory-couldn't-have-done-it-better-if-they-tried department:

Sense and Sensibility. I saw it in the movies with my sister and we cried and cried. Then for her bachelorette party we got big thick milk shakes and rented it. And cried and cried. How about when Willoughby comes down and sweeps Marianne up on her horse. Or when Eleanor cries to her sister that even she can produce evidence of a broken heart. Let's not forget the scene when Edward Ferris' sister gets into the fight with Lucy. And oh my god Alan Richman is, I don't know, so noble in this movie! The whole thing is just lovely. Really and truly lovely. I just love this movie.


In the I'm-adding-an-extra-movie-because-I-can department:

A Little Romance. Because Diane Lane was oh so beautiful and because her character was smart and sassy and Daniel was French and romantic and had a temper and because Laurence Olivier was old and frail and charming and just a little bit scary and because the music was beautiful and the scenery was beautiful and everything was beautiful. And most of all, because, when my sister and I both went to Venice, separately, with our husbands, we believed that if we kissed under the Bridge of Sighs while the bells tolled at sunset, we would be in love forever.


6. What's in the Netflix queue?

Well, since I don't belong to Netflix, I'll give you a list of the movies I'd like to see, but will wait until they're out on DVD or whatever format they're using when I get around to watching them: Sideways. Hotel Rwanda. Meet the Fockers (even though I heard it sucks.) Million Dollar Baby. Closer. The Life Aquatic with Steve Zissou. Whatever Crap Shows Up On Cable.


7. Name three people you are going to send this to:
I'm going with the J's today:

Jen
Jo
Juno

Posted by Cara at 01:29 PM | Comments (6)
February 01, 2005
A Death in the Knitty Family....
While we were driving back from the Canon Service Center (details to come), my best friend said to me:
her: I've got some bad news.
me: What?, I said, my heart starting to beat wildly.
her: The poncho. It's toast. The neighbor dog got to it.
me: Oh thank god!
her: I cried. Delenn cried. We all cried.
me: Did you bury it in the backyard at least?

I can honestly say I was slightly ahead of the poncho fad. I made the RetroPoncho pattern, available in the Summer 2003 issue of Knitter's (the one with the uncomfortable looking guy on the cover) for my best friend's daughter, in the Summer of 2003 - the end, more like Fall. I used Patons Classic wool and it was the first project I made that included knitting in the round and increases. It was actually my first wearable project. Delenn had grown out of it, but my best friend's younger daughter had taken to wearing it everywhere with her Disney princess shoes.
Here's a picture of Delenn and the poncho when it was brand spanking new: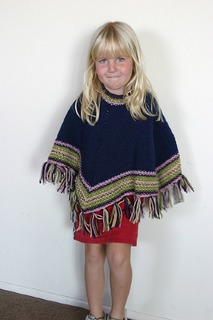 Doesn't she look so happy!?! Rest in Peace RetroPoncho. May you wear well in knitty heaven.
In response to RP's untimely death I'm going to make both girls new sweaters in Artyarns Supermerino! I'm also going to make my best friend a scarf (which she requested) using the famed Clapotis pattern. She can't wear any kind of wool, so it looks like it's silk for my best friend! (I've got time though. I was informed that spring is just around the corner in Las Vegas, so the sweaters will be for next fall. The Clapotis will be for my best friend's May birthday!)
Pity Party's Over, Thank you very much!
Thanks for all of the pick me ups. Seems I was a tad premature in feeling sorry for K1R2 - the converstation is hopping.

The camera will be fixed for free, by the kind folks over at Canon. I have to say I was a tad triumphant. The guy intimated that maybe, just maybe, they would try to get it to work and it would be fine. Happens all the time, he said. Ha, Ha, I told him. The shutter's shot! This baby ain't working for no one no how. And I was right. The shutter's shot. They will be fedexing it back to me when it's all better.

[Full disclosure: I was kind of hoping they'd say it wasn't fixable (like they'd do that!) I wanted another brand new baby. I know. Gluttony never looked good on anybody. But it's a WORK thing. It's my JOB! wink wink]

My best friend and I then headed back to my house where she so wonderously indulged me by listening to all my knitting adventures. After I had pulled out all the stash and shown her all the intended projects I asked her: "Do you really want to hear all this?" She, in her best best friend voice said, "Of course I want to hear it because it makes you so happy." A better best friend has yet to exist. Thank you, thank you! I miss her so much since she moved away.

Then it was off to dinner in the big city. We had a marvelous meal at Gigino's in Tribeca. The food was great, company even better. After dinner I dropped her off at her hotel and said goodbye! Thankfully Georgie was home for lots of cuddling last night. I needed it.

But I feel refreshed today. It's off to the shrink and needle shopping at Purl. Maybe some red yarn.

I'll be back later - Kerstin tagged me on the movie meme. (Can someone please tell me what exactly a meme is? I looked it up in the dictionary and can't find it. Is this the answer?)

Oh and I want to send some big, fat, suffocating hugs to all of you out there surviving the infertility torture test that life sometimes surprises us with. It sucks more than anything could possibly suck. To the root, to the core, to the depths of our hearts and minds. Hug your mates really tight and be kind. To your partner and to yourself. Be truly, necessarily kind.

Love, Cara




Posted by Cara at 10:29 AM | Comments (6)
January 31, 2005
Blahs
I'm depressed. And while this may have A LOT to do with it (Kerstin, have you seen this?), it's not the only thing.
I think I caught the January blahs going around. Before I left on vacation I was doing good. Now I'm feeling overwhelmed. My house is falling down around me, literally. As I write this there are men on a platform HANGING outside my windows (yes, three windows, covering three rooms - it's a big fucking platform) drilling into the side of my BRICK highrise. If my head doesn't explode first, I'm going to kill someone. Preferably beginning with the guy who waved to me as he hung by my bedroom window.
I have taxes to prepare. I bought TurboTax thinking any accountant I lay out big bucks for is just going to plug in numbers to TT anyway. So I bought it. The taxes are now my responsibility. I spent all day yesterday getting my business in order. My sister is going to help me set up Quickbooks, but until then, it's sort of a pencil and paper operation. I think I got it all - but I still get nervous I'm missing something. Credit cards are actually a good thing sometimes. I try really hard to charge everything for the business - so I can just do a data dump from the credit card company for all of the charges.
My poor camera is still dead, and dying more and more as the seconds go by. I'm actually pretty sad about it. This was the camera that started it all. I'm taking it in to the Canon hospital today - but I'm not expecting any miracles. (Maybe secretly I just want yet ANOTHER new camera? SHHHHHHH! Don't even think it!)
On the knitting front, (that's why we're here, I guess) I started the first Picot-Boo sleeve and I actually did some work on my Ribby Cardi. I'd like to get that done pretty quickly - it should be an easy knit. I enjoyed what I knit of it this weekend, so we shall see. In my mind I'm also designing my father's sweater, a cardigan for myself and the new baby's blanket. I was toying with the idea of placing hearts around the blanket in squares - maybe hearts and stars, but I may have given up on that. Too much thinking and I just want to knit the blanket. I may think about forgoing any kind of pattern and doing stockinette (it's so soft!) and a ribbon/satiny border, you know something soft for baby. We'll see. Too many projects in my head. I can't concentrate.
More good news: yesterday the 100th person signed onto K1R2! I find that absolutely incredible. Today starts the discussion of The Plot Against America. I posted at around midnight last night, so excited, and as of yet no one's commented. I know, I know. I shouldn't expect people to be losing sleep over this, but it's like, you know, my baby. I want it to be great.
Back to feeling sorry for myself and getting some work done. I have to pick up my best friend at the airport today. She's in for about 24 hours. She'll hold me up; she always does.
Posted by Cara at 12:45 PM | Comments (6)
January 28, 2005
I need to be back in Florida...
RIGHT NOW!
Everything's gone down hill since I've gotten home. I won't bore you with details, but I will give you this little tidbit:
I've been taking pictures forever. I've been open for business for over a year. I've been using my camera for that long and have NEVER EVER had a problem.
Yesterday I had a job. I didn't bring the new camera because I'm not comfortable with it yet - I haven't tested the flash, shot with all the lenses, played with it - you know. So I leave it home. I get to the job, get everything set up, go to take pictures with my old camera, which I've NEVER EVER had a problem with - I hit the shutter and WHAMO, or I should say BLAMO - the damn thing dies.
ERROR 99
The death knell.
In the end, I ran home to get the new camera and everything went well, but still. My heart.
I'm tired and I'm cranky so I bought my yarn for The Flower Basket Bag. I'm using Cascade Magnum, which I found for a great price over at Hello Knitty. I need some big ass needles, but I'm on my way. I hope it's fast and fun. I could use some of that.
On a brighter note, I received my Secret Pal's name. I'm excited to spoil someone from a far - I've never done one of these before, so I'm hoping it's lots of fun.
Have a nice weekend everyone! Hope it's full of brightness and cheer. We could use some.
Posted by Cara at 06:59 PM | Comments (2)
January 27, 2005
Hello!? Is anybody there?
[crackle crackle static crackle] Hey, can you hear that? [crackle static crackle crackle] I'm on gasp dial-up! That's right - no cable in my town. At all. Anymore. [crackle crackle static] They say it will be fixed soon. [static crackle] Has anyone stopped laughing yet?
Have no fear, I managed to find 24 skeins of All Season's Cotton in the lovely Tapestry color at Jimmy Bean's Wool and Yarnia. At closeout prices to boot. I also picked up both a Bouton D'Or and an Anny Blatt layette book for the new baby, who will be stylin'.
If you do nothing else today, please read Aharon Appelfeld's editorial on the 60th Anniversary of the Liberation of Auschwitz.
Okay. Back to the cave.
PS - This post cost me $468,359.87 on AOLs trumped up connection. See how much I love you?
Posted by Cara at 08:36 AM | Comments (3)
January 26, 2005
Waaaahhh! I wanna go baaack!
Or What I Knit On My Fantastic, Brief, Beautiful, Star-struck, Brief, WARM, Romantic, Wonderful, did I say brief? Vacation! Thank you Georgie Mou!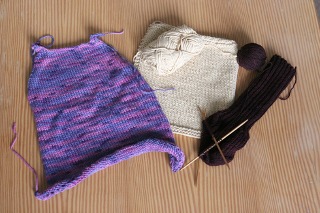 From left to right:
Front of Picot-Boo
It wasn't started on the vacation, but it was finished there, so it counts!
Swatch for baby's blanket
I tried out the All Season's Cotton for my new niece or nephew's blanket, and of course, I love it. Wouldn't you know, the color, Tapestry (#172), a nice, pale, gender neutral yellow, is discontinued. I'm going to try to find enough of it in Internetyarnland. Not sure what I'm going to do with it - the pattern in stockinette is so soft and I think if I wash it will get even softer. A nice knit/purl stitch would be nice, but I don't know. I think I might like a nice satiny border on it as well.
Key Biscayne Socks
Annie was right. I was being ambitious to think I'd come home with a pair, but I did almost finish ONE! I'm using Koigu on size 3 needles - the color is like a nice cabernet (very difficult to photograph though). The pattern I'm using is from Ann Budd's The Knitter's Handy Book of Patterns, fast becoming my bible. I have something like a hole, let's call it a gap, where I picked up stitches at the heel, but otherwise I'm pretty pleased with it! It's too loose around the calf and will probably slouch, but whatever. I have to finish the foot and the toe, but the hard part's done.


Hey! Get a load of my super-fine manicure! I had fun hanging with the salon girls and getting all the gossip. Nice tan, huh? I'm trying to keep my lower calves, not to mention my toes, wrinkle free, dontcha know! Oh yeah, and are socks supposed to look like ribbed casts?

Back to the vacation...can I go back to the vacation?
It was really wonderful. The hotel was very, very, very nice.
And we saw Conan again, on our last day. In one of the most surreal experiences in my life, I read this Op-Ed article about Johnny Carson while sitting lunching by the pool. When I got to this line:

There is another thing that never came back: late-night television for grown-ups. I know, there's Jay and Dave and Conan, and guys on cable, too. We were supposed to get excited a while ago that Conan O'Brien was being groomed for the big one. But no one cares now.
I looked up across the pool - and there was Conan. It was definitely very weird. Never did talk to him. He was busy with his family and I didn't want to interrupt. I'll catch him next time! ;)
If you want to see some pictures from the trip, keep reading...
Georgie played a lot of tennis while we were there - and I played with my new camera, which completely kicks ass.
[Disclaimer about the photos - I didn't have my serious photographer hat on, but my "let's see how this baby works" hat.]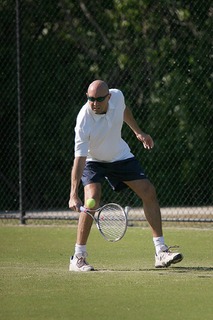 Check out my Wimbledon champion!
That's real freaking grass for those who know!
I tried out all my lenses to make sure they worked with my new gear. Here's my macro lens at work on some old palm type leaves: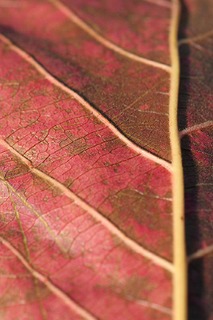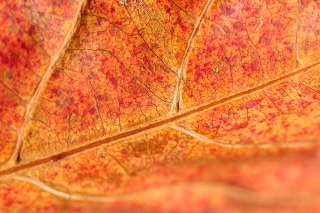 Our room was beautiful - the view especially. Here's the view from the bed ;)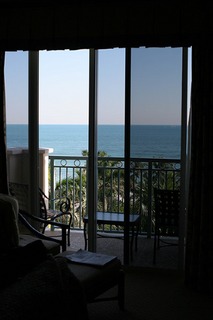 And the sunset from the balcony: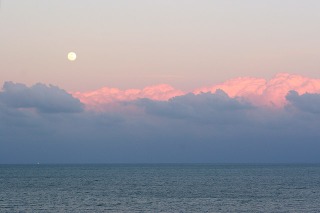 The moon was unbelievable the whole time we were there. On our first night there we went on the beach after dinner. Some kids were having a bon fire that looked like a real good time, but it also made me feel old. So we pulled up some beach chairs and listened to the music from the party. And then the clouds cleared and the moon was spectacularly bright. We actually saw our shadows. Moon shadows. So cool!


Here's a picture from the property: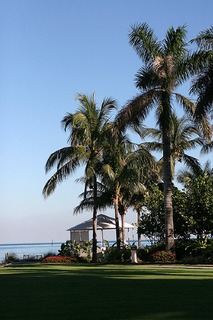 And the beach: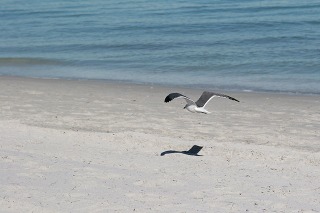 Georgie has done really well on our last couple vacations. He heads up the travel department of an NYC investment bank so he's got the connections, but he also knows all the good poop on where to go and stay. I just sit back and let him do all the planning. Thanks again my love!
And thanks to all of you for playing along!

Posted by Cara at 12:57 PM | Comments (8)
Tag! I'm it!
Mrs. Pilkington tagged me - and how can I refuse such an ambitious knitter with such an adorable Cocoa Pebbles?
1. Total amount of music files on your computer:
10.6 gb in the file called Music. But there's other stuff hiding out - especially lots of Bruce bootleg files.
Most of the stuff is from the good ol' Napster days. And then we had a hard drive melt down about a few weeks back and most of the stuff I ripped on my own is completely messed up. I don't have the energy to re-rip, but it's such a bummer. Basically, the song starts out good and then gets completely corrupted in the middle.
2. The last CD you bought was:
Two at the same time: Maroon 5, Songs About Jane and the self-titled album by Los Lonely Boys. Honestly, both are still in the wrapper.
[Actually, this may not be correct, but I'm not sure about the dates. I was out with Georgie and Melanie one night and we went to see our friend Gus play. His band played an amazing version of Superstition by Stevie Wonder (made even more amazing since they're all super white boys and they were playing in a very Irish bar.) We just had to stop by Tower on the way home and pick up some SW Greatest Hits. It was a funkalicious ride home through the Lincoln Tunnel that night!]
3. What is the song you last listened to before reading this message?
Cake, "The Distance"
4. Write down 5 songs you often listen to or that mean a lot to you.
You're kidding right? Five songs. Ridiculous. Okay. Here goes.
1. For You, by Bruce Springsteen. I chose this because Georgie and I have been fortunate to hear it every tour we've been to over the last ten years. Really. We don't go every night of every tour (I'm mean we're freaks, but we're not FREAKS!) so I pick and choose the nights we go very carefully. It just so happens I've picked the night Bruce plays "For You" on a fairly regular basis. And every time we hear it, we both go crazy and hug each other really tight then remind ourselves to ACTUALLY LISTEN TO THE SONG, then are breathless for a least three songs after. I have actually been known to cry. (Okay, maybe I am a FREAK - I generally cry throughout the first three songs regardless of what they are anyway.) I love this song, but it could easily be switched out with Prove It, The Fever, Drive All Night - the list of Bruce love songs is endless.
2. The Very Thought of You, Tony Bennett Version. For our anniversary, right after we moved into our new apartment about seven years ago, I bought the sheet music to this song, our song, and had it framed. It's the only thing to adorn our bedroom walls.
3. Lovely Day by Bill Withers. This song, yet another song introduced to me by my beloved, DOES NOT EVER fail to put me in a better mood. I recommend it as a remedy to work-induced nausea. It should be the wake up call to the workers of the world!
[By the way, "For You" just popped up on I-Tunes! Fate or what? I ask you....]
4. I've Seen That Face Before/Libertango by Grace Jones
This entry says it all.
5. Bad Sneakers by Steely Dan. This was the song I played in college a gazillion million times - basically every time I thought I was going crazy. Can easily be interchanged with Nik Kershaw's Wouldn't It Be Good.
One more for good measure:
Best of My Love by The Emotions because it just came up on I-Tunes and I can't help but dance around and think about how much I love my man! I'm sorry, I'm missing him today - coming home from vacation is hard.
5. Who are you going to pass this stick to? (3 persons) and why?
I'm going to choose three people I don't know very well, but would like to get to know better.
Hopefully they'll be happy about it! If not, please, please forgive me!

Posted by Cara at 09:11 AM | Comments (7)
January 18, 2005
Taking Back Our Home
This weekend was all about taking back our home. It's kind of falling apart (on the inside and out - we live in a high-rise and the Board has informed us the building needs about $15 million worth of work - who's going to pay for that you ask?) but we're trying to get it back in baby steps.
Last week we had the plumber in - $600 later we have a non-leaking kitchen sink and all three toilets flush, leak free! Yeah for working plumbing! (You may question why we need three toilets if there are only two of in the house. Options, dahling, options.)
So, now that that's out of the way, we can clean things up. The place is a sty. I bought a Swiffer WetJet and I love it, except Georgie (who likes to give goofy names to everything) keeps calling it the Swift Boat thinga-ma-jig. I need to be reminded of that every five minutes for sure! The good thing is my floors might actually be semi-clean now. I love the little scrubby thing on the side too.
Georgie sealed up the windows in the bedrooms so our house is nice and toasty now that it's freezing! And I finally organized my stash! I gave up on the cedar chest - too much money, not enough space - and went with some plastic bins that fit in the closet perfectly. And my stash pretty much fit in one of the bins so I have an emtpy one to fill. I also bought a lovely leather basket type thing at Crate & Barrel the other day - it was marked down a lot - for storing my current projects. I figure I can tote it around if need be, but it will probably sit next to me by the couch. Here's a picture of it filled with Jo Sharp stash!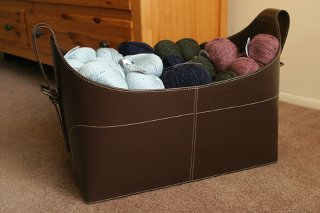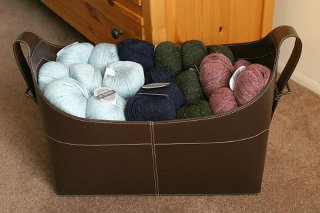 It's actually not completely filled with Jo Sharp -
my project bags take up most of the basket and the Jo Sharp
accents the top. For a more pleasing picture.
Georgie made a lovely pasta bolognese the other night and for dessert - my own molten chocolate cake! He bought the mix and the ramekins from Williams & Sonoma and made it himself. It was fantastic. We may never go out to eat again.
ETA: Annie asked for a recipe. There is none! It's a kit. They send you the chocolate drops and the cake mix and you melt the chocolate and add water and butter to the mix (two sticks of butter!) then add the chocolate to the mix. Once it's all together, put it into the little ramekins and bake for 12-15 minutes. That's it! So easy and unbelievably good. It makes about 8-12 cakes. We made four and put the rest of the batter in the frig. The next day I scooped out the cold mix into the ramekins, baked it, and it was just as good as fresh. The mix came from Williams & Sonoma.

While School Daze was blocking, I managed to finish the back and start the front of Picot-Boo. I'm still completely in love with this yarn.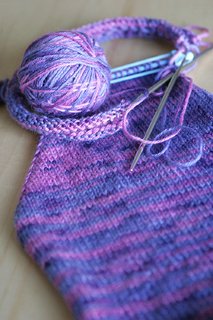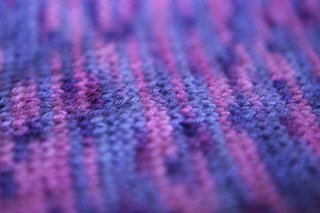 This picture was taken with my new 50mm f1.4 lens,
which has an extremely narrow depth of field (that's why so much of it is blurry.)
I thought the picture was interesting.
What I learned in school...
Never do a stair-step bind off on the shoulders (or anywhere for the matter!) What a pain in the ass. I started to seam the shoulders for School Daze last night - it blocked beautifully - and met with all kinds of problems. After consulting my books (they all said don't do it - thanks!) and finding this very, very helpful web page, I think my seams look just fine thank you!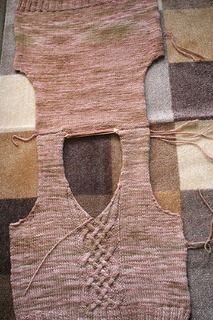 Like the rug underneath the knit? It's Bonne Marie's idea.
I figure if her blocking method works so well, might as well have the rug too!
As an extra bonus, it matches our decor too!


What else? Class went well on Thursday. Cassie sums up the teaching experience pretty well in her post today. It's performance art all the way! I have fourteen people in the class and already I can tell the difference between Fiction I and Fiction II - in F1 they're feeling their way - I want to write, but maybe I don't have what it takes. In F2, they are there for the long haul. So it's all good.
My new camera came as well. But I haven't really played with it yet - I'm waiting for our trip this weekend to beautiful sunny Miami (fingers crossed for the weather.)
Have a great day!

Posted by Cara at 10:54 AM | Comments (8)
January 13, 2005



Lower Broadway, somewhere between West 4th and Houston.
East side of the street.
Open door.
Posted by Cara at 01:30 PM | Comments (1)
January 12, 2005
Fess Up
What's your guilty pleasure?
I've been thinking a lot about this after my confessional post yesterday about liking 24. It makes me uncomfortable that I like it, but I still get pleasure out of watching it.
So what's yours? Do you eat at McDonald's on the sly even though you've been a vegetarian for years? Do you secretly keep tapes of W's State of the Union to watch when you're alone? What do you derive secret pleasure from - even though it goes against what you believe?(I'm not talking about silly stuff here, although some might think my watching a television show is silly. But it really does bother me that I like it, yet I'm unwilling to give it up.)
Let me know I'm not alone!
And now I will tell you some things about myself. (Found on Nake-id Knits via Wendy.)
Grooming Products
Shampoo: Rene Furterer Fioravanti Volumizing Shampoo
Moisturizer:
Body: Pond's Ultra Silk Body Lotion [Discontinued, but my stash survives.]
Face: Neutrogena Oil-Free Moisture for Combination Skin
Hands and Feet: Nexcare Advanced Skin Creme
Cologne: Au Naturel by Moi
Razor: Venus
Toothpaste: Crest Whitening Plus Scope
Electronics
Cell phone: Motorola T720
Computer: HP
Television: Which one? We've got three.
Stereo: Four of these - we tend to like Panasonic products though.
Home
Sheets: 100% Egyptian Cotton Wamsutta in EXTRA DEEP. Our bed is huge.
Coffee-maker: none
Car: 1988 Honda Accord and 2002 Nissan Altima
Stationery: My own PhotoArtCards.
Beverages
Bottled water: Poland Spring from my very own water cooler.
Coffee: Never touch the stuff.
Vodka: In the old days, sure. Now I'm more of a red wine girl.
Beer: MGD
Clothes
Jeans: Sonoma Stretch Five-Pocket (no freakin' boot cut!!!) from Kohl's. My new fav.
T-shirt: Georgie's old Jockey v-necks, soft and worn and still smelling like him - used as pajamas.
Briefcase or tote: felted tote or LeSportsac bag
Sneakers: Asics Gel Kayanos
Watch: ESQ by Movado, but I never wear it.
Favorite Places
My home, my sister's home, La Quinta Resort & Spa, Cape Cod.
Necessary Extravagance
Yarn and knitting books, of course. Cut & Color.

My life's an open book.

Posted by Cara at 07:44 PM | Comments (11)
The Power of the Internet...
when used for good, not evil, is amazing.
HB1677 is one of the most horrible things I've seen yet coming out of our government. Apparently, John A. Cosgrove, a Delegate of Virginia (Who votes for these people? Don't answer that!) proposed a bill requiring women to REPORT A MISCARRIAGE TO THE POLICE. Here is the bill summary:

Report of fetal death by mother; penalty. Provides that when a fetal death occurs without medical attendance, it shall be the woman's responsibility to report the death to the proper law-enforcement agency within 12 hours of the delivery. Violation of this section shall be punishable as a Class 1 misdemeanor.
Thankfully, bloggers have managed to stop it!
I have to go throw up now. My lunch, along with my faith in humanity, are sewer bound.
Posted by Cara at 12:52 PM | Comments (6)
January 10, 2005
ATTACK!
A DDos attack at that.
As many of you may know (well, you should know - I blogged about it. C'mon people - there WILL be a quiz!) I switched hosts around Christmas. Everything went pretty smoothly and I was terrifically impressed with the customer service. The cs at my last host was pretty much non-existent. These new people were emailing me Xmas eve. Very nice.
Apparently their service is so good, they host many a blog. (They have good MT support - which is one of the reasons I went with them.) Some of these blogs are very controversial. (I won't link to them because I don't want any backlash. Yes, they are pretty bad.)
Well, these blogs (I'm assuming) were the subject of an Internet attack that took place Friday night and Sunday night. The way I think it works is that an unimaginable amount of information was being sent to the servers so as to crowd them so bad no information could get through. The result - all the servers appear down, which means no websites for me! (And many others.)
That means no this site, no K1R2, no business site. No good.
I and my sites are a little ity bity pawn in the big bad war against opinion (alright - some pretty sick opinions, but opinion nonetheless.)
Now I'm all for free speech. The free-er the better. I remember my Hebrew School teacher telling us all the time - you have to let the Nazis march, because if you tell them they can't march, then they can turn around and tell you YOU can't march. So bring on the vitriol, I say. Especially on the Internet. (You can turn it off, people. Just like the TV, close a newspaper, etc. It's called free will and goes hand in hand with free speech.)
So what do I do? I like the service - I'm very happy with it - especially in the time of outage - regular updates. They seem to have worked very hard to get everything going again. I guess I'll wait and see what happens. The last big attack they had was in 10/2003. Maybe they won't have another one for a while.
Speaking of attacks....

He's ba-aack!

That's right! Our favorite Lost Boy is back with a vengeance. It's totally not my thing, but somehow I've become completely addicted to it. It all started one ridiculously rainy weekend we spent in Nashville. Georgie was having hip surgery and we were pretty much confined to our hotel room, and not just because he was recuperating. Noah would have had a field day that weekend. The best part was we had the first season on DVD. You CANNOT watch just one episode. We watched many, only coming up for air to eat and sleep. We somehow made it home that weekend just as the blizzard was hitting and were stuck in the house for another few days and watched more episodes. The way a cat takes to nip, I took to 24. Scary, I know.

But Georgie LOVES this show. He gets so excited which gets me excited and it's so over the top as to be grand almost.

BUT, (yes another but) it's AWFUL. It taps into all the paranoid red state ideals of America Against the World! Fight for Freedom! AND, to make matters worse, it's on that faux news channel.

If I like it, does that make me a bad person? Do I have to give back my Roe vs Wade button? My ACLU card? My blue state status? (I swear! I didn't know Amazon was BAD!)

I ask you! How can something so good make you feel so bad?

I managed to finish the back while I was at my sister's. I'm still a little iffy on the sizing, but I'm going with it. I cast on for the front and finished the rib - now the fun begins! Pictures later. Hopefully.

Oh and Picot-Boo will have to be ripped, yet again. But this is the last time, I swear.

I'm back, baby! I'm back!


Posted by Cara at 09:23 AM | Comments (9)
January 07, 2005
Midnight Fly-by
Just stopping in to say hi. I miss my blog. Isn't that strange? But I've become accustomed to its face.
It's after midnight and I'm up in "my room" at my sister's house. She has a three story house, with two bedrooms on the third floor - it's sort of a repository area, if you know what I mean. My room is up there - with a TV and currently, my sister's new laptop with wireless Internet! Yay! Almost all the comforts of home, except I miss Georgie. I just hate sleeping without him. Although it was nice falling asleep, for a little while at least, with my amazing niece. I miss her and my nephew so much when I'm not with them - almost as much as I miss George. I wish I could have them all closer together, but that's not to be, at least not any time soon. So I trade off and I'm always missing someone.
I'm incredibly lucky at the amount of time I get to spend with my sister and her kids. When I come down (it's not that far away - North Jersey to Philly), I get to spend a few days always. That means I'm with the kids 24/7 which is the only way to get to know them. I see all their moods and love them all the more for their stark human-ness. It's awesome to see their minds churning, learning, burning with information every single second of the day. If you've never been teased by a toddler, you don't know what you're missing. I have loved these children within an inch of my life since they were conceived. And the best part is that I know they love me just as much.
Sorry. I'm a little maudlin tonight. Missing my love and overwhelmed with emotion for my babies. Sentimentalism sucks and I try to avoid it at all costs. But whatever. Sometimes it's just there.
I actually got some knitting done today - I decreased for the armholes on the back of School Daze. Hopefully I'll be able to knit a lot tomorrow - the kids go to school and my sister has work. I'm also going to visit my grandmother - I'm hoping she'll be up for an LYS crawl. I don't know if she's been to any real yarn stores - discount craft stores don't count! I'm pretty sure there's a store not too far from her that carries Art Yarns. I'm in love with the stuff!
Anyway - thanks for your comments yesterday - it's nice to know I'll be missed, even if I'm still (kind of) here!
L, C
Posted by Cara at 12:18 AM | Comments (5)
January 05, 2005
Don't Don't Don't Don't ...Don't You...Forget About Me
I say...La. La la la la. La la la la.
Enough already!
So will you miss me? I'm heading out to my sister's this afternoon until next Sunday. I will be scarce, as it's hard to get computer time when my delicious nephew and niece are running about screaming Cara, Cara, Cara!
I will probably have no time to knit either.
Met up with Cassie yesterday at Purl. I exchanged some yarn and brought home a Knitting Pure & Simple Sock Pattern (#216) and Nancy Bush's Folk Socks per Cassie's recommendations. We had a lovely time, as usual, although I think Cassie may have said I was boring. (see comments on this post.) Say it isn't so, Cassie, my sweet!?! ;)
Slow progress has been made on both School Daze and Picot-Boo, but I'm still not sure about the gauge on PB. I will have to measure it against my niece tomorrow to see if I need to rip YET AGAIN. Thankfully it's a really (super)fast knit.
I leave you all with this:
Overheard while I was on the phone with my sister the other day -

"Only ONE pair of underwear. ONE pair. Did you hear me? I said ONE PAIR OF UNDERWEAR!"
Ah's the joys of parenthood.
PS - Even though I will be away, I will be still be giving out memberships to K1R2. Just leave a comment here.
Posted by Cara at 11:27 AM | Comments (8)
January 02, 2005
Champagne and Cherry Pie
That's how we brought in the New Year. We used to do fun and exciting things, like fly off to Detroit Rock City to Kiss on New Year's Eve, but ever since the millennium I've felt like staying home. My goal in life is to make my birthday as normal a day as possible. It's not so nice to have a "special" birthday. I want a day like everyone else. Basically, I want a day I can forget about.
Yesterday came pretty close. We had some cherry pie and champagne while Regis fucked up the countdown. (He was SO off it was February already by the time he finished. Actually made me miss Dick Clark.) Waited for the calls to come in from my siblings. (Each one asked - am I the first to call? For the record, my bro, Jeddy, won this year with a call at 12:01. Of course, it was 9:01 for him - he lives in LaLa land.)
And then we went to bed.
Woke up the next morning and opened my birthday book!




The Bridge of San Luis Rey
by Thornton Wilder


Dad gets it right again! Something I don't have and haven't read. Yeah Daddy! I also got a very generous gift certificate to Borders from my parents and a huge gift certificate to the Yarn Market from my best friend Margo and her family! We're talking enough for about three sweaters people! Whew!
Besides making all my dreams come true, providing a roof over my head and feeding me, Georgie got me a chocolate fondue kit and Vanilla Cocoa tea from the Chocolate Bar in New York. We're having fondue for dessert tonight!
We started our Spanish Lessons yesterday as well. It's our goal to learn Spanish this year. Today was lesson two - it's going well. I've decided Ribby Cardi is the knit for that. I'm not in a rush on it, and it's a good easy knit while listening to the Senor and Senora babble away in my head. We're having fun with it. G has declared we can only greet each other in Spanish. Thank god today we learned how to say Buenos Dias, otherwise he'd be getting the silent treatment.
School Daze
I cast on for my first design! So far I've got the 2x2 rib done on the back and I'm in stockinette land for a while. It's going really quickly though. I want the back done fast because it's boring. The exciting part will be the front and the glorious cable running up the middle. I'm really excited about it - the Manos is looking beautiful too.

I've been reading Sweater Design in Plain English by Maggie Righetti. It is an amazing book - easy to read and I've learned more about knitted items in the few pages I've read than anything else. I think it helps that I've been knitting for a while and have actually made a sweater. I'll review it in full on K1R2 tomorrow, hopefully.

I'll take some pictures of School Daze tomorrow. I'm hoping to cast on for Picot-Boo today as well. I wound a ball of the Art Yarns Supermerino today - that stuff is beautiful!

Posted by Cara at 04:15 PM | Comments (3)
December 31, 2004
Picot-Boo
Look what came yesterday!

Isn't it beautiful? And it's so, so soft. AND you can throw it in the washing machine! (My sister will love that!) This amazing yarn is Art Yarns Supermerino in color #108. It will be this cutie little sweater with the picot trim:

Hence, the name Picot-Boo! The pattern comes from the Family Circle Easy Knitting Holiday 2004 Issue. It will be perfect for little Charlotte, who can now say "I love you, Cara!" Yeah!
I almost forgot to show you the secret Xmas gift for Georgie. It was a scarf. You can imagine my horror when I realized it was in America's Team's colors. And me being a Philly girl and all. [You must watch the video on the Philly link! Go Mummers! Go Eagles!]

My dad didn't make it up yesterday - he's under the weather - but he's on his way now. He's bringing me my birthday book! Ever since the day I was born, my father has been giving my siblings and I a book on our birthday. He always writes these sappy inscriptions in the front (You're a woman now! You're a teenager! Always an I'm so proud of you!) None of us ever, EVER open the book before our birthdays. And we always call each other to find out what we got and read the inscription to each other. He keeps it a deep, dark secret. I think my mom always resented that he never told her what the books were, let alone let her in on the gift-giving. Tomorrow will be my 35th book - I have all of them. Some of the stand-outs:
Rain Makes Applesauce for my third birthday.
Sam, Bangs and Moonshine for my fourth.
The Hobbit for my eighth.
Gone with the Wind for my eleventh.
The Fountainhead for my thirteenth.
1984 for my fourteenth birthday, January 1, 1984. (I was too freaked out to read it!)
A Canticle for Leibowitz for my 21st.
Then there were the college years - he gave me biographies of Lillian Hellman and Sylvia Plath back to back. I said, Dad, spare me. No more depressing women! And I don't even like biographies! Since then he's stuck to fiction. We have a little game though, because of all of his children (there are four of us) I read by far the most - and have the most books. Books are my life. It's his special challenge each year to find me something I don't have. Haven't read. Maybe even haven't heard of. He takes pride in the fact that he hasn't given me a duplicate yet. So tune in tomorrow for my birthday book.

Posted by Cara at 11:46 AM | Comments (5)
C'mon Over!
Knit One Read Too is alive and well.
I, on the other hand, am beat.
Enjoy!
Posted by Cara at 02:30 AM | Comments (2)
December 30, 2004
Any MT experts out there?
I'm trying to load a plugin - but I also need to install a patch. Not sure how to do that - anybody out there who can help me? Leave a comment and I'll email you back. Thank you!
Posted by Cara at 03:50 PM
Wow!
Thanks everybody for your response to Knit One Read Too! I'm really excited about it. I'm in the process of making logos and setting up templates. If you left a comment on the entry linked above, you will receive an email soon with login instructions. If you haven't left a comment, and want in, please do!
Let the celebrating begin!
I received my first birthday gift yesterday! From Annie (thank you, thank you!) She gifted me with books from Amazon and I couldn't be more thrilled.
And last night was lamb chop night! Mmmmmm.... Every year, a couple of days before my birthday, Georgie takes me out for lamb chops. It's my favorite, naturally, and Georgie aims to please. Dinner last night was at Dylan Prime, in Tribeca. This is not your father's steak house! The decor was very nice, atmosphere as well. We got a good table - not too close to our neighbors, but close enough that we could check out what they were eating (a must!). For starters we had ceasar salads, probably the low point of the meal, but not bad at all. Georgie had the scallop appetizers, but they smelled too fishy for me - so I passed. I had the Colorado rack of lamb - G had a New York Strip. Devine! For our "Accessories" (their way of saying side dishes) we had the Yukon Gold Mashed potatoes which were heavenly. Lots of butter, lots of whipping. We should've ordered one for each of us. (Do you think it's bad behavior to lick the bowl? What about dragging your finger through it for that last little morsel?) And I ordered the baby brussel sprouts in balsamic! Yummy! I love brussel sprouts. They were very good, and G even tried some.
The pièce de résistance was the dessert. I had the Molten Valrhona Chocolate Cake and my god. I.thought.I.would.die. This was by far the best chocolate cake/souffle type dish I've ever had in my life (and trust me, I try them all! Nothing better than runny chocolate cake.) It was sweet, but not too sweet. The secret of it, I think, was how light the dish actually was. Talking about licking the plate. I'd go back just for this dish! And I don't even like chocolate that much. Georgie had the Dylan Chocolate Turnover with Bananas and Marshmallow, which he said was just as amazing. What a wonderful meal! Thank you my love!
My dad may come up to visit today, and if he does, we're probably going out to dinner - to Cara Mia in the city. Another great meal is in the works!
Knitting news!
I started swatching for my Manos vest, which from now on be called School Daze. I'm so happy with it! I've got the front cable just about figured out - I'm going to split the swatch to see how it will work out with the v-neck and then I'm going to do my calculations to cast on! This designing thing is pretty cool.
And I cast on again for my Ribby Cardi. Thanks for the comments about it yesterday. I don't mind ripping it out - to get it right. If it's a little big - no problem, but too small, no way. I'll let you know how it goes.
A public apology!
Apparently I owe you all an apology. When I post my links, I generally send them to a new window: target="_blank". I've since found out that this is bad, very bad. I'm not quite sure I agree with Nielsen's argument, but I'll try it out for the time being. In the meantime, if you want to open up the link in a new window, hold down the shift key when you click it. I'm so, so sorry.
Posted by Cara at 10:48 AM | Comments (6)
December 28, 2004
A Knitbloggers Book Group
You like the idea? I'm going to start one!
The Don Quixote idea doesn't seem to be going over too well (I'm still going to do it!), but Annie and I have been going back and forth all day about a doing a real book group for knit bloggers (and anyone else that wants to join, I think. I'm not sure knitting should be a requirement, but we'll see!)
I'm going to set up a separate blog - I think it will be called Knit One Read Too, but I'm open to suggestions. I'm thinking it will mainly be contemporary literary fiction - but it would be nice to throw some non-fiction in there every now and again. The group will "meet" once a month. By this I mean that we will set a date when the discussion will start, and I will post that day with questions to discuss. During the rest of the month all who want to post can, but nothing that really gives away plot - maybe links about the author, book reviews, suggestions for other books to read, etc. We'll see how it goes.
We will also have a poll each month to choose the next book (I think we should at least be one month ahead though). I will gather suggestions and put up around three or four choices and we'll vote.
What do you think? Do you think it's doable? I've got the server space and everything so it's no biggy on the technical end. I'm excited! I used to moderate a book group for some really lovely women. I read some great books, met some terrific people, and I got to talk about books. I'm thinking this could be something really nice in the knitting community - since everyone seems to also be pretty voracious readers.
The first book will be The Plot Against America by Philip Roth.
I'm thinking the second book will be The Curious Incident of the Dog in the Night-Time by Mark Haddon.
So who wants to join us? (Do it, do it, do it!)
Thanks!
UPDATE

Knit One Read Too is up and running! If you'd like to join, please head over here and let me know. Thanks!

Posted by Cara at 06:13 PM | Comments (40)
December 27, 2004
Karma Karma Karma Karma
Karma Chameleon....
Guess what showed up today? You betcha. The packages from Amazon. It just so happens that when I yelled and cried and berated the customer service representative on Friday, she issued me a credit for the items.
So. They're here. And they're free.
What to do? I'll preface this with a little story.
Once, a while back, some friends and I went to a great reading at Barnes & Noble. I picked up the book before the reading so I could read along with the author (the amazing John Dufresne - if you haven't read Lousiana Power & Light, run out right now and pick it up. Freaking hysterical!). You know how they always have a big display right there, next to the lecturn and stuff? Anyway, the reading was great and I had the book signed. Then we gathered all our stuff and headed out for burgers.
There I was, standing in line at the Port Authority waiting for the 129 bus when I realized I NEVER PAID FOR THE BOOK!!!!
Did bells go off when I left the store? NO.
Did any of my friends say anything? NO.
I just cruised on out through the metal detectors and all without a peep.
I was mildly horrified. The store was closed when I got home. I almost let it go - if they didn't notice, why should I? C'mon. It's Barnes & Noble. They shit books for breakfast.
I awoke in the morning with a clear answer. Karma baby.
I'm a writer. I knew something awful would happen to me in the publishing vortex if I didn't pay for the book. So I called the store and had them charge me. The manager was dumbfounded to say the least. She told me I was a good person. I told her I didn't know about that, but I wasn't about to piss off the publishing gods. Besides, I thought it would be a good story to tell at MY first reading at B&N. (Hasn't happened yet.)
What was I talking about? Oh yeah. Amazon. So I called them and told them what happened. We agreed they should charge me for the items, but not for the shipping. Karma. I've still got it!
In knitting news, Grace at Rosie's Yarn Cellar was nice enough to convince me that I have plenty of Manos to take care of a vest with a nice cable down the front. She could've sold me plenty more, but she didn't. Karma. She's got it!
And I found a cute pattern for a pullover for my niece in the Holiday 2004 Family Circle Knitting. I'm going to use the fabu Art Yarns Supermerino that was recently reviewed by Clara. I bought some color #108. This is also the yarn that Froggy used for her claoptis. I can't wait for it to get here!
I had to rip out the Ribby Cardi decreases I did yesterday. Somehow I was off two stitches on one side. Have no idea how I did it. So back to square one. Oh well. No biggy. I've got my good Karma to keep me warm.
Posted by Cara at 03:41 PM | Comments (1)
December 26, 2004
Disaster
I can't even begin to imagine the devastation. It truly is like a bad hollywood movie. Just incredible. I'm not one who walks around talking/thinking about an all-powerful god - but Mother Nature sure comes close.
Disaster also fits my holiday weekend. Sure, I have my health, a roof over my head, I'm dry and fed, but it still sucked.
First of all, in a previous post I mentioned how much I was thrilled with Amazon and their stellar customer service this holiday season. Not so thrilled anymore. Granted, I did order the few gifts I needed on Dec. 20 and 21, but I'm not sure that's an excuse.
The couple of gifts I ordered from Amazon were for my great-nieces who I would be seeing on Saturday - we haven't seen them in a while so I was excited. They are 4 and 1. I placed the order on Tuesday and was guaranteed by Amazon they would arrive by Friday. On Wednesday I received emails that the items would be sent out separately but both had been upgraded to overnight delivery and would arrive on Thursday. By Friday 2PM nothing had arrived. The tracking numbers weren't appearing in the database. Okay, they were there, but no information was available about the whereabouts of the packages. One was sent UPS, one was sent FedEx. I called FedEx and they said they never had possession of the package. I searched the Internet and found an actual phone number for Amazon (ended up being in India, of course) and was informed the package never went out. I said you sent me emails saying it was on the way. Well it wasn't. No gifts for the girls.
I didn't give up. I went out to Toys R Us at 4:30 Xmas eve. It was a horrifying experience and I gave up quickly. I made cursory appearances at a few other stores and came home empty handed.
Then I found out the package I had sent overnight (FedEx) to my best friend never made it out of New Jersey. It was supposed to be in Las Vegas by 10AM Friday morning.
I shouldn't have been surprised, but I admit I cried when I attempted to give Georgie his Xmas slippers on Saturday morning and they were the wrong size. The email receipt I have says XL, they sent L. Suffice it to say, I didn't have a merry weekend.
I think the kinks are all worked out in the host transfer. Even though, in the end, they screwed things up more than they helped, my new host was very attentive to my needs - including emailing me on Xmas eve.
There was a bright note to this weekend. Georgie's parents were very generous to us. My cedar chest and new camera are pretty much absolutes now! Thank you, thank you!
I did manage to knit this weekend. There was no way I was finishing Georgie's secret gift - a scarf if anyone still cares - I'll post some pictures tomorrow - for Xmas, but I finished it today. I just need to weave in ends. And I started decreasing on the back of the Ribby Cardi.
I hope everyone else had a great holiday weekend! I'll be looking forward to hearing all about it!
Posted by Cara at 07:44 PM | Comments (4)
December 24, 2004
Festivus for the Rest of Us!
No seriously, I wish everyone a wonderful day tomorrow, no matter what you're doing. I haven't been blogging very long, but I'm enjoying it immensely, thanks in no small part to the great people I've met. I can't wait until next year! I'm closing down for the day to migrate over to the new server, so I'll leave you all with this - our holiday card this year: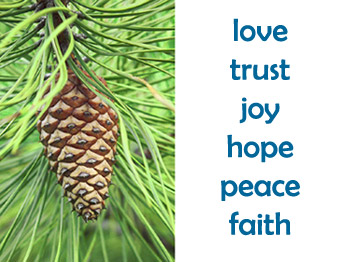 Love, Cara
Posted by Cara at 12:02 PM
December 22, 2004
Getting to Know You
Thanks everyone, for your comments on Georgie's Vest. He's feeling like quite the popular guy. When I told him everyone said he should smile more, he scowled and turned away. I think I heard something about crazy and knitters. Hmm. Wonder what he's talking about.
Yesterday I had a very lovely meet up with Cassie, in the big city. We met at Purl, right when it opened, but it quickly became overrun. What was everyone doing there? I mean, Christmas is only four days away! You'd have to be crazy* to start a new project for the holiday, right?
Anyway, Cassie was essential in helping me choose some new yarns. I bought some beautiful Koigu for a pair of socks for my sister. I decided it was time to try socks. And some blue sky alpaca - man that stuff is soft - and some Cascade 220.
After buying our purchases we went next door for some tea and Lemonade and talked about religion, politics, you know - all of those getting to know you kind of topics. It was like meeting an old friend (actually - it was kind of weird, because Cassie totally reminded me of an old friend. They look very similar - are about the same size - and even more freaky had the same exact voice!) I had a lovely time and I hope to meet up with her again soon. Thanks Cassie!
Reason #5,489 why I love my husband:
Last night while I was sitting on the couch, ALONE, dutifully* knitting, he called me about 11:30, out with an old friend, all excited. "Listen, listen, can you hear it?" I listened closer to the background music. "I can't believe they're playing this and you're not here!" What were they playing? Why it's our favorite stalker song, from our favorite movie:
I've Seen That Face Before/Libertango by Grace Jones

Strange, I've seen that face before,
Seen him hanging 'round my door,
Like a hawk stealing for the pray,
Like the night waiting for the day,

Strange, he shadows me back home,
Footsteps echo on the stones,
Rainy nights, an hustling boulevard,
Parisian music, drifting from the bars,

Tu cherches quoi, rencontrer la mort,
Tu te prends pour qui, toi aussi tu detestes la vie,

Dance in bars and restaurants,
Home with anyone who wants,
Strange he's standing there alone,
Staring eyes chill me to the bone.

Dans sa chambre, joel et sa valise,
Un regard sur ses fringues,
Sur les murs, des photos,
Sans regret, sans mélo,
La porte est claquée, joel est barré.
(I'm thinking we need this. Maybe to hang in the bedroom.)
In looking for some links to the movie, I found this review by Roger Ebert. In it he says "'Frantic' would have benefitted from the coldhearted cutting of some scenes and the trimming of others (such as a dance sequence in a nightclub that continues until it is inexplicable)." OH MY GOD! This is the scene where Grace does her thing! It's ESSENTIAL to the movie. Oh Roger. I liked you better when you were fat.
* Okay. So I'm one of the crazy ones that started a holiday gift four days before Xmas. But it's for Georgie Mou and I don't want him to know about it - so no details. And it's not working out as I planned either - even though it couldn't be simpler. Pics to come later.
Posted by Cara at 09:04 AM | Comments (4)
December 20, 2004
What does it say about you
when someone googles the phrase debilitating perfectionism and your blog is on the first page?
It can't be good, right?
Posted by Cara at 12:27 AM | Comments (3)
December 17, 2004
M-I-S-E-R-Y
I watched the sun rise this morning.
Was it because I stayed up all night reading a deliciously wonderful book that I couldn't put down and I watched the sunrise surrounded by tissues and happy tears and cocoa? NO.
Was it because my deliciously wonderful husband rolled over very early this morning and nudged me awake with kisses and promises and hot breath and love? Yeah. Right. Don't think so.
(No offense honey. I know you're not a morning kind of guy! - Neither am I for that matter. A morning girl, that is.)
Was it because I woke early in a romantic, carpe diem kind of way and wanted to get a headstart on the first day of the rest of my life? Spit take, followed by howls of evil laughter.
If you think this might be correct, I haven't been a very good blogger. Shame on me for sharing so little about my life.
No. Nip. Nada. None of the above.
I was up waaay before the crack of dawn because I'm SICK. The icky, gooey, drippy, snotty, wet tissues in the bed, coughdrop induced numb cheek (from hiding it there at night so you don't choke, of course!), have to sleep sitting up SICK.
I couldn't take myself anymore so I moved to the couch about 4AM. I think it was 4AM. While I was away at my sister's the electricity went on and off a couple of times and the clocks are all screwed up in the house. This may not seem a big deal to you, but my husband is a little strange about clocks. We have a lot of them and they have to be set EXACTLY to Greenwich Mean Time or whatever. I guess EST, but going by GMT. Or the atomic clock. I don't ask. I don't care. As long as I know around what time is. Let's just say it was 4AM.
There are some advantages to being up that early. Well, not really. But I'm trying to make myself feel better. I did manage to catch up on my bloglines subscriptions. I was woefully behind.
The visit to my sister's was good. Except I'm pretty sure that's where I got sick. My sis had it, the kids were in various stages of it, and well, you know. It's either that or something going around the knitblogging community. Wendy's got it apparently and I so hope M.J.'s over it by now!
We had a fun last two nights of Chanukah. They both got their hats from me - Charlotte didn't take hers off - too cute pictures to come - and she also got some baby doll diapers and bottles and art supplies. She loves to draw. She's so cute, too, the way she lays on her belly with her feet in the air drawing. Oooh I could eat her up. Her new thing is going around singing "Happy Birthday to You"! We think its a slight confusion thing with the Chanukah candles and all. She also says my name now. It sounds a little like Ya-ya, but she's definitely calling me.
Max received from us a Pirate's treasure chest, with a parrot, map in bottle, eye patch, book, and treasure chest coins that he's been wanting for a while and a beginners Magic set. That was a lot of fun. He was really getting good at the tricks when I left - and just totally cracking himself up! I miss them already.
Anyway. Did I mention I'm sick? I've got some work to clear up this morning, but then it's just me, the couch, some yarn and at least 5 hours of The Gilmore Girls. My new favorite TV show. I'd like to say it's because of the witty repartee - but really it's about the drama and the guys. I'm a sucker for a good soap opera - and that's really what it is. I like the small town "charm" and all but it's really the guys. The character Jess (I'm not sure what season I'm actually in with repeats and all) is very cute. And smart. And cute. And bad. All a lethal combo. Especially when you're sick.
Alright. Enough for now. I've got a tissue dangling out of the nostril that's seems to be permanently clogged and I ran out of tea. I'll be back though. Don't you worry.
Posted by Cara at 08:12 AM | Comments (2)
December 12, 2004
Productivity
[Warning: lots of pictures in this post!]
Well, the fifth times the charm. I literally visited five LYS between Monday and Saturday and finally, on the last visit, I BOUGHT YARN. Fell in love is more like it, but I'll get to that.
I went to visit Handknits in Englewood, New Jersey. I've been wanting to go (Jen, we'll go back - I promise!) and I'm glad I did. This is what a yarn store should be! There was a ton of yarn - rooms and rooms of it! And somewhat organized to boot. There was a back room that had the sale yarns and books. The room next to it had a big table (sort of like a conference room) with all the baby yarns and fingering weight yarns. The front entrance where the checkout was had all of the novelty yarns and the big, big room in the middle had everything else. Lots of Rowan, Karabella, Takhi/Filatura di Crosa/Art Yarns, etc. Clearly the owner takes issue with KFI because there wasn't a Noro or Debbie Bliss to be found. There's a lot to compensate though.
The staff was extrememly helpful without being solicitous. In fact, no one really said anything until I seemed ready for help. And then they were very helpful. I was there much longer than I anticipated.
I was looking for some felting yarn for Sophie - I really wanted Cascade 220. They didn't have any Cascade but the owner was nice enough to go through the store with me and point out all of the yarns that felt well. One of the ones she showed me was the Manos del Uruguay. I've never knit with Manos before, but I've certainly heard of it. I in LOVE now. I'll tell you! I was looking for something to make a Sophie for my sister - and for me. Well I ended up finding the most gorgeous colors!




Aren't they beautiful? The first one is a tan/camel with pink running through it and the second is a pearly pink with gray running through it.

I love this yarn! (Did I say that already?) I absolutely love the color and the texture - I don't even want to knit with it - I just want to look at it and touch it. I think the saleswoman thought I was crazy when I said I was going to felt it - but why not? Just because it's expensive? I know that I carry my other felted bag all the time - much more than I would wear something, I think. So is that bad? I bought all they had in those colors - my idea was that I'd combine them for a larger Sophie for my sister. I thought the tan/pink would look really good with her tan leather jacket and the KSH gloves I'm going to make for her, eventually. But I'm thinking I might buy more of the tan/pink for myself. I've got some Chanukah gelt waiting for me at my sister's - it's got Manos written all over it! If anyone reading has felted this stuff - can you make me feel better? Or tell me I'm crazy? OOOh, I LOVE it!

While I was at Handknits, I also picked up a few more balls of Filatura di Crosa Primo - the yarn I used to knit Max's blue striped hat. I wanted a hat for Charlotte, my niece, and I didn't want it to be blue as well. Charlotte looks good in primary colors - pastels wash her out - so I went with a bright purple/red combination. I think it came out cute!


I know Charlotte will love it - she's really into hats these days and the weather is supposed to turn really cold this week - so the kids will be nice and toasty!
Also, I finally finished the two booga bags I had sitting around. They're for my best friend's daughters (2.5 and 6). I originally made the pink one, but tried to felt in my front loader washer and it didn't really work. When I say it didn't work, I mean I ran it through like five times and it still wasn't really felting well. So I washed it again at my sister's with the blue one. The pink one is a little smaller because of it. They're both made with Noro Kuryeon. I don't remember what colors.


I started my Ribby Cardi!



The color seems really off in this photograph.

I'm not sure about the yarn as far as softness is concerned - it seems a little scratchy in my hands, but it certainly knits up easy. I think this project will go pretty quickly. I'm excited about it!
I even knit some on the geometric scarf last night while watching Spiderman 2. It's looking good and is oh so soft, but it's boring (and a little tedious since the yarn splits) to knit. I'll get there.
Tomorrow I leave for my sister's until Thursday. My brother-in-law is going away so I'm going down to lend a hand. She's pregnant and the kids are crazy! My nephew is excited though. He doesn't really understand time exactly, but he knows I'm coming for the seventh and eighth nights of Chanukah. My sister says every morning he wakes up and asks her, "Which night of Chanukah is it tonight, Mom?" So cute.
And last but not least, Bonne Marie's blocking tip worked perfectly! The Silkroad Aran Tweed exapanded exactly how I'd hoped and the size looks great. It also softened up considerably (not that it wasn't already soft.) I might not start to put it together until I get back from my sister's. There's still lots to do what with the armbands and neckband.
Okay. I'm done! Thanks.

Posted by Cara at 04:11 PM | Comments (4)
December 10, 2004
What Knitting Means To Me
I had more to say about Annie's post yesterday.
This is what I said on her blog:

Knitting for me is a new passion, although I tend to become passionate (translation: obsessive) about many things that I like. I find that knitting does a lot for me - it calms me, it helps ease the anxiety I so often feel, it's creative and challenging, it gives me a wonderful sense of accomplishment. How is that to start? I'm finding too that knitting has given me a sense of community that I usually don't have in my life. I'm a writer and photographer and spend an exorbitant amount of time alone. Knitting (and the knit blogging community) has opened up a whole new world of people who TRULY UNDERSTAND! While my family is very accepting of all my "passions," if they themselves don't get involved, how can they really know?
I've been thinking about what some of the other commentators said and it struck a chord with me as well.
All my life I've been plagued with anxiety, panic attacks, debilitating perfectionism, obsessions, you name it. Not a very nice life sometimes (most times it's a great life). I used to want to be like my best friend and my sister who always seemed to be so level headed and calm. Unemotional (in a good way).
Then one day I realized that besides their children, these two women I admire so much don't have anything in their lives they're passionate about. They don't have anything that keeps them from falling asleep at night thinking about new and better ways to advance this passion. They don't spend hours working on this passion (granted, they have kids - I don't.)
Now it can be said that I may have too many passions, but I'm so grateful I have them. And I also know that the bad stuff in my life, like the anxiety and obsessive-ness, is just the flip side of the characteristics that make me knit until my fingers cramp. And that's good. In fact, that's great. So I'll take the good with the bad.
What makes knitting so wonderful for me, is that it encompasses all of those obsessive traits, WHILE CALMING ME DOWN AT THE SAME TIME! What more could you ask for? Knitting - it keeps me crazy and sane all at once. I LOVE IT!
Posted by Cara at 01:08 PM | Comments (3)
December 09, 2004
What is the World Coming To?
I'm trying to be all purple and about the love and all and then I read these letters to the editor of the NYT. So I backtrack and read that asshole columnist David Brooks' original opinion piece. May need registration to read.
Here's one for you Mr. Brooks - my sister's about to pop out her third kid (and probably not her last) and she's bluer than Papa fucking Smurf. What the hell are you talking about? This column has got to be one of the dumbest things I've read in a long time.
Then I go over to read girlreaction and she has a link to this. I'm about to lose it completely. What is the World coming to?
Thankfully, though, Vicki saved me with some truly wonderful, incredibly practical holiday slippers. I almost pissed my pants!
Posted by Cara at 01:20 PM | Comments (2)
December 07, 2004
From the Small World Department....
Georgie brought me Chung's for dinner. Translation: he brought me P.F. Chang's, one of our favorites, but he calls it Chung's. Not in any kind of derogatory way but just because Georgie can't call anything by it's real name. Like Northwest Airlines is Northworst. Wal-Mart is Wal-Fart. Home Depot is always referred to as Deepott (long e, hard t). You get the picture.
We're sitting at the table, enjoying our Mongoloian Beef and Pork Lo Mein (a special Chanukah treat - sorry Mom!) and G says, "I had a nice email from Kate today." I say, "That's nice," while sneaking some extra beef on my plate. He says, "Have you ever heard of the Hifer, Heffer organization." I say, "Heifer International?" He says, "Yeah. That." I say, "I gave them money last week. It's a knitblogger thing." "That's funny," he says. "Kate's grandfather, Dan West, started it. She told me she was in Ecuador helping out."
So there you have it folks. It's a small, small world. Don't forget to donate!
Posted by Cara at 10:08 PM | Comments (1)
December 06, 2004
The Holy Grail
Since I've been reading the knitting blogs, I've seen it mentioned everywhere. Now I want it. Really want it.
It's like when Doctorow told our class that everyone should own all nine volumes of Writers At Work. Guess who went out and bought all nine volumes? Yep. Me. And did I mention they're ALL out of print? (OH MY GOD - they're ALL (well, at least the 1950s for now) online, for FREE! These are must read interviews for anyone who likes to read, or write, or live.)
Anyway, I want it.
So I managed to get all my work done last week and had the weekend free. I knew I was going to knit - but didn't know it would end up being all day and night. On Friday I spent some time on the Geometric Scarf. I wouldn't recommend this project if you're thinking you're going to knit a quick scarf. On size US#4's it seems nothing goes fast.
Then on Saturday I spent the day working on Georgie's Vest. I finished all the straight knitting and now I need to shape for the v-neck and arm holes. Sometimes I'm pretty dense because it took me awhile to really grasp that I'm going to have to split the neck in half and work on each side at a time. If it's not written explicitly in the pattern, I have to think really hard to see it in my mind. But I'm getting better, I think, at the vision thing though the more I knit.
Also on Saturday I recieved yet another goody box from elann.com. The Jo Sharp Silkroad Aran and Ultra are both incredible. I ~almost~ wish I had bought more of both. [Pictures to come.]
Along with the Jo Sharp, the Filatura di Crosa Primo arrived. Which meant Max's hat. I found a simple pattern on the web and got to work. Since my yarn was perfect for US#8 and the pattern used US#8s I started knitting. My nephew is only four and he inherited my abnormally small head, so I went with 72 stitches. The yarn was really nice and I'm going along making my cute stripes and things are good and then I lay it flat to look at it (the hat is seamed.) It looks a little small to me. Real small. I mean teeny tiny small. So I took out the tape measure and it was 11 freaking inches. Flat.
I'll spare you the gory details but I frogged the damn thing literally three times until I ended up with 92 freaking stitches. It's done - except I've got a nice hole that didn't get cinched shut on the top - but Max wants a pompom, so the hole shouldn't be a big deal. It really is a cute hat - I'm sure Max will like it, but it took me almost ten hours to make a hat for a four-year-old. I know, I know. I have no one to blame but myself. Gauge is a dirty word in this house, in case you haven't noticed. I'll post some pictures tomorrow. The weather here is so dismal there aren't enough lights to brighten it.
I mentioned the other day I had a dentist appointment and a shrink appointment today. The dentist is near Seaport Yarn and the shrink is near Purl.
I went into not one, but two yarn stores today AND I DIDN'T BUY ANY YARN. I'll repeat that in case you didn't hear me scream. I didn't buy any yarn. Do I get thrown out of the club now?
Seaport was okay. I don't know - maybe it's the weather (icy rain with a dash of freezing wind) - but I had a million things in my hands to buy - things I really wanted too - and I didn't get anything. They didn't have any Cascade 220 and I didn't feel like being shown any substitutes, although I'm sure there are plenty of good ones. I had the Buton d'Or Layette #12 book in my hand. Didn't buy it. Had Ann Budd's The Knitter's Handy Book of Patterns in my hand. Didn't buy it. What I did buy was size US#15 Addi Turbos for Jen, a pompom maker and a pumice stone. That's it.
Then it was onto Purl. I want to like this store. I really do. Whenever I've gone in and Joelle, the owner, has been there it's been great. She's nothing but warm, inviting and helpful. Unfortuantely the last few times I've been there Joelle has not and my experience has been less than nice. Not awful. Less than nice.
I couldn't really see the Cascade colors well because of the aforementioned weather and I don't know, I wasn't in the mood for yarn. (Sorry, Norma! No Sophie yet!) But I do need some new needles. I'm trying to knit the gloves in the new Rowan Magazine using Kid Silk Haze. I don't like this yarn. It's like dental floss with hair. Really. I tried to cast on my Addi Turbos but it wasn't comfortable. I wanted something, I don't know, maybe not metal. I asked for help at Purl and a whole discussion ensued. The pattern calls for 2.75mm and 3.0mm needles. Addi #2s are 3.0mm. Crystal Palace Bamboo #2s are 2.75mm. #3s are 3.25mm. Same with the Bryspuns. Do you see the problem? One salesperson kept telling me just stick with the Addis. I didn't want to stick with the Addis. That's why I was asking for help. Another salesperson didn't understand why I need to switch needle sizes. .25mm is nothing. The first salesperson insisted on using the same size needles the pattern called for. Back to my original problem - which needles to use. I got fed up and left without buying anything. I think I want to try Swallow Caseins.
No yarn. And no cavities either.
Posted by Cara at 03:53 PM | Comments (5)
December 02, 2004
Is the pretzel our best chance at peace?
What? After three freakin' years we're only now getting around to thanking the Canadians for helping us after 9/11? Letitia Baldridge would not approve.
I have a book: The Day the World Came to Town : 9/11 in Gander, Newfoundland. Reading the blurb on the back made me cry, so I bought it - I never read the whole thing. But it's here in my house. Sort of my own version of thank you.
Not much to report in the knitting world. Still making progress on G's Vest. Oh, and Cassie was nice enough to let me know that Purl is now open on Mondays. Thanks Cassie! (Said with only a tease of sarcasm.) I'll be popping in there on Monday after my shrink appointment. And I remembered that I have to go to the dentist on Monday as well, which just happens to be around the corner from Seaport Yarn. Kill me now.
Oh well. I guess now I have no excuse NOT to pick up the Cascade 220 for Sophie.
PS - When I was on Amazon looking for the link to the above-mentioned book, I watched this short film with Mr. Big from Sex & the City. The movie is interesting for a few reasons. First off, the family is bi-racial (and beautiful at that.) I find this interesting because the gossip columns have always reported that this is Mr. Big's preference. I can add my two sense and say that the one time I saw Big on the street in NYC (8th Street off of Fifth Ave.) he was in the company of a gorgeous, tall, African-American woman. I just think it's interesting - especially in our red state world. Also, the character is decidedly Big - a real ass who gets his in the end and realizes it's all about the love. (Is this the only character Chris Noth can play? He was like this in Law & Order too.) But, perhaps the most interesting (and truly disturbing) part of the film is the credits. The tableware, pots, pans, electronics all get mentioned with FREAKIN' HOTLINKS! So, you know, you can buy all the crap in the movie. Commericialism (i.e. commercials) at their best.
Posted by Cara at 11:18 AM | Comments (4)
December 01, 2004
Last Letters Home
I've been avoiding Last Letters Home on HBO because I didn't think I could handle the sadness. I had Oprah on in the background today and she had some wives/mothers reading letters and I was right, I can't handle it. It's so overwhelmingly sad the loss these people have been dealt. To hear about parents losing children, people losing lovers, soul mates, life partners is unbearable. I feel physically ill imagining it in my own life - but for these families it's real. Eventually I'll watch the whole thing - with a pound of Kleenex and Georgie by my side. Hug your loved ones today. Please.
Posted by Cara at 05:04 PM | Comments (1)
November 30, 2004
Tuesday*
This is killing me. How do you stop?
Norma knit the most perfect, most funky, most fabulous Sophie. Perfect for my sister. She doubled the yarn - great idea. Gots to get me some Cascade 220 and knit, knit, knit that Sophie bag.
NO MORE PROJECTS!!!!
Oh and I signed up today for not one but two classes with Shirley Paden [Bernstein] at Gotta Knit in NYC. The first is in February and meets for two nights (6 hours altogether) - it's on Intarsia and Fair Isle - I'm dying to learn this. The second is kind of a strange class, but I couldn't resist:
CHALLENGE YOUR SKILL LEVEL! LEARN 14 DIFFERENT METHODS TO CAST ON. SHIRLEY PADEN BERNSTEIN will be teaching 14 different methods of casting on, when and where to use them. Bet you didn't even know that there was that many ways!
Three hours of casting on. Should be interesting to say the least. I think Jen might take it with me, which would be much fun. That class isn't until March.
I took a finishing class with Ms. Paden last March - it was really good. She's pretty intense and does amazing handouts. She also supplies all the materials - so you don't knit your own stuff. This is the only thing that I don't like about the class. I think that if I worked on my own project I would retain the skills better in my mind. Like you learn directions better when you're actually driving rather than when you're a passenger. Make sense?
I'm bummed. I've been working hard on my blog to join the Knitting Blogs ring, only to find out it's closed until the new year. Oh well. It'll be (yet another) birthday present.
Got some good work done to today on pictures. The house is disgusting. I'm the worst housekeeper in the world. Bar none. Okay, I'm sure there are worse. But I'm pretty bad. I'm in the middle of laundry too. Ugh. I'm sure it's all ridiculously wrinkled by now.
* This is what happens when you can't think of a title. Pathetic, I know.
Posted by Cara at 06:10 PM | Comments (2)
November 29, 2004
Baaaa!
Some stuff about me.
Posted by Cara at 08:56 PM | Comments (1)
November 16, 2004
blog, blog, blog, blah, blah, blah
Let the obsessing begin!
My shrink always says that personality traits are like two sides of a coin - sometimes they work for good, and sometimes they work for evil. For instance, the single mindedness, the obsession that helps me have a singular vision for things, and in turn, helps me to achieve so much that I want to do, can turn around and bite me in the ass. When my grandmother taught me to knit one rainy afternoon, she gave me some bent needles and some horrid, scratchy day-glo orange yarn and the blinders came down. I went home with that yarn and knit and knit until I had swatch after swatch of knit and purl. Until I could do it with my eyes closed. We're talking many hours here, until my hands cramped. To show you how ridiculous I am, my first project was a basketweave baby blanket. My second project - a 5'x6' slip stitch afghan using four colors. I am INSANE!
So now I'm obsessed with my blog. I decided that the name Purls of Wisdom isn't really me. It's pretentious, really, because I don't know how wise this blog will ever be and moreso it doesn't reflect my personality at all. So I bought (yet another) domain name. january one The more I think about it, it's a perfect name for my blog. January 1 is my birthday, and has always been a really large part of my identity. And januaryone.com was available! Yeah for me.
I buy the freaking domain and I buy freaking MovableType and I'm all set to go and I can't get it to be what I want. I feel like I've wasted two days already. I know eventually I'll get there - I've built more than one website in my life - but there are so many other things I want to be doing rather than figuring all this out. I just want it to be done. I want to be knitting and talking about knitting, not obsessively thinking about my knitting blog. I need to flip the coin.
I haven't touched the Shedir in days and I have probably two repeats before I can bind off the back of Georgie's vest. He's very happy with it though, so I'm happy about it. It's hard for me to have more than one project going at a time - I never know where to spend the time.
One of the things about knitting, though, that I really love - and I'm only realizing this today - is that you can actually achieve what you see in your mind. I haven't begun to even think about attempting to design something on my own, so maybe the difficulty is really there - but I get such satisfaction from following a pattern and having the yarn actually become what the pattern looks like. Everywhere else in my creative life, whether it be my writing or my photography, there is such a huge disconnect between what my mind sees and what actually appears in reality. The camera, in the end, is only a substitute for the eye. And the writing, well, that's what makes writing so hard. You can never get on paper what's living in your heart.
Best,
Cara

Posted by Cara at 09:08 AM
November 13, 2004
Loathe thy Neighbor
WARNING: No knitting content.
Okay, so we live in an apartment building. We've actually lived in this building for the last 13 years (OH MY GOD!), but in this particular apartment for 7. Well, we had this elderly gentleman for a next door neighbor until about a month ago. He was relatively quiet and besides the occasional TV too late at night, was the perfect neighbor. Never seen or heard from.
The peace is no longer.
We have new neighbors. Up until last night, our major concern was their cooking. It stinks. I don't care how good the food tastes in your mouth, when it travels through the HVAC and infests my bedroom and my closet (yes, my clothes are starting to stink!) all those delicious edibles turn to crap. That's what it smells like. Crap. Okay, fine, if I crack the window the bedroom odors clear out real quick. But it's getting cold and we don't know what to do.
Last night, though, they decided to have a little get together. I don't care if you think I'm a stodgy fool, I want to go to sleep when I want to go to sleep. In their infinite wisdom, the architects of this building designed it so the bedrooms back up against the next door dining room. Most people don't dine in the middle of the night. But these people had a party. A party people. And it went on and on and there was laughing and yelling and 1AM turned into 3AM which turned into 5FUCKINGAM. My earplugs weren't working anymore so I went to sleep on the couch. Georgie seemed to be asleep as he was snoring away (poor baby has a cold). I never actually fell asleep and got up from the couch to get some water. On my way, I opened the front door - you could hear the noise all the way down the hallway.
Making my way back to the couch, I noticed the light was on in the bedroom. G had already called the doorman to complain, yet again. So back to the bedroom I went. We watched William Hurt and Lee Marvin in Gorky Park for a while (the one time I would've liked at least an attempt at a fake accent), but flipped around and found Frantic, one of my all time favorite movies. Then we fell asleep. Finally. At around 6. Completely unacceptable.
What do we do? We talked about moving. But we really can't afford it and we don't really want to, at least not right now. Plus, it seems so unfair that we'd have to move because of rotten neighbor circumstances. I love my apartment - it's home in every sense of the word. And we are pretty much homebodies. I work out of my home when I'm not teaching or on a shoot, which is most of the time.
HELP! We're hoping the all-nighter was a once in a long while thing, but how do we get rid of the smells? Does anyone know of any good room deodorizers that won't trade one bad smell for another equally horrid, too perfume smell. My husband, my clothes and I thank you for one and all suggestions.
Okay. Rant over. I'm tired. Thanks.

Posted by Cara at 11:34 AM
November 11, 2004
Something for everyone!
Try XM Radio for free for a few days! It's really nice - especially since my external harddrive with all of my thousands of Napster downloads crashed the other day. I miss my music! There are a gazillion stations - definitely something for everyone. I haven't quite figured out which station is my favorite - but I've been listening to a lot of the 80's, the Loft, Top Tracks - I did hear Bruce three times this morning, which is ALWAYS a good thing.
I'm toying with the idea of one of those 100 lists. I haven't figured out how to put a sidebar on the left of my blog. There MUST be a way. Still tinkering. Once I do, I'll probably do that 100 thing. We'll see.
A day out with Jen is always fun...and expensive! We hit the new Majestic Yarns store in Ridgewood, New Jersey on Tuesday. It's owned by Berta Karapetyan - I'm pretty sure she was there, knitting away - who founded the Karabella Company. If you want Karabella Yarns, this is the place to go.
Before we left I had received my box from Patternworks with Koigu - not what I wanted (it's already on it's way back). The yarn certainly felt nice, but it was darker and not solid enough for the scarf I'd like to make. But Berta had what I wanted: Magritte in color #11, ice blue. It's really soft, a little more expensive than necessary, but it will certainly do the trick.
I also bought a ball of Aurora 8, which I need to swatch as a test for the Oscar de la Renta sweater. I'm determined to make that thing, even if I never wear it!
Jen bought some nice Soft Tweed in color #1100 (RED!) for a post-Xmas poncho. It was really soft - I wish I had seen it before the Jo Sharp Tweed, but alas.
Then we moved onto the Container Store where I exchanged the storage boxes I had bought the LAST time we went out and bought some new under the bed containers. These should work well. Melanie's coming next week, so that gives me extra incentive to put things away, not to mention clean my toilets.
Oh and I found something to do with the Valeria di Roma angora (after I purchased three more balls)! I'm going to attempt the Heartstrings Flared Lace Smoke Ring. I found it blogsurfing - Too Much Wool has some great tips too!
I also bought the ChickKnits Ribby Cardi pattern that seems to be the rage right now. I really like the blank front panel and ribbed sides, but is it blasphemous to try to put a hood on it? I showed it to Georgie and he said what's your obsession with hoods, I like it without, but I really do like hoods. And if it has a hood on it I can call it a hoodie! (I think I just like the word honestly - it makes me think of a bunny.) I'm not sure about the Peruvian Collection Highland Wool at elann though. I need this thing to be SOFT! It sure would be cheap though.
Last, but not least, I started the Shedir. I've done 15 rows. It's not bad so far, but my god those needles are small. How do people knit on those 0s and 1s? The needles barely fit in my fingers. It's making the vest go better though - I think I'm about ready to start shaping the armholes. I've got about 17" right now.
Whew!
Posted by Cara at 11:35 AM
November 08, 2004
Get over yourself!
Sites like this just feed my awful perfectionist tendencies. Isn't it enough to make a nice sweater that your nephew wants to wear to school every day? Why do you have to be the best at everything?!? It's supposed to be fun right?
And while I'm asking rhetorical questions, who were those people at the Oil Baron's Ball? That's what Georgie and I kept asking ourselves. Who are these people that dressed in black tie to dance with the cast of Dallas? It was freaky.

Posted by Cara at 10:43 AM
November 06, 2004
Adventurer huh....

You appear to be a Knitting Adventurer.
You are through those knitting growing pains and
feeling more adventurous. You can follow a
standard pattern if it's not too complicated
and know where to go to get help. Maybe you've
started to experiment with different fibers and
you might be eyeing a book with a cool
technique you've never tried. Perhaps you
prefer to stick to other people's patterns but
you are trying to challenge yourself more.
Regardless of your preference, you are
continually trying to grow as a knitter, and as
well you should since your non-knitting friends
are probably dropping some serious hints, these
days.
http://marniemaclean.com


What Kind of Knitter Are You?
brought to you by Quizilla
Posted by Cara at 03:14 PM
October 26, 2004
Purls of Wisdom
Quite a self-important title, huh? I can assure you - I'm nowhere close to as wise as I'd like to be - but the knitting is helping.

Posted by Cara at 04:17 PM